There are over 22,000 digital currencies available in the market today, resulting in an overwhelming experience for new crypto investors.
With this in mind, we have studied the market and hand-picked the 10 best crypto to buy now. Our research findings include well-established cryptocurrencies and emerging tokens with high upside potential. 
The 10 Best Cryptocurrency to Invest in Today Ranked
Below, we outline our top picks for the best crypto to buy now in 2023:
Love Hate Inu – Overall Best Vote-to-Earn Cryptocurrency to Invest in Now
Fight Out – Play-to-Earn Project Based on a Train-to-Earn Crypto Model  
C+Charge – Earn Free Carbon Credits When Using EV Charging Stations
Robotera – Metaverse Project With Robots as Avatars and Virtual Real Estate 
Tamadoge – Metaverse Game For Battling Virtual Pets and Earning Rewards 
Bitcoin – The First and Largest Cryptocurrency With Unparalleled Long-Term Potential  
Ethereum – Top Crypto to Buy for Long-Term Growth
Cardano – Unique Blockchain With Growing Developer Activity
IOTA – Payment Protocol for IoT Devices
Polkadot – Crypto Project Facilitating Blockchain Interoperability 
An In-Depth Analysis of the Best Cryptos to Buy Now 
In 2022, we saw an unprecedented series of events that made many investors question the future of the crypto market. 
Although the crypto space has begun showing signs of a rebound, it is crucial to be extremely cautious when investing in digital assets. 
Based on our market research, we found that the following projects could be the best crypto to invest in 2023 – based on factors such as growth potential, utility, and future performance. 
1. Love Hate Inu – Overall Best Vote-to-Earn Cryptocurrency to Invest in Now
Our recommended best cryptocurrency to invest in is $LHINU – the native cryptocurrency of Love Hate Inu's vote-to-earn crypto platform.
Currently available to buy on presale, $LHINU can be used to participate in exciting meme polls on the Love Hate Inu ecosystem.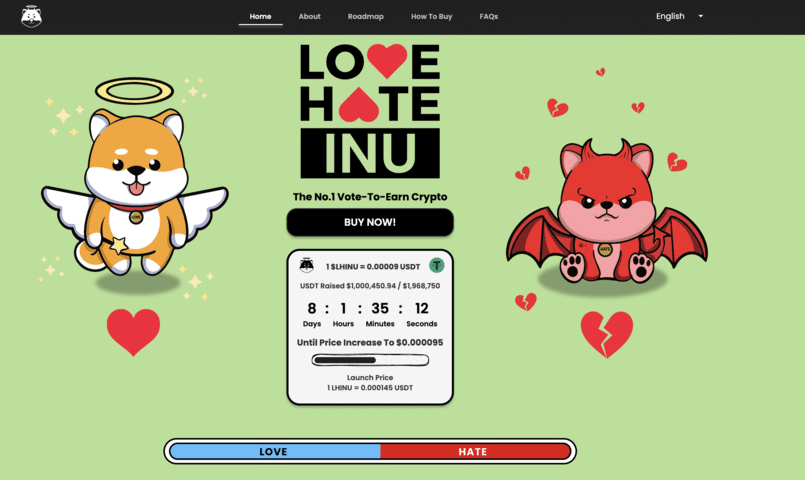 According to the Love Hate Inu whitepaper, users must stake $LHINU tokens for a minimum of 30 days. Members can then cast votes on multiple meme polls, which vary in global topics such as politics, entertainment, and social issues. 
The more a user stakes $LHINU and votes on polls, the more free crypto tokens they can earn as rewards.
The voting process will occur through the user interface, which is expected to launch by Q3 2023. Users can also create their own polls through the vote submission platform, which will launch by Q3 2023.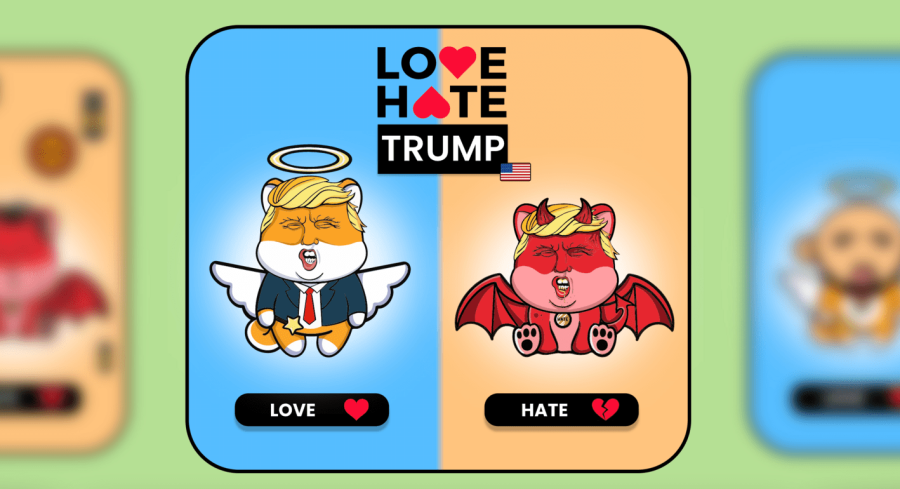 This exciting token also offers a limited supply of 100 billion tokens. As seen with popular assets such as Bitcoin, a low supply can be beneficial in increasing the demand and price of the token. As such, some crypto enthusiasts actively seek the best low cap coins on the market to boost their ROI. 
As one of the best meme coins to invest in, Love Hate Inu is allocating 900 million tokens for the presale, ensuring no chances of a rug pull. 
Thus, most of the tokens will be allotted to early adopters who believe in the project. The ongoing $LHINU presale will consist of eight rounds – through which a total of 900 million tokens will be distributed. 
Currently, on round two, $LHINU is priced at only $0.00009 per token. However, the price will jump each round to a final price of $0.000145 per token. Since the start of the presale, Love Hate Inu has raised over $1.2 million USDT. Could this become the best presale crypto of the year?
As Love Hate Inu plans to expand the platform, integrate metaverse elements, and sign multiple partnerships in the coming months, $LHINU may be one of the best Reddit cryptos to hold right now. 
Join the Love Hate Inu Telegram to learn more about this project.
| | |
| --- | --- |
| Presale Started | 8 March 2023 |
| Purchase Methods | ETH, USDT, Credit Card |
| Chain | Ethereum |
| Hard Cap | $10,068,750 |
| Min Investment | 10 $LHINU |
| Max Investment | None |
2. Fight Out – Play-to-Earn Project Based on a Train-to-Earn Crypto Model
Fight Out ($FGHT) is another emerging cryptocurrency project that is in its presale stage as of writing. The project wants to revolutionize the play-to-earn (P2E) space by adopting a train-to-earn model. Thus, users can earn rewards on this ecosystem by working on their fitness goals.
To enable this, Fight Out will launch an app that will support a wide range of workout routines. $FGHT, the native token, will be used to gain access to this app, and earn huge rewards and bonuses. The Platform has already raised over $5.5 million USDT as investors rush to invest in one of the top ICO cryptos of this year.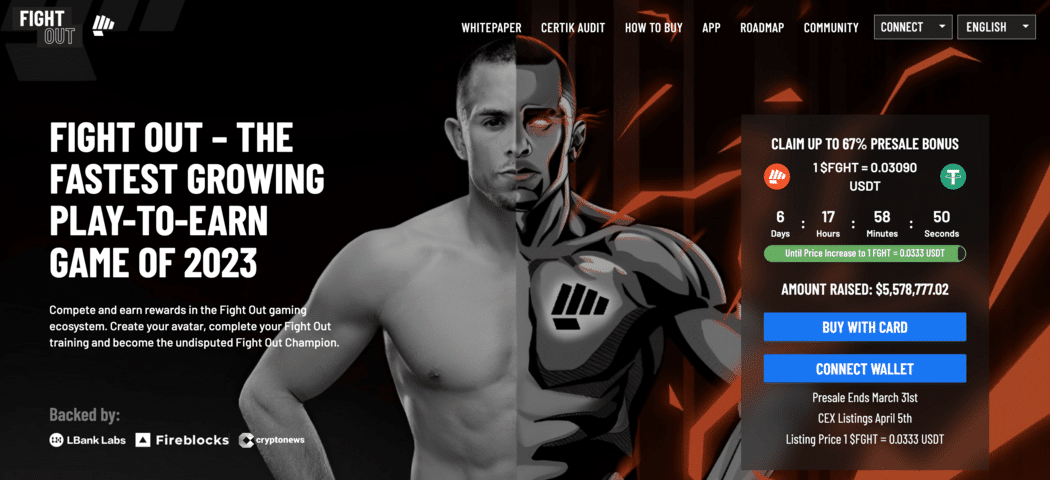 Whether a person prefers running, tennis, weight lifting, cycling, or even meditation, the user will find the right workout plans at Fight Out. The app will also personalize the workouts based on the user's physical fitness as well as preferences. Perhaps the coolest feature of Fight Out is its web3 integration. 
After getting the app, users can also earn rewards by taking part in P2E elements such as Player v Player sessions, MMA fantasy games and entering in online 'coach modes'.
The app will enable its users to create an avatar that accurately represents their own physical capabilities. While players enter the Fight Out metaverse, they can also put their physical strength to the test against other users of the app. Users will also be able to tailor the look of their avatars by purchasing cosmetic NFTs such as accessories, hairstyles, and tattoos. 
Not only that, but Fight Out is also building a support system for fitness fans in the real world. By Q3 2023, Fight Out will have a network of gyms and clubs in different locations across the world. Clubs will include facilities such as health cafes, workspaces, and more. Fight Out users are given rewards for their engagement in the form of REPS tokens. So with these USPs Fight Out could be the next crypto to explode in 2023.
Users can earn REPS tokens as they work out, complete challenges, consume in-app fitness content, and other social acts that contribute to the Fight Out community. The amount of REPS tokens earned will depend on the specific activity, duration, difficulty level, and whether the user is at the Fight Out gym or utilizing the app. 
FGHT token holders are also rewarded in the form of personal training sessions, exclusive events, and more. Currently available to buy on presale for only $0.03090 per token, FGHT is one of the best penny cryptos to buy in 2023. The price of $FGHT will increase every seven days. The price increase will go on until the price reaches $0.0333. After this, the token will be listed on crypto exchanges on April 5th, 2023. 
FGHT is offering users the opportunity to earn up to 67% in bonuses. One can earn a 25% bonus by purchasing up to $50,000 FGHT tokens during the presale, and a further 42% token bonus by staking the coin for at least 36 months.
| | |
| --- | --- |
| Presale Started | December 14 |
| Purchase Methods | ETH, USDT, Transak |
| Chain | Ethereum |
| Min Investment | N/A |
| Max Investment | N/A |
3. C+Charge – Earn Free Carbon Credits for Using EV Charging Stations
C+Charge is a crypto project created with the mission to democratize the carbon credits industry. The team plans to accomplish this by enabling EV owners to earn carbon credits as rewards. In the existing system, only EV manufacturers and charging station owners are eligible to collect carbon credits as an incentive for promoting sustainability.

The team behind C+Charge recognizes the role players of EV owners and has thus created an app to help them generate rewards. The C+Charge app essentially serves as a payment system for EV charging stations. Those who use C+Charge can use it to locate EV charging stations, calculate waiting times, and make payments using the in-app cryptocurrency. 
Needless to say, C+Charge is blockchain-powered, and the app is being constructed to be compatible with the universal standard of charging stations. The platform has also partnered with major EV manufacturers and operators in order to usher in crypto-powered solutions to the space. 
The EV charging app is not the only venture of C+Charge. It also plans to work with solar-powered EV charging stations and set up NFTs that are tokenized versions of carbon credits. However, to get started with the app, EV owners need to use CCHG tokens. 
CCHG tokens will be used for making payments via the app. However, CCHG tokens are not restricted to EV owners alone. Anyone can invest in this sustainable cryptocurrency – and in fact, many analysts view CCHG as one of the best cryptos for 2023, considering its utility, as well as its eco-friendly approach. 
CCHG tokens can be purchased via a presale as of writing. The presale is in stage seven, during which investors can benefit from a discounted price of $0.02 USDT per CCHG token.
| | |
| --- | --- |
| Presale Started | December 16 |
| Purchase Methods | BNB, USDT, Transak |
| Chain | Binance |
| Min Purchase | N/A |
| Max Purchase | N/A |
4. Robotera – Metaverse Project With Robots as Avatars and Virtual Real Estate
RobotEra is another new crypto project that has great features for metaverse investors. The project aims to build a whole new metaverse wherein players can create their own virtual worlds based on their unique imagination. Within the RobotEra metaverse, players will be represented by an avatar – which is designed in the shape of a virtual robot. 
These robots, the virtual lands, and all other in-game assets are structured in the form of NFTs. Players can choose to construct buildings, community spaces, museums, theaters, or practically anything on their metaverse lands. Players can also interact with others in the RobotEra metaverse while earning rewards for doing so.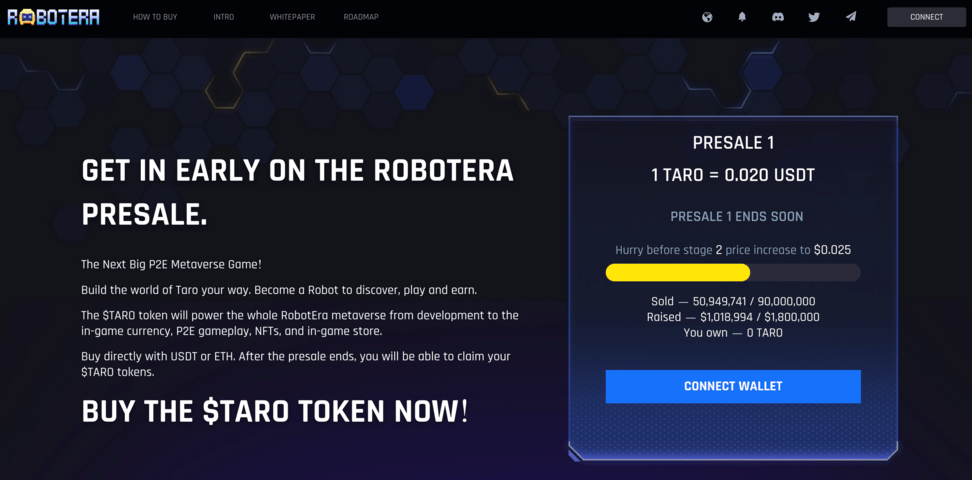 For instance, players can charge others to explore their virtual world. It is also possible to earn prizes by engaging in resource mining, growing their own sacred trees, hosting advertisements on their lands, or exchanging in-game assets. The platform has designed TARO tokens to be the main transactional currency of the RobotEra ecosystem. 
The platform also supports the staking of TARO, enabling another means of passive income for its investors. As with some of the best crypto coins to buy in 2023, RobotEra is also in its presale stage. The first phase of the presale is ongoing as of writing, and the project has already succeeded in attracting a wave of investors.  
Needless to say, RobotEra has positioned itself as one of the most-promising metaverse projects of this year. In other words, investors who expect the metaverse to take over in the future might view TARO as the best cryptocurrency to buy today – especially when considering the low entry price available during the presale. 
| | |
| --- | --- |
| Presale Started | Q4 2022 |
| Purchase Methods | ETH, USDT |
| Chain | Ethereum |
| Min Investment | 1,000 TARO |
| Max Investment | N/A |
5. Tamadoge – Metaverse Game For Battling Virtual Pets and Earning Rewards
Like Lucky Block, Tamadoge also witnessed a rapid entry into the crypto market. Its massively successful presale generated more than $19 million in just two months. Tamadoge went on to generate gains of over 1,000% after the presale concluded and the digital token is now available to purchase via popular crypto exchanges. 
At its core, Tamadoge is a metaverse gaming platform. Players can breed their own virtual pets, which are represented as NFTs. Players can also battle their pets with those of other players and earn points.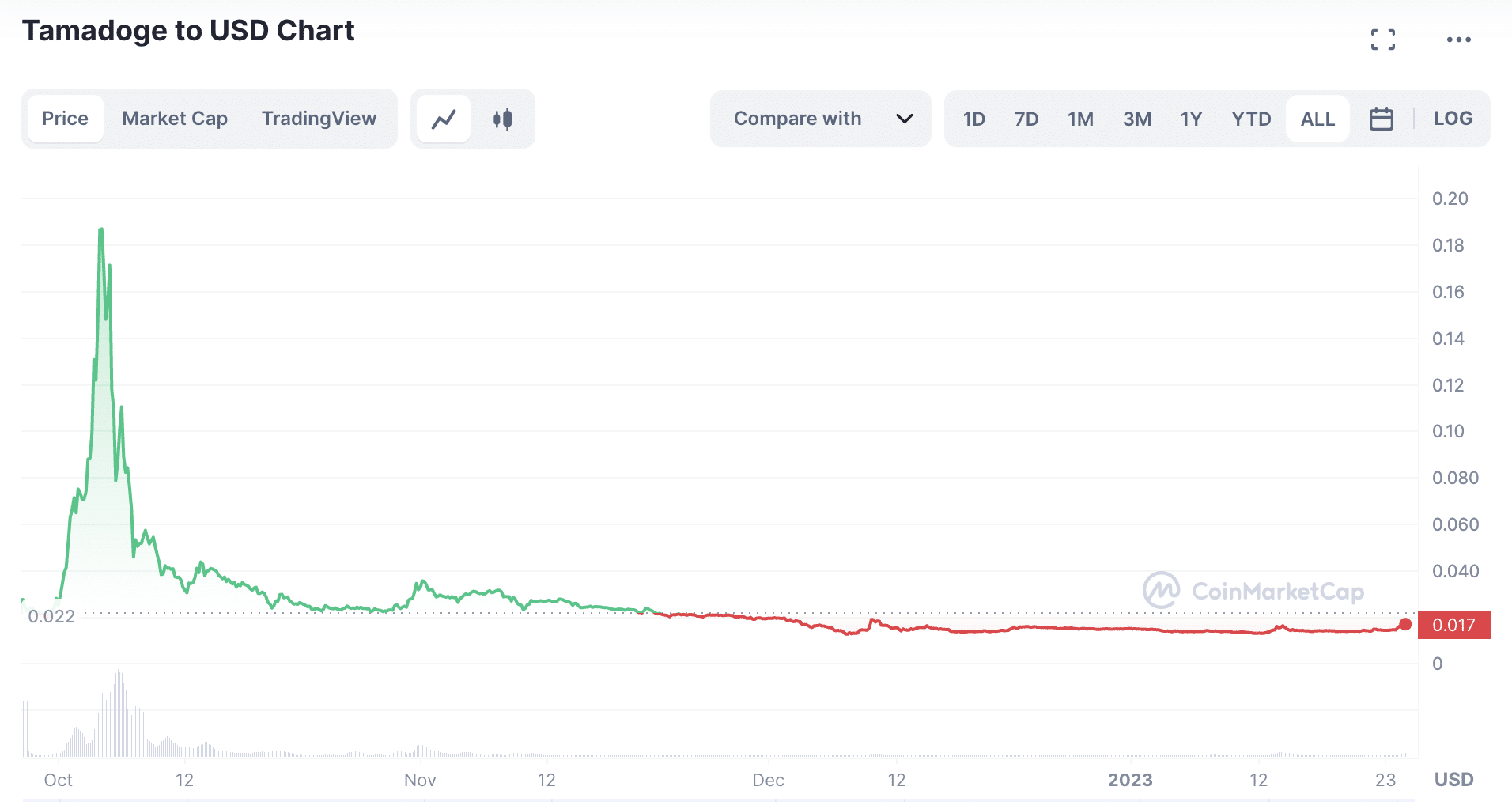 At the end of every month, Tamadoge rewards the players with the most points with its native digital token – TAMA. TAMA tokens can also be used to purchase other in-game assets in Tamadoge's metaverse and to upgrade their NFTs. 
Post its presale, Tamadoge has continued to gain traction with the launch of its NFTs. It has a collection of 21,000 NFTs that can be used to get ahead in the game. As of writing, Tamadoge is in the process of launching its gaming arcade. 
Considering that Tamadoge already has a huge community base, the game is likely to attract many players. This could help TAMA tokens gain more market exposure in the future, and for this reason, many metaverse gamers might categorize Tamadoge as one of the best crypto to invest in in 2023. 
6. Bitcoin – The First and Largest Cryptocurrency With Unparalleled Long-Term Potential
Created in 2009, Bitcoin is the original and, undeniably, the most popular cryptocurrency. Over the years, Bitcoin has become a household name and has attained widespread mainstream adoption. Bitcoin has also managed to sustain its top rank as the cryptocurrency with the largest market cap. 
Back in 2016, it was possible to buy a single Bitcoin for around $500. Although Bitcoin remains volatile, it has gone on to generate unprecedented gains. For instance, in late 2021, Bitcoin was trading at just over $68,000.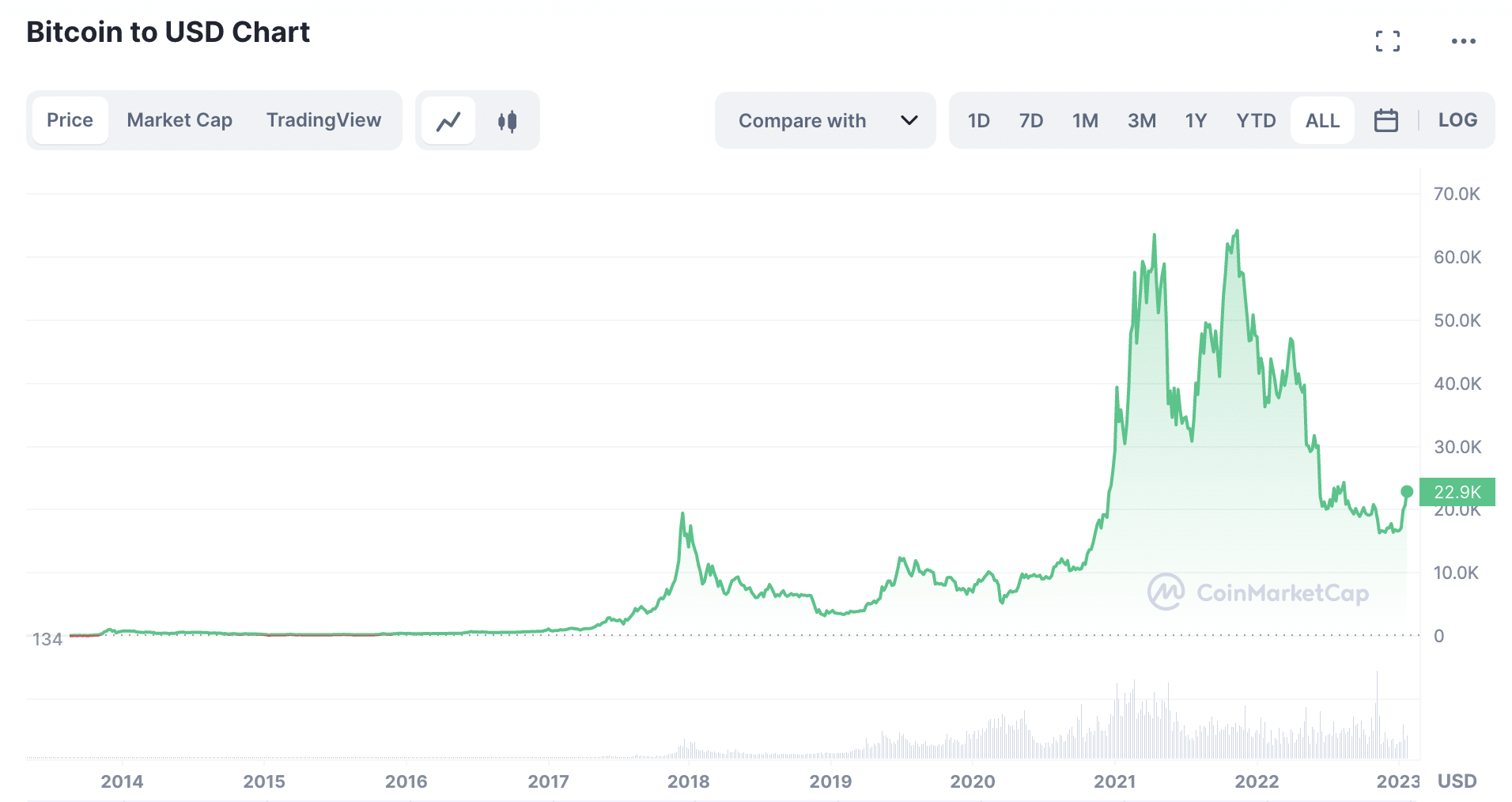 On the flip side, in 2022, Bitcoin lost more than 70% of its market value. And now, as of writing, Bitcoin is trading in the $21,000 region. Many argue that at current levels, Bitcoin is heavily undervalued. 
Today, Bitcoin is accepted as an online payment system by many online merchants. The cryptocurrency can also be used as collateral to take out loans, to play at crypto casinos, and can be locked away to gain annual interest. 
Considering the many utilities as well as the reputation of this digital token, it is clear why Bitcoin continues to be a top choice as the best cryptocurrency to invest in 2023.
7. Ethereum – Top Crypto to Buy for Long-Term Growth
Ethereum shifted to a proof-of-stake mechanism in 2022, which helped the blockchain reduce its carbon footprint significantly. Moreover, Ethereum is already a favorite among program developers because of its smart contracts and is popular for hosting NFTs. In other words, there are plenty of reasons to look at Ethereum as one of the best crypto to buy now. 
Like Bitcoin, Ethereum has also experienced tremendous growth since its inception. Between 2017 and 2021, the price of Ethereum went from around $11 to an all-time high of about $4,800 – translating to gains of more than 43,000% which made it one of the best altcoins to invest in. However, due to the wider market crash, the value of Ethereum plunged to around $1,000 by the end of 2022.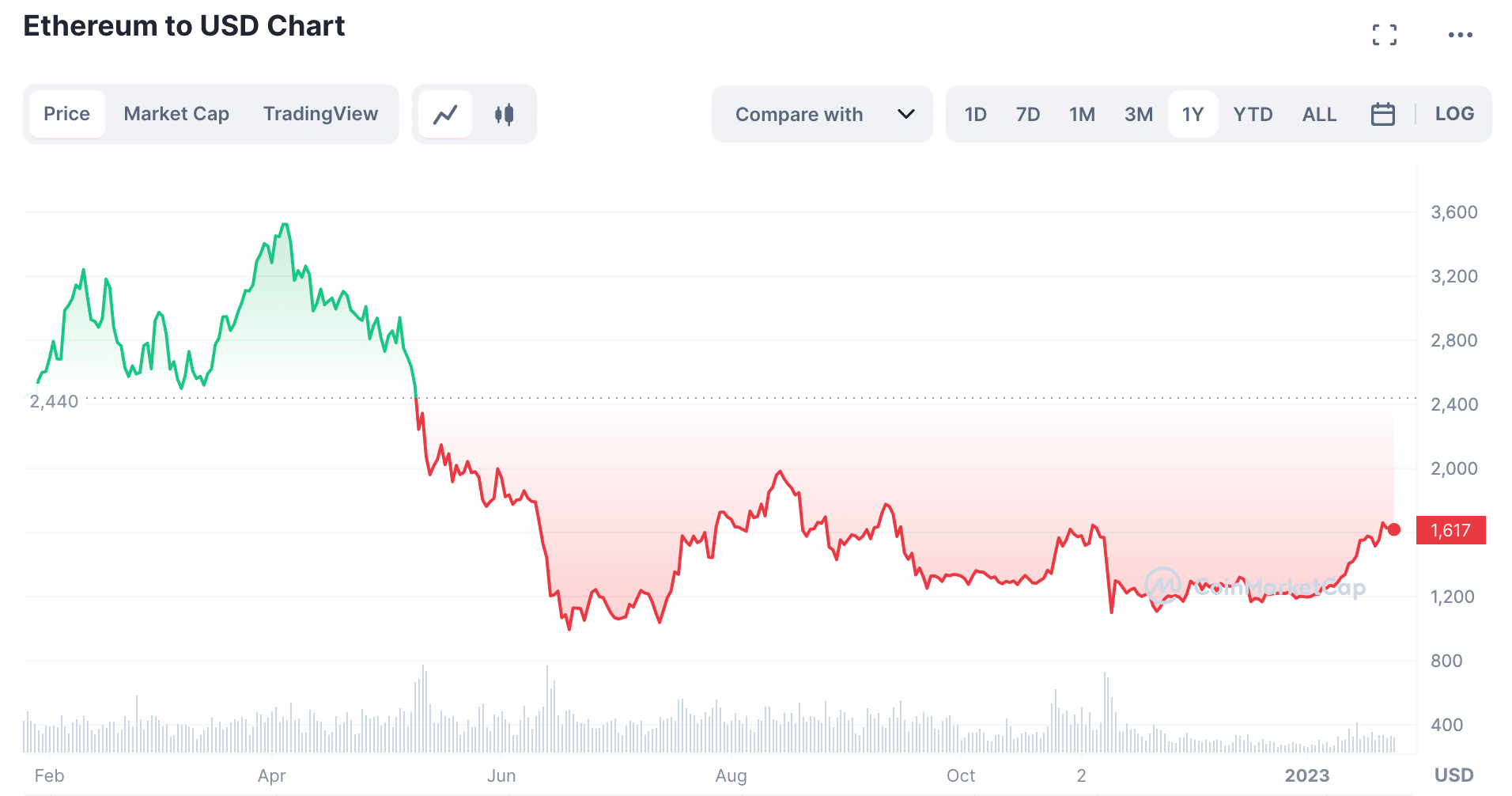 But since the beginning of 2023, the price of this cryptocurrency is showing great resilience. As of writing, Ethereum is trading at around $1,550. On top of its market performance, there are other factors that make Ethereum the top cryptocurrency to invest in – particularly in the long-term. Ethereum has many improvements lined up for the future. 
For instance, an upcoming upgrade 'Shanghai', will allow investors to withdraw the Ethereum they have staked for trading or other purposes – as opposed to locking ETH tokens away, which is the case now. Such new upgrades can further boost the adoption of Ethereum and ultimately, its price. 
8. Cardano – Unique Blockchain With Growing Developer Activity
Cardano is a cryptocurrency that aims to compete with Ethereum in the smart contract market. This is because Cardano is touted to be more scalable and easier to use for developers. Cardano achieves this by using two layers of technology – one for transferring value and another for tracking balances of the ledger. 
The Cardano blockchain is powered by ADA, its native digital token. Since it supports smart contracts, Cardano is also widely used for creating decentralized applications. Cardano's focus on security and decentralization makes it hugely attractive for developers for many years to come.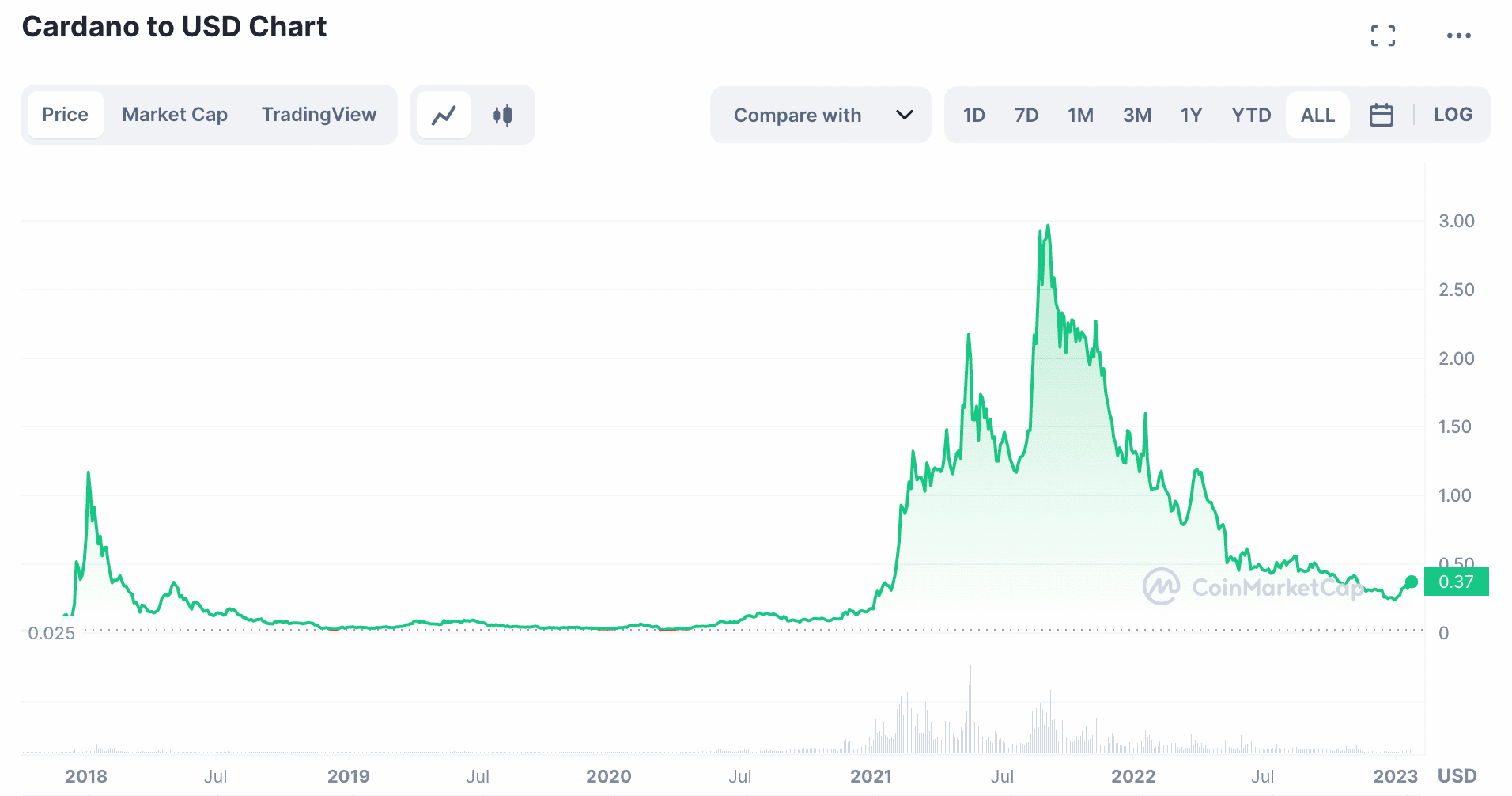 In other words, Cardano continues to be one of the best crypto investments in the market today. On top of this, Cardano transactions are also cheap and fast. As such, it could be favored by online merchants as a payment option in the future.  
Cardano has many other interesting elements that might make it an appealing option for investors. For instance, Cardano completed an upgrade in September 2022 – which further improved its scalability. Moreover, it has also launched its own stablecoin, which can help Cardano become a more important player in the DeFi space. 
9. IOTA – Payment Protocol for IoT Devices
IOTA is a digital token that some investors view to be the best cryptocurrency to buy now. This digital currency is designed to become a key player in facilitating payments in the IoT (Internet-of-Things) world. The main aspect that sets IOTA apart from other cryptocurrencies is that it doesn't actually use blockchain technology. 
Instead, this project validates transactions using a decentralized acyclic graph consensus algorithm called 'Tangle'. This way, IOTA has managed to improve upon some of the limitations of traditional blockchain networks. For instance, IOTA transactions do not need to seek approval to create new blocks, validate transfers, or vote on proposals.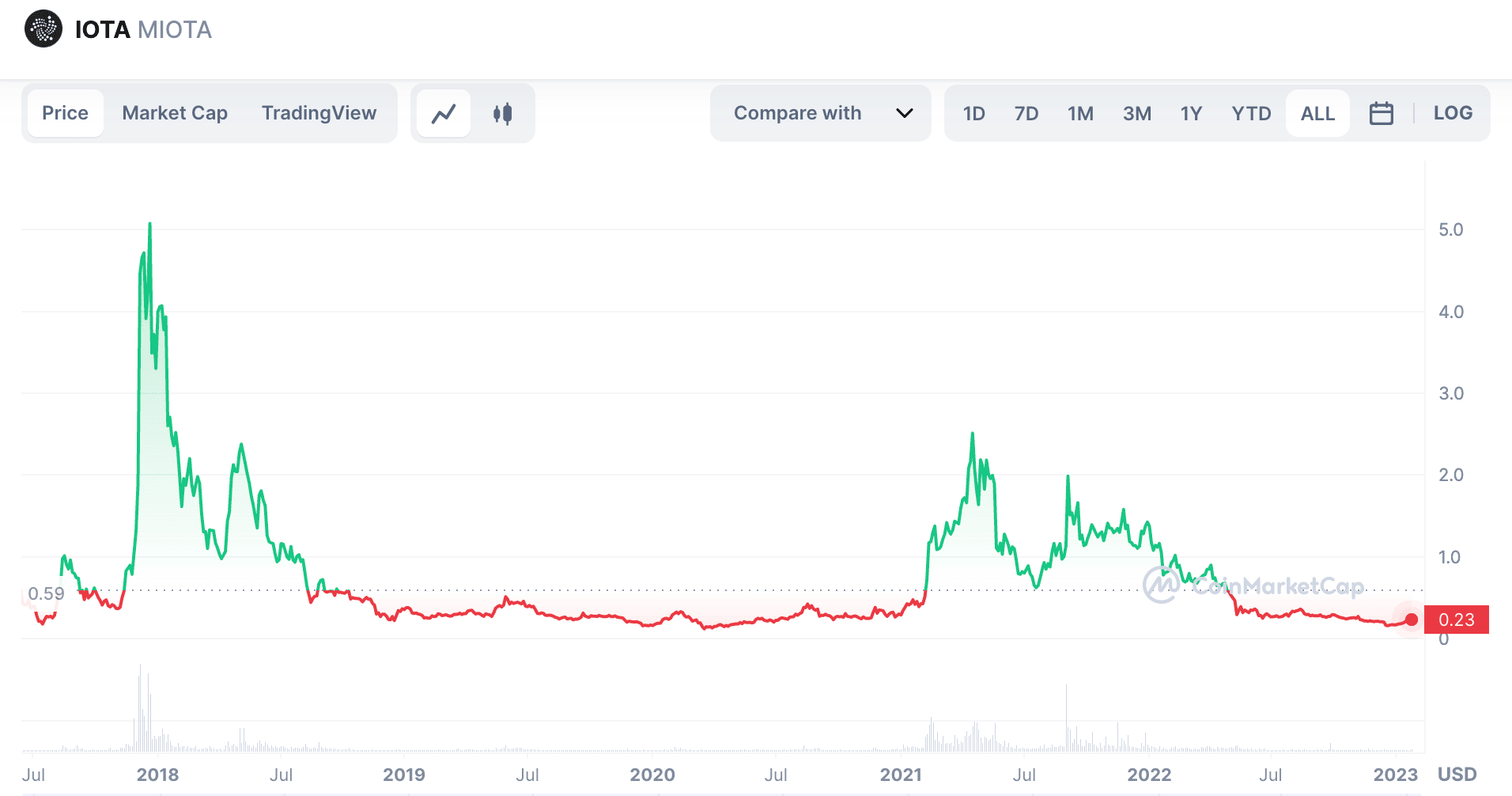 And due to these attributes, IOTA transactions can be carried out in seconds. Moreover, IOTA also facilitates fee-free transactions. Therefore, scaling doesn't have any adverse effect on the network. 
Investors in the belief that the mainstream adoption of IoT is imminent might view IOTA as one of the top coins to buy now. Moreover, due to the crypto winter, IOTA tokens are available at a cheap entry price when compared to their all-time high in 2018. 
10. Polkadot – Crypto Project Facilitating Blockchain Interoperability 
The last digital token on our list is Polkadot. This digital token was founded in 2016 and is designed to connect different blockchains together. This unique interoperability protocol allows for data exchange as well as transactions without compromising security. 
Using Polkadot, developers can also create their own blockchains. Another exciting aspect of this cryptocurrency is its partnerships. For instance, Polkadot is already paired with Chainlink to use its Oracle network. It is also working with Ankr StakeFi, thus allowing investors to stake their DOT tokens and generate passive income.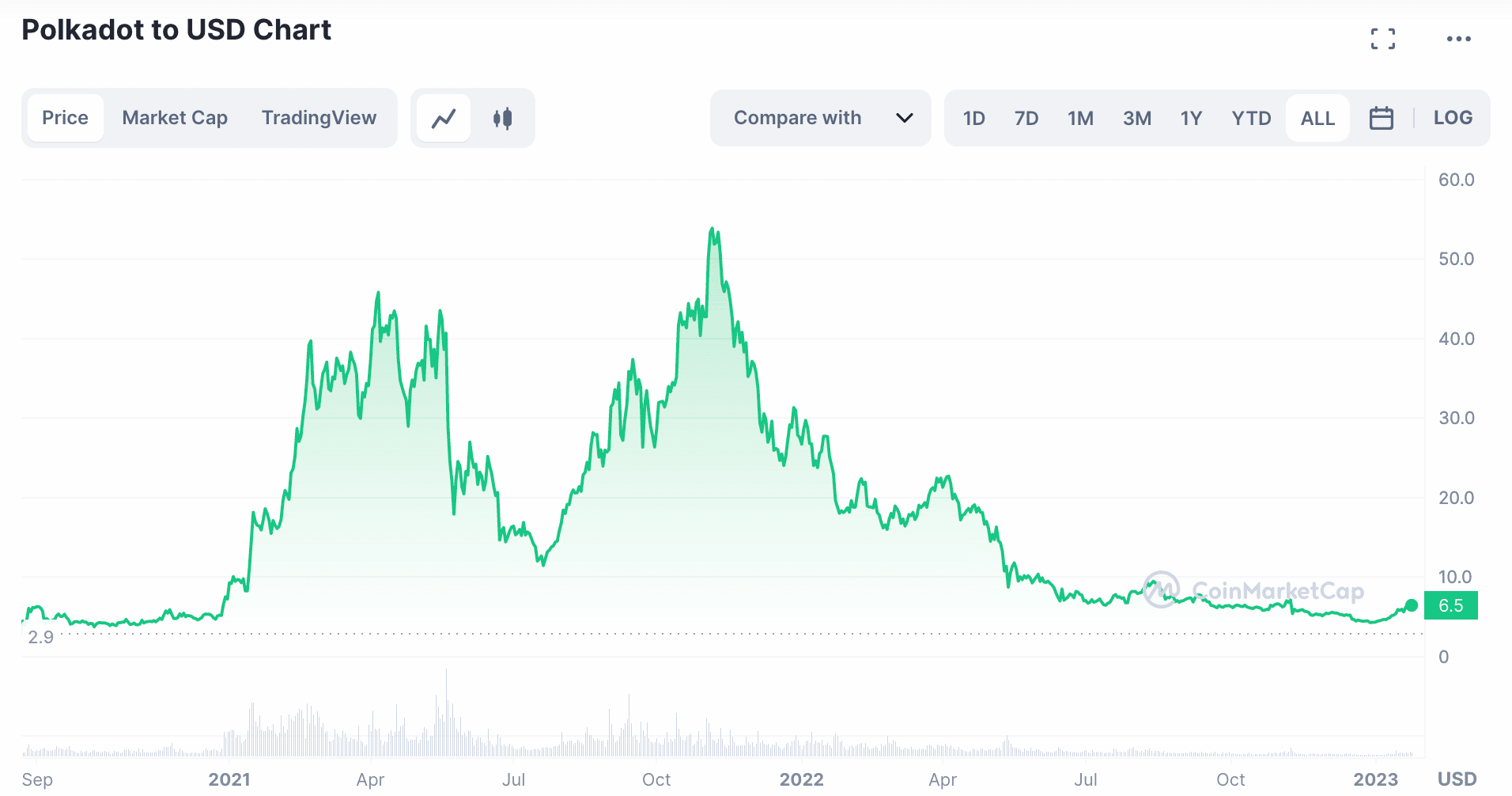 Although Polkadot benefited from the crypto bull market in 2021, its value plunged in 2022, in line with most digital assets. As of writing, DOT tokens are trading at around $6.18. Many argue that this represents a bargain, considering the long-term potential of this project. 
How We Determined the Best Crypto to Invest in
As we noted above, finding the best crypto to buy now is not an easy task by any means – even for the most seasoned of investors. 
However, there are a number of parameters that investors can consider when choosing the best crypto coin to buy in 2023 – which we outline below. 
High Upside Potential 
Perhaps the most important aspect to consider when making a crypto investment is the scope for growth. This can mean different things for investors. 
For instance, investors should consider the token's current price, its use cases, and any market competition. 

To give an example, if a new cryptocurrency is being launched in a niche such as web3, then it already has an upper hand in the market. 
This strategy allows investors to purchase cryptocurrencies with high upside potential at a low presale entry price. 
Project Roadmap
When considering new cryptocurrencies, investors should carefully study the roadmap. Crucially, if the project doesn't have a viable roadmap with attainable objectives, then this should be viewed as a red flag. 
On the other hand, if the project has a clear outline of its future plans, this makes it more of a seamless task to assess how the respective cryptocurrency will perform further down the line.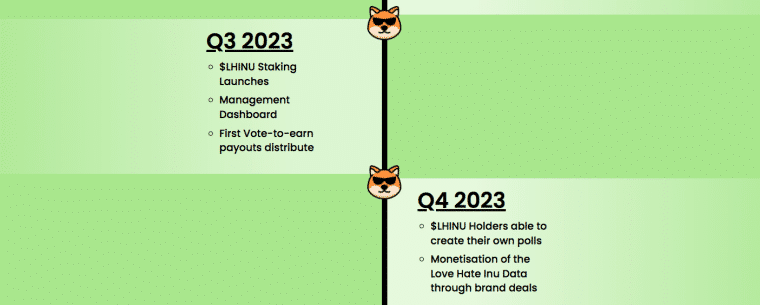 That being said, bear in mind that a clear roadmap doesn't guarantee a price increase. Instead, this should only be viewed as one of many metrics when assessing the best crypto to buy now.
Undervalued Prices
Investors might also want to consider the price of the cryptocurrency before making a purchase. 
This involves picking digital tokens that appear to be trading for less than their potential value. However, this can be hard to evaluate. 
This is why investors will need to consider other factors, such as its use cases and respective market. 

For instance, a cryptocurrency might appear to be a great choice because of its low price.

However, if it continues to trade at stagnated prices during a bull market, this could mean that the broader crypto community has lost interest  
Another way to buy cryptocurrencies at a low price is by investing in a presale or when the project is in its early stages – when tokens are offered at a hugely discounted price. 
Long-Term Utility
Finding the best long-term crypto investments is no easy feat. Irrespective of broader industry conditions, the best coin to invest in is one that has the edge over the market – especially with a unique utility. 
This offers a clear reason for investors to pick a project from the many thousands of other options. 
For example, Love Hate Inu and Fight Out are good examples of new cryptos with unique utility – blockchain-based voting polls in the case of the former, and an innovative train-to-earn fitness rewards system in the latter.
Market Cap
The market cap is also a crucial factor to consider when searching for the best crypto to buy now. 
The Market cap of cryptocurrencies is often used as an indicator of the dominance and popularity of cryptocurrencies. It also informs us of the total value of the cryptocurrencies in circulation, according to the market.  
Crucially, by investing in cryptocurrencies with a small market capitalization, this offers a much higher upside when compared to established coins. This is almost always the case with brand-new projects that are still in their presale phase.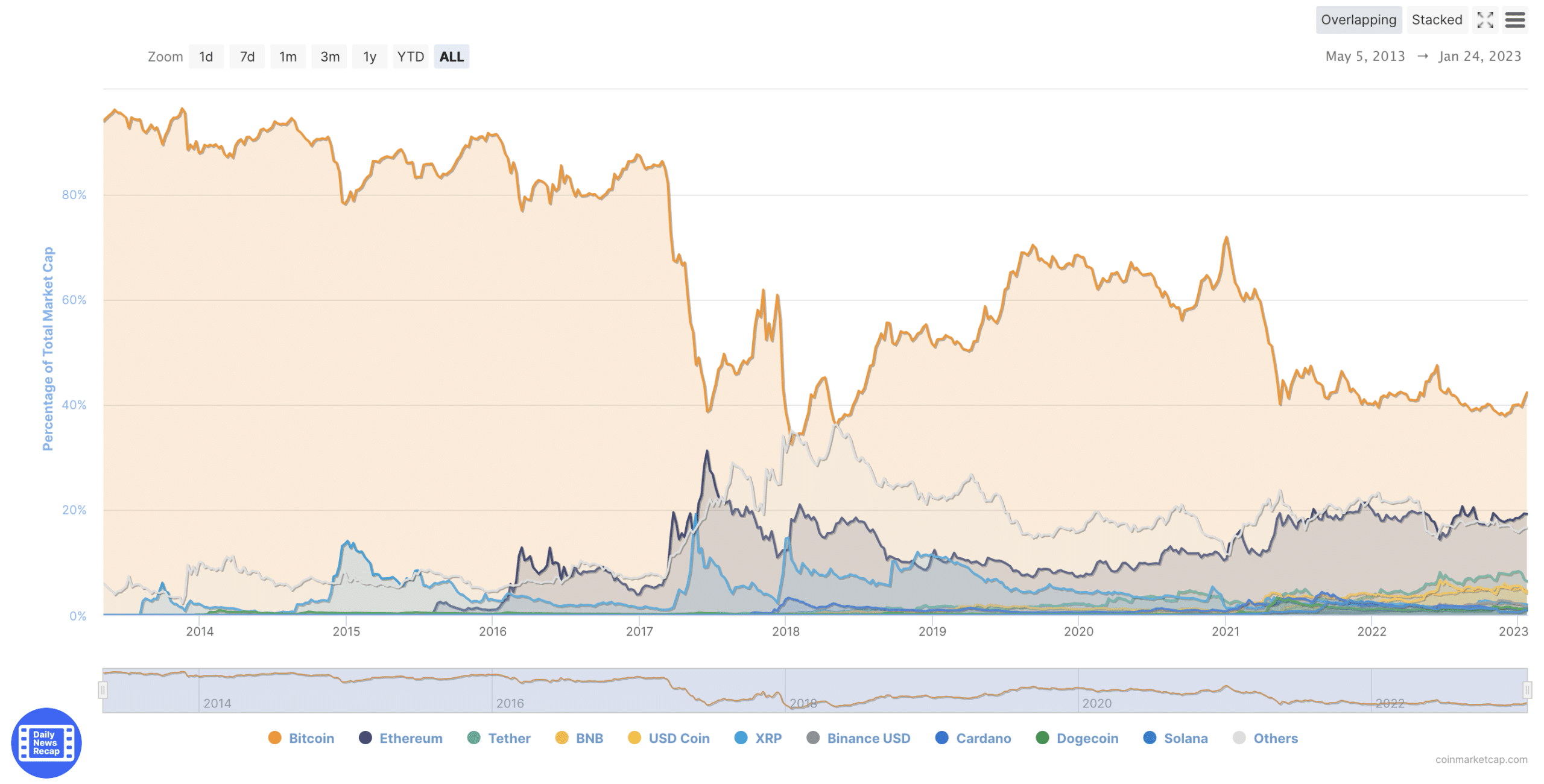 This offers plenty of upside for early investors in the search for sizable gains.  Most crypto traders use CoinMarketCap.com to track the market caps of different tokens.
Past Performance
The past performance of a cryptocurrency can also inform investors of how it has previously performed in different market conditions. 
However, when analyzing the price history of crypto, investors should also remember that this is not an indication of future performance. 
Crypto markets are volatile and highly speculative. Therefore, investors should always do their own due diligence before deciding the best coin to invest in.
Other Things to Consider When Investing in Crypto
Investing in cryptocurrency can be exciting and potentially profitable, but it's important to approach it cautiously and clearly understand the risks involved. Here are some important things to consider before investing in crypto:
Your risk tolerance: It's crucial to consider your risk tolerance when investing in cryptocurrency. Crypto markets can be extremely volatile, with prices fluctuating rapidly and unpredictably. If you have a low-risk tolerance, you may consider investing in more stable assets with less potential for extreme price swings.
Cryptos within your budget: Another important factor to consider when investing in crypto is your budget. Crypto markets can move quickly, and it's important to react to price changes. Investing more than you can afford to lose can lead to financial stress and potential capital loss. Therefore, investing only what you can afford to lose is important.
The project behind the cryptocurrency: It's important to research the project behind the crypto you're considering investing in. What problem does the project aim to solve? What is its potential for success? What is the track record of the team behind the project? These are all important questions to ask before investing.
The level of adoption: Another important factor to consider when investing in crypto is the crypto's adoption. How widely is it used and accepted? Is it being actively traded on reputable cryptocurrency exchanges? The level of adoption can give you a good idea of the potential for future growth.
Security and regulation: Finally, it's important to consider the security and regulation of the cryptocurrency you're considering investing in. Crypto markets can be prone to scams and hacking, so it's important to choose a cryptocurrency with strong security measures. Additionally, regulations surrounding cryptocurrencies are constantly evolving, so it's important to keep up to date with any changes that could affect your investment.
Conclusion
Investors searching for the best cryptocurrencies should consider many different aspects before proceeding – such as their portfolio goals and risk profile. 
Our recommended best cryptocurrency is Love Hate Inu – a vote-to-earn crypto platform that lets investors earn rewards by taking part in meme polls. Users can be a part of this platform by purchasing and staking $LHINU, the native cryptocurrency.
Currently, $LHINU is available to buy during its first presale round for just $0.00009 per token.
FAQs
What is the best crypto to buy right now?
Which crypto coins will rise in 2023?
Will 2023 be a good year for crypto?
Which crypto is best for the next 5 years?
Which crypto has the most potential?