The cryptocurrency market is highly competitive, with new projects emerging on almost a daily basis. This makes it incredibly difficult to pick the right altcoin to invest in.
Therefore, in this guide, we offer a list of the best altcoins to buy in 2023. We continue by reviewing each of these top altcoin projects and outlining their potential – so that investors can make an informed decision.
Best Altcoins to Buy for 2023
Let's take a quick look at the best altcoins to invest in of 2023:
Wall Street Memes – New altcoin on presale now with the backing of over one million community members, aiming to generate a similar buzz to other viral meme crypto projects. More than $2 million raised in its presale in less than a week.
Ecoterra –The first-ever blockchain-based ecosystem to offer crypto rewards to members that contribute to the environment by recycling and offsetting their carbon footprint. $4.5 million raised in its presale.
yPredict – Advanced crypto analytics & research solutions with AI technology and forecasting models by AI experts for future trends – $1.9 million raised in its presale.
DeeLance – Platform aims to transform how freelancers and businesses engage in a decentralized setting, offering users complete control over their projects and the ability to receive crypto payments. $1.2 million raised in its presale.
Launchpad XYZ – Web3 platform providing information and resources to help users make informed investment decisions. The platform collects and presents market data, upcoming events, and investment opportunities in the Web3 ecosystem. $800k raised in the presale so far.
AiDoge – Revolutionizing the crypto space with AI-generated memes – digital asset that blends AI-driven meme creation with a user-centric ecosystem, offering rewards, staking, and community engagement opportunities. $AI tokens how heading for IEO after the presale sold out in just four weeks after raising $14.9 million.
Copium

– This meme altcoin offers NFT giveaways and has increased significantly since its exchange listing on Uniswap. Hold $COPIUM for potential returns right now.

Sponge – This cryptocurrency is termed as the 'Krabby Patty of meme coins.' The $SPONGE token is up by over 600% since its Uniswap listing.
Scorpion Casino – An Up-and-Coming Crypto Betting Platform with Over 200 Casino Games and A Sportsbook to Wager on Sports Games.
Swords of Blood – A Polygon-based gaming ecosystem where players can engage in thrilling gameplay and earn tokenized rewards with AAA-rated visuals and a highly-experienced development team.
The Conglomerate Capital – Raising Already Over USD 5 Million, With Outstanding Leadership and Staking Platform Already Launched, TCC opens the Doors of Private Market Investment to Retail Investors
Pikamoon –

Great

altcoin to buy in 2023

for profitable decentralized gameplay. Thanks to its versatile nature, Pikamoon supports offline and online play, catering to players of all tastes and preferences.

RobotEra – Developing a brand-new metaverse where players can own virtual land and other assets as NFTs. With players able to customize their world and build structures on it, all these creations will be minted as NFTs.
Lucky Block – A renowned crypto ecosystem with its native utility token – LBLOCK. Lucky Block's latest endeavor is an online casino allowing players to gamble with fiat and cryptos.
Tamadoge -A fun, meme-inspired metaverse platform that features arcade games where players can mint their Tamadoge pets as NFTs and nurture them until they are fully developed.
Ethereum – Platform with smart contract functionality that allows developers to create and run agreements between multiple parties, enabling the development of decentralized applications, NFTs, and DeFi projects.
Cosmos – Solves the blockchain industry's major challenges, such as scalability, interoperability, and decentralization, using Tendermint and IBC protocol.
Solana – A fast-growing blockchain platform that provides fast, secure, and scalable blockchain solutions for decentralized applications.
Dogecoin – A meme-inspired crypto that has grown widely recognized and well-loved, with a substantial following of enthusiastic supporters.
Top Altcoins With the Most Potential – Full Analysis
The cryptocurrency landscape has expanded dramatically in recent years. Today, there are a significant number of altcoins in the market – each with its own unique features, use cases, and goals.
Below, we have ranked and reviewed some of the top altcoins for 2023.
1. Wall Street Memes – New Community-Driven Meme Token with a Massive Online Following
Wall Street Bulls is a collection of 10,000 Ethereum-based NFTs, which managed to sell out its first collection in just half an hour. The creators of this project have now decided to launch their own cryptocurrency token – $WSM.
Within 24 hours of the presale launch, Wall Street Memes had managed to raise more than $300k and the total now stands at more than $2 million in less than a week.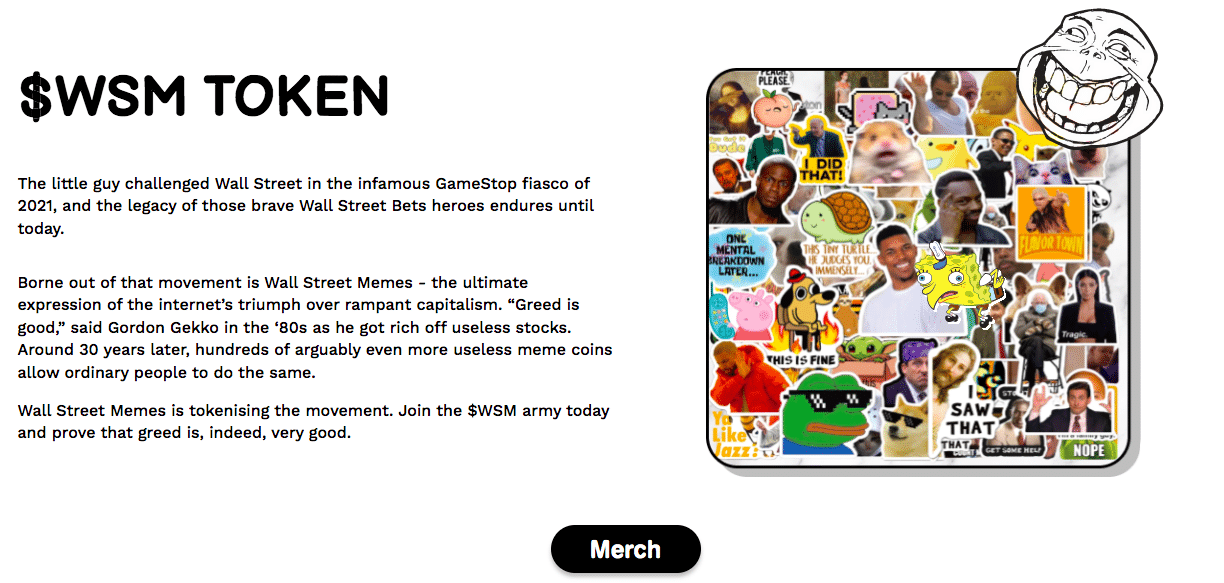 Wall Street Memes is a popular meme-based community that has garnered over 1 million followers. With over 500k Instagram followers and $200k-plus followers on Twitter, this page is one of the biggest in the cryptocurrency space. Thus, the $WSM token has an advantage over the hundreds of new meme coins, which are looking to develop a new following.
Wall Street Memes aims to increase the riches of its community with the $WSM token, which can be purchased for low prices through the recently launched presale. The presale will consist of 30 rounds, for which 1 billion tokens will be allocated. This represents 50% of the token supply.
Notably, there is no team allocation, meaning the project is 100% in the hands of the community and not at risk of a rug pull.
30% of the supply will be set aside for community rewards, while 20% will be allocated for DEX and CEX liquidity. Due to the large following of the Wall Street Memes community, the project aims to raise $30.577 million from the presale.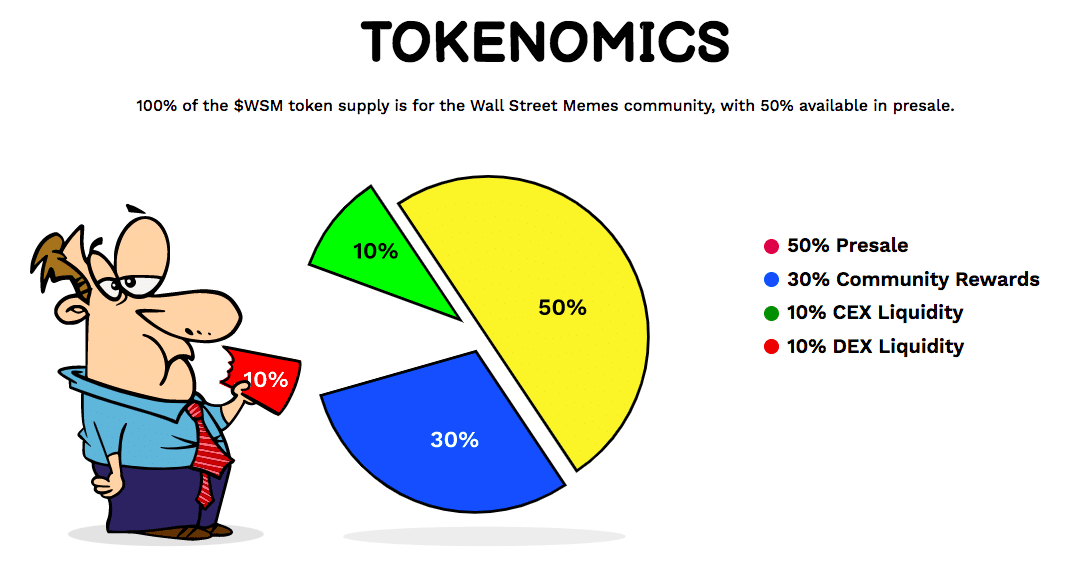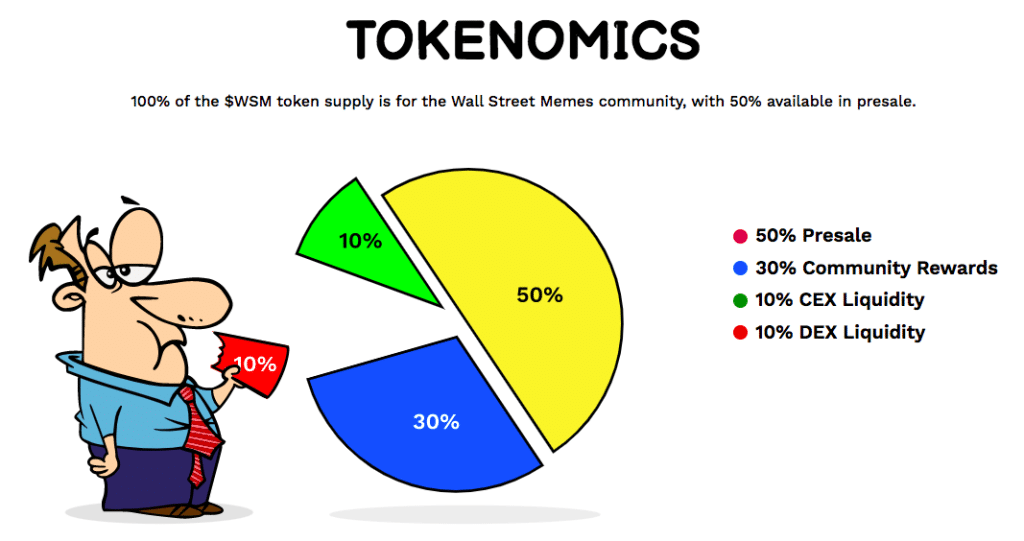 Over the course of 30 rounds, the price will hike by 38.4% from $0.025 to $0.0337 per token. By Q4, $WSM will be listed on a decentralized exchange. It is likely that the listing will take place on a top-tier exchange due to the trading volume a meme token of this stature may receive.
To stay updated with the cryptocurrency presale and learn more about this project, join the Wall Street Memes Telegram channel.
| | |
| --- | --- |
| Hard Cap | $30,577,000 |
| Total Tokens | 2,000,000,000 |
| Tokens available in presale | 1,000,000,000 |
| Blockchain | Ethereum Network |
| Token type | ERC-20 |
| Minimum Purchase | 100 tokens |
| Purchase with | USDT, ETH, BNB, Bank Card |
2. Ecoterra -Sustainable Altcoin on Presale that Offers Rewards for Recycling
Ecoterra is the first-ever blockchain-based ecosystem to offer cryptocurrency rewards to members that contribute to the environment by recycling and offsetting their carbon footprint.
By conducting these initiatives, one can earn $ECOTERRA – the native cryptocurrency, currently available to buy on presale during the first round.
To earn the $ECOTERRA altcoin, users must access Reversed Vending Machines (RVMs) – which allow them to recycle waste. Ecoterra is compatible with all RVMs from around the world, meaning that millions can access this platform.
Through the EcoTerra app, users can scan every time they recycle waste and earn a certain amount of $ECOTERRA tokens. Users can stake this altcoin on the ecosystem to generate passive income and earn a yield. Moreover, members can spend $ECOTERRA on sustainable activities such as ocean cleanups or accessing educational lessons from this platform's online learning forum.
Individuals and businesses can offset their carbon emissions through Ecoterra's carbon-offsetting marketplace. On the platform, one can track their contributions through an 'Impact Score,' which is a great way for companies to obtain data about user behavior and follow all their sustainable actions.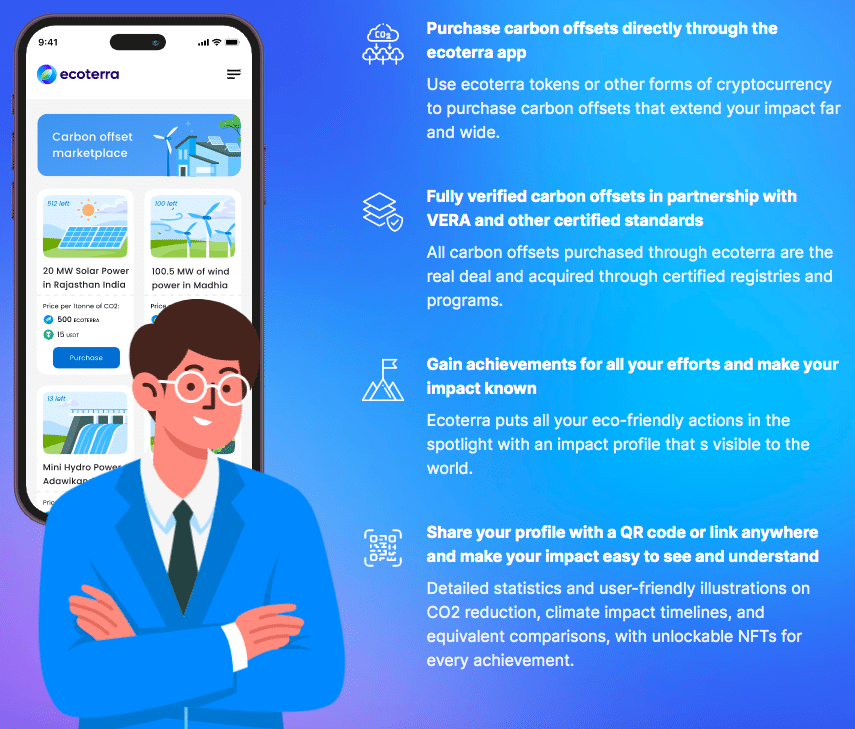 This crypto platform has been KYC verified and audited by CERTIK and declared 100% secure. In the current phase, investors can purchase $ECOTERRA for the low price of $0.0085.
The presale will allocate 800 million tokens, which is 40% of the total 2 billion supply. But, the price of $ECOTERRA will jump to $0.01 by the final round. Thus, one may prefer to purchase this altcoin at its current levels.
Ecoterra has already raised over $4.5 million from its presale and has set a hard cap target of $6.7 million. Read the Ecoterra whitepaper and join the Telegram channel to learn more about this sustainable cryptocurrency platform.
| | |
| --- | --- |
| Presale Started | March 29 |
| Purchase Methods | ETH, USDT, Card |
| Chain | Ethereum |
| Min Investment | $10 |
| Max Investment | N/A |
3. yPredict – Advanced Crypto Analytics & Research Solutions with AI
yPredict is an upcoming altcoin with advanced crypto analytics, research solutions, and an easy-to-use trading interface. This system works with AI experts to provide predictive models and uses AI technologies like Natural Language Processing (NLP).
In the current presale phase, $YPRED tokens can be purchased for $0.09 each. Buyers looking to buy yPredict can take advantage of this value increase, especially when the listing price is set at $0.12 in the final round – almost $2 million has now been raised.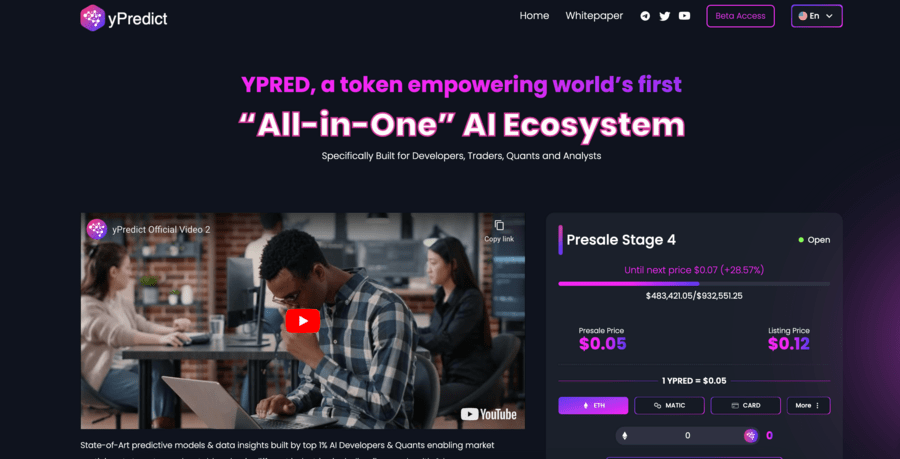 While the algorithmic trading market is expected to grow at a CAGR of over 12% until 2030, yPredict can cater to this expanding market with its forecasting models developed by AI experts using financial mathematics.
The models project the future trends in the market and the prices of various crypto assets.
yPredict uses natural language processing to evaluate the tone of many tokens simultaneously. The platform also provides users with technical analysis and automated trading signals. yPredict's unique pattern recognition algorithm allows it to spot rising and falling trends in charts.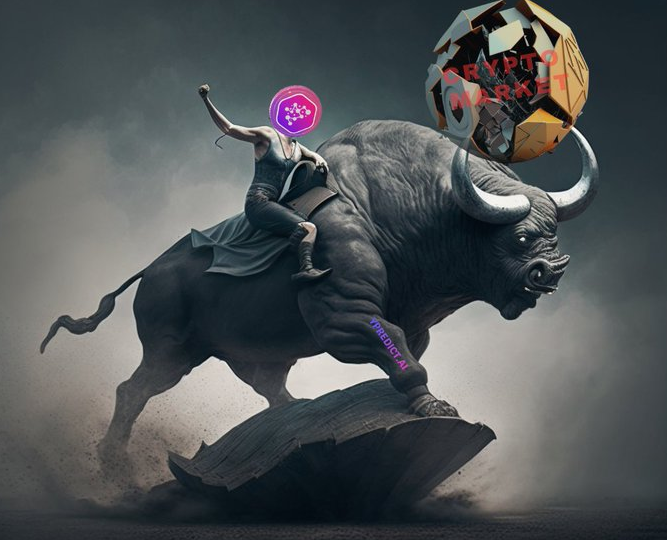 Staking one's $YPRED tokens can yield additional passive income, as mentioned in the yPredict whitepaper. 10% of all new subscriptions are distributed to active token holders.
Presale participants can purchase 80% of the total token supply (out of a maximum of 1 billion), with a $6.5 million hard cap and a 50% TGE unlock on presale tokens.
Moreover, yPredict is built on top of Polygon, an extremely fast and efficient blockchain, by a doxxed and KYC-verified team, with the token smart contract audited by Coinsult.
Join the yPredict Telegram channel to receive updates on the upcoming presale.
| | |
| --- | --- |
| Presale Started | Q1 2023 |
| Purchase Methods | MATIC, ETH, BNB, USDT, Card |
| Chain | Polygon |
| Minimum Purchase | 200 tokens |
4. DeeLance – Innovative Altcoin Shaking up the Web 3.0 Recruitment Industry
DeeLance, one of the best altcoins in the Web3 freelancing and recruitment sphere, has recently launched its $DLANCE token presale, with each token currently priced at only $0.038. The platform aims to transform how freelancers and businesses engage in a decentralized setting, offering users complete control over their projects and the ability to receive cryptocurrency payments.
DeeLance's tools and services include an NFT marketplace, metaverse, and recruitment platform to enhance the freelancer's workflow. The platform charges a minimal transaction fee of 2% for clients and 10% for freelancers. According to the DeeLance whitepaper, there are no withdrawal fees, delays due to currency conversions, or project size limitations.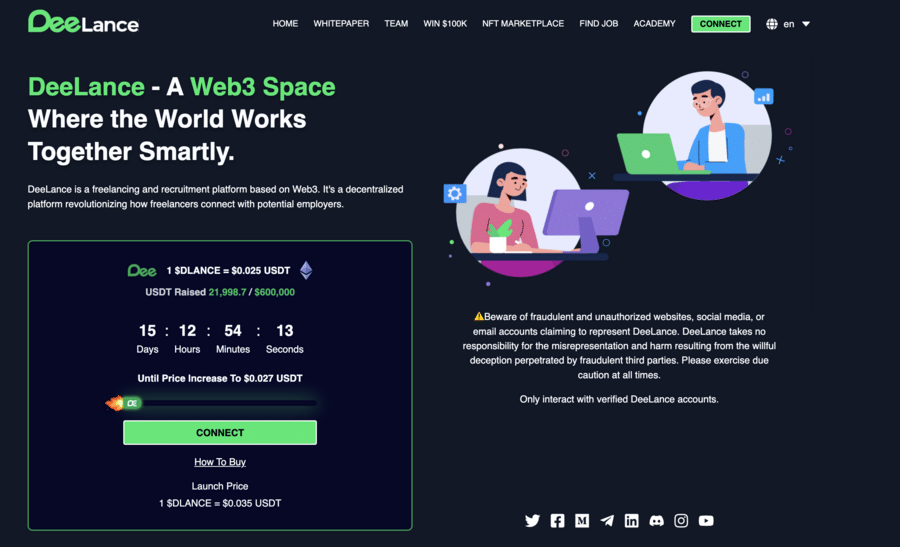 More than $1.2 million has been raised in the presale so far.
By simplifying the job posting and application process, DeeLance creates a seamless user experience. A transparent, automated dispute system monitors buyer and seller reputations on a public blockchain.
DeeLance offers numerous advantages, such as secure escrow accounts that ensure freelancer payments by holding funds in trust until all parties are satisfied with the completed work. The platform supports cryptocurrency payments for instant transactions and low fees.
By converting freelance projects into NFTs, DeeLance protects against payment fraud and copyright infringement while ensuring recruiters maintain ownership of the work.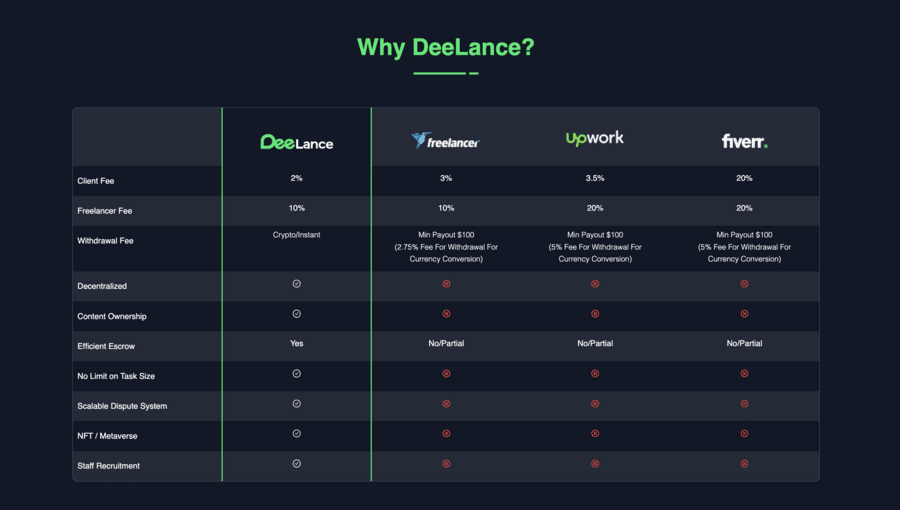 With its global reach and decentralized nature, DeeLance connects users to exceptional job opportunities and talent. The platform's native token, $DLANCE, operates on the Ethereum blockchain and can be used to purchase NFTs, rent office space in the metaverse, and more.
Furthermore, DeeLance is developing a metaverse concept with immersive features such as a lobby arena, offices, and meeting rooms for online collaboration.
As a solution to ongoing challenges in the freelance economy, DeeLance presents an enticing investment opportunity.
To celebrate the presale, the DeeLance team is organizing a giveaway with $100,000 in $DLANCE tokens to be distributed among four winners. For the latest updates, users can join the DeeLance Telegram channel.
| | |
| --- | --- |
| Hard Cap | $6,000,000 |
| Total Tokens | 1,000,000,000 |
| Tokens available in presale | 300,000,000 |
| Blockchain | Ethereum Network |
| Token type | ERC-20 |
| Minimum Purchase | $10 |
| Purchase with | USDT, ETH, Card |
5. Launchpad XYZ – Empowers Users to Make Informed Investment Decisions
Launchpad XYZ is quickly becoming one of the best altcoins as it navigates the ever-changing Web3 landscape. The platform simplifies data collection and presentation, such as market sentiment for various cryptos, to aid in making educated investment decisions.
The current presale price of the project's native token, LPX, is $0.0445. With the listing price set at $0.07, buyers can reap the benefits of this upside in the coming months. More than $800k has been raised so far.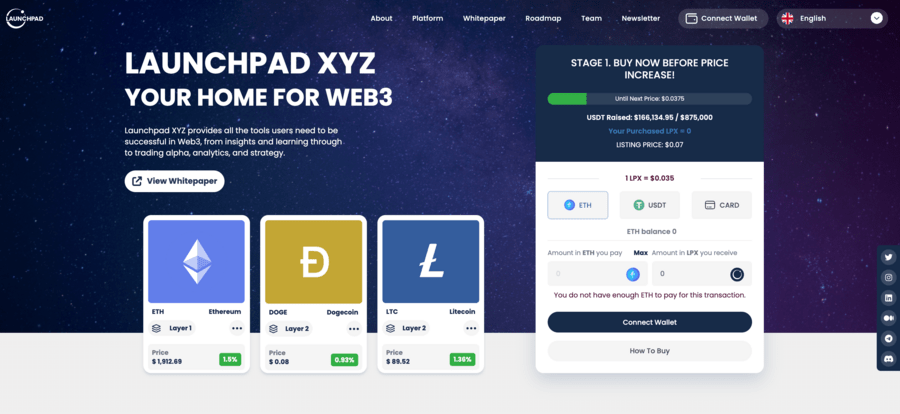 The platform notifies users of upcoming crypto presales, NFT events, P2E game launches, and other crucial project details to help them make educated investment decisions. Presale crypto investments are high-risk but can also be potentially lucrative. For instance, Tamadoge, among other cryptos, has proven they can produce substantial returns.
The Launchpad XYZ whitepaper reiterates that the platform provides reliable information regarding Web3 investment opportunities to new and experienced investors. Furthermore, integrating a decentralized exchange (DEX) will fortify Launchpad XYZ's position as a Web 3.0 business community focal point.
Launchpad XYZ relies heavily on the LPX token. Staking a minimum of 10,000 LPX tokens grants users early access to beta versions of popular P2P games and reduces trading fees on the DEX.
The value of the LPX token is demonstrated by the fact that users who stake at least 10,000 LPX for 90 days gain access to these premium features.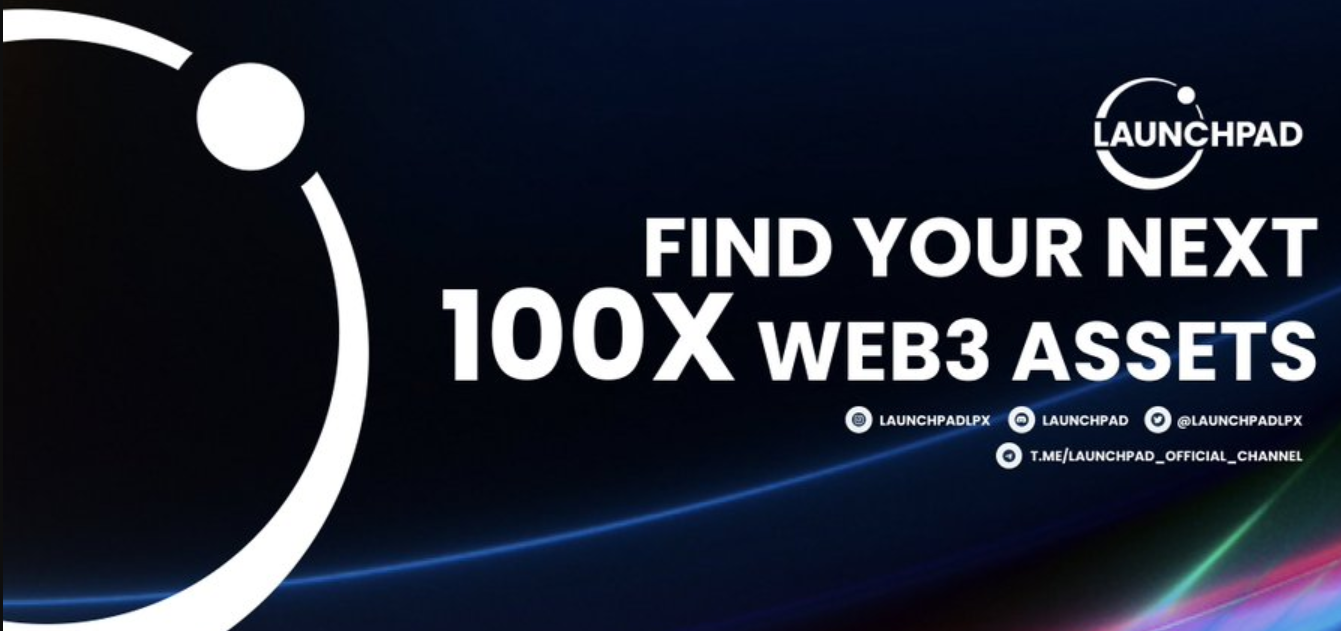 Liquidity, expert analysis, customized indicators, and arbitrage opportunities are just some of the useful metrics that can be found on the platform for various utility tokens.
By providing up-to-the-minute information on investments in Web3, Launchpad XYZ aids users in finding previously unknown possibilities. Users can join the Launchpad Telegram channel to stay abreast of developments.
| | |
| --- | --- |
| Hard Cap | $12,500,000 |
| Total Tokens | 1 billion |
| Tokens available in presale | 250 million |
| Blockchain | Ethereum Network |
| Token type | ERC-20 |
| Minimum Purchase | 100 tokens |
| Purchase with | USDT, ETH, BNB, Card |
6. AiDoge – Platform with AI-Driven Meme Creation & Exciting Rewards
AiDoge is a new platform cropping up to be one of the best altcoins by distinguishing itself by merging the AI-generated meme universe with the crypto domain.
Its $AI token is set to be listed on crypto exchanges in the coming days, having now sold out its presale after reaching its $14.9 million hard cap in just four weeks.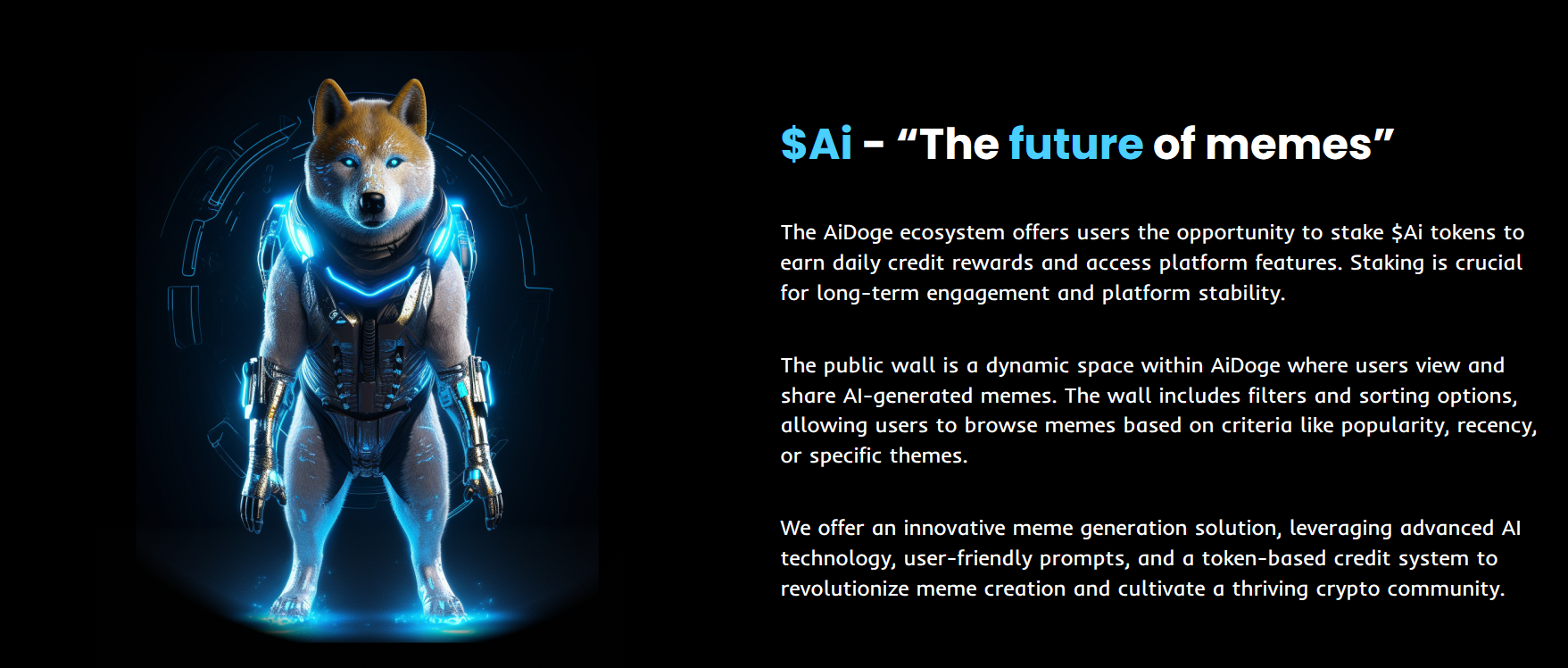 AiDoge employs AI to produce humorous memes that effectively capture the user's interest. Using advanced AI technology, AiDoge generates entertaining memes based on user input.
Prospective crypto investors can acquire AiDoge tokens at a reduced price before its debut on exchanges. Investing in new altcoins can be high risk, but there are cases like Tamadoge where early token buyers reaped massive gains. As a result, it's essential to assess your risk tolerance and make an informed decision.
The AiDoge whitepaper emphasizes the importance of various platform features such as voting feed, meme sharing, staking, and credit allocation for active participants. The community wall is regularly updated with fresh memes, and those who create the most well-received content are rewarded with $AI tokens.
The $AI token is versatile in acquiring credits, staking, voting, and earning rewards in the platform's ecosystem.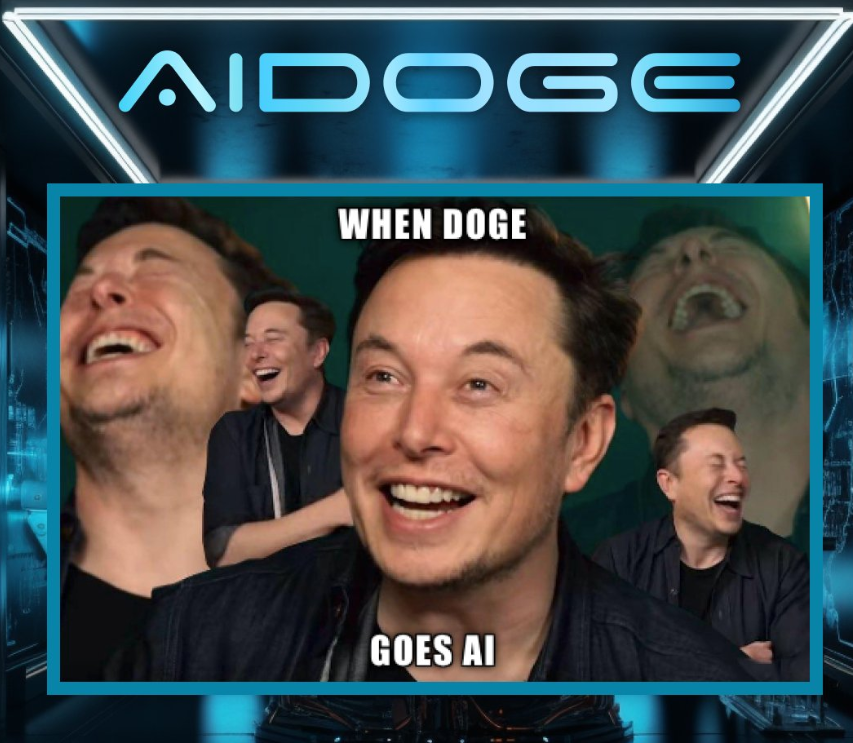 Users need to stake tokens by depositing them into a designated staking contract to receive daily credit rewards on the platform. They can also contribute to the platform's growth by voting on upcoming features and obtaining early access to premium content. The AiDoge platform's staking contracts undergo security audits, and additional precautions are taken to safeguard staked tokens.
AiDoge offers users a decentralized platform to share and appreciates AI-generated memes on a public wall. Content creators with the most popular posts on the public wall receive $AI tokens as rewards.
Members can enter the AiDoge Telegram group to stay informed about the latest developments.
7. Copium – Meme Token Up by Over 500%
In the past few years, meme tokens have proven to be high-risk, high-reward investments. Since the start of 2023, meme cryptos, such as Pepe ($PEPE) and Milady ($LADYS), have been soaring in price. Many believe that Copium ($COPIUM) can be the next meme cryptocurrency to offer huge gains.
The $COPIUM token conducted its initial exchange offering on Uniswap's decentralized exchange, listing at just $0.001213 per token. However, in less than 24 hours, $COPIUM has soared to $0.08, a price jump of over 550%. According to DEXTools, this meme token has a market cap of more than $8 million and a daily trading volume of over $44 million.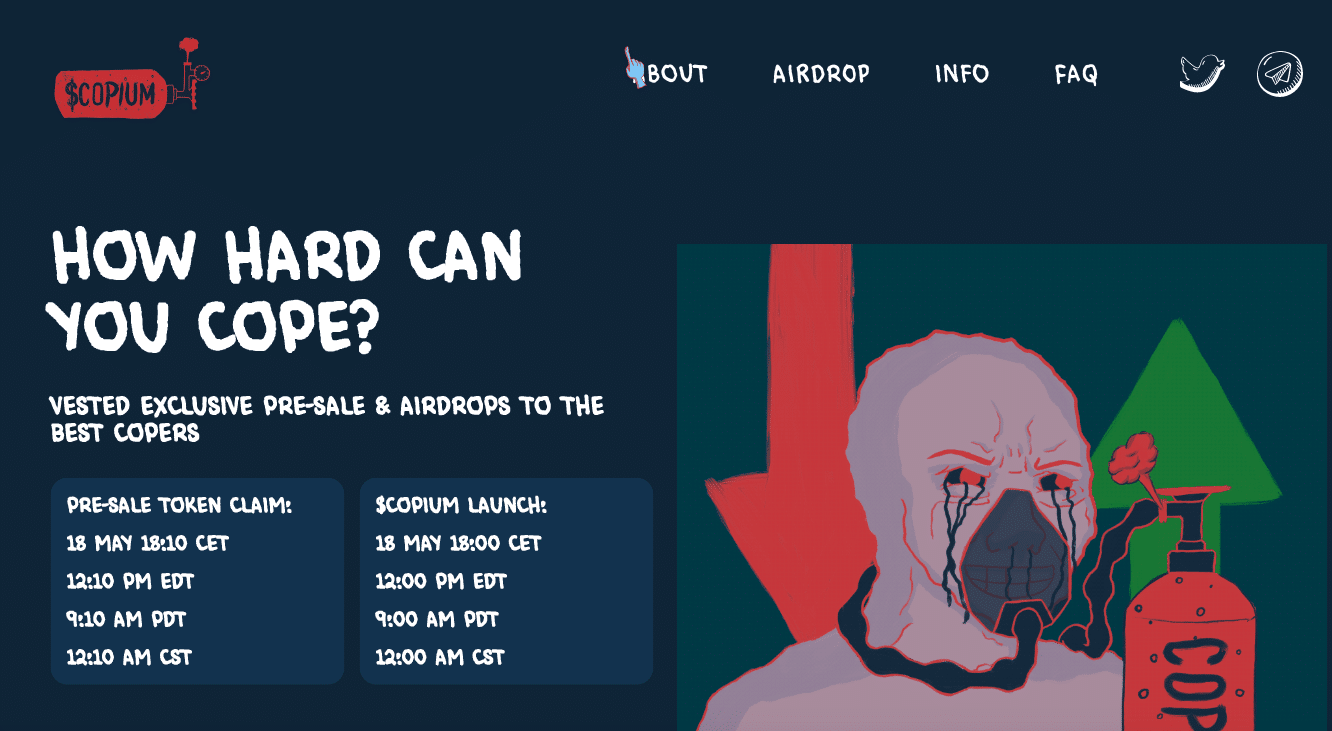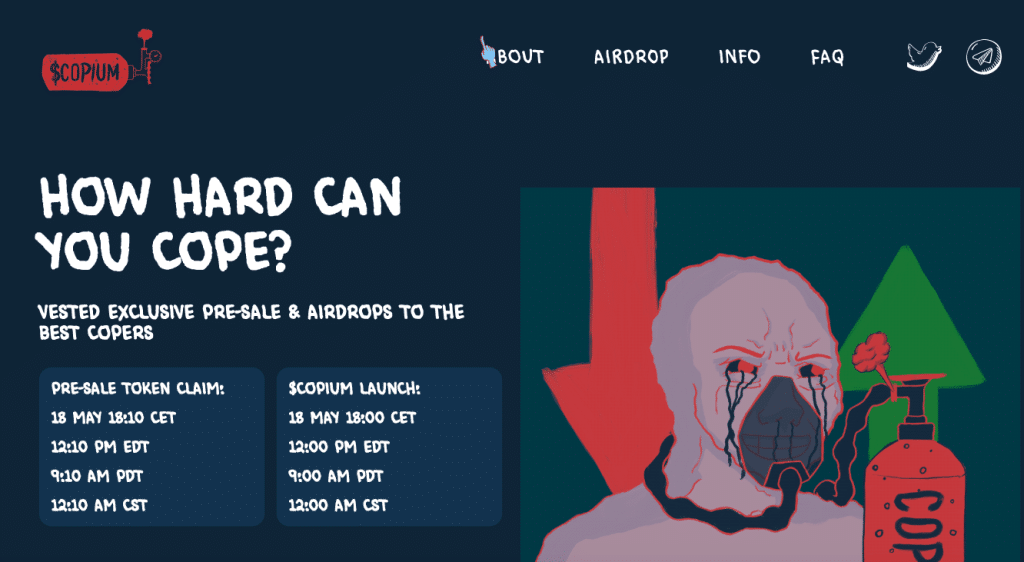 This new altcoin had an interesting presale round, as it worked on an invitation-only basis. Moreover, the top 200 people holding the largest amount of tokens were given NFT airdrops as giveaways on the ecosystem. Since the presale was limited to a maximum purchase of 1 ETH worth of $COPIUM tokens, the platform gave users a fair opportunity to participate.
The presale allocated 300 million tokens, representing 30% of the total 1 billion token supply. Another 10 million tokens have been set aside for airdrop giveaways on the ecosystem. Notably, this is far lesser than other meme coins such as $DOGE and $SHIB.
The low supply can help increase the price with a jump in trading volume and demand. Copium has also implemented a three-week vesting period for 90% of the tokens purchased through the presale. The remaining 10% of the tokens could be unlocked directly.
As it has been just 24 hours since the token launch, we may see $COPIUM rise even further in the coming weeks. Stay tuned for the latest updates and project developments by joining the Copium Telegram channel.
8. Sponge – Meme Coin Up by More than 600%
The next cryptocurrency on our list is $SPONGE – the native token of the Sponge ecosystem. $SPONGE is an ERC-20 token, that has been termed as a decentralized meme coin.
On May 4th 2023, this token was listed on the Uniswap decentralized exchange (DEX). One of the largest DEX's in the world, Uniswap generates a daily trading volume of more than 600 million. One of the reasons for this is due to the platform's global accessibility, and because it used by millions of users.
Right after the listing, $SPONGE instantly soared in price. From a listing price of $0.00005844, the token is now trading at the $0.00042 levels. This amounts to a price increase of over 600%.
DEXTools states that the market cap has exceeded beyond $17 million, despite being only $2 million on May 4th. Currently, the meme space is very bullish, as tokens such as $PEPE have also jumped by more than 600% in the past week.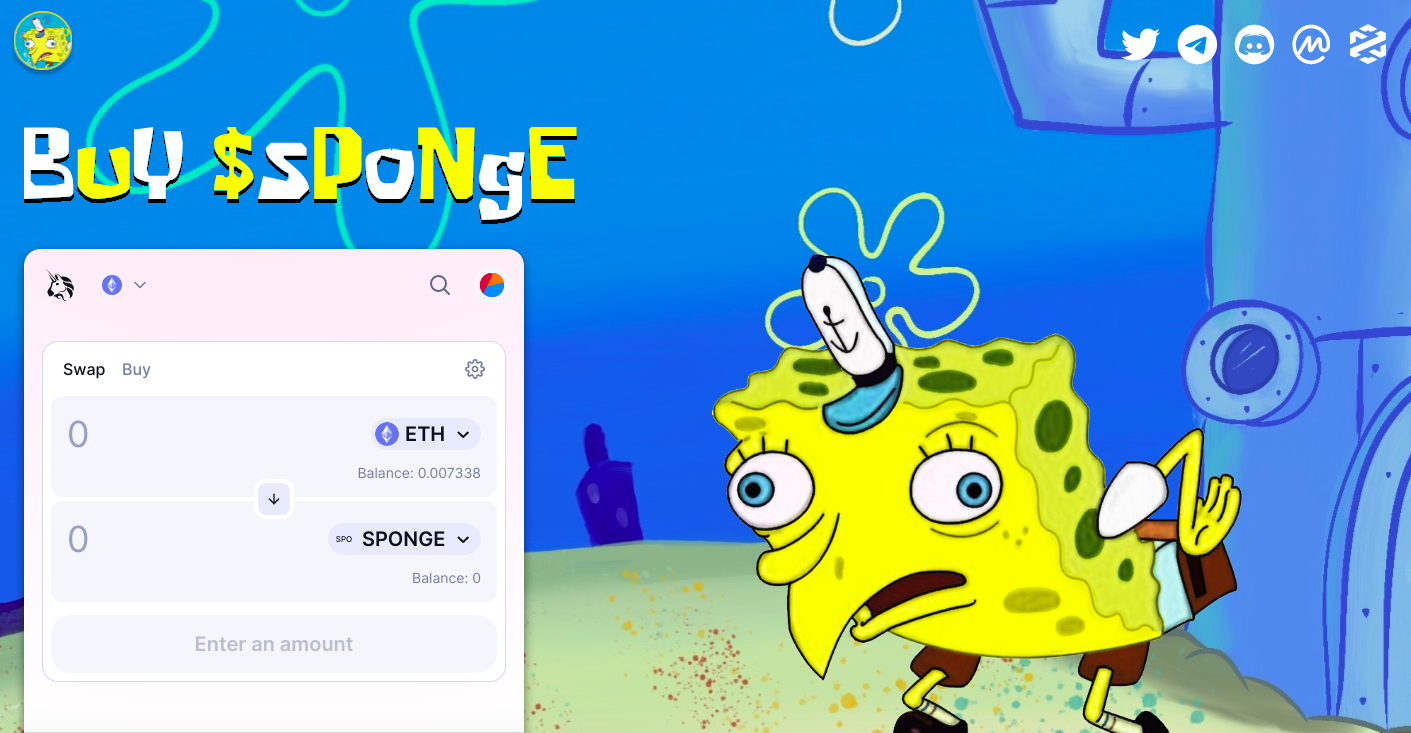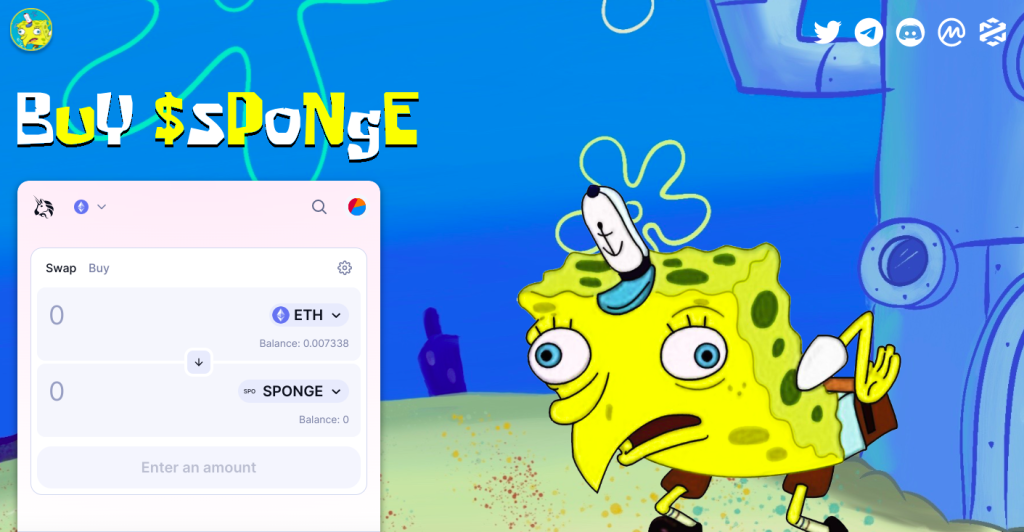 Cryptocurrency traders such as Jacob Crypto Bury claim that $SPONGE has the potential to be the next $PEPE token. Therefore, investors may be keen to buy $SPONGE at current levels.
To learn more about this cryptocurrency, join Spongebob's telegram channel.
9. Scorpion Casino – An Up-and-Coming Crypto Betting Platform with Over 200 Casino Games
Sports betting and casino platforms are on the rise, and the internet has made it more accessible than ever. However, these platforms are still operating on centralized technologies and as such, they come with a wide variety of shortcomings. Blockchain technology has the ability to make these platforms fairer and more transparent, and Scorpion Casino is doing just this.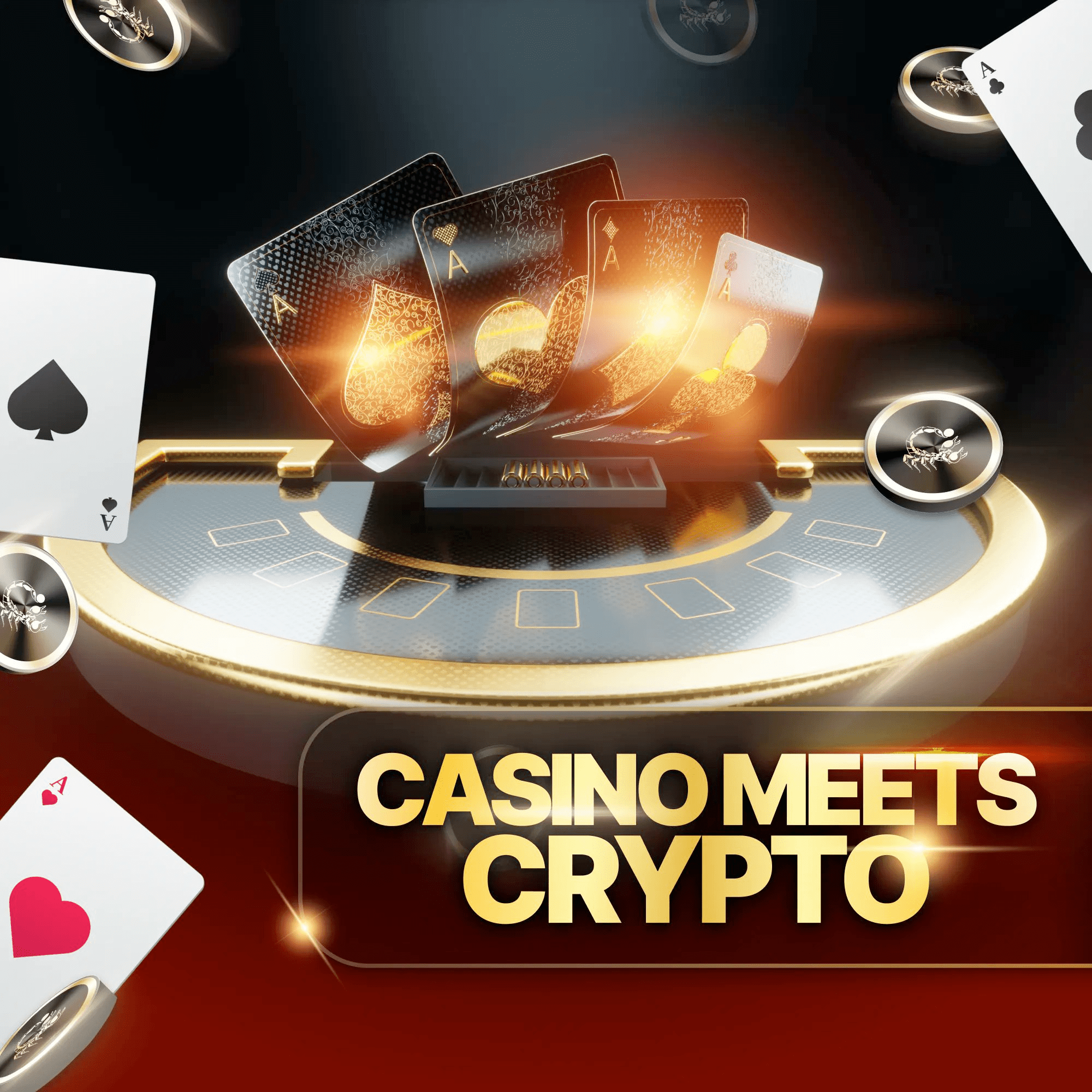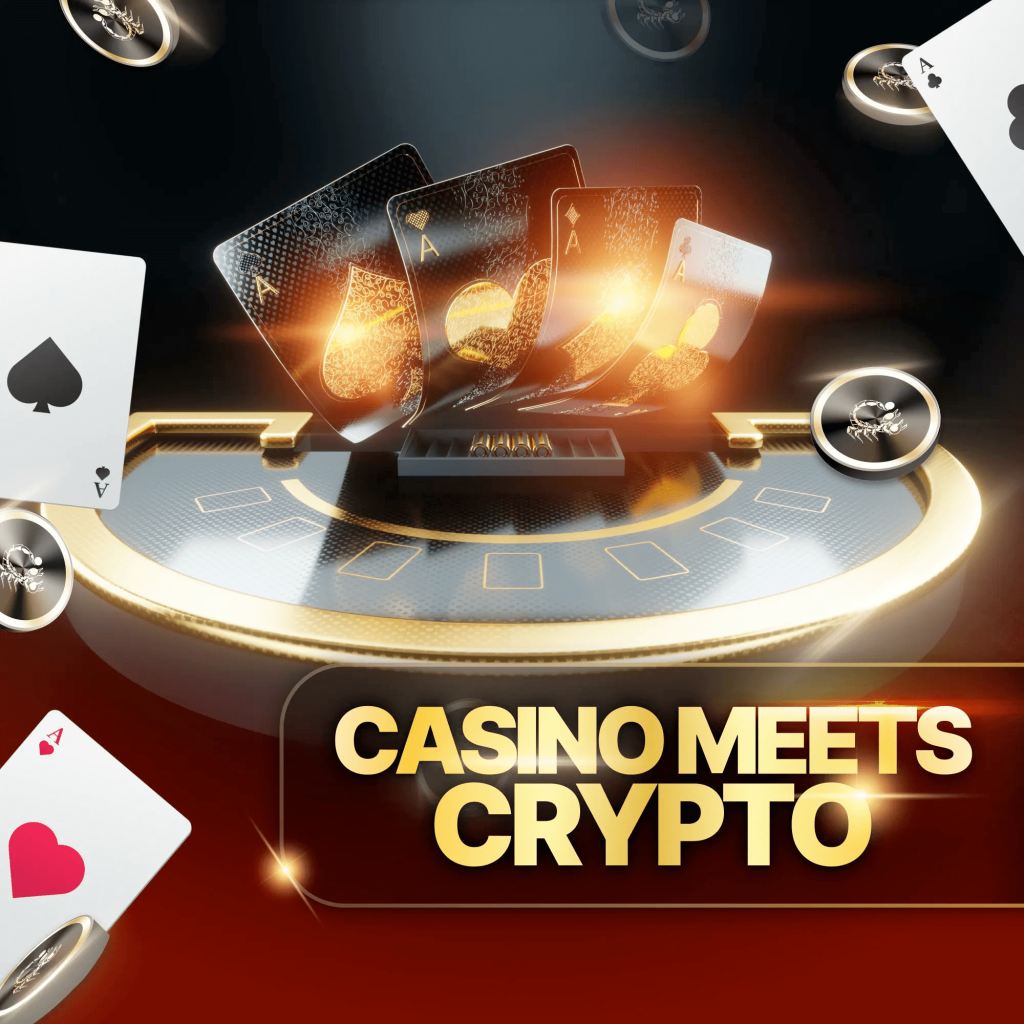 The ecosystem of the project consists of the betting platform, the affiliate system, and the SCORP token. The platform is a licensed cryptocurrency-based sports betting and casino platform, while the affiliate system serves as a referral and reward mechanism, and the SCORP token acts as a governance and reward token for users.
The Scorpion Casino offers an extensive selection of games, including over 200 casino games and 160 live games, all of which are licensed and verified for fairness. Players can enjoy a variety of games such as slots, blackjack, roulette, poker, and live casino experiences. The platform is connected with leading providers such as Evolution, NetEnt, Play N Go, Novomatic, EGT, and AMATIC. In addition, users can engage in sports betting on popular sports like football, tennis, American football, horse racing, basketball, golf, boxing, and MMA.
The SCORP token holds a central position in the ecosystem, providing users with four significant benefits. Firstly, it serves as the exclusive payment method within the ecosystem. Additionally, token holders have the opportunity to earn passive income. The token also grants weekly bonuses and free games. Furthermore, it plays a crucial role in the affiliate system.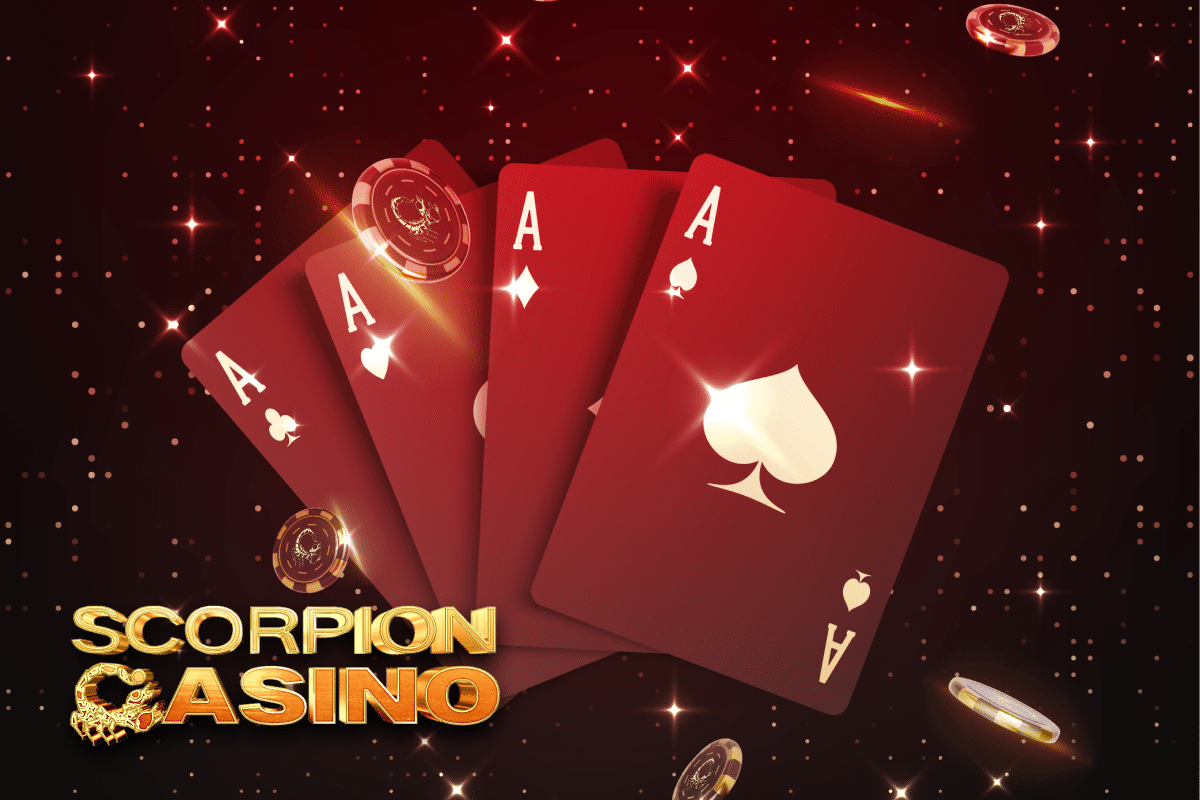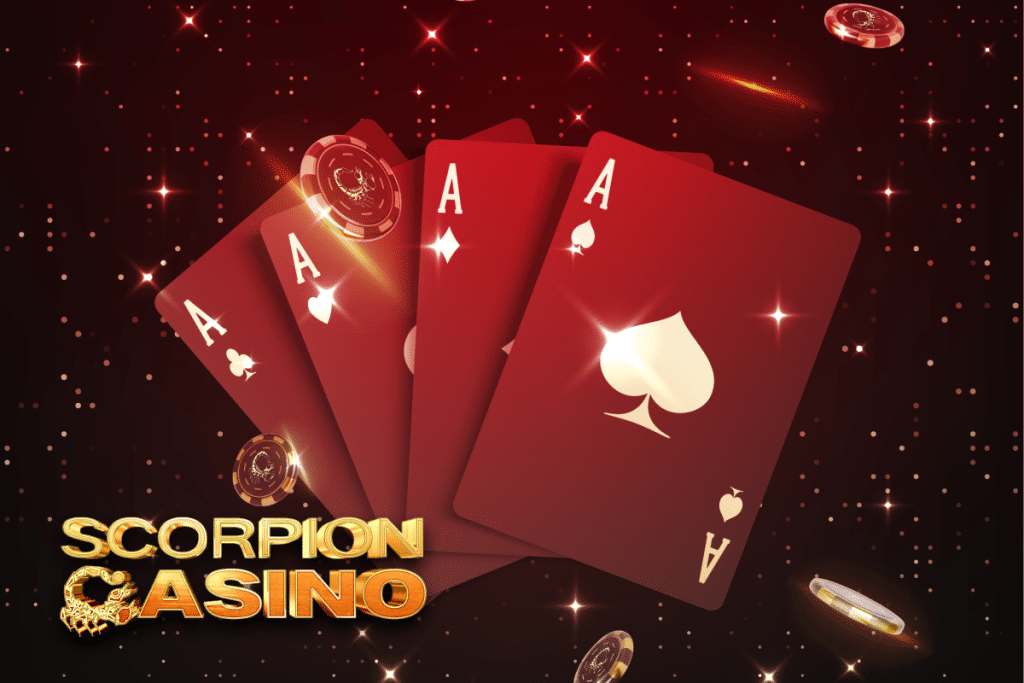 The total supply of the SCORP token is 1 billion, with 280 million SCORP allocated for the presale and 300 million set aside for affiliate rewards.
The Scorpion Casino team has unveiled a roadmap outlining future developments, which include live affiliate events, partnerships, marketing campaigns, and collaborations. In the latter half of the year, the team will focus on scaling the platform to achieve significant growth and expansion.
| | |
| --- | --- |
| Token symbol | SCORP |
| Presale supply | 200,000,000 SCORP |
| Token type | BEP-20 |
| Payment methods | ETH, USDT, BNB |
| Listing price | $0.05 |
10. Swords of Blood – One of the Best Altcoins for Exposure to the Blockchain Gaming Niche
Another of the best altcoins that investors may wish to check out is Swords of Blood. Swords of Blood is one of the newest additions to our list, yet it has already begun attracting attention from all corners of the crypto market. This is because the Swords of Blood game boasts AAA-rated visuals and a highly-experienced development team – leading to colossal optimism from investors.
Put simply, Swords of Blood is a Polygon-based gaming ecosystem where players can engage in thrilling gameplay and earn tokenized rewards. However, unlike many P2E games, Swords of Blood's team focuses on keeping gamers excited about playing rather than "grinding" for hours to receive small rewards.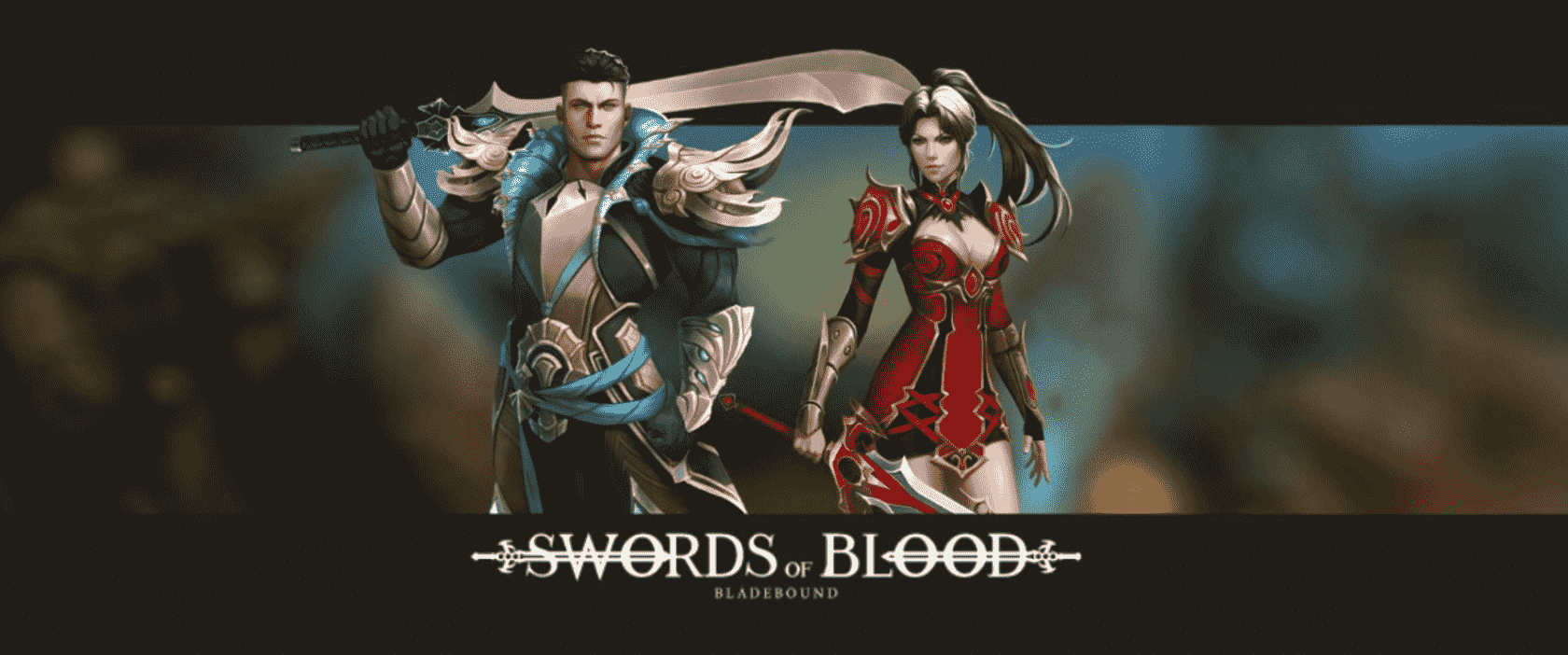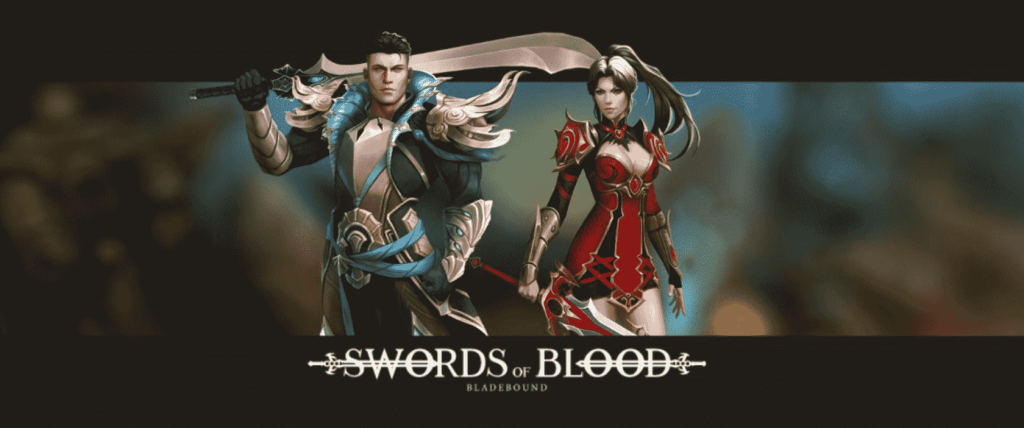 The game is built on the framework of a previous game released in 2019 and will be available on PC and smartphone devices. In Swords of Blood, gamers can create characters and participate in various enticing game modes, such as dungeon crawling, tournaments, and even PVP battles.
As noted in the whitepaper, SWDTKN tokens will serve as the heartbeat of the ecosystem. Since Swords of Blood utilizes hack-and-slash mechanics, players can use SWDTKN tokens to upgrade their gear and make their characters more powerful. There are various ways for players to earn SWDTKN, such as by winning PVP battles or selling rare items on the in-game marketplace.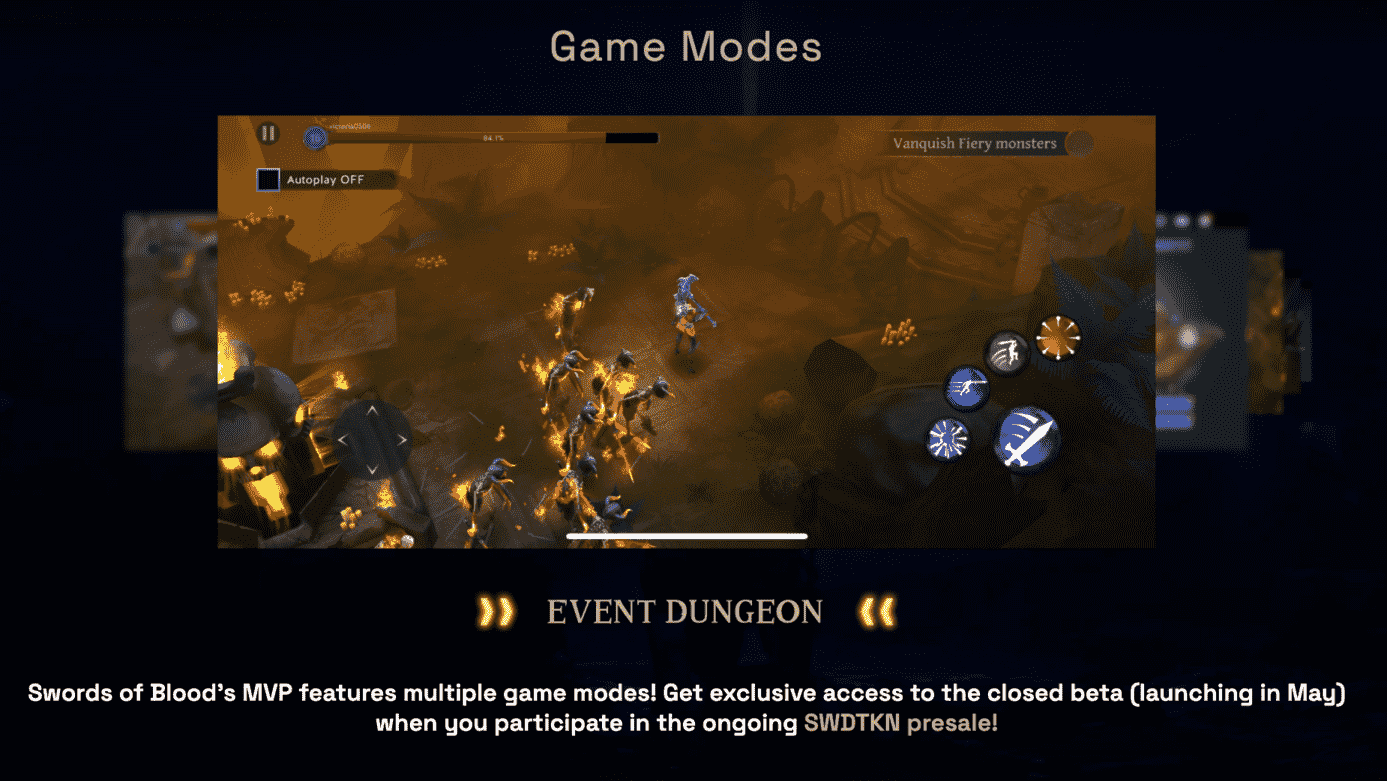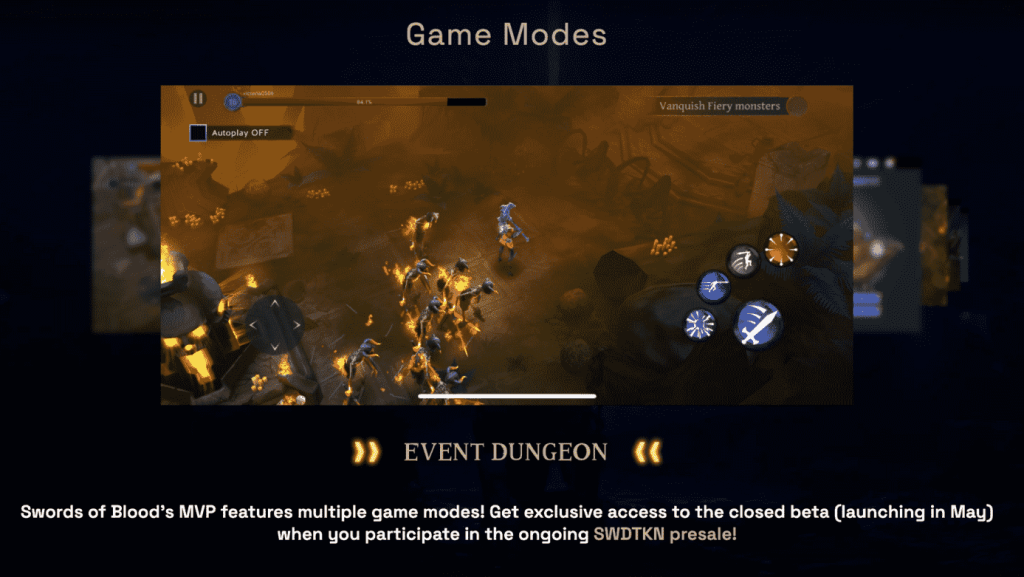 Excitingly, Swords of Blood will be entirely free to play, meaning there's no barrier to entry for casual gamers. However, SWDTKN tokens will be required to access "premium" features, such as higher Hero Levels, Battle Passes, and season ranks.
Although Swords of Blood is still in development, prospective gamers can buy SWDTKN tokens early through the presale. Tokens are priced at $0.07 in Stage 2, which is ongoing, although the price will increase to $0.08 in Stage 3. Those looking to keep track of Swords of Blood's progress can join the official Telegram channel.
| | |
| --- | --- |
| Presale Started | 15th March 2023 |
| Purchase Methods | ETH, USDT USDC, DAI |
| Blockchain | Polygon |
| Minimum Investment | N/A |
| Maximum Investment | N/A |
11. The Conglomerate Capital – Opening the Doors of Private Market Investment to Retail Investors
The Conglomerate Capital (TCC), or CongCap, is a revolutionary investment platform that opens the doors of private market investment to retail investors and lets revolutionary startups and SMEs (Small and Medium Enterprises) raise capital on their launchpad. The investment and funding platform is completely governed by a DAO, and it provides the retail crowd with investment opportunities that were previously only available to venture capitalists and private equity funds.
TCC is on a mission to revolutionize the world of investing and was born out of a desire to make private equity investment opportunities accessible to regular people by assembling a conglomerate of companies.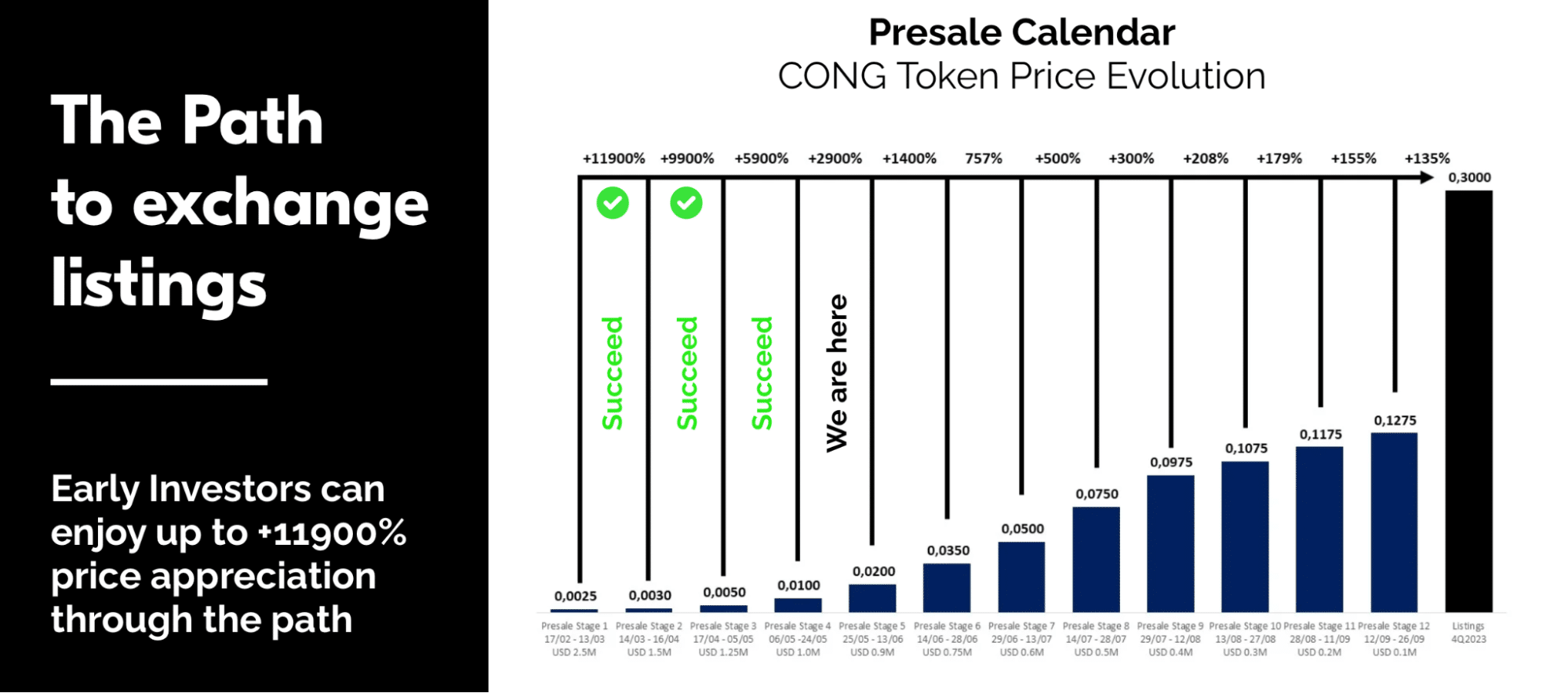 The platform is groundbreaking for both companies and investors as it opens new doors and avenues for fundraising and profit. For example, SMEs need help to raise capital as their balance sheet and track record are usually non-existent, making it challenging to convince investors to take a risk. They also don't have access to a wide range of retail and accredited investors. TCC changes this by letting them fundraise through the retail crowd governed by a DAO – which helps protect investors.
The native crypto CONG will power all payments within the TCC ecosystem, which includes the facilitation of fundraising events and the distribution of grants. In other words, CONG is the only crypto of the TCC ecosystem. This means funded projects will raise capital using CONG, thus eliminating competition among them for investors' capital allocation. It also goes a long way in driving consistent demand for CONG.
The DAO structure helps to bring various private equity and venture capital features to the Web3 world while protecting investors. Vetted projects are listed on the launchpad, and the DAO governance decides which projects are worth funding. After a campaign is funded, TCC exchanges the crypto into fiat to send to the company. The DAO protects investors because the funds are only sent to companies as they reach planned milestones, with the CONG holders voting to agree if the company has hit its goals. Once the company starts to generate cash, the funds are distributed proportionally to shareholders in the DAO.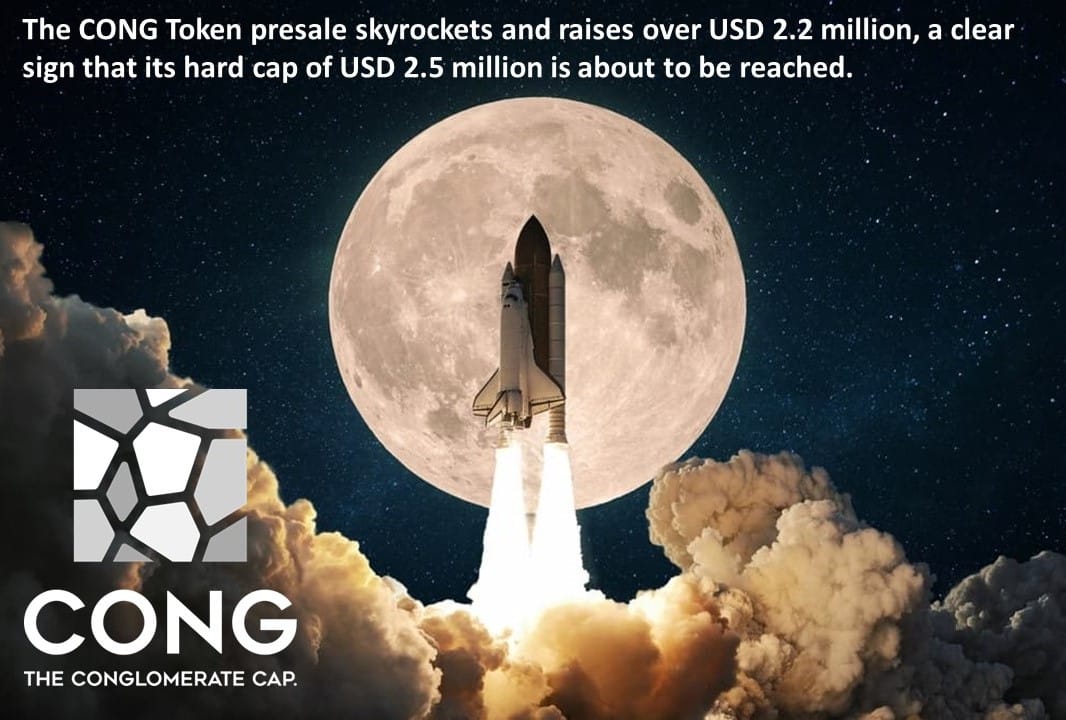 CONG holders can benefit from the ecosystem in multiple ways beyond just token appreciation. For example, CONG holders receive token dividends and benefit from interest-bearing tokens. They also can benefit from sales of companies in the DAOs portfolio.
Considering the 4 Presale Stages already gone, the project has raised more than USD 5 million by now. Since each new stage of presale comes with a price increase, it's best to grab the tokens early. The presale is currently selling the token for $0.01 in the fourth stage, but the price will increase by 100% in the fifth stage. Therefore, investing earlier is essential to take advantage of the lower price points as you leave the fundraising with higher unrealized gains before the token is listed on exchanges and starts to explode.
Finally, it recently launched its staking platform which, among all types of staking methods available, investors can benefit from up to 59% APY or even more, if investors compound rewards.
12. Pikamoon – Outstanding P2E-Geared Altcoin to Buy in 2023
Pikamoon, one of the latest additions to the P2E blockchain scene, takes the 10th spot on our top list. This dynamic ecosystem brings you the best of both worlds — engaging gameplay and massive profit potential.
Unsurprisingly, crypto enthusiasts found these features appealing and started investing in the project quickly after it went into presale. At the time of writing, the network boasts more than $1.3 million in funding and has over 10,000 users on its whitelist.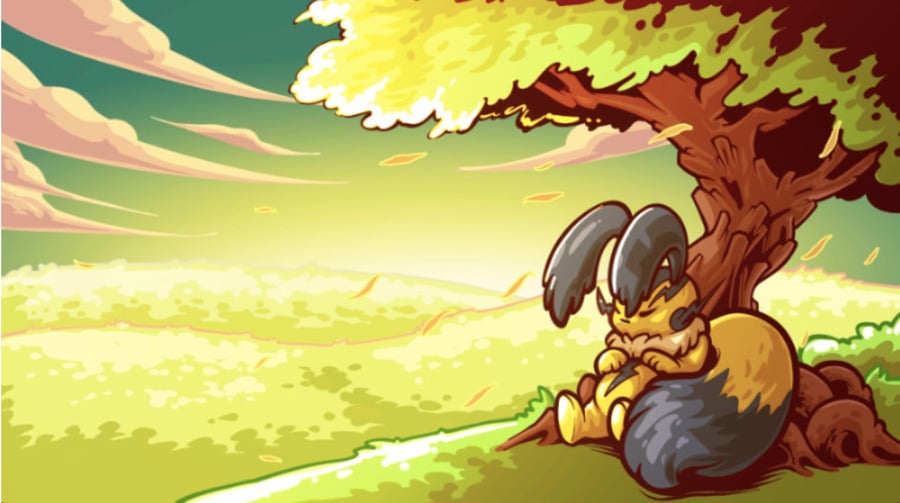 Following current gaming trends, Pikamoon creators built a Pokemon-inspired metaverse with the help of blockchain technology. Their network leverages Ethereum chain security and staking capabilities to offer users a rich gaming experience. Players can explore the regions of mystical Dreva and its lore through four tiers of gameplay. They can battle other players, enter tournaments, and complete quests until they reach the 13th God — a malevolent dark ruler.
The network generously rewards each of these pursuits, Pikamoon's whitepaper explains. The perks comprise hefty bundles of native crypto tokens, PIKA, whose benefits are twofold. Coin holders get free access to the project's first-generation NTFs and a chance to shop in Pikamoon's built-in marketplace. The platform is packed with valuable assets like weapons, spells, health boosters, and more to aid players in progressing through the game.
If you liked Swords of Blood, another P2E crypto on our best altcoin to buy in the 2023 list, but not its mature content, Pikamoon might be your cup of tea. Its colorful and cartoonish design suits players of all preferences.
If you'd like to learn more about these and other Pikamoon plans, check out its Telegram and official website. However, if you're ready to invest in it, we recommend purchasing PIKA during its presale. The coins currently go for $0,0004. Analysts predict it'll rise by up to 200% by the final presale round.
| | |
| --- | --- |
| Hard Cap | $6 million |
| Total Tokens | 50 billion |
| Token available in presale | 15 billion |
| Blockchain | Ethereum |
| Token type | ERC-20 |
| Minimum purchase | N/A |
| Purchase with | USDT and ETH |
13. RobotEra – Build a New Metaverse Planet With NFT Assets
RobotEra is a crypto project that caters to metaverse gamers. The project is developing a brand-new metaverse where players can own virtual land and other assets as NFTs. Moreover, players will also be able to customize their own world and build structures on it. And crucially, all these creations will be minted as NFTs.
To make things even more interesting, RobotEra has developed a backstory for this metaverse. According to the RobotEra whitepaper, Taro is a planet that was ruined through war, between its inhabitants and robots. After a nuclear explosion, robots were left to rebuild the world.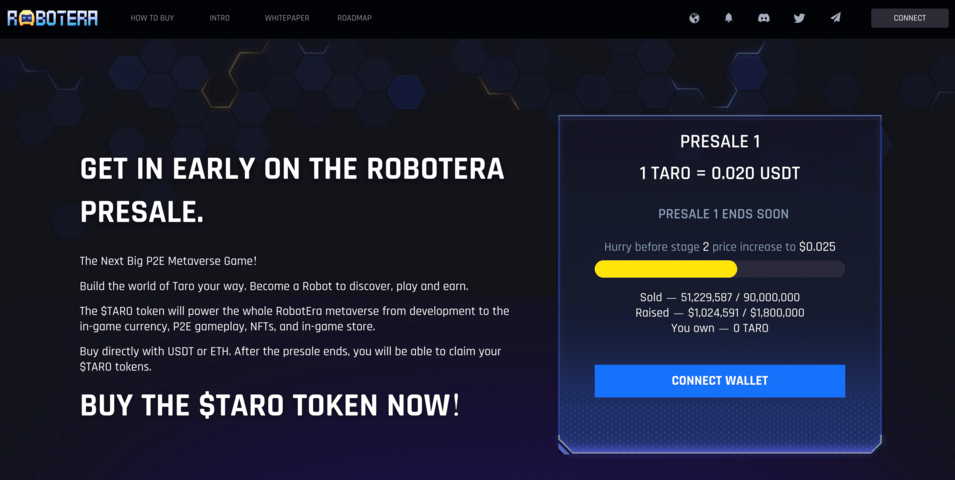 As such, each player will enter the RobotEra metaverse with a unique robot avatar. Moreover, players can also mint robot companions – who will help them with the building of the new world. To reward players, RobotEra has set up many ways for users to monetize their time in this metaverse.
To begin with, players will be able to trade all the in-game NFTs they own. Additionally, players will also be able to sell tokenized tickets to events on their virtual land. They can also sell advertisement spaces or rent out their building in the metaverse. All transactions on the RobotEra metaverse will be carried out using the platform's main token, TARO.
As of writing, RobotEra is selling TARO tokens via presale – at the price of $0.23 and has raised more than $1.2 million thus far. However, tokens will increase in price by 160% by the final round to $0.06.
With the increasing demand for virtual real estate, it isn't surprising that many investors consider RobotEra as the best altcoin investment in the metaverse niche.
| | |
| --- | --- |
| Presale Started | Q4 2022 |
| Purchase Methods | ETH, USDT |
| Chain | Ethereum |
| Min Investment | 1,000 TARO |
| Max Investment | None |
14. Lucky Block – Crypto Gambling Platform With a Native Utility Token
Lucky Block is a renowned crypto ecosystem with its own native utility token – LBLOCK. In fact, in 2022, LBLOCK was one of the fastest altcoins to hit a $1 billion market cap. As of writing, LBLOCK tokens are trading at around $0.00016 per coin.
Nonetheless, let us explain why many analysts believe that LBLOCK is one of the best altcoins to buy this year. Lucky Block's latest endeavor is an online casino that allows players to gamble with both fiat and cryptocurrencies. Its platform features thousands of titles across popular categories, such as slots, video poker, table games, and more.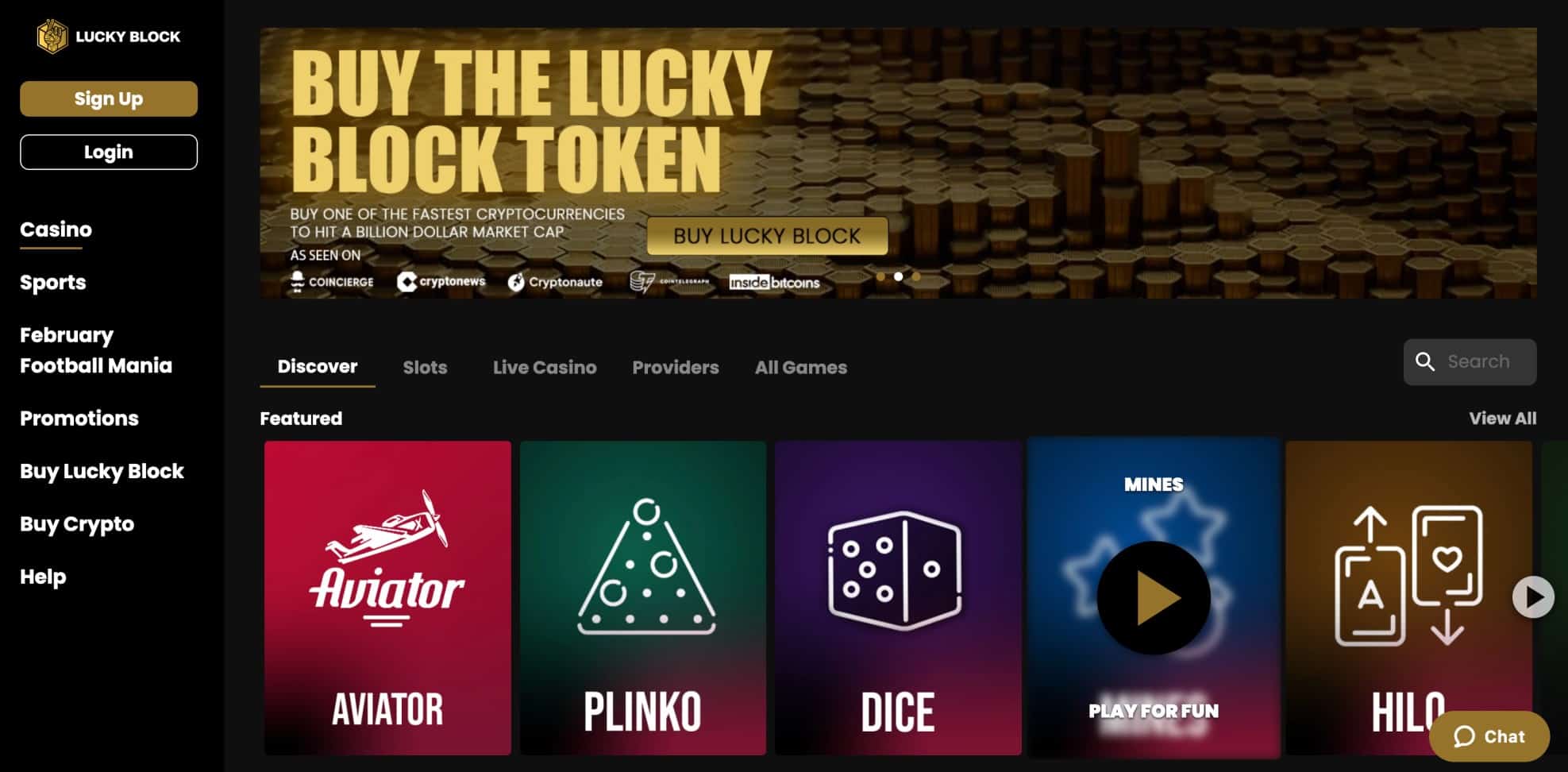 On top of this, Lucky Block also supports gambling on sports and esports events. Moreover, one major attraction of Lucky Block is that it doesn't require any KYC verification from the user. Instead, Lucky Block users can get started simply by providing their email address.
As we noted above, Lucky Block accepts a wide range of cryptocurrencies for gambling – which includes Bitcoin, Litecoin, Ethereum, and more. The platform has also announced that it will also soon start accepting LBLOCK tokens for gambling. With this feature, LBLOCK tokens have a clear utility within the Lucky Block ecosystem.
Furthermore, LBLOCK V2 tokens come without taxation fees. This means that LBLOCK tokens are also suitable for altcoin trading. In other words, LBLOCK represents one of the best altcoins to invest in from within the crypto gambling niche.
15. Tamadoge – Meme-Inspired Metaverse Platform Featuring Arcade Games
Tamadoge is a relatively new crypto project that was founded in 2022. Tamadoge aims to tap into the tremendous popularity that meme coins have gained in recent years. In this ecosystem, players can mint their own 'Tamadoge pets' and nurture them until they are fully developed.
As with other play-to-earn projects, Tamadoge pets are designed as NFTs. By battling their pets against other players, users can win challenges with the game. Tamadoge games will feature a leaderboard that ranks players based on the number of points they have collected.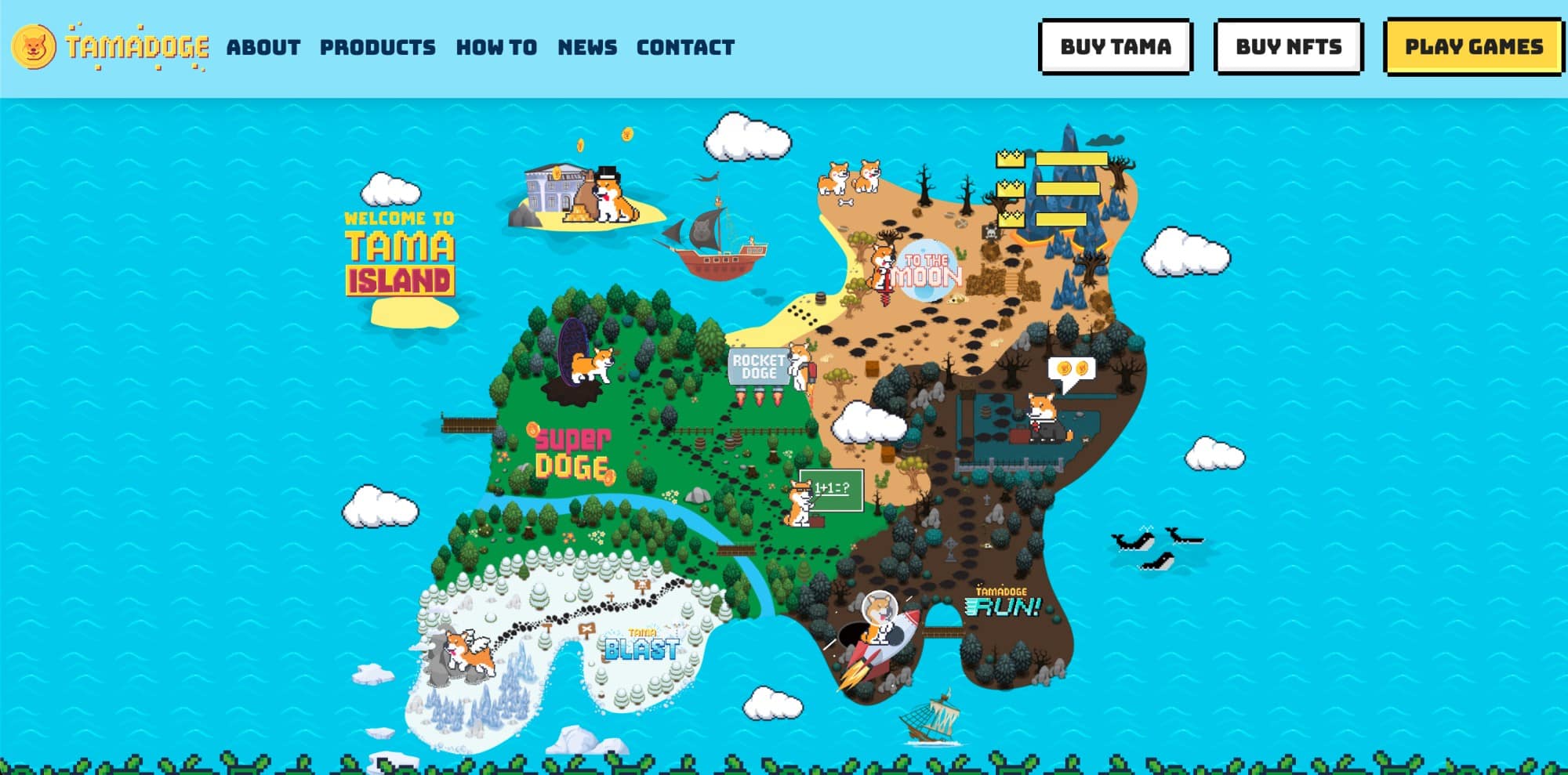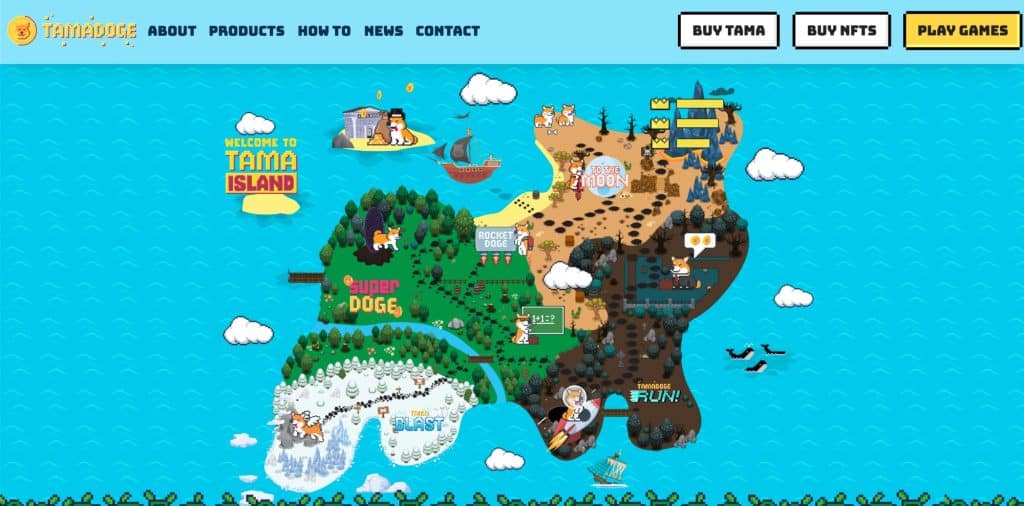 At the end of each month, the top player on the leaderboard will receive tokenized rewards – in the form of TAMA tokens. TAMA is the native altcoin of the Tamadoge ecosystem. Tamadoge had one of the most successful presales in 2022. Although the wider crypto market was in the midst of a bearish cycle, Tamadoge managed to raise $19 million.
In February 2023, Tamadoge released two arcade games – Super Doge and Rocket Doge. The launch of these games has helped increase the value of TAMA tokens. Since the launch of Super Doge specifically, the price of TAMA tokens has increased by over 80%.
In the coming months, players can expect Tamadoge to launch more games. At the time of writing, TAMA tokens are listed on exchanges such as OKX and are trading at around $0.018 per coin.
16. Ethereum – The Most Popular Altcoin and the Largest by Market Cap
Ethereum is second only to Bitcoin in terms of popularity. It is a decentralized platform that runs on a blockchain, allowing for transparent and secure transactions without the need for intermediaries. However, the biggest attraction of Ethereum is its smart contract functionality and that it's the best DeFi coin to buy right now.
Ethereum allows developers to create and run agreements between two or more parties, directly written into lines of code. This way, Ethereum supports the development of decentralized applications, NFTs, and other DeFi projects. In fact, there are virtually thousands of projects that are built on Ethereum.
Moreover, the cryptocurrency community eagerly anticipates Ethereum's major 'proof of stake' upgrade, which promises to enhance the network's efficiency and sustainability.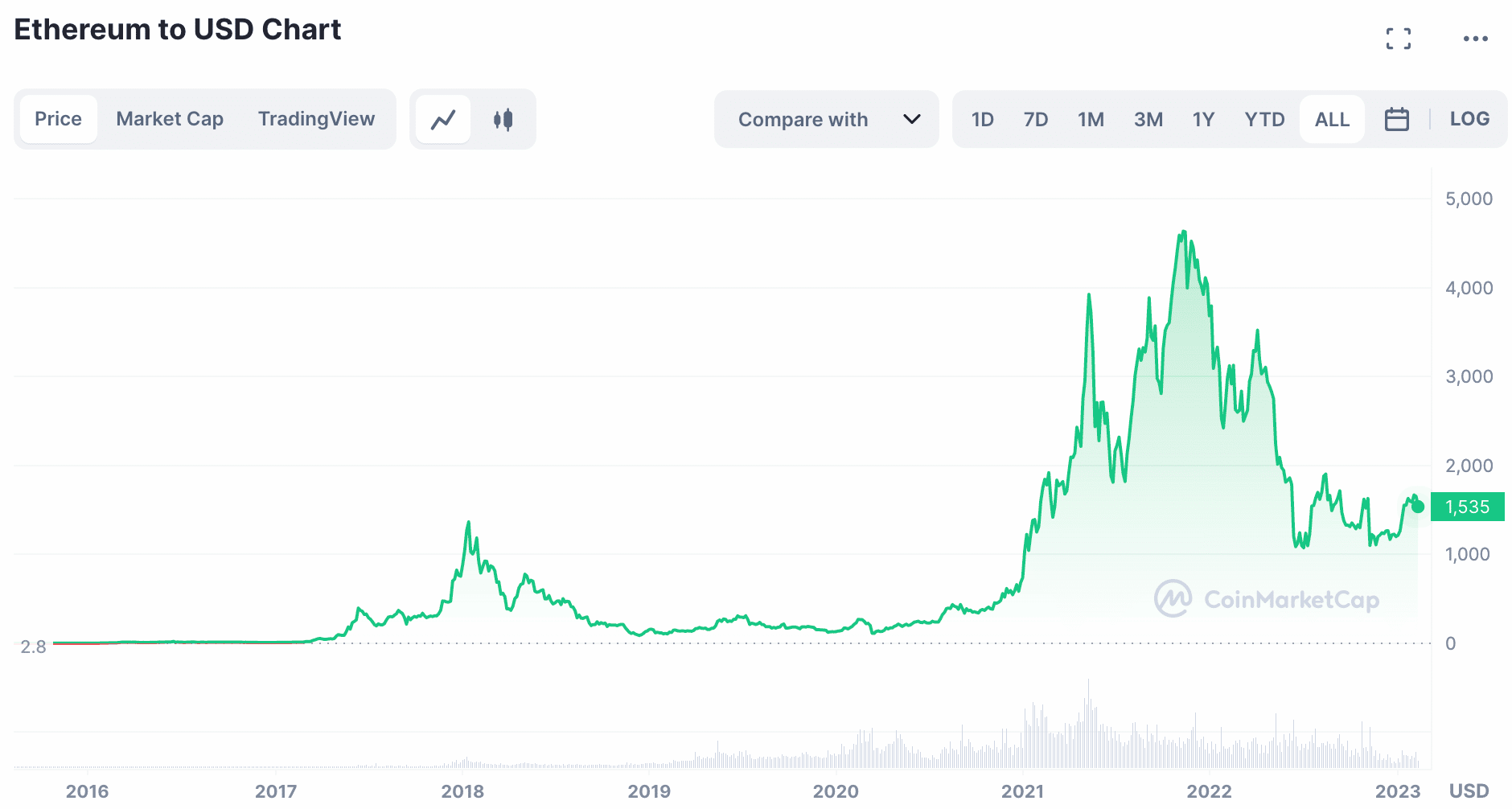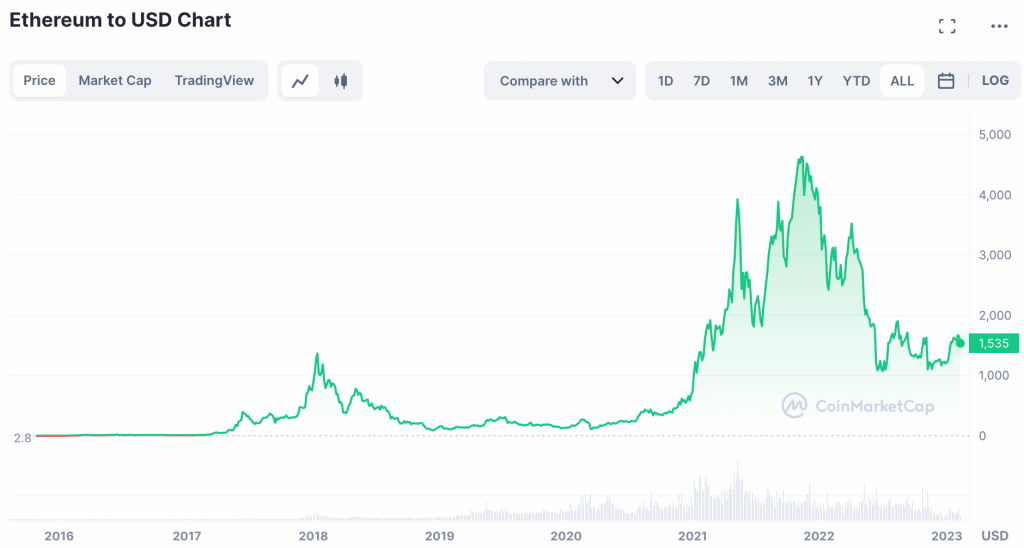 This growth is the main reason why Ethereum continues to be one of the best altcoins with the most potential. Moreover, The price of Ethereum has increased significantly since its inception. Ethereum reached its peak in 2021 when the price of ETH surpassed $4,800.
At the time of writing, ETH tokens are trading for around $1,500 – which is more than 53,000% higher than its initial launch price.
17. Cosmos – Crypto Network Facilitating Blockchain Interconnectivity
Cosmos aims to create a network of interconnected blockchains, allowing for the seamless transfer of data and value across different cryptosystems. It's designed to address some of the major challenges facing the blockchain industry, such as scalability, interoperability, and decentralization.
Cosmos uses a novel consensus mechanism called Tendermint and the IBC protocol to ensure that blockchains can communicate securely. Additionally, it has also developed an SDK toolkit that allows developers to create and launch their own independent blockchains within the Cosmos network.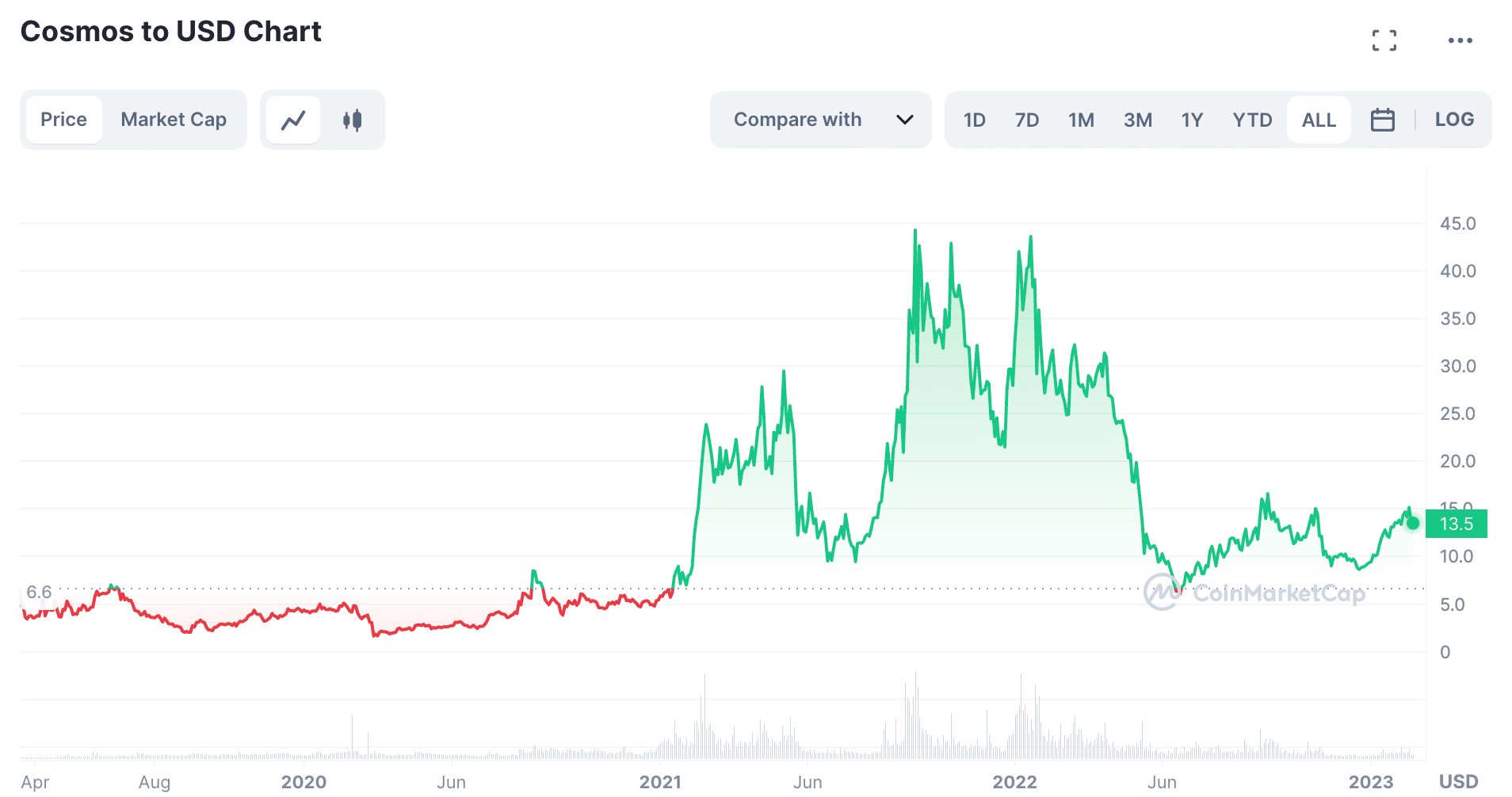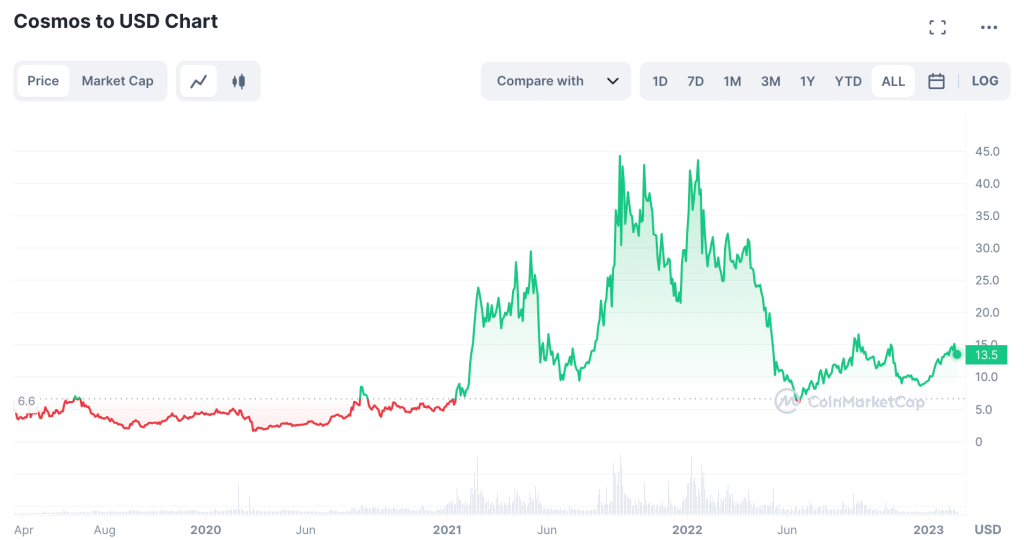 The different blockchains within the Cosmos network can then communicate and transfer data and assets between each other. This subsequently creates a network of interconnected systems. Cosmos also has its own cryptocurrency, ATOM, which is used as the governance token of this network.
Cosmos also supports the staking of ATOM tokens so that investors can set up a stream of passive income. After launching in late 2019, the price of Cosmos tokens hit an all-time high of around $44 – which represents an increase of more than 450%.
18. Solana – Fast-Growing Blockchain Platform Known for Speed and Efficiency
Launched in 2017, Solana is a decentralized blockchain platform designed to provide fast, secure, and scalable blockchain solutions for decentralized applications. It uses a unique consensus mechanism called proof of history, which helps to maintain high transaction speeds and low fees. In fact, Solana claims that it can handle up to 65,000 transactions per second.
In 2022, Solana also shared insights into its future roadmap. This included the launching of crypto phones, app stores, and even an upcoming partnership with Google Cloud, among many others. In other words, there are a number of different factors that can help increase the price of Solana in the future.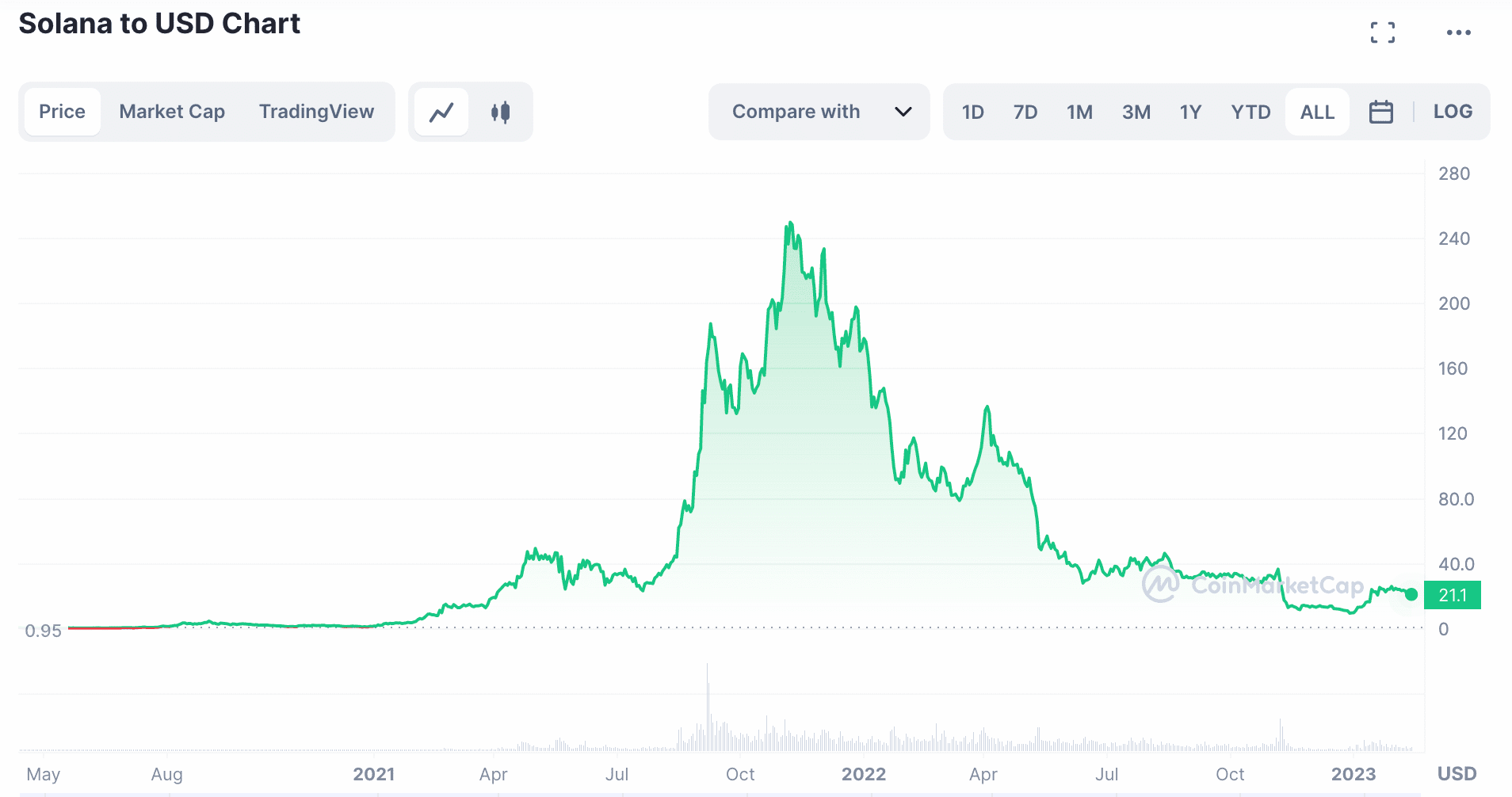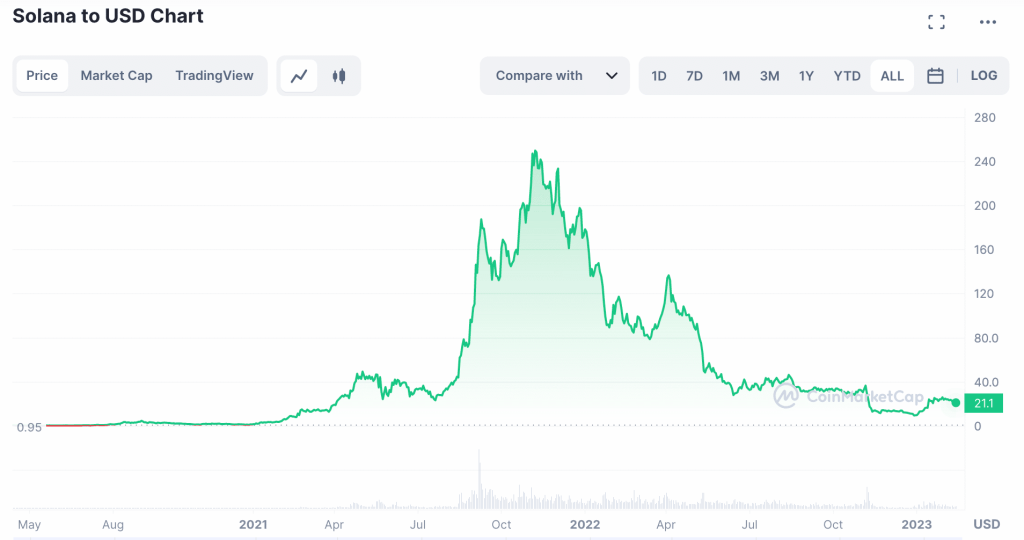 Solana has its own cryptocurrency, called SOL, which is used to pay for transactions and network fees on the platform. Since its launch, the price of SOL tokens has increased by more than 2,000%. Moreover, as we noted above, Solana has clear objectives for the future – which makes it one of the best altcoins to buy right now.
Nonetheless, the platform has struggled with some network slowdowns. The Solana blockchain experienced a setback when it was hit by an hours-long network slowdown and technical problems, causing concerns among users and investors.
19. Dogecoin – Top Meme Coin Widely Used for Online Payments
Dogecoin, a popular altcoin, was initially created as a meme in 2013. The digital token was inspired by the internet meme "Doge" featuring a Shiba Inu dog. However, over time, Dogecoin has grown to become a widely recognized and well-loved cryptocurrency, boasting a substantial following of enthusiastic supporters.
Due to this growing frenzy, Dogecoin is also attaining mainstream adoption. Today, one of the main use cases of Dogecoin is to carry out online purchases. Additionally, there are also many crypto gaming sites and casinos that accept Dogecoin as payment. Although Dogecoin was launched in 2013, this altcoin rose to popularity in 2021.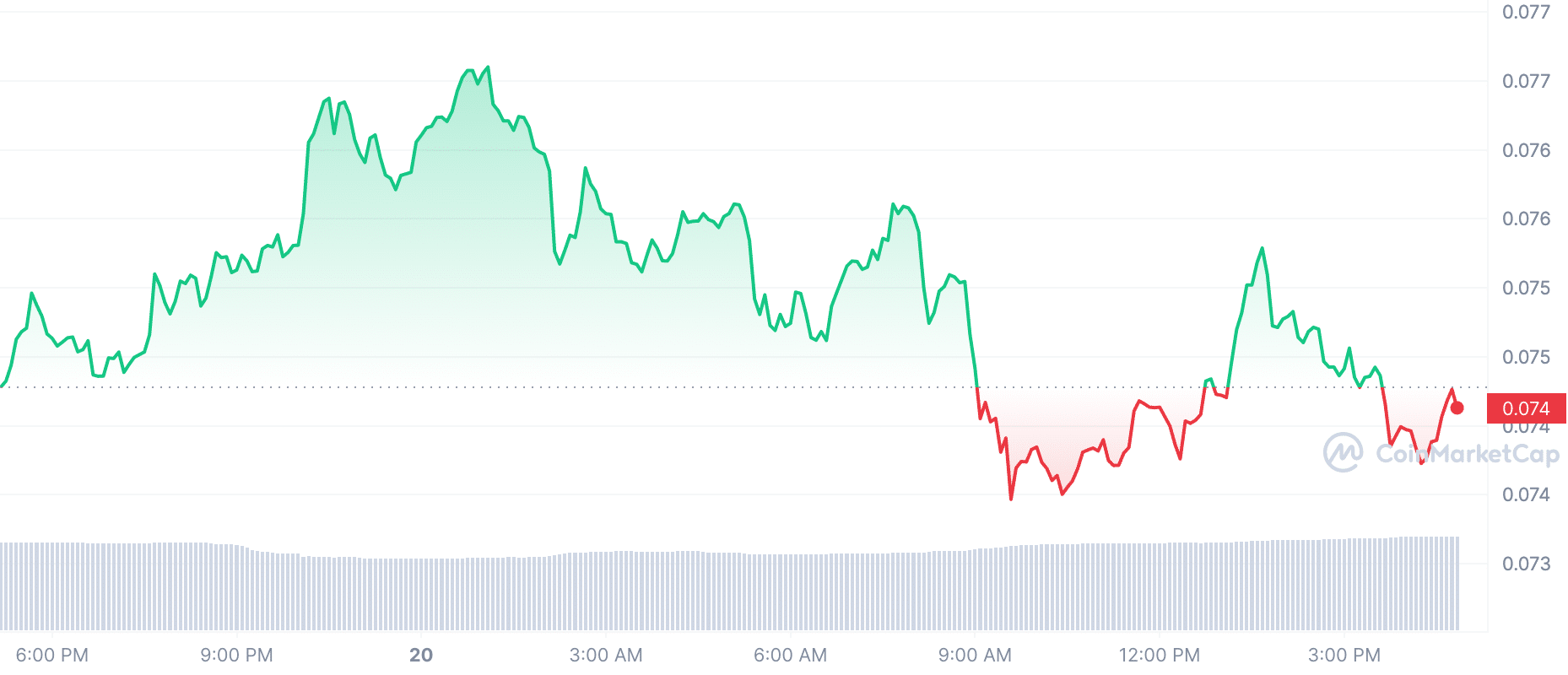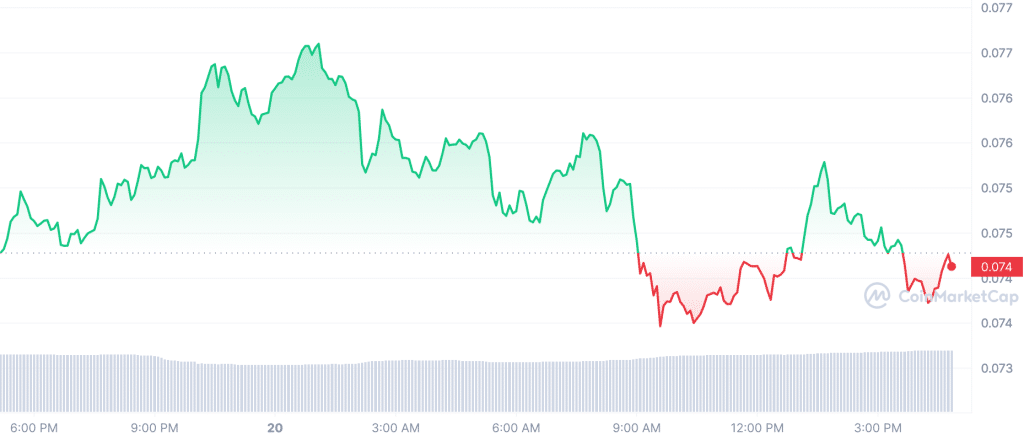 Between 2014 and 2021, the price of Dogecoin increased by 200,000%. However, since then, the value of Dogecoin has fallen – in line with the wider crypto market. But the cryptocurrency seems to be recovering – as the price of Dogecoin has gone up by over 17% since the start of the year.
What is an Altcoin?
In simple terms, an altcoin is any cryptocurrency that is not Bitcoin.
Originally, altcoins were created to address various limitations and shortcomings of Bitcoin. However, over time, developers have started adding new features and capabilities to altcoins.
This means that there are thousands of altcoins with a variety of different use cases. While some altcoins specialize in being a medium of exchange, others enable users to run decentralized applications on a blockchain.
As noted earlier, there are even altcoin projects that cater to the industries of gaming, sustainability, trading analysis, fitness, and more.
Should You Invest in Altcoins?
Whether or not altcoins are a good investment is ultimately a matter of personal opinion. For some, cryptocurrencies are a risky addition to their portfolio, whereas others might look at altcoins as a potentially lucrative investment.
Below we have outlined a number of factors that can help investors decide whether they should buy altcoins.
Potential for High Returns
Some of the most popular altcoins, such as Ethereum, Dogecoin, and Binance Coin, are excellent examples of cryptocurrencies that have performed well over the years.
Similarly, early-stage cryptocurrencies such as Ecoterra and DeeLance also come with a high upside potential – as they have unique use cases and are available at discounted prices (during the presale).
In other words, by choosing the best altcoins, investors have the chance to target attractive returns.
However, whether or not an altcoin has a high upside potential depends on many factors, including the technology behind the token, the development team, adoption and usage, partnerships, and the overall state of the crypto market.
Unique Use Cases
The cryptocurrency market is constantly evolving, and new altcoins are being created all the time – some of which have breakthrough technologies.
For instance, there are many altcoins in the market that come with smart contract capabilities – which has subsequently created a whole new sector of decentralized applications.
On top of this, there are also many altcoins that offer innovative solutions to address real-world issues.
For example Ecoterra is launching an innovative platform that allows users to earn token rewards by recycling waste materials and offset carbon emissions.
Undervaluation
Many altcoins are lesser-known and have significantly smaller market caps compared to Bitcoin. And as such, some investors believe that there are many cryptos under $1 that are due for potential price appreciation.
For example, as of writing, Dogecoin is trading at around $0.08. Similarly, there are many crypto presale projects that are offering investors access to cheap altcoins – which have high prospects for growth.
Diversification
Another reason to consider altcoins is to diversify a portfolio. By buying a variety of altcoins, investors can spread their risk and potentially reduce their overall volatility.
All that being said, it's important to keep in mind that the cryptocurrency market is highly speculative and unpredictable, and the value of an investment in altcoins can be highly volatile.
Therefore, it's essential for investors to conduct independent research and understand that there are no guarantees in the world of altcoin investing.
How Many Altcoins Are There?
According to Coinmarketcap, there are over 22,500 cryptocurrencies in existence, with a global market capitalization of over 1 trillion as of writing. However, this number is constantly changing as new altcoins are created, and others become obsolete.
Furthermore, it's worth noting that not all of these altcoins have significant market capitalization or trading volume, and many may not be worth investing in.
Therefore, it's important to thoroughly research any cryptocurrency before investing in it to understand its potential risks and benefits.
How to Find the Best Altcoins
Investors wondering what altcoin to buy can consider the following metrics to find the best crypto for their portfolio:
Keep up with market trends – When looking for the best altcoins to buy, it's essential to research the overall cryptocurrency market and understand the current trends and dynamics. Investors can refer to leading crypto news websites to keep up to date with developments in the industry
Use cases – The best altcoins are those that have real-world applications and are being used by people and businesses. This can indicate that the project has a strong future ahead.
Track presale cryptos – Keeping track of new emerging cryptos can also help investors spot the best altcoins to buy for their portfolio. As we noted before, the best presale cryptocurrencies often have high upside potential and offer investors an opportunity to get in on the ground floor of an innovative project.
Social media – Finally, investors can also follow crypto-related social media pages as well as influencers to learn about the best altcoins.
Investors should always conduct thorough research before investing in any altcoins.
Where to Buy Altcoins
The easiest way to buy altcoins is via a crypto exchange or broker. The hard part is to find a credible platform that offers access to altcoins in a safe and secure manner. In this regard, we prefer eToro – an online broker regulated by the SEC, FCA, ASIC, and CySEC.
eToro – The Best Place to Buy Altcoins
eToro is a multi-asset brokerage platform that allows users to trade a variety of financial instruments, including stocks, forex, commodities, and of course, cryptocurrencies. This platform is known for its user-friendly interface, social trading features, and competitive fees.
eToro gives users access to dozens of cryptocurrencies – which includes Ethereum, Dogecoin, Solana, Binance Coin, and plenty more. The platform allows investors to buy altcoins from just $10 and charges no deposit fees when the payment is made in US dollars. Moreover, the commission to buy cryptocurrencies is just 1%.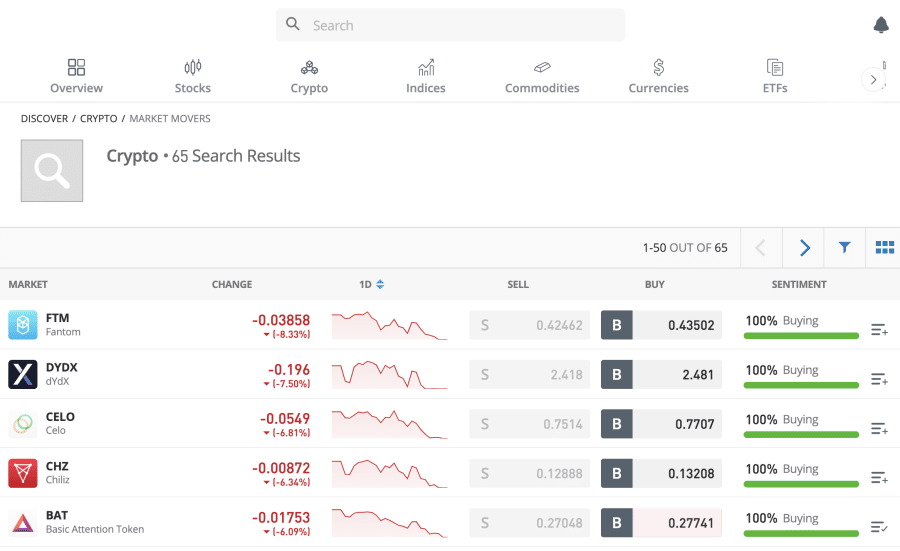 One of the standout features of eToro is its social trading capabilities, which allow users to copy the trades of successful investors, as well as connect with and follow other traders to gain insights and strategies. eToro is a great place to find the best crypto ICOs to invest in. Additionally, the platform offers a range of educational resources and tools, such as market analysis, webinars, and trading guides.
How to Buy Presale Tokens
Brokers such as eToro only list cryptocurrencies that are already trading on exchanges.
If investors are looking for trending altcoins to buy now, the best way is to consult the project's official website. Investors will then be redirected to the presale page, from where they can directly purchase new altcoins – often at a discounted rate.
In the next section – we have detailed the process of buying altcoins in the presale stage with the help of an example.
How to Buy Altcoins
Here is a step-by-step explanation of how to buy $WSM – one of the best cryptos to invest in 2023.
Step 1: Create a Wallet
The first step for investors is to ensure that they have a crypto wallet that is compatible with the ERC-20 standard of $AI tokens.

Alternatively, those who prefer mobile wallets to connect to the Wall Street Memes website can also consider TrustWallet.
Next, set up the wallet by following the on-screen instructions.
Step 2: Connect the Wallet
Investors can now proceed to the Wall Street Memes presale website and click the 'Connect Wallet' button. Next, select the preferred wallet.
Step 3: Fund the Wallet
To buy $WSM tokens, investors must have ETH/ BNB/ USDT tokens in their wallets.
Investors can buy ETH/BNB/USDT from one of the best crypto exchanges like eToro and transfer the tokens to their MetaMask wallet.
Step 4: Buy $WSM Tokens
When the wallet is sufficiently funded, choose the crypto token you want to swap for $WSM. Next, enter the number of ETH/USDT coins to buy $WSM tokens.
This will display the number of $WSM tokens that the investor will receive. Confirm the payment to complete the purchase of $WSM tokens.
Step 5: Claiming $WSM
Investors can redeem their $WSM tokens via the platform's claim page after the presale. Investors can follow the project's social channel to track the presale and know when to claim their tokens.
Conclusion
In summary, we have offered a thorough examination of the best altcoins to invest in 2023. The projects highlighted in this guide are ideal for those new to the market, offering user-friendly investment processes and high upside potential.
Our top pick for the best altcoin to buy is $WSM – the native token of Wall Street Memes. The platform is responsible for launching the popular Wall Street Bets NFT collection, and has a following of more than 1 million across various social media platforms.
The presale has enjoyed an incredible start, with more than $2 million raised in less than a week since it launched.
FAQs
What are the best altcoins to buy right now?
What are the top 5 altcoins?
Which new altcoin has the most potential?
Which altcoin will explode in 2023?