The cryptocurrency market is highly competitive, with new projects emerging on almost a daily basis. This makes it incredibly difficult to pick the right altcoin to invest in.
With some altcoins outperforming the likes of BTC and ETH it's hard to shy away from the top trending tokens that have taken the crypto community by storm.
Pepe coin, one of the most current examples, amassed over 5,000% returns in just a couple weeks of its release. Sui coin is another example up by over 4% as it signs a multiyear partnership with Red Bull Racing. This highlights the real utility that some altcoins offer.
Therefore, in this guide, we offer a list of the best altcoins to buy in 2023. We continue by reviewing each of these top altcoin projects and outlining their potential – so that investors can make an informed decision.
Best Altcoins to Buy for 2023
Let's take a quick look at the best altcoins to invest in of 2023:
Bitcoin ETF Token – A new token presale focused around Bitcoin spot ETF approval events with a generous staking APY of 200% in the early stages and token burn mechanics. With a Bitcoin ETF approval by the SEC seemingly around the corner, this token presale could benefit from the hype.
Bitcoin Minetrix – New altcoin provides a novel mechanism to mine Bitcoin without requiring expertise or without any large upfront investment. This stake-to-mine coin raised nearly $4.1 million within a few months of launching, showing strong community support.
Meme Kombat – Exciting meme altcoin concept that allows the world's most iconic memes to engage in combat, under one roof. Spectators can bet on the blockchain-facilitated fight with AI-enhanced visuals, and further benefit from 530% APY.
Wall Street Memes – A popular altcoin with 1 million followers, raised $25 million in its completed presale and saw interaction from Elon Musk. $WSM is now available on the OKX exchange for purchase and is also the native token for the recently launched Wall Street Memes Casino.
TG.Casino – Curacao licensed casino offers crypto deposits, betting, and withdrawal all through Telegram, KYC free. A new paradigm in terms of online betting with yields that currently sit at over 217%, this altcoin presale has raised over $2.65M.
Spongebob Token – Stands out with its exceptional 3,000% launch growth, quick listings on major exchanges, highly rewarding staking options, and community-focused tokenomics.
ETHETF Token – A promising ERC20 token on Ethereum, offering a unique speculative opportunity tied to Ethereum ETF approvals. Features a deflationary 2% burn tax (removable upon ETF approval), fair launch, and aligns with significant ETF market movements.
eTukTuk – Hold the $TUK token to earn staking rewards and passive income. eTukTuk aims to be an energy-efficient blockchain that reduces pollution by setting up EV stations.
Chimpzee – The $CHMPZ altcoin can be used to purchase NFTs, enter in P2E games and earn passive income. Chimpzee will contribute 10% of the token supply to environment and wildlife charities – $2.3 million raised so far.
Scorpion Casino – An up-and-coming crypto betting platform with over 200 casino games and a sportsbook to wager on sports games. Ongoing presale raises over $1.75M at press time.
Launchpad XYZ – Web3 platform providing information and resources to help users make informed investment decisions. The platform collects and presents market data, upcoming events, and investment opportunities in the Web3 ecosystem. $2 million raised in the presale so far.
yPredict – Advanced crypto analytics & research solutions with AI technology and forecasting models by AI experts for future trends – $4.8 million raised in its presale so far.
Sensei Inu

– New MemeFi token follows a proof-of-value mechanism to reward players through its crypto trivia quiz ecosystem. $SINU is a deflationary token that attracts a 3% selling tax and gives token holders access to a DAO. The token is priced at $0.0007 on presale.

Ethereum – Platform with smart contract functionality that allows developers to create and run agreements between multiple parties, enabling the development of decentralized applications, NFTs, and DeFi projects.
Polkadot – A layer 0 metachain protocol that allows for interoperable Web3 development and unparallelled DeFi staking rewards with the potential for 1M TPS speed.
Cosmos – Solves the blockchain industry's major challenges, such as scalability, interoperability, and decentralization, using Tendermint and IBC protocol.
Solana – A fast-growing blockchain platform that provides fast, secure, and scalable blockchain solutions for decentralized applications.
Dogecoin – A meme-inspired crypto that has grown widely recognized and well-loved, with a substantial following of enthusiastic supporters. DOGE price is influenced by Elon Musk.
Top Altcoins With the Most Potential – Full Analysis
The cryptocurrency landscape has expanded dramatically in recent years. Today, there are a significant number of altcoins in the market – each with its own unique features, use cases, and goals.
Below, we have ranked and reviewed some of the top altcoins for 2023.
How we pick the best altcoins in 2023
To find the best altcoins with upside potential to make positive ROIs our team examines all the key metrics from a project's tokenomics, legitimacy, roadmap plans, price history, fundamental and technical indicators, and much more.
We also compare promising altcoins with more established cryptos to gauge whether or not they're long-term or short-term projects.
1. Bitcoin ETF Token – The Best Token Presale With Over 200% Staking APY And Token Burn Mechanics
Bitcoin ETF Token is the best altcoin to buy in a presale because it's designed to reward holders based on events surrounding the Bitcoin spot ETF approval by the SEC. Since such an approval is very likely to happen soon, it may benefit the $BTCETF holders greatly. While we wait for the Bitcoin ETF approval, earn a generous staking APY of over 200% in the early stages of this token presale.
Buy $BTCETF tokens by connecting your Ethereum-based crypto wallet like MetaMask with the Bitcoin ETF Token presale site. You need ETH, USDT or a card to purchase $BTCETF tokens.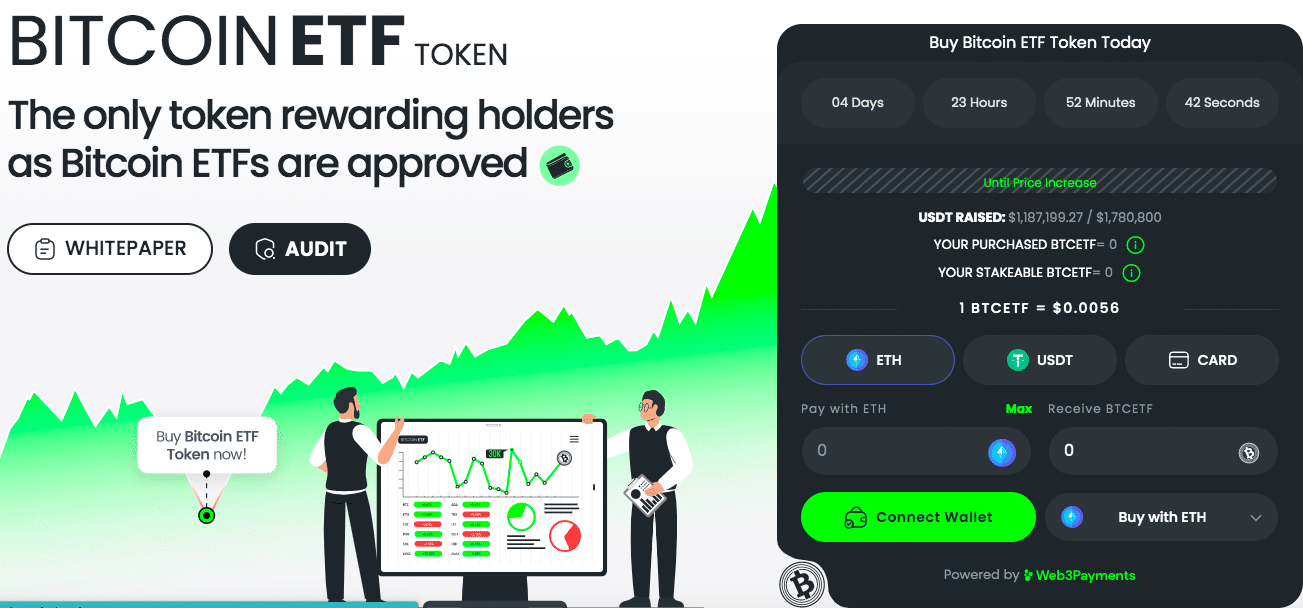 The sooner you buy the presale the higher the potential rewards. That's because the presale goes in 10 stages where each stage offers 84 million tokens at a price that constantly increases. The current presale stage comes with a price of $0.0056 per token, while the last stage costs $0.0068 per token.
Despite that, you can still maximize the rewards you earn thanks to the generous staking APY of over 200% in the early stages of the presale. However, this won't last forever. As more tokens are staked, the APY will drop, which is why it's best to buy and stake $BTCETF tokens early during the presale if you want to earn more tokens.


The maximum token supply is 2.1 billion, 840 million of which are dedicated to the token presale. 210 million tokens are dedicated to liquidity pools and 525 million tokens for the staking rewards.
Another 525 million tokens will be burned and removed from circulation as Bitcoin spot ETFs are approved and launched.
The first step in this token burning mechanics is a 5% burn tax on every transaction. This drops to 0% with every milestone reached around the Bitcoin spot ETFs. An additional 5% of the total supply will be burned with each milestone, such as:
$BTCETF token reaches $100 million trading volume.
The first Bitcoin ETF is approved.
The first Bitcoin ETF is launched.
The total assets under management for all Bitcoin ETFs reaches $1 billion in value.
Bitcoin reaches a price of over $100,000.
The team will also provide news around the spot Bitcoin ETF approval by the SEC in real time to help you make informed trading decisions. Given how the BTC price reacted with similar news, this could be a useful feature.
Follow Bitcoin ETF Token on X and on the Bitcoin ETF Token Telegram channel to get the latest news about the spot Bitcoin ETF approval and about the $BTCETF project. Read the Whitepaper for more details.
| | |
| --- | --- |
| Hard Cap | $4.956 Million |
| Total Tokens | 2.1 Billion |
| Tokens available in presale | 840 Million |
| Blockchain | Ethereum Network |
| Token type | ERC-20 |
| Minimum Purchase | N/A |
| Purchase with | USDT, ETH, BNB, MATIC and Card |
2. Bitcoin Minetrix – Ethereum-Based BTC Mining Presale Raises Over $4.1 Million, Offers Mining For Everyone
Bitcoin Minetrix ($BTCMTX) is a new project that allows people to mine Bitcoin without needing any expensive hardware or knowledge. The project raised $4.1 million since the start of the presale.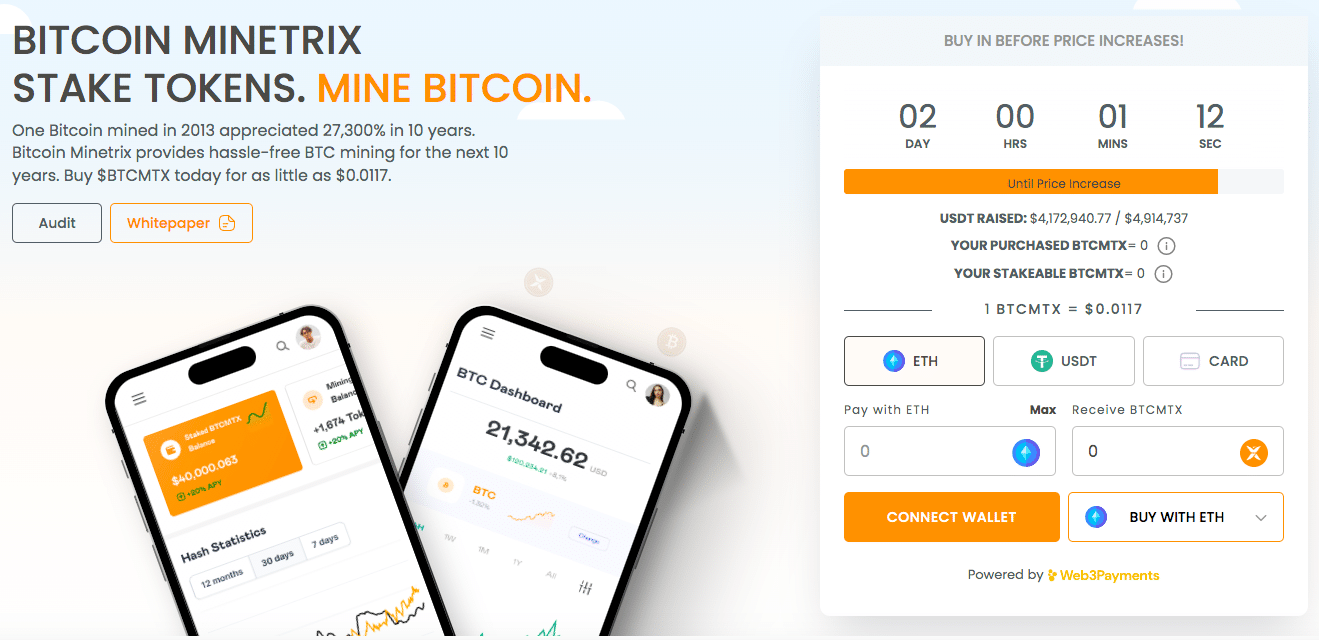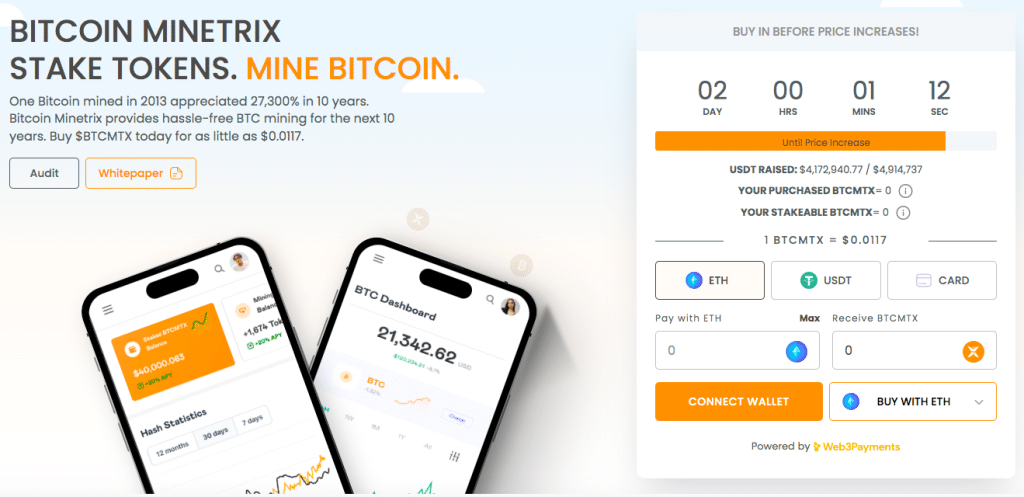 This is a unique presale that uses the Ethereum blockchain to mine Bitcoin rewards. Bitcoin uses a deprecated Proof-Of-Work architecture that is very damaging to the environment and cost-prohibitive.
The only ones who profit are large centralized mining corporations that use expensive mining rigs to earn rewards. These rigs are expensive, noisy, and not at all eco-friendly. Bitcoin Minetrix turns this paradigm on its head with a novel solution that enables all individuals to earn rewards, with no experience and no hardware investment.
The campaign will even release a mobile application so people can mine on the fly (this is listed on phase 3 of its roadmap, along with a CEX listing after presale completion). Users have an integrated dashboard where they can check up their daily, weekly, and monthly rewards, along with other key metrics.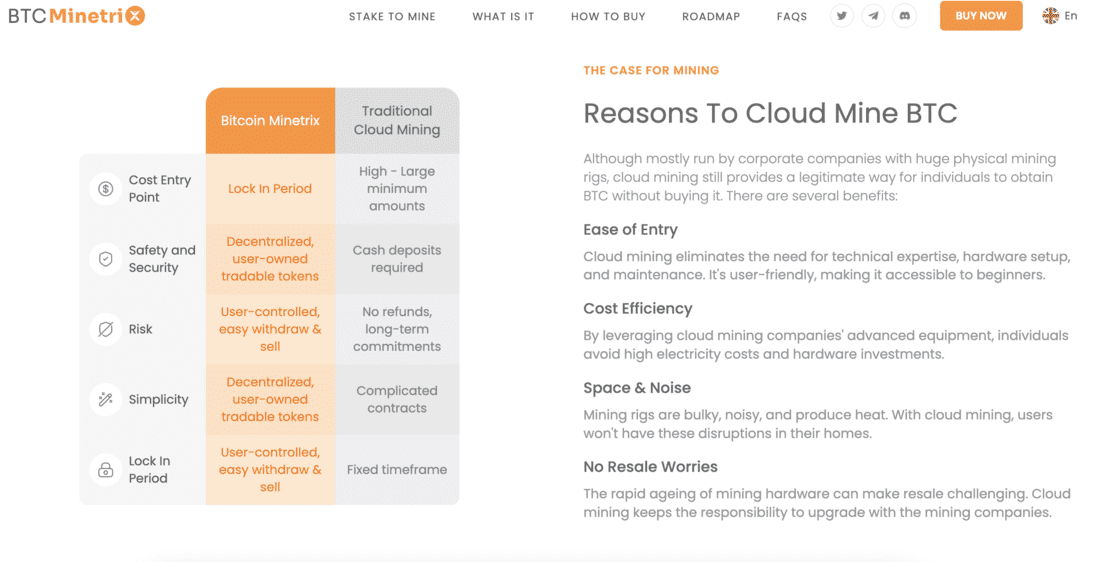 There are 4 billion tokens and 70% (2.8 billion) are made available in the presale. The tokens can also be staked outright. The price ($0.0117) goes up at every stage of the 39 stage presale, before the eventual exchange listing.
A compatible Web3 wallet is required to take part in the presale. USDT, ETH, or BNB are acceptable tokens to process the presale transaction.
For more information, be sure to join the Twitter and Telegram socials.
| | |
| --- | --- |
| Hard Cap | $32 Million |
| Total Tokens | 4 Billion |
| Tokens available in presale | 2.8 Billion |
| Blockchain | Ethereum Network |
| Token type | ERC-20 |
| Minimum Purchase | $10 |
| Purchase with | USDT, ETH, BNB |
3. Meme Kombat – Meme Altcoin Provides Arena for Token Combat With 530% APY and Live, Blockchain-based Wagering
Meme Kombat ($MK) is a completely new concept in the realm of meme tokens, providing an arena for the most successful memes to engage in live combat.
For season 1, this includes 11 meme tokens – Doge, Floki, Baby Doge, Milady, Kishu, Mong, Pepe, Pepe 2, Shiba, Sponge, and Wojack – with more potentially following in the seasons to come. New battle styles are expected to follow in season 2 based on user feedback and community uptake.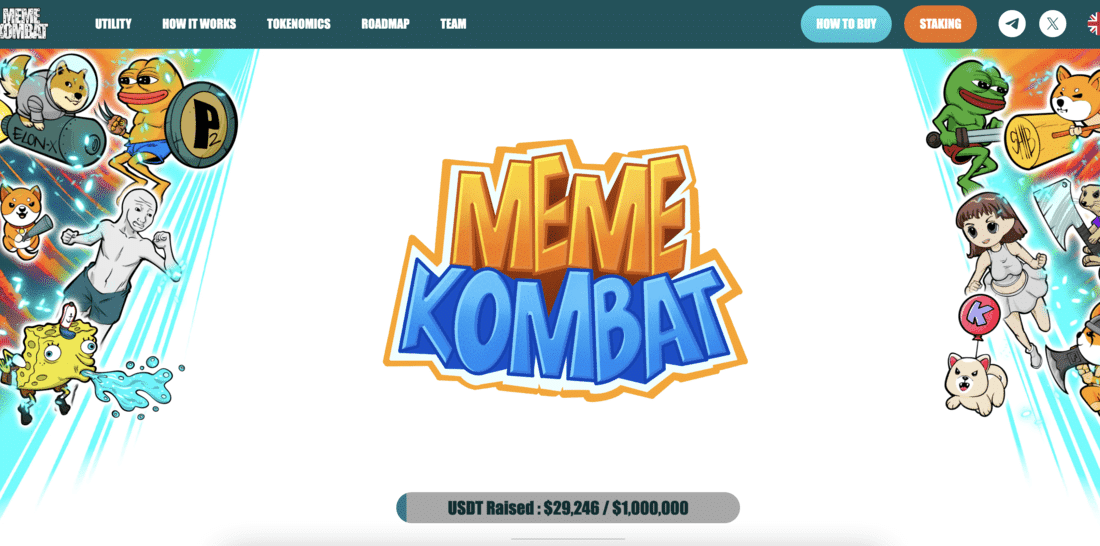 The memes engage in automatic combat, with outcomes processed through a distributed ledger. Spectators can bet on the outcomes of the battle with rewards automatically distributed. Direct bets can be placed on the fights and it's possible to view upcoming fights, analyze statistics, and see whether or not you would like to place a wager.
The campaign has placed a lot of emphasis on the quality of the visuals, which are enhanced through AI-rendering while staying true to the unique characteristics of the world's most loved meme tokens. Users can become proficient at analyzing meme combat similar to how analysis and research is done on sport betting, through meme combat is facilitated through AI and Web3.
Aside from the ingenious idea of creating an arena for memes to do battle within, we like that the project founder (Matt Whiteman) is accessible through Linkedin. This is extremely uncommon in terms of meme altcoins. It has also undergone a smart contract audit, with only a few low risk issues found within the code.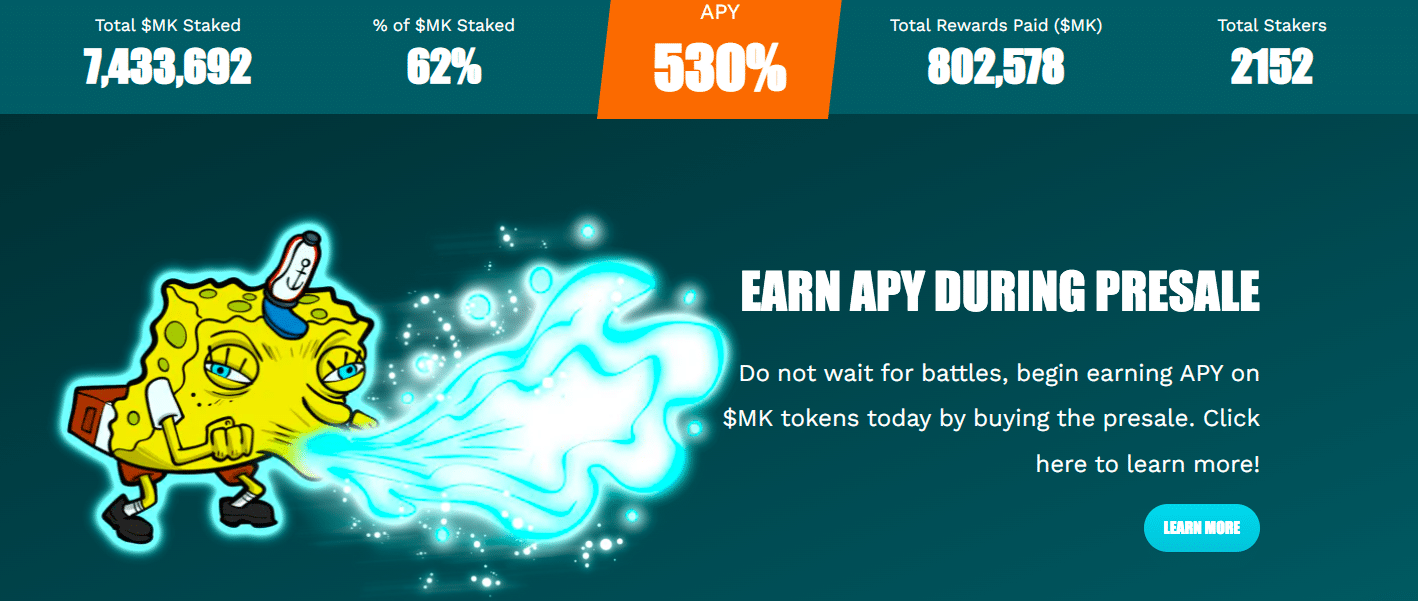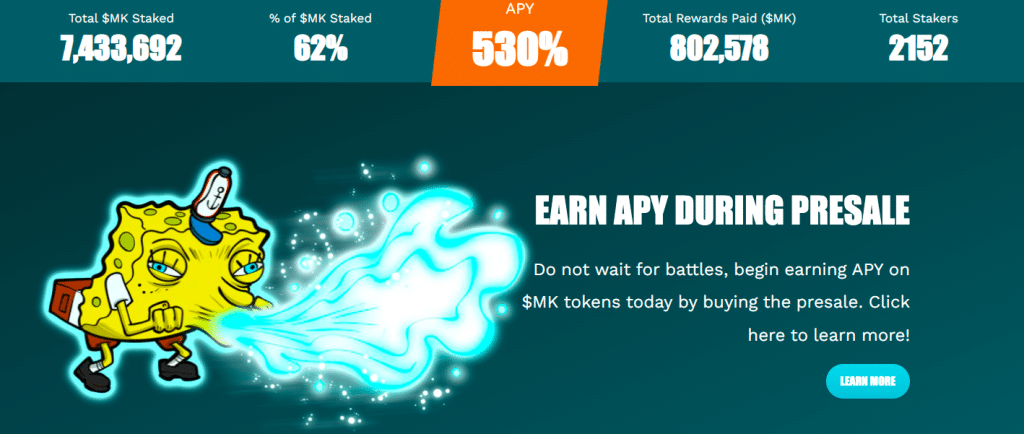 Regarding the tokenomics, 50% of the 120 million $MK supply are allocated to the presale at a price of $0.205, for a total hard cap of $10 million. 30% go to staking and battle rewards, 10% to DEX liquidity, and 10% to the community. Current APY yields sit at 530%.
To make a purchase, link your Web3 wallet and make the transaction in an acceptable crypto – ETH, USDT, or BNB. It's also a good idea to read the Whitepaper and join the socials (Telegram and Twitter).
We believe this is a top altcoin bringing forward an idea that has not yet been introduced – it could be extremely popular among meme coin supporters.
We also like the levels of transparency and the emphasis on high-quality AI-powered visuals to pay homage to the world's most successful meme tokens.
| | |
| --- | --- |
| Hard Cap | $10,000,000 |
| Total Tokens | 120,000,000 |
| Tokens available in presale | 60,000,000 |
| Blockchain | Ethereum Network |
| Token type | ERC-20 |
| Minimum Purchase | 100 tokens |
| Purchase with | USDT, ETH, BNB |
4. Wall Street Memes – New Community-Driven Meme Token with a Massive Online Following, Presale Over
Wall Street Memes is a collection of 10,000 Ethereum-based NFTs, which managed to sell out its first collection in just half an hour. The creators of this project have now decided to launch their own cryptocurrency token – $WSM.
Within 24 hours of the presale launch, Wall Street Memes had managed to raise more than $300k and the total now stands at more than $25 million.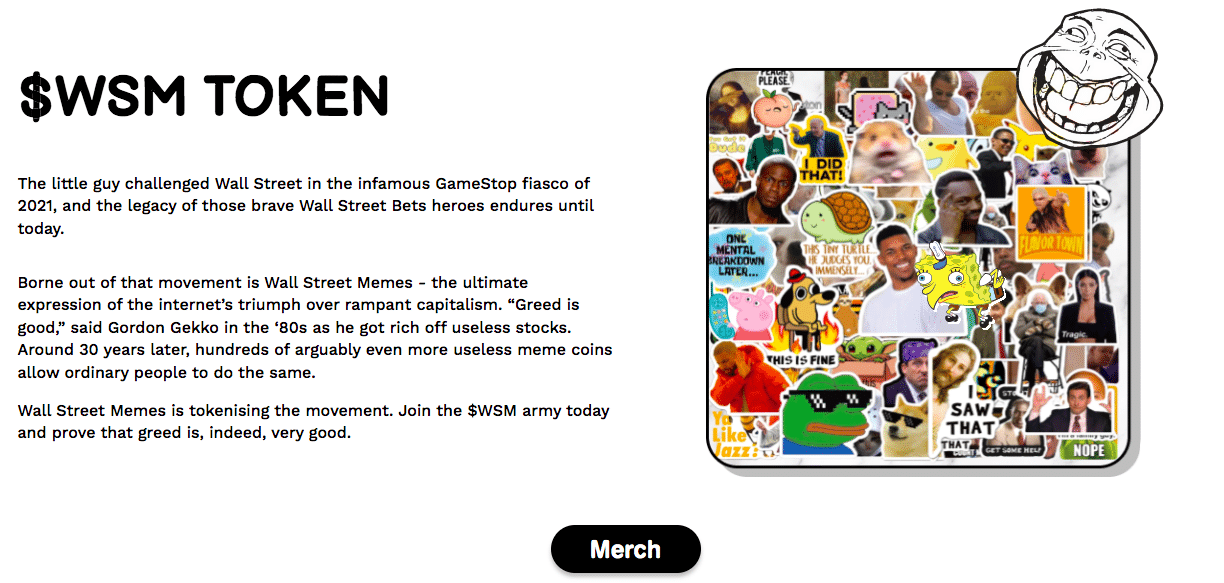 Wall Street Memes is a popular meme-based community that has garnered over 1 million followers. With over 500k Instagram followers and 200k-plus followers on Twitter, this page is one of the biggest in the cryptocurrency space. Thus, the $WSM token has an advantage over the hundreds of new meme coins, which are looking to develop a new following.
It's even been tweeted by Elon Musk on several occasions which boosted the project's reach and exposure to crypto-hungry investors.
Wall Street Memes aims to increase the riches of its community with the $WSM token, which can be purchased for low prices through the recently launched presale. The presale will consist of 30 rounds, for which 1 billion tokens will be allocated. This represents 50% of the token supply.
Notably, there is no team allocation, meaning the project is 100% in the hands of the community and not at risk of a rug pull.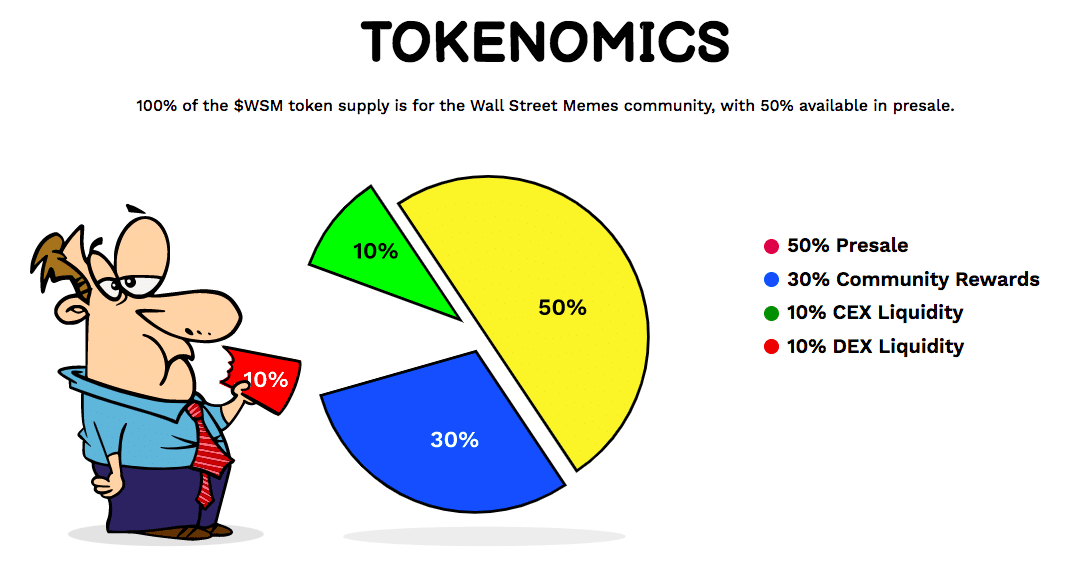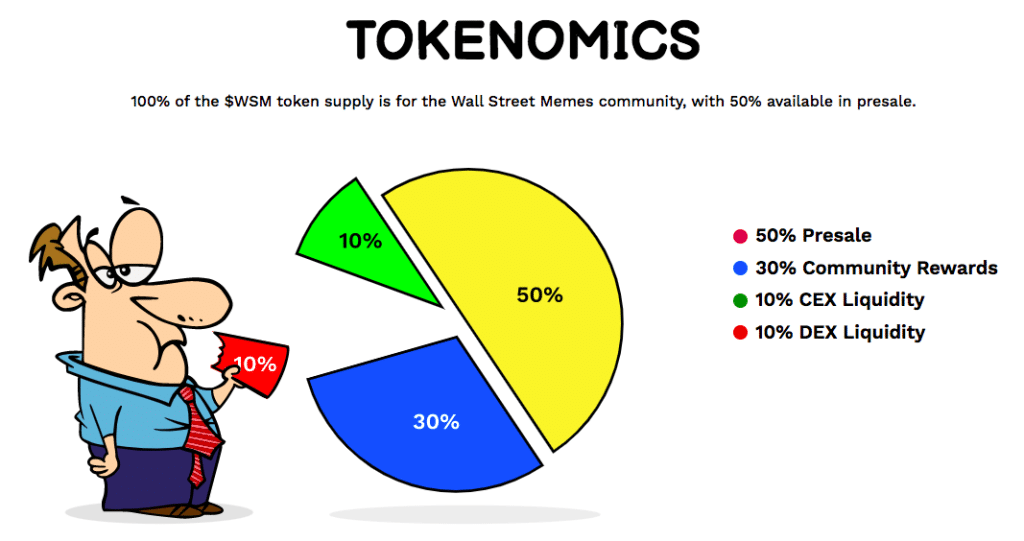 Wall Street Memes also offers a robust staking pool, with 325 million tokens already locked in the pool and an estimated APY of 60%.
Buyers should keep in mind that with all crypto investments there is a real risk of losses and Wall Street Memes is no exception.
To stay updated with the cryptocurrency presale and learn more about this project, join the Wall Street Memes Telegram channel.
| | |
| --- | --- |
| Hard Cap | $30,577,000 |
| Total Tokens | 2,000,000,000 |
| Tokens available in presale | 1,000,000,000 |
| Blockchain | Ethereum Network |
| Token type | ERC-20 |
| Minimum Purchase | 100 tokens |
| Purchase with | USDT, ETH, BNB, Bank Card |
5. TG.Casino – World's #1 Telegram Casino with Over 217% Yields and KYC-Free Betting, Raises $2.65M In Presale
TG.Casino ($TGC) is a new paradigm combining Telegram, cryptocurrencies, and online gambling. This altcoin ICO makes it possible to execute bets through Telegram using crypto, with zero KYC and no registration processes.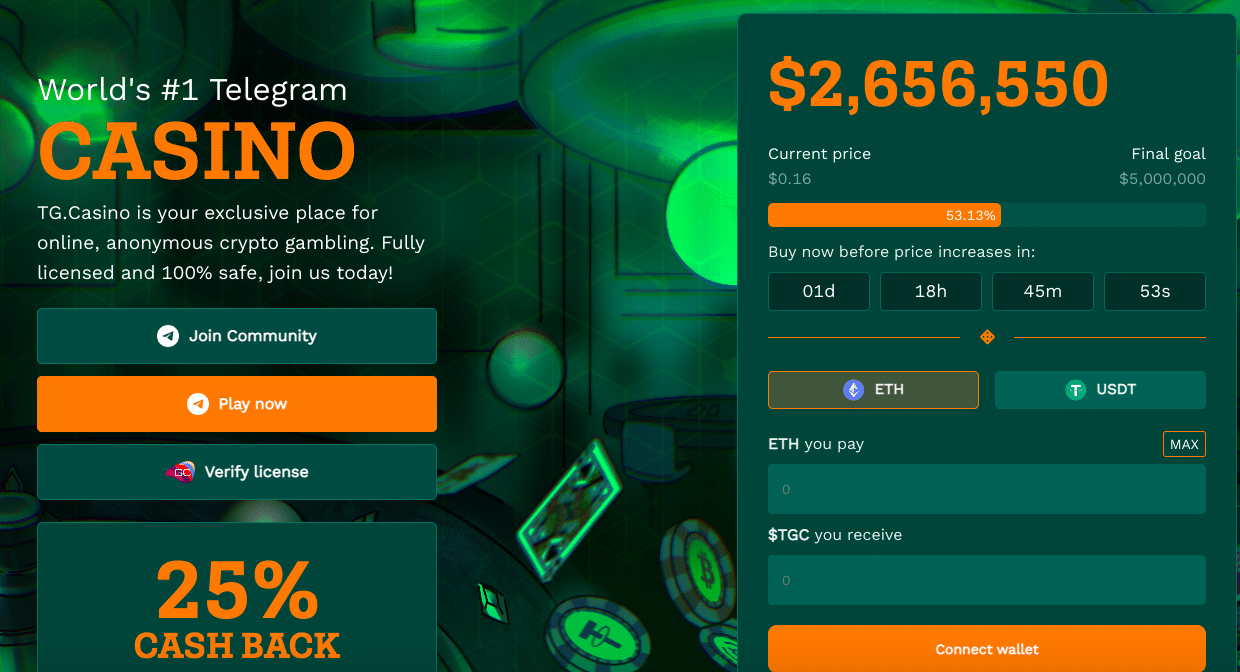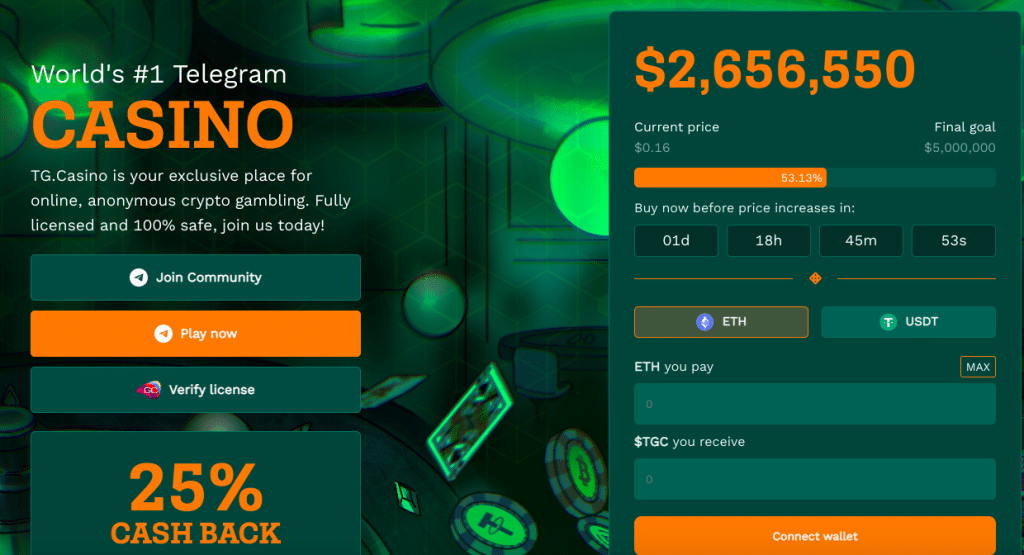 No additional software is needed except Telegram, which many people already have. This is next-level in terms of usability and access, and could pave the way for a multitude of similar offerings in the future.
And these benefits come with 100% legality. TG.Casino is a fully licensed online casino provider based in Curacao. All that is required is some crypto to play and deposit, all facilitated through Telegram, the most widely used messaging platform among Web3 professionals and advocates.
Aside from usability and accessibility, blasting the market wide open, TG.Casino provides PoS yields that are currently over 217%. While these yields are likely to come down with time, this altcoin provider offers multiple levels of incentivization.

This includes the fact that a portion of casino profits are used to buy back the token, which is then either burnt (promoting price appreciation to existing token holders) or given to the community in the form of rewards.
This is at odds with the Web2 model of casino ownership, whereby a small group of unnamed individuals withheld all of the profits for themselves, at the expense of the player, instead of growing alongside the player.
The project has undergone an audit and staking yields are generated throughout the presale, generating benefits without delay to the presale participant. There are a total of 100 million $TGC tokens with 40% available in the presale, at a price of $0.16, for a total hard cap of $5 million. The presale is compatible with major Web3 wallets and supports ETH, BNB, and USDT transactions.

We believe this to be a terrific altcoin with superb potential in 2023.
It offers a new paradigm in casino ownership and completely redefines usability and accessibility through a Telegram-only interface, without enforcing stringent KYC procedures which many have become unhappy with.
For further info, connect through Telegram or Twitter.
The Whitepaper should also be explored prior to any financial allocations.
| | |
| --- | --- |
| Hard Cap | $5,000,000 |
| Total Tokens | 100 million |
| Tokens available in presale | 40 million |
| Blockchain | Ethereum |
| Token type | ERC-20 |
| Minimum Purchase | 100 tokens |
| Purchase with | USDT, ETH, BNB |
6. Spongebob Token – Trending New Altcoin With A High Staking APY of 265% for Passive Income
Spongebob Token ($SPONGE) is a promising altcoin built on Ethereum and launched on Uniswap on 4 May 2023.
Launching at $0.0000584, $SPONGE witnessed a 434% surge in its initial 24 hours, rapidly rising to an ATH of $0.0024, marking an impressive 3,000% increase.
Such a meteoric rise, especially with over $100 million in 24-hour trading volume just days post-launch, shows its potential to go viral and captivate the crypto community's interest.
The token outperforms peers like $PEPE, maintaining over 400% above its launch price. Notably, from November 9 to November 15, $SPONGE saw over 200% growth, hinting at a renewal of investor interest.
It is a meme coin inspired by the popular TV show 'Spongebob Squarepants,' but has no official ties with the franchise.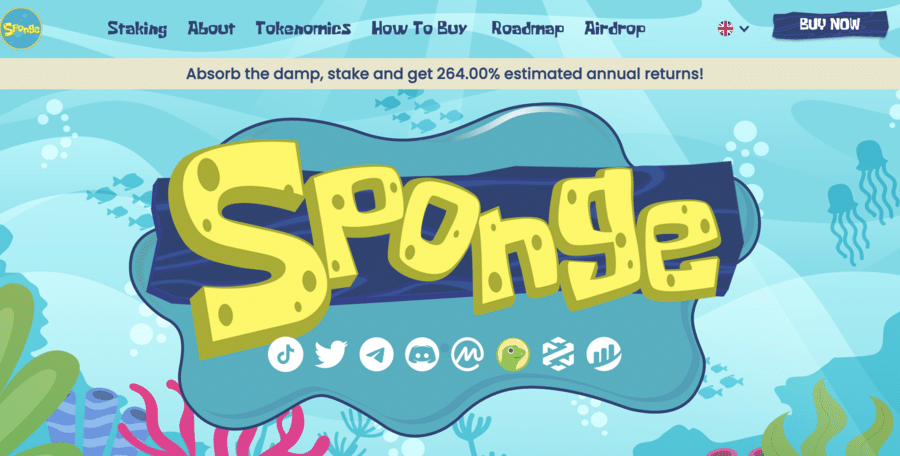 Moreover. the Sponge staking dashboard offers a 265% annual return, a substantially high APY for both passive income seekers and active crypto investors.
Coupled with this is the airdrop program that rewards users based on their holding and trading volume, further incentivizing community engagement.
Also, the tokenomics are strategically designed with 61% circulating supply, 29% locked, and 10% reserved for centralized exchange listings, providing a stable yet growth-oriented environment.
The roadmap outlines expanding its footprint with more tier 1 centralized exchange listings and growing the holder base, aiming for significant market cap milestones. The no-tax feature, renounced contract and locked liquidity add to its trustworthiness.
Interested users can enter the Spongebob Token Telegram group to keep up with the platform's progress.
7. ETHETF Token – Emerging Altcoin With A Dynamic Burn Mechanism Linked To Ethereum ETF Approvals
ETHETF Token is one of the first tokens that rewards buyers based on real-world events, specifically the approval of an Ethereum ETF.
The token introduces a 2% burn tax, automatically burnt, thereby reducing the total supply and potentially increasing the token's value over time. The token was introduced through a fair/stealth launch without a presale, aiming for fair distribution.
With a total supply of 100 million tokens, 95% are allocated for DEX liquidity and 5% for CEX listings.
ETHETF's performance post-launch was remarkable, with a 186% price increase within the first 10 minutes, highlighting the market's enthusiasm for this new concept.
Its success is closely tied to developments in the crypto ETF space, particularly the potential approval of Ethereum ETFs by regulatory bodies like the SEC.
The token's design, notably its ERC20 compliance and the burn mechanism, aligns it closely with the broader Ethereum ecosystem.
ETHETF Token offers a unique blend of speculative investment opportunities and engagement with the evolving world of crypto ETFs.
Users can join the ETHETF Token Telegram channel to get the latest updates.
8. eTukTuk – Green Energy Cryptocurrency Promoting EV Adoption in Developing Countries
eTukTuk has spent the last 5 years creating the world's first automotive blockchain project. Built on the Binance Smart Chain, eTukTuk will leverage the $TUK token to help reduce pollution and promote renewable forms of energy for TukTuks.
The presale is now open and is quickly closing in on $230k raised.
The World Health Organization reports that 99% of the human population breathes polluted air. Non-renewable resources such as fossil fuels are a large cause of this problem.
One of the largest polluters is internal combustion engines (ICEs), which are releasing more CO2 than cars. eTukTuk aims to switch TukTuk drivers from ICEs to zero-emission vehicles (ZEVs) such as EVs.
With the rise of energy costs, TukTuk drivers in small countries are already looking to switch to EVs. But, the high costs of maintenance make this very expensive.
eTukTuk will work with territory partners, who will set up production units of Electric Vehicle Supply Equipment (EVSE) and ZEVs. Once the drivers use these charging stations set up, they will make payments using $TUK.
A portion of each payment will be sent to the territory partners. Furthermore, users can stake tokens to contribute to the platform's maintenance. Staked holders are rewarded with a portion of the transaction revenue generated.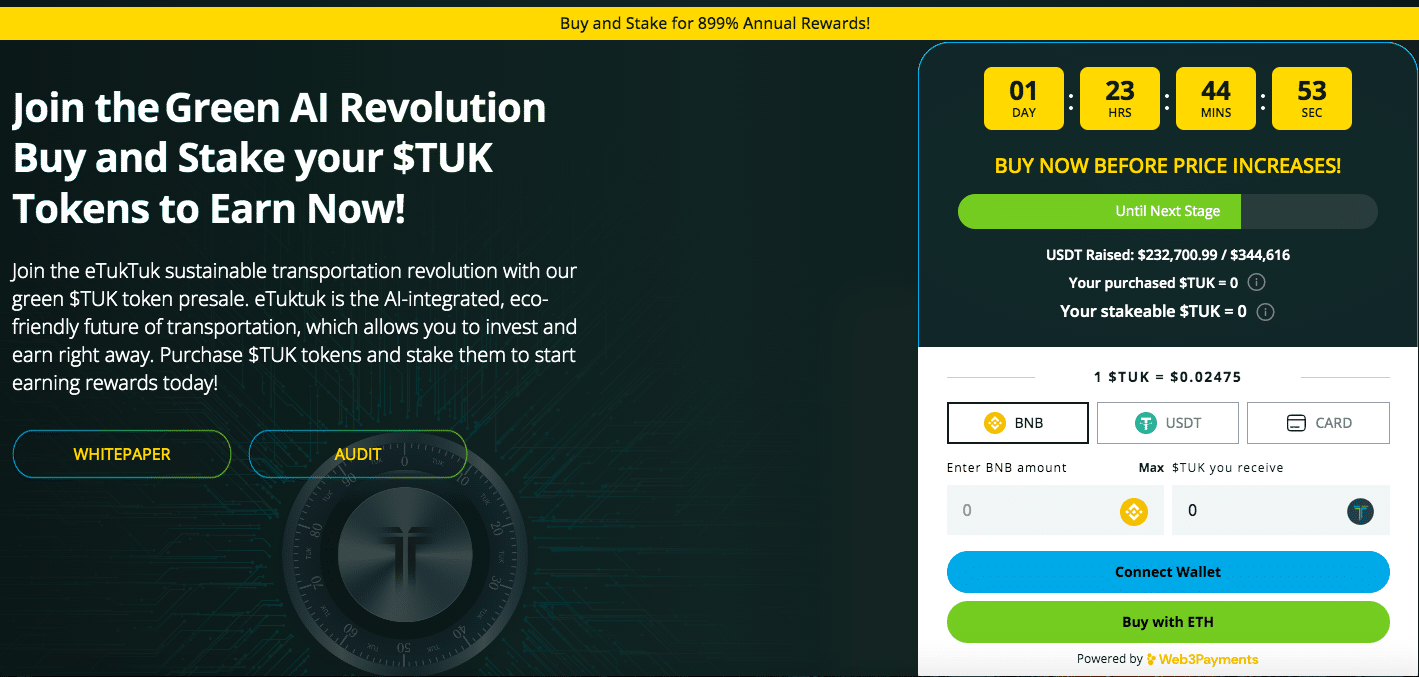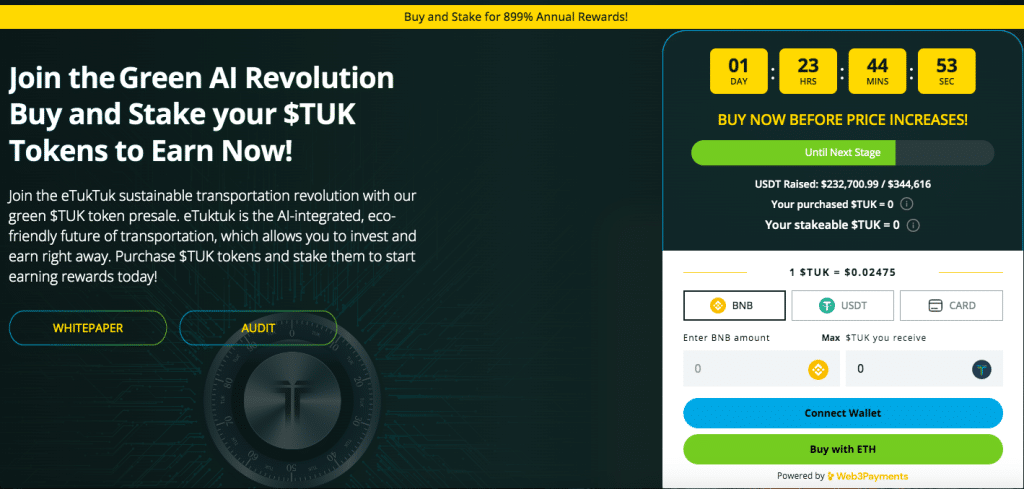 Since the BSC charges low fees and is energy-efficient, it is a suitable choice to limit carbon emissions. The $TUK token is currently priced at $0.02475 on presale.
$TUK has a total supply of only 2 billion tokens. To learn more about this cryptocurrency, join the eTukTuk Telegram channel.
9. Chimpzee – Earn Free Tokens and Engage in a P2E Ecosystem with this Charity-Driven Altcoin
Chimpzee is an environment-conscious cryptocurrency project which will help protect the wildlife through its crypto token, $CHMPZ.
10% of the $CHMPZ token supply will be sent to charities that the platform works with. Chimpzee has already helped plant 1,200 trees, and will also donate $15k to the WILD Foundation to help protect elephants.


On the ecosystem, $CHMPZ can be purchased to buy NFT passports. With these NFTs, users can enter the play-to-earn game. On the game, players can earn free tokens and prizes by fighting off forest poachers.
The NFTs can also be staked to earn an APY (Annual Percentage Yield) of up to 20%. Through the NFT marketplace, users can also trade a range of NFTs. Chimpzee will distribute a percentage of the trading fees collected to token holders through a pool.
Those who hold NFT passports will earn a higher chunk from the pool. With $CHMPZ, one can also buy merchandise from the shop-to-earn online store.
A portion of the funds collected from the online store will be donated to charities. Every time users purchase items from the store, they also receive free tokens.


Currently, $CHMPZ is priced at $0.00155 during the ongoing presale. The token will soon be listed on exchanges at a price of $0.0085.
Chimpzee has raised more than $2.3 million since the presale went live. One can go through the Chimpzee whitepaper and join the Telegram channel for regular updates on the project.
| | |
| --- | --- |
| Token symbol | CHMPZ |
| Total supply | 200 Billion |
| Presale supply | 40 Billion |
| Network | Ethereum (ERC20) |
| Purchase methods | ETH, USDT, Credit Card |
10. Scorpion Casino – An Up-and-Coming Crypto Betting Platform with Over 200 Casino Games
Sports betting and casino platforms are on the rise, and the internet has made it more accessible than ever. However, these platforms are still operating on centralized technologies and as such, they come with a wide variety of shortcomings.
Blockchain technology has the ability to make these platforms fairer and more transparent, and Scorpion Casino is doing just this.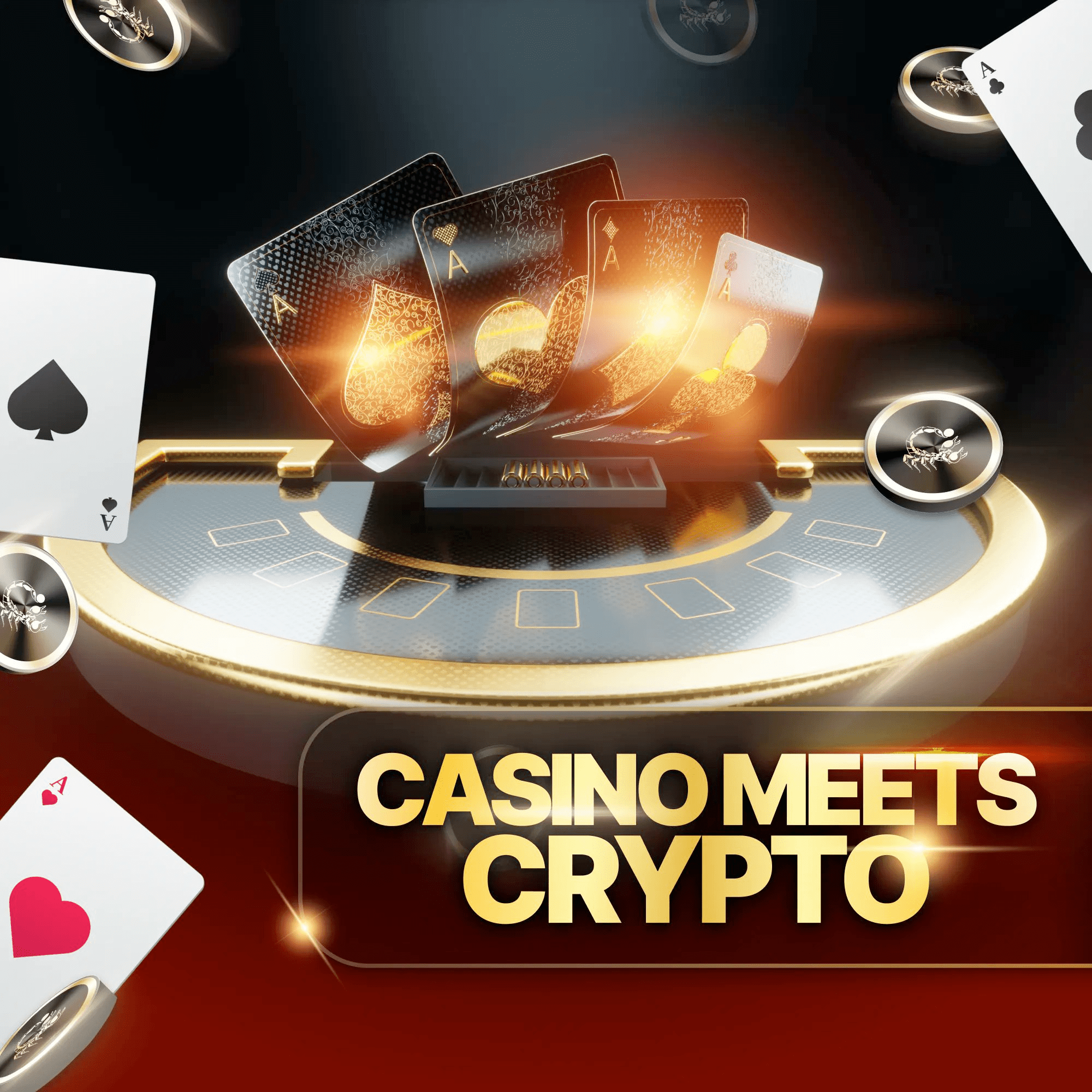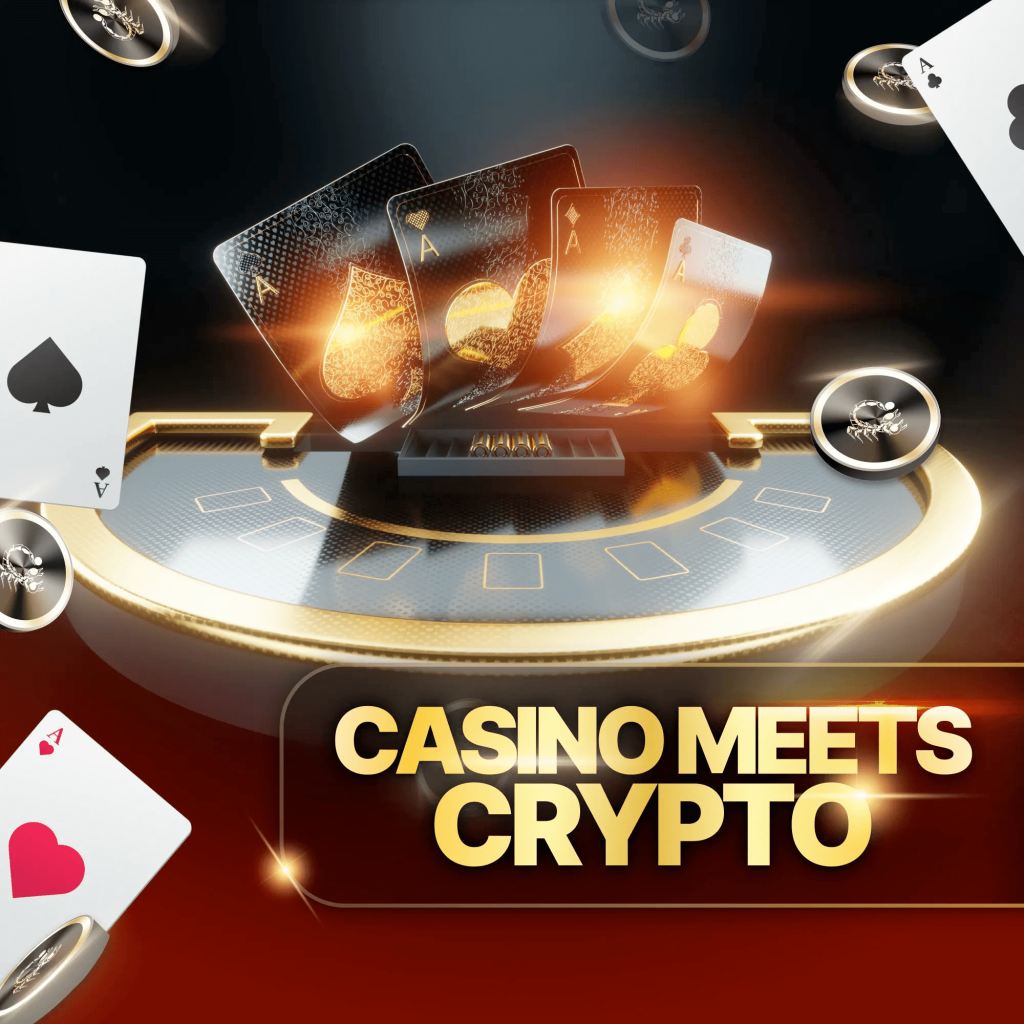 The ecosystem of the project consists of the betting platform, the affiliate system, and the SCORP token. The platform is a licensed cryptocurrency-based sports betting and casino platform, while the affiliate system serves as a referral and reward mechanism, and the SCORP token acts as a governance and reward token for users.
The Scorpion Casino offers an extensive selection of games, including over 200 casino games and 160 live games, all of which are licensed and verified for fairness. Players can enjoy a variety of games such as slots, blackjack, roulette, poker, and live casino experiences. The platform is connected with leading providers such as Evolution, NetEnt, Play N Go, Novomatic, EGT, and AMATIC. In addition, users can engage in sports betting on popular sports like football, tennis, American football, horse racing, basketball, golf, boxing, and MMA.
The SCORP token holds a central position in the ecosystem, providing users with four significant benefits. Firstly, it serves as the exclusive payment method within the ecosystem. Additionally, token holders have the opportunity to earn passive income. The token also grants weekly bonuses and free games. Furthermore, it plays a crucial role in the affiliate system.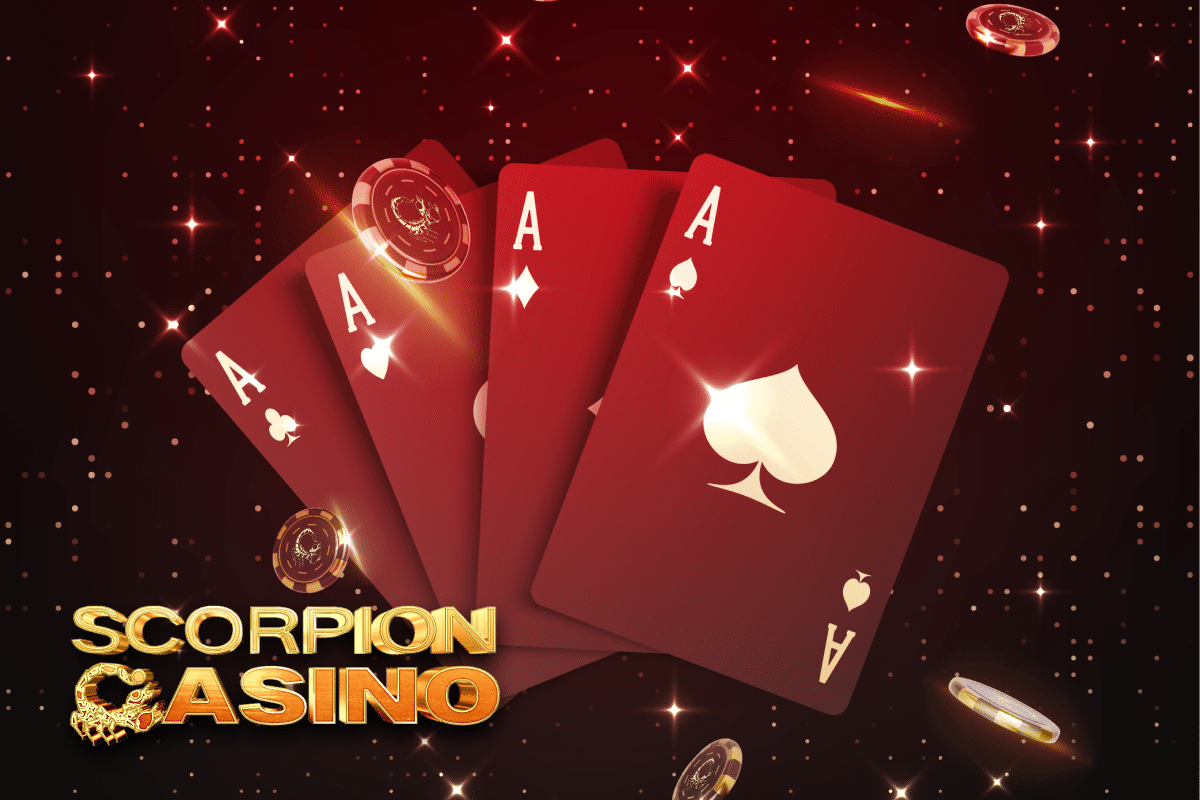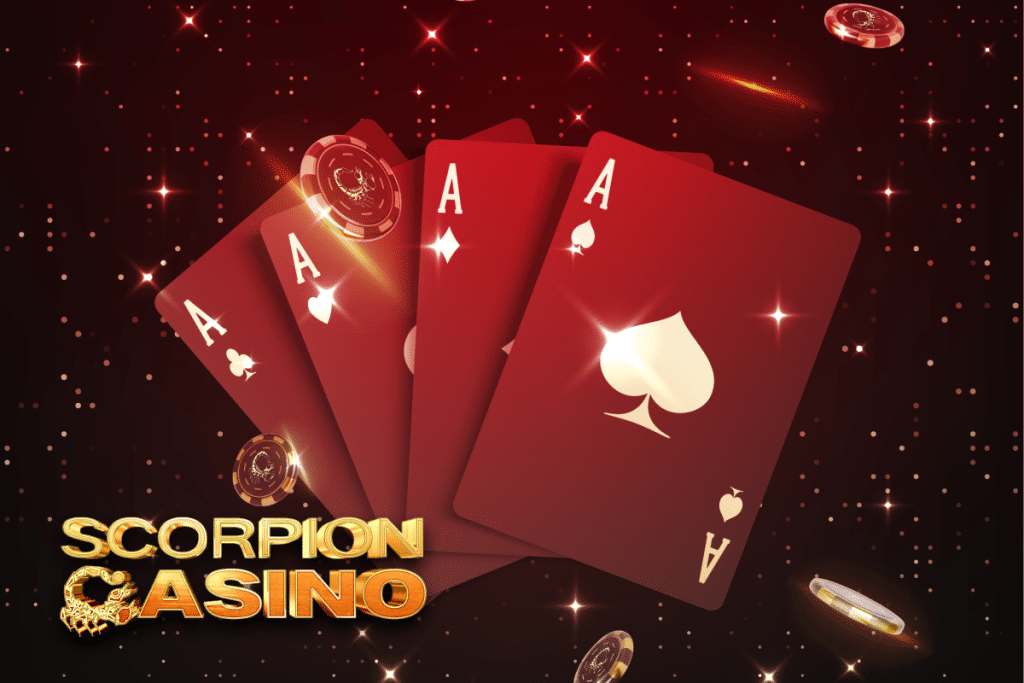 The total supply of the SCORP token is 1 billion, with 280 million SCORP allocated for the presale and 300 million set aside for affiliate rewards.
The Scorpion Casino team has unveiled a roadmap outlining future developments, which include live affiliate events, partnerships, marketing campaigns, and collaborations. In the latter half of the year, the team will focus on scaling the platform to achieve significant growth and expansion.
| | |
| --- | --- |
| Token symbol | SCORP |
| Presale supply | 200,000,000 SCORP |
| Token type | BEP-20 |
| Payment methods | ETH, USDT, BNB |
| Listing price | $0.05 |
8. Launchpad XYZ – Empowers Users to Make Informed Investment Decisions
Launchpad XYZ is quickly becoming one of the best altcoins as it navigates the ever-changing Web3 landscape. The platform simplifies data collection and presentation, such as market sentiment for various cryptos, to aid in making educated investment decisions.
The current presale price of the project's native token, LPX, is $0.0445. With the listing price set at $0.07, buyers can reap the benefits of this upside in the coming months. More than $2 mullion has been raised so far.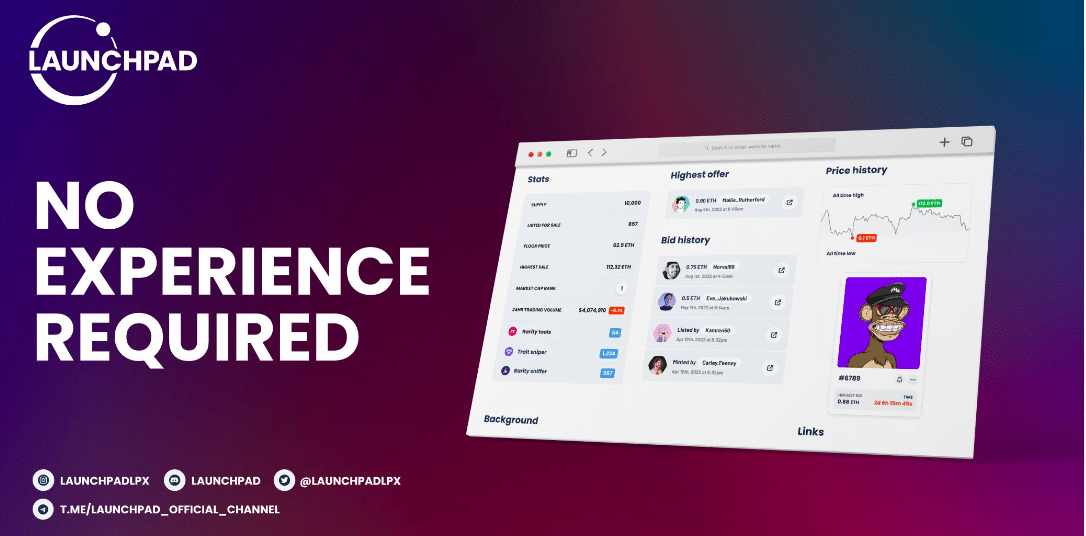 The platform notifies users of upcoming crypto presales, NFT events, P2E game launches, and other crucial project details to help them make educated investment decisions. Presale crypto investments are high-risk but can also be potentially lucrative. For instance, Tamadoge, among other cryptos, has proven they can produce substantial returns.
The Launchpad XYZ whitepaper reiterates that the platform provides reliable information regarding Web3 investment opportunities to new and experienced investors. Furthermore, integrating a decentralized exchange (DEX) will fortify Launchpad XYZ's position as a Web 3.0 business community focal point.
Launchpad XYZ relies heavily on the LPX token. Staking a minimum of 10,000 LPX tokens grants users early access to beta versions of popular P2P games and reduces trading fees on the DEX.
The value of the LPX token is demonstrated by the fact that users who stake at least 10,000 LPX for 90 days gain access to these premium features.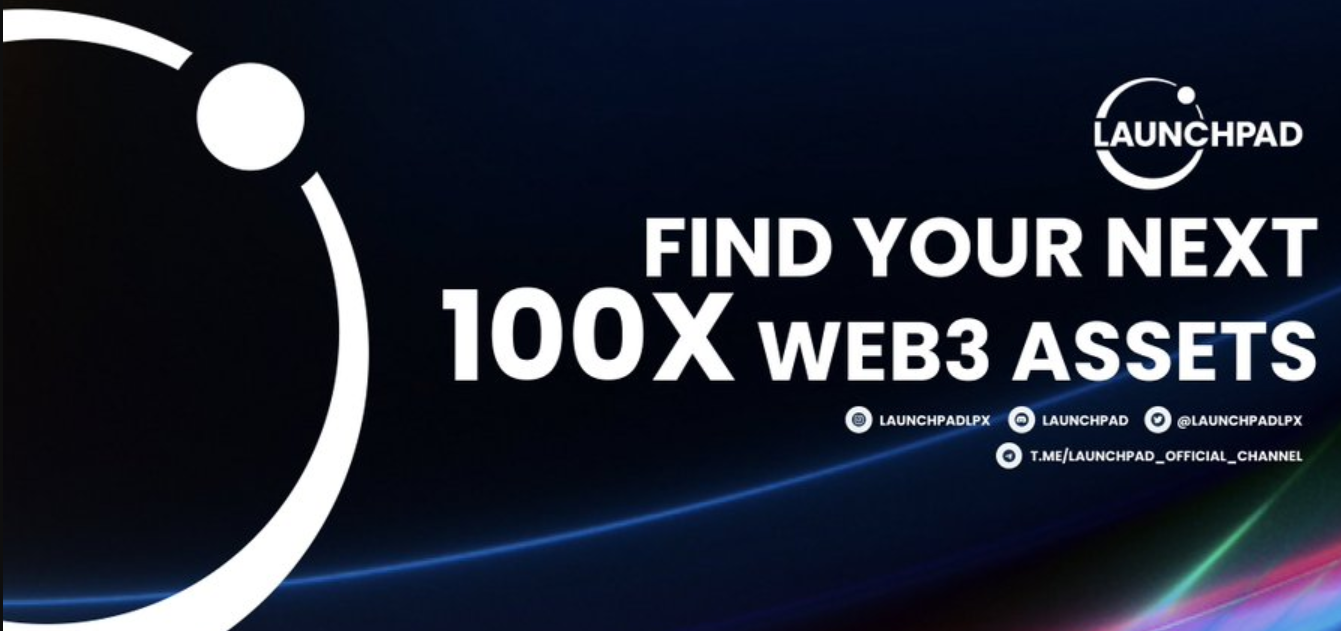 Liquidity, expert analysis, customized indicators, and arbitrage opportunities are just some of the useful metrics that can be found on the platform for various utility tokens.
By providing up-to-the-minute information on investments in Web3, Launchpad XYZ aids users in finding previously unknown possibilities. Users can join the Launchpad Telegram channel to stay abreast of developments.
| | |
| --- | --- |
| Hard Cap | $12,500,000 |
| Total Tokens | 1 billion |
| Tokens available in presale | 250 million |
| Blockchain | Ethereum Network |
| Token type | ERC-20 |
| Minimum Purchase | 100 tokens |
| Purchase with | USDT, ETH, BNB, Card |
9. yPredict – Advanced Crypto Analytics & Research Solutions with AI Technology
yPredict is an upcoming altcoin with advanced crypto analytics, research solutions, and an easy-to-use trading interface. This system works with AI experts to provide predictive models and uses AI technologies like Natural Language Processing (NLP).
In the current presale phase, $YPRED tokens can be purchased for $0.1 each. Buyers looking to buy yPredict can take advantage of this value increase, especially when the listing price is set at $0.12 in the final round – over $4.8 million has now been raised.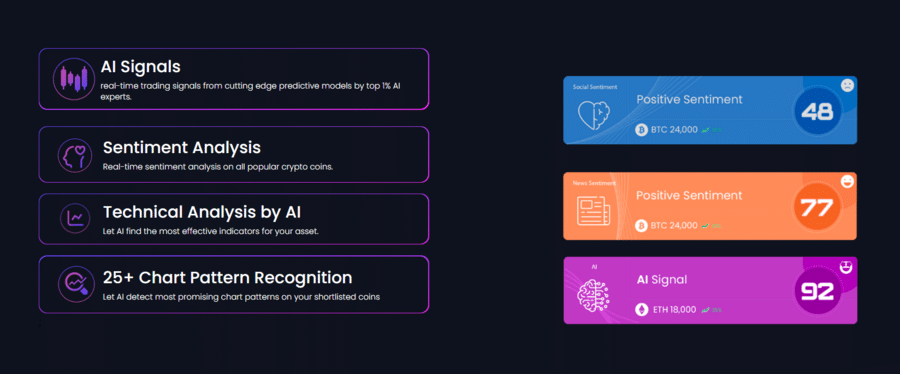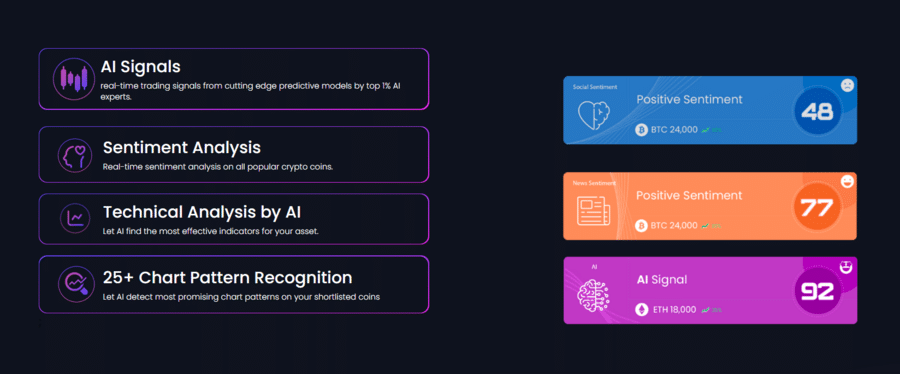 While the algorithmic trading market is expected to grow at a CAGR of over 12% until 2030, yPredict can cater to this expanding market with its forecasting models developed by AI experts using financial mathematics.
The models project the future trends in the market and the prices of various crypto assets.
yPredict uses natural language processing to evaluate the tone of many tokens simultaneously. The platform also provides users with technical analysis and automated trading signals. yPredict's unique pattern recognition algorithm allows it to spot rising and falling trends in charts.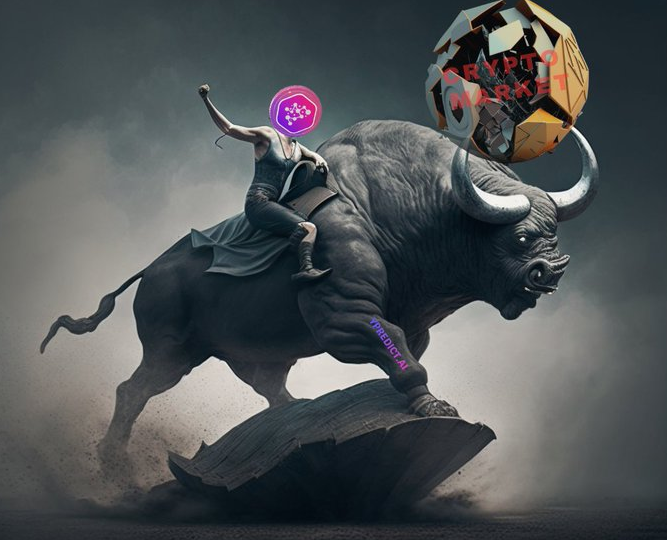 Staking one's $YPRED tokens can yield additional passive income, as mentioned in the yPredict whitepaper. 10% of all new subscriptions are distributed to active token holders.
Presale participants can purchase 80% of the total token supply (out of a maximum of 1 billion), with a $6.5 million hard cap and a 50% TGE unlock on presale tokens.
Moreover, yPredict is built on top of Polygon, an extremely fast and efficient blockchain, by a doxxed and KYC-verified team, with the token smart contract audited by Coinsult.
Join the yPredict Telegram channel to receive updates on the upcoming presale.
| | |
| --- | --- |
| Presale Started | Q1 2023 |
| Purchase Methods | MATIC, ETH, BNB, USDT, Card |
| Chain | Polygon |
| Minimum Purchase | 200 tokens |
13. Sensei Inu – Learn2Earn Meme Crypto with a Deflationary Token Supply, Will Rise By 14.28% on Presale
Sensei Inu ($SINU) is a MemeFi cryptocurrency that rewards platform members with tokens based on their knowledge of the crypto and blockchain space. The platform adopts a proof-of-value mechanism – where tokens will be rewarded on a Learn2Earn basis.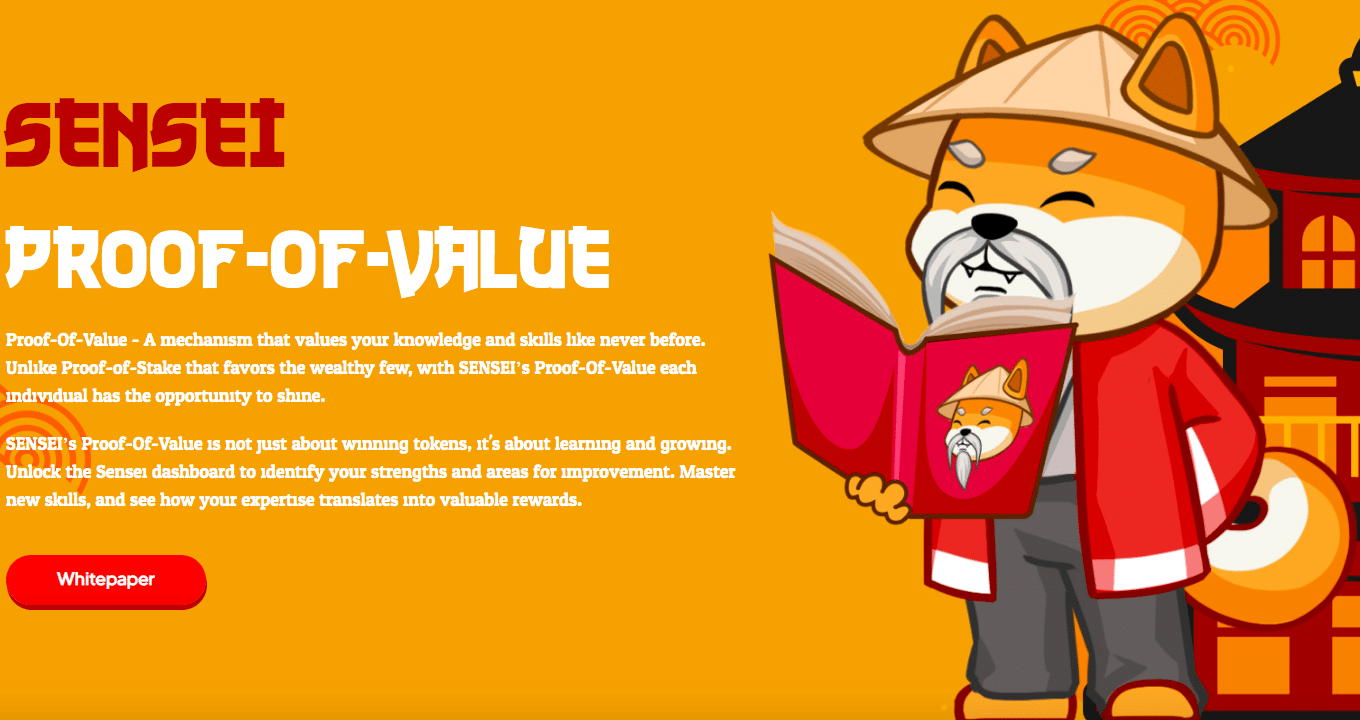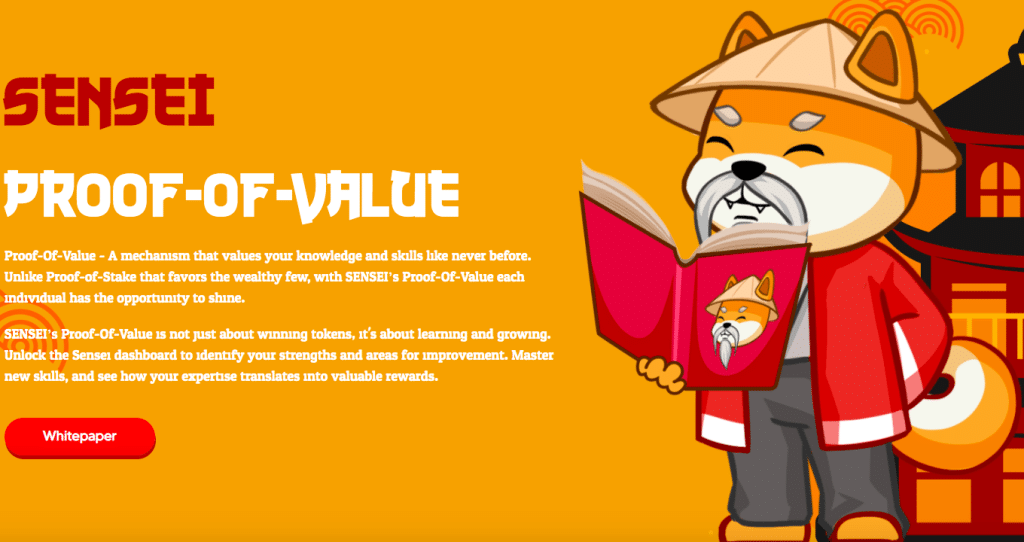 The main feature of this cryptocurrency is the Sensei Inu trivia quiz. Users can take multiple quizzes per month – each featuring 10 questions on the crypto space. The 10 best performers at the end of each month are offered a giant pool of $SINU tokens. However, each participant will get paid a small number of tokens.
$SINU has a total supply of only 5 billion tokens – far less than other popular meme coins such as Shiba Inu and Dogecoin. Sensei Inu will also implement a deflationary mechanism to burn an allocated number of tokens every month.
$SINU token holders can also get access to the Sensei Inu DAO – which promotes transparency and fairness in decision-making. This allows token holders to dictate the future of the platform, by making decisions related to platform upgrades and key initiatives.
At press time, $SINU is priced at $0.0007 on presale. By the next round, the price will jump by 14.28% to $0.0008 per token. Sensei Inu is also running an airdrop campaign – which will award 50 million tokens to presale investors.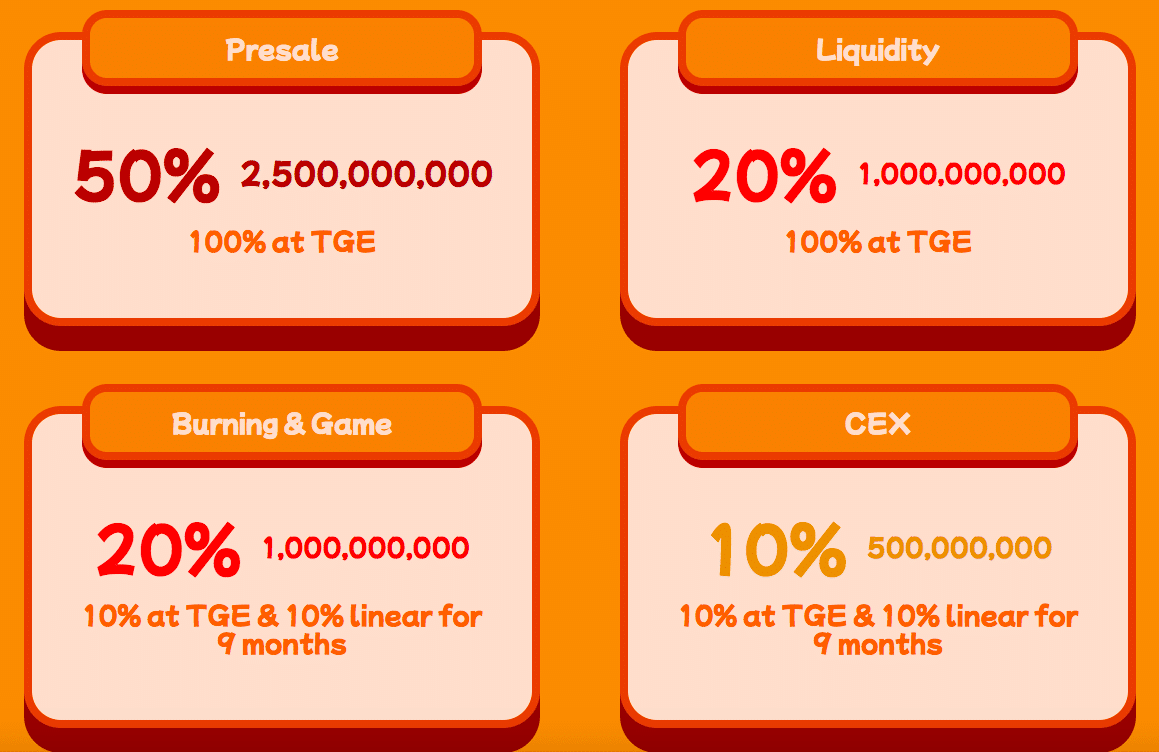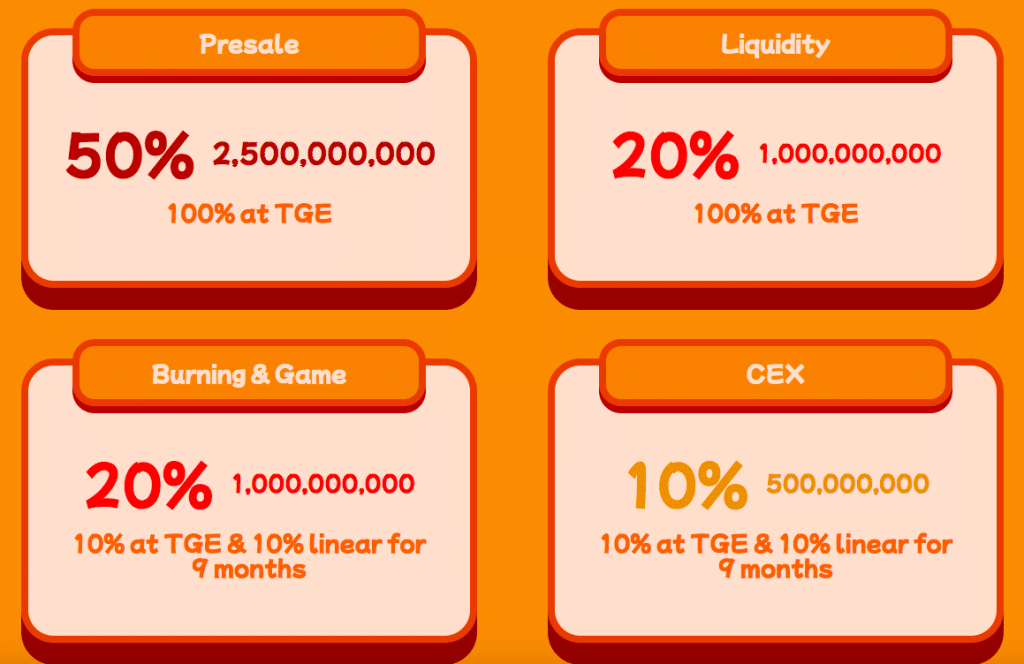 Sensei Inu has raised more than $240K since the start of the presale. Read the Sensei Inu whitepaper and join the Telegram channel to keep yourselves updated with the presale.
| | |
| --- | --- |
| Token symbol | SINU |
| Total supply | 5 Billion |
| Presale supply | 2.5 Billion |
| Network | Ethereum (ERC20) |
| Purchase methods | ETH, USDT, BNB, Credit Card |
14. Ethereum – The Most Popular Altcoin and the Largest by Market Cap
Ethereum is second only to Bitcoin in terms of popularity. It is a decentralized platform that runs on a blockchain, allowing for transparent and secure transactions without the need for intermediaries. However, the biggest attraction of Ethereum is its smart contract functionality and that it's the best DeFi coin to buy right now.
Ethereum allows developers to create and run agreements between two or more parties, directly written into lines of code. This way, Ethereum supports the development of decentralized applications, NFTs, and other DeFi projects. In fact, there are virtually thousands of projects that are built on Ethereum.
Moreover, the cryptocurrency community eagerly anticipates Ethereum's major 'proof of stake' upgrade, which promises to enhance the network's efficiency and sustainability.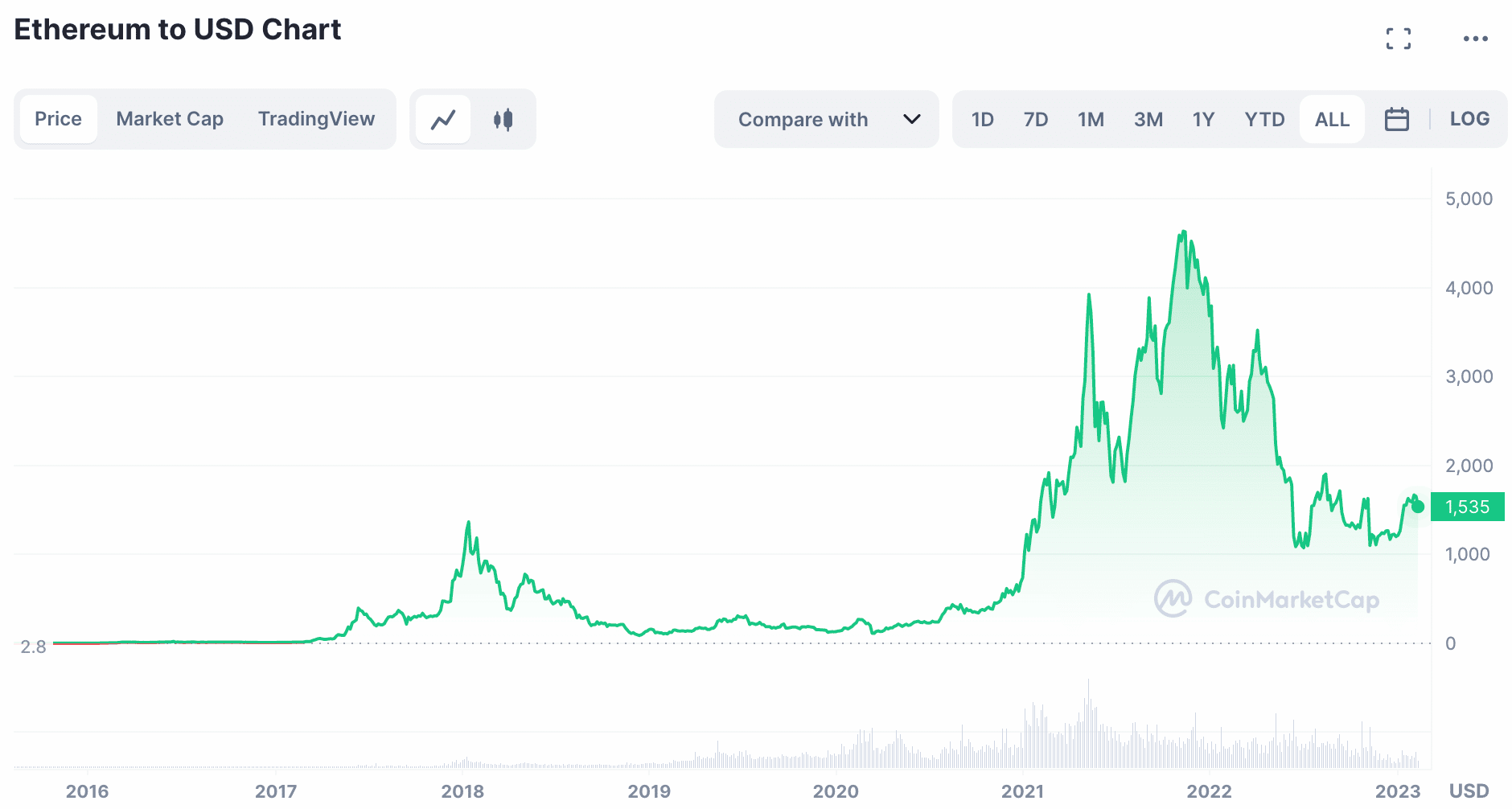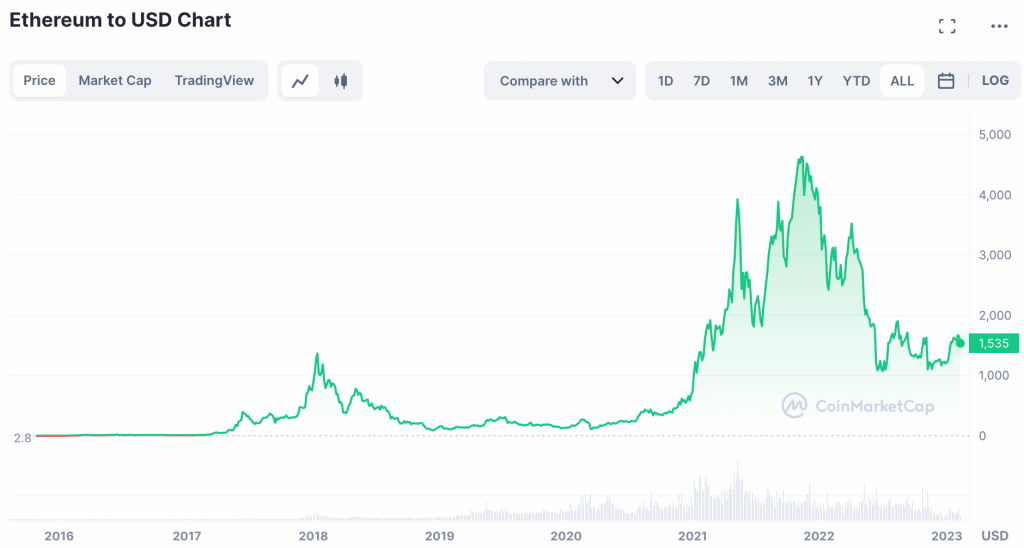 This growth is the main reason why Ethereum continues to be one of the best altcoins with the most potential. Moreover, The price of Ethereum has increased significantly since its inception. Ethereum reached its peak in 2021 when the price of ETH surpassed $4,800, and many analysts see Ethereum 2.0 as one of the best crypto 2.0 coins on the market.
At the time of writing, ETH tokens are trading for around $1,500 – which is more than 53,000% higher than its initial launch price.
15. Polkadot – Layer 0 Multichain Blockchain Network Offering Top Staking Rewards, Parachains, and Potential for 1M TPS
Polkadot (DOT) is one of the best altcoins available in 2023, for a number of reasons. Polkadot aims to connect blockchains together through one protocol and offers parachains – which are like miniature blockchain networks with specific purposes. Developers on Polkadot can use these parachains as test networks or for specific use cases.
Currently, there are over 579 projects building on the Polka Project. The project was founded by Gavin Wood, former CTO of Ethereum. It describes itself as a layer 0 protocol, or a "meta protocol" to support other Web3 initiatives and weave them together.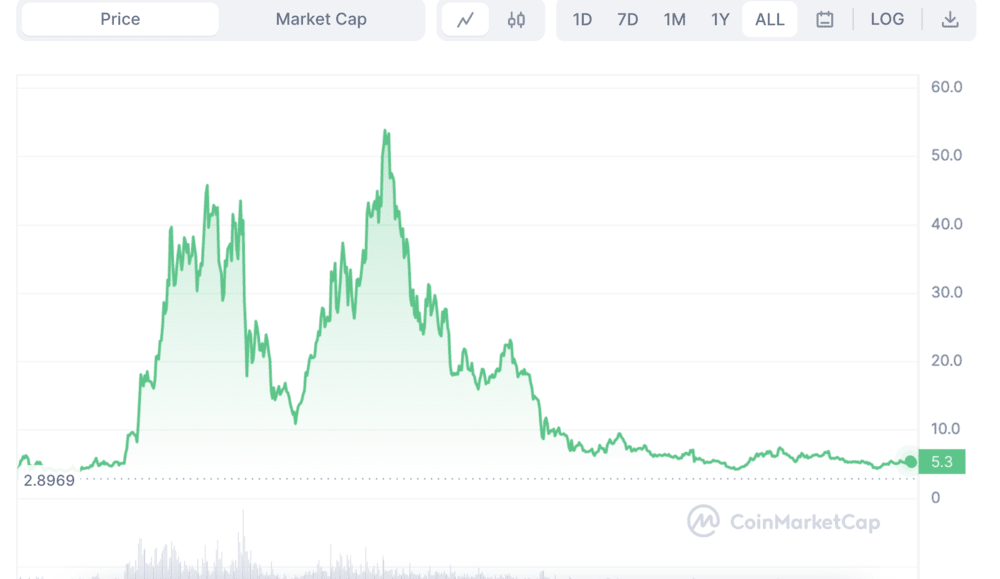 Polkadot is extremely fast. It currently handles 1,000 transactions per second (tps). Bitcoin, in contrast, handles about 7 tps while Ethereum handles about 15 tps. With an asynchronous backing upgrade, it claims it could reach 1 million transactions per second without compromising on security, something which is unheard of in the Web3 industry. This same upgrade will reduce the block time from 12 seconds to 6 seconds.
Aside from speed, Polkadot offers among the best DeFi staking rewards. Stakers can earn between 11% – 15% APY, depending on how the coins are staked. These yields are not seen with any other high market cap provider. Other coins like Solana and Algorand offer in the region of 7%, which is still a good number.
In other words, it is fast, scalable, offers impressive staking rewards, and is founded by an Ethereum co-founder. Plus, it offers parathreads, which are rentable parachains allowing developers to deploy blockchains with the ease of deploying a smart contract.
Such features could prove to be very popular in the development community. In early 2023, Polkadot launched a staking course on the Revolut Finance platform, received positive media from Messari, and collaborated with Beatport and other key partners, enjoying a healthy start to the year.
Currently, it has a large market cap at $6.5 billion and is priced at $5.30.
16. Cosmos – Crypto Network Facilitating Blockchain Interconnectivity
Cosmos aims to create a network of interconnected blockchains, allowing for the seamless transfer of data and value across different cryptosystems. It's designed to address some of the major challenges facing the blockchain industry, such as scalability, interoperability, and decentralization.
Cosmos uses a novel consensus mechanism called Tendermint and the IBC protocol to ensure that blockchains can communicate securely. Additionally, it has also developed an SDK toolkit that allows developers to create and launch their own independent blockchains within the Cosmos network.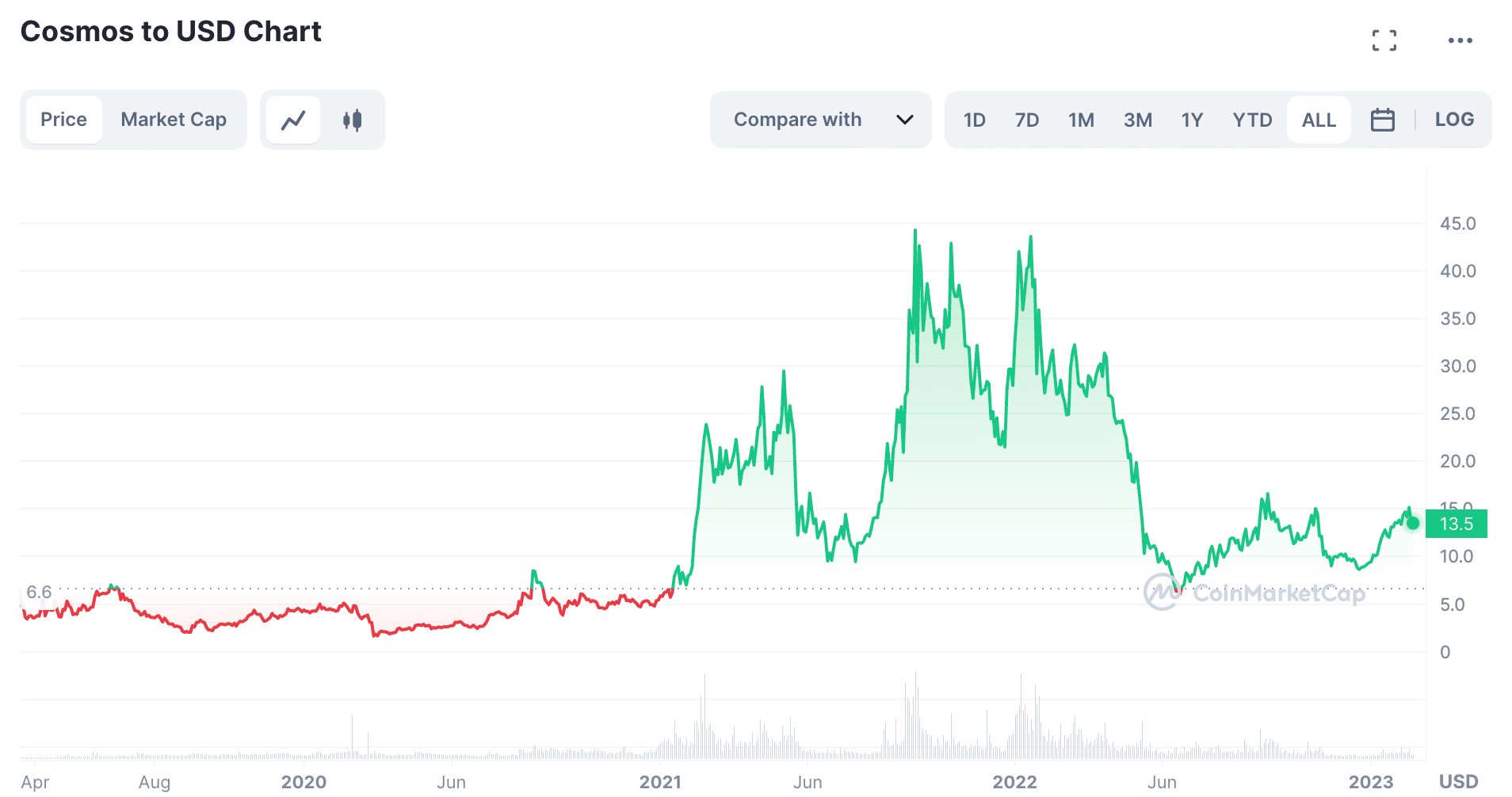 The different blockchains within the Cosmos network can then communicate and transfer data and assets between each other. This subsequently creates a network of interconnected systems. Cosmos also has its own cryptocurrency, ATOM, which is used as the governance token of this network.
Cosmos also supports the staking of ATOM tokens so that investors can set up a stream of passive income. After launching in late 2019, the price of Cosmos tokens hit an all-time high of around $44 – which represents an increase of more than 450%.
17. Solana – Fast-Growing Blockchain Platform Known for Speed and Efficiency
Launched in 2017, Solana is a decentralized blockchain platform designed to provide fast, secure, and scalable blockchain solutions for decentralized applications. It uses a unique consensus mechanism called proof of history, which helps to maintain high transaction speeds and low fees. In fact, Solana claims that it can handle up to 65,000 transactions per second.
In 2022, Solana also shared insights into its future roadmap. This included the launching of crypto phones, app stores, and even an upcoming partnership with Google Cloud, among many others. In other words, there are a number of different factors that can help increase the price of Solana in the future.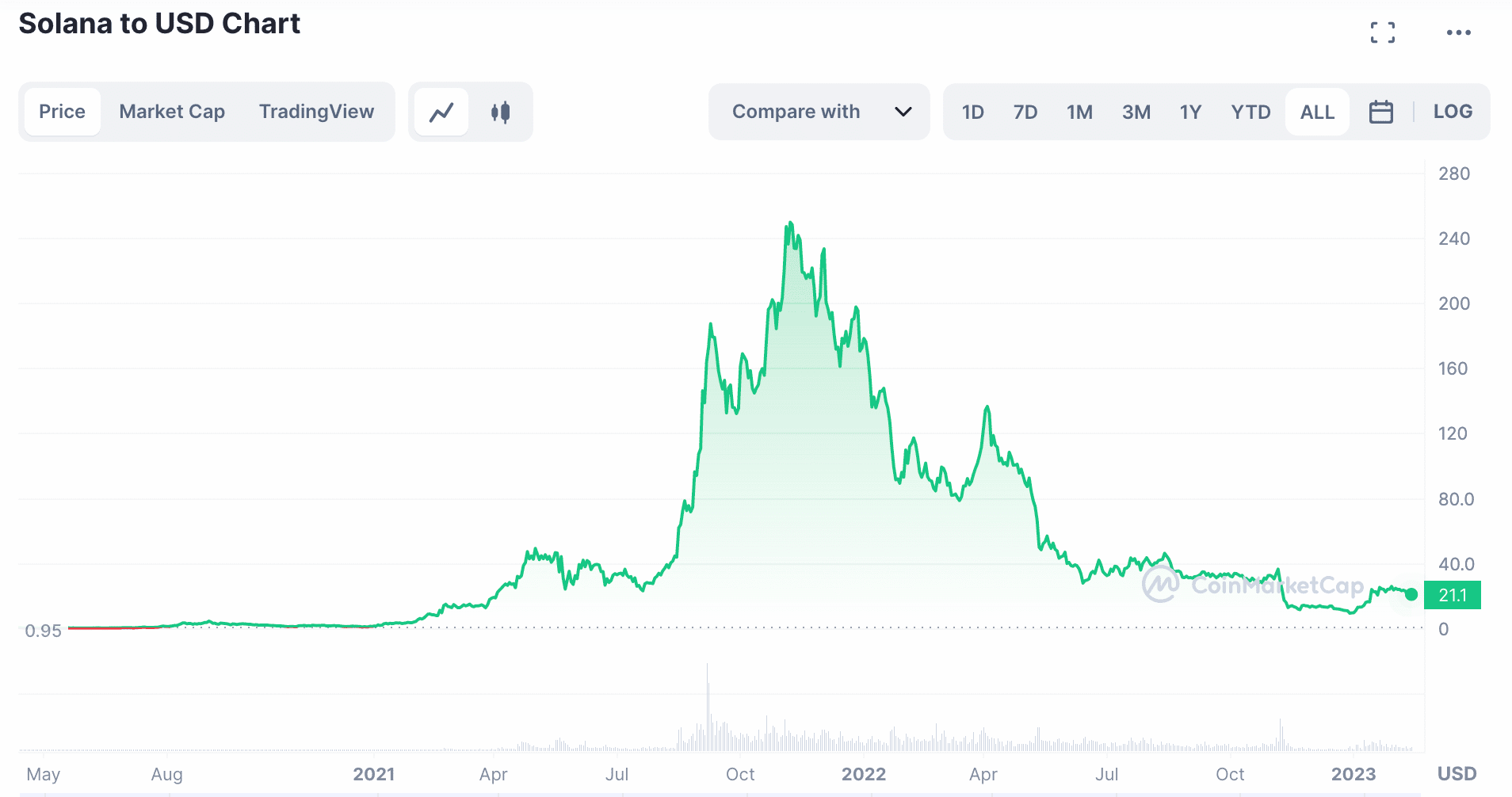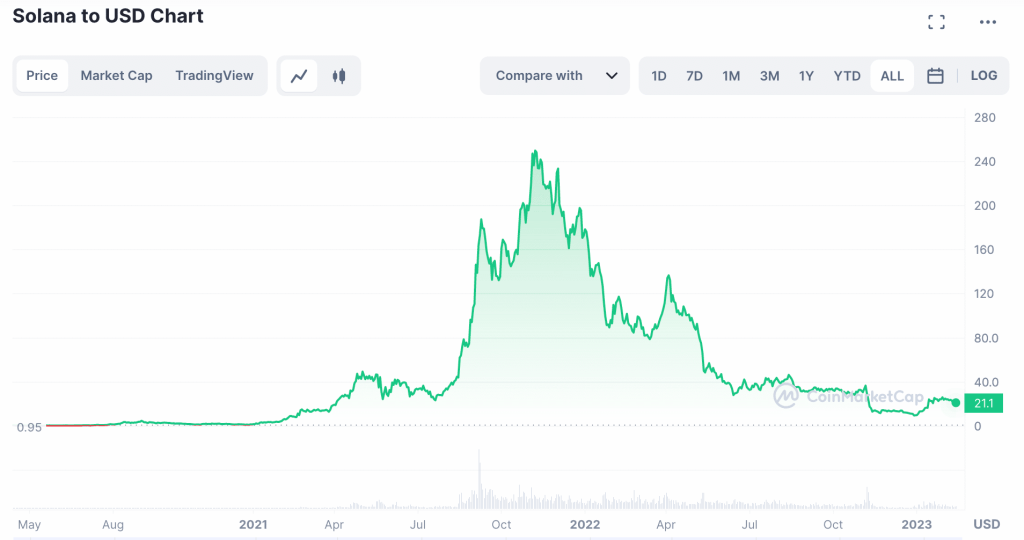 Solana has its own cryptocurrency, called SOL, which is used to pay for transactions and network fees on the platform. Since its launch, the price of SOL tokens has increased by more than 2,000%. Moreover, as we noted above, Solana has clear objectives for the future – which makes it one of the best altcoins to buy right now.
Nonetheless, the platform has struggled with some network slowdowns. The Solana blockchain experienced a setback when it was hit by an hours-long network slowdown and technical problems, causing concerns among users and investors.
18. Dogecoin – Top Meme Coin Widely Used for Online Payments
Dogecoin, a popular altcoin, was initially created as a meme in 2013. The digital token was inspired by the internet meme "Doge" featuring a Shiba Inu dog. However, over time, Dogecoin has grown to become a widely recognized and well-loved cryptocurrency, boasting a substantial following of enthusiastic supporters.
Due to this growing frenzy, Dogecoin is also attaining mainstream adoption. Today, one of the main use cases of Dogecoin is to carry out online purchases. Additionally, there are also many crypto gaming sites and casinos that accept Dogecoin as payment. Although Dogecoin was launched in 2013, this altcoin rose to popularity in 2021.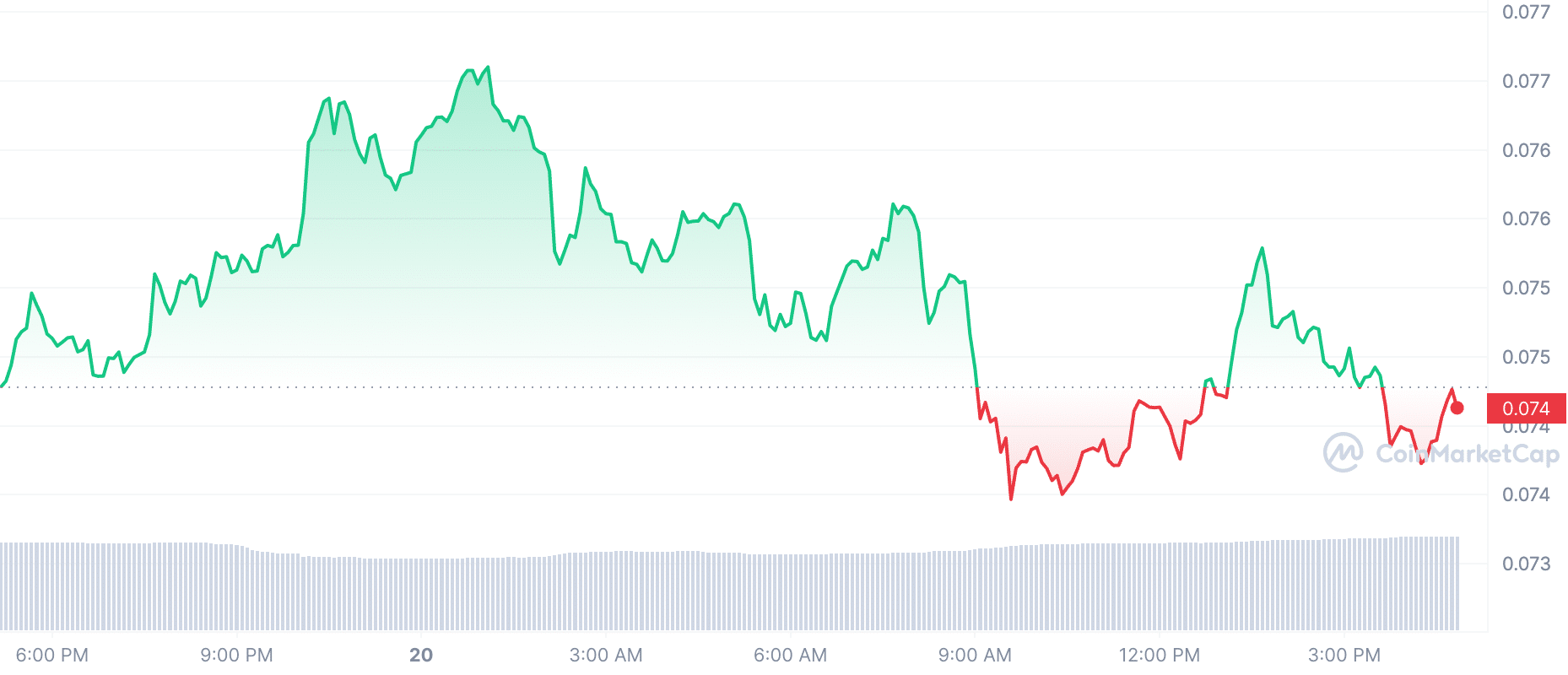 Between 2014 and 2021, the price of Dogecoin increased by 200,000%. It is known for extreme price volatility but has a strong community behind it, that has allowed it to stand the test of time as a high market cap crypto.
What is an Altcoin?
In simple terms, an altcoin is any cryptocurrency that is not Bitcoin.
Originally, altcoins were created to address various limitations and shortcomings of Bitcoin. However, over time, developers have started adding new features and capabilities to altcoins.
This means that there are thousands of altcoins with a variety of different use cases. While some altcoins specialize in being a medium of exchange, others enable users to run decentralized applications on a blockchain.
With that said Bitcoin and Ethereum continue to share sheer dominance of the cryptocurrency market (see pie chart below). According to data from Statista.com BTC maintains a 40.33% dominance while ETH shares 19.12%.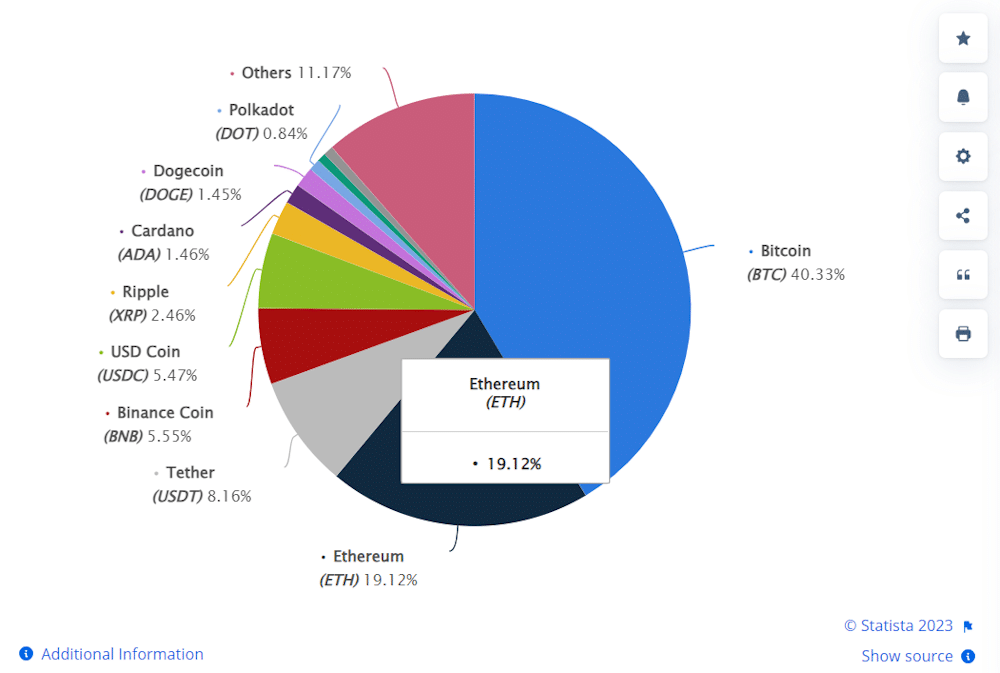 As noted earlier, there are even altcoin projects that cater to the industries of gaming, sustainability, trading analysis, fitness, and more.
Some investors and crypto enthusiasts choose to buy highly speculative altcoins such as meme coins like Shiba Inu and Tamadoge – which raised $10M during its presale in just over a month.
Altcoins such as these were launched with no real purpose other than being memes but as the crypto market continues to evolve we're seeing more and more altcoins join the hall of fame especially when they raise record-breaking funds during they're presales.
Something worth considering is that all altcoins differ when it comes to utility, historical data, the transparency of the tokenomics, and much more.
Therefore, filtering the best altcoins from the 25,635 cryptos on the market can be time consuming and daunting for beginners and even the most experienced traders. Especially since more than 80% of millennials have invested one way or another in the crypto market.
For example, while the likes of Ethereum and Unibright some traders have made significant profits. One crypto enthusiast invested $2,000 in ETH and a handful of altcoins back in 2019 to then watch his stake reach the $1M mark.
On the other hand investing in altcoins carries the same risk of losing capital as it does of earning a profit. According to CNBC since the crypto winter investors have suffered losses of over $2 trillion.
So when it comes to picking the best altcoins to invest in right now, users are advised to do a lot of research and market analysis, while also exploring each altcoin's fundamentals to ensure the right investment is made at the right time.
Should You Invest in Altcoins?
Whether or not altcoins are a good investment is ultimately a matter of personal opinion. For some, cryptocurrencies are a risky addition to their portfolio, whereas others might look at altcoins as a potentially lucrative investment.
Below we have outlined a number of factors that can help investors decide whether they should buy altcoins.
Potential for High Returns
Some of the most popular altcoins, such as Ethereum, Dogecoin, and Binance Coin, are excellent examples of cryptocurrencies that have performed well over the years.
Similarly, early-stage cryptocurrencies also come with a high upside potential – as they have unique use cases and are available at discounted prices (during the presale).
In other words, by choosing the best altcoins, investors have the chance to target attractive returns.
However, whether or not an altcoin has a high upside potential depends on many factors, including the technology behind the token, the development team, adoption and usage, partnerships, and the overall state of the crypto market.
Unique Use Cases
The cryptocurrency market is constantly evolving, and new altcoins are being created all the time – some of which have breakthrough technologies.
For instance, there are many altcoins in the market that come with smart contract capabilities – which has subsequently created a whole new sector of decentralized applications.
On top of this, there are also many altcoins that offer innovative solutions to address real-world issues.
Undervaluation
Many altcoins are lesser-known and have significantly smaller market caps compared to Bitcoin. And as such, some investors believe that there are many cryptos under $1 that are due for potential price appreciation.
For example, as of writing, Dogecoin is trading at around $0.07. Similarly, there are many crypto presale projects that are offering investors access to cheap altcoins – which have high prospects for growth.
Undervalued altcoins pose a real opportunity for immediate gains as they're usually priced lower than their perceived market valuation.
Are there any undervalued altcoins circulating now?
Chainlink is one such undervalued altcoin that has caused a stir this month. LINK is currently riding an upward trend with a price surge of over 8.5%. This means that on average a total of $0.52 has been added to its valuation.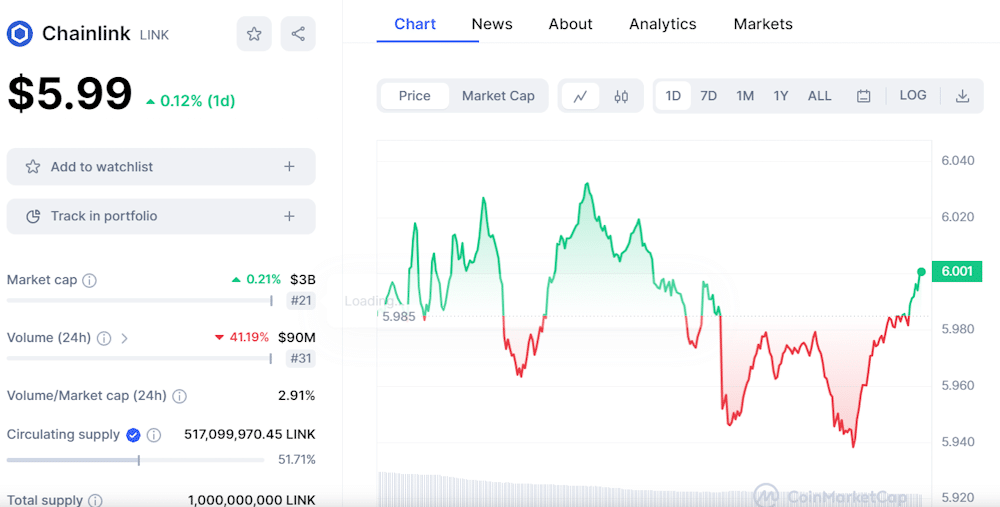 Such acute growth indicates that the altcoin could be a strong asset to invest in if its forward momentum continues. However, undervalued altcoins are subject to the same market volatility as every other cryptocurrency. So while it may seem tempting to invest big, you should only ever invest what you can afford to lose.
Diversification
Another reason to consider altcoins is to diversify a portfolio. By buying a variety of altcoins, investors can spread their risk and potentially reduce their overall volatility.
All that being said, it's important to keep in mind that the cryptocurrency market is highly speculative and unpredictable, and the value of an investment in altcoins can be highly volatile.
Therefore, it's essential for investors to conduct independent research and understand that there are no guarantees in the world of altcoin investing.
Altcoins act as gateways to new projects and innovative ideas
Altcoins can offer exposure to new projects with innovative use cases. Therefore, crypto investors can potentially earn huge profits when they invest in new altcoins that hit the ground running and gain widespread adoption.
How Many Altcoins Are There?
According to Coinmarketcap, there are over 25,600 cryptocurrencies in existence, with a global market capitalization of over 1 trillion as of writing. However, this number is constantly changing as new altcoins are created, and others become obsolete.
Furthermore, it's worth noting that not all of these altcoins have significant market capitalization or trading volume, and many may not be worth investing in.
Therefore, it's important to thoroughly research any cryptocurrency before investing in it to understand its potential risks and benefits.
How to Find the Best Altcoins
Investors wondering what altcoin to buy can consider the following metrics to find the best crypto for their portfolio:
Keep up with market trends – When looking for the best altcoins to buy, it's essential to research the overall cryptocurrency market and understand the current trends and dynamics. Investors can refer to leading crypto news websites to keep up to date with developments in the industry
Use cases – The best altcoins are those that have real-world applications and are being used by people and businesses. This can indicate that the project has a strong future ahead.
Track presale cryptos – Keeping track of new emerging cryptos can also help investors spot the best altcoins to buy for their portfolio. As we noted before, the best presale cryptocurrencies often have high upside potential and offer investors an opportunity to get in on the ground floor of an innovative project.
Social media – Finally, investors can also follow crypto-related social media pages as well as influencers to learn about the best altcoins.
Investors should always conduct thorough research before investing in any altcoins.
Join crypto Discord groups to find top altcoins
Prominent crypto Discord groups such as Jacob Crypto Bury's and Crypto Hub offer useful insights into the top trending altcoins that have 10x potential.
Discord groups are popular because traders can discuss new ideas, find answers to any questions regarding the latest altcoins, as well as network with like-minded crypto enthusiasts.
Jacob Crypto Bury also has a thriving crypto YouTube channel with over 18k subscribers. This popular social media outlet has covered all the top-performing altcoins including the likes of Stacks crypto, Wall Street Memes, and Pepe coin to name a few.
Keeping up with Market Trends
For various reasons, keeping up with market movements is essential if you want to find new altcoins with upside potential.
Market trends are mostly a reflection of the general mood and trajectory of the market. Investors can learn a lot about new industries, technology, and market dynamics by keeping up with current trends.
They may uncover cryptocurrencies that follow these trends and have the ability to prosper in the changing market environment thanks to this information.
Secondly, changes in investor sentiment and demand patterns are typically indicated by market trends. As emerging businesses and technologies gain popularity, they open doors for cutting-edge cryptocurrencies to fill certain market gaps.
Last but not least, market movements can provide important hints regarding the general market cycle and investor behavior.
Because of the volatility of cryptocurrency markets, it is important for investors to understand market trends in order to determine when to make investments. Investors can profit from favorable momentum and ride the wave of rising cryptocurrency demand by spotting bullish market trends.
Recognizing bearish tendencies, on the other hand, can serve as an early warning sign to stay away from or sell altcoins that may see major downturns.
In general, keeping up with market movements is a good way to find new altcoins with upside potential.
It helps investors to match their investments with developing industries, take advantage of unique opportunities, and make smart choices based on the state of the market at the time.
However, it's crucial to remember that market movements should only be one of many considerations when researching Bitcoin alternatives and making investment decisions. Thorough research is required to evaluate the fundamentals of each altcoin before making an investment.
Use Cases and Utility
When looking for the top altcoins, it is essential to evaluate use cases and real-world utility for a number of reasons.
First off, a cryptocurrency's capacity to be used in real world situations is a good sign of its long-term sustainability as well as growth potential.
Real-world problem-solving altcoins or those with distinctive uses are more likely to be adopted widely and draw a user base, which can eventually lead to higher demand and value.
Secondly, assessing use cases and real-world usage enables investors to find alternative coins with a distinct value proposition and competitive edge.
Investors can evaluate a cryptocurrency's ability to upend established institutions or disrupt traditional businesses by knowing how it can be used and the issues it seeks to solve.
Strong use cases for altcoins increase their ability to stand out from the crowd in a competitive market and increase the likelihood of long-term success.
Where to Buy Altcoins
The easiest way to buy altcoins is via a crypto exchange or broker. The hard part is to find a credible platform that offers access to altcoins in a safe and secure manner. In this regard, we prefer eToro – an online broker regulated by the SEC, FCA, ASIC, and CySEC.
eToro – The Best Place to Buy Altcoins
eToro is a multi-asset brokerage platform that allows users to trade a variety of financial instruments, including stocks, forex, commodities, and of course, cryptocurrencies. This platform is known for its user-friendly interface, social trading features, and competitive fees.
eToro gives users access to dozens of cryptocurrencies – which includes Ethereum, Dogecoin, Solana, Binance Coin, and plenty more. The platform allows investors to buy altcoins from just $10 and charges no deposit fees when the payment is made in US dollars. Moreover, the commission to buy cryptocurrencies is just 1%.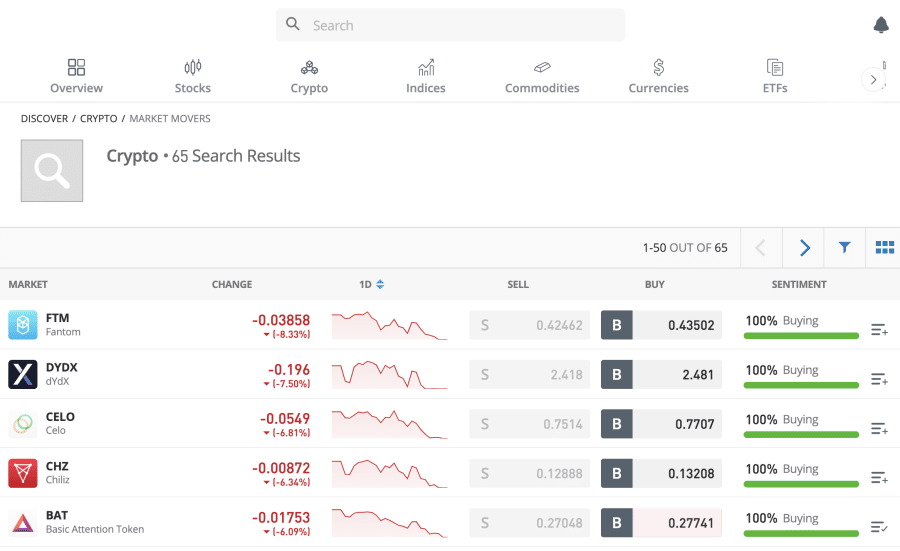 One of the standout features of eToro is its social trading capabilities, which allow users to copy the trades of successful investors, as well as connect with and follow other traders to gain insights and strategies. eToro is a great place to find the best crypto ICOs to invest in. Additionally, the platform offers a range of educational resources and tools, such as market analysis, webinars, and trading guides.
How to Buy Presale Tokens
Brokers such as eToro only list cryptocurrencies that are already trading on exchanges.
If investors are looking for trending altcoins to buy now, the best way is to consult the project's official website. Investors will then be redirected to the presale page, from where they can directly purchase new altcoins – often at a discounted rate.
In the next section – we have detailed the process of buying altcoins in the presale stage with the help of an example.
How to Buy Altcoins
Here is a step-by-step explanation of how to buy $BTCETF – one of the best cryptos to invest in 2023.
Step 1: Create a Wallet
The first step for investors is to ensure that they have a crypto wallet that is compatible with the ERC-20 standard of $BTCETF tokens.
Alternatively, those who prefer mobile wallets to connect to the Bitcoin ETF Token website can also consider TrustWallet.
Next, set up the wallet by following the on-screen instructions.
Step 2: Connect the Wallet
Investors can now proceed to the Bitcoin ETF Token presale website and click the 'Connect Wallet' button. Next, select the preferred wallet.
Step 3: Fund the Wallet
To buy $BTCETF tokens, investors must have ETH/ BNB/ USDT tokens in their wallets.
Investors can buy ETH/BNB/USDT from one of the best crypto exchanges like eToro and transfer the tokens to their MetaMask wallet.
Step 4: Buy $BTCETF Tokens
When the wallet is sufficiently funded, choose the crypto token you want to swap for $BTCETF. Next, enter the number of ETH/USDT/BNB coins to buy $BTCETF tokens.
This will display the number of $BTCETF tokens that the investor will receive. Confirm the payment to complete the purchase of $BTCETF tokens.
Step 5: Claiming $BTCETF
Investors can redeem their $BTCETF tokens via the platform's claim page after the presale. Investors can follow the project's social channel to track the presale and know when to claim their tokens.
What are the risks involved when trading altcoins?
Considering that we've explored all the advantages of investing in altcoins, it's crucial that we examine the underlying risks involved when buying altcoins in 2023.
The main risk that investors should be aware of is market volatility. It's because of this temperamental nature that cause market prices to fluctuate as acutely as they do. External factors such as social media hype and an ever-changing standpoint from regulators make altcoins susceptible to sudden price changes.
Furthermore, the risk of losing capital can be much more especially when it comes to altcoins as they often have little to no price history and are essentially speculative assets with limited utility.
How can I mitigate risks when buying altcoins?
Achieving a 100% success rate in trading is impossible. That's why successful traders are also good risk managers as well as crypto traders. They understand the significance of effectively managing risks and approach their trading efforts with a focus on risk management, recognizing its vital role in their overall success.
Methods to help reduce risks when investing in altcoins:
Making a clear trading plan that outlines which markets you'd like to target as well as which risk managements strategies you will adopt.
Use mitigators such as a trailing stop and stop order to reduce the impact of any potential losses.
Implement things like the 1% rule which means traders never invest more than 1% of their budget in a single transaction.
Adopt a DCA (Dollar-Cost Averaging) investment strategy which helps to minimize the impact of market volatility by splitting an investment into chunks over a longer period rather than one lump sum in a single trade.
Also, Bybit Learn has a great guide on understanding all the possible risk management strategies that can help minimize risks when trading altcoins.
Conclusion
In summary, we have offered a thorough examination of the best altcoins to invest in 2023. The projects highlighted in this guide are ideal for those new to the market, offering user-friendly investment processes and high upside potential, though due diligence is always required.
Our top pick for the best altcoin to buy is Bitcoin ETF Token. It's a speculative token that aims to reward holders based on events around the spot Bitcoin ETF approval by the SEC. It also offers a massive staking APY of over 200% in the early stages of the presale.
References
FAQs
What are the best altcoins to buy right now?
What are the top 5 altcoins?
Which new altcoin has the most potential?
Which altcoin will explode in 2023?