Bitcoin and other cryptocurrencies are only as anonymous as the wallets that hold them. That's why it's incredibly important for privacy-conscious individuals to use a fully secure and anonymous crypto wallet.
Privacy-focused crypto wallets can protect your identity during transactions and even enable you to buy crypto without going through identity checks. In this guide, we'll review the 8 best anonymous crypto wallets for 2023.
The Top Anonymous Bitcoin Wallets Ranked
Let's dive straight into our list of the best anonymous crypto wallets to use today.
Best Wallet – Fully anonymous Bitcoin wallet that lets users buy BTC, ETH, and more with no KYC checks. Earn points towards the $BEST token airdrop with every transaction.
Samourai Wallet – Privacy-focused crypto wallet that alerts users to address repeats and routes all transactions through a VPN to prevent data leaks.
Ledger Nano X – Hardware wallet with multi-currency support and extreme security measures for privacy-conscious users. Supports 5,000+ cryptocurrencies.
Wasabi Wallet – Open-source Bitcoin wallet conducting transactions over anonymous Tor network. Uses CoinJoin for added security.
SimpleHold – User-friendly no-KYC crypto wallet and decentralized exchange with support for 70+ tokens. No KYC required to swap on the exchange.
Mercury Wallet – Layer 2 Bitcoin wallet that enables BTC transactions off the blockchain. Enables fully private swaps with no miner fees.
Zengo Wallet – Highly secure and anonymous crypto wallet using MPC cryptography instead of seed phrases. Supports 120+ tokens with KYC-free decentralized exchange.
Electrum – Decentralized Bitcoin wallet offering cold storage and support for hardware wallets.
The Best No KYC Crypto Wallets Reviewed
Want to know more about what makes these no ID crypto wallets stand out? We'll take a closer look at our favorite no KYC crypto wallets.
1. Best Wallet – Fully Anonymous Bitcoin Wallet to Buy BTC and More with No KYC
Best Wallet is a new and highly private crypto wallet and decentralized exchange (DEX) that privacy-conscious users are sure to love. We've rated it one of the best crypto wallets overall for 2023.
Users can join Best Wallet with just an email address and share zero personal information while buying Bitcoin, Ethereum, and dozens of other popular cryptocurrencies.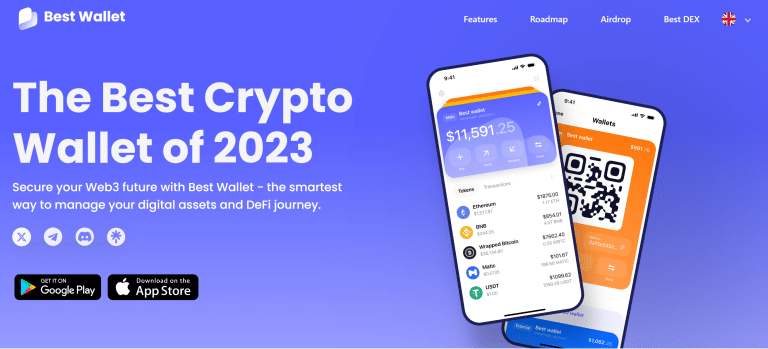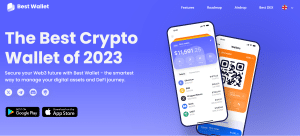 The Best Wallet app enables users to sign up in seconds and buy crypto with a credit or debit card without going through KYC checks. This is one of the rare on-ramps into Bitcoin that allows users to buy crypto without submitting ID or even a name.
Best Wallet's transactions are processed instantly and securely, and users only have to pay a 5% fee to buy crypto on the DEX. While that's higher than fees at some centralized crypto exchanges (which all require KYC), it's a much lower fee than individuals will typically pay at a peer-to-peer crypto marketplace or a Bitcoin ATM.
Best Wallet is fully self-custodied, so users have complete control over their tokens in the wallet. They can set up multiple wallets for different tokens or purposes and manage them all in the same place. Best Wallet also makes it easy to monitor token prices, so it's a great option for crypto traders who want to stay anonymous.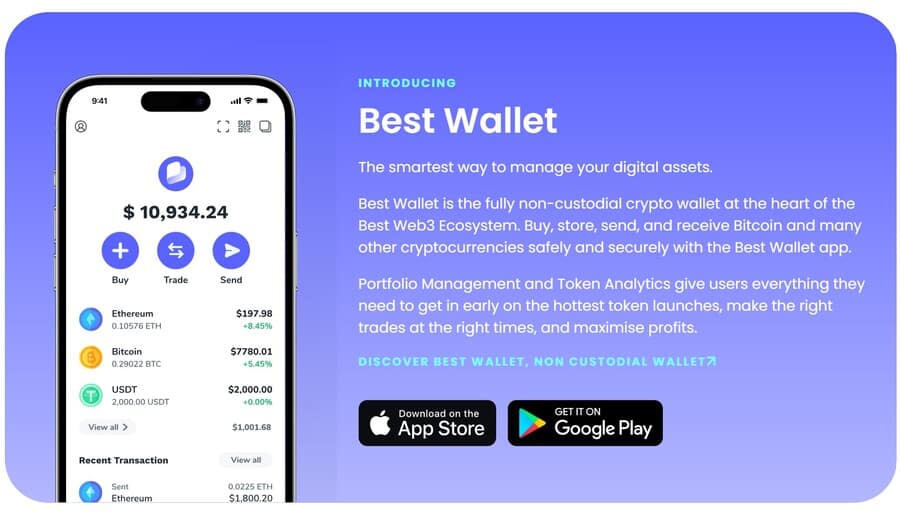 One extra bonus to using Best Wallet is that for a limited time, users earn points towards the $BEST token airdrop. Once the token drops, Best Wallet users who hold $BEST coins in their wallet will enjoy perks like no gas fees and additional bonus airdrops.
Best Wallet is currently available for iOS and Android devices through the Apple App Store and Google Play. There's a Chrome extension in the works, so stay tuned for a version of Best Wallet that can be used on any computer fully anonymously.
Supported Tokens
Fee to Buy Bitcoin
Top Features
10+
5%

Built-in DEX
$BEST token airdrop
Supports NFTs
Pros
Sign up in seconds with just an email address
Buy crypto with a credit/debit card with no KYC
Watchlist feature for crypto traders
Earn points towards upcoming $BEST token airdrop
Available for iOS and Android
Cons
Chrome extension not yet available
2. Samourai Wallet – Privacy-focused Crypto Wallet with Repeat Address Alerts and VPN
Samourai Wallet is a privacy-centric Bitcoin wallet designed to help protect users from on-chain snooping.
One of the most common ways that wallets can be de-anonymized is by tracking their transactions and looking for patterns. In particular, spies look for repeat transactions to the same wallet addresses to find out who might be behind a wallet.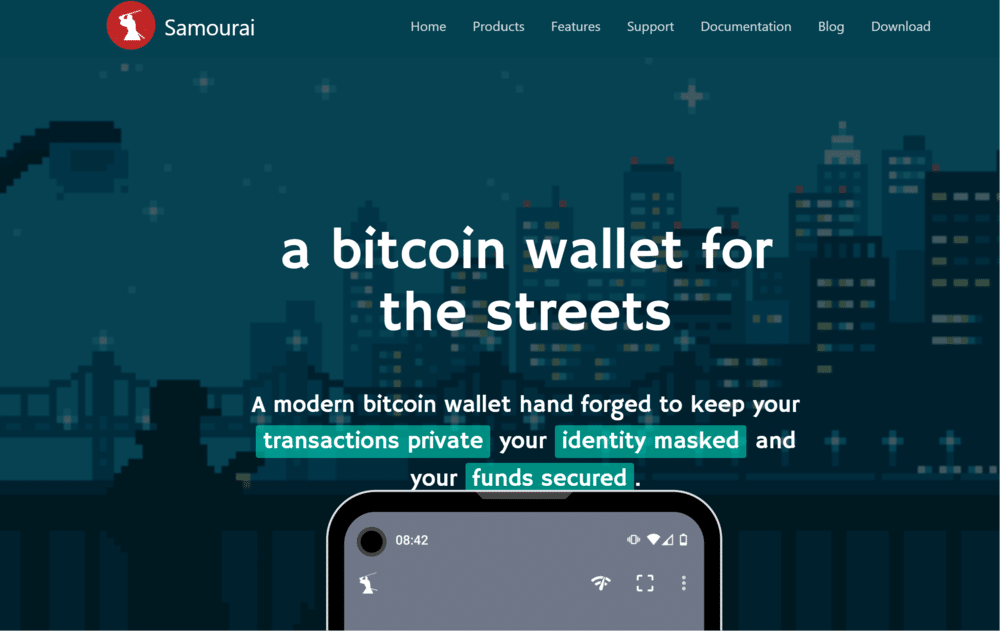 Samourai Wallet prevents this by automatically alerting users when they're about to transact with a wallet they've traded with in the past. By proactively avoiding these repeat address transactions, users make it much more difficult to track down who they are using the blockchain.
Samourai Wallet also uses a built-in VPN to route transactions through servers around the world, further obfuscating where users are located. This prevents transactions from being traced back to a single IP address.
There are tons more security features to this wallet. For example, it can be hidden from a smartphone's home screen. The PIN screen is randomized to prevent keyloggers from stealing a user's PIN. And a "ricochet" feature allows users to automatically switch what exchange they use for every transaction.
This anonymous crypto wallet doesn't require any information to use—not even an email address. Users simply have to install it on their device to start using Samourai wallet. It's fully self-custodied, too.
Supported Tokens
Fee to Buy Bitcoin
Top Features
Bitcoin
0.00015 BTC

Built-in VPN
Randomized PIN screen
Download and go
Pros
Alerts users to repeat wallet addresses
Hides users' IP address with a VPN
Doesn't require any information, not even an email
Automatically switch between crypto exchanges
3. Ledger Nano X – Hardware Wallet with Support for 5,000+ Cryptocurrencies
The Ledger Nano X is one of the most popular hardware wallets on the market and it's fully anonymous. The wallet comes loaded with privacy and security features that not only protect a user's identity, but also ensure their crypto is completely safe.
The Nano X can be plugged into any device with a USB-C connection to conduct transactions. When it's not plugged in, the device is fully disconnected from the internet and can't be tracked.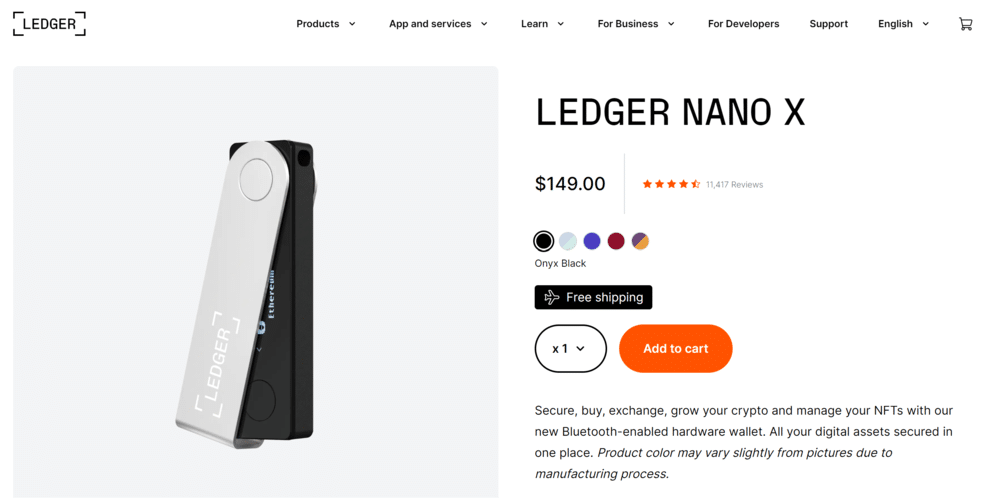 To access the Nano X, users have a PIN code and a secure element chip. They can also add passwords and additional layers of encryption to prevent unauthorized access to the wallet.
Since it's a cold storage wallet, the Ledger X is not associated with a smartphone—which has a SIM card that can be traced back to a person's identity. It also doesn't need to be installed and users can easily switch their IP address and device every time they transact with it.
The Ledger X supports more than 5,000 crypto tokens and users can store up to 100 different assets on a single device. It also supports NFTs. Users can connect to the device by Bluetooth from a smartphone app to check their balances at any time without exposing their Ledger X to attacks.
Supported Tokens
Fee to Buy Bitcoin
Top Features
5,000+
N/A

Bluetooth connectivity
PIN code and element chip
Supports NFTs
Pros
Hardware wallet
Not associated with an email or SIM card
Store up to 100 assets per device
Supports 5,000+ crypto tokens
Cons
Doesn't include access to a DEX
Costs $150 per device
4. Wasabi Wallet – Open-source Bitcoin Wallet Conducting Transactions Over Anonymous Tor Network
Wasabi Wallet is a free and open-source Bitcoin wallet designed for the desktop. It's fully non-custodial and doesn't require any information to join. Users simply have to download the wallet to start using it.
The wallet uses 3 measures to keep users' identities secret.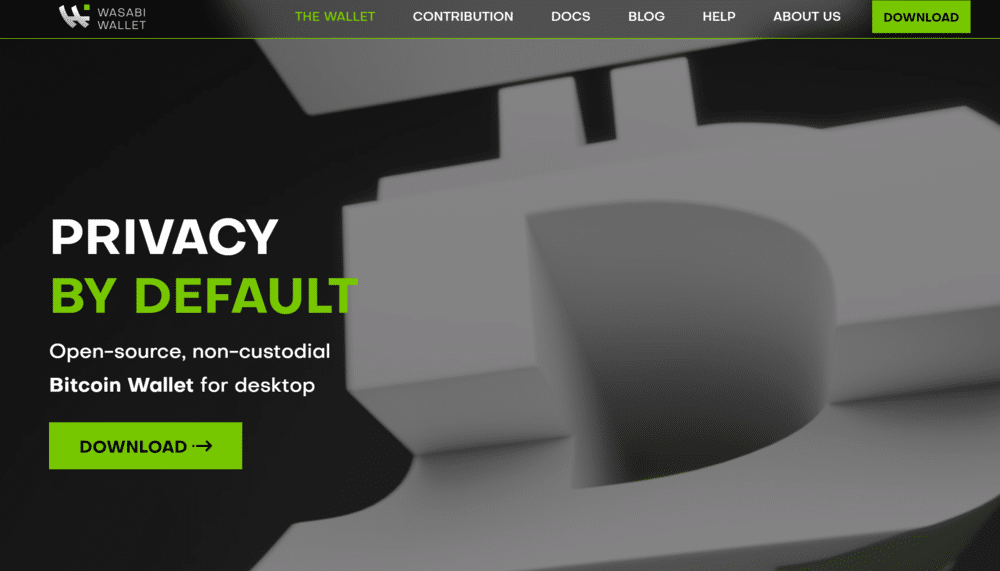 First, all transactions are conducted over the Tor network, a completely anonymous and private internet network. Second, Wasabi uses a built-in VPN to prevent a user's IP address from being leaked during transactions. Finally, all transactions use coinjoins, which wash Bitcoin together from different transactions to obscure where the funds came from.
All of these privacy measures are automatic, so Wasabi Wallet remains very easy to use. Users just pay a fee of 0.3% to the wallet for its coinjoin mixing.
The platform doesn't provide access to a decentralized exchange, so users can only use Wasabi Wallet to send and receive Bitcoin. The wallet also only supports Bitcoin, not any other cryptocurrencies.
Wasabi Wallet is available for Windows, Mac, and Linux computers. There are no mobile apps available at this time.
Supported Tokens
Fee to Buy Bitcoin
Top Features
Bitcoin
0.3% (send fee)

Conducts transactions over Tor
Built-in VPN
Uses coinjoins
Pros
Open-source and fully private
Automatic coinjoin algorithm
Privacy features are automatic
Very easy to use
5. SimpleHold – User-friendly Crypto Wallet and DEX with No KYC Required
SimpleHold is a browser-based no-KYC crypto wallet similar to the popular MetaMask wallet, but with more privacy features. Users don't have to input any personal information to start using SimpleHold.
The wallet is fully non-custodial and stores a user's private keys on their device, putting them in full control of their crypto. It's easy to create additional wallet addresses for different purposes or tokens.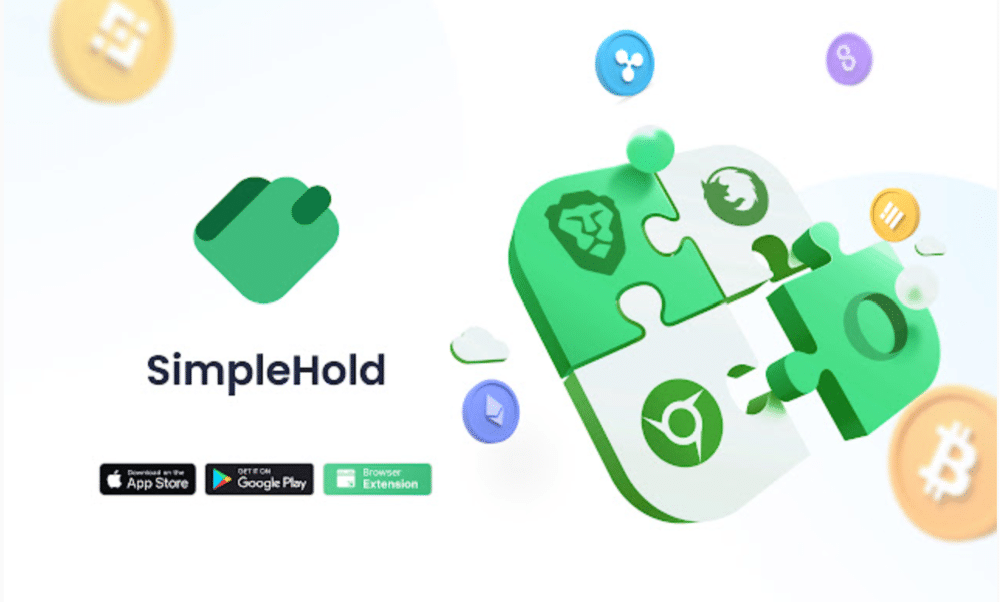 One of the best things about SimpleHold is that it doubles as a user-friendly DEX. Users can easily swap Bitcoin, Ethereum, and more than 70 other cryptocurrencies in SimpleHold without any KYC or identity checks. There's no transaction fee for using the DEX or for sending crypto from one wallet to another.
The developers behind the wallet offer 24/7 user support, which is unusual for crypto wallets. So, it's easy to get help if users run into any issues during installation.
Supported Tokens
Fee to Buy Bitcoin
Top Features
70+
None

Built-in DEX
Fully non-custodial
24/7 support
Pros
Available for browsers, iOS, and Android devices
Supports most major crypto tokens
Create multiple wallet addresses
No fee for using DEX
Cons
Does not anonymize transactions with Tor or VPN
6. Mercury Wallet – Layer 2 Bitcoin Wallet Enabling Off-chain Bitcoin Transactions
Mercury Wallet is a new kind of Bitcoin wallet that's designed to be as secure, efficient, and low-cost as possible. It uses a concept known as 'statechains' to conduct transactions in Bitcoin off the main blockchain, effectively creating a Layer-2 solution for Bitcoin.
We won't dive too deep into statechains, but in effect they enable users to split their private key between the sender or recipient in a transaction and Mercury Wallet's secure servers. Private keys fragments on the server are deleted immediately after every transaction to protect users' privacy.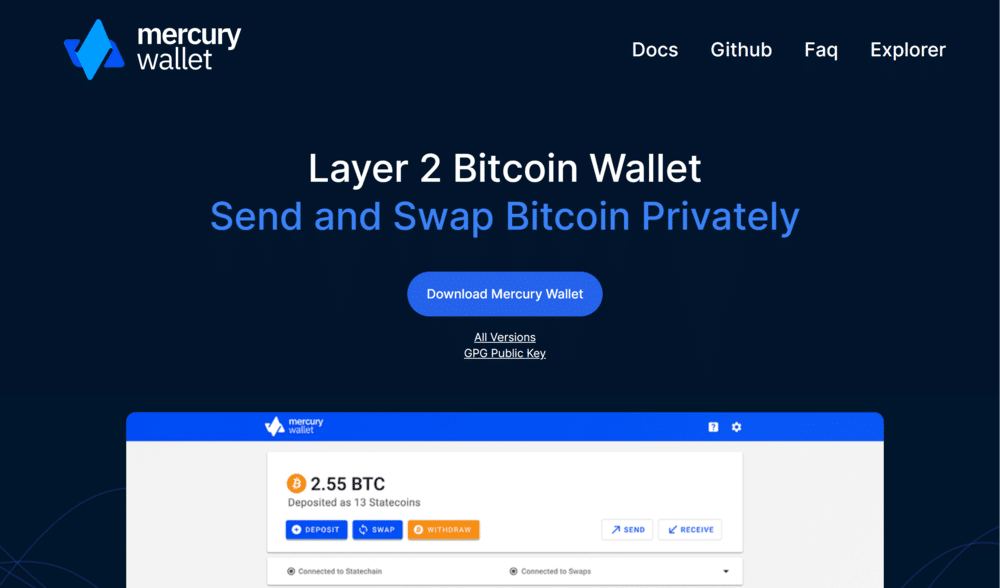 Mercury Wallet's Layer 2 solution makes it much more difficult for blockchain snoops to find Bitcoin transactions and trace them back to a specific wallet. It also cuts down miner fees since users are transacting off the main Bitcoin blockchain and don't require block validation.
Mercury Wallet is available for Windows, Mac, and Linux, but there are no mobile apps available.
Supported Tokens
Fee to Buy Bitcoin
Top Features
Bitcoin
N/A

Transact off the Bitcoin blockchain
Reduces miner fees
Start using with no personal info
Pros
No wallet fees for transactions
Layer 2 solution limits blockchain snooping
Private keys are deleted immediately
Can reduce Bitcoin blockchain fees
Cons
Only works for Bitcoin
Does not offer a way to buy or sell BTC
7. Zengo Wallet – Secure and Anonymous Crypto Wallet Using MPC Cryptography
Zengo Wallet is a highly secure crypto wallet with nearly 1 million users around the world. The wallet's developers claim that it has never been hacked, a lofty claim for any crypto wallet.
The secret to Zengo Wallet's success is that it uses multi-party computation (MPC) cryptography rather than traditional seed phrases. MPC eliminates the need for seed phrases, which can be stolen and lead to loss of funds.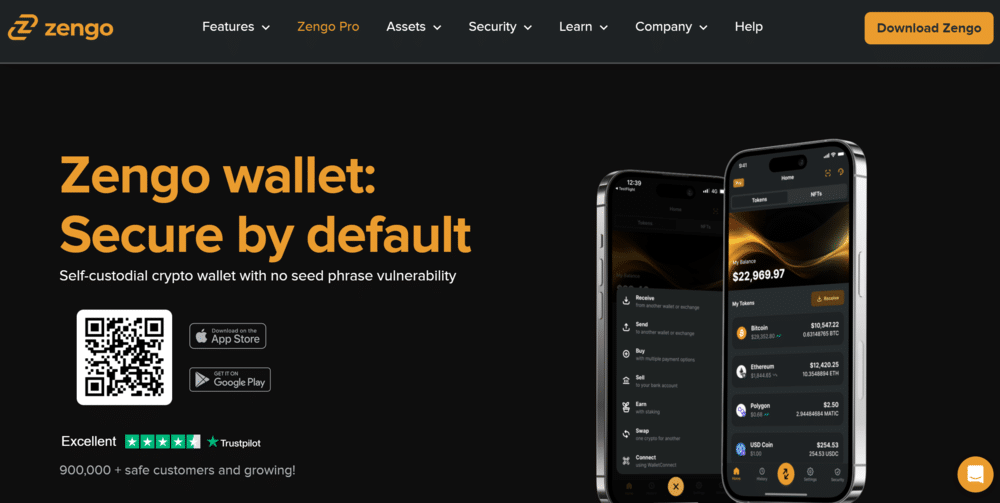 Instead, Zengo Wallet uses a combination of email verification, biometric authentication, and a recovery file to unlock access to the wallet. This means that users do need to input an email address to use Zengo Wallet, but there's no other personal information required.
The wallet doesn't require any KYC and is available for iOS and Android devices. It currently supports more than 120 tokens and has a built-in DEX to enable instant swaps.
Supported Tokens
Fee to Buy Bitcoin
Top Features
120+
2.9%

MPC cryptography
Built-in DEX
24/7 support
Pros
Buy crypto with a card with no KYC
Uses MPC cryptography rather than seed phrases
Supports 120+ popular tokens
Claims to have never been hacked
Cons
Requires an email address
8. Electrum – Decentralized Bitcoin Wallet with Cold Storage
Electrum is one of the oldest and most established Bitcoin wallets and it's never required users to provide information about their identity.
What's great about Electrum is that the wallet's infrastructure is fully decentralized. Anyone can manage an Electrum server and index the Bitcoin blockchain to enable transactions. That means that there's no central entity in control of Electrum that could possibly monitor transactions happening on Electrum wallets.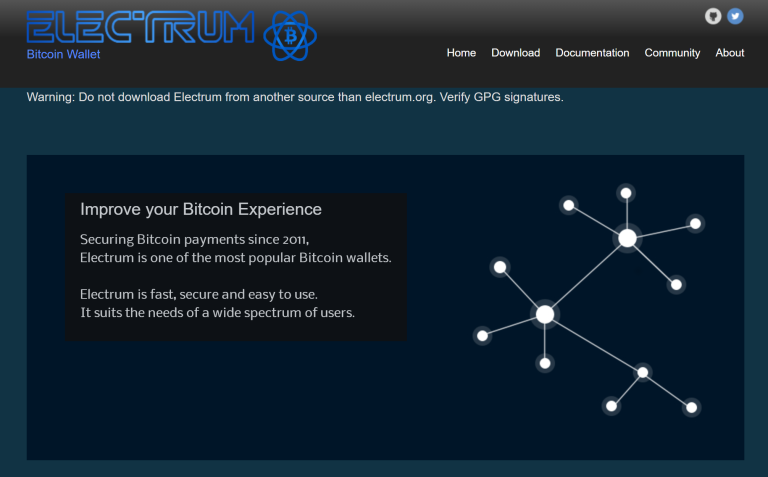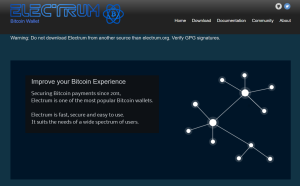 Another benefit to Electrum is that it supports cold storage. Users can isolate their wallet from the internet when not in use. Electrum also syncs with hardware wallets like the Ledger Nano X for users who prefer to take their coins fully offline.
The wallet is easy to use, but note that it's only available as a desktop client. Electrum also only supports Bitcoin and doesn't provide a DEX to enable buying or selling BTC.
Supported Tokens
Fee to Buy Bitcoin
Top Features
Bitcoin
N/A

Decentralized infrastructure
Cold storage
Works with hardware wallets
Pros
Anyone can run an Electrum server
Free and open-source software
Keep private keys in cold storage
Multisig enables splitting coins between wallets
Cons
Only supports Bitcoin
No way to buy or sell crypto
What is a Non-KYC Cryptocurrency Wallet?
A non-KYC cryptocurrency wallet is one that doesn't require any personal information to use. That is, users don't have to submit their name, address, or other personal details in order to hold funds in the wallet or to send or receive cryptocurrency with the wallet.
Some anonymous wallets do require an email address to sign up. However, these are still considered non-KYC wallets because the email used to register can be temporary or disposable. Users don't need to give more personal information or scan a copy of their ID, as is usually required for KYC checks.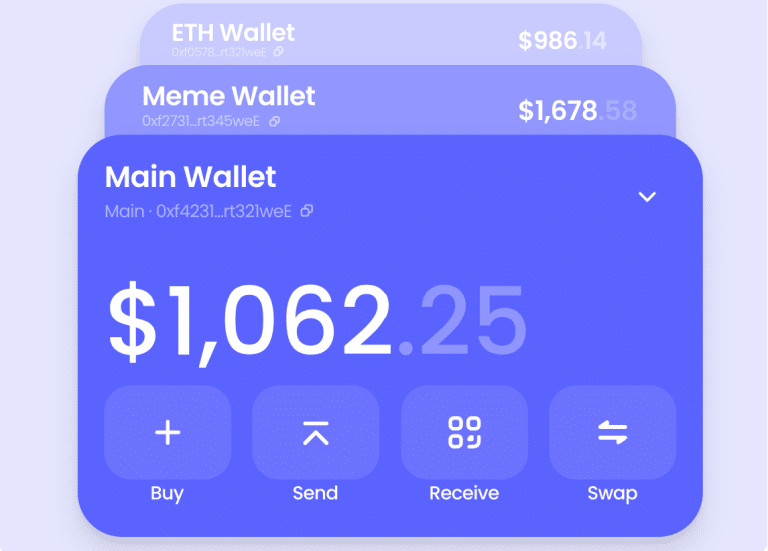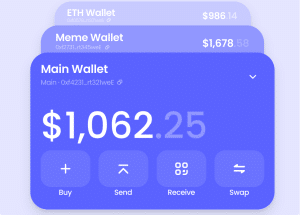 Buying Cryptocurrency with a No-KYC Crypto Wallet
Many crypto wallets offer an integrated decentralized exchange that lets users swap one cryptocurrency for another. However, in order to swap tokens, users must already have crypto in their wallets.
That leads to a chicken-and-egg problem for crypto investors who want to buy crypto anonymously. However, some no identification crypto wallets, such as Best Wallet, offer an anonymous on-ramp into crypto. With Best Wallet being one of the leading no KYC exchanges, users can sign up with just an email and buy crypto with a credit card with no KYC checks.
Potential Benefits of No ID Crypto Wallets
There are several benefits to using a crypto wallet without ID verification.
Maintain Privacy on the Blockchain
The most important thing that using an anonymous crypto wallet does for users is maintain their privacy. If users don't submit any personal information when signing up for a crypto wallet, their wallet can't leak any of their information when they make transactions on the blockchain.
Many privacy-centric wallet apps go one step further, actively obfuscating the transactions that users make with their wallet. For example, wallets that use a VPN or conduct transactions over the Tor network are designed to prevent anyone from capturing a user's IP address or other potential identifying information.
More Secure Crypto Holdings
The process of protecting users' personal information in a crypto wallet is essential to protecting their cryptocurrency.
To understand how, say an individual has a wallet with a large amount of Bitcoin. If malicious actors determine who the owner of that wallet is, they could be targeted with sophisticated phishing attacks designed to steal their Bitcoin.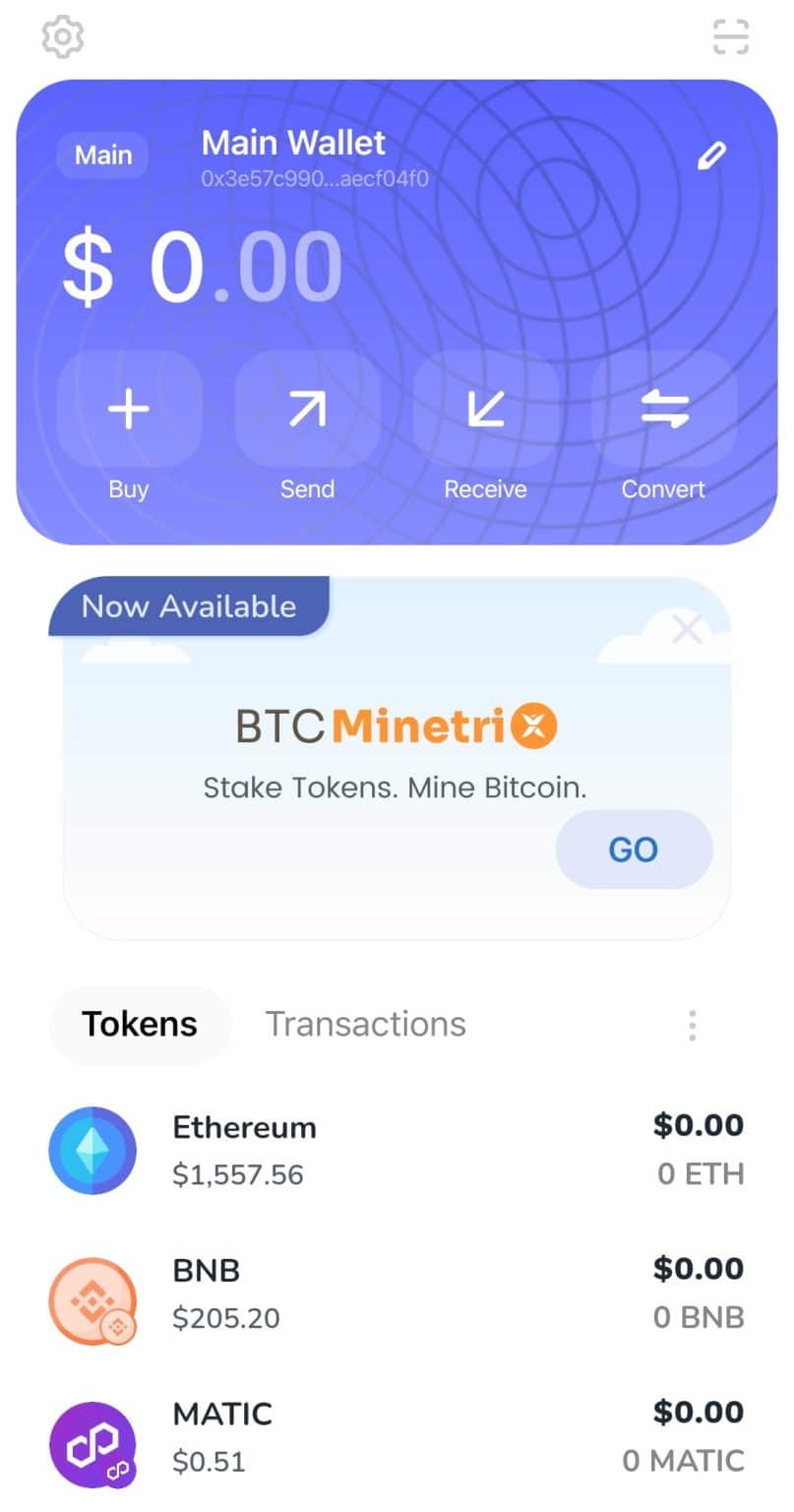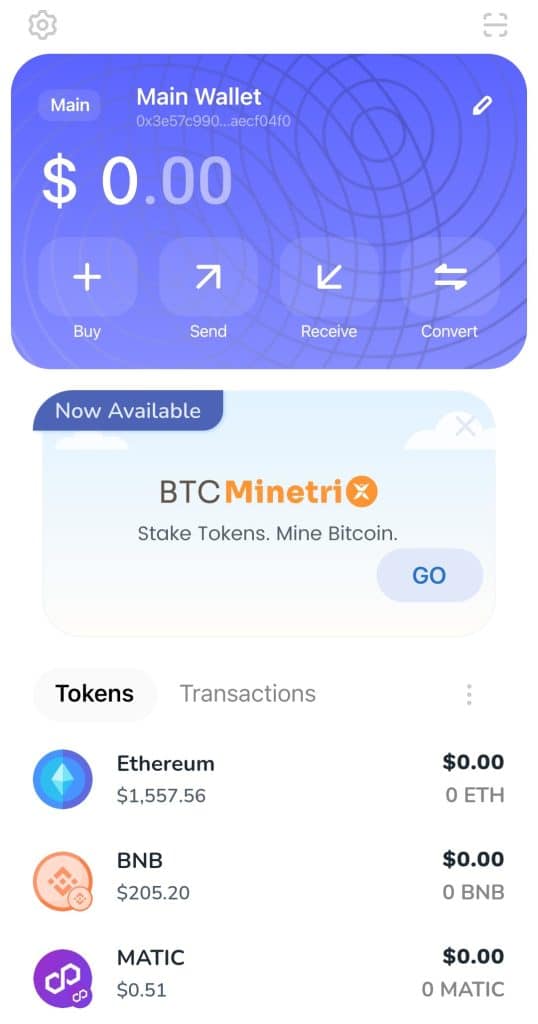 In addition, anonymous crypto wallets are often designed with security in mind. They may offer more decentralization or unusual cryptographic techniques, or require multiple layers of authentication to access funds in the wallet. All of these security measures contribute to keeping a user's crypto safer.
Avoid Unwanted Oversight
Anonymous crypto wallets can also help users avoid unwanted oversight, either from armchair blockchain analysts or government regulators. This is especially important in countries where cryptocurrency isn't permitted or where individuals use cryptocurrency to get around illiberal rules.
Of course, Bitcoin has a reputation for being used for illegal transactions thanks in part to the use of anonymous wallets. While crypto should always be used legally, using a wallet with no ID verification can help users skirt the rules in some cases.
How to Pick an Anonymous Bitcoin Wallet
There are several features that individuals should consider when choosing the best anonymous crypto wallets.
Personal Information Required
No anonymous Bitcoin wallet should require a user's name, address, phone number, or other personal information. Many allow users to simply download the wallet and start using it without any information.
Some require an email address, but temporary or single-use email addresses can be used to remain anonymous.
Supported Tokens
Some crypto wallets only allow users to hold, send, and receive Bitcoin. Others support a wider range of major cryptocurrencies like Ethereum, Litecoin, Ripple, and more. Some let users store and swap between thousands of different tokens.
Users should think about what types of tokens they plan to own. It may make sense to use one wallet for Bitcoin and another wallet for other types of tokens.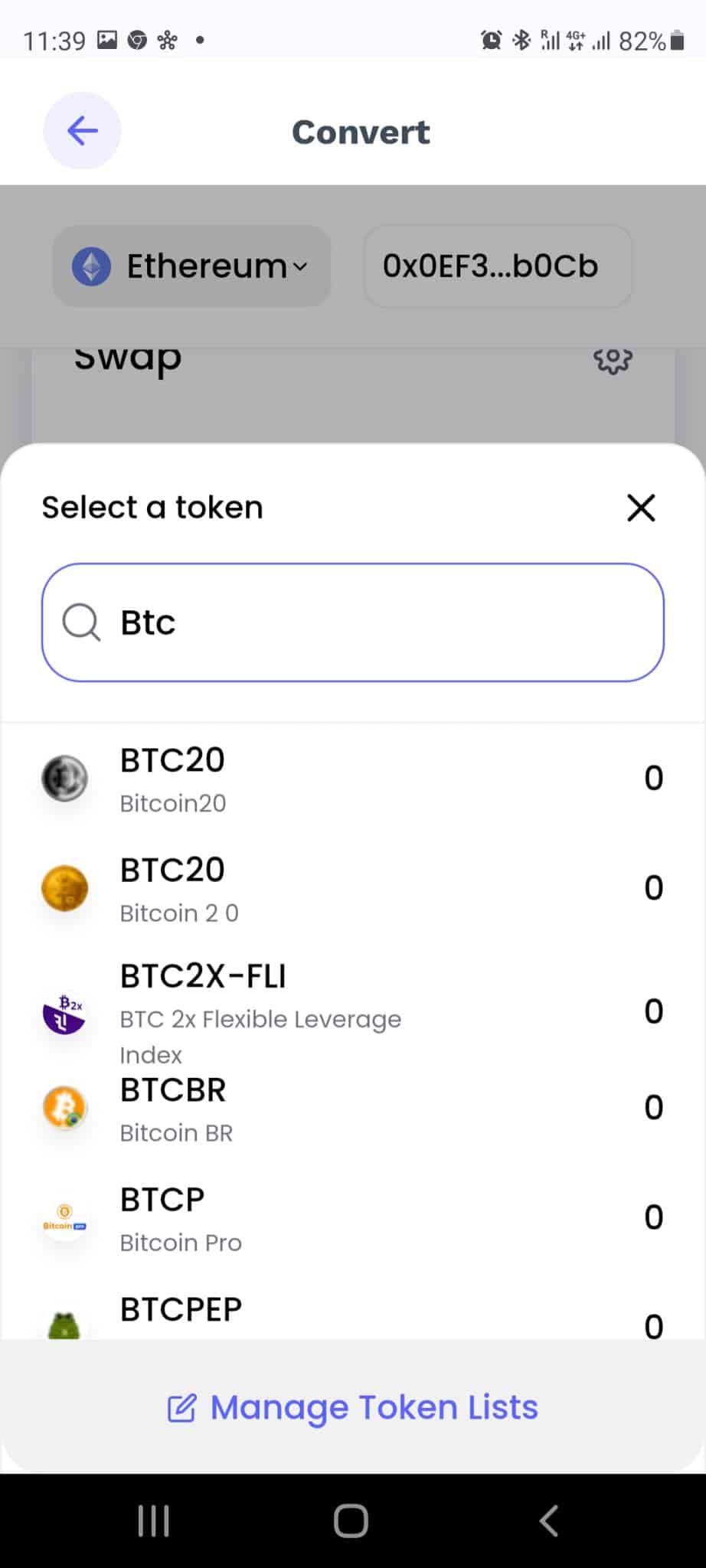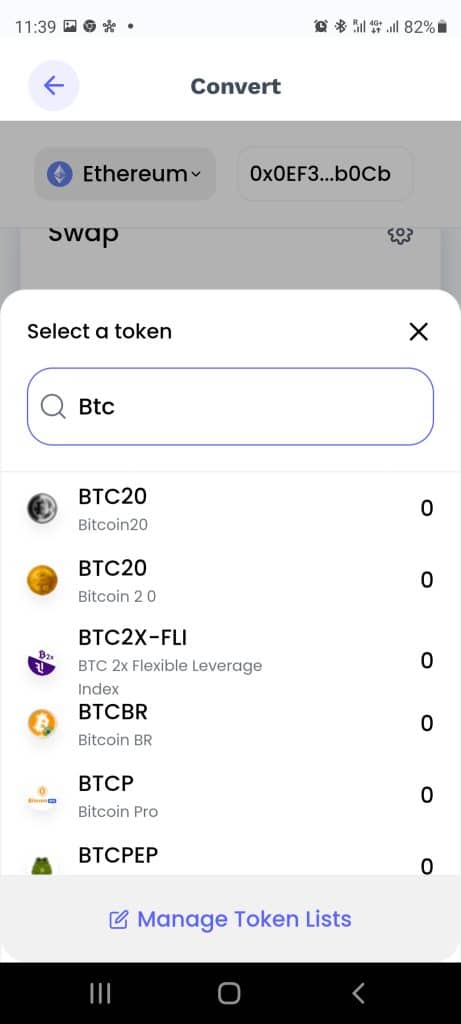 Supported Platforms
Some crypto wallets are designed for desktop use, while others focus on mobile use and browser extensions. Desktop wallets are typically more advanced and may offer features like a built-in VPN. Mobile wallets are usually more user-friendly and often include a decentralized exchange to make swaps as simple as possible.
Hardware Wallets vs. Software Wallets
While software wallets can be very secure, they aren't as secure as hardware wallets. Many crypto experts recommend using a hardware wallet to maximize the security of crypto tokens.
Hardware wallets store a user's private key on an external device, similar to a USB flash drive. Funds in the wallet can only be accessed with the physical device, making it nearly impossible for attackers to steal funds from a wallet remotely.
Many crypto owners use hardware wallets and software wallets in combination to blend quick access to actively used funds with safer storage for funds that aren't actively being used.
Privacy Measures
Different wallets offer different measures to keep users' transaction data private and anonymous. For example, some wallets route all transactions through a VPN or the Tor network to make it harder to trace a user's IP address. Others bounce trades through different exchanges or alert users when they're sending funds to the same wallet address more than once.
These advanced privacy measures can help ensure that a user cannot be identified based on the pattern of transactions that they make with their crypto wallet.
Decentralized Exchange Integration
Many crypto wallets offer a built-in DEX that enables users to swap from one token to another. This can be highly convenient, especially for traders or for users who want to move from one blockchain to another quickly.
When comparing wallets with DEX integrations, be sure to check how much it costs to swap tokens. It's also a good idea to look at the range of tokens available and the overall liquidity on the exchange.
Using Multiple Crypto Wallets
Recently, Atomic Wallet was hacked after a software update. This shows that individual wallets can have unknown security risks that may be specific to a single wallet app rather than applicable to cryptocurrency as a whole.
So, it can be a good security practice for an individual to spread their cryptocurrency holdings across multiple anonymous crypto wallets. This ensures that in the event that a wallet is compromised, only a portion of a user's funds are at risk.
Are Anonymous Crypto Wallets Safe and Legal?
Crypto wallets without KYC are completely legal. In fact, there are very few rules around Bitcoin wallets and ID verification in most countries. Most requirements for ID checks are around on-ramps to crypto, which typically involve exchanges.


That said, there are some non-KYC wallet apps that offer the ability to buy crypto without an ID check. These apps are fully legal, but users should beware that they could face action from regulators in the event of a future crackdown. If these wallets are self-custodied, users will retain control over their funds and don't have to worry about their tokens disappearing even in the event of a crackdown.
Crypto wallets without ID check can be just as safe as wallets with ID check. The only difference is that privacy-centric wallets are almost always non-custodial, meaning that users are in charge of managing their wallet's private keys. This is a big responsibility and users need to take care to ensure their keys aren't lost or exposed.
Conclusion
The best anonymous Bitcoin wallets enable users to store, send, and receive cryptocurrency without exposing any of their personal details. These wallets often pair security with privacy, ensuring users' crypto is as safe as possible.
The top anonymous Bitcoin wallet to use today is Best Wallet. Best Wallet not only requires no personal information, but also lets users buy Bitcoin, Ethereum, and other popular tokens with no KYC check. Plus, every time users make a transaction with Best Wallet, they can earn points towards the upcoming $BEST token airdrop.
Download Best Wallet today to store crypto safely and anonymously.
References
FAQs
Do crypto wallets require KYC?
Are there any non-KYC crypto wallets?
Can I use Bitget without KYC?
How do I cash out crypto anonymously?
What is the best anonymous crypto wallet?