Bitcoin mining can be a lucrative way to get into crypto while also helping blockchains run smoothly. Miners solve complex computational puzzles to validate transactions and receive Bitcoin as a reward for their work.
While many people picture Bitcoin mining as requiring a warehouse full of powerful servers, that isn't strictly required. Bitcoin mining platforms and apps enable anyone to turn their computer into a Bitcoin mining rig. Some platforms even enable individuals to plug into networks of miners spread around the globe.
In this guide, we'll review the best Bitcoin mining software for 2023 and explain everything readers need to know about crypto mining.
Best 11 Bitcoin Mining Sites for 2023
We've tested out dozens of paid and free Bitcoin mining sites to find the best Bitcoin mining software platforms for 2023:
Bitcoin Minetrix – Brand new Bitcoin mining site that is the world's first stake-to-mine token. Bitcoin Minetrix allows users to cloud mine BTC, a more sustainable and cheaper way that allows everyone to take part in the mining process – raised $100k in the first hour of its presale.
MultiMiner – Best Bitcoin Mining Software for Beginners. Get Started in Minutes and Automatically Mine the Most Profitable Crypto.
CGMiner – Open-source Mining Software Available for Windows, Mac, and Linux Computers. Uses a Command Line Interface with a Learning Curve.
EasyMiner – Simple Mining Software Designed for CPU and GPU Mining. Start Mining with Any Desktop Computer.
ECOS – Cloud-based Bitcoin Mining Site That Offers Remote Access to Powerful Mining Rigs. Estimate Profits Easily and Pay for a Mining Equipment Lease Upfront.
Awesome Miner – Centralized Mining Dashboard That Works with Most Mining Platforms. Ideal for Operating Multiple Mining Rigs or Mining in Multiple Pools.
BFGMiner – Mine Multiple Cryptos Simultaneously using ASIC and FPGA Chips. Command Line Interface is Better for Advanced Users.
NiceHash – Hashpower Marketplace for Buying and Selling Computing Power. Quickly Scale Up Mining Hashpower with CPUs, GPUs, and ASICs.
Mobile Miner – User-friendly Bitcoin Mining App That Turns Every Device into a Mining Rig. Works on Desktop, Mobile, Gaming Consoles, and More.
F2Hash – Cloud Bitcoin Mining Software Using Solar-powered Mining Rigs. Choose from 9 Straightforward Mining Packages.
Zionodes – Rent Mining Power from Major Datacenters. Offers Easy Cloud Access to Powerful Antminers.
Best Crypto Mining Software Reviewed
Let's take a deeper dive into the top Bitcoin mining software to help new miners decide which platform is right for them.
1. Bitcoin Minetrix – Overall Best Bitcoin Mining Site and World's First Stake-to-Mine Crypto
Bitcoin Minetrix ($BTCMTX) is the world's first stake-to-mine crypto project, allowing investors of all levels to be part of the mining process.
The revolutionary protocol, which has only just launched its token presale, eliminates the need to purchase cash contracts from mining companies or invest in expensive mining rigs. It also removes the danger of losing funds in contract down payments.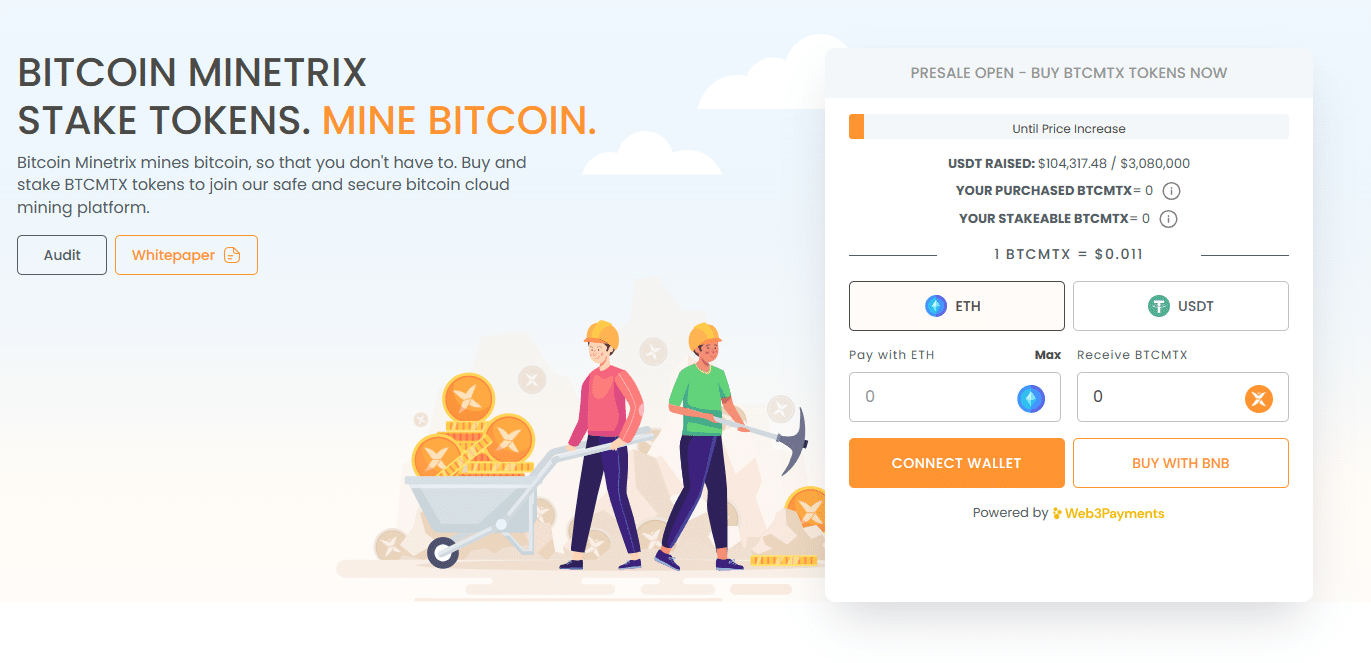 The project works by investors purchasing native token BTCMTX – an Ethereum-based ERC20 token – which grants cloud mining credits, which can then be burnt for cloud mining power.
That grants allocated mining time and BTC can then be transferred to personal wallets.
The tokenization of the process allows users to have full control over funds, with BTCMTX tokens able to be unstaked and sold on the open market at any time. The project will have its own dedicated mobile app to allow users to perform all tasks as and when they want to.
The BTCMTX presale has just launched and attracted more than $100,000 of investment in its first hour.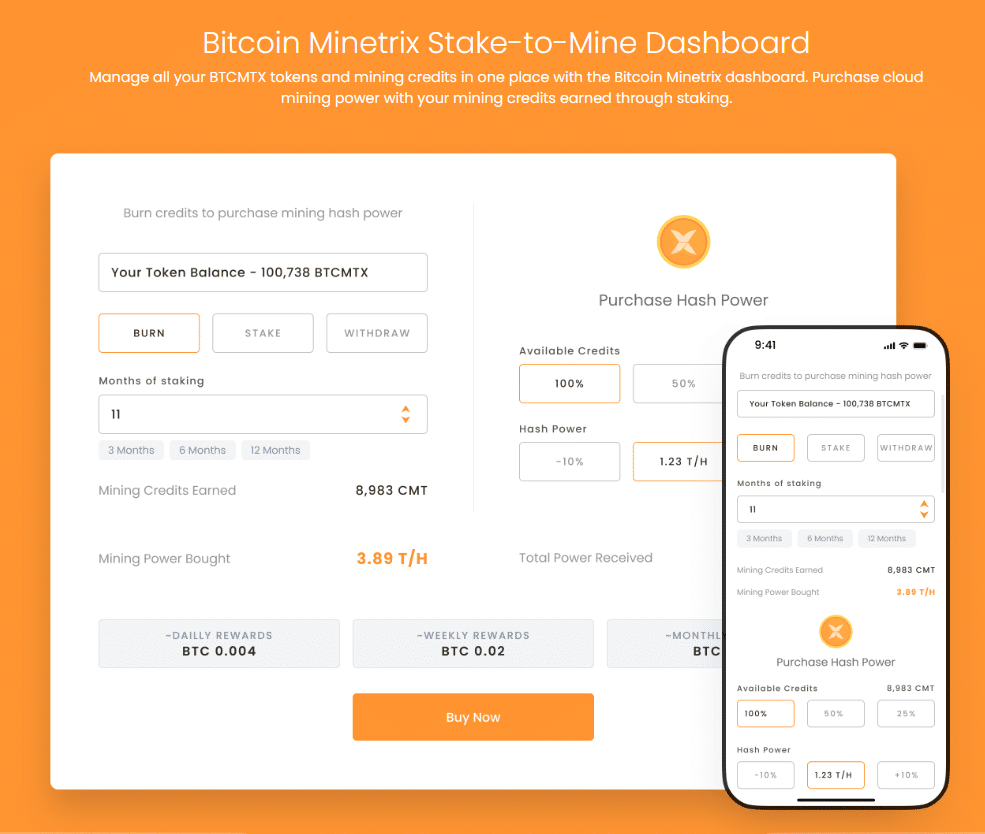 Tokens can be purchased for $0.011 each during the first of 10 presale stages with 2.8 billion of the 4 billion max supply available to presale buyers.
By the final stage the price will be $0.0119, meaning those who purchase early will have an immediate 8% advantage over those who wait. The project's smart contract has also been audited by Coinsult.
Bitcoin Minetrix has a softcap of $15.6 million and a hard cap of $32 million, with investors needing to spend $10 minimum to secure tokens.
Full information on the project can be found in the whitepaper, or by joining the Telegram group.
| | | | |
| --- | --- | --- | --- |
| Coins Available to Mine | Minimum Investment | Mining Fees | Estimated ROI |
| BTC | $10 in presale | None | TBC |
Pros
World's first stake-to-mine crypto
Chance to mine BTC on a small budget – no upfront costs or need for mining hardware
Staking rewards
High level of security
Cloud mining is more eco-friendly
Cons
Buyers cannot make decisions over mining infrastructure/location etc
2. MultiMiner – Best Bitcoin Mining Software for Beginners to Get Started in Minutes
MultiMiner is a free, open-source crypto mining software that makes it surprisingly easy for anyone to start mining Bitcoin and other top coins. The platform offers a graphical user interface (GUI) and streamlined settings, saving users from the headache of dealing with a command line interface.
One of the great things about MultiMiner is that a new user can get started mining in minutes. The software will automatically download the bfgminer mining engine and offers pre-configured settings to guide new miners.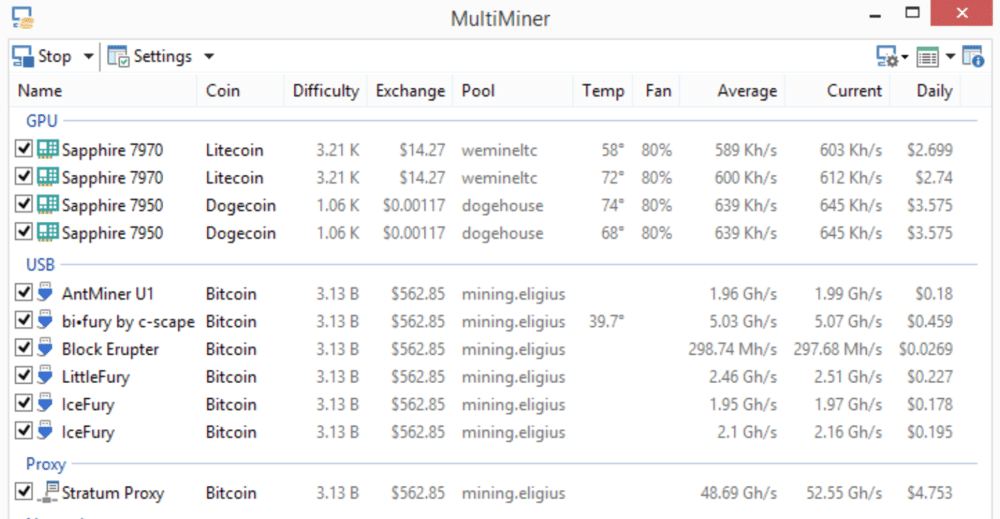 Miners can manually select the coins they want to mine, but a better option is to let MultiMiner decide which tokens to mine automatically based on profitability. The software can also switch blockchains based on price or mining difficulty. If there are multiple profitable cryptocurrencies to mine, the software can split computational power across them.
MultiMiner supports mining on most major blockchains, including Bitcoin, Bitcoin Cash, Litecoin, Dogecoin, Vertcoin, Megacoin, and more. In total, the software supports mining across more than 20 coins. It's also configurable to add new tokens that aren't already supported by default.
MultiMiner also supports a wide range of mining devices. It's compatible with CPUs, GPUs, ASICs, and FPGAs. Miners can also add cloud-based machines to MultiMiner and control them using the same dashboard.
Mined tokens can be sent to any pool of a miner's choice. They simply need to enter the pool address and their login credentials to connect MultiMiner.
The software also works across Windows, Mac, and Linux machines. It's very flexible, making it a great choice for a wide variety of miners.
| | | | |
| --- | --- | --- | --- |
| Coins Available to Mine | Minimum Investment | Mining Fees | Estimated ROI |
| 20+ | N/A | None | N/A |
Pros
GUI for Windows, Mac, and Linux
Automatically mine most profitable coins
Works with CPUs, GPUs, ASICs, and FPGAs
Connect and control cloud computing resources
Free and open-source
Cons
Limited customization options for advanced miners
3. CGMiner – Open-source Command Line Mining Software for Windows, Mac, and Linux
CGMiner is an advanced Bitcoin mining software designed for miners who want to deploy heavy-duty computational resources to earn Bitcoin.
The software is free, open-source, and works across Windows, Mac, and Linux. Notably, it uses a command line interface and doesn't offer a GUI. So, there's a learning curve for new miners who aren't familiar with command line use.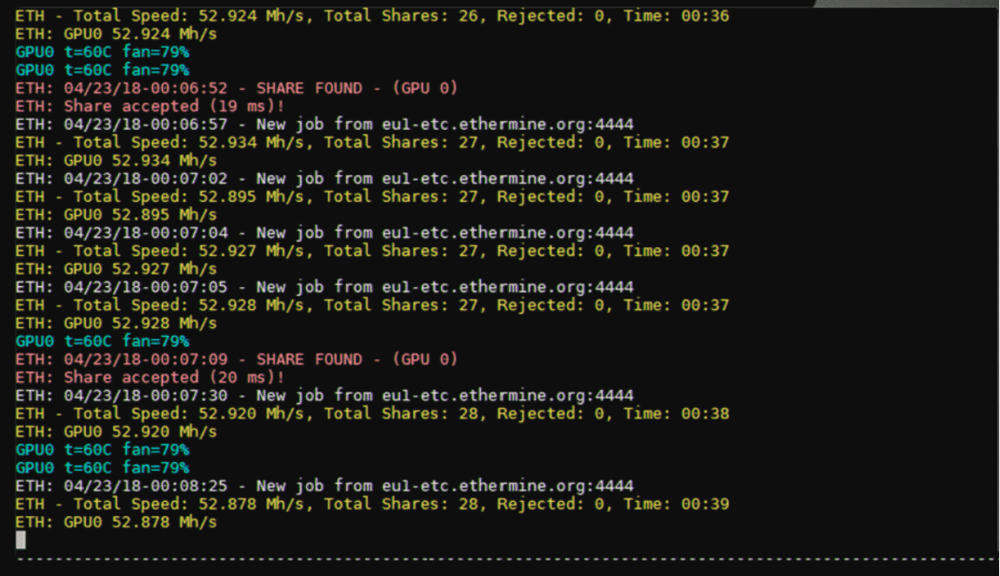 CGMiner is endlessly customizable, enabling miners to connect to all of their mining pools and connected and cloud-based mining rigs. Miners can even decide how to apportion their computational power for each pool to minimize electricity costs, pool fees, and more.
CGMiner is intended for mining major blockchains like Bitcoin, Litecoin, Bitcoin Cash, and Dogecoin, but it can be configured to mine any token. Notably, the software only supports ASIC and FPGA mining rigs—CGMiner will not work for CPU or GPU mining.
The software's website has a basic how-to guide explaining how to use CGMiner's command line. However, there's a lot that's not explained, so users will need to spend some time getting the software configured for their specific mining setup.
| | | | |
| --- | --- | --- | --- |
| Coins Available to Mine | Minimum Investment | Mining Fees | Estimated ROI |
| 10+ | N/A | None | N/A |
Pros
Highly customizable for advanced miners
Control power distribution across mining pools
Works on Windows, Mac, and Linux computers
Free and open-source
Cons
Command line interface can be confusing
Does not support CPU and GPU mining
4. EasyMiner – Simple Mining Software Designed for CPU and GPU Mining
EasyMiner is a user-friendly mining software that's ideal for CPU and GPU mining. It's perfect for miners who are just starting out mining relatively low-difficulty blockchains like Dogecoin and Litecoin.
The software is very easy to set up and comes with default parameters that enable new miners to start mining Litecoin in just a few minutes. It's compatible with either the getwork or Stratum mining protocols.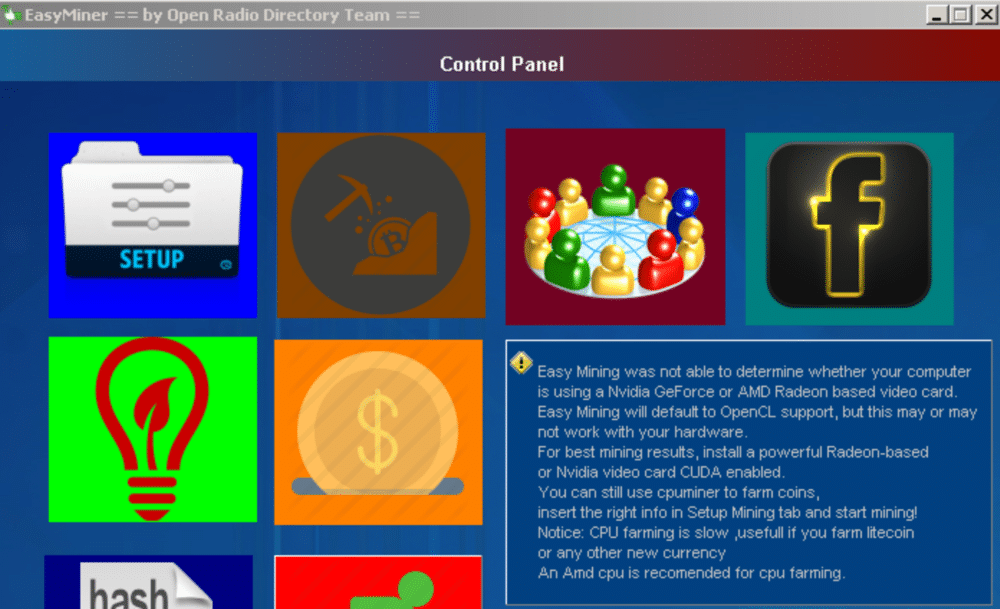 There are 2 ways to use EasyMiner. In Classic mode, miners get to choose what pool to connect to and what crypto token to mine. In MoneyMaker mode, the software will automatically mine Litecoin in EasyMiner's own pool.
The benefit of MoneyMaker mode is that users can start mining with just a few clicks. Litecoin earnings are paid out every two hours and there are no pool fees. Even better, the first time a user connects to EasyMiner's pool, they'll earn a one-time Litecoin reward.
The software is open-source, so it can easily be extended to work with more cryptocurrencies and even with ASIC mining machines. EasyMiner can also be configured as a GUI for more advanced mining software platforms like CGMiner.
| | | | |
| --- | --- | --- | --- |
| Coins Available to Mine | Minimum Investment | Mining Fees | Estimated ROI |
| Litecoin and others | N/A | None | N/A |
Pros
Simple GUI for Litecoin mining
Mine LTC automatically in MoneyMaker mode
No software or pool fees
Open-source and extendable
Cons
Limited support for cryptos other than Litecoin
5. ECOS – Cloud-based Bitcoin Mining Site Offering Mining Equipment Leases
ECOS is a cloud-based crypto mining platform that makes it easy to lease or buy powerful Bitcoin mining equipment.
Leases for ECOS mining equipment start at only $500 for a 5-year contract. For that price, you get 10.25 TH/s of computing power, which is enough to deliver $1,144 in returns assuming a BTC price of $50,000.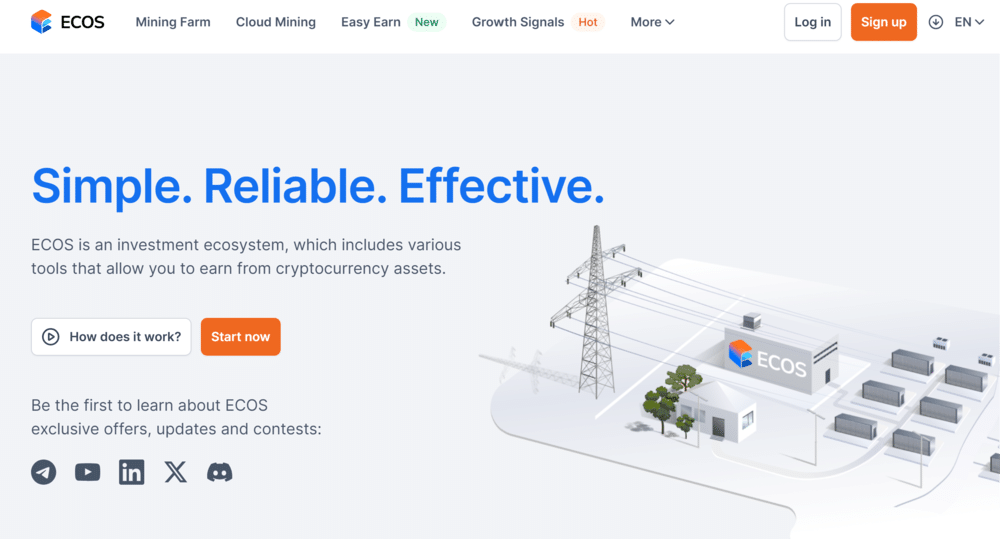 Mining contracts are extremely customizable, giving miners more ways to choose their investment level and profit target. For example, a miner can choose a 30-month contract with a $10,000 investment to get 229.60 TH/s of mining power. That's enough to deliver an expected return of $25,630 if BTC is at $50,000.
You can also build your own Bitcoin mining farm at ECOS's datacenter. The company offers remote Antminer S19 Pro machines for $2,900 apiece. The miner owns the machine, but ECOS takes care of operating it. Then it's easy to monitor performance using the ECOS mobile app.
ECOS primarily mines Bitcoin, but it follows the most profitable tokens to ensure it delivers a steady return for miners. The platform also offers a multi-currency crypto wallet to make collecting mining payouts easy.
| | | | |
| --- | --- | --- | --- |
| Coins Available to Mine | Minimum Investment | Mining Fees | Estimated ROI |
| Bitcoin and others | $500 | By quote only | $644 |
Pros
Customizable leasing contracts
Purchase remotely operated Antminer S19 Pro machines
Monitor performance via ECOS mobile app
Mines multiple tokens to maximize profitability
Cons
Little information about operating costs for purchased machines
Breakeven requires Bitcoin price to rise
6. Awesome Miner – Centralized Mining Dashboard for Operating Multiple Mining Rigs
Awesome Miner is a powerful Bitcoin mining software aimed at mid-sized mining companies and professional at-home miners.
The software serves as a centralized control center for up to 200,000 ASIC miners and up to 25,000 CPU and GPU miners. Miners can see a list of all their machines to control them individually or organize them into groups. This is helpful if a miner has different machines mining different coins or machines located in different locations.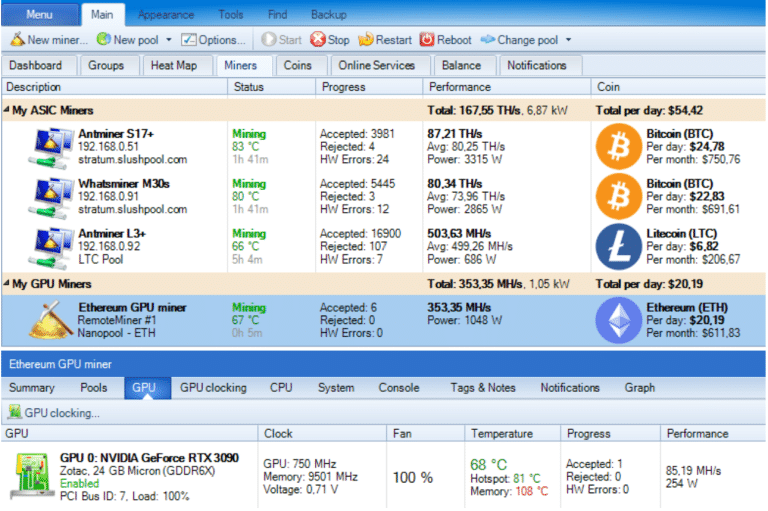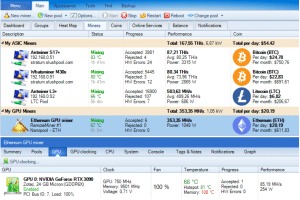 Awesome Miner can help improve mining efficiency with features like automatic token switching based on profitability and power consumption. It also automatically detects mining issues to minimize downtime.
Another benefit to Awesome Miner is that it works with almost every mineable cryptocurrency. The software claims to mine hundreds of tokens and can be used with more than 50 mining software engines.
Awesome Miner's GUI is surprisingly easy to use considering the power of this software and clearly displays revenue from each mining rig. So, it's easy to keep track of profitability and estimate revenue into the future.
Awesome Miner also supports multiple users, which is helpful for growing mining businesses. Business owners can set user permissions, enabling them to delegate tasks to employees.
| | | | |
| --- | --- | --- | --- |
| Coins Available to Mine | Minimum Investment | Mining Fees | Estimated ROI |
| 100+ | N/A | None | N/A |
Pros
Supports up to 200,000 ASIC miners
Works with 50+ mining engines
GUI for Windows and Linux
Multi-user supports with customizable permissions
Cons
May be too advanced for entry-level miners
No support for Mac computers
7. BFGMiner – Mine Multiple Cryptos Simultaneously using ASIC and FPGA Chips
BFGMiner is an open-source mining software hosted on GitHub. The software is designed specifically for ASIC and FPGA mining, offering advanced features for controlling and monitoring a fleet of mining rigs.
With BFGMiner, miners can control their machines' fan speeds, monitor overclocking, and quickly redeploy groups of mining machines to a new blockchain.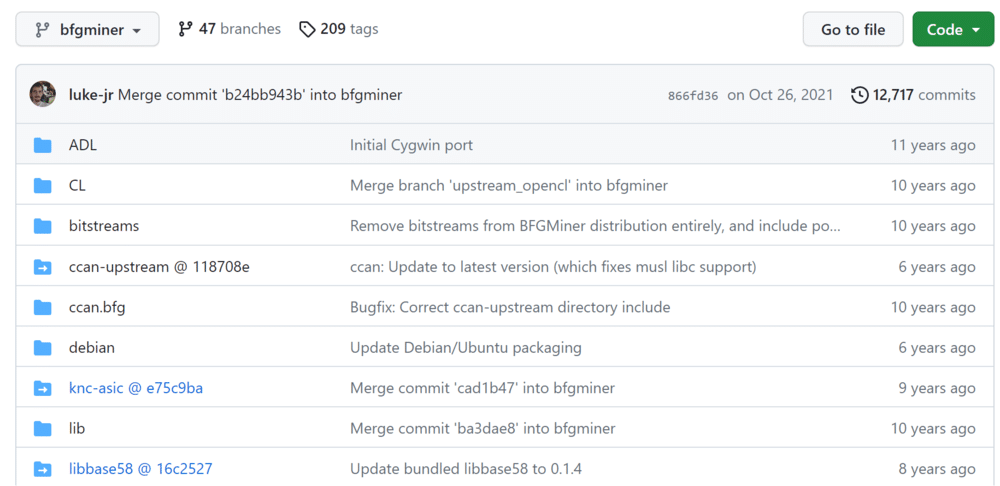 One of the nice things about BFGMiner is that the software makes it easy to mine multiple cryptocurrencies simultaneously and to mine within different pools. So, miners have a lot of control over how they approach mining as market conditions and electricity costs change.
The drawback is that BFGMiner doesn't offer auto-switching or other automation features. Miners need to be relatively advanced to decide which blockchains to focus on to manage their risk and profitability.
| | | | |
| --- | --- | --- | --- |
| Coins Available to Mine | Minimum Investment | Mining Fees | Estimated ROI |
| 100+ | N/A | None | N/A |
Pros
Highly customizable for ASIC and FPGA miners
Mine multiple blockchains across multiple pools
Control mining rig fan speeds
Excellent documentation
Cons
Complex to learn
No GUI available
8. NiceHash – Mining Marketplace for Buying and Selling Computing Power
NiceHash is both a cryptocurrency mining software provider and a marketplace where miners can buy and sell computing power for crypto mining. The platform is a great option for miners looking to get off the ground and scale up as quickly as possible.
With NiceHash QuickMiner software, anyone can start mining using the CPU or GPU in their existing device. It only takes a few minutes to install the software and start mining.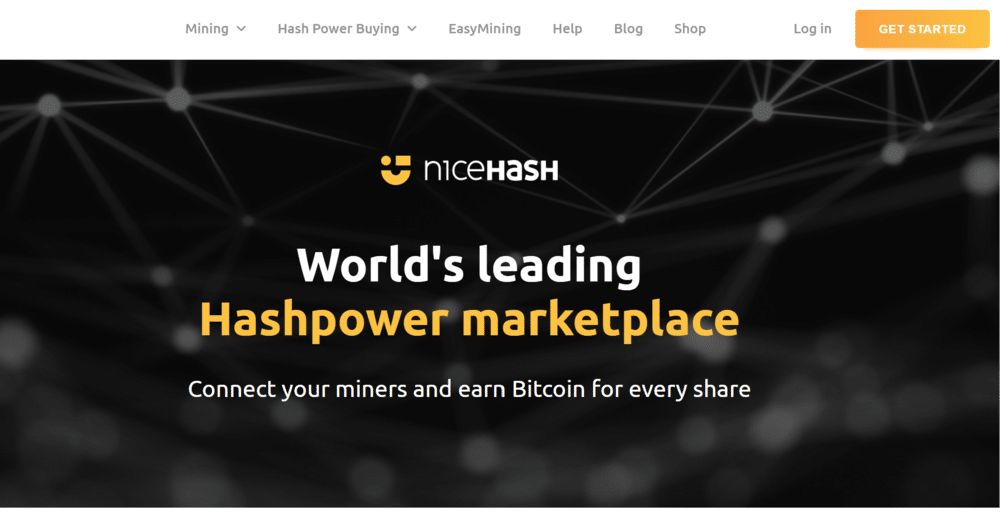 NiceHash Miner is a more advanced software that offers algorithmic switching among blockchains to maximize profitability based on current coin prices.
Miners can also buy hash power through NiceHash. There are hundreds of machines available to rent using a variety of popular mining algorithms. Pricing varies widely by token, hash power, and mining algorithm, but miners can typically get up to 1 TH of computing power starting at 0.0494 BTC per day.
| | | | |
| --- | --- | --- | --- |
| Coins Available to Mine | Minimum Investment | Mining Fees | Estimated ROI |
| 20+ | N/A | None | N/A |
Pros
QuickMiner software supports free CPU/GPU mining
Offers algorithmic blockchain switching
Buy or sell hash power in marketplace
Payouts as low as 0.001 BTC
Cons
Pricing for hashpower can be relatively expensive
QuickMiner only works on Windows
9. Mobile Miner – One of the Best Bitcoin Mining Apps That Turns Every Device into a Mining Rig
Mobile Miner is a beginner-friendly crypto mining software that enables users to harness the processing power of all the devices they already own. It supports CPU and GPU mining across desktop and laptop computers, gaming consoles, smartphones, and even smart TVs.
The platform is very easy to set up. Users just need to install the software on the device they want to mine crypto with, sign in, and then let Mobile Miner go to work. It's easy to monitor earnings with the Mobile Miner crypto mining app.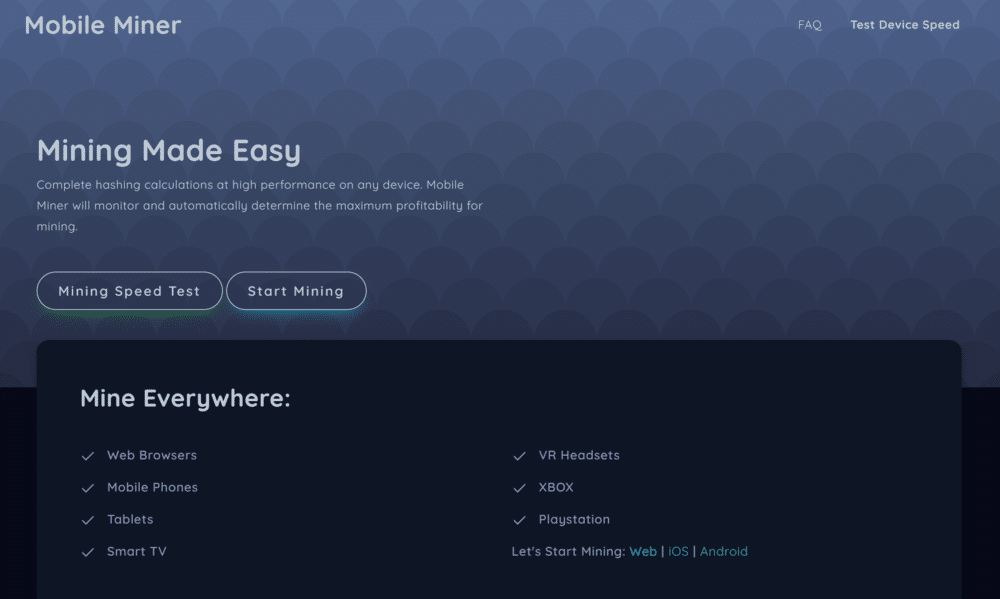 The software automatically switches between CPU and GPU mining to achieve the greatest efficiency.
Mobile Miner is best for mining cryptocurrencies with low difficulty, such as Iridium (IRD), Lethean (LTHN), Masari (MSR), and Sumokoin (SUMO). It supports mining more than 100 coins, but not any major currencies. There's no way to mine Bitcoin, Ethereum Classic, or Litecoin with Mobile Miner.
| | | | |
| --- | --- | --- | --- |
| Coins Available to Mine | Minimum Investment | Mining Fees | Estimated ROI |
| 100+ | N/A | None | N/A |
Pros
CPU and GPU mining across any device
Very easy to set up
Automatically maximizes mining efficiency
Free to use
Cons
Doesn't offer Bitcoin mining
Limited returns using low-powered devices
10. F2Hash – Cloud Bitcoin Mining Software Using Solar-powered Mining Rigs
F2Hash is a cloud mining service that offers ready-to-buy hashpower for mining Bitcoin and other major cryptocurrencies.
The company offers access to powerful mining rigs, including full racks of Antminer S19 Pro machines. Pricing for Antminer S19 Pro plans starts at $5,000 for a one-year contract, with estimated profit of $21,280.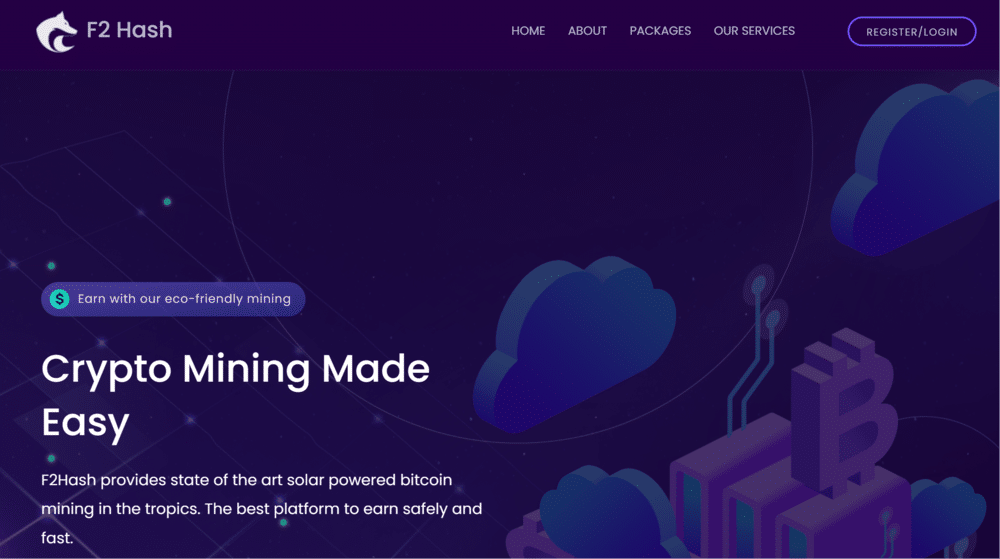 Of course, there are also more affordable plans for beginner miners. The cheapest is $200 for one year and offers 7,000 GH/s of computing power. That's enough to generate an estimated profit of $822 over the course of the contract.
F2Hash's mining rigs are powered by solar, so miners can earn a profit without harming the environment. That's a big difference from other cloud mining companies, many of which have huge electricity use that's powered by fossil fuels.
Miners can monitor their account balance through the F2Hash Bitcoin mining app, but there's no work required to maintain or adjust mining rigs.
| | | | |
| --- | --- | --- | --- |
| Coins Available to Mine | Minimum Investment | Mining Fees | Estimated ROI |
| Bitcoin | $200 | None | $822 |
Pros
9 cloud mining plans available
Start mining with only $200
Offers access to Antminer S19 Pro machines
Monitor earnings through mobile crypto mining apps
Cons
No control over the mining process
Most contracts require one-year commitment
11. Zionodes – Rent Mining Power from Major Datacenters through the Cloud
Zionodes is a Bitcoin mining marketplace that enables anyone to rent hashpower from datacenters around the world. Datacenters compete to offer the best contracts for mining rigs, ensuring that miners can find value-driven pricing.
New and established miners can also use Zionodes to purchase new hardware outright. The hardware will be installed at an existing datacenter and can be used to start mining within days of purchase.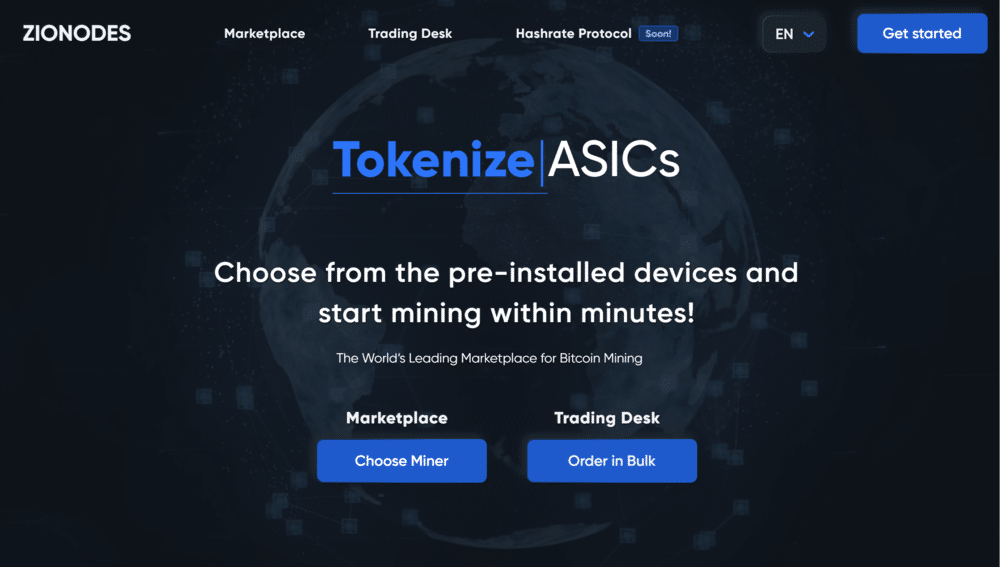 Miners can use Zionodes software to monitor their mining rigs and remotely control them. That said, miners will still need to install one of the other crypto mining platforms on the rigs they buy or lease, since Zionodes doesn't actually run mining algorithms.
In the near future, Zionodes plans to roll out its new Hashrate Protocol, which will allow miners to tokenize the mining equipment they own. So, miners can generate income not only through mining, but also re-leasing their equipment to other miners.
| | | | |
| --- | --- | --- | --- |
| Coins Available to Mine | Minimum Investment | Mining Fees | Estimated ROI |
| N/A | Market pricing | None | N/A |
Pros
Buy or lease mining rigs from datacenters
Can start mining immediately on leased hashpower
User-friendly portal for monitoring mining rigs
Soon to offer tokenization for mining power
Cons
Must install other mining software on machines
Market prices can fluctuate widely
What is Bitcoin Mining?
Bitcoin mining refers to the process of validating transactions on the Bitcoin blockchain.
When a transaction is made in Bitcoin, it doesn't get approved right away. For the transaction to be recorded, a Bitcoin miner needs to solve a complex cryptographic puzzle that ensures the transaction actually occurred as described. Once the puzzle is solved, the transaction is immutably recorded to the blockchain.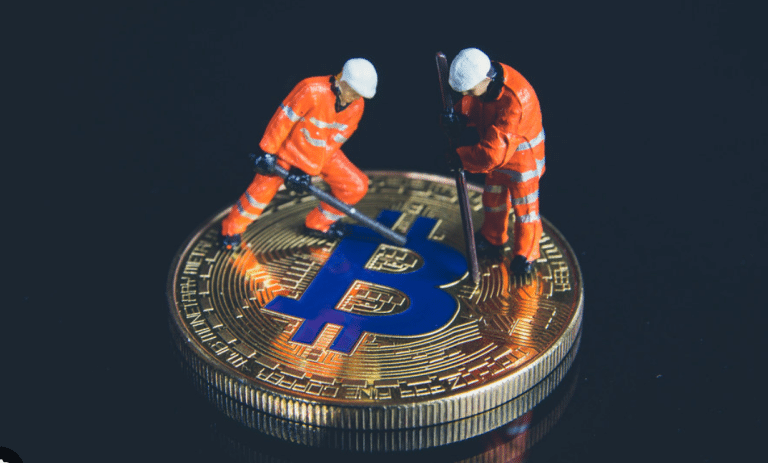 On the Bitcoin blockchain, transactions are bundled into blocks so that multiple transactions can be approved with each round of mining.
There are typically many miners competing to solve the puzzle first. Whoever solves the puzzle and validates the block receives newly generated Bitcoin. Right now, the Bitcoin block reward is 6.25 BTC, which is worth nearly $170,000 at today's Bitcoin price.
Importantly, mining isn't only for Bitcoin. All blockchains that use a similar proof-of-work validation mechanism also require mining. Other cryptocurrencies that use mining include:
Bitcoin Cash
Litecoin
Ethereum Classic
Monero
ZCash
Vertcoin
Until recently, Ethereum also used proof-of-work validation and required mining. However, Ethereum switched to proof-of-stake validation, which does not require mining, in September 2022.
How Does Cryptocurrency Mining Work?
Cryptocurrency mining is a computational process. Essentially, a group of transactions—called a block—is assigned a cryptographic code. This code, or hash, is 64 numbers and letters, meaning there are millions of possible combinations.
To validate the block and mine Bitcoin or another cryptocurrency, miners must figure out the hash. The only way to do that is to guess codes at random until a miner gets it right.
The upside is that computers can guess millions of hashes every second, and there are usually many miners around the world guessing for each block.
More powerful computers can guess more hashes in less time, which is why high-powered computer chips like ASICs are widely used for Bitcoin mining. It's possible to use CPUs and GPUs, but they make guesses more slowly. So, miners using these less powerful computing resources have a lower chance of guessing the hash first and claiming the block reward.
What Devices Can Be Used to Mine Bitcoin?
New miners might be surprised at the wide diversity of devices that can be harnessed for Bitcoin mining.
Some of the most powerful mining rigs rely on ultra-fast ASIC chips. Some options include:
Bitmain AntMiner S19 Pro
Bitmain AntMiner T19
Dragonmint T1
Whatsminer M30S++
Canaan AvalonMiner 1246
However, individual miners don't necessarily need a dedicated Bitcoin mining machine to start mining. It's also possible to mine cryptocurrency with at-home devices like:
Personal computers
Tablets
Smartphones
Gaming consoles
These devices won't be able to meaningfully compete with ASIC miners, so miners using at-home devices should consider focusing on mining cryptocurrencies other than Bitcoin.
How Does Bitcoin Mining Software Work?
Bitcoin mining software makes it possible to mine Bitcoin. Broadly, mining software can be split into 2 categories: mining software that enables users to mine on their own hardware and mining software that enables cloud-based mining.
Mining software that runs on a user's own hardware simply connects them to the Bitcoin blockchain and starts making guesses. It uses the hardware's CPU, GPU, or chip to make guesses. Some mining software can coordinate multiple different devices, effectively increasing the number of guesses that a user can make about a block's hash.
Cloud Bitcoin mining websites enable a user to rent mining hardware in the cloud. Essentially, a user is remotely controlling computers or servers somewhere else in the world, usually in a datacenter. Users can direct those computers to mine Bitcoin or another cryptocurrency just like they would direct their own computer using hardware-based mining software.
The advantage of cloud-based mining is that users can get access to far more computing power than they have for Bitcoin mining at home. An individual might not be able to spend thousands of dollars to buy an ASIC chip, but they can use cloud mining software to rent access to an ASIC chip from a datacenter for far less money.
Is Bitcoin Mining Profitable?
Bitcoin mining can still be profitable in 2023. But to make money mining cryptocurrency, miners have to be smart about how they approach the process.
There are a few paths individuals can take to crypto mining.
Low-cost Crypto Mining
One approach to achieving crypto mining profitability is to keep costs as low as possible. This usually means mining on hardware an individual already owns, such as their home computer or gaming consoles.
In this case, a miner eliminates hardware costs and only has to pay for electricity costs. They can use free Bitcoin mining software like MultiMiner or CGMiner.
The drawback to this approach is that miners likely won't earn very much. Their computational power is low, so the number of blocks that they'll win will be low. At-home miners can usually cover their electricity bill and turn a profit, but they should only expect to make a profit of $10-$100 per month in most cases.
Intensive Crypto Mining
Another way to go about Bitcoin mining is to go all-in. Miners need to make a large investment in state-of-the-art ASIC crypto mining rigs, either by buying them outright or leasing them from a datacenter through the cloud. Electricity costs for operating and cooling these rigs will generally be quite high.
The more computational power miners bring online, the more likely they are to win blocks and earn Bitcoin or other cryptocurrencies. As long as the price of Bitcoin is above a certain break-even point, miners will make a profit. Since the scale of mining is larger with this approach, it's possible for miners to make thousands of dollars per month.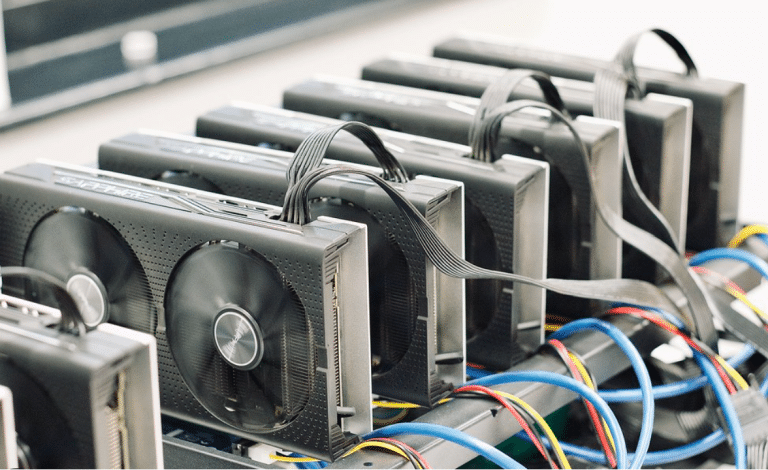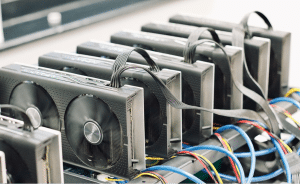 Importantly, the breakeven price for intensive crypto mining varies based on what equipment a miner owns and their operating costs. Most mid-sized Bitcoin mining companies need Bitcoin to remain above $16,000-$18,000 to turn a profit. Individual miners may need Bitcoin to approach $25,000-$30,000 to turn a profit.
Crypto Mining Pools
One other way to make crypto mining profitable for individuals is to join a Bitcoin mining pool. In a mining pool, dozens to hundreds of individual miners band together to mine Bitcoin or another cryptocurrency and share the rewards.
The advantage to this approach is that a group of miners can bring together much more computational power and operating capital than any individual working alone. If a miner has one ASIC chip, for example, they won't win a Bitcoin block reward very frequently. But if each miner in a 100-person mining pool has an ASIC chip, the pool can compete with major crypto mining companies.
Joining a crypto mining pool typically comes with variable membership costs and minimum equipment requirements, so it's a similar investment to setting up an individual Bitcoin mining rig. However, a pool can reduce risk and help miners earn a steadier income from mining.
Bitcoin Mining Pools
There are dozens of Bitcoin mining pools currently accepting new miners. Some of the most popular options include:
Braiins Pool (formerly Slush Pool)
Antpool
F2Pool
BTC.com
Poolin
Individuals can contribute whatever mining power they have to these pools, and they earn a share of every Bitcoin block the pool successfully mines. The pool itself usually takes a cut of 1-4% of each payout, so joining a pool does have extra costs.
Benefits of Mining Bitcoin and Other Cryptocurrencies
The main benefit of mining Bitcoin and other cryptocurrencies is that miners can receive new crypto tokens. Every time a miner is the first to solve the hash for a Bitcoin block, they receive a reward of 6.25 BTC. That's worth nearly $170,000 at today's Bitcoin price.
Miners can hold onto their newly earned Bitcoin if they think the price of BTC will go up. Or they can sell their Bitcoin on the open market to realize a profit and help offset the costs of their mining operation.
Mining other cryptocurrencies yields similar token rewards, although the amount earned for each block varies by cryptocurrency. For example, the current Litecoin block reward is 6.25 LTC (around $400) and the current Ethereum Classic reward is 3.2 ETC (around $50).
Of course, mining also has a benefit for the blockchain network itself. The mining process ensures that transactions are valid before they can be added immutably to the blockchain. So, high competition for mining speeds up transaction processing and ensures that the blockchain is secure.
Costs of Crypto Mining
One of the biggest hurdles to getting into crypto mining is that it isn't free. Even the most basic mining setups incur costs.
Let's take a look at how much a new miner can expect to pay.
Equipment Costs
Bitcoin mining equipment requires a major upfront investment. New miners either need to buy a crypto mining rig outright or lease computing power from a datacenter. Either way, they should expect to spend several hundred dollars or more.
To give an idea of costs, here are the average prices of some popular ASIC mining rigs:
Bitmain AntMiner S19 Pro: $1,800
Dragonmint T1: $1,000
Whatsminer M30S++: $2,000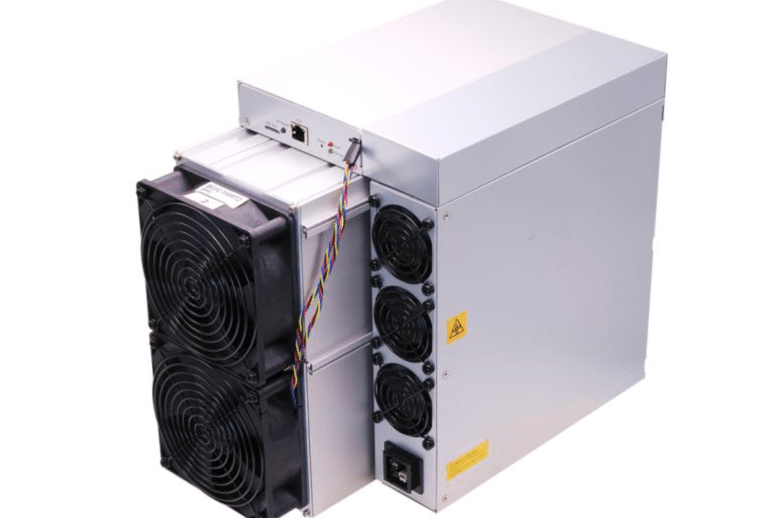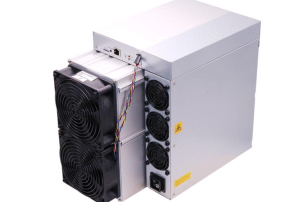 If a miner doesn't want to buy their own mining equipment, they can lease it from a datacenter. F2Hash offers leasing packages starting at $200 per year, creating a more affordable option for new miners.
Miners can eliminate or greatly reduce equipment costs by using computing equipment they already have at home. However, the mining power of an at-home computer or gaming console is very limited compared to dedicated mining rigs. So, the amount of profit that a miner can make with these devices will be limited.
Electricity Costs
Once a miner owns mining equipment, they need to pay to operate it. ASIC processors use a lot of power to run, so electricity bills can run to hundreds of dollars per month for each machine.
Miners also need to keep their mining rigs cool, which requires air conditioning or a heat exchange system. Cooling systems also take a lot of energy to run, which can further add to electricity costs.
According to CoinGecko, the electricity cost for an individual miner to earn 1 Bitcoin is more than $46,000 in the US. Costs are even higher across most of Europe.
Our guide to Bitcoin mining and energy statistics found that in May 2023 alone, the global energy consumption for Bitcoin mining globally was 95.58 terawatt-hours.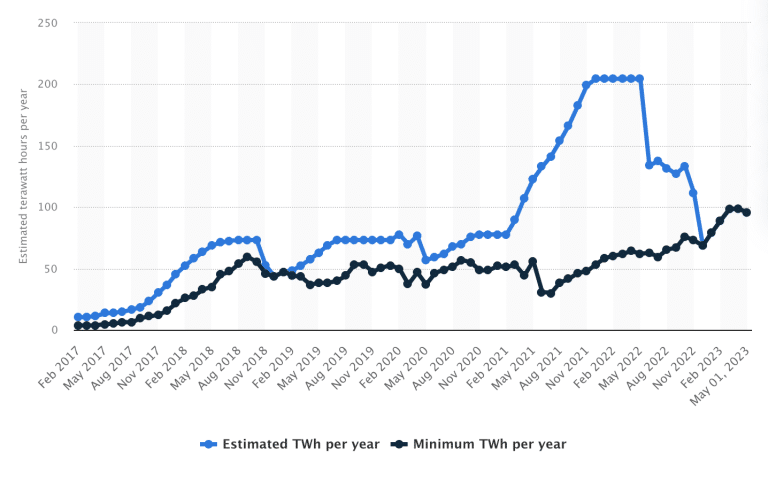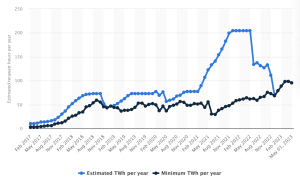 The cost comes down as a miner adds more equipment, since they benefit from an economy of scale. However, this analysis demonstrates that electricity costs are significant when evaluating the overall cost of Bitcoin mining.
Software Costs
A lot of crypto mining sites and software tools are free to use. However, some cloud-based Bitcoin mining platforms do charge a fee above and beyond your equipment rental fee. This can be a fixed monthly software fee or a commission on successfully mined Bitcoin.
Mining pools also charge a fee, usually 1-4% of a miner's share of each crypto block reward.
Bitcoin Halving
Miners also need to keep in mind that the reward for Bitcoin isn't permanently fixed at 6.25 BTC. The block reward undergoes a "halving" event every 210,000 blocks, or roughly every 4 years.
After a halving event, the Bitcoin reward is cut in half. So, after the next halving event—which is expected to occur sometime in April 2024—miners will only receive 3.125 BTC for each hash they successfully guess first.
This has a big impact on the economics of Bitcoin mining since miners' income from each mined block will be cut in half. If a miner previously had a breakeven Bitcoin price of $15,000, their breakeven price after the halving could jump to $30,000 overnight.
The good news is that many miners give up mining Bitcoin after a halving event, reducing competition for new blocks. So, a miner's breakeven price might increase, but it shouldn't double.
Litecoin and Bitcoin Cash undergo similar halving events. The latest Litecoin halving took place in August 2023, and the next Bitcoin Cash halving is expected in May 2024.
Is Bitcoin Mining Legal?
Bitcoin mining is legal in most countries around the world, including the US, UK, and all European countries.
Some countries and some US states are considering limiting Bitcoin mining because of its energy usage, but no countries have yet done so. It's unlikely that future laws will ban all Bitcoin mining, and instead focus on large mining farms.
There are a few countries where Bitcoin mining is illegal. These include China, Russia, Bangladesh, Egypt, Qatar, Iraq, Morocco, Nepal, Algeria, and Tunisia.
References
Conclusion
Bitcoin mining software enables anyone to start guessing hashes and compete to earn Bitcoin block rewards. It can be used with an at-home mining setup, professional mining equipment, or leased mining equipment from a data center.
Based on our research, Bitcoin Minetrix is the overall best Bitcoin mining software for 2023. It is the world's first stake-to-mine crypto project and allows investors of all levels to be part of the mining ecosystem from as little as $10, without the need for expensive hardware.
The project, which has just launched its presale, is a cloud mining project which offers one-of-a-kind utility and also allows users to earn token rewards through its staking mechanism.
FAQs
Which Bitcoin mining sites are legit?
Is it possible to mine Bitcoin for free?
What is the most used Bitcoin mining software?
How long does it take to mine one Bitcoin?
Is Bitcoin mining still profitable?
How much does it cost to mine Bitcoin?
How do I start crypto mining?
Is crypto mining worth doing?
Which software is best for mining cryptocurrency?