After purchasing Bitcoin, you'll have to store it and make sure it's safe, secure, and well-protected. BTCs are stored on so-called Bitcoin wallets, and some of the most popular ones are available for iPhones.
In the following article, we'll show the eight best Bitcoin wallets for iPhone and discuss how to select, install, and use them on your smartphone.
8 Best Bitcoin & Crypto Wallets for iPhone
Our team of crypto experts narrowed down the list to the following options. We selected the eToro wallet as the best Bitcoin wallet for iPhone, but feel free to read more about the remaining seven options, too.
eToro

— eToro is an FCA-regulated cryptocurrency broker that also features the

best Bitcoin wallet for iPhone

, which is custodial, secure, and intuitive. The wallet comes as a standalone iPhone app called eToro Money, available via the App Store.

Coinbase Wallet

— A crypto wallet supporting one of the largest cryptocurrency exchange platforms with over 70 million users worldwide. Coinbase claims 98% of all digital assets are kept in cold storage.

Trust Wallet

— Trust Wallet is marketed as one of the most secure crypto and bitcoin wallets, used by over 60 million people worldwide. It's part of the Binance family and accepts a range of popular and less popular cryptocurrencies.

Crypto.com Wallet

— A product by one of the most recognizable brands in the crypto sphere comes with a 4.6 rating on App Store and accepts more than 700 cryptocurrencies and tokens.

Exodus

— Exodus Wallet offers an intuitive interface and accepts 200+ cryptos, as well as NFTs. It's ranked 4.6 by 19,000 users on the App Store and is a popular option for storing Bitcoin and other digital assets.

Ledger Live

— An application that lets you easily connect your Ledger cold storage wallets and trade or transfer crypto using your mobile device. It's ranked 4.9/5 from more than 8,000 users on the App Store.

Edge wallet

— A truly anonymous mobile wallet supporting 11 cryptocurrencies (Bitcoin among them) and offering a built-in crypto exchange. The app is rated 4.4/5 on App Store by 1,300+ users.

Guarda Wallet

— Guarda is a lightweight app that makes storing cryptos easy and intuitive. The app supports Bitcoin, along with a range of ERC20, TRC20, TRC 10, BEP2, and other coins. It's rated 4.2/5 on the App Store.
The Top Crypto iPhone Wallets Reviewed
Check out our detailed reviews of the best iPhone Bitcoin wallet options to learn more about their type, supported cryptos, fees, security, and more.
1. eToro — One of the Best Bitcoin Wallets for iPhone That Also Serves as a Crypto Broker

eToro is the best crypto wallet for iPhone in 2023 for buying and storing all trending cryptocurrencies, including Bitcoin, Ethereum, and more. The platform is actually marketed as a crypto broker, and it complies with all requirements from the leading regulatory bodies, such as CySEC, FCA, ASIC, and SEC.
Apart from being able to trade cryptocurrencies, it helps you store them using a top-rated ADA wallet, which you can find as a stand-alone app on the App Store. This can come in handy if you're actively relying on eToro for buying and selling BTC and other supported cryptocurrencies. The stand-alone wallet is called eToro Money and is also licensed by the GFSC.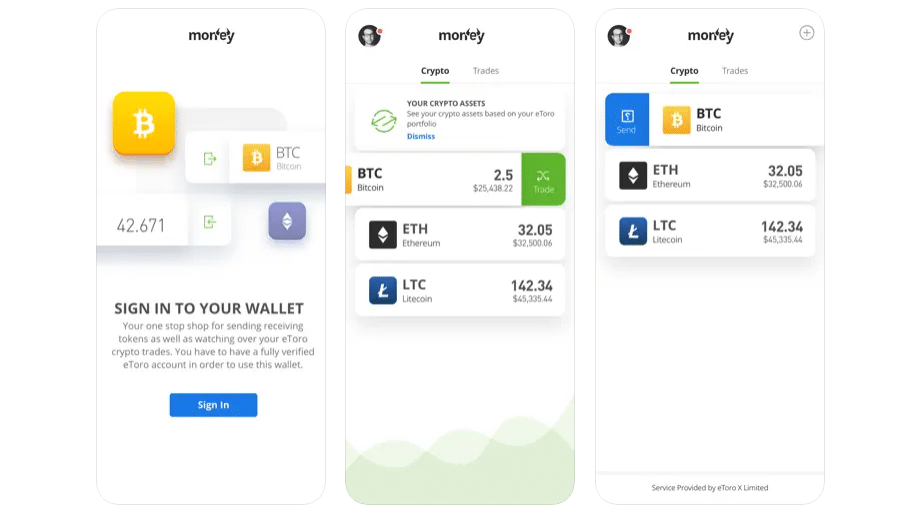 Since it's a recognized and regulated entity, eToro also accepts fiat money. You can use some of the standard fiat payment options in your wallet and enjoy the eToro brokerage services. This is only available in some countries, such as the US.
eToro is a centralized wallet, but it provides excellent security nevertheless, offering a range of features that protect the user, including private key encryption, biometric authentication (fingerprint or face ID), 2FA, PIN code, and email transaction confirmation. Still, as it's not a non-custodial wallet, the downside is that you're not in complete control of your private keys.
Overall, the eToro Money wallet will help anyone safely store their BTC and quickly buy any other supported cryptos through the eToro brokerage service. It's also considered to be one of the best crypto wallets for Android devices as well.
Pros:
Plenty of security features including 2FA
Supports 70+ cryptocurrencies making it the best XRP wallet to use in 2023
Licensed and regulated by reputable regulatory bodies
Trading and brokerage services available via the wallet
Available as an optimized and stand-alone app for iPhone
Cons:
A custodial wallet means no control over your private keys
Collects private information
No staking with Bitcoin
| | | | | |
| --- | --- | --- | --- | --- |
| Type of wallet | Number of supported cryptos | Fee for buying Bitcoin | Mobile app | Staking/interest |
| Hot wallet | 70+ cryptocurrencies; 500+ crypto pairs | 1% for buying or selling any asset on the platform | Yes | Staking only available for Cardano, Tron, and Ethereum |
2. Coinbase Wallet — A Bitcoin Wallet for One of the Largest Crypto Exchanges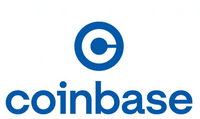 Coinbase is one of the most popular cryptocurrency exchanges in the world, with more than 70 million users. Like many other similar platforms, its scope of services expanded over the years, and one of the most popular side services is the Coinbase wallet.
The wallet is available via the App Store and is currently ranked 4.6 out of 5 by more than 125,000 users, which is a superb score for an app in the category of crypto wallets. The app is free to download and is marketed as a web3, NFT, and crypto app, as it also accepts a range of non-fungible tokens besides the standard popular options, such as Bitcoin, Ethereum, Solana, and more. The app is available in 25 languages and more than 170 countries around the world.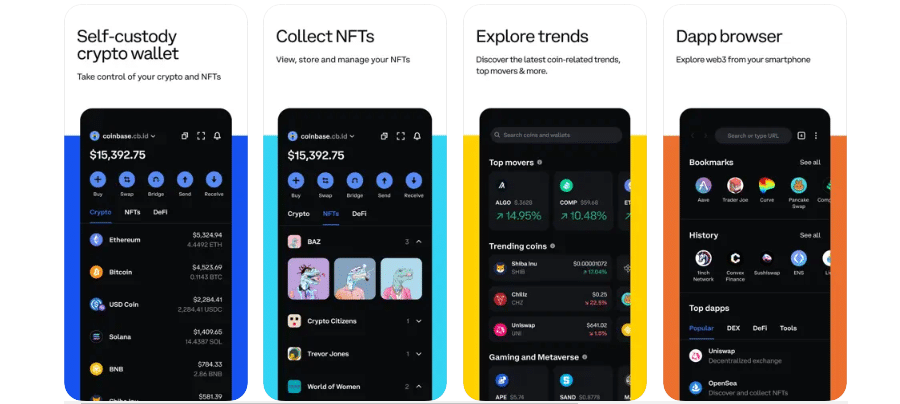 Security-wise, the Coinbase Wallet features cutting-edge encryption and security techniques for keeping sensitive info and private keys safe and sound. You'll also find biometric authentication and a PIN code lock. Still, the user should be careful when using any hot wallet, including the one by Coinbase, as there's always a risk of device theft, phishing, and similar scams.
Pros:
A wallet from the leading exchange
A range of security features
Latest encryption protocols
Supported in 170+ countries
Accepts 100+ cryptocurrencies
Available via the App Store
Cons:
Risk of phishing and other scams due to being a hot wallet
It's a custodial wallet, meaning your private keys aren't only accessed by you
No Bitcoin staking
| | | | | |
| --- | --- | --- | --- | --- |
| Type of wallet | Number of supported cryptos | Fee for buying Bitcoin | Mobile app | Staking/interest |
| Hot wallet | 100+ | Blockchain fee | Yes | Staking available for various cryptos, but not Bitcoin |
3. Trust Wallet — One of the Top Crypto Wallets for iPhone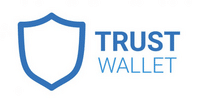 Still looking for the best iPhone crypto wallet in 2023? Trust Wallet is a crypto wallet for iOS and other platforms that offer a range of features for crypto and NFT owners. It accepts over a million different assets, including all ERC-20, ERC-721, and ERC-1155 tokens. Moreover, Trust Wallets is connected to 53 different blockchains. In short, it's one of the most comprehensive wallets out there.
According to our Trust Wallet review, the platform features a stand-alone app for a range of OSs, including iOS, and you can download it free of charge on your iPhone via the App Store.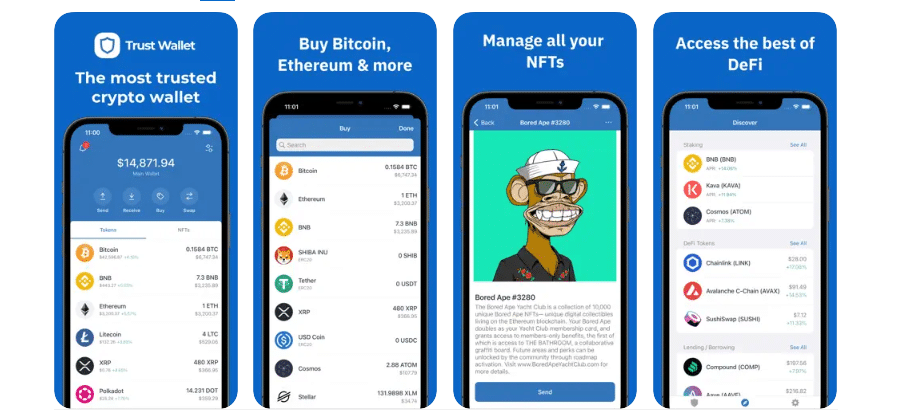 The wallet is supported by Binance DEX and features integrated PancakeSwap and Uniswap trading options. Moreover, it allows buying Bitcoin and other cryptocurrencies with EUR or USD.
The popularity of the iOS Trust Wallet app is visible on its dedicated App Store page, as the wallet is rated 4.7 out of 5 by 191,000+ users and is currently #61 in the Finance category, which is a huge success.
Pros:
A comprehensive wallet accepting more than a million tokens
Highly rated in App Store
Connected to 52 different blockchains
Supported by Binance DEX
A range of security features available
Cons:
Price alerts sometimes stop working on their own
Conversion to offline storage not simple
| | | | | |
| --- | --- | --- | --- | --- |
| Type of wallet | Number of supported cryptos | Fee for buying Bitcoin | Mobile app | Staking/interest |
| Hot wallet | 61 crypto + 1+ million of custom fungible and non-fungible tokens | 1% fee | Yes | Staking available but not with Bitcoin |
4. Crypto.com Wallet — A Bitcoin Wallet for Experienced Users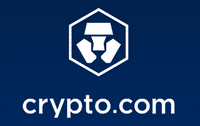 Crypto.com is a comprehensive online platform offering a range of services for the crypto community, wallet being one of them. It's one of the best Bitcoin wallets for iPhone, actively used by 70 million users around the globe.
This wallet is aimed at those with experience in the crypto sphere. If you're new to the industry, you might find Crypto.com slightly confusing due to the sheer number of features and options. It offers asset management, spot trading, derivatives, swapping, and more. It also encompasses Cronos (CRO), a native token to Crypto.com, which can be used for staking and earning APY.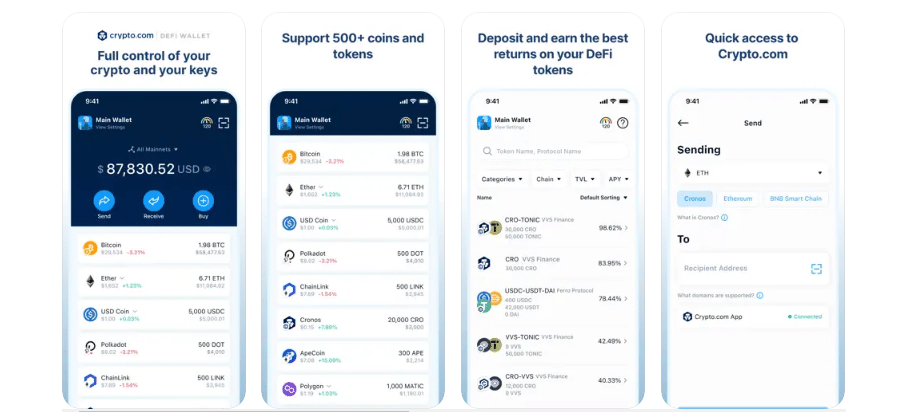 The wallet is rated 4.6 out of 5 on the App Store, with over 6,000 ratings. Compared to Trust Wallet or Coinbase, it's safe to say that the iOS app is much less popular. However, it's excellent in terms of overall quality.
The wallet supports more than 32 blockchains with 700+ tokens.
Pros:
A secure online wallet with 2FA and other protection options
Plenty of cryptocurrencies and blockchains are part of the wallet
Excellent rating on the App Store
Part of one of the largest crypto brands
Support for NFT and web3 capabilities
Cons:
Not as popular as Trust Wallet or Coinbase Wallet on App Store
Some educational content not available through the wallet app
| | | | | |
| --- | --- | --- | --- | --- |
| Type of wallet | Number of supported cryptos | Fee for buying Bitcoin | Mobile app | Staking/interest |
| Hot wallet | 700+ | No trading fees, credit/debit card buying up to 4% | Yes | BTC staking available with a rate of up to 1.5% |
5. Exodus — A Comprehensive Cryptocurrency Wallet for iPhone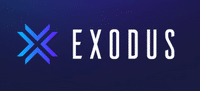 Based on our Exodus Wallet review, we found that this is an all-in-one crypto wallet that helps users store and manage digital assets. It currently supports more than 200 crypto assets, allowing the storage of NFTs as well.
Security-wise, Exodus is doing pretty well, offering 2FA, 12-word secret recovery phrase storage, and several other options. Unfortunately, we didn't find evidence that the wallet uses biometric authentication, which has become an industry standard.
The wallet is available via the App Store, allowing you to buy, stake, and earn crypto with the wallet as an iPhone user. It features 19,000+ ratings, according to its official page, with an average rating of 4.6 out of 5.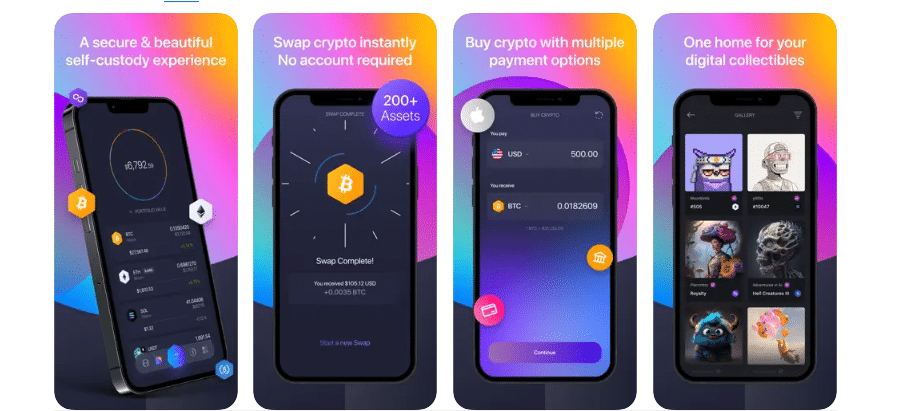 One aspect where Exodus Wallet stands out compared to the competition is customer support. The wallet features 24/7 human support and a dedicated team of professionals that make regular app updates. The app even lets you message its founders, although their response isn't guaranteed.
Pros:
Outstanding round-the-clock customer support
User-friendly interface
Free to download, and no registration required
Can be connected to a hardware wallet
Cons:
The number of cryptos supported on the mobile app is smaller compared to its desktop counterpart
No in-wallet crypto to fiat transaction
| | | | | |
| --- | --- | --- | --- | --- |
| Type of wallet | Number of supported cryptos | Fee for buying Bitcoin | Mobile app | Staking/interest |
| Hot wallet | 200+ | Exodus doesn't keep any fees (only blockchain fee) | Yes | Staking available but not for Bitcoin |
6. Ledger Live — An iPhone App That Connects You to Your Hardware Wallet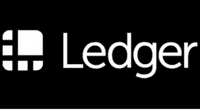 Ledger is the industry leader for cold wallets, which are sold as stand-alone devices and feature enhanced security compared to their hot counterparts. The introduction of the Ledger Live app was groundbreaking, as it allows easily connecting hardware wallets, further streamlining buying, selling, and transferring cryptocurrencies. You can think of Ledger Live as a software framework for the hardware wallet.
The app also lets you stake your cold assets, which is possible for all accepted cryptocurrencies based on the Proof-of-Stake consensus mechanism. Unfortunately, Bitcoin is not one of them. Besides cryptocurrencies, the app can also help you process and store NFTs.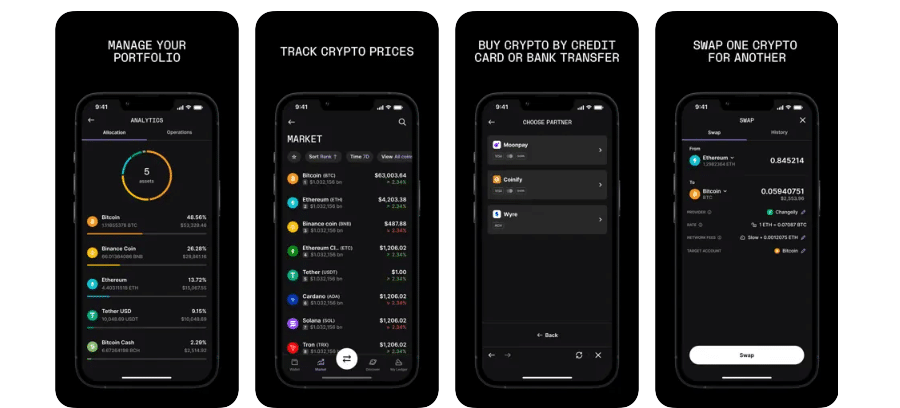 The Ledger Live application is available via the App Store. It's rated 4.9/5, which makes it one of the highest-rated wallets in general, with more than 8,000 users agreeing on this. Still, its popularity is much lower than the other best Bitcoin wallets for iPhone featured on this page.
Pros:
Available as both desktop and mobile app
Lets you swap assets directly from the hardware wallet
Partnered with an exchange that streamlines asset trading
Allows staking and lending via your iPhone
Groundbreaking software that makes cold storage wallets easier to use
Cons:
You need a hardware wallet to use Ledger Live
Only connected to one exchange
| | | | | |
| --- | --- | --- | --- | --- |
| Type of wallet | Number of supported cryptos | Fee for buying Bitcoin | Mobile app | Staking/interest |
| Hot + cold (you need a Ledger wallet to use Ledger Live) | 5,500+ | Complex fee structure, research before using | Yes | Available, but not for Bitcoin |
7. Edge — A Great Anonymous Bitcoin Wallet for iPhone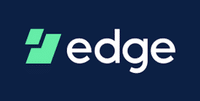 Edge is both a blockchain wallet and a crypto exchange promising total privacy and security. Moreover, it's an easy-to-use app supporting Bitcoin, Bitcoin, Cash, Bitcoin SV, Litecoin, Dash, Ethereum, Stellar, and more. The total number of supported currencies is 11 at the moment, which is much less compared to other wallets featured on this page, some of which accept thousands of options. Nevertheless, if you're looking for a Bitcoin wallet, Edge should do the trick.
The main difference from the rest of the featured options is the complete anonymity, as the Edge wallet doesn't even require you to enter your email account to start using its services. In crypto terms, Edge is a non-custodial wallet, meaning users are in complete control of their funds, and the platform doesn't have access to your password or recovery key.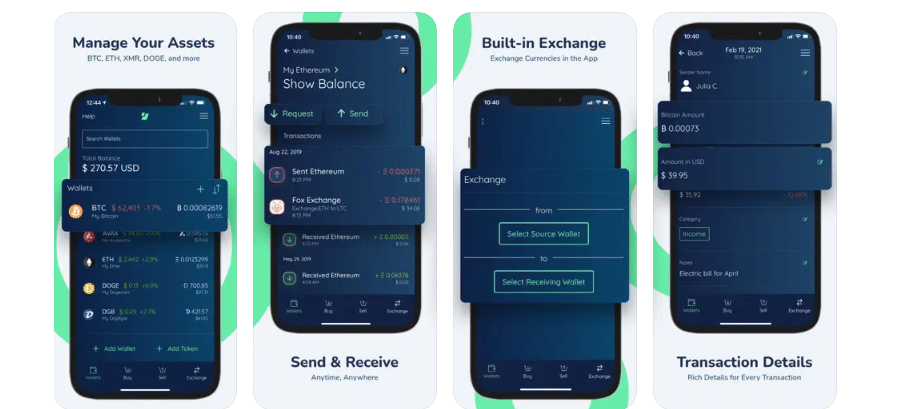 According to the official App Store page, the wallet has a rating of 4.4 (1,300+ ratings at the moment), which is still pretty decent, although lower than the best iOS Bitcoin wallet options listed above.
Pros:
Easy to set up and start using
In-app crypto exchange letting you quickly swap coins
You can earn interest on your cryptocurrencies
It's possible to buy gift cards from the app
Cons:
No fiat support
Limited number of cryptos supported
Only available for mobile devices as a stand-alone app
| | | | | |
| --- | --- | --- | --- | --- |
| Type of wallet | Number of supported cryptos | Fee for buying Bitcoin | Mobile app | Staking/interest |
| Hot wallet | 11 | 1% for purchasing any crypto on its exchange | Yes | Only for some coins (FIO) |
8. Guarda Wallet — The Best iOS Crypto Wallet for Beginners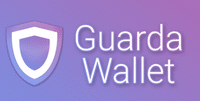 Guarda Wallet is a lightweight app that is much easier to use than many options featured on this list. It's connected to 40+ major blockchains, with thousands of cryptos supported. Besides storing digital assets, Guarda also allows buying and selling them via the app; there's even an option to stake them. However, Bitcoin isn't one of the cryptos that can be staked via Guarda.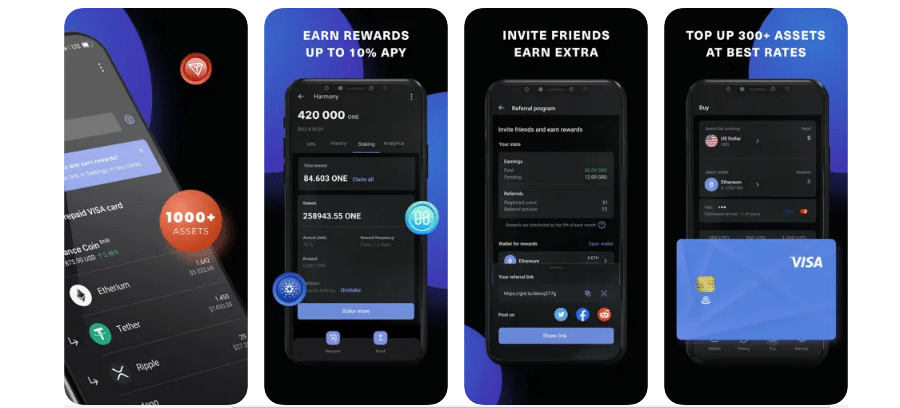 Guarda features non-custodial storage, minimizing the risk of being hacked. Moreover, it offers encrypted backup, touchID, and faceID features for those who want to maximize security.
The app is ranked 4.2 on the App Store, with 800+ ratings. Judging by this, it's safe to say that Guarda is still to present itself to the wider audiences.
Pros:
Many cryptocurrencies accepted
A range of security and anonymity features
Available for iPhone and desktop
You can buy, swap, borrow, and earn cryptocurrencies
Great customer support
Cons:
In-app purchase fees higher compared to the competitors
The iPhone mobile version only rated by around 800 users (as of May 2023)
| | | | | |
| --- | --- | --- | --- | --- |
| Type of wallet | Number of supported cryptos | Fee for buying Bitcoin | Mobile app | Staking/interest |
| Hot | 1000+ | 4.5% to 5.5% in-app crypto card purchases | Yes | Staking is possible but not with Bitcoin. |
The Basics of Bitcoin iPhone Wallets — How Do They Work?
Bitcoin iPhone wallets allow you to store, send and receive Bitcoin from your iPhone or iPad. Even though they come with various benefits, they also have some associated risks, which we'll tackle later.
Mobile phone Bitcoin wallets communicate with the Bitcoin network, a distributed network based on the blockchain. We'll not go into detail about how blockchain and distributed networks work since there are plenty of resources available. This guide on key crypto terms by BBC will help you in case you're a total beginner.
You may have noticed from the reviews above, but wallets are never just wallets. They usually have different capabilities that help crypto owners manage their digital assets. For example, almost every best crypto wallet for the iPhone has trading capabilities. You can swap some of your existing coins for others if they're accepted by the wallet at hand. Some wallets communicate with exchanges, and some, such as the Coinbase wallet, are just side projects of big exchanges (Coinbase is one of the largest Bitcoin exchanges in the world).
All Bitcoin wallets feature two main components for users: public key and private key. The public key is virtually your crypto email. You can share it with other people if you want them to send you BTC. You can also use other wallet addresses to send your BTC to them. Unlike emails, wallet addresses don't make much sense — they're a random string of numbers and characters.
The private key, on the other hand, is a very delicate thing, and the crypto community often disagrees on how they should be approached. They are like passwords, essentially giving you access to your wallet. Much like public keys, they are randomly generated and are 256-bit numbers. They are mathematically linked to their corresponding wallet and allow the person who holds the key to have control of their funds.
But there's a catch. Unlike passwords, private keys cannot be retrieved. If you lose them or forget them, you lose your money. It seems cruel, but it's the only way to ensure you're the only one with access to your funds.
Now, some crypto wallets are custodial. It means the third-party company that made the wallet holds and manages your private key for you. If they want to keep their good reputation, they won't show your key to anyone, but they can still be targets of cyberattacks, and your private key might be stolen in the process.
Other wallets are non-custodial. In this case, you're the only one with access to your private key. If you lose it, you lose all of your funds, as explained above. However, you ensure maximum security and privacy when using your wallet and making transactions.
Truth be told, the majority of the best Bitcoin wallets for iPhone are custodial. Nowadays, it's not easy to conduct a cyberattack and steal private keys. Therefore, many choose to entrust their keys to a custodial wallet while relying on their convenience.
Wallets can be further divided into hot and cold storage. Hot wallets are connected to the web, and you can access them via different devices, including iPhones. Therefore, almost all options featured on this page are hot wallets, except one: Ledger Live, which is an app that helps you connect your cold wallet. According to some popular online sources, hot storage is more user-friendly in general, as there's no need to actually own a piece of hardware to access your digital assets.
Hot wallets are great if you make daily transactions with your cryptocurrencies. However, if you want to store your crypto funds and "hodl" them for extended periods, you should consider using a cold wallet. Since they are disconnected from the internet, cold wallets are secure from any type of cyberattack, which means there's literally 0% chance anyone can access your funds unless they steal your hardware wallet and learn your private key. A form of cold storage is the infamous paper wallets, which are slowly going out of use.
Benefits of iPhone Crypto Wallets
Every option listed in our best Bitcoin wallet for iPhone list is different. Yet, each comes with a range of benefits compared to their desktop counterparts.
Convenience

— Your wallet goes with you everywhere you go. You can easily manage your digital assets at the tip of your finger.

Accessibility

— Most of the best Bitcoin wallets for iPhone accept other cryptos, allowing you to manage your assets and diversify your crypto portfolio.

Security

— Unlike desktop apps, mobile apps can utilize biometric security features for enhanced security.

User-friendly interface

— An iPhone screen cannot contain as many options and features as a big desktop monitor. Therefore, designers often put extra effort into making them easier to use, improving the interface and the overall experience.

QR code

— You cannot go around carrying your laptop or desktop PC camera to scan QR codes when making payments. Luckily, that's possible with mobile devices. It's also a more secure and convenient way to make Bitcoin transactions, as you don't have to deal with lengthy wallet addresses.
Safety — How to Pick a Secure Bitcoin Wallet for iPhone
To get the best Bitcoin wallet for iPhone, simply refer to the list on this site and read our mini reviews to learn more about each selected item. If you want to research the best Bitcoin wallet for iOS on your own, keep the following advice in mind.
Read user and professional reviews

— People talk about wallets, and you can learn a lot from reviews on various forums, social media, and more. We also advise reading professional crypto wallet reviews, as professionals often explain why some wallets work the way they do.

Research the team behind the wallet

— In most cases, you'll be able to learn about the developers, designers, and other team members that created the wallet you're researching. It's a good idea to learn the team members' individual track records to ensure they're field experts. If they are, they are more likely to develop a good app.

Assess security features

— This is perhaps the most important item to consider. The iPhone crypto wallet should feature various protocols, including 2FA, biometric authentication, and a secure password if you want maximum security. One can never get enough layers of protection with online wallets.

Private key control

— In an ideal world, everyone should opt for a non-custodial wallet. However, people often trust custodial wallets to keep their private keys, which they do. You just need to make sure the wallet has a successful history of keeping its users safe and protected.

Data protection and encryption

— Custodial and non-custodial wallets will encrypt your private keys and sensitive data. This will safeguard your information to ensure no one unauthorized can access them.

Regular updates

— The crypto industry moves at the speed of light. Therefore, a wallet that doesn't regularly update its features and capabilities might be left behind in the crypto race. Make sure there's an active team behind the wallet you're using.

User experience

— Knowing how to get around the wallet you choose to use is essential. It's no secret that some are more advanced than others, but even if you pick a beginner-friendly one with a poor interface and overall

user experience

, you'll have trouble getting things done. Explore the app before depositing any money to see whether it suits you.
Factors to Consider When Comparing iPhone Crypto Wallets
If you cannot decide about the best Bitcoin wallet for the iPhone, here's what you should consider.
Number of Downloads and Ratings
The number of downloads on the App Store can tell you how popular a certain iPhone crypto wallet is. However, you should only consider this in regard to the year the app was launched. For example, if the app has less than 1,000 ratings, it can mean it's still fairly new.
Also, some apps might urge users to rate their service on the App Store, while others might not care much about it.
Still, the numbers you see on the wallet's official page in the App Store shouldn't be taken out of the equation.
Overall Rating
Check the app rating on the app store and see what other users say. If the rating is too low, there might be something fundamentally wrong with the Bitcoin wallet. This might be just a poor interface or an annoying bug that people didn't like, and you can usually find out what it is by reading the comments.
Compatibility With Your iPhone
Some wallets might not be compatible with all iPhone models, so you must check which ones you can download and install.
Supported Cryptocurrencies
Even though you'll likely just store Bitcoin, you might decide to expand your crypto portfolio. In that case, you can search for the best crypto wallet for the cryptos you want to obtain or check if your existing option supports that crypto.
Additional Features
Check if the wallet offers staking, lending, exchanging, and more. These things could affect your overall experience when using an iPhone Bitcoin wallet.
How to Get & Use an iPhone Bitcoin Wallet
Here's what you need to do to get your eToro app and start using it as your Bitcoin wallet.
Visit the App Store on your iPhone.

Enter eToro Money to find the popular cryptocurrency wallet by eToro.

Click on GET to start the download and installation process.

Log in with your eToro account if you already have one.

Enter the SMS code to confirm your account.

Start using the app.
If you don't have an eToro account, you can quickly open it.
Go to the eToro website and find the registration button.
A new window will pop up. Choose whether to join via Facebook or Google or proceed by entering an email, username, and password.

Check the two boxes and proceed.

The app will send an email address so that you can confirm it and become a registered member.

Go to the guide above to learn how to download and install the app on your iPhone.
Conclusion
To sum up, storing Bitcoin in your iPhone wallet is useful, as your phone acts like your wallet, and you can send and receive money at any time.
If you're new to the world of Bitcoin wallets for iPhones, consider starting with eToro Money as the current #1 option, as voted by our experts.
FAQs
Is there a Bitcoin wallet for iPhone?
What is the best iOS Bitcoin wallet?
Can I buy Bitcoin in my Apple wallet?
How do I create a crypto wallet on my iPhone?