As one of the two designated 'Ethereum Killers', Cardano is considered one of the best blockchains on the planet and comes with many benefits attached. There's its stability, the lightning speed at which it completes transactions and the fact that it is environmentally friendly. On top of this, Cardano has another benefit for users, which is that it can be staked.
ADA is one of the most popular cryptocurrencies to stake, but to get the most value for your money, you have to choose the best Cardano staking platforms. In this guide, we review the six best Cardano staking and Cardano 2.0 staking platforms that offer the highest APYs in 2023.
Top 6 Cardano Staking Platforms Ranked
For the best ADA staking rewards on the market, here are our top picks for the platforms with the best Cardano staking rewards.
Wall Street Memes: Although the platform does not offer ADA staking, it does offers taking of its own ERC-20 token, $WSM – with a current estimated APY of 80%. That is in line with other platforms on this list, but as a meme coin presale, Wall Street Memes also has much more room for potential growth than Cardano.
eToro: One of the biggest investment platforms in the world, eToro offers staking rewards for several membership levels. The reward percentage of the monthly staking yield is 75%, 85%, or 90% depending on the level.
Binance: A major crypto exchange with flexible staking periods. Offers between 2.5% and 3.6% APR depending on the period chosen.
KuCoin: Another top crypto exchange that offers AD staking to its users and Pool-X members since 2021. Its APR is up to 3%.
Exodus Wallet: Allows users to stake their crypto wallets and earn interest on all of their tokens. Rewards fluctuate but are usually between 3-5% APR.
Coinbase: A popular crypto exchange that offers lower APRs than others but more transparency. Staking ADA on Coinbase also automatically pays interest into users' wallets.
Reviewing the Best ADA Staking Platforms
Before you jump head-first into the world of ADA staking, it is worth looking at each platform individually as we've explored all the key metrics from APYs, security, and lock-in periods. Let's begin.
1. Wall Street Memes – ERC-20 Token Offering 80% APY and Huge Potential for Growth as a Meme Coin
While Wall Street Memes isn't a Cardano staking platform, we're recommending it as it offers high APY and significantly more room for growth than ADA in the coming weeks and months.
The meme coin project is currently on presale, where it has become a booming success, already raising more than $25 million ahead of its IEO at the end of September.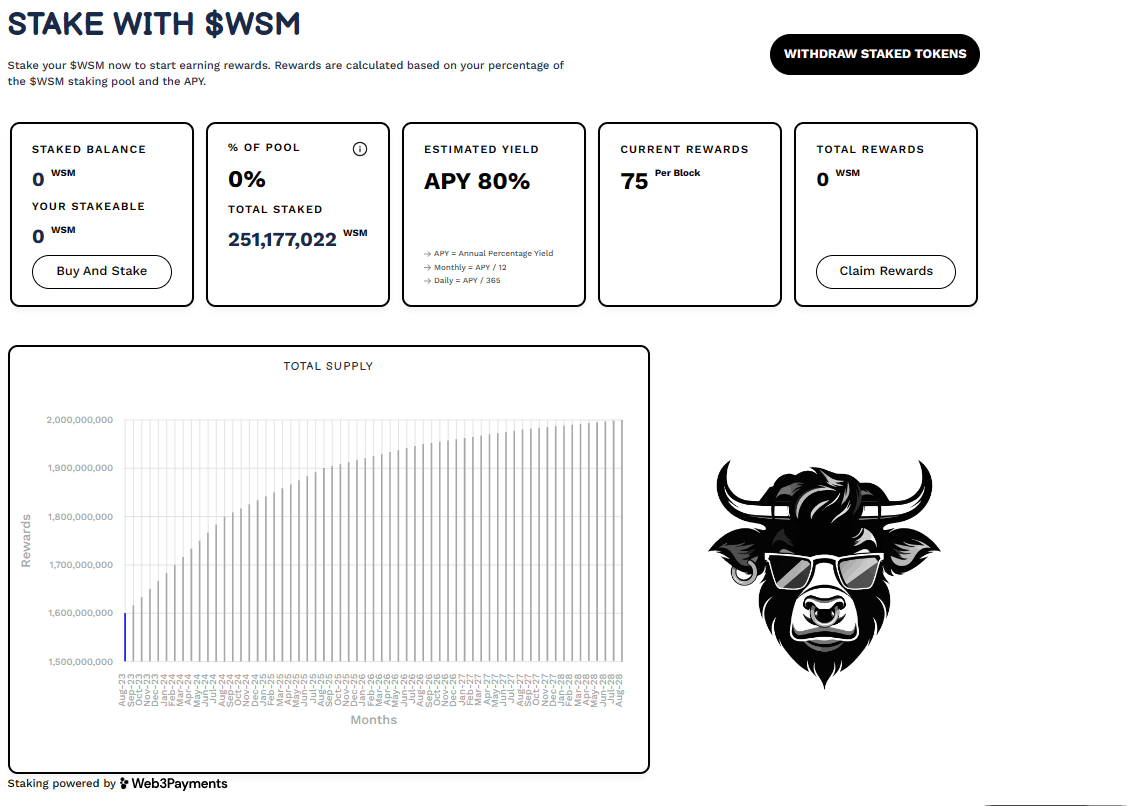 Wall Street Memes has been generating huge hype in the space as it has been developed by a team with a long track record of success in Web3 and a huge social media following.
Its social media pages have more than a million followers and Elon Musk – one of the world's richest men and a crypto advocate – has interacted with it on several occasions.
In fact, after it was revealed on Etherscan that an unknown whale had spent more than $1 million on $WSM tokens, rumors spread that Musk himself was the buyer, although there has been no proof that is the case.
While Cardano has struggled over the last two years – it is currently more than 90% down from its September 2021 all-time high – Wall Street Memes continues to gather huge momentum.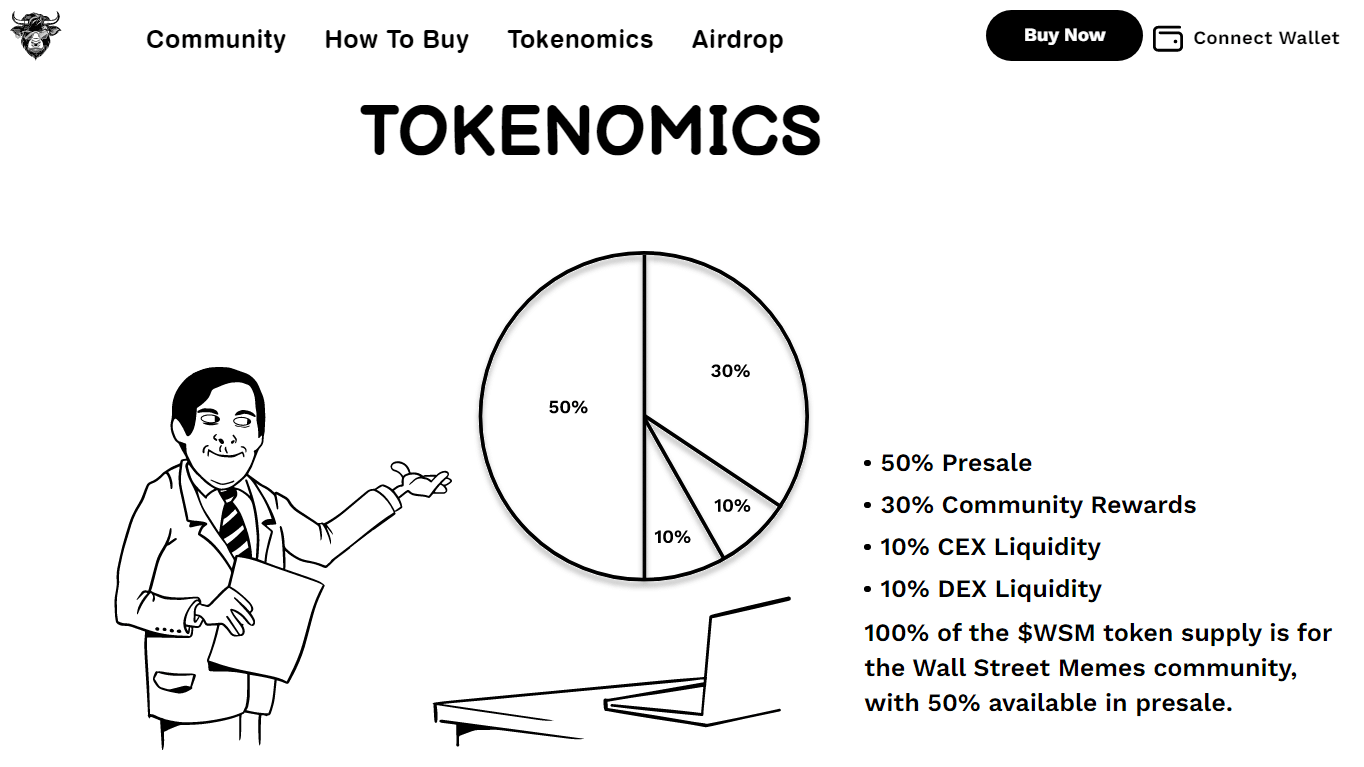 The developers are anonymous but previously sold out their Wall Street Bulls collection in just 30 minutes, raising $3 million, and have since sold out a Bitcoin Ordinals NFT collection. They have also taken steps to secure Wall Street Memes and avoid FUD by undertaking a smart contract audit and making it public.
The project's staking pool is now live and has seen over 250 million tokens – 25% of the presale allocation – added to it, with Wall Street Memes currently offering an estimated APY of 80%. The project also has a $50,000 airdrop running.
That APY will come down as more tokens are staked, but WSM is expected to see explosive gains when it reaches exchanges – likely to outstrip ADA which continues to hover at around $0.25.
Potential buyers have limited time to purchase tokens on presale, however, as it is set to close in the next couple of weeks ahead of the IEO at the end of September. For more info and the latest news on the project, visit the Wall Street Memes Linktree.
Pros
:
Estimated APY of 80%
Huge potential as a meme coin
$25 million raised in its presale
One million-plus social media following
Proven developers with audited smart contract
Cons
:
| | | |
| --- | --- | --- |
| Estimated Yield | Lock-Up Period | Payout Frequency |
| 80% APY | 7 Days minimum | 7 days |
2. eToro – Fully Regulated Crypto Staking Platform Allowing Users to Earn Up to 90% Monthly Staking Yields
eToro is one of the leading crypto brokers with over 28 million users calling it home in 2023. It is also one of the Best Cardano Staking platforms. Staking with eToro is simple, easy, and convenient.
Stakers receive their staking rewards every month, in the supported cryptocurrency, with zero action required on their part. This popular copy trading platform also supports Tron and Ethereum for staking. eToro first began offering this service in 2020 and has become a go-to within the industry for several reasons.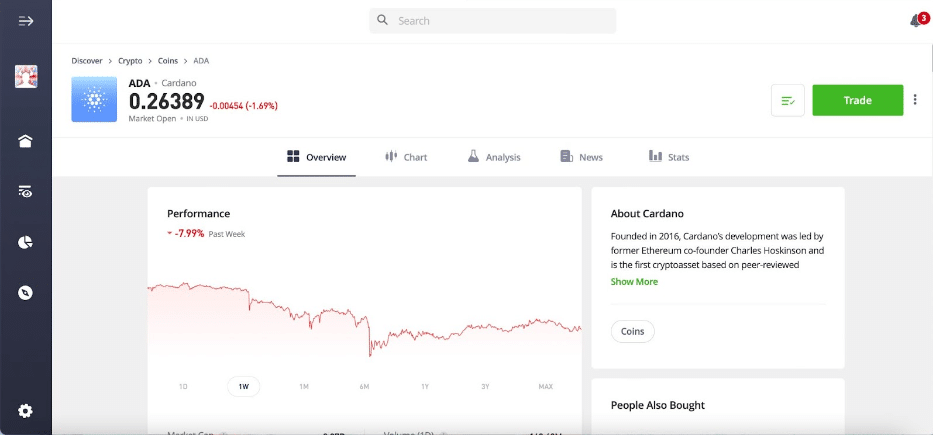 First, there is its robust APR tier system. eToro users can enjoy several levels of membership and each comes with its own APR. Bronze and all US users enjoy a 75% Reward percentage of the monthly ADA staking yield, Silver, Gold, and Platinum Club members enjoy 85%, and Diamond and Platinum+ Club members receive 90%. This represents a high return on investment.
To earn any of this Cardano staking yield, they have to stake their ADA tokens for a minimum of 9 days and the rewards will begin accruing from the 10th day of holding. The rewards are paid out monthly but users will receive the ADA staking rewards for one month within 14 days of the following month.
The rewards must also be a minimum of $1 to be claimed. To withdraw from the staking program, users are advised to fill out and submit a form.
This Cardano staking APY program is available for UK residents who registered with eToro on or after February 8 ,2022, as well as all eToro US users. Users can stake the tokens already in their eToro wallet and can buy ADA tokens with a plethora of payment options like bank cards, bank transfers, conversions from other tokens, and more.
The platform's sign-up process is also straightforward, taking a matter of minutes to complete. The platform has put a big emphasis on transparency and has published its staking rewards formula. eToro's formula involves taking a daily snapshot of the users' holdings at 00:00 GMT every day.
By the end of the month, all the daily snapshots are tallied and divided by the days of the month to determine the average daily amount. The site then uses a formula of (Average daily position) x (monthly yield) x (revenue share) to decide how much the user will receive. The revenue share, in this case, refers to the revenue share they are entitled to according to their membership tier.
Pros
:
Up to 90% reward percentage of the monthly staking rewards
Automatic payout of interest into users' accounts within 14 days
Many payment options for buying ADA
Cons
:
Nine-day holding period
Minimum of $1 in staking rewards required before you can claim withdrawals
| | | |
| --- | --- | --- |
| Interest Rate | Lock-Up Period | Payout Frequency |
| 75% to 90% APR depending on membership level | 9 Days minimum | Monthly |
3. Binance – Popular Crypto Exchange Offering Auto-Staking Feature, ADA Holders can Earn up to 3.6% APR
Binance is a major crypto exchange that offers staking options for a plethora of cryptos, including ADA. It is considered the best Cardano staking platform by some for several reasons.
Unlike a lot of options on this list that have a fixed Cardano staking APY, Binance offers several based on the staking period. If you opt for a 'flexible' term that lets you withdraw your tokens anytime you wish, you get a 0.59% APY, which is admittedly not a lot.

A 30-day, 60-day, 90-day, and 120-day staking period attract APYs of 2.5%, 2.9%, 3.2%, and 3.6% respectively. This means that whatever level of flexibility you'd like when it comes to committing your tokens, the site will have something for you.
Users' dashboards display their earnings so far as soon as the next day so they always know how much they have earned.
Should you choose to sign up for the program, your deposit is protected by Binance's guarantee. Regardless of market conditions, Binance promises that your principal amount will be returned to your wallet. Payouts are completed at the end of your chosen period and the Binance site is overall tailored to help you find the right options for you.
Off the bat, a mini quiz on Binance asks the user whether they are looking for something long-term or short-term, along with how much they have to invest.
From the answers provided, a list of cryptos is given with the possible staking periods and the potential rewards. All the options you'll be offered are part of Binance Earn, the suite of products that the exchange offers for growing crypto products.
Binance Earn includes dozens of cryptocurrencies and encompasses everything from Yield farming to staking. To get started with Binance Earn, you'll need to have a registered Binance account, navigate to the 'Earn' page from your dashboard and choose a product.
Pros
:
Flexible with staking duration as you can choose a 30-day, 60-day, 90-day, and 120-day staking period or a plan with no fixed period
Intuitive and helpful site that recommends tokens based on a short form
Guarantee of principal being returned thanks to Binance's Principal Protected program
Cons
:
Some staking options come with nominal APYs
| | | |
| --- | --- | --- |
| Interest Rate | Lock-Up Period | Payout Frequency |
| 0.59%, 2.5%, 2.9%, 3.2%, and 3.6% | 30-day, 60-day, 90-day, 120-day, or none | Based on the period chosen |
4. KuCoin – Exchange with Variable Staking Periods, Fast Redemption, Instant Withdrawals and 3% APY
KuCoin is another crypto exchange that has been in the ADA staking business for years and has quite a lot to offer. This program is available to all users of KuCoin as KuCoin Earn, which was previously called Pool-X. KuCoin does have a wide range of ADA staking APYs available depending on whether you opt for a fixed or flexible lock-up term.
As per the website, KuCoin has staking terms between 14 and 60 days and flexible terms that allow users to remove their tokens whenever they want. Of course, the fixed terms carry up to 4% APY while the flexible ones have APYs as low as 1%.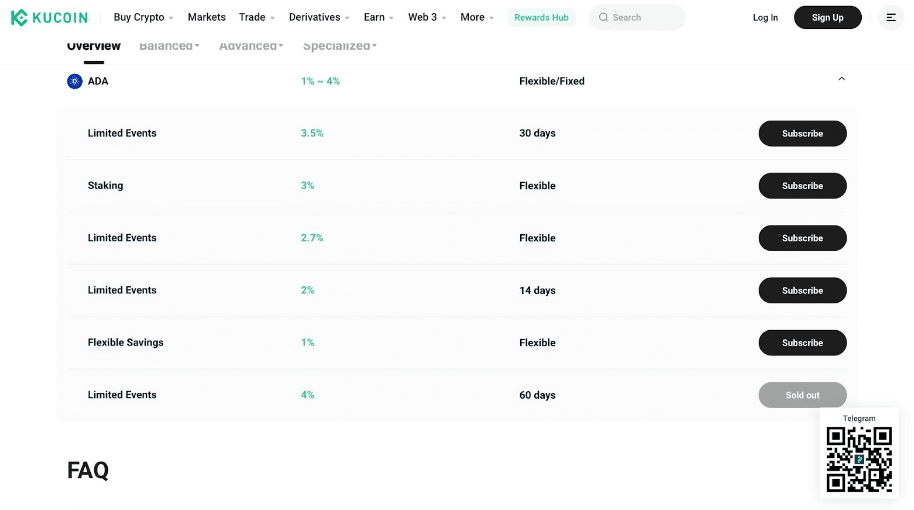 This is not too dissimilar to what platforms like eToro and Binance offer, and KuCoin sweetens the deal by not having a defined lock-up period. Users are essentially free to take out their tokens at will on certain programs, though there is a 1-day redemption period during which no extra APY will be accrued.
Keep in mind that KuCoin also takes an 8% fee from all POL but all interest is automatically transferred into users' wallets once the selected period matures.
The KuCoin site is also fully optimized helping users find the best staking options to suit their trading needs. Tokens are sorted according to low risk and high yield and the variety of staking periods and terms means that you'll probably find something that suits you.
Pros
:
Flexible staking periods that don't require token lock-up
Automatically deposits interest into customer accounts after the staking period
The site makes it easier to sort tokens by risk and yield
Cons
:
Limited staking APY options
| | | |
| --- | --- | --- |
| Interest Rate | Lock-Up Period | Payout Frequency |
| 1% to 4% | 14 to 60 days | Varies on the period chosen |
5. Exodus Wallet – Safety-Focused Non-Custodial Wallet with Strict Requirements to Stake Tokens and High APY
Exodus is a non-custodial crypto wallet that allows users to buy, sell, swap, and of course, stake tokens. One of the tokens in its roster is ADA and so far, Exodus Wallet has established itself as one of the more unique ADA staking options around as it has stricter requirements.
When you stake with Exodus, you are staking your Cardano address and not a portion of your tokens. This means that when you initiate a staking period, all the tokens in your wallet will be staked; you cannot choose the amount that you commit.
On top of this, there is a 5.5 ADA minimum deposit for anyone interested in staking. And this doesn't mean that you can start staking immediately. Instead, you have to apply to begin staking via the Exodus Wallet and there is a 20-day waiting period before you are approved. Should you be approved, it takes only about 5 days for your first rewards cycle to be complete.
While this means that Exodus gives a bit less flexibility and has more stringent requirements, you do get to choose how you stake. The platform offers two options; delegating your ADA tokens to a staking pool or running a pool yourself. The former has an APR of 3.07% while the latter attracts a 4.37% APR.
Pros
:
Ability to run a staking pool if interested
High APR rate if up to 4.37%
Cons
:
No choice in how much you stake
20-day approval period
| | | |
| --- | --- | --- |
| Interest Rate | Lock-Up Period | Payout Frequency |
| 3.07% to 4.37% | 5 days minimum | Every 5 days |
6. Coinbase – Leading Exchange with Simple Sign-Up, High Safety and User-Friendly Interface
If you were to opt for Coinbase Cardano staking, you might find the experience a bit mixed. On the one hand, the exchange promises up to 2% APY, which is lower than most of its competitors.
On the other hand, Coinbase has significantly simplified the process of staking with Cardano. As long as you already have an account with the exchange and have ADA in your wallet, you can initiate staking.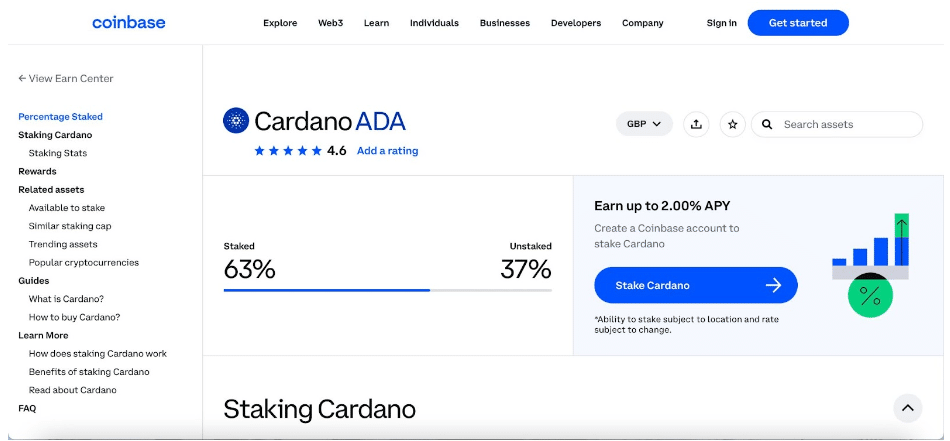 Coinbase Cardano staking is not 'locked' which means you don't have to commit your tokens for any amount of time and can withdraw them whenever you want.
Keep in mind that there is an initial holding period (usually around 20–25 days) before you can get your tokens. Once you pass, your Cardano staking rewards are automatically added to your wallet every 5-7 days.
Remarkably, Coinbase is very transparent with its users about how much staking takes place on the network. Its official ADA staking page shows how much of the Cardano in the market is being staked and how much of it is unstaked, as well as changes in APR over the last 30 days.
Pros
:
Automatically adds rewards to your wallet without you doing anything
Easily-available information on ADA staking statistics
Transparency about APR changes over 30 days
No need to lock tokens to receive rewards
Cons
:
Lower APR of 2% compared to others on the list
20 to 25-day holding period
| | | |
| --- | --- | --- |
| Interest Rate | Lock-Up Period | Payout Frequency |
| 2% | 20 to 25 days | Every 5 to 7 days |
What is Cardano Staking?
Cardano staking is a way to earn passive rewards on Cardano's native token, ADA. ADA, like all cryptos, is based on its own unique blockchain network (Cardano, in this case). Every blockchain processes transactions, which include funds being sent, information being stored, and much more. Every time a transaction takes place across a blockchain network, it needs to be validated.
Blockchain validation means that it is confirmed to have been accurate and recorded on the distributed ledger. This process is carried out by things called nodes. These nodes are the backbone of the blockchain industry because no transactions are confirmed without them.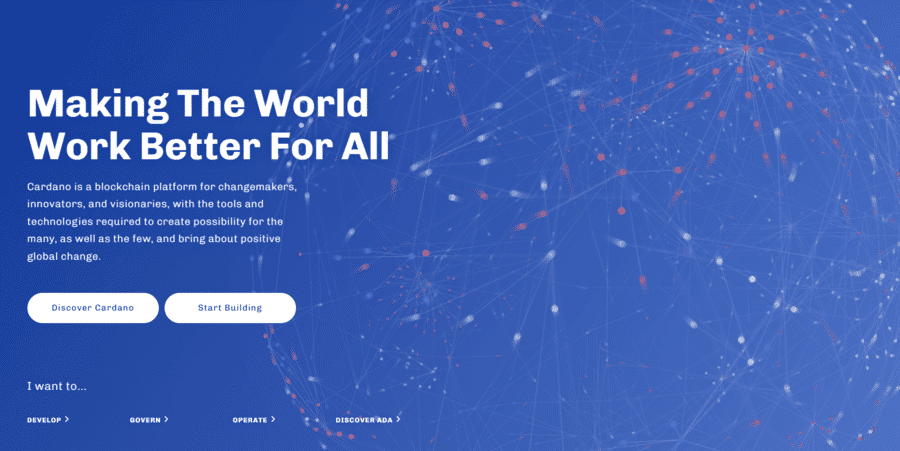 When these transactions are validated, they are done by the nodes in batches or blocks and then linked together (which is how the term 'blockchain' is derived). Now, make no mistake, the process of validating transactions, especially on heavy-traffic blockchains, is very energy and labor-intensive. Someone has to do it, but who? Well, this is where staking comes in.
Several blockchain protocols exist including proof-of-work and proof-of-stake. In a proof-of-work protocol like Bitcoin, network users volunteer their computer systems to run nodes and in return, they get tokens.
In a proof-of-stake consensus, users volunteer not their computers but their tokens. This is because the nodes can only validate transactions as long as they have tokens attached to them. As such, users need to volunteer their tokens to be staked to a particular node, and in return, they receive tokens.
The confirmation in question is done by an entity called a validator. This is a person who assumes responsibility for a staking pool and validates transactions. Their role is very important because they take on a lot of risk. If they validate a fraudulent transaction, for example, they will be penalized by the blockchain and could lose all their investment.
They also do a lot of the 'grunt work' of actually confirming transactions while other members of the pool support them with their tokens. Once a block of transactions is confirmed, the Cardano blockchain releases ADA tokens as rewards.
The validator gets a bigger share (because they bear more risk and responsibility) and the others are rewarded according to how many tokens they staked. The idea is that those with the most skin in the game get the most reward.
Unlike with proof-of-work, they don't need to buy special equipment or run a complex protocol to get this done. Instead, they just need to commit their tokens for a certain amount of time and once the block rewards are released, they get a cut proportional to how much they staked.
How Does Staking Cardano Work?
Staking Cardano is based on an intricate process. First, there is the crypto user who holds a certain amount of Cardano. They decide to stake their tokens which can be done one of two ways. If they have the technical knowledge, they can start and operate their own Cardano staking pool. In this case, other ADA holders will stake their tokens in their pool as well and begin validating transactions.
Now, a staking pool, as the name implies, is when several different blockchain users combine their computing power and their tokens. These pools are run by a person called the staking operator and they handle the day-to-day operations of the pool and its validating activities. The reason why staking pools exist is that you need quite a large number of tokens, computing power, and technical know-how to become a validator.
Once you are approved as a validator, you can begin processing transactions that take place on the Cardano blockchain. Once you have validated a complete block of transactions, you will receive your block rewards. As a validator, you get a higher percentage of the rewards and the rest is divided among everyone who staked their tokens to your pool.
But like we've said, this requires a certain amount of technical knowledge and can be quite time-consuming.
An easier option would be to sign up to a platform like eToro that handles all the complex tasks. Once they deposit or buy their ADA tokens on the platform, they can stake them for the APR set by the platform. Doing this will require them to stipulate how many tokens they want to stake and for how long. The amount of tokens they stake and how long they stake for directly impacts how much interest they will receive.
Platforms like eToro and Binance have their own staking pools that they handle the management of and the pool is made up of customers' funds. Once they receive block rewards, they divide them among customers according to how much each customer staked and sometimes take a fee for themselves.
Once the period elapses and they choose to withdraw their tokens, they will be given both their initial amount of ADA and their ADA staking rewards.
Benefits of Staking Cardano
Cardano staking is very popular in the industry. But is it worth it? Short answer; yes.
Staking Cardano comes with a plethora of benefits for those involved, some of which are as follows:
Control Over Your Assets
One of the biggest risks that you take when you make a crypto investment is having to hand over your tokens to the platform or project you invest in. There is the constant concern of whether or not you will get your money back.
But when you stake ADA, you can retain more control of your funds. This is especially true if you opt for a platform like Binance or the Exodus wallet that lets you hold on to your assets even as you earn interest on them.
For anyone who prioritizes retaining ownership and control over their assets, stalking can offer immense benefits.
A Variety of Staking Options
One of the good things about staking is that there is more than one way to do it. While signing up on a platform like eToro or Binance and choosing what token you want to stake is easier, it is not your only option.
Another way to stake is by doing so directly from a self-custodial wallet like Daedalus. This will require you to download the wallet application onto your device and then search through the delegation list. After finding a pool you're interested in, you can stake your tokens to it and share in their rewards.
Alternatively, you can create your own staking pool and be at the forefront of staking operations. All in all, there are several ways to stake ADA and this variety means that you can choose whichever option you find most appealing. And if you opt for the best Cardano staking platform, you can even access all these options from a single platform.
Minimal Effort and Low Costs
One of the biggest benefits of staking with a platform or joining a Cardano staking pool is that it requires minimal effort and cost on your part. Usually, to make money from cryptocurrency, you would have to trade tokens or mine them.
Trading would involve buying and selling tokens, monitoring the market, and so on. Even then, there is no guarantee of market conditions being favorable enough to yield a profit.
If you opt for mining, you would have to buy and run your mining rig for a long period and constantly monitor the hardware to make sure everything runs smoothly. Mining a single token, for example, can set you back up to $20,000, and this is besides the effort it will take to run your equipment.
But with Staking, all you have to do is buy your tokens and commit them for a certain period. No daily work is needed on your end and it is possibly the simplest way to earn a profit from crypto.
Low Risks
Another benefit of ADA staking is that it carries relatively low risk compared to other forms of crypto investments. When you trade cryptos or invest your money in a new token, there is the chance that it will lose all its value and your principal will be gone. But because staking simply involves you collecting interest, there is a much lower risk (especially if you are not running the nodes yourself).
Some of the best Cardano staking platforms like Binance give a guarantee that your principal will be given back to you no matter what. Honestly, the only risk you take on with staking is a change in your token's value during the staking period, which is a risk all crypto users take.
Staking ADA is also low risk because you know off the bat roughly how much you will be getting from your investment. If you were trading ADA speculatively, you wouldn't know from the start if you would make a profit and how much it would be. But when you stake, you know that you will get something in return and roughly how much it will be.
There is also less of a chance of asset theft. A common concern that crypto users have is that their tokens will be stolen or that they will invest in a shady scheme that will steal their money. But when you stake with a reputable platform, your principal is held by your service provider and secured. This is doubly so if your provider is insured or has a principal guarantee like Binance does.
Potential for High Rewards and Positive ROIs
While staking Cardano might be low risk, Cardano staking rewards can be very high. This all depends on the site that you opt for but some offer APYs that are higher than what you'll find elsewhere. eToro, for example, offers up to a 90% reward percentage of the monthly ADA staking yield for its top members.
This, combined with the low risk, means that ADA staking can be a very good source of passive income. This is especially true if you are a HODLer and plan to hold on to your crypto long-term. Rather than simply sitting in your wallet for months or years, your ADA can earn you a good return.
Community Participation
While the main focus of ADA staking is making money via interest, it is still a community-building effort. After all, the tokens that are staked are used to support nodes, which are the backbone of any blockchain.
Put it this way, if people were not staking their ADA, the nodes would not be able to run effectively. And the nodes need to work properly for transactions to be validated on time.
No staking means that transactions would be validated very slowly or would not be validated at all. The transaction speed that Cardano is well-known for would essentially become a thing of the past without staking. And without it, Cardano as a project would become obsolete in no time.
By staking your ADA tokens, you are making sure that transactions on the Cardano blockchain can be validated and this keeps the network alive. You might be making money but you are also actively participating to support the crypto community.
Is Cardano Staking Worth it?
Staking ADA in 2023 is worth it for several reasons. Let's explore why staking Cardano is so popular right now:
For anyone who has ADA tokens in their portfolio, staking can be a good way to get a near-guaranteed return on your investment. This is especially true if you are risk-averse or just want some low-risk investments to balance out your current portfolio.

Staking Cardano can get you up to 3% interest per year depending on what program you opt for and on what platform. This means some level of predictability for your crypto investment.
If you opt for a more flexible program like the one that KuCoin offers, you can easily take out your tokens if you want to trade them and still get some return.
Also, keep in mind that the underlying Cardano blockchain is a very promising one as it is one of the two 'Ethereum Killers' in the market. As the chart from DeFiLlama above shows, the project is a top 15 chain based on TVL – Total Value Locked, the value of the dApps built on it – with around $165 million worth built on it. Their use cases mean that the tokens will probably continue to be used for years to come and will benefit from bull runs.
If a bull run does happen, you have not only your initial investment appreciating in value but your Cardano staking rewards as well.
But how does Cardano compare to other ways of making money from crypto? First, let's consider crypto lending, which is another popular way to earn money from your ADA by loaning it out to other people. Binance, for example, offers up to 3.52% annual interest for your ADA.
While this is in the same range as what you get from staking, it carries more risk. Binance explains that drops in crypto prices could lead your assets into liquidation, smart contracts can be exploited, and notes that lending crypto is a bit risky.
Another point of comparison is liquidity farming, which involves lending your cryptos to a liquidity pool for interest. These liquidity pools hold two different tokens and you can contribute to one or both. On Binance, for example, there are five different ADA pairs and these offer you a way to earn yield.
Total yield varies from 1% to 2.42% per annum, which is generally lower than what you would make from staking ADA. On top of this, there is the risk of portions within the pool losing some of their value due to market fluctuations. This is referred to as impermanent loss.
As you can see, staking ADA is very much worth it because it offers similar or higher annual interest rates compared to other investment schemes and carries much less risk.
How to Stake Cardano
eToro has become a top destination for those who want to stake Cardano thanks to its favorable APYs and sleek user interface. Want to start staking ADA on eToro? Here's how to do it:
Step 1: Sign up to a Staking Platform
Naturally, you will need an eToro account to get started and this is straightforward. Log onto the eToro site and click on 'log in' or 'sign up' depending on your membership. If you have an account, enter your email and password, and if you don't follow the steps to open an account.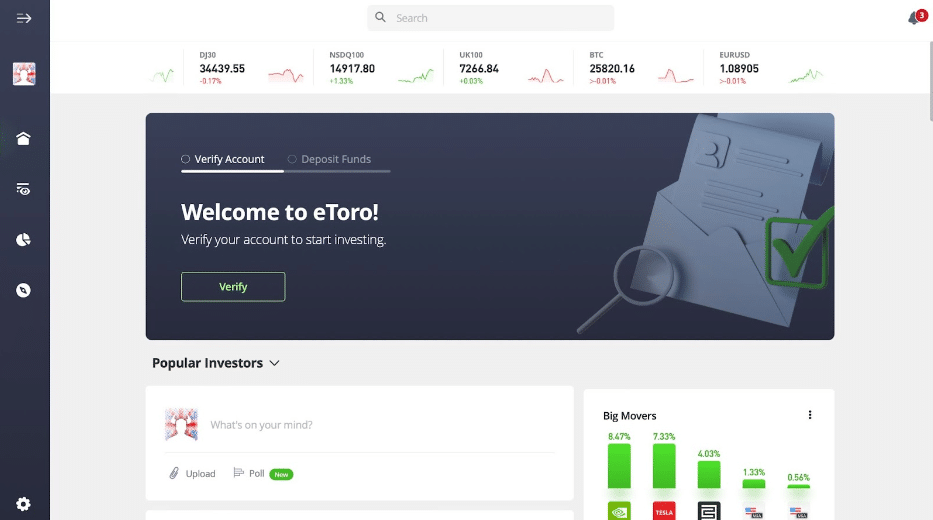 eToro has a section called 'Crypto Staking' available on its drop-down menu. Click on it and when you scroll down to its staking rewards table, click on ADA. You will then be taken to your portfolio where you can see your current stock of ADA.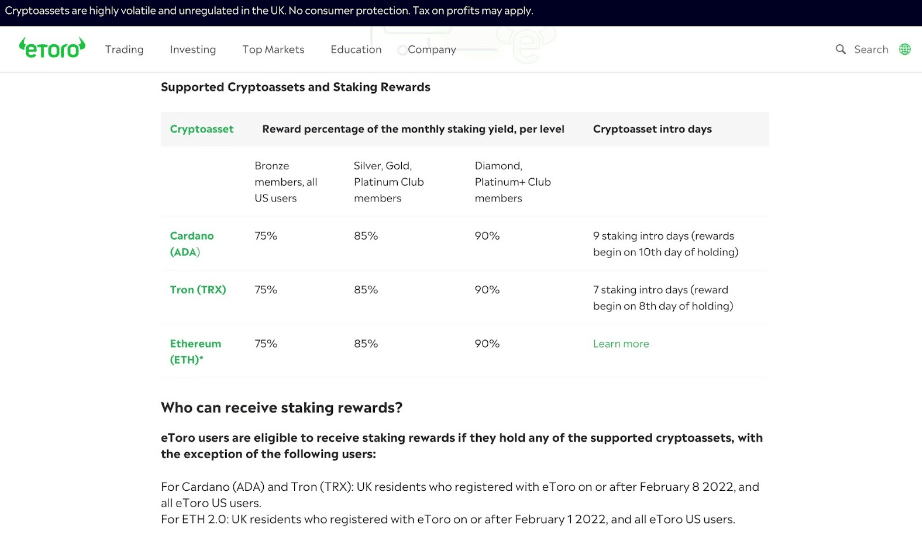 Step 3: Deposit/Buy ADA
If you don't yet have any tokens for ADA staking, you'll have to get your hands on some. You can buy directly from the site using bank transfers, debit or credit cards, or e-wallets.
If you have ADA in another wallet, you can initiate a transfer from there to your eToro wallet. Either way, you'll need to have ADA tokens to hand.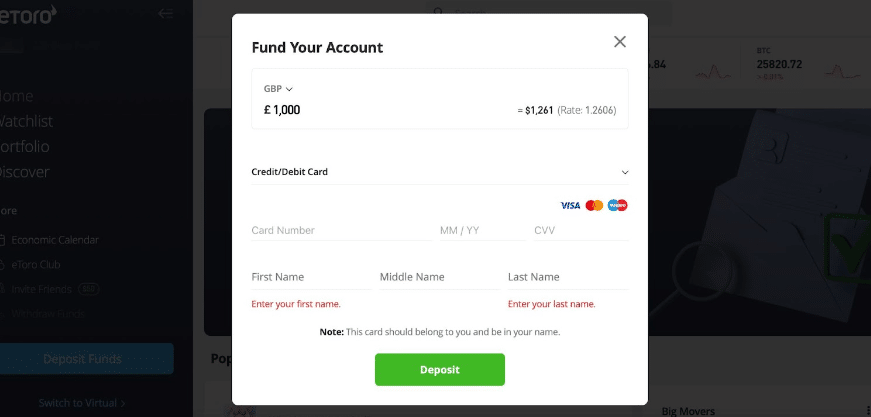 Step 4: Start Staking
After your wallet has been funded, navigate to your portfolio page and tap on ADA. Then, click on the 'stake' option which will redirect you to a new page.
On this page, you will see the option to start staking, including the APY you can access based on your membership.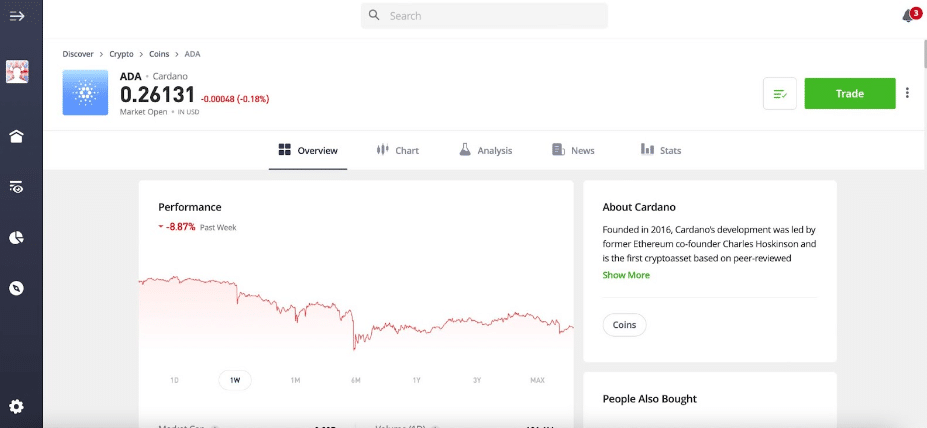 You will also need to enter the amount you wish to stake and tick a few boxes to accept the terms and conditions.
Once staking has been initiated, you can visit your portfolio to see how much you have earned so far and can withdraw your tokens whenever you need them.
Do You Pay Tax on Cardano Staking?
When you're making all these ADA staking rewards, it's normal to wonder what to do about taxes. After all, nobody wants to end up on the wrong side of the law.
That being said, do you pay tax on Cardano staking? This, like all questions regarding tax, ultimately depends on where you are a tax resident. At the same time, several countries have guidelines in place regarding staking tax.
The UK, for example, recognizes that staking rewards might end up taxable based on income or capital gains. This depends on whether or not you trade them.
If you stake ADA, for example, and simply hold on to your ADA token rewards, then you will need to pay income tax on them. If you trade them for another crypto or fiat cash, you would need to pay capital gains tax.
The IRS in the United States has similar requirements in place and while you must always check with your national tax body and/or a tax specialist before making a decision, this should be the same where you live.
The rule of thumb is that individuals have to pay either income tax or capital gain tax on Cardano staking depending on if they trade them or not.
Is Cardano Staking Safe?
As much as Cardano staking is considered a low-risk investment choice, it is still worth looking into whether or not it is safe. Cardano has long been a top 10 crypto based on its market cap, although its performance since the end of the 2021 bull run has been poor, with ADA currently more than 90% down from its all-time high of $2.92. With such a record some staking enthusiasts are asking should I buy Cardano in 2023?
The truth is that most of the risks involved can be mitigated based on how you approach staking. Firstly, there is the risk of losing your principal. The only way that can happen is if your account on your staking platform is lost or if the platform itself goes under. But if you make sure your login details are kept secure, the former is addressed.

As for the latter, several platforms like Binance and eToro are either insured or give a guarantee of the return of your principal, even if the ADA staking rewards are lost somehow.
Another possible risk is having your tokens locked up during major market movements and not being able to take advantage of them. This issue is solved by opting for a flexible staking option like what Binance does. Other platforms like Coinbase don't lock up the assets at all so you can get them out if you need to.
If you are concerned that the opposite will happen to the token you are staking might lose a lot of its value over time, you should keep a few things in mind. First, just like with positive market movements, you can take your tokens out of staking to avoid loss if you opt for a flexible staking option or one with no lock-up period.
There is also the risk of a bad action taking place while you run your Cardano staking pool such as being offline when a block is assigned. But this is mostly mitigated by not running a staking pool yourself if you don't have the expertise and opting for a reputable platform instead.
Another risk you have to consider when staking is signing a faulty smart contract. Staking often involves signing a smart contract and some of them might be unintentionally faulty or could have loopholes from a scam platform. This could lead to users losing their money and is a major concern when staking.
The best way to mitigate this is to only stake with reputable platforms that have a good reputation in the industry. While newer platforms can be reputable, more experienced and licensed ones like eToro are generally a better option.
Finally, you might run some additional risks if you take on the role of a blockchain validator. This is because the position of a validator comes with a lot of responsibilities. As such, most of the risks a blockchain validator would face have to do with taking the most appropriate actions and validating transactions correctly.
If a fraudulent transaction is approved by a validator, for example, they will be fined by the blockchain. And if a validator is found to have been engaging in harmful behavior, they will be slashed i.e. punished by the blockchain. These lead to a loss of time, effort, and money.
The way that this can be avoided is by not taking on the role of a validator if you are not qualified. If you are qualified, you have to make sure to familiarize yourself with the network's rules and adhere to them.
Many people find it easier to simply join a Cardano staking pool and have someone else be the validator. But even with this, the actions of the validator will have an impact on everyone else in the pool. If they are fined or removed as a validator, you as a staker will be affected as well.
As such, you need to make sure that the validator that represents your pool is experienced and qualified. This is, again, why many people would rather stake through a platform like eToro. This is because these platforms can handle the backend issues regarding staking pools and make sure that operations run smoothly.
In essence, Cardano staking has some risks attached but most can be managed or avoided by ADA users.
Conclusion
Staking is a relatively low-effort and low-risk compared to other forms of crypto investment and can be a great source of passive income. In this article, we've covered the best ADA staking platforms, the benefits of ADA staking, how to go about staking ADA, taxes, and much more.
While eToro is our top choice for Cardano staking, investors should also consider Wall Street Memes, which is our overall best staking platform even though it doesn't offer ADA staking.
The meme coin project is currently on presale and is offering the potential for huge growth in the future, with its presale having already raised more than $25 million based on its one million-plus social media following, name recognition in Web3 and proven track record of its developers.
Wall Street Memes is also offering generous staking rewards, with a current estimated APY of 80%. Potential investors have only a couple of weeks to secure presale tokens ahead of its scheduled IEO at the end of September.
References
FAQs
Is Cardano worth staking?
How much can you make staking Cardano?
Is Cardano staking profitable?
What are the best Cardano staking platforms?