Only when you fully enter the world of cryptocurrencies do you realize all the possibilities of making profits. It's not just about trading Bitcoin, Ethereum, and other coins. You can go for presales, stake crypto, lend your assets, mine coins, and more. Above everything else, joining crypto affiliate programs is one of the easiest ways to earn passive income.
In this piece, we cover the best crypto affiliate programs that offer high commissions, feature simple terms, and boast great online reputations. We'll also tell you how these programs work, their benefits, what you can earn from them, and how to pick the right one for your needs.
Top Crypto Affiliate Programs With the Highest Payouts
Affiliate marketing is a multibillion-dollar industry. According to Kinsta, its estimated global worth is around $17 billion. Considering it was only worth approximately $13 billion in 2016, it's growing at a rapid pace.
As such, even crypto affiliate marketing is highly lucrative in the right hands. Our experts have scoured the web to find the best crypto affiliate program offering the highest commissions. As is usually the case, it's hard to settle for one, so we have a list of ten high-quality programs you'll want to consider.
Here's a quick overview of their standout features:
Eightcap

— Our pick for the

best crypto affiliate program

. It's one of the leading CFD trading platforms offering an affiliate program called Eightcap Partners that covers over 100 crypto derivatives. It's integrated with TradingView and MetaTrader4 and provides up to 50% commissions. The platform operates in more than 120 countries.

Binance

— As the Amazon of crypto exchanges in terms of popularity, Binance's affiliate program offers good prospects. Commissions go as high as 50% and are already set at 40% when you join the program. Monthly bonus campaigns can earn you up to 72,000 USDT from your referrals' fees.

Coinbase

— The popular US-based exchange runs an affiliate program with 50% referral commissions for the initial three months. It offers convenient payments to your bank account or PayPal and provides easy campaign tracking with performance data, campaign testing tools, and customizable reports.

ByBit

— One of the fastest-growing crypto exchanges offers a unique affiliate deal with a robust portal to track campaigns, successes, earnings, and more. You get a dedicated account manager, daily payments, invitations to networking events, and up to 50% in commissions, with 10% extra on referrals who become affiliates themselves.

Paxful

— This peer-to-peer trading platform focuses on Bitcoin and offers one of the best BTC affiliate programs. You get 50% of escrow fees when your referrals buy BTC and 10% when they invite someone who does the same. You can track your earnings through a dashboard and get paid once you reach $10.

Coinmama

— Coinmama allows anyone to become an affiliate through its program with lifetime earnings on any referral. Commissions go up to 30% on any purchase your friends make, and you get paid in different currencies. Coinmama is available in 188 countries, providing affiliates with global coverage.

Bitsgap

— Bitsgap offers a crypto affiliate program with commission rates of up to 30%. It has a sound cookie system that tracks everyone using your link for the next 30 days, which ensures they are always identified as your referral. Referrals get a free 7-day trial of the PRO plan, and you get payments in USDT.

Changelly

— An exchange known for its high rates, Changelly offers an affiliate scheme with the RevShare earning program for regular users and the CPI, CPA, and HYBRID programs for marketers and other specialists. The first offers up to 50% commissions, and the latter are more customized.

Trezor

— If you're looking for a hardware wallet with an affiliate program, Trezor is the best choice. You get 12%–15% off every successful referral who makes a purchase. Trezor pays out its affiliates monthly in either BTC or EUR and offers written copies, video clips, and banners you can use to promote the wallet.

Paybis

— As one of the best options for UK citizens, Paybis pays up to 20% in commissions from all of your referrals' purchases on the site. It has no upper limit, and you're paid for as long as your referrals are active. FinCEN regulates Paybis, and the platform operates in over 180 countries, including 48 US states.
What Is a Crypto Affiliate Program?
Crypto affiliate programs are a form of affiliate marketing where you get to promote crypto-related services and earn commissions for the people you refer. Affiliate marketing has long been a tried and proven method for businesses to attract new customers. Over the years, this type of marketing has moved to the crypto world, where it also remains successful.
Naturally, a crypto affiliate program is mainly beneficial for the business running it, allowing it to leverage the marketing skills of others to attract new users. However, this relationship is beneficial for the affiliate, too, as they get a portion of the earnings. They usually come in the form of commissions that go as high as 50% (half of what the program operator is getting).
Due to its crypto nature, the rewards here are much bigger than with affiliate programs in other niches.
Affiliates are not required to participate in the platform, only to encourage others to use it. The program will reward them for their effort, so if you're a good marketer, you can easily create a steady revenue stream.
How Does Crypto Affiliate Marketing Work?
Crypto affiliate marketing and corresponding programs operate fairly simply, at least from the affiliate's perspective.
You first need to apply to the program. Once accepted, you're typically offered a unique referral link and a dashboard to track the endeavor, but this part is optional.
The goal is to invite people to join the crypto platform running the program and use its services. For instance, in the case of Eightcap Partners, you're asking people to use its CFD trading services.
Naturally, you need to use the link provided so the platform recognizes that the users are coming from you. You get a predetermined commission based on the rules set out in the program.
In the case of Eightcap, your referrals need to start trading for you in order to earn commissions. Since rates on Eightcap go as high as 50%, you can earn a lot from every active referral.
Most crypto affiliate programs work in a similar way, and you only need to worry about how to attract people to use the platform. It is possible to use various methods, from messaging friends and promoting the platform's services on social media to running blogs and creating videos with affiliate links.
Best Crypto Affiliate Programs Reviewed
You've seen our top 10 picks and learned the basics of crypto affiliate programs.
The next step is to read the programs' reviews in full to gain a deeper understanding of what each one offers. Let's start with our number one pick and move down the list.
1. Eightcap — Globally Reputable CFD Trading Platform With an Affiliate Program Covering Up to 50% Commissions
Eightcap is a globally reputable CFD trading platform founded in 2009. It's regulated in two Tier-4, three Tier-3, and three Tier-1 jurisdictions, including the UK's FCA, Australian Securities & Investment Commission, and EU's MiFID.
It's not a crypto exchange, and crypto trading is only available through Contracts for Difference (CFDs), a derivative product that lets you speculate on the price of an asset instead of owning it directly. The platform features around 200 crypto CFDs and almost 800 CFDs in general, as well as 40+ forex pairs.
Eightcap also offers some of the best cryptocurrency affiliate programs out there — Eightcap Partners, where commissions go as high as 50%. The platform works in over 125 countries, allowing affiliate partners to promote it worldwide.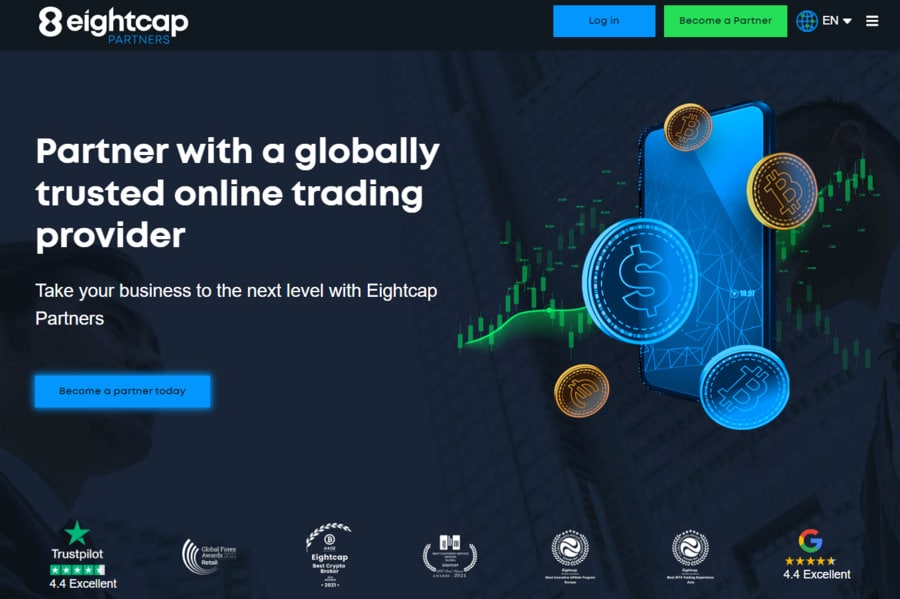 Aside from boasting some of the highest commission rates on the market, it also provides a standard commission model that offers $6 per lot together with revenue share. The platform claims to have a 40% conversion, meaning almost half of its users are satisfied. This further means that many of your referrals will stay with Eightcap, providing you with a steady passive income stream.
Also, Eightcap claims that its partners have made over $9 million from commissions in 2022, which is an impressive sum. Their affiliate software is Cellxpert, a solution used by over 200 global brands, including AstroPay, MuchBetter, Exinity, and Fiverr. The payout threshold is set at $100, which could be lower.
You can use various marketing tools and reports to lead more successful promotional campaigns. Moreover, Eightcap Partners has no set-up costs and features an easy onboarding procedure. It also has enough tools to help you connect with new potential users. Lastly, it's worth noting that this is also one of the best forex affiliate programs.
2. Binance — World's Biggest Exchange Offering Base Commissions of 40% and Monthly Bonuses Up to 72,000 USDT
Binance is the global superpower in the world of cryptocurrency and one of the best beginner crypto exchanges.
Looking at the daily trading volumes, covered markets, and weekly visits on CoinMarketCap, it's clear that Binance is the unprecedented winner. Therefore, any form of affiliate program it runs is bound to benefit marketers and individuals looking to make a sizable passive income stream.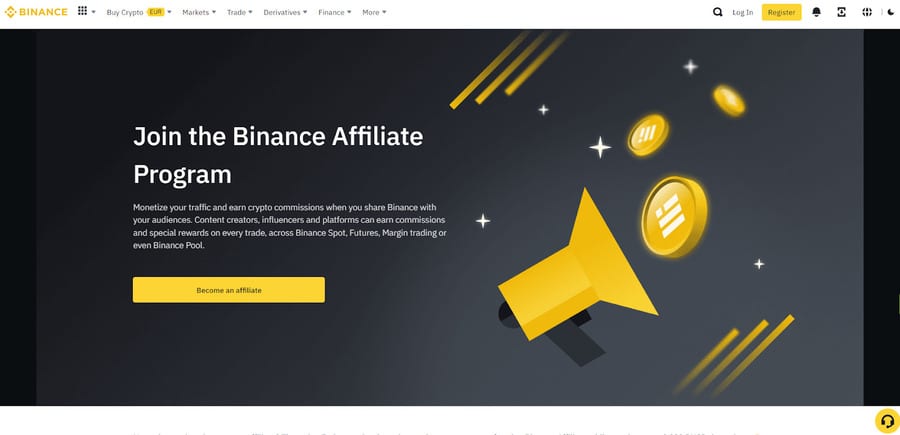 However, that doesn't mean Binance cuts any corners. Its affiliate scheme is simple and awards commissions as high as 50%, placing it at the very top when looking at affiliate rewards. Moreover, you start at a 40% base referral bonus for futures trading and 41% for spot trading the moment you join the program.
The commission rate on spot trading goes to 50% once you get over 500 referred traders. The only caveat is that once a referral reaches VIP 3, it stops counting towards this number, and you no longer earn commissions.
It is one of the lower levels of Binance's VIP program, reached once your 30-day trading volume surpasses 20 million BUSD for spot trades or 100 million BUSD for futures trades and your BNB balance goes above 250.
Moreover, Binance runs a monthly bonus campaign from which you can earn up to 72,000 USDT depending on the fees your referrals have paid. The only downside is that there are requirements to join the program. For example, individuals must have over 5,000 followers on one or all of their social media platforms.
3. Coinbase — US-Based Exchange With 50% Commission Rates for the First 3 Months and Payments to PayPal and Bank Account
Coinbase is one of the biggest crypto platforms in the world, often placed right behind Binance in terms of trading volume and number of users. Due to this popularity, it's typically easier to recommend it to potential referrals than other less-known crypto platforms.
However, Coinbase's offerings don't stop at typical exchange-related services. It can also be used for payments, institutional services, asset listings, and more, making it ideal for businesses as well. Developers can use Coinbase for staking, blockchain data, and APIs.
The exchange even received the right to offer crypto futures trading in the US, a big regulatory win for the company and a boost to its popularity and usefulness.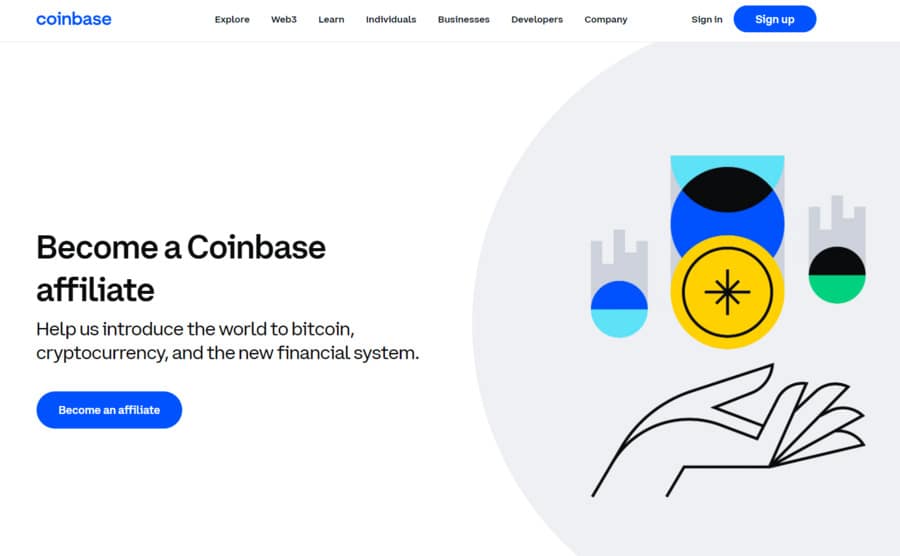 Coinbase is the best cryptocurrency affiliate program for many, even beginners. It offers 50% commission rates on your referrals' trading fees for the initial three months of their time on the platform. After that, the rate will drop, but the platform doesn't have a limit to the number of referrals you can have.
More than that, Coinbase offers convenient payments as it compensates you in your own currency and sends the funds straight to your bank account or PayPal if you prefer.
The exchange also ensures you can run entire affiliate campaigns by offering detailed campaign tracking functionalities that include performance data, campaign testing with landing page tools, and the ability to create over 20 customizable performance reports.
4. ByBit — Fast-Growing Exchange With a Dedicated Affiliate Portal, Account Manager, and Extra Commissions for Referral Affiliates
ByBit is a popular crypto exchange with one of the fastest growth rates recently. It's also a relative newcomer, having been founded in 2018 in Dubai, UAE.
It offers a simple yet effective affiliate program. As with most, you need to share links and attract new users to the ByBit exchange. However, it strives to stay competitive by providing a dedicated affiliate portal that makes running campaigns and tracking earnings easier. It even allows you to access novel products.
If you ever encounter problems with the platform, you can contact your dedicated account manager because ByBit provides a 1:1 account service for every affiliate.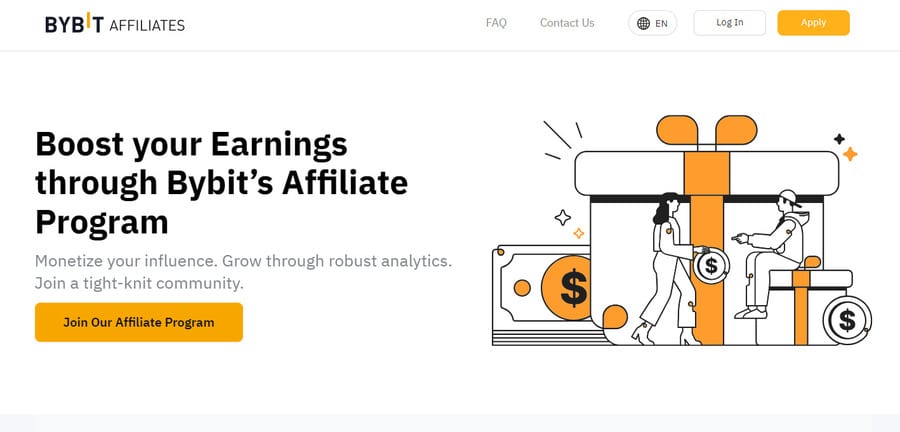 ByBit's program lets you earn up to 50% in commissions on all referred users utilizing the platform's spot, option, and futures trading services. Most programs offer this, but ByBit takes it a step further by giving an extra 10% on all referrals who become affiliates themselves.
As an affiliate, you'll also benefit from timely payments processed and sent daily and occasional invitations to affiliate and crypto networking events worldwide.
5. Paxful — Great Bitcoin Affiliate Program Allowing You to Earn 50% of Escrow Fees and Receive Payment Once You Reach $10
Paxful is a known peer-to-peer player in the crypto exchange market, but it's even more famous for focusing heavily on Bitcoin. It lets you sell and buy BTC in over 350 ways using standard payment methods, other crypto, and even gift cards, goods, and services. It's one of the best P2P crypto exchanges on the market due to its ease of finding a Bitcoin buyer or seller using various filters.
Like most crypto platforms, it runs a rewarding and simple affiliate program that pays you in BTC whenever your referrals buy the king of crypto. You get 50% of escrow fees when your affiliates buy BTC and 10% when their own referrals buy BTC through Paxful.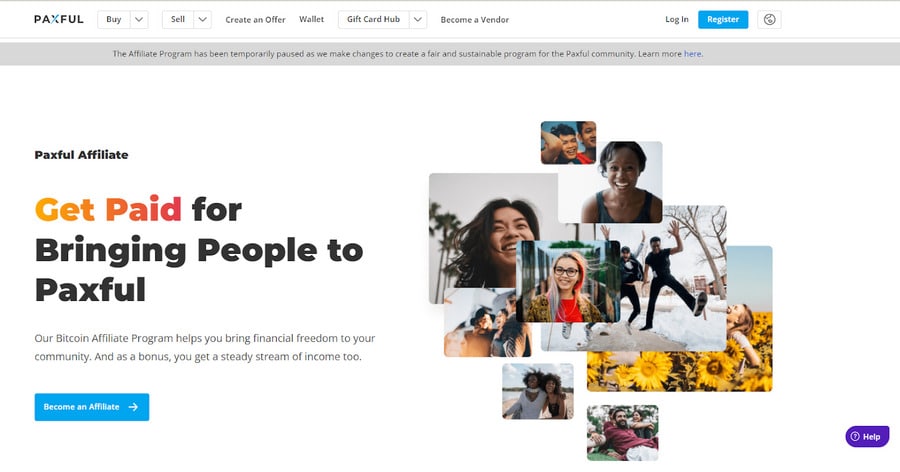 The company does cryptocurrency affiliate marketing right, letting you cash out anytime as long as you've earned $10 or more from your referrals. However, bear in mind that they are first sent to your Paxful wallet, from where you can cash out.
Even though it's P2P, it still respects KYC procedures, and you're required to verify your identity and address as soon as you've earned more than $300 worth of Bitcoin.
Paxful allows you to look for referrals through socials and plenty of other places, with few rules that mainly involve legal compliance. The site is global — most of its users are from the US, while the fastest-growing markets are South America, Asia, and Africa, so keep that in mind when developing affiliate campaigns.
6. Coinmama — Affiliate Program Open to All and Offering Lifetime Earnings
The product of a Canadian fintech company, Wellfield Technologies, Coinmama is a crypto exchange offering its services in 188 countries, effectively covering the entire world. This self-styled friendly crypto exchange offers a program that allows anyone to become an affiliate just by registering.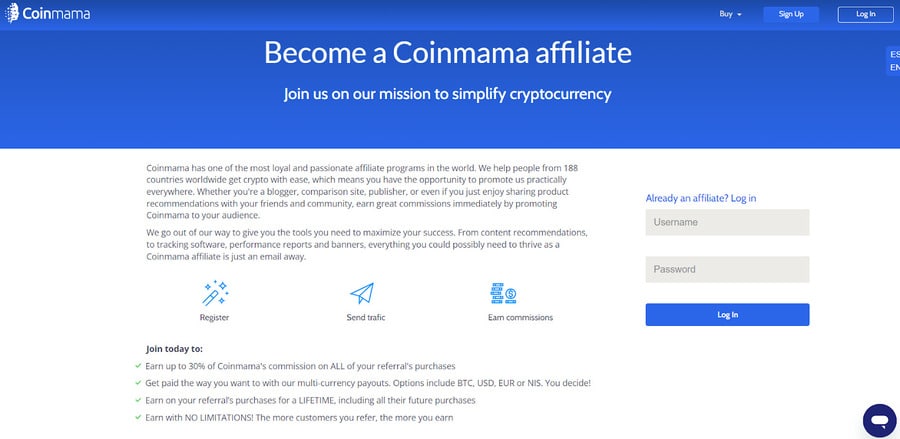 There are no limitations, and you can earn up to 30% in commissions on every purchase your referrals make. However, the important thing here is that these earnings can potentially be lifetime, limited to how long your referral is active.
Coinmama itself doesn't place any restrictions in this regard, making the lower commission rate potentially more rewarding. This is one of the main reasons we added it to our list of the best crypto affiliate programs.
Coinmama also offers multicurrency payouts, including both crypto and fiat. The payments come through once a month, and you need at least three orders from three referrals to start receiving them, which is the only downside to an otherwise compelling program.
Bitsgap runs a simple yet efficient affiliate program for crypto users. It pays affiliates in USDT and has over 2,000 satisfied partners just by signing up for the program and getting their affiliate link.
The scheme promises rewards of up to 30% of all purchases your referrals make on Bitsgap. You're not required to start trading to be a part of the program — you only need to share your link with your friends or wider audience.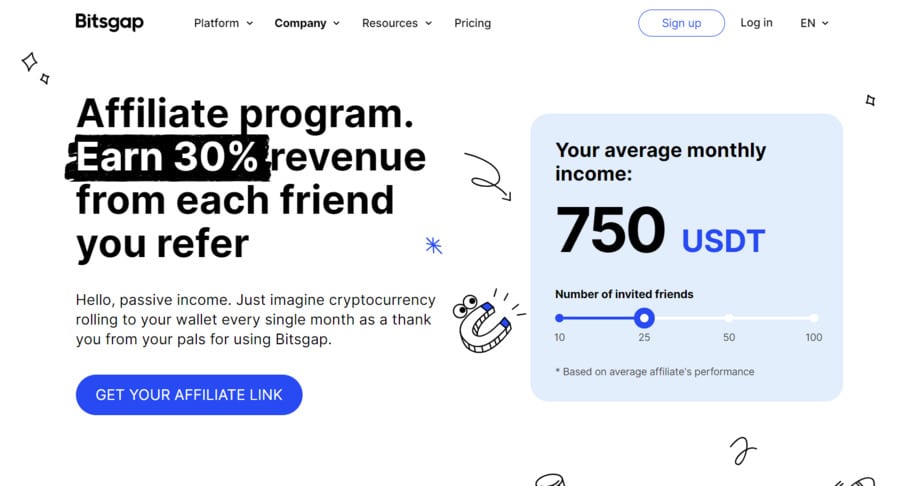 Bitsgap offers a unique cookie feature that ensures all of your referrals get adequately noted, even if they return to register without using your link. In essence, the first time they visit the site with your link, the system registers and tags them as yours. The lifetime of this cookie is 30 days, so within that time, it's almost impossible for your referral not to be registered as such.
The program also awards your referrals with a 7-day free trial of the PRO plan, inciting them to continue using Bitsgap. As for your payments, they are calculated in euros, but you're still paid in USDT, based on the current exchange rate. The minimum payout is €25.
8. Changelly — Crypto Exchange With Different Affiliate Programs for Private Users and Professionals
Changelly is a non-custodial crypto exchange used by more than 3 million people. It's been rated highly ever since it was founded in 2015. Moreover, it offers high market rates that are even better in the dedicated app, which also has exclusive discounts. The platform is also known for partnering with various crypto wallets, including Ledger, one of the best Android wallets for Bitcoin users.
Changelly's affiliate network is pretty unique in its niche, as you can choose between different programs. The basic one is RevShare, made for individuals, social media influencers, bloggers, and others. It allows you to earn up to 50% in commissions on all referrals who are making purchases and using the platform.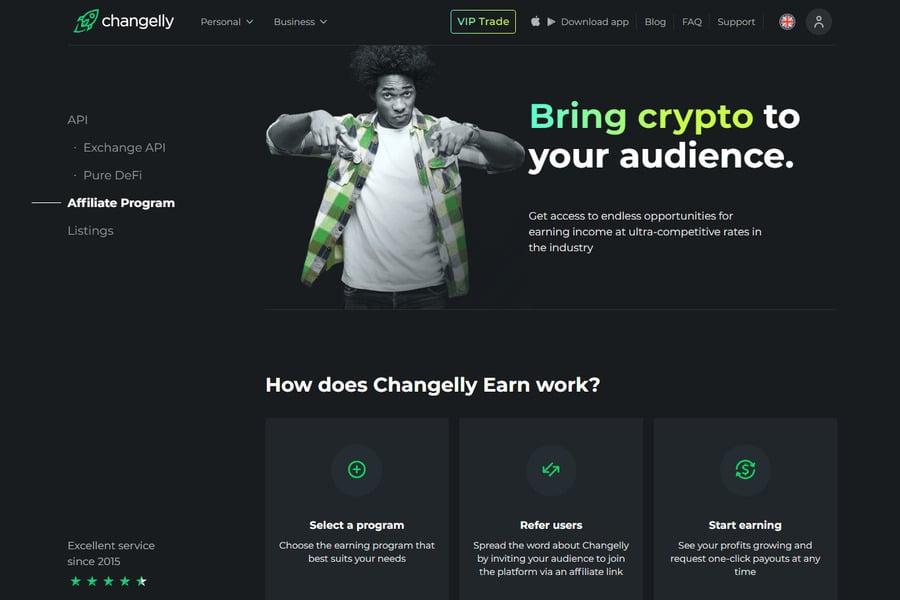 More than that, you get paid on demand, not per schedule. The minimum amount you can receive from Changelly is $30, and the payment is in USDT.
Other than that, you can opt for crypto affiliate CPA, CPI, and HYBRID programs tailored to PPC and SEO specialists, marketers, and webmasters. These programs don't have specific numbers, are more customized, and include dedicated affiliate managers to assist you.
9. Trezor — Best Hardware Wallet With a Partners Program Where You Earn 12%–15% From Every Referred Sale
Trezor is a unique choice because it's a hardware wallet, not a crypto exchange or broker. In other words, as an affiliate, you don't earn standard commission from the fees your referrals pay but from the sales. Every time a person you refer buys a Trezor hardware wallet, you get between 12% and 15%.
The percentages are calculated based on the net sale amount, not counting shipping costs and VAT.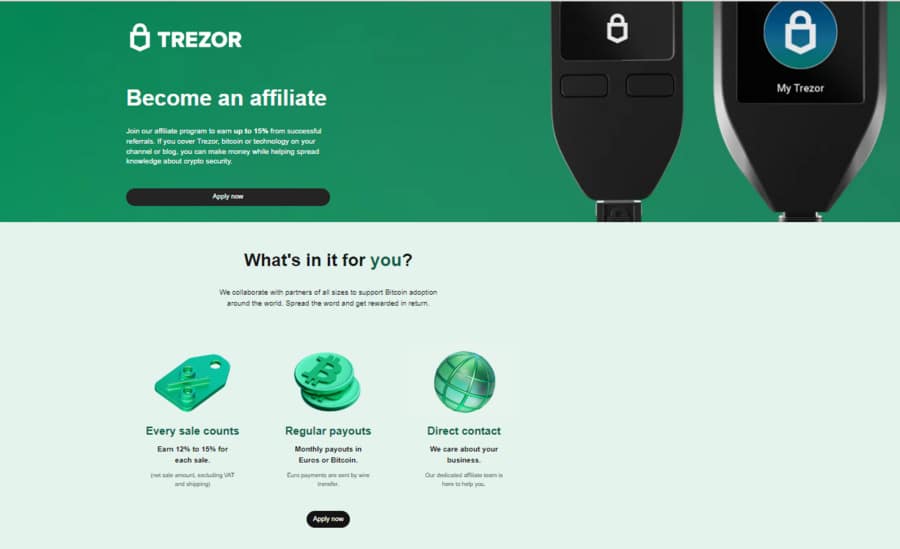 Bear in mind that Trezor only has two wallets — Trezor Model T, which costs $219, and Trezor Model One, priced at $69. Trezor, together with Ledger, is the most popular choice on the crypto hardware wallet market, so you're likely to make sales if you're good at promoting, especially when you consider that Trezor has over a million customers.
Compared to Ledger's 10%, Trezor pays more through its program, as it offers 12%–15%.
The program doesn't pay per sale but monthly, and you can receive payments in euros through wire transfer or in Bitcoin to your wallet.
A great thing about this partner program is that you can easily track your earnings and performance with a dedicated dashboard. Furthermore, Trezor has a range of promotional materials you can use.
10. Paybis — Great Option for UK Citizens With Lifetime Payments and Commissions up to 20%
Paybis is an international crypto-exchange with low commissions and 24/7 support. It operates in more than 180 countries and 48 US states, making it ideal for affiliates with global audiences.
The platform's program pays 20% in commissions charged on every purchase your referral makes. You're paid on all purchases for as long as the referral is active, and Paybis doesn't have an upper limit to how much you can earn, which is great considering its lower commissions.
Bear in mind that larger partners and enterprises can discuss larger commissions with Paybis. As long as your following is substantial, you can strike a deal with the exchange.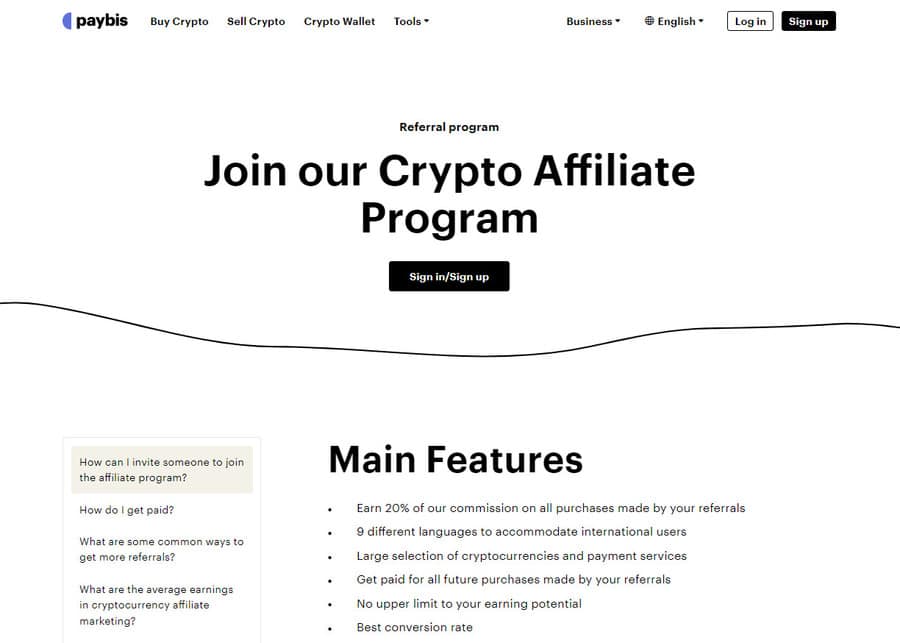 Paybis pays affiliates through bank transfers in fiat or through Bitcoin if you want to earn in crypto. Payments are monthly, and you need to reach a $50 minimum threshold. The system also allows you to create automated invoices to receive funds automatically.
You get to generate reports and gain insights from various analytics on the site. If anything is unclear, Paybis provides a dedicated account manager you can reach out to at all times.
Are Crypto Exchange Affiliate Programs Worth It?
It's quite challenging to determine whether a crypto affiliate program is worth your time. The good thing about it is that it is only time-consuming and doesn't affect your budget. All affiliate programs are free unless you decide to spend money on a campaign.
Naturally, you can decide to promote a crypto platform by sharing links, writing blogs, creating videos, and employing other techniques that don't cost money.
Bear in mind that crypto affiliate programs can be very rewarding for any influencer, marketer, YouTuber, social media personality, or any other person with a significant following. You'll have an easier time reaching a wider audience, which will lead to more referrals.
In case you are still on the fence about joining an affiliate program, we have a few benefits that will help you make a decision:
Potentially unlimited passive income stream

— You get paid for every referral you bring to the platform and every time they make a purchase. As most programs pay commissions per purchase, there is effectively no limit to how much you can earn from the program.

Visibility and exposure

— Every affiliate program requires attracting new customers to the platform. This will inevitably lead you to have wider audiences, so you'll even be able to market your own services or products.

Building relationships

— Finding referrals for the crypto platform can also lead to establishing fruitful relationships. Naturally, the benefits come in various forms and depend entirely on the unique connections you'll make.
How Much Can You Earn From Crypto Affiliate Marketing?
Unfortunately, this question doesn't have a definitive answer in terms of numbers. In contrast, the amounts you can earn are effectively limitless. It all depends on how successful you are at attracting active users to the crypto platform.
Whenever a referral makes a trade, you'll earn a commission from the fees they pay; at least, that's how the majority of crypto affiliate programs work.
This means that every trade will likely earn you a very small amount — your total earnings per day or month will depend entirely on the number of referrals you have and their activity level. The more you have, and the more they trade, the more you'll earn.
Given that cryptocurrencies are highly volatile, your earnings can potentially be much higher if the market's doing well. Conversely, they can also be lower if we are in a bear market. The goal is to sell your crypto commission earnings when the prices are high so you can earn the most from your referrals.
All of this can translate to as little as a few dollars per month to several thousand, leading to a passive income stream that is potentially more rewarding than your actual job.
How to Pick the Best Crypto Affiliate Program for You
Choosing the right crypto affiliate program depends on several important factors. The whole process boils down to comparing these and choosing an option that checks the most boxes. Let's explore these features in more detail.
Commission Rates
Commissions are the most important part of every affiliate program, and they tend to be as low as 10% and as high as 50%. For instance, our top pick, Eightcap, offers 50%, while Coinmama's limit is 30%.
Commission Terms
The size of the commission is not all that matters. You need to look at what they are charged and whether the site has some other stipulations. For example, on Binance, you get 50% only when you've referred over 500 traders, while Coinbase awards 50% only for the first three months.
Also, some platforms tend to offer lower commission rates but allow you to earn as long as the referral is active. Therefore, it's sometimes better to get lower rates if you'll be paid long-term.
Reputation
It's great when a platform pays a lot in commissions, but that means little if it's not a legitimate and reputable crypto business. You should always go for programs run by trustworthy companies like the ones recommended here.
Payments
It's important to see how the program pays, which payment options it uses, and whether it pays in crypto or fiat, or preferably both, so you have options. Most programs also have certain thresholds you need to pass, and they pay at certain intervals, so you need to see if that works for you.
Conclusion
The best crypto affiliate programs offer you the chance to make great passive income streams just by promoting the platform's services online. Commissions are typically calculated on the fees your referrals pay when trading crypto and often go as high as 50%.
We've prepared a detailed list of the top programs on the market, so you only need to choose the one you like the most. If you're unsure, you can always go for our top pick, Eightcap.
It's a strong CFD trading platform that provides 50% commissions and has a 40% conversion, meaning that you're likely to find a significant number of referrals with good promotional tactics.
References
https://bitcoinist.com/what-are-cryptocurrency-affiliate-programs-and-how-do-they-work/
https://www.businessofapps.com/affiliate/crypto/
https://kinsta.com/affiliate-academy/affiliate-marketing-statistics/
https://www.reuters.com/markets/us/coinbase-gets-approval-allow-crypto-futures-trading-us-2023-08-16/
https://coinmarketcap.com/rankings/exchanges/
https://moneysmart.gov.au/investment-warnings/contracts-for-difference-cfds
https://www.rasmussen.edu/degrees/business/blog/what-is-affiliate-marketing/
FAQs
Is crypto good for affiliate marketing?
How much do crypto affiliates make?
How do I become a crypto affiliate?
How much does Coinbase pay affiliates?
What is the best crypto affiliate program?