With Bitcoin up 76% since the start of the year, many trading veterans believe 2023 marks the start of a new crypto bull run. As such, interested investors will need to know the best crypto apps to onboard the market while it's hot.
This review will introduce you to the 8 best crypto apps for beginners to start investing and trading in 2023. We will analyze the best crypto trading apps across all relevant metrics, including their trading options, fees, and unique features.
The Top 8 Best Crypto Trading Apps Ranked:
Here is a brief look at our rankings for the best apps for trading cryptocurrency right now.
eToro – Crypto and stock investment firm with over 3000 trading options. Our pick for the overall best crypto app in 2023.
OKX – Hybrid centralized and decentralized crypto exchange offering a user-friendly crypto app
Binance – The world's largest crypto exchange by trading volume.
Coinbase – America's largest regulated exchange and publicly traded crypto company.
Crypto.com – A highly popular crypto trading and staking app. Great for buying crypto with a debit card.
Kraken – Trusted and safe exchange with lightning network integration. Features thorough proof of reserves audit system.
Gemini – Crypto exchange and custodian founded by the Winklevoss twins. FDIC insured and regulated by the NYDFS.
Huobi – Publicly listed crypto exchange in Hong Kong. Boasts a user protection insurance fund and trading API.
Reviewing the Best Cryptocurrency Apps
Let's dig into what each of the best crypto apps have to offer, and what sets them apart from their competition. In general, the top crypto apps and exchanges will feature be legally compliant, uncostly, and feature an interface that anyone can easily navigate.
1. eToro – The Best Crypto App for Beginners
We believe eToro is the best crypto app right now thanks to its compliant platform, user-friendly interface, and plethora of high quality trading options.
eToro offers over 3000 investment options including commission free stocks, currencies, ETFs, commodities, and crypto assets. Available cryptos range from some of the best cryptocurrency tokens like Bitcoin (BTC), Ethereum (ETH), and Dogecoin (DOGE) to niche assets such as 1INCH, IOTA (MIOTA) and The Sandbox (SAND), amounting to 79 options in total.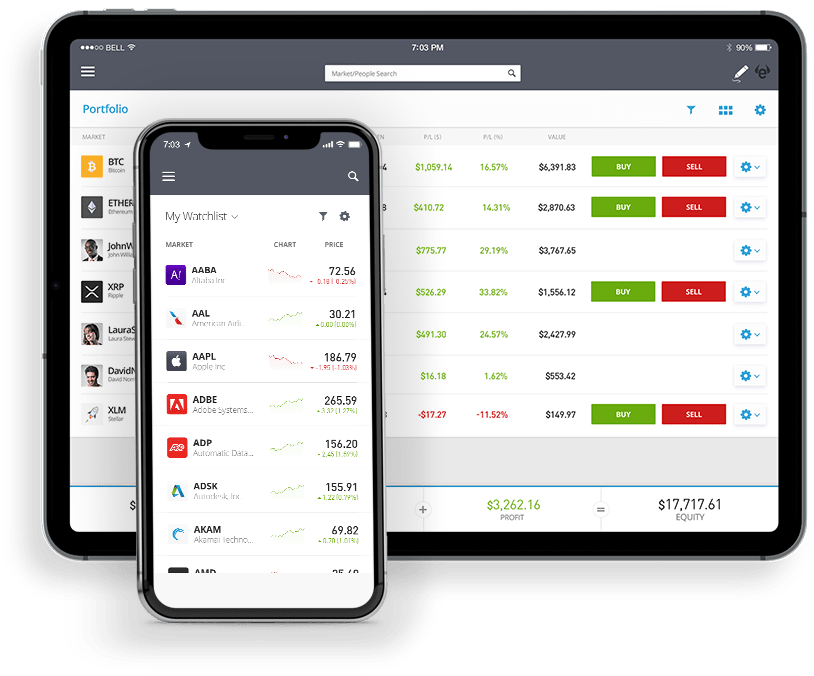 eToro charges fees on crypto purchases equal to 1% of the size of the purchase. For example, someone purchasing $1000 worth of Bitcoin would pay $10 in fees when opening and closing a trade.
This fee is reflected in the listed price of the crypto asset, however – so crypto prices on the app simply appear 1% higher than they actually are. In other words, if Bitcoin's actual price is $30,000, its display price on the app would be $30,300.
While crypto fees may surpass other platforms, eToro's US clients benefit from fee-free credit/debit and e-wallet deposits and withdrawals on the platform. Trades for non-crypto assets, including stocks and ETFs, are commission free. Altogether, this makes eToro one of the best crypto exchanges for anyone with a portfolio across multiple asset classes looking for a single convenient place to trade.
The Israel-based financial company also benefits from top-tier regulation, overseen by both the Securities and Exchange Commission (SEC) and the Financial Industry Regulatory Authority (FINRA) in the United States. It's also regulated by the Financial Conduct Authority (FCA) in the United Kingdom, and the Australian Securities and Investments Commission (ASIC).
eToro's mobile app is designed to be beginner friendly, avoiding any unnecessary or confusing investment language. It includes tabs for viewing your portfolio, discovering new assets, and a watchlist letting you keep an eye on all of the markets you choose to follow.
The app further benefits new investors by allowing them to easily copy the trading movements of other successful investors. To do this, simply select "copy people" from the app's homepage, filter traders by their activity and stats, then select "copy once you've found the right one.
Finally, eToro provides a social trading experience. Each asset on the platform includes a dedicated "feed" displaying relevant posts to that asset that fellow customers make. You can choose to like and reply to those posts, and to view overall market sentiment around a particular asset.
Pros
3,000+ investable assets
Flat 1% fee for crypto purchases
Outstanding mobile interface
Copy trading supported
Social feed and investor sentiment
Regulated by multiple Tier 1 authorities
Cons
Limited technical analysis tools for day trading crypto
| | |
| --- | --- |
| Number of Cryptocurrencies | 79 |
| Fee Structure | Crypto = 1%, Stock/ETFs = 0% + Spread |
| Bitcoin Trading Fee | 1% |
| Top 3 Features | Commission free stock and ETF trading, Social Trading, Copy Trading |
Cryptoassets are a highly volatile unregulated investment product.
2. OKX – The Low Fee CEX/DEX Hybrid
OKX is one of the world's largest and most trusted cryptocurrency exchanges, offering a stellar combination of low fees, trading options, and trading pairs.
The platform is most noteworthy for offering both a centralized and decentralized exchange. The latter doesn't require any Know Your Customer (KYC) verification to access, making it a worthy choice for privacy minded investors. It also lets users retain sole ownership of their private keys when trading, ensuring they are immune to losing their funds in case OKX's centralized exchange wallet is compromised.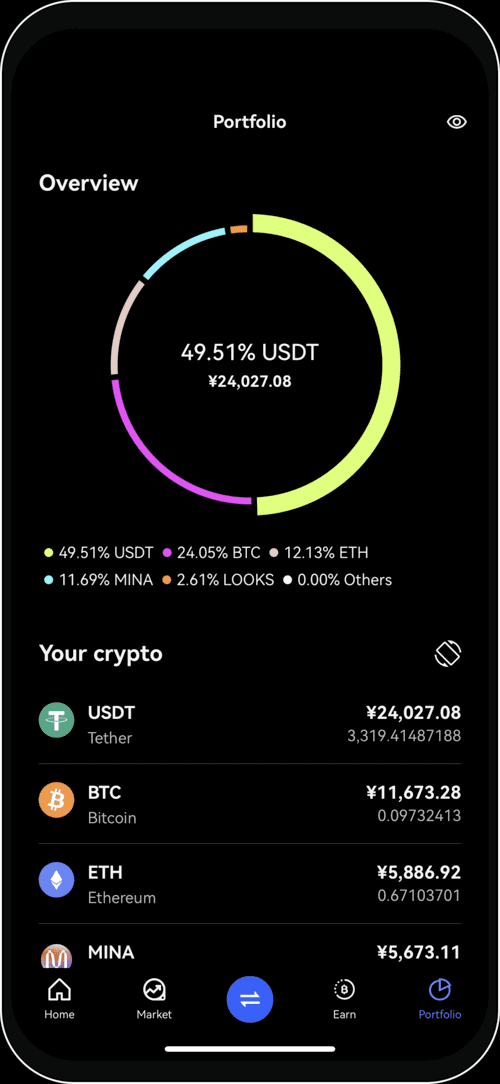 Over 350 cryptocurrencies are tradeable on OKX, including Bitcoin, Ethereum, Cardano, and a range of fan tokens such as Manchester City Fan Token, Chiliz and Galatasaray Fan Token. This is a great platform to discover the top emerging cryptocurrencies.
A range of features are available to investors on the platform, including staking with proof of stake cryptos, trading with customizable trading bots, and borrowing using cryptocurrency as collateral. A variety of trading accounts are available, including funding, spot, futures, and mining accounts, among others.
From the OKX app, users can access spot and futures trading, view their balances, and receive price alerts for their favorite selected cryptocurrencies. It's simple interface makes trading a straightforward process, which has helped push the app above 1 million downloads.
OKX's trading fees may vary depending on how much OKB its users hold, which gives them access to cheaper on the platform. On spot trades, these fees start at a high of 0.08% for market makers, and 0.1% for market takers, making OKX one of the most competitive exchanges on trading fees.
Pros
No KYC information required
Trade 350+ crypto tokens
Supports staking rewards
Crypto futures trading available
Customizable trading bots
Cons
Not available to US customers
Number of Cryptocurrencies
350+
Fee Structure
Maker/ Taker Model

Spot Trading Fee: 0.080%/0.100%

Futures Fee (USDT-M Futures): 0.020%/0.50%

Options Trading Fee: 0.020%/0.030%

Bitcoin Trading Fee
BTC withdrawal fee: 0.0002 BTC ($6.06)
Top 3 Features
Decentralized exchange, staking, crypto collateralized loans
Cryptoassets are a highly volatile unregulated investment product.
3. Binance – The King of Crypto Exchanges
Binance is the largest and most popular cryptocurrency exchange worldwide. Data from CoinGecko shows that it handles over $10 billion in trading volume per day, and ranks #1 in terms of the legitimacy of said volume.
Binance lets users invest in over 600 cryptocurrencies, including its utility token BNB, which lets Binance users access lower fees on the platform. It's also home to some of the best penny crypto tokens.
While the exchange normally applies a maker/taker fee to spot transactions starting at 0.1% each, users may earn a 25% discount on fees by owning a certain number of BNB tokens. On Bitcoin/USDT transactions, trades are absolutely free, making it the best cryptocurrency app for bitcoin-specific trading.
Binance's feature-set is immense: besides spot and futures trading, users have access to leverage/margin trading, staking, and Swap Farming – letting users swap cryptocurrencies without needing a trading partner. It also offers copy trading for newer users, as well as an NFT marketplace.
Binance's mobile app is highly intuitive and comes with all of the features offered by its desktop app. It includes a lite mode for beginners that's more user-friendly, as well as an advanced app for seasoned traders that lets them access professional charts and trading tools.
Exchange users can deposit funds to the platform using VISA, MasterCard, Wire Transfers. SEPA Transfers (European-based countries), or ACH Transfers.
Pros
600+ crypto tokens available
Very low spot trading fees
Supports margin and futures trading
Copy trading
Built-in NFT marketplace
Cons
Can be overwhelming for new crypto users
Number of Cryptocurrencies
600+
Fee Structure
Spot Trading (BTC): 0.1%

USD-M Futures Trading: (USDT) 0.02%/0.04% – Maker/Taker

Bitcoin Trading Fee
BTC withdrawal fee: 0.0000054 BTC($0.16)
Top 3 Features
Swap Farming, Copy Trading, NFT Marketplace
Cryptoassets are a highly volatile unregulated investment product.
4. Coinbase – America's Leading Crypto Exchange
Coinbase is the first and only publicly listed cryptocurrency exchange in North America. The company is a leader in terms of regulatory compliance, features, and its beginner friendly interface and educational tools for onboarding new investors into crypto. In fact, the company's Coinbase Earn platform enables readers to earn free crypto for taking online courses to learn more about blockchain!
Its platform includes over 200 cryptocurrencies, from large caps like Bitcoin, Ethereum,and Dogecoin to top small cap coins like GMT. However, certain trading restrictions are placed on some tokens depending on where users are located. Notably, it does not include XRP.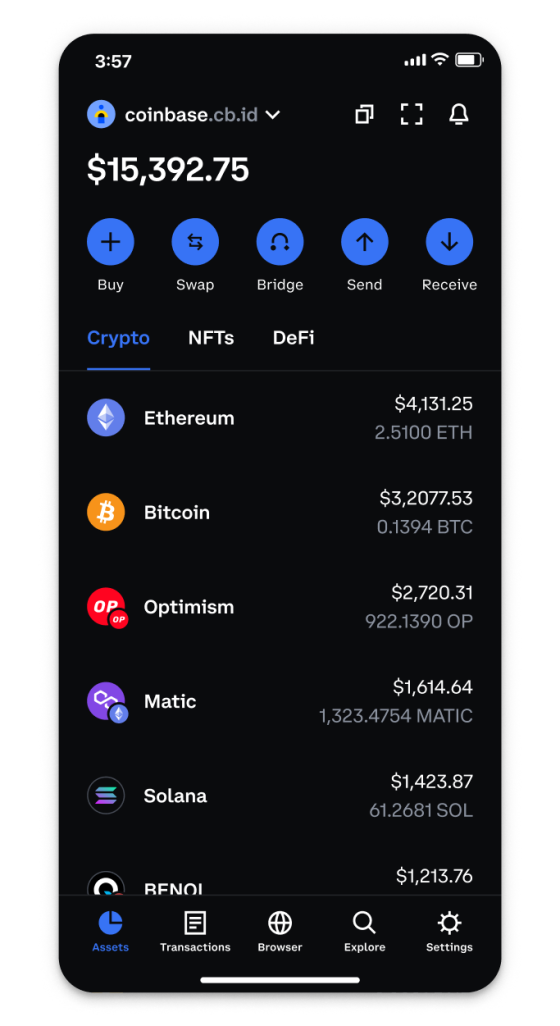 Coinbase's fees are volume dependent, with fees getting progressively lower as a user's volume rises. Maker and taker fees for the platform's lowest volume tier ($0-$10,000) are 0.25% / 0.4% respectively. NFT trading fees, however, are absolutely free.
Like Binance, Coinbase's app comes in two tiers: one for beginners, and one for advanced traders. Users of both can buy and sell crypto, observe the market, and view their portfolio, while its "Advance Trade" app lets users stake and borrow crypto. Both app tiers can access new Coinbase listings.
Coinbase benefits from being one of the only fully audited cryptocurrency exchanges, ensuring that all deposits users hold at the exchange are fully backed.
Pros
Publicly listed on US stock exchanges
Separate apps for buying and trading crypto
Free NFT trading
Earn crypto for taking educational courses
Cons
Higher than average spot trading fees
| | |
| --- | --- |
| Number of Cryptocurrencies | 200+ |
| Fee Structure | Transaction Fee + Spread |
| Bitcoin Trading Fee | 0.25% (maker) / 0.4% (taker), decreased with trading volume over $10,000 |
| Top 3 Features | Staking, NFT Trading, Coinbase Earn |
Cryptoassets are a highly volatile unregulated investment product.
5. Crypto.com – The Beginner's Crypto App
Alongside Coinbase, Crypto.com rose to the top ranks of the Apple App store and Google Play store during the 2021 crypto bull market. Its over 50 million users are largely attributable to its extensive advertising efforts, including a superbowl ad, a Matt Damon cameo, and newly bought naming rights to the 950,000 square foot Crypto.com arena in Los Angeles – formerly the Staples Centre.
The platform includes 250 cryptocurrencies for investors to trade, including popular newcomer picks like Bitcoin, Dogecoin, and Shiba Inu. It also features an NFT marketplace, and offers some of the best gaming coins like The Sandbox (SAND) and Axie Infinity (AXIE). Standard fees for crypto spot and margin trades start at 0.0750%, while NFT resales are charged a 1.99% fee.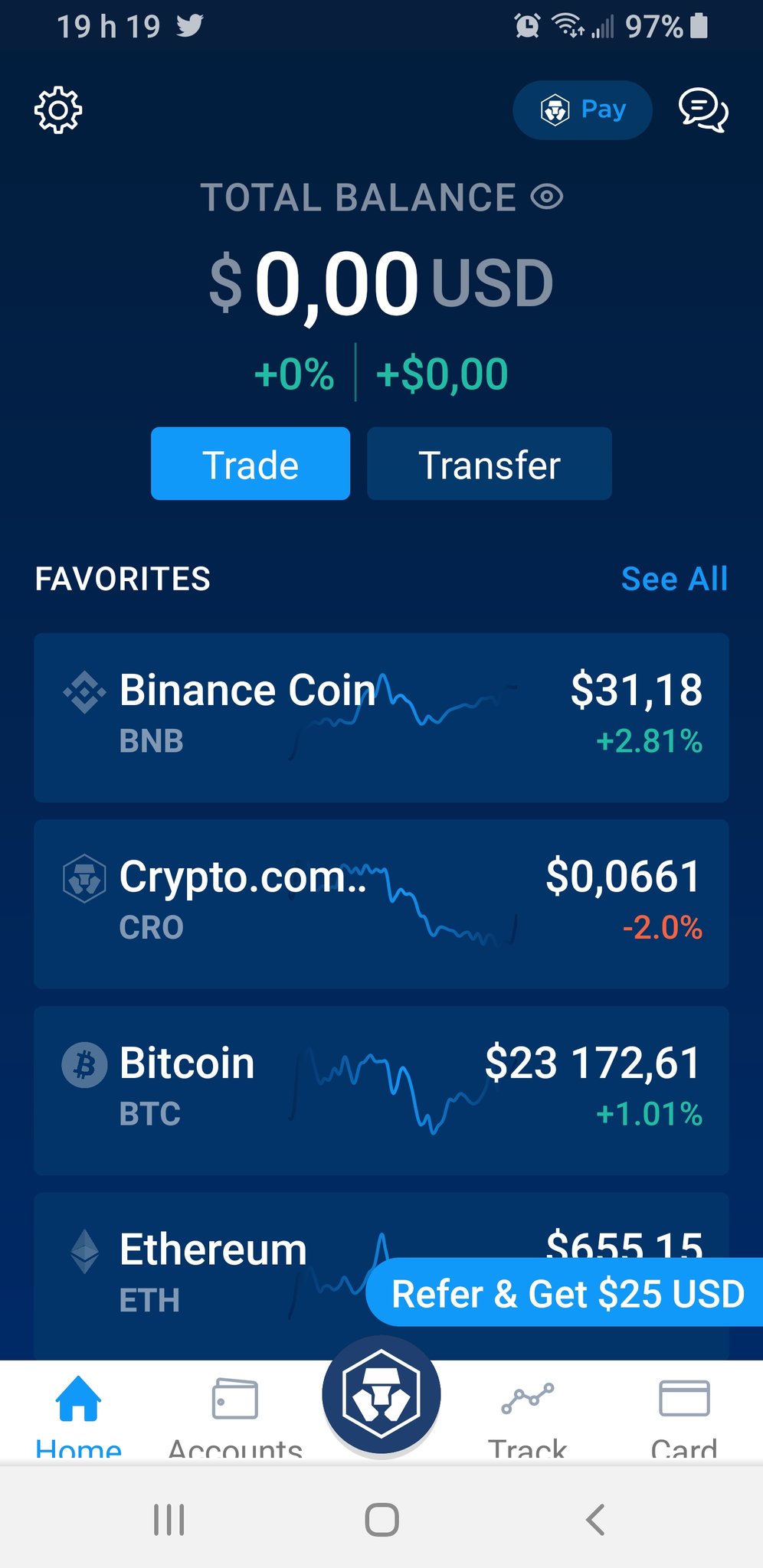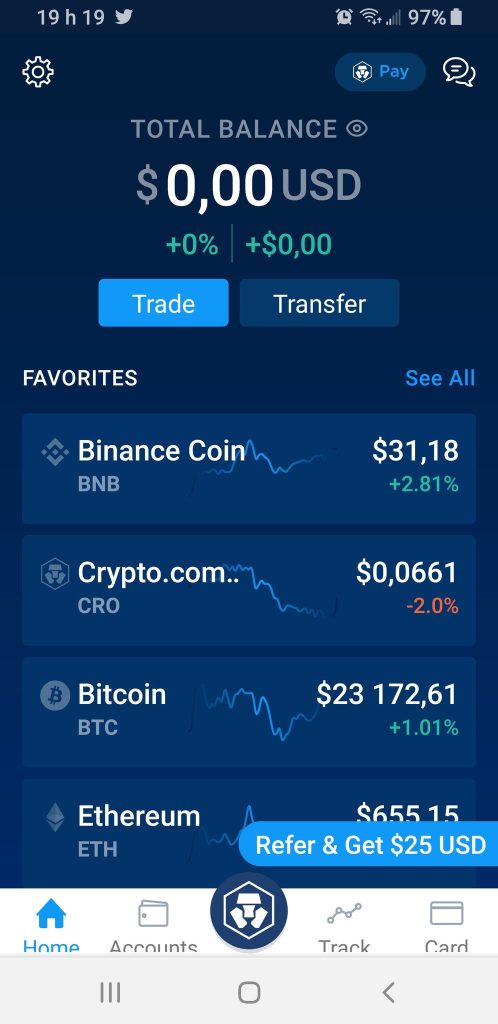 The Crypto.com app is easy to use, prompting users to either create or import a crypto wallet upon download. After choosing an avatar to represent them, you can immediately start trading – or access other features like staking or swapping directly from the navigation bar on the bottom of the screen.
Pros
250+ crypto tokens available
Low crypto spot trading fees
Built-in NFT marketplace
Integrated crypto wallet
Cons
High credit and debit card purchase fees
| | |
| --- | --- |
| Number of Cryptocurrencies | 250+ |
| Fee Structure | Maker / taker fee |
| Bitcoin Trading Fee | 0.075% (maker) / 0.075% (taker) |
| Top 3 Features | Staking, Swapping, NFT marketplace |
Cryptoassets are a highly volatile unregulated investment product.
6. Kraken – The Proof of Reserves Pioneer
Launched in Europe in 2013, Kraken is one of the world's most established cryptocurrency exchanges, now having expanded services to Canada and the United States. The exchange is a great choice for North Americans looking for a compliant platform with access to leverage trading products.
The firm currently offers up to 5x leverage on spot transactions. For example, that means you may purchase $5000 worth of BTC using just $1000 of USD collateral.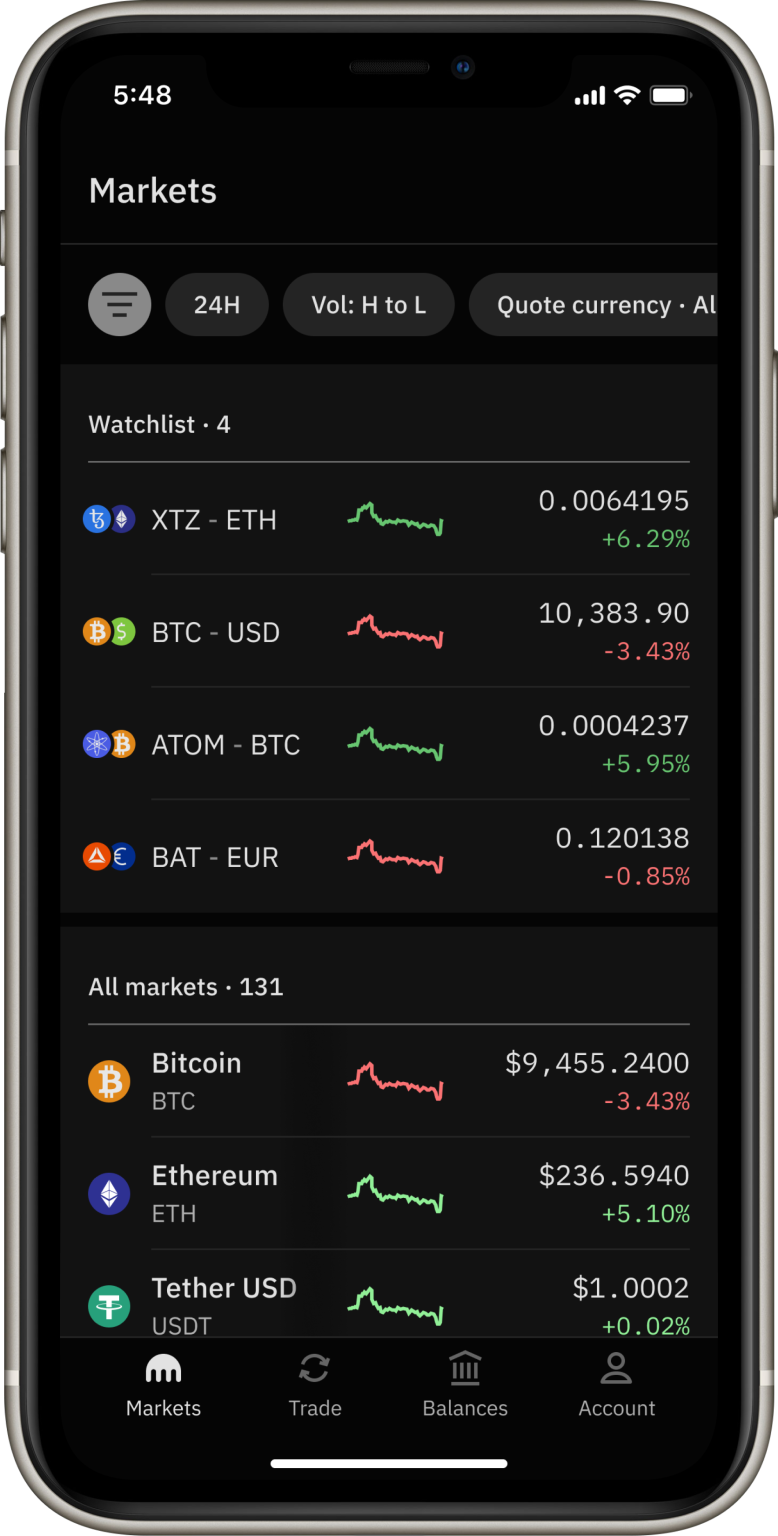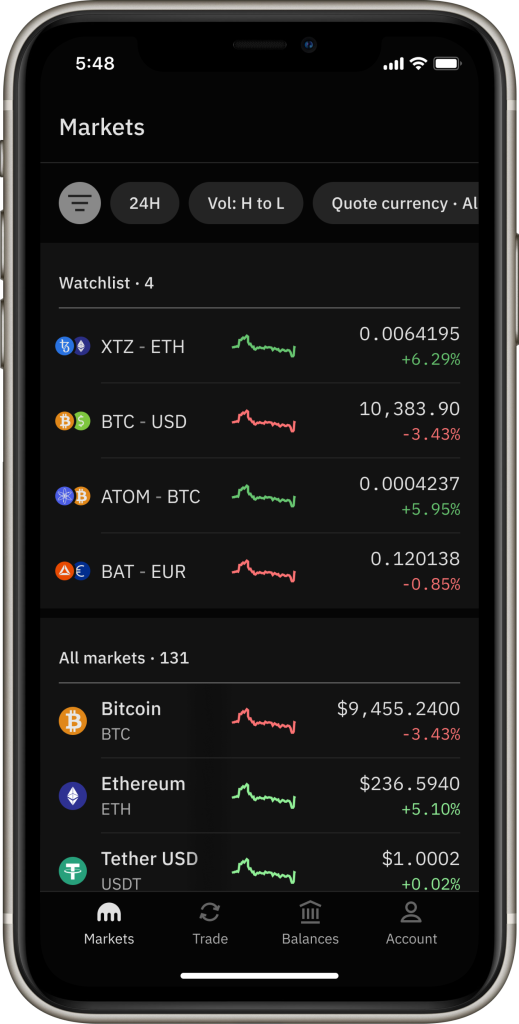 Kraken has a smaller selection of just 65 crypto available for trade on its platform, though that includes the most popular names like Bitcoin and Ethereum. It also offers trading on some of the best DeFi coins.
Notably, the exchange is compatible with popular layer-2 scaling solutions for each blockchain, namely the lightning network and Polygon respectively. Each allows users to conduct instant and virtually free withdrawals from the platform, skipping out on the often burdensome network fees of ordinary transfers.
The exchange offers 24/7 customer support, and a slew of educational materials to get newbies immersed with the space. It was also one of the first exchanges to popularize the proof of reserves audit system, using the transparency of blockchain to verify that all user assets are secured and untampered with at the exchange.
Pros
Instant and nearly free withdrawals
24/7 customer support
Offers proof of its reserves
Great educational resources
Cons
Limited selection of cryptocurrencies available
| | |
| --- | --- |
| Number of Cryptocurrencies | 65+ |
| Fee Structure | Maker / taker fee + spread |
| Bitcoin Trading Fee | 0.16% (maker) / 0.26% (taker) |
| Top 3 Features | Layer 2 withdrawals, leverage trading, NFT marketplace |
7. Gemini – The New York Regulated Exchange
Gemini is among the best cryptocurrency apps when it comes to security. Founded by Cameron and Tyler Winklevoss in 2014, this exchange / custodian is regulated by the New York Department of Financial Services, and includes FDIC insurance on USD deposits. It also features hot wallet insurance, meaning any crypto within its hot wallet that could be potentially lost is covered by the company.
Like Kraken, Gemini's list of tradable assets remains relatively small at just 100+, including Bitcoin, Ethereum, Dogecoin, and its unique stablecoin Gemini Dollar (GUSD). Its mobile app is welcoming to beginners and advanced traders alike, letting users buy and sell crypto while also accessing advanced charting tools.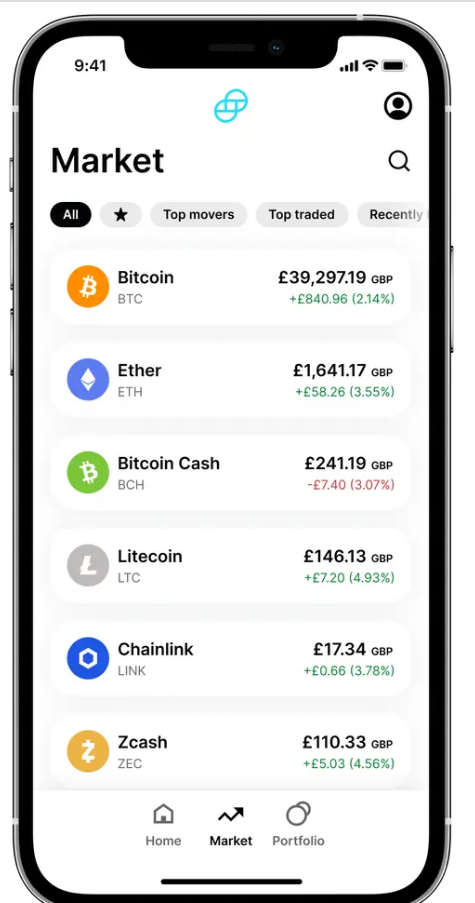 The exchange also includes a partnership with Flexa, allowing users to spend their cryptocurrency to buy actual products with participating retailers. Some of these retailers include Nordstrom, GameStop, Whole Foods, and Home Depot, where cryptos including GUSD, Bitcoin, Ethereum, and Bitcoin Cash are accepted.
Gemini's fees are a bit higher than other platforms, charging a flat fee depending on how much crypto users are trading. For amounts over $200, the fee is 1.49% of the transaction.
Pros
Marketplace to buy goods with crypto
Hot wallets are insured
User-friendly mobile app
Regulated by NYDFS
Cons
Moderately high trading fees
Number of Cryptocurrencies
100+
Fee Structure
Regular trades: Flat fee, rises with transaction size.

ActiveTrader trades: Maker/Taker Model

Bitcoin Trading Fee
Regular trades: 1.49% for amounts > $200

ActiveTrader trades: 0.2% (maker) / 0.4% (taker)

Top 3 Features
FDIC insurance, crypto spending with Flexa,
8. Huobi – Specialized Crypto App for Traders
Huobi is a leading exchange for Asian markets, offering deep liquidity on the most popular crypto trading pairs (BTC/USDT and ETH/USDT) and a vast array of 400+ tradeable cryptos. That includes some of the best new cryptocurrencies on the market.
The exchange offers a robust suite of trading features including margin trading, derivatives trading, and limit/stop orders. It also has an institutional trading desk for over the counter (OTC) and dark-pool trading, and smart-chain analysis with over 50 different trading indicators. THe exchange even lets users code custom trading bots using the Huobi API.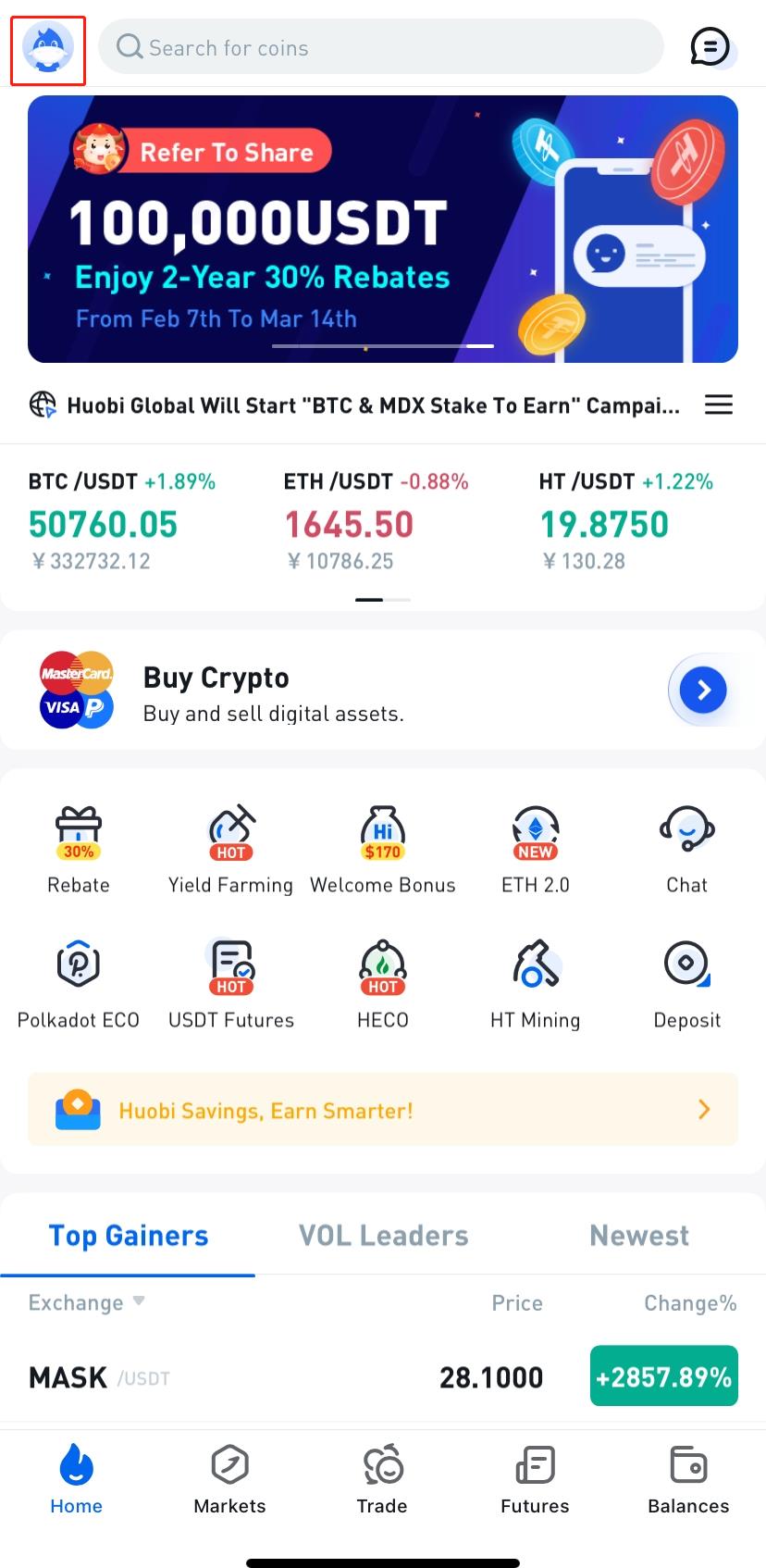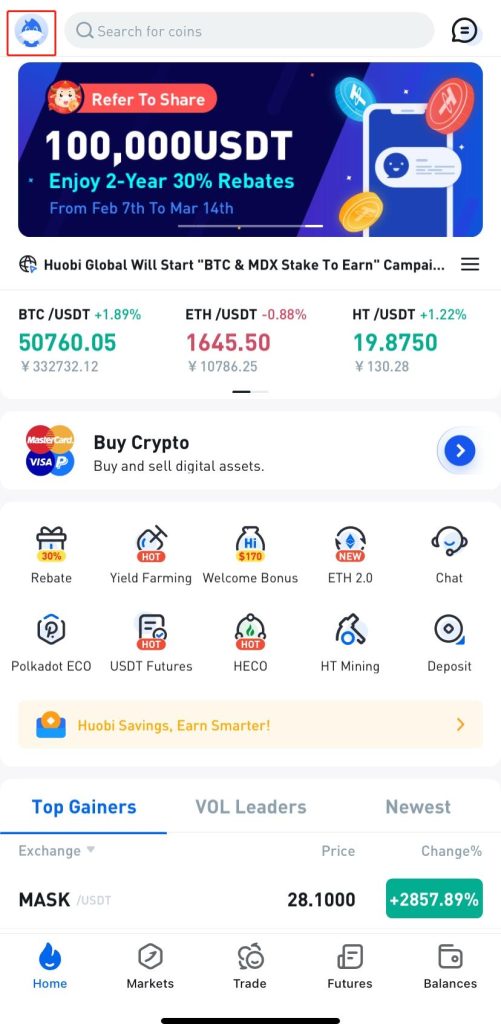 Huobi's mobile app provides a simple interface for users to view crypto prices, access their portfolios, and place orders. It is not available in the United States, however.
Pros
400+ cryptos to trade
OTC and dark pool trading available
Supports custom trading bots with API
User-friendly mobile app
| | |
| --- | --- |
| Number of Cryptocurrencies | 400+ |
| Fee Structure | Base Fee (decreases with greater Huobi Token [HT] holdings) |
| Bitcoin Trading Fee | Starts at 0.2% |
| Top 3 Features | Leverage Trading, Training Bot API, smart-chain analysis |
The Top Crypto Trading Apps Compared
App
Number of Cryptos
Fee Structure
Bitcoin Trading Fee
Top 3 Features
eToro
79
Crypto = 1%, Stock/ETFs = 0% + Spread
1%
Commission free stock and ETF trading, Social Trading, Copy Trading
OKX
350+
Maker/ Taker Model
0.080% (maker) / 0.100% (taker)
Decentralized exchange, staking, crypto collateralized loans
Binance
600+
Maker/ Taker Model
0% (maker) / 0% (taker)

BTC withdrawal fee: 0.0000054 BTC($0.16)

Swap Farming, Copy Trading, NFT Marketplace
Coinbase
200+
Maker/ Taker Model
0.25% (maker) / 0.4% (taker), decreased with trading volume over $10,000
Staking, NFT Trading, Coinbase Earn
Crypto.com
250+
Maker/ Taker Model
0.075% (maker) / 0.075% (taker)
Staking, Swapping, NFT marketplace
Kraken
65+
Maker/ Taker Model
0.16% (maker) / 0.26% (taker)
Layer 2 withdrawals, leverage trading, NFT marketplace
Gemini
100+
Base Fee / Maker/ Taker Model
Regular trades: 1.49% for amounts > $200

ActiveTrader trades: 0.2% (maker) / 0.4% (taker)

FDIC insurance, crypto spending with Flexa, NFT Marketplace
Huobi
400+
Base Fee
Base Fee of 0.2%

(decreases with greater Huobi Token [HT] holdings)

Leverage Trading, Training Bot API, smart-chain analysis
What is a Crypto App?
Crypto apps make it possible for investors to buy and sell cryptocurrencies on the go. They are also called crypto exchange apps.
Crypto apps can trade cryptocurrencies over centralized or decentralized exchanges.
Centralized exchanges work kind of like stock exchanges. The exchange acts as a market maker, buying tokens when there's a sell order and selling tokens when there's a buy order.
Decentralized exchanges use algorithms to match buyers and sellers directly. When an investor inputs a buy order, that has to be matched with a sell order from another investor for both orders to execute.
How to Pick The Best Crypto App for You
Here's a list of the most important criteria to consider when selecting the best crypto trading app.
Look for Regulation
Crypto regulation is still in its early days. In the US, the strongest crypto regulators are the SEC and the NY Department of Financial Services. In the UK, it's the Financial Conduct Authority. The European Union just approved an
entirely new framework for crypto regulation
.
.
When selecting a crypto wallet app, security and regulation should always be at the top of mind. Since crypto is an emergent technology, not all jurisdictions overseeing crypto firms have established sufficient guardrails for the industry, nor agreed on what they should be.
As such, it's important to do your own research on any particular company's security history and compliance efforts. Has the firm's crypto wallet ever been hacked? Does it have audited financials? Are the digital assets on its platform registered with regulators? Is the company embroiled in any lawsuits?
Prioritize User Experience
The best crypto wallet will make managing your assets as simple and convenient for you as possible. Not only should the app have the functionality you require, but it should let you access those features in a welcoming and non-confusing way.
Some crypto platforms (Coinbase, Binance, etc) provide multiple mobile apps with varying degrees of functionality depending on your experience with crypto trading. Beginners may prefer to select basic or lite wallet versions limited to core functionality to make their trading experience more navigable, and less daunting.
Surf Through Their Tradable Cryptos
There are tens of thousands of cryptocurrencies available today, and the vast majority aren't available for trade through most centralized exchanges. Crypto apps can vastly differ in their number of trading options, from Kraken's limited 65+ assets to Binance's whopping 600+ assets.
The best crypto trading apps can be expected to provide trading for both Bitcoin (BTC) and Ethereum (ETH), the top two cryptocurrencies, with many others offering other top contenders like Dogecoin (DOGE), Cardano (ADA) and Litecoin (LTC). However, certain coins can vary between apps depending on their popularity or regulatory standing in the jurisdiction that each company serves. Coinbase, for example, suspended trading for XRP in early 2021 the US Securities and Exchange Commission alleged that the asset was an unregistered security.
Trading options may not matter as much to beginners aiming to trade only "blue chip" cryptos, but may matter to hungry traders that desire access to the volatility of certain high-risk high-reward coins.
Find the Lowest Fees
If you're a frequent trader, then exchange fees can bite into your profits fairly quickly depending on the platform you're using. Fees can vary from app to app, with some platforms providing discounts based on a given user's trading volume and tokens held at the exchange.
While platforms like Binance can offer Bitcoin trading that's absolutely free, others like eToro and Gemini apply maker/taker fees of over 1% or above. On the other hand, the latter two platforms compensate for their relatively high fees with their high consumer protection and regulatory compliance standards.
Beginners seeking small exposure to crypto, or those who do not intend to trade often, may not be as concerned about fees. By contrast, high volume traders should take advantage of the cheapest platforms and the best trading discounts they can get their hand on.
Analyze Their Other Features
The best crypto apps today offer useful features besides just trading digital assets. Explore what platforms offer the best tools and products to provide you with a more wholesome, accommodation experience while you manage your crypto.
Many apps like Coinbase, Crypto.com, and Binance also offer an NFT marketplace for trading digital art. Some platforms let users stake their crypto to earn yield, or take out loans using their cryptocurrency as collateral. Meanwhile, certain platforms with a trading specific focus provide unique tooling and charts to help inform your trading decisions.
Verify Their Payment Methods
How does a given app allow you to deposit funds? Can you use your debit or credit card, or is a wire transfer required? Does the exchange accept fiat currency at all, or only fiat denominated stablecoins (USDT, USDC, etc)?
Payment methods can vary from app to app depending on its integrations, partnerships, and jurisdiction. Binance lets users fund their account through credit/debit cards, bank transfers, as well as third party / e-wallet options like Advcash. Coinbase also offers card and bank transfer funding , alongside payments through both Apple Pay and Google Pay.
eToro includes a long list of funding options, from credit/debit cards, to Rapid Transfer, to PayPal, to its specialized eToro Money app in the UK.
Investigate Their Wallet Technology
The wallet technology used by a cryptocurrency trading app to secure your funds can have significant implications for both security and convenience.
The most popular crypto wallet apps that serve as exchanges use custodial wallets, meaning the exchange is in full control of the private keys that grant access to your coins. To ensure firms don't misuse your funds, look for crypto apps that are regulated, keep client assets segregated, and keep the vast majority of their coins in cold storage. This means they are disconnected from the internet, and thus protected from hackers.
That said, firms with more liquid hot wallet (internet connected) funds may be able to better process withdrawals during times of peak demand.
Customer licensing
Licensed crypto apps can make the best consumer protections guarantees to clients, as they are subject to regulatory oversight and regular examinations.
Coinbase, for instance, has money transmitter licenses in dozens of US states, giving it permission to hold cash balances on behalf of customers in those areas. Meanwhile, Gemini is regulated by the New York Department of Financial Services, meaning it must abide by anti-money laundering, consumer protection, and banking compliance standards.
Finally, eToro has licenses across multiple continents, including authorization from the Financial Conduct Authority in the UK, and a Money Services Business license in the US.
Conclusion
We recommend eToro as the best crypto app for beginners in 2023. The not only provides over 79 crypto trading options (including BTC, ETH, and DOGE), but a total of over 300 investment options across stocks, currencies, ETFs, and commodities. Trading for stocks and ETFs on the platform is absolutely free.
Crypto trading fees on eToro are 1% of transaction volume when either buying or selling. While higher than most other crypto trading apps, this shouldn't be a major issue for beginners investing small amounts, or who trade infrequently.
That said, the platform comes with a welcoming beginner friendly mobile interface that avoids confusing and overcomplicated jargon for newbies. It also lets inexperienced traders automatically copy the trading moves of veteran traders with a track record of success, and to view social market sentiment surrounding specific assets at any time.
eToro benefits from regulatory licenses across multiple continents, including oversight from the Securities and Exchange Commission (SEC) and the Financial Industry Regulatory Authority (FINRA) in the US, and the Financial Conduct Authority (FCA) in the UK.
Cryptoassets are a highly volatile unregulated investment product.
FAQs
What apps are best for buying crypto?
What is the best free crypto alert app?
Is Binance better than Coinbase?
Which is the best crypto app for beginners?