Crypto games incorporate many innovative elements, such as in-game ownership, NFTs, and blockchain technology. Most crypto games also enable players to earn rewards.
In this guide, we explore some of the best crypto games to play in 2023. Read on to discover crypto gaming platforms that offer the highest earning potential.
The Top Cryptocurrency Games to Play Today
Here is a list of the best crypto games to consider playing right now:
Aviator – Exciting game of nerve with players able to earn large rewards – if they time it correctly.
Plinko – Traditional and simple board game where players drop balls and earn cash rewards or bet multipliers.
Tamadoge – Arcade Gaming Ecosystem With Multiple NFT Collections
Chimpzee – Earn Free Tokens and Protect the Environment by Joining this Cryptocurrency Game
Pikamoon – Earn Crypto Rewards by Climbing up a Leaderboard with your NFT Avatars
Ecoterra – An innovative platform leveraging gamification to incentivize users in combating climate change with its Recycle2Earn mechanism.
Decentraland – Develop and Monetize Virtual Real Estate
Axie Infinity – Top Crypto Game Featuring Virtual Monster Battles
The Sandbox – Create, Share, and Monetize Metaverse Gaming Experiences
Illuvium – Decentralized Studio Featuring Exploration Games
Splinterlands – Play to Earn Game With Collectible NFT Cards
Floki – Crypto Utility Project With a 3D NFT Metaverse
Mobox – Blockchain Ecosystem With Mobile-Friendly Games
Nakamoto – Polygon-Based Game Studio That Builds Play to Earn Titles
Reviewing the Best Crypto Games
The world of crypto gaming has expanded significantly. With tons of games offering unique features, it can be difficult to know where to start.
Below, we review the best play to earn crypto games in 2023. Each game is evaluated based on its rewards system, features, and overall enjoyment.
1. Aviator – Exciting Game of Nerve with Huge Bet Multipliers
Aviator is our top crypto game as it is one of the most simple, exciting and rewarding games in the whole Web3 space.
Launched in 2019 by popular gaming developer Spribe, Aviator has become a huge favorite of many players because of its easy gameplay and major rewards.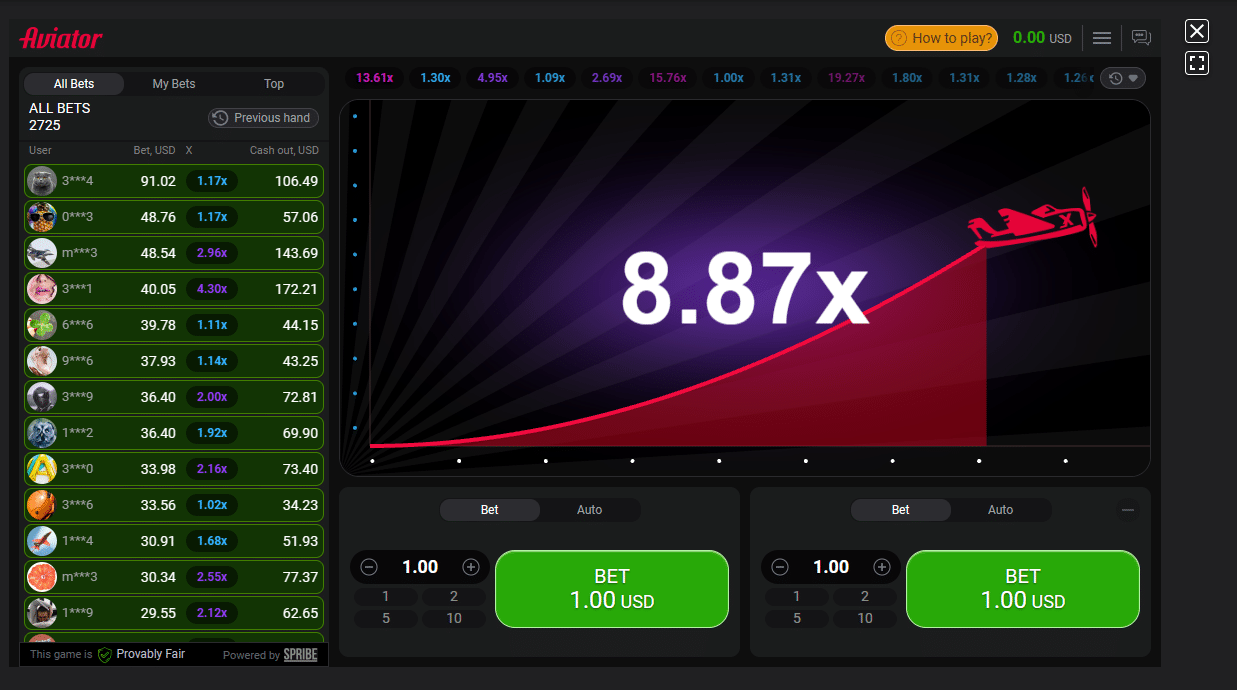 Players simply wager on how long a plane will fly for before it 'flies away', with the game offering provably fair results.
Aviator is a game of nerve with players picking when to cash out – too soon and they leave potentially huge earnings on the table and too late and they can be left with nothing over a guaranteed win.
Players can play with a minimum bet of just $1 and can also make multiple bets to increase their earnings potential.
The game is available on the Lucky Block casino, which we have named as our overall best crypto casino, and offers players an enticing 200% welcome bonus plus 50 free spins on Wanted Dead or A Wild.
2. Plinko – Traditional Casino Favorite to Earn Huge Rewards
Plinko is another hugely popular game that owes much of that popularity to its simplicity.
Based on the traditional Japanese board game Pachinko, Plinko sees players drop virtual balls down a board that is filled with pins.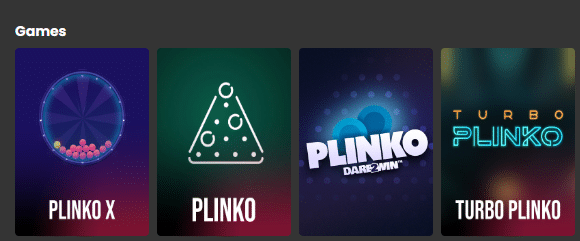 The pins then make the balls move in different directions before they end up in a slot – each of which has either a different bet multiplier or cash reward.
Plinko is also available on Lucky Block, which has four versions of the game from popular developers such as Crash Games and Hacksaw Gaming.
The four versions are Plinko, Plinko X, Turbo Plinko and Plinko: Dare2Win.
The games allow for different variations including bigger stakes and rewards, custom boards and quicker gameplay.
As well as its enticing welcome bonus, Lucky Block allows players to join the casino in less than a minute with no KYC verification needed to be completed.
3. Tamadoge – Arcade Gaming Ecosystem With Multiple NFT Collections
Tamadoge is one of the most trending crypto gaming coins of this year. This crypto project features a wide range of games that can be played using NFTs. Each NFT represents virtual pets inspired by the 'Doge meme' trend. Players must train their NFT pets and enter them into battle with other users. This enables players to earn crypto rewards.
Rewards are paid in TAMA tokens, the Tamadoge ecosystem's utility token. Players can use this best meme coin to upgrade their pet NFTs or to buy other in-game assets.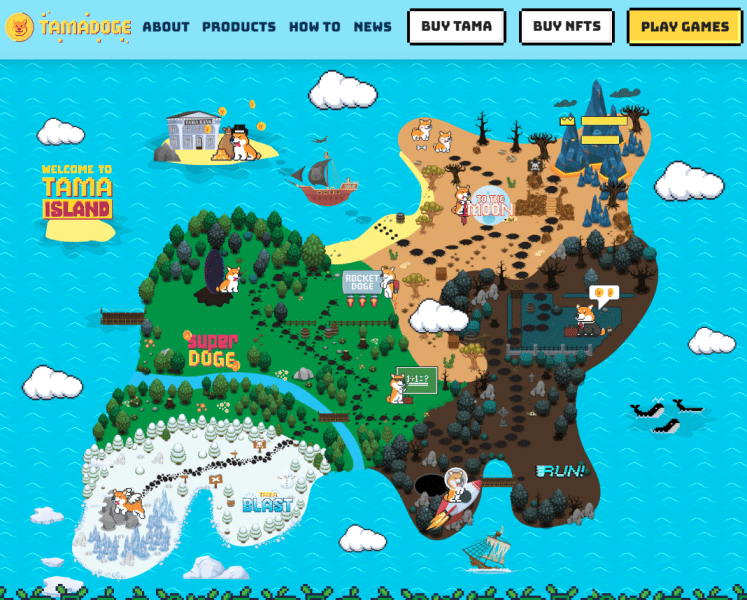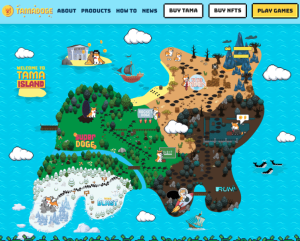 Tamadoge has launched its debut game, Super Doge, which has garnered praise from the crypto-gaming community. Moreover, Tamadoge's recent arcade game, 'To The Moon,' has generated considerable excitement since its launch. This game marks the third entry in the Tamadoge arcade series, which has already accumulated thousands of hours of gameplay.
The hype surrounding 'To The Moon' is understandable, given the top-notch visuals and captivating gameplay that Tamadoge's arcade games are renowned for.
Players can try out Tamadoge games for free without connecting a crypto wallet. However, if players want to monetize their time, they must buy a Tamadoge NFT. Players collecting the most points monthly are offered additional TAMA tokens, making buying in-game NFTs more attractive.
Tamadoge has three NFT collections with varying rarity levels. Current NFT holders will also be airdropped with a baby version of their pets in the coming days. These baby NFTs can be used exclusively within specific Tamadoge games. Players can also upgrade their NFTs by training them or by winning battles.
Tamadoge had a hugely successful presale in late 2022. This project raised a whopping $19 million in presale funding – reaching its hard cap target in record time. It even witnessed a 600% growth in value after being listed on crypto exchanges.
4. Chimpzee – Earn Free Tokens and Protect the Environment by Joining this Cryptocurrency Game
Chimpzee is a new crypto platform that lets holders of the $CHMPZ token generate passive income through its three ecosystems. By generating revenue, Chimpzee's main aim is to donate to charities and contribute towards protecting the environment and animals.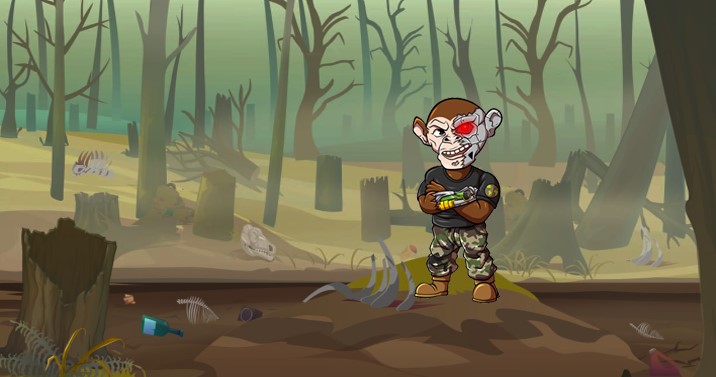 One of the key elements of Chimpzee is its play-to-earn ecosystem, the zero-tolerance game. To take part in this game, users must set up their own NFT passports. This can be purchased with $CHMPZ tokens.
Notably, all the tokens used to buy the NFTS are then burnt. On the zero-tolerance game, members leverage their NFT passports to fight forest poachers as they try to protect the environment. The top performers on the ecosystem are rewarded with free tokens and premium prizes.
Users can generate passive income by staking their NFTs and earning up to 20% annually. The NFTs can also be traded on Chimpzee's NFT trade-to-earn marketplace. Members can also make passive income as Chimpzee awards token holders a portion of the trading fees collected.


NFT passport holders receive a larger chunk of the returns from this pool. Chimpzee will also introduce a shop-to-earn ecosystem where users can buy merchandise and gear. Part of the revenue generated will be donated to charities.
Currently, $CHMPZ is priced at $0.0007 during its ongoing presale. The listing price is set at $0.00185 per token. Chimpzee has raised more than $825k since the start of the presale.
Read the Chimpzee whitepaper and join the Telegram channel for more information.
| | |
| --- | --- |
| Token symbol | CHMPZ |
| Total supply | 200 Billion |
| Presale supply | 40 Billion |
| Network | Ethereum (ERC20) |
| Purchase methods | ETH, USDT, Credit Card |
5. Pikamoon – Earn Crypto Rewards by Climbing up a Leaderboard with your NFT Avatars
Pikamoon is a metaverse ecosystem where users can purchase NFTs, enter online tournaments, and win cryptocurrencies as rewards. $PIKA, the native token, is available to purchase on presale right now.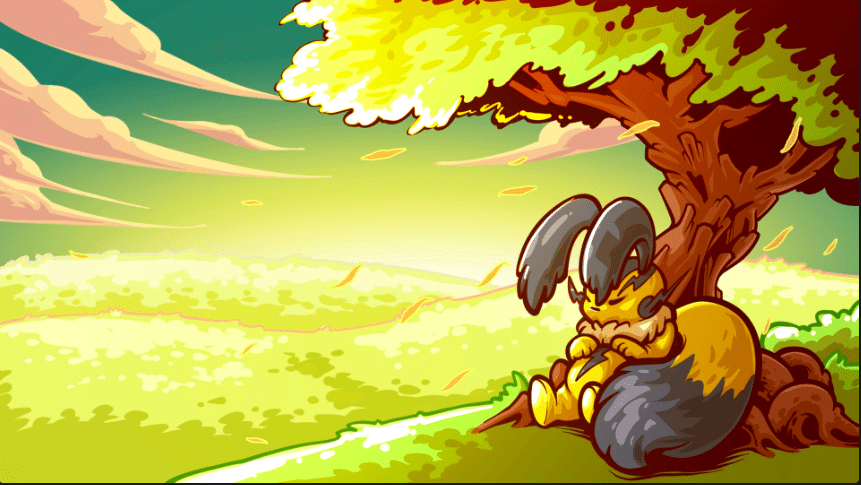 The gaming and virtual environment of Pikamoon is dubbed the 'Pikaverse,' where users can enter the world of Dreva. The Dreva planet consists of four regions – the Thunder Collective, Flame Empire, Water Kingdom, and Earth Regions.
The platform offers a total of 18,012 NFTs, each belonging to one of the four regions. Users can mint or purchase these NFTs with $PIKA and enter the Pikaverse.
With your in-game Pikamoon NFTs, you can explore the virtual land, build kingdoms, expand your empire, and even use capture devices to expand your NFT collections.


Through exploration, you explore the world of Dreva. Through engaging in battles, you climb up an online leaderboard and earn $PIKA as rewards. Users can access the online store to access healing potions and capture devices to strengthen their Pikamoon avatars.
Since each NFT belongs to a different rarity, you may prefer purchasing a more exclusive avatar to progress faster through the gameplay. To stand a chance to earn rewards on the Pikaverse, you can purchase $PIKA tokens for the price of $0.0006 during the ongoing final presale round.
According to the Pikamoon whitepaper, 15 billion of the 50 billion token supply has been allocated for the presale. Join the Telegram channel for more updates on this cryptocurrency platform.
| | |
| --- | --- |
| Presale Started | April 2023 |
| Purchase Methods | USDT and ETH |
| Chain | Ethereum |
| Minimum investment | N/A |
| Maximum investment | N/A |
6. Ecoterra – Bridging Sustainability and Gamification to Combat Climate Change
Ecoterra has emerged as an innovative platform in the dynamic crypto world that has devised a gamified way of earning crypto while battling climate change.
The Ecoterra project, backed by a transparent and KYC-verified team of developers, has just sold out its presale after raising around $6.3 million – it is now heading for exchanges imminently.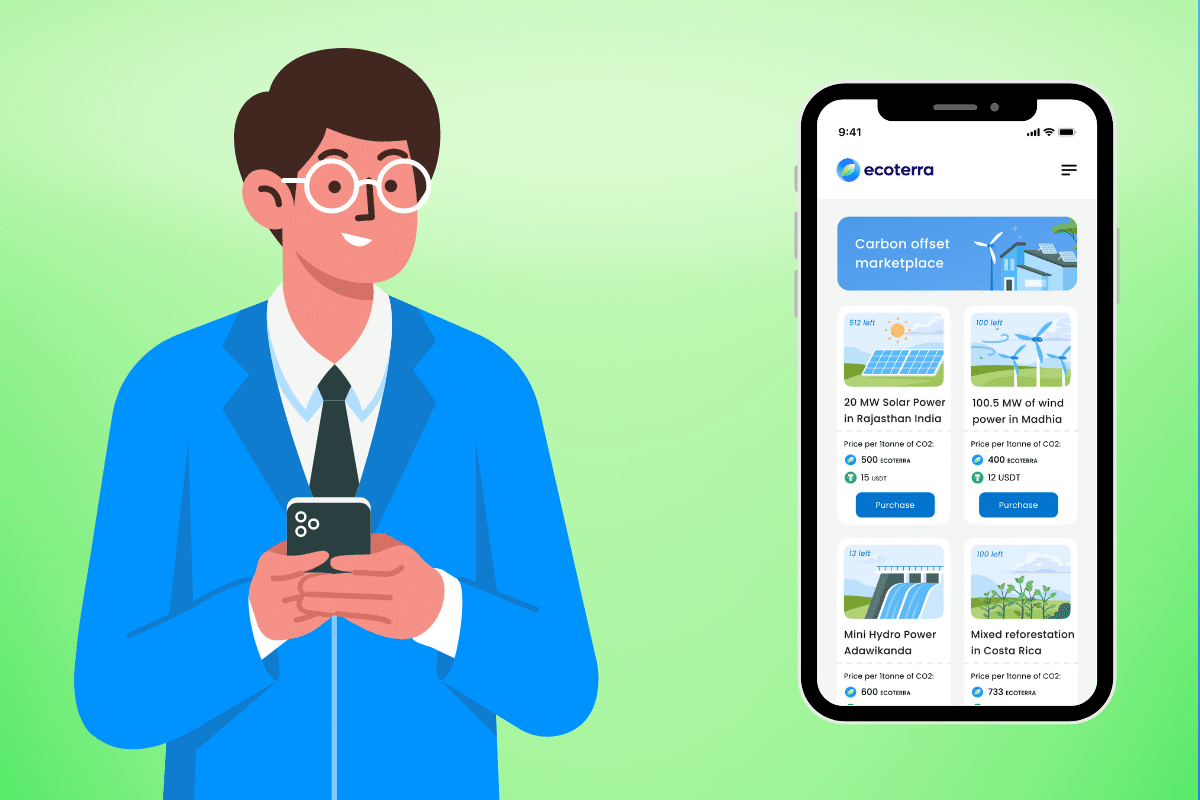 One notable feature under the Ecoterra umbrella is Recycle2Earn. This program rewards users with Ecoterra tokens when they recycle goods through the app. These tokens can be accumulated for future use or immediately channeled into environmentally friendly ventures such as renewable energy projects or community cleanup activities.
Recycle2Earn is more than just a platform for token accumulation; it also enables users to keep track of their eco-friendly actions through associated profiles. Businesses, too, can monitor their environmental footprint through these profiles.
These profiles come into play when businesses acquire impact packages, which consist of various materials sourced from customers to minimize their production's adverse environmental effects. This process allows all parties involved to showcase their dedication to sustainability.
Ecoterra tokens can be utilized in the carbon offset marketplace to purchase carbon tons, enabling participants to minimize their carbon emissions. Contributing to vetted, top-tier initiatives globally, participants can acquire carbon offsets which can be traded for NFTs.

According to the Ecoterra whitepaper, the platform also features a marketplace for recycled materials, connecting businesses with recyclers capable of providing necessary products.
By integrating diverse components into a cohesive unit promoting sustainability, Ecoterra enables all stakeholders to demonstrate their commitment to environmental preservation. The platform's innovative approach and potential to inspire similar crypto projects set a new industry standard.
For further information, join the Ecoterra Telegram channel to keep up with the latest updates.
| | |
| --- | --- |
| Hard Cap | $6,700,000 |
| Total Tokens | 2,000,000,000 |
| Tokens available in presale | 1,000,000,000 |
| Blockchain | Ethereum Network |
| Token type | ERC-20 |
| Minimum Purchase | $10 |
| Purchase with | USDT, ETH, Bank Card |
7. Decentraland – Develop and Monetize Virtual Real Estate
Decentraland is a virtual world where users own the metaverse land they purchase. These lands are structured in the form of NFTs. Players can monetize and develop their land as they wish. For instance, players can sell advertisement space, create structures, or host events. MANA is the cryptocurrency that power this virtual world.
Players can earn MANA rewards by participating in various activities within Decentraland, such as playing games or completing quests. Moreover, gamers can also offer virtual services such as design and development work. This gaming ecosystem is also known for its virtual events, such as the metaverse fashion week and music festivals.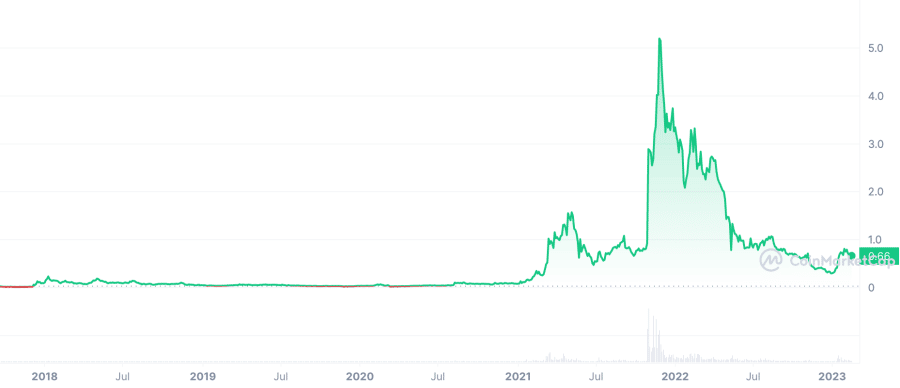 MANA tokens are also used within the Decentraland ecosystem to purchase virtual land and services. MANA holders can also vote on community decisions and take part in the governance of the platform. As of writing, MANA is trading for around $0.60. This represents an increase in value of over 2,200% since launch. Investors can buy MANA at eToro from just $10.
Cryptoassets are a highly volatile unregulated investment product.
8. Axie Infinity – Top Crypto Game Featuring Virtual Monster Battles
Axie Infinity is another popular blockchain-based game that has gained a lot of attention in recent years. In this crypto game, players can breed, battle, and trade virtual creatures called Axies. Each Axie has its own set of characteristics, abilities, and traits. This means that Axies are highly collectible NFTs.
At its core, Axie Infinity is a turn-based strategy game. Players can earn SLP tokens by succeeding in battles with their Axies. The native cryptocurrency of the Axie Infinity ecosystem is AXS. It is an ERC-20 token used as a means of exchange within the game.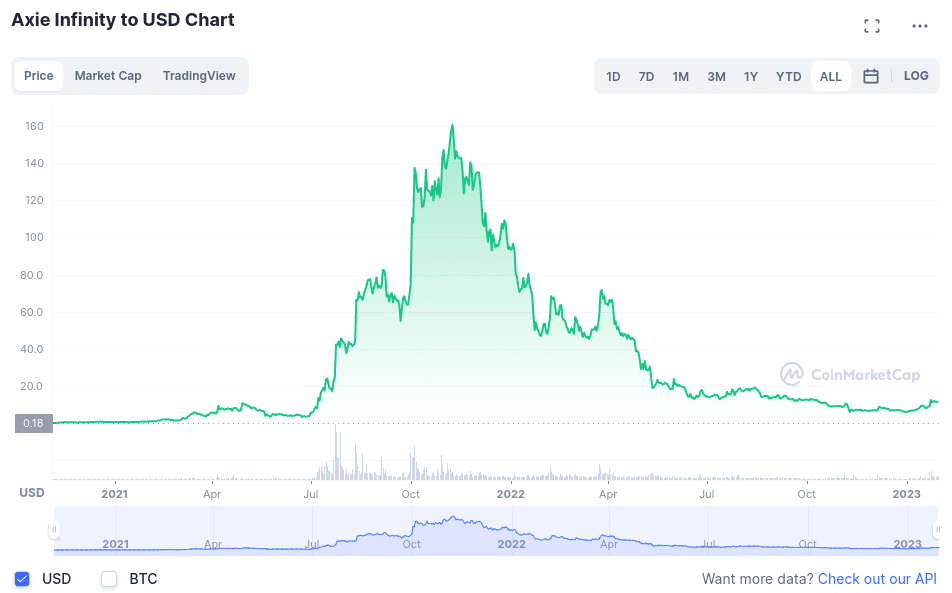 AXS tokens can be used to buy and sell Axies. Moreover, AXS tokens also play a role in the governance of this gaming ecosystem. Additionally, AXS holders can also earn rewards by staking their tokens, which helps to secure the network and validate transactions.

Nonetheless, Axie Infinity, a billion-dollar crypto gaming startup that promised riches but met disaster, left many investors and gamers questioning its prospects.
Cryptoassets are a highly volatile unregulated investment product.
The Sandbox is a decentralized virtual world built on blockchain technology. This metaverse-building game emphasizes user-generated content with a play-to-earn model. Players can earn crypto rewards by creating, sharing, and monetizing game content. Like Decentraland, The Sandbox also uses NFTs to represent in-game assets.
This includes everything from characters and buildings to items and land. Players will also be able to sell their in-game assets through the platform's marketplace. Many leading brands and businesses have already acquired land in the Sandbox and are building their own projects.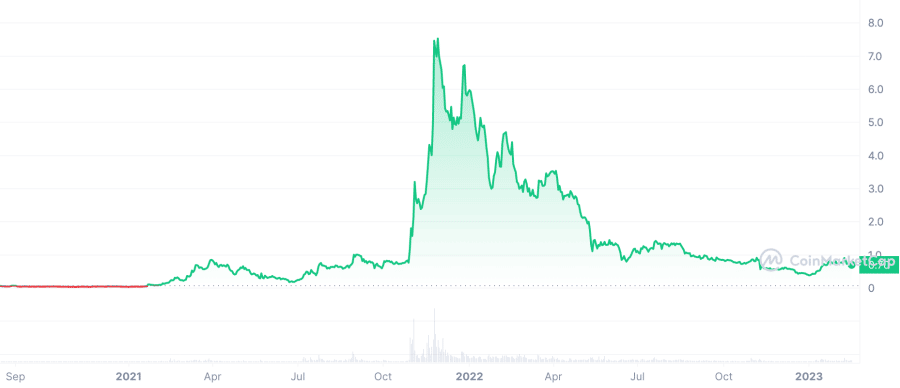 The includes Samsung, Atari, Adidas, Gucci, HSBC, and more. SAND tokens serve as the economic backbone of The Sandbox platform. SAND tokens are used when buying, selling, or transferring assets within the platform.
Cryptoassets are a highly volatile unregulated investment product.
10. Illuvium – Decentralised Studio Featuring Exploration Games
Illuvium is a crypto project building the world's first interoperable blockchain game universe. It has already launched three games on the Ethereum blockchain. For instance, in Illuvium Overworld, players take on the role of explorers in a mystical land filled with exotic creatures. These creatures are called Illuvials and are offered as NFTs.
Players must navigate the virtual world to capture and train these Illuvials to join their team. There are over 150 Illuvials. Each of these creatures comes with unique abilities and characteristics. Players can also upgrade and evolve their creatures over time. In the Illuvium Arena game, players can compete against each other with these Illuvials.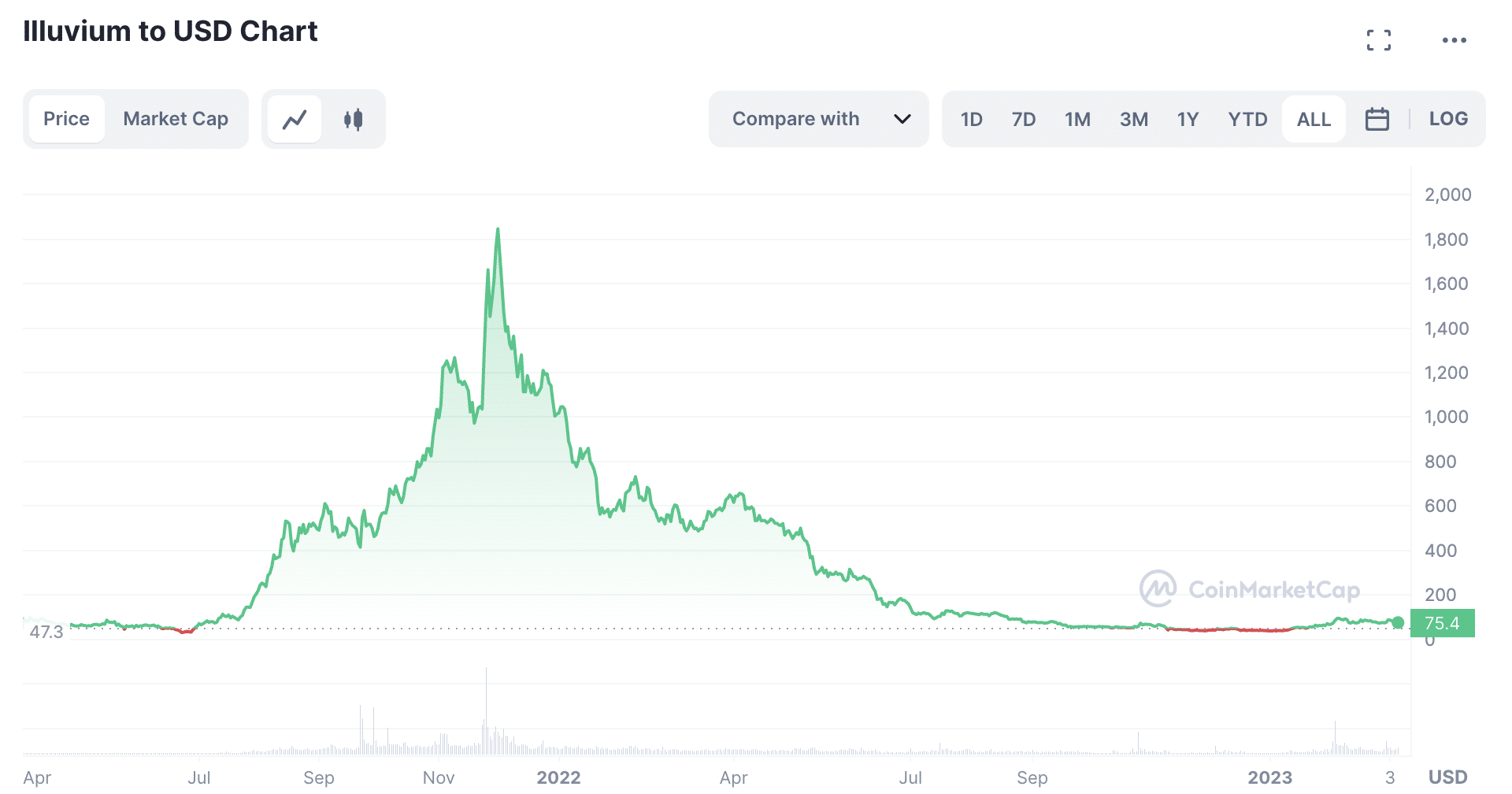 Illuvium also has a metaverse game called Zero. ILV is the native cryptocurrency of the Illuvium gaming ecosystem. Players can earn ILV tokens by completing quests, winning battles, or discovering creatures. ILV tokens can also be staked to earn rewards and participate in the governance of the Illuvium ecosystem. ILV tokens are available to buy on Crypto.com.
Cryptoassets are a highly volatile unregulated investment product.
11. Splinterlands – Play to Earn Game With Collectible NFT Cards
Splinterlands is another blockchain-based collectible card game. In this game, players collect and battle various digital monsters represented as cards. These are NFTs that have their own unique abilities and attributes. Players can earn crypto tokens by competing in battles and tournaments.
To win, players need to create a deck of cards that complement each other. Players can use DEC tokens to purchase NFT cards. DEC is the main in-game transactional currency of Splinterlands. Moreover, Splinterlands also has another token named SPS. SPS allows community members to participate in the governance of the game and to earn rewards for their contributions.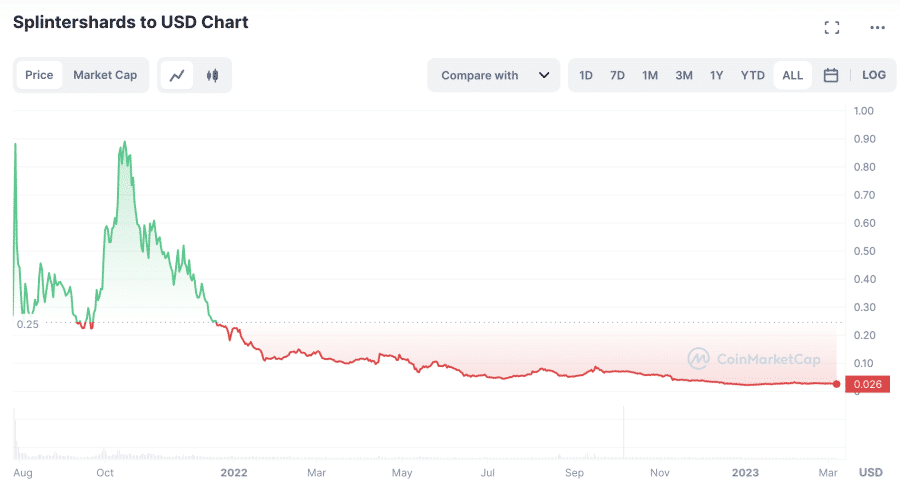 This way, investors can earn DEC tokens without actually playing the game. Holders of SPS tokens can also vote on proposals related to the game's development. Since its launch in 2021, Splinterlands has garnered a growing community of players. Today, it is one of the most popular blockchain-based games globally.
Cryptoassets are a highly volatile unregulated investment product
12. Floki – Crypto Utility Project With a 3D NFT Metaverse
Floki is a crypto project that aims to create awareness about blockchain technology. To achieve this, Floki has developed an entire crypto ecosystem with multiple projects. One of the main attractions of Floki is a metaverse called Valhalla. In this metaverse, players can create their own NFT characters.
The gameplay includes on-chain raiding, farming, battles, quests, clans, and even esports. Players will need to purchase the FLOKI token to enter Valhalla. Players are also offered FLOKI tokens as rewards when winning battles.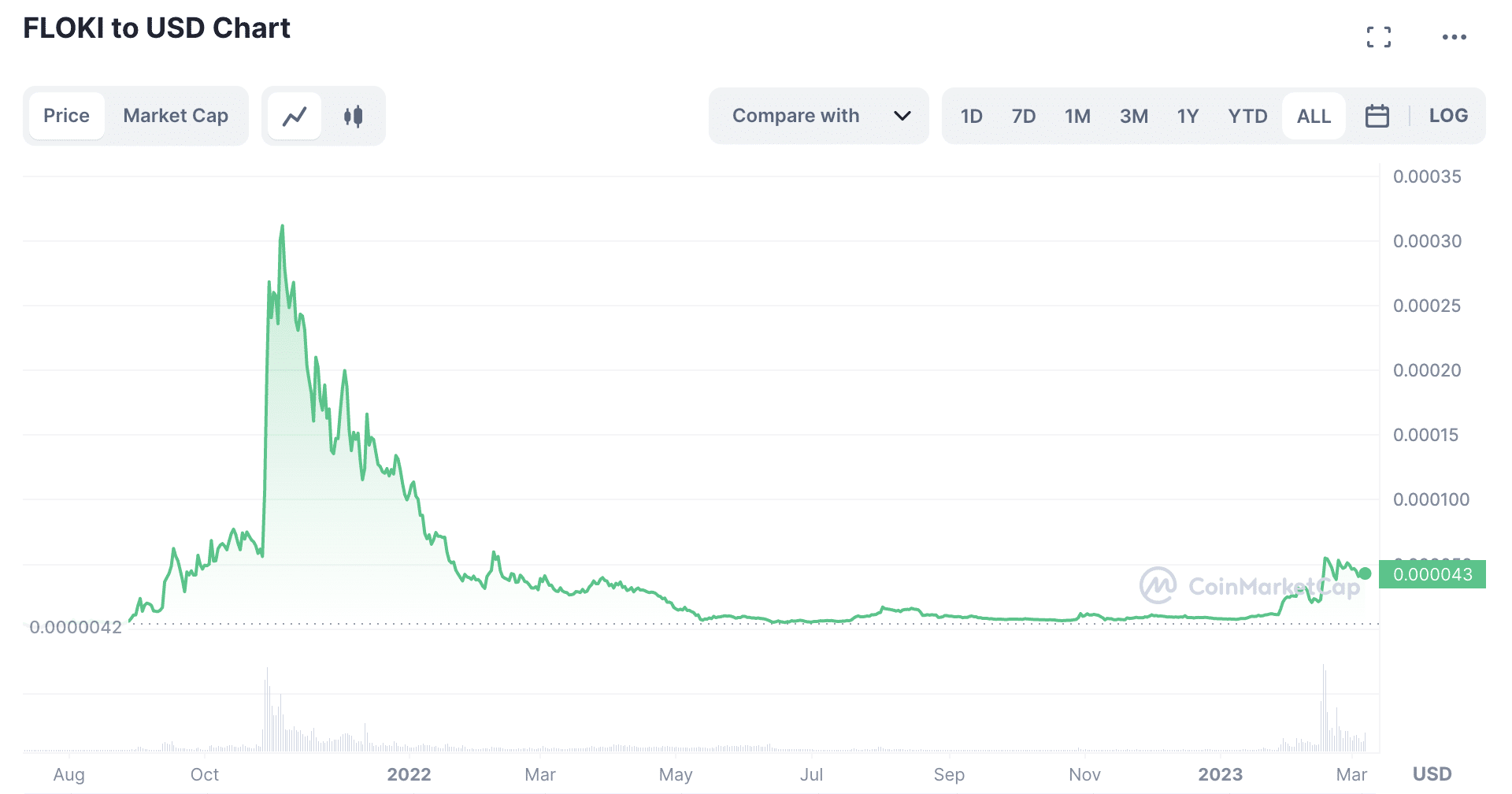 Floki also has an NFT marketplace where players can trade their in-game assets. In addition to its metaverse, Floki also features NFT collections and a decentralized exchange. Beginners can also get educated about the crypto world via the University of Floki. Since the turn of 2023, the price of FLOKI has increased by over 420%.
13. Mobox – Blockchain Ecosystem With Mobile-Friendly Games
Mobox is a blockchain-based gaming platform that combines DeFi with NFTs. The platform allows players to mint MOMO NFTs by staking its native MBOX token. Players can then use their NFTs to participate in games and earn rewards. Mobox also features a wide range of crypto games for iOS.
Those looking for crypto games for Android are also catered for. In total, Moboz has six games, including a metaverse. The Mobox platform also includes a crypto yield farm and an NFT marketplace. It also offers API support for developers to create their own games.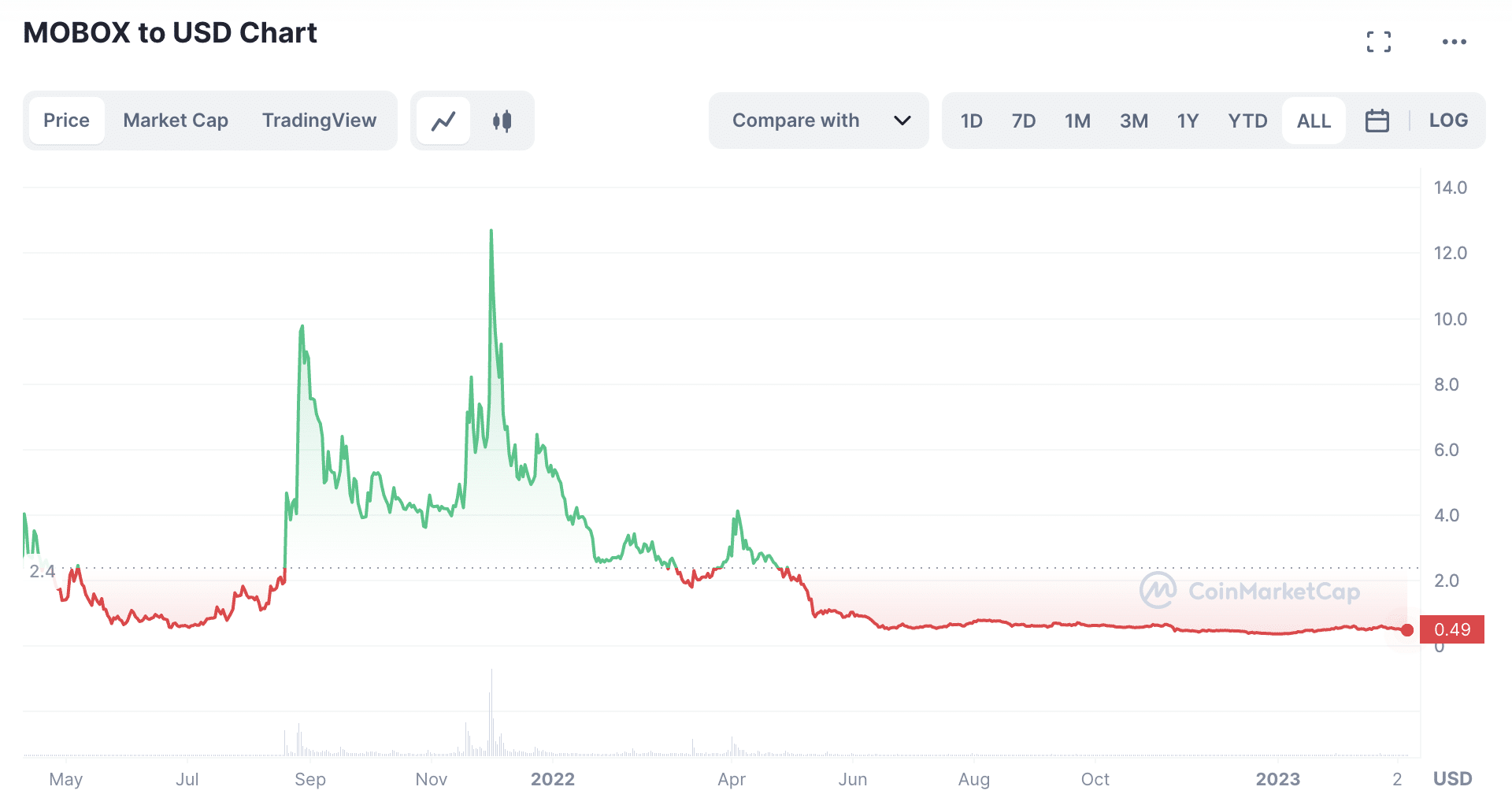 MBOX is the native cryptocurrency of the Mobox platform. MBOX tokens can be used to participate in games and in the governance of the ecosystem. As such, those that believe that Mobox is one of the best crypto games can invest in this project by purchasing MBOX from online exchanges.
14. Nakamoto – Polygon-Based Game Studio That Builds Play to Earn Titles
Nakamoto is a reputable studio that features many popular crypto games. The platform is built on the Polygon network. It features both in-house and third-party games. This means that independent developers can upload their games to Nakamoto. In return, developers will receive royalties when players engage with their creations.
This way, Nakamoto offers players a diverse selection of gaming choices. And therefore, when searching for the best crypto investment Nakamoto games, this offers exposure to various genres and developers.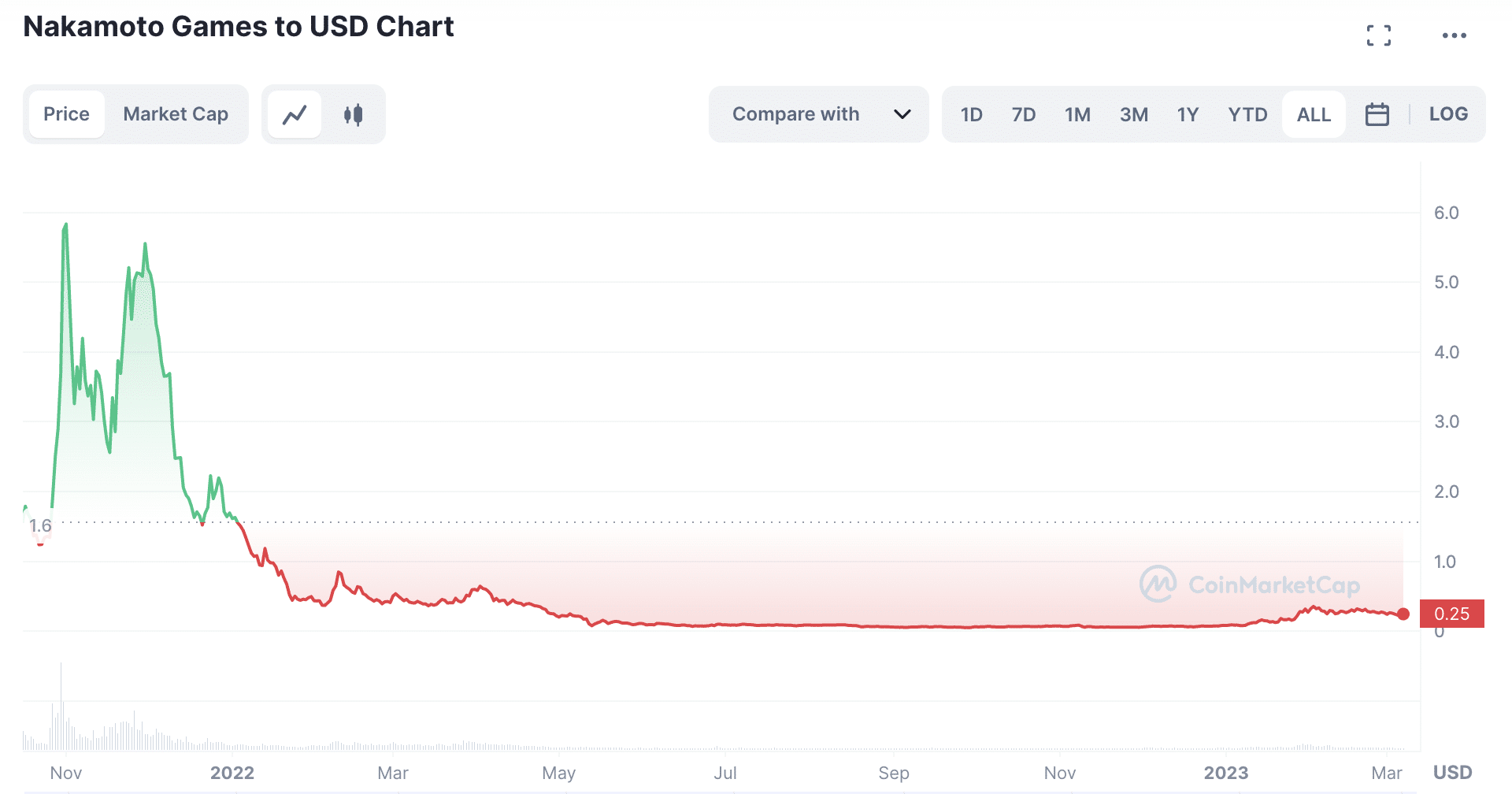 Moreover, Nakamoto regularly updates its portfolio of games to keep things new and fresh. NAKA is the native cryptocurrency that backs Nakamoto games. This is also the token that enables players to earn rewards through gameplay. It is also possible to stake NAKA tokens to earn passive income.
What is a Crypto Game?
Cryptocurrencies and blockchain have transformed the gaming industry by introducing the 'play to earn' model. These titles allow players to earn rewards by completing various in-game activities.
Moreover, players will be able to take ownership of in-game assets. This is in contrast to traditional video games.
Traditionally, players do not own or control any of the digital items that they buy or earn. As such, they can't monetize the time and effort they put into the game. On the other hand, crypto games offer multiple opportunities for players to earn money.
For instance, players can complete challenges or win tournaments and receive digital assets as rewards.
Users can then trade in-game assets via marketplaces or directly convert them into fiat currencies.
Alternatively, some of the best blockchain games also support staking.
This allows players to generate passive income streams from their in-game assets.
That being said, it is not necessary to actually play crypto games to profit from their growth, with many of the top projects in the last altcoin season in 2021 being P2E projects.
Instead, some crypto traders will invest in in-game assets and potentially make money from the project's increasing popularity. In other words, crypto games have opened up a whole new range of possibilities for both players and investors.
How do Cryptocurrency Video Games Work?
Crypto video games vary widely in terms of their offerings. However, the underlying concept typically remains the same.
For example:
Crypto games work by integrating blockchain technology and digital assets into their ecosystem.
The use of blockchain and NFTs ensures that in-game items are unique and cannot be duplicated.
This enables players to retain ownership and control of their in-game assets stored on the blockchain.
Additionally, some of the latest crypto games have integrated web3 technology. This includes the metaverse and augmented reality. This way, the best games to earn crypto are also able to offer immersive experiences.
Different Types of Blockchain Games
There are several types of blockchain games in this market. Each has its own unique experience and features.
Below is an overview of the different types of genres that are available in the crypto gaming market.
Challenge-Based Games
In this type of crypto game, players are rewarded when they complete challenges.
Challenge-based games come as both multiplayer and single-player titles. Moreover, they often involve elements of skill, strategy, and chance.
Players can also purchase or earn various digital items that can be used to improve their chances of winning. This might include character upgrades, accessories, or weapons.
Metaverse Building Games
These are virtual building games where players can create their own metaverse world and explore it. Players can customize their virtual world by adding buildings, structures, and other elements.
All creations will be minted as NFTs. Metaverse games also allow players to interact with others in the virtual world.
Moreover, users will be able to monetize their virtual world in a variety of ways. For instance, Decentraland allows users to buy and sell plots of land, sell tickets to virtual events, and feature unique artwork.
Other examples of metaverse-building games include Decentraland and The Sandbox.
Strategy Games
Strategy crypto games involve managing resources, making tactical decisions, and competing against other players or teams.
Players must use their intellect and planning skills to make decisions that will help them win rewards.
Battle Games
Illuvium and Axie Infinity sit within the battle game category. Players combat other users in a PvP (Player vs Player) setting. Moreover, battle games enable players to purchase digital upgrades, such as weapons and other equipment.
These can be used to strengthen characters and boost the chances of winning crypto rewards.
Benefits of Playing Crypto Games
Crypto games are a relatively new concept for many. Therefore, in this section, we outline some of the biggest benefits of playing crypto games in 2023.
Rewards and Incentives
Perhaps the biggest advantage of crypto games is the reward system. Unlike traditional games, blockchain-based titles enable players to monetize their time and effort.
Rewards are usually paid in the top cryptocurrencies and/or NFTs. Moreover, players will have complete autonomy over these rewards. They can use them to purchase upgrades within the game or trade them on marketplaces.
Ownership and Control of Assets
The best crypto games support true ownership and control of in-game assets. This is because in-game assets are represented by NFTs on the blockchain.
It is possible to earn in-game NFTs through gameplay and then trade them on online marketplaces for real money.
Innovation
The use of blockchain technology and cryptocurrency allows for new and innovative gameplay mechanics that are not possible with traditional online titles.
This can include decentralized marketplaces, true player-owned economies, and more. By investing in a crypto game coin, players get the chance to own a small portion of the project and hopefully make a profit.
Community
Many crypto games have strong communities built around them. These communities are made of players and developers collaborating to create new content and improve the gaming experience.
Moreover, by being a community member, players get the chance to engage with other gamers, discuss strategies, and share tips.
Are Crypto Games Profitable?
The best crypto games offer multiple ways for players to monetize their time. However, whether or not crypto games are profitable depends largely on the player's strategy.
For instance, skilled players who invest significant time into the crypto game may be able to generate sizable rewards. Players can also yield profits if the value of the in-game crypto or NFT increases over time.
Additionally, the profitability of a crypto game can be influenced by market conditions, competition, and other factors. However, as with any investment, there are risks.
Before setting out to play P2E crypto games, it is important to conduct sufficient research. Players should understand the risks before investing time or money in any crypto game.
The Future of Crypto Games
Research indicates that the mass adoption of blockchain games today is still low, and mainstream adoption is slightly off. Nonetheless, the future of these games seems bright.
The future of crypto games is promising and poised for remarkable growth as this innovative intersection of gaming and blockchain technology continues to evolve. Crypto games are already disrupting traditional gaming models by offering enhanced user experiences, financial incentives, and new opportunities for gamers and developers. The blockchain gaming market is anticipated to surge to 65.7 Billion USD by 2027 at a compounded annual growth rate (CAGR) of 70.3%.
One of the key aspects that will shape the future of crypto games is the integration of play-to-earn mechanisms.
An example of one of the best P2E cryptos is Ecoterra as it's gamified Recycle2Earn model stands to revolutionize the way people combat climate change.
Players can increasingly monetize their in-game accomplishments, earning valuable tokens and other digital assets that can be traded or used within the game ecosystem.
This will foster a more engaging and rewarding gaming environment, encouraging gamers to spend more time and effort on these platforms.
The rise of the metaverse and its integration with crypto games will also play a pivotal role in shaping the future. Virtual worlds will offer gamers immersive experiences where they can socialize, trade, and participate in various activities, all while utilizing blockchain-based assets. The metaverse will create new markets for digital assets, such as virtual land, digital art, and other in-game items, which could potentially appreciate over time.
Furthermore, developing and adopting cross-platform and cross-game compatibility will enhance the overall gaming experience. Gamers will be able to utilize their digital assets across multiple games and platforms, increasing the utility and value of these assets. This interoperability will also encourage collaboration among game developers, fostering innovation and the creation of unique gaming experiences.
Additionally, the increasing prevalence of decentralized finance (DeFi) in the gaming ecosystem, or GameFi, will provide gamers with new ways to utilize their digital assets. This includes the ability to stake, lend, or borrow tokens, further increasing the utility and value of these in-game currencies.
Are Crypto Games Safe?
The safety of crypto games depends on many factors. This ranges from the security of the underlying blockchain and the reputation of the developers.
In terms of risk, some crypto games require players to purchase tokens to get started. In other words, players may be subject to the volatility of the market.
We also found that the best crypto games implement robust security measures to prevent fraud or hacking. Top crypto games also use smart contracts and blockchain technology to ensure that transactions are transparent and secure.
With that said, players should also do their due diligence. Look for crypto games with a strong reputation and well-written wallpaper. Additionally, players should also protect their own assets by using a secure wallet.
Conclusion
Crypto games offer a unique combination of play-to-earn mechanics, NFT-based collectibles, and decentralized infrastructure. Moreover, the best crypto games provide engaging gameplay and access to a community-driven ecosystem.
Our top two games are Aviator and Plinko, two crypto casino games that are extremely easy to pick up and play, come with a minimum bet of just $1 and offer huge bet multipliers and rewards.
Both games can be played on Lucky Block, which we rate as the best crypto casino and which offers a 200% welcome bonus to new players.
FAQs
Are there legit crypto games?
What is the best crypto game right now?
What is the best NFT game?
Can you make money with crypto games?
Can I earn crypto by playing games?