Crypto giveaways offer a great way to obtain free digital tokens. They are many different ways to earn free crypto in various formats in the space and the giveaways often allow investors to gain exposure to emerging crypto projects.
New cryptos often launch giveaways, airdrops or promotions to help promote their project, while crypto and NFT games often include them to keep an active and engaged player base.
Read on to discover the 10 best crypto giveaways for 2023.
The Top 10 Crypto Giveaways Open Now
Looking for the best crypto giveaway? Here are our top picks for December 2023:
Wall Street Memes – A new meme cryptocurrency, Wall Street Memes, is distributing $50,000 worth of $WSM tokens to those that take part in the token presale.
AiDoge – This new crypto project is developing an AI-based meme generation platform and giving away 50 billion AI tokens via an airdrop. AiDoge raised nearly $15 million through its token presale.
Deelance – This decentralized recruitment marketplace tokenizes freelance work. Deelance is hosting a crypto giveaway worth $100,000, paid in DLANCE tokens, which will be split between four presale investors. $870k raised in the presale.
Ecoterra – Ecoterra is a new crypto project promoting sustainability and icentivizes users to recycle plastic, aluminum, glass, and clothing. This presale project is offering $1,500 worth of ECOTERRA tokens via an upcoming giveaway and has raised $3.7 million in its presale.
OKX – OKX is a crypto exchange known for its regular promotions and giveaways. The platform is offering the chance to win 50,000 USDT tokens or a Tesla in an ongoing trading competition.
CEX.io – CEX.io is a crypto exchange that allows users to buy, sell, and trade dozens of tokens cost-effectively – currently, the exchange is hosting a trading competition, offering the winner $5,000.
KuCoin – This leading crypto exchange often partners with new projects to offer airdrops. Its ongoing promotion is offering top traders $40,000 worth of CETUS Tokens.
Digitoads – Digitoads is a presale project building a blockchain ecosystem to donate money to protect Amazonian forests. After the presale, the project is giving away $50,000 worth of TOAD tokens.
Nexo – Nexo is a fintech platform that provides instant loans and high-yield savings accounts. Nexo rewards new users with $25 worth of Bitcoin as a welcome bonus.
TradeStation – This SEC-regulated brokerage platform allows users to trade cryptocurrencies, among other assets. TradeStation welcomes new users with $150 worth of Bitcoin.
Reviewing at the Best Free Cryptocurrency Giveaways
The crypto industry is flooded with promotions, giveaways, and airdrops. While some offer access to new presale tokens, others reward crypto enthusiasts with established assets such as Bitcoin and Tether.
Below, we discuss some of the best crypto giveaways to claim right now.
1. Wall Street Memes – Win Up to $50,000 in Token Giveaways with this Soaring Meme Cryptocurrency on Presale
Wall Street Memes is a popular cryptocurrency platform that has developed a following of over 1 million people across social media platforms. The creators of the project have decided to release their own native cryptocurrency, $WSM.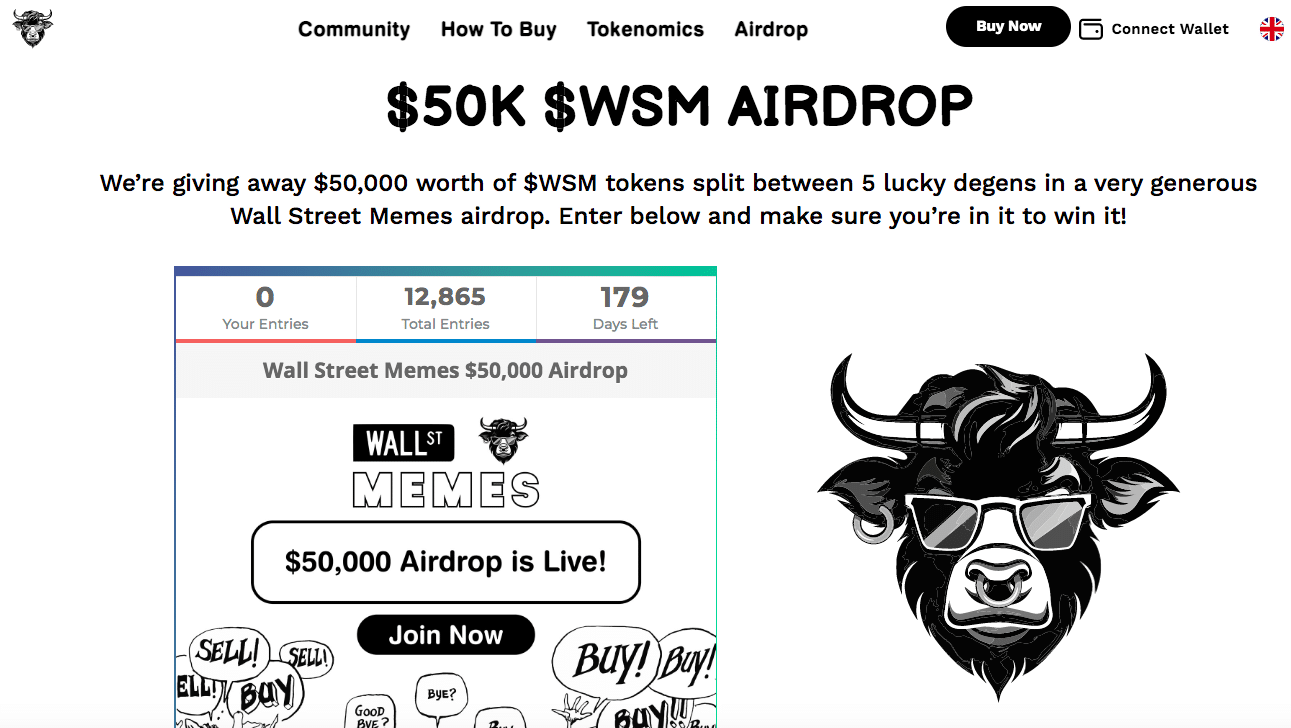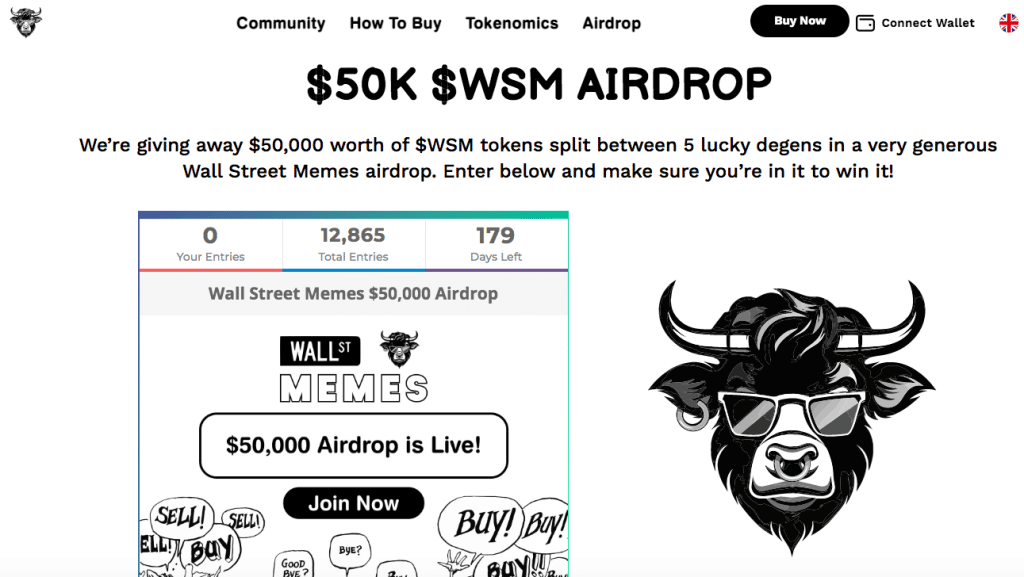 Those that take part in the Wall Street Memes presale will also have a chance to win from the platform's giveaway. Wall Street Memes will distribute $50,000 worth of $WSM tokens to lucky winners who have also purchased coins during the presale.
The crypto giveaway will be awarded to 5 winners, as portions of $10,000 each. To stand a better chance of winning the giveaway, users can follow Wall Street Memes on various socials and share the page.
While the Wall Street Memes token does not offer much utility, it has created a large meme movement with its loyal following. The community will be rewarded, as 100% of the $WSM token supply will be purely for the members.
From a total supply of 2 billion, 50% has been allocated for the ongoing presale. The presale will consist of 30 rounds, while the price increases per round. During the first stage, $WSM was priced at $0.025. This stage concluded in two days, as $500K was raised.
Currently, the token is priced at $0.0271 but will hike to $0.0337 by the final round. Since the presale started, Wall Street Memes has raised more than $4 million in around 10 days. The project is looking to raise a hard cap of over $30 million.
Join the Wall Street Memes Telegram channel for regular updates on the presale.
| | |
| --- | --- |
| Presale Started | May 26th, 2023 |
| Purchase Methods | ETH, BNB, USDT, Credit/Debit Card |
| Blockchain | Ethereum |
| Minimum Investment | N/A |
| Maximum Investment | N/A |
2. AiDoge – 50 Billion AI tokens up for Grabs with this Cryptocurrency
AiDoge is an innovative platform allowing users to create and vote on memes using its native token, $AI. The platform uses a prompt-based interface to generate unique memes, with users able to type what meme they wish to create and AiDoge generating one instantly.
AiDoge's main appeal is that it combines the two biggest trends in the crypto space – artificial intelligence and memes. Additionally, the project also offers multiple earning opportunities – for instance, all memes are minted as NFTs, which can be shared and traded in marketplaces.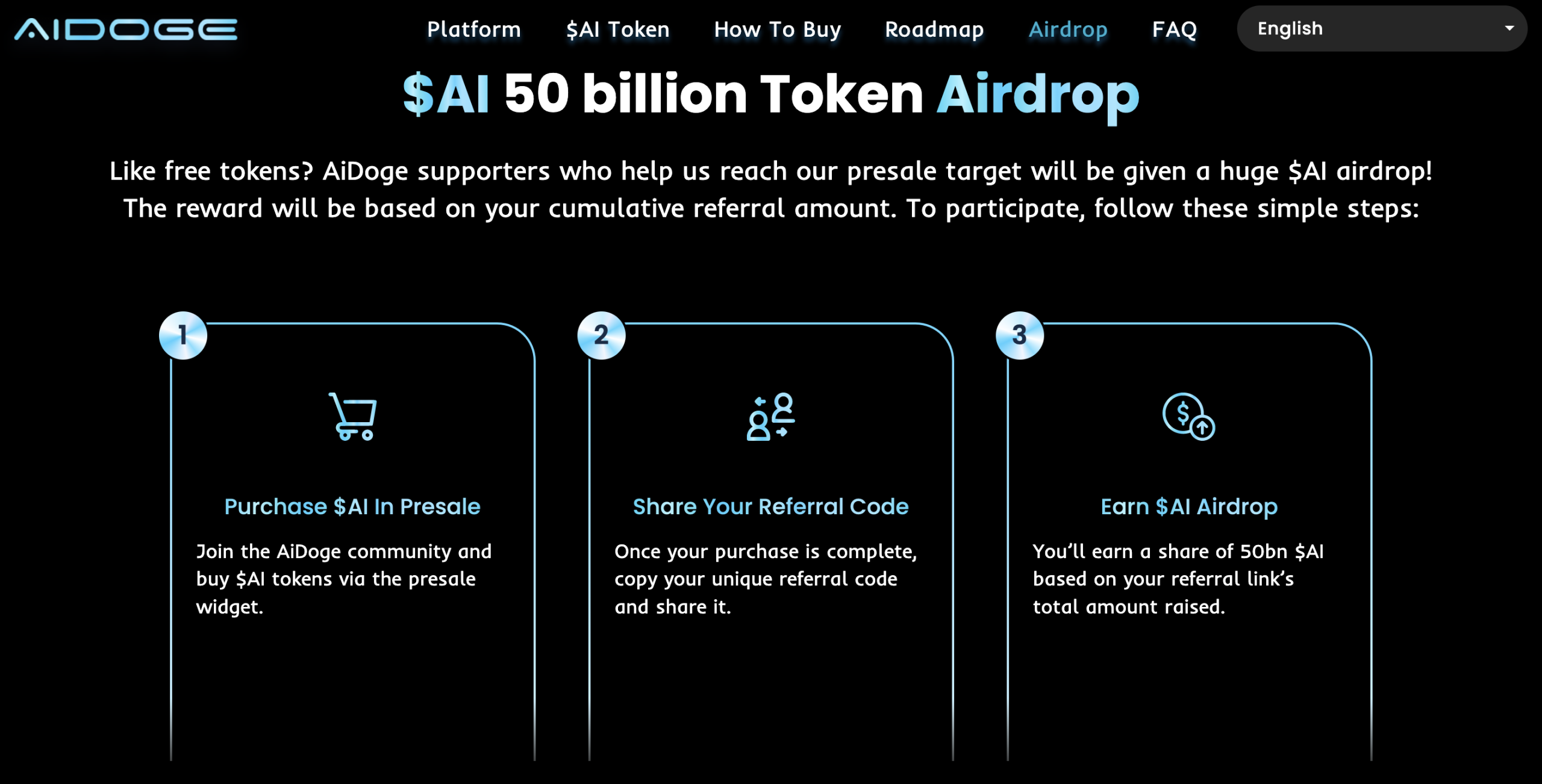 AiDoge also rewards creators behind the most popular memes, paid in $AI tokens, based on upvotes and downvotes from a publicly visible wall. Furthermore, $AI tokens can be staked to receive daily rewards and users are also incentivized for their contributions to the AiDoge ecosystem, such as voting and engagement.
AI tokens have a total supply of one trillion. Recently, AiDoge completed its token presale, raising $14.9 million in the process. The token will conduct its initial exchange offering on June 19th 2023, listing at a price of $0.0000336. With so much hype being created, AiDoge could be the next crypto to explode.
AiDoge is offering a huge airdrop of 50 billion AI tokens. This will provide them with a unique referral code, which can be shared with others.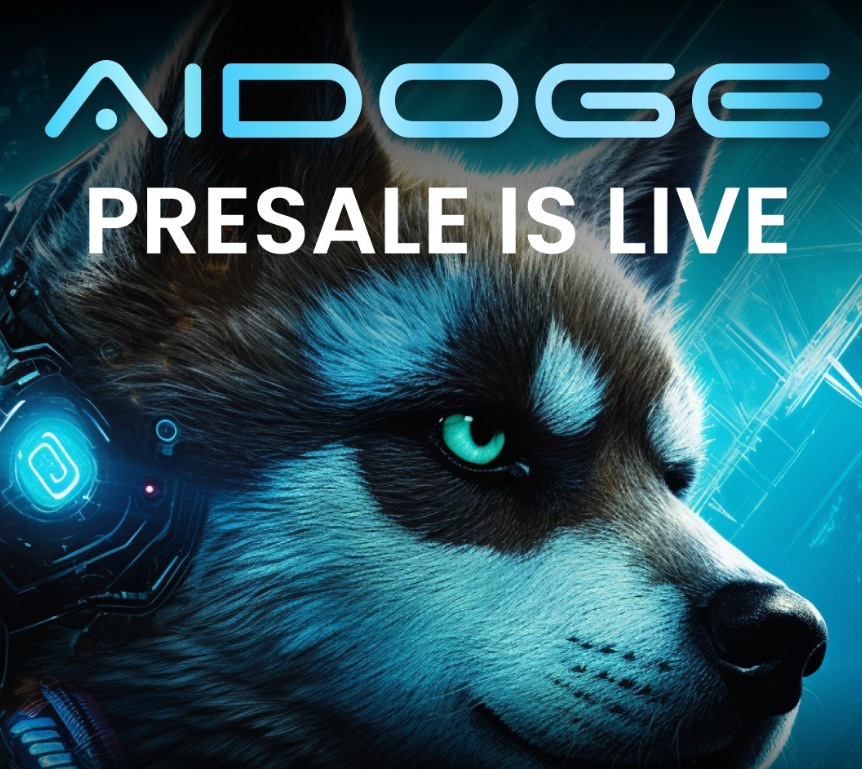 The investor will then earn a share of the 50 billion AI tokens based on the amount raised through their referral link. Those interested can buy AiDoge tokens by connecting their crypto wallet to the presale site and pay in ETH, USDT, BNB or with a card.
To receive updates about the presale, join AiDoge's official Telegram channel.
3. DeeLance – Web3-Based Recruitment Platform for Freelancers and Clients
DeeLance is a crypto project that recently commenced its presale with its platform utilizing blockchain technology to make freelancing recruitment more efficient, transparent and trustworthy.
DeeLance has already captured the interest of the crypto community and has raised $1.2 million via presale.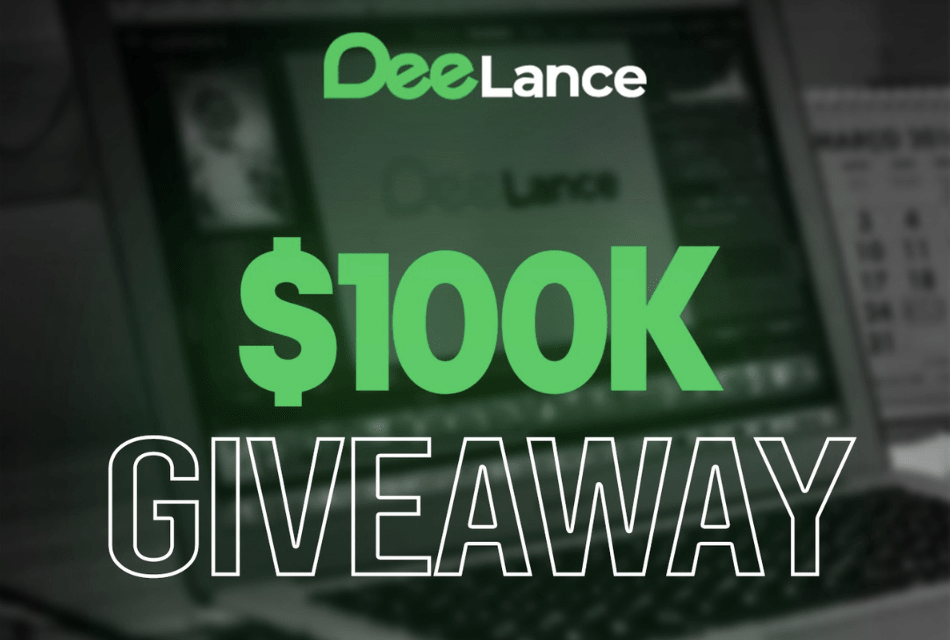 Moreover, DeeLance is giving away $100,000 worth of DLANCE tokens, which will be split between four individuals.
Participants should hold at least $100 worth of DLANCE tokens at the time of the draw. It's possible to secure multiple entries by completing different tasks. This includes joining DeeLance's social media pages, providing a crypto wallet address, and visiting the project's website.
The platform features an NFT marketplace where freelancers can showcase their work. Clients can then hire freelancers of their choosing and receive works in NFT format. This will ensure a seamless transfer of ownership, preventing any copyright infringement.
The DeeLance ecosystem is tied together with its native crypto, DLANCE. This presale token operates on the Ethereum network and is currently priced at $0.038 – the token price will rise to $0.057 upon its exchange listing.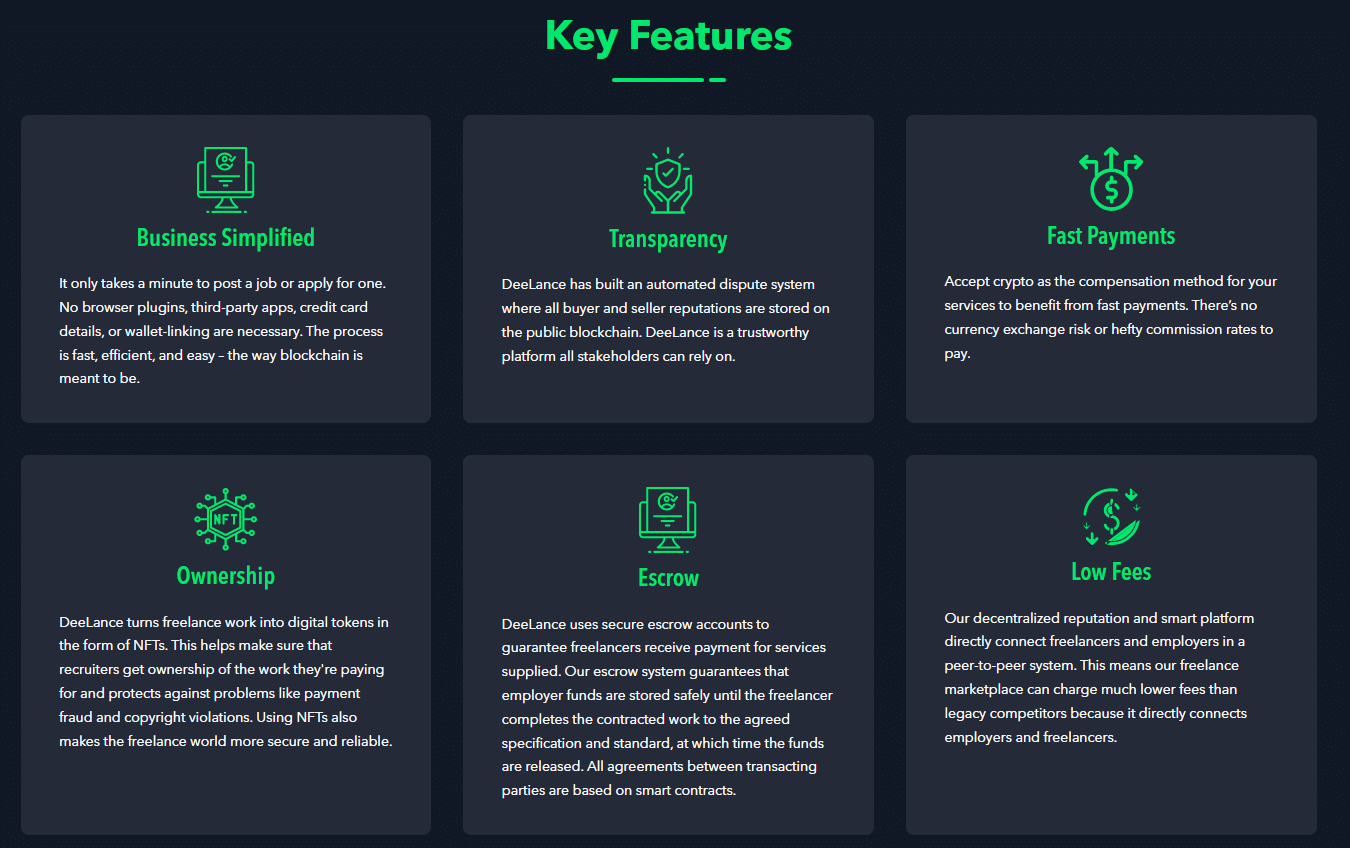 DLANCE tokens have numerous functionalities within the DeeLance platform. For starters, DLANCE is used to pay freelancers after completing a job, with DeeLance charging just 2% and 10% to clients and freelancers respectively – highly competitive compared to the industry average.
DLANCE tokens can also be used to pay for services in the Deelance metaverse, a virtual realm that allows users to lease office space to host meetings, place advertisements, interact with each other, and even sell services.
4. Ecoterra – Green Crypto Project With Recycle-to-Earn Rewards
Ecoterra is a blockchain project fighting climate change and although many green projects exist in the crypto market, ecoterra stands out with its recycle-to-earn mechanism.
The platform incentivizes users who recycle and has created a database of recyclable items and a network of reverse vending machines (RVMs).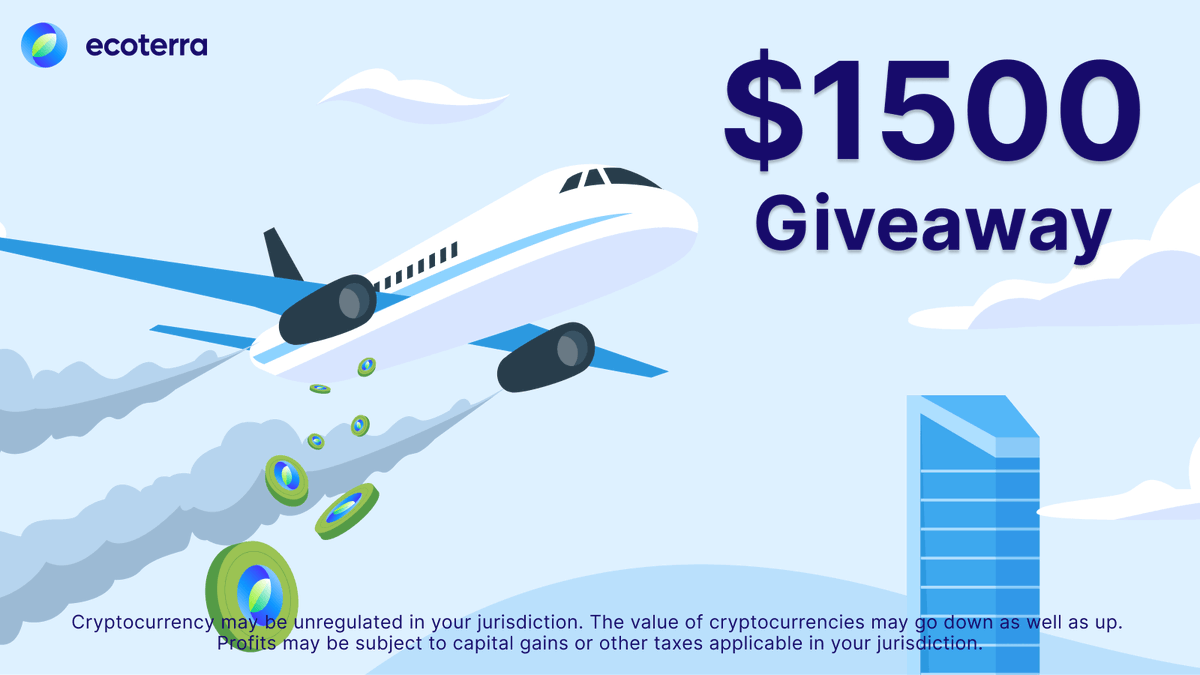 Users can scan household items such as plastic and glass through the ecoterra mobile app and deposit them in the nearest recycling center to earn rewards, a fun process to earn tokens which has seen it place amongst our list of the best crypto games around.
The presale has already raised $4.7 million and those who purchase tokens during the presale are also eligible to enter Ecoterra's upcoming giveaway. The promotion will offer $100 to 15 token holders, with the winners picked at random.
Investors can enter the draw by completing activities such as following Ecoterra on Twitter and tweeting about the token.
The project also partners with fashion retailers to accept recyclable clothes. Rewards are offered in $ECOTERRA, the platform's native token. Users can hold ECOTERRA tokens for value appreciation, stake them to receive attractive APYs, or spend them to fund eco-friendly projects on the platform.

Additionally, Ecoterra helps companies become more sustainable. The platform is developing a marketplace for recycled materials, with businesses able to buy raw materials and pay for them using fiat money or cryptocurrencies – those who pay with ECOTERRA tokens will benefit from discounts.
Ecoterra is also preparing a secondary marketplace for carbon credits. With blockchain technology, Ecoterra ensures minimized fraud risk and transparent transactions for all its features. To support this eco-friendly endeavor, investors can buy ECOTERRA tokens via the ongoing presale. Currently, ECOTERRA tokens are available for $0.00925.
5. OKX – Win 50,000 USDT or a Tesla Through a Trading Competition.
Leading crypto exchange OKX is holding a trading competition with huge prizes up for grabs. Winners can choose from $50,000 USDT or a brand-new Tesla, with the exchange providing users with five raffle tickets for every $10,000 USDT traded.
As such, the more traded at OKX, the greater the odds of winning – ttis promotion has already given out an iPhone 14 Pro, MacBook Pro, Manchester City FC tickets, and a holiday to the Maldives.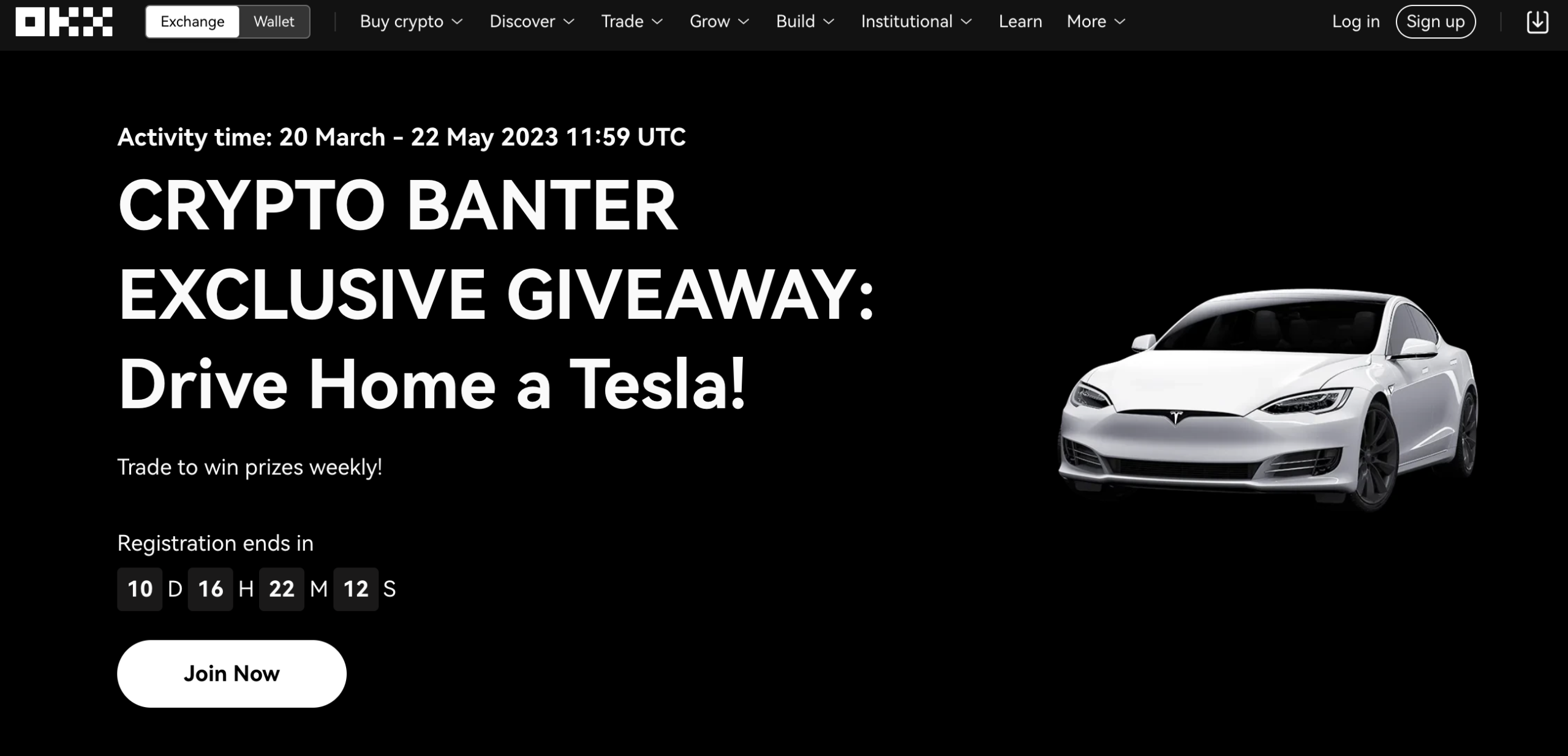 OKX is also offering a generous giveaway to those opening an account for the first time. This comes in the shape of a Golden Mystery Box for new users who make an initial deposit of at least $50 USDT.
The box can contain crypto prizes worth up to $10,000.
6. CEX.IO – Leading Crypto Exchange With a $5,000 Giveaway
CEX.IO is a cryptocurrency exchange that allows users to buy, sell, and trade dozens of digital assets. It was founded in 2013 and has since become one of the most trusted crypto platforms globally. In addition to trading services, CEX.IO also features free crypto giveaways and tournaments.
Currently, the platform is running a trading competition with $5,000 in rewards, with users able to enter by trading on the Exchange Plus segment of the platform. CEX.IO is offering $1,000 to the top trader. Those in second and third places are offered $500 and $450, respectively.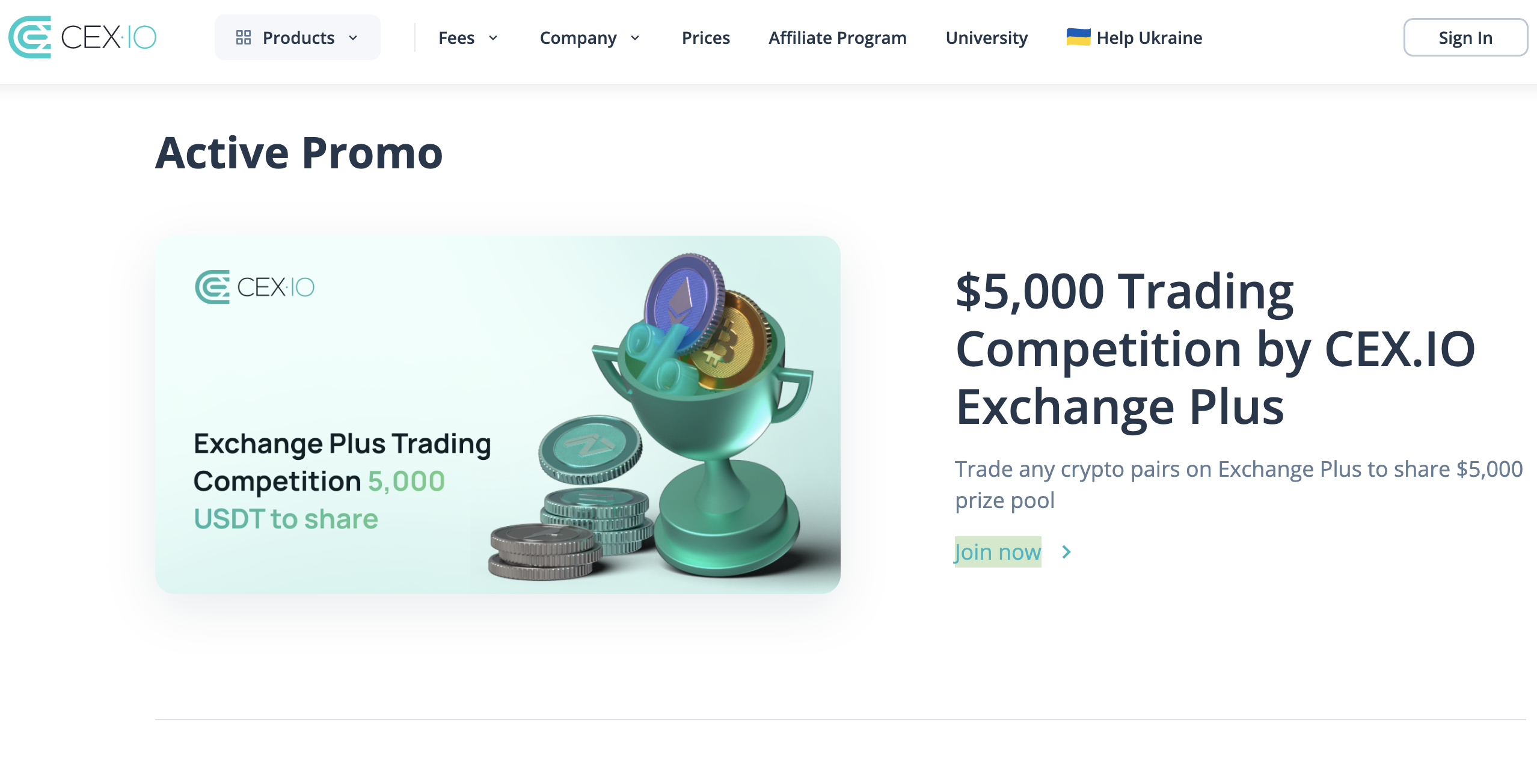 The platform rewards traders ranking within the top 10 positions and CEX.IO will also randomly pick 12 participants, rewarding them with $100 each. The prizes are paid out in USDT, and the scores are updated weekly.
CEX.IO has previously hosted some of the best crypto giveaways in the blockchain space. For instance, in March 2023, the platform gave away 500 USDT to winners of a mini-trading tournament – users will also find cashback offers and promotions for staking rewards.
Founded in 2017, KuCoin is a crypto exchange best known for its user-friendly interface. The platform frequently hosts promotions in partnership with new crypto projects. Currently, KuCoin is running a listing campaign for the Cetus protocol.
Cetus is a new decentralized and concentrated liquidity protocol that operates on the Sui and Aptos blockchains. The KuCoin-Cetus campaign started on May 10, 2023, and will last until May 17. The campaign takes place in three stages, each offering different rewards.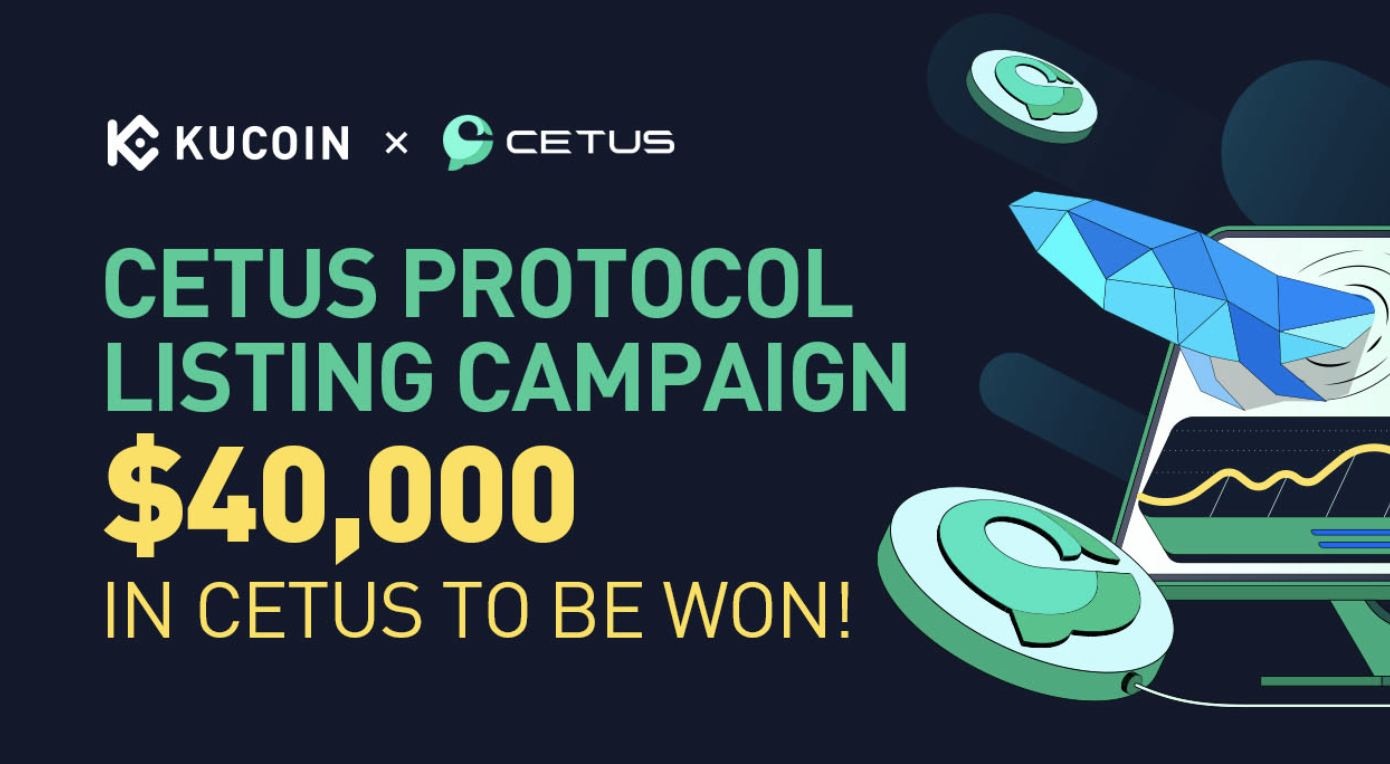 For instance, the first stage offers a share of $9,000 CETUS tokens to newly registered KuCoin users. To qualify, users must have a trading volume of at least 1,000 CETUS. For the second stage, KuCoin users should pass the KYC procedure and invite at least one new customer with their referral code.
During the last phase, the top 400 users with the highest CETUS trading volumes will qualify to win a share of $20,000.
8. Digitoads – Crypto Presale Project Offering a $50,000 Giveaway
Digitoads is a newly launched cryptocurrency project setting up a charity for toads. The project has pledged 2.5% of profits to charities that help replant trees in the Amazon rainforest, which has the largest habitat of toads in the world.
Digitoads's native token, TOAD, is available via its ongoing presale, which has raised more than $3 million. Once the presale ends, Digitoads will give away $50,000 worth of TOAD tokens to one investor, with the only prerequisite to participate is to hold at least 10,000 TOAD tokens.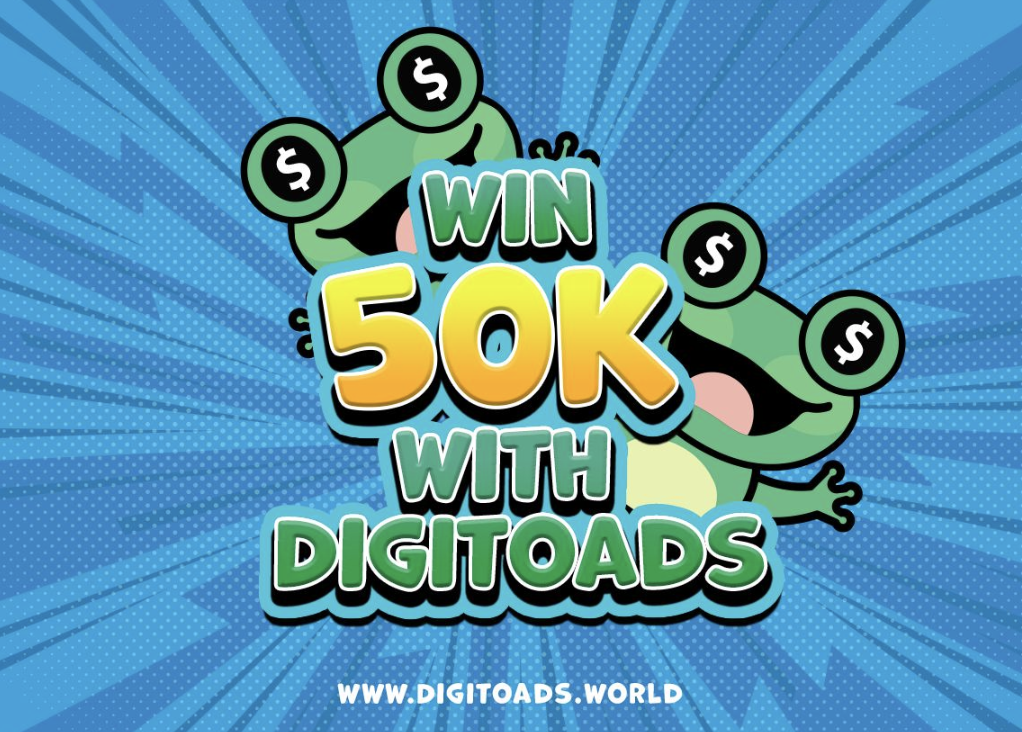 Investors can also obtain bonus entries by completing other actions, such as connecting a crypto wallet or tweeting about DigiToads. Currently, TOADS tokens are available for $0.027.
To achieve its charitable goal, Digitoads is building a set of crypto tools, including an exchange, an NFT marketplace, and an academy – the platform will also host trading competitions and meme contests to boost engagement.
9. Nexo – New Users Get $25 Worth of Bitcoin
Nexo is one of the best crypto exchanges for beginners, with the platform offering crypto staking, lending, and digital wallets. Users can also apply for a crypto credit card to spend their digital assets in the real world.
Nexo is currently running an excellent referral program, allowing users to earn free crypto – the platform is offering $25 worth of Bitcoin to new users who create an account via a referral code.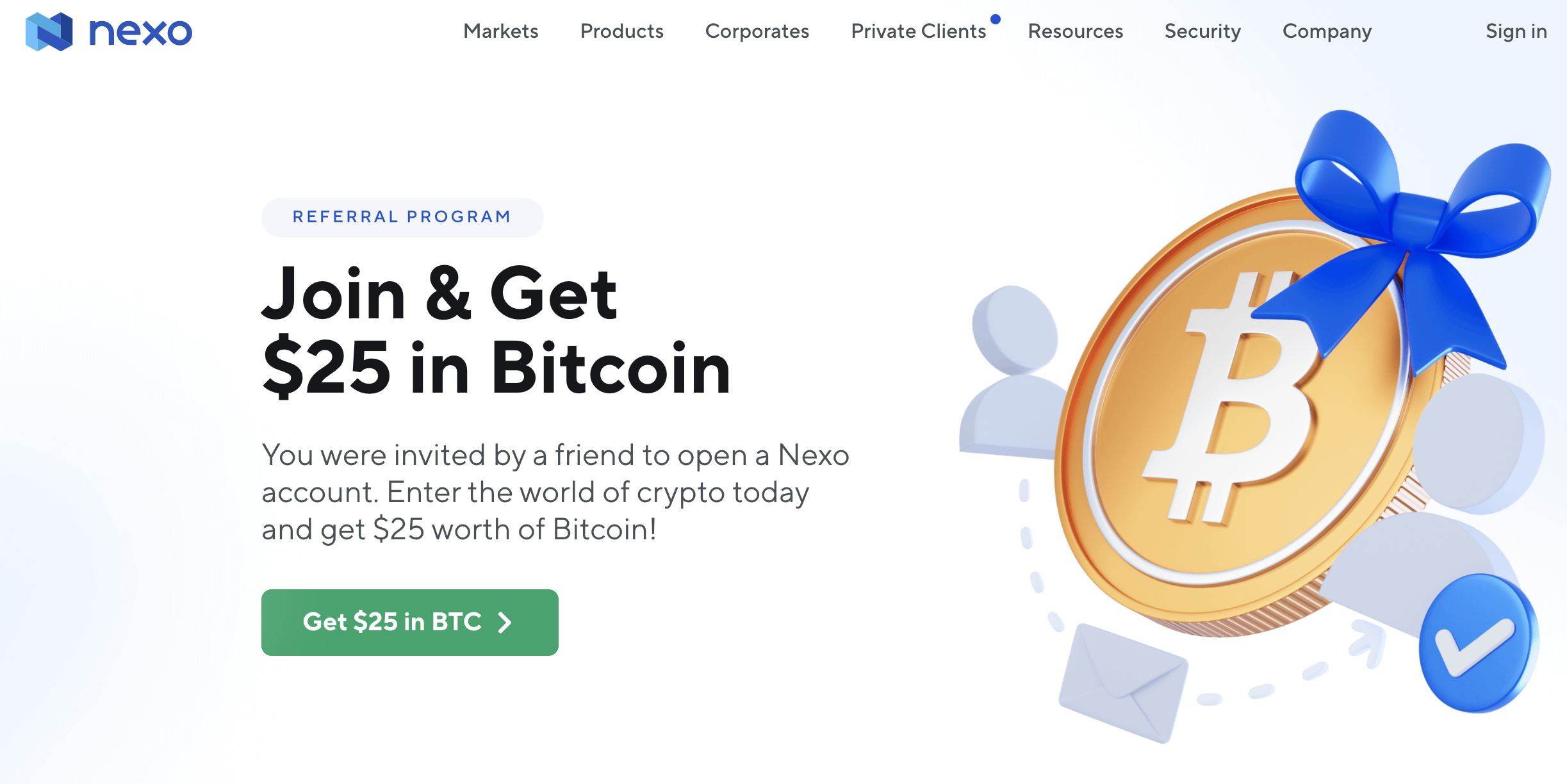 However, to claim the reward, users have to also verify their identity and top up their Nexo accounts with $100 worth of digital assets.
Users can buy crypto directly or add funds from another wallet. Interestingly, the deposited funds will begin earning an APR of up to 15%.
10. TradeStation – Get an Onboarding Bonus of $150 Worth of Bitcoin
TradeStation, a US-based broker, is offering one of the best crypto giveaways for new users. Here, the welcome bonus stands at $150 worth of Bitcoin.
However, like Nexo, users have to complete a few requirements to qualify. The first condition is to use the promo code 'NERDAGCT' while signing up. Then users have to buy or deposit $500 worth of supported crypto in their TradeStation account. This portfolio balance should also be maintained for two months.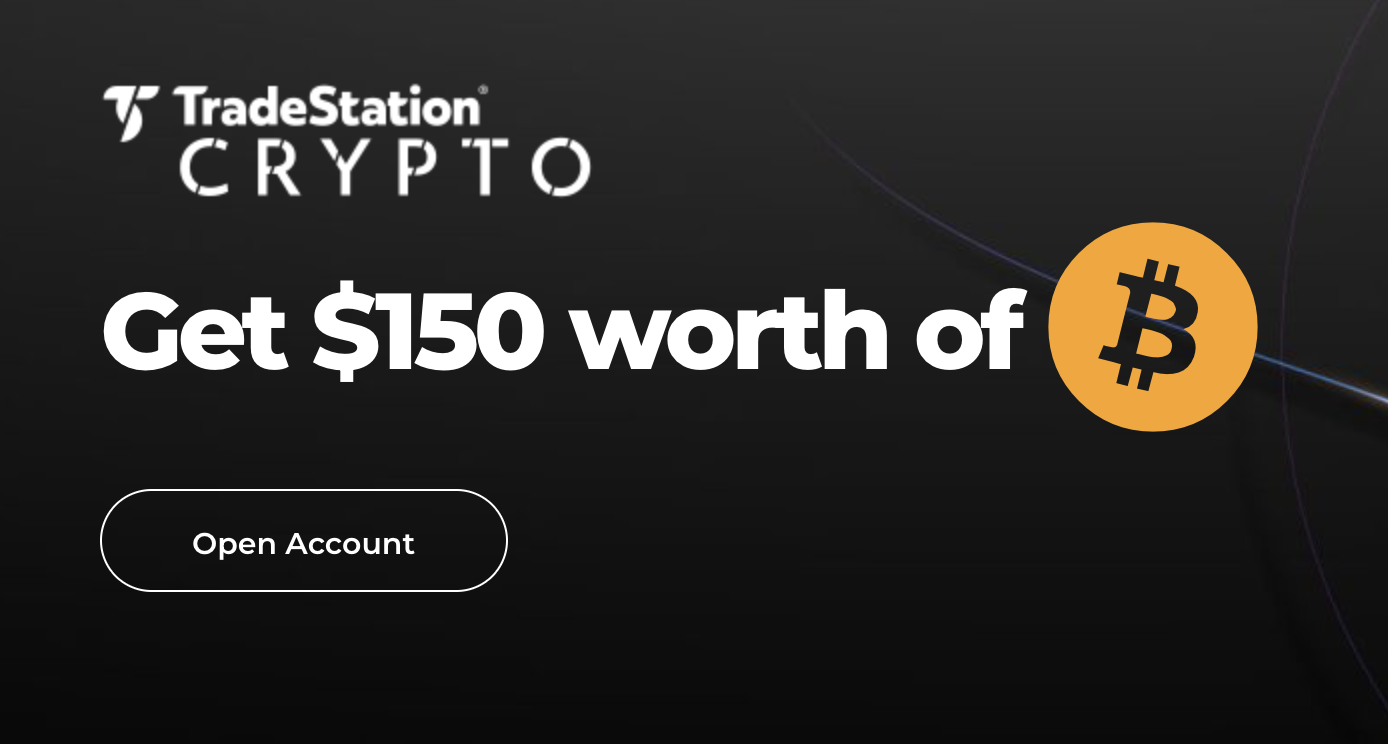 The reward will be offered in two $75 payments, distributed in BTC. This offer will appeal to traders that are yet to enter the world of crypto.
Just be sure to read the terms and conditions before claiming the offer.
How do Crypto Giveaways Work?
A crypto giveaway involves distributing digital tokens to participants for free, or in exchange for performing specific actions.
Crypto giveaways enable people to earn free tokens and are conducted for various reasons and in various methods. For instance, a giveaway can help increase awareness of a new cryptocurrency project, attract new investors, or encourage existing users to engage with a platform.
Crypto giveaways can take various forms, including airdrops, faucets, an online lottery, competitions, and contests – what's more, there are also opportunities to earn free crypto by playing the best NFT games.
Some of the best play-to-earn games in the market, such as Tamadoge, also offer rewards in the form of digital tokens but the eligibility and prize terms of a giveaway vary depending on the platform.
For instance, some promos require users to engage with their social media pages and others need investors to buy lottery tickets or digital tokens.
Nevertheless, the overarching idea is to drive engagement to help promote the platform or project.
Are There Any Catches to Crypto Giveaways?
Giveaways can be a great way to earn free crypto. However, it is important to research a giveaway before participating in it.
Below are some considerations to make when searching for the best crypto giveaways.
Requirements: Some crypto giveaways need participants to complete certain tasks, such as following social media accounts or referring friends. Be sure that each step is completed to qualify for the giveaway.
Limited-time offers: Crypto giveaways may only be available for a limited time. Therefore, investors need to act quickly to take advantage of them.
Volatility: Cryptocurrencies are known for their volatility. Hence, the value of the rewards earned through giveaways can fluctuate greatly. Investors should be prepared for this risk.
Tax implications: Depending on the country of residence, there may be tax implications for receiving cryptocurrency as a giveaway. Investors should consult a tax professional to understand their obligations.
Check prize terms: Investors should carefully check the giveaway terms so they are not signing up for something different to what they expected.
Above all, users should be wary of fake crypto giveaways. These are scams designed to trick investors into giving away their personal information, wallet address, or crypto assets – as such, investors need to be cautious to ensure the giveaway is legitimate.
Where to Find Free Crypto Giveaways
Giveaways are becoming increasingly popular in the crypto community and has led to many projects and platforms offering crypto promotions.
However, not all crypto giveaways are legitimate – to find the best crypto giveaway in 2023, consider using the following tactics.
Check Social Media
Social media is a popular way to spot new crypto promotions. This can be done by following verified crypto projects, exchanges, and influencers on platforms like Twitter, Telegram, and the best crypto Discord groups.
These entities regularly announce giveaways, airdrops, and other promotions to their followers. Additionally, it's also possible to find promotions by searching for hashtags. For example, using the hashtag #crypto-giveaway or #airdrop may lead to posts about ongoing promotions.
Scour Online Forums
Online forums like Reddit are excellent sources for finding the best crypto giveaway offers.
Dedicated subreddits, such as r/CryptoMarkets, and r/CryptoCurrency, are often used by new projects to publish information on promotions.
It's worth joining these subreddits to be alerted about new giveaways.
Visit Crypto News Websites
Another way to find the best crypto giveaways is through industry news websites.
There are many crypto news websites that publish articles about giveaways, promotions, and airdrops. Some of these articles are sponsored by the respective project but are useful nonetheless.
Online Lotteries
Some of the best crypto giveaways are distributed via a lottery ticket system. In order to obtain tickets, users must complete certain tasks.
Wondering where to play online lottery to win free crypto? Check out the ongoing OKX trading competition. For every 10,000 USDT traded, five lottery tickets are earned – the winner will walk away with 50,000 USDT or a brand-new Tesla.
How to Enter a Crypto Giveaway
To participate in a crypto giveaway, users need to follow the specific instructions provided by the organizer.
For instance, participants may have to:
Fill out a form
Provide a public wallet address
Share posts on social media
Buy digital tokens via presale
Trade tokens
Participate in competitions
We also found that some of the best play-to-earn games offer regular giveaways to attract new players.
Moreover, with some crypto giveaways, users must complete more than one task to collect points. Even then, the giveaway might be offered only for a selected number of participants via random draws.
Additionally, the amount of cryptocurrency distributed can vary, with some giveaways offering small amounts and others giving away substantial sums.
Are Crypto Giveaways Legit & Legal?
Crypto giveaways are often legit and legal. However, it ultimately depends on whether or not it is conducted by a reputable and trustworthy entity. Under no circumstances should the user need to give their wallet's private keys to enter a giveaway promotion.
The crypto space is teeming with giveaway scams. Scammers exploit promotions to acquire sensitive information, such as private keys. Therefore, it's important to be cautious and conduct research before participating in any giveaway.
Investors can verify the reputation of the giveaway provider to ensure the legitimacy of the promotion. This can be done by researching the project or exchange that's conducting the giveaway. Additionally, individuals should carefully read the rules and prize terms of the giveaway to be aware of the requirements.
If done correctly, giveaways can be a great way to get involved in the crypto world and potentially reap some rewards.
Conclusion
In summary, we have discussed the best crypto giveaways and how interested parties can participate in them.
We found that the best crypto giveaway right now is being offered by Wall Street Memes ($WSM) – a new meme token. The meme token has been launched by the creators of this popular platform, which has over 1 million social media followers.
Those who take part in the ongoing presale can win from a pool of $50,000 worth of $WSM tokens.
FAQs
Are any crypto giveaways real?
Are crypto giveaways legal?
What crypto giveaways can I enter?