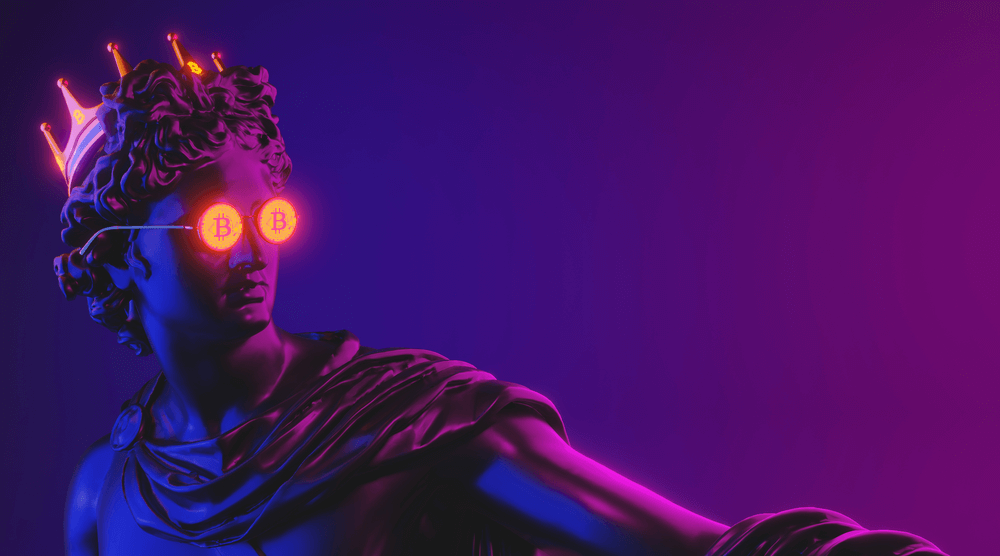 Marketing is crucial to stand out in the ever-growing cryptocurrency market. There are thousands of projects competing for investor attention, with new entrants being added daily. The best crypto marketing agencies can help your project achieve its goals.
Not only in terms of attracting investors but launching presale campaigns, listing on exchanges, staying compliant with regulators, and much more. Read on to discover leading marketing agencies that specialize in cryptocurrencies.
The Best Crypto Marketing Agencies in 2023
We'll begin this comparison guide with a list of the 9 best crypto marketing agencies:
CryptoPR: The overall best crypto marketing agency as it has a long track record of proven success in helping projects enjoy rapid growth. Has 100s of staff with expertise and reach across the industry – from dozens of news sites to tier-1 crypto exchanges – and offers bespoke packages to suit the budgets and requirements of all sorts of crypto projects. Offers news articles, advertorials, listicle placement, and influencer marketing on a global scale.
NinjaPromo: This leading digital marketing agency specializes in disruptive markets – including cryptocurrencies, NFTs, and blockchain. Within each niche, NinjaPromo offers a full suite of marketing services, not to mention a network of crypto influencers, exchanges, and launchpads.
Coinbound: Established crypto marketing agency with over 1,250 delivered projects. Claims have represented 30% of the top 100 cryptocurrencies by valuation. Past clients include MetaMask, TRON, and OKX. Many marketing services are available, including SEO, influencer campaigns, exchange listings, PR launches, and lead generation.
Omni Agency: Offers end-to-end crypto marketing services with proven success in building Web 3.0 communities. Omni Agency also has a solid track record in helping crypto projects raise funds from token and NFT sales. Key methods include strategy building, paid ad campaigns, community management, and influencer marketing.
NeoReach: Specializes in bespoke influencer campaigns that include detailed strategy and direction, sourcing, brief creation, and analytics. Has previously worked with Tezos, securing more than 1.1 million views and over 40,000 fan engagements. Custom pricing depends on the desired reach.
Coinpresso: Full-service marketing agency with crypto PR services, including fast-turnaround content campaigns with leading publishers. Coinpresso also has in-house developers who help crypto projects implement staking tools, NFT marketplaces, and dApps.
FINPR: Founded in 2017, FINPR is a Dubai-based marketing agency that has worked with over 500 crypto-centric clients. It has over 300 media publishers within its network, covering 15 different languages. FINPR also offers influencer campaigns on YouTube, X, Telegram, and other social channels.
ProCrypto: One of the leading agencies for scaling community growth, ProCrypto has a great reputation in this space. In addition to social media marketing, influencer relationships, and community management, it helps strategize bounty campaigns. It claims that bounty programs can secure an additional 8,000 members and 89,000 likes, comments, and reactions.
BlockWiz: Offering crypto marketing services for over seven years, BlockWiz has delivered over 1,700 campaigns. It provides data-driven solutions for new and established cryptocurrencies, with a focus on community building and increased engagement rates. Other services include content writing, influencer campaigns, and PPC advertising.
Top 9 Cryptocurrency Marketing Agencies Reviewed
We've covered the key points, so let's move on to our comprehensive reviews. Read on to discover how the top crypto marketing agencies can take your project to the next level.
1.CryptoPR – Overall Best Crypto Marketing Agency 2023
CryptoPR is our overall best crypto marketing agency as it has a long and proven track record of delivering high-value campaigns for new and existing crypto projects.
With a team of more than 100 staff and around three years of experience in the industry, the firm has a vast network of experience, expertise, and connections in the space, including dozens of crypto news sites and tier-1 crypto exchanges and brokers.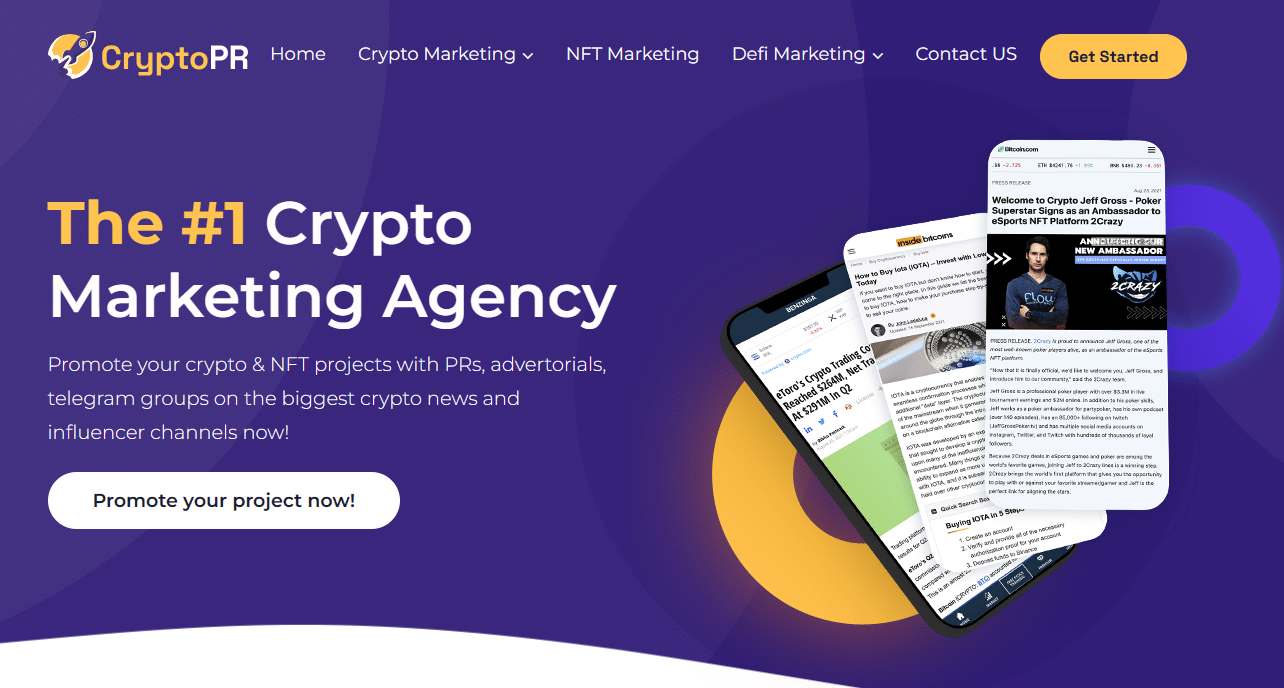 The agency offers projects a bespoke service that includes press releases that get sent out to hundreds of crypto and financial news sites, journalists, and other media contacts, and banner ad campaigns.
The firm delivers advertorials and features, sponsored placing on top listicles, and targeted exposure to a global audience of millions. It also includes social media influencer campaigns that can reach hundreds of thousands, if not millions, of crypto-savvy viewers and followers. Crypto project founders can also be interviewed to discuss details and promote the pros of their projects.
CryptoPR has a proven track record of success for some of the best crypto ICOs – one recent case study is IMPT, which raised more than $16 million in its presale. The agency also helped generate more than 400 news articles, 1.4 million page views, over 40,000 presale transactions, and community growth in the tens of thousands.
Other projects have had their tokens eventually listed on leading crypto exchanges such as OKX, KuCoin, Gate.io, and others.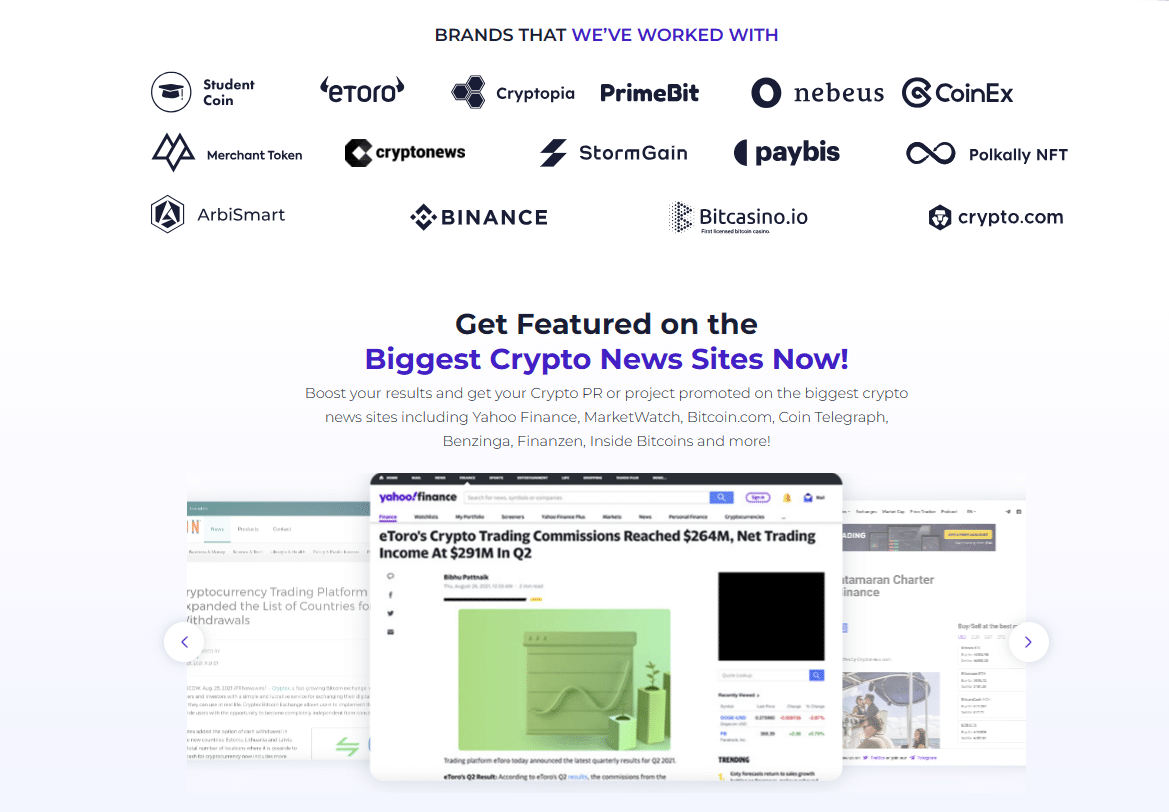 The agency is not only suited for newly launched crypto projects that want to grow interest in their presale but also offers services to crypto influencers, NFT collections, DeFi projects, and traditional financial marketing.
As a bespoke service, there is no set pricing system in place, with interested parties submitting details about their project and discussing packages that suit their requirements and budget with members of the CryptoPR team.
2. NinjaPromo – Full Suite of Crypto Marketing Services Including ICOs, Listings, and Influencers 
NinjaPromo is the next best option for crypto projects seeking a full 360-degree service. It offers everything projects need to go, from a complete startup to a trending cryptocurrency listed on multiple exchanges. Let's break down some of its key features. First, NinjaPromo will help craft an accurate roadmap, covering core strategies, goals, and timelines.
Once the project is ready to begin its fundraising campaign, NinjaPromo provides the necessary marketing to help attract investors. Not only ICOs but also IDOs, IEOs, and STOs. For example, it can develop and launch social media ads on popular networks like Facebook and X. It also offers content marketing, helping your project improve its SEO rankings.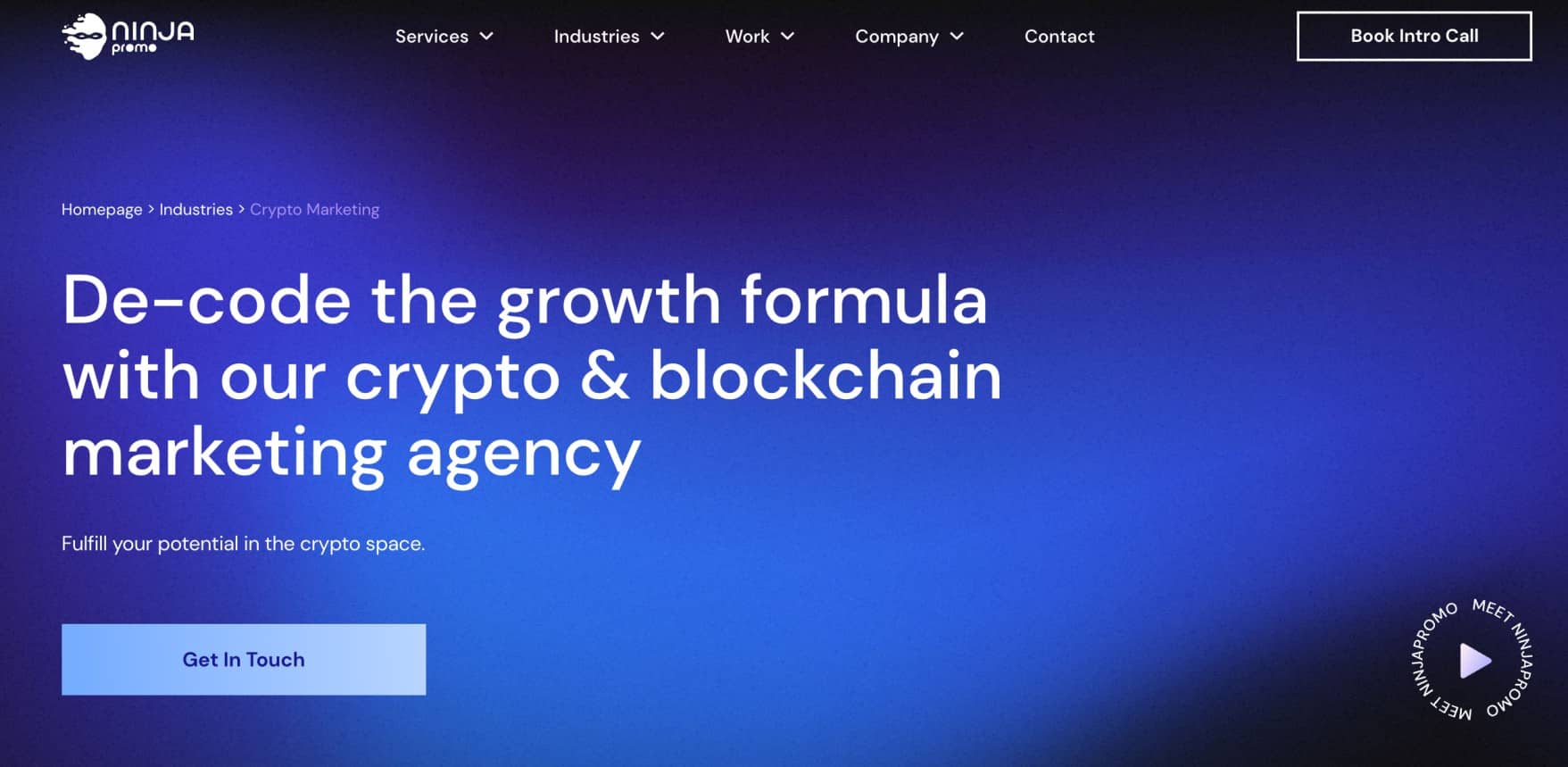 NinjaPromo also offers social media and community management, allowing your project to offer 24/7 assistance on Telegram, Discord, and other leading networks. This top-rated cryptocurrency marketing agency also has a network of influencers. This is an invaluable tool, considering the power that influencers have over potential cryptocurrency investors.
NinjaPromo can also help your project connect with the best crypto exchanges. This includes market-making to ensure the project meets exchange listing requirements. For example, boosting trading volumes and reducing the likelihood of price manipulation. Like many crypto marketing agencies, pricing depends on the level of service required. Therefore, projects need to contact NinjaPromo for a bespoke quote.
3. Coinbound – Established Marketing Agency Representing 30% of the Top 100 Cryptocurrencies by Market Cap
With over five years' worth of crypto marketing experience and more than 1,250 delivered campaigns, Coinbound understands how the blockchain space operates. In fact, Coinbound claims to have represented 30% of the top 100 cryptocurrencies by market capitalization. Some of the most notable project relationships include TRON, MetaMask, eToro, Gala Games, and OKX.
Coinbound offers a multitude of services across four key divisions; cryptocurrencies, NFTs, Web 3.0, and DeFi. This includes crypto influencer marketing, covering strategy, content creation, and delivery. One of its most recognized influencer partners is BitBoy Crypto. Not only does BitBoy have over 1.4 million YouTube subscribers – but the channel is exclusively dedicated to cryptocurrency investments.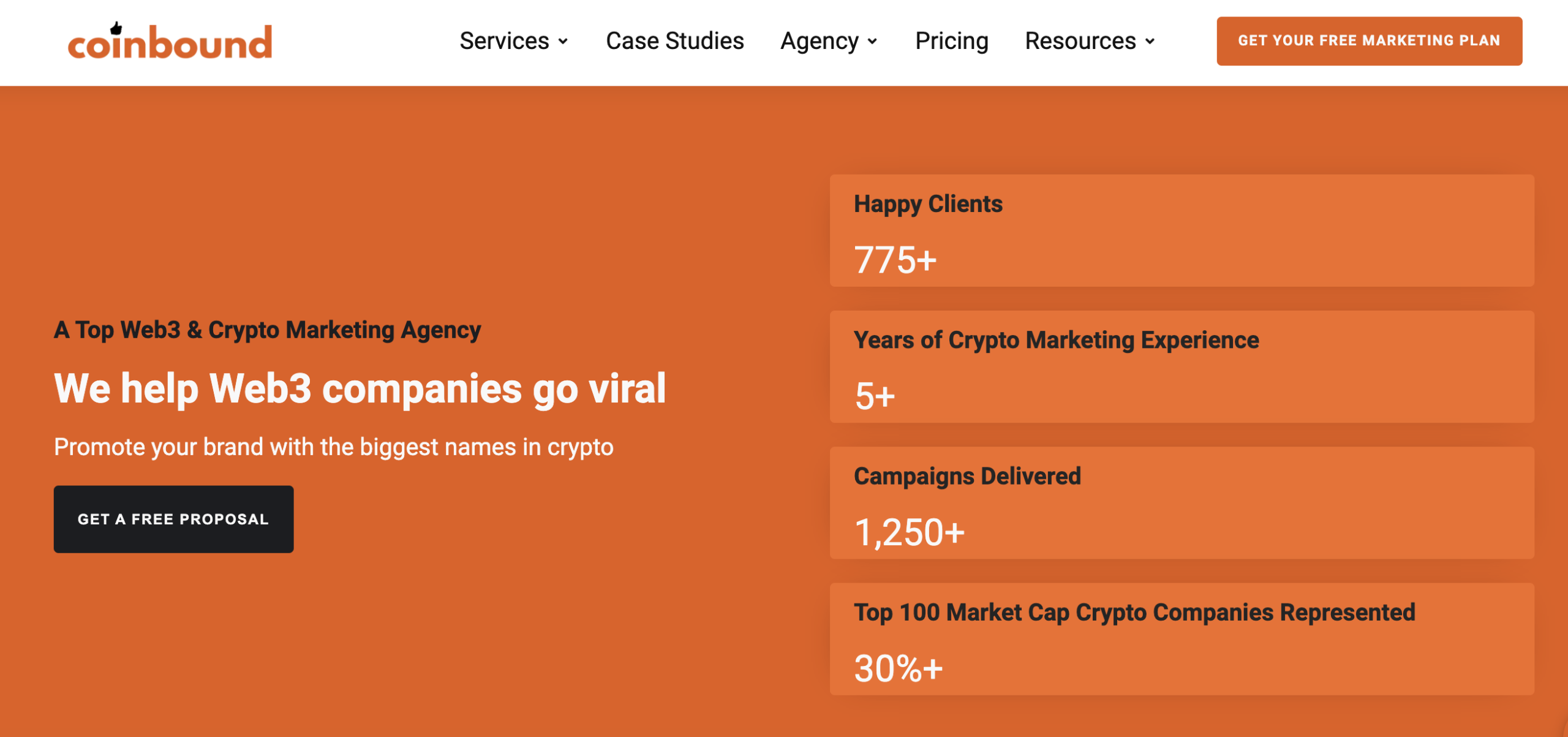 In addition, Coinbound also offers PR services with popular crypto news media platforms. Previous coverage has included CoinTelegraph, CoinMarketCap, Decrypt, and NewsBTC. Non-traditional sources include Benzinga, Market Watch, and Forbes. Some of Coinbound's other key services include lead generation, crypto link building, SEO, social media and community management, media planning, and paid ads.
Moreover, Coinbound can also help cryptocurrency projects list on the most popular exchanges. It claims to have partnerships with Bybit, Gate.io, LBank, Huobi, HitBTC, BitMart, and KuCoin. In terms of pricing, Coinbound has an automated quote system that gives you a ballpark figure of what to expect. Simply enter your crypto marketing requirements and you'll receive a quote in under a minute.
4. Omni Agency – End-to-End Marketing Services With Expertise in Web 3.0 Communities
Omni Agency is a crypto marketing company with expertise in building Web 3.0 communities. It has developed a five-stage action plan that initially begins with a one-on-one call. This is to understand the project and its long-term goals. Next, Omni Agency will craft a strategy that can deliver results based on your project's budget.
It will then deploy the strategy and make revisions where necessary. This is based on real-time data analytics, ensuring that Omni Agency maximizes the return on investment. Like many crypto marketing firms, Omni Agency offers a full suite of services. In addition to strategy planning, this includes community management, PPC and paid media, social media management, and influencer marketing.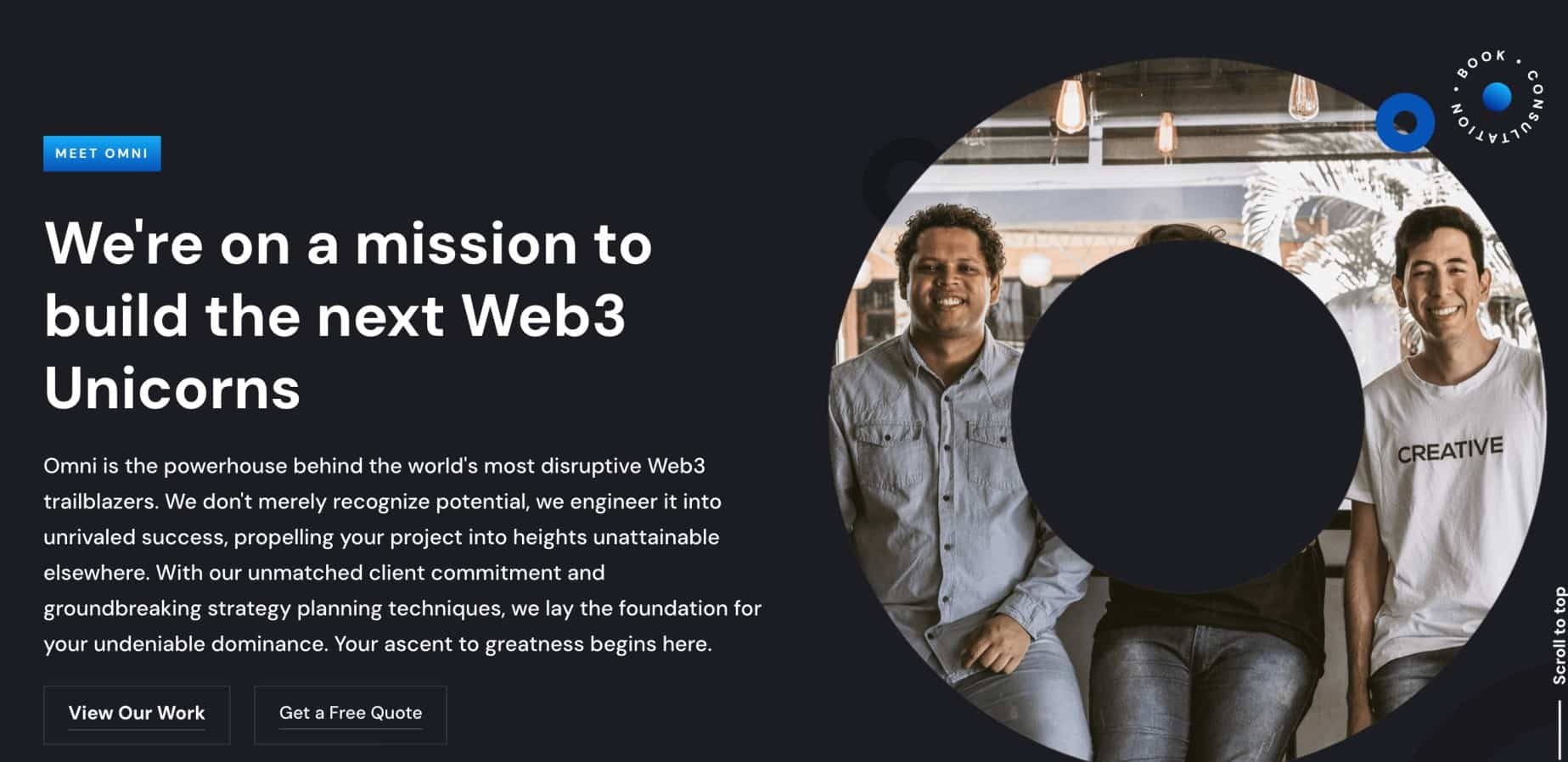 Omni Agency has worked with many cryptocurrency projects to date, including some of the best play-to-earn games. For instance, Omni Agency helped WAGMI Games raise more than $300,000 in NFT sales. It also drove token investments and increased community followers by over 37,000 new members. Omni Agency also worked with Phantom Galaxies, another play-to-earn project.
It was successful in increasing token holders by 60,000, resulting in $3.7 million of additional wallet wealth. Other projects that Omni Agency has worked with include Vulcan Forged, Rainmaker, OptyFi, Crypto Players Club, and Depressed Citizens.
5. NeoReach – Huge Network of Crypto Influencers and Tier-One Clients Include Tezos and Robinhood 
NeoReach is a global marketing agency for blockchain,  cryptocurrencies, NFTs, and Web 3.0 ecosystems. It also serves other industries, with prior clients including NVIDIA, Robinhood, the History Channel, Netflix, Draft Kings, and other tier-one clients.
In the digital asset space, one of NeoReach's most recognized clients is Tezos – the open-sourced blockchain network supporting peer-to-peer transactions. Tezos' core strategy was to increase exposure in the broader cryptocurrency community. It aimed for 1 million views; NeoReach delivered over 1.1 million.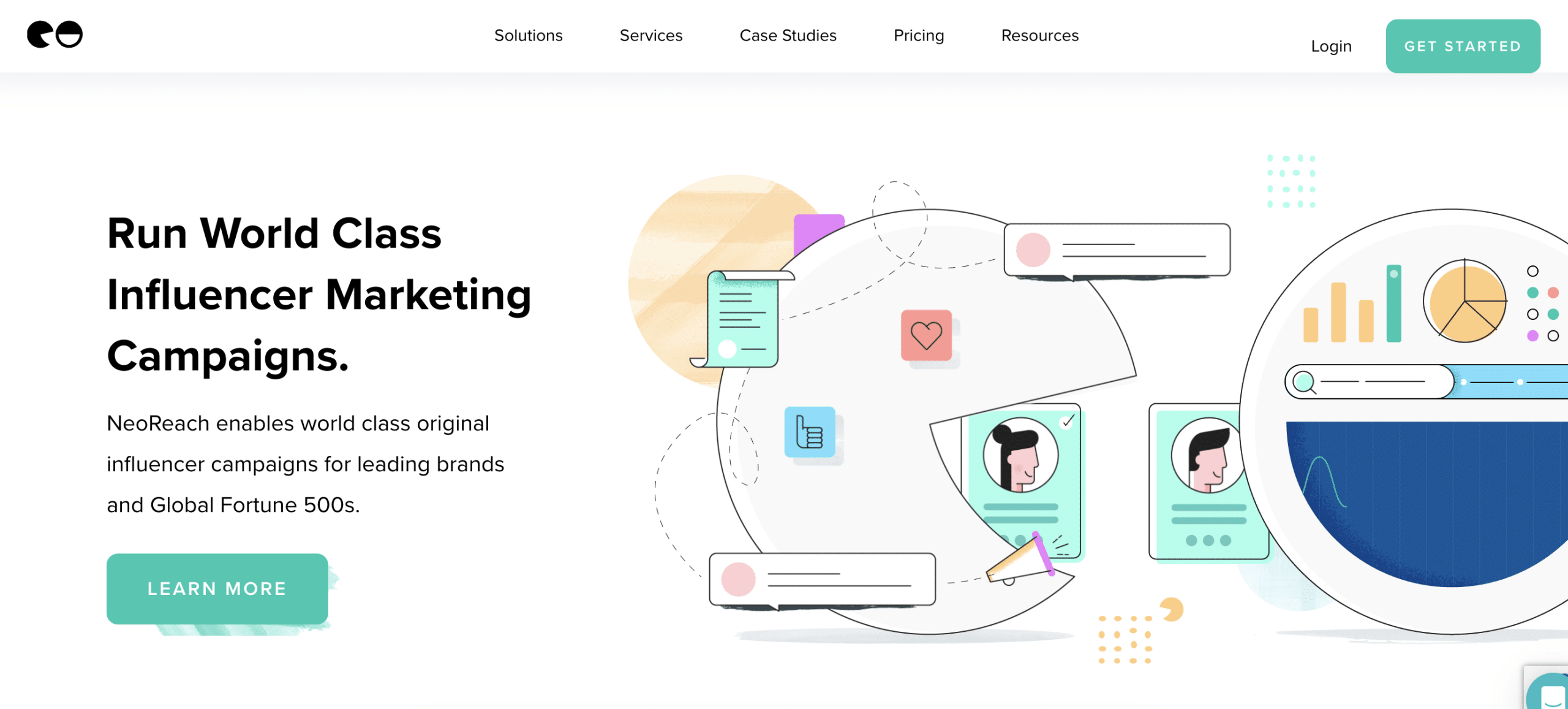 NeoReach also secured an additional 40,000 fan engagements. Part of the strategy relied on NeoReache's network of influencers. This included a video by Alex Costa, who has over 3.98 million subscribers. What's more, NeoReach also got Tesoz exposure on WatchMojo, a YouTube channel with over 24 million subscribers.
Influencers on Twitch were also secured, considering Tesoz's involvement in gaming. NeoReach offers customized pricing plans based on the desired reach. All influencer campaigns come with a bespoke strategy and direction, creative brief development, content licensing and compliance, and detailed reports and insights.
6. Coinpresso – Crypto PR Services With Personalized Campaigns and Content Provision 
Coinpresso is one of the best crypto marketing agencies for PR campaigns. It has formed relations with many crypto publications, including Bitcoin.com and CoinTelegraph. It also works with Yahoo Finance and Tech Crunch. To get the ball rolling, Coinpresso starts with a free conference call.
Once it understands the objectives, it will suggest a crypto PR strategy. Its services include tailored content that resonates with the desired audience. Coinpresso ensures its content is optimized for SEO guidelines, with a focus on keyword research and featured snippets.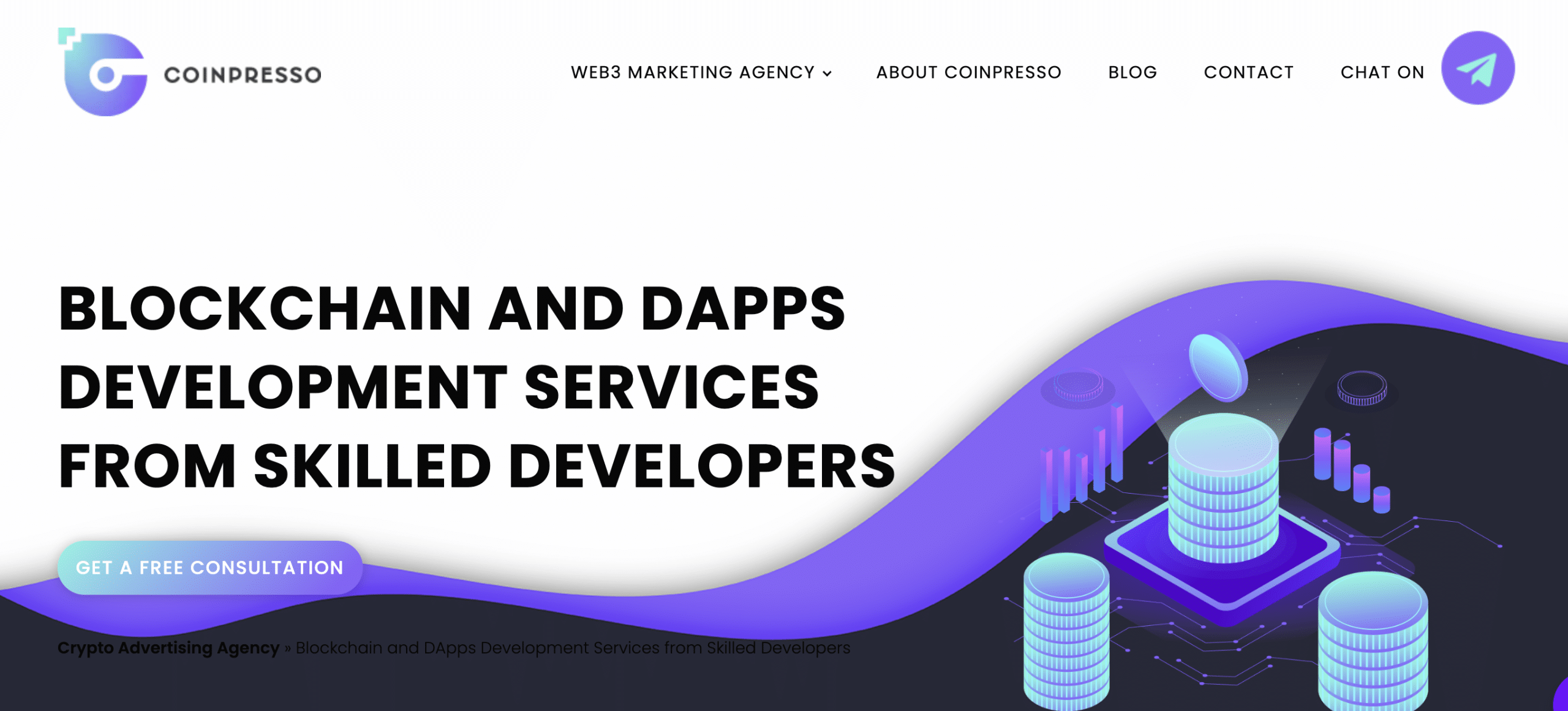 Due to its extensive network of crypto publishers, Coinpresso offers a fast turnaround. In addition to crypto PR, other services include social media marketing, Google ad campaigns, and app search optimization. Coinpresso also offers NFT marketplace and dApp development.
Moreover, Coinpresso can help crypto projects implement staking tools. This enables token holders to earn interest and keeps the ecosystem stable. One of the main drawbacks of Coinpresso is it doesn't provide any case studies of its previous work. This makes it difficult to assess its past performance.
7. FINPR: Crypto and NFT Marketing With Over 300 Media Contacts in 15 Different Languages
Next up is FINPR, a Dubai-based marketing agency specializing in cryptocurrency and NFT projects. Launched in 2017, FINPR has worked with over 500 crypto projects since its inception, covering clients in the US, Europe, Asia, and the Middle East. Therefore, it has the legal and regulatory expertise to ensure projects remain compliant in all target regions.
FINPR claims to have one of the largest media networks in the crypto industry. This consists of over 300 news publications in 15 different languages. On average, it publishes 10 content prices every week for each onboarded client. In addition, FINPR also offers crypto influencer services on YouTube.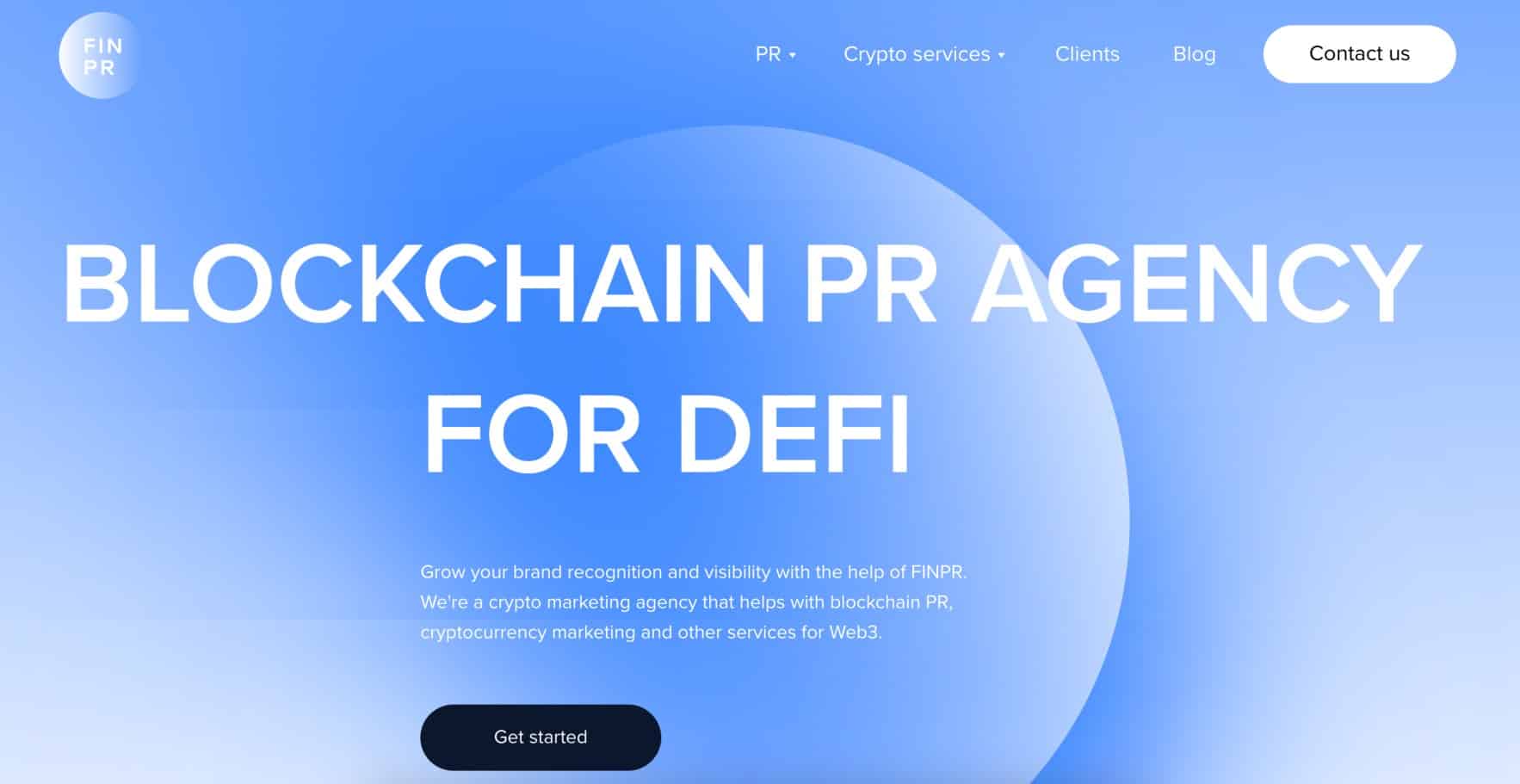 It has relationships with key opinion leaders, totaling over 450 YouTube sources. This includes various channel niches, including Web 3.0, NFTs, market updates, and general crypto news. FINPR also offers influencer services on Telegram, Instagram, and X. FINPR is also a popular crypto marketing firm for securing exchange listings.
It claims to have contacts within Binance, OKX, Crypto.com, KuCoin, and Gate.io. It can also help new crypto projects raise funds via IEO and IDO campaigns. FINPR also fast-tracks listings on CoinMarketCap and CoinGecko. Some of FINPR's previous clients include Open DAO, DigiFinex, EQIFI, Polkadex, and Wanchain. It has also worked with IronX, Defi For You, BigOne, and DeFireX.
8. ProCrypto – Proven Track Record in Helping Crypto Projects Scale Communities and Engagement Rates
ProCrypto is another established crypto and NFT agency that has a proven track record in delivering results. This data-driven firm has helped over 122 projects build and scale their respective communities, ranging from DeFi protocols and exchanges to DAOs and wallets.
One of its most recent case studies was TG DAO; an IDO launchpad that wanted to increase its global exposure. According to ProCrypto, its marketing strategy helped TG DAO acquire 76,000 and 56,000 new followers on Telegram and X, respectively. It also increased engagement rates by 260% and boosted IDO clients by 187%.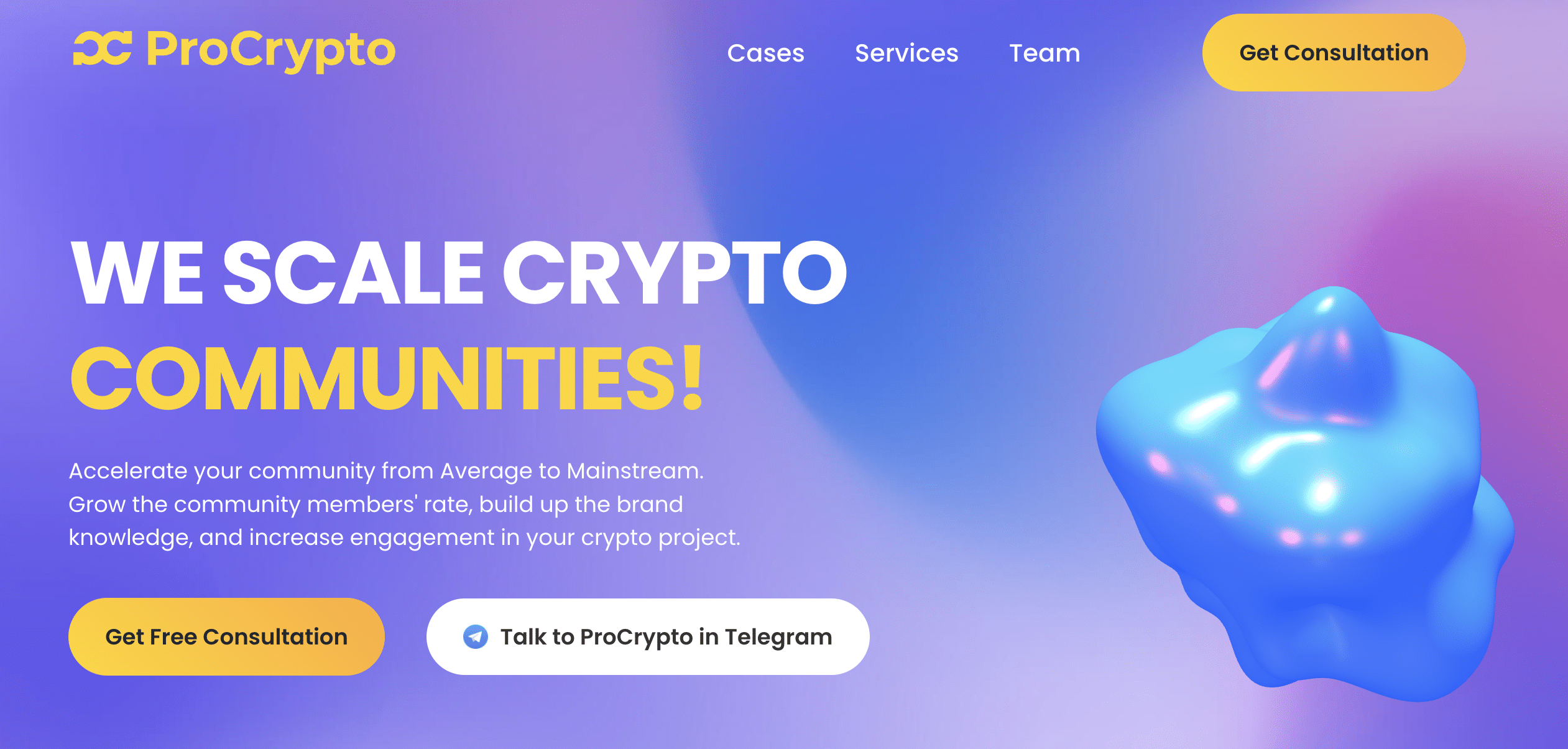 Although ProCrypto doesn't publish prices on its website, it offers three different packages. The Easy Start package comes with two crypto influencers, 1,000 online reputation management (ORM) comments, and 10 social media marketing (SMM) posts. The Full Community Management package increases this to 30 SMMs, 3,000 comments, and eight influencers.
Another popular service offered by ProCrypto is bounty campaigns. For instance, it might suggest offering a cash reward to anyone who promotes the project on social networks. This could be a points-based system to drive activity rates. ProCrypto claims that its bounty campaigns can increase community members by 8,000. This is in addition to 89,000 extra likes, reactions, and comments.
9. BlockWiz – Over 115 Million Influencer Views and 15 Million Community Impressions Since Inception
Founded in 2018, BlockWiz is a crypto marketing firm that offers data-driven solutions. Since its inception, BlockWiz has generated over 100 million views on YouTube and X. It has also generated over 15 million impressions on Telegram. More than 1,700 campaigns have been delivered by BlockWiz, covering 250 global projects.
This includes a variety of cryptocurrency niches, including the metaverse, NFTs, exchanges, gaming, DeFi, and dApps. One of its most recent case studies was an NFT project called BitsCrunch. The project aimed for a 0.25% engagement rate on Discord and at least 2,000 LinkedIn followers.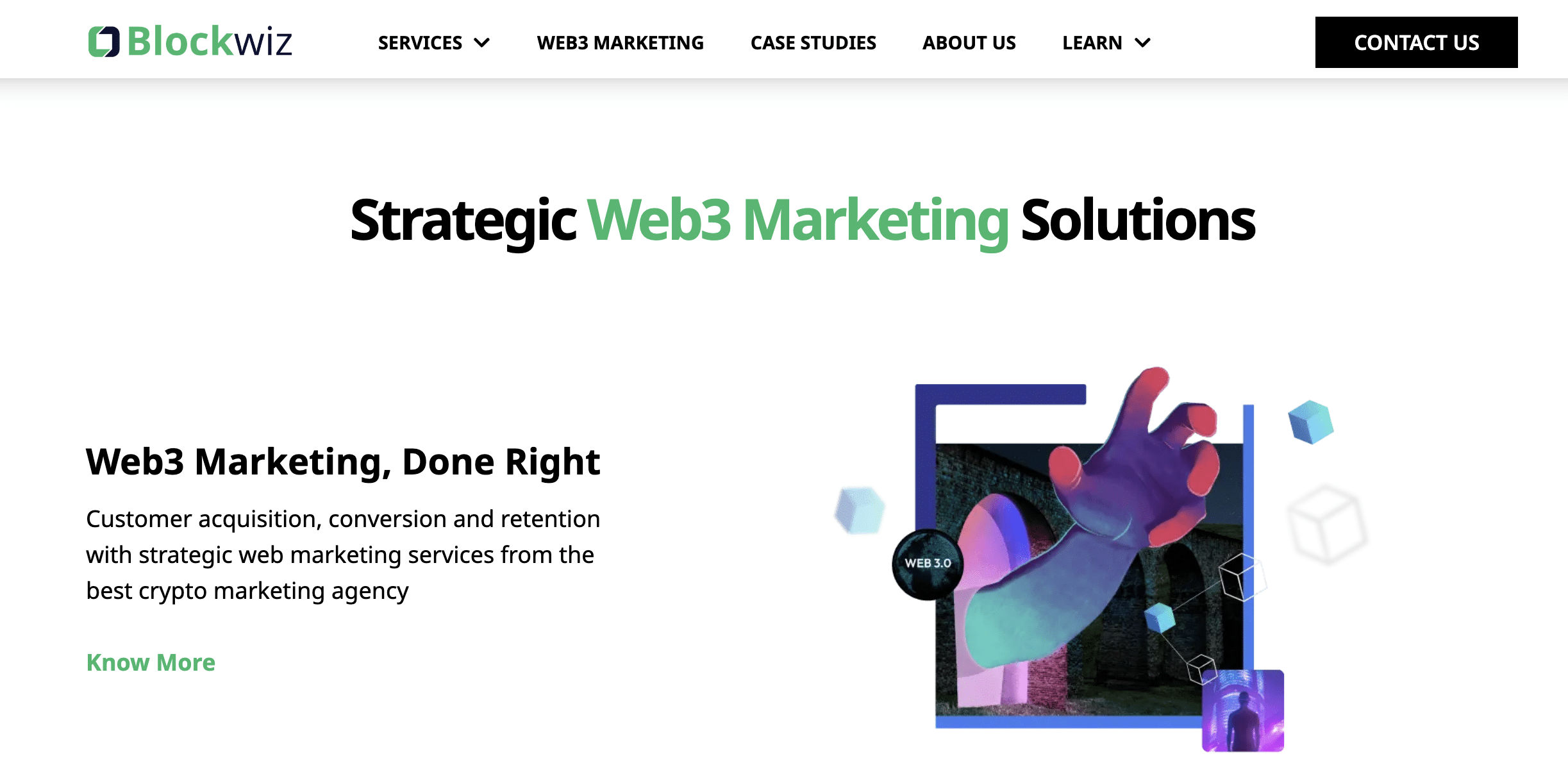 BlockWiz exceeded these goals, increasing engagement rates to 15% and securing 2,500 new followers. Not to mention over 258,000 impressions on X. Another successful case study was NUGEN Coin, which requested a minimum of 5,000 followers on X and Instagram.
It also wanted a minimum engagement rate of 5%. BlockWiz achieved these goals in just nine days. Some of the methods used by BlockWiz include social media marketing, Web 3.0 content writing, influencer campaigns, sponsored articles, and PPC advertising.
What Services do Crypto Marketing Agencies Offer?
The best crypto marketing agencies offer a wide range of services. In some cases, projects can be taken from an idea or concept, right through to fundraising and exchange listings. Let's take a closer look at some of the most sought-after services offered by crypto marketing companies.
Strategy and Roadmap Development
Crypto marketing agencies can help brand-new projects develop a comprehensive roadmap. This means pinpointing key goals and strategies, alongside realistic target time frames.
For example, some projects need help creating an in-depth whitepaper. They might also need best practice guidance on their tokenomics, such as the most suitable blockchain network, total supply and distribution of tokens, and smart contract execution.
Fundraising Deployment and Marketing
Several crypto marketing agencies have experience in launching a new project. This includes the fundraising campaign, whether that's an ICO, IEO, or IDO. Crucially, agencies can help projects attract investors and much-needed capital.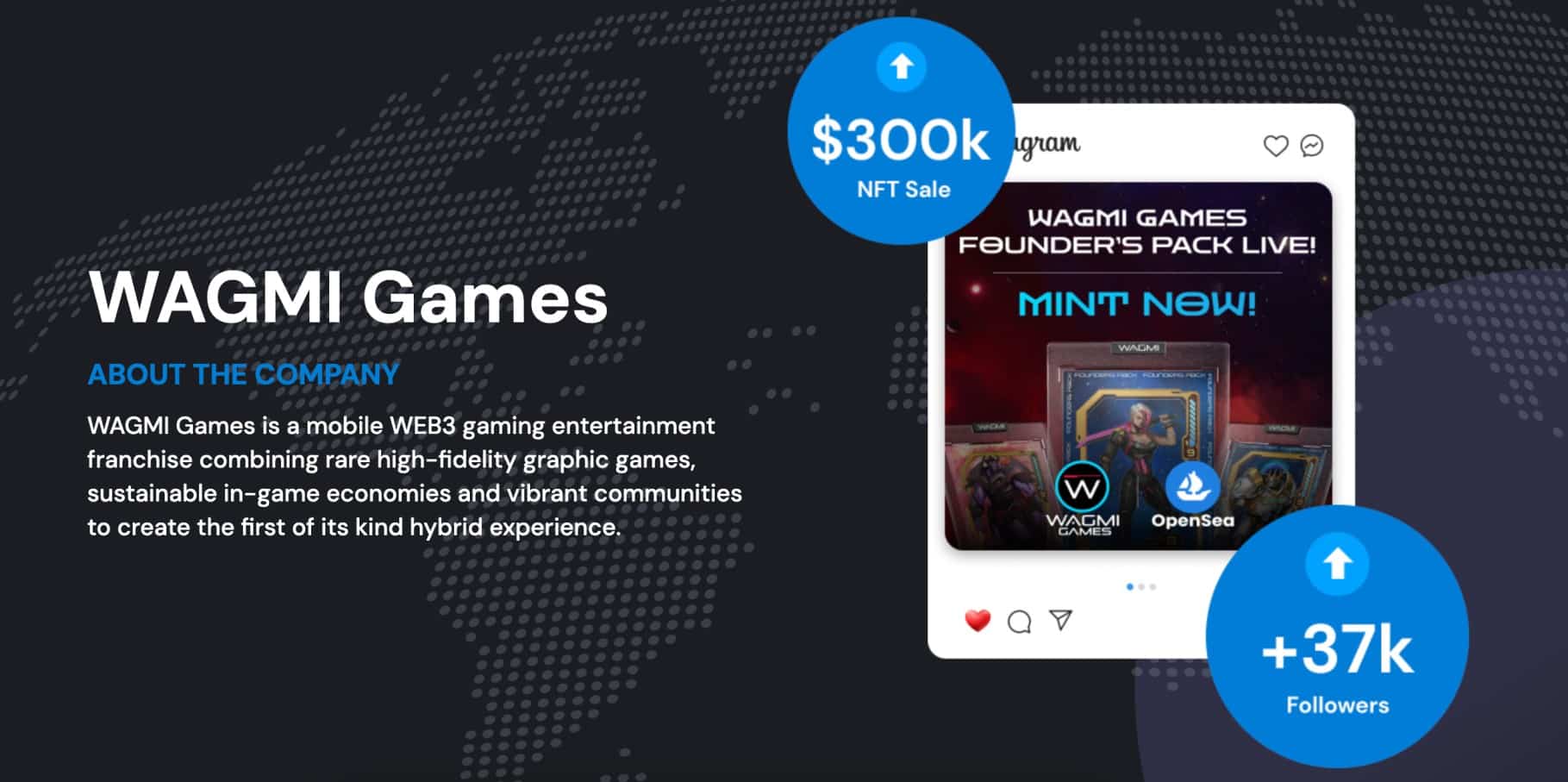 There are many new cryptocurrencies launching daily, meaning there's a lot of competition in the market. Agencies can help spread the word about fundraising campaigns, covering social media networks, news articles, and other proven marketing strategies.
This is perhaps where crypto marketing agencies really prove their worth. With the right strategy in place, they can help new projects raise millions of dollars in start-up capital.
Influencer Marketing
One of the most effective ways for crypto projects to go mainstream is through influencer marketing. The concept is relatively simple; marketing agencies source influencers with a huge audience and get them to promote the crypto project.
Pricing depends on the size of the audience, and whether it's specifically relevant to cryptocurrencies.
For example, getting an influencer like BitBoy Crypto to market a project is likely to cost in excess of six figures.
After all, this popular crypto YouTube channel has over 1.4 million subscribers.
In many cases, marketing agencies will have a network of partnered influencers, covering micro and macro audiences. This means there's usually an influencer to suit all budgets.
Crypto PR
Another effective strategy used by the best emerging cryptocurrencies is PR. In simple terms, this means helping projects achieve mass awareness through leading media outlets. Not only crypto-related media but also mainstream news sources. There are several ways that this can be achieved.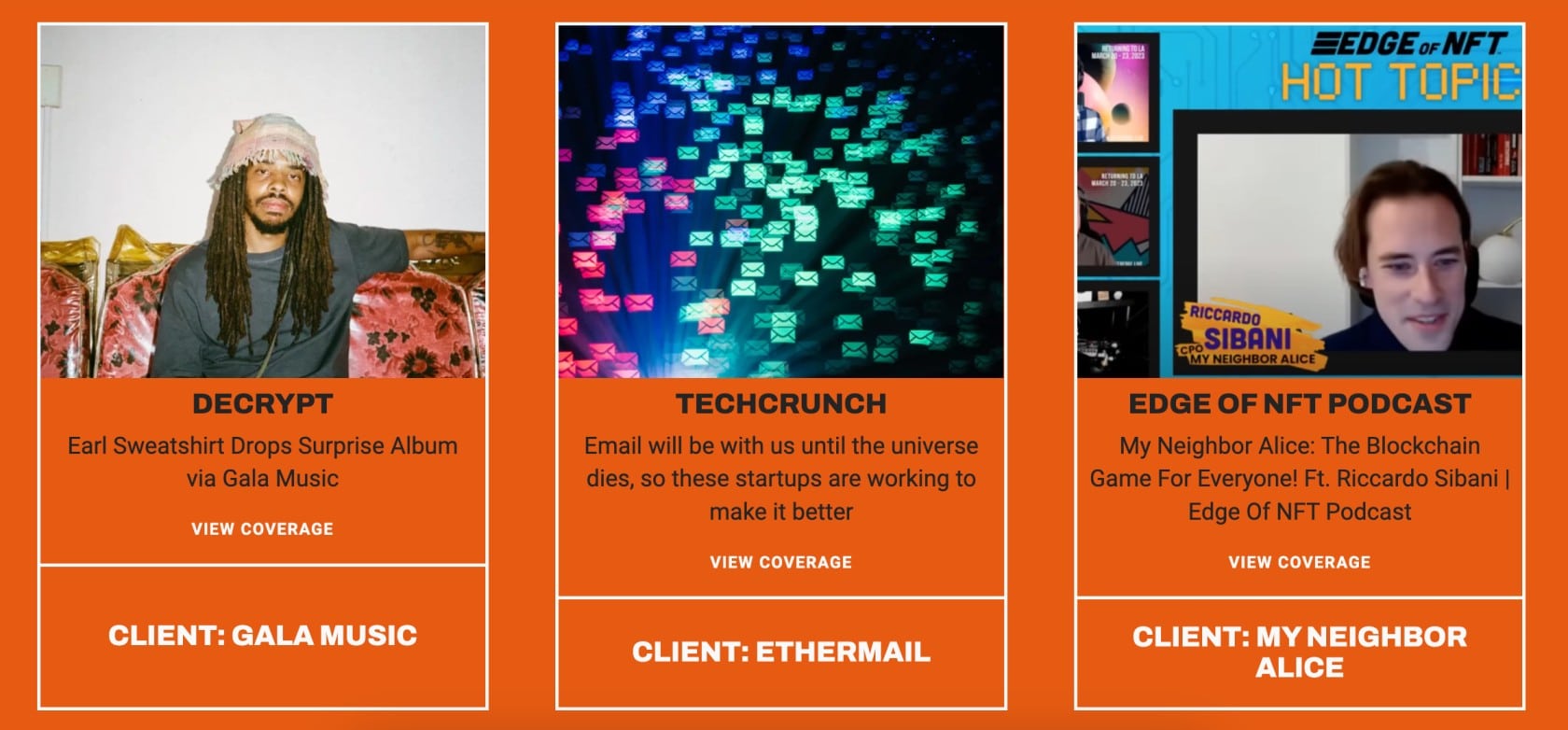 In some cases, marketing agencies will already have relationships with major publications. This means that they have a direct contact that will happily publish their article. In other instances, the agency will need to pay a fee, meaning the article is published as a sponsored post.
Either way, crypto PR gets eyes on the project being marketed. It can help attract broader interest and most importantly – investors. Most crypto marketing agencies will provide the written content, allowing projects to focus on their own growth and development.
Social Media and Community Management
Having a presence on social media is crucial when building a new cryptocurrency project. It enables projects to engage with existing and potential token holders. Moreover, social media is used by billions of people globally, so it's a huge market to increase exposure for the project.
However, managing accounts on several social networks can be challenging. This is where the best crypto marketing agencies can help. Not only will they post updates and developments on social media but also reply to comments.
In addition, marketing agencies can also help manage community groups. Telegram and Discord, in particular, are increasingly used by cryptocurrency investors. Agencies can provide 24/7 support teams, meaning investors always have somewhere to turn. This also shows the project is credible and that it cares about its community.
Compliance
Leading crypto marketing agencies have unparalleled knowledge of existing regulations. Therefore, this ensures that new projects remain compliant at all times.
For example, which social media networks allow cryptocurrency advertising, and what guidelines need to be followed.
Similarly, agencies will know which jurisdictions can be targeted, and which should be avoided.
Agencies can also advise on key terminology, such as avoiding phrases that could be viewed as financial advice.
Ultimately, it's crucial that developers know and understand the laws surrounding their projects – both domestically and internationally.
Exchange Listings
Most new crypto projects will initially list on decentralized exchanges, such as PancakeSwap or Uniswap. Although this can still generate interest, decentralized exchanges attract very small trading volumes. At least when compared to centralized exchanges like Binance and KuCoin.

For example, in the prior 24 hours, more than $81 billion worth of cryptocurrencies were traded. Of this figure, just over $4 billion was traded on decentralized exchanges. With this in mind, the best crypto marketing agencies can help new projects list on popular centralized exchanges. This is usually because the agency has contacts within leading exchanges, enabling them to fast-track the listing process.
Moreover, agencies can also help projects meet key listing requirements, such as minimum trading volumes. The agency will achieve this through market-making tools, meaning bots simultaneously buy and sell tokens to increase activity. Without the help of a crypto marketing agency, it can take many years to get listed on top-rated exchanges.
How do New Crypto Projects Get Listed on Centralized Exchanges
The vast majority of crypto trading volume is concentrated across the leading exchanges. This includes Binance, KuCoin, OKX, Crypto.com, and Coinbase.
These exchanges have a cumbersome listing process; most projects are rejected. However, some crypto marketing agencies have relationships with key decision-makers at tier-one exchanges.
This can help new projects fast-track the listing process. However, this can be costly – expect to pay handsomely for the most popular exchanges.
Other Services
In addition to the above, the best crypto marketing agencies sometimes provide the following services:
Community Building: Increasing the number of community members within social networks, such as Telegram, X, Discord, and Reddit. This can also build loyalty toward the project, ensuring that investors remain invested long-term.
SEO: Helping projects increase their SEO rankings on Google, allowing new investors to find their projects organically.
Events: Agencies can also organize crypto-related events in the real world. Not only can this increase exposure but also help projects network with relevant stakeholders.
Analytics: Tracking marketing campaigns is crucial, as this helps crypto projects focus on what's working and avoid what isn't. Leading agencies provide daily insights and ensure that marketing budgets are spent effectively.
Integration of Emerging Niches: Specialist crypto marketing agencies can also help projects integrate new niches, such as staking tools, metaverse experiences, and NFT minting. They can also help with smart contract development and auditing.
Are Marketing Agencies Worth It When Launching a Crypto Project?
Crypto marketing agencies are most certainly worthwhile. This is especially the case in the current market landscape, considering there are thousands of cryptocurrencies in existence. New projects launch daily, meaning competition is increasing exponentially.
And in reality, the only way to stand out in this crowded marketplace is with an effective marketing strategy. As we've established, leading agencies can help market an ICO campaign, ensuring projects raise enough capital to operate. They can also assist with exchange listings, SEO, PR, and influencer marketing.
Importantly, the best crypto marketing agencies ensure that projects remain compliant with regulators. However, all of this comes at a cost. It's important to be realistic with budgets, as effective marketing campaigns don't come cheap. Not only in terms of what marketing agencies charge for their own services but what relevant stakeholders expect.
For instance, sponsored articles in tier-one newspapers, video ads from popular influencers, and listings on the largest crypto exchanges will require additional expenditure. All that being said, if the required budget is available – crypto marketing agencies can take your project to new heights.
How We Ranked the Best Crypto Marketing Agencies
Selecting the right crypto marketing firm is crucial. You might only get one shot at successfully launching or growing your project, so it's important you choose wisely.
In this section, we talk about our methodology when ranking the best crypto marketing agencies.
Experience and Track Record
It's important to prioritize experienced crypto marketing agencies with a proven track record in this industry. Put simply, you'll need to assess what crypto projects the agency has previously worked with and what results it achieved.
Ideally, these case studies should align with your own strategies and goals.
For instance, let's take a stage-one project that wants to launch an ICO campaign.
It has set a hard cap target of $6 million. If the marketing campaign has achieved similar results with other ICO startups, this is a good sign.
After all, the agency has proven it knows how to attract investors to a brand-new cryptocurrency launch.
Alternatively, let's say the crypto project has already launched, but it's struggling to secure centralized exchange listings. In this instance, they'll need a crypto market agency that has previously secured tier-one listings for their clients.
Crucially, it's important to verify any information provided by the marketing agency. After all, not all agencies are credible, so due diligence is important.
Client Portfolio 
One of the best ways to assess the performance of a crypto marketing agency is by its client portfolio. If the agency works with established, reputable companies within the cryptocurrency industry, this is a good sign.
For instance, Coinbound claims to have worked with 30% of the top 100 cryptocurrencies by market capitalization. It has also worked with eToro, which is considered one of the best online stock brokers. Coinbound has also delivered results for MetaMask, OKX, and TRON.

Crypto marketing agencies will typically display notable client relationships on their websites. So be sure to check this out when researching providers.
Marketing Strategy
It's also important to understand what marketing strategies the agency will deploy for your required goals.
For example, if you're a new crypto project that's looking to attract investors, the agency should have a clear roadmap on how this will be achieved. This could be through ad campaigns, community building, and crypto influencers.
Some crypto marketing agencies are hesitant to provide a full breakdown of their strategies until the deal is signed. But at the very least, they should provide an overview upfront. This will enable you to make an informed decision.
Measurable Metrics
The leading crypto marketing agencies for startups will prioritize measurable metrics on your campaigns. This means keeping track of performance and return on investment through key analytics. This ensures that your marketing budget is being spent effectively.
After all, you'll want to attract as many eyes to your project as possible, in line with the amount of capital you're prepared to spend. If the agency doesn't track performance metrics, then you won't know whether the current strategy is working.
Compliance and Regulation
It's imperative that your chosen marketing agency has an intimate understanding of cryptocurrency regulations and legislation. Although digital assets are unregulated financial products; projects must still remain compliant with existing laws.
In particular, the SEC has filed lawsuit actions against dozens of cryptocurrency projects; often for selling unregistered securities. For example, the SEC recently fined an NFT project called Stoner Cats. It was ordered to pay $1 million and destroy all of the NFTs it had in its possession.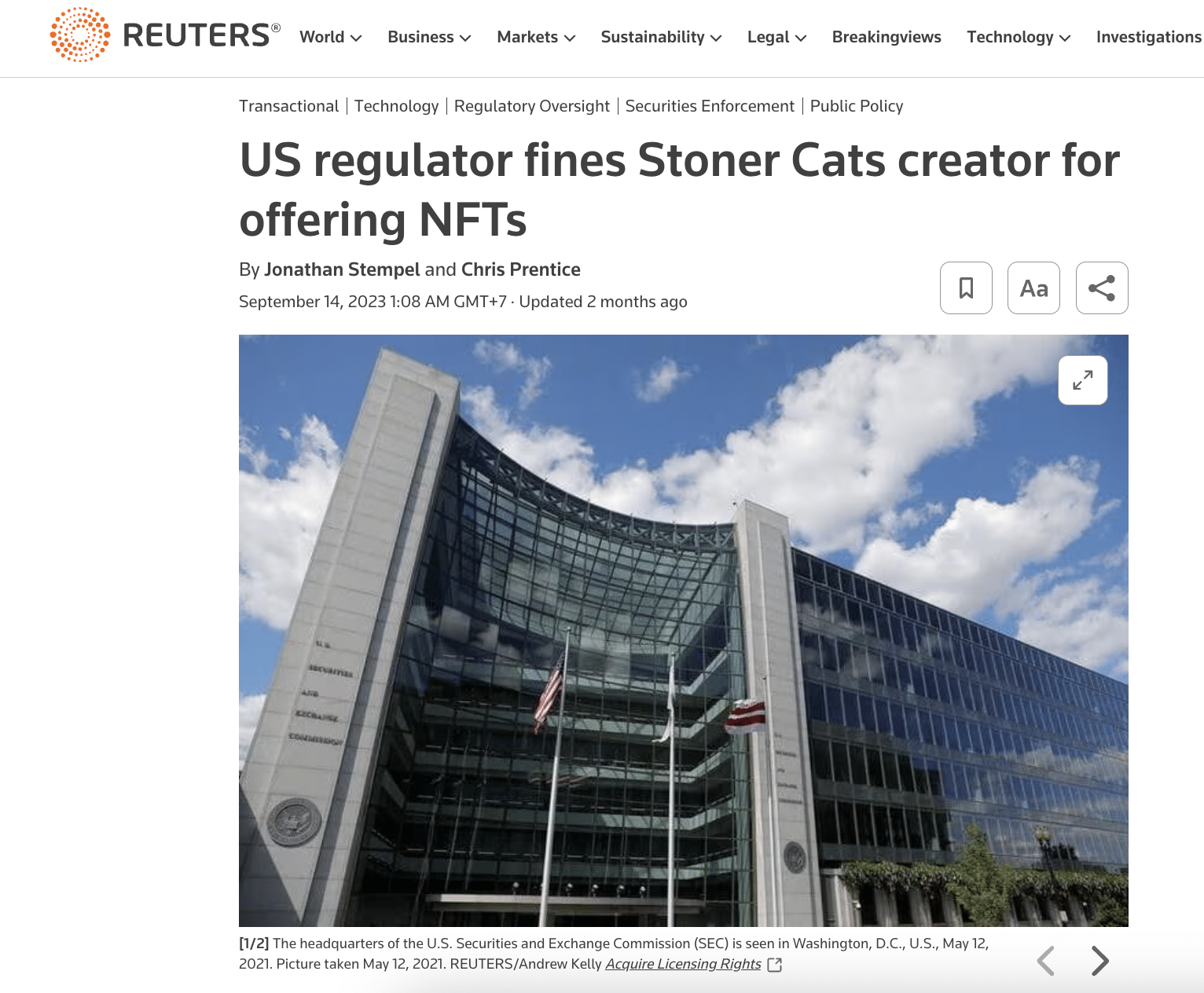 Just remember that cryptocurrencies are a borderless phenomenon, so compliance will vary from one jurisdiction to the next. Nonetheless, when choosing the best NFT marketing agency, ensure that it understands the complexities of cryptocurrency regulation.
Is It Legal to Advertise Crypto on Social Media?
Leading social media platforms regularly change their stance on cryptocurrency ads.
While they want the revenue, they also want to avoid falling foul of regulatory fines.
Although some forms of crypto advertising are allowed, it's often judged on a case-by-case basis.
For example, those wanting to advertise on Facebook must first receive confirmation that their product or service is eligible.
Experienced marketing agencies should have a solid understanding of the rules across the main social networks.
Marketing Network 
The best crypto marketing agencies have built a marketing network that consists of many different methods and contacts. This might include relationships with leading cryptocurrency publications, as well as mainstream media sources like Forbes. This will help your project get the exposure it needs.
In addition, some agencies have extensive relationships with influencers.
This could include influencers within the cryptocurrency industry, which is a valuable marketing source.
After all, the influencer will be promoting your project to people interested in cryptocurrencies.
Once again, not all crypto marketing agencies will be comfortable publishing their contacts publicly. This makes sense, as agencies want to protect their relationships. But it's important this is discussed before you proceed.
Pricing
There is no one-size-fits-all pricing structure when paying for crypto marketing services. It really depends on the goals and requirements of the project. And most importantly, what resources you seek.
For instance, if you're looking for a crypto YouTuber to promote your project to their 1 million subscribers, this is likely going to cost six figures.
Similarly, if you want an article published in a mainstream newspaper that plugs your project, this will also be costly. So will a fast-tracked listing for a tier-one exchange.
From your perspective, it's important that you set realistic goals that align with your budget. This is why affordability is usually the first question that crypto marketing agencies will ask. This enables them to assess the feasibility of your strategy and objectives.
Most importantly, the marketing campaign's outcome should offer a solid return on investment. How this is measured depends on the goals.
Are There Risks Involved When Using Crypto Marketing Agencies?
There are several risks to consider when exploring crypto marketing agencies. Not only from a financial perspective but the overall reputation of your project.
Let's explore some of the main risks.
Overpromising Results
The best crypto marketing agencies ensure their clients have realistic expectations. This means that the agency is clear on the potential outcomes of its campaigns. Not all marketing campaigns will be successful, so it's crucial the agency doesn't overpromise results.
The cryptocurrency markets are unpredictable and irrational at times, so credible marketing agencies will never 'guarantee' your objectives will be met. If you feel the agency is making hyperbole claims, this should be viewed as a red flag.
Reputational Risk
You'll be putting a lot of trust into a crypto marketing agency once the deal is signed. Although you might have an overview of the key strategies, the specific methods being deployed are likely unknown. If the agency doesn't do things by the book or makes bold claims on your behalf, this can have a detrimental impact on your project's reputation.
This extends to community and social media management; a popular service offered by crypto marketing agencies.
If the community admins are poorly trained or provide incorrect information, this will also cause reputational damage.
And as your project grows, this becomes harder to monitor.
Therefore, these concerns should be discussed with the agency before proceeding.
Regulatory Risk
We mentioned earlier that crypto and NFT marketing companies
have a firm grasp of existing regulatory frameworks. However, not all marketing agencies are compliant. And if they aren't, the project management could land themselves in serious trouble with regulators.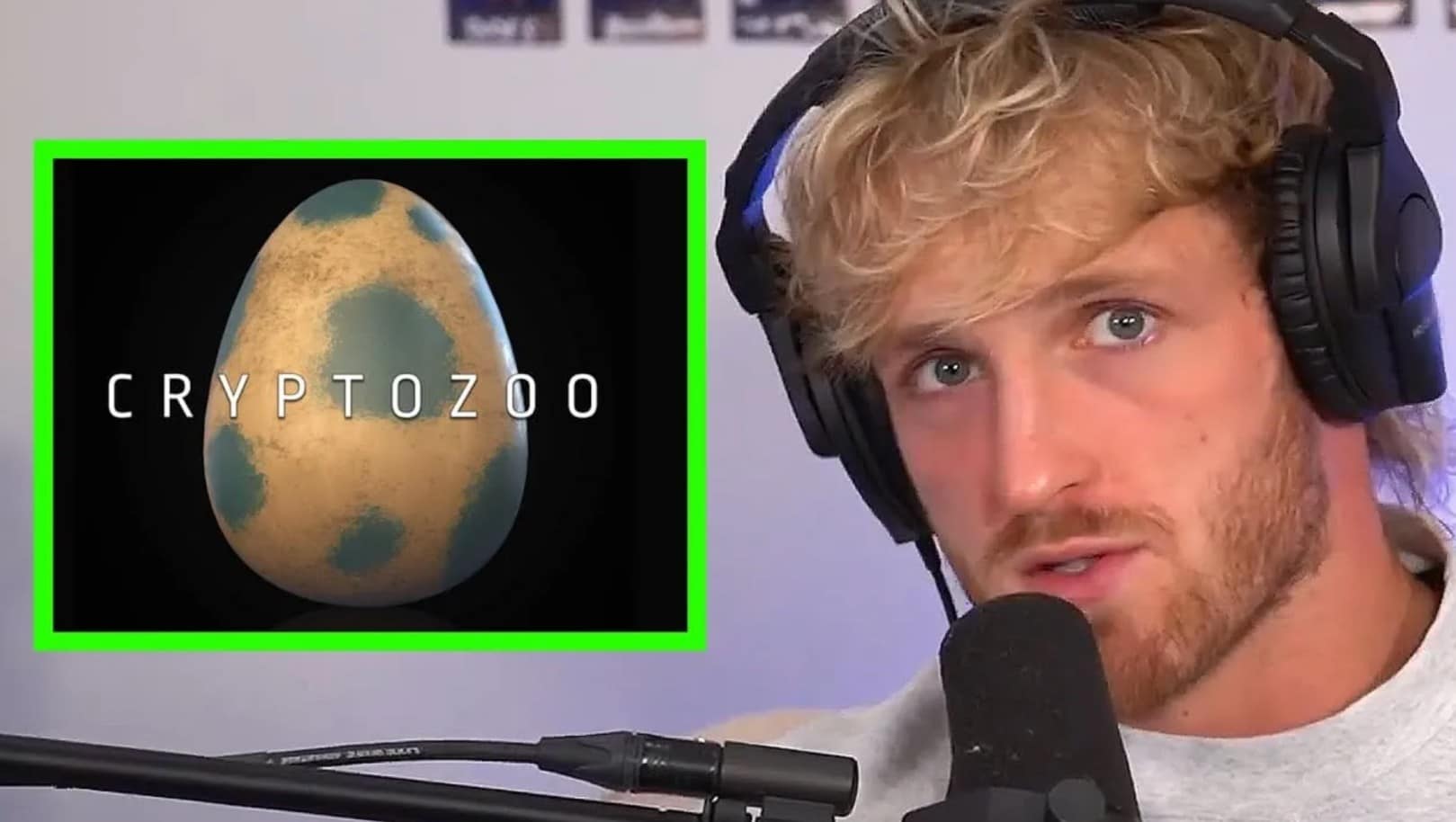 Not only for violating securities laws but also anti-money laundering regulations. What's more, regulators are clamping down on aggressive crypto marketing campaigns on social media. These are things that your chosen crypto marketing agency should know, understand, and comply with.
Broader Market Risks
There are also external market risks that crypto marketing agencies have no control over. For example, if the broader crypto market is crashing, your marketing campaign will likely not achieve its desired results.
Therefore, timing is often crucial when launching a campaign. The best crypto marketing agencies will be well-versed in market timing, so this is something that should be discussed upfront.
Conclusion
Marketing agencies with a proven track record in promoting digital assets can help your project achieve new heights. While significant marketing budgets are often required for the best results, the return on investment can be phenomenal.
Overall, we found that CryptoPR is the best crypto marketing agency as it has a proven track record of delivering success over more than three years, and offers projects bespoke marketing to fit all needs and budget.
The firm has 100s of staff members and contacts across the industry – including with major news websites and tier-1 crypto exchanges – to help projects enjoy rapid growth in a short period.
References
FAQs
What is the best marketing for crypto?
What is the best crypto marketing agency in 2023?
How much does a crypto marketing agency cost?
What is the best crypto marketing agency for crypto intelligence?
What is the best NFT influencer marketing agency?
What is crypto marketing?