The world of cryptocurrency is known for its volatility and unpredictability, but it also presents opportunities for significant gains. With the recent surge in Bitcoin and other cryptos, many investors wonder if we're in the midst of another bull run.
In this article, we'll look at 14 coins you can consider adding to your investment portfolio for the next crypto bull run. We'll also explore what a bull run is, whether we're currently experiencing one, and when we can expect the next one to occur.
14 Coins to Add to Your Portfolio Before the Next Crypto Bull Run
Investors eyeing to capitalize on the potential of the next crypto bull run may want to consider adding these 14 coins to their portfolio.
AiDoge – A new crypto coin combining memes and AI. The AiDoge platform uses advanced AI technology, enabling users to spend $AI tokens to create high-quality memes.
Launchpad – A brand new Web3 platform curated by a highly experienced team. Launchpad intends to be all things Web3 in one space.
Ecoterra – A promising green project that rewards users for participating in eco-friendly activities such as recycling.
yPredict – A new AI-driven crypto analytics and trading platform that offers several prediction models for investors.
DeeLance – Decentralized Web3 platform bringing together freelancers and employers without the middlemen.
Love Hate Inu – Crypto meme project using a vote-to-earn concept for Web3, combining blockchain technology and memes.

RobotEra

– Play-to-earn project that allows users in the metaverse to monetize by building and selling structures in the world of Taro.

Tamadoge

– A metaverse gaming platform where players can breed their own pets, represented by NFTs.

The Conglomerate Capital – Raising Already Over USD 5 Million, With Outstanding Leadership and Staking Platform Already Launched, TCC is A Pioneering Platform That Offers Private Equity and Venture Capital Investment Opportunities

Bitcoin

– World's most popular crypto with more than 40% of the market. Often seen as less risky, although returns tend to be a bit lower than others.

Ethereum

– Second-most popular crypto with more than $30 billion worth of decentralized apps. Known for its scalability, speed, and ease of development.

Cardano

– Super-fast and scalable blockchain with a growing NFT marketplace, and lower entry point than many other cryptos.

XRP

– A crypto that aims to provide fast and low-cost cross-border payments with an algorithm that allows faster and more efficient transaction processing.

Polygon

– Fast-growing Layer 2 protocol with low transaction fees and fast confirmation times, making it an efficient network for investors.

Chainlink

– A decentralized Oracle network that uses real-world data. Chainlink has partnered with companies such as Google, Oracle, and SWIFT.
An In-Depth Look at the Most Bullish Crypto
This section will expand on the top cryptocurrency options for the next bull run and analyze the standout features that can help them sustain a bull run.
1. AiDoge – New Crypto Combining Memes and AI
New cryptocurrency platform AiDoge combines two of the hottest niches: memes and artificial intelligence. With the recent success of Pepe Coin, Conflux, The Graph, and Singularity, AiDoge is looking to be an incredibly popular crypto project as well as one of the best coins to buy ahead of the next crypto bull run.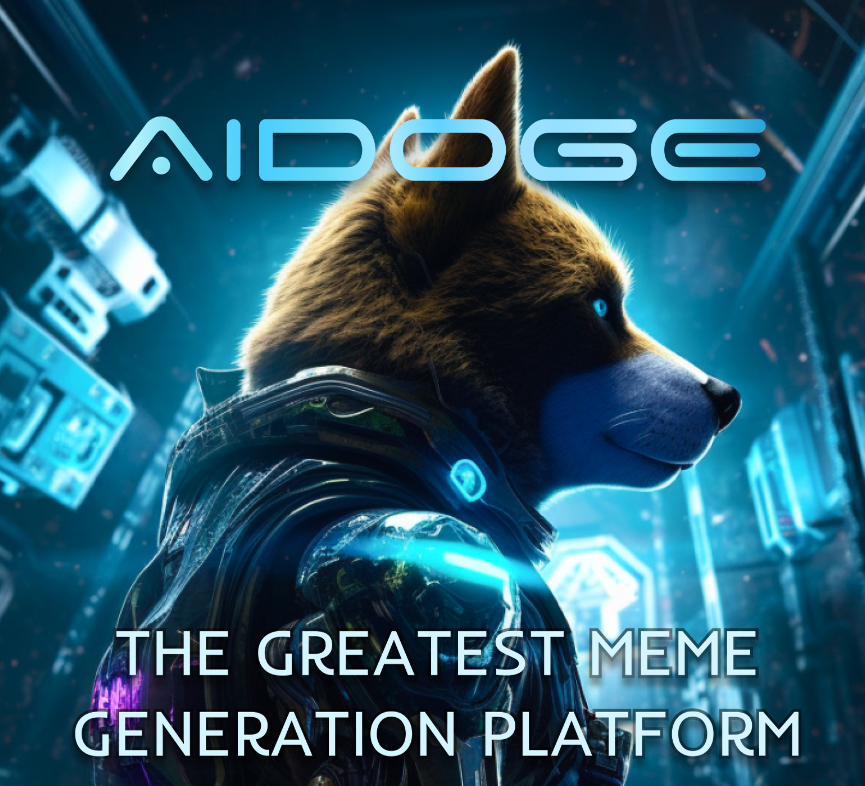 Since AiDoge is currently in its presale stage, users can purchase $AI tokens for just 0.000026 USDT. This price will increase throughout the presale stages. Stage 1 of the presale has 50% (500 billion) of the 1 trillion max supply available. There is no vesting period, and the hard cap is $14.9 million.
The platform's $AI tokens enable users to generate text prompts, while cutting-edge AI algorithms will create relevant memes based on those prompts. This unique method will enable anyone to easily produce memes, making AiDoge a highly accessible platform.
One interesting feature of AiDoge is the users' ability to vote on memes, determining their rank on the public wall. Memes with the highest scores will result in $AI tokens for the winning users.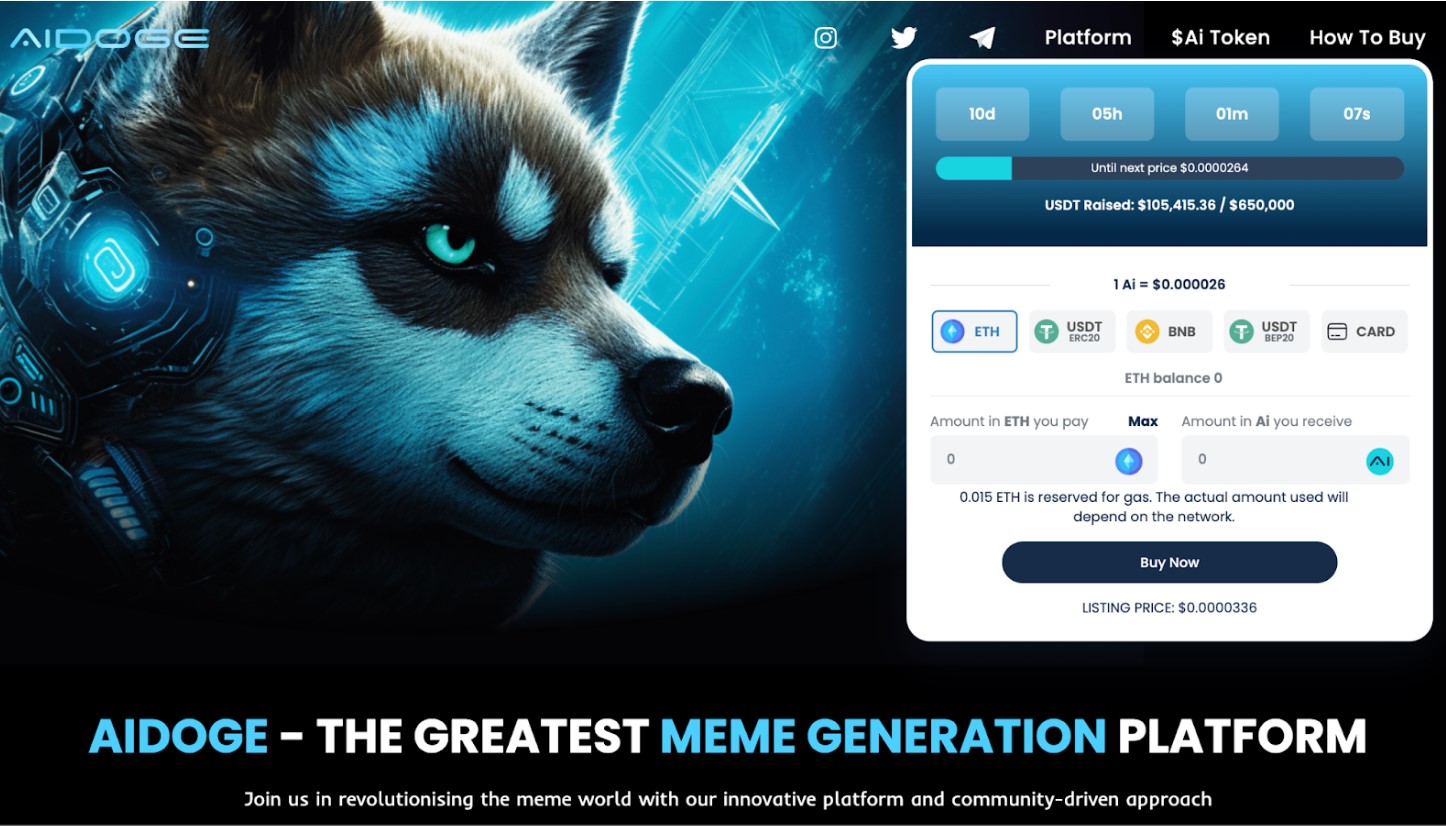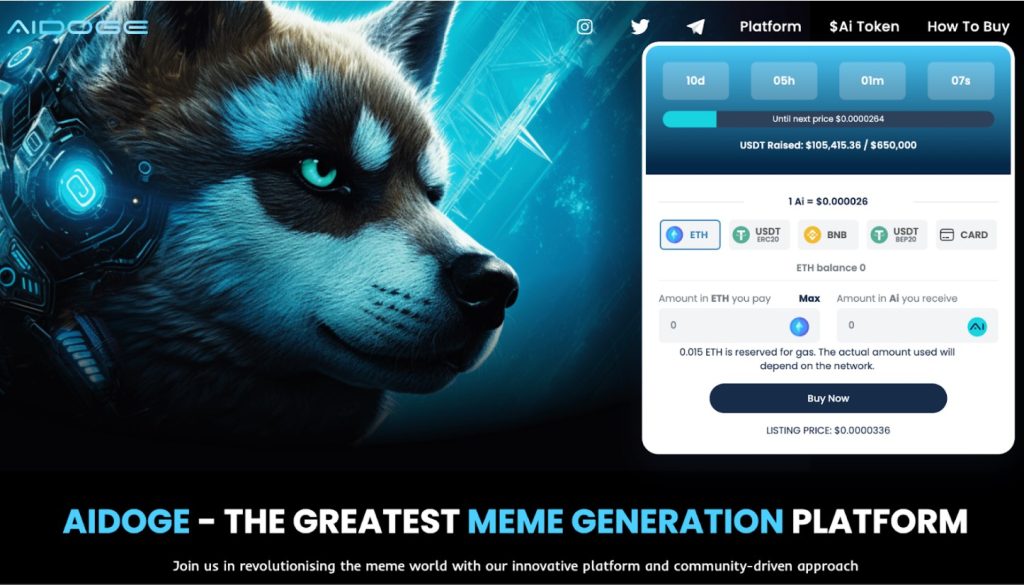 Premium features, such as voting on memes, will require users to stake tokens. This means that some features may not be available to users right away. However, locked tokens are necessary for the platform's development. Moreover, AiDoge will provide advanced security for staked tokens, offering multiple layers of protection.
AiDoge is unique in that it creates a product in its meme generation. Given that the meme and AI niches have outperformed all others in 2023, AiDoge is looking to be a promising crypto to buy ahead of the next bull run.
Join the AiDoge Telegram group for the latest updates and news.
| | |
| --- | --- |
| Presale Started | 25 April 2023 |
| Purchase Methods | ETH, USDT, BNB, Card |
| Chain | Ethereum |
| Hard Cap | $14,900,00 |
| Min Investment | 100 AI |
| Max Investment | None |
2. Launchpad – New Crypto Project with All-In-One Web3 Dashboard
Launchpad is a new crypto project and Web3 dashboard backed by a highly experienced team and is currently in the early stages of presale. The company intends the platform to be all things Web3 in one space. This will benefit users new to Web3 who wish to easily pursue crypto opportunities in real time.
Given its decentralized exchange, Launchpad will never hold your tokens or NFTs. One of the project's interesting features is the Launchpad Quotient (LQ). This number will point to the potential success of future projects, enabling investors to determine whether or not an opportunity will be a success.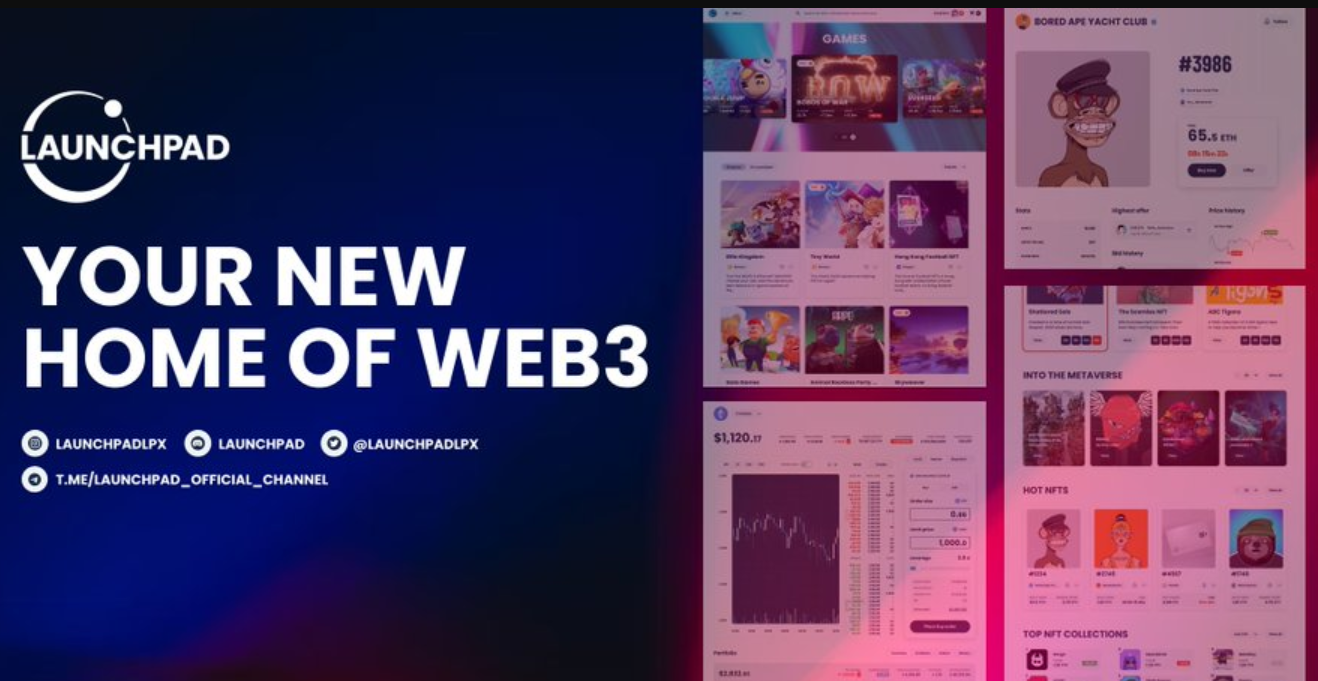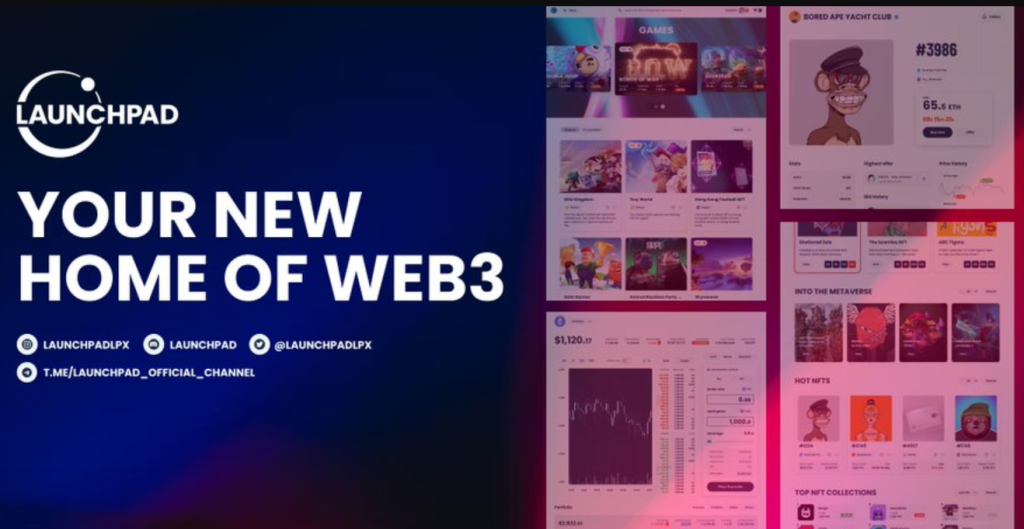 Launchpad is intent on offering the most accessible Web3 wallet in today's market. To access their standalone Web3 wallet, the only requirements are a phone number or an email.
$LPX tokens are currently on sale for $0.035 in the initial presale, set to increase to $0.07 by the final round. There is a hard cap of $12.5 million and no vesting period. Holders of the $LPX token will receive benefits including reduced fees and access to presales and NFT mints.
The team behind Launchpad admits that the road ahead will be a long one with plenty to build. However, given the team's experience and a strong presale with more than $140,000 raised within the first few hours, there is a good opportunity for investors to lock in a low price.
Check out the Launchpad whitepaper for details about the company's platform, vision, and features. The paper also has information about staking – 10,000 $LPX is necessary to access all of Launchpad's benefits.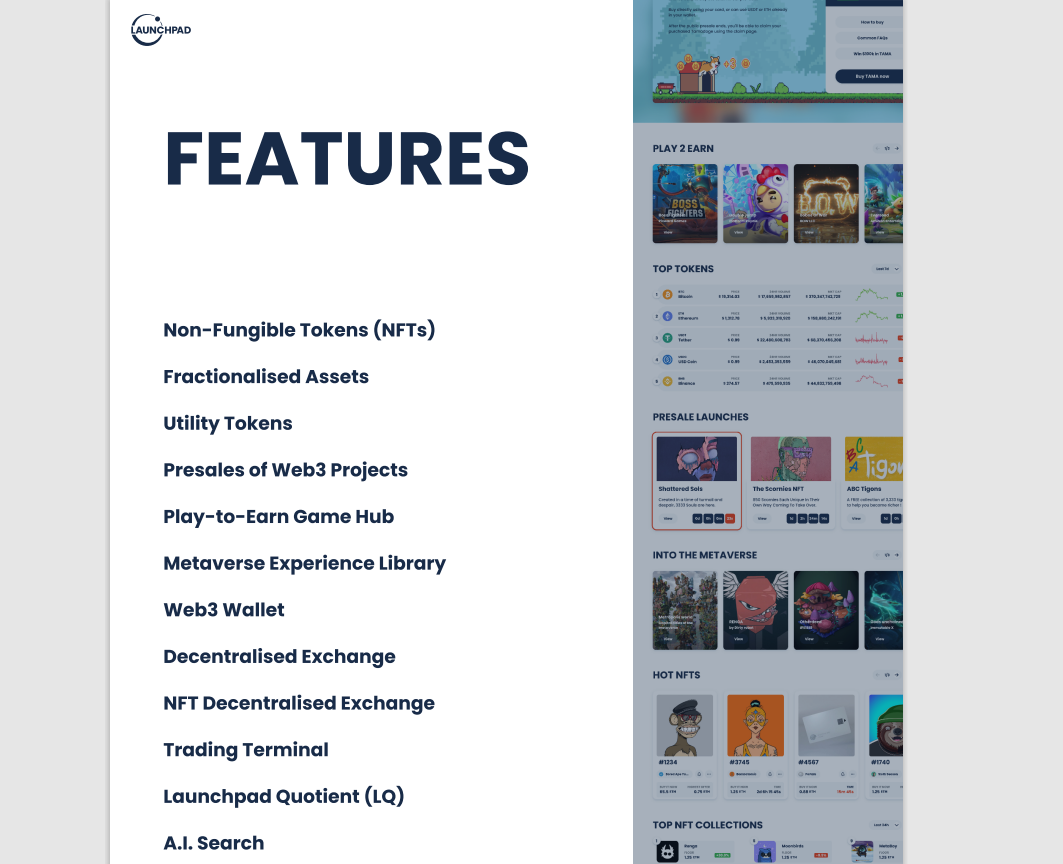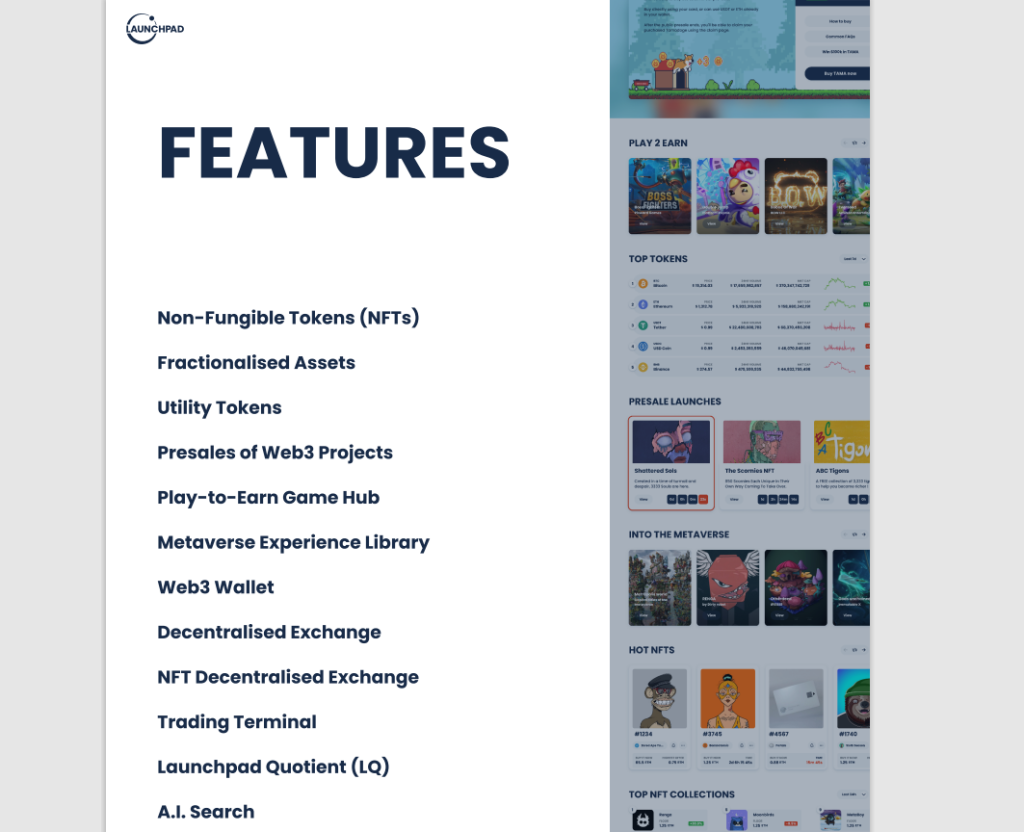 No other platform offers the same kind of access to Web3 as Launchpad, making it a unique platform with no strong competitors and one of the best coins to buy ahead of the next crypto bull run.
Join the Launchpad Telegram group for more information and updates.
| | |
| --- | --- |
| Presale Started | 26 April 2023 |
| Purchase Methods | ETH, USDT, BNB, Card |
| Chain | Ethereum |
| Hard Cap | $12,500,000 |
| Min Investment | 100 LPX |
| Max Investment | None |
3. Ecoterra – A Promising Eco-friendly Crypto Rewarding Users For Recycling
Ecoterra recently launched the Recycle2Earn ecosystem, a groundbreaking and promising platform for the upcoming bull run designed to tackle environmental challenges.
Participants who utilize the platform's eco-conscious features can earn attractive rewards. The Ecoterra app enables users to receive $ECOTERRA tokens as payment for scanning recyclable items.
Ecoterra has raised over $2.2 million in just a few weeks, with tokens priced at a mere $0.00625 during the ongoing presale phase.
The tiered pricing model allows early investors to benefit from reduced presale rates, as ECOTERRA tokens will be priced significantly higher ($0.01) in the final round.
The app encourages and simplifies recycling through its user-friendly and intuitive interface. This long-lasting solution fosters responsible practices worldwide and includes a social network for monitoring environmental contributions and a marketplace for purchasing carbon offsets.
Ecoterra's whitepaper explores the platform's AI-powered database, which showcases its unique attributes. This database aids in directing each scanned recyclable item to the most appropriate recipient.
The Recycle2Earn platform informs users about the nearest Reverse Vending Machine location to support efficient recycling. Users must take pictures of their receipts to accumulate points and upload them to the app.

The Ecoterra platform caters to the recycling requirements of RVM users from various industries, such as consumer goods, IT, fashion, and hospitality. The platform's enduring solution, which encourages ethical behavior globally, proves valuable in diverse contexts.
With its user-friendly app and distinctive features, Ecoterra is poised to transform how we approach environmental conservation and recycling. Investors keen on discovering more about the platform are invited to join Ecoterra's Telegram group.
| | |
| --- | --- |
| Hard Cap | $6,700,000 |
| Total Tokens | 2,000,000,000 |
| Tokens available in presale | 1,000,000,000 |
| Blockchain | Ethereum Network |
| Token type | ERC-20 |
| Minimum Purchase | $10 |
| Purchase with | USDT, ETH, Bank Card |
4. yPredict – New AI-driven Crypto Analytics and Trading Platform
yPredict is a new all-in-one ecosystem consisting of a crypto analytics and research platform. The experienced team behind yPredict created the platform's AI-based models so investors had more reliable methods to better predict financial markets.
The native cryptocurrency, $YPRED, is currently in the presale stage. This currency can be used to purchase subscriptions within yPredict in exchange for data-driven insights and predictive models created by AI and a team of top quants.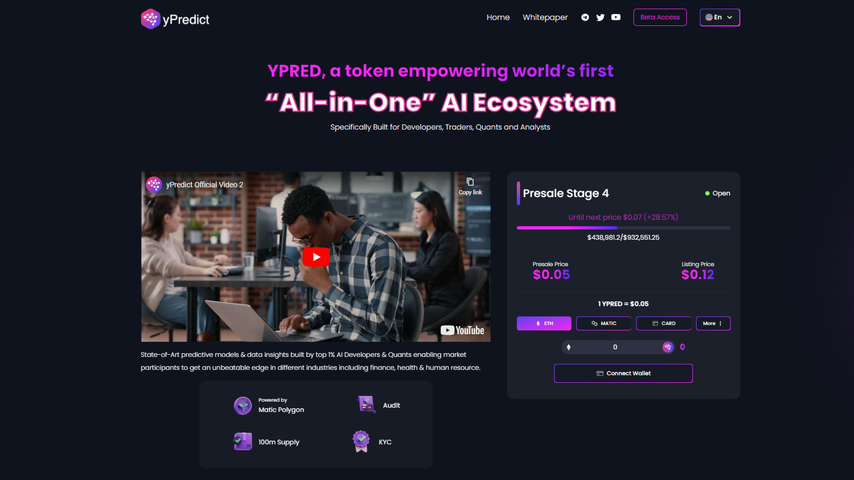 yPredict is unique in that $YPRED holders not only have free access to their analytics platform, they also have the opportunity to buy predictive model subscriptions in the yPredict Marketplace.
The platform also has a Learn to Earn feature where users can earn tokens by testing their knowledge on crypto-based quizzes. In addition, yPredict will develop a Play to Earn rewards pool in which users can make bets on the future movement of certain assets, with the highest performers rewarded with $YPRED tokens.
Minted on the Polygon blockchain, $YPRED can generate passive income for those who stake the tokens. Polygon is one of the quickest and most scalable blockchains, enabling transactions to happen at a rapid pace.
It should be noted that yPredict promotes long-term holding with a high selling tax of 7% per transaction. Of this, 1% goes towards liquidity, 1% for development, 2% for research, and 3% for marketing.
80 million tokens have been allocated for the ongoing presale with a total supply of 100 million tokens. The price is currently at $0.05 but will rise to $0.12 by the project's final round.
yPredict aims to raise a hard cap of more than $6.5 million and has collected more than $430,000 since the presale went live. For more details about the presale and more, read the yPredict white paper.
Join yPredict's Telegram channel for updates and the latest news.
| | |
| --- | --- |
| Presale Started | Q1 2023 |
| Purchase Methods | MATIC, ETH, BNB, USDT, Card |
| Chain | Polygon |
| Min Investment | 200 YPRED |
| Max Investment | N/A |
5. DeeLance – A Decentralized Freelancing Platform Transforming the Gig Economy
The DeeLance presale has recently kicked off, rapidly attracting users' attention and advancing through its presale stages amidst the ongoing crypto bull run.
Currently valued at $0.029 USDT per token, DeeLance presents a compelling investment opportunity for those intrigued by the recruitment and freelancing industries.
Since its inception several weeks ago, the project has amassed over $452,000 from presale participants and boasts a 5% USDT referral program, positioning it as one of the top cryptocurrencies to invest. DeeLance is hosting a giveaway to commemorate the presale, where four lucky winners will share $100,000 in $DLANCE tokens.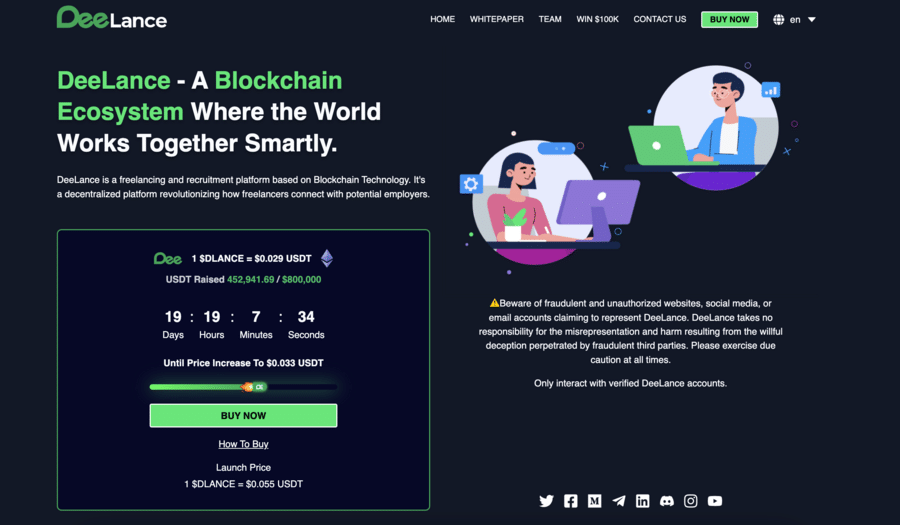 DeeLance equips freelancers with a wide range of resources, such as an NFT marketplace, a metaverse, and a platform to display their talents to the global audience.
The platform promotes a modest 2% transaction fee for businesses and a 10% fee for freelancers. As per the DeeLance whitepaper, there are no withdrawal transaction fees, no delays in foreign currency exchanges, and no restrictions on project sizes.
What sets DeeLance apart?
DeeLance's primary objective is to simplify its users' job-seeking and application submission processes. By streamlining these procedures, job hunters can save time and energy. DeeLance employs an automated system to resolve disputes and ensure a positive experience for all parties involved.
One of the many benefits provided by DeeLance is the presence of an escrow account that holds funds until both parties involved are satisfied with the finished task.
Cryptocurrency transactions on DeeLance are processed instantly and at minimal expense. The platform mitigates the risk of clients being scammed and protects their intellectual property by converting freelance projects into NFTs.
The investment potential of $DLANCE.
DeeLance is a highly valuable cryptocurrency that facilitates worldwide communication between employers and freelancers. The native token of the platform, $DLANCE, enables users to buy NFTs, rent virtual workspaces, and access various other features.
Also, DeeLance is creating a metaverse encompassing a central lobby, workspaces, and conference rooms for virtual meetings.
To stay updated on the latest developments about the project, join the DeeLance Telegram channel.
| | |
| --- | --- |
| Hard Cap | $6,800,000 |
| Total Tokens | 1,000,000,000 |
| Tokens available in presale | 300,000,000 |
| Blockchain | Ethereum Network |
| Token type | ERC-20 |
| Minimum Purchase | $10 |
| Purchase with | USDT, ETH, Card |
6. Love Hate Inu – Top Meme Coin to Buy Before the Next Cryptocurrency Bull Run
Opting for a cryptocurrency with an actual use case is vital for taking advantage of a potential bull run and this is where Love Hate Inu comes into the picture. The platform combines blockchain technology and memes to compensate users through a vote-to-earn model.
By participating in the Love Hate Inu's polls, users can obtain $LHINU tokens by staking and engaging in polls, making it one of the best meme coins with utility.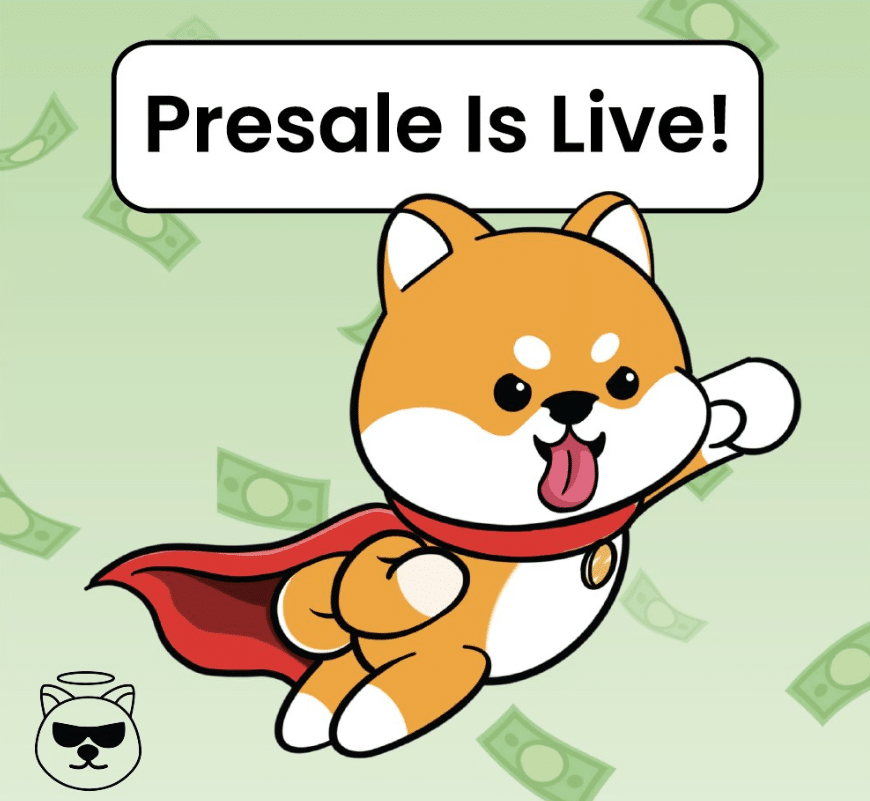 The platform's presale has already attracted considerable attention within the crypto community, securing over $2 million in just three weeks.
In its third presale phase, investors can acquire $LHINU tokens at $0.000095 each. This price is set to escalate by over 52% to $0.000145 after eight phases.
What is Love Hate Inu?
Love Hate Inu is one of the best ICO projects that offers exciting rewards for voting. It can potentially reshape the online survey landscape – a market worth over $3 billion globally.
The Love Hate Inu whitepaper elaborates on the user interface, voting methodology, and management dashboard that will facilitate surveys addressing essential community issues.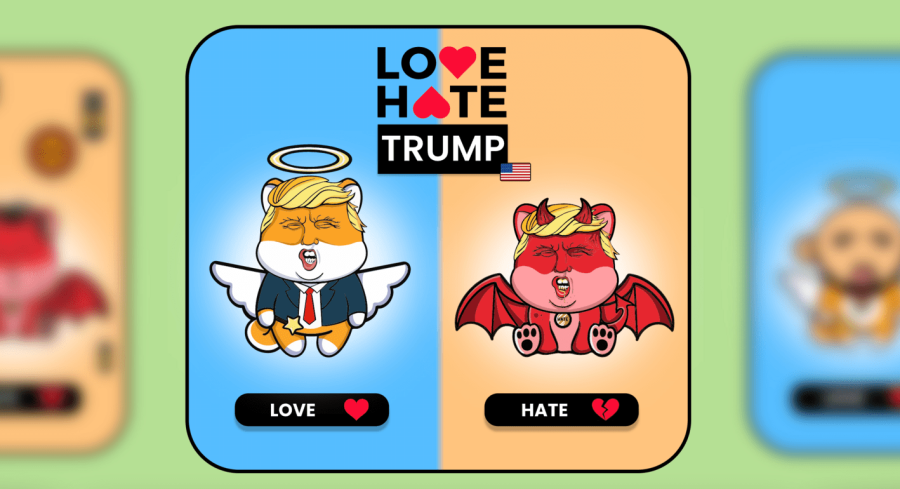 Stake-to-Vote
Staking tokens permit users to vote anonymously, alleviating concerns related to possible malicious attacks.
Both staking and voting can be utilized to earn tokens, with increased stakes providing users more sway in deciding poll outcomes.
Why invest in $LHINU?
Thanks to its creative take on online surveys and community-focused approach, Love Hate Inu could become one of the best altcoins to buy before a bull run.
During the presale, the platform intends to sell 90% of the total 100 billion LHINU tokens, empowering the community to drive the project while implementing measures to curb rug-pulling and ensure investor safety.
The platform will reserve 10% of all tokens issued to maintain long-term liquidity, support community initiatives, and cover exchange listing expenses.
Consider joining the Love Hate Inu Telegram group to remain updated on the latest developments and announcements.
| | |
| --- | --- |
| Presale Started | 8 March 2023 |
| Purchase Methods | ETH, USDT, Credit Card |
| Chain | Ethereum |
| Hard Cap | $10,068,750 |
| Min Investment | 10 $LHINU |
| Max Investment | None |
7. RobotEra – Metaverse Token with Exciting P2E Incentives
RobotEra has recently launched the presale of its native token, $TARO, on its metaverse-based P2E platform.
The platform immerses players in a virtual environment where they can purchase NFTs, create land, and earn rewards.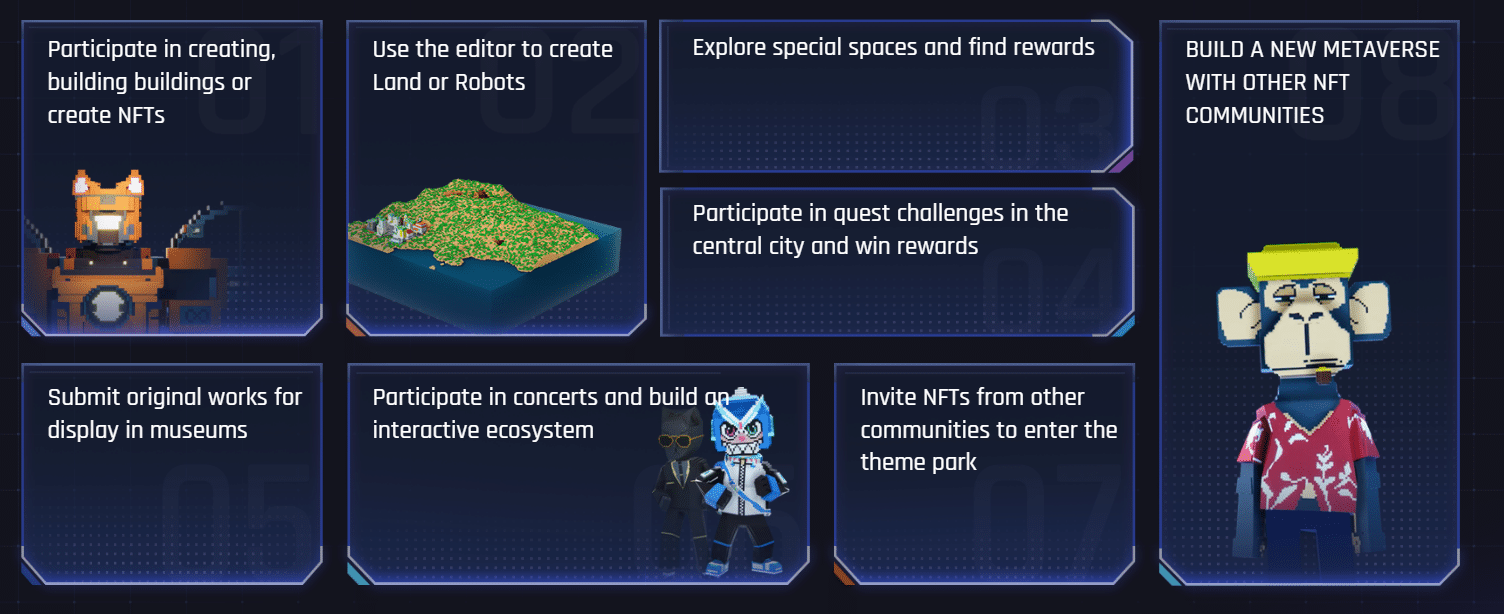 The 1.8 billion TARO tokens are divided among three presale rounds, with 270 million tokens available at the current price of $0.02 USDT per token.
Players can enter the 'Taro Planet', a virtual world in which they can take the form of Ethereum-based NFT-minted Robots. Users can acquire land as NFTs on the RobotEra marketplace to mine resources, create new NFTs, and construct structures.
As per the whitepaper, players can earn $TARO by constructing, upgrading, and customizing robots and selling them as NFTs on the open market.
The game features play-to-earn mechanics, allowing players to compete in challenges, complete quests, and rent out their land in exchange for rewards. Players may also monetize their land by charging for access to events or by selling advertising space on billboards.
$TARO tokens are priced at $0.02 during the ongoing first presale round, with the final round expected to see a 60% price increase to $0.032. Join RobotEra's Telegram channel to keep informed of their most recent developments.
| | |
| --- | --- |
| Presale Started | Q4 2022 |
| Purchase Methods | ETH, USDT |
| Chain | Ethereum |
| Min Investment | 1,000 TARO |
| Max Investment | None |
8. Tamadoge – Get Your Own Pet NFTs with this Crypto Game Project
Tamadoge, a P2E game, rewards players with its native token, $TAMA. This play-to-earn project gained widespread attention after raising $19 million in a successful presale and increasing its value by almost 2,000% upon listing on exchanges.
The game's recent popularity is partly due to the success of its exciting game Super Doge, which was the first of four Tamadoge Arcade mini-games that have gone live to huge excitement in the community.
$TAMA's real-world utility and value extend beyond the coin itself. It offers a play-to-earn game, freebies, and NFT ownership, making it stand out from other meme coins.
In the main Tamadoge game, players take care of virtual pets and level them up, earning rewards and points toward a global ranking. TAMA is a deflationary token that rewards users with prizes monthly and burns 5% of all transactions at participating pet stores.
The game's NFT pets have become a popular collection on OpenSea, creating buzz for the game. Later on, the pets will integrate into an Augmented Reality app that lets players go on a real-world treasure hunt for TAMA tokens and other prizes. Users can join the Tamadoge Telegram channel to get the most recent updates.
While TAMA's price has fallen recently, it's expected to rise as the newer games' release date approaches and market conditions improve.
9. The Conglomerate Capital – A Pioneering Platform That Offers Private Equity and Venture Capital Investment Opportunities
The main idea behind The Conglomerate Capital is straightforward: it aims to be a BEP-20 investment and funding platform run by a DAO. The platform will allow SMEs and startups to raise capital from interested investors, while investors will have easier access to top-notch private equity and VC opportunities. What makes The Conglomerate Capital stand out is its pioneering approach to creating governance and investing features that help guide and safeguard investors.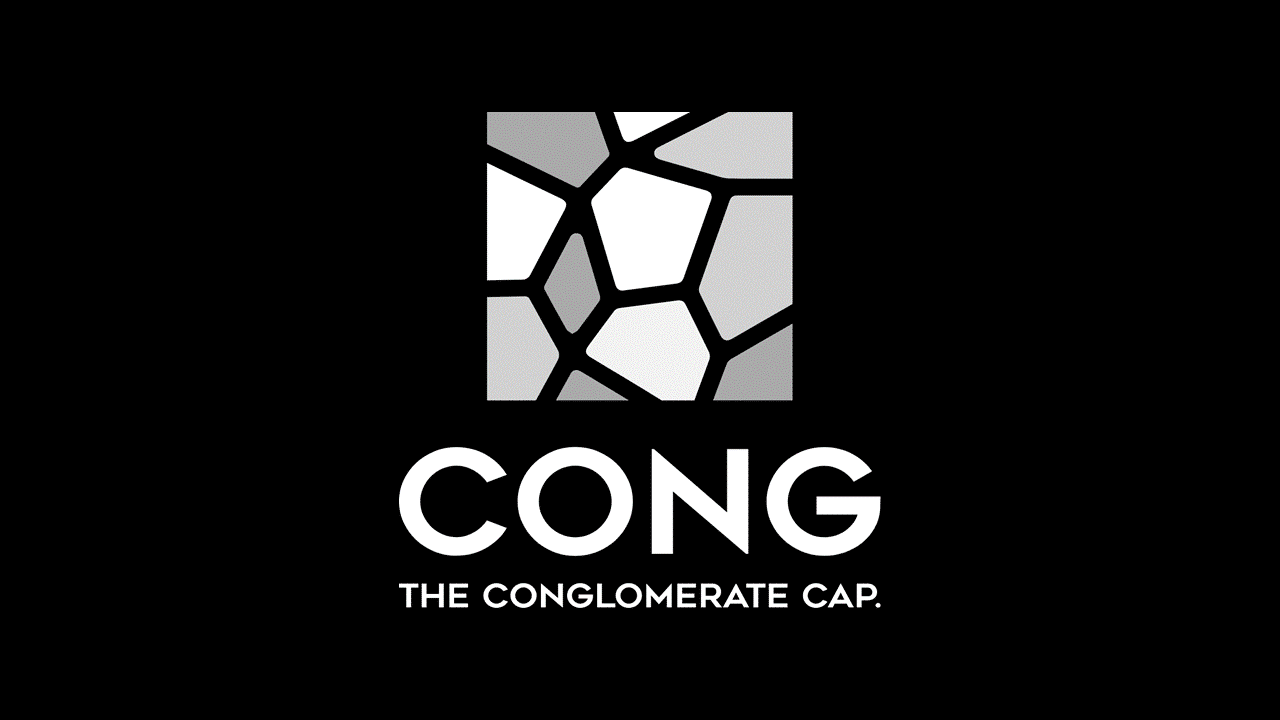 The company has set an ambitious target: it wants to capture 5% of the crowdfunding/ICO markets in terms of GMV over the next five years. Apart from staking, the platform will have many other features that will appeal to investors. One of the most significant advantages of The Conglomerate Capital is that it will eliminate obstacles to investing in private equity and Venture Capital for both accredited and non-accredited investors. However, the platform will still have rigorous vetting procedures and a thorough due diligence process.
Token holders can benefit from a variety of features, such as sales of portfolio companies, token dividends, staking, and income profiting, among others. All of these functionalities are powered by the CONG token, which will have a maximum supply of 10 billion tokens, with the issuance of tokens determined by the DAO.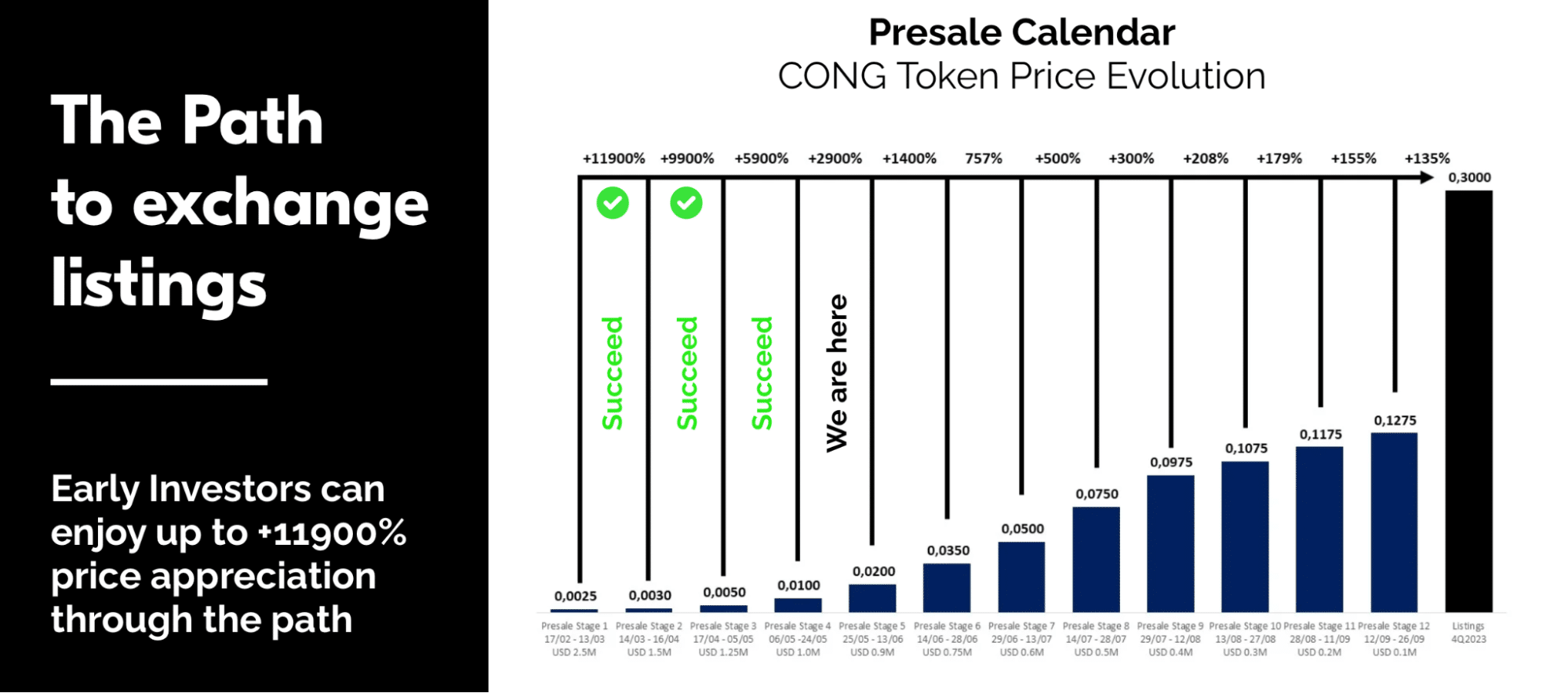 On January 16, the presale for the CONG token commenced with a hard cap of 50 million tokens. Currently, the price is $0.0100. Investors are encouraged to invest early to maximize their returns. The presale is exclusively hosted on the official website. Considering the 4 Presale Stages already gone, the project has raised more than USD 5 million by now.
In addition, the team has presented both a long-term macro roadmap and a detailed short-term one, giving investors a clear picture of the platform's future plans and providing valuable insights into potential liquidity exits.
Finally, it recently launched its staking platform which, among all types of staking methods available, investors can benefit from up to 59% APY or even more, if investors compound rewards.
10. Bitcoin – Established Crypto With a High Store of Value
The next Bitcoin bull run is a lucrative opportunity due to several factors. Bitcoin is an established and widely recognized cryptocurrency with a proven track record of delivering substantial returns during previous bull runs.
Moreover, with increasing institutional adoption and the entry of major players like Tesla and MicroStrategy into the Bitcoin market, the legitimacy and acceptance of Bitcoin as a reliable store of value and a legitimate investment option are growing.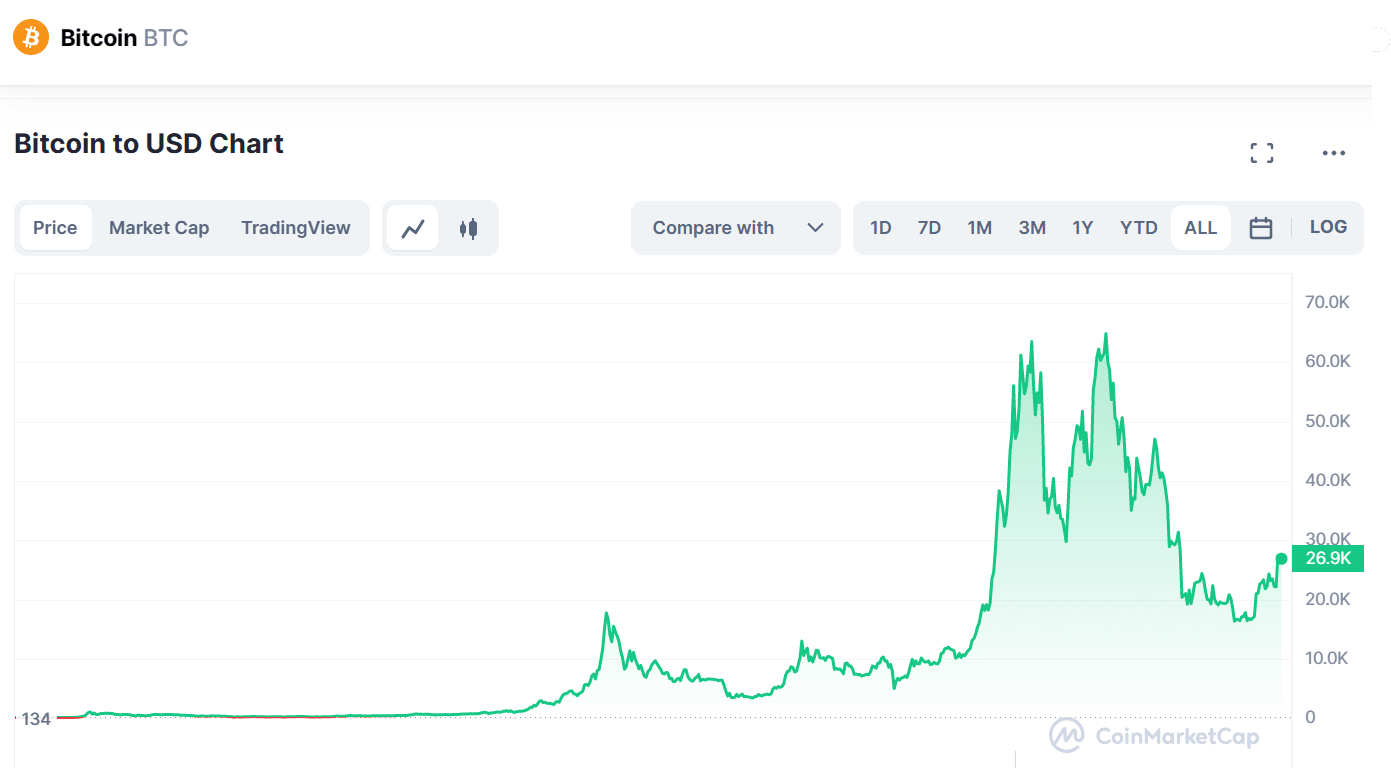 Bitcoin has a limited supply, with only 21 million Bitcoins ever to be created. This scarcity makes it a valuable asset, with demand likely to increase during the next bull run, driving its price up and making it one of the best crypto winter tokens.
Finally, the current macroeconomic climate, low-interest rates, rising inflation, and uncertainty around traditional financial markets make Bitcoin an attractive alternative investment option for investors seeking to diversify their portfolios.
Crypto assets are a highly volatile unregulated investment product. No UK or EU investor protection.
11. Ethereum – Second-Largest Crypto with Smart Contract Functionalities
Ethereum is the second-largest cryptocurrency project by market cap and has a solid track record of delivering impressive returns during previous bull runs.
Its blockchain allows for the creation of decentralized applications and smart contracts, making it a popular platform for developers and entrepreneurs to build and launch new projects.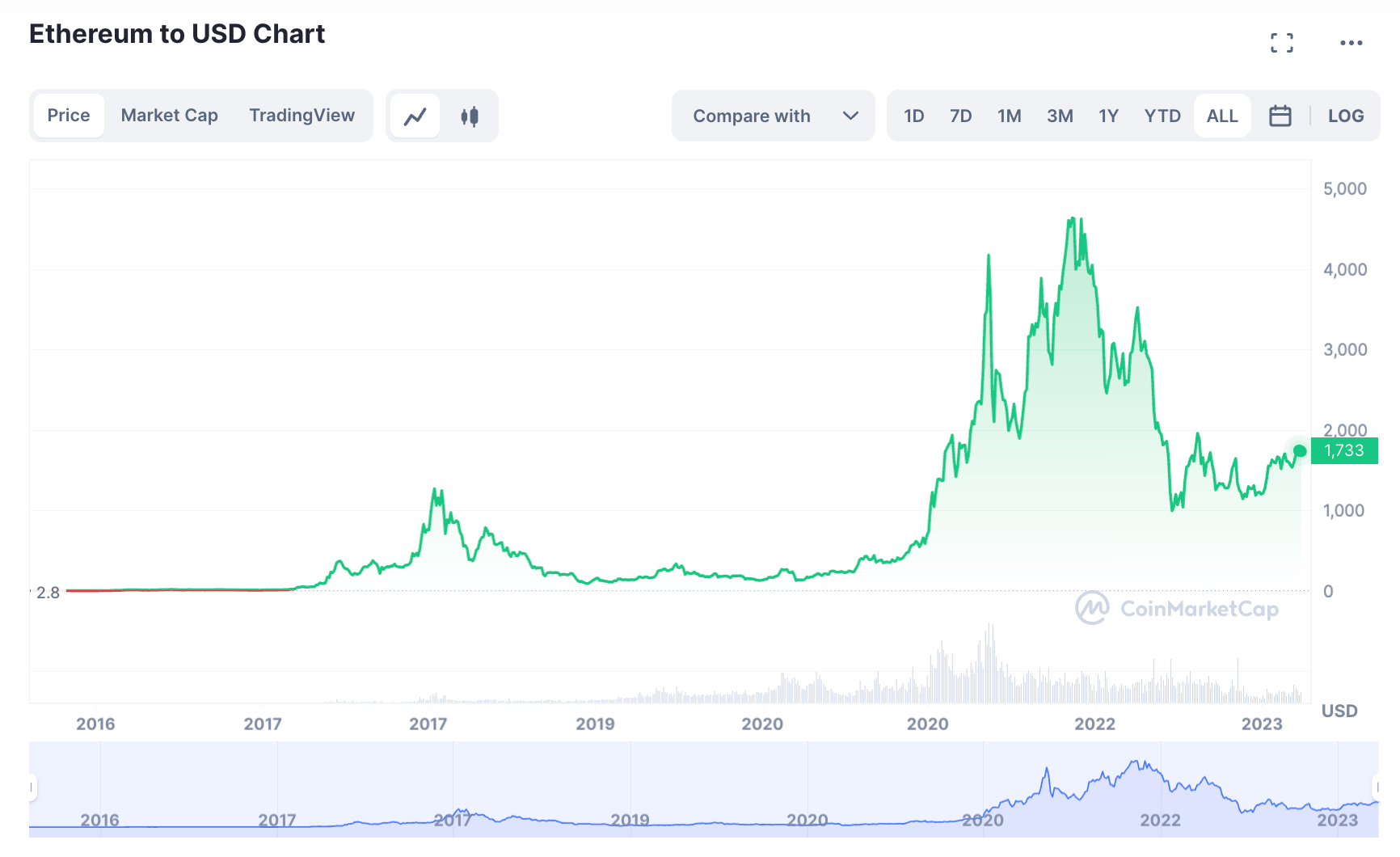 This increasing activity trend on the Ethereum network can drive up demand for its native token, Ether (ETH), which could potentially be one of the most bullish crypto.
Ethereum witnessed a significant upgrade, known as Ethereum 2.0, which aims to improve the network's scalability, security, and efficiency. This upgrade could increase the demand for ETH, making its network more accessible to a broader range of users and use cases.
As per Messari's latest state of Ethereum report, the upgrade of Ethereum to Proof-of-Stake has increased its resilience against market fluctuations. Although ETH concluded the quarter with a 10% decline, it outperformed close competitors like BTC and SOL.
Finally, with the increasing popularity of decentralized finance (DeFi) and NFTs built on the Ethereum network, the demand for ETH could rise further as more people look to invest in these emerging areas during a bull run.
Crypto assets are a highly volatile unregulated investment product. No UK or EU investor protection.
12. Cardano – Blockchain with Secure and Scalable Smart Contract Solutions
Cardano is a sustainable blockchain platform that addresses some scalability and interoperability issues of earlier blockchain platforms like Bitcoin and Ethereum. This improved technology can drive demand for its native token, ADA, as more people use the network and its features.
The platform has a strong community of developers, researchers, and supporters actively working to improve the platform and its ecosystem. This active community can drive innovation and adoption, which could further increase the demand for ADA.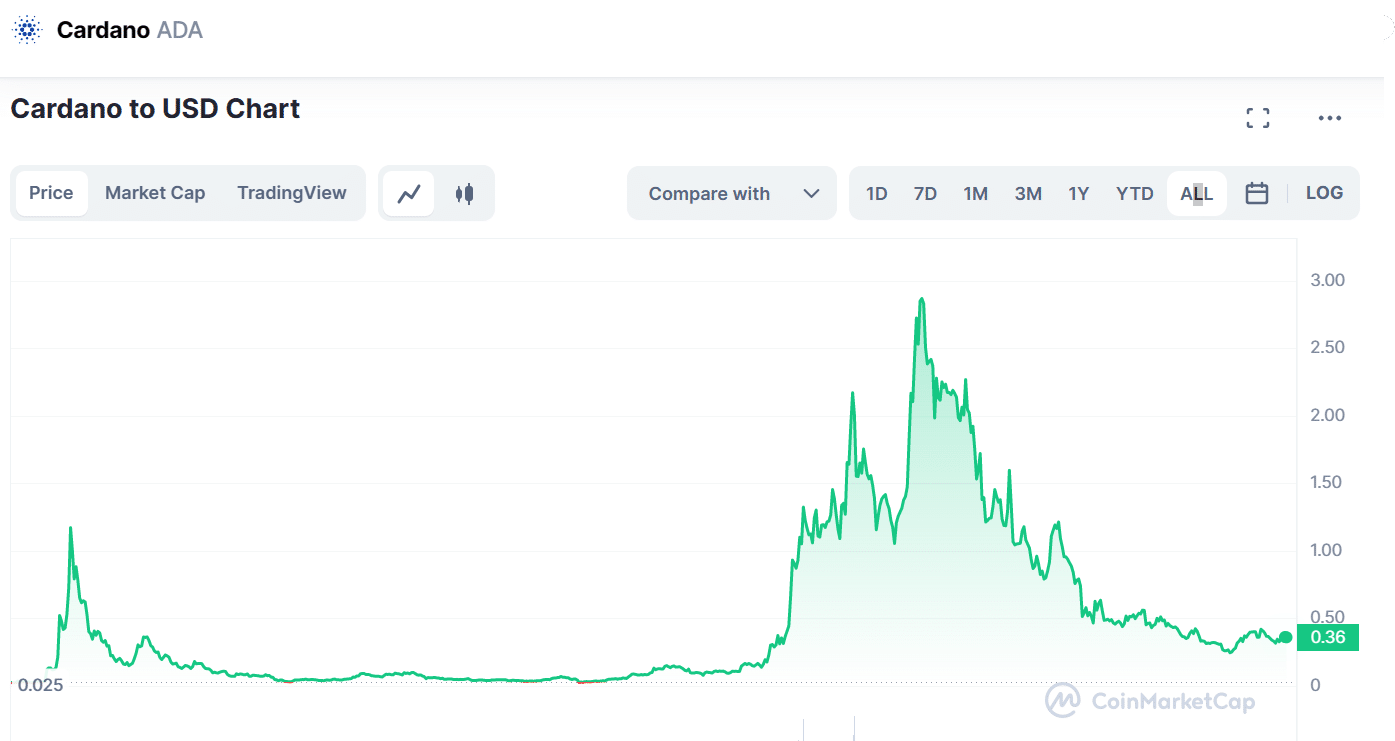 Moreover, Cardano's unique governance model gives stakeholders a say in the platform's development and decision-making. This model could increase the platform's stability and transparency, making it an attractive option for investors seeking a more democratic and decentralized platform.
Crypto assets are a highly volatile unregulated investment product. No UK or EU investor protection.
13. XRP – Fast and Cheap Payments Network Crypto to Add to Your Portfolio
XRP is Ripple's native cryptocurrency, which aims to provide fast and low-cost cross-border payments. As more financial institutions and businesses adopt Ripple's technology, the demand for XRP could increase, driving its value in the coming times.
XRP strongly focuses on institutional adoption after securing partnerships with major financial institutions. These partnerships could increase XRP's legitimacy and usage in the financial sector, potentially increasing demand.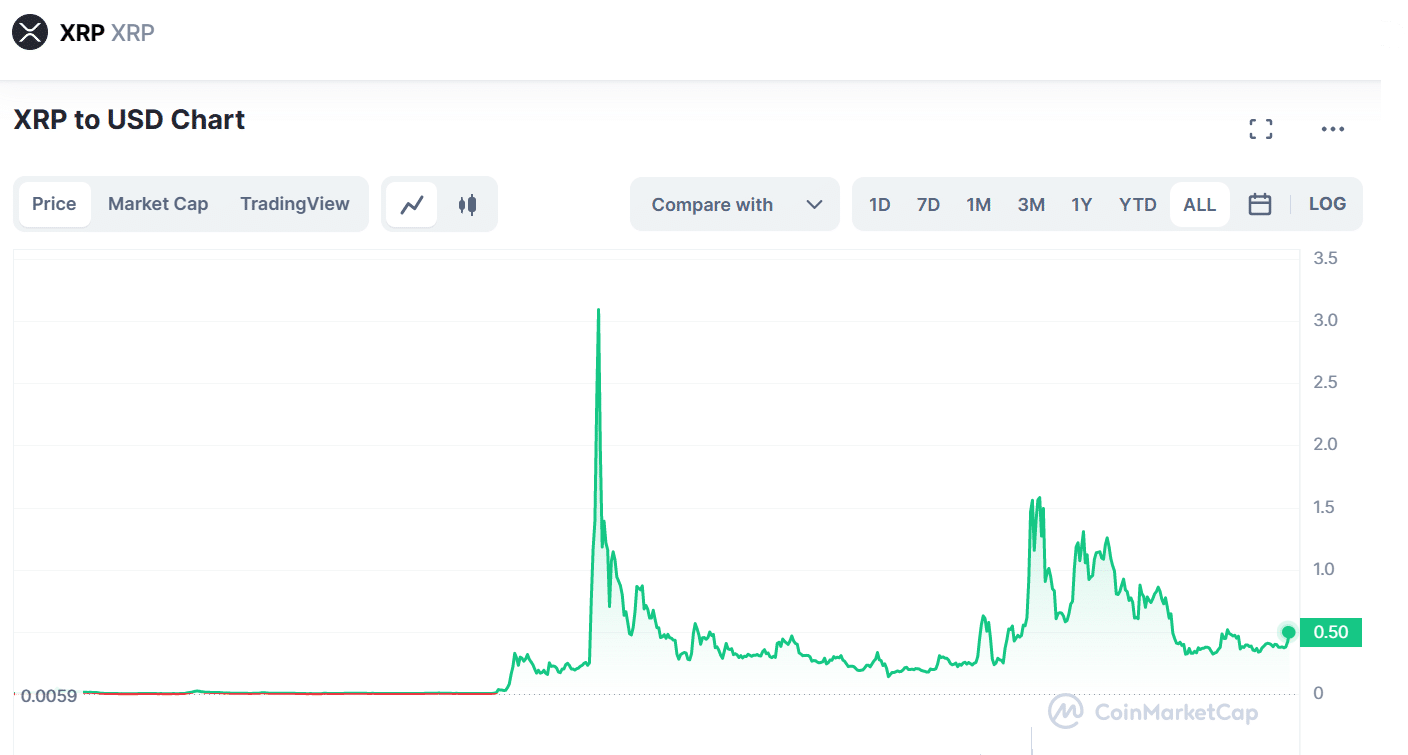 The platform's unique consensus algorithm, the Ripple Protocol Consensus Algorithm (RPCA), allows faster and more efficient transaction processing. This technology could make XRP an attractive option for investors seeking a cryptocurrency focusing on speed and scalability.
Finally, XRP has a market capitalization lower than some of its competitors, like Bitcoin and Ethereum, giving it slightly more room for growth in the next bull run.
Crypto assets are a highly volatile unregulated investment product. No UK or EU investor protection.
14. Polygon – A Fast Growing Layer 2 Protocol for Building dApps
Polygon is a Layer 2 scaling protocol for Ethereum that aims to improve the network's scalability and reduce congestion. As Ethereum continues to face scalability issues, Polygon's technology could become increasingly important, potentially driving up demand for its native token, MATIC.
The layer 2 blockchain strongly focuses on DeFi and NFTs, with several popular DeFi projects like Aave and SushiSwap launching on its network. As the demand for DeFi and NFTs continues to grow, Polygon's popularity could increase, potentially leading to an increase in the value of MATIC.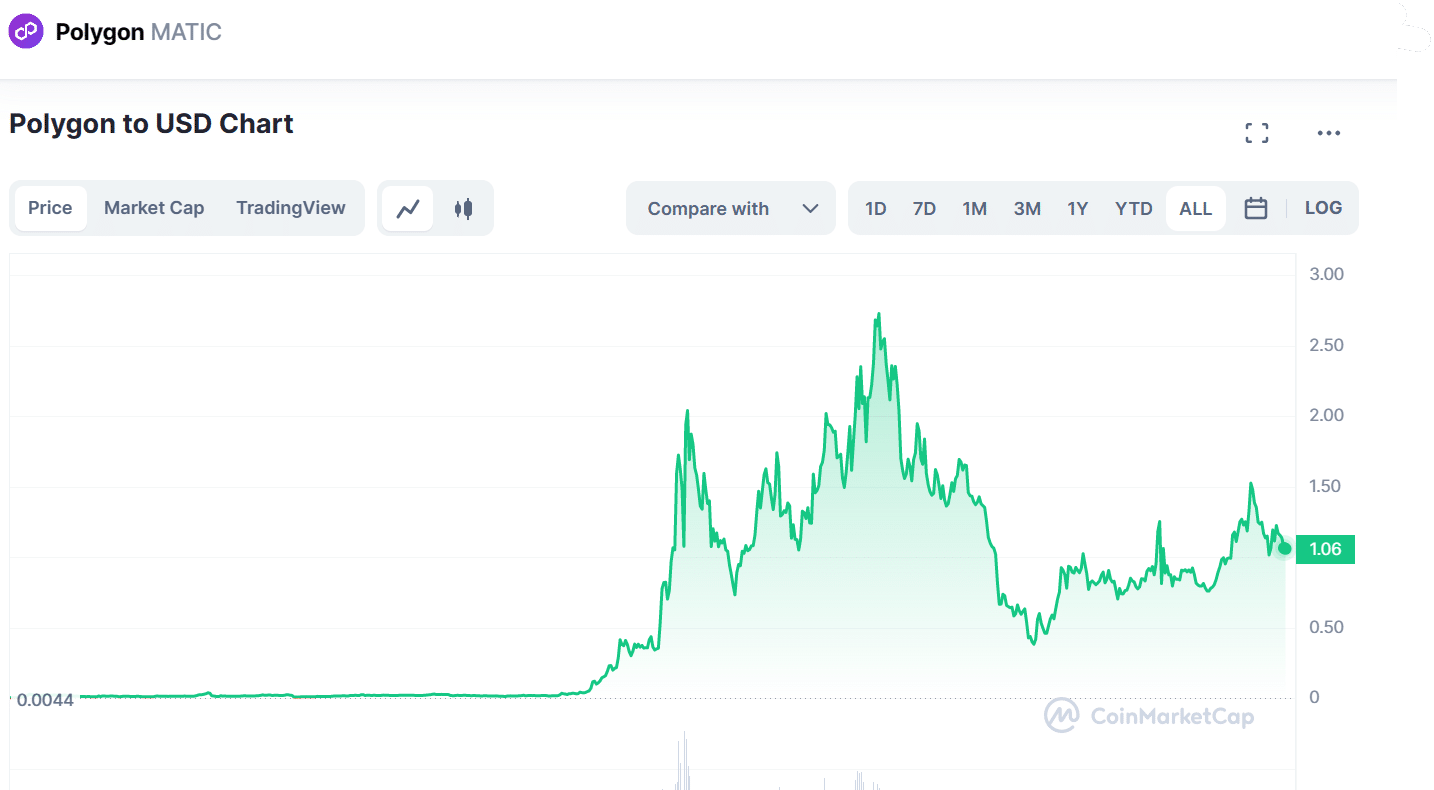 Polygon's low transaction fees and fast confirmation times make it an attractive choice for traders and investors looking for a more efficient network. This feature could also encourage more developers to build on Polygon's network, leading to increased adoption and demand for MATIC.
Finally, with increasing interest in environmentally friendly cryptocurrencies, Polygon's proof-of-stake consensus mechanism, which uses significantly less energy than Bitcoin's proof-of-work system, could make it an attractive option for investors hunting for sustainable investment alternatives.
Crypto assets are a highly volatile unregulated investment product. No UK or EU investor protection.
15. Chainlink – Decentralized Oracle Network that Connects Smart Contracts to Real-world Data Sources
Chainlink is a promising project that has gained much attention from investors due to its unique approach to solving the oracle problem.
One reason to invest in Chainlink for the next crypto bull run is its growing adoption in the DeFi ecosystem. Many DeFi applications require real-time, accurate data to function correctly, and Chainlink's oracle network provides this data securely and reliably.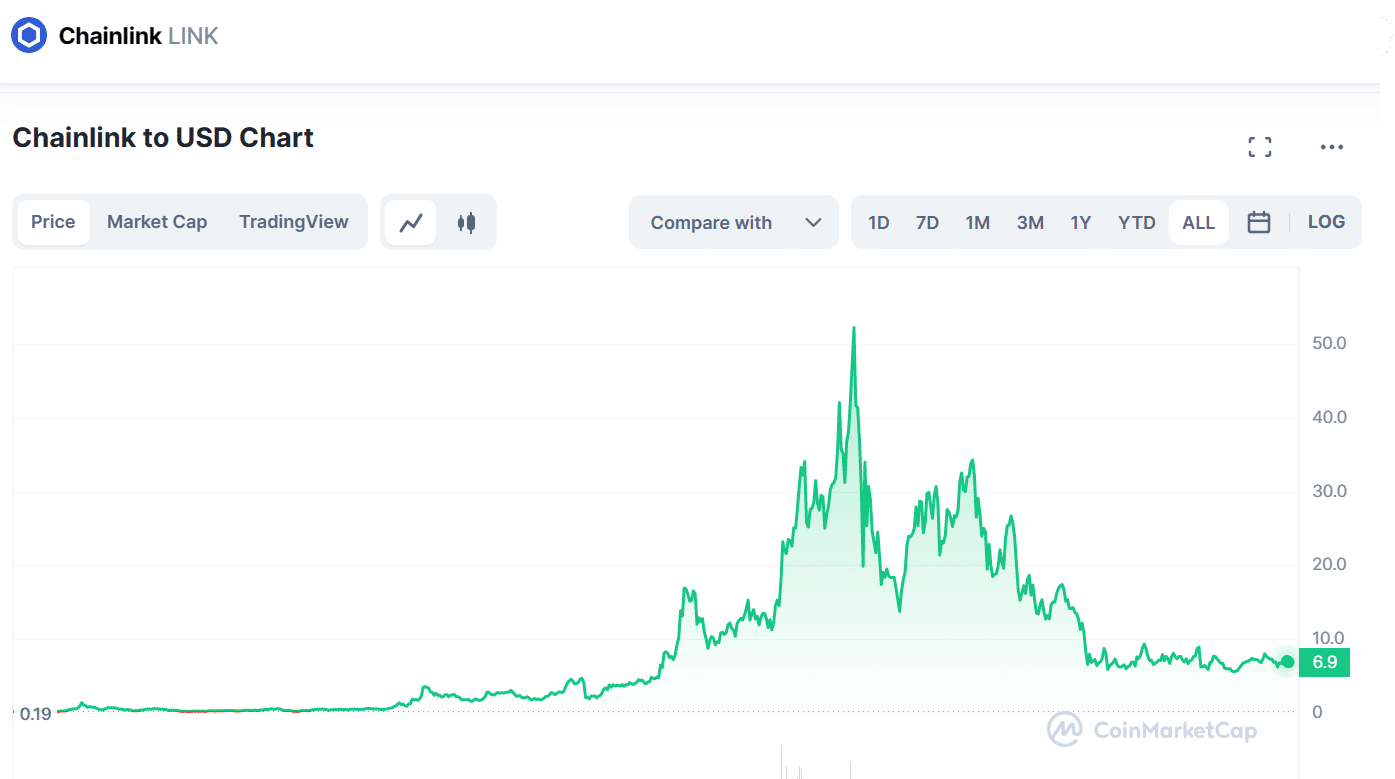 As the DeFi space continues to grow, so does the demand for Chainlink's services, which can potentially drive up the value of its native token, LINK.
Additionally, Chainlink has partnered with companies such as Google, Oracle, and SWIFT, providing it with high credibility and exposure. These partnerships also opened up new opportunities for Chainlink to expand its services beyond cryptocurrency to other industries.
Crypto assets are a highly volatile unregulated investment product. No UK or EU investor protection.
What is a Cryptocurrency Bull Run?
A cryptocurrency bull run is when crypto prices increase rapidly and significantly. When markets are experiencing a bull run, traders and investors are bullish on the asset class as a whole. This can lead to a self-reinforcing cycle, as increased interest and investment further drive up prices.
Bull markets can last for months, with cryptocurrency prices rising sharply and steadily. Bear in mind that a bull run, while exciting and profitable in the short term, may not be sustainable in the long run.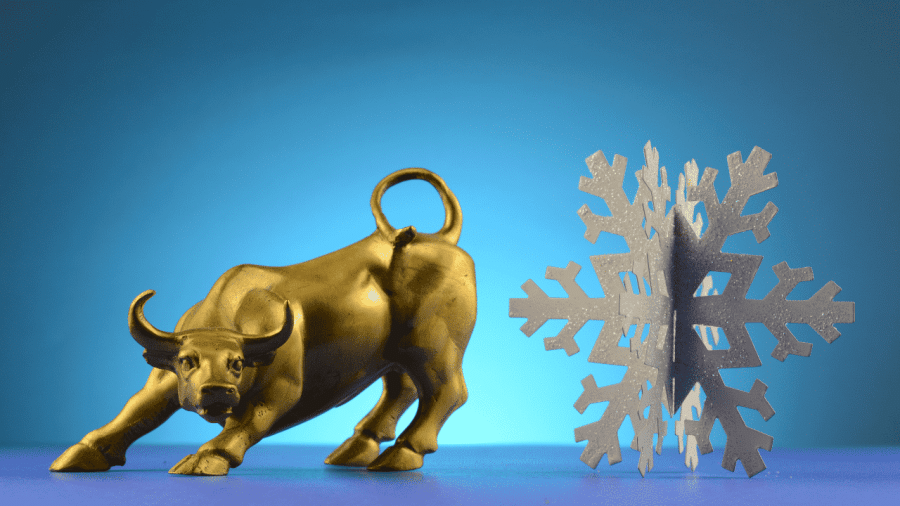 A market correction is inevitable, during which investors sell off their holdings, and prices fall. Investors who participated in the market at its highest point during a bull run may suffer high losses if they sell at the market's subsequent correction. It's essential to be cautious and do your homework before making any investment, as is the case with any investment.
Popular cryptocurrencies like Bitcoin and other altcoins reached record highs in value during the bull run that began in the middle of 2020 and lasted until late 2021, during the last bull run which is also sometimes described as altcoin season. But as the market showed signs of fatigue, the growth period ended, and the price of cryptocurrencies fell.
Given the past year's market correction, investors may look for opportunities to buy crypto at lower prices in preparation for the next bull run.
Are We In a Bull Run Now?
For over a year, the crypto market has witnessed a consistent downtrend as the bears led the market and induced a fear sentiment. For instance, Bitcoin lost over 75% of its value since its ATH before bouncing back over the past two months.

Today's global cryptocurrency market cap is $1.03 Trillion, a nearly 84% decline from one year ago. The recent bullish rebound in 2023 has reignited some hope for buyers, but the bulls still need to prove their mettle.
In recent weeks the Crypto Fear and Greed Index has displayed an increasingly 'greedy' stance, showing that investor and trader confidence is starting to return after an extremely tough 2022.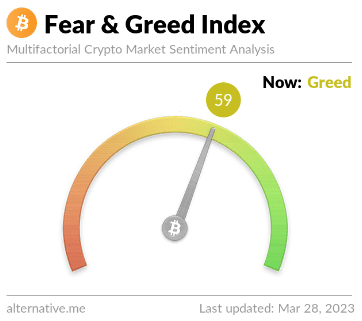 Thus, we may not be in a bull run yet, but should the bulls capitalize on their recently found buying pressure, we could see the next Bitcoin bull run relatively quickly.
Suppose the buyers step into the market to snap crucial psychological resistance barriers on the charts. In that case, they can create a self-sustaining upwards loop and improve the overall sentiment to induce a bull run.
Is There Going to Be Another Bull Run in Crypto?
Crypto has caught the attention of major financial institutions. Among others, BlackRock, Goldman Sachs, and Morgan Stanley have reportedly begun investing in cryptocurrency.
Also, there is a growing community of people who use cryptocurrency wallets. Innovative products and technologies are constantly being introduced to consumers. Examples of stablecoins that are gaining in popularity include Tether and USDT. These coins will help increase market liquidity.
Finally, the aggregate value of all crypto assets has risen above $1 trillion after the recent market recovery. This recovery attempt hints at the market's intentions and that it may be ready for another bull run.
There is a strong possibility for another cryptocurrency bull run in 2023 and into 2024. Although it is impossible to know what will happen, the market appears to be ready for another bull run due to rising institutional interest, a growing user base, the introduction of new products and technology, and strong fundamentals.
When is the Next Crypto Bull Run Going to Be?
Based on empirical market behavior, many experts believe that the next crypto bull run will occur around the time of Bitcoin's halving event, which is expected to occur in 2024. However, some analysts forecast that the bull run may happen as soon as 2023.
Despite these predictions, it is essential to remember that there is no foolproof way of knowing exactly when the next bull run will occur.
The crypto market is quite volatile and can be impacted by internal and external factors. Inherently, the majority of cryptos nowadays are amongst the most volatile cryptocurrencies on the market. Some of the factors that investors should consider include the following:
Increased institutional adoption

: As more institutions, such as banks and investment firms, invest in cryptocurrencies and offer cryptocurrency products, it can increase demand and drive up prices.

Positive regulatory developments

: Positive regulatory developments, such as legalizing cryptocurrencies in certain countries or introducing supportive regulations, can boost the crypto markets.

Mainstream adoption

: Increased mainstream adoption of cryptocurrencies, such as the ability to use them for everyday purchases or as a form of payment, can increase demand and drive up prices.

Economic and geopolitical events

: Economic and geopolitical events, such as inflation or political instability, can create uncertainty and drive investors to seek alternative investments, such as cryptocurrencies.

Halving events

: Cryptocurrencies such as Bitcoin have programmed halving events that reduce the supply of new coins being created. This event has historically been associated with bullish runs in the cryptocurrency markets.

Crypto Whales:

Crypto whales, which are large investors with substantial holdings in a particular cryptocurrency, can significantly impact the market. A crypto whale buying a significant amount of a coin can create a ripple effect throughout the market. This is because the whale's buying pressure creates a surge in demand for the crypto, which causes its price to go up.
Why You Should Invest Before a Bull Run
Investing before a crypto bull run can be wise for several reasons. Below are some reasons why you should consider investing before a crypto bull run:
Avoiding FOMO

: Fear of missing out (FOMO) is common among investors. By investing before the bull run, you'll avoid the temptation to buy in at the top of the market. Instead, you'll have the peace of mind of knowing that you got in early and can ride out any fluctuations in the market.

Liquidity

: Investing before a bull run allows you to take advantage of the increased liquidity in the market. As more people enter the market and increase demand, its liquidity will increase, making it easier to enter and exit trades.

Reduced risk

: Investing before a bull run may offer lower risk than investing during the market's peak. Investing early gives you more time to research potential investments, identify trends, and develop a strategy for managing risk.
Conclusion
In conclusion, cryptocurrency is a rapidly evolving market that can offer significant investment opportunities during bull runs. By understanding the market cycles, investors can decide which coins to add to their portfolios.
Consider AiDoge if you're looking for exciting opportunities in the crypto world before the next bull run. Many investors are interested in this platform combining memes and AI, where users can vote on AI-generated memes and be rewarded with $AI tokens.
More than $100,00 was raised in the first 24 hours since going live.
FAQs
When is the next crypto bull run?
What is the next bullish crypto?
Will there be another crypto bull run?