Private sales are popular in the crypto space and there are more projects than ever to wade through when deciding what to invest in. Quality crypto tokens can be locked in at a huge discount if found at the right time.
As such, today's guide will review and rank the best crypto private sales for 2023.
List of the Best Private Crypto Sales This Year
The best crypto private sale to invest in will have utility and the potential to blow up once listed on an exchange. Below, we've listed the top private crypto sales that some analysts believe are likely to explode in 2023 and beyond.
Bitcoin ETF Token (BTCETF) – Best crypto private sale is offering staking rewards and burn mechanics based around the pending approval of a Bitcoin ETF by the SEC. Bitcoin ETF Token is allocating 840 million tokens across ten presale rounds.
Bitcoin Minetrix (BTCMTX) – New private presale with 258% APY, the world's first stake-to-mine design, and open access to BTC cloud mining with just a $10 minimum investment. Raised $100,000 within hours of its launch, currently sitting on $2.2M.
Meme Kombat (MK) – Watch your favorite memes do one-on-one combat with AI rendering for engaging visuals and blockchain processing for transparent rewards. Offers 112% APY and the appeal of many memes, not just one.
TG.Casino (TGC) – High-quality live Telegram casino with multiple USPs. Offers a 350% APY, 25% token cashback for losing wagers in TGC, instant crypto deposits/withdrawals, and a strict no KYC policy for customers. Closing in on $1.5M raised.
Wall Street Memes (WSM) – A popular meme-based crypto platform that has a following of over 1 million people. The Wall Street Memes presale raised more than $25 million in just thirteen weeks since it launched. Presale finished with token live on OKX and a new online casino venture.
eTukTuk (TUK) – The $TUK token is being used to make payments at EV charging stations for TukTuk vehicles. Tokens can be staked to earn APYs of more than 14,000%. Currently, the private sale has raised more than $130,000.
Chimpzee (CHMPZ) – A project focused on conservation and climate change, which has already made a substantial impact with staking rewards for users. $1.8 million raised in presale.
yPredict (YPRED) – AI and machine-learning protocol that offers a variety of tools and analytical data to help new and experienced crypto traders become more profitable.
Doge Uprising (DUP) – Elon Musk faces off against Mark Zuckerberg in 2045, aided by Doge Mecha NFTs. Private sale offers a 10% referral program and a 100% automatic price increase in the next stage.
Artyfact (ARTY) – P&E Web3 gaming metaverse with referral rewards.
Futurent (FUTR) – Blockchain service platform for fractional tokenized land.
OpiPets (OPIP) – Economy based on free P2E games with NFT animals.
Web3 Task (W3T) – Crypto-centric freelance platform and marketplace for Web3 services.
Ajira Pay Finance (AJP) – Brand New Decentralized Platforms Facilitating Crypto Payments
Reviewing the Best Crypto Private Sales in 2023
Finding the best crypto private sale is no simple feat, albeit, reading our full analysis of each project should help investors choose the best for their goals.
1. Bitcoin ETF Token (BTCETF) – Overall Best Crypto Private Sale, Get Staking Rewards and Deflationary Tokenomics
Bitcoin ETF Token (BTCETF) is the best crypto private sale in 2023. Boasting a total supply of 2.1 billion – Bitcoin ETF Token is allocating 40% for the ongoing presale.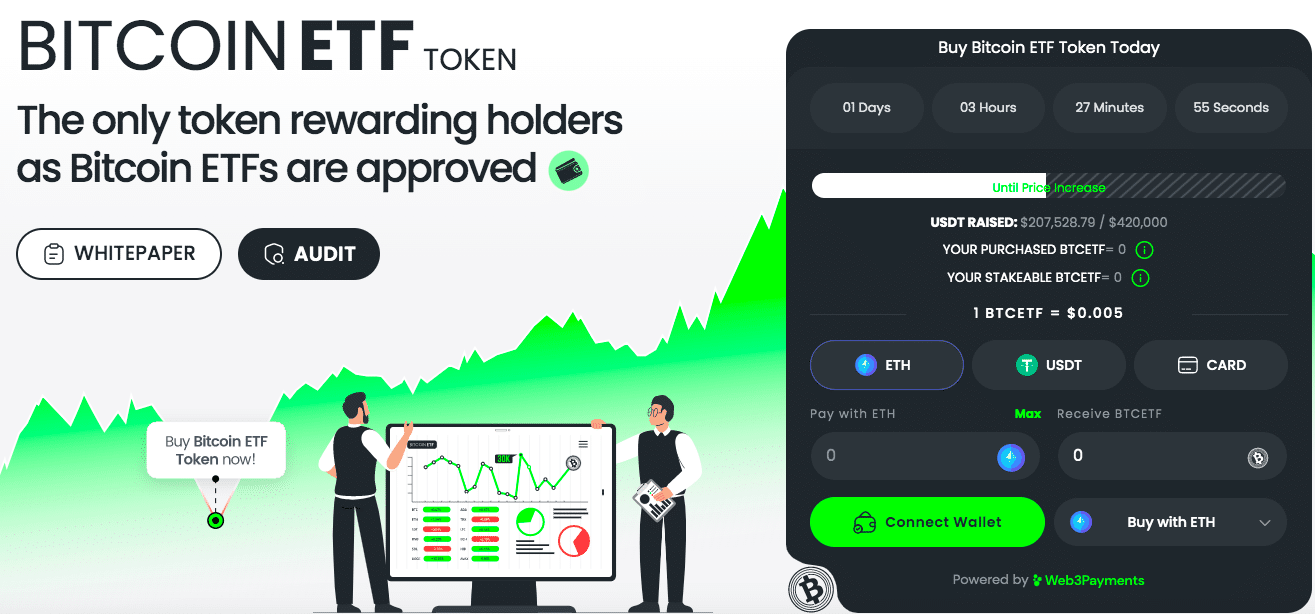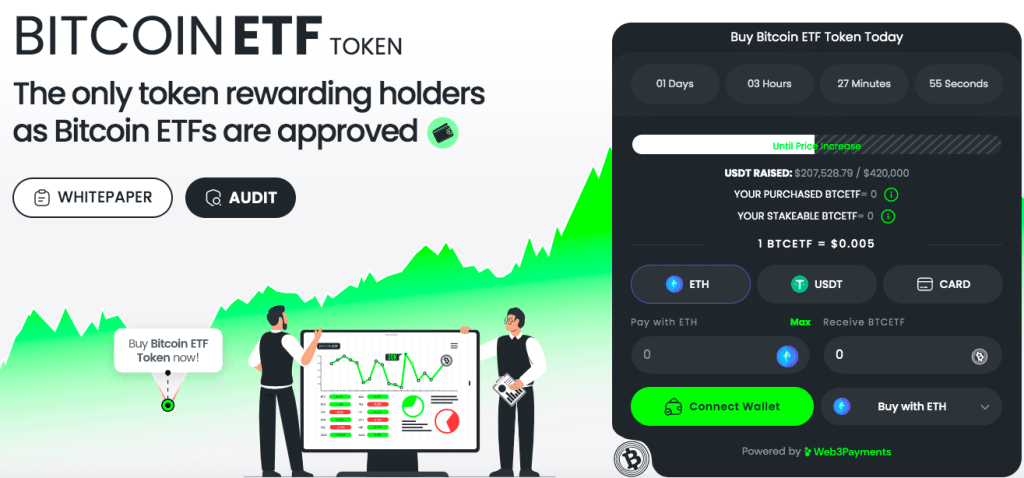 Bitcoin ETF Token speculates on the pending approval of a Bitcoin ETF (Exchange-Traded Fund), by the SEC. The platform will reward token holders on events around the Bitcoin ETF approval.
Bitcoin ETF Token has set 5 milestones – after which it will conduct token burning events and offer staking rewards. One of the major milestones is the official approval of a Bitcoin ETF by the SEC. Once this is completed, Bitcoin ETF Token will burn 5% of its token supply.
It will also start allocating staking rewards to staked token holders. Notably, 25% of its total supply will be distributed through staking rewards. In total, Bitcoin ETF Token will conduct 5 such burning events – reducing the overall supply by 25%.
The private sale will consist of ten rounds – where 840 million tokens will be distributed equally. Currently, on stage one, $BTCETF is priced at only $0.005 per token. However, the price will increase per subsequent round. By the final round, $BTCETF will be priced at $0.0068 per token – a 36% price increase from current levels.


When purchasing $BTCETF through the private sale, investors can select the 'Buy and Stake' option to directly lock their holdings on the smart contract. This leads to annual staking yields as high as 1,100%.
For more information on this new cryptocurrency, go through the Bitcoin ETF Token whitepaper and join the Telegram channel.
| | |
| --- | --- |
| Hard Cap | $4.956 Million |
| Total Tokens | 2.1 Billion |
| Tokens available in presale | 840 Million |
| Blockchain | Ethereum Network |
| Token type | ERC-20 |
| Minimum Purchase | N/A |
| Purchase with | USDT, ETH, BNB, MATIC and Card |
2. Bitcoin Minetrix (BTCMTX) – Private Sale That Provides 258% APY & New BTC Mining Design
Bitcoin Minetrix ($BTCMTX) is a recently released private sale that could change the way that Bitcoin mining rewards are allocated.
This private sale offers a world-first stake-to-mine design whereby users stake their $BTCMTX, receive Bitcoin cloud mining credits, and burn them for BTC rewards.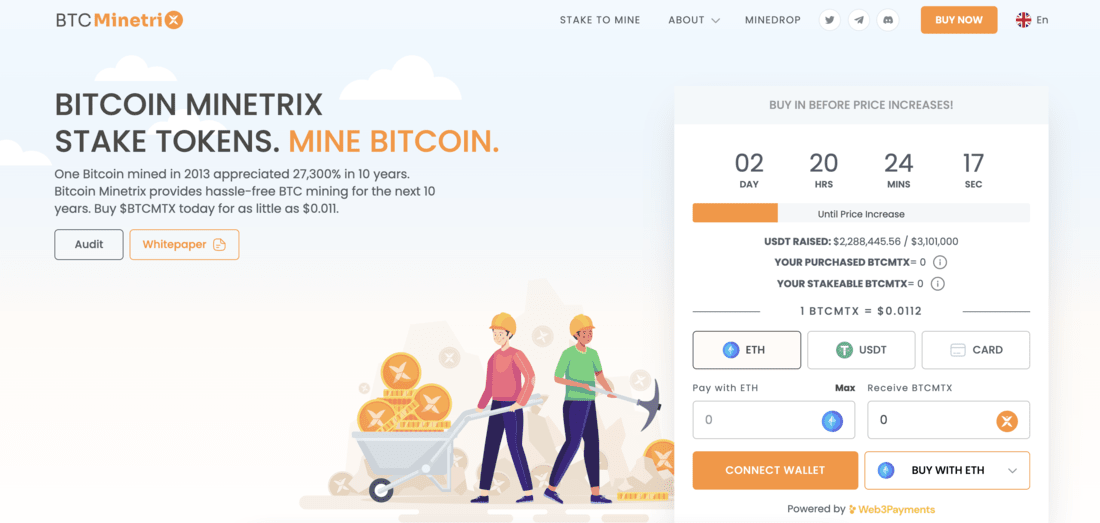 This is an extremely useful market innovation as it is practically impossible for people to compete with the mining companies that control the Bitcoin network.
The mining rigs cost thousands of dollars for a single machine, exclusive of the huge electricity bills that inevitably come with BTC mining. These rigs have a terrible carbon footprint.
Bitcoin Minetrix solves this issue by providing BTC mining credits in return for staked ERC20 tokens, which are burned.
Ethereum is far more eco-friendly than Bitcoin, and there is no noise or heated air from having to maintain a mining rig. The upfront investment cost is just $10, as opposed to thousands of dollars.
No expertise or experience is necessary – tokens can be burned, withdrawn, or staked from a unified dashboard. A mobile application will soon complement the main application.
In this way, the staker has full control over the rewards. This is not the case with existing BTC cloud mining companies – many of which are scams, with high upfront costs, and continually changing fees and requirements.
Bitcoin Minetrix has an appealing entry price of $0.011, which will significantly by the final stage. The yields are presently 258% with over 161 million staked $BTCMTX.
This campaign has further undertaken a smart contract audit from Coinsult with no issues located – a positive indication of its integrity.

There is s $32 million hard cap for this private presale, which raised over $100k within hours of its launch. A total of 2.8 billion tokens are available in the presale.
We believe this project offers substantial utility value. It also has a clearly defined roadmap and a clear market proposition.
Twitter and Telegram are useful sources of additional information for this private presale.
The Whitepaper should also be read before taking part to understand all the nuances of this project.
| | |
| --- | --- |
| Presale Started | September 2023 |
| Purchase Methods | USDT, ETH, BNB |
| Chain | Ethereum |
| Hard Cap | $32 Million |
| Min Investment | $10 |
| Max Investment | None |
3. Meme Combat (MK) – Private Sale With Three ROI Verticals and Betting On Meme vs Meme Warfare
Meme Combat ($MK) is a creative presale concept that captures multiple world-famous memes and randomly selects from for combat against each other.
Users can bet on the winner of the fight, with battle scenes depicted using cutting-edge AI-rendered graphics.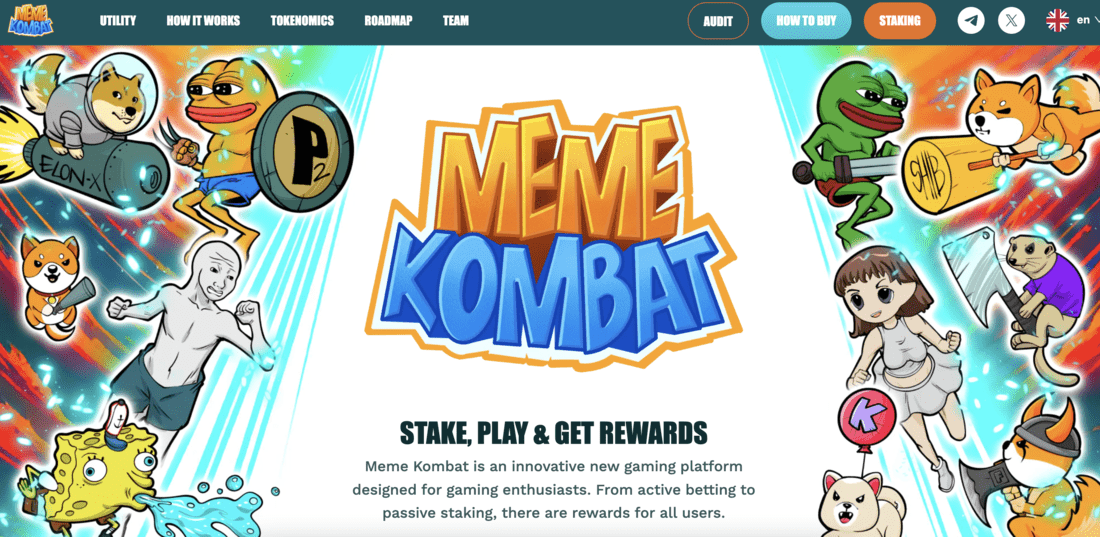 Season One features eleven of the most successful meme tokens – Pepe, Pepe 2, Shiba, Sponge, Doge, Floki, Baby Doge, Milady, Kishu, Mong, and Wojack. Many of these meme tokens have online followings that number in the millions, and Meme Kombat might see some traffic from this relationship.
Meme Kombat offers three distinct betting opportunities (Direct, P v P, and P v Game), as well as side bets. These betting styles will be upgraded and enhanced after season one concludes. New memes might also be added.
There are multiple ROI mechanisms with Meme Kombat. The first is straight price appreciation. The second is ROI from staking, which is a steady 112%. And the third is winning bets. Returns from winning bets are automatically distributed to the correct wallet through the blockchain.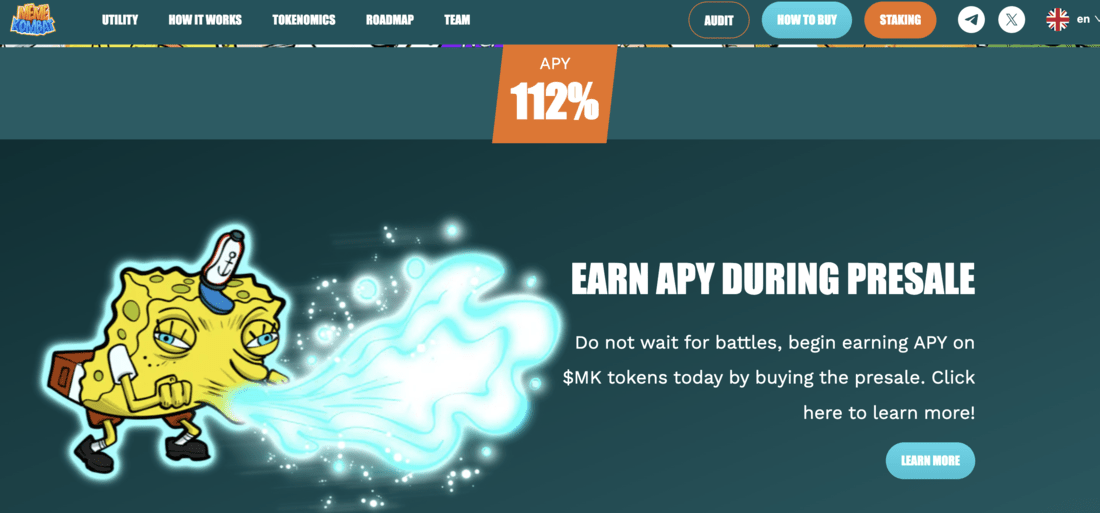 This is a transparency presale with the founder, Matt Whiteman, accessible on social media sites such as LinkedIn. No high-risk issues were found in its smart contract audit from Coinsult and none of the tokens have been allocated to a core team.
The $MK is $0.1667 with a total of 120 million and a $10M hard cap. It has raised over $700k so far. 50% of the overall supply, 60 million tokens, is available in the presale. Of the remaining, another 30% goes to staking rewards, 10% goes to DEX liquidity, and 10% goes to community rewards.
Some analysts have estimated that this might well be a 10x, or even a 100x token, though these are projections and the meme industry is known for its volatility.
Additional details can be found within the Meme Kombat Whitepaper, as well as the Telegram accounts.
| | |
| --- | --- |
| Hard Cap | $10,000,000 |
| Total Tokens | 120,000,000 |
| Tokens available in presale | 60,000,000 |
| Blockchain | Ethereum Network |
| Token type | ERC20 |
| Minimum Purchase | 100 tokens |
| Purchase with | USDT, ETH, BNB |
4. TG.Casino (TGC) – Live Telegram Powered Crypto Casino With $1.5M Raise, 350% APY, 25% Cashback
TG.Casino ($TGC) is a licensed and live KYC-free crypto casino that has raised nearly $1.5M and generates a 350% APY, at the present time.
The casino is currently live and ready to play, despite the fact that this presale is now even halfway through its hard cap. This is an encouraging sign as the product is already launched, a major reassurance to potential investors.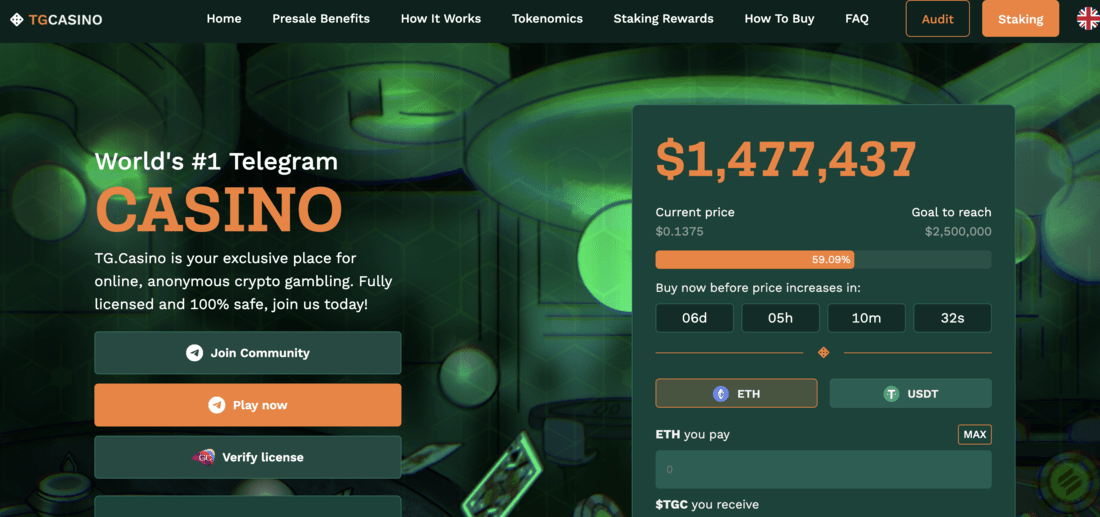 This casino has a large unique of USPs. It can be accessed entirely through Telegram, which is a very strong point when you take into account the fact that Telegram has over 700 million users. Instant deposits can be made with cryptocurrency, and there is no KYC with this provider.
Anybody with an existing Telegram account and some crypto can start playing, right now. Players also have complete control over the withdrawal process. There is no way for TG.Casino to freeze accounts or demand additional verification. They advertise their KYC-free process strongly.
25% cashback is available for players who placed losing bets in the native token $TGC. However, it is not necessary to use this token to play games within the casino. Hundreds of games and over thirty sports are on offer. This is a legal operation, with a license from the government of Curacao.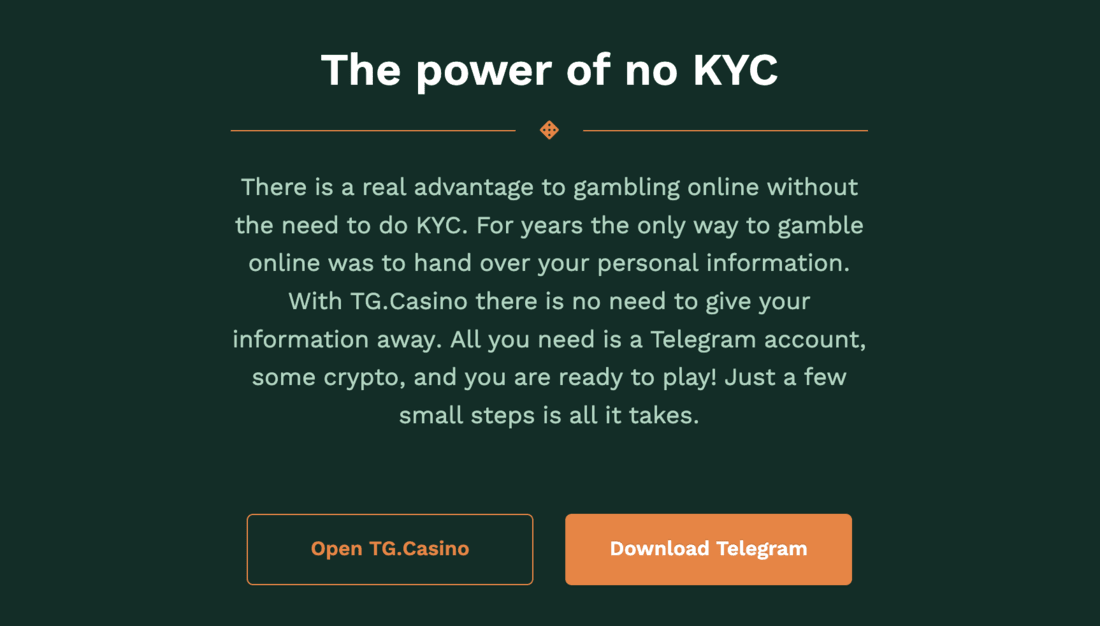 TG.Casino aims to take a slice of the gigantic Web2 casino market. Currently, this market is estimated at $263 billion while the Web3 market only makes up $250 million. This is less than 0.1%, despite the many advantages it has.
TG.Casino is globally accessible with no geo-restrictions, and it uses its revenue to buy back some of the native token and burn it, as a means of rewarding players.
There is no real equivalent in the legacy casino market, and this private sale could do very well in 2023 due to its obvious market positioning and its many layers of incentivization for players.
There are a total of 40 million tokens available in the presale at a price of $0.1375, for a hard cap in the range of $5 million.
Additional information is contained within the TG.Casino Whitepaper.
It might also be a good idea to join the project socials (Telegram and Twitter).
| | |
| --- | --- |
| Hard cap | $5 million |
| Total tokens | 100 million |
| Tokens available in presale | 40 million |
| Blockchain | Ethereum Network |
| Token type | ERC20 |
| Minimum purchase | $5 |
| Purchase methods | USDT, ETH, BNB |
5. Wall Street Memes (WSM) – Wildly Popular Campaign With $25M Raised, Token Live on OKX
$WSM is a meme token that has been launched by the founders of the Wall Street Memes platform. This platform is also responsible for launching its own legacy NFT project – Wall St Bulls. It is now complete, being regarded as a highly successful presale.
This NFT project managed to sell out 10,000 Ethereum-based NFTs within 30 minutes due to the popularity of its platform. Across platforms, including Twitter and Instagram, Wall Street Memes has a following of over 1 million.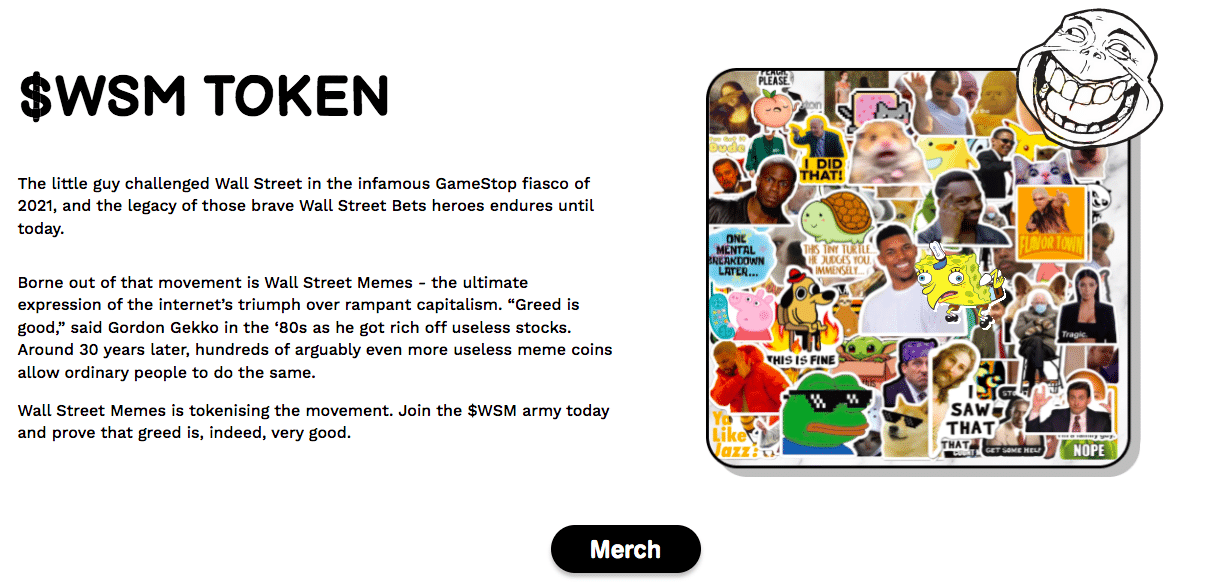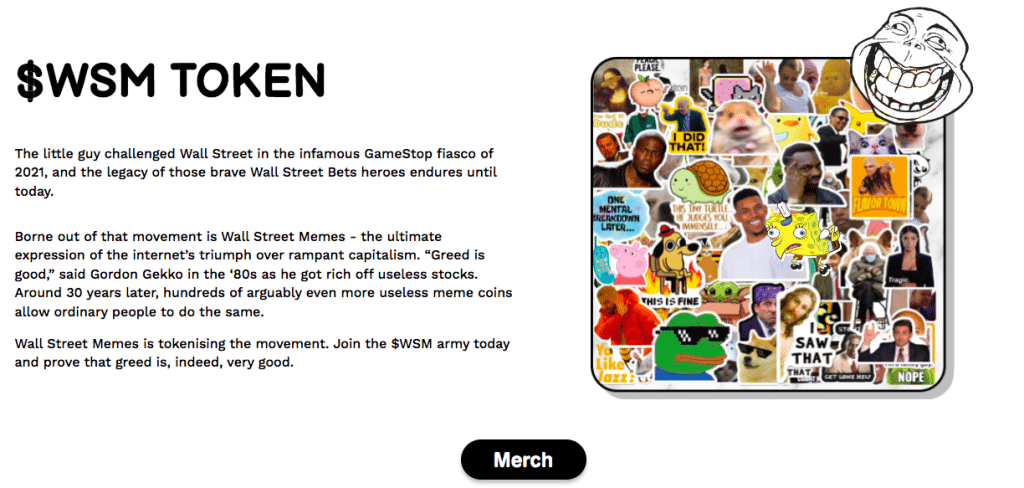 The Wall Street Memes Twitter page has more than 215k followers and has seen influential celebrities such as Elon Musk reply on the page. After the success of the NFT collection, Wall Street Memes has decided to launch its own private sale for the $WSM token.
In 2023, meme cryptocurrencies have been soaring. While tokens such as $PEPE and $LADYS have become successful and offered huge returns, $WSM has the added advantage of an established consumer base.
In comparison, Wall Street Memes already has the backing of a large meme movement. While it does not offer utility, it will allocate 100% of the token supply among the community.
Thus, many expect the private sale to be highly successful for Wall Street Memes. The tokenomics of the project states that $WSM has a total supply of 2 billion tokens. 1 billion tokens have been allocated for the presale, while 30% will be allocated as community rewards.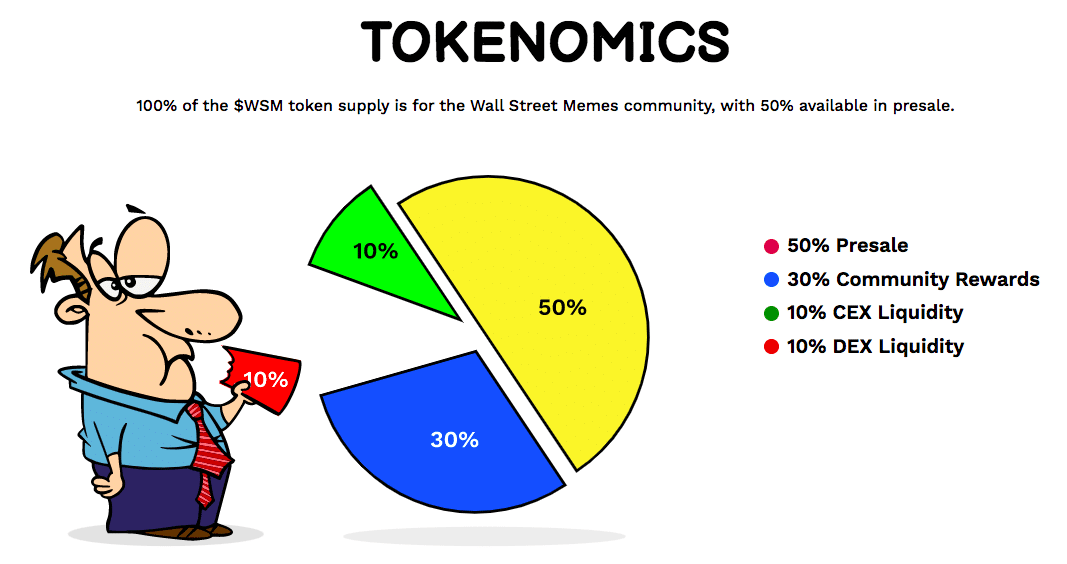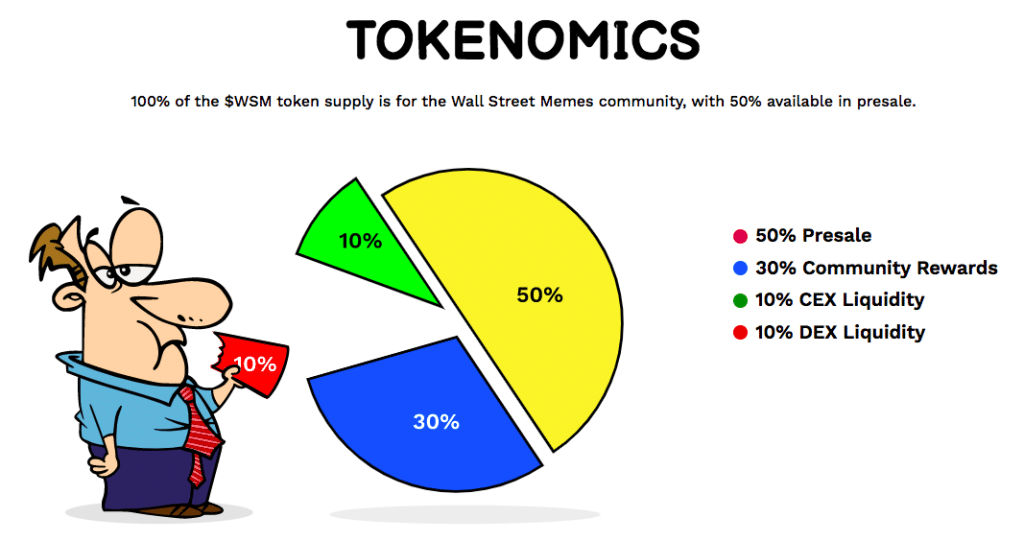 Wall Street Memes was one of the most successful presales of 2023, with a massive $25M raised. Its token is also doing very well on many T1 exchanges, such as OKX, where it was originally listed.
The coin still offers high PoS APY and can be used on the newly launched Wall Street Memes crypto casino.
Join the Wall Street Memes Telegram group to stay updated with the presale and any new developments surrounding the project.
| | |
| --- | --- |
| Hard cap | $30,577,000 |
| Total tokens | 2,000,000,000 |
| Tokens available in presale | 1,000,000,000 |
| Blockchain | Ethereum Network |
| Token type | ERC-20 |
| Minimum purchase | 100 tokens |
| Purchase methods | USDT, ETH, BNB, Bank Card |
6. eTukTuk (TUK) – Crypto Used to Make EV Payments at Charging Stations, Over $60K Raised on Presale
The next cryptocurrency private sale to watch is eTukTuk (TUK). The creators of this project have spent the last 5 years developing a way to leverage blockchain technology in the automotive space.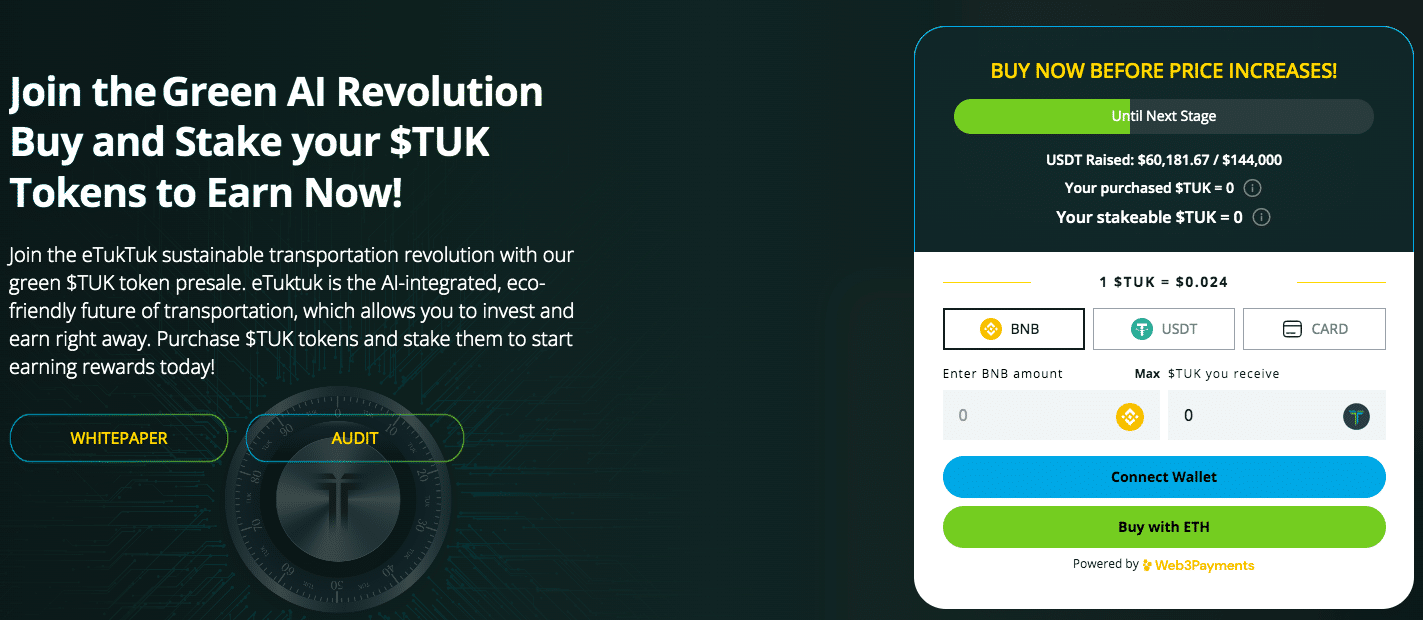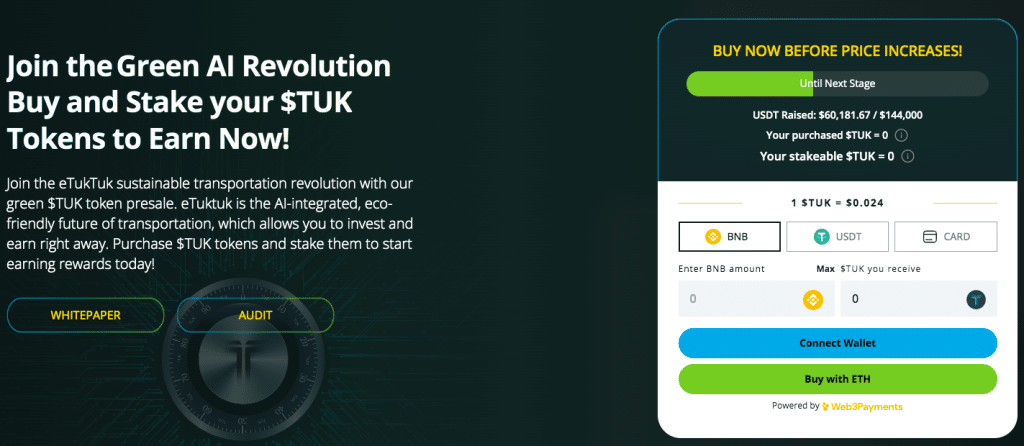 Finally, eTukTuk has come up with a system to help TukTuk drivers, limit air pollution, and reward its token holders. The main aim of eTukTuk is to promote EV (Electric Vehicle) adoption among TukTuk drivers in developing countries. The reason for this is the high energy costs that are making ICEs (Internal Combustion Engines) obsolete, and the increased amounts of non-renewable energy they waste.
eTukTuk will begin by setting up EVSEs (Electric Vehicle Supply Equipment) in the urban and suburban regions of developing economies such as Sri Lanka. These will be set up and operated by local territory partners.
The goal is to create charging stations that are compatible with all zero-emission vehicles. TukTuk drivers can charge their EV vehicles on these stations using $TUK, the native cryptocurrency of eTukTuk. Payments will be made through a driver's app – offering instant and seamless payments.
For each transactions, the territory partners will be offered a cut as rewards. Since costs will be saved by locally sourcing territory partners, drivers will save around 400% by using this platform. For the token holders, eTukTuk is offering staggering APYs (Annual Percentage Yields).


At the time of writing, a staked token holder can earn more than 14,000% in annual yields. Their tokens will be staked into power nodes, which will help operate and run the charging stations. The $TUK private sale has already collected more than $60K. At press time, $TUK is priced at only $0.024 per token.
Read the eTukTuk whitepaper and join the Telegram channel to stay updated with the presale.
7. Chimpzee (CHMPZ) – Ongoing Private Sale With Environmental Aims That Has already Donated $15,000 and Planted 20k Trees, $1.8 Million Raised in Presale
Chimpzee (CHMPZ) is a private sale with a number of key differentiators compared to other projects. A primary advantage is that it has already demonstrated significant goodwill, with over 20,000 trees planted to save the rainforest and a donation of $15,000 to protect elephants.
While many private sales make promises they intend to deliver after the fundraising, Chimpzee is already making a real difference. It has also undergone a smart contract audit from Solidity Finance and further attained a KYC Certification from Coinscope. No issues were found in the code and the certificate attests to regulatory compliance.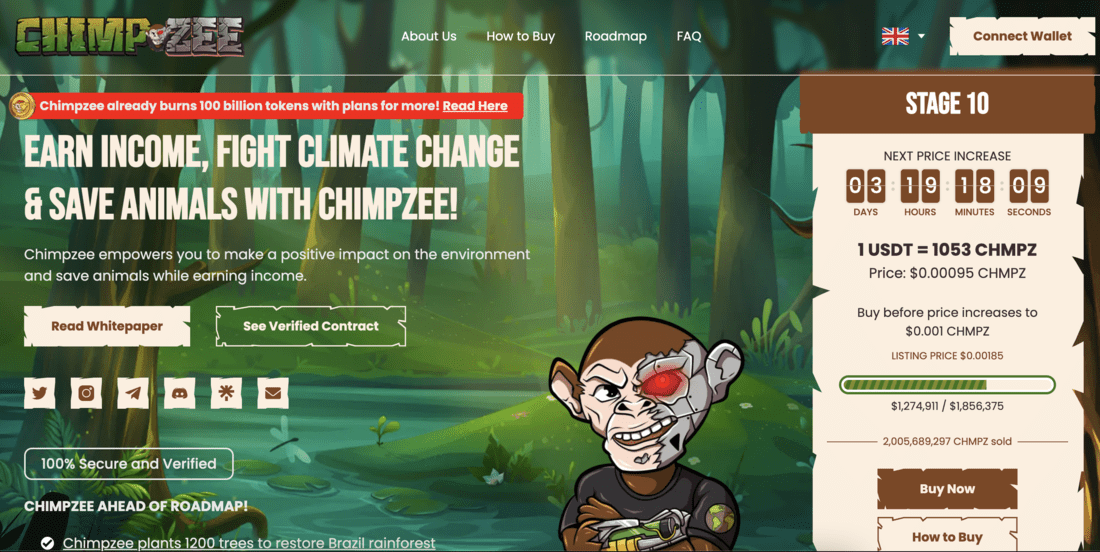 Chimpzee further offers multiple ways for project participants to earn an income. The main aspiration of the project is to help people to earn an income while also helping the environment. The whitepaper outlines its principles and gives examples of how many species are going extinct, and how a small amount of funding can help to protect them.
There are three ways that users are rewarded through the Chimpzee ecosystem – Play-to-Earn, Shop-to-Earn, and Trade-to-Earn. But the most powerful way to earn rewards is via NFT passports, which are divided into Diamond, Gold, Silver, and Bronze. A Diamond NFT will allow a 20% APY yield, while a Bronze NFT passport will allow closer to 10% APY. Diamond NFTs also confer far more privileges on the holder.
The initial supply of CHMPZ was 100 billion, but this has already been reduced to 89 billion and will be further reduced to 50 billion. This token scarcity can promote price appreciation for holders. 45% of the supply is allocated to the token sale while 5% is allocated to the team, where it is vested for 2 years.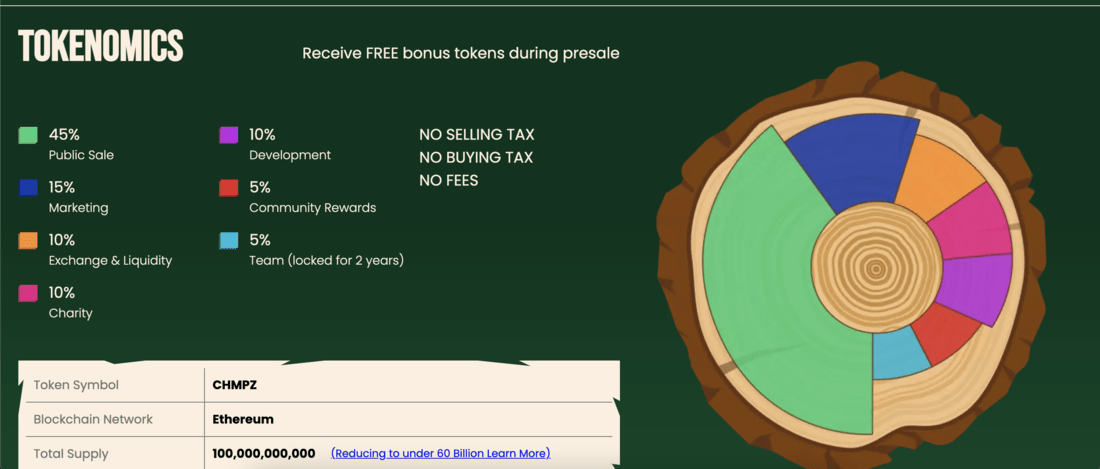 ETH, USDT, or Credit Card can be used to make purchases on the private listing page. MetaMask or Trust Wallet needs to be connected to the page to make the transaction.
More information can be found on Twitter, Discord, Telegram, Link Tree, and Instagram. Check these socials for enhanced information and make sure to read the whitepaper in depth prior to investment.
Chimpzee is one of few projects that is already making an impact, while in its private sale stage – this is a highly positive sign that is rarely seen with such campaigns.
| | |
| --- | --- |
| Hard Cap | $1,856,375 |
| Total Tokens | 100 billion |
| Tokens available in presale | 45 billion |
| Blockchain | Ethereum Network |
| Token type | ERC-20 |
| Minimum Purchase | NA |
| Purchase with | ETH, USDT, Bank Card |
8. yPredict (YPRED) – AI and Machine Learning Analytics and Trading Platform
yPredict ($YPRED) is an upcoming crypto protocol that will utilize artificial intelligence and machine learning to help traders and investors access a range of data and analytics to help them improve profitability.
Having already been racing through its private sale, more than $4.4 million has been raised with the project now closing in on its final stage.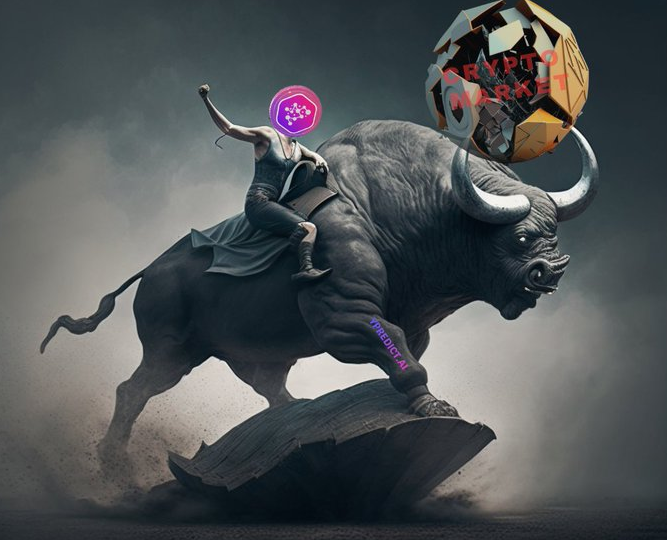 YPRED tokens are currently on sale for $0.1 but will grow another 20% to $0.12 in the final presale round before launching on several decentralized and centralized exchanges – with BitMart having already confirmed a listing.
yPredict comes from a team that is doxxed and KYC-verified, with the smart contract audited by Coinsuly. 80% of its 1 billion supply has been made available during the presale with a hard cap of $6.5 million.
Built on super-fast and efficient layer-2 Polygon, yPredict has a three-tier freemium model that grants different levels of access to users.
The project has a wide variety of trading tools and analytical data, as well as utilizing AI and ML, to give its users an edge over the rest of the market. These include pattern recognition of more than 100 charts, sentiment analysis of the news cycle and social media and hundreds of technical indicators.
yPredict users can also develop and sell their predictive models to other users.
More information can be found in the yPredict whitepaper or the Telegram group.
| | |
| --- | --- |
| Hard Cap | $6,500,000 |
| Total Tokens | 1 billion |
| Tokens available in presale | 800 million |
| Blockchain | Polygon |
| Token type | ERC-20 |
| Minimum Purchase | 200 YPRED |
| Purchase with | MATIC, USDT, ETH, BNB, Bank Card |
9. Doge Uprising (DUP) – Manga Style Meme Presale Offers 10% Referral, Doge Mecha NFTs, And Automatic 2X Price Increase
Doge Uprising ($DUP) is a meme presale that meets at the intersection of digital art, NFTs, memes, and celebrities. The story, set in 2045, unfolds in a manga-style comic series.
Mark Zuckerberg has the world at his mercy, in a state of total global surveillance. Elon Musk leads the resistance, an army of Doge Mecha NFTs, to save the world from tyranny.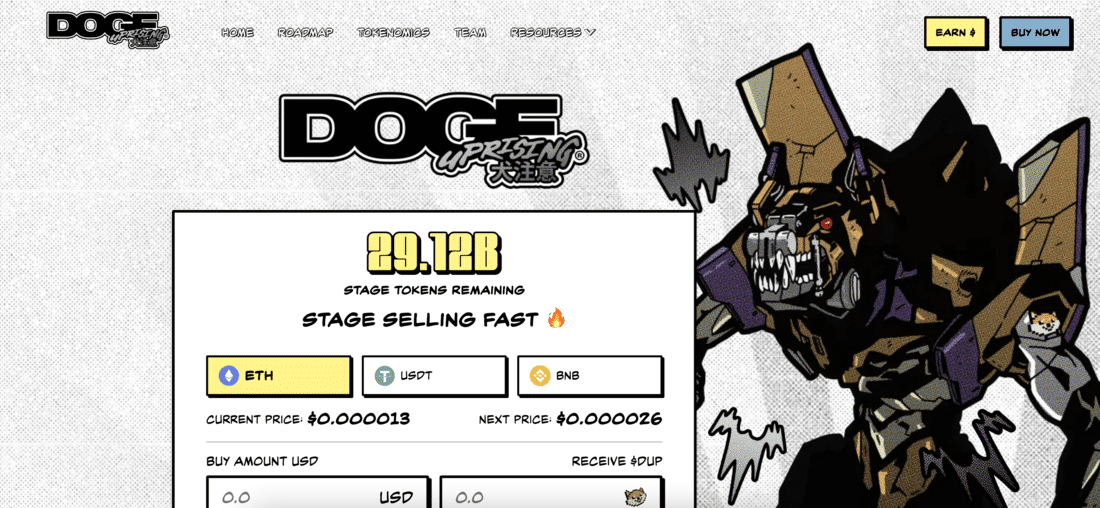 Elon Musk is clearly the hero of this story. Investors can purchase a Doge Mecha NFT and make their contributions to global freedom. The more NFT purchases, the larger the army with which to defeat the dark forces of Mark Zuckerberg.
The Doge Mechas are powered by $DUP. As mentioned in the Doge Uprising Whitepaper, $DUP is now just another token, but a revolutionary symbol. Users can join the uprising with a $DUP purchase. This is also intended to be a community led movement. Doge Uprising will liaise with multiple influencers and have regular AMAs. The most successful meme movements revolve around the strength of their communities, and Doge Uprising intends to foster this.
There are a total of 450 billion $DUP tokens with 60% (270 billion) available in the presale at a price of $0.000013. Users can benefit from an automatic 100% return just by making a purchase and waiting for the next stage, where it will rise to $0.000026.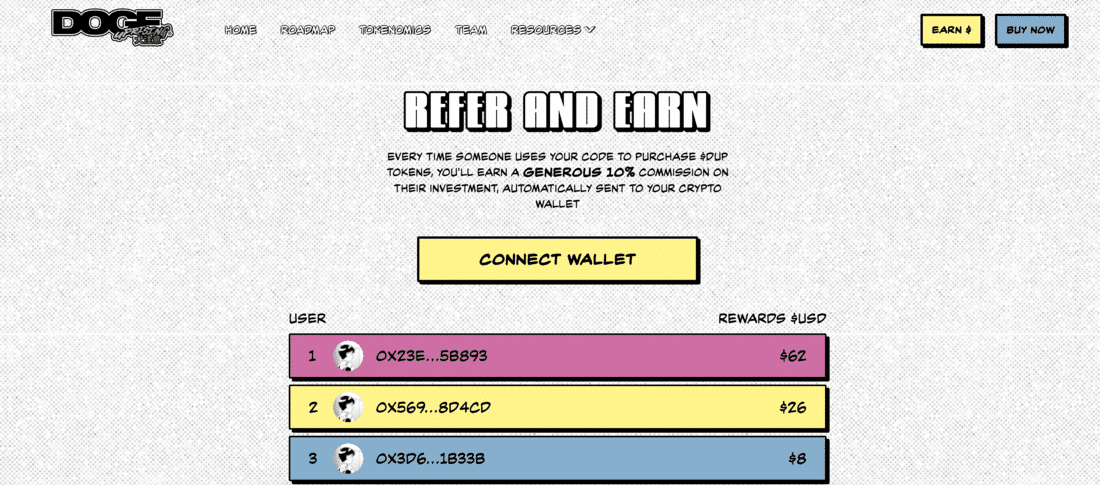 Doge Uprising also has a referral program for 10% rewards on top of this price increase, which is another major incentive. The private sale will also be launching an airdrop of 45 billion coins, 10% of the overall supply
This Ethereum token will be listed on Uniswap after presale completion. It has undertaken a smart contract audit from SolidProof for enhanced transparency.
Stay tuned to the Doge Uprising Twitter page for key notifications and updates.
| | |
| --- | --- |
| Presale Started | October 2023 |
| Purchase Methods | ETH, USDT, BNB |
| Chain | Ethereum |
| Hard Cap | Unknown |
| Min Investment | None |
| Max Investment | None |
10. Artyfact (ARTY) – P&E Web3 Gaming Metaverse With Referal Rewards
Artyfact is one of the most interesting private crypto sales in the P2E and metaverse space. The virtual world known as Artyfact has various separate economies and also facilitates digital land ownership. The Artyfact metaverse includes both P2E gaming and urban areas.
It will be possible to visit NFT exhibits and 3D marketplaces in the urban section. Players can also buy virtual land, NFTs, clothes, and property in urban areas. Influencers and businesses will have the chance to engage with their audiences via the Artyfact metaverse.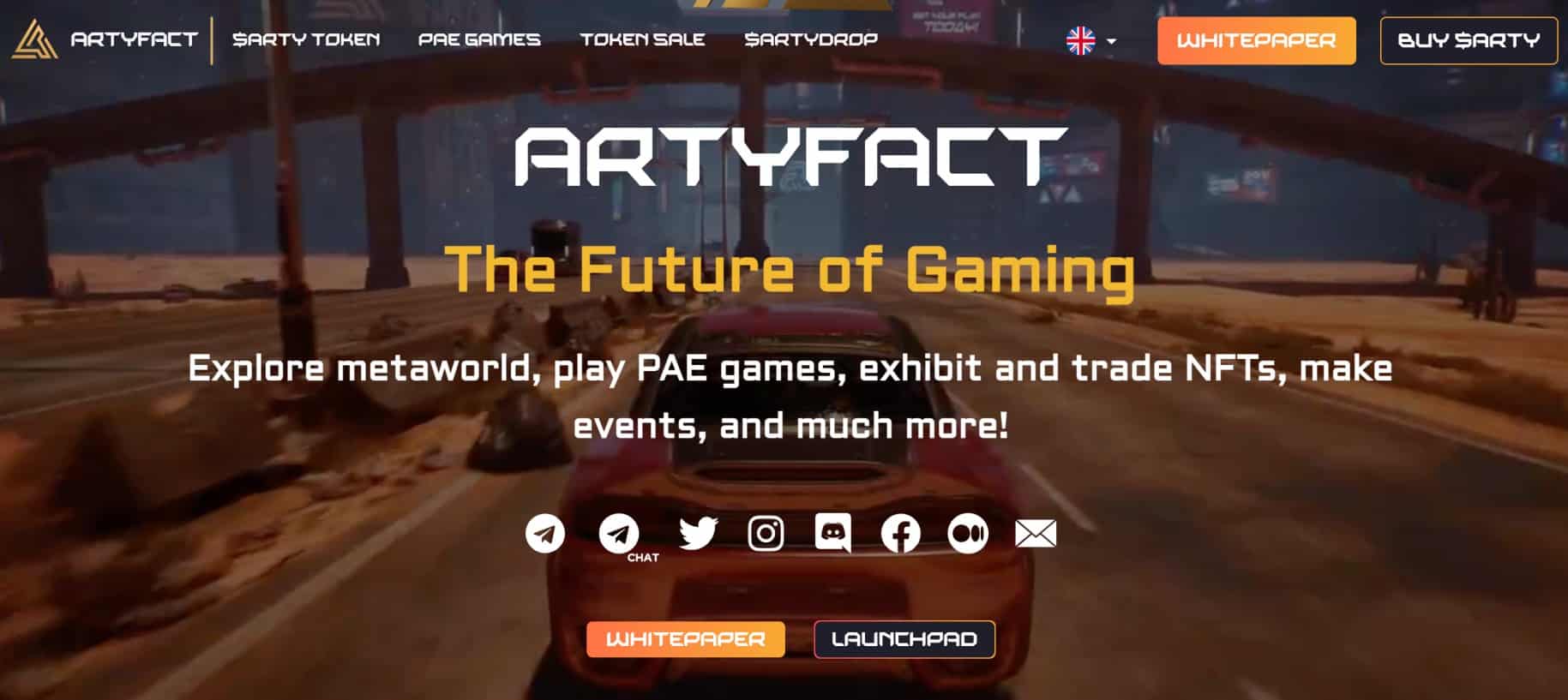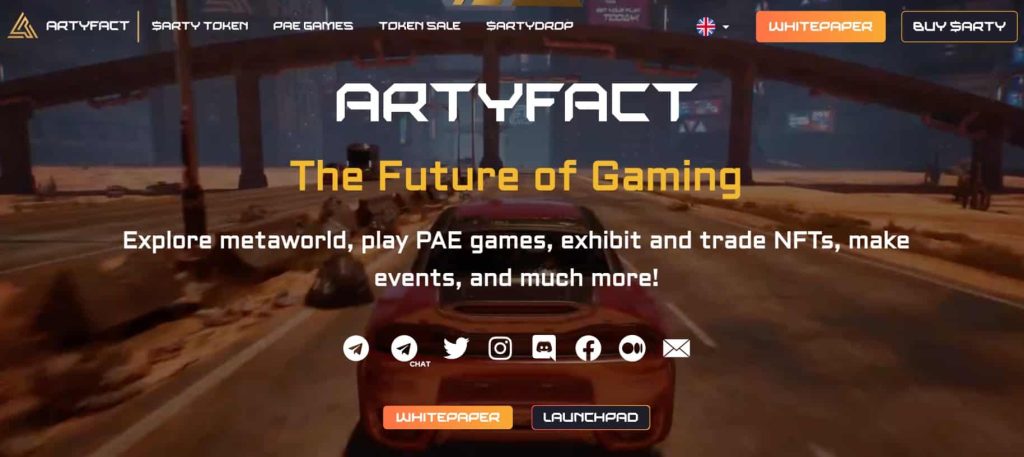 On the other hand, the gaming spaces will include unique P2E environments. Also, the project will have integrated VR compatibility with the goal of offering players a better experience. The native token of the Artyfact metaverse is ARTY.
Those who think it's one of the top private crypto sales for 2023 can buy ARTY tokens on presale for $0.28. Players will need to buy ARTY tokens in order to play games.
11. Futurent (FUTR) – Blockchain Service Platform for Fractional Tokenized Land
Futurent (FUTR) is another one of the private crypto sales on this list that might appeal to virtual real estate investors. This project provides access to fractional NFT real estate. Via its blockchain platform, Futurent also allows users to sell and rent luxury goods as well as the aforementioned Metaverse properties.
By the tokenization and fractionalization of metaverse properties and other assets, YieldBricks, the foundation of Futurent, aims to offer high-quality investment prospects with a difference. Furthermore, according to the platform, automatic yields are easy to use and available to everyone.

Investors can boast immediate digital ownership or the transfer of economic rights in a couple of seconds starting at only $50. Benefits like rental revenue sharing and DAO voting participation are made possible by this ownership model.
FUTR tokens can be locked in at $0.025 as of writing, and then claimed once listed on an exchange.
12. OpiPets (OPIP) – Economy Based on Free P2E Games With NFT Animals
In the economy-focused role-playing game (RPG) OpiPets, customization is king. According to the platform, this game is still in development but will debut with 60 OpiPets. There will also be hundreds of items geared at both combat and cosmetics.
To get the in-game utility token, OPIP, players will need to accomplish missions and explore biomes. Additionally, players will be able to exchange goods in the marketplace and make their way through different areas of the P2E game. Interestingly, all in-game pricing is decided upon by players.
The objective will then be to level up the OpiPet and transform it into an NFT ready for fighting. Players will take their NFT pets to battle with others.
They can improve their chances of winning by purchasing and selling products on different sites and/or player-controlled marketplaces.
13. Web3 Task (W3T) – Crypto-Centric Freelance Platform and Marketplace For Web3 Services
Web3 Task (W3T) is a cryptocurrency-based freelancing marketplace. This project is dedicated to Web3 services. The Web3 Task platform will facilitate the exchange of cryptocurrency payments between clients and contractors.
Users will be able to utilize the platform to perform any Web3-related task, including the creation of NFTs and cryptocurrencies, blockchain development services, marketing, DeFi, and more. When a transaction is made using Web3 Task, neither the buyer nor the vendor will be charged any fees. A 5% fee will be charged for other payment types though.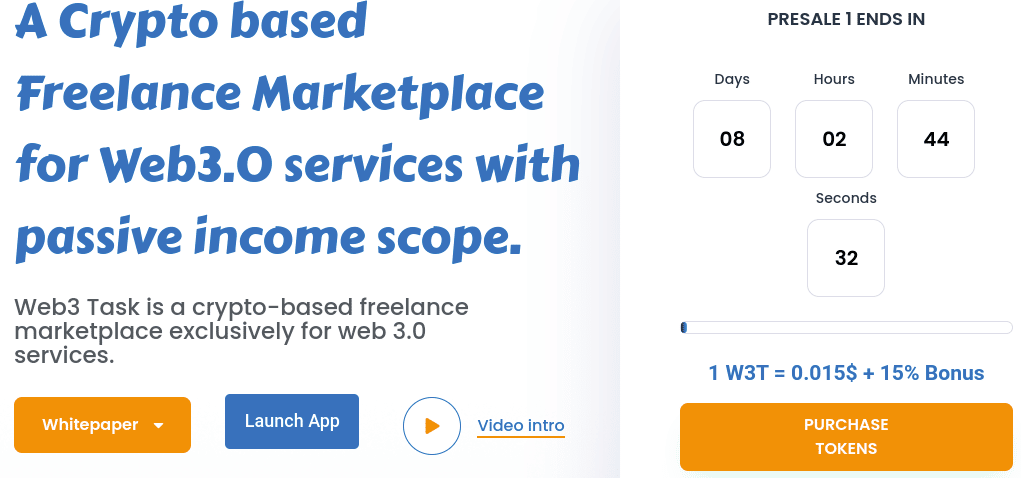 Quicker settlements, lower transaction costs, and a higher level of security are some of the other advantages that W3T holders will receive.
A portion of the tax fee that will be added to the W3T transaction will be shared among the investors. W3T tokens are on presale at $0.015 each as of writing.
14. Ajira Pay Finance (AJP) – Brand New Decentralized Platforms Facilitating Crypto Payments
Ajira Pay is a web3 protocol that facilitates transactions for businesses as well as individuals globally. By accepting cryptocurrency payments from their customers, businesses and consumers will be able to increase their worldwide reach and profitability with the help of Ajira Pay.
This is made possible through the range of innovative tools hosted on the platform. We found this to include API integrations, and an Ajira Pay mobile wallet. There will also be an app, the integrated software tool SDK, and E-commerce plugins upon its debut on the Mainnet.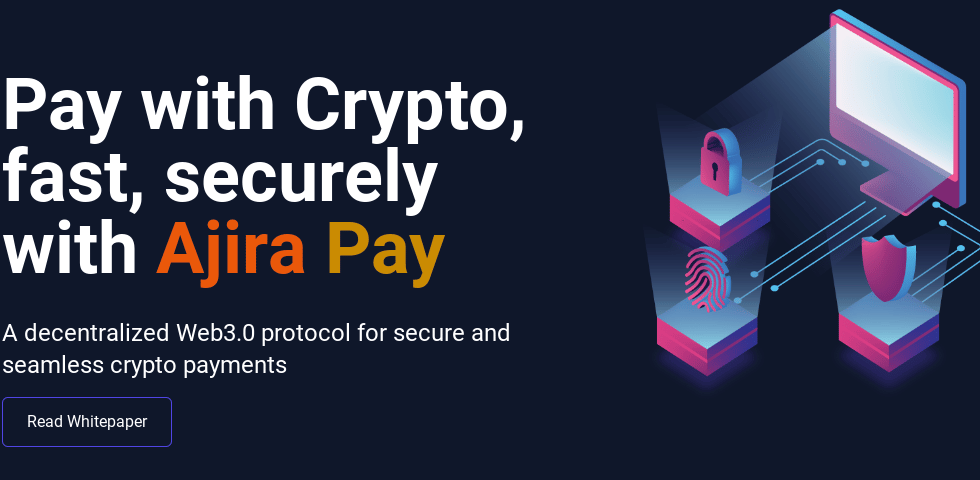 According to the platform, the main goal at Ajira Pay is to use its suite of solutions to affordably integrate more companies, enterprises, and people onto web3 while maximizing decentralization.
The launch price of AJP tokens will be $0.40. As of writing, investors who think this is a top crypto presale can lock in a price of $0.30.
Private Crypto Sales Explained
A restricted number of early investors are the target market for a private sale of digital coins or tokens. This takes place in the initial stage of a crypto presale, which as we've mentioned allows investors to lock in new digital assets at a discounted price.
A blockchain project's private and presale campaign is a successful way to fund the development of a new ecosystem
Private sales are oftentimes unannounced and therefore the general population won't even be aware the project exists
Which early investors are invited to private sales is up to the individual crypto project
The idea is to persuade early investors to back a particular project
The overarching goal for the team behind a private or presale campaign is for all involved to get the best price possible on their respective crypto asset, while funding the project itself.
Private Crypto Sales: How They Work
The best crypto private sale projects make joining a new community easy and will offer early investors a huge discount. There might also be perks involved.
Here's a quick rundown of how private crypto sales work:
The investor will decide on the best crypto private sale after researching the project in full
They will then need to head over to the official platform and place an order to buy tokens
Investors will not see the tokens appear in their crypto wallet straight away
Instead, the crypto investor will connect their wallet and place an order
They will then need to return to 'claim' them just before the tokens have been listed on an exchange
At this time, the investor may sell or hold onto the cryptocurrency in question
The price of private cryptocurrencies is usually much lower than the listing price. As such, it's up to the investor to decide whether they would like to sell when listed for a small profit. Alternatively, they can hold on to the crypto asset in case it blows up for even bigger gains.
Key Differences Between Public Sales and Private Token Sales
There are a few different stages during a cryptocurrency project's development and its release into the market. Below we've included some information about private and public crypto sales to clear the mist.
Private sales:
Tokens that have not yet been made public or announced to retail investors are sold during the private sale period of a crypto project
Private sales offer early investors a big discount in comparison to the listed price
The best crypto private sales will run competitions to lure in potential investors
The public sale refers to the crypto being listed on an exchange, hence it receives more publicity and promotion than the aforementioned stage
Public sales:
During a public sale, the cryptocurrency is released into the market, at which point anyone can add the tokens to their digital wallet
Tokens will be listed on a cryptocurrency exchange such as PancakeSwap, LBank, or Uniswap as an example
The price of the crypto token will be higher than it was during the private sale campaign
One of the advantages is the capacity to try and forecast listing outcomes based on the results of presales and private sales
Furthermore, tokens are likely to have higher liquidity
In a nutshell, compared to the private and presale campaigns, there are fewer perks or discounts. Furthermore, when investors buy cryptocurrencies before they go public, they will be locking in a discounted price.
Are Crypto Private Sales a Worthy Investment in 2023?
We've revealed the best private token sales in 2023. That said, investors might still be undecided on whether private sales are worth investing in ahead of the next crypto bull run.
Here are some of the advantages of crypto private sales:
Low Entry Price
All of the best private token sales in 2023 have a low entry price. Because the private sale price is the lowest it will be before it's listed on an exchange, it presents investors with a chance to lock them in at a discount.
Moreover, throughout the presale campaign, crypto tokens usually continually go up in price.
For instance, $WSM tokens were priced at $0.025 during the first stage of its presale campaign. However, by the end of the presale campaign – they will surge to $0.0337.
This means that investors who placed an order during stage one bought $WSM tokens for a lot less than they will be when listed.
Perks and Airdrops
Many of the best crypto private sales will offer early investors rewards and perks for completing tasks or simply buying tokens.
For instance:
Sometimes, early-bird investors can get rewards such as free crypto for following the project on social media or sharing posts to raise awareness of it
Many up-and-coming projects airdrop crypto
Some projects offer presale bonuses to investors who place an order in the early stages
Some of the projects we've talked about today regularly offer early investors and community members the chance to participate in competitions.
Invest in Emerging Blockchain Sectors
When researching the best private token sales in 2023, many investors familiarize themselves with which blockchain segments are experiencing growth.
That is to say, there are thousands of crypto projects which now go beyond basic DeFi principles.
For instance:
We found the overall best crypto private sale to be

Wall Street Memes.

The

Wall Street Memes

team has also released an NFT project, and has the backing of more than 1 million users.
As such, many of the best crypto private sales to invest in for 2023 are focused on entering the Web3 space.
This can include vote-to-earn, the metaverse, tokenized carbon credits, P2E projects, and more, with the next altcoin season expected to have tokens offering a huge range of varied utility.
Are Crypto Private Sales Safe?
Crypto private sales, or initial coin offerings (ICOs) or token pre-sales, are fundraising events where blockchain-based startups sell their native tokens to early investors at a discounted rate.
These private sales can be attractive to investors seeking to get in on the ground floor of a new project, but their safety is a topic of debate.
On the one hand, private sales have the potential to offer lucrative returns if the project succeeds. Early investors can benefit from the increased token value and future utility. Some well-known cryptocurrencies, like Ethereum and Binance Coin, initially started as private sales and have since grown exponentially in value.
However, the crypto space is notorious for its volatility and lack of regulation making it ripe for fraudulent activities. Some private sales have become scams or Ponzi schemes, leaving investors with significant losses. In many cases, the lack of accountability and transparency can make it difficult for investors to differentiate between legitimate projects and scams.
Potential investors should conduct thorough due diligence on the project, its team, and the underlying technology to mitigate any risks.
This includes examining the whitepaper, scrutinizing the project's roadmap, and verifying the team's credentials. Investors should also be cautious of unrealistic promises.
How to Tell if a Crypto Private Sale is Legit
Determining the legitimacy of a crypto private sale is crucial for potential investors to protect themselves from scams and fraudulent activities.
The FBI have revealed that $2.57 billion was lost in crypto investment fraud in 2022, highlighting the importance of conducting thorough due diligence before participating in private sales or investing in cryptocurrencies.
Here are some key factors to consider while evaluating the authenticity of a private sale:
Comprehensive Whitepaper: A legitimate project should provide a detailed and well-structured whitepaper explaining the project's vision, technology, and use case. It should also include information on tokenomics, the roadmap, and the team. Be wary of whitepapers with vague content or exaggerated claims.
Transparent Team: A credible project will have a transparent, skilled team with verifiable credentials. Research the team members on LinkedIn, GitHub, and other platforms to assess their experience and track record in the blockchain and crypto industry.
Active Community: A strong and active community on social media platforms like Telegram, Discord, and Twitter indicates genuine interest and support for the project. Engage with the community and ask questions to gain insight into the project's progress and potential.
Third-Party Audits: Reputable projects often undergo third-party audits to ensure the security and integrity of their smart contracts and codebase. Look for audit reports from reputable firms, such as CertiK, to bolster confidence in the project.
Partnerships and Collaborations: Legitimate projects will usually have strategic partnerships or collaborations with other well-established companies or organizations in the crypto space. Verify these partnerships to gauge the project's credibility and potential for growth.
Regulatory Compliance: A legit private sale should adhere to relevant regulations and legal frameworks, including Know Your Customer (KYC) and Anti-Money Laundering (AML) requirements. Compliance demonstrates the project's commitment to operating within the boundaries of the law.
Research the Project: Some of the best crypto YouTube channels offer great insights into the leading private token sales. Jacob Crypto Bury is one such example, having covered some of the hottest presales on the crypto market that have since exploded.
Investing in The Best Private Token Sales in 2023: Full Walkthrough
The overall best crypto private sale is Bitcoin ETF Token, a project with a clear market proposition.
Here's how to get the best price via the Bitcoin ETF Token presale.
Step 1 – Create a Digital Wallet
Installing a crypto wallet is the first step to investing in $BTCETF, the best private token sale.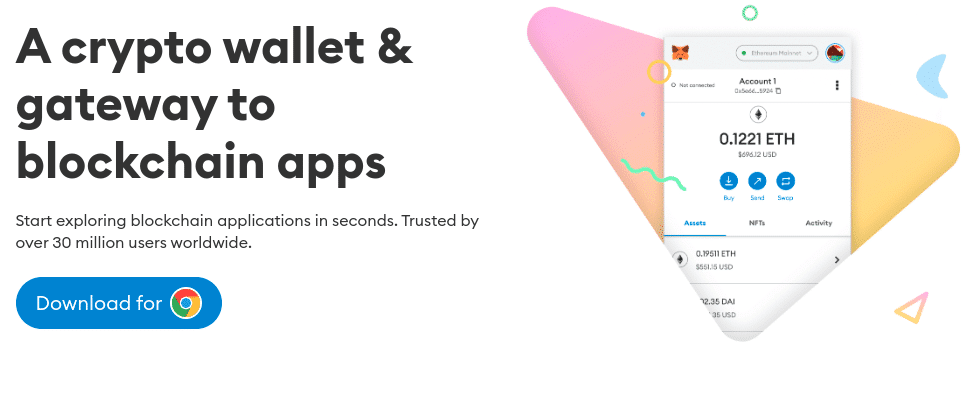 Mobile users can use Trust Wallet, and those who prefer a desktop browser can use MetaMask.
Step 2 – Buy Some USDT, ETH, or BNB and Connect the Wallet
Investors can buy $BTCETF tokens on presale with tokens including Ethereum (ETH), Tether (USDT), and BNB (BNB).
Once the tokens have been added to the wallet, the investor can select 'Buy $BTCETF' with ETH/USDT' or any other supported crypto payment options.
Step 3 – Connect to the Bitcoin ETF Token Presale
Once the chosen wallet has some ETH or USDT tokens in it, the investor needs to copy the public address.
Next, they can go back to Bitcoin ETF Token, click 'Connect Wallet,' and paste the information in the relevant field.
The investor must also confirm the transaction between the Bitcoin ETF Token presale page and the wallet to continue and buy $BTCETF.
Step 4 – Claim Bitcoin ETF Tokens
When the Bitcoin ETF Token presale has concluded, investors can return to the platform and click 'Claim' to add them to their crypto wallet.
They will be stored on the website until then.
Conclusion
Before being listed on an exchange, pre-mined tokens are made available to a small, hand-picked group of investors in a private sale. Investors looking for the best private token sales in 2023 for upside potential should check out Bitcoin ETF Token.
This new cryptocurrency speculates on the imminent arrival of a Bitcoin ETF. The $BTCETF can be staked to earn high APYs, and will burn 25% of its cryptocurrency in the long-term.
Currently, $BTCETF is available to buy via the ongoing presale.
FAQs
Are any crypto private sales worth investing in?
Where can I find private crypto sales?
How do private crypto sales work exactly?
What is the top private crypto sale?
What are public and private sales in crypto?