Reddit has a large and active community of users who are interested in cryptocurrencies, making it an excellent place to find discussions and updates about this investment scene. In fact, it has become a prominent strategy for investors to explore Reddit forums when searching for the best cryptocurrencies for their portfolios.
This guide analyzes the best Reddit crypto to buy in 2023. We have chosen these cryptocurrencies not only based on Reddit discussions but also after considering their growth potential and broader market sentiment.
The Best Crypto to Buy Now on Reddit
Below are some picks for the best crypto to buy right now currently trending on Reddit subs:
AiDoge – Pioneering Crypto Project Leveraging AI Technology to Enable Users to Create Viral Memes. Users Can Also Earn $AI Tokens Each Month By Creating Trending Images.
Launchpad XYZ – Ethereum-Based Platform Offering Tools That Empower Investors to Make Better Capital Allocation Decisions. The Developers Seek to Onboard the Next 10 Million Web3 Users and Foster the Adoption of NFTs and Crypto.
Love Hate Inu – Best V2E Meme Crypto to Buy Now on Reddit
DeeLance

– New Decentralized Recruitment Platform With Low Costs

Ecoterra – Crypto-Based Rewards for Recycling With High Upside Potential
yPredict – AI-Driven Platform Providing Accurate Predictive Models for Crypto Projects. Designed for Traders & Investors By Leveraging the Immense Talent of Industry-Leading AI Experts and Financial Quants.
Scorpion Casino – Over 200 Casino Games In this Crypto Casino That Provides Passive Rewards For Holders Based on Performance.
Swords of Blood – Brand-New Blockchain Gaming Sensation with AAA-Rated Visuals
Pikamoon –

Compelling crypto and metaverse platform inspired by Pokemon. You can earn $PIKA with your NFT-based monsters, go on quests, battle other creatures, and more.

Robotera

– Upcoming Metaverse-Building Game With NFT Assets

Doge Rush – Play-to-earn cryptocurrency platform offering NFT and ETH rewards. Buy $DR on presale for $0.0055 per token.
Lucky Block

– Utility Token Powering a Top-Rated Crypto Casino and Sportsbook

Tamadoge

– Play-to-Earn Metaverse Game With Doge-Inspired NFTs

Chainlink – Decentralized Oracle Network Linking Blockchains With Off-chain Data

Polygon – Layer 2 Scaling Solution for Ethereum
Solana – Best Reddit Crypto to Buy for Long-Term Investors
Cardano – Open-source PoS Blockchain With Smart Contract Functionalities
Analyzing the Best Reddit Crypto to Invest in Today
Over the past couple of years, Reddit has played a major role in popularizing certain cryptocurrencies through its various subreddits – such as r/cryptocurrency and r/cryptomarkets.
With this in mind, we analyzed a plethora of online discussions to spot cryptocurrencies that are favored by Reddit users.
In the section below, we rank and review the best Reddit crypto to buy today – based on their use cases, growth prospects, and community support.
1. AiDoge – Overall Best Crypto on Reddit in 2023
When it comes to the best Reddit crypto to buy in 2023, one project currently stands above the rest – AiDoge. AiDoge is a new crypto project combining the super-popular meme coin concept with artificial intelligence (AI) technology, creating a cutting-edge creative ecosystem.
AiDoge has already created a massive buzz amongst investors and raised over $100,000 in the first 24 hours of its presale. The project's flagship feature is its AI-powered "meme generator," which uses machine learning algorithms and enormous datasets to generate hilarious memes in seconds.
This generator completely automates the meme creation process for social media users, allowing them to immediately upload topical images in the hope of going viral. Moreover, users don't need any image-editing experience, ensuring the meme generator is accessible to everyone.
Per the AiDoge whitepaper, underpinning this exciting feature is $AI – the project's native ERC-20 token. Since users require credits to create memes, they must buy $AI tokens to acquire these credits, providing a strong demand driver. Users can also stake their $AI tokens to earn daily credit rewards and unique perks, like special meme templates.
The total supply of $AI tokens will be one trillion, with half of these tokens (500 billion) reserved for presale investors. This is a crucial aspect of the project since it means that the AiDoge community will control a considerable portion of the supply, reducing the chances of a rug pull or price manipulation.
Investors can now buy AiDoge tokens through the presale at a discounted price relative to the stated listing price of $0.000036. The presale will have 20 stages, each with an incrementally-increasing price point, incentivizing investors to get involved as early as possible.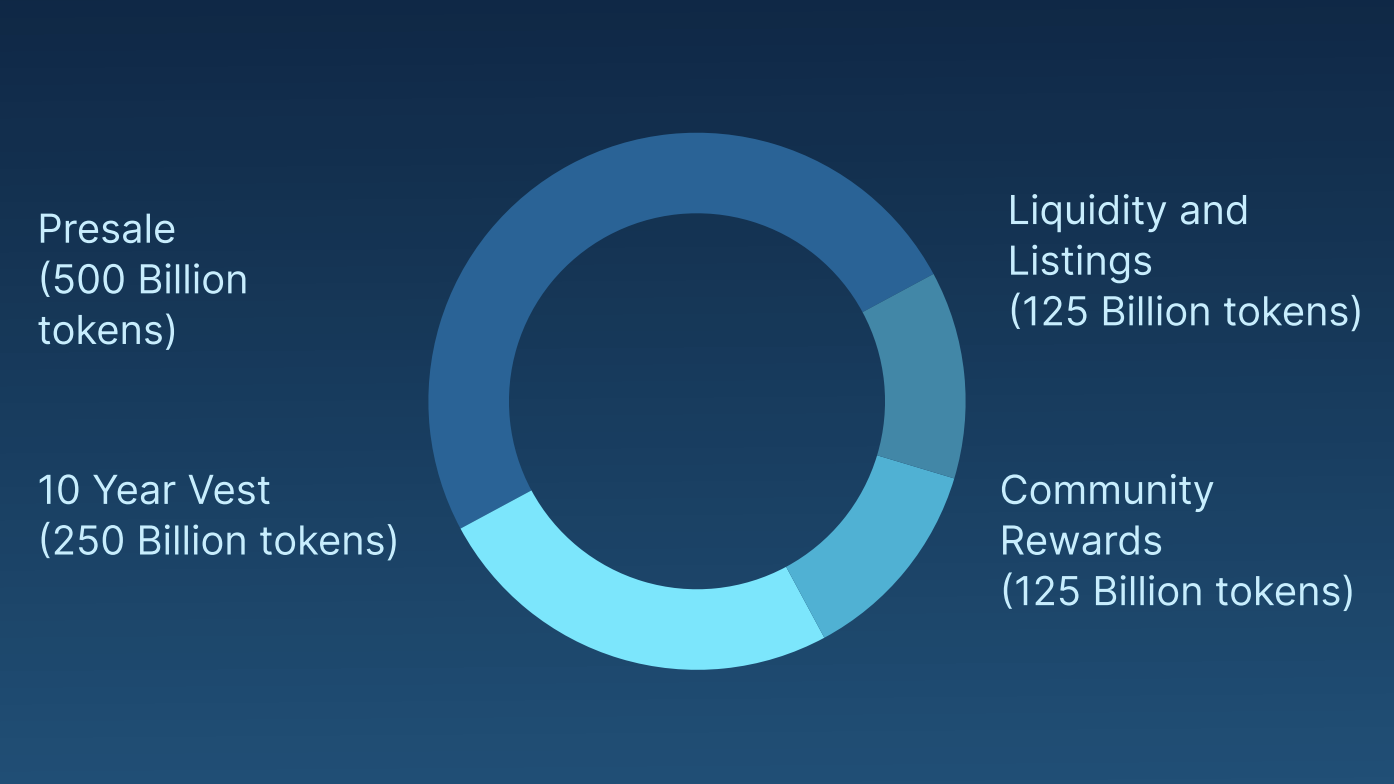 Although this is an exciting opportunity, investors need to be aware of the risks of purchasing presale cryptos, which can include a lack of liquidity and broken promises from developers. However, these cryptos also offer the chance to generate exponential returns – as seen with projects like Tamadoge and Lucky Block.
Due to this, AiDoge has sparked interest among the crypto community, with many Redditors discussing the potential of the project's meme generator and $AI token. For more information, investors can check out the AiDoge Telegram channel.
| | |
| --- | --- |
| Presale Started | April 26th, 2023 |
| Purchase Methods | ETH, BNB, USDT, Credit/Debit Card |
| Blockchain | Ethereum |
| Minimum Investment | N/A |
| Maximum Investment | N/A |
2. Launchpad XYZ – New Web3 Focused Ecosystem Offering Array of Useful Crypto Tools
Another crypto project that has caught the attention of Redditors is Launchpad XYZ. Launchpad XYZ is an exciting crypto project that looks to simplify the Web3 environment for investors by creating an "all-in-one" platform that meets everyone's needs.
The Launchpad XYZ platform is built on the Ethereum blockchain and aims to empower NFT and crypto investors to make better investment decisions. To do so, Launchpad XYZ's developers have created a full suite of tools and services that streamline the investment process.
As noted in the project's whitepaper, these tools include a crypto presale marketplace, a play-to-earn (P2E) game hub, a metaverse experience library, a cutting-edge Web3 crypto wallet, and even a "fractionalized assets" marketplace.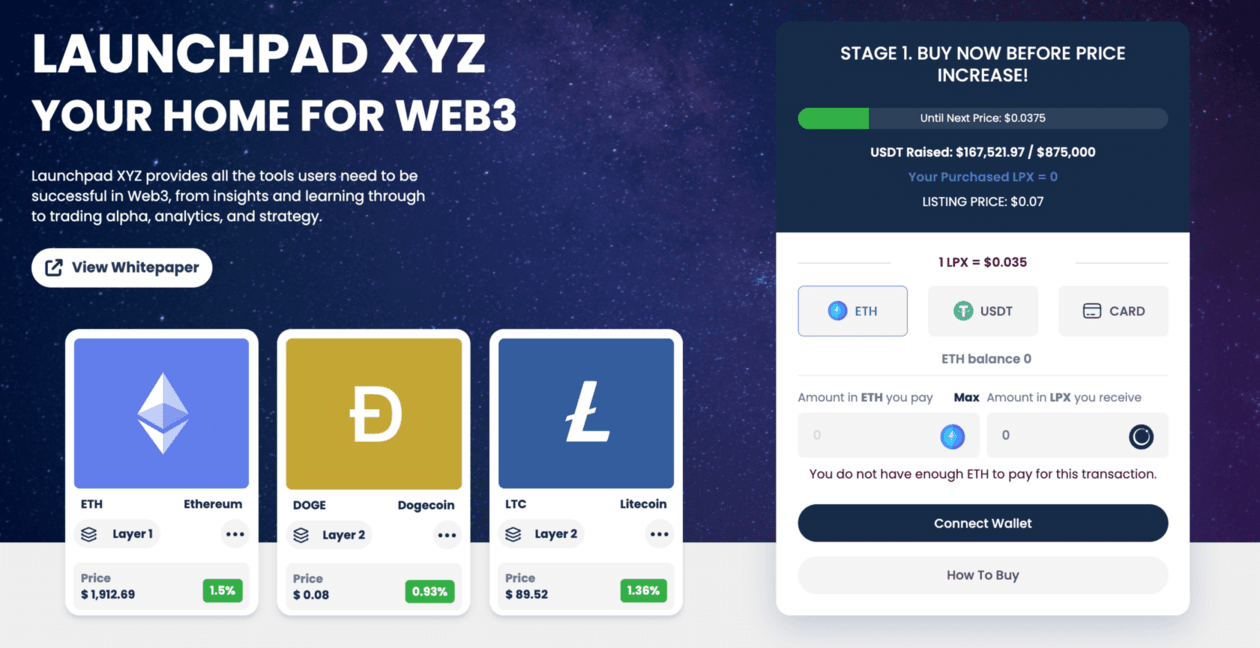 These features will utilize the "Launchpad Quotient" (LQ), a score that Launchpad XYZ assigns to assets like NFTs and cryptos. This score uses up to 400 data points to provide a single value that lets investors gauge the "potential" of an investment in seconds.
Launchpad XYZ's native token, LPX, will be crucial to the platform's features. Users will need LPX to pay trading fees and list NFTs on the platform's decentralized exchange (DEX), although it's also possible to stake tokens and earn a solid annual yield.

Stakers will also gain access to an array of valuable benefits. These benefits include trading fee discounts, access to whitelists and presales, beta P2E game access, and even "community prestige badges" – a setup that has piqued the crypto community's interest on Reddit.
Although the platform is still in development, early investors can buy Launchpad tokens through the ongoing presale. A total of 25% of the one billion token supply will be set aside for presale investors through this ten-stage presale phase. Each stage will have its own price point – with the earliest investors receiving the lowest entry price.
Importantly, investors must be aware that purchasing presale cryptos like Launchpad XYZ doesn't guarantee success. These projects can be inherently risky – although they can also provide a pathway to outsized gains in the instances where they take off.
Interested investors can learn more about Launchpad XYZ by checking out the project's Telegram channel.
| | |
| --- | --- |
| Presale Started | April 25th, 2023 |
| Purchase Methods | ETH, USDT, Credit/Debit Card |
| Blockchain | Ethereum |
| Minimum Investment | 100 LPX |
| Maximum Investment | N/A |
3. Love Hate Inu – Best Vote-to-Earn Meme Crypto on Reddit
Pinpointing the best crypto on Reddit is no easy feat. Usually, crypto enthusiasts will try and find unexplored territory that has huge potential. As a new cryptocurrency on the market, Love Hate Inu is the latest V2E crypto that has most investors buzzing.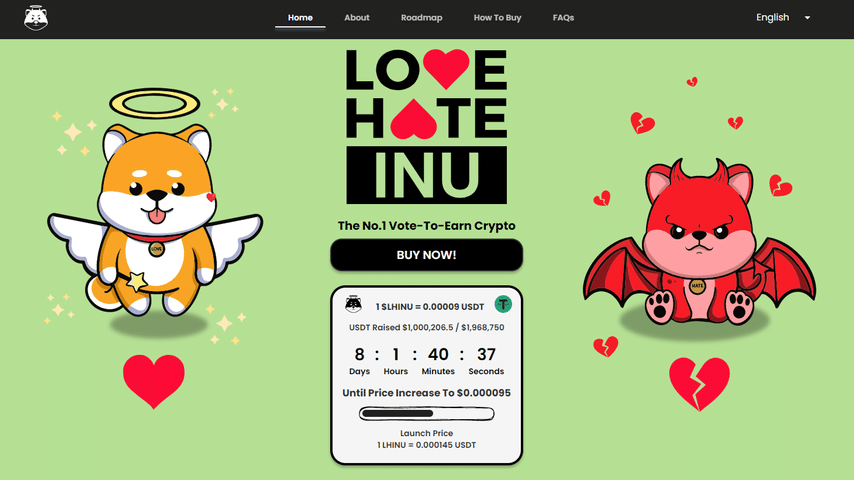 Love Hate Inu is a new meme coin vote-to-earn platform that rewards its users every time they stake and vote on meme polls. Having already raised $1M in less than a week, Love Hate Inu is becoming the talk of the town that's offering one of the best cryptocurrency presales. If you're wondering what exactly is Love Hate Inu and what's spurring its popularity in 2023 then keep reading.
Are you tired of traditional voting systems that offer no rewards and do little to promote community engagement? Love Hate Inu has got you covered! Our platform provides a unique opportunity for community members to participate in exciting voting polls focused on diverse topics like politics, entertainment, and social issues, all while fostering healthy discussions and debates. And the best part? You'll earn valuable tokens while participating!
We understand the importance of fairness, transparency, and security in the voting process. That's why our voting system is built on blockchain technology, ensuring that every vote is accounted for and verified. Say goodbye to the days of rigged elections and hello to a secure and transparent voting system.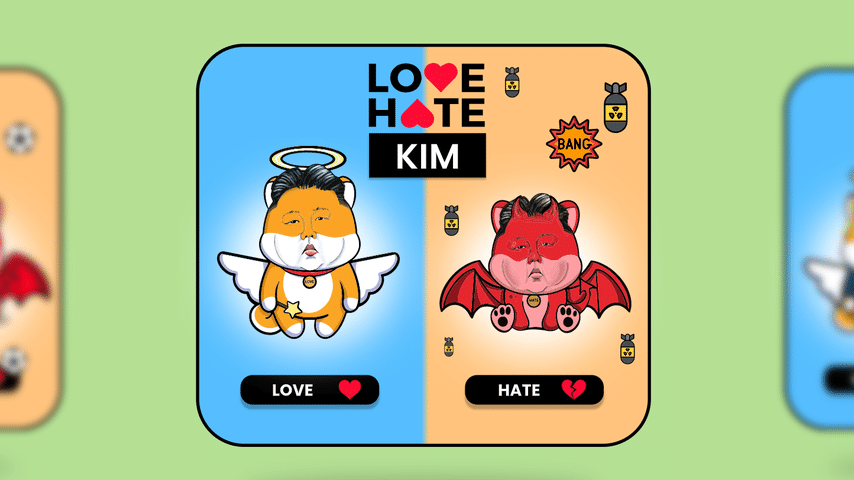 But that's not all – our Vote-to-Earn feature rewards participants for staking tokens and voting on the platform. The more tokens you stake and the longer your staking period, the more voting power you accumulate, making your voice even more impactful. And as a thank you for using our platform, all participants receive more tokens as a reward for their contribution.
Love Hate Inu is more than just a voting platform – it's a community-driven ecosystem where your opinions matter, your voice is heard, and your efforts are rewarded. So what are you waiting for? Join us today and let's make a difference together!
To learn more about the project, visit the Love Hate Inu Telegram group and read the LHINU whitepaper today.
| | |
| --- | --- |
| Presale Started | 8 March 2023 |
| Purchase Methods | ETH, USDT, Credit Card |
| Chain | Ethereum |
| Hard Cap | $10,068,750 |
| Min Investment | 10 $LHINU |
| Max Investment | None |
4. DeeLance – New Decentralized Recruitment Platform With Low Costs
DeeLance, an innovative cryptocurrency, is specifically designed to cater to freelancers and recruiters and has been gaining much traction on Reddit. The platform is built on Web3 technology, aiming to transform how freelancers and employers interact and collaborate.
At the core of this decentralized platform lies the concept of micro-communities within a metaverse. These communities foster collaboration, networking, and exchanging ideas. DeeLance also boasts an NFT marketplace, facilitating transactions through its native $DLANCE token.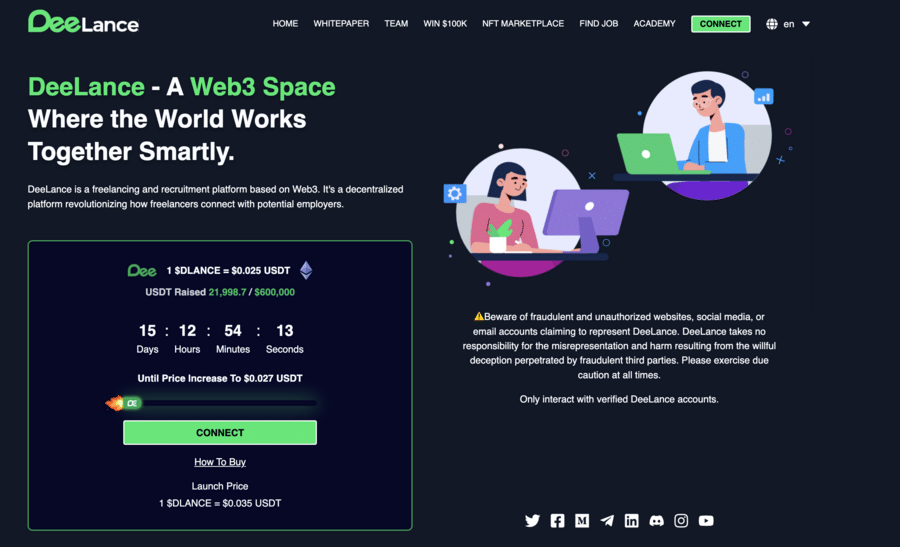 At press time, DeeLance offers potential buyers the opportunity to purchase tokens at a presale rate of only $0.029 per token in round 2, with the price to increase to $0.055 for the exchange listing.
In today's digital age, many individuals rely on online gigs for their livelihood. However, high fees plague traditional centralized freelancing platforms, sometimes up to 30%. DeeLance tackles this issue by eliminating middlemen, enabling freelancers to retain more of their earnings with a nominal 2% fee.
According to the DeeLance whitepaper, the platform's design effectively avoids any loopholes by implementing an escrow system to safeguard employers' funds until the completion of agreed-upon work. Freelancers are guaranteed payment through smart contracts, with a dispute resolution mechanism in place for added security.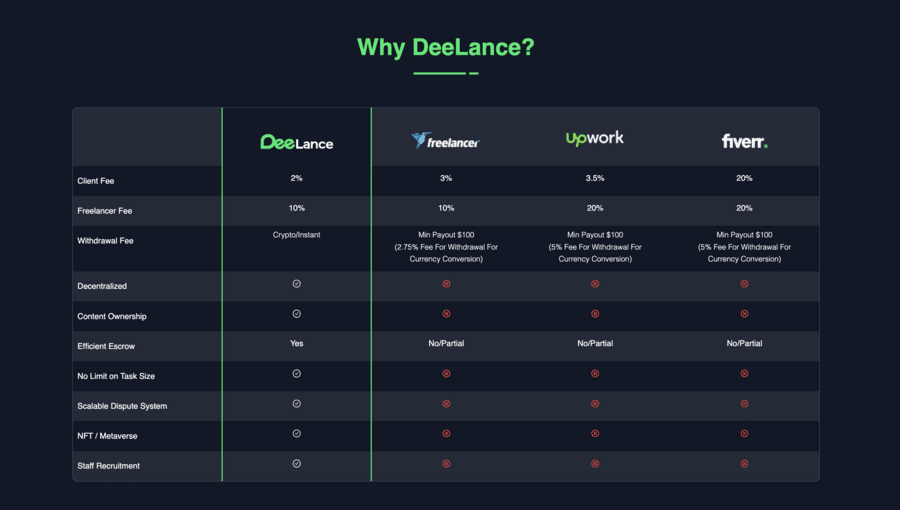 Furthermore, freelancers can employ $DLANCE tokens for swift payment, circumventing commission rates and currency exchange complications. The platform's integrated NFT functionality ensures buyers obtain ownership of the work freelancers provide.
DeeLance holds the potential to reshape the freelancing landscape, offering lasting benefits to remote workers across the globe. The platform simplifies the process for businesses searching for the right talent to complete their projects. Freelancers can acquire new clients without losing substantial fees to centralized platforms, which may unjustly ban them without reason.
This groundbreaking platform aims to create an even playing field for hardworking individuals. With an intuitive interface, freelancers can easily track their progress on ongoing projects and communicate with clients.
As an added incentive, DeeLance is hosting a promotion in which winners can win $100,000 worth of $DLANCE tokens. Interested buyers can join the DeeLance Telegram group to learn more about the platform and giveaways.
| | |
| --- | --- |
| Hard Cap | $6,000,000 |
| Total Tokens | 1,000,000,000 |
| Tokens available in presale | 300,000,000 |
| Blockchain | Ethereum Network |
| Token type | ERC-20 |
| Minimum Purchase | $10 |
| Purchase with | USDT, ETH, Card |
5. Ecoterra – Crypto-Based Rewards for Recycling With High Upside Potential
Ecoterra, a leading environmentally sustainable altcoin, has gained notable attention on Reddit for its innovative approach. The project aims to develop an advanced Recycle2Earn platform, enabling users to earn rewards by engaging in eco-friendly activities.
Boasting a project team with significant experience in the recycling industry, they have successfully managed one of the region's top businesses. To bring the Recycle2Earn platform to life, Ecoterra has collaborated with Delhaize, a prominent supermarket chain in Europe, North America, and Asia.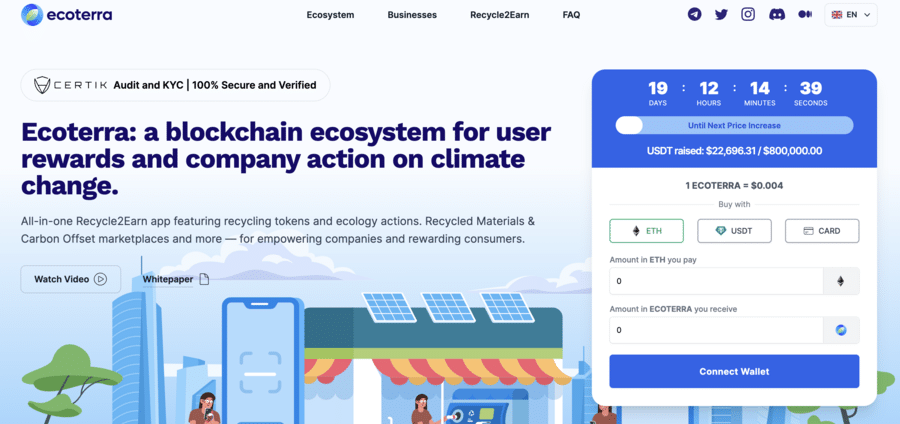 Ecoterra's cryptocurrency, $ECOTERRA, is currently available for a discounted rate of $0.004 USDT per token in its presale phase.
The Ecoterra whitepaper highlights the Recycle2Earn app's simplicity in rewarding users for recycling. With the app's artificial intelligence-powered database, users can scan an item's barcode to find the nearest Reverse Vending Machine (RVM) location. By recycling items and uploading a receipt photo, users can earn Ecoterra tokens.
Ecoterra's platform goes beyond mere recycling, allowing users to use their tokens to purchase recycled glass, plastic, or aluminum products in the Recycled Materials Marketplace. Additionally, users can opt for carbon offsets in the Carbon Offset Marketplace, helping them lower their carbon footprint. The Impact Trackable Profile enables users to monitor their positive contributions to the Ecoterra community.

To enable smooth transactions and rewards on the platform, Ecoterra is currently conducting a presale of its native token. As the presale moves through different stages, token prices will rise, potentially providing early investors with a premium when the token is released and listed on major exchanges.
Ecoterra's unique solution addresses environmental challenges such as climate change by incorporating elements from the play-to-earn concept, incentivizing recycling activities. Users interested in keeping up with the latest developments can join the Ecoterra Telegram group.
| | |
| --- | --- |
| Hard Cap | $6,700,000 |
| Total Tokens | 2,000,000,000 |
| Tokens available in presale | 1,000,000,000 |
| Blockchain | Ethereum Network |
| Token type | ERC-20 |
| Minimum Purchase | $10 |
| Purchase with | USDT, ETH, Bank Card |
6. yPredict – AI-Powered Platform Providing In-Depth Crypto Insights & Price Predictions
yPredict is an AI-driven crypto platform that has caused a stir on Reddit since launching its presale phase. This cutting-edge platform uses the power of AI to provide in-depth insights to crypto traders, along with accurate price predictions generated using advanced financial models.
Ultimately, yPredict's team aims to make the crypto trading process more straightforward (and profitable) for beginners and experienced investors. This will be achieved by yPredict's suite of analytical tools built on the Polygon blockchain.
As noted in the yPredict whitepaper, the platform will contain features like AI-powered price predictions, instant pattern recognition, sentiment analysis, advanced technical indicators, and much more. yPredict will also offer its own trading terminal, designed to promote faster, easier, and more advanced executions.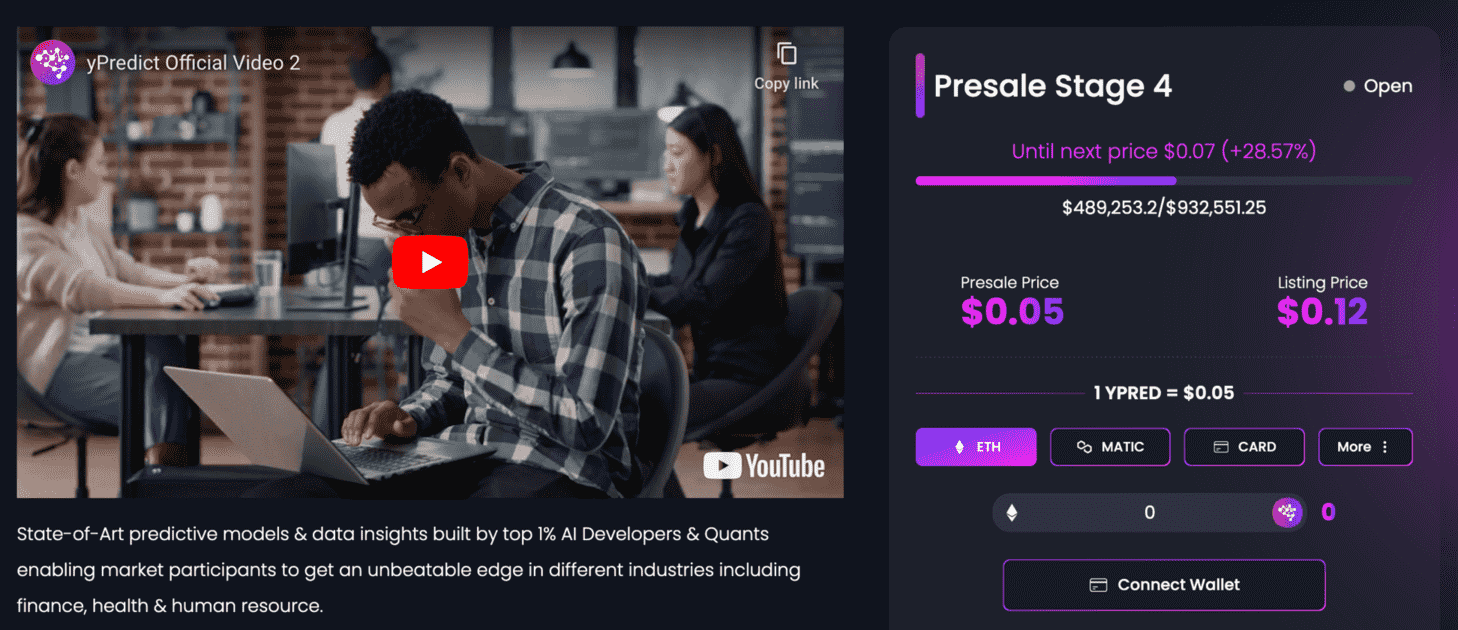 However, one feature that has caught the attention of Redditors is the "yPredict Marketplace". In this marketplace, AI experts can offer financial analysis and prediction models that users can "subscribe" to. Subscription fees are paid using YPRED – yPredict's native token.
The supply of YPRED will be capped at 100 million, ensuring positive supply-demand dynamics. Aside from being used to pay model subscription fees, YPRED can also be staked to earn high yields. YPRED holders will even gain unrestricted access to the "yPredict Analytics" platform, which contains data-driven digital asset insights.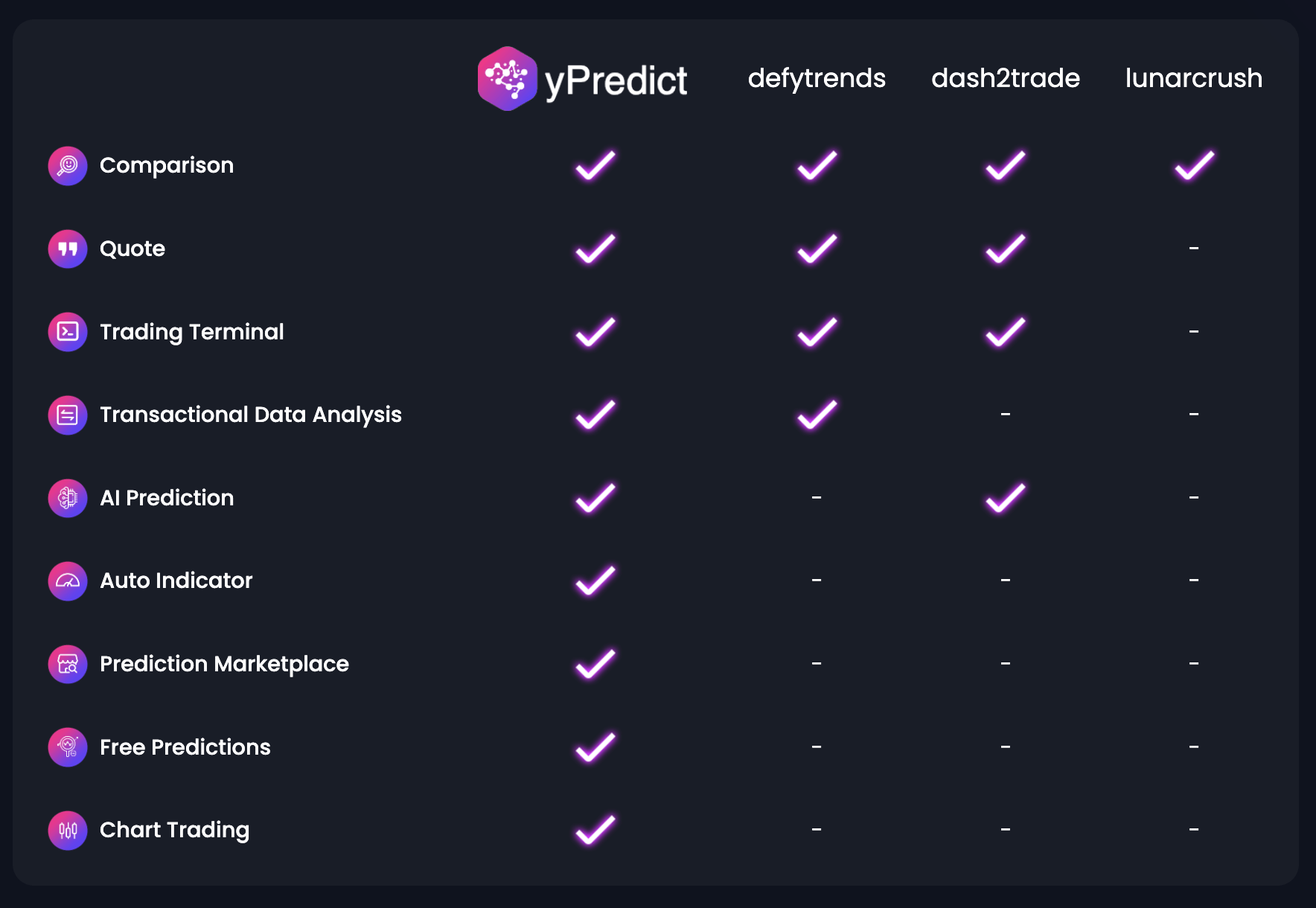 yPredict is still in its presale phase, meaning there's no price history to base technical analysis on – which increases the risk for investors. However, presale cryptos also offer a unique opportunity to generate significant returns, so investors are urged to do their own research before getting involved.
Those who do wish to buy yPredict tokens through the presale can do so at a discount relative to the eventual CEX listing price of $0.12. The presale will have eight stages, with Stage 4 in effect at the time of writing, which allows investors to acquire YPRED for just $0.05 per token.
Interested parties can learn more about yPredict by joining the official Telegram community.
| | |
| --- | --- |
| Presale Started | February 13th, 2023 |
| Purchase Methods | ETH, MATIC, Credit/Debit Card |
| Blockchain | Polygon |
| Minimum Investment | 25 YPRED |
| Maximum Investment | N/A |
7.Scorpion Casino – Over 200 Casino Games In this Crypto Casino
Every day, there appear to be new crypto projects that bring great ideas to the public. Sometimes they focus on establishing new ideas; other times, they focus on taking an existing industry and facilitating many new improvements.
Scorpion Casino is of the latter group, as it brings the best of decentralized technology to the online sports betting and casino industry. This industry has been becoming increasingly popular over the past few years and is set for even more growth going forward. This is why Scorpion Casino is worth looking at.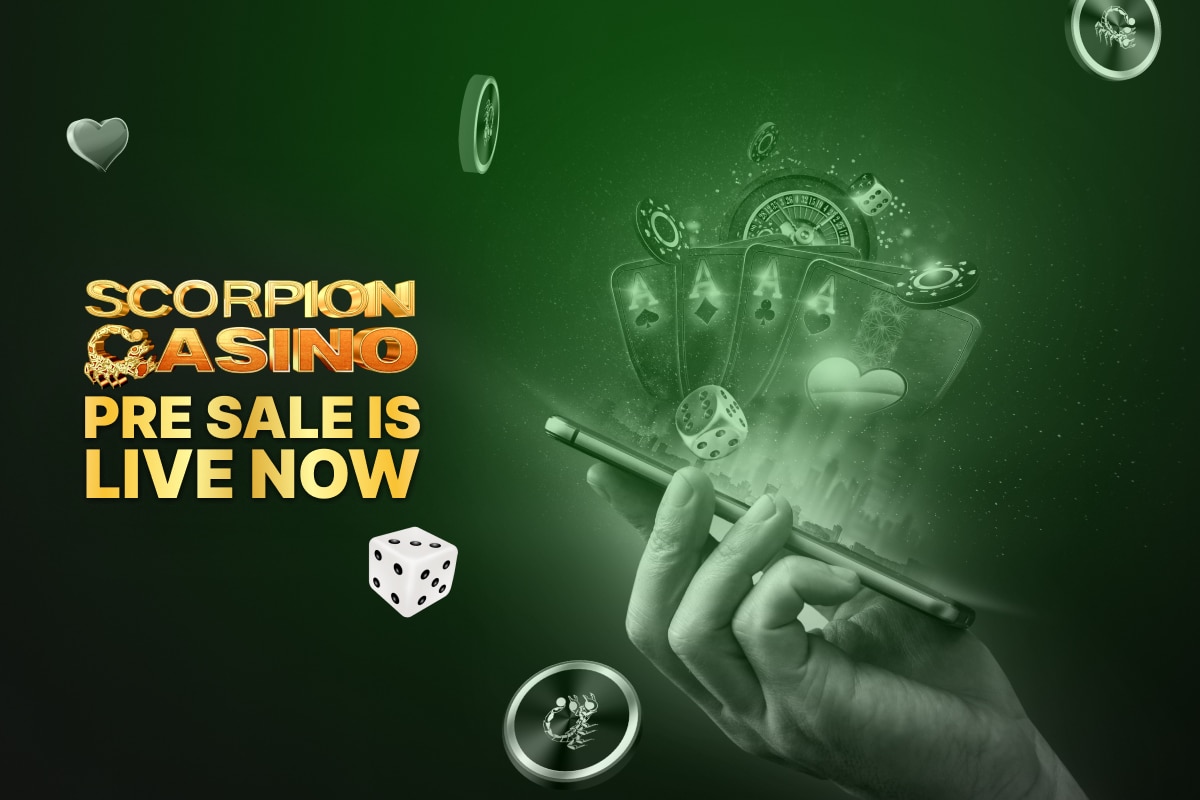 The Scorpion Casino offers a wide range of entertainment options, including over 200 casino games and 160 live games. These games are licensed and guaranteed to be fair. Players can enjoy popular games such as slots, blackjack, roulette, poker, and live casino experiences. The casino is connected to renowned providers like Evolution, NetEnt, Play N Go, Novomatic, EGT, and AMATIC. Additionally, sports betting options encompass various sports like football, tennis, American football, horse racing, basketball, golf, boxing, and MMA.
Scorpion Casino consists of three key components within its ecosystem: the aforementioned licensed crypto sports betting and casino platform called Scorpion Casino, an affiliate system that operates as a referral and reward mechanism, and the SCORP token, which serves as a governance and reward token for users.
The SCORP token plays a crucial role within the ecosystem, providing users with four significant advantages. Firstly, it serves as the exclusive payment method within the ecosystem. Additionally, token holders can earn passive income. The token also grants weekly bonuses and free games. Lastly, it plays a role in the affiliate system.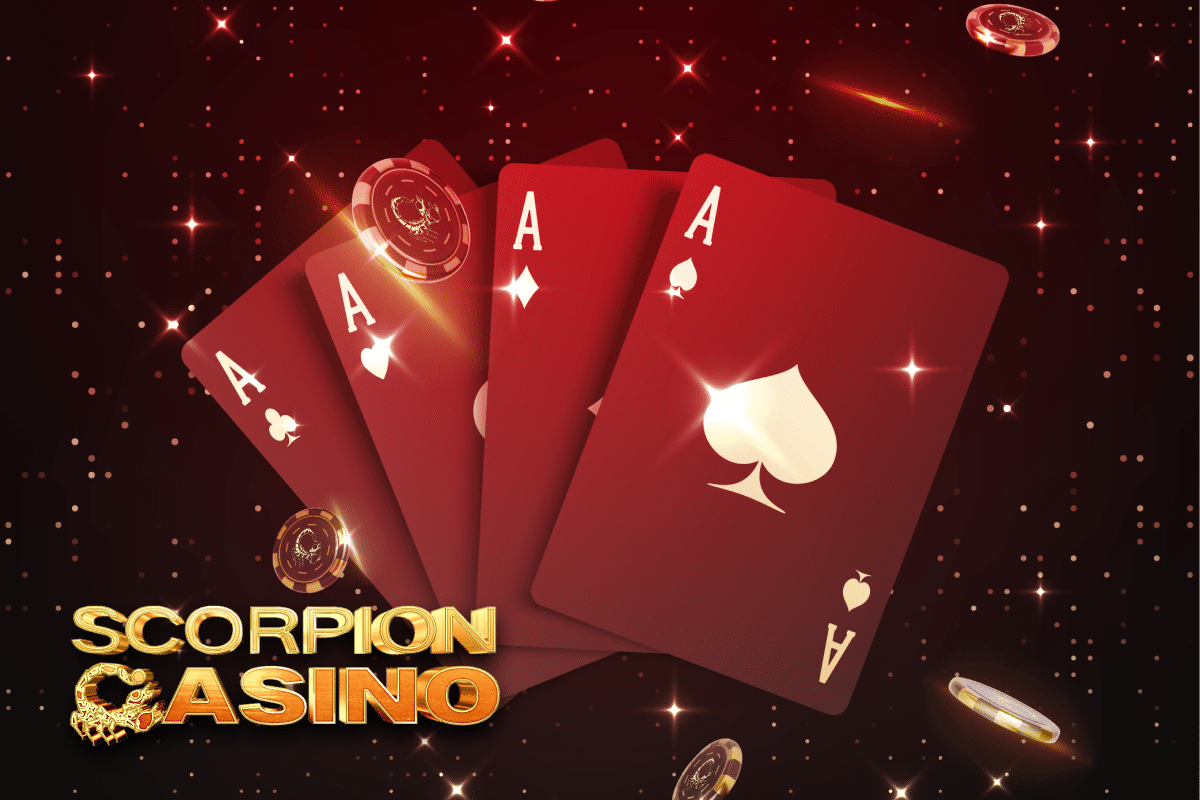 The total supply of the SCORP token is 1 billion, with 280 million allocated for the presale and 300 million reserved for affiliate rewards.
The Scorpion Casino team has outlined a roadmap that includes upcoming developments such as live affiliate events, partnerships, marketing campaigns, and collaborations. In the latter half of the year, they aim to expand and scale the platform, aiming for substantial growth.
Few crypto betting platforms have as many offerings as Scorpion Casino. As such, this is something you'll want to take a look at if this kind of platform tickles your fancy.
| | |
| --- | --- |
| Token symbol | SCORP |
| Presale supply | 200,000,000 SCORP |
| Token type | BEP-20 |
| Payment methods | ETH, USDT, BNB |
| Listing price | $0.05 |
8.Swords of Blood – Brand-New Blockchain Gaming Sensation with AAA-Rated Visuals
Another of the best Reddit cryptos to consider checking out is Swords of Blood. Swords of Blood is a free-to-play blockchain game hosted on the Polygon network that looks to set itself apart from the incumbents within the space. The project's developers intend to do this by combining AAA-quality visuals and tokenized rewards to create an engaging experience.
The Swords of Blood game is built on the foundations of an award-winning title released in 2019. Gamers can access Swords of Blood from their mobile devices and PCs, providing a cross-play experience that's relatively rare in the crypto space.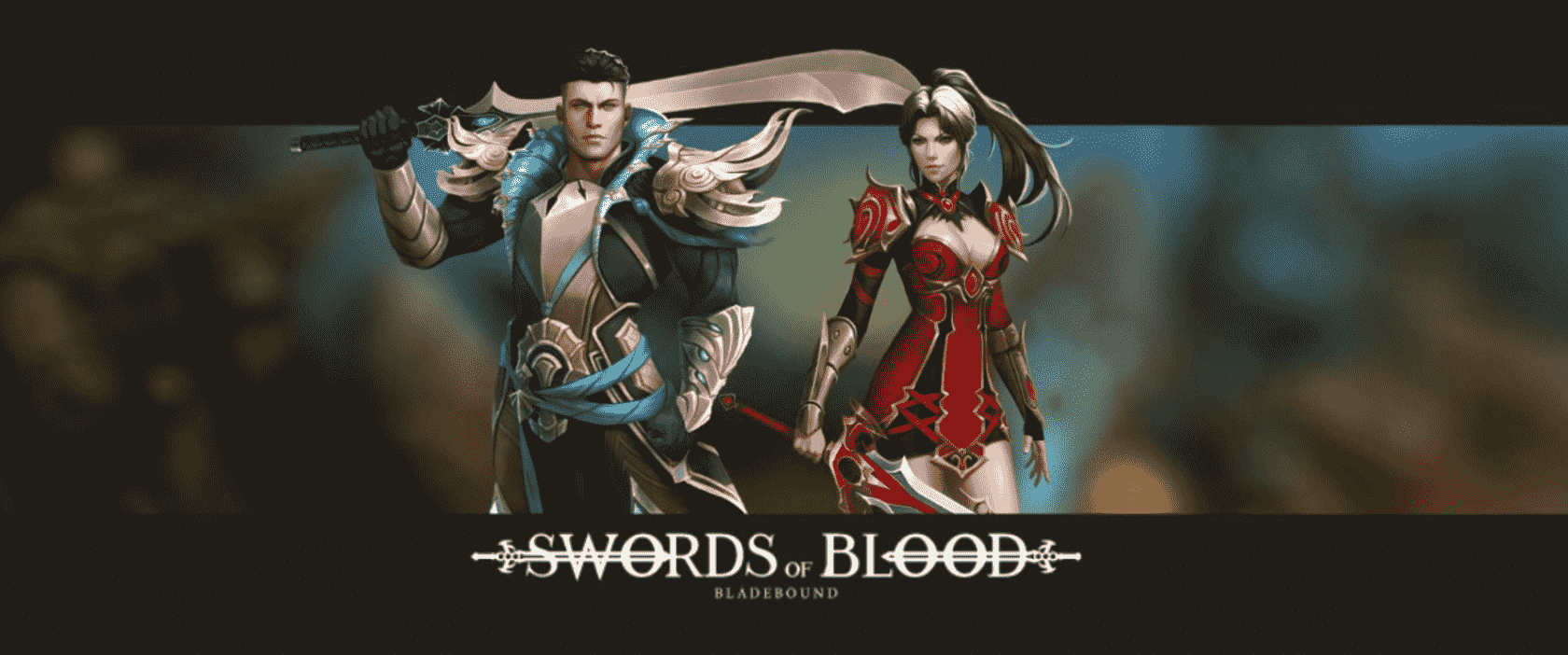 As per the whitepaper, Swords of Blood will have a "Play-to-Own" setup rather than a P2E setup. The development team has chosen this path after realizing that most P2E games were more focused on the monotonous "grind" to achieve tokenized rewards rather than the actual act of playing an exciting game.
The primary gameplay loop for Swords of Blood revolves around dungeon crawling, whereby players can create in-game characters and venture into dungeons in search of loot. Players can earn gear, weapons, resources, gold, and other valuable items by defeating enemies. Many of these items will be structured as NFTs, meaning players can sell them on the marketplace.

At the heart of the game is SWDTKN – Swords of Blood's native token. This token will be used for in-app purchases, like upgrading weapons and armor or purchasing "Event Passes" that provide a pathway to more XP and better rewards.
This simply scratches the surface of Swords of Blood's potential, although the project is still in its presale phase. Investors can buy SWDTKN tokens through this presale for just $0.070 at the time of writing. However, this price will only be available during Stage 2 of the presale – the price will increase to $0.080 in Stage 3.
| | |
| --- | --- |
| Presale Started | 15th March 2023 |
| Purchase Methods | ETH, USDT USDC, DAI |
| Blockchain | Polygon |
| Minimum Investment | N/A |
| Maximum Investment | N/A |
9. Pikamoon – Compelling Cryptocurrency and Metaverse Platform Inspired by Pokemon
Pikamoon is a novel cryptocurrency and play-to-earn adventure RPG metaverse game where the titular Pikamoon monsters are the main characters. You get to capture and lead them through adventures, just as you would in the famous Pokemon games.
Players choose each monster's nickname, and the creatures are divided by species, origin, and type. Your companions' power level and experience grow as you play, with their abilities decided by four stats – Attack, Defence, Speed, and Health.
The best part is that you can improve these NFT companions and lead them into adventures, quests, and battles, all to raise their level and earn $PIKA tokens. $PIKA is the native cryptocurrency of the platform, a GameFi token operating on the Ethereum chain. Read the official whitepaper to learn all about it and how the game will work once it's launched.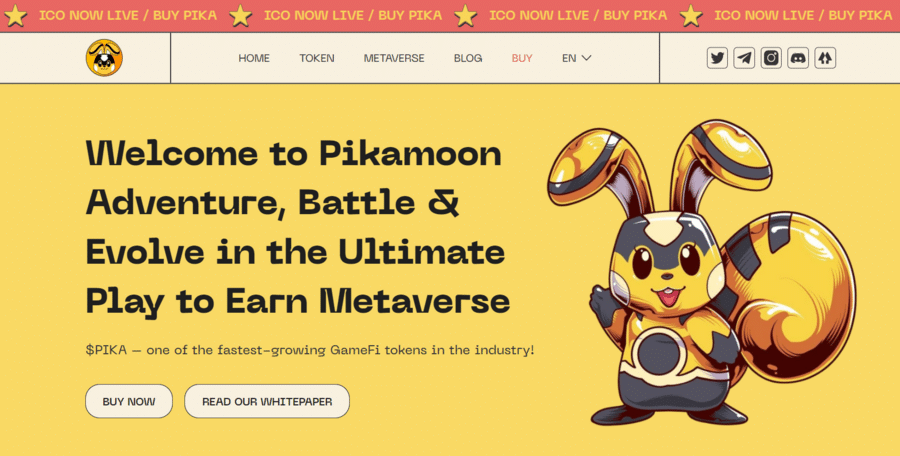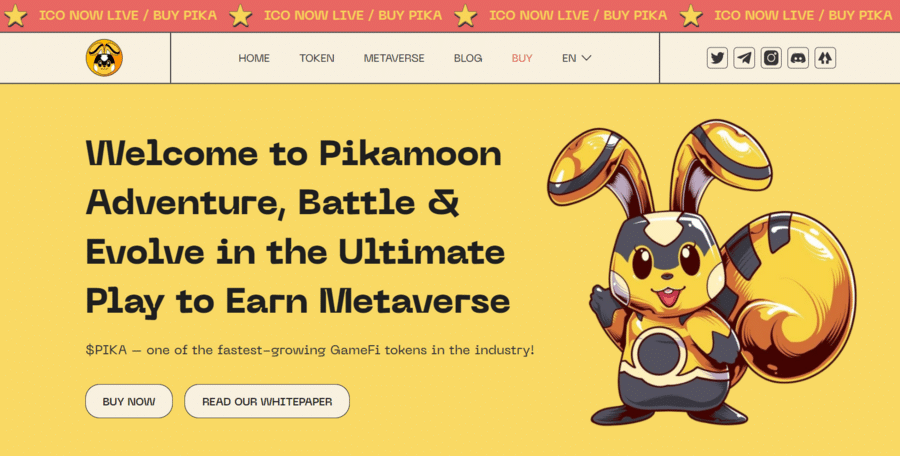 Redditors have already reported that Kevuru Games, a popular European art production and game development studio, is actively involved in the project. Pikamoon and Kevuru Games announced the collaboration on their respective Twitter profiles.
If you're interested, you can visit the official Telegram channel or follow the project's other social media accounts to get the latest news. And if you want to join somehow, the only way to do so is by purchasing $PIKA tokens.
The whole project is still in its presale stage, which offers each $PIKA token for $0.0004 in the second round. The third and last round will increase the price to $0.0006, and once it ends, we expect to see listings on various crypto exchanges and the launch of the Pikaverse.
The presale has so far raised more than $1.5 million, and you can purchase the tokens with ETH or USDT. The platform even allows you to buy crypto directly on the site using Transak, a popular plugin that lets you buy or sell crypto on any app or website. Once you have the crypto, you can buy $PIKA by connecting your wallet.
| | |
| --- | --- |
| Presale Started | April 2023 |
| Purchase Methods | USDT and ETH |
| Chain | Ethereum |
| Minimum Investment | None |
| Maximum Investment | None |
10. Robotera – Upcoming Metaverse-Building Game With NFT Assets
According to a recent report by global management consultancy McKinsey, the metaverse market could be worth $5 trillion by 2030. And RobotEra is a crypto project that could potentially benefit from the growth of this sector. In simple terms, RobotEra is developing a metaverse game that allows players to purchase, develop, and trade virtual land.
RobotEra features an easy-to-use interface and allows players to create their own virtual experiences – even without prior programming knowledge. Players will also be able to customize their own robot avatars, modify landscapes, and build structures on their land within the planet Taro – making the project one of the best metaverse cryptos around.
RobotEra also permits players to monetize their gameplay by hosting events with admission fees or selling advertisement space, among other things. Crucially, all in-game assets in RobotEra will be structured as NFTs – so investors will also have the option to trade them in marketplaces.
An important element of this metaverse ecosystem is TARO, RobotEra's native digital token. Investors can use TARO to purchase virtual land and other in-game NFTs within RobotEra. Moreover, investors will also be able to stake their TARO tokens and earn an additional income.
Like the other cryptocurrencies from our list, TARO tokens are also available via presale. And investors who believe in the future of the metaverse are praising TARO as the best cryptocurrency to invest in on Reddit. As of writing, the TARO presale is still in stage one, and investors can buy these tokens for just $0.02 per coin.
| | |
| --- | --- |
| Presale Started | Q4 2022 |
| Purchase Methods | ETH, USDT |
| Chain | Ethereum |
| Min Investment | 1,000 TARO |
| Max Investment | N/A |
11. Doge Rush – Meme-Based Play-to-Earn Cryptocurrency Platform
The next cryptocurrency on our list is $DR, the native token of the Doge Rush crypto platform. This is one of the first meme tokens that offers utility by combining internet memes to offer revenue-earning opportunities.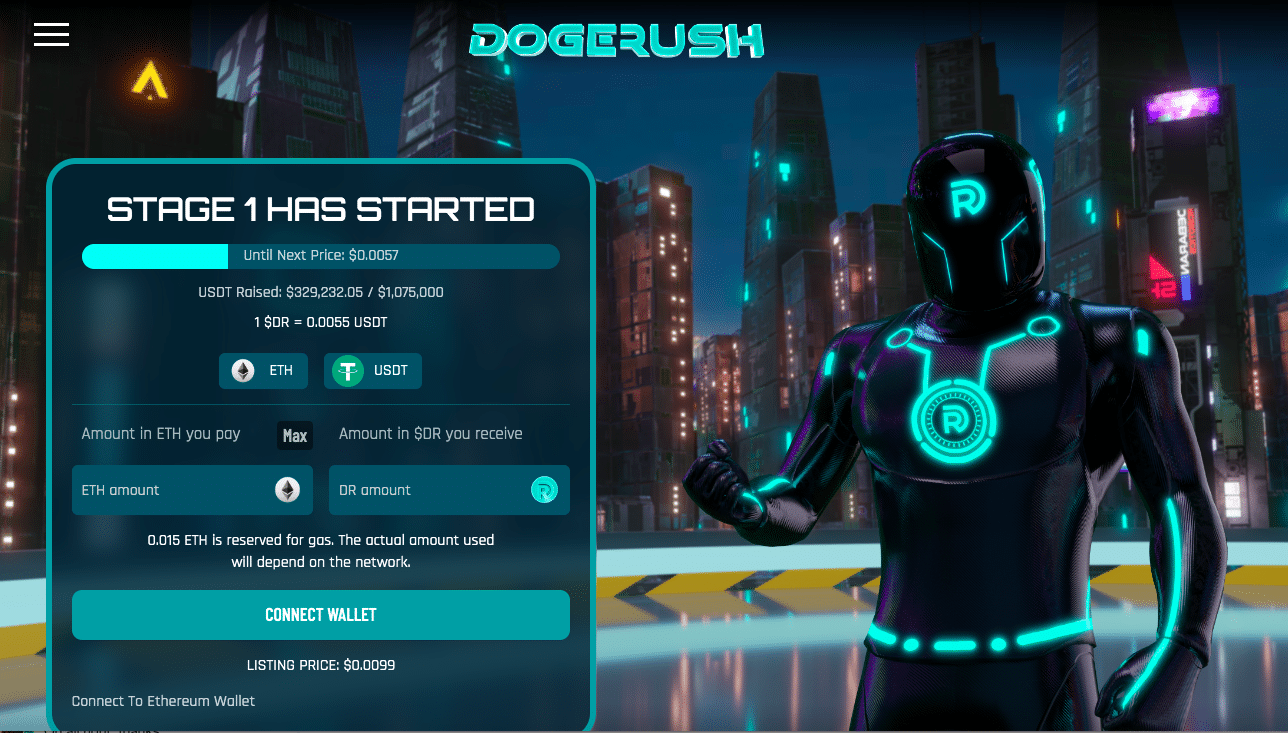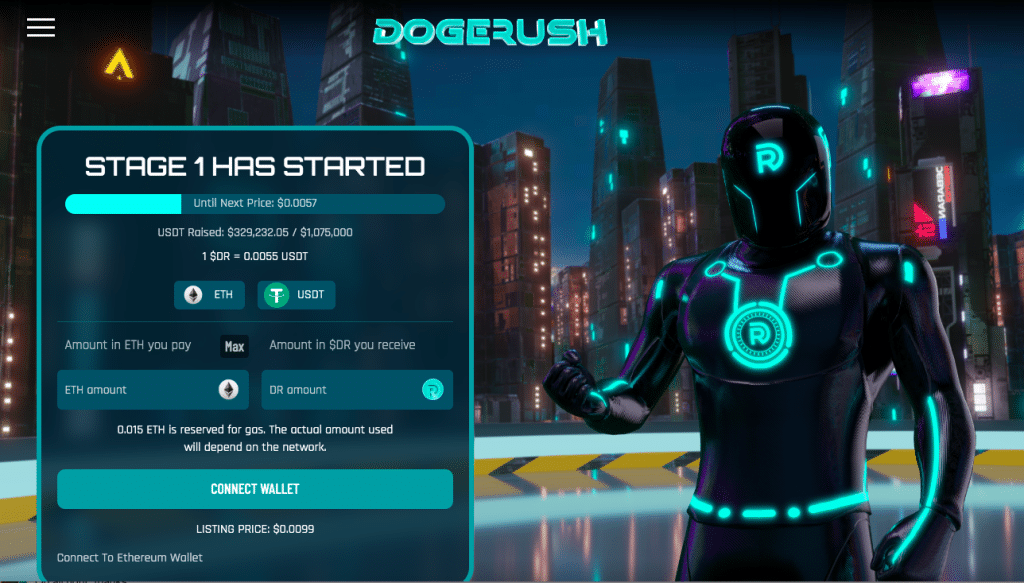 On Doge Rush, users can join a play-to-earn gaming ecosystem known as 'DogeHub.' On this platform, users will be able to access single-player side-scroller games, where doge and Elon Musk are offered as playable characters.
The games replicate popular side-scroller games such as Sonic Dash, Subway Surfers, and Temple Run. On the game, you will take the form of a doge, with the goal being to run away from Elon Musk.
On the game, users can earn points and win NFT items. $DR can be used on the Doge Rush marketplace to purchase new items, such as NFT skins.
Players can also access Doge Rush's DogeWin environment, which is a platform that lets one compete in hourly competitions and raffles for prizes and rewards. Along with $DR tokens, users can win NFTs and ETH tokens on DogeWin.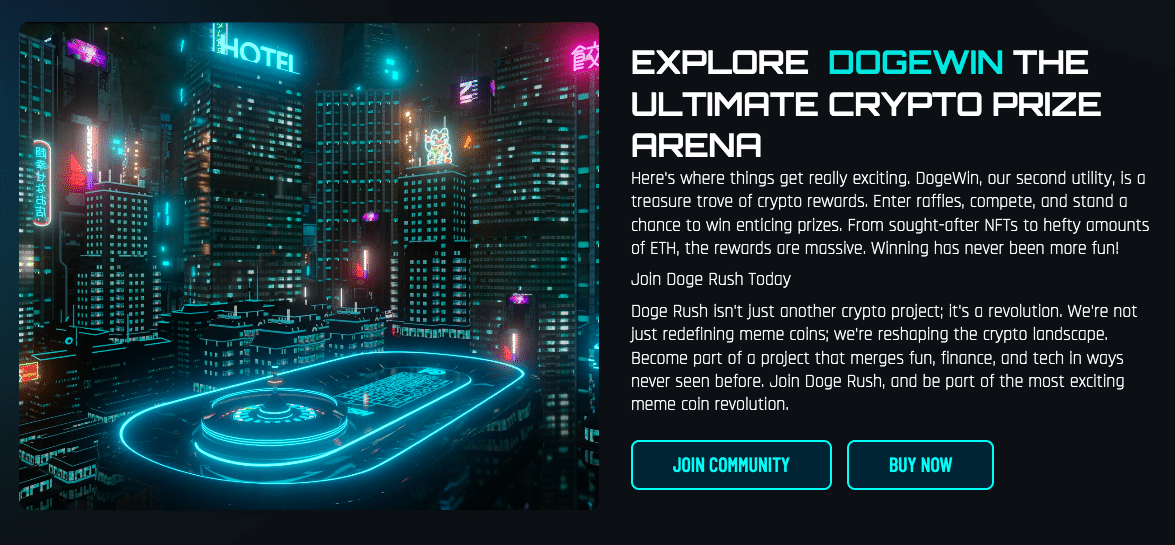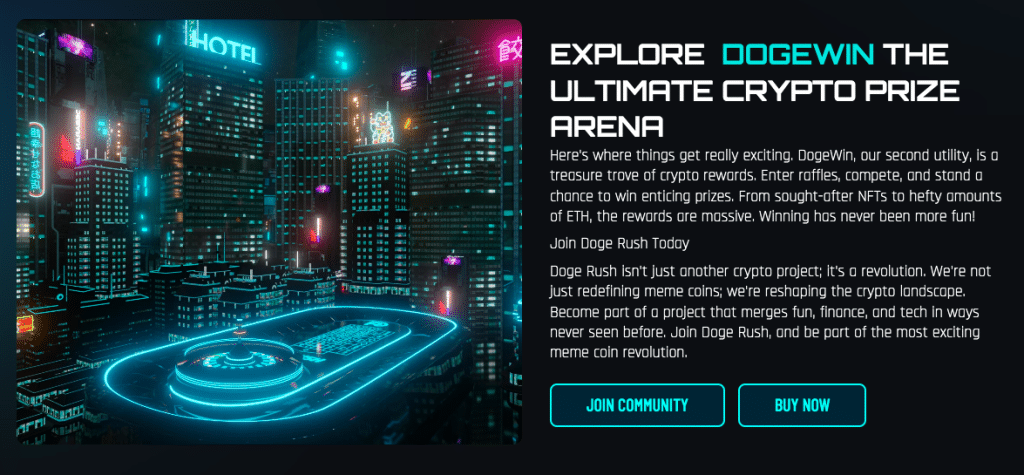 Thus, this platform offers real utility to the token holder. Currently on presale, $DR is priced at $0.0055 per token. By the final presale round, the price will hike by 80% to $0.0099.
The presale has allocated 1 billion tokens of the total 2 billion token supply. A further 20% of the token supply will be allocated for upcoming exchange listings.
Doge Rush has raised more than $320K since the presale went live. Read the Doge Rush whitepaper to learn more about the project, and join the Telegram channel for more updates.
| | |
| --- | --- |
| Presale Started | Q2 2023 |
| Purchase Methods | ETH, USDT |
| Chain | Ethereum |
| Min Investment | N/A |
| Max Investment | N/A |
12. Lucky Block – Utility Token Powering a Top-Rated Crypto Casino and Sportsbook
Those who actively follow the crypto market might already be aware of Lucky Block, a Bitcoin casino and sportsbook popular among online gamblers. Lucky Block launched its crypto casino in late 2022. This platform features thousands of titles across multiple categories – such as table games, slots, provably fair, jackpots, and more.
In addition to this, Lucky Block also supports sports and esports betting. This casino allows sports gamblers to place wagers before a game starts or when the match is live. Moreover, Lucky Block also offers its new players a 15% cashback on any losses for the first seven days.
Lucky Block allows players to place bets using some of the most popular cryptocurrencies, such as Bitcoin, Ethereum, BNB, Litecoin, Dogecoin, and more. LBLOCK is the native token of the Lucky Block ecosystem, and the casino will soon start accepting payments in this cryptocurrency.
Therefore, as the Lucky Block casino gains more popularity, the demand for LBLOCK tokens has every chance to increase. Moreover, the latest version of LBLOCK tokens comes without transaction tax – which makes it a good choice for trading. At the time of writing, LBLOCK tokens can be purchased for around $0.00015 via exchanges such as Uniswap, Gate.io, and MEXC.
13. Tamadoge – Play-to-Earn Metaverse Game With Doge-Inspired NFTs
Tamadoge is another trending cryptocurrency on Reddit that caught the attention of our research team. Tamadoge is building a play-to-earn gaming ecosystem where players can breed and battle their pets. These pets are available to purchase as NFTs, and each comes with its own strengths and weaknesses.
The Tamadoge arcade will offer a variety of games that feature these NFTs. In January 2023, Tamadoge launched its first game, Super Doge, which is already a hit among metaverse gamers. As players win tournaments and challenges within these games, Tamadoge will offer them rewards in the form of TAMA tokens.
TAMA tokens are the transactional currency of Tamadoge. These tokens are designed to be deflationary – with 5% of every transaction burnt regularly. The Tamadoge presale in late 2022 was a major success – raising $19 million. All in all, many investors consider TAMA as one of the best crypto to buy now on Reddit.
14. Chainlink – Decentralized Oracle Network Linking Blockchains With Off-chain Data
Chainlink is a decentralized oracle network that allows blockchains to securely connect to external data sources, APIs, and payment systems. According to investors on Reddit, Chainlink could be a promising long–term investment because it allows developers to create reliable and secure smart contracts.
Chainlink also facilitates improved scalability and enhanced interoperability between blockchains. Furthermore, there is a growing demand for decentralized oracle networks, and Chainlink provides efficient and cost-effective solutions for businesses.
As per the Chainlink website, there are over 1,600 projects that use this platform's technology. Chainlink hit its all-time high of around $53 in June 2021. However, the cryptocurrency has lost over 85% of its value since then. Nevertheless, Chainlink continues to be one of the best crypto on Reddit forums.
Cryptoassets are a highly volatile unregulated investment product.
15. Polygon – Layer 2 Scaling Solution for Ethereum
Polygon's MATIC is another cryptocurrency that is a common topic of discussion on many Reddit investing forums. Polygon is a layer 2 scaling solution for Ethereum. It helps to enable faster and cheaper transactions on the Ethereum network. With these features, Polygon is well-positioned to benefit from the Ethereum merge.
In addition to this, in 2022, Polygon announced the world's first zero-knowledge Ethereum Virtual Machines, which will make it possible to verify thousands of transactions at once – quickly and efficiently.
In fact, according to many Reddit investors, Polygon is the best "scalability solution" for Ethereum. MATIC is the utility token of Polygon that can be used to pay for fees on this platform. As per recent market data, the price of MATIC tokens has increased by nearly 25% since the beginning of 2023.
Cryptoassets are a highly volatile unregulated investment product.
16. Solana – Best Reddit Crypto to Buy for Long-term Investors
Solana is another secure blockchain platform that is highly scalable. The Solana network is capable of processing up to 65,000 transactions per second, which is much faster than many other cryptocurrencies in the market. Moreover, Solana is programmable, meaning the network features smart contracts like Ethereum.
Given these aspects, some Reddit users speculate that Solana has the potential to become a popular platform for decentralized applications (dApps). Moreover, there are already several projects that are being built on the Solana blockchain. This includes NFTs and even digital tokens such as Bonk.
Additionally, the platform is developing Solana Mobile, which will be the world's first-ever crypto phone. Considering all these factors, it isn't surprising that Solana's native digital token, SOL, is one of the best crypto according to Reddit, especially in terms of the long-term outlook. The value of SOL tokens increased by 135% during the first four weeks of 2023.
Cryptoassets are a highly volatile unregulated investment product.
17. Cardano – Open-Source PoS Blockchain With Smart Contract Functionalities
Cardano is built on a scientific and research-driven approach to blockchain development. It uses a peer review system before any update is implemented. While such an academic-centric framework often leads to slow progress, it also makes Cardano highly stable and secure.
In 2021, Cardano began offering support for smart contracts. With this move, Cardano was able to boost its rate of adoption, and now, an increasing number of dApps and DeFi projects are being built on its network. On top of this, Cardano is also one of the top cryptocurrencies that are used in payments.
Cardano has a clear and ambitious long-term vision to create a scalable, and secure platform for decentralized applications. This cryptocurrency has also performed well in recent years. After launching in 2017, the price of Cardano increased by over 11,000%, before the coin hit its all-time high price in 2021.
Cryptoassets are a highly volatile unregulated investment product.
Best Crypto Subreddits to Follow
There is no doubt that Reddit can be a great source of information for crypto investors looking for the best cryptos to trade.
The same can be said of the best crypto Discord groups. That being said, discussions and opinions on Reddit, or any other platform, should not be the sole basis for making investment decisions.
Cryptocurrency is a highly speculative market, and it's essential to thoroughly research and understand the risks before proceeding. It's also currently rallying as we head into the weekend, with Bitcoin headed for its best performance since 2021.
With this in mind, below, we discuss some of the most popular subreddits that investors can refer to when exploring the most searched cryptos.
r/CryptoCurrency
r/CryptoCurrency is perhaps the most popular crypto subreddit, with over 6 million members. It is known as a hub for discussions about the cryptocurrency market and related topics.
r/CryptoCurrency is also a great place to find information on upcoming ICOs and new projects entering the crypto market.
r/CryptoMarkets
With 1.3 million users, r/CryptoMarkets is another subreddit widely used by crypto investors. Discussions here focus on cryptocurrency market trends, price movements, and trading strategies.
By following this subreddit, individuals can stay updated about the latest developments in the crypto market and make informed investment decisions.
r/CryptoTechnology
r/CryptoTechnology is a subreddit that investors can refer to when exploring the technical aspects of digital assets. This subreddit provides in-depth discussions and insights into the underlying blockchain technology of crypto projects.
As of writing, r/CryptoTechnology has over 1 million members. It can be a helpful source for investors to stay informed on the latest developments in the field and understand how they might impact the cryptocurrency market.
r/Altcoins
This subreddit deals with everything related to altcoins, with over 220,000 members. This is one of the oldest crypto subreddits, considering it has been active for eight years.
It's the best place to discuss altcoins, new crypto tokens, and interesting events happening in the financial world. Needless to say, investors might also be able to spot the next big cryptocurrency on Reddit via r/Altcoins.
r/Bitcoin
As the name suggests, the subreddit r/Bitcoin is dedicated to Bitcoin and has over 4.8 million members. It's the best place to discuss Bitcoin, its technology, price, and future developments.
While the majority of posts on r/Bitcoin revolve around Bitcoin, this subreddit also pays attention to the best upcoming cryptocurrencies and how they would affect the position of BTC tokens.
As such, it would be a good idea to follow r/Bitcoin for the latest Reddit cryptocurrency news.
Conclusion
Reddit has a growing community of investors and traders discussing everything related to the crypto industry. As such, this is a great platform to find the next crypto that is likely to explode in the near future.
Our quest to find the best Reddit cryptocurrency led us to AI – the native digital token of AiDoge. This is a new AI-powered crypto project aiming to disrupt the meme sector.
According to Reddit investors, AI is on its way to becoming one of the best cryptocurrencies to buy in 2023. As of writing, AI tokens are available on presale – and investors can purchase them for just $0.0000264 per coin.
FAQs
What is the best cryptocurrency on Reddit?
Which crypto is trending on Reddit?