Crypto trading has been a popular way for investors to profit using digital coins. For maximum earnings, though, it's important to understand this activity fully and avoid all the pitfalls that can cost you your cryptocurrencies.
Therefore, it is crucial to educate yourself by taking the best cryptocurrency course. Explore our guide and find the top crypto courses that meet your needs.
The Best Cryptocurrency Courses for 2023
In the following section, we'll briefly discuss some of the best cryptocurrency trading courses. Feel free to explore our detailed reviews further down.
Rekt Capital

— This is a reputable crypto analyst who provides expert advice via four essential courses covering altcoins, Bitcoin, technical analysis, and risk trading. Rekt Capital also offers a regular three-part weekly newsletter sent out to 47,000+ subscribers.

Jacob Crypto Bury Discord

— Jacob is a YouTube crypto superstar with a dedicated channel on Discord, where you can find

crypto courses

, analyses of altcoins, presale suggestions, and more.

BitDegree

— This comprehensive platform offers paid and

free crypto trading course

selection, along with many other crypto and blockchain-related tutorials for beginner, intermediate, and advanced users.

Blockgeeks

— This platform offers over 1,600 active courses and lessons, most of which focus on the technical aspect of crypto, although you can find several decent

crypto trading courses

, too.

Blockchain Council

— A mainly technical platform covering Web3, AI, blockchain, and crypto. It also features an online certification for cryptocurrency and trading.

Udemy

— This is one of the largest e-learning platforms with 200,000+ courses available, some of which cover crypto, blockchain, and other related topics in detail. All courses are taught by industry experts.

RocketFuel Crypto

— This is a global crypto and blockchain education platform with 10,000+ students from around the globe. It offers a range of resources, including private coaching sessions.

Coursera

— This all-around e-learning platform features courses from reputable universities. Some of them are great for users interested in learning more about crypto and related technologies.

MIT Media Lab

— The media lab offers resources created by some of the leading experts in the field of crypto and other related areas. The entire training process lasts for six weeks, resulting in a comprehensive skillset and knowledge.

Bulls on Crypto Street

— A free course offering an extensive paid boot camp. All courses are taught by a successful crypto investor and trader, Kunal Desai.
Best Crypto Trading Courses Reviewed
In the following section, you will find detailed reviews of each of the ten online cryptocurrency course options. Feel free to read more about them before choosing the perfect one for you.
1. Rekt Capital — #1 Best Cryptocurrency Course Covering Bitcoin, Altcoins, Risk Management, and Technical Analysis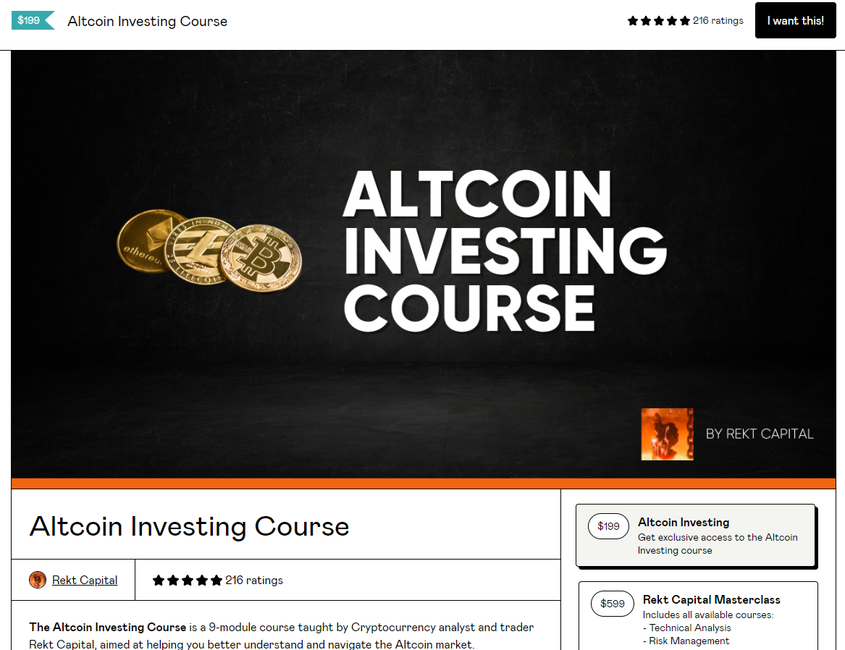 Rekt Capital, a professional crypto investor who has decided not to reveal their real identity, has managed to build one of the most popular platforms offering some of the best cryptocurrency courses. The site also features a weekly newsletter that has 47,000+ subscribers who receive BTC macro research on Mondays, a market analysis on Wednesdays, and technical analysis sessions for altcoins on Fridays. Rekt Capital is often cited as a relevant source, and their opinion is regularly shared on leading financial platforms.
However, the platform's backbone lies in its courses aimed at everyone who wants to up their trading game. There are currently four, but they seem comprehensive enough to help anyone kickstart their trading journey:
Altcoin course

— This course is for those who are interested in trading altcoins. It serves as a great introduction to the market that features hundreds of digital coins. The course consists of nine video lectures and includes two bonus tutorials from Rekt Capital's former training programs. You will get to learn about market cycles, bull and bear markets, BTC's halving effect on altcoins, hype cycles, correlations, lag cycles, timing altcoin trend acceleration,

the occurrence of strong alt seasons

, and timing the beginning and the end of alt seasons.

Technical analysis course

— This comprehensive course consists of 17 hours of video tutorials. It is ideal for beginner and intermediate traders who want to understand the tools for tech analysis, improve their market navigation, and learn to spot trends and opportunities. There are 18 lessons, each covering a different part of technical analytics.

Bitcoin course

— Through the eight lessons found in this course, users can learn more about BTC's market cycles, BTC halving, bull and bear markets, price deviations, stock-to-flow model variance, Pi Cycle top indicator, BTC mid-cycles, four-year cycle evolution, and more.

Risk management course

— This course offers 10 videos covering comprehensive risk management strategies and tools used in the crypto sphere. It focuses on portfolio structuring, diversification, risk management psychology, risk-to-reward ratio, stop-loss, position sizing, and much more.
Users can buy individual courses or purchase the Rekt Capital Masterclass for $499 and gain lifetime access to all four.
2. Jacob Crypto Bury Discord — A Discord Channel With Presales Analyses, Crypto Course Options, and More
Jacob Crypto Bury Discord (renamed to Jacob's Crypto Clan) is a Discord channel devoted to cryptocurrency traders and enthusiasts. Even though it's not a course per se, it's definitely worth checking out, as it features a range of helpful tips, lessons, and more. Plus, being part of an active channel with a vibrant community is as important as watching the best cryptocurrency trading course.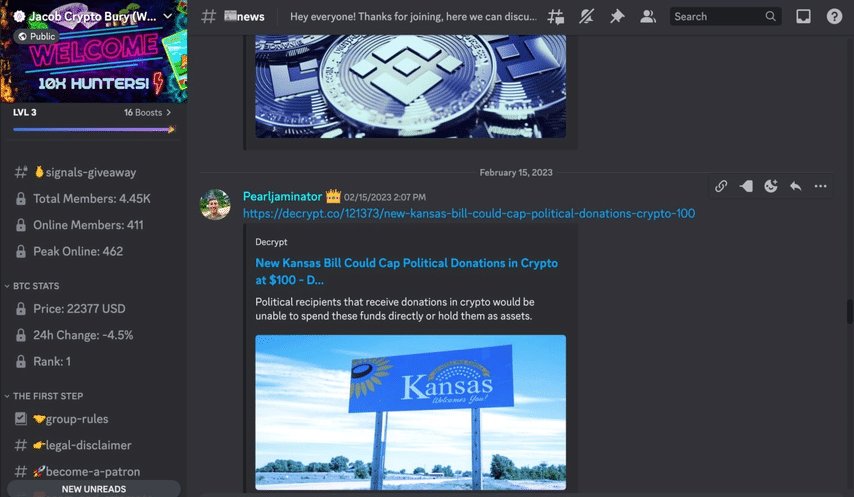 Jacob is also a popular YouTube crypto star who actively analyzes all new coins, presales, and similar topics. He has 15.1k subscribers and more than 1.3k videos on YouTube. Moreover, his Discord channel has more than 11,500 active members. In short, it's safe to say that Jacob has a pretty active community of crypto traders and fans following him on YouTube and other platforms.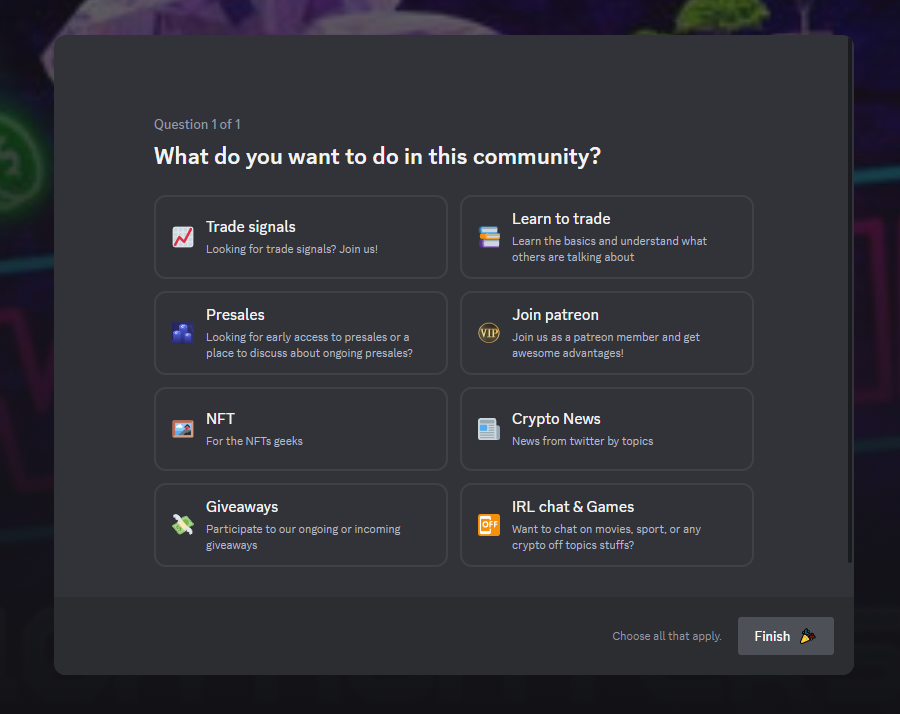 Most importantly, Jacob's Crypto channel on Discord could be a great source of fresh information. Namely, he has helped some investors get significant gains by analyzing and suggesting some of the popular crypto presales (one of them being Tamadoge). His channel has featured another popular presale recently — Love Hate Inu, which seems to be off to a great start. The current list of featured presales includes projects such as AiDoge, Launchpad, yPredict, Deelance, and others. For more information and tips on purchasing these coins, you can check out Jacob's community.
All in all, Jacob may not teach you how to trade crypto, but he will share what to buy, when to buy, and why. As a result, you will be able to stay up-to-date with the latest trading opportunities, presales, and more.
3. BitDegree — Online Cryptocurrency Courses With Crypto Rewards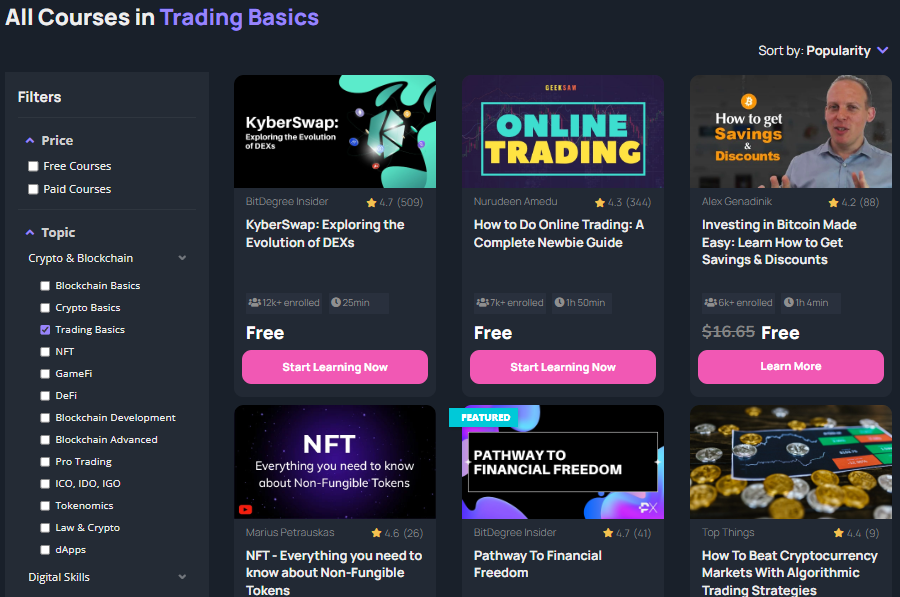 BitDegree isn't a single crypto trading course — it's an entire education platform dedicated to cryptocurrencies and everything related to them. The project is crypto-backed, meaning users can receive native coins as they complete courses. In other words, they can choose to get a "scholarship" and earn the BitDegree coin (BGD) for their effort. This is a nice way to incentivize visitors and encourage them to start learning about crypto. The platform was even part of various campaigns, such as the one covered by CoinTelegraph about giving away $50 million in NFT domains.
All courses are taught by leading educators in the field and can be filtered by different options. For example, you can browse only NFT or DeFi courses. The available topics are blockchain basics, crypto basics, trading basics, NFT, GameFi, DeFi, blockchain development, blockchain advanced, pro trading, ICO, IDO, IGO, tokenomics, law and crypto, and dApps. Users can also filter courses by skill level, duration, and rating.
One thing that makes BitDegree stand out is the possibility of taking a free cryptocurrency trading course. These are often short, but they still provide significant value, especially if you're a beginner. You can easily browse them by using a filter that will allow you to exclude all the paid courses.
Still, the BitDegree platform is not just about education. It also features an overview of popular currencies with detailed and up-to-date information, similar to what you can find at CoinMarketCap.
4. Blockgeeks — Free and Paid Technical Blockchain and Crypto Courses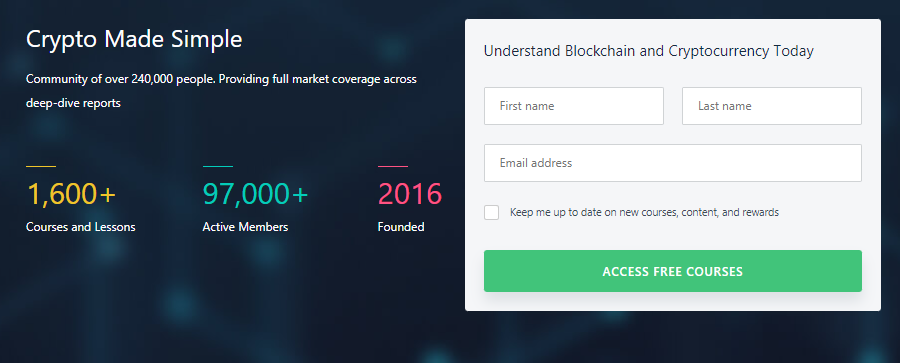 Blockgeeks was founded as a cryptocurrency knowledge hub in 2016, and it became one of the most popular platforms for beginners and experts alike. Nowadays, it features 97,000+ active members and over 1,600 courses. On top of that, users can find a range of relevant guides, articles, and more.
Since there are so many options, it's safe to say Blockgeeks offers one of the largest selections of crypto courses online, many of which are free of charge. Most importantly, all these courses are taught by seasoned professionals, including crypto trading experts.
Not all courses are about trading, though. In fact, they are secondary since some of the main libraries are Crypto Research, Blockchain Basics, Ethereum Development, The Bitcoin Network, and more. As the site's name implies, it focuses on the "geeky" aspect of crypto and blockchain rather than on actual trading.
That said, we did find a range of useful options, including Fundamental Analysis For Crypto, Yield Farming For Profit, and more. Fun fact: we also noticed that some of the courses feature Dmitry Buterin, a crypto entrepreneur and father of Vitalik Buterin, the creator of Ethereum and one of the most influential people in the industry.
5. Blockchain Council — Blockchain, AI, Web3, and Crypto Courses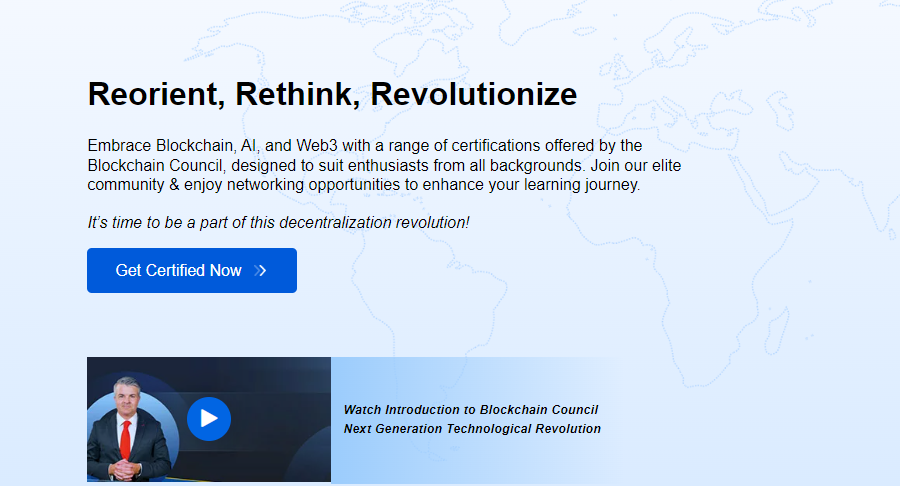 Blockchain Council is an excellent resource for anyone interested in learning more about crypto, blockchain, and related topics. Just like Blockgeeks, this educational hub is focused on the technical aspects of crypto, including Web3, AI, blockchain, and more, but there's also a segment devoted to trading called Online Degree™ in Cryptocurrency & Trading. It takes six hours to complete and is followed by an exam, after which you can earn a certification showing that you've successfully finished the course.
Users who want to be a part of one of the most significant blockchain communities, access the latest courses, and get the latest news from the industry can sign up for a free plan. Alternatively, they can choose a paid option for additional courses, discounts, free access to premium content, webinars, and workshops, and more. This type of account, dubbed Individual Membership, costs $249 a year.
Overall, if you want to learn about a wide range of topics besides crypto trading, Blockchain Council could be a good choice. However, if you're interested in finding some of the best cryptocurrency trading courses, you should explore the other options featured on our list.
6. Udemy — A Comprehensive Platform for E-Learning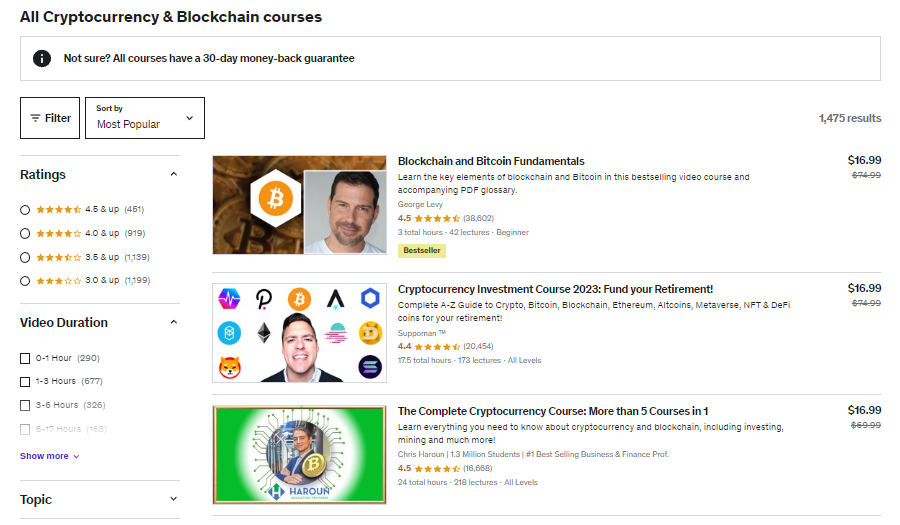 Unless you've been living under a rock, you've probably heard of Udemy, one of the most popular e-learning platforms worldwide. Its courses contain plenty of lessons focusing on a wide range of topics, including tech. New types of technology are frequently covered by Udemy, and the platform is often used to access statistics about learners. One of the latest examples is how the interest in AI chatbots on Udemy has increased by 4,000% with the introduction of ChatGPT.
According to Business Insider, Udemy has around 204,000 courses, and their number keeps growing. There's a decent selection of programs related to cryptocurrencies, trading, blockchain, and more. The most popular ones include the Cryptocurrency Investment Course 2023, CryptoCurrency Trading/TA Course 2023, Advanced Cryptocurrency Trading Course —With Strategies, and more. Users can filter them by topic, subcategory, level, language, price, features, subtitles, duration, ratings, and other criteria.
7. RocketFuel Crypto — A Decent Selection of Online Cryptocurrency Courses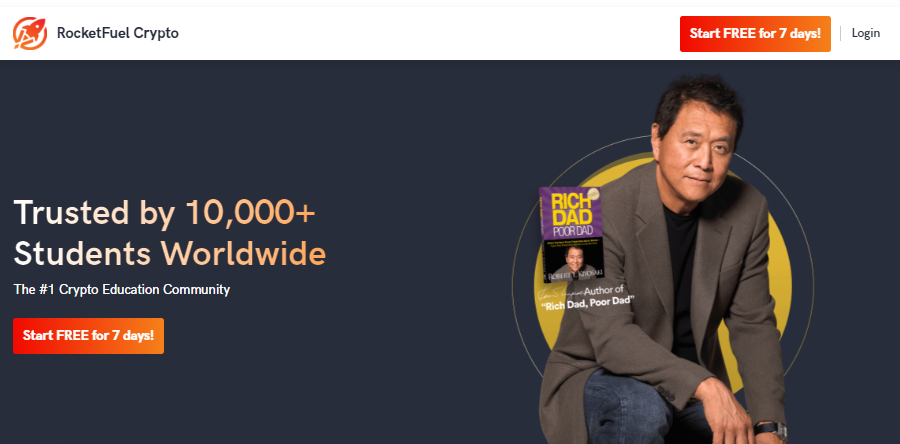 RocketFuel Crypto is an online platform featuring 10,000+ students worldwide. It's marketed as the global crypto resource for education, analysis, and more. Students can use a dedicated dashboard to access insights, analytics, and various other crypto-related resources. The platform was founded by Jeff Wang, a consultant and investor in the field of blockchain technology.
RocketFuel Crypto offers three pricing plans: Starter, Premium, and Elite. The first two feature a seven-day free trial, after which you'll have to pay $47 and $77 monthly, respectively. They offer access to the community, tutorials, research, insights, weekly live community calls, NFT community, and more. The Elite plan comes with private coaching — that is, 12 sessions with Jeff Wang himself. There's also small group coaching for those interested in NFT and GameFi, as well as access to the Elite Mastermind Group.
Overall, RocketFuel Crypto has a lot to offer, but it's safe to say that it's a bit overpriced.
8. Coursera — An E-Learning Platform With a Selection of the Best Crypto Courses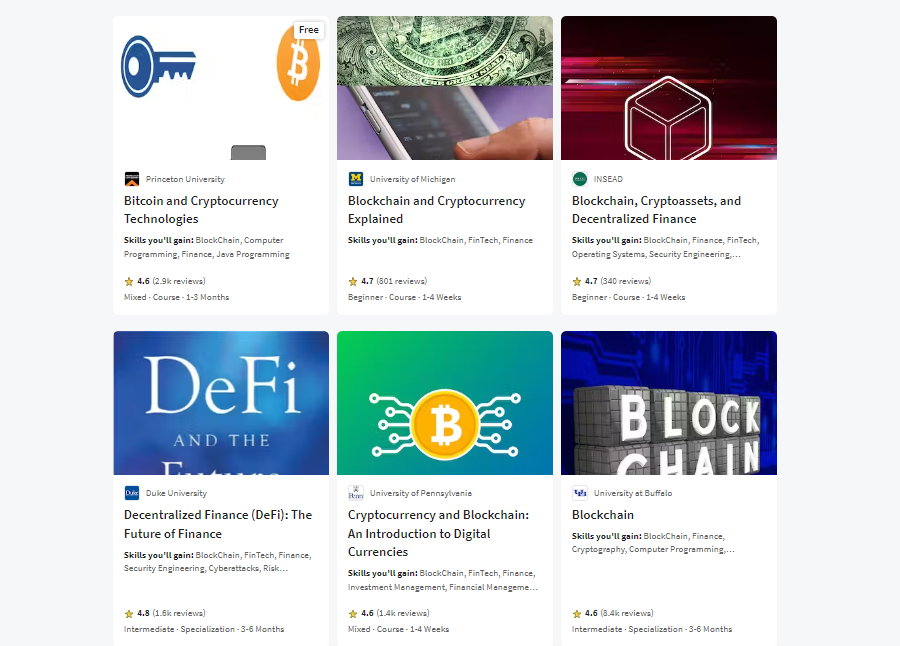 Coursera is another comprehensive platform that offers online courses covering a range of topics, including data science, computer science, business, languages, health, and more. Some of the crypto and blockchain classes that we stumbled upon during our review came from reputable universities — for instance, Bitcoin and Cryptocurrency Technologies from Princeton University or Cryptocurrency and Blockchain: An Introduction to Digital Currencies from the University of Pennsylvania.
We also came across a range of trading courses aimed at beginner, intermediate, and advanced users. Mind you: these are general trading guides that are not focused solely on cryptocurrencies. They can come in handy if you're just starting your trading journey, and they may be useful to forex traders as well.
That said, we couldn't find any comprehensive crypto trading courses on Coursera. Still, the platform made it to our top 10 list due to its immense reputation among users around the globe.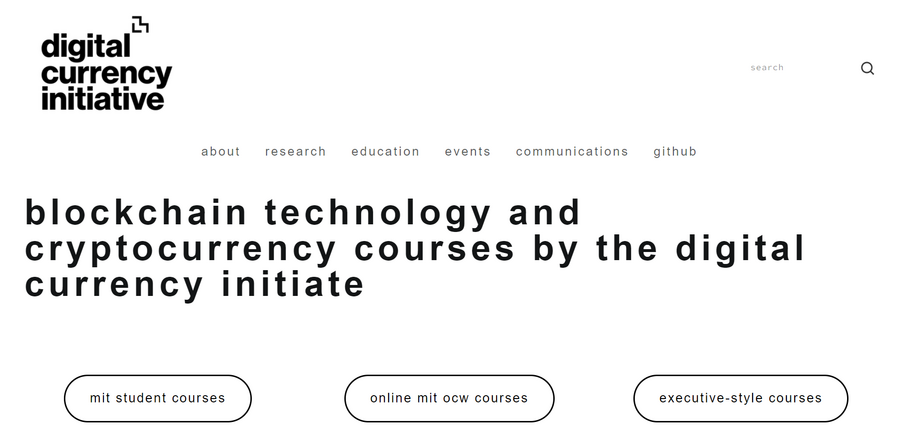 MIT Media Lab is among the most popular institutions dedicated to research. It also features a comprehensive MIT crypto course that can help students learn about the world of cryptocurrencies in greater detail.
The course is beginner-friendly, as it teaches you about basic financial concepts and explains how cryptocurrencies came to be. It explores smart contracts, decentralized applications, crypto exchanges, and more. You'll also find out how some of the best crypto exchanges work, which could serve as an introduction to crypto trading.
Finally, you'll learn more about the use of crypto and its impact on the centralized world. The course also focuses on the challenges cryptocurrencies face and how to overcome them, which could prove beneficial for traders.
In short, this MIT cryptocurrency course isn't one of those crypto trading courses that promise millions of dollars in return. Instead, it offers practical, hands-on knowledge that will assist you on your trading journey.
10. Bulls on Crypto Street — Comprehensive Free and Paid Crypto Courses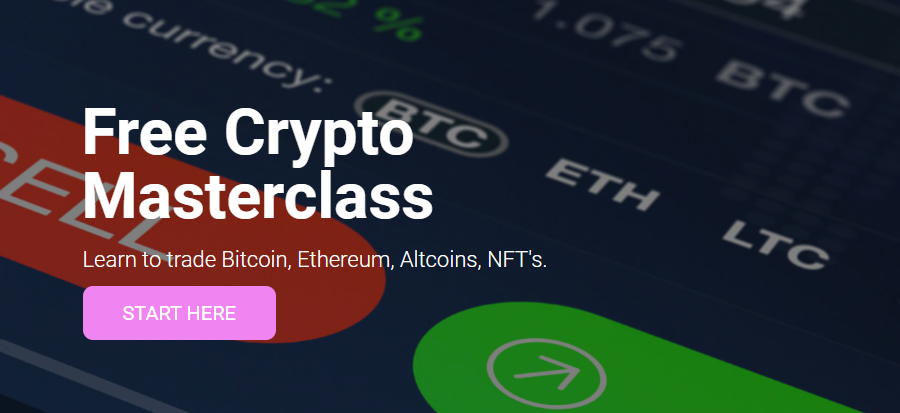 Bulls on Crypto Street is all about crypto trading. It's a valuable resource for anyone interested in mastering this activity. Its essential product is the Free Crypto Masterclass, where you can learn to trade BTC, EHT, altcoins, and NFTs. The course is taught by Kunal Desai, the CEO of Bulls on Wall Street and a successful crypto trader.
Those interested in taking their learning to the next level can also apply for a complete crypto trading course (boot camp), which costs $798 (although this price might change in the future). It features 100+ lessons that cover core trading strategies, technology breakdowns, futures trading, risk management, NFT accelerator, crypto scanning and exchanging, trading psychology, and more. According to the official site, these lessons have $8,467 worth of value — but then again, it may be just a marketing ploy.
So, is the paid crypto course worth your money? It depends on you. Check out the free training first to see if you can benefit from it. If so, you can learn more about the paid course, as well.
Why Take a Crypto Course?
Some crypto traders sign up to crypto trading courses to gain knowledge and skills to improve their trading strategies and increase their profitability in the highly volatile and complex cryptocurrency market.
Cryptocurrencies' popularity is on the rise, especially since some of the leading digital coins, such as BTC or ETH, are on the brink of becoming massively adopted. In other words, the need for cryptos and their underlying technologies has only increased over the past couple of years, despite the fluctuation in their value. Naturally, there have been hypes and bleak days, but the fact remains: cryptocurrencies are the new and innovative type of money with plenty to offer.
Transforming the World's Economy
It took several thousand years for us to realize that the money we use around the world is inherently flawed. Banks and other intermediaries involved in transactions have only made things more complicated. Luckily, cryptocurrencies provide an alternative that's faster, more inclusive, and, in many cases, cheaper.
Obviously, this has opened up a world of possibilities for innovation, entrepreneurship, and social impact. Decentralized platforms can help with creating dApps that can empower various communities and users. So, if you have no understanding of crypto trading (and crypto in general), you could be left behind in the race.
Based on Triple A's estimations, there are over 420 million cryptocurrency users worldwide in 2023. Therefore, it's safe to assume that crypto is already making a huge impact on the world.
Whether it will take over remains a mystery, but it's safe to say that digital currencies are affecting the world's economy in a profound way and hopefully creating a better system than the one we've been using so far.
Understanding the Underlying Principles
If you plan on using cryptos, understanding how they work can come in handy. This is even more important once you start trading digital assets on online exchanges.
Even though crypto trading is similar to standard trading activities (such as forex), cryptocurrencies have rules of their own that you need to be familiar with in order to make a profit. These mainly refer to cryptography, blockchain, consensus mechanism, tokenomics, and more.
Crypto trading also requires knowledge of the market, technical analyses, and identifying potential risks and opportunities. Therefore, before attempting to make any trades, it is important to learn the basics of the market using a crypto day trading course.
Pursuing a Career in the Crypto Sphere
With the introduction of cryptocurrencies, many new jobs have become available. In addition to crypto traders and investors, various technical positions have started popping up, such as blockchain experts, smart contract developers, and more.
Cryptocurrencies have also created opportunities for new businesses and entrepreneurs. For example, many companies now provide services related to cryptocurrency trading, storage, and payment processing. This has created the need for new jobs, such as customer support agents, UX/UI designers, and software engineers.
According to CoinJournal, the top 158 crypto companies employed more than 18,200 people in 2019. This number has likely increased in recent years due to the boom in DeFi, NFTs, and other technologies.
Connecting With Other Crypto Traders
You may have noticed that almost every featured crypto trading course has a community component. This is especially true for Jacob's Crypto Clan, where people get together to discuss various strategies, learn about the hottest presales, and more.
Simply put, if you're part of a community that is actively engaged in the crypto sphere, you're more likely to get lucrative tips and make the right moves when trading or investing your digital coins.
Making a Profit
There's no need to beat around the bush: we all trade cryptocurrencies in order to earn more money. After all, cryptos are known for being highly volatile, and they can help you make a quick profit if you're an expert trader who knows when to buy or sell.
In reality, however, trading is more likely to result in losses than gains. According to Lending Tree, 38% of Americans who have held cryptocurrency say they have sold it for less than the original price, while only 28% have made a profit.
That is why it is essential to master crypto trading. Even though this endeavor certainly involves an element of chance, a master trader makes sure that the risk is kept to a minimum. Unfortunately, the 38% who have lost their money likely didn't have the proper skills and knowledge to make the right moves. Instead, they probably traded by relying on hype and luck.
How Much Do Cryptocurrency Trading Courses Cost?
The cost of cryptocurrency trading courses can vary widely, ranging from free courses to thousands of dollars for comprehensive programs or personal coaching.
Rekt Capital is currently our number 1 choice, as it offers the best courses at a reasonable price. Our second pick, Jacob Crypto Bury's Discord channel, is a great free resource for new investors and traders. Even though it might not match Rekt Capital's quality, it still ranks high, as the content it offers is quite beneficial, especially considering the fact it's free.
If you decide to find a cryptocurrency course online on your own, it's important not to fall for marketing strategies that guarantee you'll get fantastic content for paying more money. Don't lose your cool, and take time to read the reviews from other learners since they might provide valuable insights.
Conclusion
Many great online cryptocurrency courses teach you everything you need to know about digital money and related technologies. By completing those, you will have a better chance of succeeding in the digital world, especially now that the influence of crypto is increasing.
We've listed some of the best cryptocurrency trading courses on this page. Our #1 choice is Rekt Capital — a crypto analyst who has decided to share their vast knowledge through four essential trading courses designed to help people kickstart their crypto journey. Rekt Capital also features the best price/quality ratio, offering the entire package for $499.
FAQ
How can I learn cryptocurrency trading for free?
What is the best cryptocurrency course?
Are crypto trading courses worth it?