Crypto investors are always looking for digital assets with an attractive upside and one way to achieve this is by finding projects with a low price and lots of potential.
With this in mind, this analyzes the overall best cryptos under $1 for 2023.
Ranked: Best Cryptos Under $1 to Buy in 2023
Searching for the overall best crypto under $1 to buy for 2023? Look no further – we've ranked the top crypto projects with a low entry cost price below.
AiDoge ($AI) – Overall best crypto under $1. Combining memes and AI, the platform allows you to generate and vote for memes, winning more tokens in return.
Ecoterra (ECOTERRA) – Green Crypto Project with a Unique Recycle2Earn Mechanism
yPredict (YPRED)

– The best cheap cryptocurrency for predicting financial market moves. The project bridges the gap between traders and AI experts for transparent and profitable market interactions.

DeeLance (DLANCE) –

The best crypto token under $1, enabling a new era of freelancing. The platform helps holders embrace the Metaverse, NFTs, and decentralization for a transformative user experience.

Launchpad XYZ (LXP)

– Top cryptocurrency under $1 that redefines Web 3 accessibility. Utilizing user-centric tools and metrics, the platform provides access to an all-inclusive Web 3 experience.

RobotEra (TARO) – Sandbox Project With Virtual Real Estate in a Multiverse and Robot NFTs
Swords of Blood (SWDTKN) – Role-Playing Crypto Game to Buy on Presale Now
Scorpion Casino (SCORP) – The best casino-based crypto under $1 for a high ROI
Tamadoge (TAMA) – Meme Token With Utility and Arcade Games on the Blockchain
Lucky Block (LBLOCK) – Instant Payouts and Thousands of Crypto Casino Games
Shiba Inu (SHIB) – Dogecoin Alternative With Utility Across the Ecosystem
Cardano (ADA) – Utility Token With Fast Transactions and Increasing Use Cases
Tron (TRX) – Platform for Processing Safe and Reliable Global Transactions
VeChain (VET) – Business Solutions Platform With IoT Supply Management System
Ripple (XRP) – Digital Payment Network With Low Fees and Multiple Use Cases
Chiliz (CHZ) – Cheap Crypto Used to Purchase Fan Tokens on Socios.com
Investors can read our full analysis of the above $1 cryptos below.
Full Analysis of the Best Cryptocurrencies Under $1
Before making a final decision on the best cryptocurrency under $1 for 2023, investors can take a look at our full analysis of each project below.
1. AiDoge ($AI) – Overall Best Cryptocurrency to Buy for Under $1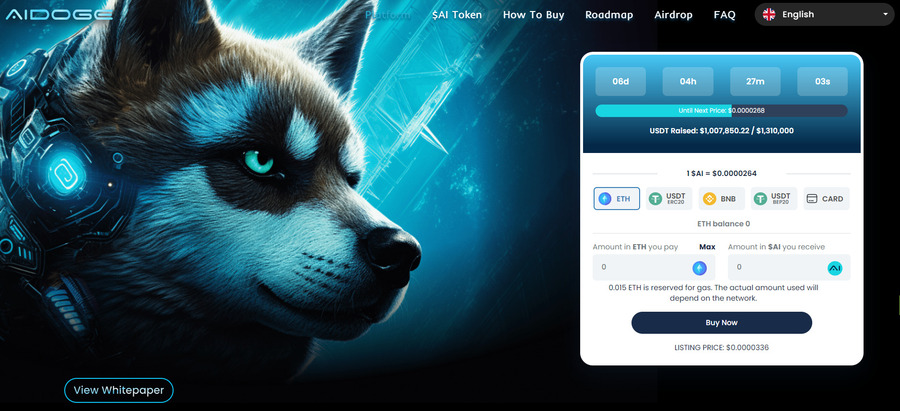 AiDoge ($AI) is a meme cryptocurrency emphasizing AI and prompt-based meme generation. It effectively combines these two trends, considered the hottest in the crypto-sphere right now. As a result of this and several other factors, $1 can yield you almost 40,000 $AI tokens, making it our top pick for under $1 cryptos to buy today.
We've seen tokens in both spheres recently, including Pepe Coin and SingularityNET, which have shown success. However, none of them has managed to combine the two trends, setting AiDoge apart from the rest. Even projects with a similar concept, namely ArbDoge AI, only follow one niche (memes, in this case).
So, why is AiDoge the best cheap token you can buy today? The platform allows users to generate high-quality memes through an AI engine that works with written prompts. In other words, you don't have to be proficient in graphic design or possess any other skill. You only have to type in the request, and the AI will do the rest. It may take some time and several prompts for things to turn out right, as with leading platforms like ChatGPT and Midjourney. Nevertheless, the results are eventually worth it.
You need to invest $AI tokens in order to access the feature, but you'll also get rewarded later on, especially if your meme becomes the most voted one for the month. As a result, this is also a vote-to-earn crypto project, allowing users to vote and earn tokens in return.
The whole system is secured with a staking mechanism, where holders can stake part of their assets to take part in the governance of the network and earn tokens in return. The more you stake, the more you'll make.
All of this, and more, is explained in the crypto's whitepaper that you should review before you start investing.
Moreover, you can join the official Telegram channel to get the latest scoop from participants, but not from the founders themselves. Namely, there is no information about the founders, which might seem suspicious, but it is quite common in the crypto world, especially with meme coins.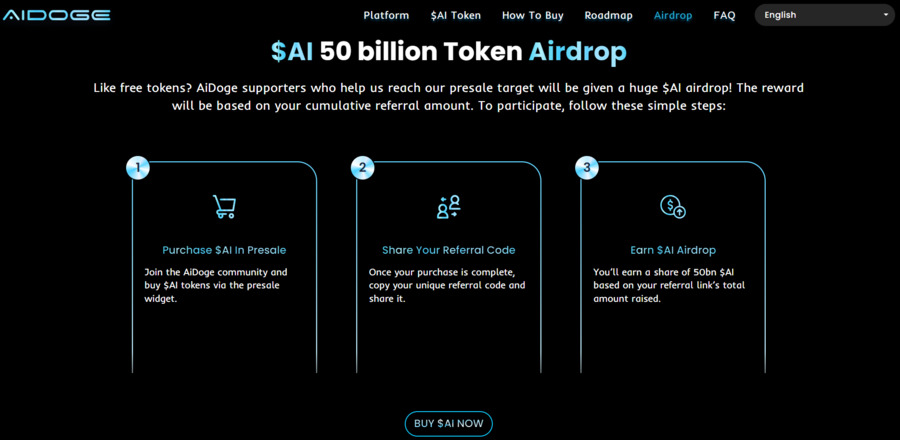 With the various ways AiDoge aims to reward holders and users and the fact that it uniquely combines two hot trends in the industry, it is quite likely that its token will explode after the presale, just like many other similar coins have done in the past. The best examples are ArbDoge AI, Pepe Coin, and Wojak, all of which are simplistic compared to AiDoge, yet have made significant gains recently.
AiDoge is currently in the presale phase, which will have 20 stages, with the token's price increasing slightly with every new stage. It begins at $0.00002600 and ends at $0.00003360, with as many as 500 billion tokens available for purchase. This is half of the total supply, with the rest being used in a 10-year vest and for liquidity, listing, and community rewards.
You can join the presale at any point, for as long as it lasts, and invest as little as $1. However, getting in early is best, as the price will rise over time. The presale has been successful so far, raising as much as $1.3 million at the time of writing.
| | |
| --- | --- |
| Presale Started | April 2023 |
| Purchase Methods | ETH, USDT, BNB, credit card |
| Chain | Ethereum |
| Hard Cap | $14,900,000 |
| Min Investment | 38,461 $AI |
| Max Investment | None |
2. Ecoterra (ECOTERRA) – Green Crypto Project with a Unique Recycle2Earn Mechanism
Ecoterra ranks among the leading cryptocurrencies valued under $1, designed to tackle environmental challenges by offering recycling incentives through its Recycle2Earn ecosystem.
This innovative platform encourages users to contribute to environmental preservation while enjoying financial gains.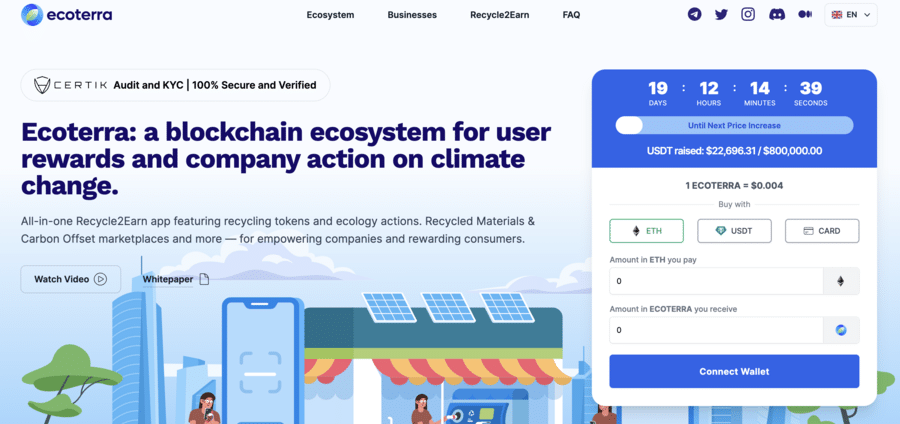 Ecoterra's token presale is currently underway, with tokens available for as low as $0.004 USDT. Early investors can benefit from the tiered pricing system and secure tokens at lower rates.
Using the Ecoterra app, users can earn $ECOTERRA tokens when scanning recyclable items. Once obtained, these tokens can be retained, staked, or allocated to support green initiatives. The user-centric EcoTerra app allows individuals to earn money through recycling. It includes a social network for monitoring their environmental impact and a marketplace for purchasing carbon offsets. Collectively, these features create an eco-conscious solution that encourages responsible behavior on a global scale.

According to Ecoterra's whitepaper, the company's AI-driven database identifies the most appropriate recipient after scanning a recyclable item. The app provides information on the closest Reverse Vending Machine (RVM) to facilitate proper recycling. Users must photograph and upload their receipts to the app to claim their rewards.
The platform's approach is versatile and suitable for various industries, including consumer goods, IT, fashion, and hospitality. It caters to the requirements of various RVM users for recycling purposes. If you are an investor, consider joining the Ecoterra Telegram group to learn more.
| | |
| --- | --- |
| Hard Cap | $6,700,000 |
| Total Tokens | 2,000,000,000 |
| Tokens available in presale | 1,000,000,000 |
| Blockchain | Ethereum Network |
| Token type | ERC-20 |
| Minimum Purchase | $10 |
| Purchase with | USDT, ETH, Bank Card |
3. yPredict – Best Cheap Cryptocurrency for Predicting Financial Market Moves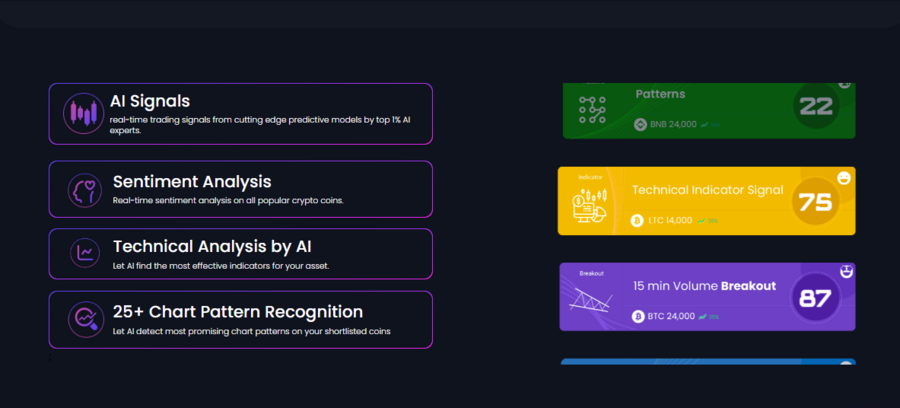 yPredict is a cryptocurrency platform designed to make financial predictions a breeze. The ecosystem relies on machine learning and data science. It helps financial quants and AI experts create predictive models for financial markets, giving traders access to free analytics tools that help them make informed investment decisions.
The reason why yPredict is one of the best cryptos under $1 is compelling. Namely, it offers the solution to some of the biggest problems in cryptocurrency and other financial markets — complexity and unpredictability. The platform helps increase transparency by providing analytical instruments that track, study, and predict possible market changes.
Developers can thus make predictive models and offer access to them through subscriptions, while traders can get reliable predictions that give them an edge in cryptocurrency trading. Moreover, they also get free access to the platform by simply holding yPredict's native token, YPRED. You can learn more about these and other platform features in its whitepaper.
As you can infer, yPredict offers an excellent ROI for both developers and traders. In addition to subscriptions, users can also earn tokens through staking. The platform aims to maintain its liquidity by preserving 10% of all subscription charges, which can create a stable stream of passive income.
Due to its potential, the project has generated a lot of buzz in the first few rounds of the presale. So far, its total earnings have surpassed $900,000 in just a few months. You can currently buy YPRED tokens for $0.05, but its price is set to reach $0.12 by the launch date. We recommend that you join the project's official Telegram channel to be in the loop about the latest developments.
| | |
| --- | --- |
| Presale Started | February 2023 |
| Purchase Methods | ETH, MATIC, USDT, BNB, Card |
| Chain | Polygon |
| Hard Cap | $6,507,511 |
| Min Investment | 200 $YPRED |
| Max Investment | None |
4. DeeLance (DLANCE) – Web 3.0 Recruitment & Freelancing Portal with Fast Payments
DeeLance, an innovative decentralized freelancing and recruitment portal, recently initiated a presale of its native cryptocurrency, $DLANCE. This cutting-edge platform has positioned itself as a top contender among promising cryptocurrencies priced below $1.
The primary goal of DeeLance is to enhance transparency and minimize costs for freelancers and their clients.
During the initial presale phase, each $DLANCE token is priced at a mere $0.025 USDT. Throughout the six stages, the token's value will gradually increase from $0.025 USDT to $0.035 USDT.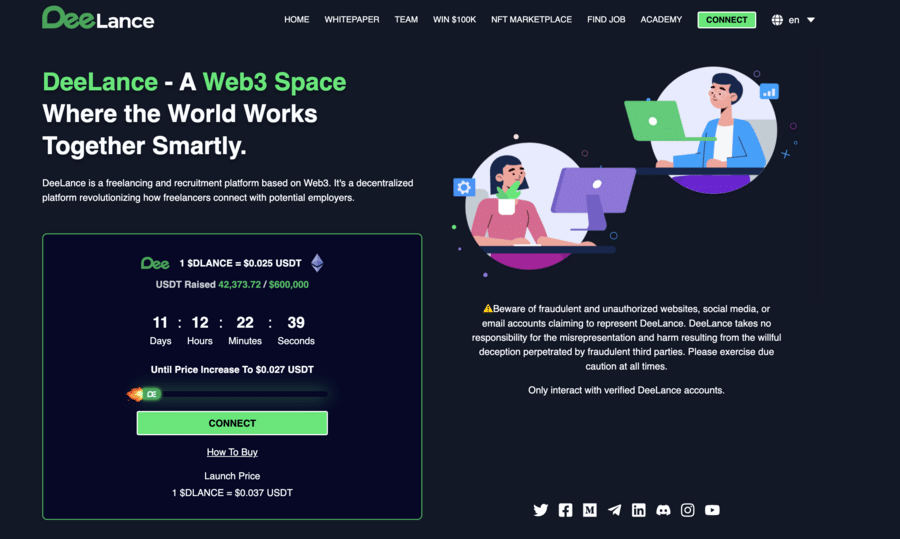 DeeLance uses smart contracts to ensure the secure documentation of all financial transactions on a public blockchain. The platform's ecosystem revolves around three key components: a unique NFT marketplace, a pioneering metaverse, and a platform for discovering and employing new talent. These elements synergize to provide freelancers with a wealth of resources while promoting open communication and digital property rights.
According to the DeeLance whitepaper, the platform incorporates escrow payment services to guarantee timely freelancer payments. With the adoption of cryptocurrency payments, professionals can receive their earnings promptly.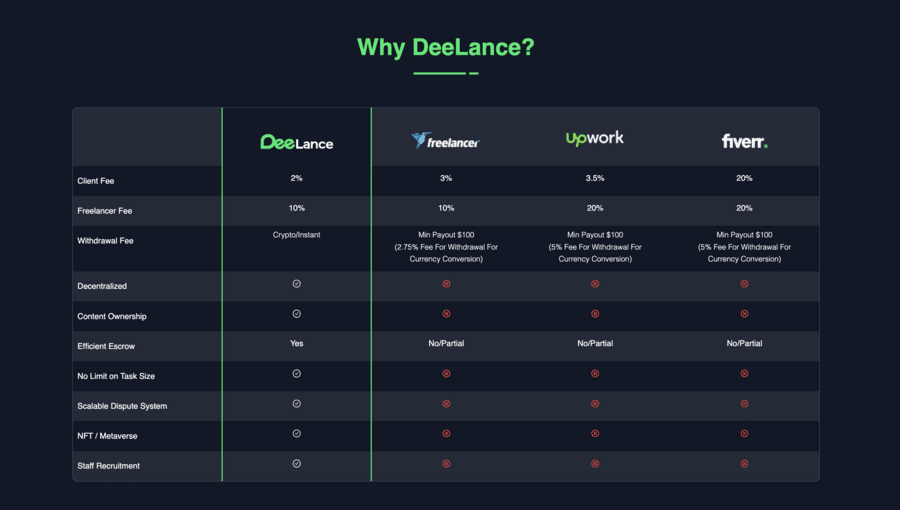 By developing a metaverse for seamless communication between recruiters and freelancers, DeeLance is rapidly expanding its footprint in the cryptocurrency domain. The platform features an NFT marketplace, enabling users to "mint" their work as NFTs and fostering reliable work exchanges between freelancers and recruiters.
DeeLance imposes a modest 2% fee on clients and a 10% fee on freelancers, significantly lower than the charges levied by prominent centralized freelance agencies.
The $DLANCE tokens also allow users to lease virtual offices within the DeeLance metaverse, demonstrating the versatility that renders $DLANCE an attractive investment opportunity.
For further information on this decentralized platform, visit the DeeLance Telegram channel.
| | |
| --- | --- |
| Hard Cap | $6,800,000 |
| Total Tokens | 1,000,000,000 |
| Tokens available in presale | 300,000,000 |
| Blockchain | Ethereum Network |
| Token type | ERC-20 |
| Minimum Purchase | $10 |
| Purchase with | USDT, ETH, Card |
5. Launchpad XYZ – Sub-$1 Crypto Redefining Web 3 Accessibility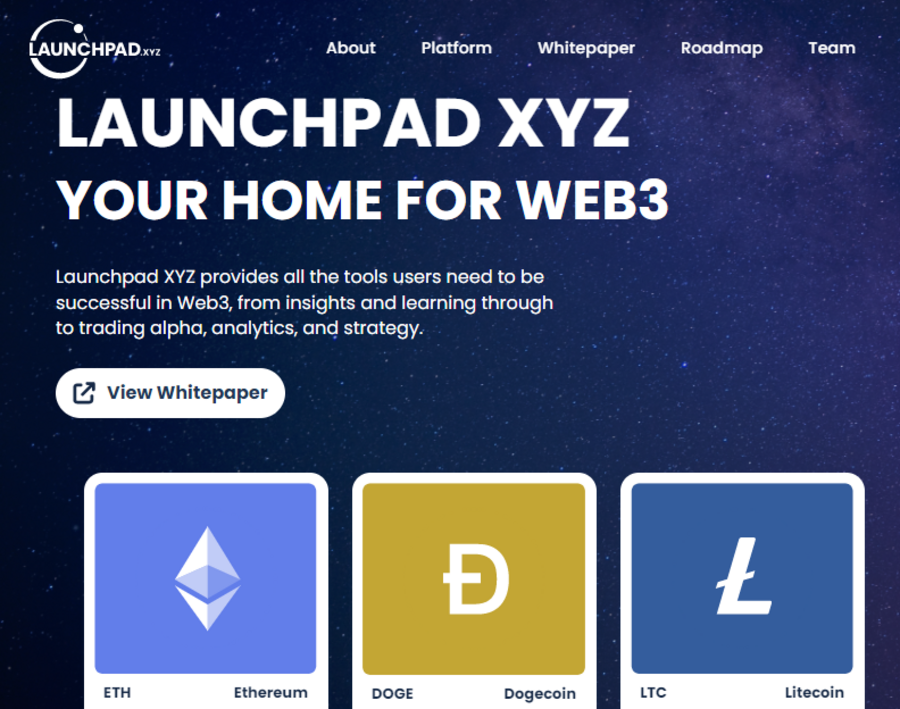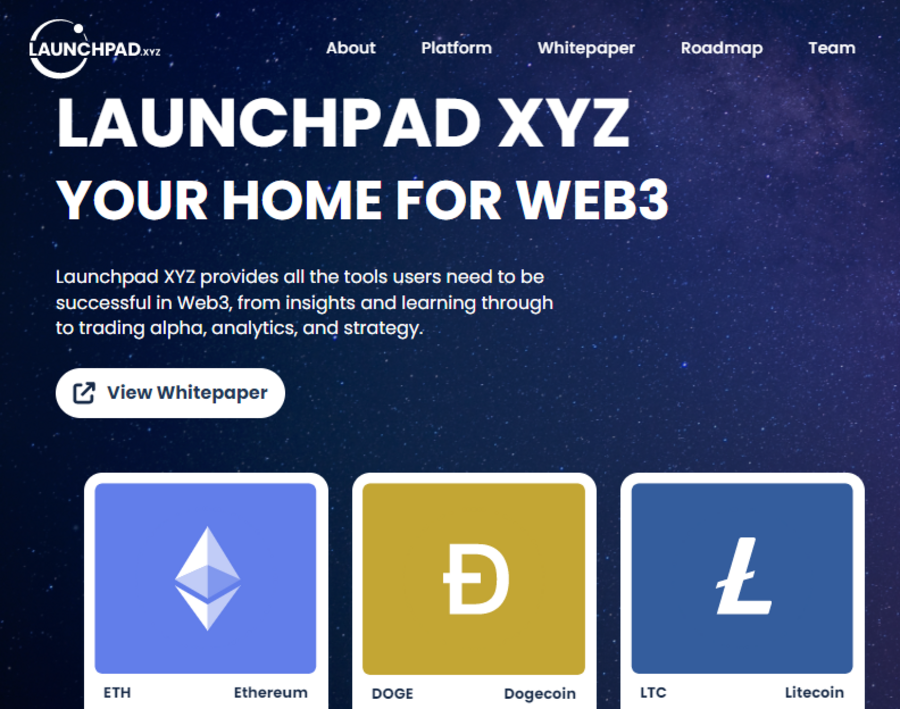 Next on our list of the best cryptos under $1 is Launchpad XYZ. This promising blockchain was created with the aim of simplifying the use of Web3. The platform encompasses tools and metrics helping users navigate the complex realm of Web3, allowing them to seize all its benefits with minimal friction.
Launchpad XYZ is one of the leading projects of its kind, and the creators' goal is for the platform to become the central hub for all things Web3. The project aims to mitigate the complexity of this new technology by offering a user-friendly interface, tutorials, and expert trade insights, integrating different aspects of Web 3 into one comprehensive platform.
Not only will the platform allow users to trade NFTs across different markets, but it will also offer extensive utility token analyses and a trading terminal and allow token holders to earn additional assets through its play-to-earn functionality. According to the whitepaper, Launchpad Quotient (LQ) will give users risk-to-reward assessments to help them make better trading decisions.
Launchpad XYZ has earned more than $300,000 in the first couple of weeks of the presale. Now may be the best time to invest in the project as it's still in its first presale stage, and you can get its native LXP tokens for only $0.035 apiece. By the time the presale ends, the price will shoot up to $0.07. You can get more information on ROI and price movements by following Launchpad XYZ's Telegram channel.
| | |
| --- | --- |
| Presale Started | April 2023 |
| Purchase Methods | USDT, ETH, Transak |
| Chain | Polygon |
| Hard Cap | $12.5 million |
| Min Investment | None |
| Max Investment | None |
6. RobotEra (TARO) – Sandbox Project With Virtual Real Estate in Multiverse and Robot NFTs
RobotEra is one of the best cryptos under $1 for investors who want to be part of a growing NFT community. This is a P2E sandbox game and the team is building a metaverse and a range of playable NFTs.
Speaking of which, players will become robots in this multiverse and are tasked with recreating the planet TARO. This is also the name of the native token. At the time of writing, TARO is another one of the cryptocurrencies under $1 that's on presale. At this time, investors who place a presale order now will only pay $0.02 per token.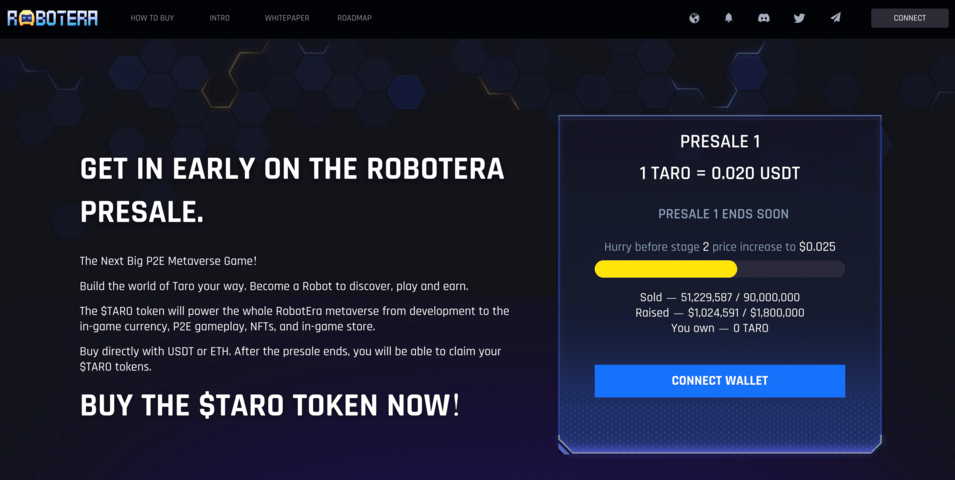 By stage two, this will still be a cheap cryptocurrency to buy, but TARO tokens will increase to $0.025. This P2E economy will allow players to buy digital land, construct buildings, socialize, and organize events.
The land that players buy can also be mined and resources can be used to build so-called robot companions. The best part is, these are offered to players as NFTs and they can be traded with others, or even rented out for extra revenue. Through gameplay, players will be able to explore and uncover rewards.
| | |
| --- | --- |
| Presale Started | Q4 2022 |
| Purchase Methods | ETH, USDT |
| Chain | Ethereum |
| Min Investment | 1,000 TARO |
| Max Investment | None |
7. Swords of Blood (SWDTKN) – Role-Playing Crypto Game to Buy on Presale Now
The next cryptocurrency on our list is $SWDTKN – the native cryptocurrency of the Swords of Blood ecosystem. This hack-and-slash RPG game allows players to enter a virtual gaming environment to battle demons and monsters in dungeons.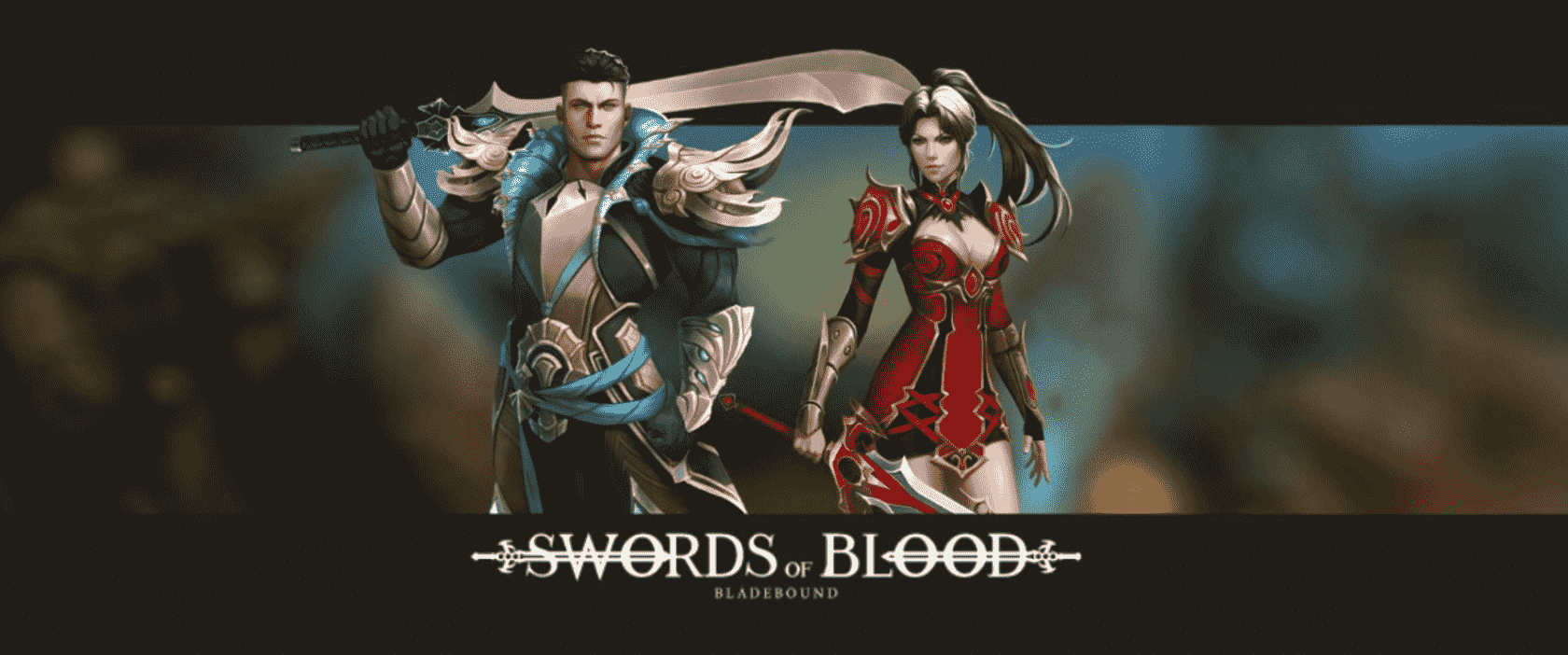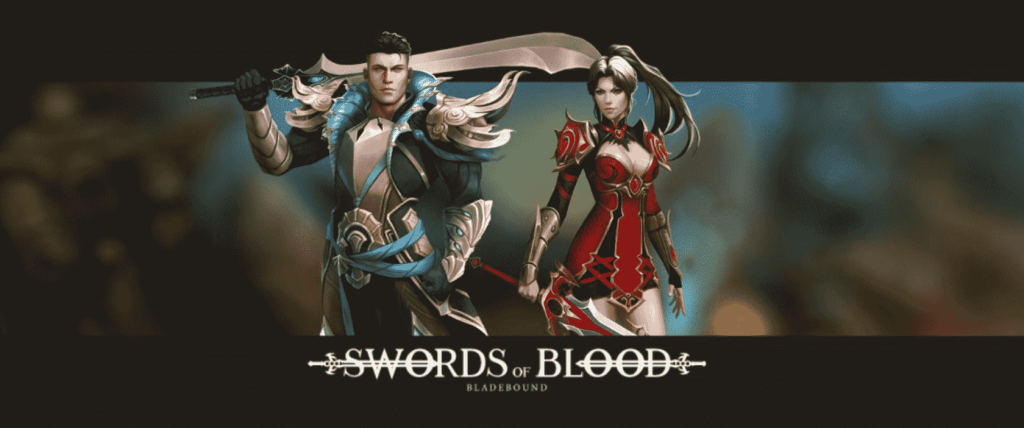 With $SWDTKN, users can purchase premium NFT materials such as weapons and special items to progress faster through the gameplay. In this RPG, you can enter as a dungeon hunter, a grinder, or a bounty-hunting witcher.
A free-to-play game, Swords of Blood focuses on providing quality gameplaye over concentrating just on the monetary aspect. This game allows you to explore different environments, such as ice caverns, marshlands, forests, and ancient ruins.
Swords of Blood lets you take on different bosses, such as the King of Blizzary of the Icy Tower and the Master of Witchcraft. The project plans on offering online gaming modes such as Player v Player battles, campaign modes, and monster hunts.


The NFTs you purchase with $SWDTKN can also be sold on secondary marketplaces. Swords of Blood allows users to sell their NFT icons to generate more revenue. This gaming token is available for $0.07 during the second presale round.
Interested investors can purchase $SWDTKN before the price jumps to $0.08 during the next round. Since the start of the presale, Swords of Blood has raised more than $1.1 million. For the presale, 140 million tokens have been allocated from the overall 1 billion token supply.
To learn more about this exciting crypto gaming environment, read the Swords of Blood whitepaper and join the telegram group.
| | |
| --- | --- |
| Presale Started | 15th March 2023 |
| Purchase Methods | ETH, USDT USDC, DAI |
| Blockchain | Polygon |
| Minimum Investment | N/A |
| Maximum Investment | N/A |
8. Scorpion Casino (SCORP) – The best casino-based crypto under $1 for a high ROI
Scorpion Casino's native token, SCORP, is one of the best casino-based tokens under $1 that can provide a high ROI as the casino gains adoption. In fact, holding the token provides passive rewards of up to $10,000 per day, depending on the casino's performance. The project aims to be the future leading eGambling platform by creating the number one social online gambling platform where users can earn a daily yield based on the casino's performance.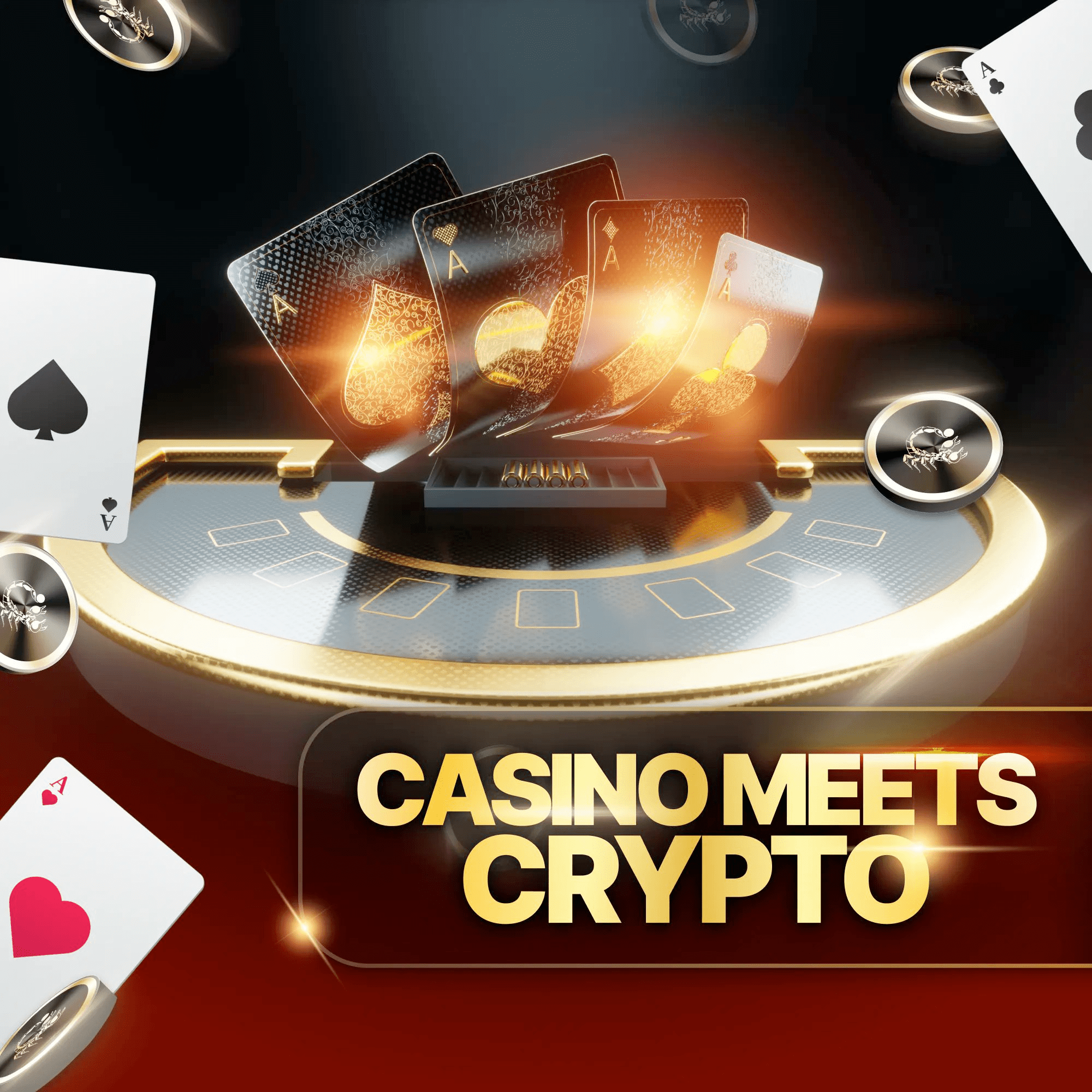 The casino is fully licensed and regulated by the Curacao EGaming licensing entity, making it totally transparent and provable fair. The platform provides a seamless and fun gaming experience for its games as it's connected with all the major gaming providers, such as Evolution, NetEnt, and AMATIC. The casino boasts over 210 games, with 160 live games, including popular titles like slots, roulette, poker, and blackjack.
Furthermore, Scorpion Casino also has a sportsbook section, allowing users to place over 30,000 bets on the outcome of their favorite sports games. The sports betting section has integrated all the major leagues for popular sports like football, basketball, golf, tennis, horse racing, boxing, and MMA – allowing users to bet on their favorite teams and stars.
The SCORP token is the native token behind the platform and is the exclusive payment method through the Scoprion ecosystem. Furthermore, it's the default currency for betting on the sportsbook and casinos. However, the platform also accepts major cryptos like BTC, ETH, and BNB.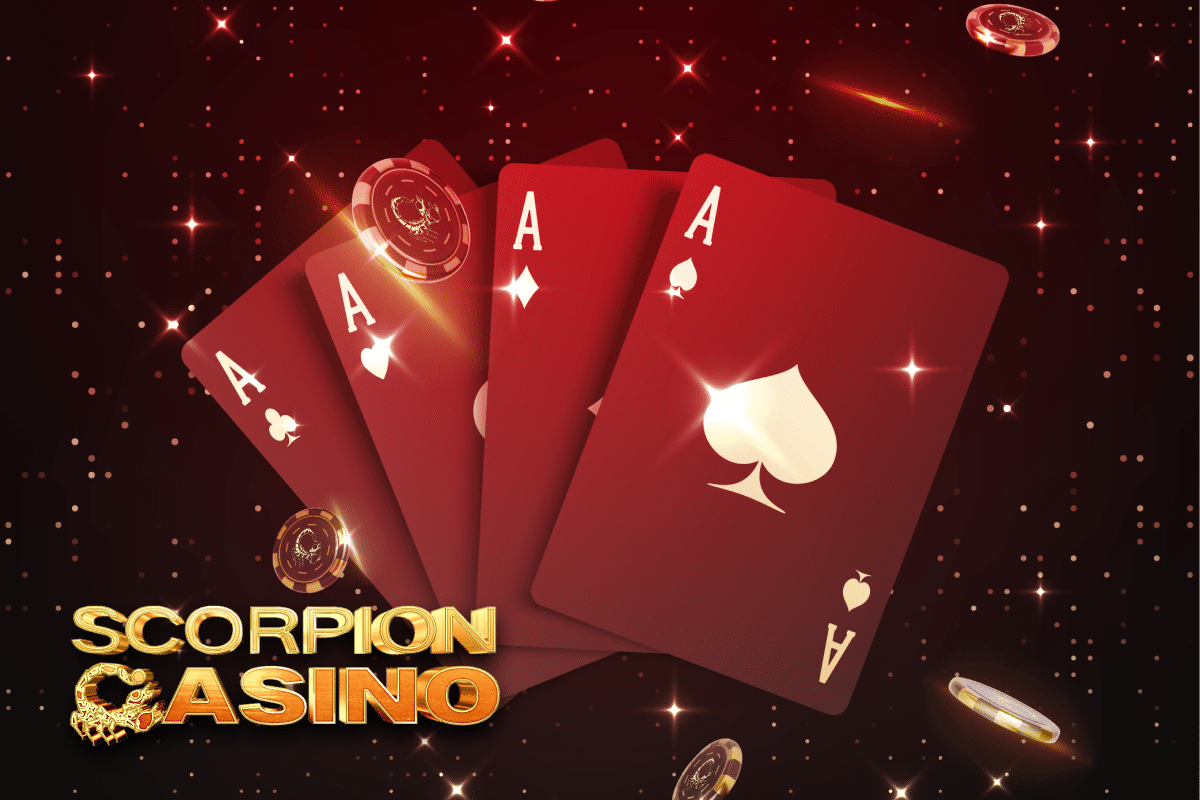 Holders of the token are entitled to passive returns through the 2% distribution tax leveraged on each buy/sell transaction. As a result, holders will see their token balance grow as it becomes more popular. Furthermore, a 1% burn tax also makes the token deflationary.
The project is currently hosting a presale for SCORP, and those that invest more than $1,000 are enrolled in the Elite Scorpion Members Club, which provides VIP services, cashback, and extra staking rewards. Furthermore, users that invest in the presale using the exclusive bonus code Scorpion20 can earn an additional 20% tokens on their investment for a limited time.
| | |
| --- | --- |
| Token symbol | SCORP |
| Presale supply | 200,000,000 SCORP |
| Token type | BEP-20 |
| Payment methods | ETH, USDT, BNB |
| Listing price | $0.05 |
9. Tamadoge (TAMA) – Meme Token With Utility and Arcade Games on the Blockchain
Some of the best cryptos under $1 are meme tokens. Tamadoge is an NFT-based P2E ecosystem backed by TAMA. The team is developing an AR app that will enable gamers to take their NFT pets hunting for rewards in an environment they know.
The most exciting development in the Tamadoge ecosystem is the range of blockchain-centric arcade games. It should be noted that this best gaming coin might not be one for serious gamers.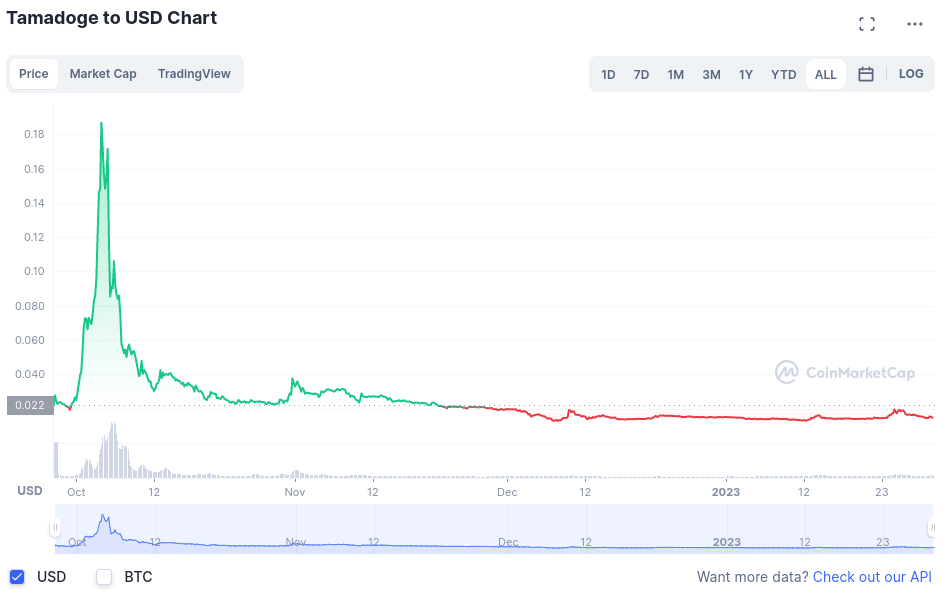 Instead, titles like Super Doge and Rocket Doge have been designed in a more simplistic way. These games are similar to retro platform titles of the 80s and early 90s. For instance, Super Doge is s side scroller game, whereby players collect coins as they go. Players will need to purchase credits using TAMA tokens to play these games. Could Tamadoge be the next crypto to explode?
Follow the link below to find out more about this leading shitcoin. TAMA has a market cap of over $18 million as of writing.
10. Lucky Block (LBLOCK) – Instant Payouts and Thousands of Crypto Casino Games
Lucky Block is one of the best altcoins and cryptos under $1 for fans of casino games. This online casino handles crypto deposits and withdrawals instantly with no KYC process in sight. Furthermore, when you join Lucky Block Casino you could get a 200% bonus up to 10,000 EUR + 50 free spins. Upon making your initial deposit at Lucky Block, you will be eligible to receive a welcome bonus of 200%. The bonus will be given in 10 installments and a maximum amount of 10,000 EUR is up for grabs for those who deposit 5,000 EUR.
Lucky Block accepts a wide range of cryptocurrencies. The casino also supports fiat transactions although these take longer. Those who've visited online casinos before will recognize many of the software developers that power the platform. For instance, Betsoft, Evoplay, NetEnt, Play'nGo, Microgaming, and many others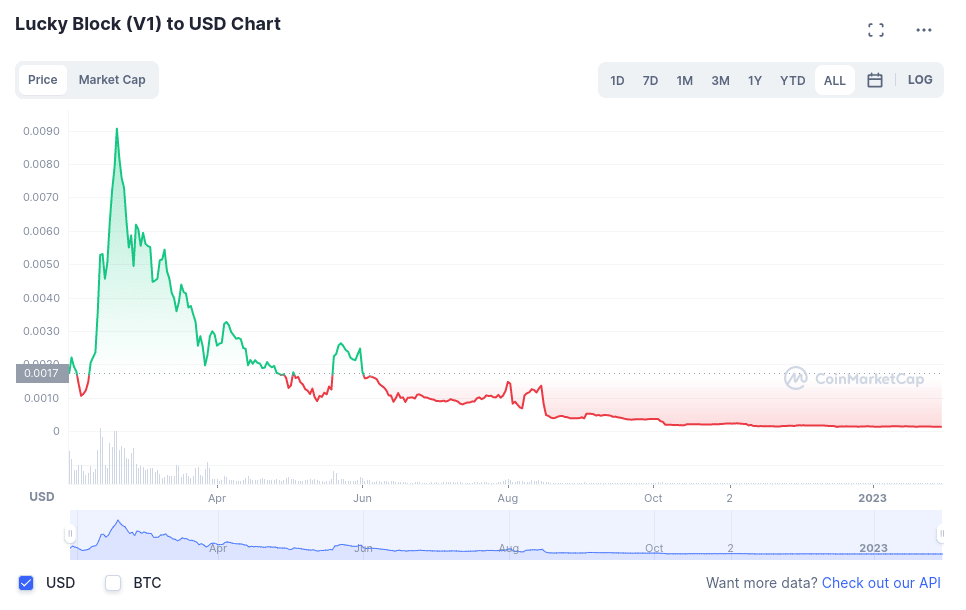 We found games to include a huge range of slots, many of which can be tried out for free in demo mode. There's also a wide variety of classic casino games like baccarat, roulette, blackjack, and poker, with numerous variations of each. Players will find live dealers on lots of games, as well as odds on over 30 sports.
LBLOCK sold out of its allocated presale tokens and once listed became the fastest crypto to hit a market cap of $1 billion. As of writing, LBLOCK has a market cap of just over $4.5 million.
11. Shiba Inu (SHIB) – Dogecoin Alternative With Utility Across the Ecosystem
Shiba Inu (SHIB) is one of the best cryptos under $1 for fans of meme or dog-themed tokens. That said, what started off as a self-proclaimed Dogecoin killer now backs an entire ecosystem. The Shiba Inu ecosystem includes games, a crypto exchange, a metaverse, and more
SHIB backs the ecosystem and is supported by a loyal and active community with ambitions for widespread acceptance. Since its release in August 2020, Shiba Inu has seen phenomenal support and growth. Some investors like Shiba Inu for its low cost, high liquidity, and simplicity.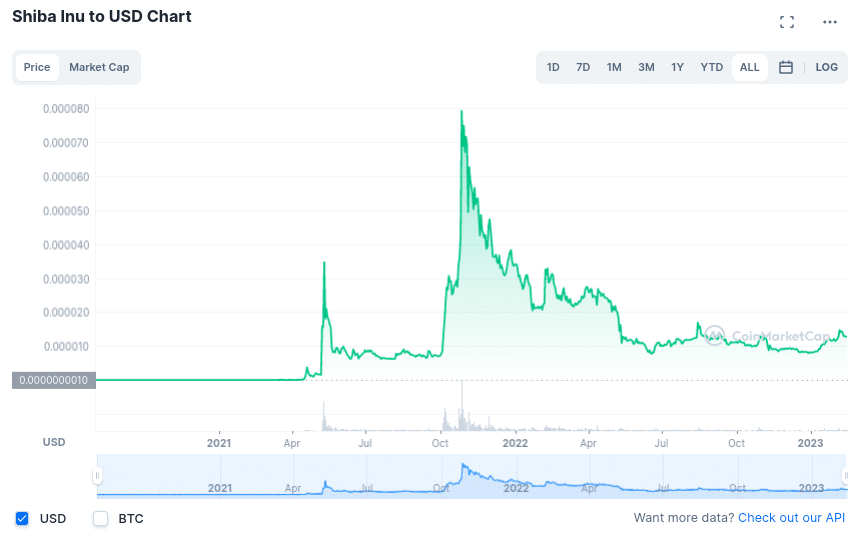 As of writing, there is excitement over the long-awaited news about the layer-2 version of the Shibarium blockchain. This is likely to lower costs even further, as well as speed up transactions and generally improve the broader ecosystem. The market cap of SHIB as of writing is nearly $7 billion.
12. Cardano (ADA) – Utility Token With Fast Transactions and Increasing Use Cases
Cardano (ADA) has long been the best crypto under $1 to buy for fast transactions. The ADA network is extremely scalable, quick, and more environmentally friendly than many other cryptocurrencies. The long-awaited Cardano update – SECP, is welcomed by the Cardano community.
The goal is to improve cross-chain dApp development on Plutus, which is a smart contract platform. This will bring increased cryptographic features to Cardano. As a result, programmers should be able to create apps that link the Cardano network with other blockchains.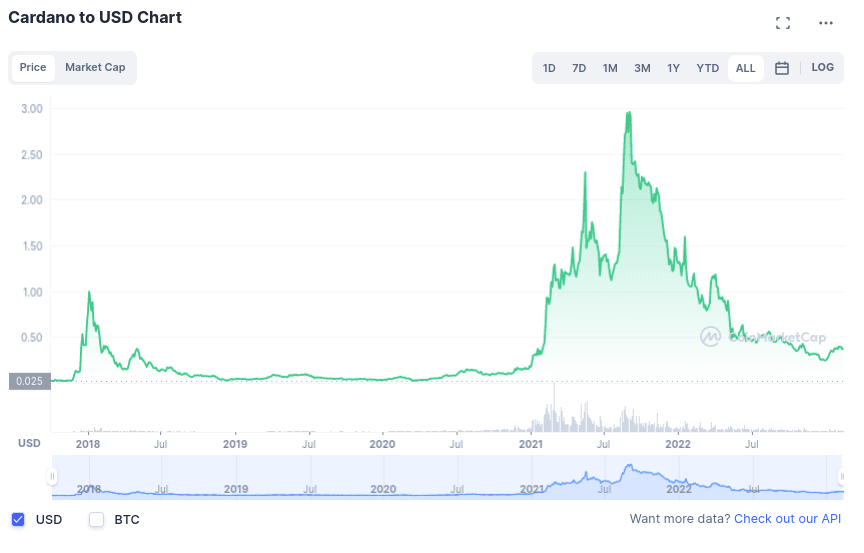 Users of other blockchains would therefore have easier access to the financial services provided by this project's dApps. As such, those who buy this crypto under $1 now might see their investment increase in value in 2023. ADA's market capitalization at this time is nearly $13 billion.
13. Tron (TRX) – Platform for Processing Safe and Reliable Global Transactions
Tron (TRX) is an open-sourced and decentralized blockchain. This was initially based on Ethereum but changed its protocol and moved over to its own native blockchain. This cryptocurrency project aims to address Ethereum's drawbacks. For instance, high transaction fees and limited scalability.
The proof-of-stake consensus algorithm used by the Tron blockchain selects validators based on the number of tokens they own. This allows them to validate network transactions in exchange for crypto tokens. Investors can also participate in staking pools as delegators. Additionally, there's the option to stake their cryptocurrency to earn interest for their network participation.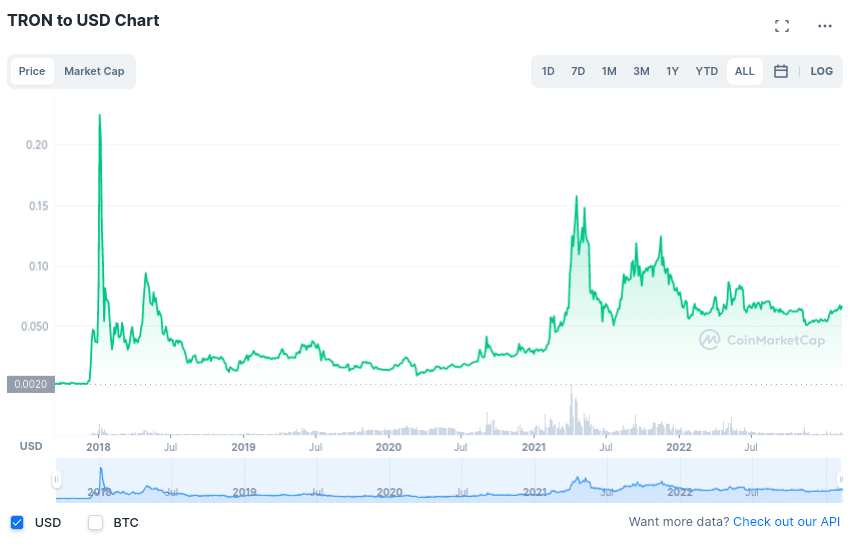 This project is unique from the perspective of developers. For instance, Tron is being developed to permit the utilization of high-level programming languages for all manner of smart contracts. The goal is for future developers to be able to build on top of Tron's open-software architecture. They will be able to do this using any programming language of their choosing.
14. VeChain (VET) – Business Solutions Platform With IoT Supply Management System
VeChain is a safe and reliable blockchain. This platform initially concentrated on a specialized market. This included offering tools for managing the blockchain supply chain. Since then, the project has broadened its scope to include a full-fledged layer 1 network.
This allows it to support smart contracts, NFTs, and DApps and become more scalable while remaining secure. VeChain is aiming to transform the medical industry, supply chain, and carbon tracking, among other real-world use cases and applications.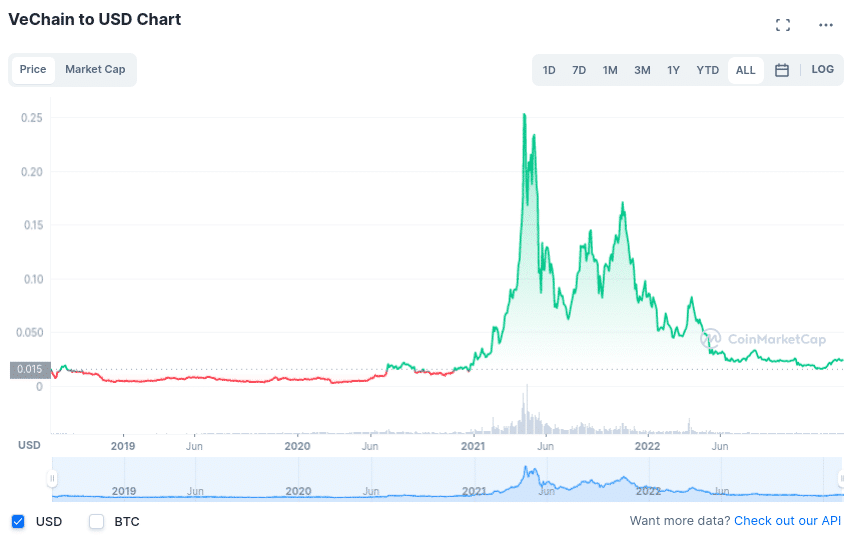 VeChain is also used by a string of well-established Fortune 500 companies. Walmart, H&M, Amazon Web Services, DHL, Renault, and Microsoft are some of the project's largest partners. VeChain (VET) and VeChain Thor Energy (VTHO) are two native coins that support the network.
Moreover, the worldwide blockchain supply chain industry is expected to reach $3+ billion by 2026. As a result, VeChain could play a significant role in this growth, leveraging its innovative solutions to enhance supply chain management and transparency.
VET is used for value storage, governance, market speculation, and transactions between dApps. The market capitalization of VET as of writing is over $1.5 billion.
15. Ripple (XRP) – Digital Payment Network With Low Fees and Multiple Use Cases
Those looking for the best cryptos under $1 will have come across Ripple or its native token XRP. International money transfers are handled through the Ripple payment protocol, which employs blockchain technology. The Ripple platform has collaborated with numerous financial institutions, which utilize its technology.
Ripple is able to offer minimal transaction costs and has lightning-fast processing times. Banks are able to utilize RippleNet to conduct quick, inexpensive, and practical cross-border transactions. As such, Ripple is comparable to SWIFT, the global payments system used by the majority of banks.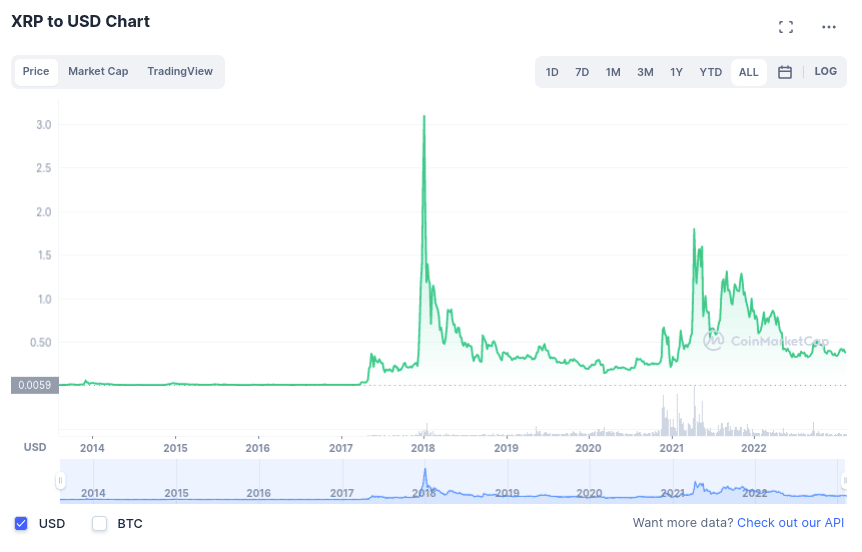 For cross-border transactions in particular, Ripple offers a number of advantages. Notably, it facilitates transactions in around four seconds, which makes it far easier for international banks to settle transfers in real-time.
The market capitalization of XRP as of writing is over $37 billion and its potential utility make it one of the best crypto winter tokens.
16. Chiliz (CHZ) – Cheap Crypto Used to Purchase Fan Tokens on Socios.com
Chiliz (CHZ) is different from the other cheap cryptocurrency projects we've talked about today. This is a fintech company for sports and entertainment and allows fans to hold tokens linked to their favorite clubs.
In a nutshell, fans can go to the Socios.com platform and purchase tokens in order to engage with their favorite teams, and much more. All entertainment products are tokenized, allowing the investor to take ownership of them.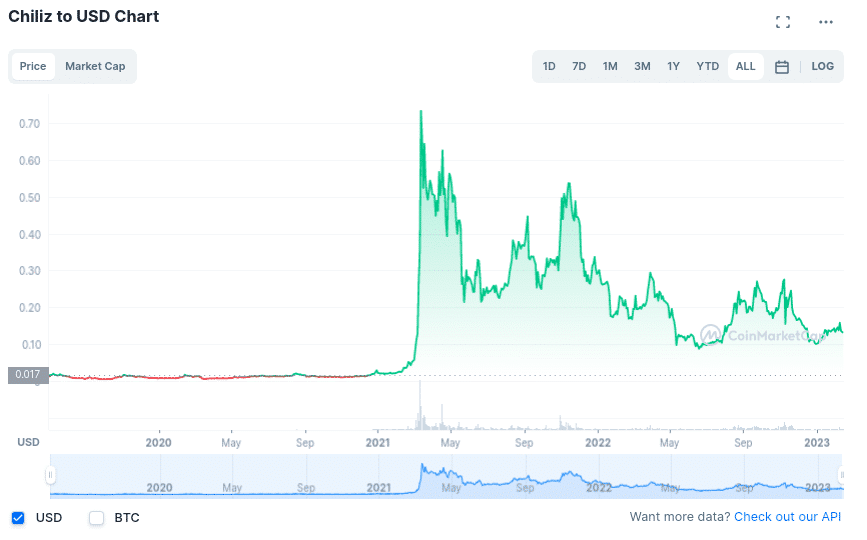 The platform collaborates with some of the top sports teams in the world, including football clubs like Barcelona, Arsenal, Juventus, and Manchester City. As of writing, Chiliz has confirmed the genesis block of a brand-new layer 1 blockchain.
This is a hard fork of the BNB Chain and is compatible with the Ethereum Virtual Machine (EVM). The market cap of CHZ as of writing is nearly $900 million.
Are Cryptocurrencies Under $1 a Good Investment?
Are the best penny cryptos a good investment in 2023? By researching the token and familiarizing themselves with the basics of their selected project, investors will stand a better chance of finding the best cryptocurrency under $1.
See below for some more information on whether crypto under $1 is a good investment.
Diversify at a Low Cost
Investors who opt to find the best crypto under $1 to buy can add more tokens to their portfolio than they would otherwise be able to. This is one of the many reasons many investors are drawn to cheap cryptocurrencies.
As such, the lower price point of these crypto assets makes it much easier for investors to create a diverse portfolio of digital currencies. Diversification is a popular strategy for crypto investors due to the high levels of volatility.
Room to Grow in Value
Despite the risk, history has demonstrated that some of the best cryptos under $1 to buy end up being profitable investments. LBLOCK is an example of a new cryptocurrency that grew rapidly. As we touched on, Lucky Block hit a market capitalization of over $1 billion in record time.
The tokens themselves went from $0.0017 to $0.00906 in just 20 days following the conclusion of the presale campaign. Investors who sold their LBLOCK at the right time were looking at gains of over 430%.
Similar to this, while taking into account their distinctive selling points, some of the best cryptos under $1, such as $LHINU and $AI, also have high growth potential in the next crypto bull run.
Factors to Consider Before Investing in Cryptos Under $1
Cryptocurrencies under $1 can be an appealing investment option for many, especially those new to the crypto market or with limited funds. However, it's essential to consider several factors before deciding whether investing in these low-priced digital assets is a smart move.
First, it's crucial to remember that lower-priced cryptocurrencies often come with higher risks. Many of these coins are relatively new or not yet well-established, which means their long-term success and value are uncertain. Additionally, such tokens may be more susceptible to price manipulation or market volatility.
Researching and understanding the project behind a low-priced cryptocurrency is vital. Evaluate the development team, the use case, and the project's potential for growth.
Look for projects with strong fundamentals, a clear vision, and a dedicated community, as these factors can contribute to the token's future success.
Diversification is also essential when investing in cryptocurrencies under $1. Spreading investments across multiple coins can help minimize risks and increase the potential for overall gains.
Finding the Best Cryptocurrency Under $1
There are a number of ways to find the best cryptocurrency under $1 for 2023.
See a few of the most common below:
Check exchanges and tracking sites – Many popular crypto exchanges and tracking sites (for instance CoinMarketCap) will give investors the option to filter down the results. As such, the investor could choose to view the list of crypto assets starting from the lowest price per token first. There will usually be some information beside each one such as 24-hour price action.
Invest during presale – Some of the crypto under $1 we've discussed today are still available on presale and can be locked in at less than $0.05 per token. Not only does this represent a chance to join a growing community, but early investors get a big discount. For instance, $AI tokens cost just

$0.0000268

each as of writing. However, once listed, they will increase again. This means the tokens automatically rise in value if locked in now.
Look at crypto-centric social media groups – Some investors check platforms such as Reddit and Twitter when researching what the best cryptos under $1 for 2023 might be. For instance, when searching for the best cryptos on Reddit, investors can join groups that discuss crypto exclusively. Examples include r/CryptoMoonShots and r/CryptoCurrency. It's also possible to type keywords and phrases into Twitter to find posts that may reveal cryptocurrencies under $1 with potential.
As such, there are multiple ways to find crypto under $1. As we said, investors should carry out their own research. They might study the whitepaper, which often reveals the roadmap of the project, in addition to tokenomics.
Conclusion
In conclusion, this guide has covered the best cryptos under $1. Based on our thorough research, $AI is the overall best crypto under $1 to buy in 2023. The token is the native crypto of an AI-driven meme-generation platform with vote-to-earn features called AiDoge.
Investors have the chance to purchase $AI at a reduced cost before it starts trading on cryptocurrency platforms following presale. $AI tokens are only $0.0000268 each as of writing.
FAQs
What is the best crypto under $1?
What is a good cheap cryptocurrency?
Which cryptocurrency will reach $1?