Crypto adoption is rising throughout the world, and Malaysia is no exception. Moreover, Malaysia is often ranked highly in Asia, with as many as 23% of Malaysians owning or using crypto as of 2023, ahead of countries like Indonesia, South Korea, and Australia.
Using or simply holding any crypto necessitates the use of a wallet. However, you still need to worry about it covering a wide range of coins, offering top-notch security, providing added features like trading and staking, and more.
That's why we aim to assist crypto investors in finding the best crypto wallet in Malaysia. Read through our list to find the right one for you and learn everything you need to know about crypto wallets.
Top Cryptocurrency Wallets for Malaysian Traders
We've prepared detailed reviews for every best crypto wallet for Malaysian traders, but before we get into them, let's glance at all ten. Here's the list with a short description for each, explaining what makes it a great choice:
Best Wallet – An upcoming crypto wallet in Malaysia that places user privacy, security, and control over assets at the forefront of its design. It also offers an AI-powered chatbot that provides real-time insights.
eToro

— Established and popular

crypto wallet in Malaysia

, with a reputable and trusted crypto exchange. Great for beginners but offers a variety of advanced features for more experienced traders.

Luno Wallet

— Reputable and fully licensed crypto wallet and exchange in Malaysia. Regulated by the Securities Commission Malaysia and ideal for people new to cryptocurrencies.

ZenGo

— Highly secure non-custodial

crypto wallet app

coming with no keys or seed phrases. It comes with NFT support and can be used on iOS and Android devices.

Exodus

— Top choice for beginners due to its simple design and quality customer support. Offers cold storage through its partnership with Trezor.

Mycelium

— Mobile-only crypto wallet with top-notch security and privacy features. Integrates easily with most hardware wallets and uses open-source software.

MetaMask

— Great web3 crypto wallet with NFT and dApp support. It allows storage of more than 450,000 coins and tokens and is incredibly easy to set up.

Ledger Nano S Plus

— Leading

crypto hardware wallet

for Malaysians. Comes from one of the most reputable hardware wallet providers on the planet. Allows storage of more than 5,500 assets.

Lumi Wallet

— High-level encryption web wallet using advanced cryptography. Allows you to buy, sell, and exchange more than 1,200 coins and tokens.

Trezor Model One

— Highly secure Bitcoin hardware wallet. Trezor Suite works on desktops, browsers, and mobile phones. Supports more than 1,200 coins and assets.
What Is a Cryptocurrency Wallet?
A crypto wallet is a digital application that can be installed on your phone, desktop, laptop, or through dedicated hardware. You use it to access your crypto assets.
A typical crypto wallet lets you:
Store crypto

Send crypto

Receive crypto
Some crypto wallets have added functions like buying, selling, trading, exchanging, and staking cryptocurrencies. Others are web3-based, meaning they can integrate with dApps and store NFTs.
Malaysia crypto wallets are just applications that effectively work as mediums for easy access to cryptocurrencies. However, the coins are within a unique address that operates on the blockchain.
Even though it doesn't store crypto directly, a crypto wallet is necessary for the modern age, as long as you need to do more than hold specific crypto assets.
Most crypto wallets can store a few dozen or even thousands of cryptocurrencies, while others are more focused, like Malaysia Bitcoin wallets, that allow Malaysians to store only bitcoins.
The most crucial function of any crypto wallet is to store cryptocurrencies safely, which is why the quality and diversity of security features and options should matter the most when looking for the best crypto wallets in Malaysia.
Why You Need a Crypto Wallet
One sentence effectively describes the need for crypto wallets — just as we use banks to store and keep our fiat money safe, we use crypto wallets to store our crypto assets securely. For instance, if you use it to store BTC, it's effectively your Bitcoin account.
However, that's not the whole picture. Crypto wallets can come in many shapes and sizes with more or fewer features. On top of that, they are typically fully decentralized, unlike banks.
With that out of the way, here's an overview of all the most important reasons for using Malaysia crypto wallets:
Access crypto

— The

best Bitcoin wallets in Malaysia

let you view your digital funds balance through a dedicated dashboard, like an online bank or e-wallet.

Store crypto

— As stated, the main reason for having a crypto wallet is to store crypto funds. You're not required to have a software or hardware wallet, as you can always use a paper to write down your address, but you won't be able to access and view your funds easily.

Send crypto

— Sending any amount of any cryptocurrency is effortless with a good

crypto wallet app

. You can move the funds to any other address. This also includes paying for goods and services provided by companies that accept crypto.

Receive crypto

— Just as you can send cryptocurrencies, others can send them to you. Their location in the world doesn't matter, nor does the size of the transaction, at least with most cryptocurrencies used today.

Secure storage

— The best way to keep your assets safe is to use a hardware wallet or another highly encrypted wallet app. Without a wallet, you'll have to write down your address or store it on a device, and either method isn't very secure.

Trading

— The

best crypto wallet for Malaysian traders

, eToro,

lets you trade various cryptocurrencies, swapping them for other coins or even fiat currencies.

Gain easy access to the web3 economy

— Web3 crypto wallets, like MetaMask, can store thousands of tokens and NFTs and connect with any decentralized application.
Best Crypto Wallets in Malaysia Reviewed
Now that you know what our top picks are, how crypto wallets work, and why you need them, let's go into detailed reviews of each one.
1. Best Wallet – Innovative Crypto Wallet in Malaysia With High Security, Simple Interface, and AI-Powered Assistant
Best Wallet has emerged as a leading contender for Malaysia's top crypto wallet thanks to its robust security, multi-chain compatibility, and AI-driven functionality.
Best Wallet's ability to interact smoothly with various blockchains sets it apart. Unlike conventional single-chain wallets, this multi-chain compatibility offers users broader flexibility and convenience, simplifying cryptos' purchase, sale, and staking.
The Best Wallet extends beyond a digital asset storage system to become a full-fledged Web3 ecosystem. Its distinctive features are designed to ensure its users need no other platform for managing their assets. The wallet will soon be live, but until then, users can join the waiting list.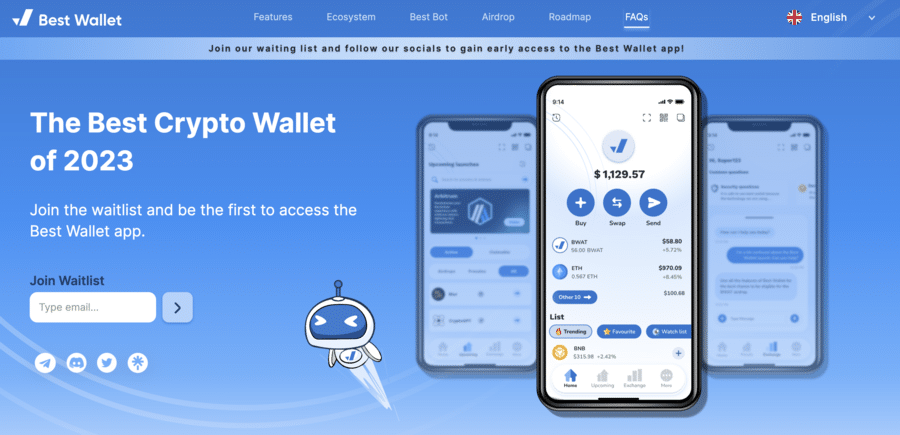 To cater to the rapidly growing NFT market, the Best Wallet also integrates an NFT gallery, allowing users to manage, buy, sell, and trade NFTs, delivering a more engaging and user-friendly experience.
One of its standout features is the Best Bot, an AI assistant powered by OpenAI, designed to provide users with real-time updates about market trends. This is particularly beneficial for beginners, helping them stay ahead of the curve in the volatile crypto space.
For enhanced user benefits, Best Wallet also introduces a native token, $BWAT. Holders of $BWAT enjoy privileges such as gas fee waivers and early presale access, presenting a tangible advantage in the fast-paced DeFi ecosystem.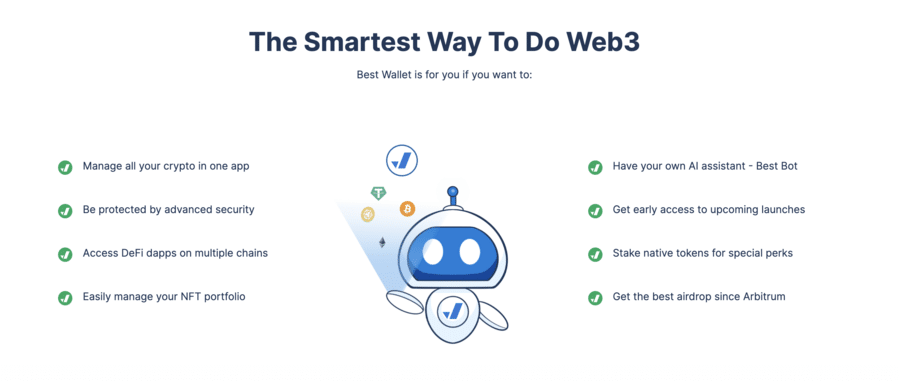 From a security perspective, Best Wallet addresses the serious concerns in today's crypto world. It utilizes advanced cryptographic techniques, multi-factor authentication, and biometric security features to create a secure user environment.
In essence, the Best Wallet bridges the gap between security and user-friendliness, making it a viable choice for both seasoned crypto users and beginners in Malaysia's growing crypto landscape.
Pros
:
Multi-chain compatibility for seamless interaction with DeFi platforms.
AI-powered Best Bot for real-time market updates.
Advanced security features include cryptographic techniques, multi-factor authentication, and biometric security.
Integrated NFT gallery for managing, buying, selling, and trading NFTs.
Cons
:
Still not live; hence actual user experience and potential technical issues remain untested.
| | |
| --- | --- |
| Wallet type | Decentralized |
| Number of supported cryptos | Multiple |
| Fee for buying Bitcoin | – |
| Mobile app | Yes |
| Features | AI-powered chatbot, Multi-chain support, NFT support, High security, $BWAT staking for additional rewards. |
2. eToro — Popular Crypto Wallet for Malaysian Investors Offering Staking and Unlosable Private Keys
eToro is a multi-asset trading platform that deals with everything from stocks and ETFs to CFDs and cryptos. It also works as a cryptocurrency wallet, allowing users to trade over 70 major cryptos, including Bitcoin, Ethereum, Bitcoin Cash, XRP, and Litecoin.
eToro is often ranked among the best forex brokers on the market, but it's also incredibly effective with cryptocurrencies. It allows you to store, buy, sell, trade, swap, and even stake cryptos, making it one of the most robust crypto exchanges for beginners and advanced users.
The platform can be used on its own, or you can use the separate eToro Money app, which is effectively a crypto wallet as well. Using either or both is entirely up to you, but it's worth noting that the app is one of the best iOS crypto wallets any Malaysian can easily use.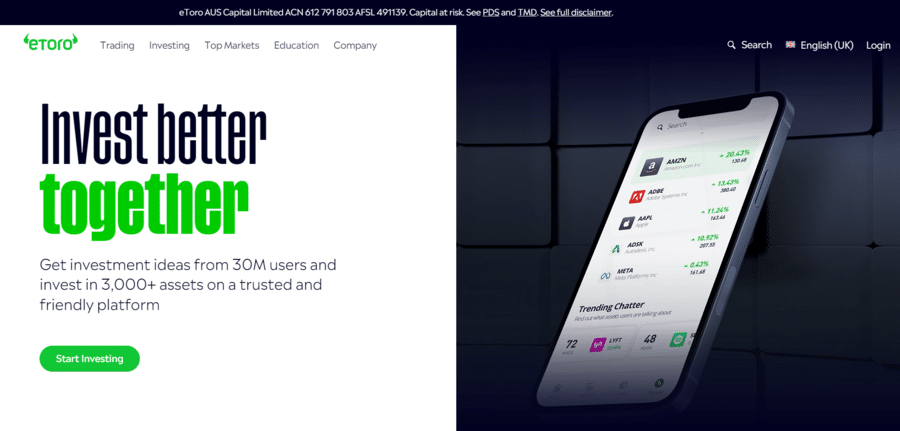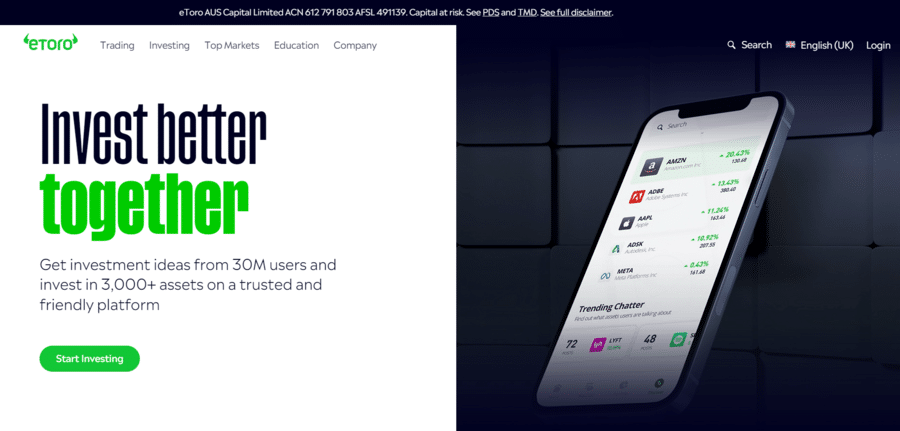 Another reason why eToro is a popular crypto wallet in Malaysia is that it's fully regulated and boasts licenses from reputable regulatory bodies worldwide, including ASIC, CySEC, FCA, and FinCEN.
The platform is a centralized service offering a custodial wallet, meaning you are not the owner of your private keys. This is a downside, but the app still uses robust security features like private key encryption, biometric authentication, Two-Factor Authentication, PIN codes, and even transaction confirmation. With the company's strong reputation, there's no reason to worry about security.
One of the best aspects of eToro is that it contains advice and insights from other investors, so you're free to copy some if you believe it will yield profits. A demo option allows you to trade with $100,000 in virtual money entirely risk-free to test its various features.
Pros
:
High security and cold storage
Many security features and options
Regulated in several regions
Easy to use
Ideal for beginners
Staking options with high rewards
Trading advice for free
Cons
:
Custodial wallet, keeps control over your keys
App doesn't have the same functions as the site
| | |
| --- | --- |
| Wallet type | Hot wallet with cold storage |
| Number of supported cryptos | 70+ |
| Fee for buying Bitcoin | 1% |
| Mobile app | Yes |
| Features | Staking, interest, CFD trading, analysis, investor advice |
3. Luno Wallet — Reputable and Licensed Malaysian Crypto Wallet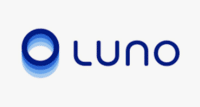 If you're looking for the most popular Bitcoin wallet in Malaysia, you can hardly go wrong with Luno. The wallet is optimized for Malaysians and is one of the few crypto exchanges and wallets in the country with a license to operate here.
Luno is a multi-signature hot wallet with deep freeze storage, holding most cryptocurrencies in a deep freeze state. In other words, the keys are generated and stored offsite and offline. Bitgo Custody and Fireblocks handle security.
Moreover, if you want to pay online with Bitcoin, there's no need to worry, as Luno requires you to authorize every transaction.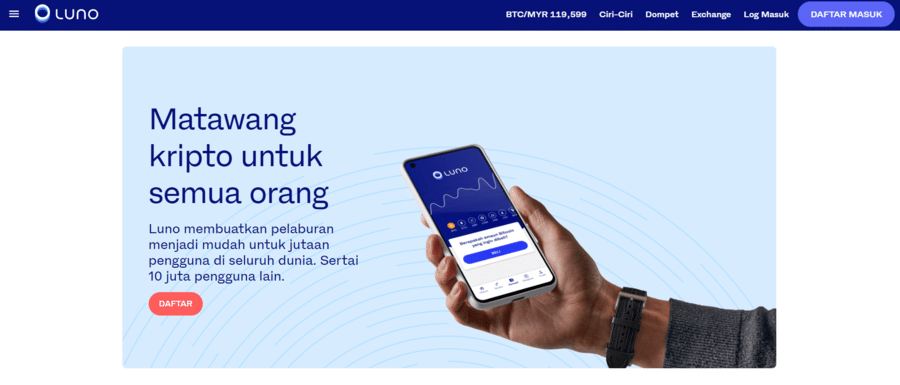 The app allows only around ten cryptos to ensure high security, as this is one of Luno's cornerstones. You can store, buy, sell, and trade coins like Bitcoin, Ethereum, Bitcoin Cash, Litecoin, XRP, and Cardano. The important thing is that you can buy all of these using Malaysian ringgits.
The app is easy to use and requires minimal hassle around verification. The system takes only a few minutes to verify most accounts.
Pros
:
Regulated by Malaysia Securities Commission
All cryptos available for purchase with MYR
High security standards and advanced features
Multi-signature wallet, keys stored offline and offsite
Beginner-friendly trading
Cons
:
Limited features and cryptocurrencies
High transaction fees
| | |
| --- | --- |
| Wallet type | Hot wallet |
| Number of supported cryptos | 10+ |
| Fee for buying Bitcoin | 2% |
| Mobile app | Yes |
| Features | Trading, saving with interest |
4. ZenGo — Highly Secure Crypto Wallet App Without Private Keys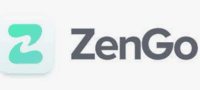 ZenGo is a self-custodial software wallet that proclaims to have zero seed phrase vulnerability. This is mainly because it's powered by MPC or Multi-Party Computation, a different field of cryptography that allows for private keys to be created by multiple parties without them revealing secrets to each other.
Additionally, the ZenGo wallet provides a built-in web3 firewall and a wallet recovery model for when things go wrong. The exciting part is that backup works with face-mapping, meaning the wallet uses your face to ensure you are the only person who can recover your funds.
ZenGo can store over 70 crypto assets, including Bitcoin, Ethereum, Dogecoin, Tether, Polygon, and Tezos. It also allows you to keep NFTs, DeFi apps, and dApps, making it one of the most comprehensive Malaysia crypto wallets.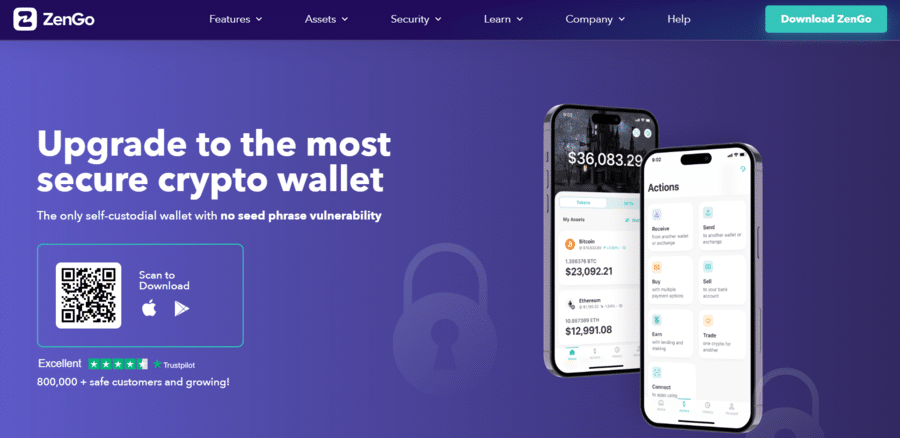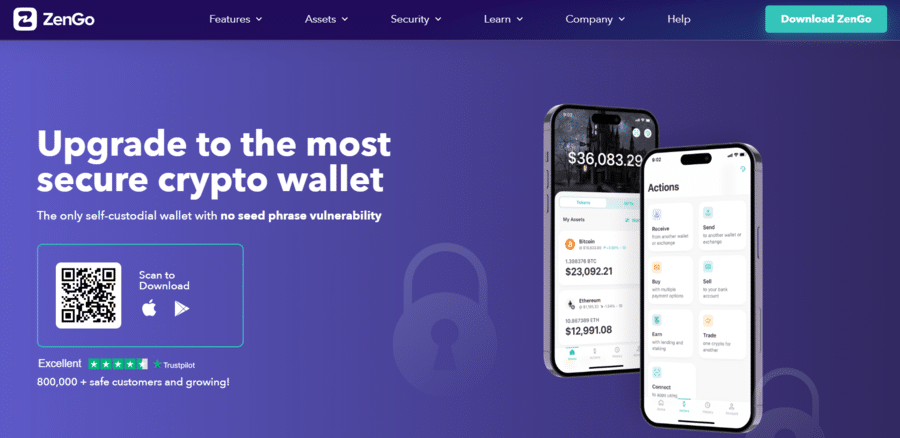 You can store, buy, sell, swap, and even earn interest from your crypto assets. ZenGo lets you stake certain coins, notably Tezos, and make more than 5% interest.
Pros
:
MPC provides no seed phrase vulnerability
Staking yields more than 5% interest
Efficient wallet recovery model
24/7 customer support via live chat
Great user experience
Cons
:
Complex pricing model
Lacks support for several popular coins
| | |
| --- | --- |
| Wallet type | Hot wallet |
| Number of supported cryptos | 70+ |
| Fee for buying Bitcoin | 1.99% with bank transfer and 5.99% with credit card |
| Mobile app | Yes |
| Features | Staking, interest |
5. Exodus — Best Crypto Wallet for Beginners
Exodus is an industry leader in non-custodial wallets. It's ideal for beginners but suitable for advanced users, too, thanks to its comprehensive suite of features.
It's highly user-friendly and supports multiple devices. It features a mobile app for iOS and Android, a browser extension for Chrome and Brave, and a desktop platform for Mac, Windows, and Linux.
The wallet supports more than 260 cryptocurrencies, but it's also capable of storing NFTs and supports DeFi apps. That's because Exodus is a multichain web3 wallet. The app also lets you buy, sell, swap, and trade cryptocurrencies.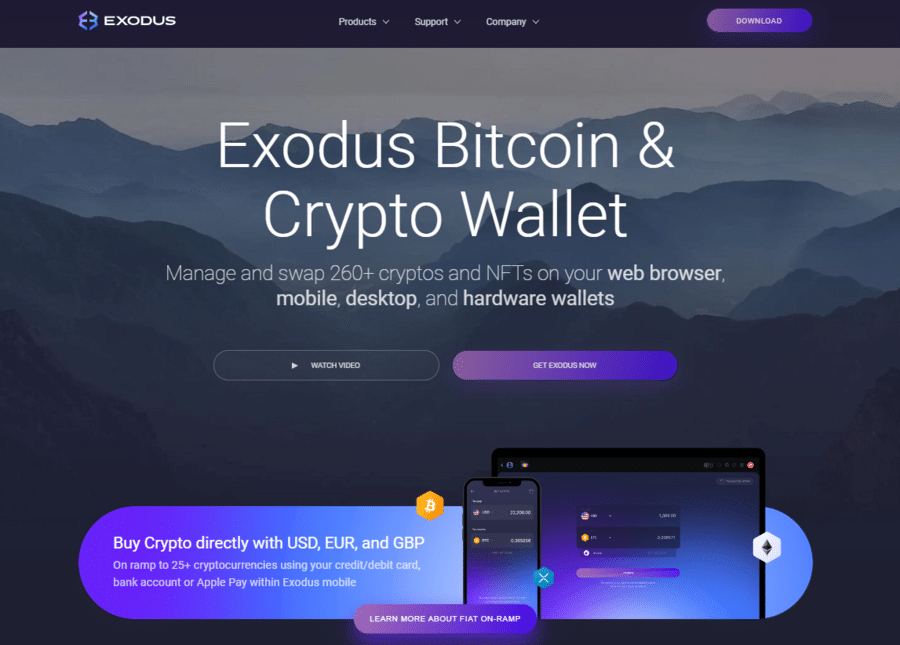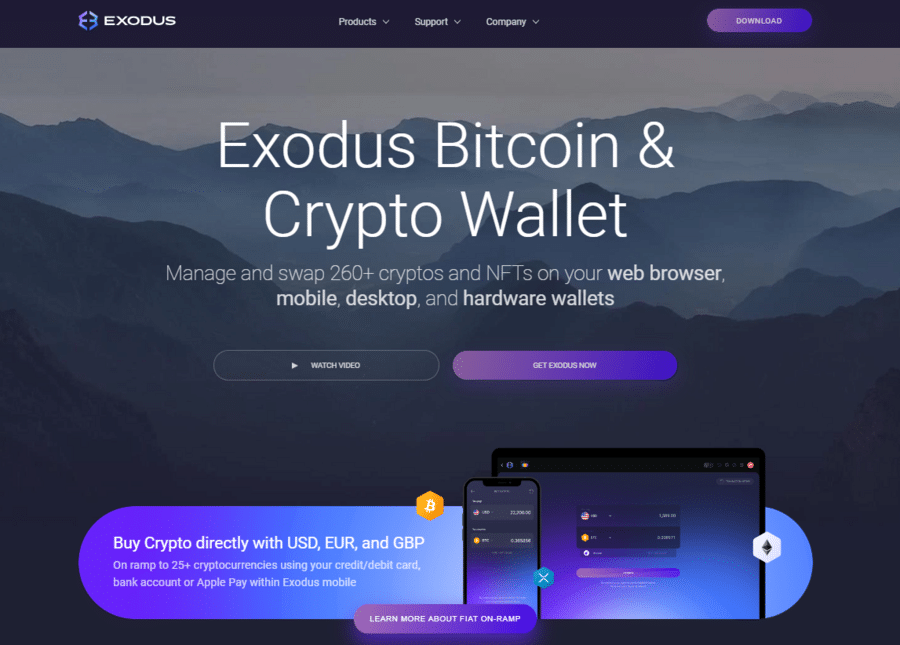 Exodus uses top-notch security, but it still features closed-source software, meaning you have to trust Exodus that everything is secure. Thankfully, Exodus has teamed up with Trezor, allowing you to safely store your assets in cold storage with a Trezor device. This fact alone makes it one of the best Bitcoin wallets in Malaysia.
No biometric authentication options exist, but Exodus still offers 2FA and 12-word recovery phrase storage.
Pros
:
User-friendly interface, suitable for beginners
Highly favorable user reviews
24/7 customer support
Cold storage through Trezor
Staking options
No fees for buying crypto
Cons
:
Closed source software
No embedded 2FA
| | |
| --- | --- |
| Wallet type | Hot wallet (cold storage with Trezor) |
| Number of supported cryptos | 260+ |
| Fee for buying Bitcoin | None |
| Mobile app | Yes |
| Features | Staking, interest |
6. Mycelium — Mobile-Only Online Bitcoin Wallet With Top-Notch Security and Privacy Features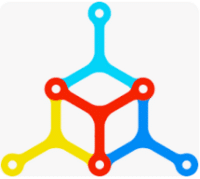 Mycelium is a mobile-only hot wallet with a high focus on security. It's non-custodial and fully supports the "not your keys, not your coins" mantra. Besides giving you complete control of your keys, Mycelium is separated from centralized exchanges, so you don't have to worry about any issue that may occur on a CEX. As long as your crypto assets are in your Mycelium wallet, they are safe.
Even though it's mobile-only, the wallet is recoverable with only your seed phrase, so you don't have to worry about something happening to your smartphone.
With these security features, it's one of the most secure Bitcoin wallets for Android devices.
Moreover, Mycelium is one of the top crypto wallets in Malaysia when it comes to privacy. It doesn't require personal details, so you can effectively stay anonymous.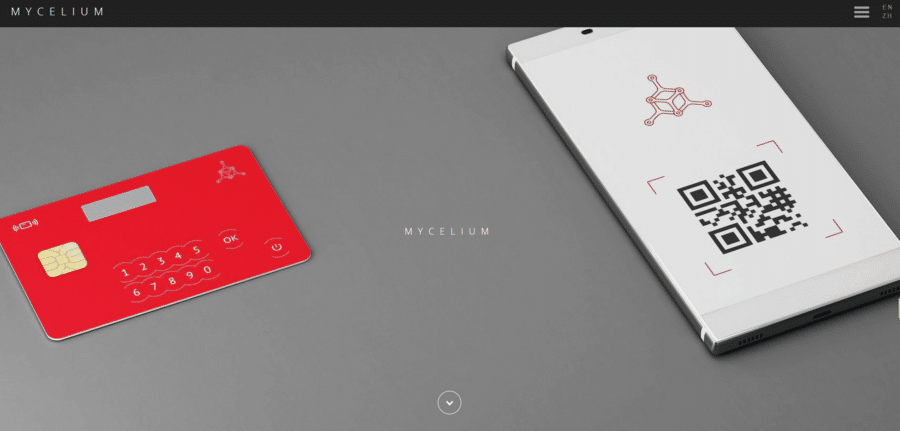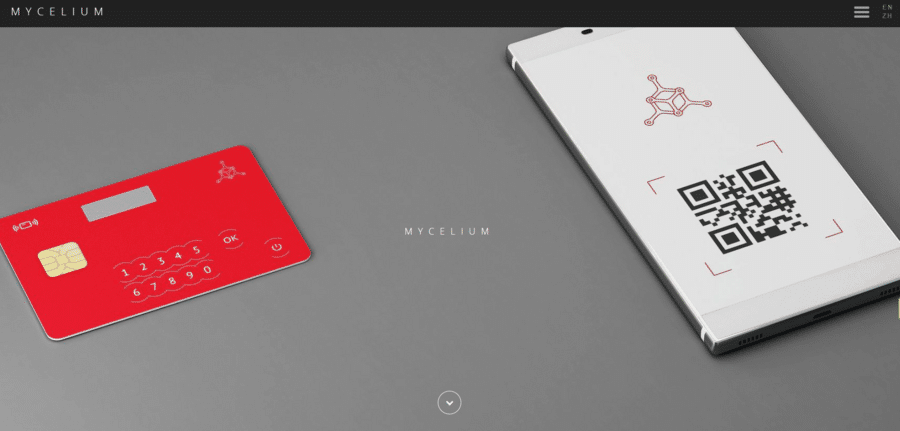 Despite being highly secure and offering hardware storage support, Mycelium can still be problematic for some as it's mobile-only. You cannot use it on a desktop or some other device.
Mycelium is stored and traded through the Local Trader feature and supports all other standard wallet options. There is no staking, though, and the app has limited coin support. Besides being a Bitcoin account, the wallet supports Ethereum, Tether USD, Binance USD, Huobi Token, Zero X, and other ERC-20 tokens.
Pros
:
Very high security
No personal information required
Hardware storage support
Simplified payment verification
No CEX exposure
Excellent track record
Cons
:
Mobile-only
Limited selection of coins
Not suitable for beginners
| | |
| --- | --- |
| Wallet type | Hot wallet (cold storage support) |
| Number of supported cryptos | 90+ |
| Fee for buying Bitcoin | Varies from $0.25 to $8 |
| Mobile app | Yes |
| Features | Trading only |
7. MetaMask — Great Web3 Malaysia Crypto Wallet With NFT and dApp Support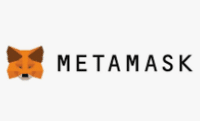 MetaMask is one of the most popular web3 wallets (more than 30 million users). It's the go-to option for people looking to enter the token and NFT space. It also aspires to be your gateway to blockchain apps, which it hopes to achieve with its broad support for decentralized applications, new crypto projects and tokens, and more.
The app offers a full suite of crypto wallet features, letting you buy, send, store, and swap tokens. It's one of the top Ethereum wallets due to its full support of Ethereum, ERC-20 tokens, and Ethereum-based decentralized apps.
The wallet is simple to install and use, as it was made with beginners in mind. However, that doesn't mean that security is low. It's non-custodial, so the private keys are entirely yours, and the company doesn't store any of your personal data on its servers. This means it is up to you to protect your seed phrase, which MetaMask warns you about during the wallet creation process.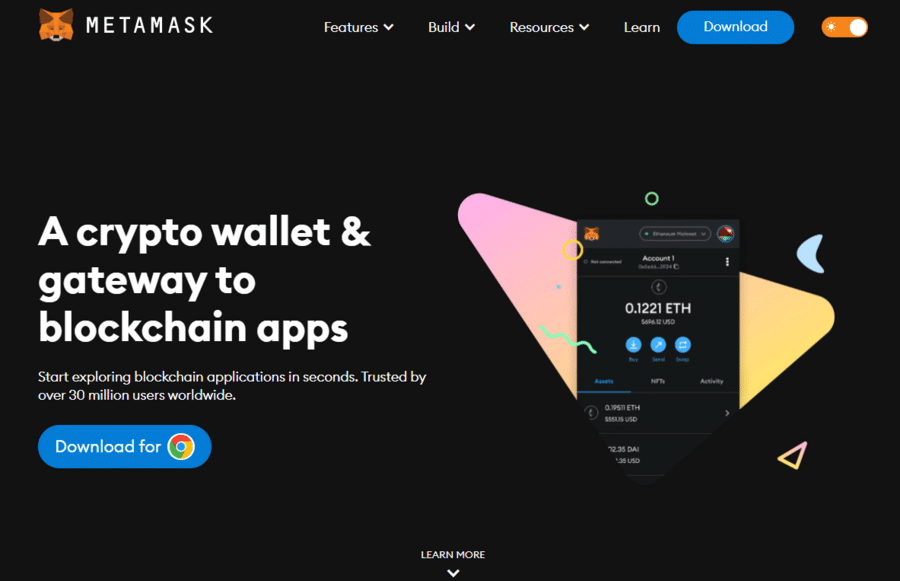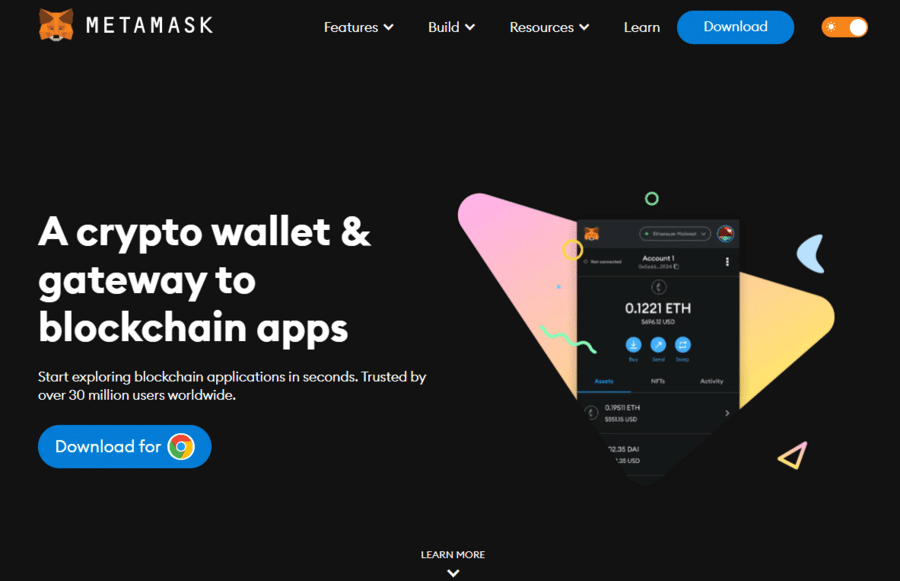 MetaMask is not one of the best crypto hardware wallets, but it has cold storage support. It's compatible with several hardware wallet companies, including Ledger, Trezor, Keystone, Lattice, and AirGap Vault.
Pros
:
Allows storage of any ERC-20 token
High security, non-custodial wallet
Full support for Ethereum-based tokens and apps
Easy to set up and use
Very favorable user reviews
Cons
:
Doesn't allow BTC storage
No desktop app
| | |
| --- | --- |
| Wallet type | Hot wallet (cold storage support) |
| Number of supported cryptos | 500,000+ (all ERC-20 Ethereum-based tokens) |
| Fee for buying Bitcoin | N/A |
| Mobile app | Yes |
| Features | Staking, interest |
8. Ledger Nano S Plus — Top Crypto Hardware Wallet for Malaysian Investors

Ledger Nano S Plus is a lightweight, entry-level hardware wallet made by Ledger, one of the most prominent hardware crypto wallet manufacturers. It's one of the best crypto wallets overall, offering everything you need from a hardware wallet.
It's pretty affordable, usually priced around 370 MYR, compared to the 730 MYR you need to pay for the advanced Bitcoin hardware wallet, Ledger Nano X.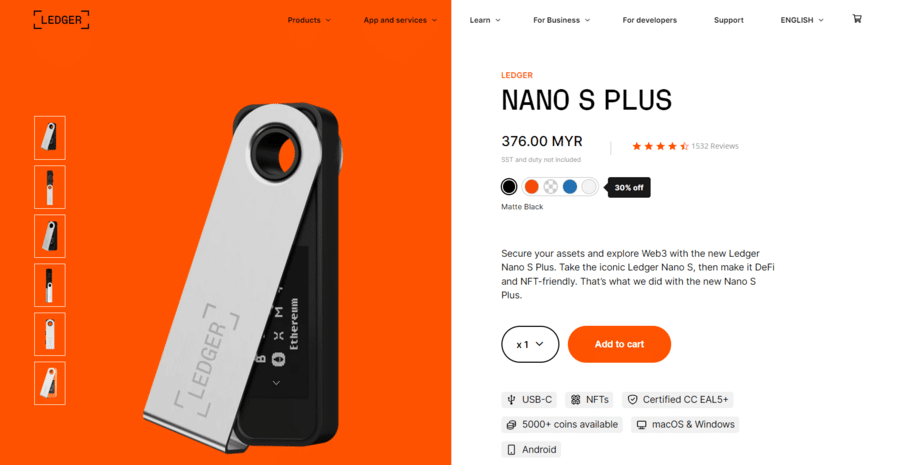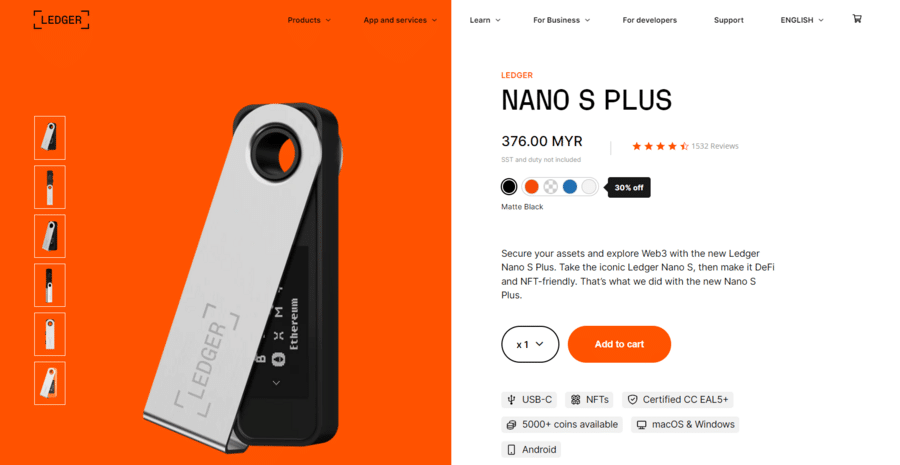 Ledger Nano S is highly secure. Besides being a cold wallet, it uses a unique PIN, so your assets should remain safe even if the device is stolen. Naturally, you can also recover your crypto assets remotely in this case.
Pros
:
Secure cold storage for all crypto assets
You can recover assets remotely when the device is lost or stolen
Cheaper than most other hardware wallets
Perfect for long-term investments
Easily pairs with more than 50 third-party wallets
Cons
:
Not as good as the more advanced Ledger wallets
Not suitable for daily use like trading
| | |
| --- | --- |
| Wallet type | Hardware wallet (cold storage) |
| Number of supported cryptos | 5,000+ |
| Fee for buying Bitcoin | Commission built into the exchange rate |
| Mobile app | Yes |
| Features | Trading within the app |
9. Lumi Wallet — High-Level Encryption Web Wallet Using Advanced Cryptography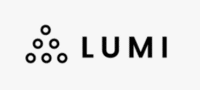 Lumi Wallet is the most popular Bitcoin wallet in Malaysia among users looking for high-end encryption and advanced cryptography. It's fully non-custodial, allowing users to keep control of their keys.
The app is more secure than the web version, but that's just because app-based wallets are superior to web wallets in general.
Lumi offers high anonymity, as transactions are always private. You get a different address every time you make a transaction. Plus, registration is not required, nor are any personal details when setting up the wallet.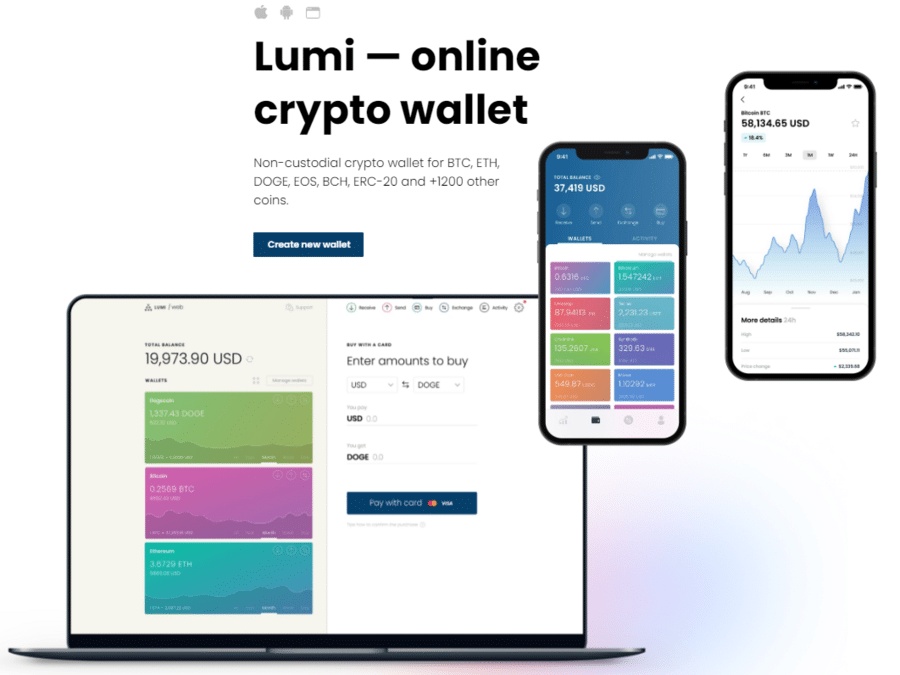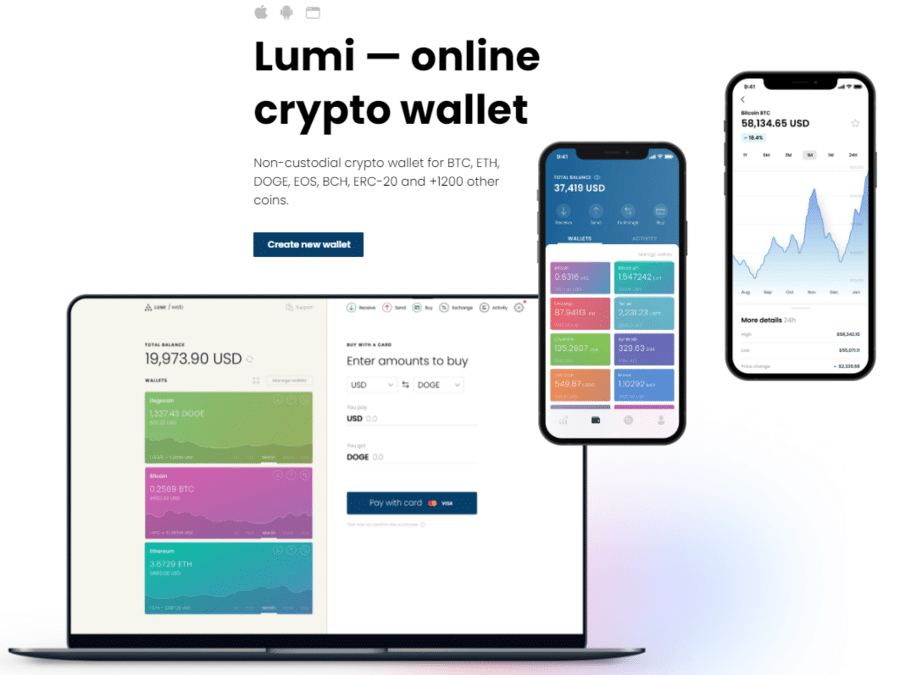 The wallet enables you to store more than 1,200 cryptocurrencies, allowing you to buy them with a credit card or Apple Pay. You can also exchange several cryptos under fixed rates without fees. However, bear in mind that most other fees are higher than usual.
Pros
:
High-end security and privacy
Anonymous transactions
No registration or personal details
Open-source code
Real-time market monitoring
Cons
:
High fees in many cases
Users report bugs in the mobile app
| | |
| --- | --- |
| Wallet type | Hot wallet |
| Number of supported cryptos | 1,200+ |
| Fee for buying Bitcoin | 1% |
| Mobile app | Yes |
| Features | Trading, market analysis |
10. Trezor Model One — Highly Secure Bitcoin Hardware Wallet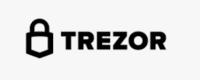 Like Ledger, Trezor is a top-tier hardware manufacturer. The two are often considered the best Bitcoin hardware wallet makers today.
The wallet is priced at around 320 MYR, slightly less expensive than the corresponding Ledger. Trezor Model One is a cheaper and less advanced Trezor model, perfect as a first step into the world of hardware wallets.
Despite being a simpler model, it offers most of what you need. Security is still high, as all Trezor devices are RoHS and CE certified, and this one comes with two recovery seed cards in the box.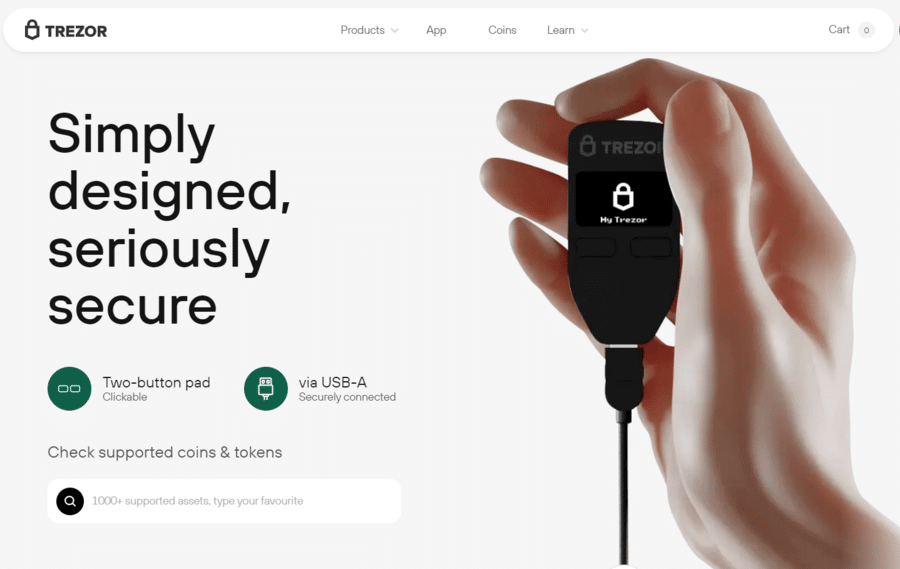 You unlock the devices with a PIN of up to 50 digits long, plus you can add a passphrase for more security.
The device stores almost 1,300 coins and tokens, allowing you to buy, sell, and trade them. As the screen is quite small, you'll have to use the accompanying Trezor app that can be installed on desktop, Android, iOS, and even used through a browser.
Pros
:
Cold storage and excellent security
Support for more than 1,200 coins and tokens
Inexpensive model
Ideal for long-term investors
PIN up to 50 numbers long
Cons
:
Unsuitable for short-term traders and daily use
Advanced version is much better
| | |
| --- | --- |
| Wallet type | Hardware wallet (cold storage) |
| Number of supported cryptos | 1,200+ |
| Fee for buying Bitcoin | Varies based on transaction speed and other factors |
| Mobile app | Yes |
| Features | Trading within the app |
How Do Crypto Wallets Work?
A crypto wallet doesn't store your coins but provides access to them. It does that with the help of your private keys stored on the public blockchain of the cryptocurrency you're holding.
The keys enable you to view your assets on the blockchain address, and it allows you to use your crypto in the way it's commonly used — storing, sending, and receiving.
Wallets are software applications that use an internet connection to access and interact with the blockchain on your behalf.
As cryptocurrencies are decentralized, they are not stored anywhere. They are just bits of data found on every device that keeps data from the blockchain. The crypto wallet uses your private keys to see all that data and show the amount of crypto you have through a simple interface.
In other words, Malaysia Bitcoin wallets make accessing and using your crypto assets easier.
These apps use the same keys and data to complete all other actions you can perform with your crypto, including sending, receiving, trading, swapping, and even staking if that option is included in the code architecture of the cryptocurrency in question.
Lastly, it's essential to understand what these keys are. They are long strings of random, highly unpredictable characters, which ensures no key is the same and makes breaking it highly improbable.
There are two types of keys in the crypto world:
Public key

— Shared publicly on the blockchain, allowing others to send crypto to you. It's much like a bank account number.

Private key

— As the name suggests, this key is private and used to prove ownership and gain access to the corresponding public key and the crypto assets stored on the address. In other words, it's like the PIN or password for a bank account.
The two keys go in pairs and allow you to complete transactions using the assets on the address corresponding to the key pair. Together, they encrypt and decrypt data on the blockchain.
A crypto wallet must use both, but it's important to note that private key storage is always handled with much more care. Many wallets (non-custodial) even opt to give the user full access to their keys and thus pass their security down to the user. We'll explain this further in the safety section of our guide on the best crypto wallets in Malaysia.
Types of Crypto Wallets
In general, crypto wallets are divided into two groups based on the kind of storage they offer — hot (software-based) and cold (hardware-based) wallets. The former are connected to the internet, making constant use of crypto easier and more convenient, while the latter keep your assets offline, which is a lot safer but less convenient.
As for the actual types, you can divide all crypto wallets into software, hardware, and paper wallets. Software wallets are hot, while hardware and paper wallets are cold. Let's take a closer look at each category.
Software Wallets
Software wallets are arguably the most popular. Still, since they only provide hot storage, they often need to be combined with cold wallets or cold storage capabilities for increased security, especially for long-term investors with large portfolios.
Software wallets are, as the name suggests, software-based, and they can be divided into three groups:
Desktop wallets

— Installable software made for operating systems like Windows, MacOS, and Linux. They are as secure as your computer, so it's vital to keep your device updated and protected by robust anti-virus and anti-malware systems. Good examples are Exodus and Electrum, a very popular

online Bitcoin wallet

.

Mobile wallets

— These are mobile apps like all others. They are very convenient, allow QR codes, and are ideal for everyday use, but can be vulnerable to malware. Proper security features and encryption are crucial here. Examples of mobile wallets are Mycelium and eToro.

Web wallets

— Web wallets are used through internet browsers. They are typically centralized and are vulnerable to DDOS attacks. It's thus crucial to use products that store private keys locally on your device or those owned by reputable companies. Good examples include MetaMask and OKX Wallet, part of one of the

top decentralized exchanges

on the market.
Remember that some specific wallets can belong to several of these groups. For example, Exodus is a desktop and a mobile wallet with dedicated software for both device types.
Hardware Wallets
A crypto hardware wallet is a piece of hardware that acts solely as a crypto wallet. They provide cold storage and look like USBs with small screens and side buttons.
A typical Bitcoin hardware wallet doesn't work independently, as it doesn't have a battery, so it has to be connected to a PC, just like a regular USB stick. However, some have smaller batteries, allowing you to access your assets and use the device for a few hours. They usually have more accessible screens.
The main benefit of these wallets is the type of storage they provide, so as long as they are not connected to the internet, they are 100% secure, provided you store them safely. If you lose or break them, your crypto is gone.
While highly secure, they are not user-friendly and make everyday crypto trading next to impossible. You have to combine them with mobile or desktop apps, which is why the best crypto hardware wallets come with accompanying applications.
Despite these downsides, keeping considerable amounts of crypto on them is always advisable, as that's the safest option.
Hardware wallets need to be purchased and usually cost between 300 and 700 MYR, and the best examples of hardware wallets are Ledger and Trezor devices.
Paper Wallets
Paper wallets are cold storage wallets that work precisely as their name suggests. Even though it might sound strange, you can always physically print out your address and private key and use them to complete transactions. You can also print out QR codes to make things a bit easier.
These wallets were popular around 2010 but eventually fell out of favor due to their complexity. Plus, various Bitcoin hardware wallet options became widely available and grew more popular as exchanges enabled users to print out their keys easily.
Today, there are two ways to create a paper wallet:
Manually, where you use analog random number selection with the help of simple dice. However, this is very time-consuming.

With the help of a private key generator that creates a random sequence for you. It's best to use one that's not web-based for safety concerns.
It's important to note that paper wallets are not as safe as the best crypto hardware wallets (you can lose or destroy the paper) and are not nearly as convenient as software wallets. Due to that, it's best to avoid this wallet type.
How to Pick the Best Crypto Wallet in Malaysia for You
Let's review the factors that you need to look into when picking the right wallet for your needs:
Reputation and user feedback

— Overall reputation is vital, and it's best gauged through online reviews and user feedback. You can check the ratings on app stores and other sites to see what people think.

Licensing

— Every

Malaysia Bitcoin wallet

needs to be appropriately licensed. For instance, eToro is licensed in several jurisdictions by renowned regulatory bodies.

Security

— Security features and options matter the most with wallets. Hardware wallets are the best because they offer cold storage, but hot wallets can be safe as well if they are reputable, non-custodial, or have other advanced security features and login methods.

Privacy

— If you care about staying private, you must look for wallets with anonymous transactions, no registration requirements, and other features.

Supported coins

— The

best Bitcoin app

doesn't only support Bitcoin but a variety of other coins. Look for wallets that support many coins and tokens, or at least those you want to invest in.

Fees

— The wallet will have fees if it has trading and swapping features. You need to look into these to ensure they are not too high compared to the competition.

Advanced features

— If you want to do more than simple storage, you need a wallet with added features like trading, staking, buying, selling, swapping, and more.
How to Get & Use a Malaysia Crypto Wallet
If you want to start using a good crypto wallet, know that the introductory process is simple and quick, especially if you choose a software wallet. Let's review how this works with our top pick, eToro.
1. Open an eToro account
Visit the official eToro website and click the Start Investing button. Follow the registration procedure to set up an account. You'll need to provide personal details and verify them once the account is made. This includes personal information, contact details, a copy of a government-issued ID, and a copy of a bank statement or a utility bill.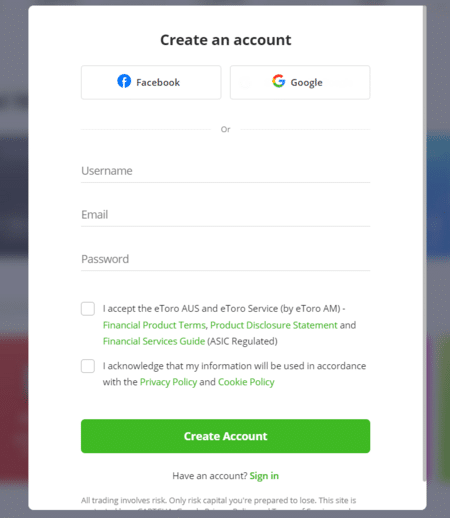 2. Download the eToro Money app
Visit the Google Play Store or the App Store and search for the eToro Money app. You can also use the official eToro website, which prominently displays Android and Apple logos for app download.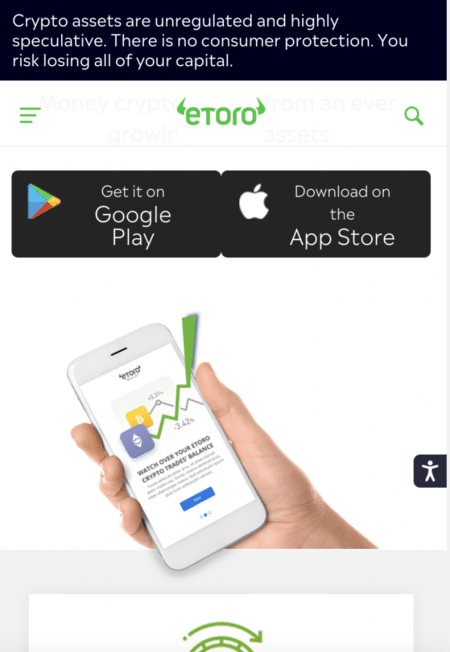 Open the app and log into your account.
3. Transfer or buy your desired crypto
The last step is to get your crypto assets into the wallet. If you already have them on an exchange or the eToro platform, you only need to reveal your corresponding crypto address within the wallet and transfer the funds to it.
You can also buy the coins directly from the app if you don't already have them. You can do the same on the eToro platform, where you can keep the coins without moving them to the app. It's entirely up to you. Remember that the minimum deposit on eToro is $50, or around 230 MYR if you're using a credit card.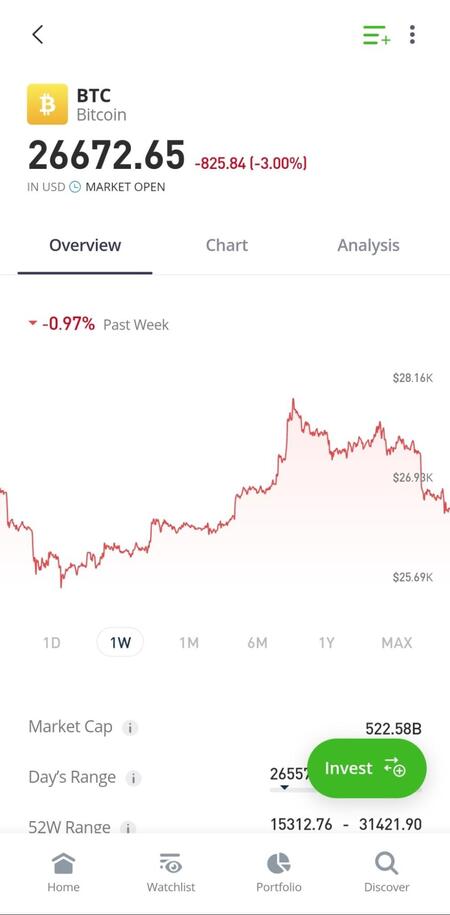 Are Malaysia Bitcoin Wallets Safe? How to Stay Secure With Crypto Wallets
We already discussed what private keys are, and when it comes to safety within crypto wallets, it's vital to know who keeps them safe and how. According to this classification, wallets can be divided into two types:
Custodial wallets

— Private keys are kept safe by the company that manufactures the wallet. Many consider these less secure, but it boils down to the type of user you are and how trustworthy that company is. If you can't trust the company and are certain you can keep the private keys safe, you won't find these wallets suitable. However, if the company is reputable, like eToro, and you're a beginner, a high-quality custodial wallet is the way to go.

Non-custodial wallets — Users keep control of their private keys and are fully responsible for their safety and, thus, their funds. This option is more secure but often less user-friendly and unsuitable for beginners. If you're an advanced user who wants to keep full control over your crypto funds and you know how to keep your keys secure, it's best to choose a non-custodial wallet.
Most hot wallets are custodial, especially web-based ones. If you decide to get this type of wallet, you need to be aware that you are not in full control of your assets, which is why you need to trust the company behind your wallet to stay on your side and keep the keys and assets safe.
However, even if you chose a non-custodial wallet, you still need to worry about safety on your end. You want the wallet to have advanced security measures like cold storage options, proper regulation and certifications, advanced encryption options, proper data protection, high privacy options, and regular software updates.
Security features like complex passwords, 2FA, passkeys, or biometric authentication options are also crucial. You want logging into the wallet to be complex and secure to ensure no one can enter the app.
A backup or recovery mechanism is also a good security feature, especially with non-custodial, mobile, and hardware wallets.
Lastly, it's worth mentioning that multisig wallets are always a good option. They need more than one private key signature for transaction authorization. They are ideal for big investors, corporations, hedge funds, and others. Keys can be given to different people, so no single person has access to all of them.
Conclusion
A crypto wallet is practically required if you want to do anything with your cryptocurrencies. However, as the top options in Malaysia are highly secure and allow you to do a lot with your assets, even stake them and earn interest, you'll benefit highly from getting one.
As you've seen, there are several great options, and if you're unsure of which one is right for you, you cannot go wrong with our top pick — Best Wallet. It's the best crypto wallet for Malaysian traders for a reason. The platform and app offer a wide range of features, including advanced ones like staking. They come with advanced security capabilities and offer the AI-powered tools and resources every investor needs to get ahead.
Your capital is at risk. Cryptocurrencies are highly volatile.
References
FAQs
What crypto wallets can I use in Malaysia?
What is the best Bitcoin wallet in Malaysia?
How do I open a Bitcoin wallet in Malaysia?
Are crypto wallets legal in Malaysia?
Is MetaMask available in Malaysia?
Is Binance Wallet available in Malaysia?
Is Coinbase wallet available in Malaysia?