Keeping your crypto safe is crucial, regardless of your location. You need to use a reputable, secure, and trustworthy crypto wallet to maximize your security.
As it turns out, some wallets enjoy a higher level of popularity and are more widely recognized within specific communities. In the following article, we'll overview the best crypto wallets in the Philippines for Filipino traders and investors. Read on to learn more.
Top 11 Cryptocurrency Wallets for Filipino Traders
Before we present the best crypto wallet in the Philippines for Filipino investors, let's take a quick look at the selection, along with a brief description of every wallet. If you want to learn more about them, read our detailed guide.
Best Wallet – An upcoming crypto wallet in the Philippines that combines security, privacy, and control over assets under one roof. It prioritizes decentralization and reduces reliance on traditional custody solutions while offering unique features like an AI Chatbot and NFT integration with high security.
eToro

– eToro is a regulated and licensed platform for cryptos and other assets and is known for being the best crypto wallet in the Philippines. The eToro Money crypto wallet allows users to easily buy, store, receive and send cryptos via a user-friendly app.

Exodus

– With more than a million app downloads in Google Play Store alone, Exodus is one of the most popular wallets in the world. It accepts Bitcoin, Ethereum, and 291+ other digital assets, including NFTs.

Electrum

– Electrum is an open-source wallet with a huge following. Even though you can only store Bitcoin, it's one of the most secure ways to do so. It's the

best crypto wallet in the Philippines for Filipino investors

who focus only on BTC.

Ledger Nano

– Nano is a popular model of a hardware wallet, coming in two standard variants: Nano S and Nano X. Both provide top-notch security but have some differences we'll discuss in our comprehensive review below.

Trezor Model T

– One of the most widely used types of hardware wallets, Trezor Model T is known for its impeccable security. More expensive variations even feature the so-called Shamir Backup for increased protection.

Trust Wallet

– The

crypto wallet app

is part of the Binance family of products. Binance is the most popular crypto exchange in the world, with more than 60 million users. Trust Wallet supports 65 different blockchains with thousands of cryptocurrencies.

MetaMask

– This is one of the top Ethereum blockchain crypto wallets, also available as a Chrome plugin, allowing quick interaction with Ethereum-based dApps and smart contracts and accepting hundreds of ERC-standard fungible and non-fungible tokens.

Mycelium

– The user-owned open-source wallet for mobile users is completely decentralized. It accepts BTC, ETH, FIO, and ERC-20 tokens.

Atomic Wallet

– This straightforward wallet app doesn't require registration and relies only on private keys. It also comes with some cold storage features and supports 300+ cryptocurrencies.

Coinbase Wallet

– As part of one of the largest exchanges in the world, the Coinbase wallet is a great

online Bitcoin wallet

that also accepts a range of other cryptos. However, some limits exist, as this is a US-first platform.
What Is a Cryptocurrency Wallet?
A cryptocurrency wallet is a program or a hardware device that stores your digital currencies. The BBC's article on relevant crypto terminology compares crypto wallets to the standard ones: they keep our money in one place. The only difference is that your leather wallet holds paper money and tangible coins, fiat digital wallets (such as PayPal) keep digital fiat money, and crypto wallets only store digital assets. Nowadays, many digital wallets can accommodate both crypto and fiat money.
Essentially, a crypto wallet stores your private keys, giving you access to your crypto. Needless to say, you should never reveal your private keys to anyone.
Each wallet also features a public address, which is a wallet identifier. You can use the said address to send money to another wallet or share it with people who want to send you crypto.
Furthermore, we can divide all wallets into two groups: software and hardware. A crypto hardware wallet exists as a device or a piece of paper, whereas software wallets are apps that store your crypto. We'll explain these distinctions in more detail later.
[/su_note]
Why You Need a Crypto Wallet
There are several reasons why you should consider obtaining a Philippines crypto wallet. Let's examine them in detail:
Secure way to store your crypto assets

— Your crypto assets need to be stored somewhere. There are two options: your balance in the exchange of your choice (after purchasing crypto) and your wallet. Of course, because of private keys, wallets give you more control over your funds, reducing the risk of losing your funds due to a cyber attack or a scam.

Full control and ownership

— With a wallet, you're the sole owner of your funds. Nobody has access to them but you, unlike traditional finance systems, where banks are always involved.

Better management of your cryptocurrency

— Good

Philippines crypto wallets

will give you a range of asset management options to have a better overview of your digital assets.

Greater accessibility

— With a good wallet, you can access your crypto assets anywhere and anytime, as long as you have a stable internet connection. Of course, this also depends on whether you have a hot or a cold wallet, but we'll get to that later.

Support for various cryptocurrencies

— If you're only buying BTC, search for the

best Bitcoin wallets in the Philippines

. However, most investors and traders usually go beyond digital gold, buying many other cryptocurrencies. In that case, it's better to opt for a versatile wallet.

Privacy and anonymity

— Many wallets, especially non-custodial ones, are perfect for anyone who values anonymity. They only require private and public keys, which are randomly generated. In other words, there's no need to reveal any personal information.
Best Bitcoin Wallets in the Philippines Reviewed
In the following section, we'll review the top crypto wallets in the Philippines and point out their main advantages and disadvantages. You'll also find a table under each review with a quick overview of the wallet, its features, and more.
1. Best Wallet – Innovative Crypto Wallet in the Philippines With High Security & An AI-Based Assistant
Navigating the crypto space to find a reliable wallet can be tricky for beginners, especially due to security concerns. Best Wallet is a soon-to-launch crypto wallet expanding to the Philippines that aims to offer high security while creating a user-centric experience.
Best Wallet employs cryptographic methodologies, multifactor authentication, and biometric security features. Best Wallet confers complete authority over your assets, keeping them secure while providing easy accessibility.
As a result, despite being in its pre-launch phase, it has generated a buzz in the crypto community, with many prospective users joining its waiting list.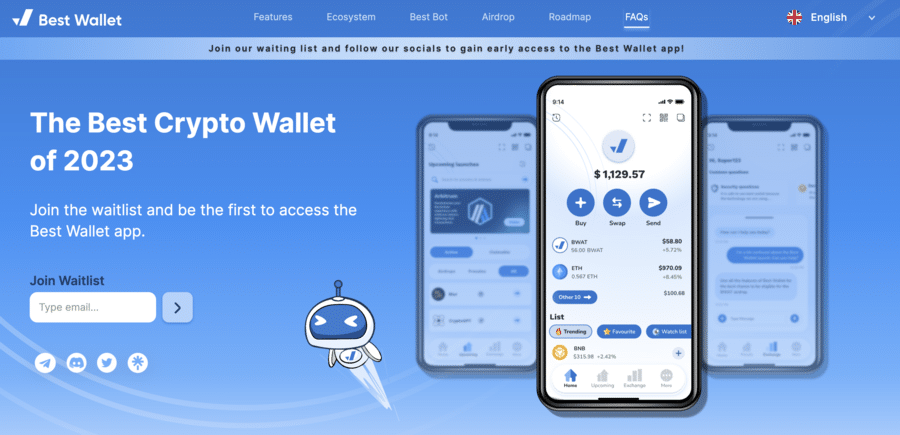 The wallet incorporates an advanced AI chatbot that facilitates user engagement, furnishes customized portfolio insights, sends market watch alerts, and helps in seamless navigation. This AI bot functions as your crypto assistant, providing round-the-clock guidance.
Another exciting feature of Best Wallet is its comprehensive support for NFTs. Users can securely store, efficiently manage, and visually explore their NFTs within the wallet. With the wallet's upcoming NFT gallery feature, users can also effortlessly organize their NFTs.
Moreover, interacting with diverse DeFi platforms becomes easy with Best Wallet's support for multiple blockchains. It accommodates transactions across Ethereum, Binance Smart Chain, and Polygon ecosystems, ensuring a multichain experience.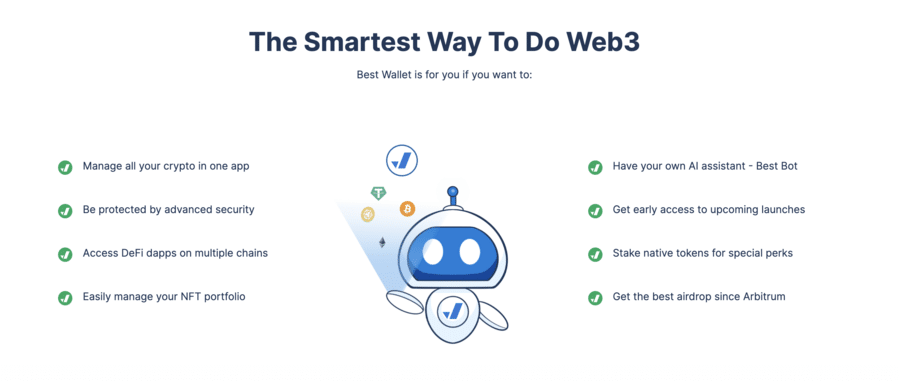 Users also stand to benefit from staking the platform's native token, $BWAT. Stakeholders get exclusive privileges like zero gas fees, early access to new projects, voting rights, and presales access, thereby incentivizing participation.
The initial roadmap phase focuses on core functionality, NFT support, and AI chatbot integration. Later stages promise a crypto news feed and Crypto 101 Education, an exciting proposition for crypto beginners in the Philippines. While Best Wallet has yet to go live, you can join the waiting list to get a firsthand experience of its features.
Pros:
Enhanced user engagement through AI chatbot, offering personalized portfolio insights.
Comprehensive support for NFTs: secure storage, efficient management, and visual exploration.
Support for multiple blockchain transactions, allowing interaction with diverse DeFi platforms.
Incentives for staking the native token $BWAT, including zero gas fees, early access to new projects, and voting rights.
Cons:
The wallet is still in the pre-launch phase so it lacks a track record.
| | |
| --- | --- |
| Wallet type | Decentralized Wallet |
| Number of supported cryptos | Multiple |
| Fee for buying Bitcoin | – |
| Mobile app | Yes, for iPhone and Android |
| Special features and capabilities | AI Chatbot, NFT Support, Multichain Transactions, Staking of Native Token ($BWAT), Crypto News Feed, Crypto 101 Education |
2. eToro – Emerging Crypto Wallet in the Philippines for Filipino Traders
eToro currently holds the second spot as the most popular crypto wallet in the Philippines. All the relevant regulators oversee the platform. As an example, it is licensed by the FCA in the UK and FinCEN in the US and is even recognized in the EU and Australia.
A quick Google search on eToro might confuse you, saying it's one of the best crypto exchanges and not actually a wallet. Specifically, eToro is a broker platform allowing users to invest in crypto via brokers.
So, how come it reached the #1 spot in an article discussing the best crypto wallet in the Philippines for Filipino traders? Namely, eToro features a dedicated wallet app called eToro Money, which accepts eight of the most popular cryptocurrencies and is protected by the latest security protocols. Even though the number of accepted cryptos is relatively small, the wallet focuses on providing the best possible experience for traders who store them.

In addition to storing crypto, eToro Money is one of the best crypto-staking apps, offering great returns for some of the accepted digital coins.
The reason eToro made it to the very top is that it's a trusted service. The app must be doing something right if the largest financial authorities license it. eToro provides a great customer experience and a user-friendly interface across different devices.
Pros:
App licensed by all relevant financial authorities
eToro Money wallet regulated by GFSC
Easy-to-use and secure app
Great security features
Supports all popular cryptocurrencies
Mobile app for iPhones and Android devices
Cons:
Crypto-to-cash option
Custodial wallet
2% transfer fees (if you want to transfer funds from eToro Money to eToro and vice versa)
| | |
| --- | --- |
| Wallet type | Hot wallet, custodial |
| Number of supported cryptos | 8+ |
| Fee for buying Bitcoin | 1% |
| Mobile app | Yes, for iPhone and Android |
| Special features and capabilities | Staking available for some cryptos |
3. Exodus – Best Bitcoin App for Beginner Filipino Investors
Exodus was created with one goal in mind: to make storing cryptocurrencies as convenient as possible. Unlike some of its competitors, such as the Coinbase wallet, which appeal to experienced trades, Exodus keeps things simple.
The app is available in many countries around the globe, including the Philippines. We wouldn't quite call it the most popular Bitcoin wallet in the Philippines, but it earned the #2 spot on our list.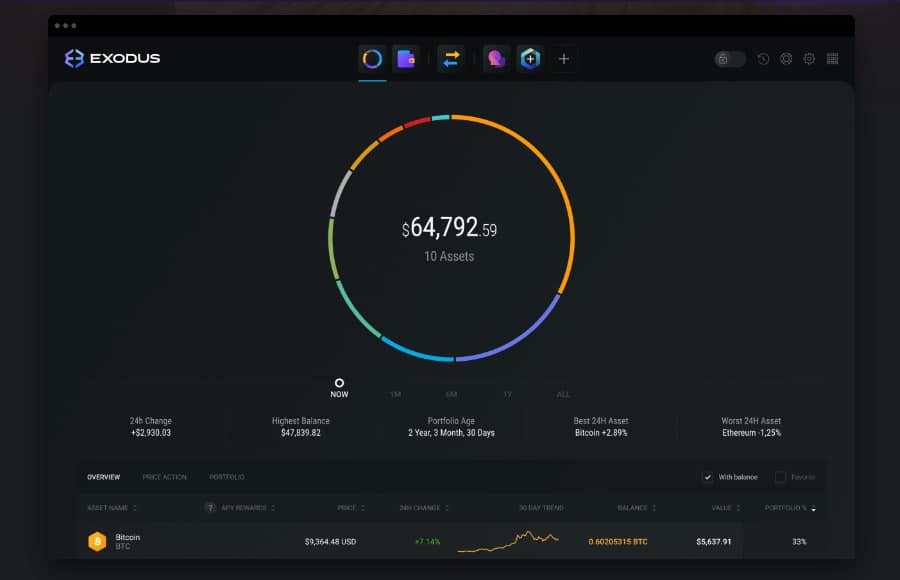 The reason for its ranking is visible in the ratings on Google Play and App Store, where Exodus has ratings of 4.6 and 4.8 out of 5 and over a million downloads. The cherry on top is definitely the fact that it accepts more than a hundred popular cryptocurrencies (over 260, according to the wallet's official website).
The app offers round-the-clock customer support, contributing to a great customer experience. Moreover, it's free to download, and there's no need to go through the registration process to start using Exodus, protecting your privacy.
Pros:
Beginner-friendly and simple to use
Accepts 100+ cryptos
Millions of downloads
Great 24/7 customer support
Free and no registration necessary
Cons:
In-wallet crypto transactions not available
Lack of biometric security features on the app
| | |
| --- | --- |
| Wallet type | Hot wallet (can be connected with Trezor, a cold storage wallet) |
| Number of supported cryptos | 100+ |
| Fee for buying Bitcoin | None, except for the standard blockchain fee |
| Mobile app | Yes, available for iPhones and Android devices |
| Special features and capabilities | Staking available with some coins |
4. Electrum – One of the Best Open-Source Philippines Crypto Wallets
Electrum is one of the oldest wallets in the crypto industry, and it stands out for two reasons. First, it's a Bitcoin-only app, which means it cannot accept any other digital currency except "digital gold." Second, it's one of the most secure BTC wallets, with a proven history of protecting BTC. It's one of the reasons we included it in our list of the best crypto wallets of 2023.
Furthermore, Electrum is a non-custodial and open-source wallet. As opposed to custodial wallets, their non-custodial counterparts do not store your keys on their servers. In other words, you're the only one with access to your private keys. This also means you'll have to be more responsible about the said keys since losing them could result in being unable to access crypto funds.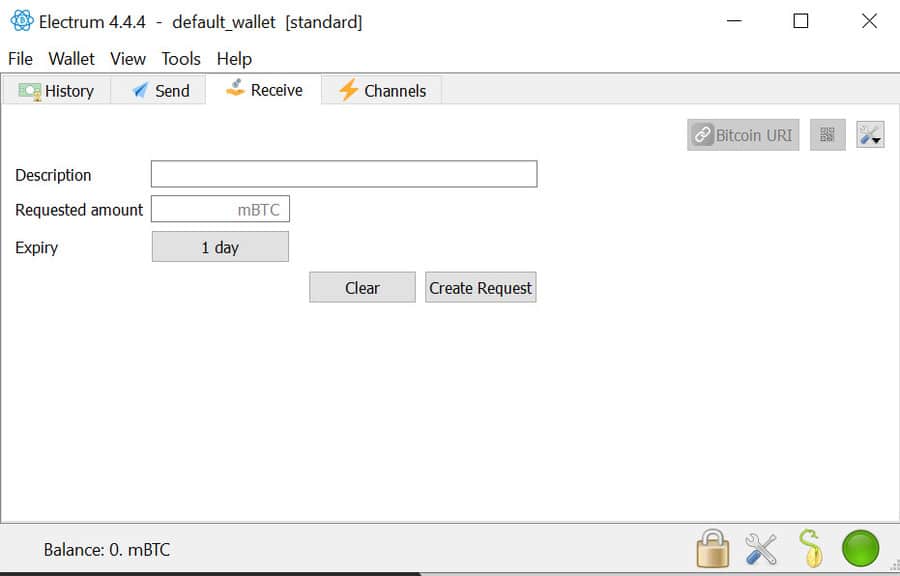 The only significant downside for Electrum is the lack of a stand-alone app for iOS users. Unfortunately, only those with Android phones can enjoy the benefits of using a phone wallet. Of course, some would claim that only accepting Bitcoin or not having additional features is a disadvantage. However, that is not the case, as Electrum is perfect if you focus on BTC alone.
Pros:
Proven history of securing Bitcoin
Top-notch security protocols
Open-source project
Multisig support
Easily implemented with third-party plugins
Cons:
One cryptocurrency: Bitcoin
No additional features
Outdated interface
| | |
| --- | --- |
| Wallet type | Hot wallet, non-custodial |
| Number of supported cryptos | 1 |
| Fee for buying Bitcoin | None, except for the standard Bitcoin network fee |
| Mobile app | Yes, but only for Android devices |
| Special features and capabilities | None |
5. Ledger Nano – One of the Best Crypto Hardware Wallets for Filipino Traders
Ledger is a hardware wallet manufacturer and the most popular brand of hot storage wallets. It's not only a Bitcoin hardware wallet but accepts over a thousand cryptocurrencies.
Ledger offers two models, Nano S and Nano X (and Ledger Stax launched recently). All of them feature superb security that's essential for all cold wallets. However, Nano S is more affordable, at around ₱4,000, whereas Nano X features a Bluetooth connection and costs approximately twice as much. Ledger Stax is basically Nano X with a fancy touch screen and lock screen. It's almost four times the price of the Nano S, so we wouldn't recommend it, as it doesn't contribute much to the overall security.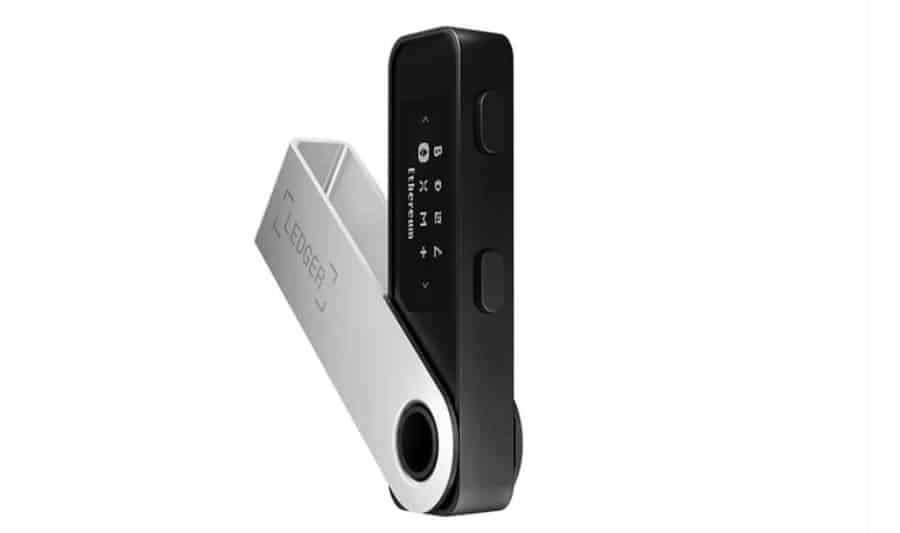 As a whole, cold wallets feature superb security, as they're not connected to the internet, but that also means active traders will not find them as convenient. Fortunately, this, too, has been streamlined thanks to the Ledger Live app.
All in all, if you're looking for a Bitcoin hardware wallet to store and hodl your BTC and other supported cryptos, one of the Ledger products could be helpful.
Pros:
Great security provided by cold wallets
Several Ledger products
Accepts more than 1,000+ cryptos
Staking with Ledger cold wallets
Can be connected to Ledger Live
Cons:
Necessary purchase
More complex trading process
| | |
| --- | --- |
| Wallet type | Cold wallet |
| Number of supported cryptos | 1,000+ |
| Fee for buying Bitcoin | None |
| Mobile app | Yes, via Ledger Live |
| Special features and capabilities | Staking cryptos possible with Nano S and Nano X |
6. Trezor Model T – Popular Crypto Hardware Wallet With Great Security
Trezor is another popular hardware wallet brand. Along with Ledger, they make up most of the cold wallet market. It also features several models, although we opted for a specific one in this case — Trezor Model T.
Trezor Model T costs around ₱10,500 at the moment, making it one of the most expensive options on the market, but for a reason. It features a great security mechanism, a big screen, and a range of other features to help you store your cryptos safely. Model One is a budget-friendly option that you can buy for as low as ₱3,200.
Model T can accept 14 native cryptocurrencies, along with all ERC-20 tokens. The number of available options will increase as many of the best ERC-20 tokens are gradually added to Trezor.
The touch screen provides easy access to some of the security features, and you can connect the wallet via USB to an external device, too.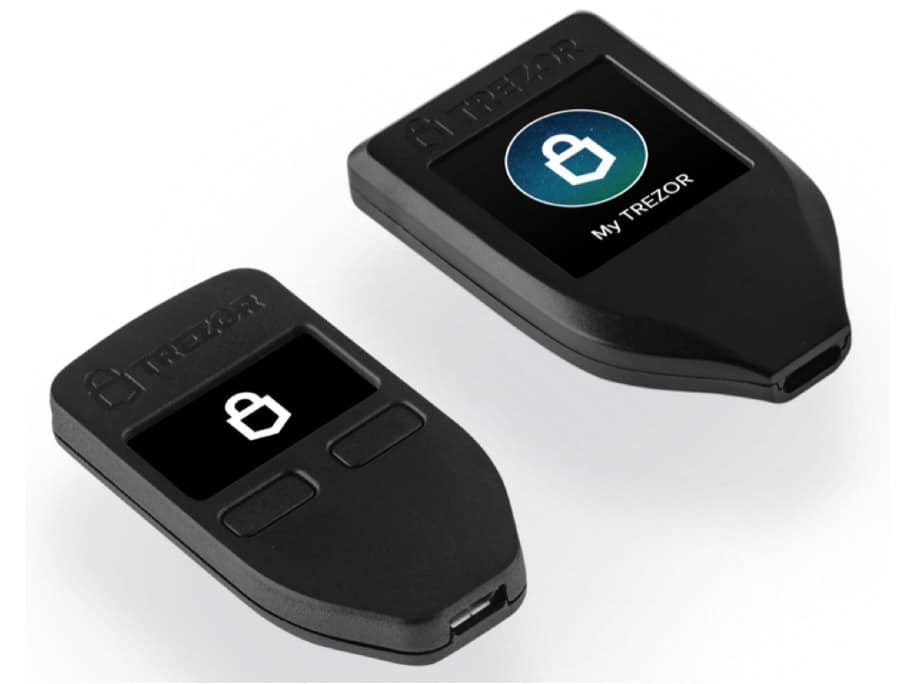 Trezor wallets are more difficult to use compared to Ledger. However, that is a fair trade-off for the security they provide. Overall, these are perfect for Filipino users who are already experienced investors and traders willing to invest in cold storage.
Pros:
Great security mechanism
Accepts 1,300+ cryptocurrencies
Big touchscreen display
Compatible with mobile phones
Can be connected to some third-party apps
Can store NFTs
Cons:
Higher price range
iOS mobile support not possible
Lack of convenience compared to hot wallets
| | |
| --- | --- |
| Wallet type | Cold wallet |
| Number of supported cryptos | 1,300+ |
| Fee for buying Bitcoin | None |
| Mobile app | Can be connected to third-party apps |
| Special features and capabilities | Staking not possible directly, but via third-party services |
7. Trust Wallet – Binance Product That's Popular Among Filipinos
Trust Wallet is big — it has more than 60 million users around the globe, thanks to its official Binance status. For those of you new to the crypto sphere, Binance is one of the largest crypto exchanges in the world.
We wouldn't dare call it the most popular Bitcoin wallet in the Philippines. Still, it's definitely one of the few that can deliver a great user experience with such a large organization behind it.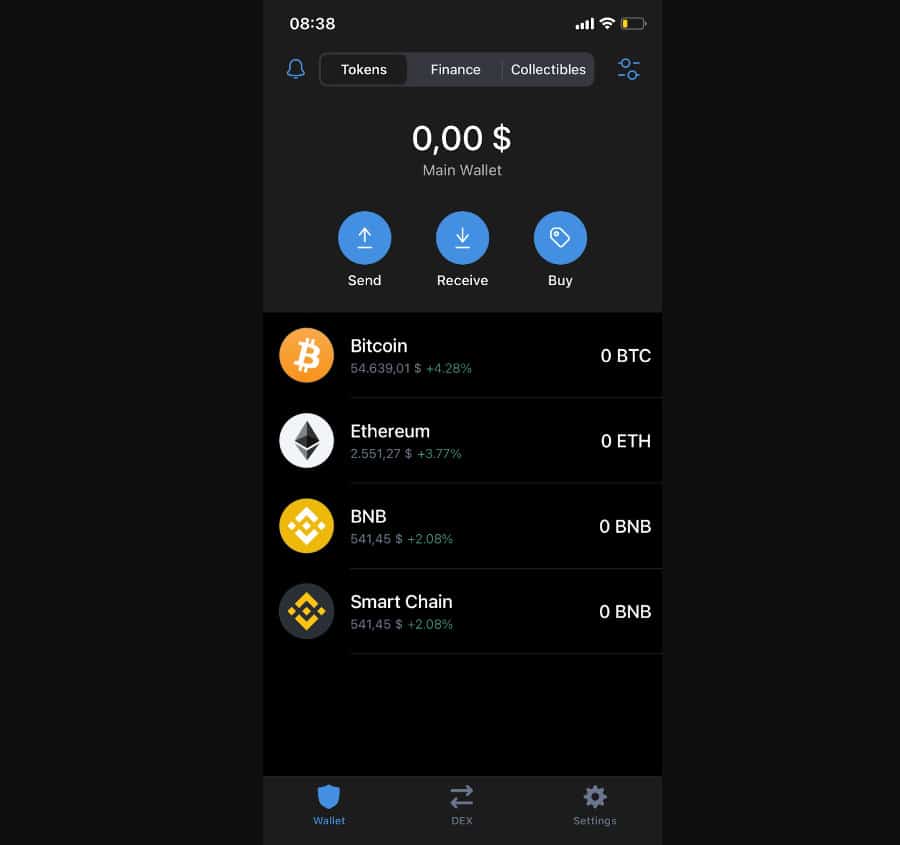 Apart from the supporting cryptos, Trust Wallet also accepts NFTs and can be connected with other dApps. It even features a dedicated Web3 browser within the app.
Even though Binance's operations have been limited due to some regulatory issues in the US, the exchange and the wallet continue to operate in the Asian market. Therefore, it's safe to assume that Trust Wallet is big among Filipinos, especially those who rely on Binance for their trading whereabouts.
Pros:
Many tokens are supported
Great user ratings on the Google Play Store
Powered by Binance DEX
Possibility to earn interest on some cryptos
Suitable for beginners and advanced users
Cons:
Cold storage support not available
Limited operations in some countries
| | |
| --- | --- |
| Wallet type | Hot wallet, non-custodial |
| Number of supported cryptos | 4.5 million (usually tokens) |
| Fee for buying Bitcoin | 1% |
| Mobile app | Yes |
| Special features and capabilities | Possible to earn interest, part of the Binance ecosystem |
8. MetaMask – Leading Crypto Wallet App With Chrome Integration
MetaMask is a popular wallet focusing exclusively on the Ethereum blockchain, meaning you can use it to store all ERC-20 and other ERC fungible and non-fungible tokens, starting with Ethereum. In other words, if you're looking for a way to store Bitcoin, this is not a wallet for you.
MetaMask is a non-custodial wallet that gives you complete control over your private keys. It's designed in accordance with the blockchain philosophy and is one of the most popular Ethereum wallets worldwide.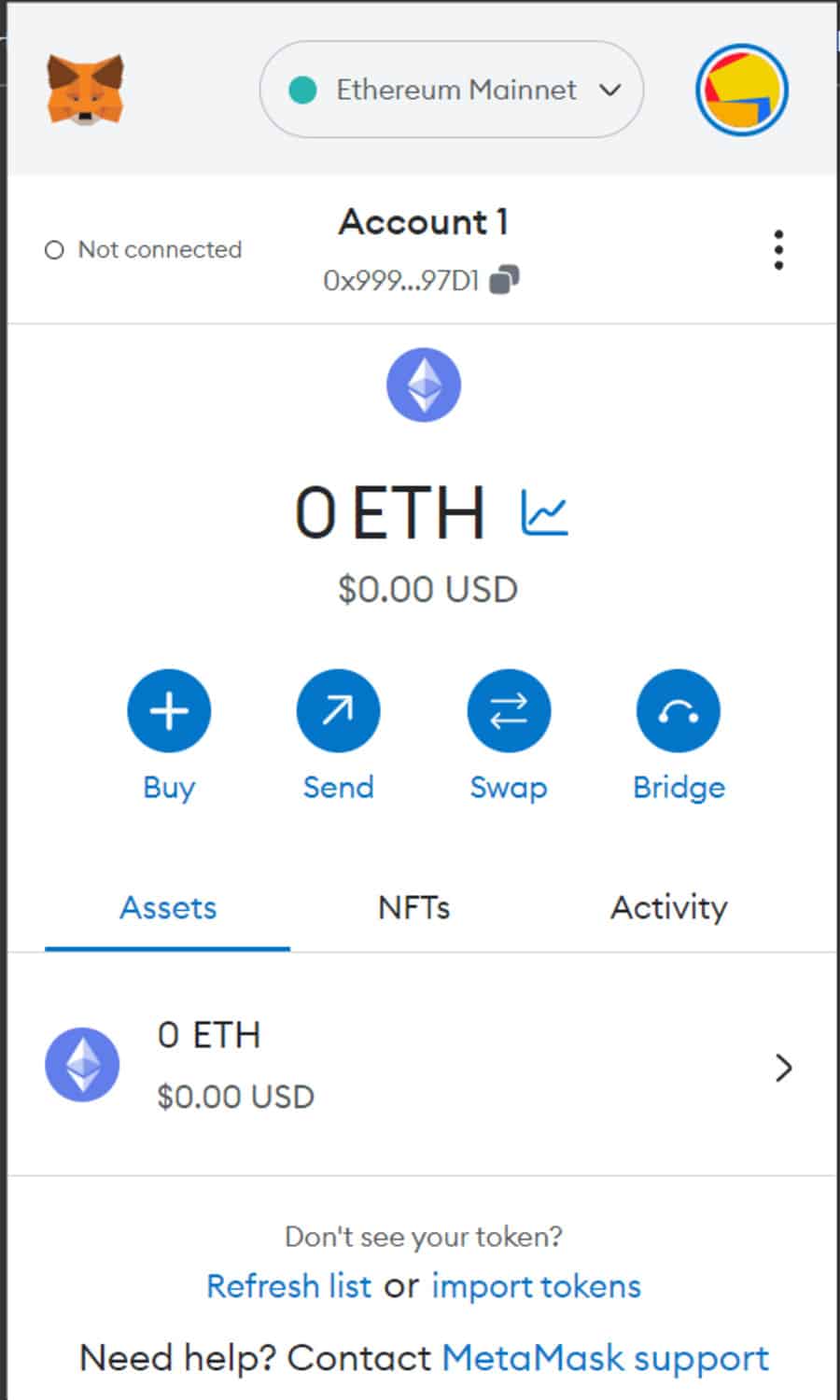 The wallet has more than 20 million active users and fantastic ratings on both the App Store and Google Play Store (4.7 and 4.4 out of 5, respectively). Its most significant advantage is that it can be integrated into Chrome as a plug-in and used to access some of the Ethereum-built dApps.
In short, it's safe to say that MetaMask is one of the best Ethereum crypto wallets in the Philippines for Filipino investors.
Pros:
Accepts thousands of ERC tokens
High ratings on app stores
Can be integrated with Ethereum
Accepts Ethereum NFTs
Non-custodial and secure
Leading wallet brand in the crypto world
Cons:
Sole focus on the Ethereum blockchain
No desktop application
| | |
| --- | --- |
| Wallet type | Hot, non-custodial wallet |
| Number of supported cryptos | More than 500,000 Ethereum tokens |
| Fee for buying Bitcoin | Doesn't accept Bitcoin |
| Mobile app | Yes |
| Special features and capabilities | You can stake ETH with liquid staking providers |
9. Mycelium – Popular Wallet for Mobile Users
Mycelium is an online wallet highly praised by smartphone users thanks to its mobile-first approach. It offers top-notch security features that come at a price: it's not for beginners. In other words, if you're an advanced crypto trader and mobile user, you'll definitely find value in Mycelium. That said, keep in mind that Mycelium doesn't feature standalone software for PCs and laptops.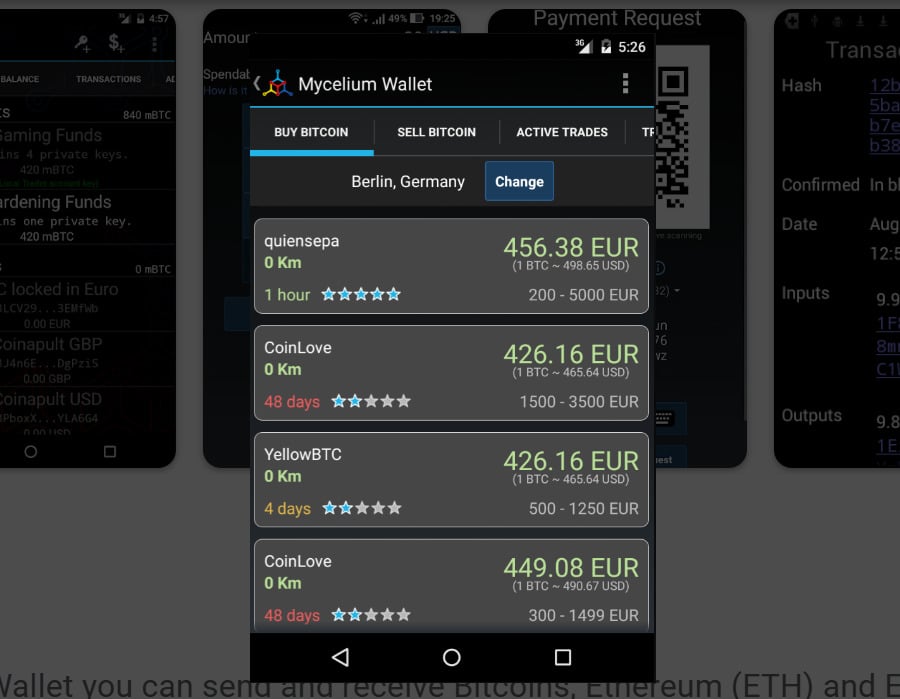 Since it's non-custodial and open-source, it gives great freedom to its users. Moreover, it's also possible to connect it to some of the popular brands of hard wallets, including Ledger and Trezor.
The app also lets you swap, buy, and sell coins, which makes it practical for active traders. The majority of features are BTC-focused, even though the app accepts other digital currencies.
Pros:
Great security
Seamless hardware wallet integration
Open-source
Swapping and trading cryptos possible
Cons:
Mobile-only wallet
Not beginner-friendly
Occasional customer support issues
| | |
| --- | --- |
| Wallet type | Hot, non-custodial wallet |
| Number of supported cryptos | 8+ |
| Fee for buying Bitcoin | Varies from $0.25 to $8 |
| Mobile app | Yes |
| Special features and capabilities | Swapping, trading, and connecting to cold storage wallets |
10. Atomic Wallet – Simple Wallet for Filipino Investors With No Registration Required
Atomic Wallet is a light wallet aimed at beginners. It accepts more than 500 cryptocurrencies and is a multi-chain wallet where you can also store Bitcoin and other popular cryptos. The app is aimed at less experienced traders, who will also find its staking capabilities interesting in terms of earning passive income.
One thing that makes the Atomic Wallet stand out from the pack is the excellent customer support team, which is available round the clock and can be contacted via the ticket system, email, and live chat.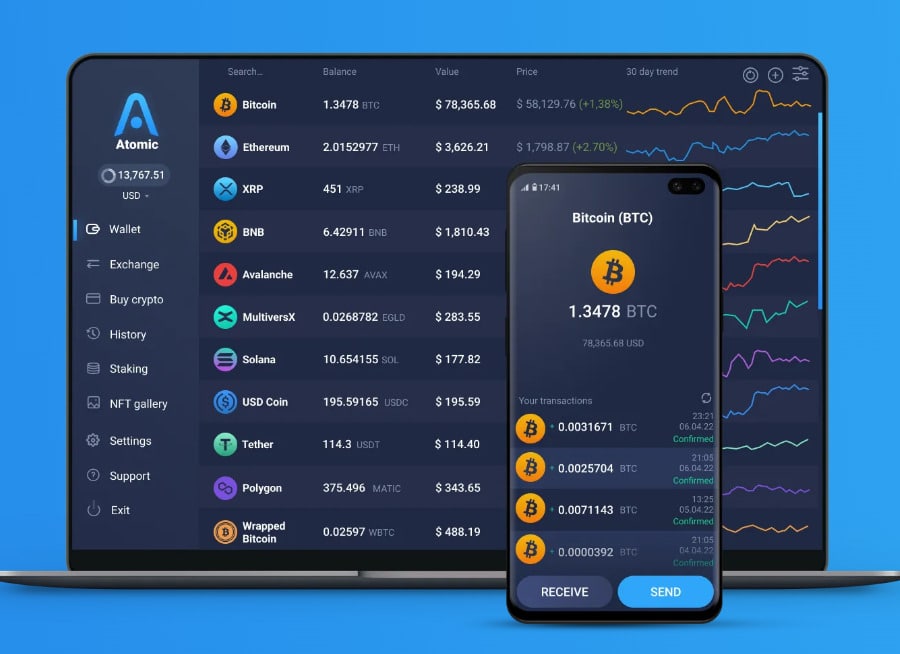 Unfortunately, Atomic Wallet has had several security concerns, including a $35-million reported theft. However, the team behind the wallet has been actively working on securing the app, which still enjoys a high level of popularity in the community.
Pros:
No registration necessary
Intuitive and beginner-friendly
Great 24/7 customer support
Locally encrypted keys
Enhanced privacy and security
Cons:
Past security concerns
Limited number of digital assets available for purchase
2% buying fee
| | |
| --- | --- |
| Wallet type | Hot, non-custodial |
| Number of supported cryptos | 500+ |
| Fee for buying Bitcoin | 2% |
| Mobile app | Yes |
| Special features and capabilities | Staking |
11. Coinbase Wallet – Crypto Wallet Focused on the US With Limited Availability in the Philippines.
At first, we weren't sure whether to include Coinbase in our list analyzing the best Bitcoin wallet in the Philippines. Coinbase is a popular online crypto exchange mainly targeting the US market, but it's available for Filipinos to an extent. The same applies to its wallet. Still, the wallet features great security, which is enough to justify its inclusion in this article.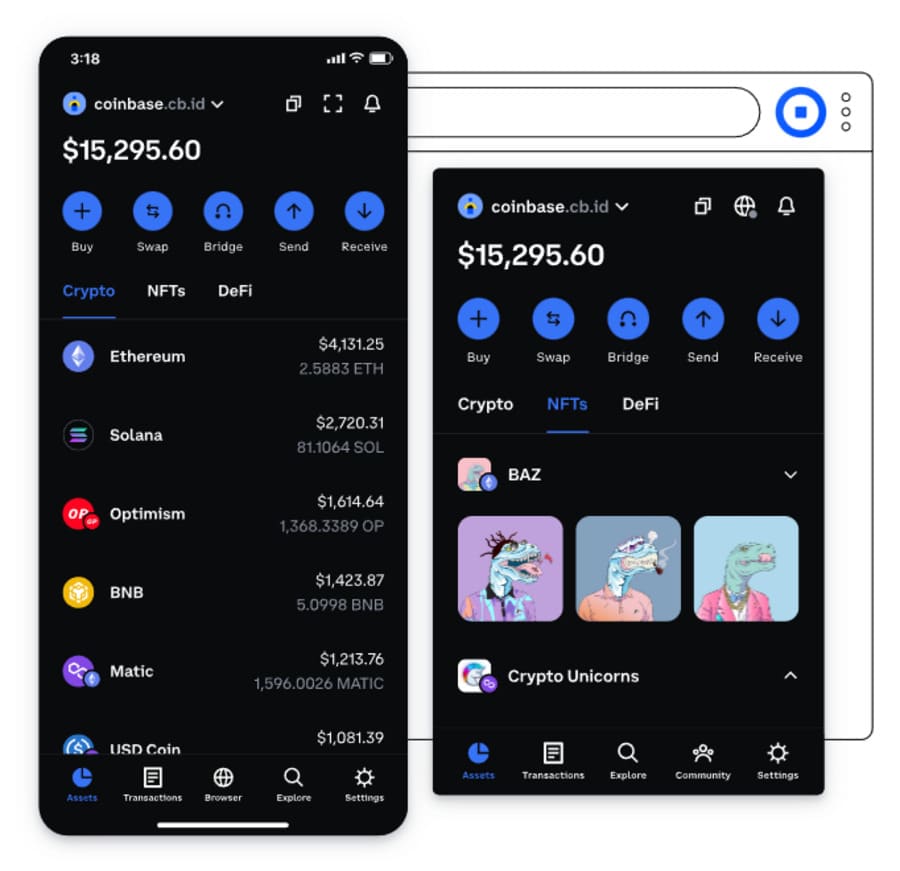 Being part of the Coinbase family, this wallet is known for its great security features. You can store over a hundred cryptocurrencies, including NFTs, and even access thousands of decentralized apps.
Coinbase is advertised as the ultimate Web3 wallet. Still, the fact that Asia isn't its primary market at the moment may not appeal to Filipinos.
Pros:
Simple and intuitive layout
Range of functionalities
Easy setup
Multi-platform wallet
Transfer to Coinbase CEX possible
Cons:
Not entirely open-source
Costly transaction fees
Philippines not the primary market
2FA and multisig support not available
| | |
| --- | --- |
| Wallet type | Hot, custodial |
| Number of supported cryptos | 100+ |
| Fee for buying Bitcoin | 1% |
| Mobile app | Yes |
| Special features and capabilities | Staking available |
How Do Bitcoin Wallets Work?
Before selecting one of the fitting Philippines Bitcoin wallets, you should learn how they work. To make an informed decision, you need to understand their inner mechanisms.
All Bitcoin cryptocurrency wallets have one thing in common: they closely communicate with the Bitcoin network, replicating its state, clearly indicating when transactions occurred and which wallet addresses were involved. In other words, the wallet needs to be synchronized with the network.
Let's say you're sending BTC from your address A to address B. Wallets register the transaction from one address to the other, storing it as the latest and most relevant.
Here's an example of how a single wallet transaction would take place. Imagine you're sending 0.1 BTC to a friend named Alice.
You initiate a transaction to send 0.1 Bitcoin to Alice.
Your wallet software creates a transaction with the recipient's address and the amount.
The transaction is broadcasted to the Bitcoin network.
Nodes verify the transaction's validity and propagate it further.
Miners include the transaction in a block they are mining.
The block is added to the blockchain, providing the first confirmation.
Your wallet synchronizes with the blockchain to update the transaction status.
Alice's wallet syncs and displays the received amount.
Types of Crypto Wallets
You'll find many sources, such as this CNN article, which explain that wallets come in two forms — software and hardware. However, if we think of them through the prisms of software and hardware, we'll have to add another type to the list: paper wallets.
You can also divide crypto wallets into hot and cold. The former is connected to the internet, while the cold storage isn't. This is similar to software and hardware wallets, except that paper wallets are a type of cold storage too.
We'll stick to the first distinction: software, hardware, and paper wallets. Here's an overview of each.
Software Wallets
Software wallets are programs that store your Bitcoin or any other crypto. For example, an online Bitcoin app will store your BTC — all you need to do is download and install it on your device.
They fall into several categories based on the device you're using:
Desktop wallets

— These apps are downloaded as desktop applications for PCs and laptops.

Mobile wallets

— These are usually available as mobile apps for iOS and Android, and you'll often find them in app stores. However, not all mobile wallets are suitable for both types of smartphones. For example, Electrum doesn't have an iOS app, as the app is geared toward Android users.

Web wallets

— These wallets are based on your mobile browser. Perhaps the most popular example is MetaMask, which can be installed as a Chrome plugin and accessed from your plugins bar.
If you want to stick to mobile software wallets, you can check the best Bitcoin wallets for iPhone or the top BTC options for Android that we selected. Conversely, if you want to explore hardware options, continue reading.
We can also divide software wallets based on how they handle your private keys.
Custodial

— These wallets are usually parts of some bigger organizations, such as centralized exchanges. The term indicates that they have custody over your private keys. That's not necessarily a bad thing, as they keep the keys safe, and you can recover them if you lose them. However, if such a wallet gets hacked, your private keys could be exposed and, hence, your crypto funds. A good example of this is the Coinbase wallet.

Non-custodial

— These wallets don't store your private keys, meaning you're the sole owner. This increases your anonymity, privacy, and security. However, it also comes with bigger responsibility, as you need to make sure not to lose the private key. Electrum is an example of a non-custodial wallet. These wallets usually don't require registration. If you want to use one that accepts BTC, there's no need to open a

Bitcoin account

in your crypto wallet. Instead, you'll just receive public and private keys, and you can start sending, receiving, and hodling your digital gold.
Software wallets can also be categorized as follows:
Open-source

— Like any other

open-source software

, these wallets offer their code publicly, which can be amended. Moreover, the community can suggest improvements to the code.

Closed-source

— Closed wallets do not reveal their code publicly. This doesn't mean they're less valuable compared to their open-source counterparts. On the contrary, some wallets, such as eToro Money, can offer a unique and helpful service thanks to their original code, and it's understandable if they don't want to share it.
Finally, we can classify wallets based on the blockchains they support:
Single-blockchain

— This wallet only communicates with one blockchain. For example, if it only works with the Bitcoin blockchain, you'll only be able to store BTC. If it communicates only with Ethereum, such as MetaMask, you'll only be able to store Ether and other ERC tokens and NFTs.

Multi-blockchain

— This type of wallet communicates with more than one blockchain. If you can store Ethereum and Bitcoin in a single wallet, it means multi-chain support is available. For example, eToro is a multi-chain wallet.
Hardware Wallets
Hardware wallets are also referred to as cold storage, meaning your funds are kept "offline." When you disconnect your hardware device, there's virtually no way for a hacker to penetrate your wallet and steal your funds. The only way your funds can be compromised is if someone steals your device and learns all your passwords and private keys.
All hardware wallets are non-custodial and multi-chain. The two most popular manufacturers are Ledger and Trezor, which we included in our top 11 list.
Overall, hardware wallets are more secure, but they are less convenient compared to their "hot" counterparts. Because of this, many traders who opt to buy and sell digital coins actively choose software wallets. Ideally, you should consider using both and only store what you intend to hodl in your cold storage wallets to maximize your security.
Paper Wallets
Paper wallets are the least popular option. Essentially, you need to generate a public and a private key and print it on a piece of paper to have it as your "hardware" where you store your money.
However, as it's easy to steal or destroy paper — there's no way to back up your crypto funds. The process of using your funds is not streamlined compared to hardware wallets. Unless really necessary, we advise avoiding paper wallets.
How to Pick the Best Crypto Wallet for You
If you're unsure which wallet would be best for you, take a look at the short guide below.
Type of Wallet
First, you need to assess all the different wallets we've discussed. For example, if you're only going to use BTC, it's a good idea to find the Philippines Bitcoin wallet, which only focuses on BTC's blockchain. If you want to use more than one crypto, you should choose another.
At the same time, you need to determine whether you'll use a software or hardware wallet. If you can afford it, you should combine a hardware wallet with the best Bitcoin app (or any other crypto wallet, in case you go beyond BTC).
Finally, you should decide which device you'll use and whether you want your wallet to be custodial or non-custodial.
Great Overall Security
All wallets feature some security protocols, but you should aim for the best ones. For example, if there's a mobile app, it should have 2FA and biometric login to maximize your protection. If possible, turn all security features on. After all, you're protecting your wealth that way, and it's better to be safe than sorry.
Fees for Sending and Receiving Cryptos
Some wallets charge additional fees, and others don't. In addition, each blockchain has standard transaction costs, which you'll have to pay regardless of the wallet you use. It's up to you to find the best price/quality ratio rather than sticking to the most affordable option.
User Experience
Explore the wallet you want to use in depth. Most of them are free to install, and for some, you don't even have to open a Bitcoin account (or account for any other crypto you're using). This research will help you understand how they work, how to navigate, and the overall user experience.
Additional Features
All the top wallets in the Philippines offer some additional features besides just storing your digital funds. For example, some will let you stake, buy, and sell coins right from the wallet. But you should only pick the ones that you will use. If not, you should focus on security and user experience instead.
Device Compatibility
Check if the wallet of your choice is compatible with your device. For example, you might pick Electrum for an iPhone, only to discover that it's not supported on iOS devices. Some of the best crypto hardware wallets aren't compatible with all OSs, so check that out before buying them.
Reputation and Reviews
Before picking the best Philippines Bitcoin wallet, check what the others are saying about them. You should consider popular forums and social media, but read professional reviews as well, as they can tell you plenty about a wallet.
How to Get & Use a Cryptocurrency Wallet in the Philippines
Each wallet is different. Some require registration, while others don't. Let's explain the entire process using eToro as our #1 option.
Step 1 – Go to the eToro website. and click on Sign Up.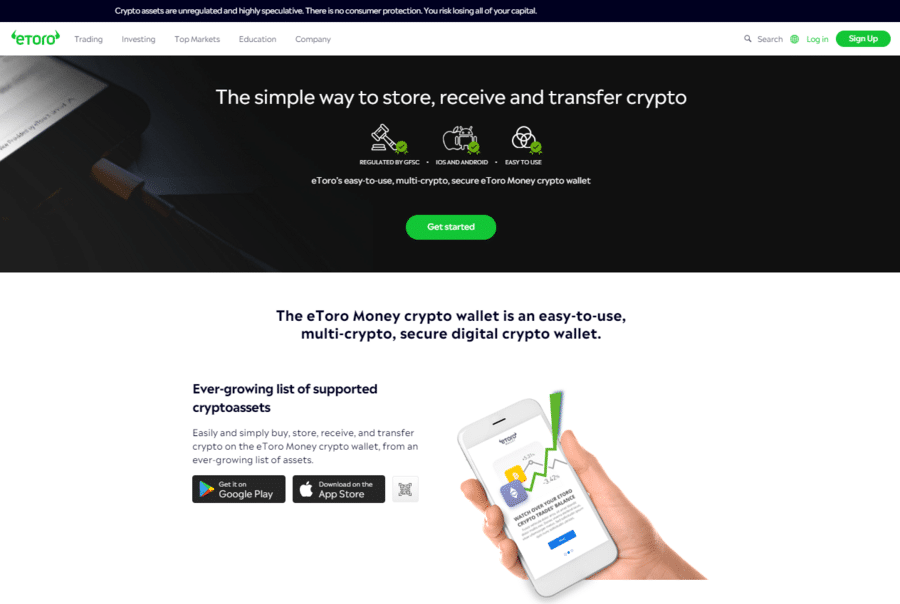 Step 2 – Fill out the form and confirm your account.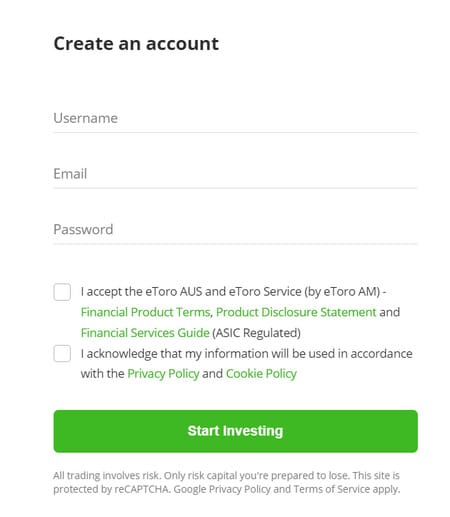 Step 3 – Complete your eToro account and make a deposit.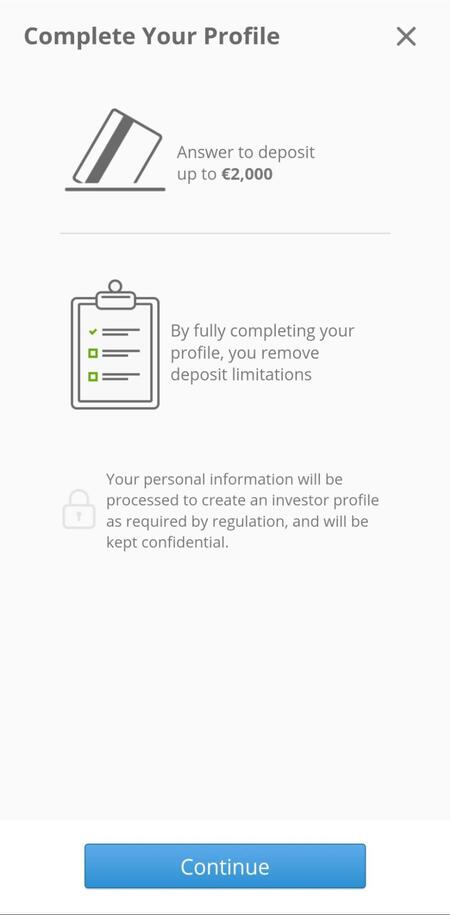 Step 4 – Buy Bitcoin and start using eToro Money to store your digital currencies.
Remember that you can use eToro and eToro Money on your mobile device in the Philippines by visiting Google Play for Android and App Store for iOS devices. Still, we recommend clicking here and registering on the site to make the process quicker. Signing up is possible via mobile sites as well.
Are Bitcoin Wallets Safe? How to Stay Secure With Crypto Wallets
Even though some wallets might have top-notch security measures, you should still take maximum precautions to make sure you protect yourself from any possible negative scenario.
Choose a reputable wallet — This is something we already covered, so make sure that your wallet is highly regarded among users and has all security functions in place.
Consider using hardware wallets — This is not necessary if you don't have a lot of money stored in crypto. However, if you think there's a certain amount you want to protect, you should store it in a hardware wallet.
Set up 2FA and a strong password — 2FA means you'll log in with more than just your password. For example, you might need to scan a QR code or enter a code you received via email or SMS.
Update your wallets — Ensure your crypto wallet is always up-to-date to avoid possible security concerns.
Back up your wallet and store it securely — Just like with any other valuable piece of data, regular backups are necessary to be able to recover your funds if your device is lost.
Conclusion
Finding a secure place to store your crypto holdings in 2023 can be time consuming and unnerving. That's why we've gone through some of the most popular and trusted options to save you the time and headache of sifting through hundreds of options.
Feel free to explore the list or start with our number one choice, Best Wallet, which has proven to be the best crypto wallet for Filipino investors, as it's part of a licensed and regulated broker platform, offers low fees, and supports crypto staking. It is designed to empower users by providing a user-friendly, decentralized platform offering advanced security measures and AI technology.
Cryptoassets are highly volatile and unregulated in most EU countries, Australia and the UK. No consumer protection. Tax on profits may apply. Your capital is at risk.
References
FAQ
What crypto wallets can I use in the Philippines?
What is the best Bitcoin wallet in the Philippines?
How do I open a Bitcoin wallet in the Philippines?
Are Bitcoin wallets legal in the Philippines?
Is MetaMask available in the Philippines?
Is Binance Wallet available in the Philippines?
Is the Coinbase wallet available in the Philippines?