The crypto winter refers to a prolonged bear market. From an investment perspective, this presents an opportunity to buy high-quality cryptocurrencies at a favorable price.
In this guide, we reveal the 13 best crypto winter tokens to buy in 2023.
List of the Top 13 Crypto Winter Tokens
According to industry analysts, here's a list of the 13 best crypto winter tokens to buy in 2023:
Wall Street Memes – A meme-based crypto platform which has recently released its native token, $WSM, on presale. Wall Street Memes has amassed an organic following of more than 400K on social media platforms like Instagram and Twitter.
AiDoge

– This cryptocurrency features a unique combination of AI-driven meme generation and vote-to-earn capabilities.

Ecoterra – An innovative eco-friendly crypto platform. It combats climate change and fosters sustainable growth by rewarding users with tokens when they recycle.
yPredict – The best winter token for predictive crypto market analysis. Through machine learning and data science, the project tackles market volatility and amplifies returns for traders.
DeeLance – The best crypto winter token for freelancers. The platform harnesses the power of metaverse, NFTs, and blockchain for greater transparency, lower costs, and an overhaul of the freelancing landscape.
Launchpad XYZ – The best crypto token that gives you access to all things Web3. The ecosystem offers a comprehensive, user-friendly platform for NFT trading and making informed investment decisions.
RobotEra

– Gain Exposure to the Future of Metaverse Real Estate

Tamadoge

– Mint and Battle Virtual Pets in a Metaverse and AR World

Bitcoin – Most Popular Crypto Token and a Solid Store of Value
Uniswap – Decentralized Exchange for Trading Tokens via Automated Market Makers
Solana – Great Smart Contract Alternative to the Ethereum Blockchain
Cosmos – Blockchain Interoperability Solutions for the Future of Web3
Ripple XRP – Cross-Border Payment Network for Financial Institutions
Full Analysis of the Best Coins to Invest in During the Crypto Winter
There are many options to consider when searching for the best coins to invest in during the crypto winter. In the sections below, we analyze the 13 best crypto winter tokens from the list above.
1. Wall Street Memes – Overall Best Crypto Winter Token to Buy on Presale
Wall Street Memes is one of the top cryptocurrency winter tokens to acquire right now. $WSM, the native token, is available to buy on presale for only $0.0262.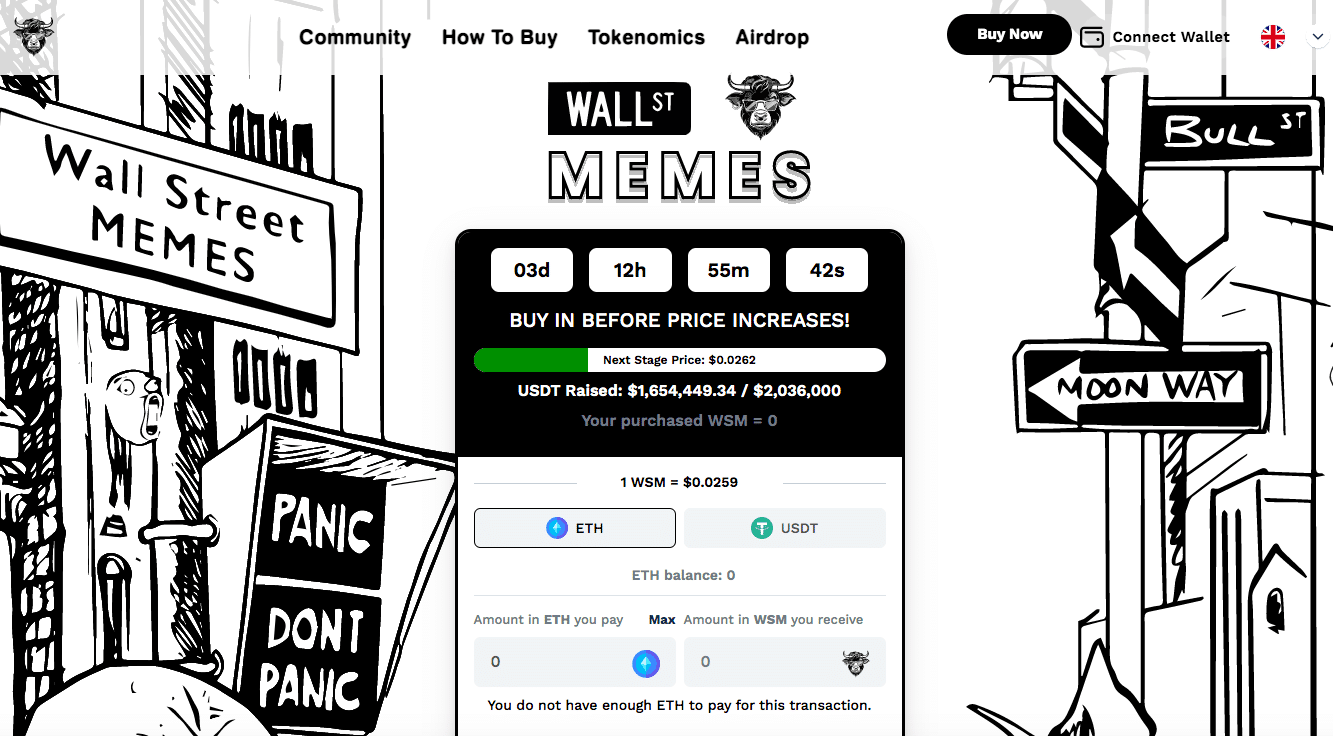 During the end of May 2023, Wall Street Memes released the $WSM token on presale. The creators of this platform are already responsible for releasing their own NFT collection – Wall St Bulls, which sold out 10,000 NFTs in 30 minutes.
One of the reasons for this is due to Wall Street Memes' huge following on social media, which tallies to over 1 million across platforms including Twitter and Instagram. This is a completely meme-based token, which does not offer much utility to the user.
However, this large movement of over 1 million people will look to help generate revenue within the ecosystem. By offering 100% of the token supply to the community, Wall Street Memes aims to distribute wealth among the community.
Now, the project aims to raise over $30.5 million on presale with the $WSM token. The presale will allocate 1 billion tokens, which is 50% of the overall token supply.
There will be 30 presale rounds, with the price increasing per round. While the price during the first round was set at $0.025, $WSM will increase to $0.0337 by the final stage. This equates to a 34.8% price jump.
By the start of the crypto winter in 2023, Wall Street Memes will look to list $WSM on cryptocurrency exchanges. By Q4 2023, the DEX (Decentralized crypto exchange) listing is expected to take place.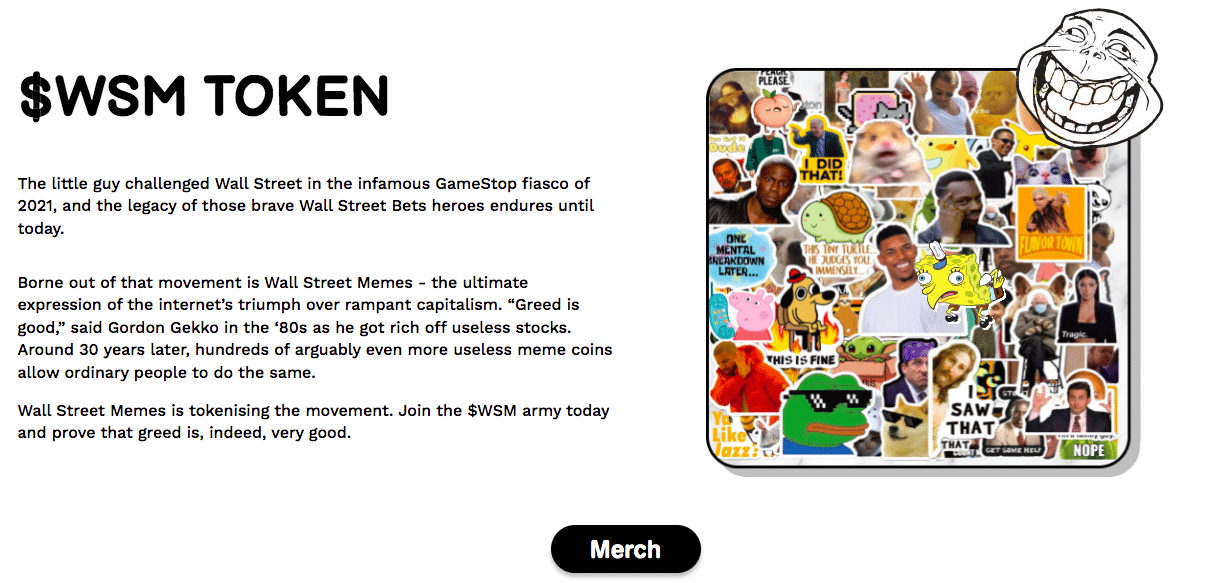 Given that Wall Street Memes is already a popular project, it is likely that the token's listing will be successful and will take place on top exchanges such as Binance.
Once the listing takes place, it is possible that this meme coin could offer huge returns in the next few months.
In just a few days since the presale went live, Wall Street Memes has already raised over $1.6 million. To stay updated with the presale and new developments, join the Wall Street Memes Telegram channel.
| | |
| --- | --- |
| Hard cap | $30,577,000 |
| Total tokens | 2,000,000,000 |
| Tokens available in presale | 1,000,000,000 |
| Blockchain | Ethereum Network |
| Token type | ERC-20 |
| Minimum purchase | 100 tokens |
| Purchase methods | USDT, ETH, BNB, Bank Card |
2. AiDoge – Presale Token that Leverages AI Tools to Create Memes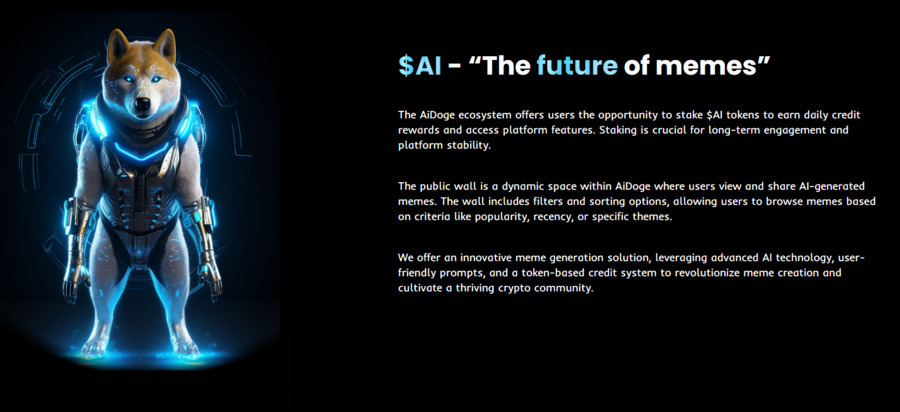 AiDoge ($AI) is one of the latest meme cryptos on the market, and it's the best winter token due to the unique features it brings. It combines both memes and AI, which are prevalent in the cryptocurrency world.
We've seen many successful coins go a similar route, including Conflux and Pepe Coin, but their focus was always on one niche, while AiDoge is the first to combine both.
The founders have decided to remain anonymous, much like the creators of most other meme coins. It's not something to worry about, as even the biggest cryptocurrencies (Bitcoin, anyone?) come from unknown sources.
What Is AiDoge?
AiDoge is a unique crypto project that uses complex AI technology to allow users to create memes with written prompts.
First, you need to invest some $AI tokens you've previously purchased to get the chance to type in a few prompts in the meme generation tool. The AI will do its magic and create a meme based on your request. You can do this several times to arrive at the design you like.
After that, you can post and share your meme on the AiDoge network, and other users will get the chance to vote for it in return for $AI tokens. If your meme gets the most votes at the end of the month, you'll receive a sizable prize in the form of $AI.
On top of that, the platform allows staking. Holders can stake a desired number of $AI tokens, which unlocks premium features and grants daily $AI token rewards, which are proportional to the amount you've staked.
With all of these features, AiDoge is secure and self-sufficient, minimizing risk for investors and regular users. Moreover, it has real utility you rarely see in the meme crypto world. You can always learn more about it in the official whitepaper.
$AI Token and Why You Should Buy It
AiDoge's native token, $AI, is incredibly cheap, worth only $0.00002680 at the time of writing. That's because it's in the presale stage, with the plan being for the valuation to increase slightly every few days.
More specifically, the price is set to rise by $0.00000040 with every new stage. The initial price was $0.00002600, and by the last stage, it will be $0.00003360, which is a rise of around 29%.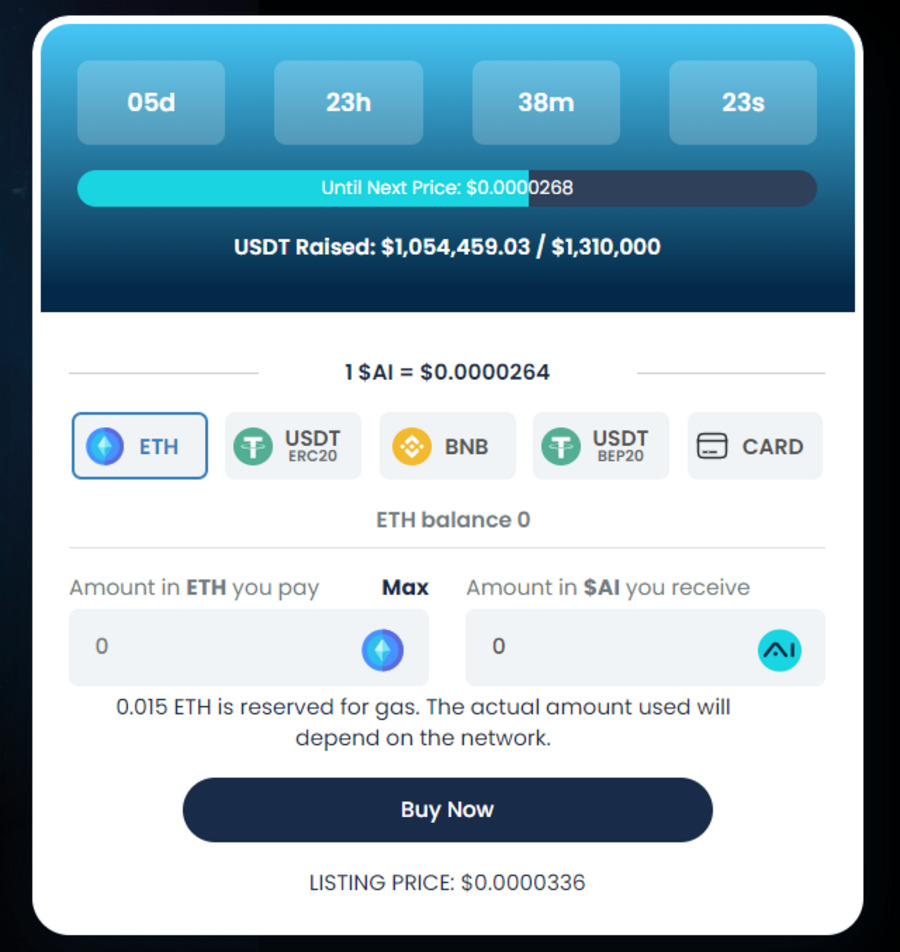 This rise is fixed, so it makes sense to buy tokens early to make a profit, as long as you're willing to take the risk. AiDoge is still a new crypto, and like all of them, both success and failure are possible, so careful analysis is a must before making any decisions.
Naturally, as with all new tokens, there's also a lot of potential for massive gains, just as many investors have made sizable earnings with Wojak, Pepe Coin, and Arb Doge AI pumps. If you've missed these, AiDoge could be the next big opportunity.
Interestingly, all of these tokens are mere meme coins, while AiDoge has managed to combine both AI and memes. Even the similarly named Arb Doge AI lacks real utility and is a simple deflationary token with some staking capabilities.
AiDoge has already raised more than $1.34 million, even though it's still in the early stages of the presale.
You can follow the development of the project through the official Telegram community.
| | |
| --- | --- |
| Presale Started | April 2023 |
| Purchase Methods | ETH, USDT, BNB, credit card |
| Chain | Ethereum |
| Hard Cap | $14,900,000 |
| Min Investment | 38,461 $AI |
| Max Investment | None |
3. Ecoterra: Empowering Eco-friendly Actions Via a Blockchain-based Recycle2Earn Platform
Ecoterra has introduced an innovative green platform that employs a Recycle2Earn approach to tackle climate change and global warming, positioning it as a strong competitor among the leading crypto winter tokens.
During the presale phase, the value of the Ecoterra token is set to rise progressively. At press time, each $ECOTERRA is available for a mere $0.00625 USDT.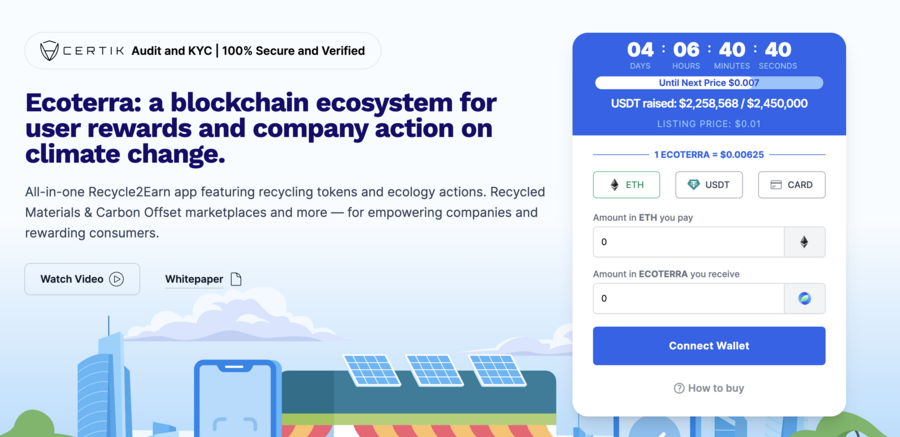 The Recycle2Earn app rewards users with points for recycling through the platform. This idea was inspired by the profitable "play to earn" and "move to earn" markets in the GameFi sector. By offering an easy method to recycle and accumulate points, the app prioritizes user experience.
To begin, customers must utilize an AI-powered scanner to find the product's barcode in a database. Then, as detailed in the Ecoterra whitepaper, the app directs the user to the closest Reverse Vending Machine for recycling the item.
By submitting a photo of their recycling receipt for verification, users can earn Ecoterra tokens. The app promotes and rewards users for eco-friendly actions beyond recycling. On the Ecoterra platform, the Recycled Materials Marketplace allows for exchanging tokens for reused plastic, glass, or aluminum materials.
This unique marketplace enables users to specify their needs for recycled materials and connects them with global businesses capable of providing those resources.
To stay updated on the latest news and developments, users should join the Ecoterra Telegram channel.
| | |
| --- | --- |
| Hard Cap | $6,700,000 |
| Total Tokens | 2,000,000,000 |
| Tokens available in presale | 1,000,000,000 |
| Blockchain | Ethereum Network |
| Token type | ERC-20 |
| Minimum Purchase | $10 |
| Purchase with | USDT, ETH, Bank Card |
4. yPredict : Best Winter Token for Predictive Crypto Market Analysis
yPredict is a new cryptocurrency platform combining the power of machine learning and analytic tools for predicting financial markets, especially those pertaining to cryptocurrency. The platform uses its native token, YPRED, to incentivize data science. ML experts create predictive models and allow holders to earn additional assets through staking and other mechanisms.

YPRED is one of the best crypto winter tokens to buy right now because it offers a solution to the unpredictability of the crypto market. The ecosystem uses advanced mathematical techniques and metrics to study market moves and calculate future outcomes. As a result, it can help traders minimize the impact price volatility has on their assets.
Moreover, the project's whitepaper states that YPRED's maximum supply is set at 100 million tokens, half of which will be unlocked at the time of listing. The supply limit will likely increase the token value, especially if current trends continue. In just a couple of months, the project has raised over $900,000 and counting.
Now is a good time to buy YPRED tokens as they are currently still in their presale stage, coming at a price of only $0.05. However, keep in mind that this will change as the project moves through the ensuing stages, eventually driving the token price up to $0.12. You can follow the price status on yPredict's official site and join its Telegram channel for more information.
YPRED holders will be able to access the ecosystem without additional charges and earn a share of 10% of the platform's revenue. Meanwhile, developers can earn recurring income by selling subscriptions to their predictive models, banking as much as 70% of the full price.
| | |
| --- | --- |
| Presale Started | February 2023 |
| Purchase Methods | ETH, MATIC, USDT, BNB, Card |
| Chain | Polygon |
| Hard Cap | $6,507,511 |
| Min Investment | 200 $YPRED |
| Max Investment | None |
5. DeeLance: A Decentralized Freelancing Platform with an NFT Marketplace and Affordable Fees
The new decentralized freelance and hiring platform, DeeLance, has recently initiated an ICO for its native crypto, $DLANCE. What makes the $DLANCE ICO attractive despite the current crypto winter? The main goal of DeeLance is to enhance transparency and minimize expenses for freelancers and their clients.
During the initial presale phase, each $DLANCE token is priced at a mere $0.029 USDT. Following a six-stage price escalation, a single $DLANCE token will be valued at $0.048 USDT by the conclusion. Moreover, the token's listing price is established at $0.055 USDT.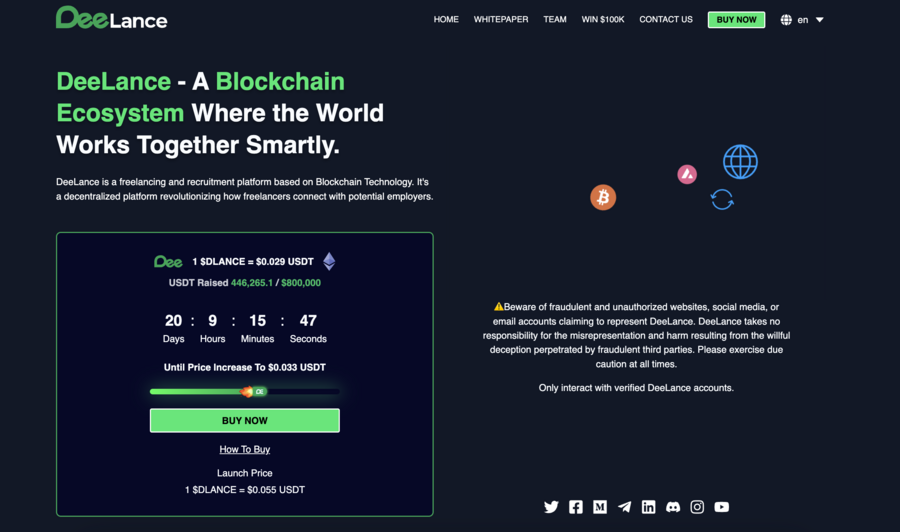 All monetary transactions are securely recorded on a public blockchain using smart contracts. An advanced NFT marketplace, an innovative metaverse, and a solid hiring platform constitute the core of the platform's ecosystem. These components offer a wide range of resources, enhancing the freelancing experience while promoting transparency and digital project ownership.
DeeLance charges more affordable rates than other major freelance platforms, imposing a flat 2% fee for clients and 10% for freelancers.
According to the DeeLance whitepaper, freelancers can confidently expect timely payments due to the platform's integration of escrow payment services. Workers receive immediate compensation through cryptocurrency payments.
DeeLance: What Makes It Appealing?
DeeLance is quickly gaining traction by providing a metaverse where recruiters and freelancers can interact seamlessly. The built-in NFT marketplace enables users to mint their work as NFTs effortlessly and supports dependable work transfers between freelancers and recruiters.
$DLANCE tokens have various applications within the DeeLance metaverse, with the option to purchase virtual office space being just one example of why investing in $DLANCE is a promising opportunity.
To learn more about this decentralized platform, join the DeeLance Telegram channel.
| | |
| --- | --- |
| Hard Cap | $6,800,000 |
| Total Tokens | 1,000,000,000 |
| Tokens available in presale | 300,000,000 |
| Blockchain | Ethereum Network |
| Token type | ERC-20 |
| Minimum Purchase | $10 |
| Purchase with | USDT, ETH, Card |
6. Launchpad XYZ: Best Crypto Token That Gives You Access to All Things Web3
The next best crypto winter token worth looking into is LPX, used by the Launchpad XYZ platform. The solution offers a comprehensive approach to the complexity of Web3, utilizing AI-powered tools and expertise to make this technology accessible to anyone, regardless of their technical knowledge.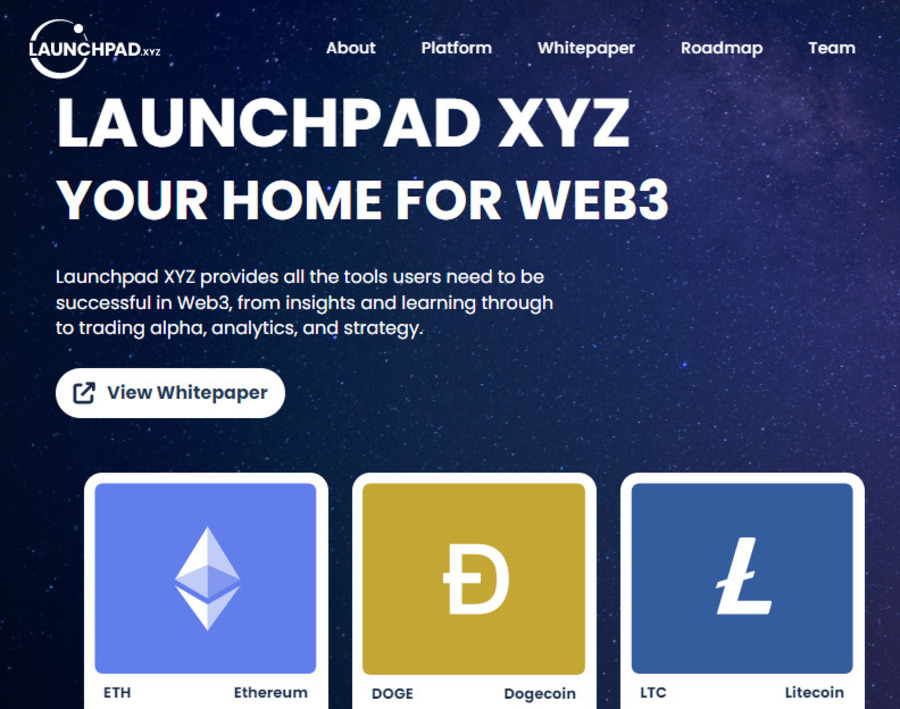 The project aims to create an all-encompassing platform with an easy-to-use interface and tutorials that will ensure smooth navigation through Web3. Using the principles of decentralization, Launchpad XYZ will allow users to browse and purchase NFTs while maintaining full control over their digital assets at all times.
According to the whitepaper, the platform will also feature its own Web3 wallet, a decentralized exchange, and a play-to-earn hub. It will offer expert utility token analyses, risk-to-reward assessments, and trade insights, making it easier for users to reach profitable trading decisions.
The company's vision to attract ten million users and create a market cap of $10 billion by 2025 may sound overly ambitious. However, as it stands, the project is without competition, which, alongside its awesome features, makes these goals quite feasible. For updates on the project's development, make sure to join its official Telegram channel.
On top of that, the platform's popularity is growing steadily, having amassed more than $300,000 in just two weeks of its presale. If you want to jump on the bandwagon, now is the best time since the investment currently costs only $0.035 per token. The price will increase with every subsequent presale stage until it reaches its listing price of $0.07, double the current amount.
| | |
| --- | --- |
| Presale Started | April 2023 |
| Purchase Methods | USDT, ETH, Transak |
| Chain | Polygon |
| Hard Cap | $12.5 million |
| Min Investment | None |
| Max Investment | None |
7. RobotEra – Gain Exposure to the Future of Metaverse Real Estate
RobotEra is one of the best crypto winter tokens for metaverse investors. This project is in the early stages of development and its native token, TARO, can be purchased via the ongoing presale campaign. TARO backs the RobotEra metaverse world, which will enable users to buy virtual land and real estate.
The whitepaper states that there are no limitations when it comes to building virtual projects on RobotEra land. For instance, users can build a virtual arena, host events, and sell tickets.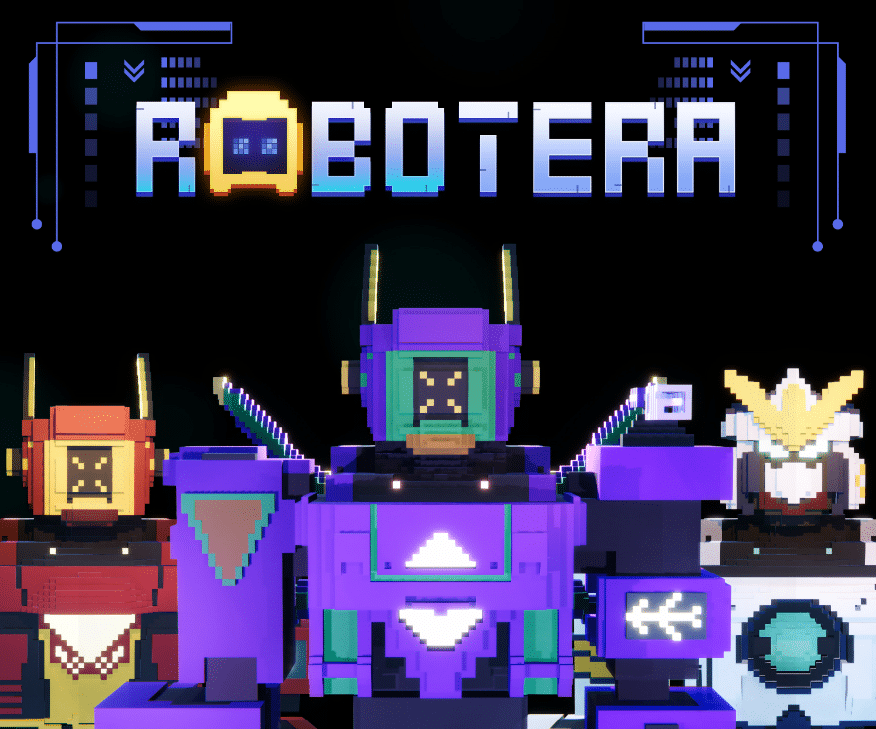 Alternatively, a user might decide to build a casino and hotel complex, shopping mall, stadium, or even a villa – the possibilities are endless.
The RobotEra metaverse will enable users to buy, sell, and trade in-game items. All purchases and sales will be made in TARO tokens. This ensures that TARO has real-world utility. As a blockchain-based project, RobotEra will run via a DAO (decentralized autonomous organization). This means that RobotEra developments will be voted on by TARO token holders.
Before entering the RobotEra metaverse, users will be able to mint their own NFT avatar. The avatar will represent the user via a robot character that can be fully customized. All in-game assets, including virtual plots of land and real estate projects, can be traded in the RobotEra marketplace.
This will create a metaverse-based economy that operates in a decentralized nature. The RobotEra presale was recently launched and is in stage one. This prices TARO tokens at $0.020 each. This offers a huge discount from stage two, which is priced 25% higher at $0.025. TARO tokens will continue to increase in price throughout the presale, rewarding early investors.
More than $1 million has been invested in the project so far.
| | |
| --- | --- |
| Presale Started | Q4 2022 |
| Purchase Methods | ETH, USDT |
| Chain | Ethereum |
| Min Investment | 1,000 TARO |
| Max Investment | None |
8. Tamadoge – Mint and Battle Virtual Pets in a Metaverse and AR World
Tamadoge is building a gaming ecosystem that will take full advantage of Web3 technologies. Not only does this include blockchain and crypto-based rewards, but NFTs, augmented reality (AR), and a metaverse. When getting started with Tamadoge, players will need to mint an NFT to enter the game. This NFT will create a unique virtual pet.
Each pet differs from the next in terms of appearance, traits, strengths, and weaknesses. Players can then improve their virtual pet through training, feeding, and even breeding. This will enable players to earn crypto rewards by entering the Tamadoge battle arena. The idea here is that virtual pets will compete with one another for the chance to win TAMA tokens.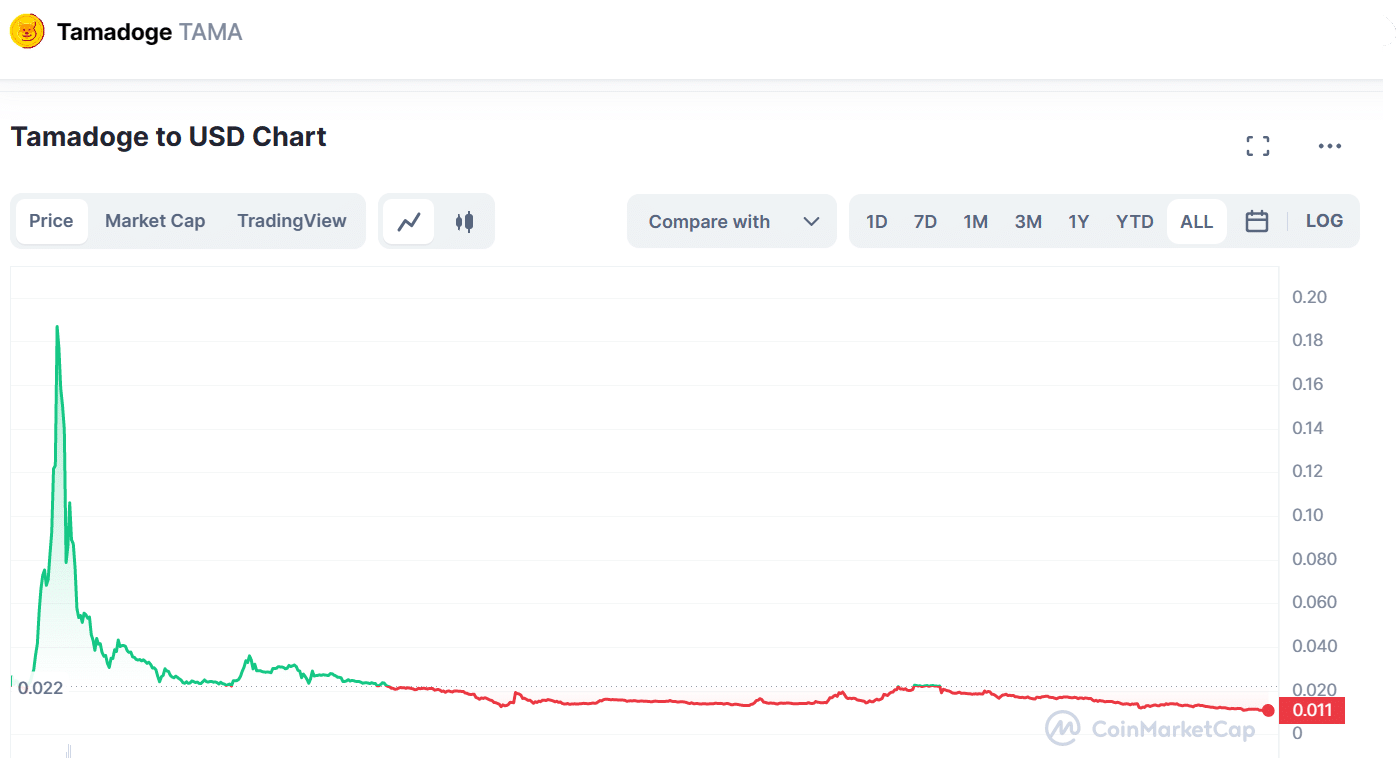 TAMA is an ERC-20 token that fuels the Tamadoge ecosystem. In addition to being the in-game rewards currency, TAMA can be used to purchase NFT packs. This allows players to boost the traits of their virtual pets and players will also be able to search for TAMA tokens in the real world through AR.
This is similar to the Pokemon GO concept, where AR items can be viewed via the Tamadoge app. Tamadoge has also built a suite of arcade games, each of which comes with TAMA rewards. Four mini-games have already been produced and more are on the way – taking these core features into account, Tamadoge is one of the best crypto winter tokens to buy today.
The $19 million presale campaign sold out in late 2022, but TAMA can still be purchased from crypto exchanges. Gate.io, OKX, MEXC, LBank, Uniswap, and others.
As of writing, the market capitalization of Tamadoge is just $21 million – when the next crypto bull run arrives, this offers a huge amount of upside for growth investors.
9. Bitcoin – Most Popular Crypto Token and a Solid Store of Value
Presales offer the greatest upside potential even during a crypto winter but established tokens like Bitcoin are also an important component of an investor's portfolio and BTC has forever been a favorite long-term crypto investment.
Bitcoin remains the largest crypto token by market cap and will likely do so indefinitely. Therefore, the crypto winter has presented a great opportunity to buy Bitcoin at a discount. But as one of the most volatile cryptos on the market, is BTC still a good buy during a crypto winter?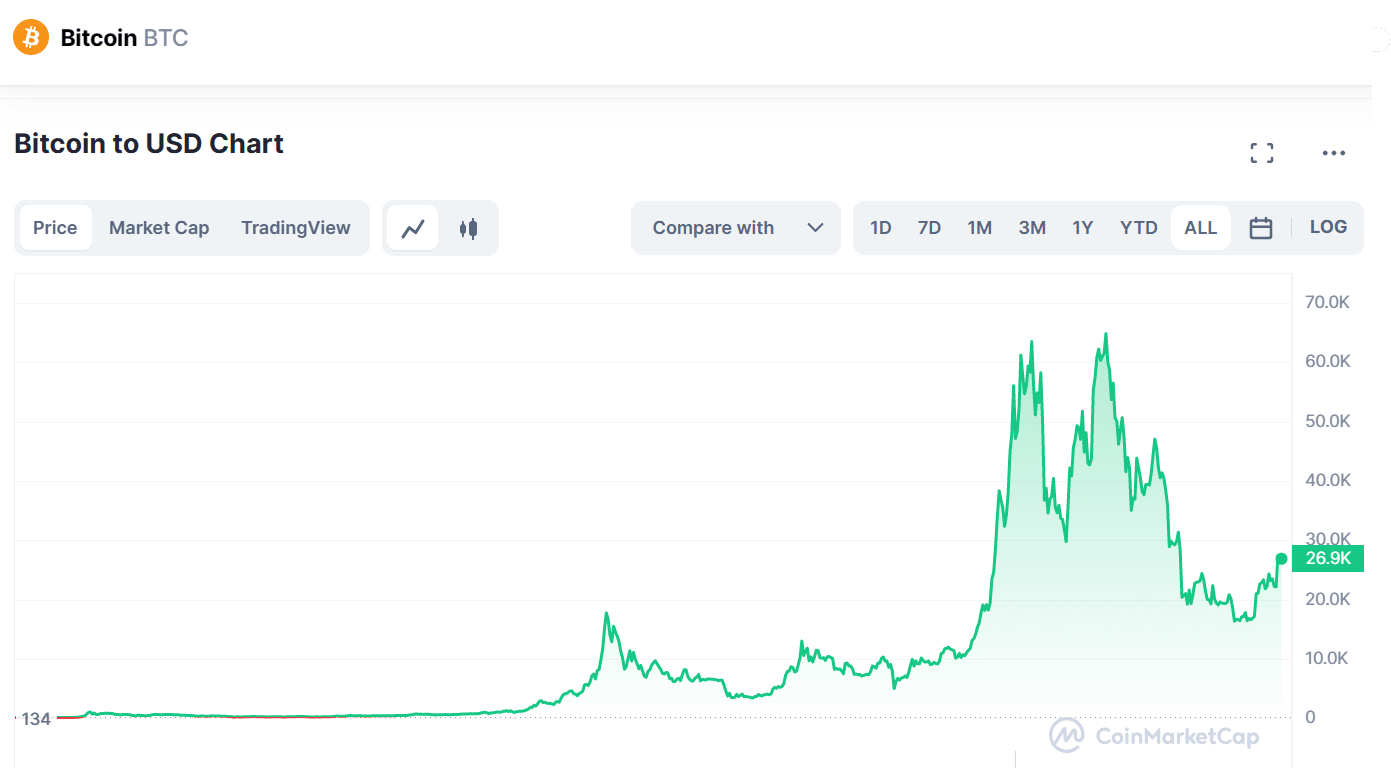 After hitting an all-time high of almost $69,000 during the previous bull run, Bitcoin has since fallen to 52-week lows of $16,000. As of writing, Bitcoin is trading at around $27,000, which is more than 50% above its 52-week low. However, this current price point still means that Bitcoin is available to buy at a 60% discount from its former all-time high.
It remains to be seen how long the crypto winter will remain in place. This means that the best way to invest in Bitcoin is through dollar-cost averaging. At eToro, the minimum Bitcoin investment is just $10, which is ideal for this strategy.
81% of retail investor accounts lose money when trading CFDs with this provider
10. Uniswap – Decentralized Exchange for Trading Tokens via Automated Market Makers
Uniwap is one of the best crypto winter tokens to buy for exposure to decentralized finance (DeFi). This established exchange enables traders to buy and sell tokens without needing a third party, let alone conventional order books.
Instead, Uniswap has revolutionized online trading through its automated market maker (AMM) model.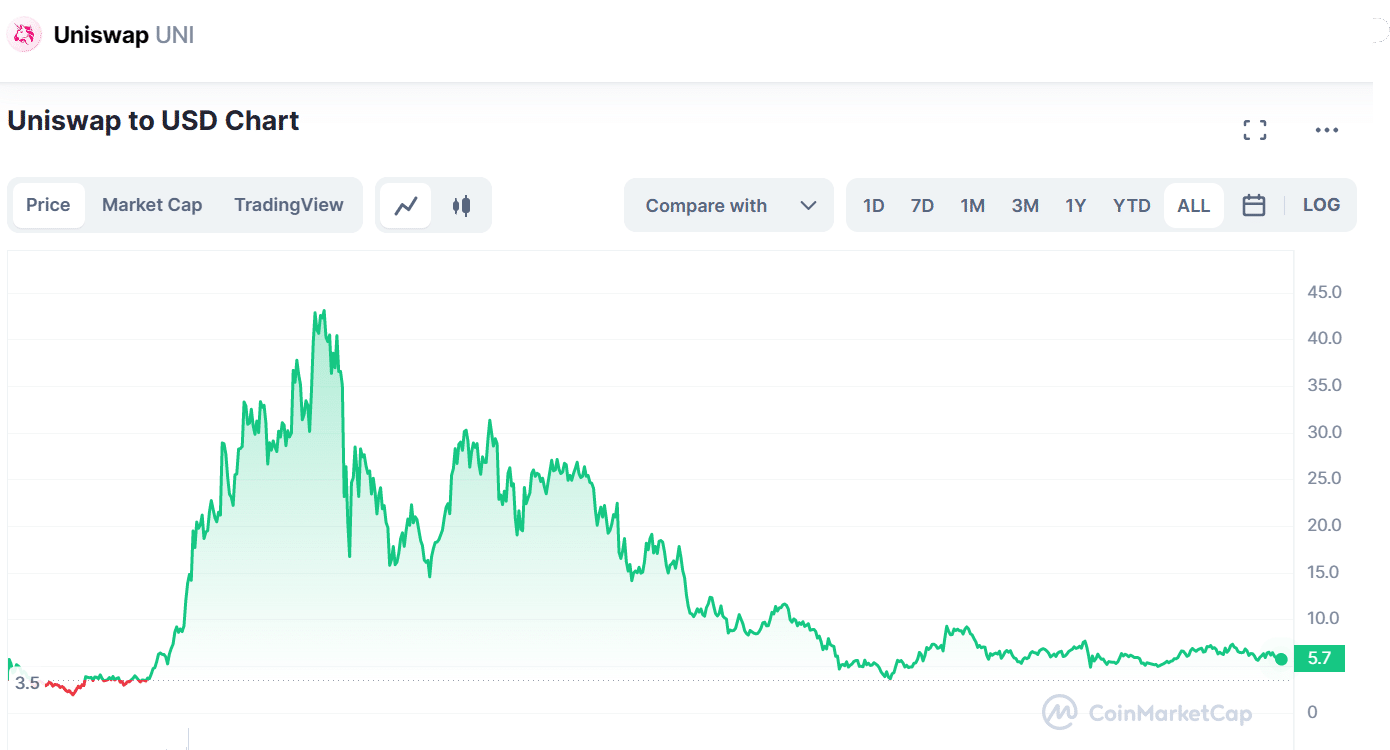 Put simply, this allows a buyer to purchase a token without needing a seller. This is possible because the AMM framework uses liquidity pools. Each pool is funded by investors, which enables them to earn a passive income. Uniswap is backed by an ERC-20 token, UNI. When compared to its 52-week high of $12.43, UNI is trading at a 54% discount right now.
81% of retail investor accounts lose money when trading CFDs with this provider
11. Solana – Great Smart Contract Alternative to the Ethereum Blockchain
Although Ethereum is the de-facto smart contract platform, there are alternative options with higher upside potential. Solana, for example, can process transactions more efficiently and cost-effectively in comparison to Ethereum. In fact, Solana can process many thousands of transactions per second. Fees amount to a small fraction of a cent.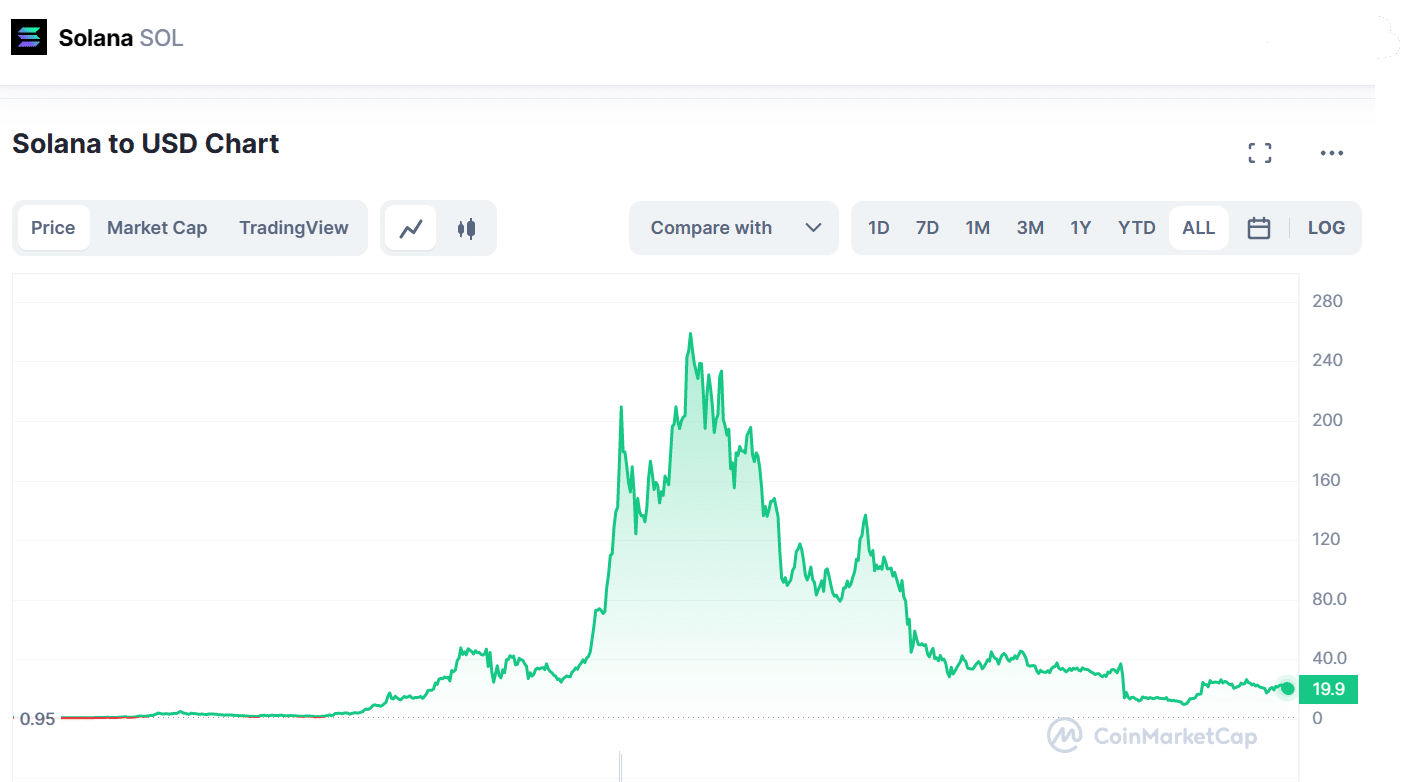 The Solana founders are actively working to overcome the negative impact of FTX's stain on their token, striving to regain confidence and momentum in the market.
And in terms of valuation, SOL carries a much lower market capitalization than Ethereum, at $8.5 billion and $200 billion respectively. Solana is also one of the best crypto winter tokens to buy for value, considering its current price. For instance, compared to its 52-week high price of $143, Solana can be purchased at an 86% discount.
81% of retail investor accounts lose money when trading CFDs with this provider
12. Cosmos – Blockchain Interoperability Solutions for the Future of Web3
Cosmos continues to build its decentralized framework, which provides blockchain interoperability solutions. In simple terms, this means that through Cosmos, blockchains can communicate and share data with each other. This is the case even if the two blockchains use completely different consensus mechanisms.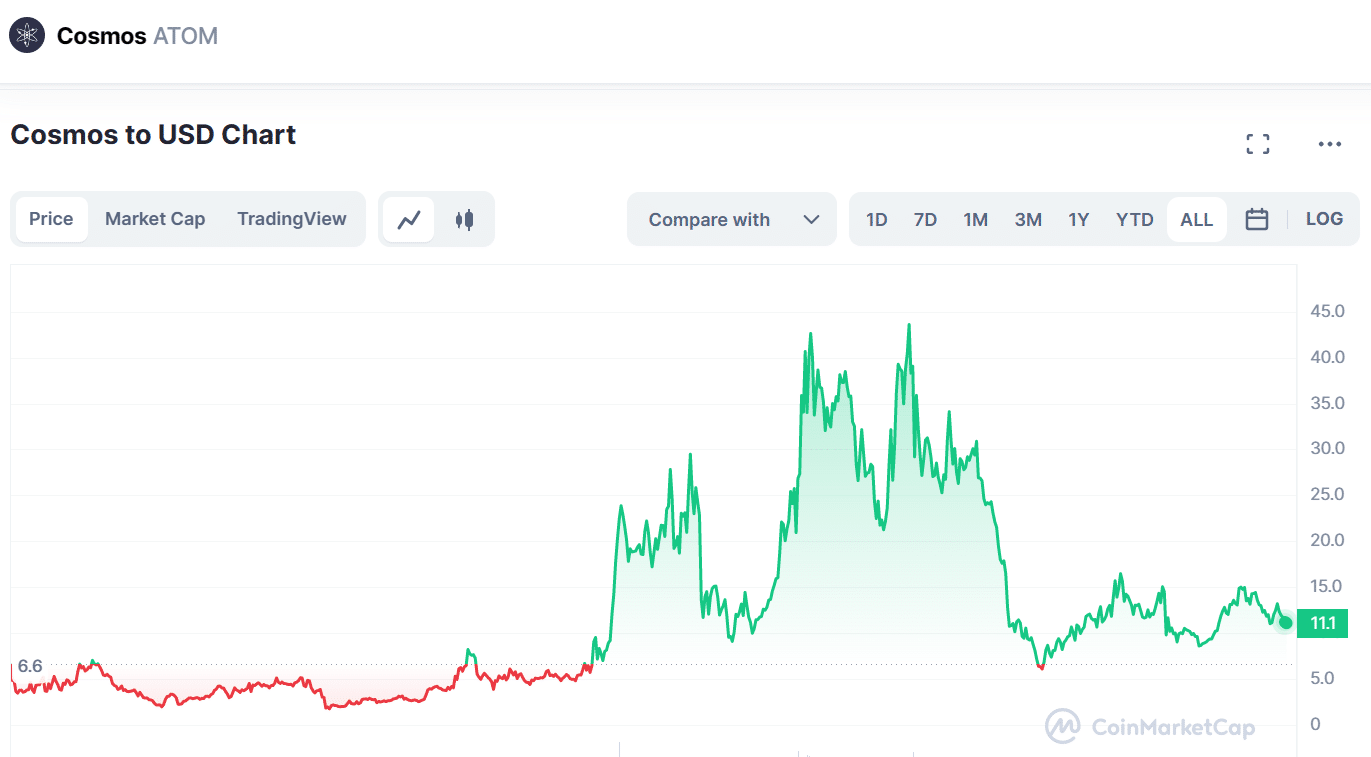 For instance, a Bitcoin transaction could run in conjunction with an Ethereum smart contract. In the future of web3, interoperability is expected to play a major role. As such, Cosmos and its underlying ATOM token could be one of the best crypto winter coins to buy today. Compared to its 52-week high, ATOM is trading at a 63% discount.
81% of retail investor accounts lose money when trading CFDs with this provider
13. Ripple – Cross-Border Payment Network for Financial Institutions
Ripple is one of the most established blockchain projects in the market. Founded in 2012, Ripple has built a cross-border payments network that facilitates international transfers. XRP, the project's native token, sits at the heart of the Ripple framework. This is because XRP provides liquidity when non-major currencies are being transferred.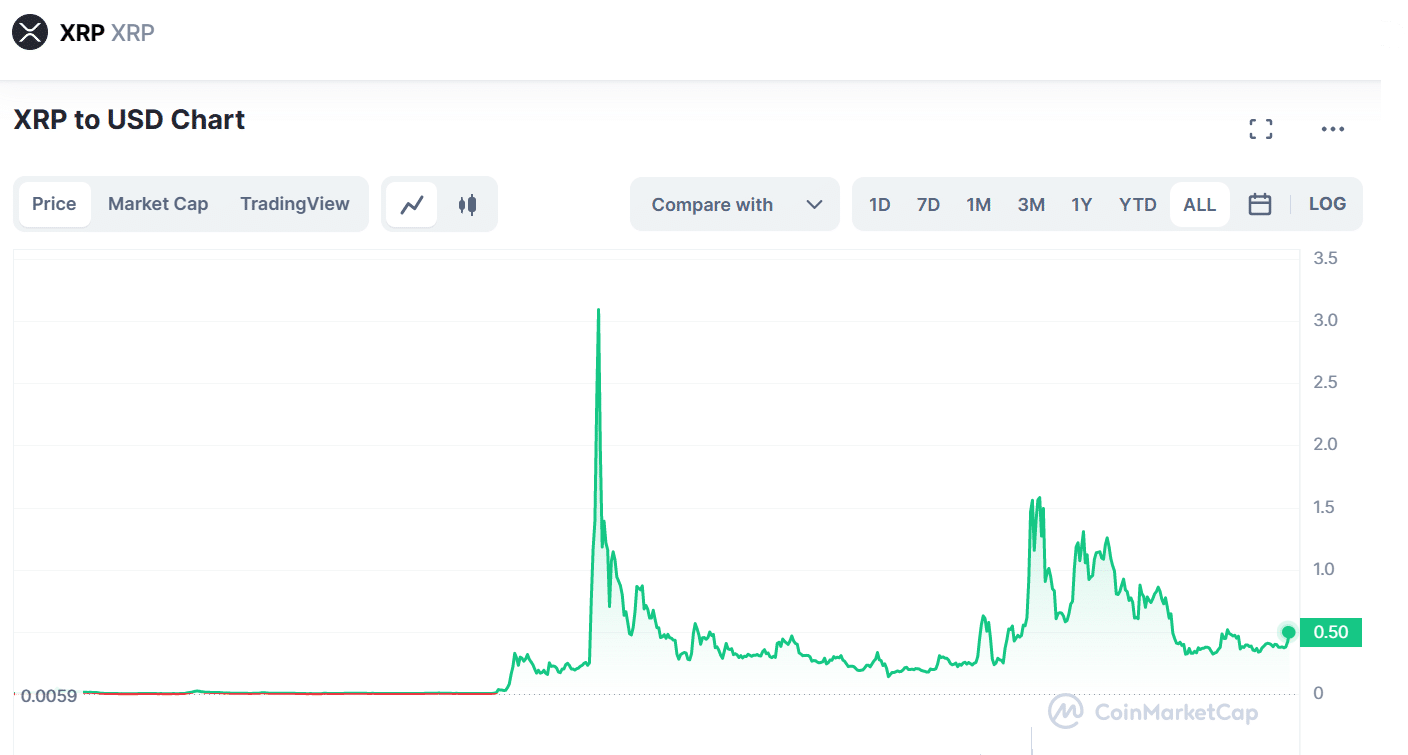 For instance, a bank in Kenya might need to transfer funds to a manufacturer in Brazil. When performing this transaction through SWIFT, high fees and slow processing times are likely.
Through Ripple, however, the transfer will take just 4-5 seconds and cost less than a cent. XRP is trading at a 40% discount compared to its 52-week high, meaning it is still one of the top penny cryptos to buy.
81% of retail investor accounts lose money when trading CFDs with this provider
Crypto Winter Explained
The crypto winter refers to an extended bear market. This is a period where broader crypto prices decline, often by 70% or more. For instance, Bitcoin hit $69,000 in late 2021 only to decline by 75% down to $16,000. Cryptocurrencies with a smaller market cap have since seen even larger declines.
We should make it clear that the crypto market has gone through many bearish periods previously. Seasoned investors will use this time to build a portfolio of high-quality tokens at a huge discount. For instance, why pay $69,000 for Bitcoin when the world's most popular crypto token can be purchased for just $16,000?
In terms of how long a crypto winter lasts, there is no definitive way to say with any certainty. Bitcoin has increased by more than 50% since hitting lows of $16,000, so this is good news for the industry. Many other cryptocurrencies have also shown signs of recovery – nonetheless, the crypto winter is still firmly in place.
Reasons to Invest During a Crypto Winter
Instead of avoiding the industry during a bear market, seasoned investors will often double down.
This is because the crypto winter offers many opportunities to purchase top-rated tokens at a favorable price. Here's what to consider when assessing the best crypto to buy during the crypto winter.
Discounts From Prior All-Time Highs
Many of the top 100 crypto assets are trading at discounts of 70% or more. This is when compared to former all-time highs during the last altcoin season, many of which were achieved in late 2021.
Crucially, if an investor believes in the future of a crypto token, then it makes sense to invest when prices are low. This is no different from buying S&P 500 stocks during a bear market.
Presales Offer Extended Gains
Even amid a crypto winter, many newly launched tokens can be purchased via a presale campaign. Due to the low entry price, presales continue to be popular with growth investors.
This is why $WSM, AiDoge, DeeLance, Ecoterra, and RobotEra are some of the best crypto winter tokens to buy – AiDoge, for example, has already raised more than $1.3 million in a short time and offers huge potential for growth.
Conclusion
While the crypto winter causes a strain on broader market prices, this offers a great time to build a portfolio of cheap digital assets. This includes high-quality presales like Wall Street Memes, which offers a discounted price for early investors.
Wall Street Memes is an established crypto platform with over 1 million followers. In May 2023, the project released the $WSM token on presale.
This presale will look to raise more than $30.5 million before conducting its initial exchange offering by the end of 2023.
FAQs
Which crypto token has the most potential?
What is the crypto winter?
Is the crypto winter ending?