YouTube influencers can be a great source when exploring cryptocurrencies. Not only in terms of education and market insights but finding trending cryptocurrencies that have the potential to explode.
In this guide, we explore the best crypto YouTube channels in 2023. Read on to find the most popular YouTube crypto influencers worth following.
Top 11 Crypto YouTube Channels for Tips & Insights
Let's get straight into it – here's a list of the best crypto YouTube channels in 2023:
Jacob Bury – In our view, Jacob Bury is the best crypto YouTube channel in 2023. Bury is an experienced crypto trader and analyst that has a track record of finding undervalued gems. While Bury also has a strong interest in large-cap, established cryptocurrencies, presales are his forte. Over the prior year, Bury has tipped some of the best presales for performance, including Tamadoge and Lucky Block.
Michael Wrubel – With over 310,000 subscribers and more than 1,800 videos, Michael Wrubel is a hugely popular crypto influencer. Similar to Jacob Bury, Wrubel specializes in undervalued cryptocurrencies that have the potential to explode.
BitBoy Crypto – In terms of subscriber numbers, it doesn't get much bigger than BitBoy Crypto. With over 1.4 million followers, BitBoy is often the go-to place for crypto insights. BitBoy also covers new projects through comprehensive reviews, market news, and technical analysis.
Crypto Banter – This Crypto Banter YouTube channel has over 631,000 subscribers. The channel differentiates itself from others by focusing on live streams. This includes breaking news from within the crypto and blockchain space, not to mention discussions on trending projects.
Crypto ZEUS – This growing YouTube channel has over 65,000 subscribers. The channel often releases multiple videos throughout the day, covering real-time insights and market activity. Crypto ZEUS is also popular for its analysis of upcoming presales.
Crypto Kirby – Crypto Kirby is a hugely popular YouTube channel that specializes in technical analysis. Videos usually go into great detail, averaging 20 minutes each. The vast bulk of the focus is on Bitcoin.
Crypto Zombie – Launched in 2018, the Crypto Zombie has amassed a following of over 251,000 subscribers. This channel is an all-rounder, covering everything from crypto news and market analysis to interviews.
The Moon – This YouTube channel is run by the crypto influencer Carl Runefelt. With over 576,000 subscribers, The Moon initially focused on technical analysis and fundamental research. The channel has since expanded, offering insights into Runefelt's new life as a crypto billionaire.
Crypto Jebb – Founded in 2017, Crypto Jebb went from a faceless YouTube channel to one of the most popular technical analysts in the space. With over 223,000 subscribers, Crypto Jebb is the go-to place for expert insights on Bitcoin and other large-cap cryptocurrencies.
Ivan on Tech – Ivan on Tech is a popular YouTube channel that largely focuses on crypto and blockchain education. The channel continues to increase its following, with over 497,000 subscribers. Ivan on Tech also regularly discusses his altcoin portfolio, including tips on which coins could be worth buying.
Altcoin Daily – As the name suggests, Altcoin Daily is a crypto YouTube dedicated to altcoin investments. It usually posts at least one information video each day to its 1.3 million subscribers.
An In-Depth Look at Best Crypto YouTubers
Now let's take a deep dive into the cryptocurrency YouTube channels listed above.
1. Jacob Bury – Overall Best Crypto YouTube Channel
For unparalleled insights into the best crypto to invest in, consider Jacob Bury. In our view, this is the best YouTube channel out there. Put simply, Jacob Bury is an experienced cryptocurrency trader and analyst. Bury offers insights into his trading thesis through simple yet highly informative videos.
In Bury's own words – "No hype. No clickbait. No nonsense." While Jacob Bury covers a wide range of crypto-related topics, his expertise lies in new cryptocurrency projects that have the potential to explode. More specifically, Jacob Bury has a proven track record of finding the best crypto presales before the broader markets.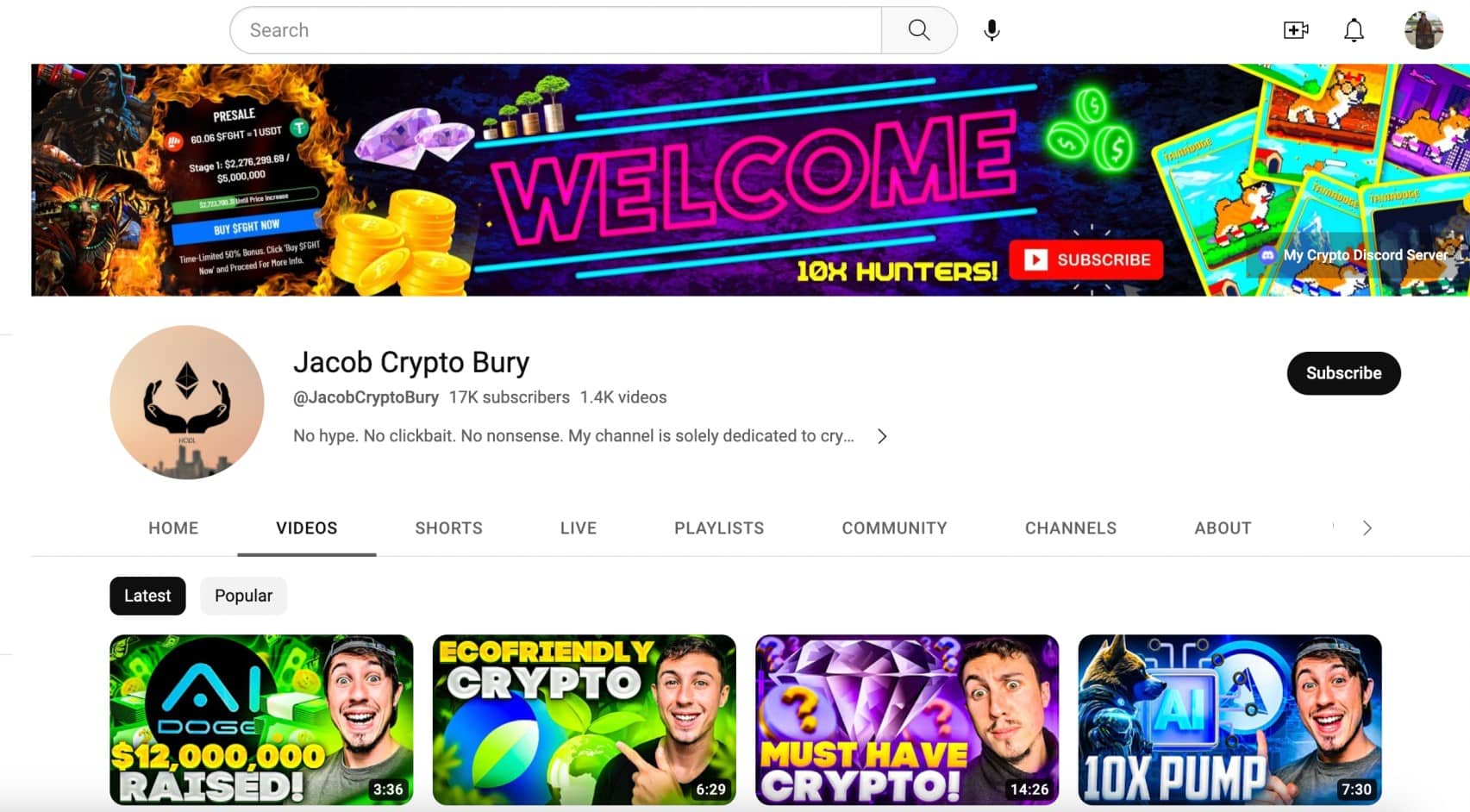 In other words, Bury likes to invest in newly launched cryptocurrencies from the ground up. This enables Bury and his YouTube followers to find the best-emerging cryptocurrencies before they are listed on exchanges. A prime example of this is Lucky Block. Bury was one of the first YouTube crypto influencers to tip the Lucky Block presale back in January 2022. Put simply, Lucky Block went on to generate gains of over 60x after its exchange listing.
Currently, Jacob Bury is hot on a selection of presales that are ongoing right now.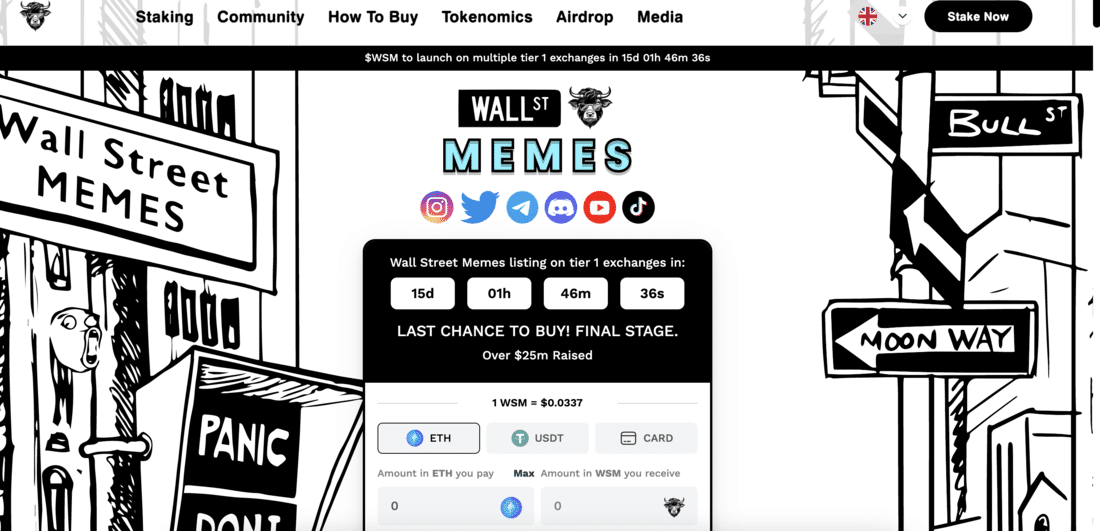 For example, Jacob Bury believes that Wall Street Memes could go on to achieve similar returns to Lucky Block. The project takes aim at Wall Street fat cats using hilarious memes that are proving a hit among retail investors.
It could offer returns similar to Shiba Inu and Doge, which have similar themes. Wall Street Memes has seen interaction from Elon Musk on Twitter and has further raised a whopping $25 million in just twelve weeks of presale, with a huge social following of over 1,000,000 followers.
Hoping to list on a Tier 1 exchange soon, it's a massively popular presale tipped by Bury to experience exponential returns of 10x or more.
Another tip from this seasoned Web3 veteran is Bitcoin BSC. Bitcoin BSC is a BTC clone built on a powerful BNB Smart Chain for increased utility and staking rewards that are currently estimated at 370%.
This is another potential 10x coin that provides substantial utility, as well as price appreciation potential for the modern investor. Price entry is constant at $0.99 throughout the presale, which has already raised $1.5M in just 8 days.
All that being said, Jacob Bury's YouTube isn't just about upcoming presales and undervalued crypto gems. On the contrary, Bury also covers technical and fundamental analysis of Bitcoin and other large-cap cryptocurrencies. Bury is also known for explaining complex crypto-related subjects in a simple and user-friendly manner.
All-in-all, we rank Jacob Bury as one of the best crypto influencers on YouTube in 2023.
2. Michael Wrubel – Top YouTube Channel for Finding Undervalued Gems
Michael Wrubel is also one of the best crypto YouTube channels for finding undervalued gems. Just like Jacob Bury, Wrubel has a passion for new projects with micro-market capitalization. We found that this YouTube channel likes to keep things concise, with most videos averaging 5-10 minutes. Nonetheless, Michael Wrubel packs in a lot of key information.
What's more, we found that Michael Wrubel likes to put his money where his mouth is. Crucially, Wrubel claims to personally invest in the projects that he discusses. Currently, Michael Wrubel is focused on finding the next Pepe. Irrespective of the use cases, this YouTube influencer is more interested in projects that are trending.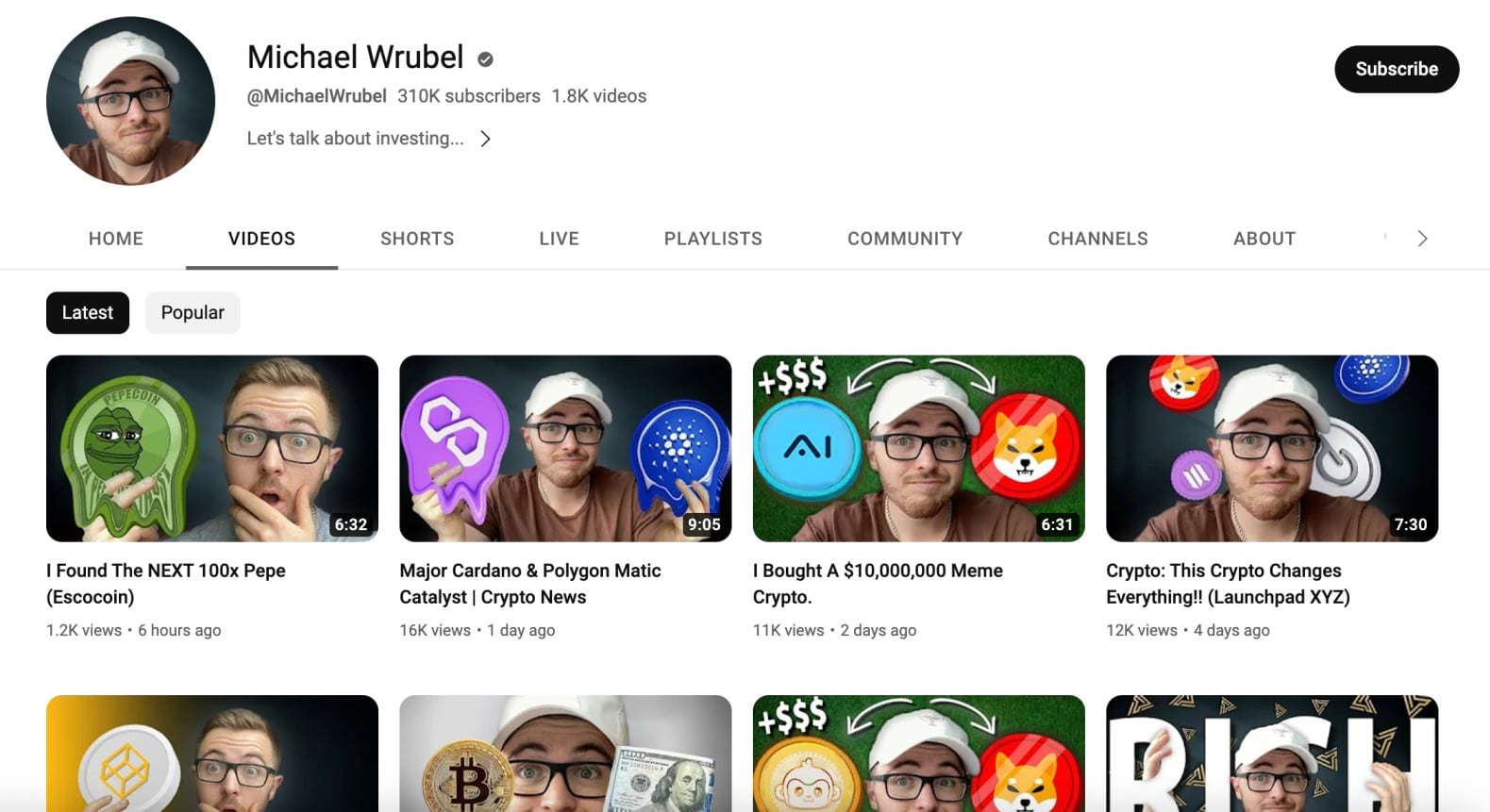 This might be because of an oversubscribed presale campaign or above-average trading volumes. Additionally, Wrubel is also popular for his live streams. These offer insights into the current market trends, enabling viewers to ask questions live. Finally, the Michael Wrubel YouTube channel currently has over 310,000 subscribers and more than 1,800 videos.
3. BitBoy Crypto – The largest Crypto YouTube Channel in the Industry
Not only is BitBoy one of the best crypto YouTube channels for the variety of topics covered, but it's also the largest. Currently, this YouTube channel has over 1.46 million subscribers. As such, the channel has unprecedented influence in this space. Backed and presented by Ben Armstrong, BitBoy Crypto covers every talking point imaginable.
For example, the channel offers technical and fundamental analysis of both large-cap and emerging cryptocurrencies. BitBoy Crypto also offers live price predictions on a variety of coins, not to mention updates on his current portfolio. BitBoy Crypto is also popular for its educational insights.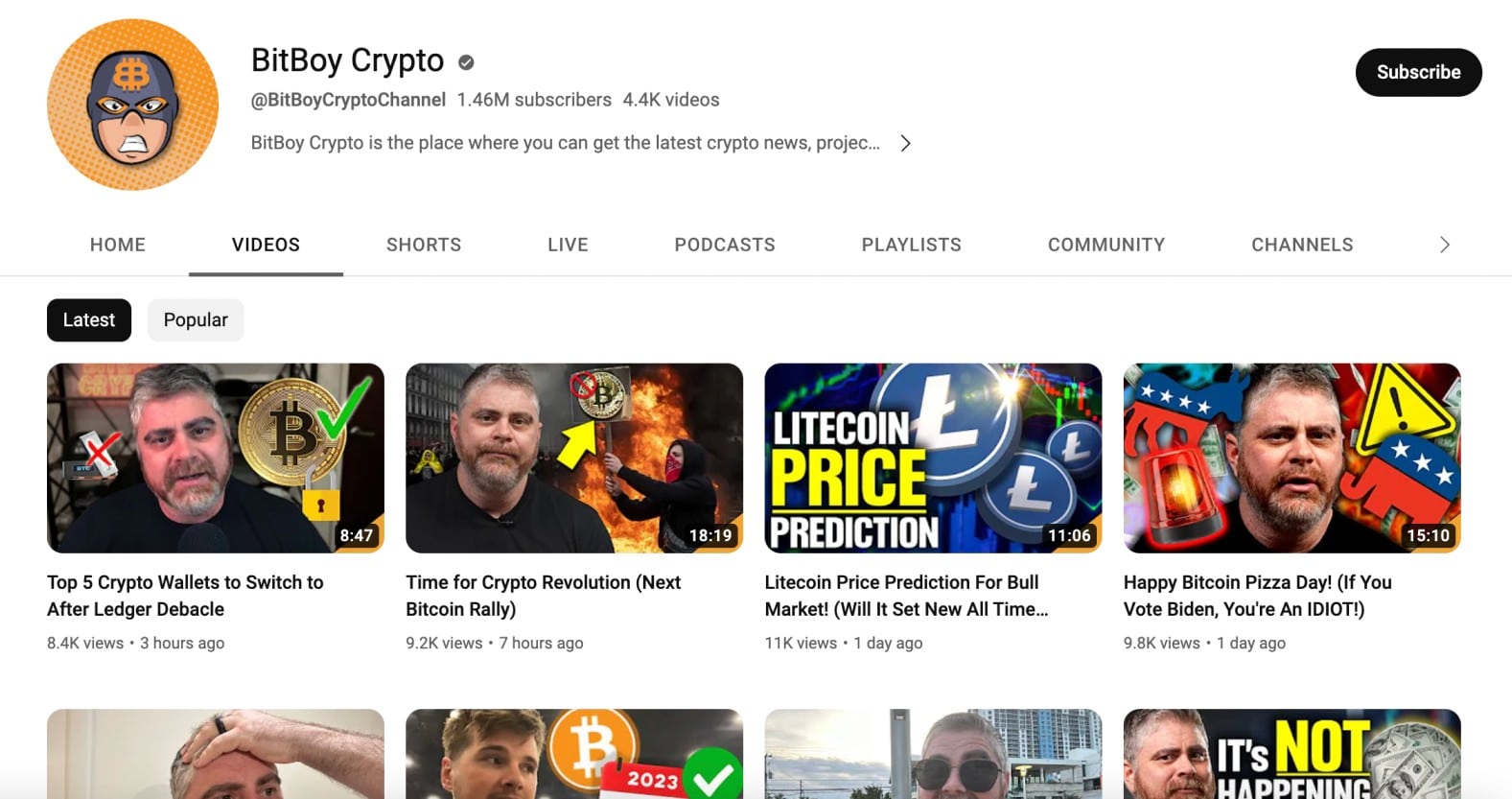 For example, the channel recently published a video guide on the best crypto wallet alternatives to Ledger. That said, BitBoy Crypto has also run into controversy in recent years. For example, CNBC published an article on Ben Armstrong's willingness to accept payments to plug crypto projects. One such example is DistX, which has allegedly lost 99% of its value since being plugged.
4. Crypto Banter – Live Crypto Streams to Over 631,000 Subscribers
Crypto Banter is one of the best crypto YouTube channels for comprehensive live streams. In fact, the vast majority of videos are published live, showcasing the confidence that Crypto Banter has in its insights. Moreover, Crypto Banter videos usually average one hour, so there's lots of information being broadcasted.
In terms of the focus, Crypto Banter covers all bases. For example, some videos will focus on the current market news and sentiment. This covers Bitcoin and altcoin prices alongside important fundamental research. Crypto Banter is also one of the best crypto YouTube channels for interviews.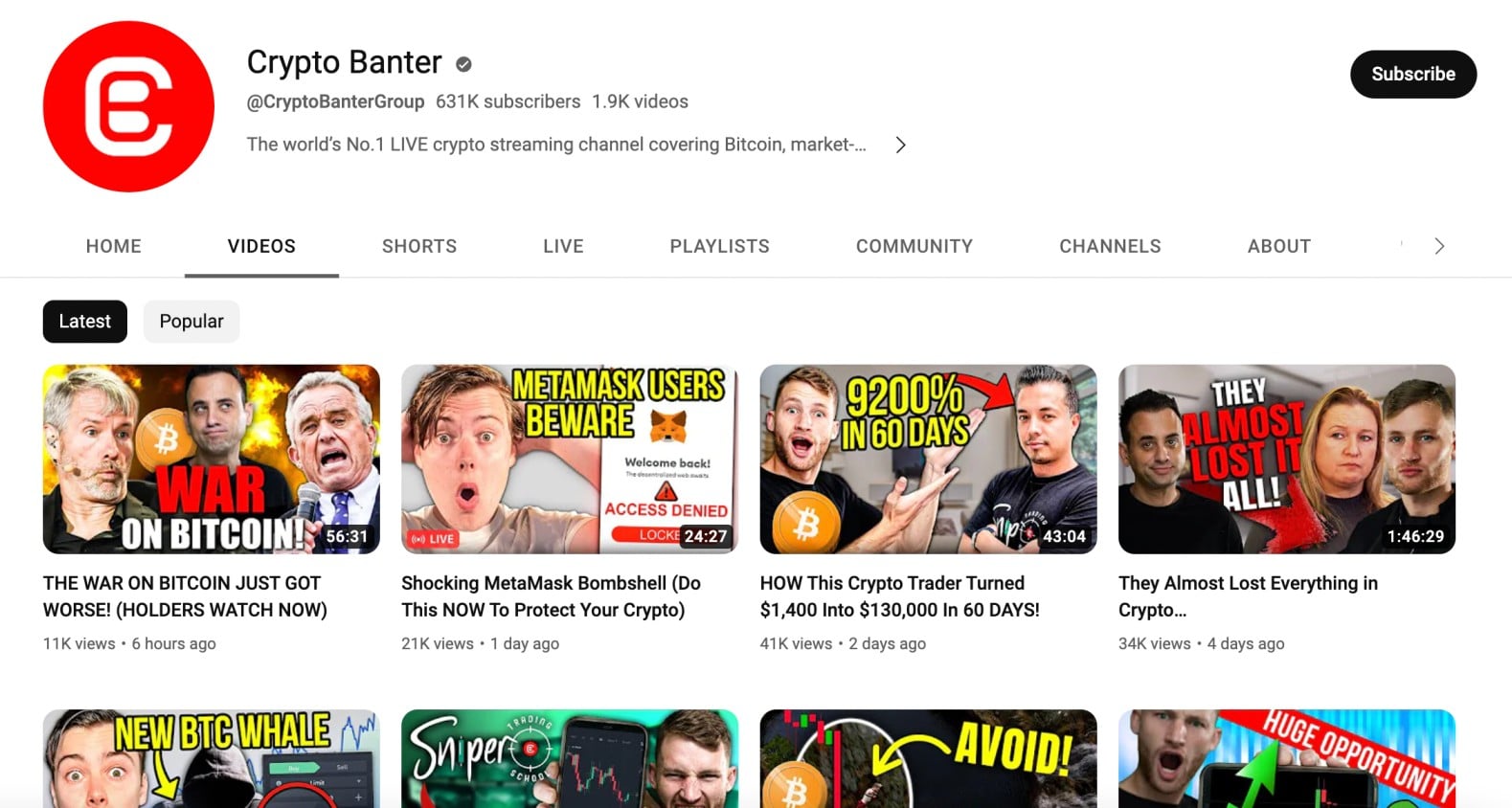 The channel talks with a variety of crypto stakeholders, ensuring that viewers have a well-rounded outlook on the industry. Crypto Banter was launched in September 2017, right at the peak of the bull market. The YouTube channel has since amassed a huge following of over 631,000 subscribers.
5. Crypto ZEUS – Multiple Videos Each Day With a Focus on Crypto Presales
With over 65,000 subscribers, Crypto ZEUS is one of the best crypto YouTube channels for presale investors. The channel is very active, with several videos posted on most days. This ensures that subscribers are kept abreast of key market developments. Moreover, we like that videos are short but informative, usually averaging 5-7 minutes.
In terms of content, Crypto ZEUS is largely focused on finding the next 100x. The channel not only considers the fundamentals of new projects but the actual utility of the token. For example, Crypto ZEUS recently posted a video on Deelance, a new crypto presale that is revolutionizing the Gig Economy. Built on the blockchain, Crypto ZEUS explains that the platform connects recruiters and clients without third-party interference.
Moreover, Crypto ZEUS notes that Deelance offers considerably lower fees than legacy platforms, such as Fiverr and Feeelancer.com. Having explored Deelance ourselves, we found that the presale has already raised over $1 million. What's more, the Deelance presale is offering an immediate upside of 50% based on current prices.
In addition to presale content, Crypto ZEUS also covers the most important crypto news and developments. For example, Crypto ZEUS was instrumental in keeping his community updated during the Terra Luna crisis.
6. Crypto Kirby – High-Level Technical Analysis Videos on Bitcoin
With over 157,000 subscribers, Crypto Kirby is one of the best crypto YouTube channels for technical analysis. More specifically, Crypto Kirby focuses almost exclusively on Bitcoin. As such, this is a great YouTube for assessing Bitcoin's next move in both the short and long terms.
We found that the Crypto Kirby YouTube channel leaves no stone unturned, with each video averaging 20 minutes. Although Crypto Kirby goes into extensive details, this YouTuber is skilled at explaining the basics in simple terms. That said, to get the most out of Crypto Kirby's expertise, the channel has a VIP club on Telegram.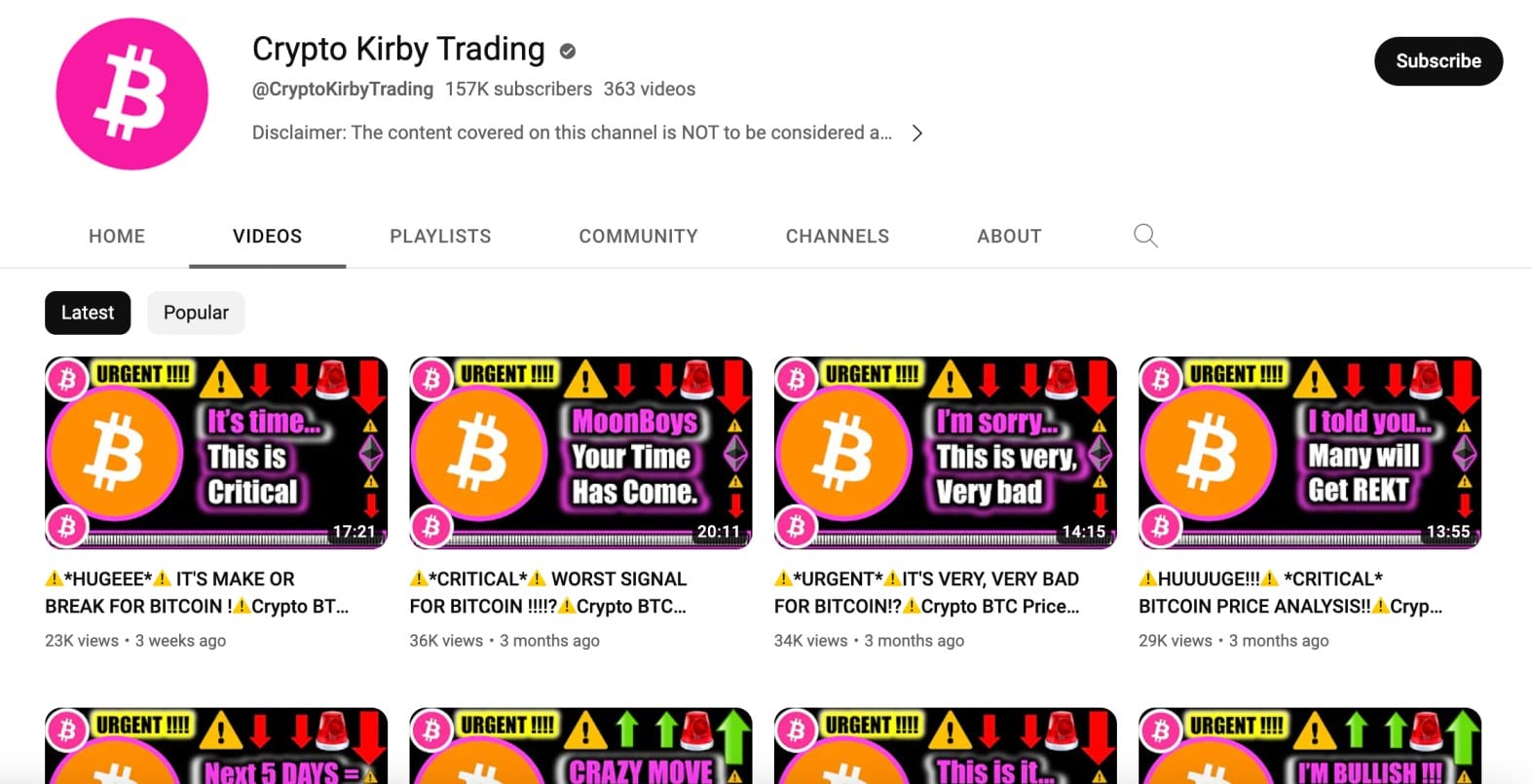 This is a premium subscription service that not only offers technical analysis but actual trading ideas. For example, Crypto Kirby will inform his premium members in real-time of what trades he is personally making. This enables beginners to skip the research process and instead follow a hugely successful trader like-for-like.
7. Crypto Zombie – One of the Best All-Rounders for Crypto Insights and Developments
We found that Crypto Zombie is one of the best YouTube channels for all things crypto. It covers every topic imaginable, including discussions on market news and developments. For example, Crypto Zombie recently explored how crypto regulation in the US could impact the industry.
Although the Crypto Zombie YouTube channel is known for its overly clickbait thumbnails, videos are packed with useful information nonetheless. Additionally, this popular YouTube channel also offers long-term educational guides.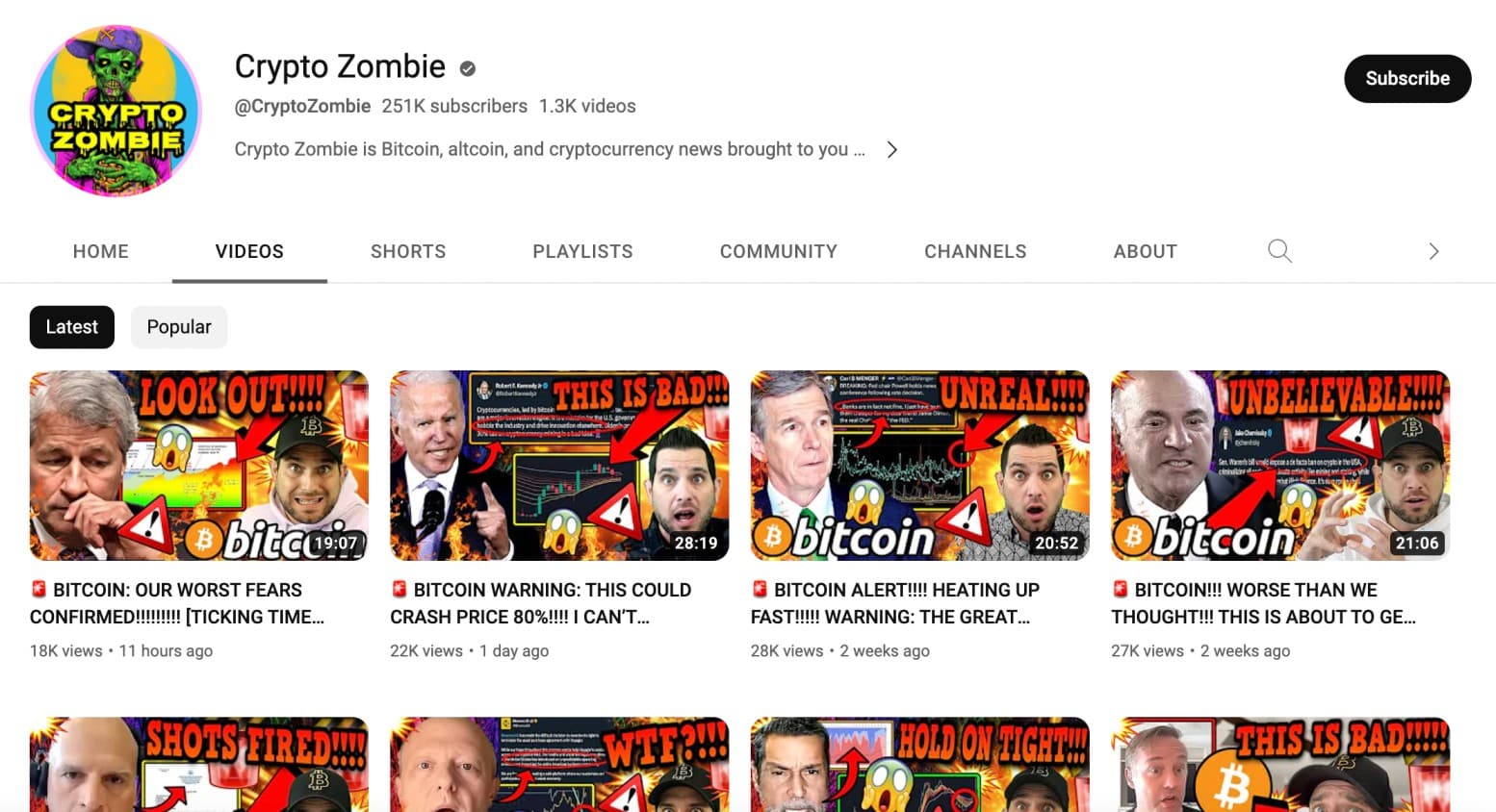 For example, Crypto Zombie recently did a 33-minute video explaining how to trade leveraged Bitcoin markets on ApeX. Since the channel was launched in 2018, Crypto Zombie has amassed more than 38 million views. Currently, the channel has over 251,000 subscribers.
8. The Moon – Follow the Life of a Crypto Billionaire and Technical Trader
Launched in December 2017 when Bitcoin hit a then-all-time high of $20,000, The Moon is one of the most popular crypto YouTube channels out there. The channel is run by Carl Runefelt, a Swedish influencer who has since amassed a channel following of over 576,000 subscribers.
However, it is important to note that when the channel was first launched, Runefelt was working in a supermarket. But today, Runefelt is a self-made billionaire. The vast majority of his wealth was accumulated from cryptocurrency investments. Although many videos posted by The Moon now follow Runefelt's real-life interactions, he still offers technical analysis.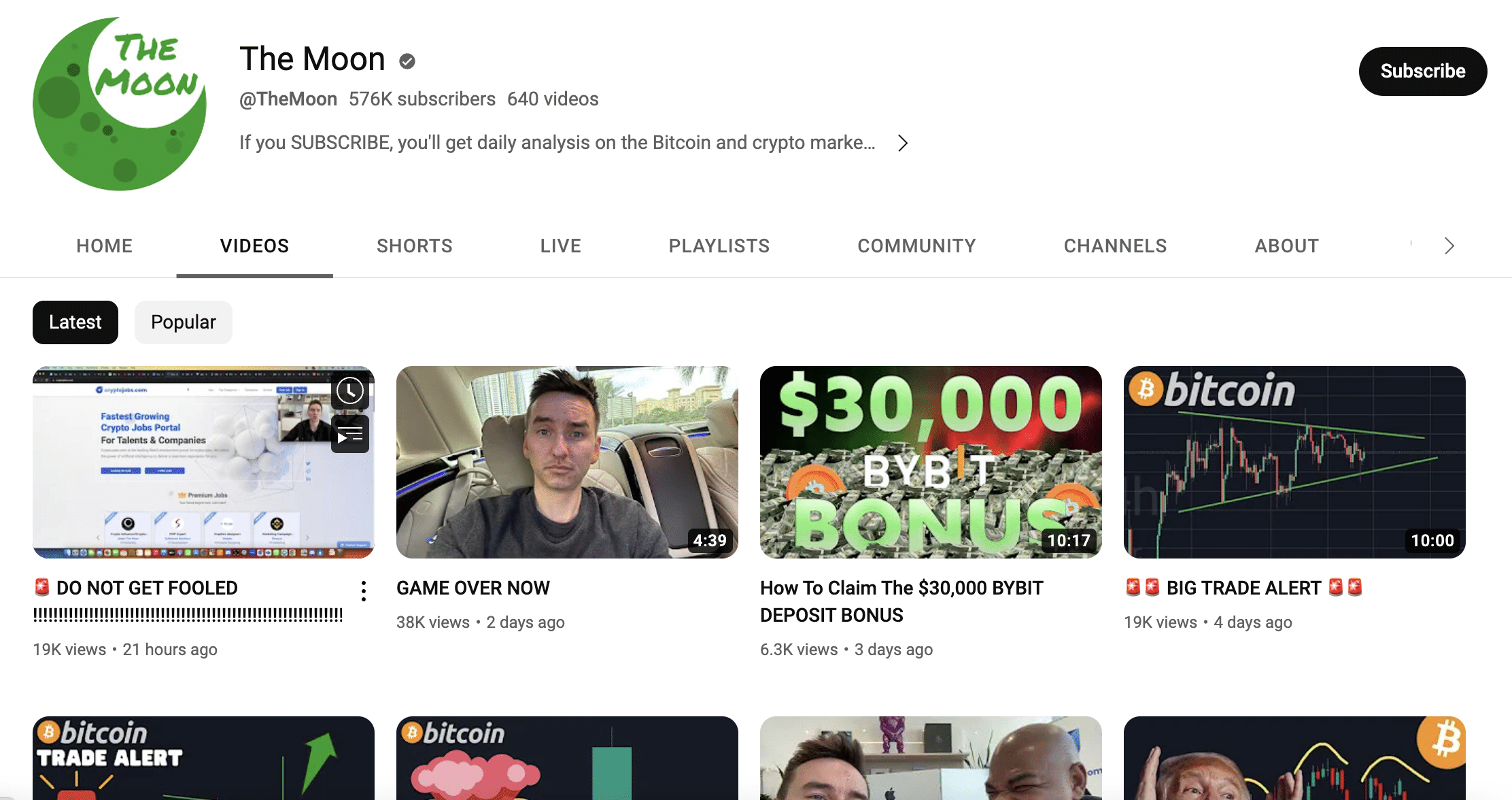 Runefelt typically focuses on Bitcoin and Ethereum but will occasionally cover small-cap coins too. In addition to his YouTube channel, Runefelt can also be found giving interviews on mainstream media platforms like CNBC and Fox Business.
9. Crypto Jebb – One of the Best Bitcoin Technical Analysts to Follow
Launched in late 2017, Crypto Jebb is a popular technical analyst. During the initial few months, Crypto Jebb ran a faceless YouTube channel. But Crypto Jebb has since revealed his identity and remains one of the go-to places for technical insights. In particular, the vast majority of videos are focused on Bitcoin.
Crypto Jebb will perform analysis in real-time, enabling viewers to see what technical indicators are used and how they work. Like many of the YouTube channels discussed today, Crypto Jebb ensures that complex terms are understandable even to complete novices.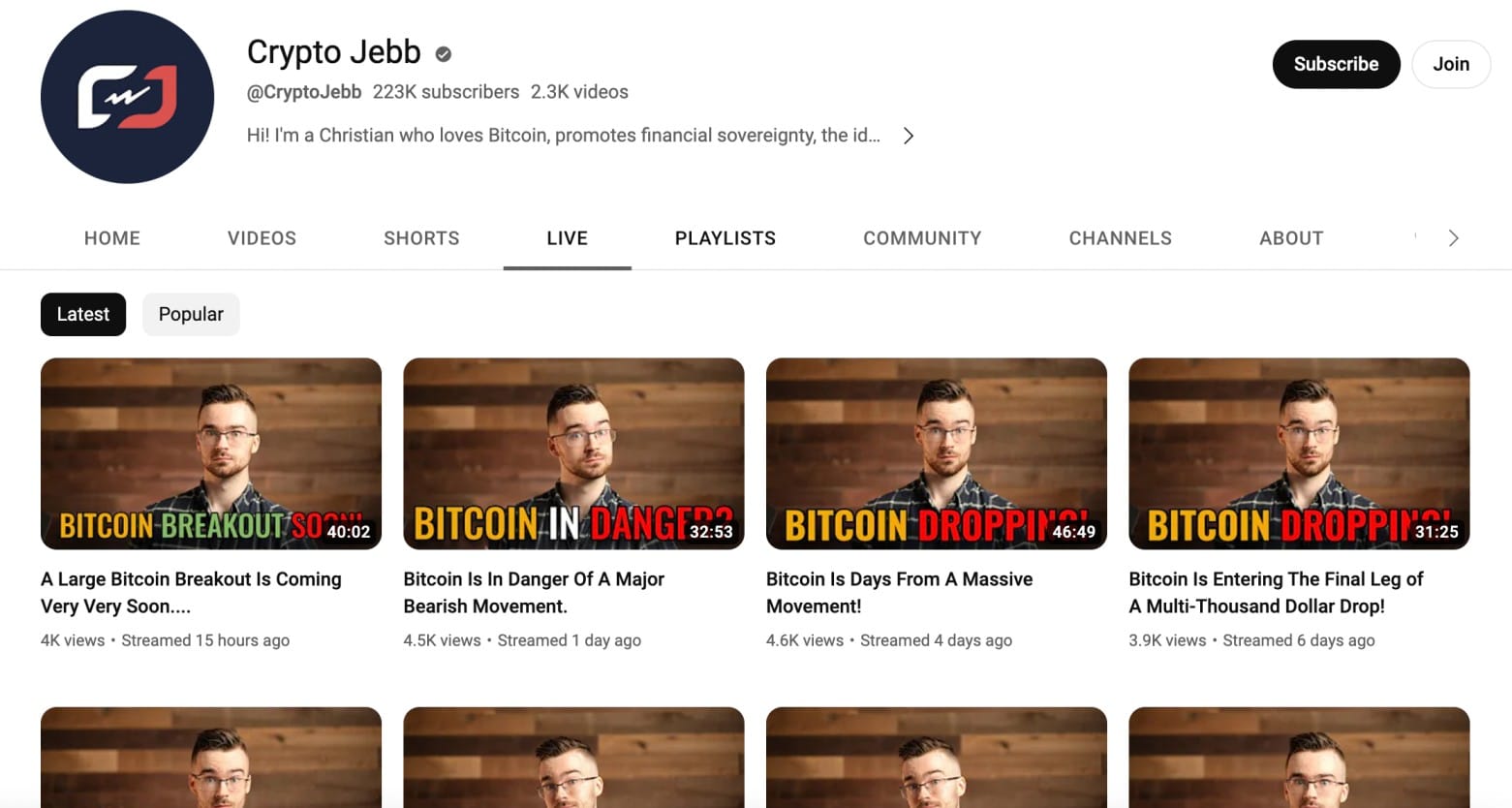 That said, Crypto Jebb regularly posts long-form videos on the fundamentals too. This covers how real-world news could impact the price of Bitcoin. Crucially, most videos average 30-60 minutes, so are highly in-depth. Crypto Jebb currently has over 233,000 subscribers.
10. Ivan on Tech – Leading Crypto Educational Channel With Over 497,000 Subscribers
Launched in 2013, Ivan on Tech is one of the most established crypto YouTube channels on this list. On the day the channel was launched, Bitcoin was trading at just $106. As such, Ivan on Tech should be commended on its early insights.
The channel primarily focuses on education, covering everything from decentralized exchanges and smart contract programming to investing strategies. That said, Ivan on Tech also covers technical and fundamental analysis, as well as discussions on crypto developments and news.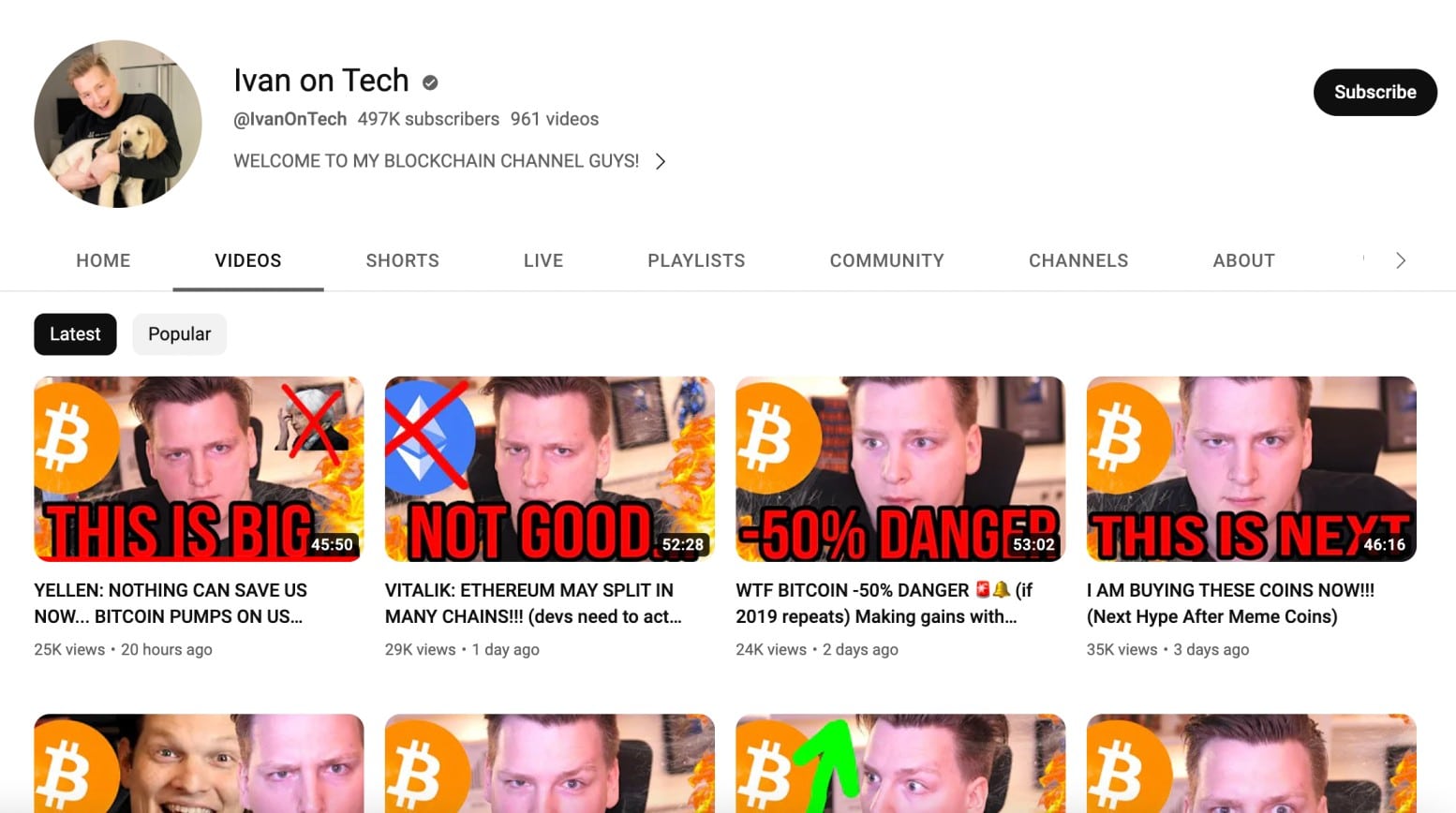 For example, the channel recently published a one-hour video discussing the impending altcoin season. Ivan on Tech also explores how central bank interest rate movements will impact the crypto markets. Overall, this is one of the largest crypto YouTube channels – with over 497,000 subscribers.
11. Altcoin Daily – Daily Insights on Bitcoin and Altcoin Developments
Second only to the Bitboy Crypto Youtube channel, Altcoin Daily has the second largest number of subscribers at over 1.3 million. This channel is popular with its expert insights on altcoins, covering both large-caps and up-and-coming projects. Additionally, the channel also covers Bitcoin analysis and relevant market news.
Not only that, but Altcoin Daily also hosts regular interviews with leading industry stakeholders. This YouTube channel is also popular for its unraveling of industry red flags and large-scale scams. For example, Altcoin Daily recently published a long-form video on Coinbase pausing Ethereum staking rewards.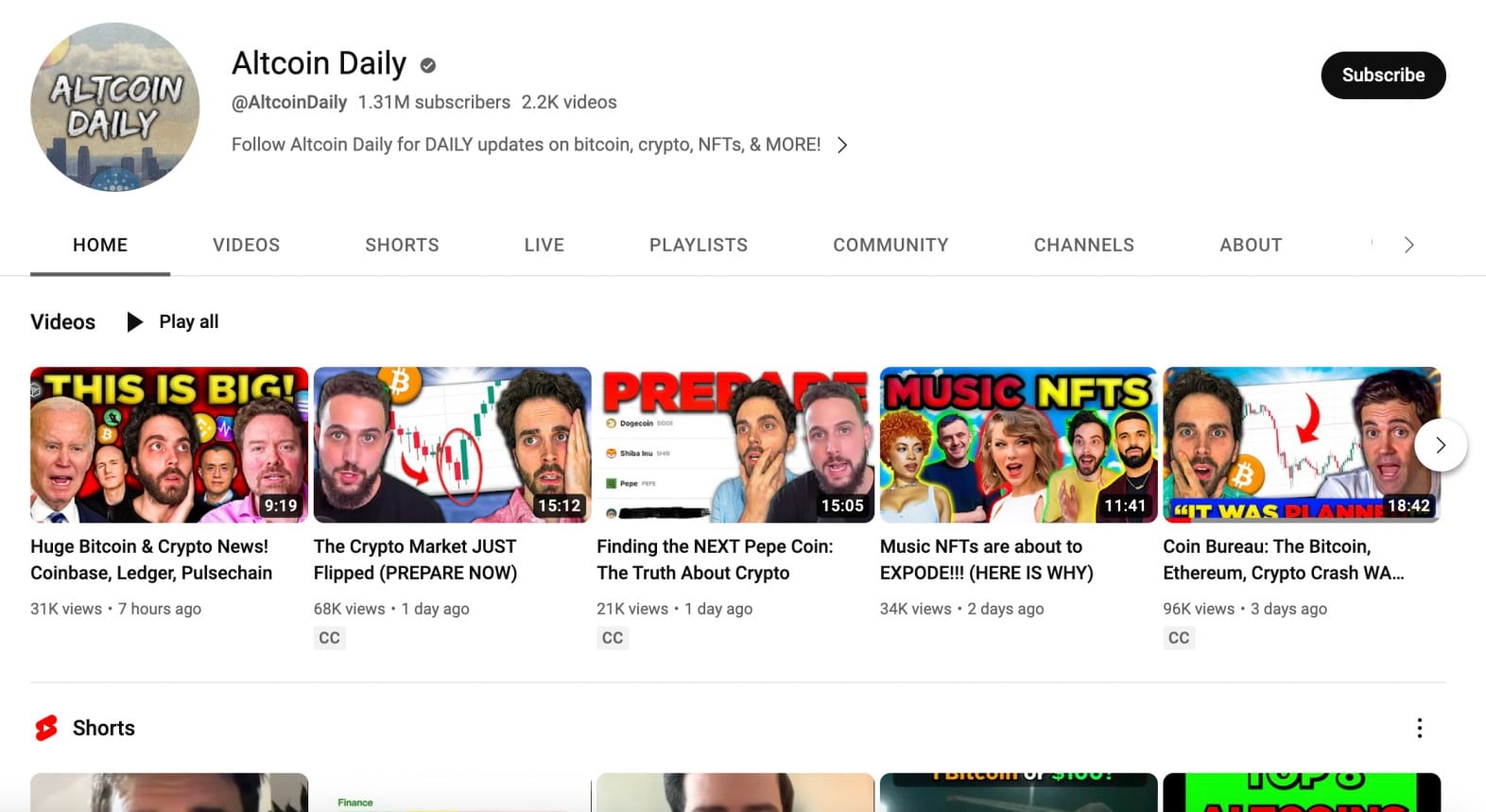 Put simply, if there is a new story worth talking about, Altcoin Daily will cover it. Additionally, we also found that the channel covers emerging trends that investors might want to explore further. This includes a recent video on how music NFTs could be the next big thing in the crypto space.
Are Crypto YouTubers Worth Watching?
Influencers on YouTube are increasingly becoming popular for the wealth of free information available. Some of the largest crypto YouTube channels now have over a million subscribers.
The top crypto YouTube influencers discussed above cover a variety of niches. This includes everything from crypto analysis and presale insights to news and market developments.
But are crypto YouTube channels worth watching? Let's explore some of the benefits that leading crypto influencers offer.
Insights on New Cryptocurrencies
There are over 24,000 cryptocurrencies listed on CoinMarketCap, and even more entering the market each day. For instance, 30 new cryptocurrencies have been added to CoinMarketCap in the prior three hours alone. This makes it incredibly difficult to know which new projects are worth investing in – and which ones aren't.
This is where leading crypto YouTube channels can assist. We found that Jacob Bury is one of the best options in this regard. For example, Jacob Bury specializes in newly launched projects, especially those that are about to begin their presale campaign.
Put otherwise, Bury does the legwork for his subscribers. This includes reading the project's whitepaper and exploring key metrics surrounding use cases, tokenomics, roadmap targets, and more. Bury will then post his findings to his YouTube community in simple terms.
Most importantly, Jacob Bury has a proven track record in finding presale gems. As noted earlier, Bury was one of the first YouTube influencers to tip the Tamadoge presale. After its first exchange listing, Tamadoge recorded gains of over 10x when compared to the presale price.
Currently, Jacob Bury is invested in a small selection of ongoing presales. This includes AiDoge, yPredict, Ecoterra, and Deelance. Those with an interest in crypto presales can head over to the Jacob Bury YouTube channel to evaluate Bury's analysis.
Education
Some of the best crypto YouTube channels focus on education. This enables complete beginners to navigate the world of cryptocurrencies and blockchain technology.
For example, we found that Ivan on Tech is popular in this regard. Ivan covers a range of educational topics in simple terms, which is why his channel has accumulated over 497,000 subscribers.
We also found that The Moon has a good selection of educational videos aimed at newbie crypto traders. There are long-form videos explaining how to deploy technical indicators, as well as apply leverage and risk management.
News and Developments
Keeping tabs on the ever-evolving cryptocurrency industry can be challenging. Not to mention being able to interpret what news developments mean for the industry.
As such, crypto YouTube channels are also great for this purpose. Some of the channels discussed today post multiple videos each day covering the most important news stories.
Crypto ZEUS is a great option here, as the YouTube channel largely caters to beginners.
Interviews
Crypto YouTube channels are also a great source for in-depth interviews with key market figures. Crypto Banter is one of the best crypto YouTube channels for interviews.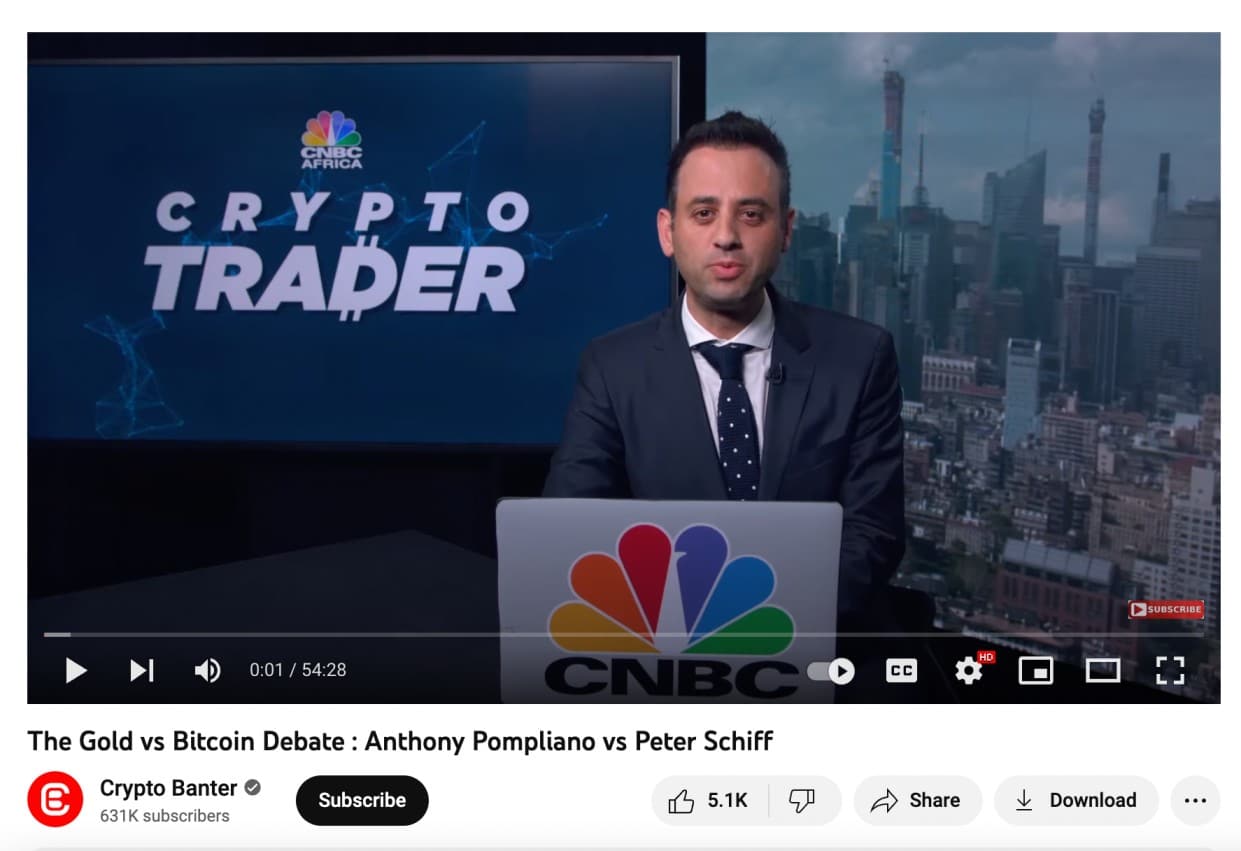 This includes an interview between Anthony Pompliano and Peter Schiff on whether gold or Bitcoin is more suitable as a store of value.
Become Part of a Community
Some of the best cryptocurrency YouTube channels have a growing community of followers, enabling subscribers to discuss and share insights. Moreover, we also came across channels that offer premium services that aren't covered on YouTube.
For example, Jacob Bury has a popular Discord channel that offers premium members crypto signals and alerts. With over 13,000 members, the Discord channel highlights what crypto trades Bury is making.
Conclusion
In summary, YouTube crypto channels offer great value – covering everything from market insights and education to technical analysis and interviews.
Overall, we found that the best YouTube crypto influencer is Jacob Bury. This YouTube channel will appeal to investors seeking the next big coin. Bury has a proven track record in this space, with the influencer having great success with crypto presales.
Check out the Jacob Bury YouTube channel today to find his views on what could be the next 100x coin!
FAQs
Which YouTube channel is best for crypto?
Who is the best crypto analyst on YouTube?