Looking for the best cryptocurrency to trade but not sure where to start?
In this guide, we discuss the 13 best cryptocurrencies to day trade in 2023 to maximize returns. We also cover some top crypto trading strategies to help investors make consistent gains.
The 12 Best Cryptocurrencies to Trade Now
Listed below are the 13 best cryptocurrency to trade in 2023:
Wall Street Memes (WSM) – This is a meme cryptocurrency token that does not offer much utility but has generated over 1 million followers across different social media platforms. 100% of the token supply will be made available for the community. The $WSM token is priced at $0.0337 during the ongoing presale.
Sonik (SONIK) – Degenerative cryptocurrency with large APY staking rewards and a community focus that hopes to follow the likes of Shiba Inu and Pepe. $600k raised in presale with a $2 million hard cap, expected to sell out quickly.
Launchpad XYZ (LPX) – We found that Launchpad XYZ is another presale project to keep an eye on, with the ecosystem building a web 3.0 investment hub for consumers. Some of its core features include fractionized assets, market insights, NFT screeners, and access to exclusive private round ICOs. LPX must be staked to access its premium web 3.0 tools
yPredict (YPRED) – yPredict is an emerging crypto that has built an ecosystem for prediction models. Each model is backed by artificial intelligence and machine learning and enables traders to make smart investment decisions. Its native token, YPRED, is required to buy prediction models on a subscription basis.
eTukTuk (TUK) – The first-ever Cardano-based automotive cryptocurrency platform. Hold the $TUK token to earn staking rewards by helping reduce carbon emissions simultaneously.
Chimpzee (CHMPZ) – A token focused on rewarding users looking to help the environment. Has already donated $15,000 to protect wildlife and planted over 20,000 trees. Raised over $1.2 million in its ongoing presale.
Scorp Token (SCORP) – $SCORP is used as the main payment method on the Scorpion Casino betting platform. This token offers staking rewards, passive income, and access to weekly bonuses.
Sponge (SPONGE) – This new cryptocurrency was launched in May 2023 and has already generated gains of over 3,000%. Put simply, Sponge is a meme coin and a community-driven token. Its native token, SPONGE, can be traded on multiple exchanges, and there is no tax policy when placing buy and sell orders.
Bitcoin (BTC) – Bitcoin is the world's largest cryptocurrency by market capitalization. Therefore, BTC is one of the most popular cryptocurrencies to trade. Bitcoin attracts vast sums of liquidity and trading volumes, and volatility levels are generally lower than the broader market.
Ethereum (ETH) – Similar to Bitcoin, Ethereum is a large-cap cryptocurrency that attracts huge trading volumes. Thousands of tokens have built their crypto ecosystems on Ethereum, highlighting its reputation as a solid blockchain network. Its native token, ETH, is trading at a sizable discount when compared to former all-time highs.
BNB (BNB) – BNB was launched in 2017 by the Binance exchange. It is a large-cap cryptocurrency that has many use cases within the Binance ecosystem. This includes discounted trading commissions and the native token of the Binance Smart Chain. BNB is heavily traded in the crypto markets and currently trades more than 50% below its former all-time high.
Decentraland (MANA) – This project is a leading metaverse ecosystem built on top of the Ethereum blockchain. Decentraland allows users to socialize with others, play games, and buy virtual plots of land. All transactions within the Decentraland metaverse are conducted in MANA tokens.
Analyzing the Best Cryptos to Day Trade
According to CoinMarketCap, there are more than 24,000 cryptocurrencies that can be traded. This oversaturated market can make it difficult to know which coins to focus on.
In this section, we help clear the mist by discussing the 10 best cryptocurrency to trade in 2023.
1. Wall Street Memes ($WSM) – Overall Best Meme Cryptocurrency to Trade
In 2023, meme cryptocurrencies have been among the best performing assets, and can be a great way to diversify your portfolio. One of the top new cryptos in this space is Wall Street Memes.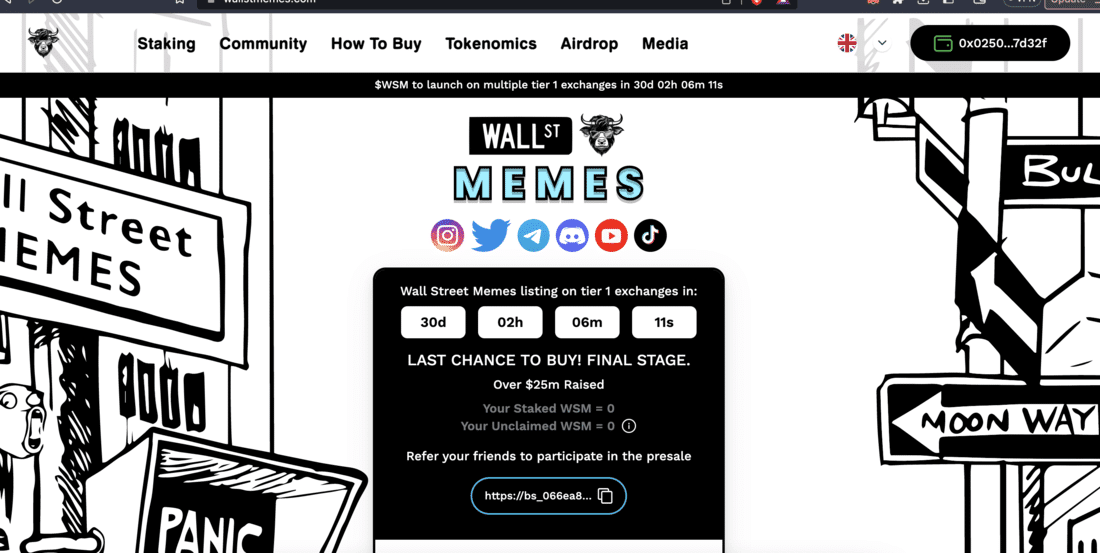 This is a crypto community that has also released its legacy NFT project – Wall St Bulls. Now, the project, which has a following of over 1 million on social media, is releasing the $WSM token.
The Wall St Bulls NFT project managed to sell out 10,000 Ethereum-based NFTs within 30 minutes of release. This goes to show the solid following of the platform.
The origins of this platform can be traced back to 2019 on Twitter. Influential people such as Elon Musk have interacted with this platform, which is always a plus in the meme space.
While meme tokens such as $PEPE have offered huge returns recently, Wall Street Memes' established following can help it reach new highs. The $WSM presale began on May 26th, where the token was priced at $0.025.
Wall Street Memes does not offer utility but has the backing of a large meme movement behind it. As an extension of the Wall Street Meme platform, the token aims to generate wealth for this large community.
$WSM has a total token supply of 2 billion, 50% of which has been allocated for presale across 30 rounds. Now in the final stage, the price is at $0.0337.
20% of the token supply has also been set aside for CEX (Centralized exchanges) and DEX (Decentralized exchanges) liquidity. By the end of 2023, the token will be released on various crypto exchanges.
The project aims to raise a hard cap of more than $30.5 million through the presale rounds. Join the Wall Street Memes Telegram channel for more news and updates on this project.
| | |
| --- | --- |
| Hard cap | $30,577,000 |
| Total tokens | 2,000,000,000 |
| Tokens available in presale | 1,000,000,000 |
| Blockchain | Ethereum Network |
| Token type | ERC-20 |
| Minimum purchase | 100 tokens |
| Purchase methods | USDT, ETH, BNB, Bank Card |
2. Sonik (SONIK) – Low Priced Token With Sky High Staking Rewards And a Degenerative Attitude, $600k Raised In Presale
Sonik (SONIK) is priced at just $0.000014 per token and currently offers staking rewards of 100% APY. Previously, this APY reached highs of 26,648%, though the staking rewards were reduced the more that people invested and staked their coins.
Still, this degen token could be excellent for trading in 2023 and possibly even beyond. As a meme coin, it depends on the strength of the underlying community in terms of how fast it reaches its goals.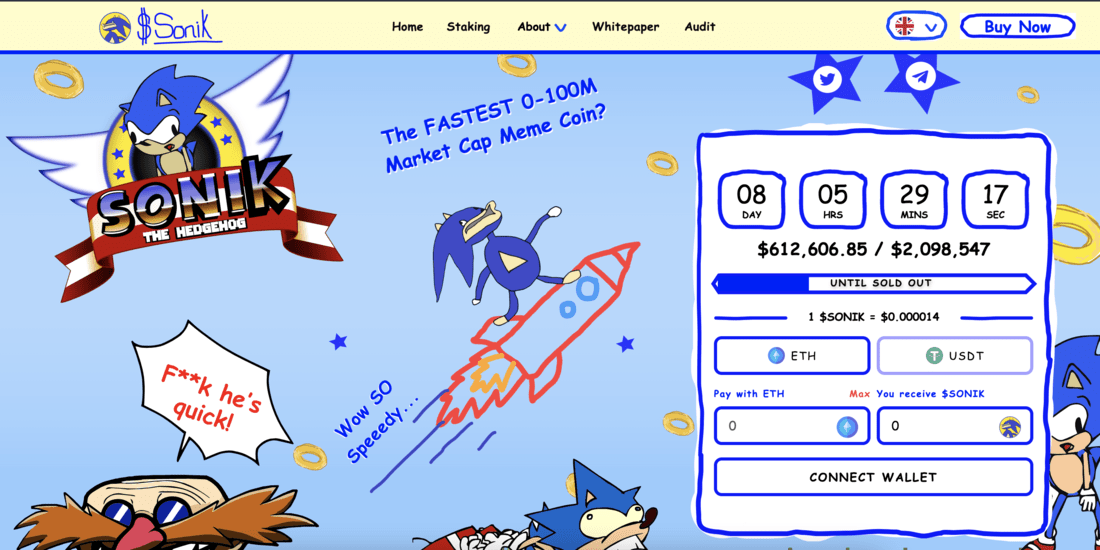 It has coined a new 'stake-to-speed' model, where it hopes to reach a $100 million market capitalization at the speed of light. However, as an entertainment token, investors should understand the risks with this campaign, and that it has no official affiliation or relationship with the official Sonic franchise.
There is a total token supply of 299,792,458,000, which is also the speed of light in meters per second. 50% of the SONIK supply is available via presale, 40% for staking rewards, and 10% for DEX liquidity.

The core team is not keeping any tokens for itself. Plus, the project has undergone a smart contract security assessment, with no major errors reported.
To take part in the presale and trade the SONIK token when it gets listed on an exchange, users will need to have MetaMask or Trust Wallet. ETH or USDT can be used to make a purchase.
Potential investors will also want to read up on the whitepaper, as well as join the Telegram and Twitter accounts, for further information.
| | |
| --- | --- |
| Hard cap | $2,098,547 |
| Total tokens | 299,792,458,000 |
| Tokens available in presale | 149,896,229,000 |
| Blockchain | Ethereum Network |
| Token type | ERC-20 |
| Minimum purchase | 1000 tokens |
| Purchase methods | USDT, ETH, Credit Card |
3. yPredict (YPRED) – Crypto Prediction Models Backed by Artificial Intelligence and Machine Learning
yPredict is a newly founded project that specializes in crypto prediction models. Each prediction model is backed by artificial intelligence and machine learning, enabling users to navigate the complex crypto trading markets. For example, some yPredict models focus on trading signals. This signals which cryptocurrencies to trade, including entry, stop-loss, and take-profit prices.
This will appeal to crypto traders that do not have the experience or time to perform technical analysis. That said, yPredict is also suitable for active technical traders. Some of its prediction models provide real-time sentiment analysis and chart pattern recognition. This enables experienced traders to investigate the yPredict reading before entering a position.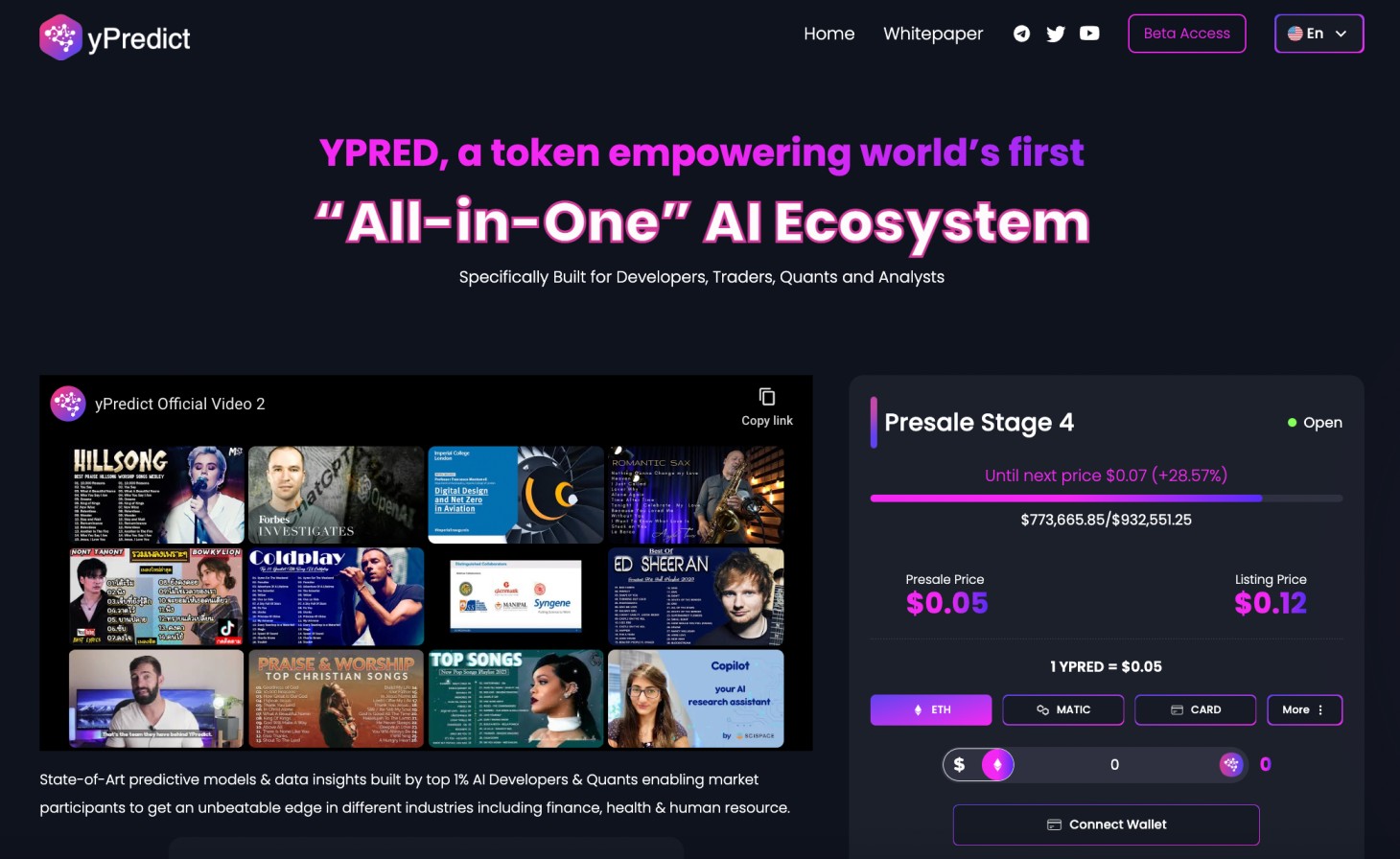 All yPredict prediction models are provided by quants and data scientists. Those wishing to buy a prediction model must use the project's native token, YPRED. Moreover, YPRED can be staked, enabling investors to earn a portion of yPredict subscription fees. YPRED tokens are still available via the yPredict presale, Investing today will secure a low entry price of just $0.05. After the yPredict presale, YPRED will be listed on an exchange at $0.12. This offers short-term crypto traders an upside of 140%.
4. Launchpad XYZ (LPX) – Web 3.0 Investment Portal for Consumers
Launchpad XYZ is developing a decentralized portal providing consumers with access to Web 3.0 investments. This consists of many investment tools, including access to new NFT mints and private ICOs. Moreover, Launchpad XYZ will also support fractionized assets, including real estate. We also like that Launchpad XYZ is building a decentralized exchange that will support fractionized assets, NFTs, and hundreds of cryptocurrencies. Those looking for AI-driven market insights will also find Launchpad XYZ useful.
For instance, it provides real-time 'risk-reward' scores on selected cryptocurrencies. This enables users to assess which tokens to trade based on market sentiment, charting signals, and pattern recognition. Crucially, Launchpad XYZ is simplifying the Web 3.0 investment space for complete beginners. Not only in terms of trading insights and low minimum requirements, but it provides access to Web 3.0 products that are often reserved for venture capitalists.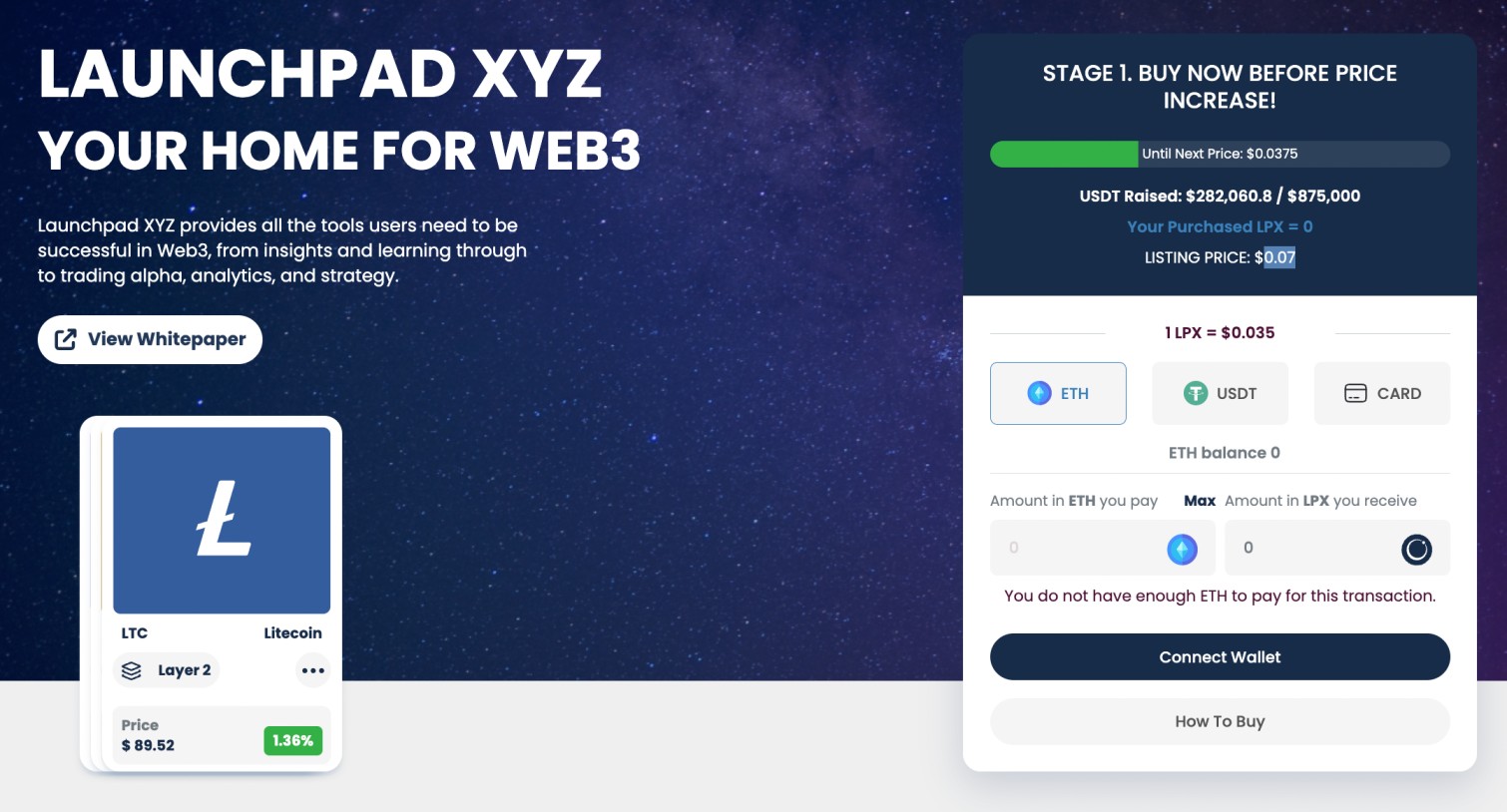 LPX tokens are the native currency of the Launchpad XYZ ecosystem. Many of the Web 3.0 products discussed above require users to stake LPX. For example, those staking 25,000 LPX will receive a $500 allocation to private ICOs. Staking the same amount also provides access to exclusive NFT mints. Launchpad XYZ has just launched its much-anticipated presale. LPX tokens are currently being sold for $0.0445 each. This offers an immediate upside of over 85%, considering that LPX will be listed on exchanges at $0.07.
5. eTukTuk – World's First Automotives Cryptocurrency Platform Built on the Cardano Blockchain
Due to the use cases and environmental benefits that eTukTuk aims to provide, it has the potential to become one of the best cryptocurrencies in the long term.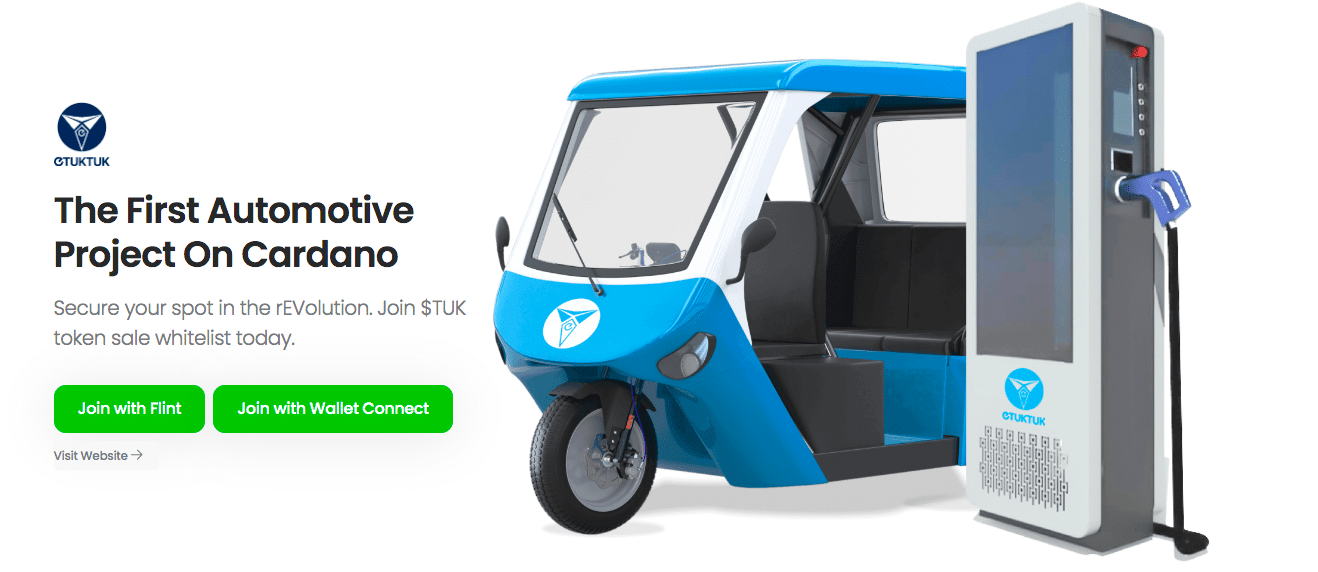 This platform aims to help TukTuk drivers make the shift from internal combustion engines (ICEs) to electric vehicles. ICEs release more CO2 than cars, as they use non-renewable energy forms such as fossil fuels.
Furthermore, as the energy prices are rising, it is becoming more and more expensive for TukTuk drivers in developing countries. Based in Sri Lanka, eTukTuk will help make the transition cheaper for TukTuk drivers.
The platform aims to build zero-emission vehicles (ZEVs) and Electric Vehicle Supply Equipment (EVSEs) in urban and suburban regions in various developing nations. $TUK, the native token, will be used to maintain the ecosystem, reward token holders, and make the costs cheaper for drivers.
TukTuk drivers can access EV charging stations that eTukTuk sets up, and make payments using $TUK, the native token. Since the token is built on the Cardano blockchain, it is energy-efficient and results in low fees.

It is estimated that drivers will take home over 400%, compared to what they make when using ICE vehicles. The EVSEs and ZEVs will be created in regions known as territories. eTukTuk will hire territory partners, who will play a vital role in the plants' operations and development.
From the revenue raised from drivers, the territory partners will get a cut. Token holders can stake the native cryptocurrency into power nodes to help maintain the charging stations.
They too, will get an APY (Annual Percentage Yield) every time a transaction is made using the EV charging stations. As the number of plants increases, token holders can increase their earnings.
$TUK has a total token supply of only 2 billion. Currently, the token is expected to undergo its presale listing, where it will be made available to the public for the first time.
Right now, interested readers can join the whitelist to get early access to the token presale. Read the eTukTuk whitepaper and join the Telegram channel for more platform updates.
6. Chimpzee – Top Crypto To Trade That Could Make Impressive Returns, $1.2M Raised So Far in Presale
Chimpzee (CHMPZ) is an environmental initiative and this has been an area of increasing public and private interest in recent years.
The Chimpzee whitepaper gives many examples of how specific species are becoming more and more endangered, such as the rhino and elephant. It also outlines the dangers of deforestation and wants to empower people to act sooner rather than later.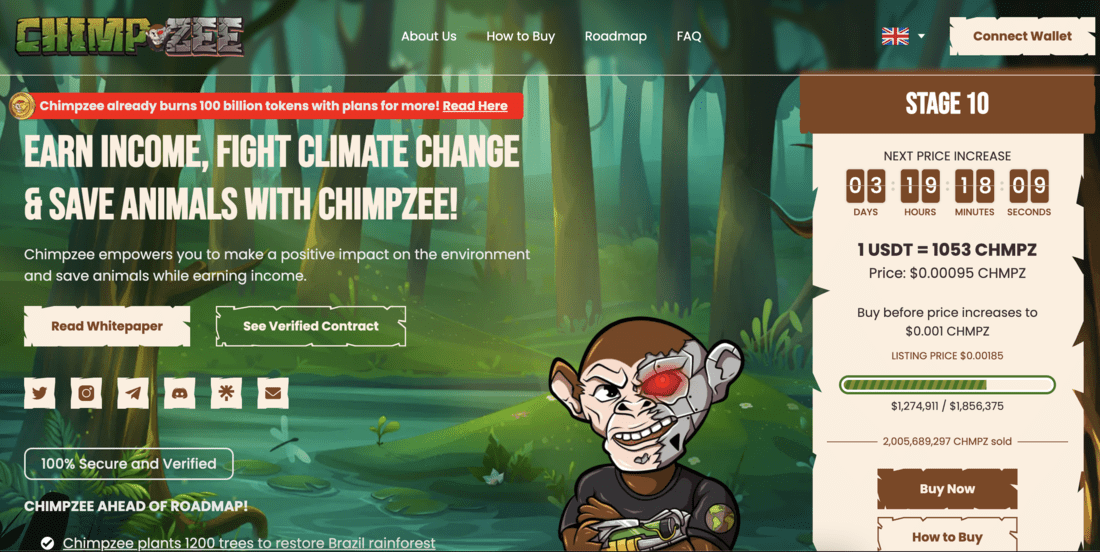 This could be a useful crypto to trade as the CHMPZ token has a lot of utility within the wider ecosystem, being used in the Zero Tolerance Game, in the Chimpzee Shop, and within the NFT marketplace.
The token is also a symbol of protecting the environment and fighting climate change, both of which are powerful incentives for purchase and trading.
10% of the total CHMPZ supply of 100 billion is donated to charitable organizations, and it has already planted over 20,000 trees and donated $15,000 to preserve wildlife.
In other words, Chimpzee is serious about environmental conservation and has already made waves – other presale campaigns do a lot of talking, but there is little evidence that they will follow through when the funds have been contributed.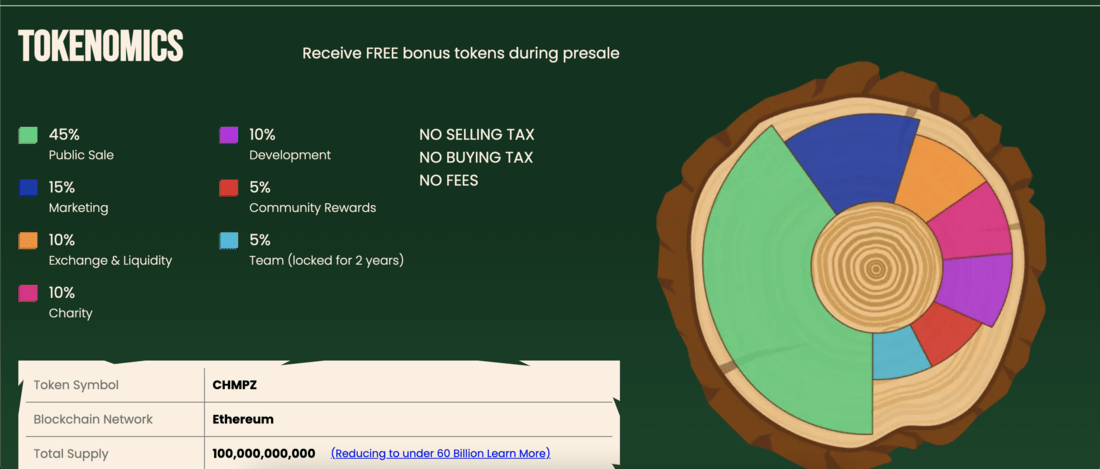 The total supply of 100 billion is to be reduced to 60 billion, and token burning is an established method to increase scarcity and improve the price.
Those who purchase tokens in the presale can also benefit significantly from the reduced price. Although the presale price is currently just $0.00095, the listing price will be much higher – $0.00185. It can currently be purchased at a major discount.
More information can be found via Twitter, Discord, Telegram, Link Tree, and Instagram.
Users can take part in the presale with MetaMask or Trust Wallet paying by ETH, USDT, or Credit Card.
| | |
| --- | --- |
| Hard Cap | $1,856,375 |
| Total Tokens | 100 billion |
| Tokens available in presale | 45 billion |
| Blockchain | Ethereum Network |
| Token type | ERC-20 |
| Minimum Purchase | NA |
| Purchase with | ETH, USDT, Bank Card |
7. Scorp Token (SCORP) – Top Cryptocurrency Token Giving Access to an Online Casino and Sportsbook
One of the best cryptocurrency casino tokens is $SCORP, which helps settle payments on the Scorpion Casino. This is a BEP-20 token and can be used to avail bonuses, earn passive income via staking, and get exclusive bonuses on the casino.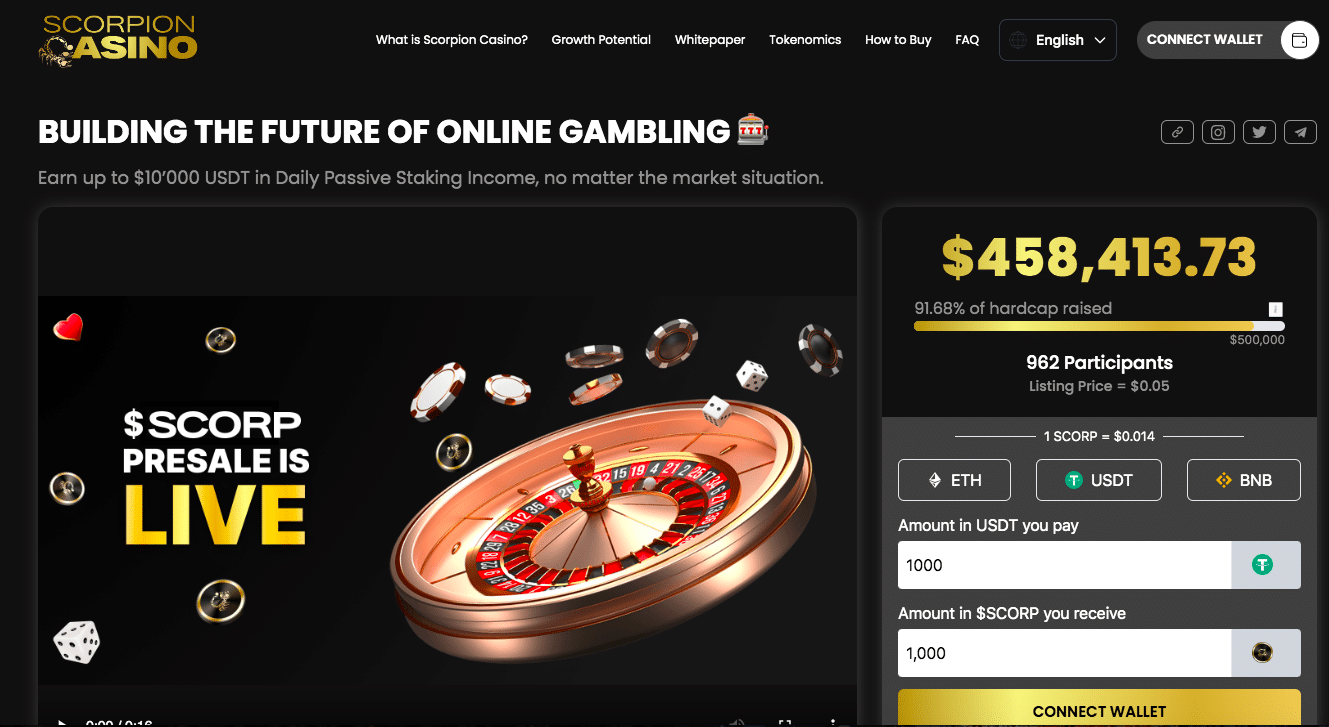 Through the Scorpion Casino, members can play hundreds of popular casino games. From Blackjack to Aviator and slot machines, the platform offers a good mix of betting opportunities. For sports lovers, Scorpion Casino supports a sports betting platform comprising 35+ betting markets.
One can hold $SCORP to get weekly bonuses and free games. Furthermore, you can get up to 40% in free credits by holding this native token. One can earn passive daily income by staking $SCORP on the ecosystem.
Staking the tokens will also help reduce the circulating supply, which can help push the price. Simultaneously, staked token holders can generate a yield on the platform. To limit the supply, Scorp Token will also burn a certain amount of tokens.
There will be a 10% fee charged on selling the token, and 1% of this fee will be burnt. 20% of profits collected from the sportsbook will be used to buy back $SCORP, and another 5% of this amount will be burnt.

This new altcoin has a low supply of only 1 billion. 480 million tokens have been allocated for the ongoing presale, while another 20% will be used for staking rewards. So far, the presale has collected $450K. The aim is to reach a hard cap of $500K before the presale ends.
Currently, $SCORP is priced at $0.014 but will be listed at $0.05 per token. Stay updated with all the project developments by going through the Scorpion Casino whitepaper and join the Telegram channel.
| | |
| --- | --- |
| Token symbol | SCORP |
| Presale supply | 200,000,000 SCORP |
| Token type | BEP-20 |
| Payment methods | ETH, USDT, BNB |
| Listing price | $0.05 |
8. Sponge (SPONGE) – New and Trending Meme Coin With Gains of 3,000% Since Launching
Those looking to invest in trending meme coins might consider Sponge the best cryptocurrency to trade. According to CoinMarketCap, SPONGE tokens were launched on May 5th, 2023 at $0.000073. Just three days later, SPONGE tokens were trading at highs of $0.0024. This represents gains of over 3,000%. Some early investors have cashed out their gains, meaning that Sponge has witnessed a slight market correction.
That said, this offers a great entry point for those looking to buy SPONGE tokens at a discount. In terms of the project's objectives, Sponge is simply a meme coin with a huge community of loyal supporters. Just like PepeCoin, Tamadoge, and other trending meme coins, Sponge's unprecedented success is largely based on speculation. But nonetheless, Sponge has a market capitalization of just $23 million right now, so there could be a lot more upside to come.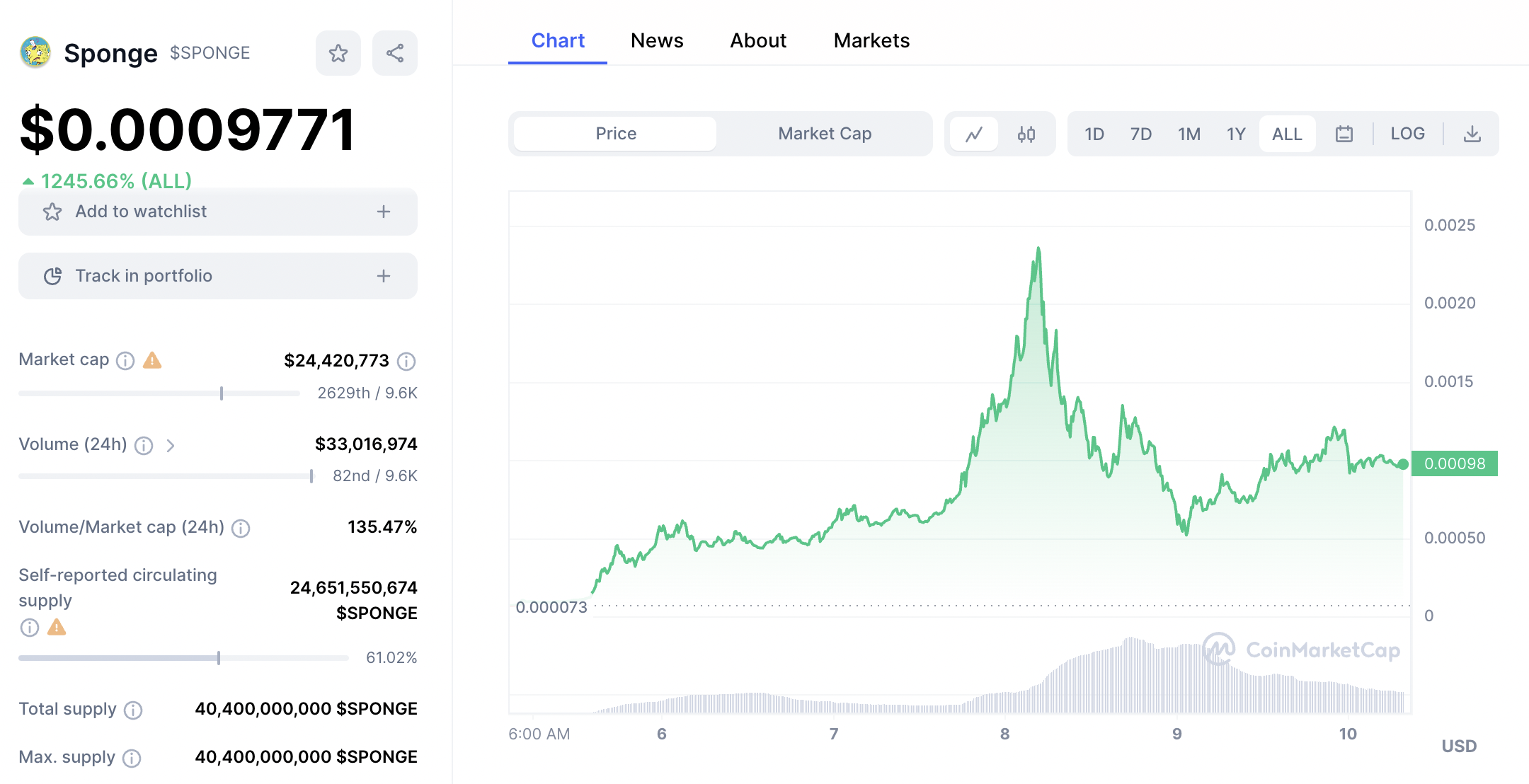 Another important aspect of Sponge is that it does not have a taxation policy in place. This means that traders can buy and sell SPONGE tokens without being penalized. Currently, SPONGE tokens trade on LBank, Uniswap, Toobit, and CoinW. More exchange listings are likely, considering how much attention Sponge is getting from the broader markets. In the prior 24 hours alone, more than $33 million worth of SPONGE has been traded.
9. Bitcoin (BTC) – Top Cryptocurrency to Trade for High Levels of Liquidity and Volume
While newly launched cryptocurrencies offer the greatest upside potential, day traders might prefer large-cap tokens like Bitcoin. After all, Bitcoin is the largest cryptocurrency by market capitalization, so it attracts huge levels of liquidity and volume. For example, in the prior 24 hours alone, more than $14 billion worth of Bitcoin has been traded. This ensures that traders can buy and sell Bitcoin around the clock without worrying about slippage.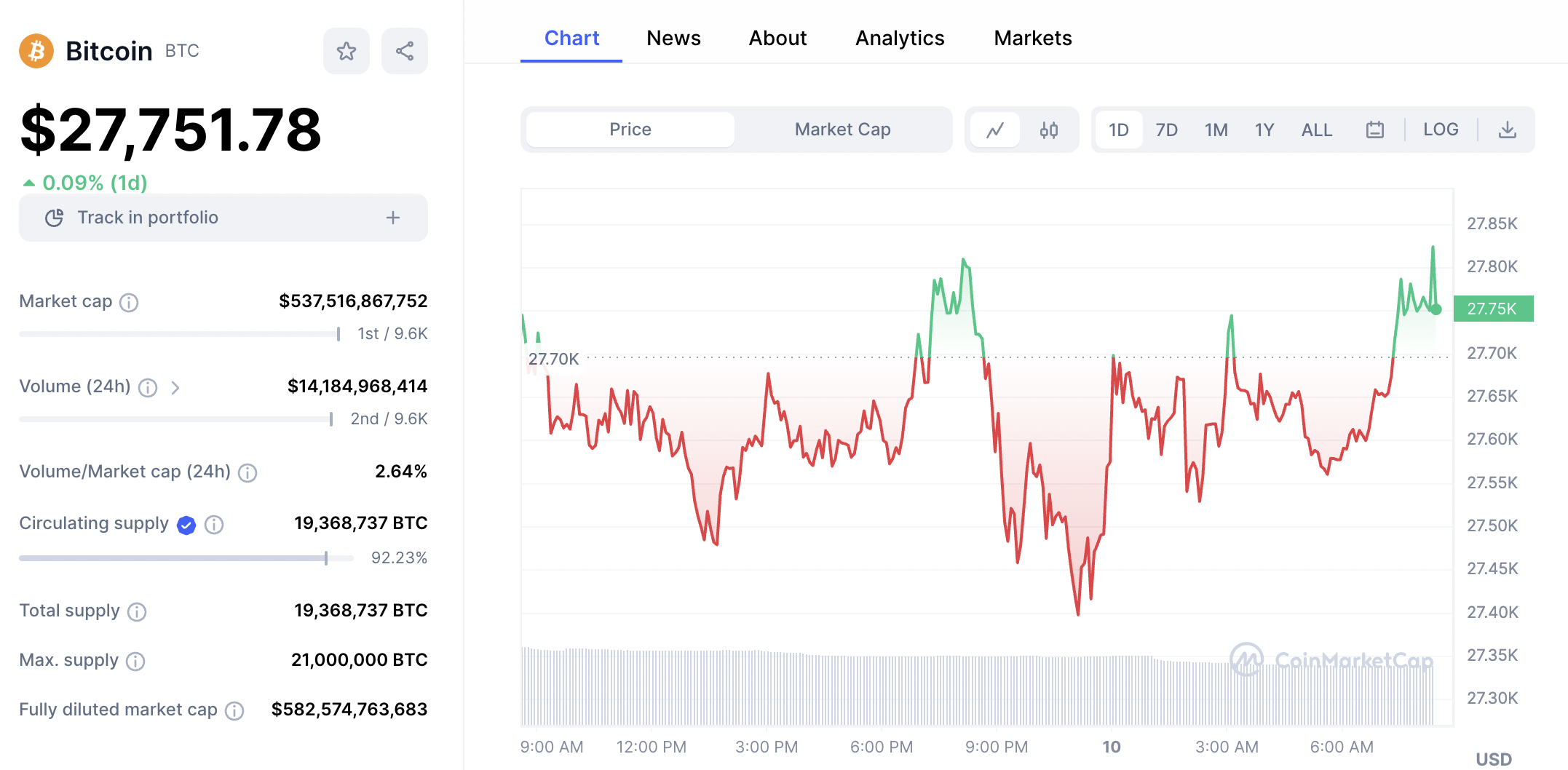 Another reason why Bitcoin could be the best crypto to trade is that it currently trades at a huge discount. For example, Bitcoin was trading above $68,000 during the prior bull market. But currently, it trades at a discount of almost 60%, remaining below the $30,000 level. This will appeal to both short and long-term traders that believe Bitcoin will eventually return to its former all-time high.
Don't invest unless you're prepared to lose all the money you invest. This is a high-risk investment and you should not expect to be protected if something goes wrong. Take 2 mins to learn more.
10. Ethereum (ETH) – Secure a Huge Discount on the World's Leading Smart Contract Ecosystem
Similar to Bitcoin, Ethereum is a large-cap project that is also one of the best cryptocurrency to day trade. Its native token, ETH, fuels the Ethereum ecosystem. Not only does this include Ethereum itself but thousands of ERC-20 tokens. In turn, ERC-20 transactions require ETH for GAS fees, creating unprecedented demand. In terms of volume, more than $6 billion worth of ETH has been traded in the prior 24 hours. Moreover, Ethereum has a market capitalization of over $220 billion, which is the second-largest behind Bitcoin.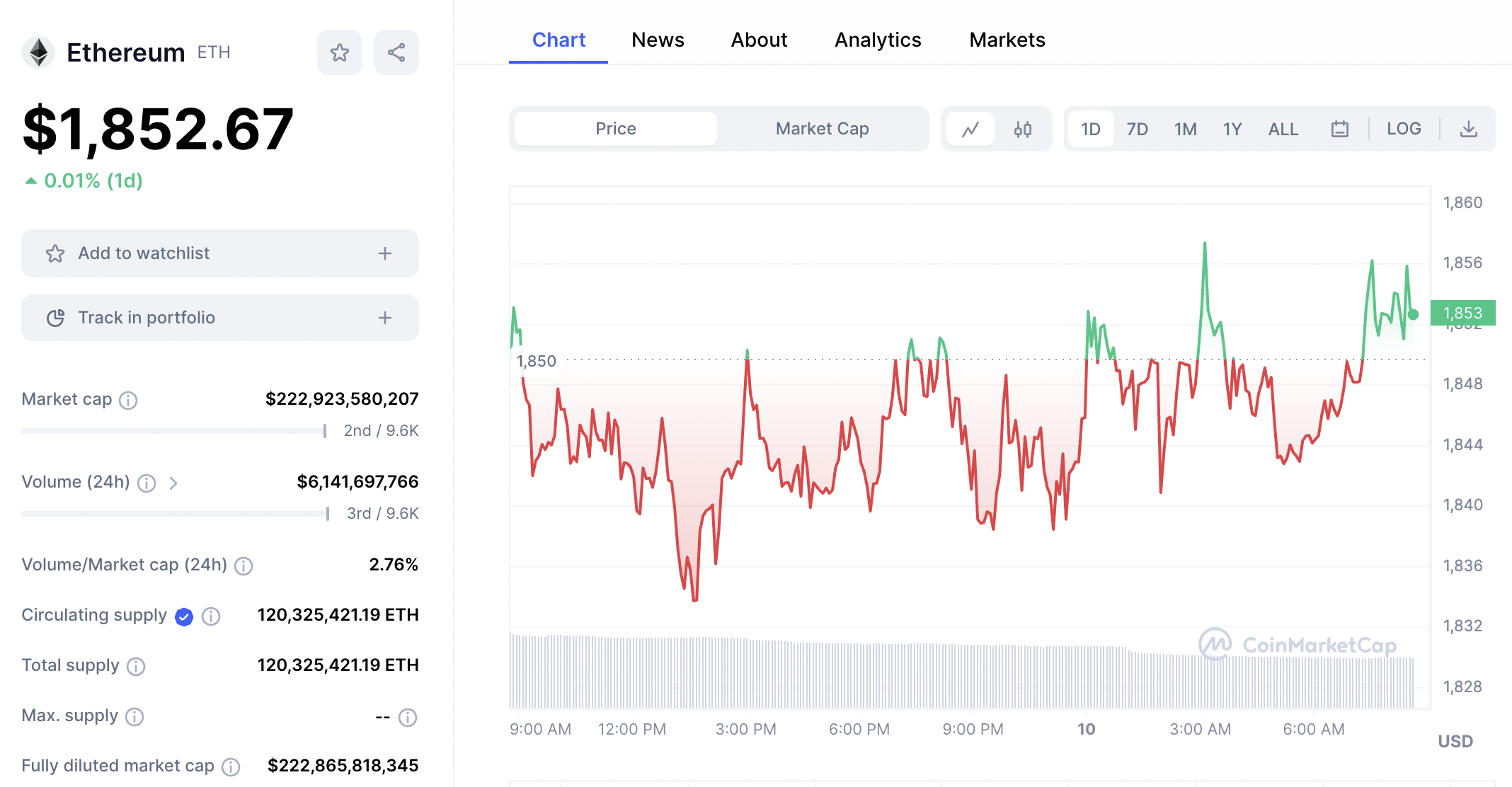 That said, Ethereum remains one of the best crypto winter tokens to trade, considering the discount on offer. For example, ETH is currently trading around the $1,800 level. During the prior bull market, ETH hit highs of almost $5,000. As such, those buying ETH today will secure a discount of over 60%. ETH can also be traded against other cryptocurrencies, with thousands of pairs in the market. In particular, those looking for the best cryptos to day trade in 2023 might consider ETH/BTC. This crypto-to-crypto trading pair attracts hundreds of millions of dollars in liquidity on a daily basis.
Don't invest unless you're prepared to lose all the money you invest. This is a high-risk investment and you should not expect to be protected if something goes wrong. Take 2 mins to learn more.
11. BNB (BNB) – Heavily Traded Cryptocurrency Backing the Binance Ecosystem
Launched in 2017, BNB is a large-cap cryptocurrency that fuels the Binance ecosystem. BNB has many use cases, which have propelled the cryptocurrency to a market capitalization of nearly $50 billion. This includes lower trading commissions on the Binance exchange, with BNB holders receiving a 25% discount. What's more, BNB is also the proprietary token of the Binance Smart Chain (BSC). Nearly 2,000 tokens are listed on the BSC network, with GAS fees paid in BNB.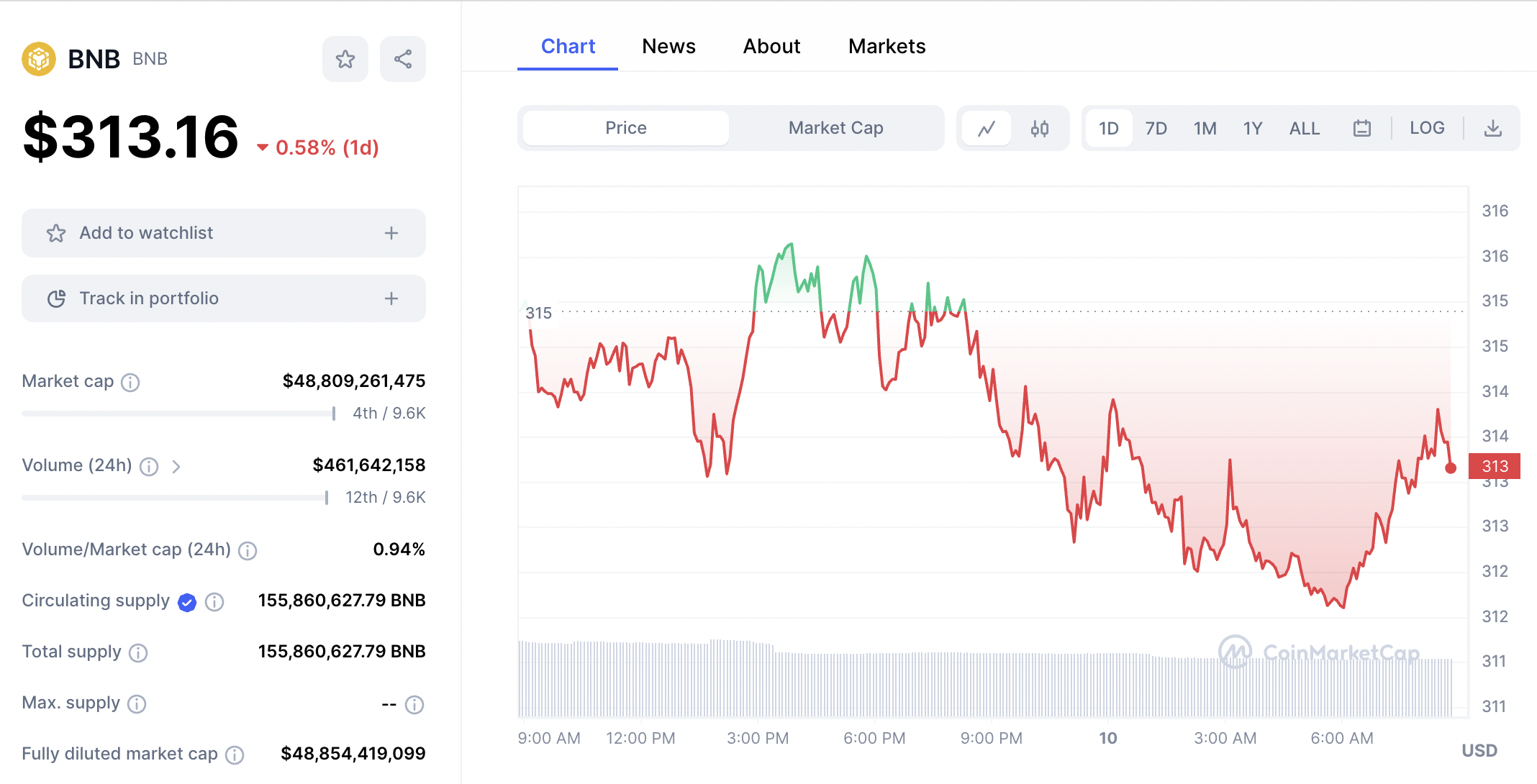 Additionally, most trading pairs on the BSC network are paired with BNB – providing further demand. Another benefit of trading BNB is that Binance regularly burns tokens from the circulating supply. This artificially increases its value, considering there are fewer tokens in the market. That said, like many cryptocurrencies, BNB is still trading at a huge discount when compared to its 2021 highs. Currently, traders can buy BNB at a discount of over 50%.
Don't invest unless you're prepared to lose all the money you invest. This is a high-risk investment and you should not expect to be protected if something goes wrong. Take 2 mins to learn more.
12. Decentraland (MANA) – Invest in the Leading Metaverse Project at a Huge Discount
Decentraland launched its metaverse project in 2017 and many years of development. Built on top of the Ethereum blockchain, Decentraland functions on smart contracts. This ensures that its metaverse is decentralized and transparent. While Decentraland enables users to explore, socialize, and play games – its ecosystem is popular with metaverse real estate investors. This is because investors can buy plots of land that are backed by NFTs.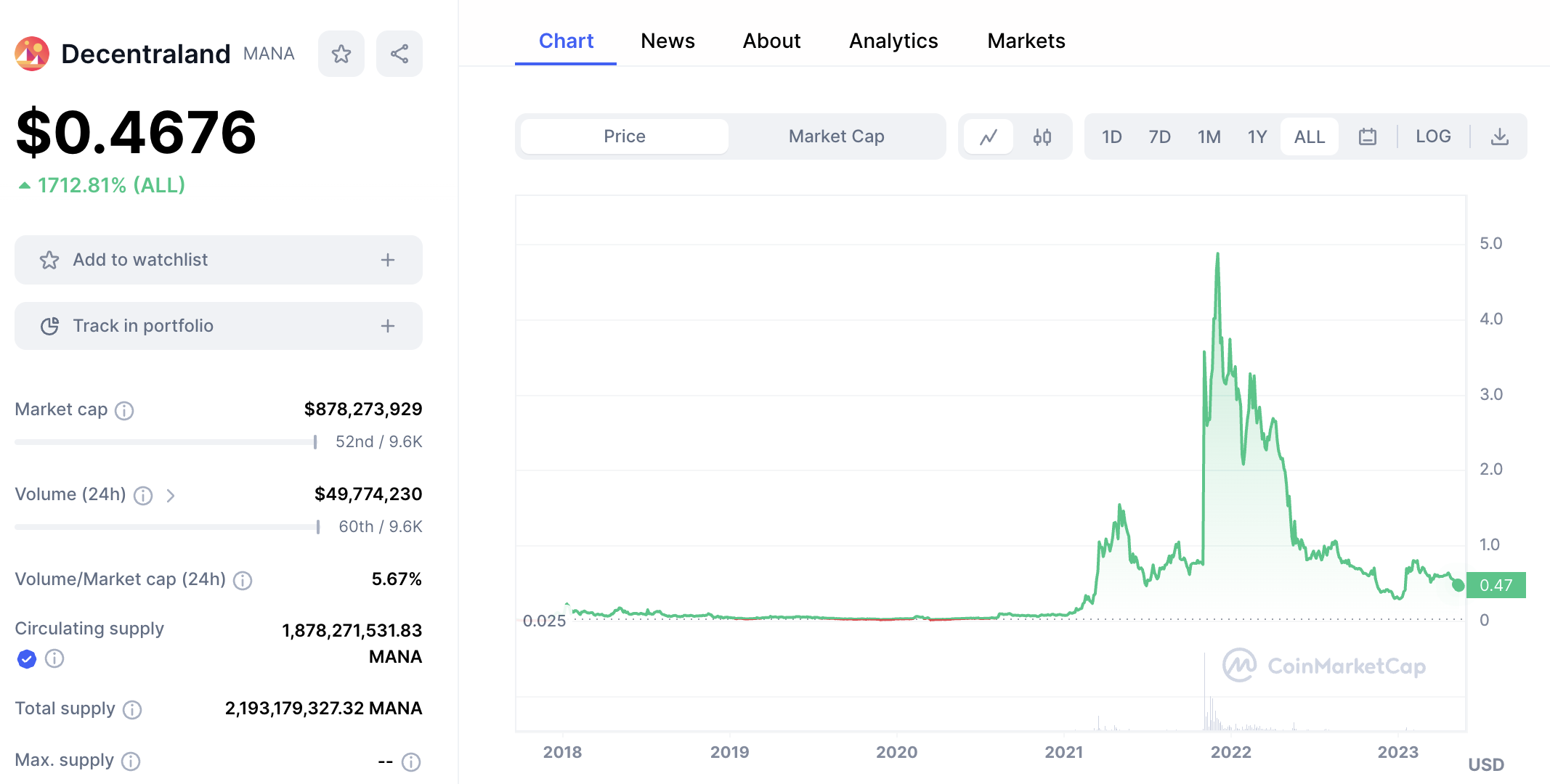 During its early days, plots were selling for a few dollars apiece. Fast forward to the bull market of 2021 and plots were selling for several million dollars. That said, due to bear market conditions, investors can now buy Decentraland plots at a significant discount. Similarly, its native ecosystem token, MANA, is also trading at bear market lows. For example, MANA was trading at almost $5 in late 2021. Currently, MANA can be purchased at under $0.50 per token. This enables traders to secure a 90% discount.
Don't invest unless you're prepared to lose all the money you invest. This is a high-risk investment and you should not expect to be protected if something goes wrong. Take 2 mins to learn more.
The Basics of Crypto Trading
In simple terms, crypto trading is the process of buying and selling digital currencies like Bitcoin. The idea is to generate returns when crypto prices rise and fall. Just like stocks, crypto prices fluctuate throughout the day, providing plenty of opportunities to make money.
There are many different ways to trade cryptocurrencies. For example, some will 'day trade' cryptocurrencies through technical analysis. The day trader will enter several positions throughout the day, hoping to make small but consistent profits. Others will 'swing trade' crypto. This provides more flexibility, as traders can keep positions open for several days or weeks.
That said, complete beginners might be suited for a longer-term strategy. This involves buying an undervalued cryptocurrency like AiDoge or yPredict and holding the tokens for several months or years. This enables the trader to benefit from long-term appreciation, rather than focusing on short-term volatility.
Cryptocurrency Trading vs Crypto Investing
Cryptocurrency 'trading' and 'investing' are two terms used interchangeably. But they actually refer to different strategies.
Crypto Trading
For example, trading is considered a shorter-term strategy, where traders actively look to capitalize on volatility. Most traders rely on technical analysis. This requires the trader to analyze charting patterns with the assistance of technical indicators.
Each indicator, such as the RSI or MACD, will analyze a specific pricing metric. This can include volume, volatility, or buying/selling pressure. Some crypto traders also rely on fundamental analysis. This means buying or selling cryptocurrencies on the back of real-world news.
For example, if a country announces that it will adopt Bitcoin as legal tender, the trader might enter a buy position. This is because the news is positive. But if a news story surrounding Bitcoin is negative, the trader might enter a short position.
Crypto Investing
Crypto investing is a long-term strategy. The investor will buy their preferred cryptocurrency and hold the tokens in a wallet for several months or years. When investing in crypto, investors focus on what really matters – the fundamentals. This means the chosen crypto project will have an innovative concept, a clear roadmap, and a token with real-world utility.
Some of the best crypto investment opportunities can be found via presale campaigns. This enables investors to buy the newly launched token at a discounted price before it lists on exchanges.
For example, AiDoge tokens will be listed on exchanges at $0.0000336 after the presale.
But currently, the presale is offering a discounted price of 15% at $0.0000284.
This is to incentivize early investors to back the project from the ground up.
Ultimately, crypto investing is a passive way to gain exposure to digital currencies. Investors do not need any knowledge of chart analysis or technical indicators, nor do they need to focus on short-term volatility.
Day Trading Crypto Explained
In a nutshell, crypto day trading is a very short-term strategy. Day traders open multiple positions throughout the day. Positions usually remain open for a few minutes or hours. But day traders never keep positions open overnight.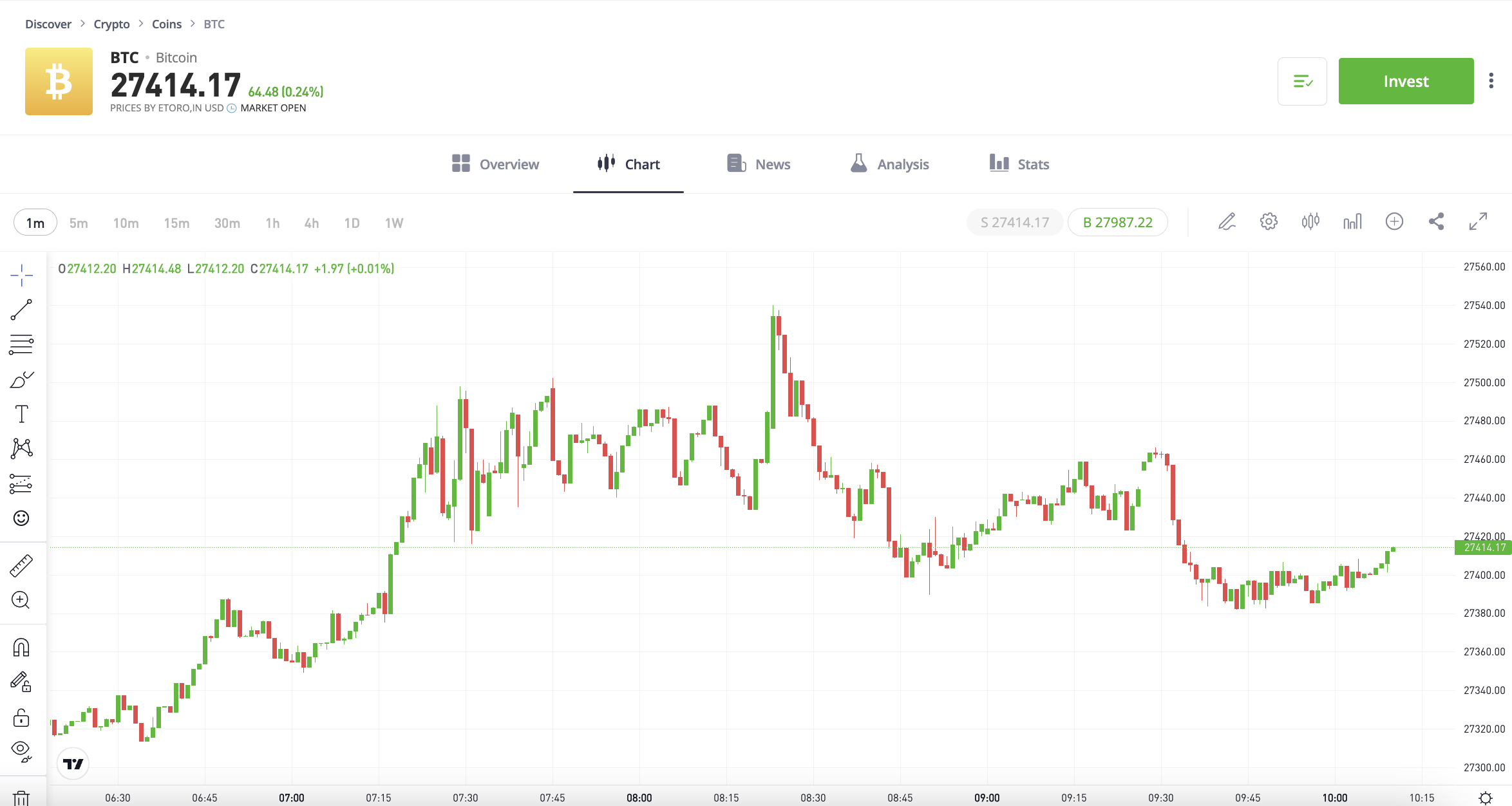 The objective for crypto day traders is to capitalize on short-term pricing movements. For instance, buying Bitcoin at 9 am and selling at 10 am for a 1% profit. Day traders will often use leverage to amplify their position sizes. This is because day traders target very small gains.
Top Crypto Trading Strategies
Once the best cryptocurrencies to trade have been identified, the next step is to learn some strategies.
Read on to discover the most popular strategies used by seasoned crypto traders.
Swing Trading
While swing trading is a short-term strategy, it offers a lot more flexibility than day trading. This is because swing traders can keep positions open for several days or weeks.
Swing traders look for prolonged market trends on specific cryptocurrencies
If the cryptocurrency is trending upwards, swing traders will keep the position open until a reversal is likely
Similarly, if a cryptocurrency is trending downwards, the swing trader will keep a short position in place until a potential reversal
While swing trading still requires knowledge of technical analysis, traders have more time to make decisions. This is in contrast to day trading, which requires traders to actively analyze chart movements on a minute-by-minute basis.
Dollar-Cost Averaging
A more suitable crypto trading strategy for beginners is dollar-cost averaging. This strategy is also popular with stock traders, as it enables them to build long-term positions incrementally.
For example, an investor might decide to buy $500 worth of Bitcoin at the end of each month. Every time a purchase is made, the investor will secure a different cost price. This is averaged out over time and enables investors to avoid short-term volatility.
Dollar-cost averaging should only be used on cryptocurrencies that have long-term potential. Moreover, investors should follow their dollar-cost averaging strategy religiously. This should be the case in both bull and bear markets.
During bear markets, investors will secure a discounted entry price, reducing the overall average. During bull markets, investors will have a higher cost price, but see the value of their portfolio increase.
Presale Trading
Another option to consider is presale trading. As noted earlier, presales are funding-raising campaigns run by newly launched projects. Similar to IPOs, the project will offer early investors a discounted price. This can provide presale investors with an immediate upside once the tokens are listed on exchanges.
Presales do come with enhanced risks, as investors are providing capital to brand-new projects that are yet to establish themselves. But equally, presales offer an attractive upside. This is because presales will have a small market capitalization, offering plenty of room for growth.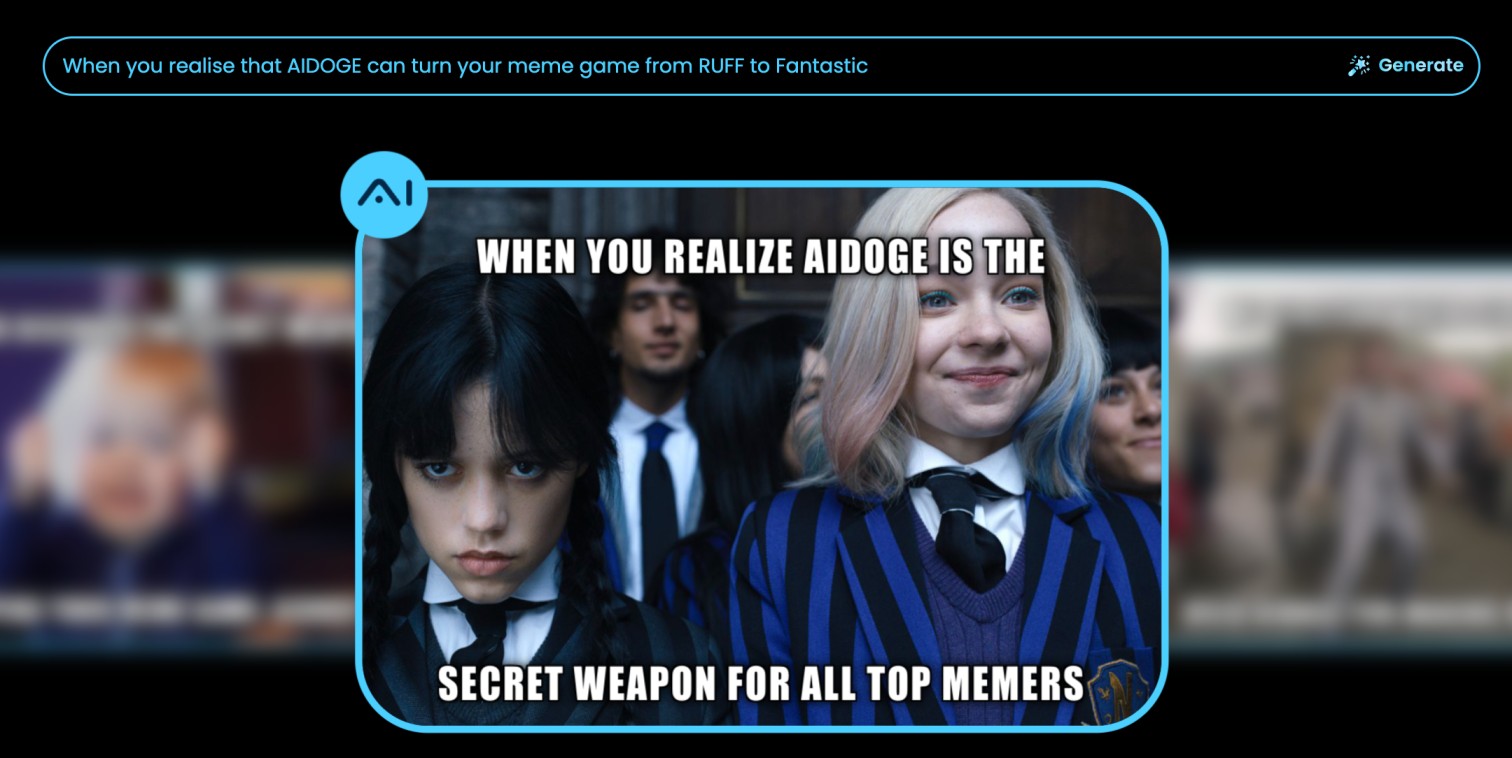 One of the best crypto presales right now is AiDoge. This new project has built a tool that creates memes from text prompts. Users need AiDoge's native token, AI, to create memes. The AiDoge presale has raised over $4.5 million so far and is likely to sell out early.
Another presale to consider is Ecoterra. This project has developed a recycle-to-earn mechanism, rewarding users for recycling. Additionally, Ecoterra supports carbon offsetting and a decentralized marketplace for recycled raw materials. The Ecoterra presale is still ongoing and has already raised over $3.3 million.
What is the Best Time to Trade Cryptocurrencies?
There is no specific time frame that provides an advantage to crypto traders. After all, crypto is traded on a global basis 24 hours per day, seven days per week.
That said, bear markets are an attractive period to trade cryptocurrencies, as many projects experience a major reduction in value.
For example, large-cap coins like Bitcoin and Ethereum are trading at discounts of over 60% when compared to their previous all-time highs.
This allows crypto traders to enter positions at a favorable entry price.
Cryptocurrencies with a smaller market capitalization have seen even bigger declines.
For example, Decentraland's native token, MANA, is trading 90% below its prior all-time high.
Of course, traders shouldn't buy a cryptocurrency just because it is trading at a discount. Instead, traders should focus on the long-term potential of the cryptocurrency. Furthermore, traders should assess whether or not the cryptocurrency will return to its prior highs when the next bull market arrives.
How to Decide Which Cryptos to Trade?
Crypto traders initially need to consider their preferred strategy. This will help clear the mist on which cryptos to trade.
For example, those looking to day trade will likely need to focus on larger-cap coins. This will ensure that there are sufficient levels of liquidity and trading volume. Day traders will then need to study pricing charts via technical indicators. The objective here is to look for a suitable entry point to capitalize on the readings.
On the other hand, those seeking above-average gains over a longer period of time might consider presales. Many new presales launch throughout the week, so traders should ensure that they conduct plenty of research. Consider reading the presale whitepaper, taking note of its roadmap, tokenomics, and core team. Moreover, traders should evaluate the use cases of the presale token being sold.
Do note that traders won't be able to sell their presale tokens until they are listed on a crypto exchange. At this point, those that missed out on the presale will be able to buy the token. The token's value will rise and fall depending on market forces. Therefore, traders should have an exit strategy in place.
Conclusion
With thousands of tokens operating in this trillion-dollar market, crypto traders have access to plenty of investment opportunities. Having explored the best cryptocurrency to trade, we like the look of Wall Street Memes.
$WSM, the native token, is available to buy on presale for $0.0337 per token. The Wall Street Memes crypto platform has been around for many years, and has a following of more than 1 million people.
Now, the team looks to raise $30.5 million through the ongoing presale.
FAQs
What are the best cryptos for trading?
Which crypto to trade for beginners?