The number of global cryptocurrency holders has reached 429 million in 2022 and is expected to rise to 994 million by 2027, according to Statista. However, with the rise of users comes an increase in the number of hacking attempts, which is why using a proper crypto wallet to keep your crypto assets safe is necessary.
If you don't already have a wallet or are looking for a safer one, it's best to use a decentralized crypto wallet. We aim to help you with our detailed list of the best decentralized crypto wallets. In this article, you'll get comprehensive reviews of our top seven picks, but you'll also learn what decentralized crypto wallets are, how they work, and why you need them.
Top 7 Decentralized Crypto Wallets
If you're looking for the best decentralized crypto wallet, you're in the right place. Below is a detailed list of the top seven DeFi wallets you can choose from. Every wallet will have a short description explaining what makes it one of our top picks.
However, you should also read the detailed reviews below and the rest of the guide to learn how to pick the best one.
For now, here's the decentralized wallet list:
MetaMask

— Overall

best decentralized crypto wallet

with ERC-20 token and NFT support. The go-to wallet for most people looking to enter the world of Ethereum, NFTs, and decentralized apps.

Trust Wallet

— Feature-rich decentralized wallet with a user-friendly design. Supports more than a million assets and over 50 blockchains — part of the massive Binance family.

Coinbase Wallet

— Popular decentralized hot wallet supporting thousands of coins and tokens. Connects to the vastly popular Coinbase exchange but still works as a separate, non-custodial wallet.

Crypto.com DeFi Wallet

—

Top DeFi wallet

for advanced crypto users. Highly secure wallet with staking capabilities and support for cryptocurrencies, tokens, decentralized apps, and NFTs.

Ledger Nano S Plus

— Ideal choice for most hardware wallet users. Supports thousands of coins and tokens and can integrate seamlessly with many software wallets, most notably Crypto.com.

Trezor Model One — Inexpensive hardware wallet ideal for beginners. Can be a great entry point to cold storage wallets with its simple design, support for an extensive range of cryptos, and integration with Exodus.
Uniswap Wallet

— Secure decentralized wallet with seamless connection to one of the largest DEXs with the same name. Easy to use and ideal for swapping and staking cryptocurrencies.
What Is a Decentralized Crypto Wallet?
A decentralized crypto wallet is any cryptocurrency wallet that gives the user complete control of their digital assets. This typically means the app gives users control over their private keys without storing sensitive data on the company's servers.
Moreover, a decentralized wallet can often support and connect with decentralized apps (dApps) and DeFi — decentralized finance applications.
The best DeFi wallets are typically either non-custodial software wallets or hardware wallets.
Decentralized wallets are directly managed and maintained by the user. Naturally, they can be created by a specific company, but the crucial thing is that you have full ownership of the address, its private keys, and the crypto assets on it.
This also means the wallet must be installed on your device. The device can be a desktop computer or a mobile phone in the case of hot wallets, and if you're using a cold wallet, then it's a hardware wallet that works as its own separate device, in most cases a simple USB stick with its own small screen and buttons.
In some cases, a decentralized wallet can be web-based. However, the best decentralized crypto wallet that works online through a browser still gives you control of your private keys — it's just that the wallet software is hosted on the web.
Decentralized wallets are directly opposed to centralized wallets, which are typically web-based and connected to crypto exchanges.
Moreover, they are often custodial, meaning the company behind the wallet keeps control of your private keys.
Most advanced users in the world of crypto will tell you that if the private keys are not yours, then the coins are not yours. This view is technically correct because the owner of a crypto address' private keys is the actual owner of the crypto assets stored on that address.
The fact that users didn't have control over their private keys is one of the reasons why people couldn't get their crypto assets off of FTX when it collapsed, as Bloomberg explains.
Why Use a DeFi Crypto Wallet?
To understand why you should consider using a decentralized crypto wallet instead of all others, here's a list of reasons that should also explain their advantages:
Private keys are yours

— Decentralized wallets are always non-custodial, so your private keys stay yours.

Robust security measures

— Most

DeFi crypto wallets

have robust security measures, especially hardware wallets that are inherently more secure than other types of crypto wallets.

Great entry into dApp and DeFi space

— If you want to get into the decentralized app or decentralized finance space, a decentralized wallet is effectively a necessity, especially if you want to pay for something. Some DeFi wallets even have dedicated browsers, so you can explore this space.

No connection to unsecured CEXs

— Decentralized wallets are not connected to exchanges, so you don't have to worry about them suffering breaches or falling apart and taking your coins with them, like in the

case of FTX

.

Private data stays private

— Most decentralized wallets stay clear of your personal data to ensure total privacy and protection of user-sensitive information.
Reviewing the Best DeFi Crypto Wallets
We've scoured the web to analyze as many decentralized wallets as possible. Ultimately, we were left with seven we can safely say are the best in the industry, especially when looking at their security and privacy measures and features.
1. MetaMask — Overall Best Decentralized Crypto Wallet With Focus on Ethereum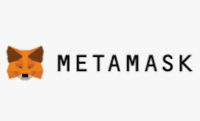 MetaMask is a decentralized crypto wallet that's incredibly popular among dApp and NFT users, as well as crypto investors focusing on Ethereum-based tokens.
It's our pick for the overall best decentralized crypto wallet because of how well-optimized it is in all major areas. Plus, it excels in the number of cryptocurrencies it covers and their diversity, as long as you're interested in more ERC-20 tokens and coins based on the Ethereum blockchain, making it one of the best Ethereum wallets. Consequently, you can store Ethereum, Polygon, Avalanche, and other similar cryptos, but not Bitcoin, Litecoin, or Bitcoin Cash.
As one of the best ERC20 wallets, its security is top-notch. It's a non-custodial wallet that doesn't ask for personal details and doesn't keep information on its servers. The private keys and, consequently, the crypto assets in the wallet are entirely yours. It's all secured with a password and a backup passphrase for added security.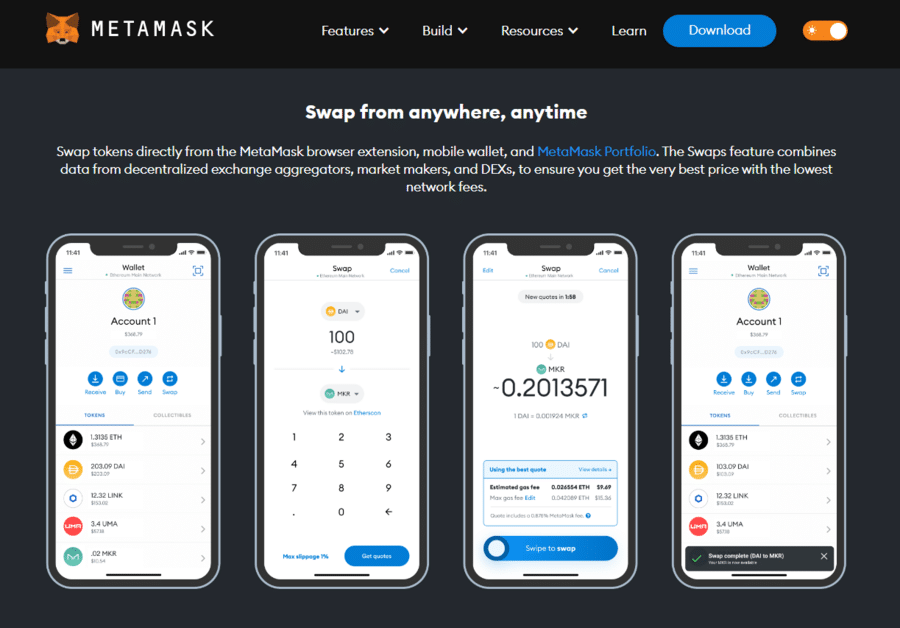 MetaMask works as a mobile app and browser extension, but it's not a desktop wallet, as there's no software you can install on a computer or laptop. However, the browser extension and the site are typically enough for most desktop users.
The wallet was made to offer full support to Ethereum and Ethereum-based tokens and coins. That's why it lets you store tens of thousands of ERC-20 tokens and several dozen significant cryptocurrencies based on Ethereum. To learn more about this, read our comprehensive MetaMask review.
Pros
:
Stores any Ethereum coin or ERC-20 token
Great for beginners
Support for ERC-20 tokens, dApps, DeFi apps, and NFTs
Connects to popular dApps like Opensea ad Uniswap
No maintenance or account registration fees
Used by more than 30 million people
Cons
:
Doesn't support Bitcoin and other non-Ethereum coins
No desktop application
| | |
| --- | --- |
| Wallet type | Hot wallet (cold storage support) |
| Number of supported cryptos | 500,000+ |
| Fee for buying crypto | N/A |
| Mobile app | Yes |
| Features | Staking, interest |
2. Trust Wallet — Feature-Rich and Highly User-Friendly Decentralized Cryptocurrency Wallet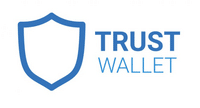 Trust Wallet is a decentralized crypto wallet that's fully non-custodial despite being part of the larger Binance family. As most of you know, Binance is the biggest crypto exchange on the planet, but even though it's centralized, Trust Wallet isn't and is entirely separate from the exchange. That way, you don't have to worry about Binance's regulatory problems in the US.
The wallet doesn't store your private keys or your data, and this separation from Binance makes it fully decentralized, but it also means you have to connect to Binance if you want to use the massive array of services the exchange offers.
Still, Trust Wallet has more than enough options of its own. Besides supporting millions of tokens and cryptocurrencies, it also accepts NFTs and connects to various dApps. If that weren't enough, it also has a built-in Web3 browser.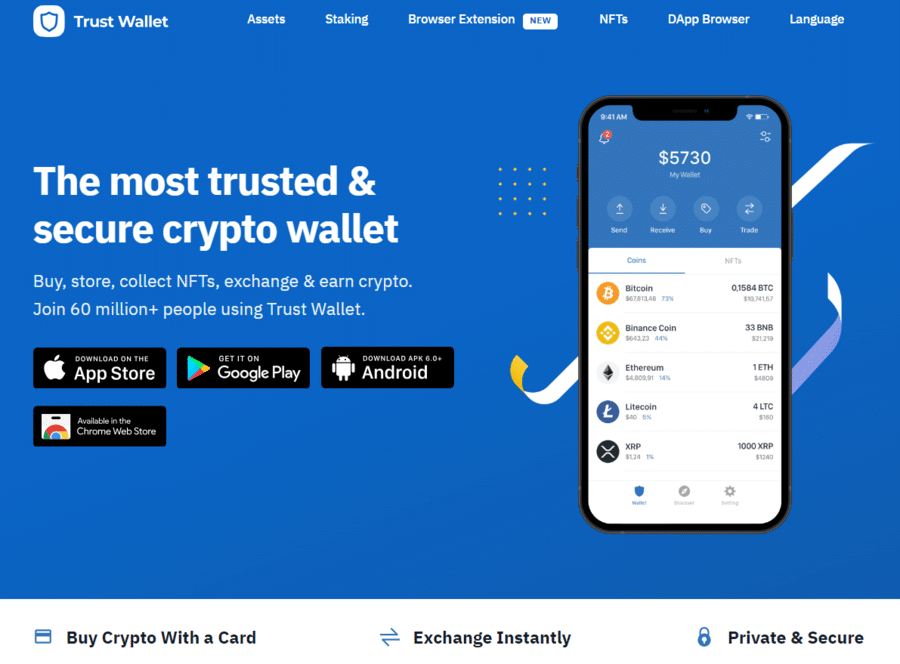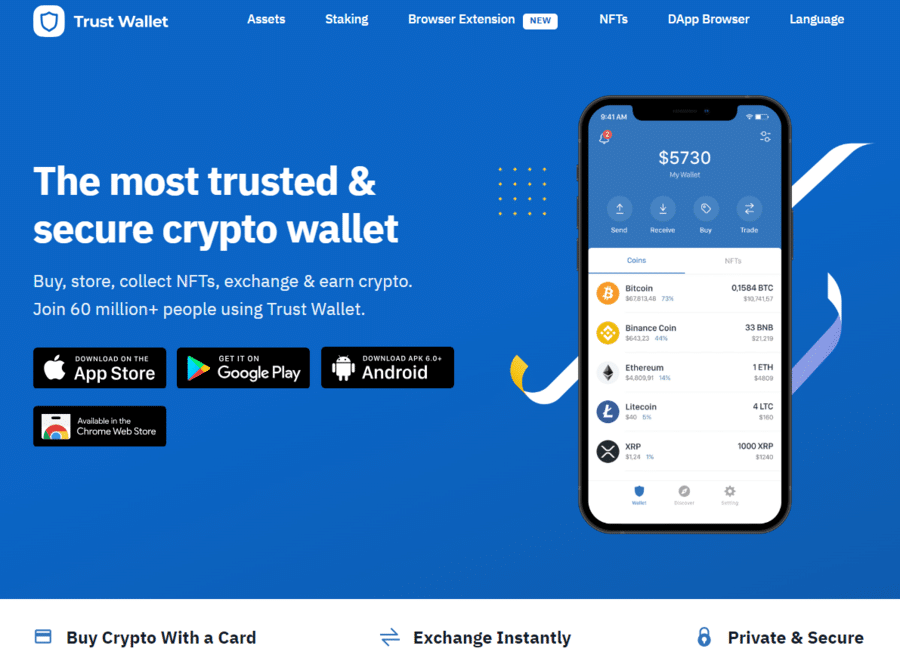 Besides the regular trading and storing features, Trust Wallet allows users to earn interest from their crypto assets.
You can do all this within the wallet's mobile iOS or Android app and a dedicated Chrome extension with over 400,000 users.
To learn more, you should read our full Trust Wallet review.
Pros
:
Millions of supported tokens
Connects to Binance exchange
Supports dApps and NFTs
Completely separate from Binance
Built-in staking options
Cons
:
Card payments require KYC
No cold storage support
| | |
| --- | --- |
| Wallet type | Hot wallet |
| Number of supported cryptos | 4.5 million (mostly tokens) |
| Fee for buying crypto | 1% |
| Mobile app | Yes |
| Features | Staking, interest |
3. Coinbase Wallet — Popular DeFi Wallet With Support for Thousands of Coins and Tokens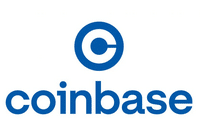 Coinbase Wallet is part of the larger Coinbase world, which includes one of the biggest crypto exchanges on the planet and certainly the most popular in the US. However, the wallet is still decentralized, as it's non-custodial, giving you complete control over your assets.
You can connect it to your Coinbase exchange account if you want to do more, like finding the latest and most promising Coinbase listings, but the wallet itself is still very robust in terms of features.
It lets you store hundreds of thousands of cryptocurrencies and tokens, manage your NFTs and other wallets, and explore the dApp space.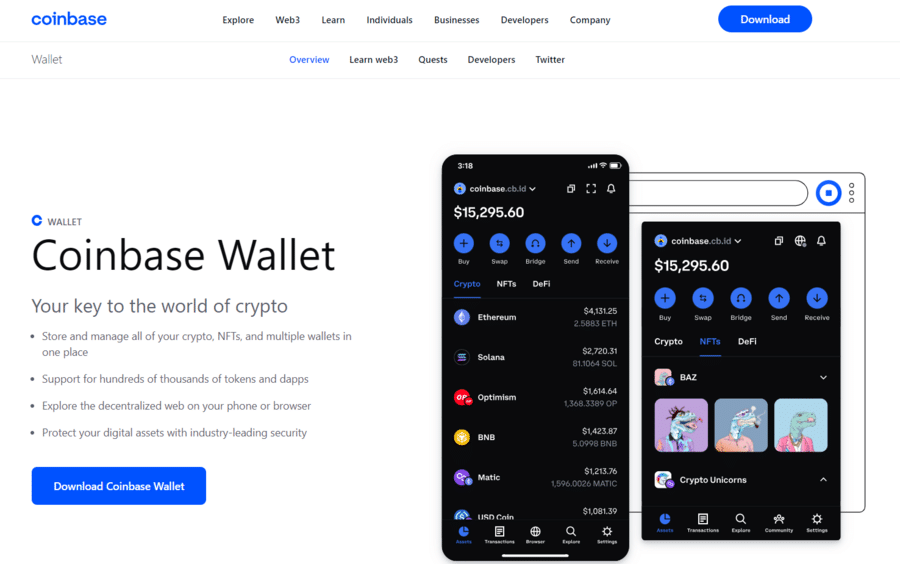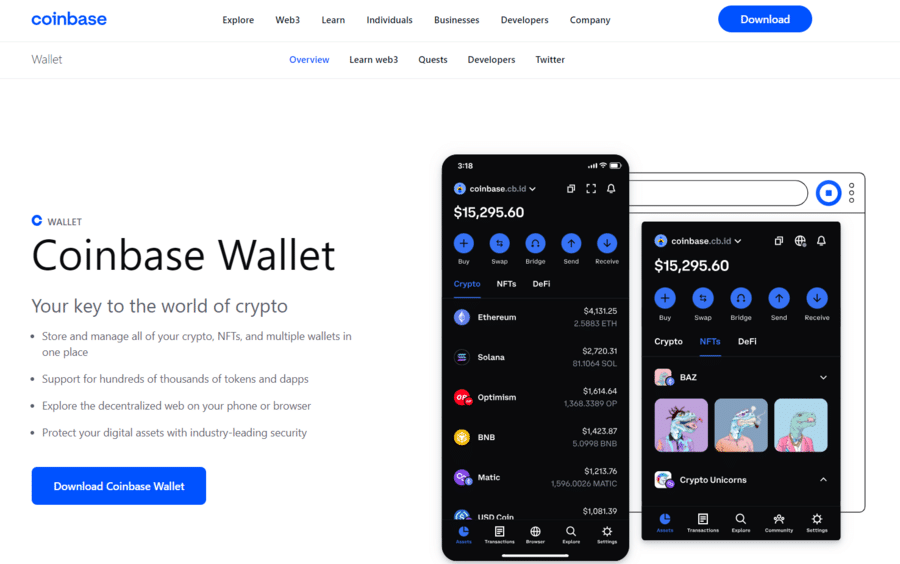 Aside from giving you control over your coins, it also doesn't collect any personal information or share it with the Coinbase CEX. The private keys are encrypted and delivered through a backup passphrase so the exchange cannot access them.
You can further use the wallet for staking certain cryptocurrencies, but you'll have to do it through dApps like Uniswap. The wallet itself doesn't have this functionality, but it can effectively connect with various decentralized applications that can do that and much more.
Pros
:
Supports a massive range of coins and tokens
User-friendly interface, ideal for beginners
Doesn't share any data with Coinbase CEX
Connects to numerous dApps and DeFi apps
2FA feature for added security
Cons
:
No desktop app
High transaction fees
| | |
| --- | --- |
| Wallet type | Hot wallet |
| Number of supported cryptos | 100,000+ |
| Fee for buying crypto | Vary |
| Mobile app | Yes |
| Features | Staking, interest (through specific dApps) |
4. Crypto.com Wallet — Top DeFi Wallet for Advanced Crypto Users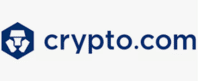 Crypto.com is a famous cryptocurrency exchange used worldwide, while the Crypto.com DeFi wallet is its official wallet. It's not connected to the exchange and functions as a non-custodial wallet highly adept at working with a wide range of decentralized and DeFi apps.
As expected from one of the top decentralized wallets on the market, it lets you store and view your NFTs, regardless of their format or the blockchain they are held on.
However, Crypto.com Wallet also allows the storage of more than 1,000 coins and tokens, including Ethereum, Cosmos, Cronos, and others. Besides storing, you can also swap and trade your crypto assets.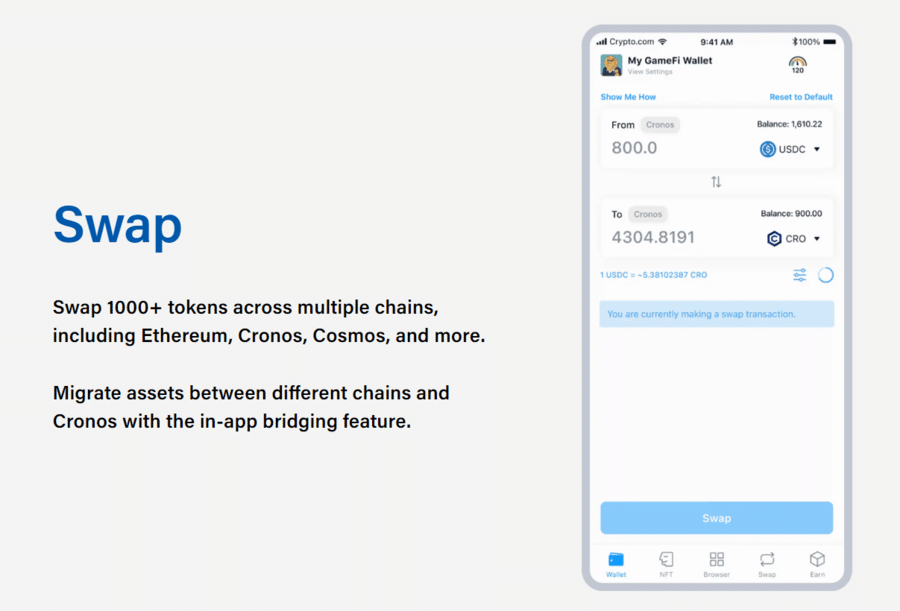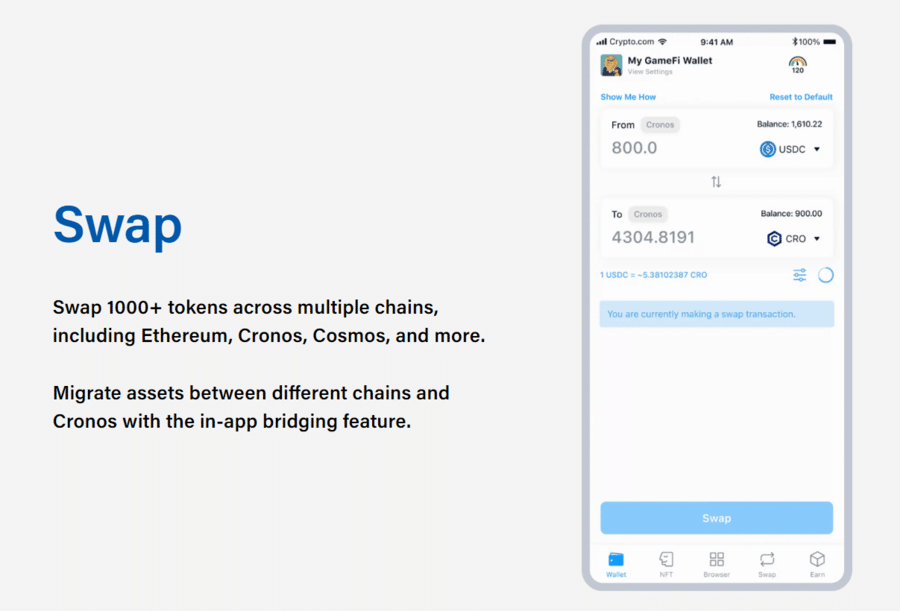 You can earn passive income on more than 25 tokens directly through the app, which includes tokens like ATOM, CRO, DAI, and TONIC.
As for safety, the wallet also uses multi-factor authentication, and in the unlikely case of a hack, the wallet provides compensation.
Pros
:
Full range of DeFi wallet features
Ideal for people interested in the dApp space
Perfect for experienced crypto users
Very positive user feedback
Lets you easily import other wallets
Cons
:
Unsuitable for beginners
Fees can get high
| | |
| --- | --- |
| Wallet type | Hot wallet |
| Number of supported cryptos | 1,000+ |
| Fee for buying crypto | Vary |
| Mobile app | Yes |
| Features | Staking, interest |
5. Ledger Nano S Plus — Best Decentralized Crypto Wallet for Cold Storage

Ledger Nano S Plus comes from the famous Ledger company, one of the world's leading two hardware wallet manufacturers. It's one of the two models Ledger produces, the other being a more robust and consequently more expensive model called Ledger Nano X.
However, Nano S Plus offers everything you need, so it will be more than enough if you're not looking for something specific only Nano X has.
The model typically costs around $80 and allows storing over 5,500 crypto assets. The memory lets you install as many as 100 apps at any given point. Moreover, it fully supports NFTs, so you can keep all your high-priced assets in one cold wallet.
Ledger also has staking capabilities, and you're free to stake cryptos like Ethereum, Solana, and Cosmos.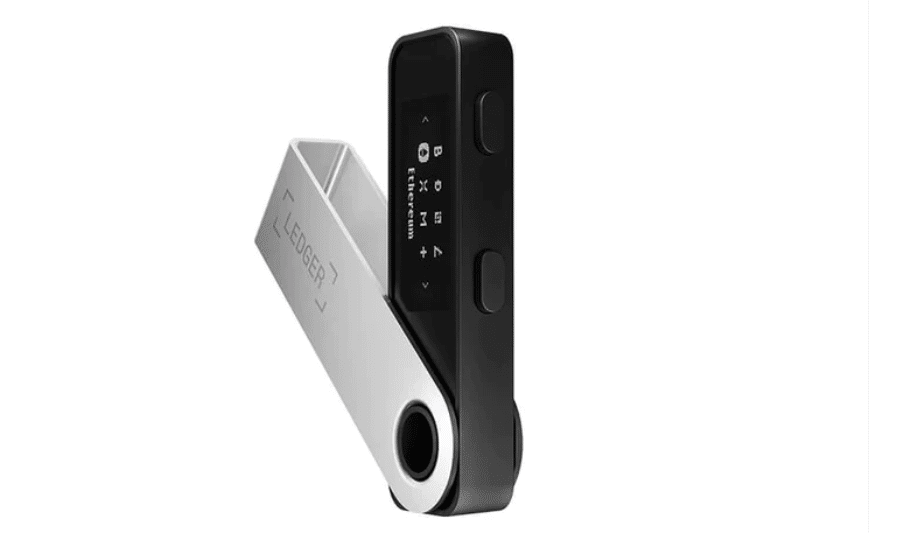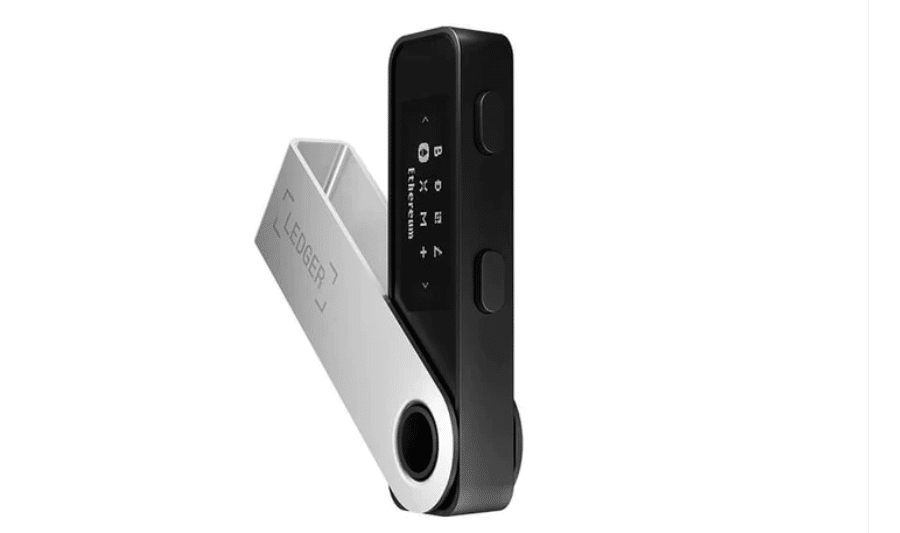 Ledger has a dedicated app for mobile phones that makes trading and staking possible.
Because of the standard top-of-the-line measures used by all the leading hardware wallets on the market, it also has a simple recovery process. If you lose the device, you can use your recovery phrase to restore access to your assets and get a new Ledger wallet.
Pros
:
Robust security features and cold storage
Easy recovery process
Stores more than 5,000 coins and tokens
Pairs with more than 50 third-party wallets
Connects to a robust mobile app
Cons
:
Not suitable for day-to-day trading
Pricier than other companies' base models
| | |
| --- | --- |
| Wallet type | Hardware wallet (cold storage) |
| Number of supported cryptos | 5,500+ |
| Fee for buying crypto | Commission built into the exchange rate |
| Mobile app | Yes |
| Features | Trading, staking (within the app) |
6. Trezor Model One — Inexpensive Hardware Decentralized Wallet Ideal for Beginners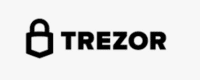 Trezor is another famous hardware wallet manufacturer on par with Ledger. It also offers one larger and more complex and another smaller and cheaper wallet model. We're focusing on the latter, Model One, as it's a perfect gateway into the world of hardware wallets.
The Model One is priced at only $70 and features all the robust security measures Trezor is known for. This includes top-notch security measures, RoHS and CE certifications, hands-on verification, and up to 50-digit-long PINs. With such a variety of measures, the device is one of the best decentralized wallets in terms of security.
The wallet is small and has a tiny screen, but you can still buy, sell, and swap coins with the help of the official Trezor Suite app. However, make sure to download links from the official Trezor site, as there are known scam apps even on official stores, as The Washington Post reported in the past.
You can store over 1,200 coins and tokens, including Bitcoin, Ethereum, Tether, Binance Coin, Cardano, Dogecoin, and Ripple. Speaking of Ripple, It's one of the top wallets for XRP holders.
Pros
:
One of the cheapest hardware wallets
Top-notch security features
Has a robust companion app
Compatible with other devices through USB
Perfect for long-term investors
Cons
:
Unsuitable for daily use and trade
Cashing to fiat currency is overly complex
| | |
| --- | --- |
| Wallet type | Hardware wallet (cold storage) |
| Number of supported cryptos | 1,200+ |
| Fee for buying crypto | Varies based on several factors |
| Mobile app | Yes |
| Features | Trading (within the app) |
7. Uniswap Wallet — Secure Decentralized Wallet With Seamless Connection to Uniswap DEX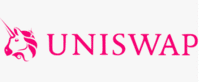 Uniswap Wallet is a highly-secure decentralized wallet that seamlessly connects to one of the best decentralized crypto exchanges on the planet — Uniswap. It's relatively new, but the brand name was enough for us to consider it. Both the wallet and exchange come from Uniswap Labs.
t eventually ended up on our list for its top-notch security, open-source software, and simple design. Naturally, it's entirely decentralized, just like its sister exchange. The wallet is also non-custodial, with private keys and seed phrases stored locally on your device.
Speaking of devices, Uniswap Wallet is a mobile crypto wallet, but it only works on iOS devices for now.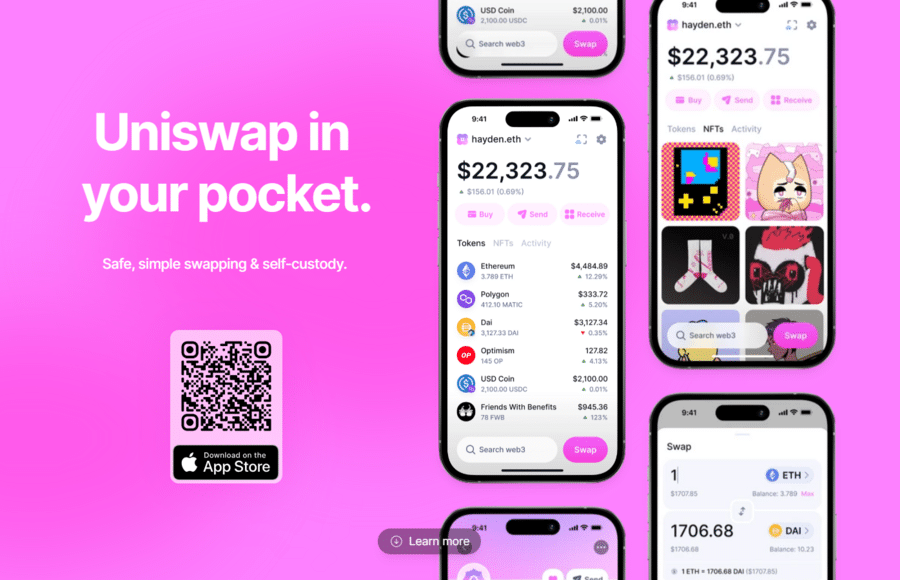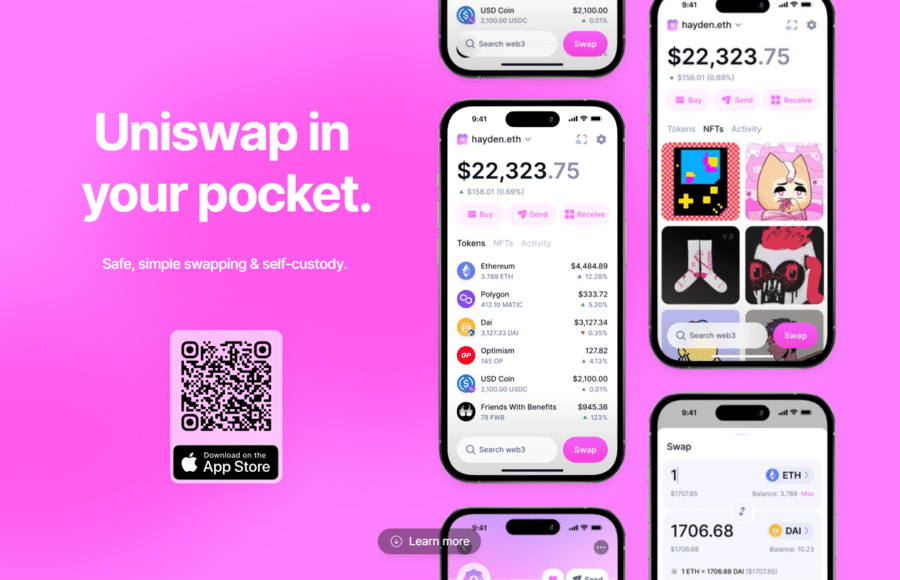 Like all self-custody, it comes with manual backups. However, Uniswap has gone further by giving you two recovery methods — iCloud and manual seed phrase backup.
When it comes to privacy, Uniswap Wallet continues to excel. Uniswap Labs doesn't collect personal information or store your data. They only keep information for troubleshooting needs, like your browser version and device type.
It supports many coins and lets you easily swap with them with the unique Uniswap swap feature available on their exchange. The wallet also connects to dApps and enables you to store NFTs.
Pros
:
Seamlessly connects to Uniswap DEX
Fast and easy-to-use swap feature
Connects to multiple dApps
Allows token and NFT storage
Added safety warnings and spam filters
Cons
:
Available only on iOS devices
Still new on the market
| | |
| --- | --- |
| Wallet type | Hot wallet |
| Number of supported cryptos | 1,800+ |
| Fee for buying crypto | N/A |
| Mobile app | Yes (iOS only) |
| Features | Swapping, dApps, NFTs |
How Does a Decentralized Cryptocurrency Wallet Work?
A decentralized crypto wallet stores your crypto assets in a decentralized manner, meaning they are entirely yours, even though the wallet itself is made by a specific company.
This is possible because decentralized wallets don't store personal information and, more importantly, don't keep your private keys.
You are the sole owner of your private keys, so the assets on the corresponding address are also exclusively yours.
Outside of the fact that a decentralized wallet is always non-custodial, with the user owning their crypto assets' private keys, the wallet essentially works the same as all other crypto wallets.
It communicates with the corresponding cryptocurrency's network to get the data it needs to give you access to your funds and allow you to use them as you want. This effectively means the wallet does not store your assets; it only presents a way for you to monitor and use them in a single user-friendly platform.
The cryptos are stored on the blockchain, and the wallet only uses private and public key sets to find and access them. This is why every crypto address contains both a public and a private key.
In simple terms, the former is like a bank account used to send crypto to a wallet. The latter is like the password to that account and allows you to verify transactions and prove ownership of your funds.
To better understand this, here's an example. If someone wants to send 0.1 BTC to your address, they need its public key. It's called a public key because anyone can look it up on the blockchain. Once they send you the 0.1 BTC, they become yours, but the only way to ensure that's the case and access them is to use your address' private key.
This is precisely why you need to be the sole owner of that key and why it's beneficial to use a decentralized wallet instead of a custodial one. If someone else, like the wallet manufacturer, has that key, they could use it to gain access to your assets. Naturally, a reputable company wouldn't, but it's still an option, and many crypto holders prefer that they never have the opportunity.
DeFi Wallets vs. Centralized Wallets
The main difference between decentralized and centralized wallets is that the former don't store your private keys, while the latter do. The former are thus often dubbed as non-custodial wallets, and the latter custodial.
Many often talk about the former being safer than the latter, but the reality is that it's more about the type of user you are.
If you can trust the company providing the wallet and you want it to handle security, you won't mind it storing your private keys.
On the other hand, if you're an advanced crypto user who is also a full supporter of the "not your keys, not your coins" stance, you'll want to stay in control of your keys by getting one of the best decentralized crypto wallets. However, this also means that you are solely responsible for their safety.
It's a double-edged sword, and it's why centralized and decentralized wallets can be equally unsafe but in different ways. Consequently, it should always boil down to what you prefer. Naturally, if you fall somewhere in between, you can always go for the overall best crypto wallet on the market, regardless of whether it's custodial or non-custodial.
Types of DeFi Crypto Wallets
Decentralized wallets can be hot or cold, depending on the type of storage they offer. Hot wallets are the more popular option due to their convenience, but they are less secure as they are connected to the web. Cold wallets are complex and less convenient, you have to buy them, but they are the gold standard in crypto security as they operate offline.
Outside of that, we can separate decentralized crypto wallets into software and hardware wallets.
Software Wallets
Software wallets are software applications you can install on various devices and use them to store cryptocurrencies. They typically offer a wide range of features like trading, buying, selling, and staking crypto. DeFi wallets also let you access various decentralized apps and store NFTs.
Software wallets can be:
Desktop wallets

— Software that has to be installed on a computer or laptop using operating systems like MacOS, Windows, or Linux. They are convenient and feature-rich but require lots of protection as they are as secure as your computer.

Mobile wallets

— Work like any other app on your iOS or Android device. Highly convenient and often very simple to use. They are typically the least secure option, requiring added security measures like 2FA.

Web wallets

— These wallets operate through internet browsers like Chrome and Brave. They usually work as extensions but are not very secure and can be vulnerable to DDoS attacks if you're not using adequate security measures.
Hardware Wallets
Hardware crypto wallets are pieces of hardware that store cryptocurrencies. They are typically in the form of a slightly larger USB stick with a small screen and a few buttons.
They are simple in design but robust in security measures. Besides various certifications and advanced security features, their main advantage is that they are offline by default. So, they are completely safe from hacking attempts if you're not using them in conjunction with an app or on your computer.
Even though they are the gold standard in crypto security, they are highly inconvenient for daily trading, as they must be used online and with a dedicated app. They can be complex for beginners and cost money, unlike software wallets that are free to set up.
Hardware wallets are typically used for long-term storage and to keep larger amounts of cryptocurrencies safe. If you want to do the same, it's best to keep most of your crypto on a hardware wallet and the rest on a trading platform or hot wallet so you can trade, swap, buy, sell, and stake these coins and tokens.
Are DeFi Crypto Wallets Safe?
In terms of security, even the best decentralized crypto wallets are as safe as their security measures allow. These can often be the same as with other crypto wallets, with hardware wallets being an exception as they are decentralized by nature and inherently safer than software wallets due to providing cold storage.
However, the rule applies to software wallets. The fact that some are decentralized is often considered a good thing because you're the owner of your private keys, as we've already explained. But as we've also covered, this can be as much of a disadvantage as an advantage.
Having complete control of your private keys can be beneficial if you're great at taking care of them, but if you're unsure of how securely you can store them, it can be a problem.
The reasoning is simple. Once the private keys are lost, you can't rely on the wallet manufacturer to help you, so they are effectively lost forever.
With custodial or centralized wallets, the keys are stored by the company behind the wallet, so with proper recovery methods, you can get them back.
With any wallet, be it custodial or non-custodial, there's also the option to use your secret seed phrase (the 12, 18, or 24 phrase the system generates when you're setting up your wallet for the first time) to generate your private keys again regain access to your address, but if you lose it too, then there's no way to get your funds back.
The security of your seed phrase is your own to handle, so you'll have to keep it somewhere safe, preferably on a piece of paper and in multiple places, but never on devices connected to the internet.
This brings us back to the same problem you can have with your private keys. If you lose the phrase, it's over, which is precisely why some people feel it's safer for reputable wallet manufacturers to keep the keys stored safely on their servers.
If you can keep both your private keys and the seed phrase secure, there's no reason to doubt the security features of the decentralized wallet. As long as you're using a proper DeFI wallet, like one of the options we recommend, there's nothing to worry about.
How We Ranked the Best Decentralized Crypto Wallets
To choose the right decentralized wallet, you must look into the features that connect them. Let's review what we examined to rank the wallets on our list:
Reputation

— We highly value wallets with pristine reputations, and you should too. We looked into online reviews, user feedback, and ratings to determine how well-liked they are.

Security

— Decentralized wallets are more secure than centralized ones, but they still need to feature robust security measures, precisely what we reviewed.

Supported cryptocurrencies

— Some wallets have a few supported coins, while others let you store thousands. We gave higher rankings to those that offer true diversity in terms of coins and tokens.

Decentralized features

— Decentralized wallets are also used for their compatibility with decentralized apps and DeFi solutions. Due to that, we made sure to pick wallets that can connect to many dApps, especially those that allow

staking

and other options.

Usability

— We looked into how user-friendly each wallet is as many users are complete beginners, so most crypto fans should be able to use them without getting lost. Naturally, some are more complex and attuned to advanced users, but these, too, need to offer a good user experience even when you know how to use a DeFi wallet.
How to Get & Use a Decentralized Crypto Wallet
If you're ready to get a decentralized wallet and start using it, you should know that setting one up is relatively simple. Naturally, the process is different with each specific wallet, but the steps are still pretty similar, so let's cover the onboarding process with our number one pick, MetaMask, for you to get an idea of what to expect:
1. Visit the official MetaMask site and download the wallet
Go to MetaMask.io and click the Download button.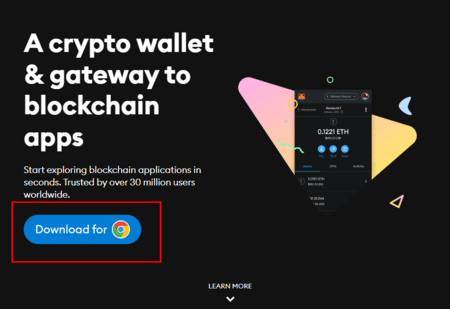 The link will take you to the extension's page on the Chrome Web Store. Click the Add to Chrome button to add it to your browser.
2. Start the setup process and add a password
Click on the Create a New Wallet button to create it.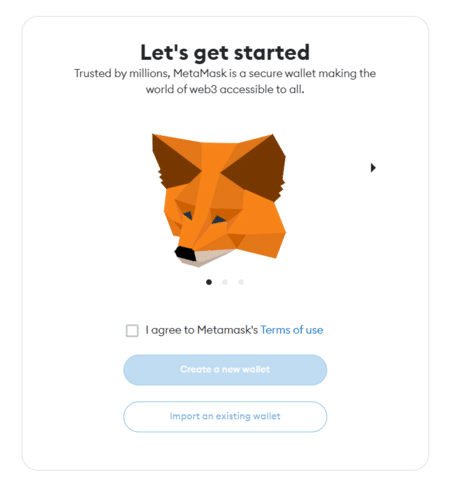 Agree to the terms and create a password. Watch the short video on how to keep your wallet safe and click the recommended Secure My Wallet button.
3. Write down the unique secret recovery phrase
By clicking the Reveal Secret Recovery Phrase button, the system will reveal your unique 12-word phrase. Write it down and save it somewhere safe. Keep it safe, as it's the only way to recover your wallet if you lose the password. You'll also need to confirm parts of it to set up the wallet.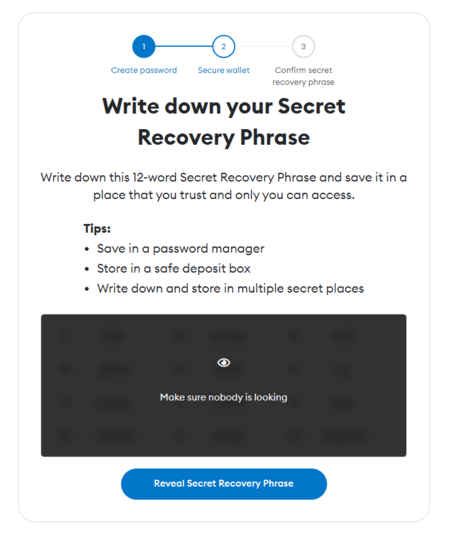 Once the phrase is revealed, write it down or copy it somewhere, then continue the process and input the missing words to complete the process.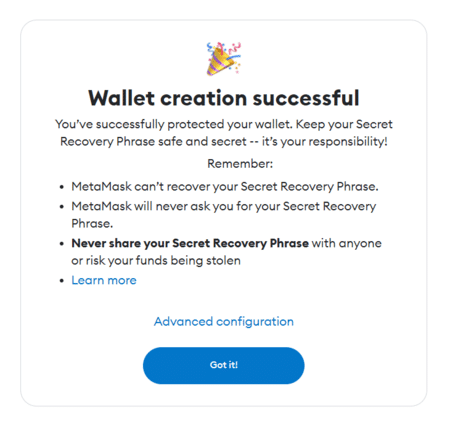 4. Start using the wallet
Once you enter the wallet, you'll be presented with a minimalist dashboard with your address, Ethereum balance, and the options you can use.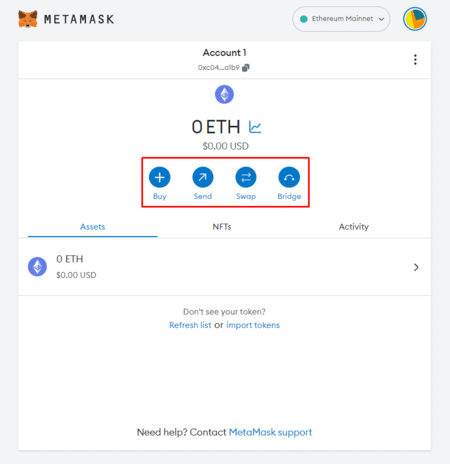 To start using the wallet, you must top it up with ETH or some other compatible coin or token. You can use the Buy option to buy the crypto assets directly through the wallet with the help of MetaMask Portfolio, their integrated dApp for buying, selling, swapping, and staking crypto.
You can also send crypto to the address if you already have some assets stored on another wallet or an exchange.
Conclusion
Decentralized crypto wallets are typically considered the safest option on the market, especially if you get a hardware wallet with an accompanying mobile app or compatible software wallet. It always boils down to your user type and what you want from a crypto wallet.
We've made sure to present you with enough options in our comprehensive list of the best decentralized crypto wallets. The only thing left for you to do is to analyze the reviews and pick the wallet that checks the most boxes on your wishlist.
References:
FAQs
Which crypto wallets are decentralized?
Which is the most secure decentralized crypto wallet?
Which decentralized wallet has the lowest fees?
Are decentralized wallets safe?
Is Coinbase Wallet decentralized?
Is Trust Wallet decentralized?