The world of DeFi continues to grow, with new projects being launched left and right. But what is the best DeFi crypto to invest in? The answer to that question is not so simple.
Still, our professional investors and crypto experts made a list of the most attractive DeFi coins to buy, along with a short overview of each. Without further ado, let's check out the available options.
8 Best DeFi Coins to Buy Today
We have narrowed down the list of the best DeFi coins to watch in 2023 to the following options. Some are new and still looking to break through to the mainstream, while others are already established cryptocurrencies. Here they are.
Love Hate Inu — Up-and-coming vote-to-earn platform backed by a crypto and the best DeFi coin to invest in for 2023
DeeLance — World's First Decentralized Freelance Network with 10x Potential
ecoterra— Innovative Recycle to Earn Crypto Project with Great Utility
Tamadoge — Popular Meme Token with Interactive P2E Metaverse
Battle Infinity — DeFi coin supporting P2E, staking and much more
Avalanche — One of the Fastest and Most Eco-Friendly Smart Contracts Crypto Networks
Uniswap — Popular Choice Amongst DeFi Enthusiasts with High Liquidity
Our Analysis: Best DeFi Crypto Projects
Here are detailed overviews of the best DeFi coins to buy in 2023.
1. Love Hate Inu — Best DeFi Coin to Invest in for 2023
Love Hate Inu will seem familiar if you have experience with the best meme tokens, as it's not that different from projects like Dogecoin. It stands out from the pack because it's also a utility crypto. In other words, this DeFi crypto has real-world use, making it one of the few to have combined memes and utility.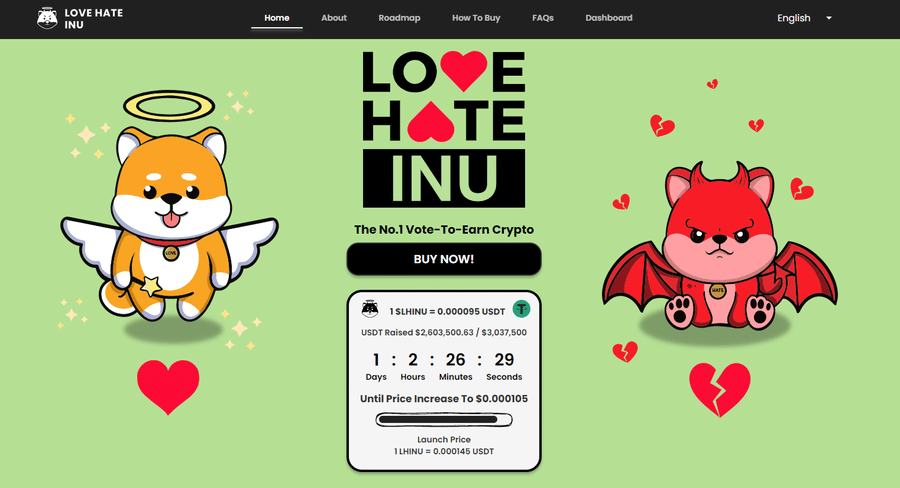 Love Hate Inu brings an interesting staking mechanism to the crypto community. It is powered by smart contracts, preventing possible poll spam or manipulation. Due to its blockchain-based nature, the voting system is anonymous and verifiable.
The voting process is streamlined, as all you need to do is stake your coins to get a chance to vote in trending polls while earning more crypto in the process. If you're an official voter, you can also create custom polls and earn rewards.
The project is still new, as the whitepaper and token presale launched in Q1 2023. The second quarter of the year is reserved for developing the algorithm for voting, platform signups, voting demos, partnership agreements, and exchange listings.
The roadmap also includes the introduction of various other functionalities throughout the year. From 2024 onward, Love Hate Inu will aim to integrate its unique voting system into all significant metaverse experiences, which could significantly affect the price of its DeFi cryptocurrency.
Could this become the best crypto to buy right now?
The presale process is currently underway, but the price of LHINU changes every couple of days based on the different stages of the presale. At the moment, 1 $LHINU = 0.000095 USDT. The official launch price will be 1 LHINU = 0.000145 USDT. In other words, the earlier you decide to buy, the better the deal. A total of 90% of LHINU will be distributed during the presale phase, meaning the community will hold most of the tokens. Only 10% will remain reserved for community rewards, listing fees, and liquidity.
| | |
| --- | --- |
| Presale Started | 8 March 2023 |
| Purchase Methods | ETH, USDT, Credit Card |
| Chain | Ethereum |
| Hard Cap | $10,068,750 |
| Min Investment | 10 $LHINU |
| Max Investment | None |
2. DeeLance – Fastest-Growing Web3 Freelancing & Recruitment Platform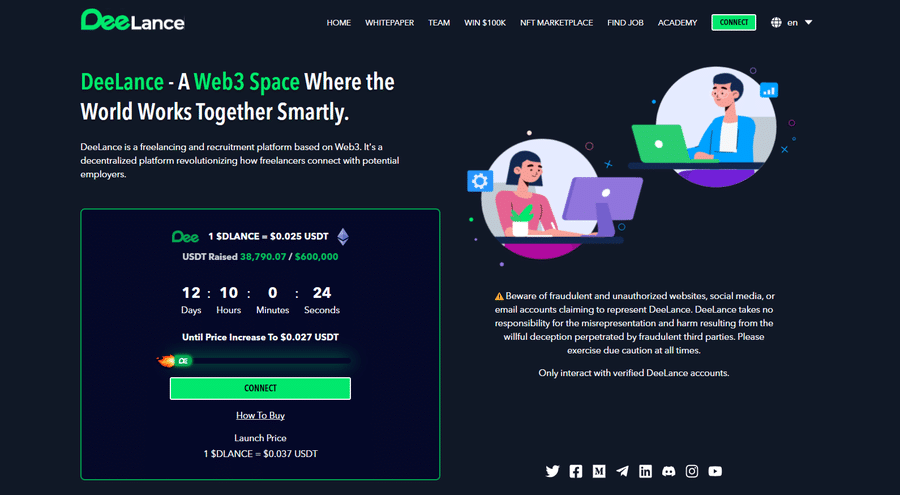 DeeLance seeks to revolutionize the world of freelancing by incorporating Blockchain technology, NFTs, and the Metaverse. By operating in this digital space, DeeLance's objective is to offer transparency and digital ownership of work to both freelancers and clients. The digital ecosystem, built on web3 technology, creates new opportunities for professionals and creators to benefit from the continuously expanding metaverse.
Are you tired of using centralized freelancing platforms that charge exorbitant fees as high as 30%? Say hello to DeeLance, the comprehensive decentralized platform that envisions micro-communities within the metaverse where creative buyers and sellers can connect, network, and form long-lasting relationships.
With DeeLance, you don't have to worry about intermediaries taking a cut of your hard-earned money. Our platform eliminates the middleman and offers the lowest fee on the market, just 2%, so you can keep more of what you earn.
But that's not all. DeeLance has been designed to ensure that bottlenecks don't emerge, with an escrow system in place to keep employers' funds safe until the work is delivered. Smart contracts and dispute resolution mechanisms also guarantee payment for freelancers' services.
And if you're looking for a quick and easy payment solution without commission rates or currency exchange issues, DeeLance has got you covered. The native token, $DLANCE, allows freelancers to get paid promptly. Plus, with the integrated NFT feature, buyers gain ownership of the delivered work from the freelancer, making transactions even more secure and transparent.
Join the DeeLance Telegram and read the whitepaper and experience a platform that values transparency, fairness, and creativity.
| | |
| --- | --- |
| Hard Cap | $6,000,000 |
| Total Tokens | 1,000,000,000 |
| Tokens available in presale | 300,000,000 |
| Blockchain | Ethereum Network |
| Token type | ERC-20 |
| Minimum Purchase | $10 |
| Purchase with | USDT, ETH, Card |
3. ecoterra — Innovative Recycle to Earn Crypto Project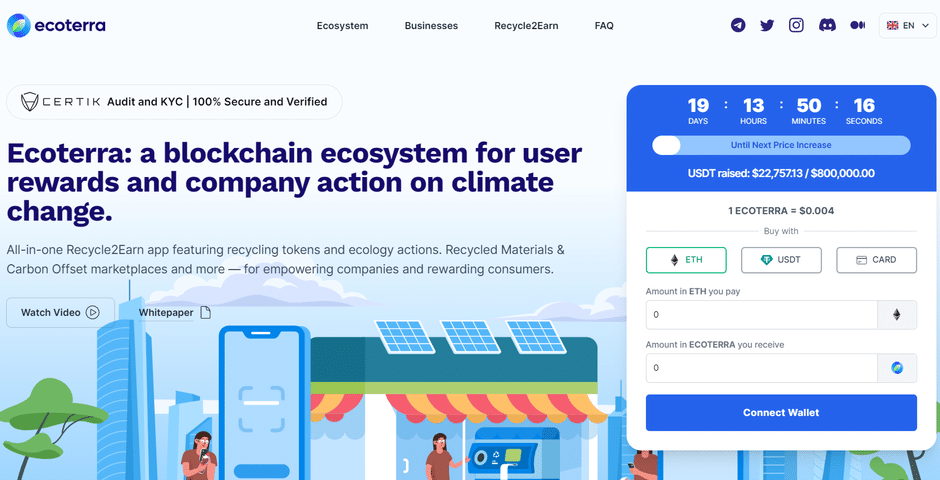 Are you passionate about saving the planet? Do you want to make a difference and get rewarded for it? Look no further than ecoterra, the world's first Recycle-to-Earn blockchain-based ecosystem that utilizes RVMs (reverse vending machines).
This innovative platform is designed to empower both users and companies to take action against climate change. There are four main elements to the ecoterra ecosystem: the Recycle-2-Earn Application, Carbon Offset Marketplace, Recycled Materials Marketplace, and Impact Trackable profile.
With the ecoterra app, you can earn $ECOTERRA by simply scanning items and recycling them. And the best part? You can hold, stake, or spend your $ECOTERRA on ecological activities, making a positive impact on the environment while getting rewarded for your efforts.
The Carbon Offset Marketplace enables companies to purchase carbon offsets, empowering them to reduce their carbon footprint while contributing to a more sustainable future. And the Recycled Materials Marketplace allows companies to buy and sell recycled materials, encouraging the use of sustainable materials in production.
Plus, with the Impact Trackable profile, users and companies can monitor their carbon footprint and track their ecological progress, contributing to a more transparent and accountable ecosystem.
Join the ecoterra mission and be part of the movement towards a greener future!
Read the ecoterra whitepaper and join the Telegram group today.
| | |
| --- | --- |
| Presale Started | 29 March 2023 |
| Purchase Methods | ETH, USDT, Card |
| Chain | Ethereum |
| Soft Cap | $2M |
| Hard Cap | $6.7M |
4. Tamadoge — Popular Meme Token with Interactive P2E Metaverse

Tamadoge didn't take long to become one of the top 10 meme coins. It was launched in 2022 and quickly started turning investors' heads, increasing its presale price to 2,000% its original value. Even though the initial hype was short-lived, Tamadoge remained a popular choice, thanks to the original ecosystem that it's part of.
Namely, the Tamadoge project focuses on a tailored metaverse world where players can collect Tamadoge pets, which are essentially NFTs. They can train and battle their pets, earning Dogepoints in the process. Most successful players will receive valuable prizes and bigger chunks of the monthly reward pool.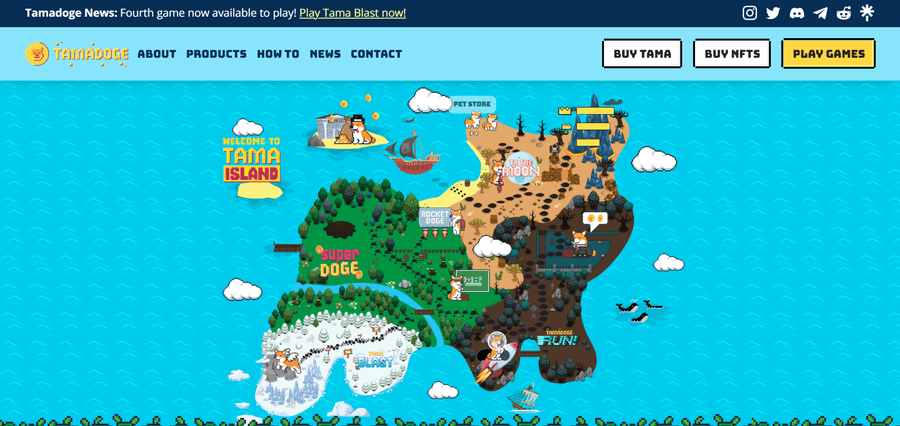 Essentially, Tamadoge is a P2E game, and it's already disrupting the DeFi space. Its creators aim to introduce a 5% burn mechanism, meaning its price could soar. In addition to the main game, TAMA also includes two mini-games, and the creators aim to introduce a VR app in the future. Think of it as a DeFi version of Pokemon Go.
Now is the perfect time to read more and potentially invest in TAMA, as the initial hype is no more, yet the project is still new, and many features are scheduled for launch. The all-time high for TAMA was $0.1957, and the coin is currently trading at around $0.012.
5. Battle Infinity — DeFi coin supporting P2E, Staking and Much More
Battle Infinity is a platform that hosts several battle games based on P2E, all of which are part of a single metaverse dubbed "The Battle Arena." In addition to playing exciting games, players can enjoy the immersive virtual world, which they can explore and interact with. Those who own IBAT, the project's native token, can stake their holdings and receive benefits while active on the platform.
The project immediately attracted DeFi and crypto enthusiasts thanks to its unique system. In fact, it sold out all its presale tokens 65 days before the presale was supposed to end. The IBAT token continued strong, although its price decreased over time.
IBAT's price reached an all-time high on August 30, 2022, shortly after the project went live, with a single token costing $0.005538. The max supply is set to 10,000,000,000, and a total of 32% of IBAT is currently in circulation, although this is a self-reported circulating supply.
It's safe to say that this project is in a similar position to Tamadoge, as there's so much planned for it, yet the IBAT token's price has steadily declined after the initial hype. If you're looking for the best DeFi investments and are a hard-core gamer who loves shooters, learn more about Battle Infinity and the pros and cons of investing in IBAT.
6. Avalanche — One of the Fastest and Most Eco-Friendly Smart Contracts Crypto Networks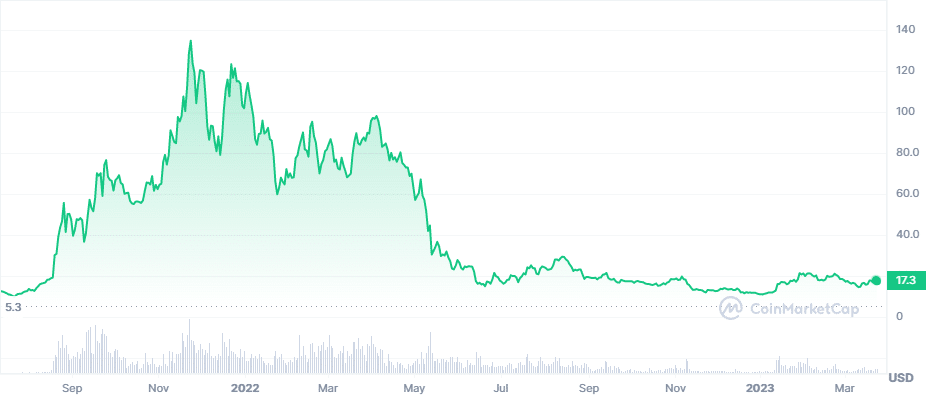 Avalanche was initially named the Ethereum killer thanks to its unique approach to transaction processing. Instead of one blockchain, it uses three chains (C-Chain, X-Chain, and P-Chain) to settle transactions. P-Chain is mainly used by network validators, X-Chain is for AVAX transactions (the native Avalanche token), and C-Chain is for processing Web3 and DeFi coins.
The project peaked in 2021, with many P2E games and other Web3 projects introduced to its network. Currently, AVAX is trading at around $20, but that is likely to change soon as it's a popular and highly-volatile asset. AVAX reached an all-time high on November 21, 2021, with a single unit costing $146.22.
Unlike all the other new cryptos mentioned above, Avalanche is not a DeFi project with a specific use. Instead, it's a platform that allows building and launching DeFi projects.
So, what makes Avalanche different from, say, Ethereum or Cardano? There are several reasons AVAX made it to this list, but the main one is its unique consensus mechanism based on the directed acyclic graph (DAG) protocol, which could be helpful in the rapidly-evolving crypto space. Moreover, AVAX has an excellent burn mechanism, burning all fees that benefit the Avalanche community. That's why it's still considered one of the best DeFi cryptos.
7. Uniswap — DeFi Platform With an Automated Market Maker

Uniswap is a decentralized cryptocurrency exchange built on the Ethereum blockchain. It allows users to trade cryptocurrencies without needing a centralized intermediary or order book. Instead, Uniswap uses an automated market maker (AMM) system with a mathematical algorithm for calculating asset prices based on supply and demand.
In Uniswap, users can provide liquidity by depositing pairs of cryptocurrencies into liquidity pools, and in return, they receive liquidity provider (LP) tokens representing their share of the pool. The price of assets in each pool is determined by a constant product formula that balances the two assets.
Uniswap is currently trading at $6.15, although the exchange's native token reached an all-time high of $44.97 in May 2021. The coin features a maximum supply of 1,000,000,000 UNI, with 76% already in circulation.
Thanks to its unique and revolutionary mechanism, Uniswap is still the favorite of many investors. It's currently ranked #18 in terms of overall market cap, which is north of $4 billion.
Many considered Uniswap the best DeFi project when it was launched, but competitors started appearing soon after. Still, we believe it's worth considering UNI when researching where to invest your funds, as it remains an influential DeFi crypto owned by hundreds of thousands of investors.
What is a DeFi Coin?
A DeFi coin is a cryptocurrency designed to facilitate decentralized finance (DeFi) activities. It is typically used to pay transaction fees, stake in protocols, and provide liquidity to DeFi markets.
Protocols often issue DeFi coins, and holders benefit from these protocols' activities. They can be earned passively or actively, depending on the type of DeFi coin and the protocol. For example, holders of the Compound's COMP token can receive rewards for providing liquidity to the Compound protocol or earn fees for participating in peer-to-peer lending.
It's like a farmer who grows crops and then profits from selling them at the market or renting out their land to others. The farmer benefits from the activities they do with their land, and the same is true for DeFi coin holders, who benefit from the activities of the protocols they are connected to.
DeFi coins have the potential to offer holders greater returns than traditional investments, as well as offer greater access to the DeFi ecosystem.
How Does DeFi Cryptocurrency Work?
DeFi cryptocurrency is a digital asset that utilizes blockchain technology to enable decentralized finance applications. It allows users to access financial services without a central authority or middleman. This enables users to access loans, insurance, and investments safely and securely.
Nowadays, there are many DeFi cryptocurrencies, and they all serve different purposes. For example, one could argue that Ethereum is the most popular DeFi cryptocurrency, as its primary purpose is to create decentralized applications. In contrast, other cryptocurrencies, such as Chainlink and Uniswap, are used for providing liquidity and trading services. Strictly speaking, platforms such as Ethereum and Cardano aren't perceived as DeFi, but they essentially are, given that they're home to some popular DeFi projects.
What Are the Benefits of DeFi Crypto?
Decentralized Finance (DeFi) crypto offers several benefits, including:
Decentralization

— DeFi crypto operates on a decentralized network, meaning it is not controlled by a single entity or authority. This feature promotes trust and transparency by eliminating the need for intermediaries like banks, governments, and financial institutions.

Flexibility

— DeFi crypto gives users more flexibility regarding financial services, such as lending, borrowing, and investing. Users can also create customized financial products and services according to their needs.

Many use cases

— We're only beginning to explore the power of DeFi and cryptocurrencies. From ecology-focused projects to P2E games: we've already seen many interesting uses, and many more are likely to pop up.

Security

— DeFi crypto is secured by blockchain technology, which provides an immutable and transparent record of transactions. It reduces the risk of fraud, hacking, or other forms of cyber attacks.

Early mover advantage — Being easy to use, DeFi cryptos could prove profitable, provided you find and invest in suitable projects during their presale periods or early after the launch.
Is DeFi Crypto a Good Investment?
Investing in DeFi crypto isn't different from investing in Bitcoin or any other type of cryptocurrency. Simply put, it involves high risk, so it's important to do thorough research before investing. It is also essential to keep up with the latest news and trends in the industry to remain informed and make educated decisions.
Our experts decided to help you by doing the heavy lifting and finding suitable investment opportunities. However, you should never forget that the decision to invest in DeFi crypto is ultimately personal.
Is DeFi Crypto Safe?
DeFi protocols are built on blockchain technology, known for security and transparency.
However, DeFi protocols are still relatively new and untested, and there have been instances of hacks and other security issues. Researching and understanding the risks before investing in DeFi projects is essential.
On the other hand, DeFi protocols offer a lot of potential for earning high returns on investment, and many people believe the risks are worth it. DeFi protocols are still evolving and becoming more secure, and the more people use them, the more likely it is that issues will be discovered and solved quickly.
Ultimately, it's up to us to research every DeFi coin and project before investing, especially if you're investing a substantial amount.
Remember that even the best DeFi project doesn't come with guaranteed profits, as the industry is highly volatile and rapidly evolving. A project that seems promising and revolutionary today may be overshadowed by a better and bigger DeFi project in the future. That's why following the news is also crucial for crypto investors.
Conclusion
These DeFi cryptocurrencies are a great way to utilize the decentralized finance industry. They offer users a secure, transparent, and trustless way to access financial services without a centralized intermediary.
People claim that DeFi is revolutionizing the way the world interacts with finance. While that's true, the best DeFi tokens have the power to revolutionize other industries as well. As you can see, some of our top picks for the best DeFi cryptos to watch in 2023 are games powered by cryptocurrencies, allowing players to earn while playing.
In short, many bright minds are already exploring various possibilities of using DeFi, cryptos, and other technologies in multiple industries. In a few years, who knows where Love Hate Inu will be? Follow the link to explore the LHINU presale today.
FAQs
What does DeFi mean in crypto?
What is the best DeFi crypto to buy?
Is Cardano a DeFi crypto?
What are the top 5 DeFi coins?