The world of DeFi continues to grow, with new projects being launched left and right. But what is the best DeFi crypto to invest in? The answer to that question is not so simple.
Still, our professional investors and crypto experts made a list of the most attractive DeFi coins to buy, along with a short overview of each. Without further ado, let's check out the available options.
8 Best DeFi Coins to Buy Today
We have narrowed down the list of the best DeFi coins to watch in 2023 to the following options. Some are new and still looking to break through to the mainstream, while others are already established cryptocurrencies. Here they are.
Bitcoin ETF Token – Top DeFi coin offering an APY above 1,000%, a 25% token burn mechanism, and a presale price increase of nearly 40% by the final round. The ecosystem raised over $100,000 within 72 hours of launch.
Bitcoin Minetrix – Brand new DeFi presale with a world-first stake-to-mine design, high APY, and three means of income generation. Sold over $100k within hours of launching and currently trades at a steep discount in early-stage presale.
eTukTuk – Cardano-Based DeFi Cryptocurrency Rewarding Users Through EV Charging Stations.
Chimpzee – A DeFi ecosystem that provides many ways for users to earn an income while also saving the environment. Offers up to 20% NFT staking rewards.
Scorp Token – BEP-20 token is being used to settle payments on the Scorpion Casino platform. $SCORP offers multiple DeFi benefits, such as staking opportunities and passive income rewards.
Battle Infinity — DeFi coin supporting P2E, staking and much more
Avalanche — One of the Fastest and Most Eco-Friendly Smart Contracts Crypto Networks
Uniswap — Popular Choice Amongst DeFi Enthusiasts with High Liquidity
Our Analysis: Best DeFi Crypto Projects
Here are detailed overviews of the best DeFi coins to buy in 2023.
1. Bitcoin ETF Token – Top ERC20 DeFi Coin With Generous 1,000% APY And Market-Specific Roadmap
Bitcoin ETF Token ($BTCETF) is a recently launched Ethereum-based presale with a roadmap that coincides with key events in the broader crypto economy.
The DeFi coin is concerned primarily with SEC approval of Bitcoin ETFs. Should this happen, it could be the top DeFi coin to have at hand, due to its market positioning.
The DeFi campaign has a clear roadmap consisting of five major milestones. These include the trade volume of the native token reaching $100 million, the passing of BTC ETFs by the SEC, the launch of the BTC ETFs, the total AUM of BTC ETFs reaching $1 billion, and the price of BTC surpassing the $100,000 mark.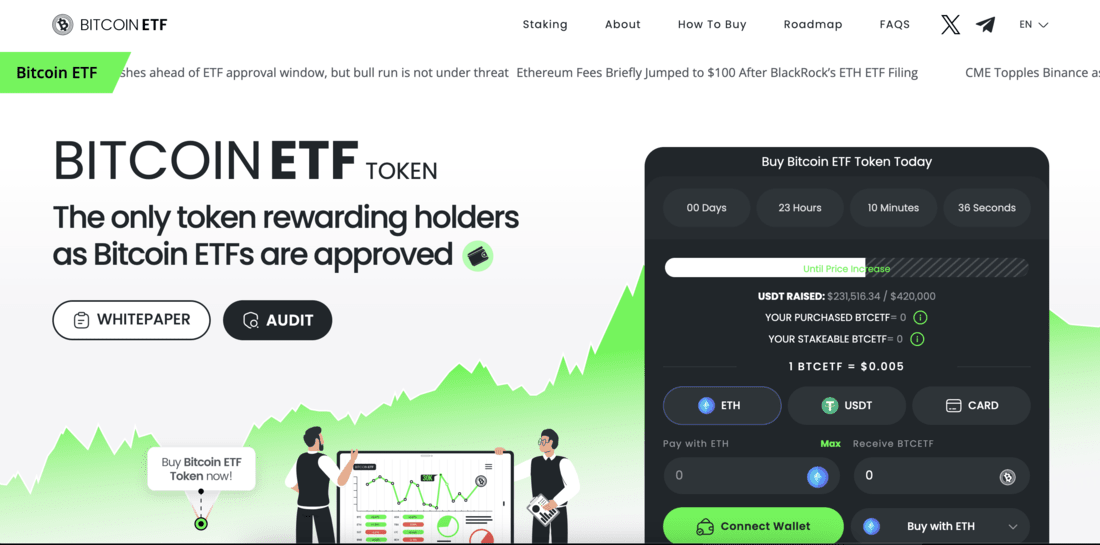 At each of these key milestone events, 5% of the token supply will be eliminated and the burn tax will be reduced by 1%. In total, a whopping 25% of the 2.1 billion supply is to be removed. Token burning is a deflationary mechanism that serves to promote price increases of the native token, and 25% is a large figure.
Aside from token burning, this DeFi ecosystem offers a yield above 1,000% and a tiered presale price increase from $0.005 to $0.0068. This means if you invest today, your token will automatically appreciate by nearly 40% by the final stage (stage 10).
These are three immensely powerful motivations for a cost-conscious investor – a 25% token burn, 1,000% PoS APY, and an automatic price increase of nearly 40%.
Aside from these incentives, the coin could 10x if the SEC passes BTC ETFs later this year or in early 2024.
For more information, investors should examine the Bitcoin ETF Token Whitepaper.
The social accounts, such as Bitcoin ETF Token Twitter and Telegram, are also useful to stay abreast of key ecosystem updates.
| | |
| --- | --- |
| Hard Cap | $4.956 Million |
| Total Tokens | 2.1 Billion |
| Tokens available in presale | 840 Million |
| Blockchain | Ethereum Network |
| Token type | ERC-20 |
| Minimum Purchase | NA |
| Purchase with | USDT, ETH, BNB, MATIC, Card |
2. Bitcoin Minetrix – High Quality DeFi Coin With Three ROI Vectors
Bitcoin Minetrix ($BTCMTX) is one of the best DeFi coins that provides three means of income for investors – APY (currently nearly 2,000%), Bitcoin cloud credits for BTC, and straight price appreciation.
It is a unique concept that introduces the world's first stake-to-mine ecosystem.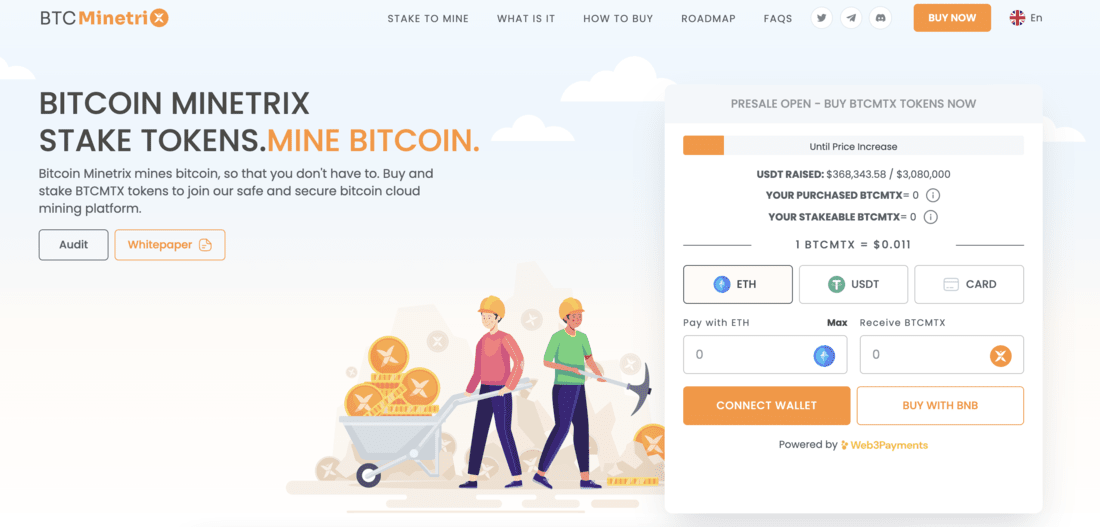 Users can simply stake their ERC20 tokens in return for cloud mining credits, which are burned in return for Bitcoin. It's done over Ethereum in a simple and low-cost manner, removing all of the problematic issues associated with Bitcoin mining.
Mining Bitcoin in the traditional manner would require an upfront investment of at least $10,000, not including the electricity costs. It is also very environmentally damaging.
And while there are other Bitcoin cloud mining solutions out there, none are offered using Ethereum smart contracts, at an upfront cost of just $10. There is no need for hardware or even software, aside from having a compatible Web3 wallet.

Bitcoin Minetrix also makes it more accessible than ever through an easy-to-use interface whereby users can retain full control over their assets.
This also sets it apart, as many mining operations do not give full control to users. The campaign has gone through an audit on its smart contracts, and no low, medium, or high-risk issues were found.
This DeFi coin also trades at a discount, at $0.011, which will rise to $0.0119 in the final stage of its 10-stage presale. Now is the best time to avail of the highest yields and the lowest price, before it lists on an exchange after presale completion.
Many analysts think this could be a 10x DeFi coin, due to its unique concept and clear roadmap, among other considerations.
Over 2.8 billion tokens are available in the presale, out of the total of 4 billion. Users need to have a MetaMask account and $10 worth of ETH, USDT, or BNB to take part.
Twitter and Telegram should be connected with for further information and updates.
It's also very important to read the Whitepaper and understand all the nuances of this new model of Bitcoin mining.
| | |
| --- | --- |
| Presale Started | September 2023 |
| Purchase Methods | USDT, ETH, BNB |
| Chain | Ethereum |
| Hard Cap | $32 Million |
| Min Investment | $10 |
| Max Investment | None |
3. eTukTuk – Cardano-Based DeFi Cryptocurrency Rewarding Users Through EV Charging Stations
eTukTuk is the world's first automotive project on the Cardano blockchain. The project's purpose is to reduce air pollution and carbon emissions by promoting sustainable forms of transport.
While the TukTuk industry purely depends on internal combustion engines (ICEs), they use non-renewable energy such as fossil fuels to function. Furthermore, ICEs release more carbon dioxide in the air than cars.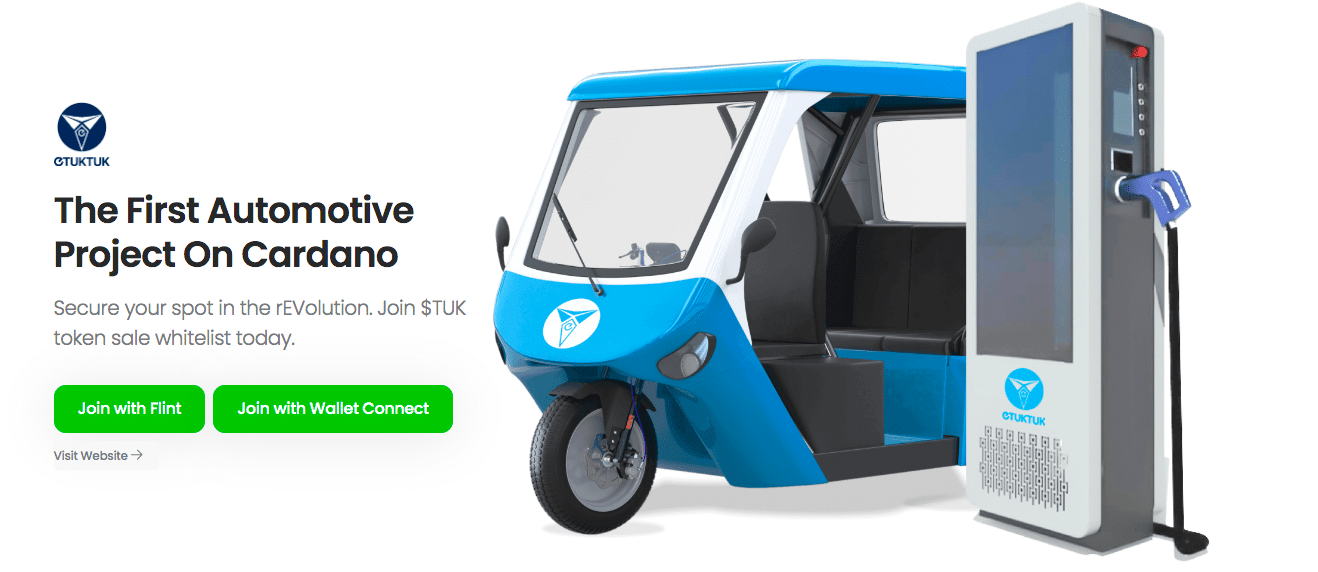 eTukTuk is on a mission for TukTuk drivers in developing nations to make the switch to Electric Vehicles. The platform will build Electric Vehicle Supply Equipment (EVSE) and zero-emission vehicles (ZEVs).
It will also release a Driver app, through which TukTuk drivers can charge their EVs and make payments with the native token, $TUK. The plants will be created by working with territory partners.
These partners will work with eTukTuk to operate and maintain the charging stations. They will also get paid a portion of the transactions revenue generated and get paid in $TUK.
Token holders can stake $TUK to contribute towards the maintenance of the platform. They will get paid APYs (Annual Percentage Yields) from a staking pool.
As the number of plants increases, the platform will generate more revenue, and thus staked holders can increase their earnings. The Cardano blockchain is one of the most energy-efficient networks. It charges low fees, allows users to stake tokens, and processes transactions at a rapid speed.

This is one of the reasons why a sustainable platform like eTukTuk has chosen Cardano over other alternatives such as Ethereum. $TUK has a total supply of 2 billion, 12.5% of which will be made available for the upcoming token presale.
Users can sign-up for the token whitelist right now, and get early access to the presale. In the mean time, check out the eTukTuk whitepaper and join the Telegram channel to get more information on this platform.
4. Chimpzee – Sustainability Focused DeFi Token With 3 Income Generation Mechanisms For Users, 20% Staking APY
Chimpzee (CHMPZ) is a novel Web3 project that offers many means of income generation. Through Chimpzee, NFTs can be staked to earn an impressive 20% APY, though this will be reduced to 10% as the presale progresses.
The platform provides three primary ways to generate rewards for users – Play-To-Earn, Trade-To-Earn, and Shop-To-Earn. But it indicates on its webpage that the best way to earn an income is through the NFT passports. Chimpzee NFT passports are divided into 4 categories – Diamond, Gold, Silver and Bronze. Diamond and Gold NFTs confer the most benefits, rewards, and privileges.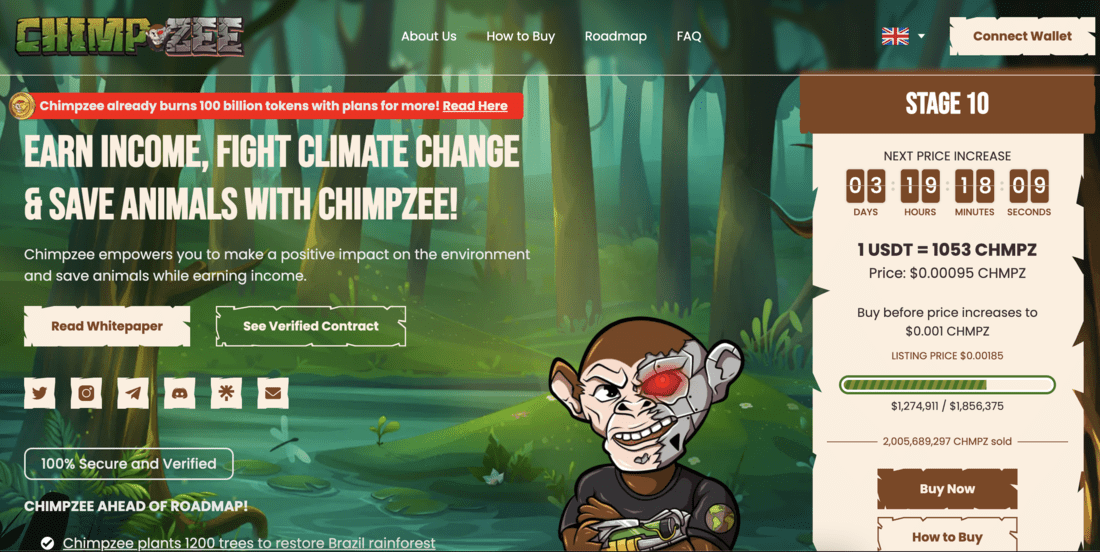 But these are only available in the early presale stages. In the final stages, only Bronze NFTs will be available, with a 10% APY instead of a 20% APY. While this is still beneficial, early entry is preferred from a Defi perspective.
It's also possible to benefit directly from the price appreciation. Aside from the APY, a token burning initiative can further increase the price of CHMPZ – the supply of 100 billion is set to be reduced to 60 billion. Plus, environmental concerns are a prime area right now, and investors are allocating increasing amounts of capital here, which could also result in price appreciation.
Chimpzee is one of the more authentic and organized presales when it comes to the environment, having already donated $15,000 to the protection of wildlife and planting over 22,000 trees at the time of this writing, to protect against deforestation. It offers a genuine way for people to actually help the environment while also earning an income, as opposed to meme tokens that are solely concerned with price pumps.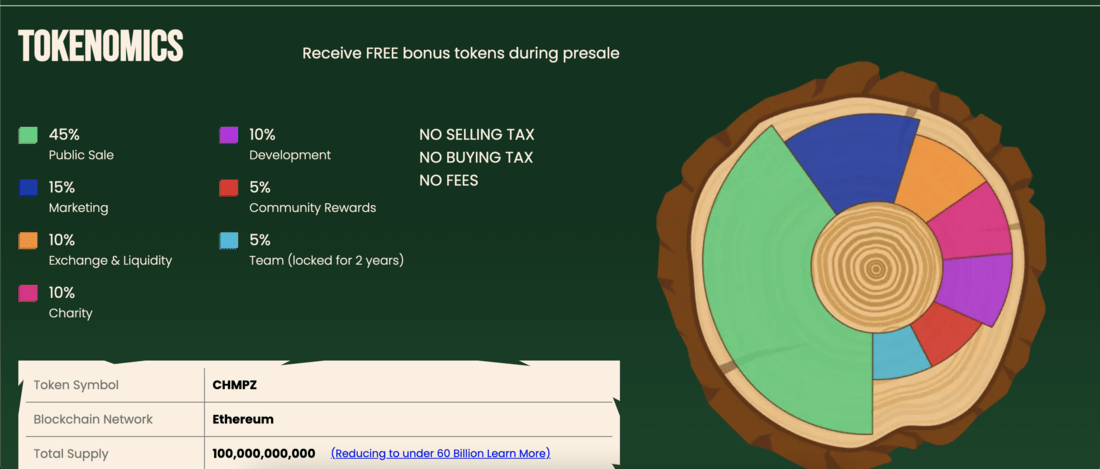 To take part, a Web3 wallet (MetaMask of Trust Wallet) is required, alongside having ETH, USDT, or a Credit Card. Another benefit is that the current price is roughly 50% of the stated exchange listing price.
More information is available through the project whitepaper, as well as the many social channels – Twitter, Discord, Telegram, Link Tree, and Instagram.
| | |
| --- | --- |
| Hard Cap | $1,856,375 |
| Total Tokens | 100 billion |
| Tokens available in presale | 45 billion |
| Blockchain | Ethereum Network |
| Token type | ERC-20 |
| Minimum Purchase | NA |
| Purchase with | ETH, USDT, Bank Card |
5. Scorp Token – An Exciting Presale Token Powering a New Cryptocurrency Casino
Scorp Token (SCORP) is the central payment method for the Scorpion Casino – a platform hosting hundreds of casino and sports betting markets. Token holders will not only be able to use $SCORP as a payment method on the casino, but they can also stake the token to earn passive income.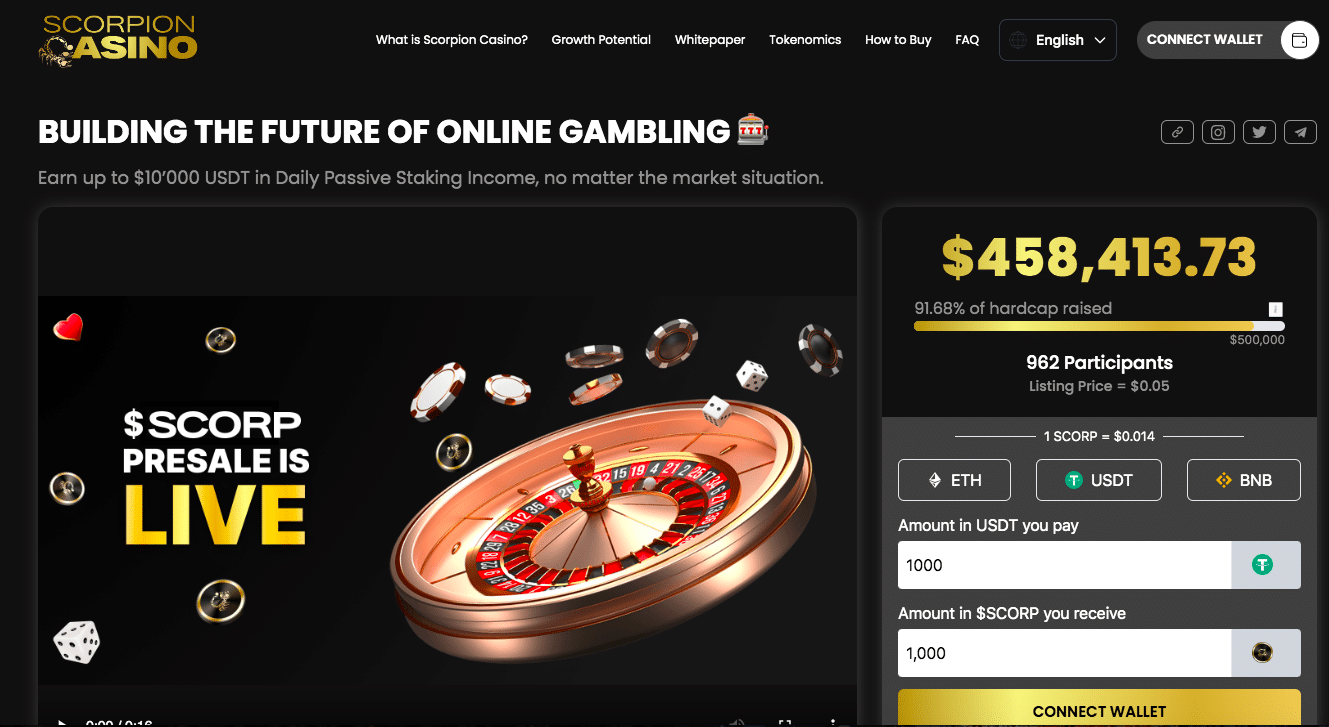 Even if the $SCORP price is not moving upwards, investors can stake the token to earn daily staking passive income. The platform hosts a staking pool funded by the fees collected when the token is traded.
While there are no buying fees, a 10% fee is collected when you sell $SCORP. This is used for marketing purposes, to maintain liquidity, and to maintain the staking pool. The cryptocurrency platform offers games from top software gaming providers such as Evolution, Netent, and EGT.
Some of the popular casino games on Scorp Token include Blackjack, Roulette, Poker, slots, and crash games such as Aviator. On your first deposit of at least $10 on the casino, you can earn a matched deposit bonus of up to 1 BTC. However, a 35x wagering requirement must be completed to earn this bonus.
Similarly, the sportsbook offers a 100% deposit bonus of up to 0.1 BTC after a 5x wager requirement is fulfilled. Token holders can earn up to 40% of credits on certain casino games.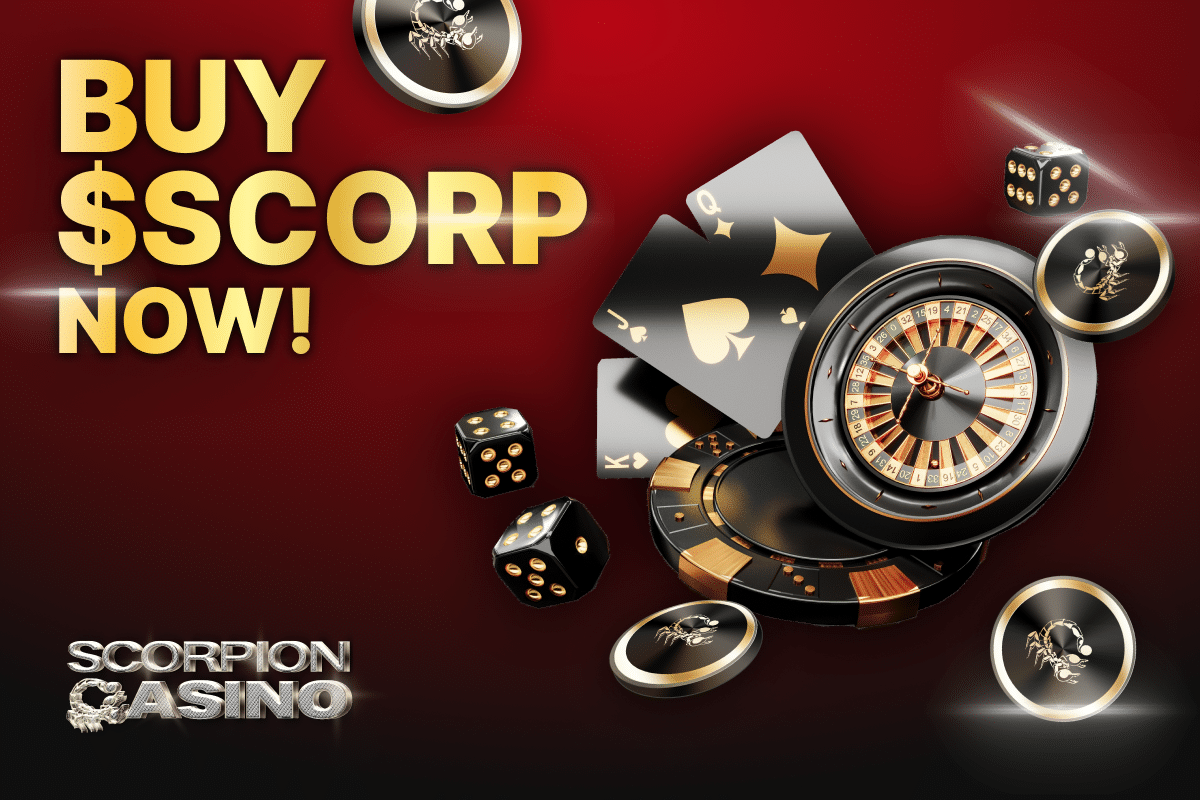 The Scorp token has raised over $458K since the launch of the presale. At the time of writing, the token is priced at $0.014. The exchange listing price is set at $0.05, which is a 237% price jump from current levels.
Read the Scorpion Casino whitepaper and join the Telegram channel.
| | |
| --- | --- |
| Token symbol | SCORP |
| Presale supply | 200,000,000 SCORP |
| Token type | BEP-20 |
| Payment methods | ETH, USDT, BNB |
| Listing price | $0.05 |
6. Battle Infinity — DeFi coin supporting P2E, Staking and Much More
Battle Infinity is a platform that hosts several battle games based on P2E, all of which are part of a single metaverse dubbed "The Battle Arena." In addition to playing exciting games, players can enjoy the immersive virtual world, which they can explore and interact with. Those who own IBAT, the project's native token, can stake their holdings and receive benefits while active on the platform.
The project immediately attracted DeFi and crypto enthusiasts thanks to its unique system. In fact, it sold out all its presale tokens 65 days before the presale was supposed to end. The IBAT token continued strong, although its price decreased over time.
IBAT's price reached an all-time high on August 30, 2022, shortly after the project went live, with a single token costing $0.005538. The max supply is set to 10,000,000,000, and a total of 32% of IBAT is currently in circulation, although this is a self-reported circulating supply.
It's safe to say that this project is in a similar position to Tamadoge, as there's so much planned for it, yet the IBAT token's price has steadily declined after the initial hype. If you're looking for the best DeFi investments and are a hard-core gamer who loves shooters, learn more about Battle Infinity and the pros and cons of investing in IBAT.
7. Avalanche — One of the Fastest and Most Eco-Friendly Smart Contracts Crypto Networks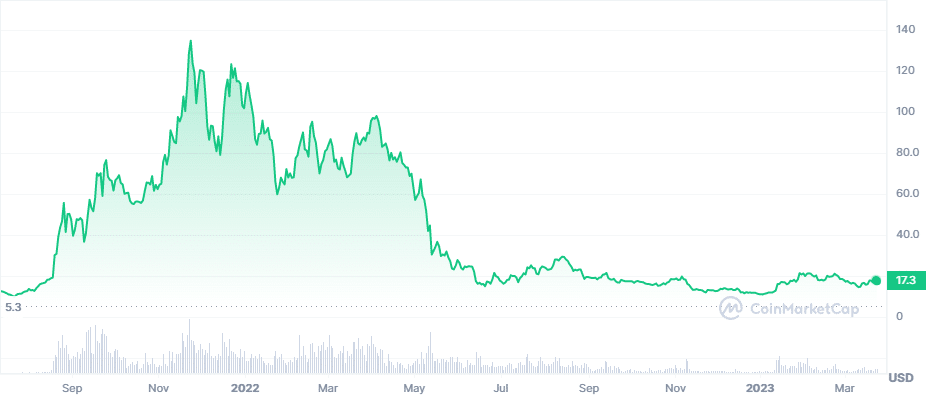 Avalanche was initially named the Ethereum killer thanks to its unique approach to transaction processing. Instead of one blockchain, it uses three chains (C-Chain, X-Chain, and P-Chain) to settle transactions. P-Chain is mainly used by network validators, X-Chain is for AVAX transactions (the native Avalanche token), and C-Chain is for processing Web3 and DeFi coins.
The project peaked in 2021, with many P2E games and other Web3 projects introduced to its network. Currently, AVAX is trading at around $20, but that is likely to change soon as it's a popular and highly-volatile asset. AVAX reached an all-time high on November 21, 2021, with a single unit costing $146.22.
Unlike all the other new cryptos mentioned above, Avalanche is not a DeFi project with a specific use. Instead, it's a platform that allows building and launching DeFi projects.
So, what makes Avalanche different from, say, Ethereum or Cardano? There are several reasons AVAX made it to this list, but the main one is its unique consensus mechanism based on the directed acyclic graph (DAG) protocol, which could be helpful in the rapidly-evolving crypto space. Moreover, AVAX has an excellent burn mechanism, burning all fees that benefit the Avalanche community. That's why it's still considered one of the best DeFi cryptos.
8. Uniswap — DeFi Platform With an Automated Market Maker

Uniswap is a decentralized cryptocurrency exchange built on the Ethereum blockchain. It allows users to trade cryptocurrencies without needing a centralized intermediary or order book. Instead, Uniswap uses an automated market maker (AMM) system with a mathematical algorithm for calculating asset prices based on supply and demand.
In Uniswap, users can provide liquidity by depositing pairs of cryptocurrencies into liquidity pools, and in return, they receive liquidity provider (LP) tokens representing their share of the pool. The price of assets in each pool is determined by a constant product formula that balances the two assets.
Uniswap is currently trading at $6.15, although the exchange's native token reached an all-time high of $44.97 in May 2021. The coin features a maximum supply of 1,000,000,000 UNI, with 76% already in circulation.
Thanks to its unique and revolutionary mechanism, Uniswap is still the favorite of many investors. It's currently ranked #18 in terms of overall market cap, which is north of $4 billion.
Many considered Uniswap the best DeFi project when it was launched, but competitors started appearing soon after. Still, we believe it's worth considering UNI when researching where to invest your funds, as it remains an influential DeFi crypto owned by hundreds of thousands of investors.
What is a DeFi Coin?
A DeFi coin is a cryptocurrency designed to facilitate decentralized finance (DeFi) activities. It is typically used to pay transaction fees, stake in protocols, and provide liquidity to DeFi markets.
Protocols often issue DeFi coins, and holders benefit from these protocols' activities. They can be earned passively or actively, depending on the type of DeFi coin and the protocol. For example, holders of the Compound's COMP token can receive rewards for providing liquidity to the Compound protocol or earn fees for participating in peer-to-peer lending.
It's like a farmer who grows crops and then profits from selling them at the market or renting out their land to others. The farmer benefits from the activities they do with their land, and the same is true for DeFi coin holders, who benefit from the activities of the protocols they are connected to.
DeFi coins have the potential to offer holders greater returns than traditional investments, as well as offer greater access to the DeFi ecosystem.
How Does DeFi Cryptocurrency Work?
DeFi cryptocurrency is a digital asset that utilizes blockchain technology to enable decentralized finance applications. It allows users to access financial services without a central authority or middleman. This enables users to access loans, insurance, and investments safely and securely.
Nowadays, there are many DeFi cryptocurrencies, and they all serve different purposes. For example, one could argue that Ethereum is the most popular DeFi cryptocurrency, as its primary purpose is to create decentralized applications. In contrast, other cryptocurrencies, such as Chainlink and Uniswap, are used for providing liquidity and trading services. Strictly speaking, platforms such as Ethereum and Cardano aren't perceived as DeFi, but they essentially are, given that they're home to some popular DeFi projects.
What Are the Benefits of DeFi Crypto?
Decentralized Finance (DeFi) crypto offers several benefits, including:
Decentralization

— DeFi crypto operates on a decentralized network, meaning it is not controlled by a single entity or authority. This feature promotes trust and transparency by eliminating the need for intermediaries like banks, governments, and financial institutions.

Flexibility

— DeFi crypto gives users more flexibility regarding financial services, such as lending, borrowing, and investing. Users can also create customized financial products and services according to their needs.

Many use cases

— We're only beginning to explore the power of DeFi and cryptocurrencies. From ecology-focused projects to P2E games: we've already seen many interesting uses, and many more are likely to pop up.

Security

— DeFi crypto is secured by blockchain technology, which provides an immutable and transparent record of transactions. It reduces the risk of fraud, hacking, or other forms of cyber attacks.

Early mover advantage — Being easy to use, DeFi cryptos could prove profitable, provided you find and invest in suitable projects during their presale periods or early after the launch.
Is DeFi Crypto a Good Investment?
Investing in DeFi crypto isn't different from investing in Bitcoin or any other type of cryptocurrency. Simply put, it involves high risk, so it's important to do thorough research before investing. It is also essential to keep up with the latest news and trends in the industry to remain informed and make educated decisions.
Our experts decided to help you by doing the heavy lifting and finding suitable investment opportunities. However, you should never forget that the decision to invest in DeFi crypto is ultimately personal.
For those interested in DeFi crypto check out our article on the best crypto 2.0 coins in 2023.
Is DeFi Crypto Safe?
DeFi protocols are built on blockchain technology, known for security and transparency.
However, DeFi protocols are still relatively new and untested, and there have been instances of hacks and other security issues. Researching and understanding the risks before investing in DeFi projects is essential.
On the other hand, DeFi protocols offer a lot of potential for earning high returns on investment, and many people believe the risks are worth it. DeFi protocols are still evolving and becoming more secure, and the more people use them, the more likely it is that issues will be discovered and solved quickly.
Ultimately, it's up to us to research every DeFi coin and project before investing, especially if you're investing a substantial amount.
Remember that even the best DeFi project doesn't come with guaranteed profits, as the industry is highly volatile and rapidly evolving. A project that seems promising and revolutionary today may be overshadowed by a better and bigger DeFi project in the future. That's why following the news is also crucial for crypto investors.
Conclusion
These DeFi cryptocurrencies are a great way to utilize the decentralized finance industry. They offer users a secure, transparent, and trustless way to access financial services without a centralized intermediary.
People claim that DeFi is revolutionizing the way the world interacts with finance. While that's true, the best DeFi tokens have the power to revolutionize other industries as well.
We think Bitcoin ETF Token offers the best upside potential, high staking rewards, and the clearest roadmap for 2023, with a connection to the real-world crypto markets. We liked the fact that it was so tied in with the wider crypto economy. Of all the Defi coins, it could be one of the best, though diversification across tokens is also a good option.
FAQs
What is the best DeFi crypto to buy?
Is Cardano a DeFi crypto?
What are the top 5 DeFi coins?