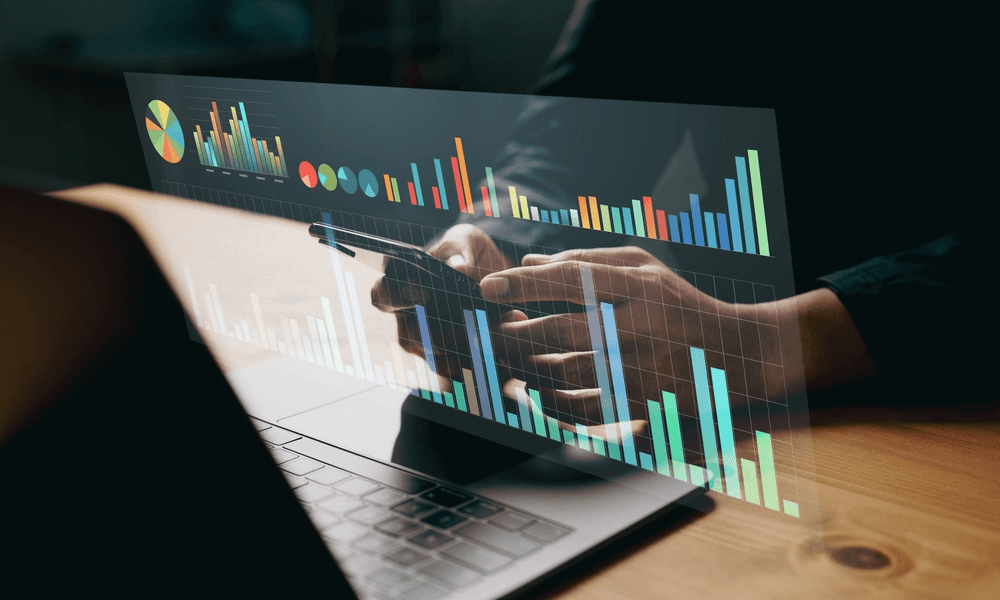 DRC-20 tokens are a brand-new phenomenon; they're cryptocurrencies built on the Dogecoin network. This has created an entirely new ecosystem, allowing developers to build Dogecoin-based dApps.
This guide analyzes the 8 best DRC-20 tokens, so read on to discover the next big cryptocurrencies from the Dogecoin ecosystem.
Best DRC-20 Crypto Tokens to Buy
We've compiled a list of the best DRC-20 tokens to buy, ranked based on their market capitalization:
DOGI (DOGI) 
NGUU (NGUU)
TOSA DRC (TOSA)
Fuck It We Bank (FIWB)
OXBT DRC20 (OXBT)
DOGE DRC (DOGE)
XCOM (DRC)
Doginals Panda (PAND)
What are DRC-20 Tokens?
DRC-20 tokens are cryptocurrencies built on top of the Dogecoin blockchain. In many ways, the concept is the same as ERC-20 tokens and Ethereum. For instance, some of the most popular ERC-20 tokens, like Tether, DAI, Uniswap, SushiSwap, and Yearn.finance operate on the Ethereum network. Therefore, these projects follow the ERC-20 standard.
Similarly, new cryptocurrencies like DOGI, NGUU, and Fuck It We Bank operate on the DRC-20 standard, as they function on the Dogecoin network. Crucially, all DRC-20 transactions require fees, payable in Dogecoin. This could bode very well for the value of Dogecoin in the long run. After all, without Dogecoin, DRC-20 projects cannot operate.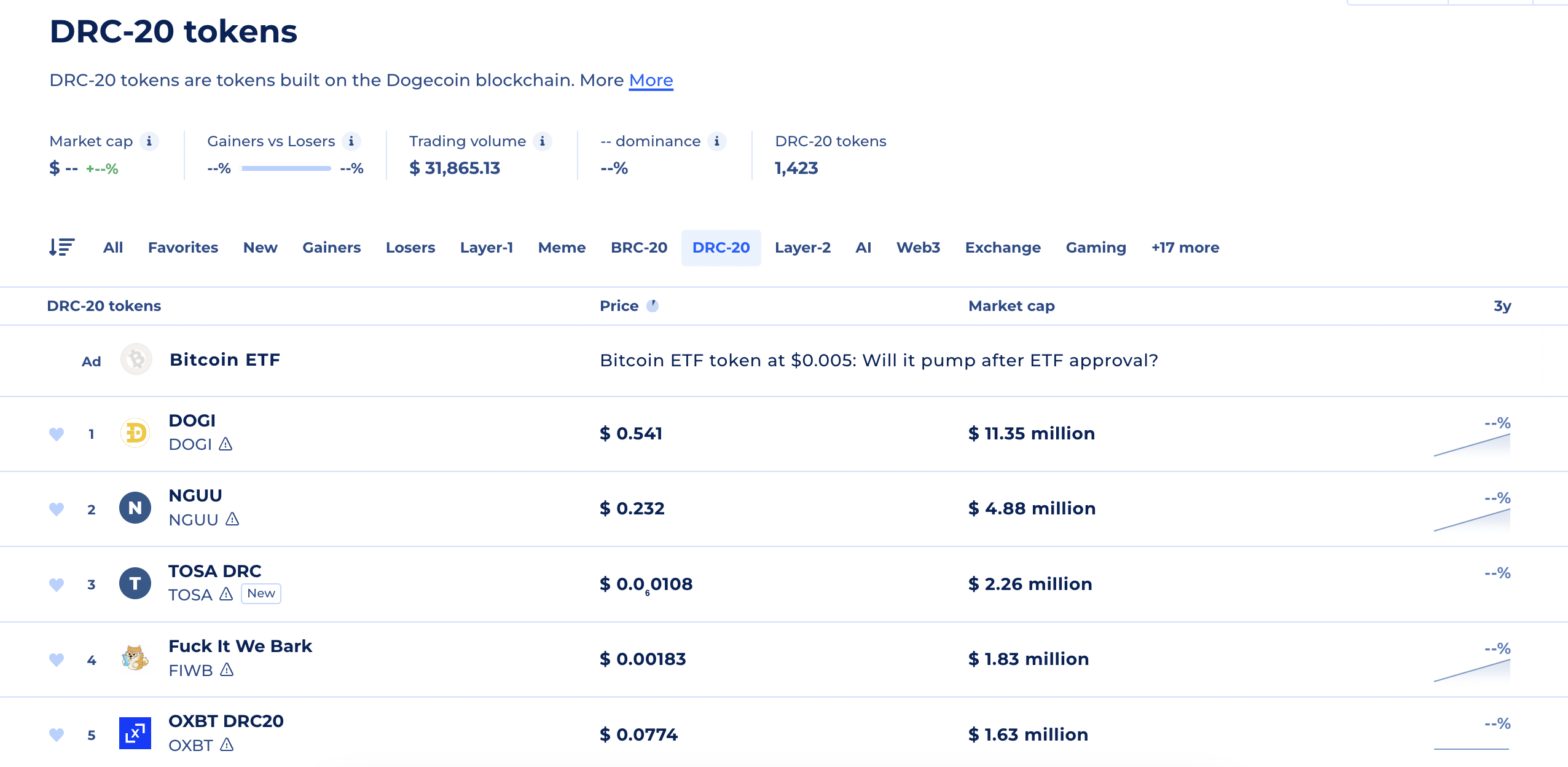 One of the most promising aspects of the DRC-20 ecosystem is that it supports smart contacts. Just like Ethereum, this means that developers can build decentralized applications (dApps) on the network. This could create an entirely new marketplace for Dogecoin-based exchanges, lending pools, gambling sites, play-to-earn games, metaverses, and much more.
A major benefit for DRC-20 projects is that minting fees are very low; they're fixed at just 0.1 DOGE. Based on current DOGE/USD prices, developers will pay less than $0.01 to launch a new application. According to CoinRanking, there are already over 1,400 DRC-20 tokens in existence. However, the vast majority do not have any trading volume or value.
Is Dogecoin a DRC-20 Token?
No, Dogecoin is not a DRC-20 token. Dogecoin is the native cryptocurrency of its own blockchain.
This is similar to Ethereum, which isn't an ERC-20 token – it's the proprietary cryptocurrency backing the network.
Any other project that builds on the Dogecoin blockchain is a DRC-20 token.
How Do DRC-20 Tokens Work?
DRC-20 tokens are a brand-new market within the cryptocurrency niche. Therefore, if you're looking for the next crypto to explode, it could be from within the DRC-20 ecosystem.
However, before proceeding, it's important to understand how DRC-20 tokens work.
The DRC-20 Minting Process
Let's start from the very beginning of the DRC-20 process. The Dogecoin blockchain now allows other cryptocurrency projects to build on top of its framework. As we established, this is the same as ERC-20 tokens building on Ethereum.

Anyone can create a DRC-20 token, meaning the Dogecoin blockchain is inclusive. Before a cryptocurrency goes live on Dogecoin, developers need to 'mint' a new smart contract. This requires them to specify the fundamentals, such as the name of the new cryptocurrency, the total number of tokens to create, and its underlying ticker symbol.
Once the cryptocurrency is created, it will have a unique smart contract address.
For example, here's the smart contract address for TOSA DRC:
974984be1f5b92d7c107c040518928c22a01dba5dffb6103b866d27b0d6bc925i0
Minting a new DRC-20 token on the Dogecoin blockchain is very cost-effective; developers pay just 0.1 DOGE.
DRC-20 dApps
The Dogecoin blockchain now supports dApps. This is a major turning point for Dogecoin, as it means projects can now create entire ecosystems on its network.
dApps are backed by smart contracts, which enable DRC-20 tokens to operate autonomously. Smart contracts are executed when pre-defined conditions are met.
A simple example is as follows:
Let's say that a Dogecoin-based ebook store launches
It develops a smart contract that automates payments and ebook deliveries
A customer sends the required number of DOGE tokens to the DRC-20 smart contact
The smart contract receives the DOGE, so it automatically sends the ebook
This is just a simple example but it shows how smart contracts allow applications to operate autonomously. The possibilities really are endless, as we've seen with ERC-20 projects on the Ethereum blockchain.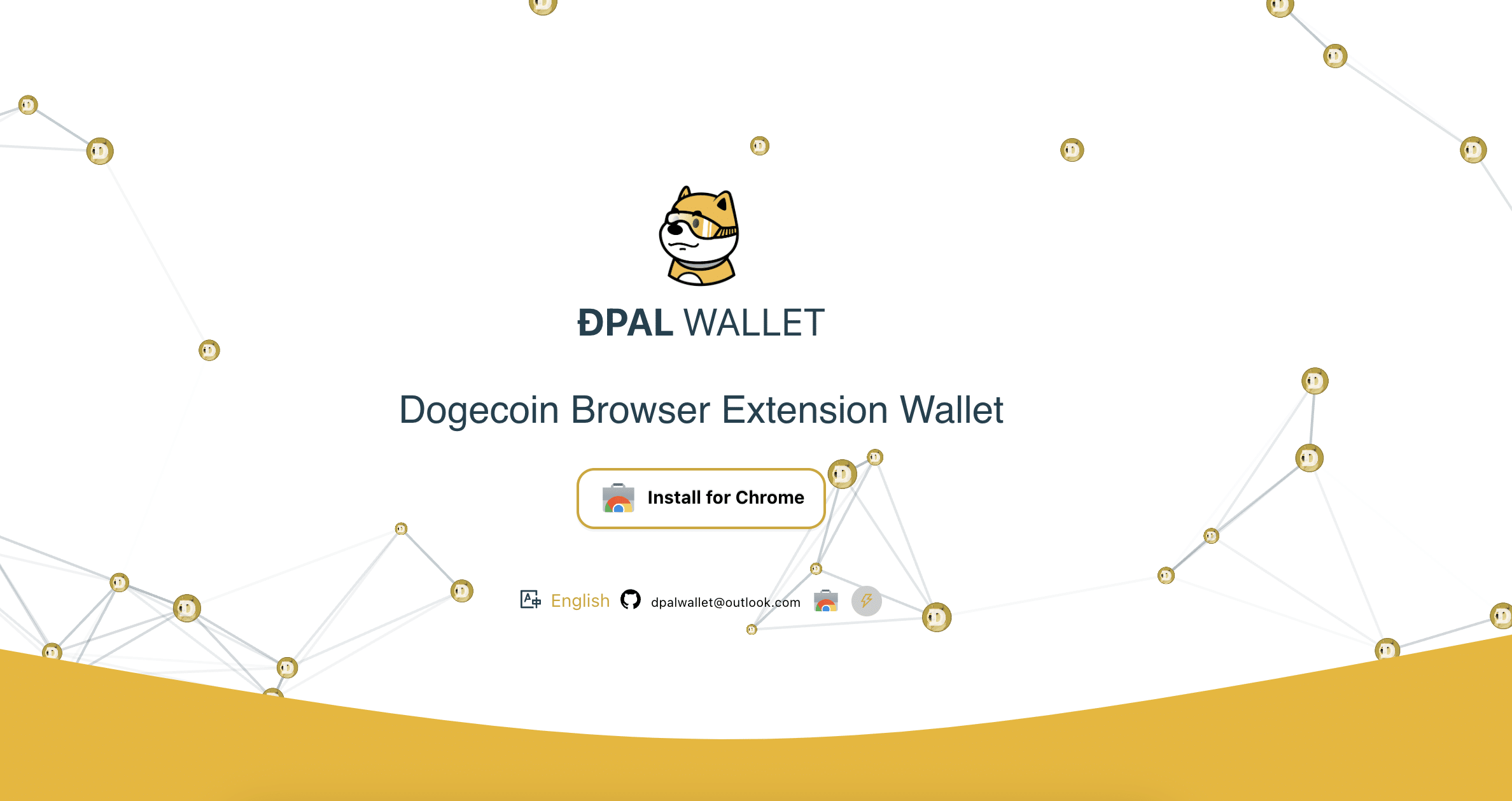 The likelihood is that we'll soon see similar projects on the Dogecoin network. This could include new metaverse experiences, play-to-games, and decentralized exchanges.
Transaction Fees
Every DRC-20 transaction requires fees. This is no different to most other blockchain networks. Irrespective of the project, DRC-20 transactions are paid in DOGE tokens. This is the same as ETH on the Ethereum network and BNB on the Binance Smart Chain.
This could really take Dogecoin to the next level, especially when the next bull market arrives. After all, Dogecoin skeptics can no longer claim the cryptocurrency doesn't have any use cases – it's a minimum requirement for DRC-20 tokens to operate.
How to Create a New DRC-20 Token on the Dogecoin Blockchain
If you're looking to build your own DRC-20 token on the Dogecoin blockchain, here's a quick overview of how the minting process works:
Step 1: Get the DPAL Wallet: The only way to engage with the DRC-20 ecosystem is with the DPAL Wallet. This is considered one of the best crypto wallets for DRC-20 tokens. Visit the official DPAL Wallet website and install the Chrome extension.
Step 2: Add DOGE to Your Wallet: To mint a new DRC-20 token, you'll need some DOGE in your DPAL Wallet. The minting fee is just 0.1 DOGE.
Step 3: Mint a New DRC-20 Token: The next step is to mint your new DRC-20 token. Simply click the 'Mint' button and enter the fundamentals (e.g. token name, total supply, etc.)
Step 4: Provide Validation: You'll now be asked to validate the minting transaction. Simply follow the on-screen instructions provided by DPAL Wallet.
Step 5: Receive DRC-20 Tokens: And that's it; you've just created a new DRC-20 token on the Dogecoin blockchain. The tokens should now be in your DPAL Wallet.
Why Invest in DRC-20 Coins?
Not only is the DRC-20 standard an exciting prospect for dApp developers, but investors too. This section explores why the best DRC-20 tokens could be a great addition to your portfolio.
Secure an Early-Mover Advantage
Since its inception in 2013, Dogecoin had little to no utility – other than a payment currency. This is no longer the case; Dogecoin can now support decentralized applications, smart contracts, and its very own DRC-20 token standard.
This has opened the floodgates, as developers can now build their projects on the Dogecoin network. Considering that DRC-20 tokens are a brand-new phenomenon, it's possible to secure a first-mover advantage.
At this stage, there are very few applications on the network. However as more developers become aware of the DRC-20 standard, we could see increased usage. Ultimately, if you're the type of investor who likes exposure to new niches and concepts, DRC-20 tokens could be the way to go.
Invest While the DRC-20 Market is Practically Worthless 
We mentioned earlier that over 1,400 DRC20 tokens are already in existence. Most of these are the creation of blockchain hobbyists; they aren't actual projects with a whitepaper, roadmap targets, or even a website. In fact, DRC-20 tokens aren't even listed on CoinMarketCap or DexTools yet – this is how young the industry is.
CoinRanking is currently the only data aggregation platform supporting DRC-20 tokens. It claims that DOGI is the largest DRC-20 token with a market capitalization of over $11 million. However, it is unable to verify how many tokens are actually in circulation, so the actual market capitalization is likely just a small fraction of this.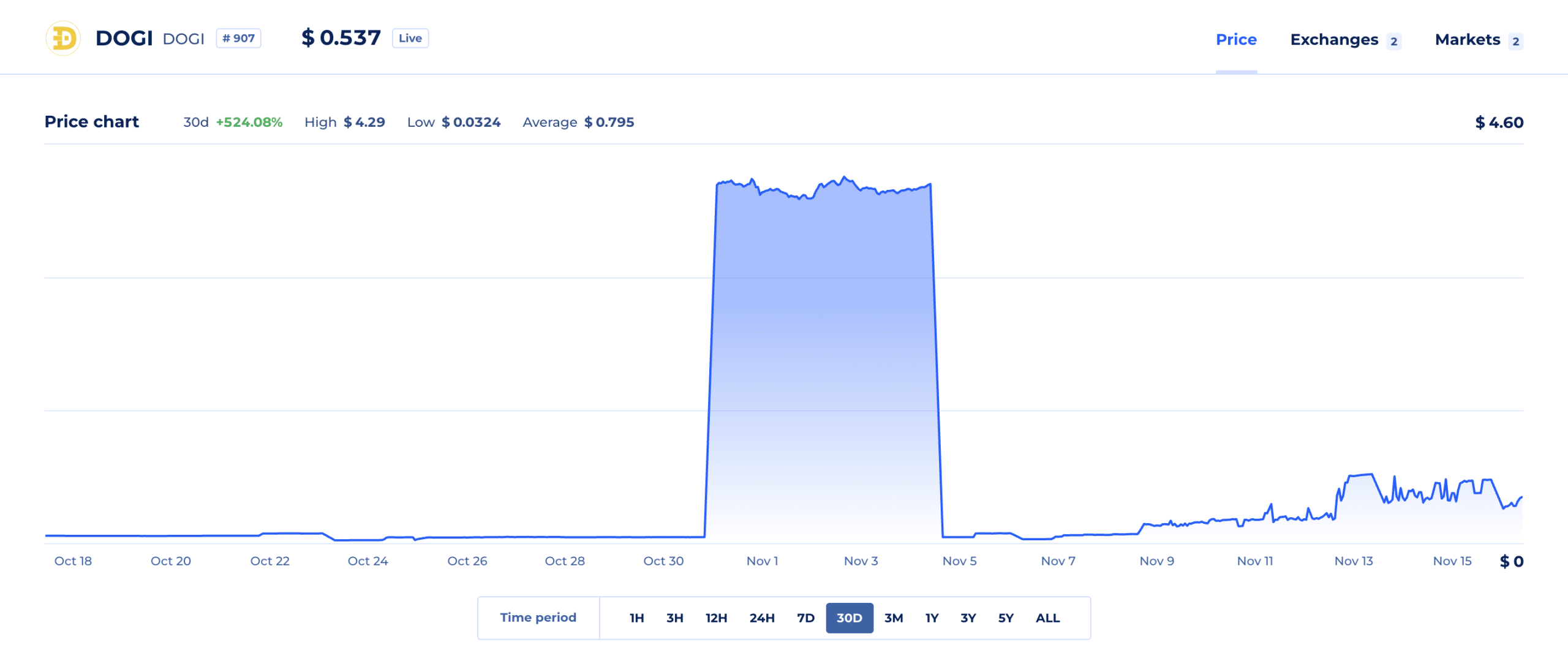 Moreover, CoinRanking notes that DOGI has attracted just over $48,000 of trading volume in the prior 24 hours. Therefore, it's safe to say that in its current form, the DRC-20 token market is practically worthless. However, this might not be the case for too much longer – especially with the next bull run around the corner.
If the DRC-20 concept does take off, investors might be encouraged to invest in tokens. And right now, you can pick up DRC-2o tokens at an incredibly low price. While there's no guarantee that you'll make money, the risk-reward spectrum offers great value.
Best of all, it's easy to create a diversified portfolio of DRC-2o tokens. Even if only one of your DRC-20 investments blows up, you could see considerable growth.
A Dogecoin-Based Ecosystem Could be Huge
Irrespective of your views on Dogecoin, there is no denying that it's one of the most popular cryptocurrencies in the market. According to some estimates, there are over 4 million Dogecoin holders globally. Moreover, although the Dogecoin price peaked in May 2021, it remains a top 10 cryptocurrency by market capitalization.
CoinMarketCap data shows that Dogecoin is valued at over $11 billion right now. Taking all of this into account, a Dogecoin ecosystem full of decentralized applications could be huge. For example, as more DRC-20 tokens enter the market, there will be demand for a decentralized exchange that operates on the Dogecoin network.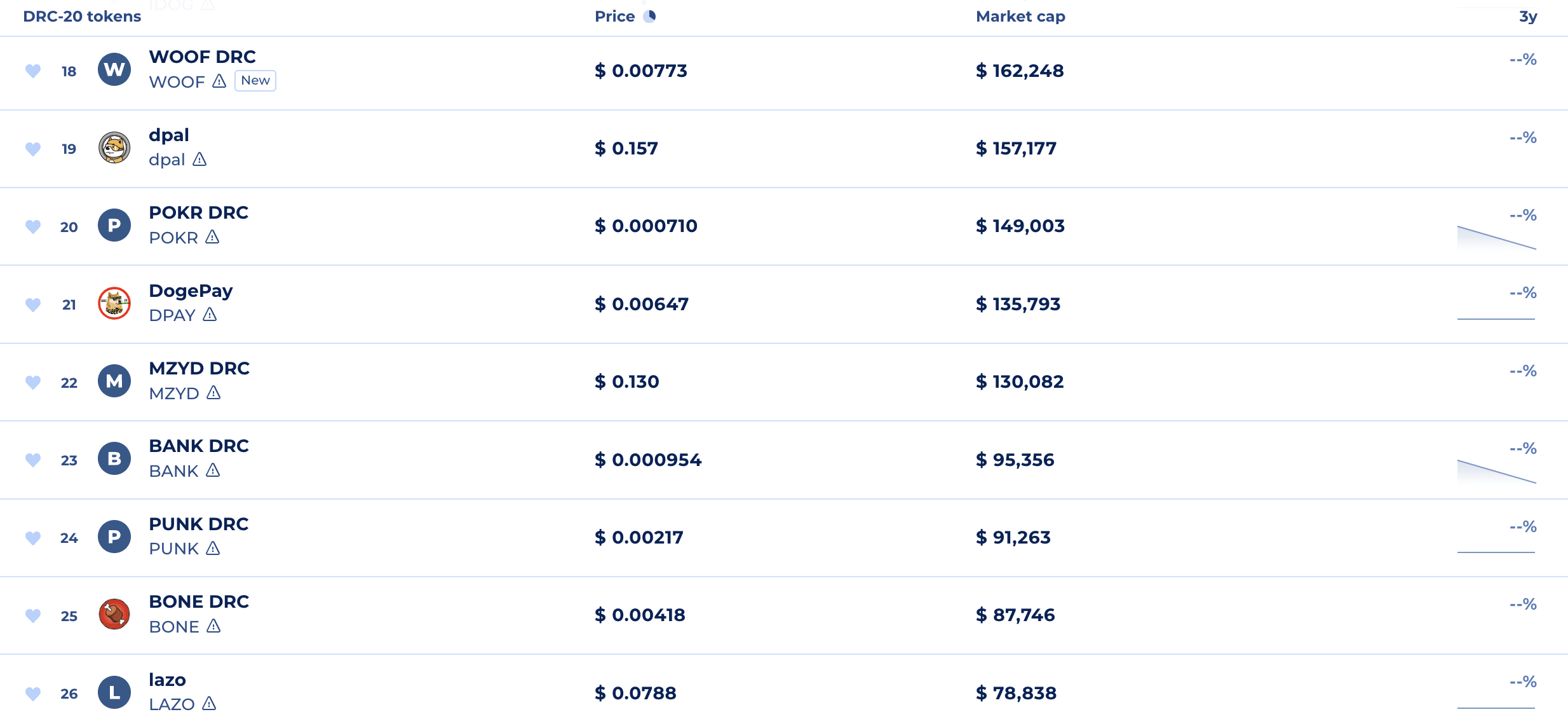 Similar to Uniswap, this will enable investors to swap DRC-20 tokens without needing to use a centralized platform. What's more, decentralized finance products could also make their way to the DRC-20 ecosystem. This means that investors can earn yields on their DRC-20 tokens via staking and liquidity farming.
We might also see a range of play-to-earn games built on the Dogecoin network, not to mention metaverse and other virtual experiences. There are no limits in this regard.
How to Decide Which DRC20 Tokens to Invest in
It's important to remember that most DRC-20 tokens in the market today aren't fully-fledged projects. Rather, they're simply tokens that have been created without any substance.
Nonetheless, we're likely to start seeing some legitimate projects join the DRC-20 ecosystem very soon. Therefore, this section explains how to choose the best DRC-20 tokens to buy.
Objectives Within the DRC-20 Project
The first aspect to explore is the objectives of the DRC-20 project. This is very important, as projects with innovative concepts are likely to perform the best long-term.
For example, it's likely that we'll start seeing decentralized finance projects built on Dogecoin.
This could include lending platforms, exchanges, collateralized finance, yield farming, and staking.
These types of projects have been a huge success on the Ethereum network, so DRC-20 tokens could follow suit.
To understand the objectives of a DRC-20 project, you'll need to read its whitepaper.
As the ERC-20 ecosystem grows over time, we could even see layer 2 solutions developed. This will enable Dogecoin to handle significantly more transactions than it currently does. Think along the lines of Polygon and Arbitrum but for DRC-20 applications.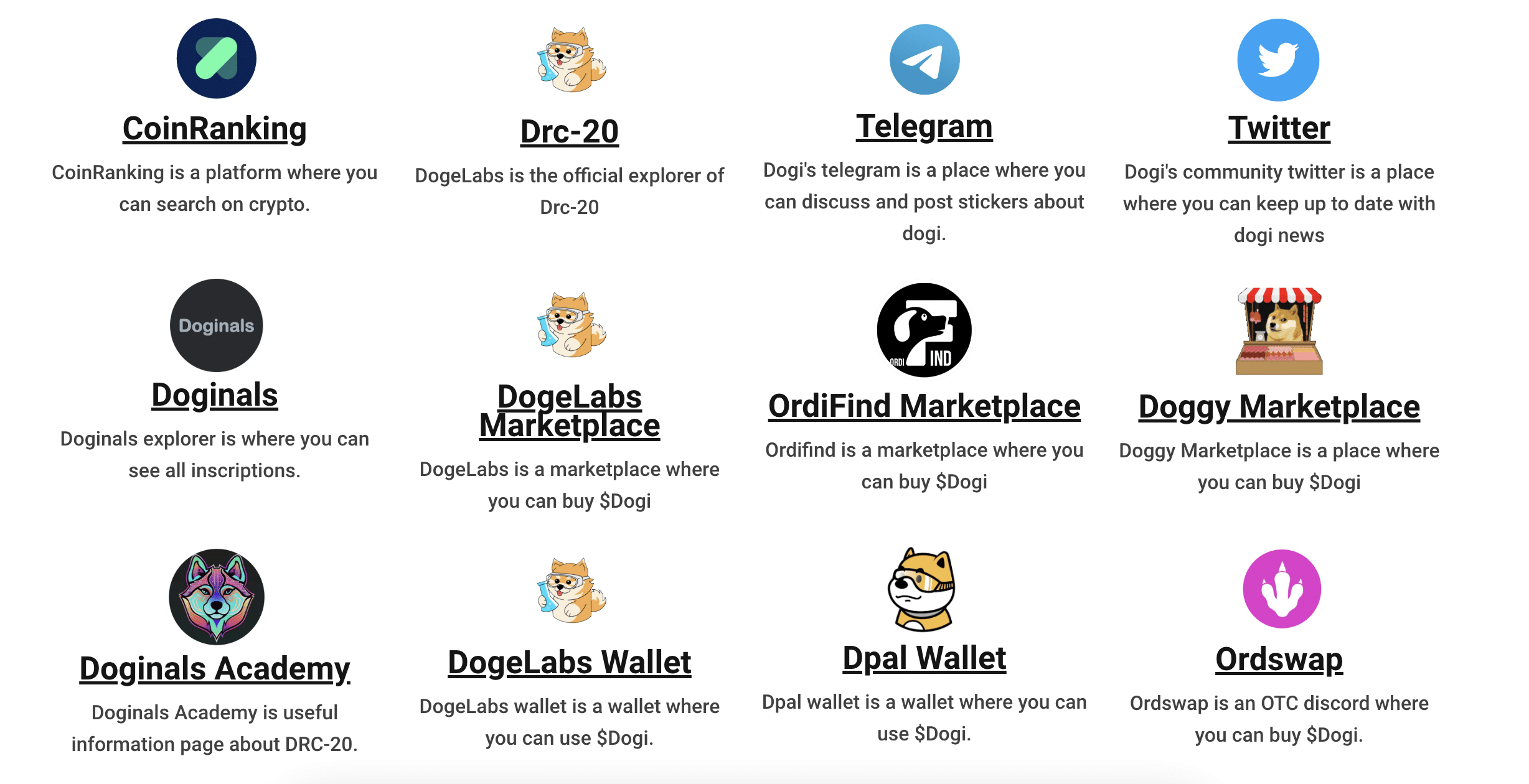 Rather than focusing on specific niches, it's a good idea to gain exposure to the broader industry. This means investing in a whole range of DRC-20 tokens with various objectives and target markets.
DRC-20 Token Use Cases
In addition to a solid concept, the best DRC-20 tokens will likely have utility. In simple terms, this means the tokens perform a function within the DRC-20 ecosystem.
You'll want your chosen DRC-20 tokens that have utility just like MANA and LINK. If they do, they're more attractive to investors, as the tokens are more than just a speculative asset.
That said, it could also be worth buying some DRC-20 meme coins. After all, even the best meme coins operate without utility, reflecting the irrational nature of the industry.
Price Momentum
New markets like DRC-20 tokens can explode very quickly. Regardless of the fundamentals or use cases, it's wise to keep an eye on price action. If a particular DRC-20 token continues to increase in value, this can attract other investors.
This is similar to how Shiba Inu blew up in 2020 and 2021. As its price continued to reach new heights, this further encouraged new investors to buy SHIB. At its peak, Shiba Inu was worth over $40 billion.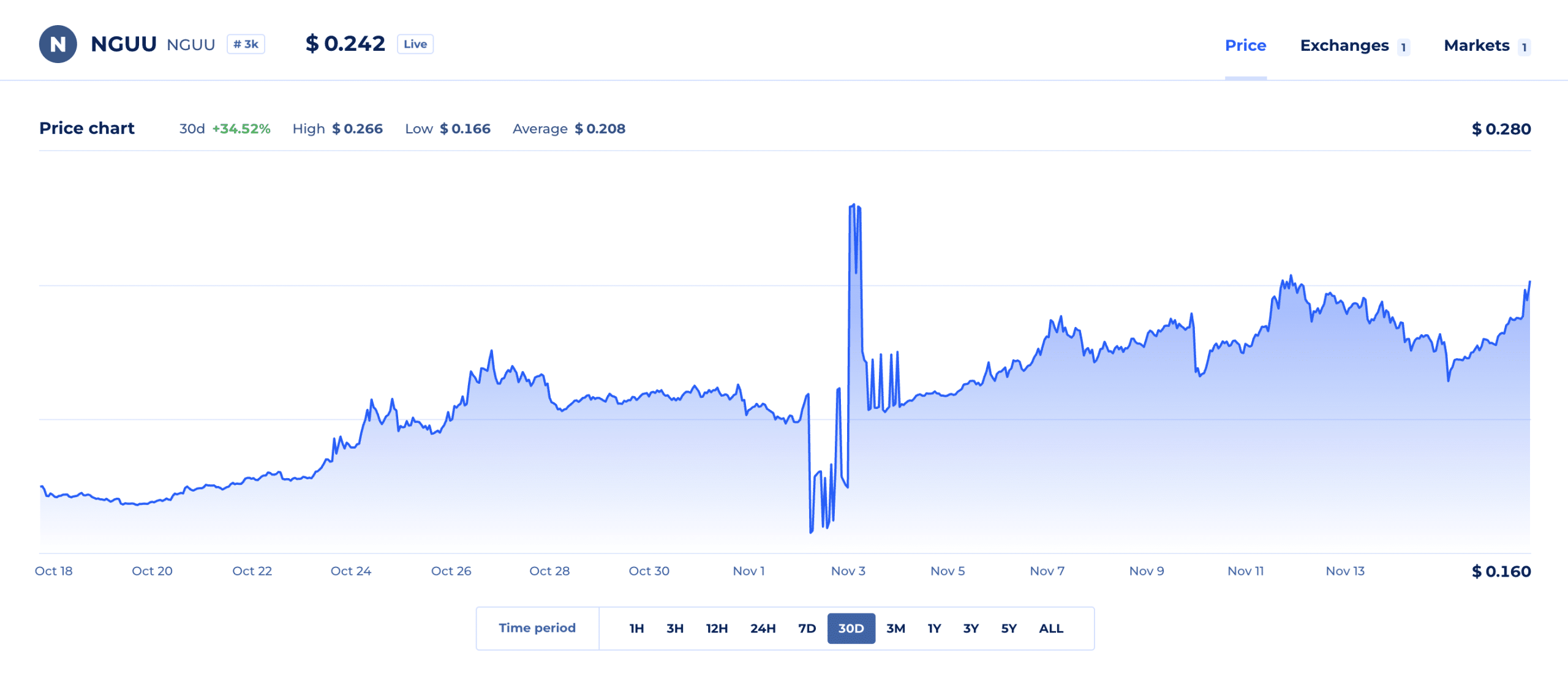 The key issue is that leading data aggregation websites like CoinMarketCap don't currently track DRC-20 tokens. As we mentioned, the only source right now is CoinRanking. However, its data is unreliable, especially when it comes to market capitalization and circulating supplies.
Risks and Considerations Before Buying DRC-20 Tokens
Emerging markets present lots of investment opportunities, but plenty of risks too. Here's what to consider before investing in DRC-20 crypto tokens:
Research Limitations: Finding the top DRC-20 tokens is no easy feat in the current market landscape. This is because there isn't a credible data-tracking website that investors can rely on. Therefore, it's challenging to verify the key metrics of a DRC-20 project, such as pricing, volume, and token holders.
Credible Blockchain Explorer: Another shortcoming is the lack of a credible blockchain explorer for DRC-20 tokens. Once again, this makes it hard to verify the legitimacy of transactions. Moreover, while smart contract auditors play a major role in the ERC-20 space, they don't currently exist in the DRC-20 ecosystem.
Limited Trading Framework: DRC-20 tokens are so new that there isn't a legitimate exchange that supports them. According to DOGI, which was allegedly the first DRC-20 tokens to launch, the only way to trade is on OTC Discord marketplaces. This is a huge risk for investors, as there are limited safeguards against being scammed.
No Guarantees of Success: There are no guarantees that the DRC-20 standard will ever take off. The only way this ecosystem can succeed is if developers choose it for their decentralized applications. The ecosystem needs exchanges, wallets, DeFi protocols, and other core services. Until then, there isn't a sufficient framework to attract investors in their droves.
DRC-20 vs ERC-20: What's the Difference?
Other than the underlying blockchains, there are many similarities between DRC-20 and ERC-20 tokens. For a start, both token standards are built on top of a proprietary blockchain. To reiterate, DRC-20 and ERC-20 tokens operate on the Dogecoin and Ethereum blockchains, respectively.
Both token standards support smart contracts and decentralized applications, allowing developers to build autonomous projects. In terms of fees, DRC-20 tokens require DOGE, while ERC-20 needs ETH. One clear difference is that DRC-20 tokens can be minted much cheaper than their ERC-20 counterparts. DRC-20 mints cost just 0.1 DOGE, which is under a cent. Plus, this fee is fixed.
In contrast, ERC-20 minting fees vary depending on network conditions. As we've seen many times previously, Ethereum GAS fees can be astronomical during busy periods. For instance, it was recently reported that Ethereum fees briefly surpassed $100. Therefore, DRC-20 tokens certainly have an advantage in the fees department.
However, overall, DRC-20 cryptocurrencies represent a tiny fraction of the Ethereum framework. According to CoinMarketCap data, the total Ethereum ecosystem is worth almost $267 billion. Moreover, Ethereum already has a fully-fledged ecosystem with thousands of decentralized applications that people actually use. Some of the best ERC-20 tokens in this category include Enjin Coin, Mask Network, Render, the Sandbox, and Dai.
Conclusion
In summary, some investors believe that DRC-20 tokens could be the next crypto market to boom. Right now, the industry is practically worthless, with little to no trading volume taking place. There's also a lack of infrastructure, including suitable exchanges, data aggregators, and blockchain explorers.
Nonetheless, the DRC-20 concept is brand new, so it will take time for the network to attract developers and decentralized applications. As such, now could be a great time to build a portfolio of the best DRC-20 tokens.
References
FAQs
What are the best DRC-20 projects?