With the crypto market constantly evolving and new projects cropping up daily, knowing where to put your money can take significant time and effort. Moreover, investing in the right project at the right time can yield great returns for an investor in the coming years.
This article will explore the best future crypto to buy while helping you identify key factors to spot high-potential cryptos. We'll examine each project's prospect for growth and innovation and help you make an informed investment decision.
The Top 12 Best Future Crypto to Invest In
To simplify the process of finding the best future crypto to buy, we have compiled a list of our top picks below:
AiDoge – A new crypto project combining blockchain, AI, and memes. It allows the generation of AI-powered memes and has staking and voting capabilities and the potential to become the hub of the meme community.
Ecoterra – The best future cryptocurrency project incentivizing recycling with its innovative Recycle2Earn ecosystem. Users can earn $ECOTERRA tokens while making eco-conscious choices, all through a user-friendly app.
yPredict – A new crypto platform using cutting-edge data science to provide reliable market predictions. Its native token, YPRED, allows users to access powerful analytic tools, vote on predictive models, and stake for a steady passive income.
DeeLance – The best future crypto project for the freelance industry. It streamlines payments and safeguards intellectual property with NFTs while offering competitive fees and secure blockchain transactions.
Launchpad XYZ – An innovative blockchain platform functioning as a gateway to the limitless world of Web 3. It simplifies blockchain technology, unifies NFT marketplaces, and provides unparalleled investment insights, all under one roof.
RobotEra – Metaverse Crypto With High P2E Rewards and Upside Potential
Tamadoge – Get Exciting P2E Rewards With This Crypto Gaming Platform
Bitcoin – Most Recognized Crypto with the Highest Market Capitalization
Ethereum – Smart Contracts Platform with a Strong Developer Community
XRP – A Fast and Efficient Digital Asset Used for Cross-Border Payments
Cardano – Sustainable and Scalable Platform for Decentralized Applications
Polkadot – A Multi-Chain Platform that Enables Blockchain Interoperability
Full Analysis of the Best Future Cryptocurrency to Invest In
When looking for the best future crypto to buy, the overwhelming number of options include various well-established and new crypto projects.
We have enlisted a combination of future-based projects, including some of the best ICO cryptos. While doing so, we have considered factors like practical utility, reliable team, and prospects to thrive in the dynamic crypto space.
1. AiDoge – Best Future Crypto Combining Blockchain, AI, and Memes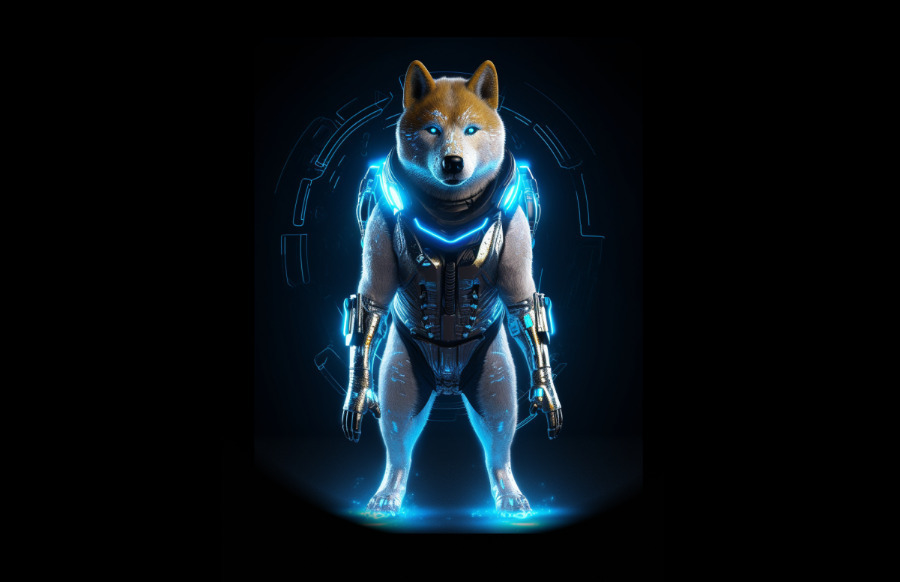 AiDoge is a fusion of memes and AI — it relies on artificial intelligence to provide real utility to users: meme generation. If you've used software such as ChatGPT, you probably know how powerful AI has become. AiDoge will work similarly: you will be able to write prompts and get memes as a result. AI can provide context-relevant, funny, and engaging memes, streamlining the entire process for active meme artists. Moreover, creators won't have to rely on photo editing skills, as AI will be able to do it all for them and even come up with original memes based on their input.
Besides allowing individuals to create memes, users can also stake AiDoge's coin, $AI, allowing token holders to earn daily rewards. Finally, the community can vote on memes and post and enjoy viewing them on "the wall," giving visibility and exposure to the talented meme creators.
By taking this approach, AiDoge has the potential to become a project that can build a huge community of meme lovers and creators. It already features a growing Telegram group, where you can learn more about the presale.
Speaking of the presale, it started in April 2023 and will feature 20 stages. At the moment, the coin price is $0.0000268, but it will increase by $0.0000004 with each stage. After it is concluded, the coin will be listed on all relevant exchanges at the price of $0.0000336, according to the whitepaper. Therefore, obtaining $AI at the presale comes with a discount, especially during its early stages.
AiDoge makes it clear what the coin is about, though its name doesn't seem very original. Namely, there are several similar tokens, such as ArbDoge AI. Yet, what makes this coin stand out from the pack is real utility, whereas the rest have no real-world use.
AiDoge is not the first project that relies on AI or memes and has had success. Some such endeavors include The Graph, SingularityNET, PepeCoin, and more. If you missed investing in these, now's the chance to start fresh with $AI in the early presale days.
The team behind AiDoge seems experienced, based on how the whitepaper is written and the project presented via the website and social media. However, we couldn't find any information on team members, as they chose to remain anonymous. This is not a cause for concern, as it's quite common for crypto teams to remain anonymous. However, you should consider that the people behind it might be doxxed in the future, which may affect the price of the coin if it becomes really popular.
Finally, we cannot predict any price movement for $AI, as it's still in the early days of the presale, and no prior information exists. Therefore, you'll have to take a leap of faith when investing in AiDoge. Still, if we take into account the idea and the technology behind the project, we could argue that it will have a bright future.
| | |
| --- | --- |
| Presale Started | April 2023 |
| Purchase Methods | ETH, USDT, BNB, Credit Card |
| Chain | Ethereum |
| Hard Cap | $14,900,000 |
| Minimum Investment | 38,461 $AI |
| Maximum Investment | None |
2. Ecoterra – Eco-Friendly Crypto with a Future-Focused Recycle2Earn System
Ecoterra is an emerging crypto designed for a sustainable future. The company has recently launched its Recycle2Earn ecosystem, a platform that tackles environmental challenges while rewarding users who commit to eco-conscious practices. Through the Ecoterra app, users can scan recyclable materials and earn $ECOTERRA tokens in return.
During Ecoterra's presale, tokens are available at the budget-friendly price of $0.004 USDT. Early investors benefit from a tiered pricing structure that allows them to purchase tokens at a discounted rate.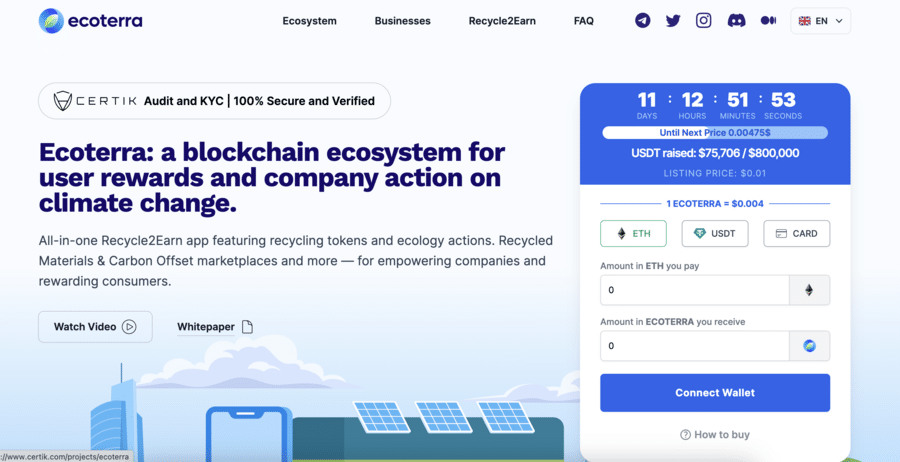 The Ecoterra app streamlines the recycling process with a user-friendly and accessible interface. It includes a social network for tracking environmental impacts and a marketplace for buying carbon offsets, promoting a sustainable solution that inspires responsible actions worldwide.
The Ecoterra whitepaper explores the company's AI-powered database, which highlights the platform's distinctive features. This advanced database helps identify the most appropriate destination for each scanned recyclable item.
The Recycle2Earn platform directs users to the closest Reverse Vending Machine (RVM) to further enhance the recycling process. Users can accumulate points by snapping photos of their receipts and uploading them to the app.

Ecoterra's adaptability allows it to meet the recycling needs of RVM users across various industries, such as consumer products, IT, fashion, and hospitality. Providing an eco-friendly solution that promotes ethical behavior globally proves the platform invaluable across multiple sectors.
Ecoterra is poised to revolutionize our approach to environmental preservation and recycling with its easy-to-use app and unique offerings. Those interested in learning about the project are encouraged to join the Ecoterra Telegram group.
| | |
| --- | --- |
| Hard Cap | $6,700,000 |
| Total Tokens | 2,000,000,000 |
| Tokens available in presale | 1,000,000,000 |
| Blockchain | Ethereum Network |
| Token type | ERC-20 |
| Minimum Purchase | $10 |
| Purchase with | USDT, ETH, Bank Card |
3. yPredict – Future Crypto Project Providing Market Predictions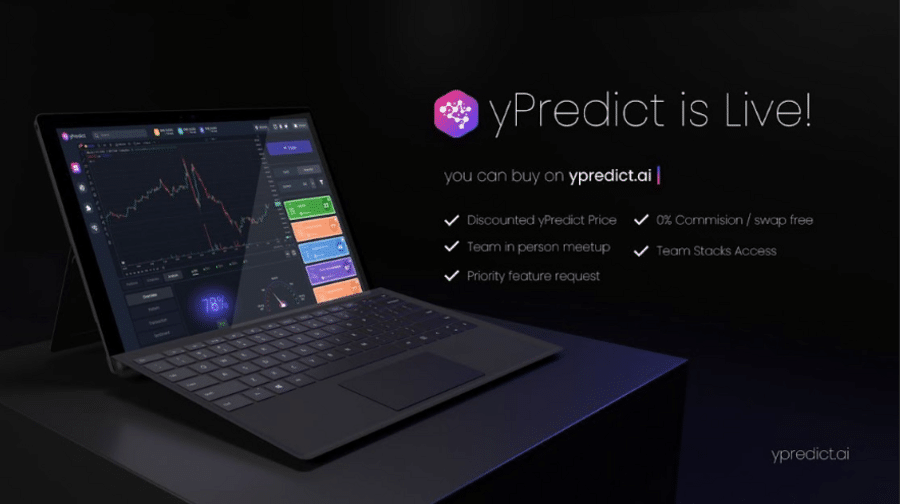 yPredict is a promising new crypto platform that uses analytic tools and data science to mitigate the complexity of modern financial markets and confidently predict market moves. This gives its native token, YPRED, real utility, as traders can use it to buy subscriptions to predictive models, whereas developers can earn it for selling subscriptions to their products.
YPRED holders will also have full access to the platform at no additional cost and be able to vote on the models via the DAO voting system. This will ensure only reliable predictive models remain in the Marketplace and give the platform credibility, which can attract more users and potentially increase the project's value.
The other reason yPredict is one of the best future crypto projects is that holders can stake their tokens to ensure a consistent stream of passive income. According to the whitepaper, the platform will draw its liquidity by forming revenue-sharing staking pools consisting of 10% of all subscription charges. This will ensure that the liquidity remains stable.
Moreover, yPredict will limit its token supply to 100 million and unlock half of this amount at the time of listing. This means the project's market cap will be only $6 million, making it an underrated venture with great potential. The platform already has a growing Telegram channel that you can join and learn more.
Although its presale launched in February 2023, yPredict has already earned over $1 million. It's still a good time to buy its token. You can get it for only $0.07 at this point, but remember that its price will grow with every new presale stage.
| | |
| --- | --- |
| Presale Started | February 2023 |
| Purchase Methods | ETH, MATIC, USDT, BNB, Card |
| Chain | Polygon |
| Hard Cap | $6,507,511 |
| Min Investment | 200 $YPRED |
| Max Investment | None |
4. DeeLance – Future of Cryptocurrency in the Web 3.0 Recruitment Sector
Ever since the inception of its presale stage, DeeLance, an innovative Web3 platform catering to self-employed freelancers and enterprises, has garnered significant attention.
The platform redefines the future of Web 3.0 recruitment by streamlining payment procedures for independent workers by adopting crypto transactions. Freelancers can turn their projects into NFTs and receive immediate compensation through cryptocurrency transfers.
Moreover, the project's native token, $DLANCE, holds immense growth prospects as it is slated to be listed on prominent exchanges in Q2 2023. During the presale phase, $DLANCE tokens can be acquired for $0.025 USDT, with the cost increasing to $0.035 USDT once the presale concludes.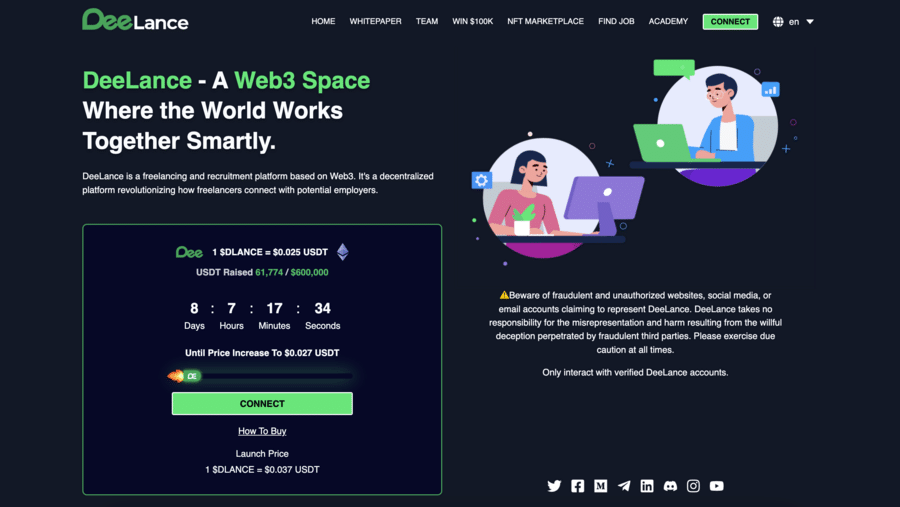 DeeLance employs escrow accounts to guarantee prompt disbursements to freelancers. With its decentralized structure and use of crypto transactions, the platform offers the most competitive fees in the industry. DeeLance's employer fee is a mere 2%, substantially lower than its counterparts in the freelance marketplace.
Both freelancers and their clients can trust that all financial transactions will be securely documented on the unalterable blockchain and protected by smart contracts.
Freelancers are also given the opportunity to transform their work into NFTs on the platform, thereby protecting their intellectual property and simplifying the rights transfer process.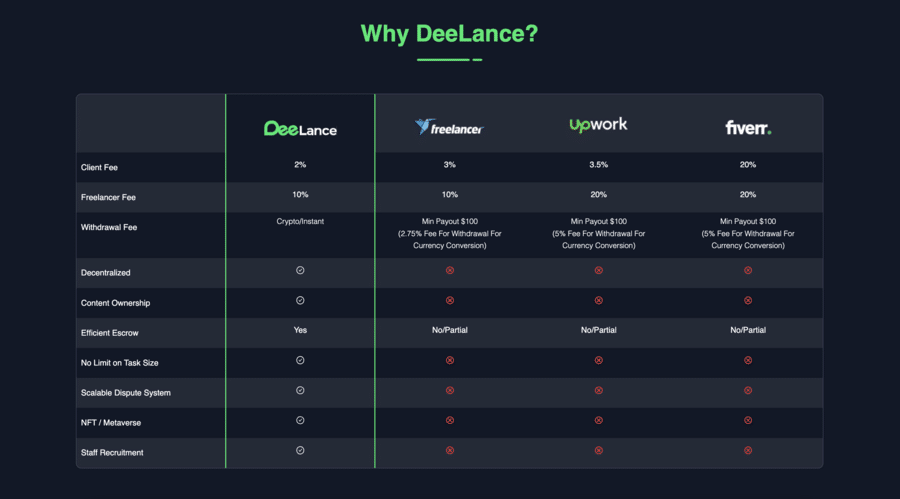 The NFT marketplace, outlined in the DeeLance whitepaper, is an integral aspect of the project. This feature enables users to develop, buy, and sell various NFTs at fluctuating prices.
The platform aims to expand its user base by cultivating online relationships between freelancers and employers within virtual meeting spaces. Additionally, the platform seeks to link top-tier clients and freelancers through its talent acquisition services.
Users interested in staying informed about the latest advancements in the freelance sector can join the DeeLance Telegram channel.
| | |
| --- | --- |
| Hard Cap | $6,800,000 |
| Total Tokens | 1,000,000,000 |
| Tokens available in presale | 300,000,000 |
| Blockchain | Ethereum Network |
| Token type | ERC-20 |
| Minimum Purchase | $10 |
| Purchase with | USDT, ETH, Card |
5. Launchpad XYZ – Innovative Web 3-Focused Future Crypto Project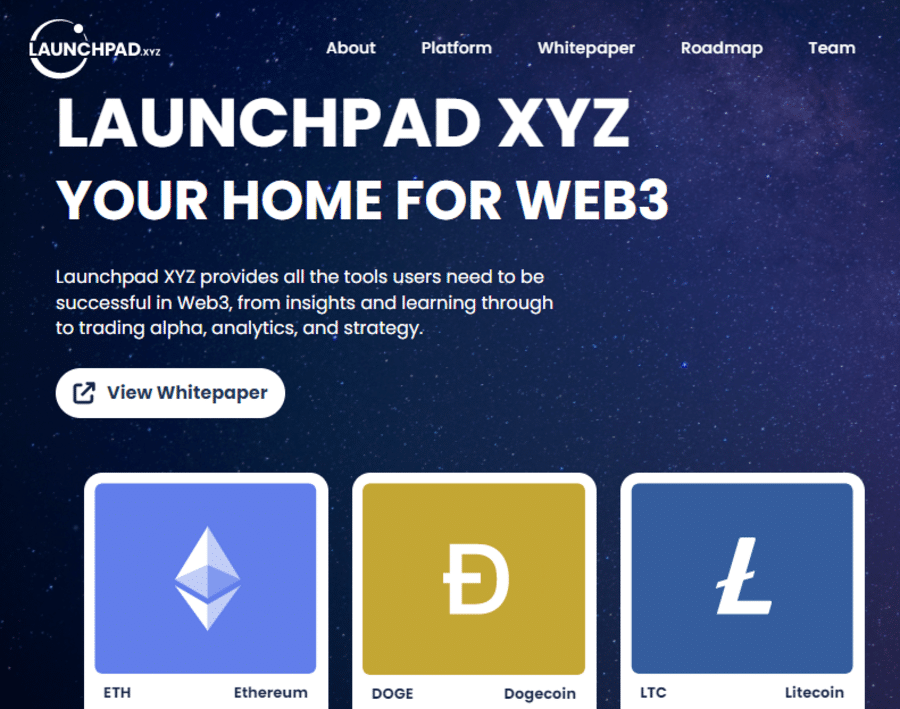 Launchpad XYZ is a brand-new cryptocurrency project revolutionizing the world of Web 3, making it accessible to an average user. The platform aims to become the central hub for all Web 3 services, offering the best projects in the blockchain space while permitting users to retain full custody over their assets.
The project's developers plan to reach some ambitious goals by 2025. This includes becoming a top 10 token, achieving a $10 billion market cap, and acquiring ten million users. While this will require assembling a large team, if any project can do it, Launchpad XYZ can become one of the best, if not THE best future crypto project in 2023.
The platform aims to simplify the use of new Web 3 technology by encompassing all NFT marketplaces under one roof and providing a simple user interface. It will also feature its own Web 3 wallet and decentralized exchange and offer expert analysis of market moves so that traders can make informed investment decisions.
As the whitepaper states, the project's Metaverse Experience Library will give you access to every Metaverse platform, exploring different experiences and investment opportunities. Its Play-to-Earn Hub will also let you play engaging games and acquire a potential income in the process.
The project's earnings are quickly increasing, having raised more than $400,000 in the first few weeks of the presale. You can buy its native token, LPX, for only $0.035 for a limited time, until the price increases by 10% in the next and every subsequent presale stage. Feel free to join Launchpad XYZ's official Telegram channel for more information.
| | |
| --- | --- |
| Presale Started | April 2023 |
| Purchase Methods | USDT, ETH, Transak |
| Chain | Polygon |
| Hard Cap | $12.5 million |
| Min Investment | None |
| Max Investment | None |
6. RobotEra – Metaverse Crypto With High P2E Rewards and Upside Potential
In RobotEra's metaverse, every participant assumes the role of a robot on planet Taro. The original robots and inhabitants were wiped out in a devastating war, leaving the planet in ruins.
As robot avatars with human brains, players are tasked with restoring the planet. Like Sandbox, users can explore the metaverse, modify it, and discover resources in RobotEra.
The P2E multiverse is fueled by TARO tokens, currently available for presale. Early investors can secure TARO tokens at $0.020 during the presale's first stage. In the second phase, the price will surge to $0.025, fetching an ROI of 25%.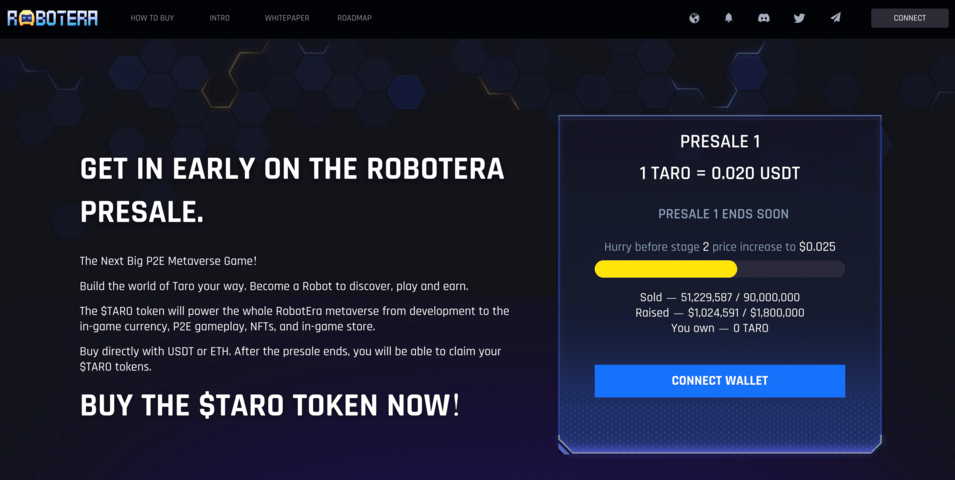 Like other promising crypto projects, the presale price gradually increases, offering early investors discounted tokens. RobotEra, akin to Sandbox, provides players with the ability to personalize their avatars, experiences, and environments.
Land parcels can be acquired as NFTs, allowing players to design their unique landscapes and construct anything they desire. Furthermore, players can rent their land and robot companions to others.
| | |
| --- | --- |
| Presale Started | Q4 2022 |
| Purchase Methods | ETH, USDT |
| Chain | Ethereum |
| Min Investment | 1,000 TARO |
| Max Investment | None |
7. Tamadoge – Get Exciting P2E Rewards With This Crypto Gaming Platform
In 2022, Tamadoge became a top crypto project, experiencing a 2,000% value surge from its presale price. This success followed the late-January launch of its first game, which was warmly received by the crypto-gaming community. It also made some crypto enthusiasts question whether TAMA would become the next Shiba Inu in 2023.
Super Doge, a Mario-style platform game, involves players collecting coins, battling SECKnights, and vying for leaderboard positions with TAMA rewards. Within 24 hours of release, the game saw 80 hours of gameplay and offered free-to-play and play-to-earn options.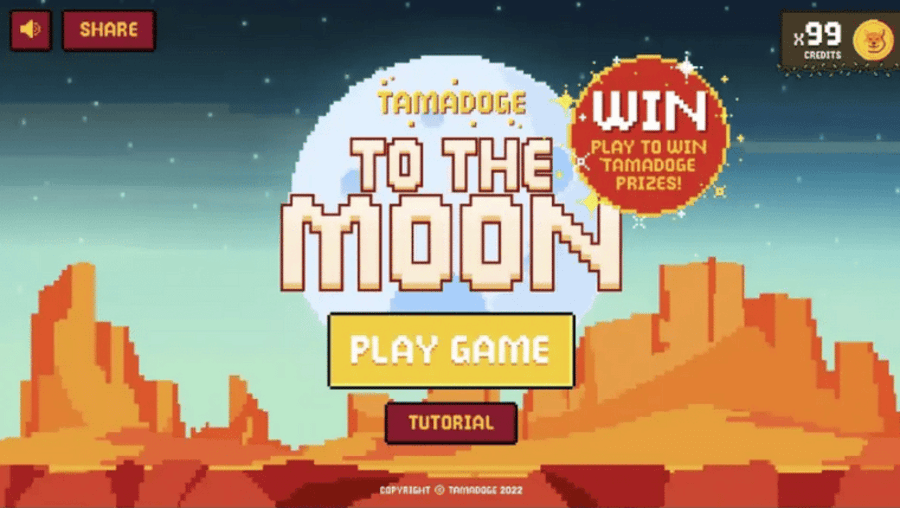 The popular gaming platform has again grabbed gamers' attention with its newest arcade game, 'To The Moon.' As the third installment in Tamadoge's arcade series, it has attracted countless gameplay hours from avid gamers. Further, a Tamagotchi-inspired main game and augmented reality (AR) app are in development.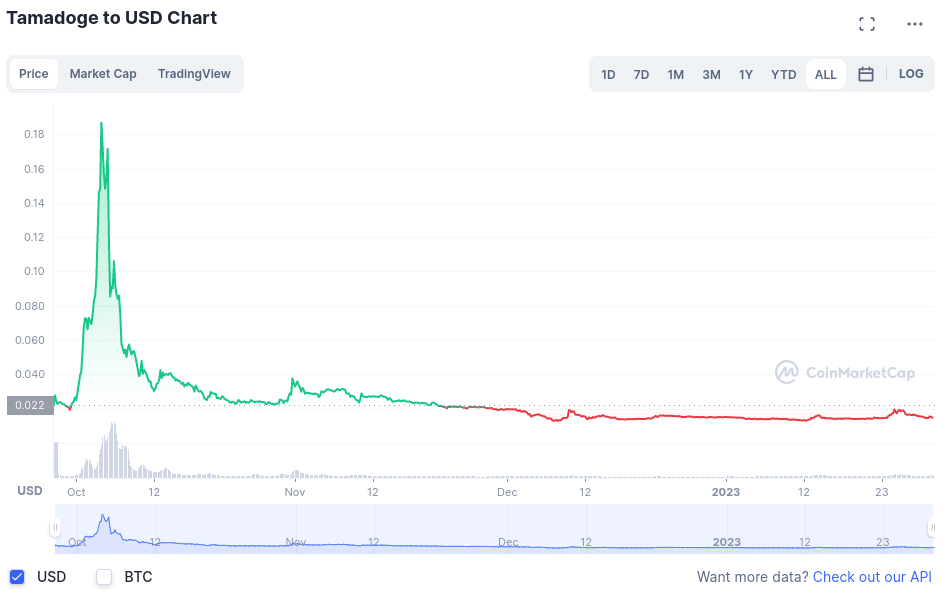 Further growth for TAMA is expected with the release of new games and the AR app. Some enthusiasts have even suggested that it could become the next Ethereum. Additionally, TAMA has a limited, deflationary supply of 2 billion tokens, and 5% is burned when players upgrade their pets in the Pet Store.
8. Bitcoin – Most Recognized Crypto with the Highest Market Capitalization
Bitcoin was the first cryptocurrency introduced in 2009. Its early presence in the market allowed it to establish a dominant position, making it synonymous with the term "cryptocurrency."
The king coin's widespread adoption has created a network effect. As more users join the network, its utility and value increase, attracting even more users. This cycle reinforces its position as the leading cryptocurrency.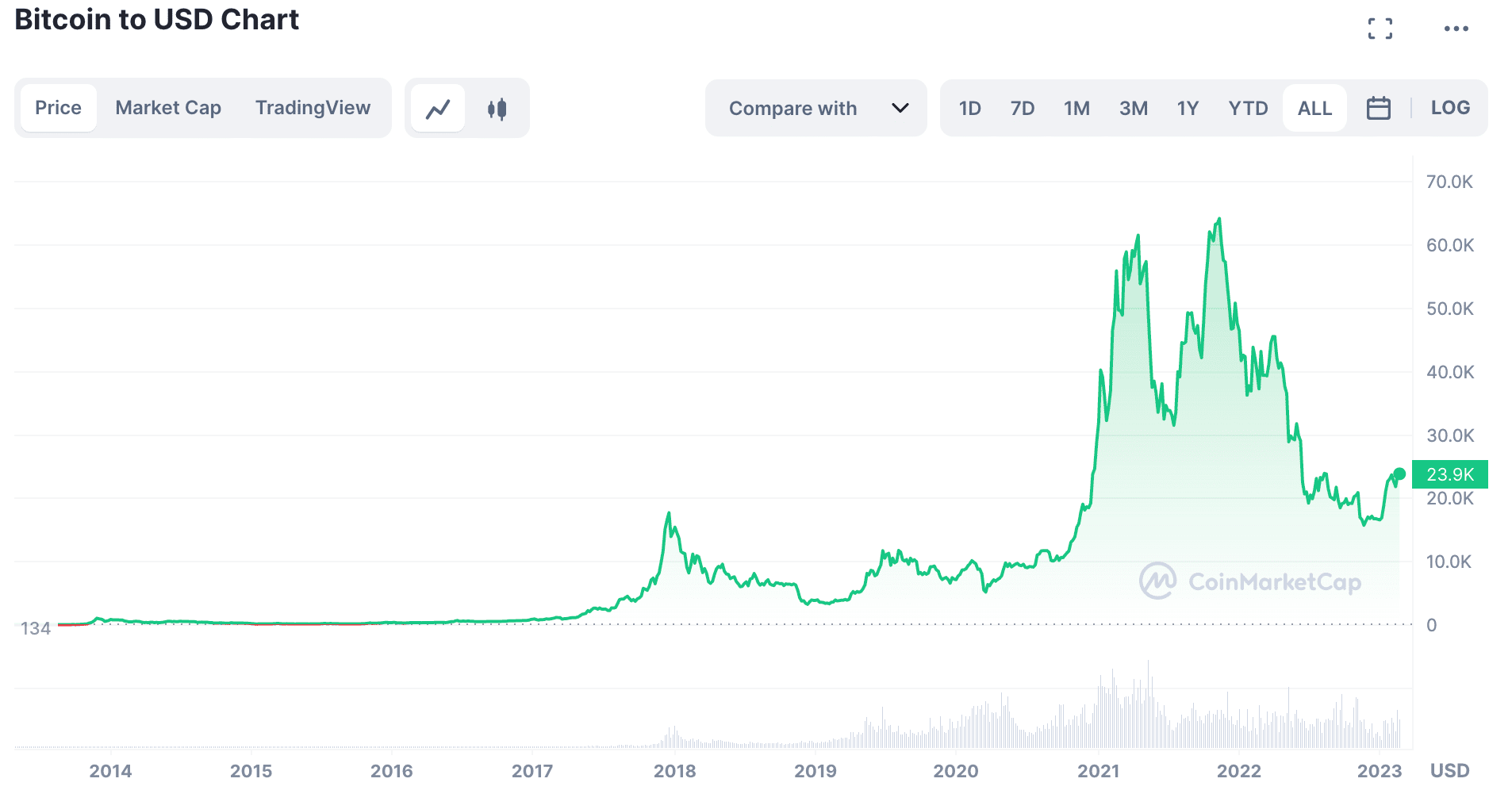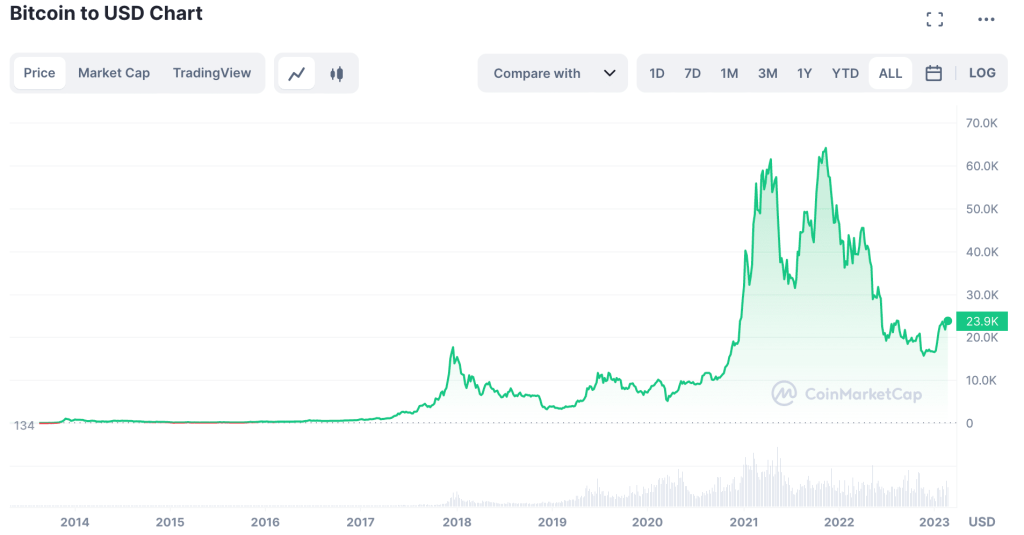 When looking for the best cryptocurrency of the future, it's crucial to factor in security. The Bitcoin network is secured by many miners who validate transactions and maintain the blockchain's integrity. This robust security makes Bitcoin less susceptible to attacks and fraud.
Moreover, Bitcoin is often called "digital gold" due to its scarcity and finite supply of 21 million coins. This scarcity and growing demand have driven its value as a long-term store of value and hedge against inflation.
Crypto assets are highly volatile and unregulated—no consumer protection. Tax on profits may apply. Your capital is at risk.
9. Ethereum – Smart Contracts Platform with a Strong Developer Community
Ethereum is more than just a cryptocurrency; it's a programmable blockchain that enables the creation of decentralized applications (dApps), smart contracts, and token issuance, giving it a wide range of use cases.
It has a thriving ecosystem of developers, startups, and established businesses building dApps, which drives innovation and increases the platform's overall value.
Similar to Bitcoin, Ethereum benefits from a strong network effect. As more users and developers adopt the platform, its utility and value grow, drawing in even more participants.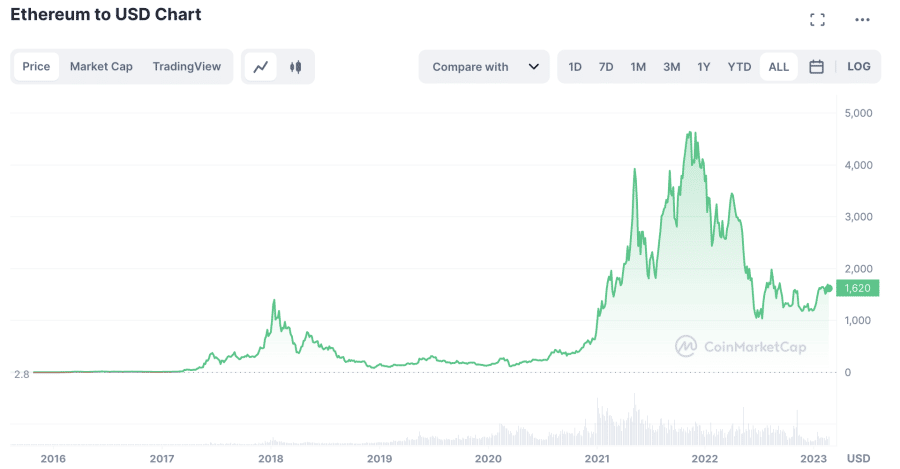 Ethereum is constantly evolving, with upgrades like Ethereum 2.0, which aims to improve scalability, security, and energy efficiency by transitioning to a Proof-of-Stake (PoS) consensus mechanism.
Additionally, many businesses and organizations accept Ether (ETH) as a form of payment, enhancing its real-world usability.
Ethereum's versatility and extensive ecosystem provide significant potential for growth, making it one of the best crypto to invest in for future returns.
Crypto assets are highly volatile and unregulated—no consumer protection. Tax on profits may apply. Your capital is at risk.
10. XRP – A Fast and Efficient Digital Asset Used for Cross-Border Payments
XRP is designed for fast, low-cost cross-border payments, aiming to replace traditional systems like SWIFT by providing a more efficient and cost-effective solution.
The platform can process transactions in seconds, significantly faster than Bitcoin and Ethereum, making it more suitable for real-time payments and remittances.
Ripple's consensus mechanism allows it to handle a high volume of transactions per second (TPS), rivaling traditional payment systems like Visa.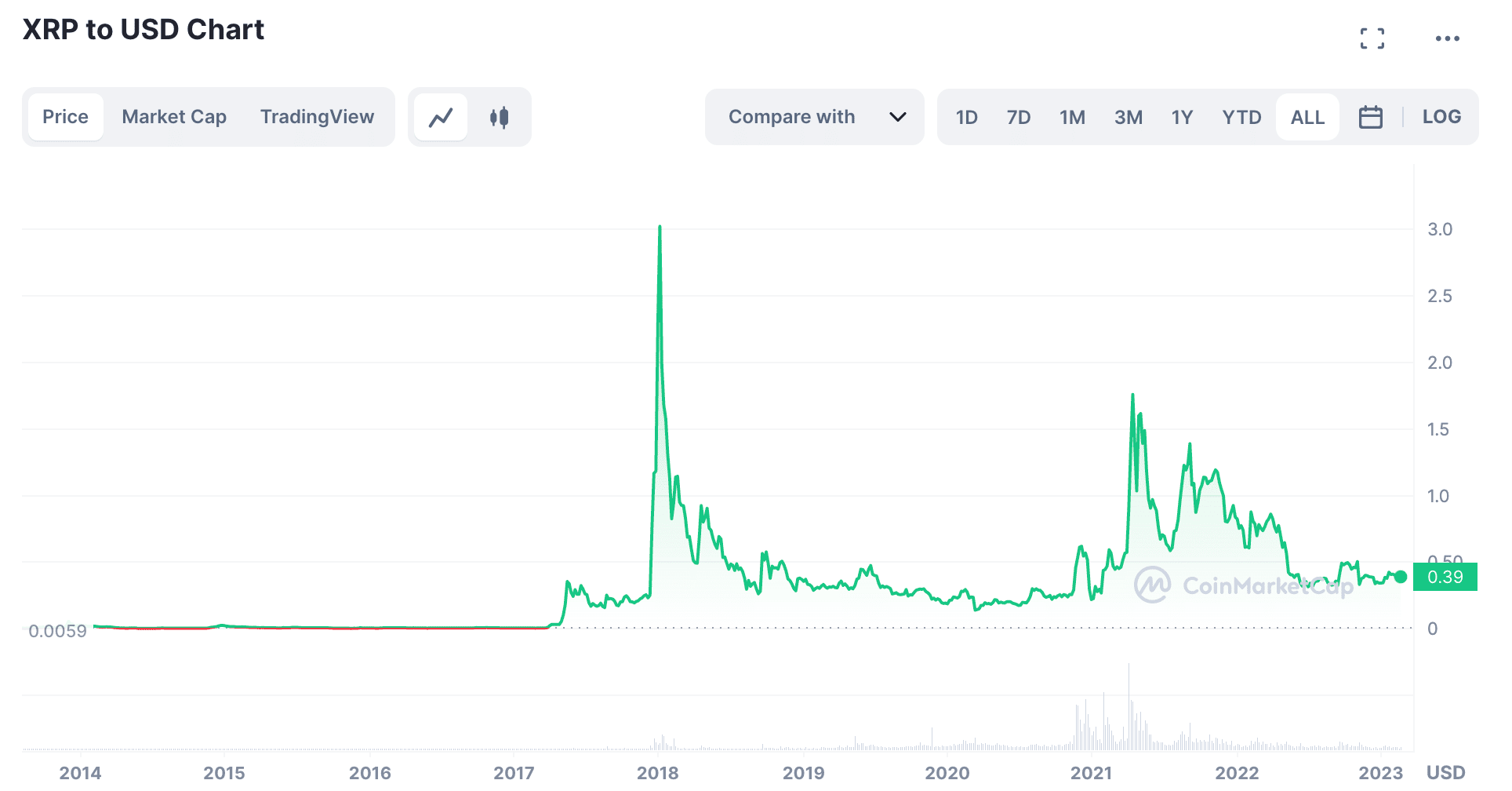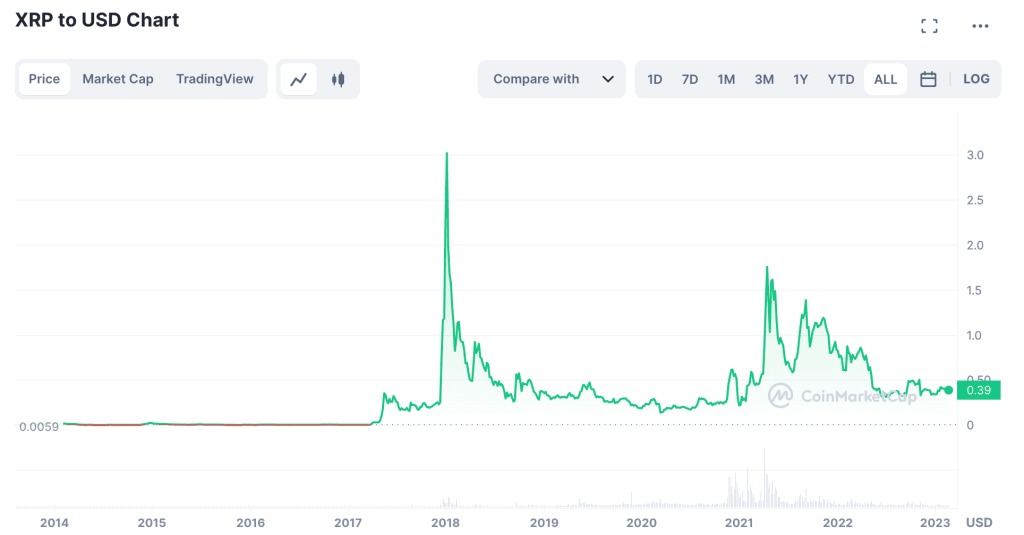 Ripple Labs has established partnerships with numerous banks and financial institutions globally, driving XRP adoption and utility within the financial industry.
XRP's consensus mechanism does not rely on energy-intensive mining, making it more environmentally friendly than Proof-of-Work cryptocurrencies like Bitcoin.
Recently, XRP surged as investors showed optimism that Ripple would emerge victorious in its ongoing legal battle with the SEC, reinforcing confidence in the innovative tech behind the digital asset.
Crypto assets are highly volatile and unregulated—no consumer protection. Tax on profits may apply. Your capital is at risk.
11. Cardano – Sustainable and Scalable Platform for Decentralized Applications
Cardano is the first blockchain platform to adopt a peer-reviewed, evidence-based approach. Researchers and developers collaborated to create a robust and secure platform that evolves with the latest cryptography and blockchain technology advancements.
The unique architecture, which includes the Ouroboros PoS consensus algorithm, enables the network to process many transactions without compromising security or performance. This scalability attracts developers, businesses, and users who seek efficient blockchain solutions.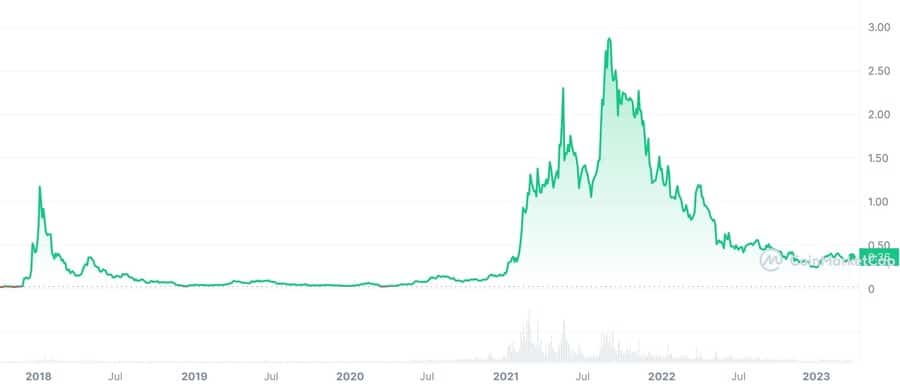 Moreover, Cardano's PoS model is energy-efficient compared to energy-intensive PoW protocols like Bitcoin. This eco-friendly approach appeals to environmentally conscious investors and contributes to the network's long-term sustainability.
The smart contract platform's focus on interoperability allows it to work seamlessly with other blockchains and legacy financial systems. This positions Cardano as a bridge between the traditional and digital financial worlds, increasing its potential for mass adoption.
Crypto assets are highly volatile and unregulated—no consumer protection. Tax on profits may apply. Your capital is at risk.
12. Polkadot – A Multi-Chain Platform that Enables Blockchain Interoperability
Polkadot enables seamless communication between blockchains, including public, private, and permissioned networks. This interoperability positions Polkadot as a key player in the future of the decentralized web.
The platform's multi-chain architecture, which employs parachains and para threads, allows for parallel processing of transactions, significantly enhancing its scalability. This ability to handle high transaction throughput caters to developers and businesses seeking a high-performance blockchain solution.
Polkadot's shared security model also enables parachains to pool their security, ensuring high protection across the entire network. This model eliminates the need for individual chains to develop security solutions, enhancing efficiency and trust.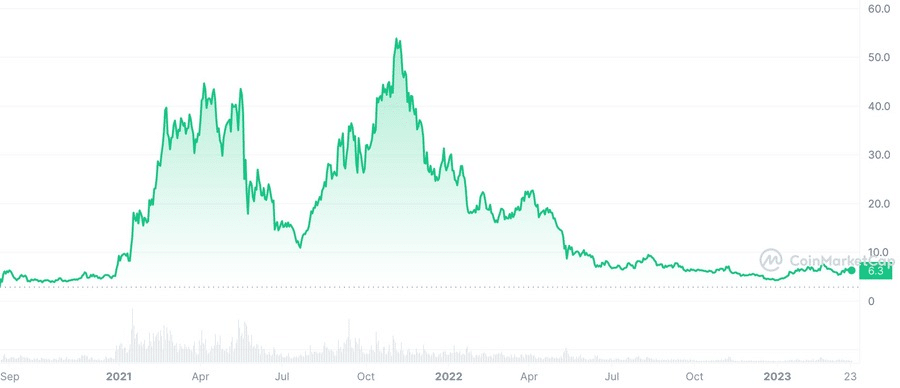 Additionally, Polkadot's Substrate framework allows developers to build custom blockchains tailored to their specific needs. This flexibility promotes innovation and fosters the development of unique applications on the network.
The platform's governance model also ensures token holders have a say in the network's evolution. This inclusive decision-making process encourages community engagement and fosters long-term growth.
All in all, Polkadot's thriving ecosystem includes a variety of projects, such as DeFi platforms, NFT marketplaces, and data storage solutions. This diverse range of applications enhances Polkadot's value proposition in becoming one of the best crypto to invest in for future returns.
Crypto assets are highly volatile and unregulated—no consumer protection. Tax on profits may apply. Your capital is at risk.
How to Find the Crypto Coins with the Best Future
Looking for the best crypto portfolio allocation in 2023?Identifying the best future crypto to buy may seem tricky, but traders can make well-informed decisions on high-potential coins by identifying the key factors listed below. Let's look at essential points to consider when evaluating cryptocurrencies and their crypto future predictions.
Assess the Project and Technology
Traders should carefully evaluate the following aspects:
Whitepaper: A project's whitepaper offers comprehensive information on the technology, goals, and roadmap. Studying the whitepaper is essential to deeply understand the project's potential.
Use Case: Consider the real-world applications of the crypto, as a coin with a strong use case is more likely to have a promising future.
Development Team: A skilled and experienced development team is crucial for a crypto's success. Research the team's background and track record to gauge their ability to deliver on the project's goals.
Monitor Crypto Future Predictions and Price Trends
Keeping a close eye on crypto future predictions and price trends can help traders decide which coins have the best prospects.
Expert Opinions: Follow industry experts and influencers who share their insights and crypto future predictions. These opinions can provide valuable information on potential market movements.
Technical Analysis: Technical analysis involves studying historical price data and patterns to predict future price movements. This method can help traders identify coins with promising growth potential.
News and Market Sentiments: Stay up-to-date with the latest news, developments, and market sentiments in the crypto space. As we all know, positive news can influence the market positively, while negative news can have an adverse impact.
Evaluate the Coin's Community and Ecosystem
A strong community and ecosystem are essential when considering the best future crypto. A coin with an engaged community and a healthy ecosystem are more likely to succeed.
Community Engagement: Active social media presence and community support can indicate a coin's long-term potential. Moreover, engaged communities can help drive adoption and support project development.
Partnerships and Collaborations: A cryptocurrency with strong partnerships and collaborations is more likely to gain industry traction and succeed. Look for coins working with reputable organizations to expand their reach and adoption.
Conclusion
This article discussed the top 11 high-potential cryptos for the future. We also saw how traders and investors could spot them using the key factors discussed. As per our research, AiDoge is the best future crypto to buy.
AiDoge is the first crypto to combine AI with memes and has real utility, as users will be able to use artificial intelligence to generate memes. In addition, it features staking and voting capabilities. Currently, buyers can invest in $AI at a discounted rate, as it's still in the early presale stages.
FAQs
Which crypto has the best future?