With the crypto market constantly evolving and new projects cropping up daily, knowing where to put your money can take significant time and effort. Moreover, investing in the right project at the right time can yield great returns for an investor in the coming years.
This article will explore the best future crypto to buy while helping you identify key factors to spot high-potential cryptos. We'll examine each project's prospect for growth and innovation and help you make an informed investment decision.
The Best Future Crypto to Invest In
To simplify the process of finding the best future crypto to buy, we have compiled a list of our top picks below:
Wall Street Memes – A meme-based cryptocurrency aiming to reshape modern capitalism with its rapidly growing community and high-profile endorsements. Has raised $25 million in just 12 weeks and could be a top future crypto to look into.
Meme Kombat – A place for iconic memes to engage in blockchain-based combat with spectator betting, this could be the future of meme presales. The ERC20 PoS token offers 112% APY with a price of $1.667 per token.
Bitcoin BSC – A Bitcoin clone powered by the BNB Smart Chain for 422% yields, smart contract utility, eco-friendly design, and low fees. Raised $1.3 million within 7 days of initial presale launch with a 120-year token release schedule.
Launchpad XYZ – An innovative blockchain platform functioning as a gateway to the limitless world of Web 3. It simplifies blockchain technology, unifies NFT marketplaces, and provides unparalleled investment insights, all under one roof. $1.5 million raised throughout presale.
yPredict – A new crypto platform using cutting-edge data science to provide reliable market predictions. Its native token, YPRED, allows users to access powerful analytic tools, vote on predictive models, and stake for a steady passive income. $3.8 million raised so far.
XRP20 – A PoS ERC20 community token aimed at retail investors who missed out on early stage Ripple. Presale was executed rapidly within about 3 weeks.
Bitcoin – The Original And Most Recognized Crypto with the Highest Market Capitalization, a Staple in the World of Web3
Ethereum – Smart Contracts Platform with a Strong Developer Community And The Foundation of the Enormous DeFi Industry
XRP – A Fast and Efficient Digital Asset Used for Cross-Border Payments That Won a Landmark Court Case Against the SEC
Cardano – Sustainable and Scalable Platform for Decentralized Applications Built With an Emphasis on Peer Reviewed Research
Polkadot – A Multi-Chain PoS Platform that Enables Blockchain Interoperability With Extremely High APY and Fast Transaction Speeds
Full Analysis of the Best Future Cryptocurrency to Invest In
When looking for the best future crypto to buy, the overwhelming number of options include various well-established and new crypto projects.
We have enlisted a combination of future-based projects, including some of the best ICO cryptos. While doing so, we have considered factors like practical utility, reliable team, and prospects to thrive in the dynamic crypto space.
1. Wall Street Memes – Fastest-Growing Meme Crypto Platform and the Best Future Crypto Project to Buy in 2023
Wall Street Memes is a meme-based cryptocurrency platform aiming to transform the landscape of modern capitalism. The brand-new project has already accumulated over $25 million in just 12 weeks. This makes it one of the fastest-growing crypto platforms and one of the best future cryptos to buy in 2023.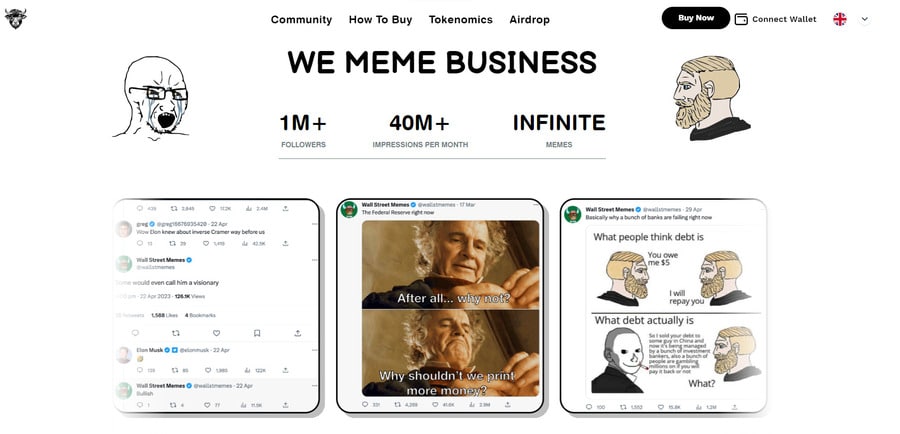 The project entered the market with an already solid reputation. Its developers had enormous success with their 10,000-piece collection of NTFs called Wall Street Bulls, which sold out in a little over half an hour in 2021, snatching a whopping $2.5 million.
Influenced by the events that transpired at Wall Street surrounding GameStop in 2021, Wall Street Memes has decided to harness the power of memes to support small investors and create a large community. Its social media following now counts more than one million users on platforms like Instagram and Twitter.
Speaking of Twitter, the platform's account has marked a few interactions with notable figures. Namely, Elon Musk, well known for influencing crypto prices in the past, has shown his support for the Wall Street Memes project by replying to the project's account tweets.
This has kicked the already well-performing presale of the Wall Street Memes' token to new heights. The project is in its final presale stages, so now is a good time to jump on the bandwagon before T1 exchange listing. The $WMS token price is currently set at $0.0337.
According to the whitepaper, there will be a total of two billion tokens in circulation, half of which have already been released for presale. If you like what this crypto platform has to offer and wish to learn more, feel free to join its growing Telegram channel and be at the forefront of all news and updates.
| | |
| --- | --- |
| Presale Started | May 26, 2023 |
| Purchase Methods | ETH, USDT, BNB, Credit Card |
| Chain | Ethereum |
| Hard Cap | $30,577,000 |
| Min Investment | 100 $WSM |
| Max Investment | N/A |
2. Meme Kombat – Futuristic ERC20 Arena for Fights Between Iconic Meme Tokens, 112% APY
Meme Kombat ($MK) is a new style of ICO that allows the world's most iconic memes – Doge, Floki, Baby Doge, Milady, Kishu, Mong, Pepe, Pepe 2, Shiba, Sponge, Wojack – to face off against one another.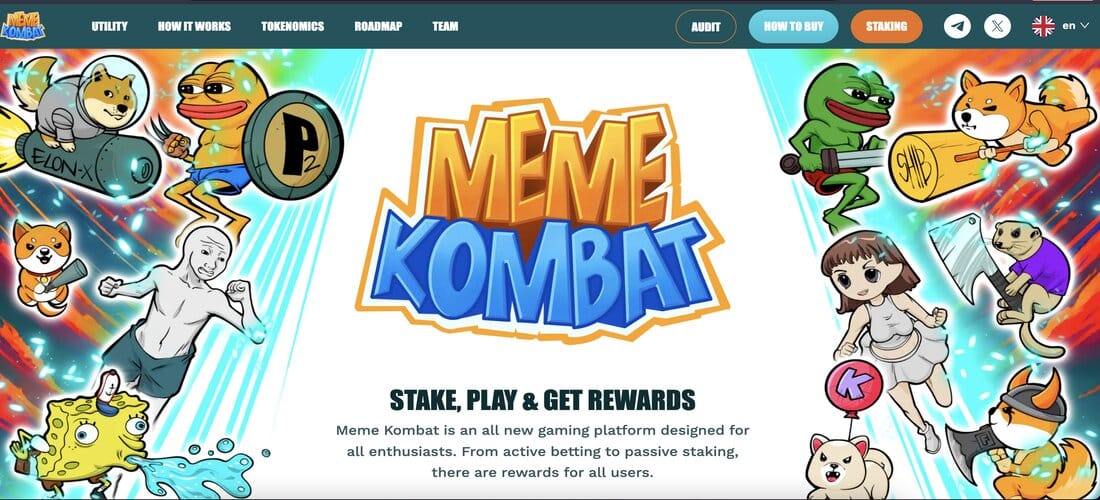 This is different from traditional presales which were centered around a single meme. Meme Kombat allows for these memes to come together under one roof, with a number of betting options on the outcome.
Memes are notorious for having large online followings, and some of these followers might be attracted to this new kind of meme presale – this could well be the future of meme development.
The arena also allows for 112% APY to stakers, which is an additional incentive on top of the ability to earn active rewards from bet placement. So Meme Kombat offers both active (fight wagering) and passive (Proof-Of-Stake) rewards to those involved.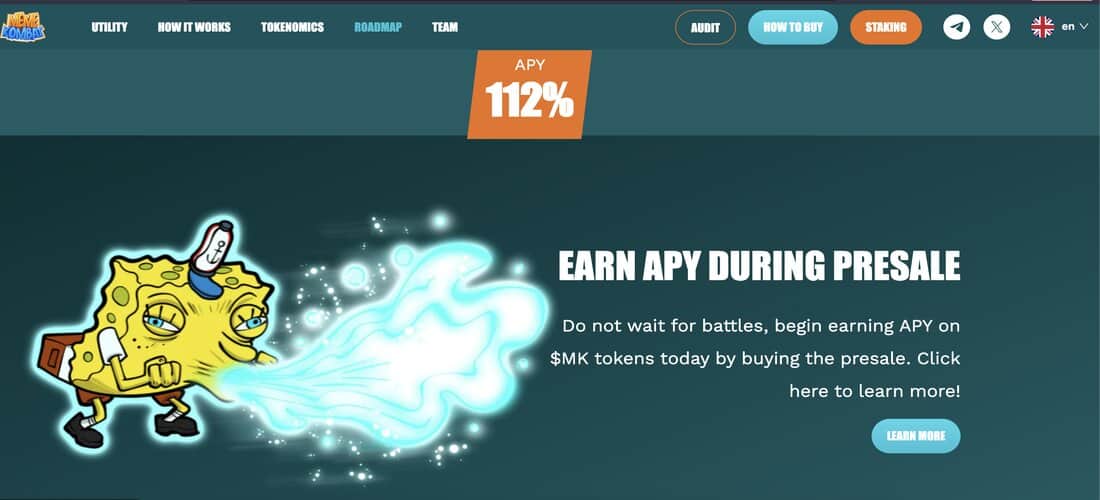 The campaign has paid special attention to visual quality, enhanced through AI-rendering. But the images aim to stick closely to the original characteristics of the meme in question, whether that is Doge, Floki, Shiba, or any of the others. More memes will likely be added in Season 2, after feedback from the first round of combat.
Players have three betting formats – P v P, P v Game, or Direct. They can further research odds and statistics, placing strategic bets based on risk tolerance and portfolio allocation (you can bet a specific proportion of available funds on a given outcome).
Over 6 million tokens are available in the presale at a price of $1.667, for an overall hard cap of $10 million.
There are 12 million tokens in total with 50% to the presale, 30% to staking, 10% to DEX liquidity, and 10% to community rewards.
More details on this campaign can be found in the Telegram and Twitter accounts, along with the Whitepaper.
| | |
| --- | --- |
| Hard Cap | $10,000,000 |
| Total Tokens | 12,000,000 |
| Tokens available in presale | 6,000,000 |
| Blockchain | Ethereum Network |
| Token type | ERC-20 |
| Minimum Purchase | $5 |
| Purchase with | USDT, ETH, BNB |
3. Bitcoin BSC – Bringing BTC From The Past To The Modern BNB Smart Chain, Campaign Raises $1.3M in 7 Days
Bitcoin BSC ($BTCBSC) is a fast-selling presale ($1.3 million in just 7 days) that takes Bitcoin as it was in 2011 and reflects it on a BNB Smart Chain architecture that is faster, cheaper, secure, eco-friendly, and smart contract capable.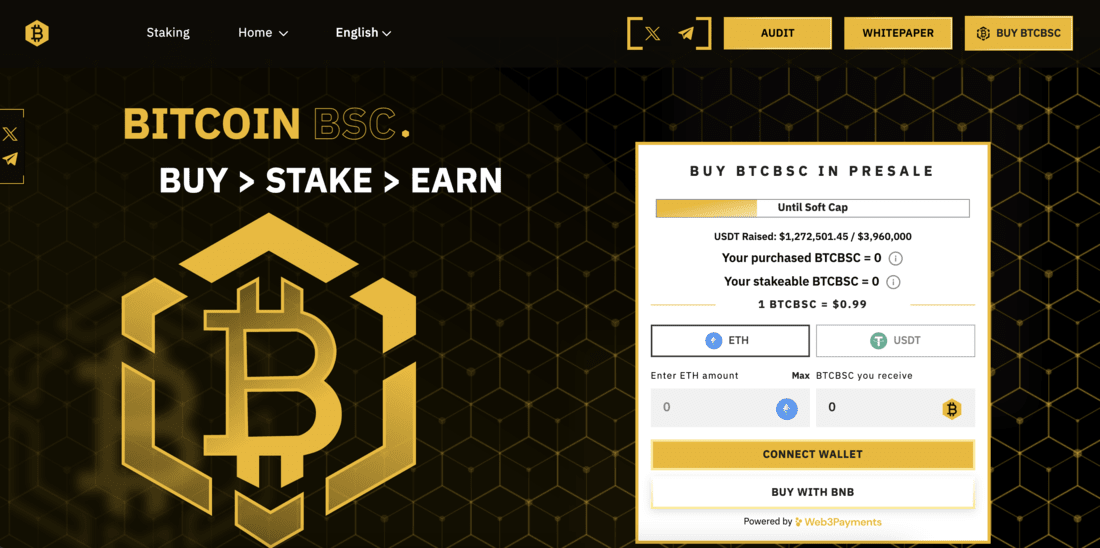 So it effectively combines two very appealing elements into one holistic ecosystem.
The first is the recreation of BTC tokenomics. Tokens are priced at $0.99 throughout presale with 6.125 million available for purchase out of the total $BTCBSC supply of 21 million. Rewards are generated at 10-minute intervals with a final vesting period of 120 years.
Bitcoin BSC offers a means of Bitcoin investment (currently priced at $25,000) for just $0.99 per token – the reason this presale has taken off should be obvious.
Yet this is not actually Bitcoin, but a BTC-themed token on a separate chain, and this has to be kept in mind throughout. There is no guarantee it will follow the trading history of Bitcoin.
The second element is its utility to investors, and this is why this project could do very well in the future.
The average transaction cost is $0.10, and it can process over 2,000 transactions per second (tps). In contrast, Bitcoin was plagued by high fees of $5 – $10 per transaction and lots of network congestion, only being able to process 7 tps on average.
While the original BTC offered no staking rewards, with coin releases going to centralized miners using environmentally damaging hardware, Bitcoin BSC allows for yields of 422% that all project participants can benefit from.

It has further undergone an advanced smart contract audit (no issues found) and the founders have not kept any of the tokens for themselves, with 69% going to the staking pool, 29% to the presale, and 2% to DEX liquidity.
In addition, all unsold tokens will go back to the staking pool.
We think this project has excellent future prospects as it takes BTC and places it on a next-gen BNB Smart Chain.
More info can be found on the Whitepaper, Twitter, and Telegram.
| | |
| --- | --- |
| Hard Cap | $6,063,750 |
| Total Tokens | 21 Million |
| Tokens available in presale | 6.125 Million |
| Blockchain | BNB Smart Chain |
| Token type | BEP20 |
| Minimum Purchase | $10 |
| Purchase with | USDT, ETH, BNB, Credit Card |
4. Launchpad XYZ – Innovative Web 3-Focused Future Crypto Project
Launchpad XYZ is a brand-new cryptocurrency project revolutionizing the world of Web 3, making it accessible to an average user. The platform aims to become the central hub for all Web 3 services, offering the best projects in the blockchain space while permitting users to retain full custody over their assets.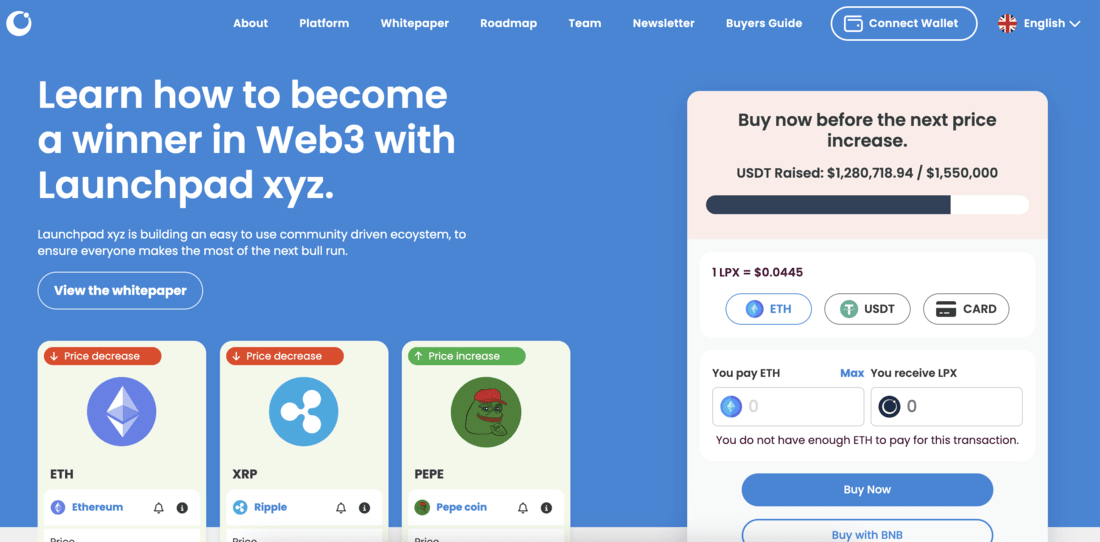 The project's developers plan to reach some ambitious goals by 2025. This includes becoming a top 10 token, achieving a $10 billion market cap, and acquiring ten million users. While this will require assembling a large team, if any project can do it, Launchpad XYZ can become one of the best, if not THE best future crypto project in 2023.
The platform aims to simplify the use of new Web 3 technology by encompassing all NFT marketplaces under one roof and providing a simple user interface. It will also feature its own Web 3 wallet and decentralized exchange and offer expert analysis of market moves so that traders can make informed investment decisions.
As the whitepaper states, the project's Metaverse Experience Library will give you access to every Metaverse platform, exploring different experiences and investment opportunities. Its Play-to-Earn Hub will also let you play engaging games and acquire a potential income in the process.
The project's earnings are quickly increasing, having raised more than $400,000 in the first few weeks of the presale. You can buy its native token, LPX, for only $0.0445 for a limited time, until the price increases by 10% in the next and every subsequent presale stage. Feel free to join Launchpad XYZ's official Telegram channel for more information.
| | |
| --- | --- |
| Presale Started | April 2023 |
| Purchase Methods | USDT, ETH, Transak |
| Chain | Polygon |
| Hard Cap | $12.5 million |
| Min Investment | None |
| Max Investment | None |
5. yPredict – Future Crypto Project Providing Market Predictions With $3.8M Raised in Presale
yPredict is a promising new crypto platform that uses analytic tools and data science to mitigate the complexity of modern financial markets and confidently predict market moves. This gives its native token, YPRED, real utility, as traders can use it to buy subscriptions to predictive models, whereas developers can earn it for selling subscriptions to their products.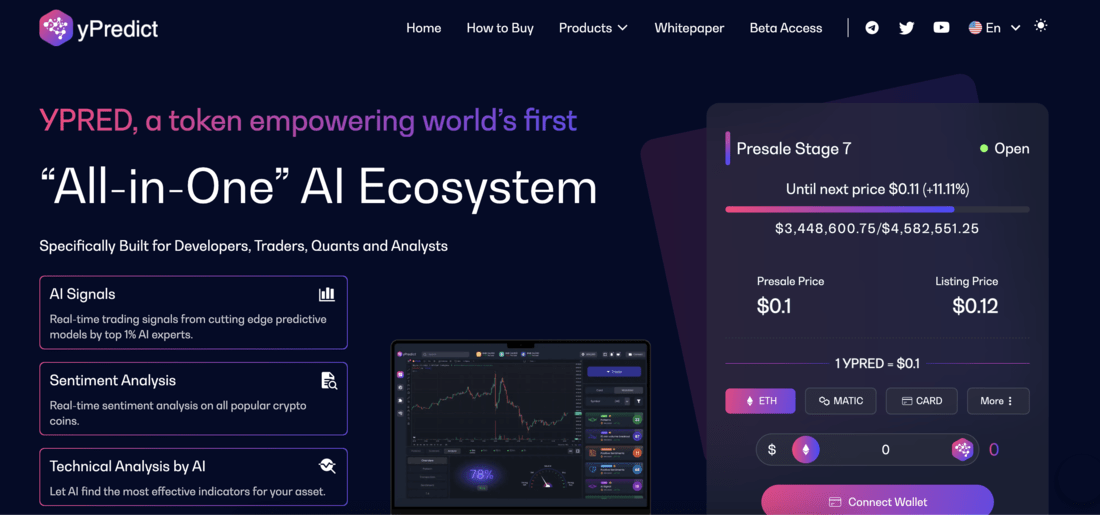 YPRED holders will also have full access to the platform at no additional cost and be able to vote on the models via the DAO voting system. This will ensure only reliable predictive models remain in the Marketplace and give the platform credibility, which can attract more users and potentially increase the project's value.
The other reason yPredict is one of the best future crypto projects is that holders can stake their tokens to ensure a consistent stream of passive income. According to the whitepaper, the platform will draw its liquidity by forming revenue-sharing staking pools consisting of 10% of all subscription charges. This will ensure that the liquidity remains stable.
Moreover, yPredict will limit its token supply to 100 million and unlock half of this amount at the time of listing. This means the project's market cap will be only $6 million, making it an underrated venture with great potential. The platform already has a growing Telegram channel that you can join and learn more.
Although its presale launched in February 2023, yPredict has already earned over $3.8 million. It's still a good time to buy its token. You can get it for only $0.1 at this point, but remember that its price will grow with every new presale stage.
| | |
| --- | --- |
| Presale Started | February 2023 |
| Purchase Methods | ETH, MATIC, USDT, BNB, Card |
| Chain | Polygon |
| Hard Cap | $6,507,511 |
| Min Investment | 200 $YPRED |
| Max Investment | None |
6. XRP20 – Ethereum Based Ripple Variant At 30X Less Than The ATL, Hit 75% of Presale Target in 2 Weeks
XRP20 ($XRP20) is a Ripple-themed token that allows retail investors to get in at a price point that is 30 times less – $0.000092 as opposed to $0.0028, the lowest ever price for XRP.
Retail investors were not permitted to buy Ripples XRP token during its initial ICO, and XRP20 seeks to remedy this with a retail investor focus. While XRP20 bears no affiliation whatsoever with Ripple, both have the same overall supply of 100 billion tokens.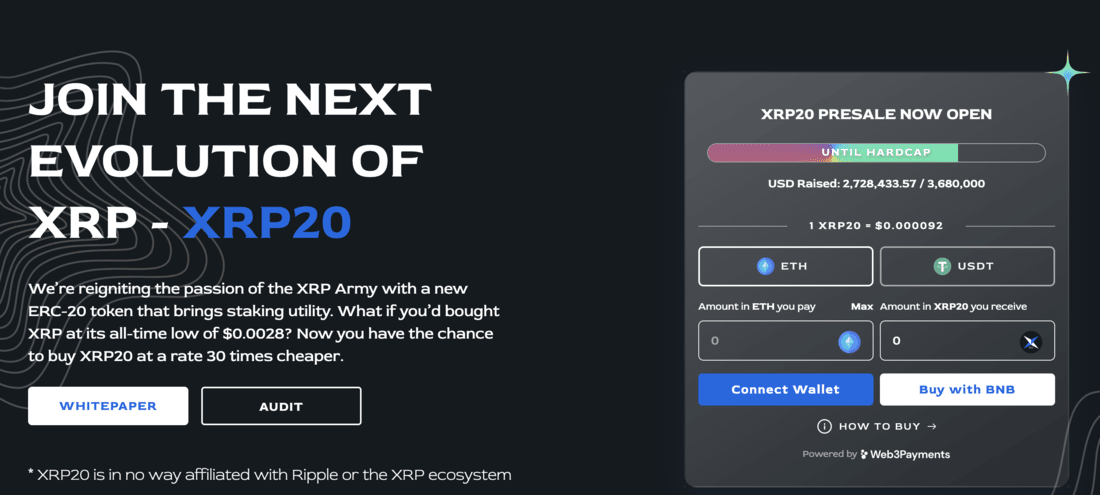 XRP20 goes further than imitating a previously successful token It offers retail investors substantial staking benefits. Not only is the entry price very low in comparison to early stage Ripple, but staking rewards can help to compound the benefits.
There is a deflationary feature in the smart contract that ensures 0.1% of every transaction is burned, while 10% of the supply is also set aside to be burned.
40% (40 billion) of the tokens are allocated to the presale. Another 40% (40 billion) is allocated towards staking. 10% (10 billion) goes towards DEX liquidity while the remaining 10% (10 billion) goes towards the burn allocation. With the original Ripple, the founders kept 20% of the tokens to themselves.
The burning mechanism increases scarcity which can have positive price implications, especially over long time horizons. XRP20 is deflationary in nature, with a burn mechanism that sends 0.1% of every buy/ sell to a burn address.

The presale soft cap is $1,850,000 while the hard cap is $3,680,000. XRP20 has already reached 75% of this amount, at $2.7 million already.
To invest in the XRP token, users will need to have ETH, USDT, or BNB, as well as a Wallet Connect or MetaMask Wallet. You can find out more about the project by tuning in to Telegram or by reading the whitepaper in detail.
As a final note, do keep in mind that XRP20 does not have affiliation with Ripple Labs or the XRP token. The project founders note via the website that the coin is speculative in nature and may rise or fall.
| | |
| --- | --- |
| Presale Started | August 2023 |
| Purchase Methods | ETH, USDT, BNB. |
| Chain | Ethereum |
| Hard Cap | $3.68 million |
| Min Investment | 100 $XRP20 |
| Max Investment | None |
7. Bitcoin – Most Recognized Crypto with the Highest Market Capitalization
Bitcoin was the first cryptocurrency introduced in 2009. Its early presence in the market allowed it to establish a dominant position, making it synonymous with the term "cryptocurrency."
The king coin's widespread adoption has created a network effect. As more users join the network, its utility and value increase, attracting even more users. This cycle reinforces its position as the leading cryptocurrency.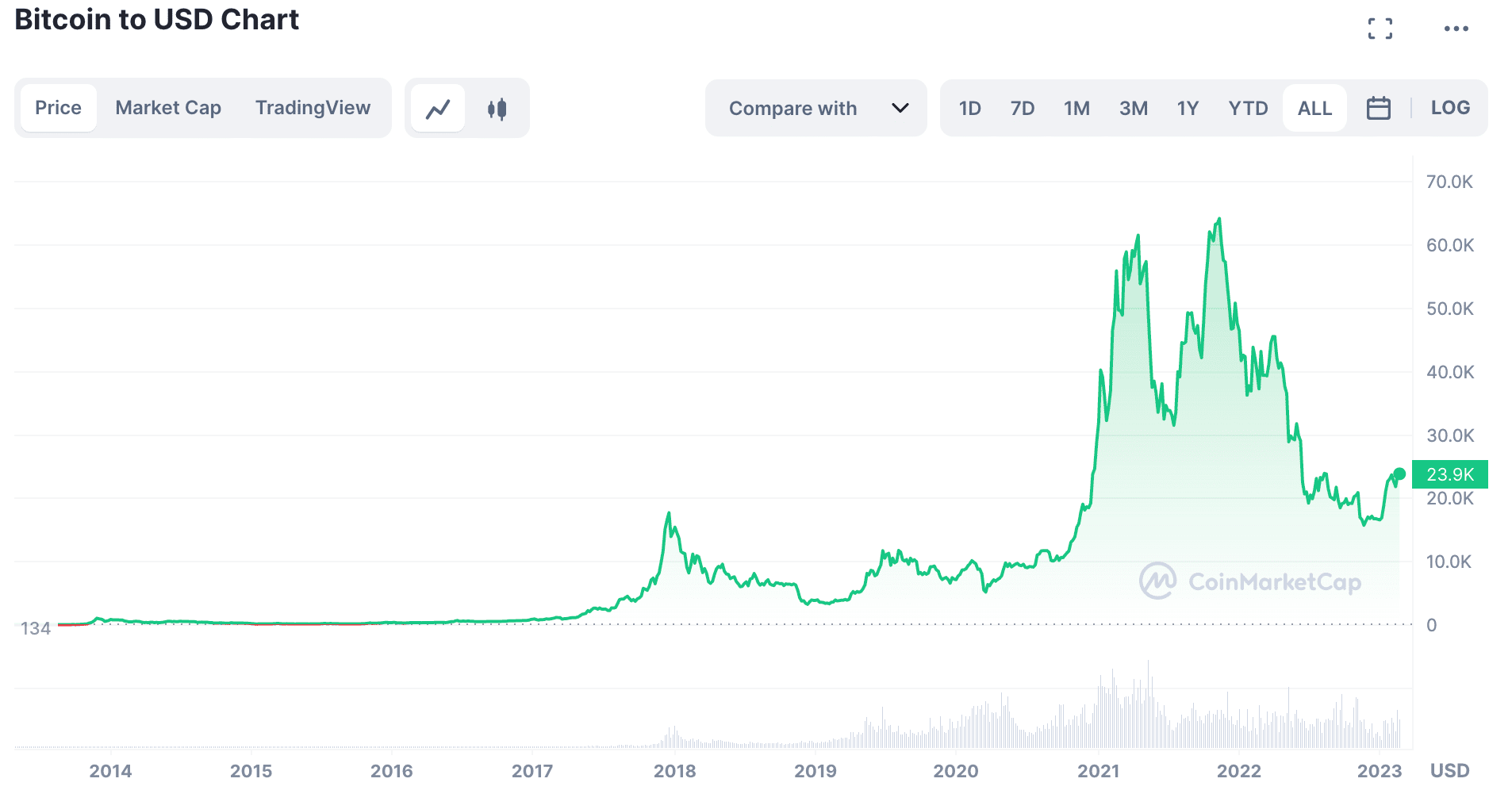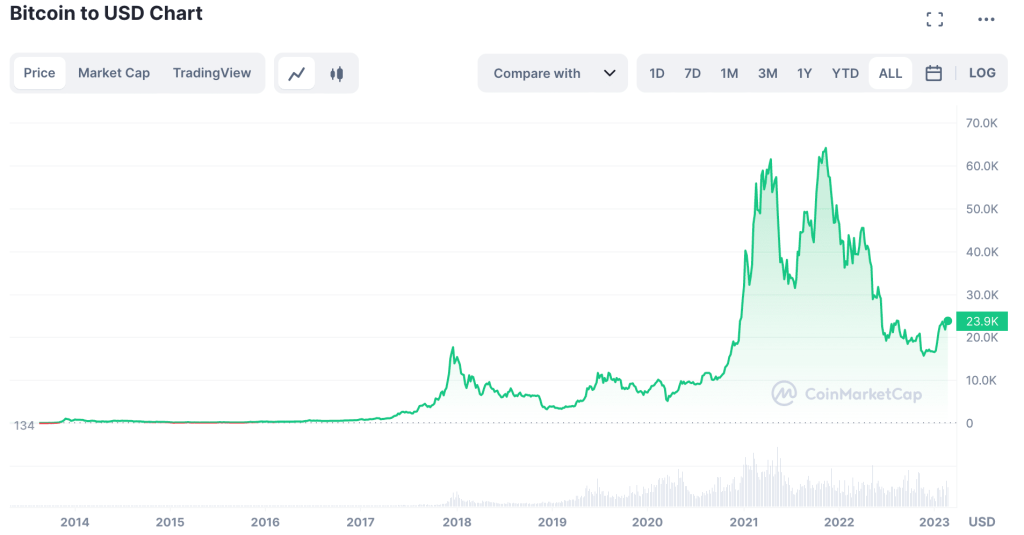 When looking for the best cryptocurrency of the future, it's crucial to factor in security. The Bitcoin network is secured by many miners who validate transactions and maintain the blockchain's integrity. This robust security makes Bitcoin less susceptible to attacks and fraud.
Moreover, Bitcoin is often called "digital gold" due to its scarcity and finite supply of 21 million coins. This scarcity and growing demand have driven its value as a long-term store of value and hedge against inflation.
Crypto assets are highly volatile and unregulated—no consumer protection. Tax on profits may apply. Your capital is at risk.
8. Ethereum – Smart Contracts Platform with a Strong Developer Community
Ethereum is more than just a cryptocurrency; it's a programmable blockchain that enables the creation of decentralized applications (dApps), smart contracts, and token issuance, giving it a wide range of use cases.
It has a thriving ecosystem of developers, startups, and established businesses building dApps, which drives innovation and increases the platform's overall value.
Similar to Bitcoin, Ethereum benefits from a strong network effect. As more users and developers adopt the platform, its utility and value grow, drawing in even more participants.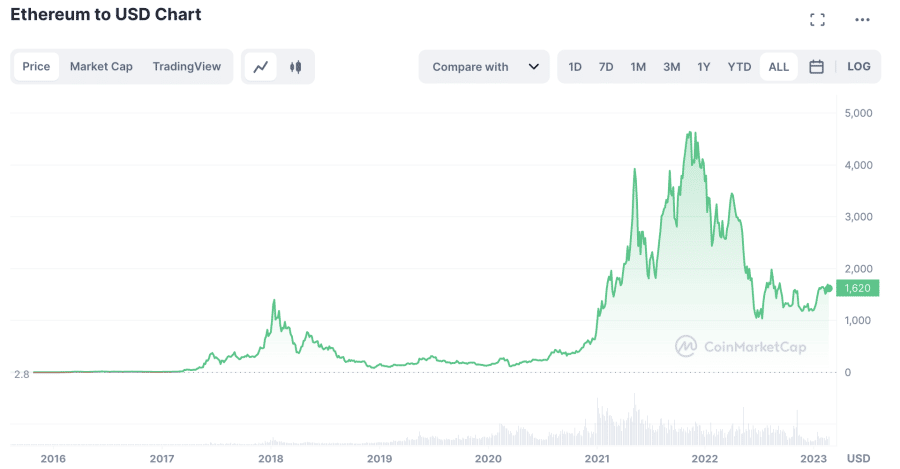 Ethereum is constantly evolving, with upgrades like Ethereum 2.0 making it one of the best crypto 2.0 coins to buy right now, which aims to improve scalability, security, and energy efficiency by transitioning to a Proof-of-Stake (PoS) consensus mechanism.
Additionally, many businesses and organizations accept Ether (ETH) as a form of payment, enhancing its real-world usability.
Ethereum's versatility and extensive ecosystem provide significant potential for growth, making it one of the best crypto to invest in for future returns.
Crypto assets are highly volatile and unregulated—no consumer protection. Tax on profits may apply. Your capital is at risk.
9. XRP – A Fast and Efficient Digital Asset Used for Cross-Border Payments
XRP is designed for fast, low-cost cross-border payments, aiming to replace traditional systems like SWIFT by providing a more efficient and cost-effective solution.
The platform can process transactions in seconds, significantly faster than Bitcoin and Ethereum, making it more suitable for real-time payments and remittances.
Ripple's consensus mechanism allows it to handle a high volume of transactions per second (TPS), rivaling traditional payment systems like Visa.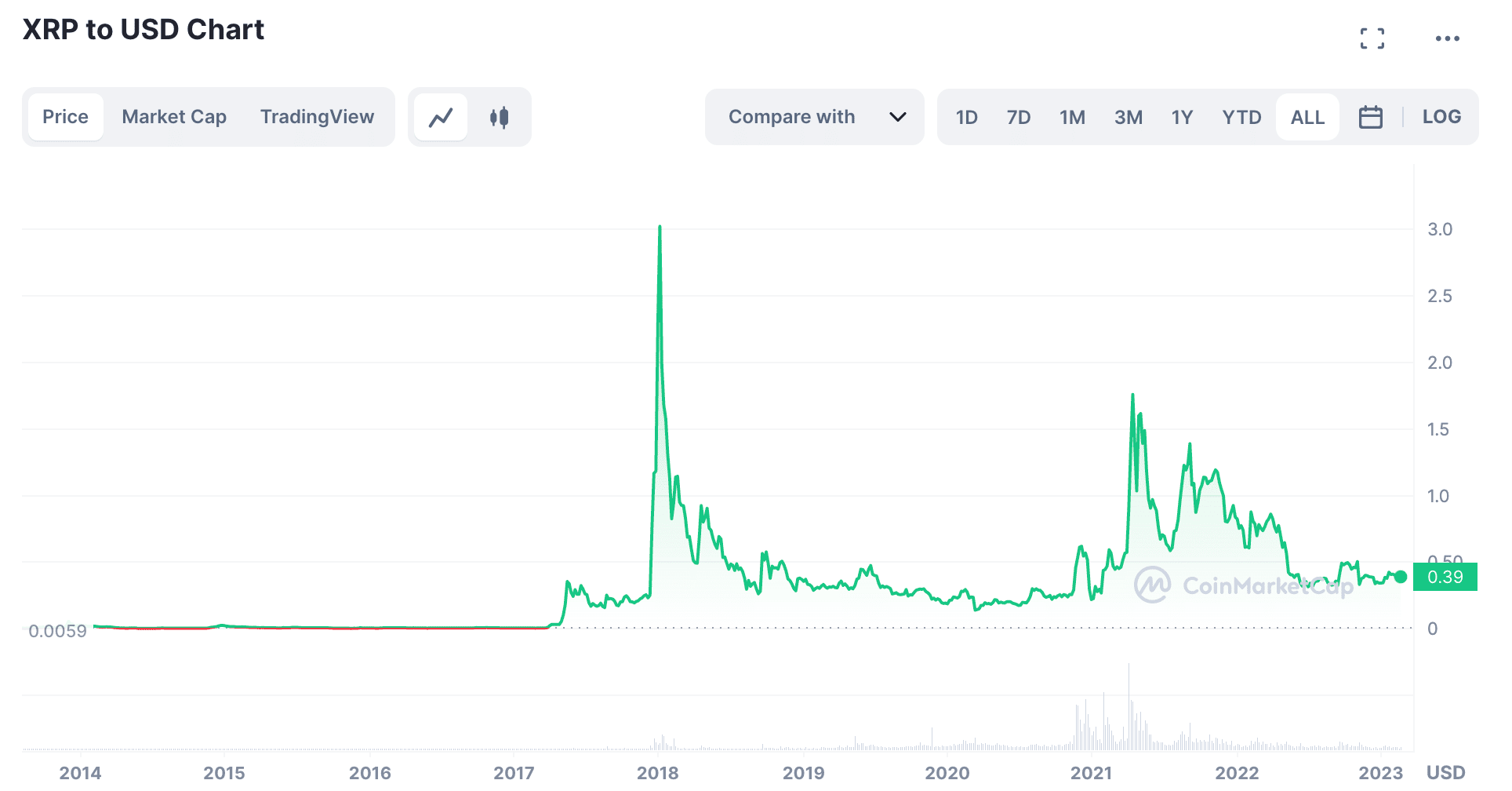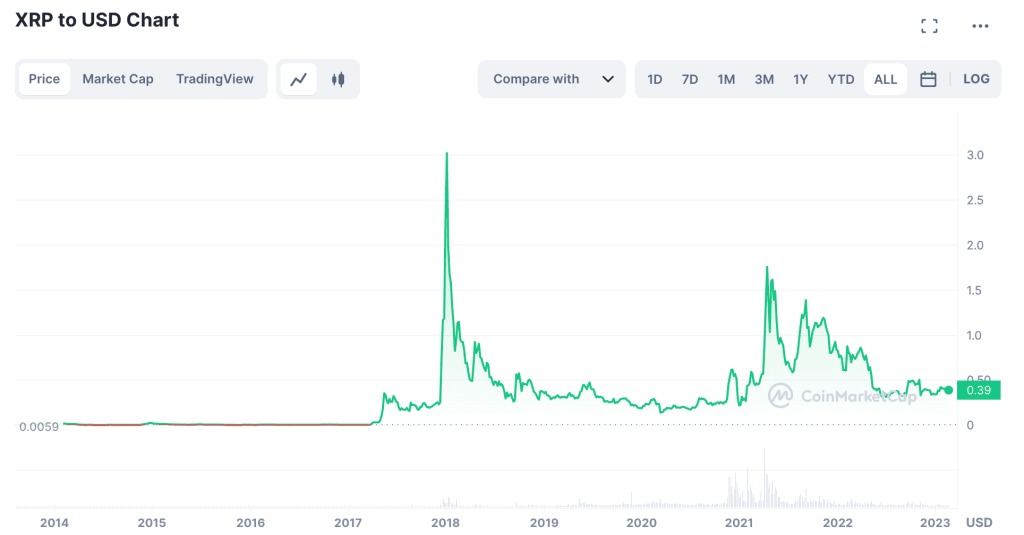 Ripple Labs has established partnerships with numerous banks and financial institutions globally, driving XRP adoption and utility within the financial industry.
XRP's consensus mechanism does not rely on energy-intensive mining, making it more environmentally friendly than Proof-of-Work cryptocurrencies like Bitcoin.
Recently, XRP surged as investors showed optimism that Ripple would emerge victorious in its ongoing legal battle with the SEC, reinforcing confidence in the innovative tech behind the digital asset.
Crypto assets are highly volatile and unregulated—no consumer protection. Tax on profits may apply. Your capital is at risk.
10. Cardano – Sustainable and Scalable Platform for Decentralized Applications
Cardano is the first blockchain platform to adopt a peer-reviewed, evidence-based approach. Researchers and developers collaborated to create a robust and secure platform that evolves with the latest cryptography and blockchain technology advancements.
The unique architecture, which includes the Ouroboros PoS consensus algorithm, enables the network to process many transactions without compromising security or performance. This scalability attracts developers, businesses, and users who seek efficient blockchain solutions.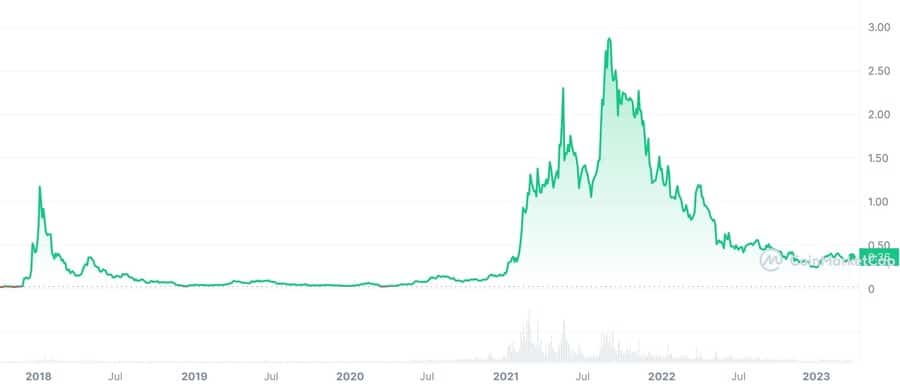 Moreover, Cardano's PoS model is energy-efficient compared to energy-intensive PoW protocols like Bitcoin. This eco-friendly approach appeals to environmentally conscious investors and contributes to the network's long-term sustainability.
The smart contract platform's focus on interoperability allows it to work seamlessly with other blockchains and legacy financial systems. This positions Cardano as a bridge between the traditional and digital financial worlds, increasing its potential for mass adoption.
Crypto assets are highly volatile and unregulated—no consumer protection. Tax on profits may apply. Your capital is at risk.
11. Polkadot – A Multi-Chain Platform that Enables Blockchain Interoperability
Polkadot enables seamless communication between blockchains, including public, private, and permissioned networks. This interoperability positions Polkadot as a key player in the future of the decentralized web.
The platform's multi-chain architecture, which employs parachains and para threads, allows for parallel processing of transactions, significantly enhancing its scalability. This ability to handle high transaction throughput caters to developers and businesses seeking a high-performance blockchain solution.
Polkadot's shared security model also enables parachains to pool their security, ensuring high protection across the entire network. This model eliminates the need for individual chains to develop security solutions, enhancing efficiency and trust.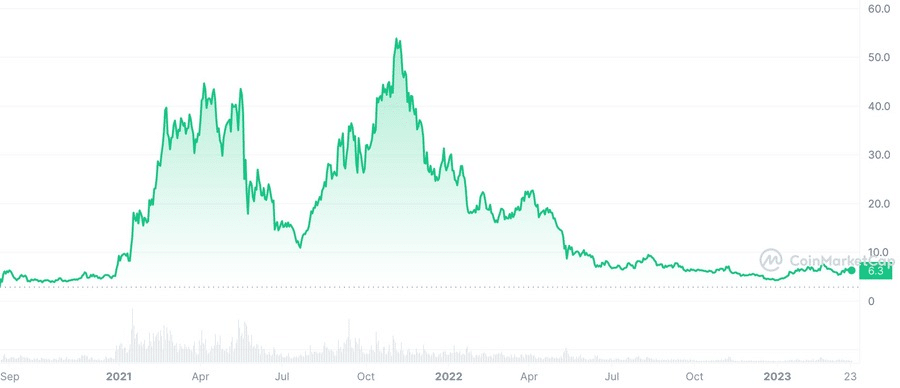 Additionally, Polkadot's Substrate framework allows developers to build custom blockchains tailored to their specific needs. This flexibility promotes innovation and fosters the development of unique applications on the network.
The platform's governance model also ensures token holders have a say in the network's evolution. This inclusive decision-making process encourages community engagement and fosters long-term growth.
All in all, Polkadot's thriving ecosystem includes a variety of projects, such as DeFi platforms, NFT marketplaces, and data storage solutions. This diverse range of applications enhances Polkadot's value proposition in becoming one of the best crypto to invest in for future returns.
Crypto assets are highly volatile and unregulated—no consumer protection. Tax on profits may apply. Your capital is at risk.
How to Find the Crypto Coins with the Best Future
Looking for the best crypto portfolio allocation in 2023?Identifying the best future crypto to buy may seem tricky, but traders can make well-informed decisions on high-potential coins by identifying the key factors listed below. Let's look at essential points to consider when evaluating cryptocurrencies and their crypto future predictions.
Assess the Project and Technology
Traders should carefully evaluate the following aspects:
Whitepaper: A project's whitepaper offers comprehensive information on the technology, goals, and roadmap. Studying the whitepaper is essential to deeply understand the project's potential.
Use Case: Consider the real-world applications of the crypto, as a coin with a strong use case is more likely to have a promising future.
Development Team: A skilled and experienced development team is crucial for a crypto's success. Research the team's background and track record to gauge their ability to deliver on the project's goals.
Monitor Crypto Future Predictions and Price Trends
Keeping a close eye on crypto future predictions and price trends can help traders decide which coins have the best prospects.
Expert Opinions: Follow industry experts and influencers who share their insights and crypto future predictions. These opinions can provide valuable information on potential market movements.
Technical Analysis: Technical analysis involves studying historical price data and patterns to predict future price movements. This method can help traders identify coins with promising growth potential.
News and Market Sentiments: Stay up-to-date with the latest news, developments, and market sentiments in the crypto space. As we all know, positive news can influence the market positively, while negative news can have an adverse impact.
Evaluate the Coin's Community and Ecosystem
A strong community and ecosystem are essential when considering the best future crypto. A coin with an engaged community and a healthy ecosystem are more likely to succeed.
Community Engagement: Active social media presence and community support can indicate a coin's long-term potential. Moreover, engaged communities can help drive adoption and support project development.
Partnerships and Collaborations: A cryptocurrency with strong partnerships and collaborations is more likely to gain industry traction and succeed. Look for coins working with reputable organizations to expand their reach and adoption.
Conclusion
This article discussed the top 11 high-potential cryptos for the future. We also saw how traders and investors could spot them using the key factors discussed. As per our research, Wall Street Memes is the best future crypto to buy.
Wall Street Memes has garnered a passionate one-million community thanks to its previous successes with earlier projects and has managed to raise more than $25 million in less than 12 weeks of the presale.
Currently, buyers can invest in $WSM at a discounted rate before it lists on a major centralized exchange soon after its $30 million presale finalizes.
FAQs
Which crypto has the best future?