Blockchain's impact on online gambling has been massive. Like its influence across various sectors, it brings transparency, security, and decentralization to the gambling world.
From offering community-driven casino experiences to enabling high-stakes bets in blockchain-based sports competitions, gambling tokens are changing how we think about risk and reward.
The online gambling market is rising, with a projected value of $125.6 billion by 2027, growing at a 9.1% CAGR. The transparent nature of blockchain lends itself perfectly to this sector, making gambling tokens an attractive option for investors looking for entertainment with real money rewards.
This guide explores the best gambling tokens, breaking down their features and earnings potential. It also expands on gambling tokens' benefits, legality, and tax implications that can help investors make well-informed decisions.
The Top GameFi Tokens to Buy Today
Here's a quick look at the best gambling tokens of 2023:
TG.Casino ($TGC)

– Best gambling token offering a Telegram-based platform with staking rewards, high-security measures, and a well-planned community-centric token distribution. Its presale raised over $200,000 in less than a week of launch.

Rollbit Coin (RLB)

– Has an extensive range of games for betting with cryptocurrency while offering a user-friendly interface, including crypto trading and an NFT ecosystem.

FUNToken (FUN)

– Emerging gambling crypto in the iGaming sector that uses blockchain to ensure transparency, fairness, and seamless crypto gaming integration.

Decentral Games (DG)

– Offers a decentralized, community-driven casino experience where you can play various gambling crypto games and even participate in governance through $DG tokens.

Exeedme (XED)

– A blockchain-powered platform redefining rules of game monetization, focusing on player empowerment and fair, transparent earnings.

Hamster (HAM)

– A decentralized finance token prioritizing transparency, community trust, and long-term stability for gambling with cryptocurrency.

Dotmoovs (MOOV)

– Blockchain-based sports competition platform with high rewards. It is an alternative to crypto gambling apps where digital rewards are given based on real-world performance.

HEROcoin (PLAY)

– A trending new crypto-based gambling platform initially focused on decentralized fantasy betting. The token has evolved into a multifaceted ecosystem supporting iGaming, NFTs, and metaverse projects.

Decentrahub Coin (DCNTR)

– Redefines the betting experience with its secure, flexible, and transparent blockchain-powered platform. Its multi-utility coin DCNTR can be used to earn staking rewards.
Reviewing the Best Gambling Coins to Invest in
Finding a trustworthy gambling token can be tricky, given the volatility and regulatory challenges in the crypto gambling space.
Let's take a detailed look at the reviews of the best gambling tokens to buy now:
1. TG.Casino (TGC) – New Crypto Gambling Token With Telegram Integration, Now On Presale
TG.Casino is the best gambling token to buy now, combining crypto, Telegram, and online gambling into a unified, licensed platform. Its native token, $TGC, debuted recently at a presale price of $0.125.
One of the platform's top features is its seamless integration with Telegram. It is one of the best Telegram casinos where users don't need to download additional apps; if you already use Telegram, you're good to go. This eliminates the need for lengthy KYC processes, enabling instant deposits and withdrawals.
The TG.Casino presale raised over $200K within a week of launch, making it one of the best Telegram gambling tokens with strong initial investor support.
The platform accepts a range of cryptos like ETH, BNB, and USDT. Moreover, any investment over $5k includes an exclusive NFT and extra bonuses.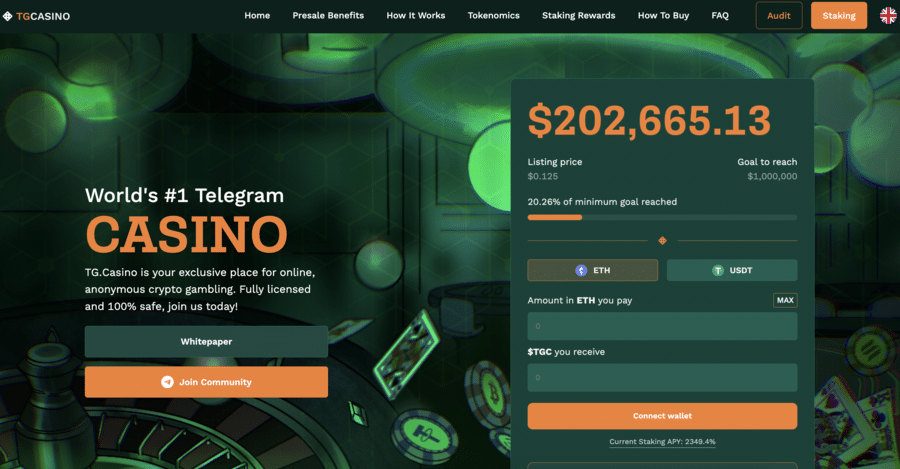 The project aims to redefine the traditional casino model by redistributing its profits through community incentives rather than solely benefiting the house.
According to the TG.Casino whitepaper, the $TGC token offers a range of uses, such as staking rewards and possible integration with affiliated platforms. It offers high staking rewards of over 2100% annual percentage yield (APY) at press time.
It also uses Telegram's robust encryption protocols to ensure a safe environment for transactions and personal data.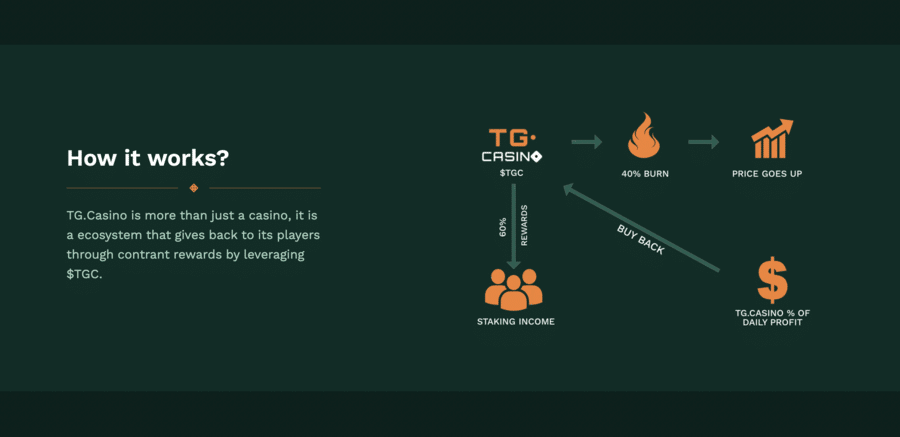 The token distribution is well-thought-out, covering liquidity, staking, rewards, affiliates, and marketing. Out of 100 million $TGC tokens, 40% are allocated for presale, 20% for liquidity, another 20% for staking, 10% for rewards, and the remaining 10% for affiliates and marketing.
Thanks to crypto and Telegram's widespread adoption, TG.Casino can operate in regions even with limited banking infrastructure, democratizing access to online gaming and Telegram gambling.
The $TGC token is currently at its minimum price of $0.125 and will likely increase after its expected listing in the coming months.
For the latest updates, you can enter the TG.Casino Telegram channel, which is one of the best gambling Telegram groups.
2. Rollbit Coin (RLB) – Popular Gambling Crypto With NFTs and Crypto Futures
Rollbit Coin is the next best gambling tokens to invest in, with a platform extending beyond online casinos' traditional scope.
The platform has its exclusive coin, RLB, allowing users to accumulate or win it through regular promotions like the Rollbit Lottery.
With the backing of industry giants like Pragmatic and Evolution Gaming and several unique offerings, it easily ranks among popular gambling tokens in the crypto space. It is also the biggest gambling token by market cap, as per CoinMarketCap's data.
Similar to the best no account casinos, it has a hassle-free sign-up process and does not require KYC for initial registration, although identity verification may be requested later.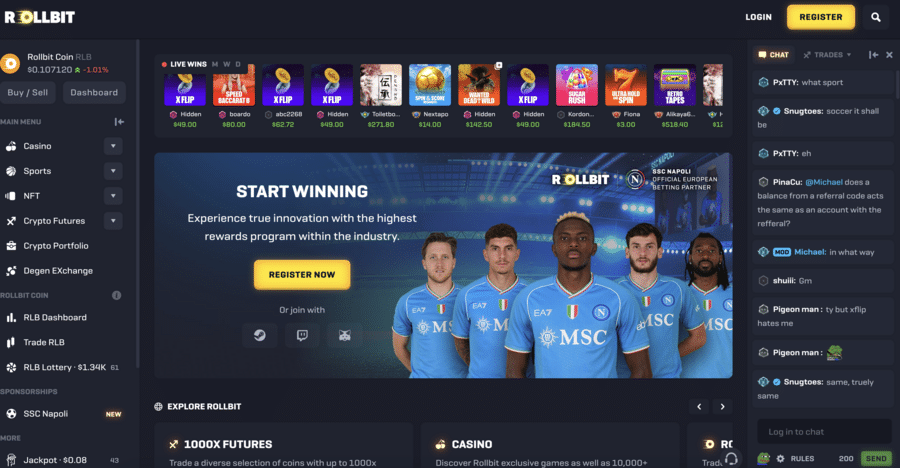 The platform's modern interface, with a scrolling live-win bar and an interactive chat tool, offers an engaging user experience.
With over 3,500 slots, live games, and an inclusive sportsbook offering, it caters to a diverse gambling audience.
While Rollbit may not offer a new user bonus, it does provide a 15% monthly cashback and various other promotions throughout the year.
What makes Rollbit one of the best gambling tokens is its broader range of services. Besides its casino and sportsbook features, the platform includes an NFT ecosystem, enabling users to buy, win, and loan NFTs for USDC.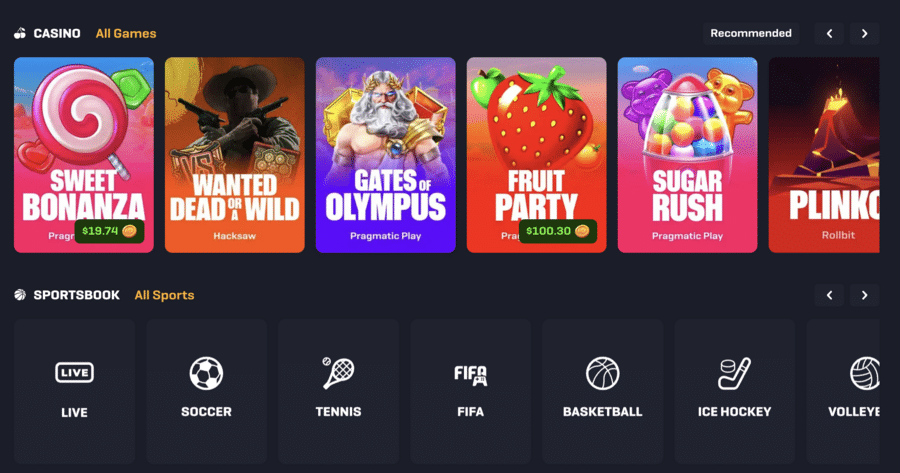 Rollbit also offers a Crypto Futures section, allowing up to 1,000x leverage on prominent cryptos—far exceeding the leverage other platforms like Binance provide.
Moreover, the RLB token is utilized not just for gambling but also in the platform's NFT and Crypto Futures sections, improving its utility.
These factors make RLB a multipurpose asset, increasing its attractiveness to new and seasoned investors.
You can also read our in-depth review of Rollbit to learn more about the platform, its token, and potential alternatives.
3. FUNToken (FUN) – Online Gambling Crypto With Fast, Transparent Solutions
FUNToken is next on our list of best gambling tokens that aims to revolutionize the iGaming space by leveraging blockchain.
It is primarily designed to serve the global gaming community, offering solutions that promise transparency, fairness, and smooth integration with top crypto gaming platforms.
What sets FUNToken apart is its use of the Polygon blockchain for its XFUN token, making transactions faster and cheaper than Ethereum. This makes the token an efficient choice for players and operators in the gaming ecosystem.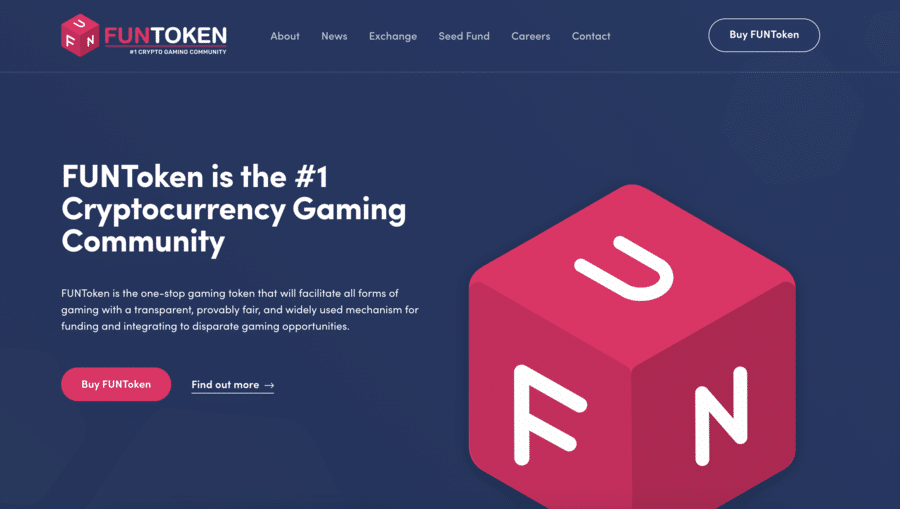 Furthermore, FUNToken already enjoys strong community support, with over 350,000 existing holders. This highlights the token's utility.
FUNToken has developed one of the best Bitcoin Casinos, including a sportsbook named XFUN Bet and a casino for gambling crypto games called DPLAY Casino. They also offer XFUN Arcade, a skill-based crypto-gaming platform.
FUNToken's XFUN and FUN tokens are interchangeable at a 1:1 ratio and can be securely stored in the XFUN Wallet.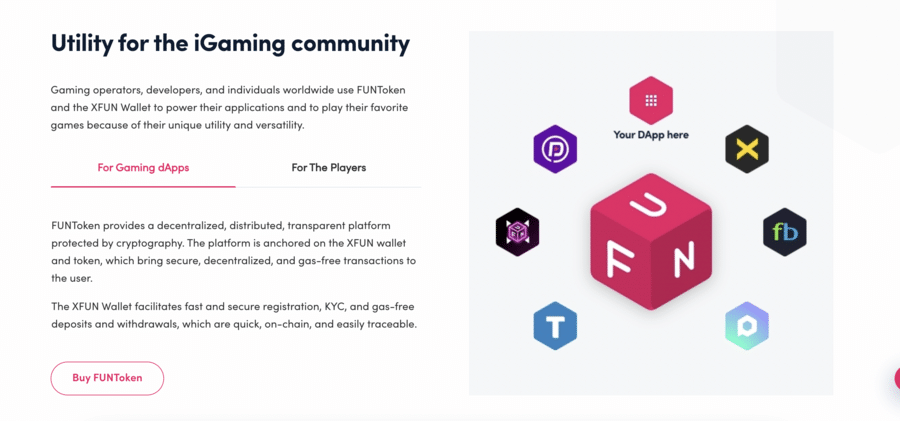 This wallet is non-custodial, meaning users retain complete control over their private keys and, consequently, their digital assets. The wallet supports multiple cryptos, including FUN, XFUN, and other ERC-20 tokens, along with Bitcoin.
FUNToken's blockchain-based architecture ensures robust, transparent transaction tracing and state maintenance. The non-custodial nature of its wallet provides an added layer of security.
It's worth mentioning that FUNToken was founded by individuals with extensive experience in gaming design and development, which gives it a unique advantage over competitors. Unlike many other niche crypto projects, the project has a global presence with offices in multiple countries.
For the latest information, you can enter the FUNToken Telegram channel.
4. Decentral Games (DG) – Metaverse Casino With High Gambling Cryptocurrency Rewards
Decentral Games is one of the best metaverse casinos that aims to solve the concerns with traditional casinos.
Built on the Decentraland metaverse, it offers games like blackjack, roulette, and cash poker in an easy-to-play interface. Players can use various cryptos, such as $ICE and $USDT (Polygon), with the integration of $ETH coming soon.
The platform also features ICE Poker—a unique gambling cryptocurrency game in Decentraland and on any browser without downloading.
Per the Decentral Games whitepaper, the platform offers a variety of casino bonuses tied to different events and activities. initial deposits in $ICE are matched 100%, up to 100,000 $ICE.
Special event and tournament bonuses are other avenues to earn extra credits, each subject to a 1x playthrough requirement.
You can also win prizes, from digital collectibles to high-end gadgets like MacBooks and iPhones.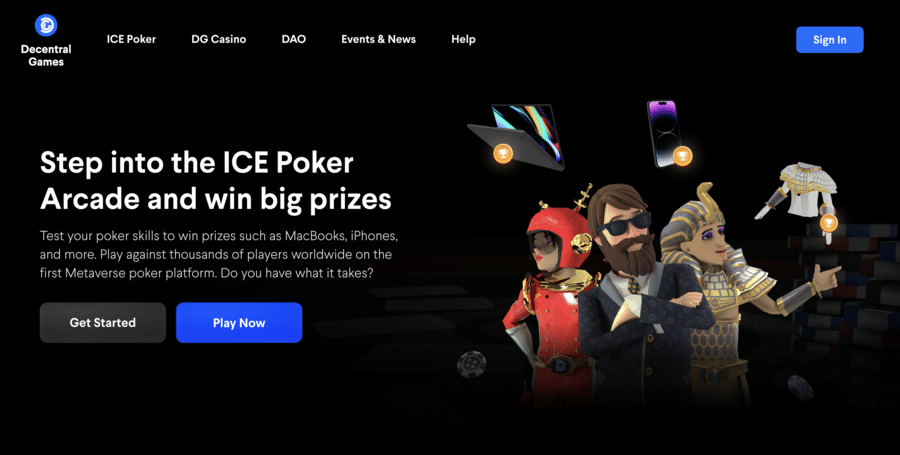 Moreover, Decentral Games stands out for its community-owned structure. Holders of $DG tokens can participate in governance, influencing the platform's growth and future directions.
They can propose and vote on features, game adjustments, and treasury allocations, making it a democratic gaming ecosystem.
This participatory approach is unique to Decentral Games, making it arguably the best gambling token for those who want to play and participate in the decision-making process.
With a focus on governance, the platform's treasury contains diverse assets like $DAI, $ETH, $MATIC, and more.
The revenue generated from casino games and other activities is reinvested into the ecosystem. It creates a self-sustaining loop, making the platform decentralized.
Its innovative, community-centric approach, paired with various games, makes Decentral games an enticing option for anyone interested in gambling with crypto.
5. Exeedme (XED) – Platform With High Online Gambling Crypto Rewards
In traditional gaming ecosystems, only a select few (like professional gamers and streamers) get to monetize their skills.
Many players invest in in-game assets they can't cash in on later. Exeedme seeks to democratize this space by facilitating a peer-to-peer gaming economy.
Using blockchain, the platform bridges the gap between different game universes, allowing the seamless transfer of assets. Unlike traditional setups where your assets stay confined to one game, Exeedme aims for a more versatile digital multiverse.
Exeedme is a tournament platform allowing gamers to challenge each other and wager on outcomes. Players can earn XED tokens and exclusive NFTs based on their performance.
The platform uses the latest mechanisms, like video referees and telemetry, to ensure fair play in gambling with cryptocurrency.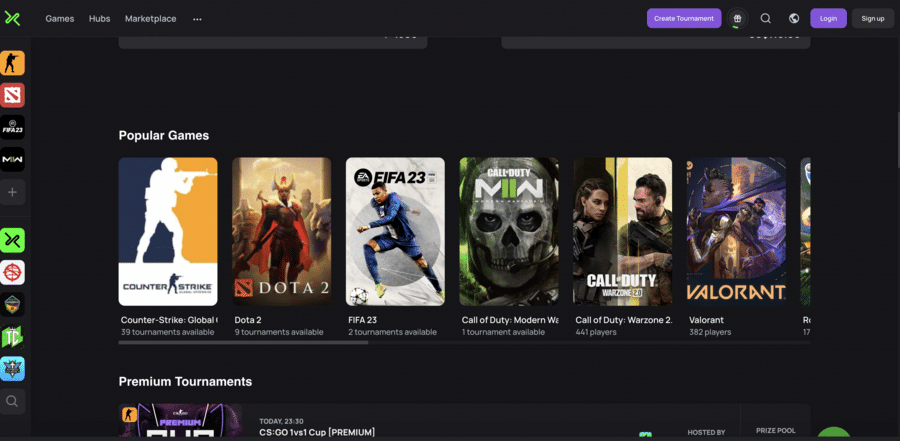 The gaming industry was valued at over $217 billion in 2022. On the other hand, the movies and entertainment market was valued at less than half of it at around $95 billion last year.
Exeedme seeks to cater to this growing market by leveraging blockchain in gaming. It opens doors for monetization possibilities.
Moreover, XED allows access to tournaments, lowers fees, and enables Defi opportunities. Players can also stake XED to participate in governance decisions, impacting new features and reward distribution.
The platform seeks to shift the power dynamics, making gamers the central beneficiaries of their ecosystem. It uses blockchain to monetize skills effectively, disrupting how we perceive value in gaming economies.
6. Hamster (HAM) – Prioritizes Transparency And Trust For Gambling With Crypto
Hamster (HAM) is next on our list of popular gambling tokens. Unlike traditional centralized finance models that depend on trusted intermediaries, Hamster focuses on a decentralized approach.
This crypto project is founded on four pillars: Transparency, Strong Community, Trust, and Longevity.
Hamster uses a unique set of features to secure its ecosystem. These include using cold storage wallets for better security and a diversified token distribution strategy.
Also, Hamster employs fees such as "Marketing Fee" and "Liquidity Fee" to maintain the project's financial stability.
Unlike traditional financial structures that often lack clarity, Hamster offers a decentralized model. It aims to reduce the barriers often associated with centralized financial systems, by reducing the lack of public oversight.

One of the standout features of Hamster is its robust community support. It has a growing community with over a 100,000 holders who connect with the project's values and goals.
Trust is often an issue that investors deal with. Crypto scams and hacking incidents have left many skeptical. Hamster addresses this by providing full transparency in all its dealings, making it a trustworthy project in gambling with cryptocurrency.
Moreover, choosing Binance Smart Chain (BSC) as its base blockchain adds credibility. BSC offers quicker and more cost-effective transactions and provides a solid ground for innovation, making it an ideal choice for Hamster.
7. Dotmoovs (MOOV) – Revolutionizing Real-World Sports With Blockchain & AI
Dotmoovs is a promising alternative to the best gambling tokens, aiming to redefine sports competitions.
Using blockchain, the platform links competitors from various locations for real-world sporting and cultural events.
Unlike conventional virtual games, Dotmoovs focuses on actual physical performance, making it an engaging platform for sports enthusiasts.
The platform employs cutting-edge AI algorithms to analyze participants' videos, from which it determines scores and declares winners.
The GameFi concept combines gaming and finance, offering rewards that can be converted and used outside the platform.
While traditional gaming platforms reward users with points or in-game credits, Dotmoovs provides real economic incentives.
This artificial intelligence extends to features like AI-driven referees and fraud detection systems. Additionally, Dotmoovs uses its native token, MOOV, alongside NFT collectibles to gamify user engagement.
You can win NFTs through competitions, which can be kept, traded, or used to enter future tournaments.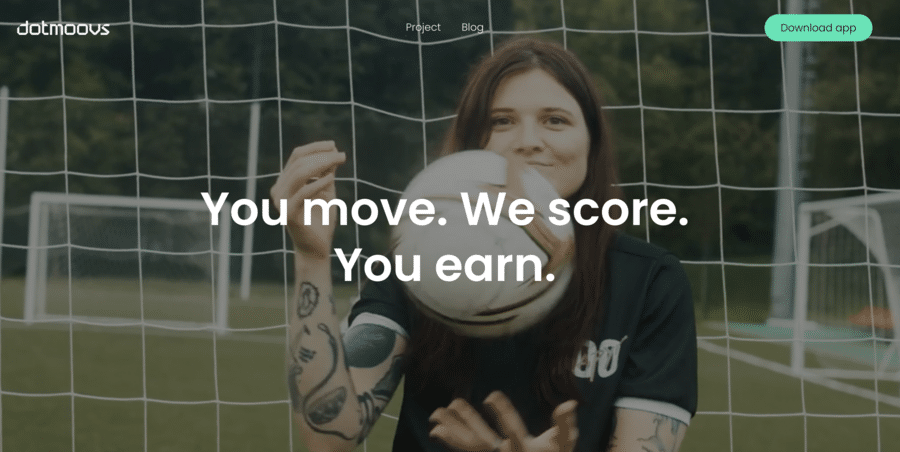 The platform seamlessly integrates technology and real-world sports. It turns sporting competitions into opportunities for earning digital assets.
MOOV has a press time market capitalization of over US$2 million and a circulating supply of 731 million tokens out of one billion. The token is listed on some of the best decentralized exchanges like PancakeSwap.
Also, investors in Dotmoovs include big names like Morningstar Ventures and Rarestone Capital, adding another layer of credibility to the project.
Dotmoovs is a compelling alternative crypto gambling app that bridges geographical gaps and adds a layer of authenticity and engagement often missing in traditional online sports platforms.
8. HEROcoin (PLAY) – Decentralized Gambling Project With A Multi-Use Ecosystem
HEROcoin (PLAY) is an ERC20 token originally designed to disrupt traditional betting systems by cutting out bookmakers. It has created an ecosystem where bettors could challenge each other directly.
The PLAY token is an ecosystem token that extends its utility to fields like esports, NFTs, and metaverse projects.
The company has weathered several storms, including the crypto winter of 2018-2019, which depleted much of its ICO earnings. Yet, it emerged resilient, thanks to an acquisition by Greentube, a subsidiary of iGaming giant Novomatic.
This partnership catalyzed HEROcoin's transition from a single utility token to an umbrella token for multiple projects, fulfilling its long-term vision of becoming the best crypto gambling token.
With regulations becoming clearer, the adoption rate of cryptos like HEROcoin in iGaming is expected to surge in the long term.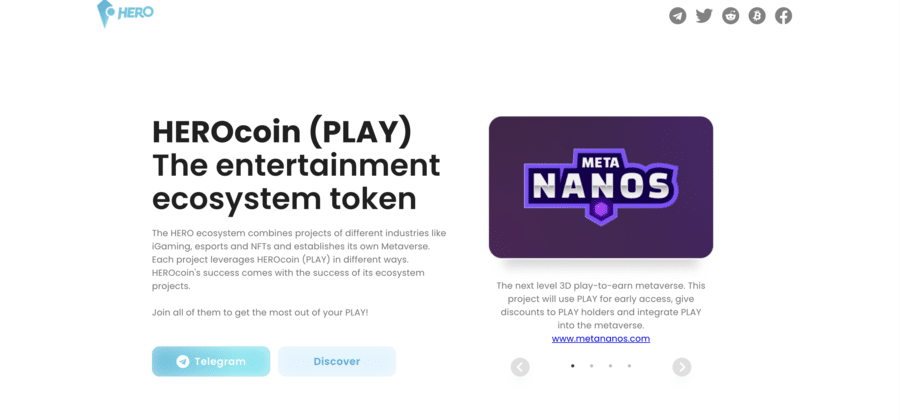 It's not just the iGaming sector that HEROcoin is targeting; the token has found its applications in the gaming industry and is expected to be worth $321 billion by 2026.
With HEROcoin's integration into upcoming updates of projects like Ski Challenge and Players Club and its existing use in META NANOs, an NFT-based open Metaverse of games, it's clear that the token has a broad scope for future development.
HEROcoin (PLAY) is a versatile, resilient, and ambitious project with applications that extend beyond the initial betting setup. Its strategic partnerships, adaptability, and focus on innovation make it one of the best gambling tokens to invest in for those looking at long-term potential and utility.
9. Decentrahub Coin (DCNTR) – Offers A Safe, Real-Time Gaming Experience With Staking Rewards
Decentrahub Coin is an emerging platform that provides a real-time gaming experience and opportunities for transparent betting.
One of the top features of DCNTR is its focus on security. The platform claims to assure complete anonymity and safeguard users' assets by utilizing advanced cryptographic technology.
This is a game-changer for anyone betting with cryptocurrency, where the emphasis is usually skewed towards high returns rather than safety.
The platform allows you to tailor your gaming and betting experience according to your preferences. This flexibility in choosing the odds, players, and wagering amounts places power back into the hands of the consumer.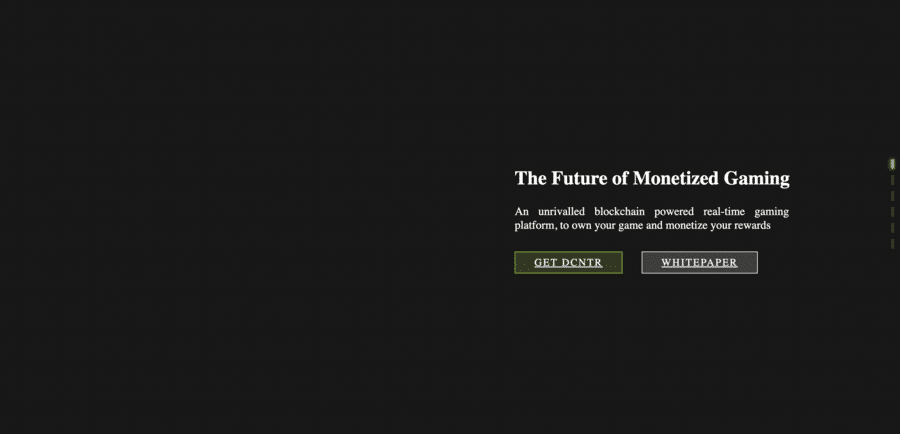 Moreover. every bet is automated, reducing house edge costs and nearly eliminating the chances of fraud. This feature is great for new and experienced bettors, simplifying the process while improving the system's reliability.
A unique feature of the platform is the "Limitless Win," offering no caps on winnings, no taxes, and unrestricted withdrawals. Winnings are disbursed in DCNTR coins, which you can use for further gaming or other investment options like setting up a master node.
The DCNTR token is at the heart of the platform's ecosystem. it's a multi-utility coin you can stake or even use as a digital payment currency.
Its fast transaction speed and unique features like cold staking and Dandelion++ privacy make it one of the best gambling cryptocurrency.
What is a Gambling Token?
A gambling crypto token is a type of digital asset specifically designed to facilitate activities in the online gambling and gaming sector.
These tokens operate on blockchain, allowing for transparent and decentralized transactions. These tokens usually form an important part of a broader ecosystem, where they can be used for various purposes, such as placing bets, earning rewards, or even participating in governance decisions.
Top Features
Transparency and Fairness

: Transactions are recorded on the blockchain,

ensuring transparent gameplay and fair settlement

. For example, users can verify the outcomes of games to confirm they haven't been manipulated.

Immediate Settlements

: Traditional gambling platforms might take time to process winnings, but crypto tokens allow for near-instant transactions.

Low Transaction Costs

: Gambling crypto tokens often eliminate or reduce transaction fees, making it more efficient for operators and gamblers.

Access to Unique Features

: These tokens often come with exclusive features, like high staking rewards or special bonuses.

Community Involvement

: Some platforms allow token holders to participate in governance decisions, from proposing new games to changes in fee structure.

Multipurpose Utility

: Beyond basic gambling features, some tokens may have additional functionalities like integration with NFTs or DeFi platforms.
Examples and Use-Cases
Staking Rewards

: Some gambling tokens offer high APYs for staking. This could be a means to earn passive income.

Seamless Integration with Messaging Apps

: Certain platforms integrate with

popular messaging apps

(e.g., Telegram gambling) to offer an all-inclusive experience, allowing users to gamble without downloading extra software.

Community Redistribution

: Rather than all profits going to the 'house,' the best gambling tokens redistribute earnings among the community of token holders.

NFTs and Bonuses

: In some cases, an investment above a certain threshold may include exclusive NFTs or bonuses.

Global Access

: The decentralized nature of crypto tokens enables people from different jurisdictions, even those with limited banking infrastructure, to access online gambling platforms.
How Does Crypto Gambling Work?
The advent of Bitcoin has revolutionized the online gambling landscape by enabling the rise of crypto casinos.
Crypto gambling operates on similar fundamentals as traditional online gambling but with unique features enabled by blockchain. If you're wondering how to gamble with cryptocurrency, here's a detailed section on how it works.
Account Registration
Anonymous Sign-Up

: Unlike traditional platforms that require personal information, many

top no KYC casinos

allow an anonymous sign-up process. Users create an account using an email and a strong password, with no further personal details needed.

Wallet Integration

: Users can link their crypto wallets to the gambling account post-registration. Depending on the platform's supported currencies, this could be a Bitcoin wallet, Ethereum wallet, or any other

top crypto wallet

.
Depositing Funds
Choice of Currency

: Players can deposit in cryptos, including Bitcoin, Ethereum, or platform-specific tokens.

Transaction Approval

: Some blockchains verify transactions almost instantly. This eliminates the wait time commonly experienced with traditional online casinos that use fiat currencies.
Gameplay
Game Selection

: From slots, poker, and roulette to sports betting, crypto casinos offer many games. Users can even find blockchain-based games where the outcome can be verified for fairness.

Wagering

: Placing a bet is straightforward. Users choose the game and decide the wager amount deducted from their linked crypto wallet.

Smart Contracts

: Some

platforms use smart contracts

to execute the bet, making the process transparent and tamper-proof.
Different Types of Crypto Gambling Games
The best gambling token typically offers diverse options to accommodate various preferences and skill levels, aiming to attract bettors ranging from beginners to experts.
The global blockchain gaming market is expected to hit over $65 billion by 2027, with a CAGR of over 70%. Many crypto-gambling games have emerged as part of this growth, each offering unique gameplay mechanics and potential returns. Here's a brief look at the different types of crypto-gambling games.
Casino Games
Table Games:
Poker

: The most commonly found game in both traditional and crypto casinos. Variants like Texas Hold'em and Omaha are commonly found. Also, video poker variants like Jacks or Better and Deuces Wild are available, often with favorable house edges. Some platforms allow you to play multiple hands simultaneously. You can check out our list of

best poker sites

to know more.

Blackjack

: The best gambling cryptocurrency sites also offer Blackjack, available in various forms such as classic, multi-hand, or live-dealer versions.

Roulette

: Some of the

best Bitcoin roulette sites

offer European, American, and French game variants.

Baccarat

: This game is known for its low house edge and is a trendy choice among bettors.
Live Dealer Games: Human dealers manage the game in real time, replicating the experience of a physical casino. Providers like Evolution and Pragmatic Play are leaders in this space.
Sports Betting
Range of Sports

: Crypto sportsbooks offer odds on multiple sports, including soccer, American football, basketball, tennis, and rugby.

Live Betting

: Some platforms also provide in-play or live betting, where you can bet on games as they happen.
Lotteries, Dice Games, Specialized Games, and More
Many of the best gambling tokens offer many other options for different bettors. For instance, Lotteries allow players to purchase tickets with cryptos, sometimes for as low as $1, and offer substantial prize pools for potentially high returns on small investments.
Dice games, another segment, use blockchain technology to ensure fairness and offer variants like traditional Craps and simplified games like "Roll the Dice."
Specialized platforms present games developed by Spribe, known for their provably fair attributes, including Bitcoin Crash, Keno, Hi-Lo, and Dice.
Some platforms also provide blockchain-based games where assets and progress are transparently stored on the blockchain.
For those interested in skill-based betting, options such as online chess are available, where you can bet on your abilities. Some platforms offer eSports betting, covering popular titles like Fortnite, League of Legends, and CS:GO.
Benefits of Investing in Gambling Tokens
Investing in gambling tokens can offer many advantages. Here's a breakdown of some of the key benefits:
High ROI Potential
Gambling tokens often have a lower entry price, especially during presale stages, which could yield high returns on investment as the platform gains users and recognition.
For instance, TG.Casino's token, $TGC, is available for a discounted presale rate of only $0.125 at the time of writing.
Improved Liquidity
These tokens' decentralized nature provides better liquidity than traditional investment avenues. You can easily trade them on multiple crypto exchanges. This also allows for quick entry and exit strategies, giving you more control over your investments.
Ecosystem Benefits
Owning gambling tokens frequently grants you special privileges within the platform's ecosystem. This might include higher staking rewards, bonuses, or access to exclusive games.
Rollbit's RLB token, for instance, extends its utility beyond gambling to include functionalities in its NFT and Crypto Futures sections.
Diverse Use-Cases
Some gambling tokens offer a utility that goes beyond just betting. They may be integrated into larger NFTs, social networking, or financial services ecosystems. The multipurpose utility increases the inherent value of the token.
Passive Income Opportunities
Staking rewards offer an additional income stream. For example, TG.Casino's $TGC token offers an over 2000% APY at the time of writing. This could significantly increase earnings beyond the gambling wins.
Enhanced Security and Transparency
The blockchain technology underlying these tokens provides security and transparency that is often superior to traditional online casinos. Transactions are traceable, and game outcomes can be verified for fairness.
Are Gambling Tokens Profitable?
Gambling tokens in the crypto space offer a unique blend of investment and entertainment. But are they profitable? The answer is nuanced and depends on utility, adoption rate, and market sentiment. Here's a look at some factors:
Utility

: Tokens with multiple uses typically have a better chance of being profitable. For example, a token that can be staked for high APY or integrated into other financial services like NFTs tends to attract more investors. A high staking APY can provide passive income, making the investment more lucrative.

Adoption Rate

: The value of a gambling token often correlates with its adoption rate. For example, a token listed on multiple crypto exchanges signifies broader acceptance and potentially better liquidity, improving its profit prospects.

Market Sentiment:

The perception of a token in the market can significantly impact its profitability. A strong marketing campaign, celebrity endorsements, or being the first to implement a new feature can drive up a token's price, at least in the short term.

Regulation

: Legal scrutiny can be a double-edged sword. While it may provide legitimacy to a token, making it more appealing to cautious investors, it can also hinder profitability if it is banned or restricted in key markets.

Community

: Active community engagement can also play a role in profitability. Platforms that successfully engage their communities often have more stable and potentially profitable tokens.
Are Gambling Tokens Legal?
Gambling tokens' legality varies significantly from one jurisdiction to another, based on local and international laws governing online gambling and crypto.
Generally, if a casino is licensed by a reputable authority, like the Curacao Gaming Authority, it tends to comply with legal norms applicable to gambling activities. However, the situation is more nuanced when gambling tokens are involved.
Standard casinos require KYC checks to comply with anti-money laundering (AML) laws. However, these AML regulations are often framed with legal tender in mind, not cryptos or gambling tokens.
According to the International Monetary Fund, most countries don't classify crypto assets as legal tender. As a result, these assets are usually exempt from standard customer identification requirements, creating a legal gray area.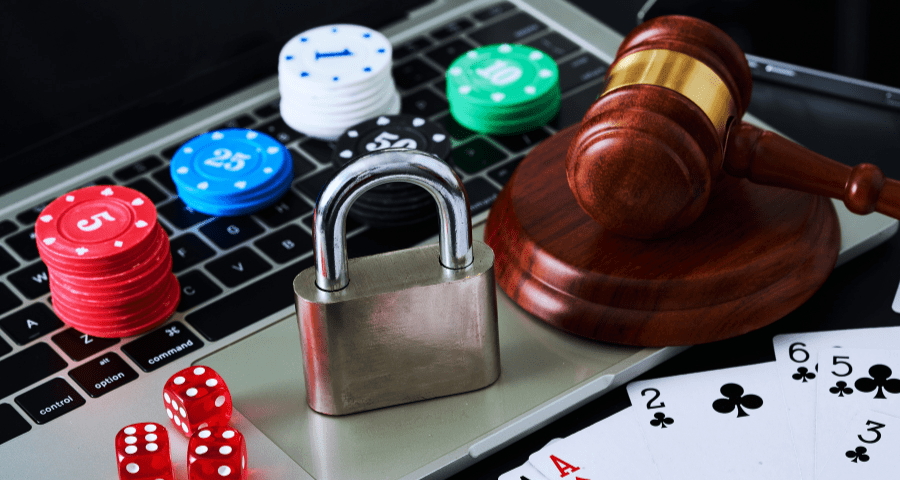 In the United Kingdom, for example, the UK Gambling Commission mandates that all licensed casinos collect and verify customer details using traditional currency before allowing them to gamble.
No explicit guideline for gambling tokens may leave users at risk or free from compliance, depending on how regulators interpret the law.
It's crucial to note that having a license is not a foolproof marker of legality or safety. Players should also assess the casino's reputation and track record, especially when gambling tokens are involved.
Some casinos may be licensed but still engage in unethical practices, including unfair gameplay or unreasonable withdrawal times.
Are the Best Gambling Tokens Taxed?
The issue of taxing gambling tokens is both intricate and evolving. Authorities worldwide are grappling with the tax complexities introduced by crypto assets, which often differ from traditional fiat currencies.
In many jurisdictions like the United States, gambling winnings, including those from crypto-based platforms, are taxed as income.
Here's a basic outline of how taxation on gambling tokens generally works:
Identification of Winnings

: The first step is identifying the amount of crypto you've won. This is usually available in your crypto wallet's transaction history or directly from the gambling platform.

Fair Market Value (FMV)

: The next step is to ascertain the fair market value of the crypto asset at the time of your win. This can be done using data from reputable crypto exchanges like Binance, Coinbase, or Kraken. The FMV is what you report as your gambling income, not the number of tokens won.

Total Winnings Calculation

: If multiple winnings exist, each must be converted into your local currency based on its FMV at the time of the win. The sum of these constitutes your total taxable gambling income for the year.
For Example, if you won 1 Bitcoin when its value was $25,000, your reportable gambling income would be $25,000.
The situation becomes more nuanced when you decide to sell the crypto you've won. You'll either incur a capital gain or a loss based on the asset's value at the time of the sale versus its value when you won it. This will also need to be reported and could affect your overall tax liability.
Importantly, many online gambling platforms usually do not withhold taxes automatically. The individual is responsible for tracking their winnings and calculating the tax due. Due to the volatility of crypto assets, accurate record-keeping is crucial for correct tax reporting.
Conclusion
This article highlighted the best gambling tokens with unique features like high staking rewards, community involvement, and NFT offerings, among other perks.
A common link among these gambling tokens is their ability to democratize access to gaming and streamline transactions.
Among these tokens, TG.Casino token is the best gambling token that offers a seamless blend of crypto, Telegram integration, and online gaming. It also offers staking rewards with an APY exceeding 2100% at the time of writing.
Its presale has secured over $200,000 in less than a week of its launch, showing strong initial investor support. Buyers can grab the $TGC tokens for a presale price of $0.125 at press time.
References
FAQs
Are there legit gambling tokens?
What is the best gambling token to buy right now?
What is the best crypto gambling game?
Can you make money with gambling tokens?
Are gambling tokens legal?