An ICO, or initial coin offering, is an event where a newly launched project sells a cryptocurrency to raise funds.
Investors are often drawn to ICOs because they offer the opportunity to get in on the ground floor of a new and exciting crypto project, with discounted tokens also usually offered to build anticipation, kickstart development and raise capital.
However, finding the best upcoming ICOs in the market can be a challenge as they represent a much riskier proposition when compared to investing in established projects that have entrenched markets.
In this guide, we highlight the best crypto ICOs for 2023 – so that investors can choose an early-stage project that best fits their preferences, as well as offer tips on how to find them.
The Best Upcoming Crypto ICOs This Year
Let's take a quick look at the best crypto ICOs for 2023:
Wall Street Memes

– Meme coin founded by a well-known crypto and finance meme brand. The token is inspired by the Wall Street Bets Reddit group, aiming to 'tokenise the movement'. It has over 1 million followers, and its ICO has raised over $2 million in less than a week.

Ecoterra – Eco-friendly crypto project where users can earn token rewards simply for recycling household waste such as plastic bottles or cardboard boxes and further fund green projects. $4.5 million raised in a month since ICO launch.
yPredict – Crypto trading platform that utilizes artificial intelligence and machine learning to help traders make smarter decisions and maximize profit-making potential. Closing in on $1.9m during its ICO.
DeeLance

– New decentralized platform aiming to drag the freelance economy into Web3, offering lower fees and cutting out intermediaries, as well as rapid and guaranteed payment through escrows – $1.2m raised.

Launchpad XYZ – Crypto project that aims to act as a bridge between Web2 and Web3 and drive mainstream adoption into crypto by acting as a gateway portal – almost $900k raised in its ICO.
AiDoge – Sold out crypto ICO that is now heading for its IEO having reached its $14.9 million hard cap in four weeks. Excitement building as the project combines two of the hottest trends in the space – generative artificial intelligence and meme coin potential.
Doge Rush – P2E Single-Player cryptocurrency game where users can earn rewards such as NFTs. Buy $DR on presale for $0.0055 per token.
Scorpion Casino – A Next-Gen crypto betting platform that provides passive rewards for all holders that increases with platform usage.
RobotEra

– Another crypto game, this has metaverse and world-building elements where players are able to monetize the world of Taro in multiple ways, from selling virtual property to hosting ticketed events. $1 million raised so far.

Pikamoon

– Pikamoon is a P2E game inspired by Pokemon. Its native token, $PIKA, is its main currency, used to access free NFT characters, make purchases in the marketplace, and more.

Swords of Blood – Exciting crypto role-playing game being developed by an established team with an impressive track record, with the game also free-to-play. $1.1 million raised during the ICO.
SOLA-X – A smart liquidity protocol that aims to transform how automated market makers are designed within the Solana ecosystem, although a minimum $10,000 investment is needed.
KryptView – Research-to-earn platform that rewards users who provide access to fundamental data and information on cryptocurrencies, rather than just technical analysis of charts.
Incentive – Another survey platform, although more geared to serious ones than Love Hate Inu, Incentive allows users to earn INC tokens for filling out surveys.
Analyzing The Best Crypto ICOs to Invest in
New cryptocurrencies are entering the market almost every week. Therefore, to spot the best crypto ICOs, investors must set aside sufficient time for research and conduct their due diligence.
Some of the main factors that need to be considered include the main goals of the project, whether it is a reasonable solution to a real-world issue, its roadmap, target market, tokenomics and other unique features.
With this in mind, we have ranked and reviewed the best crypto ICOs that investors should keep an eye on in 2023.
1. Wall Street Memes – Meme Coin Founded By a Well-Known Crypto and Finance Meme Brand
One of the most challenging things for any ICO is getting recognised by the masses. However, the Wall Street Memes presale had a massive head start as it entered its ICO with over one million followers.
$WSM is a meme coin created by the Wall Street Memes brand, born from the Wall Street Bets Reddit community. The team previously started the Wall St Bulls NFT project in 2021, which sold out in 32 minutes. Now, the team aim to 'tokenise the movement', enabling everyday investors to get rich off 'useless meme coins'.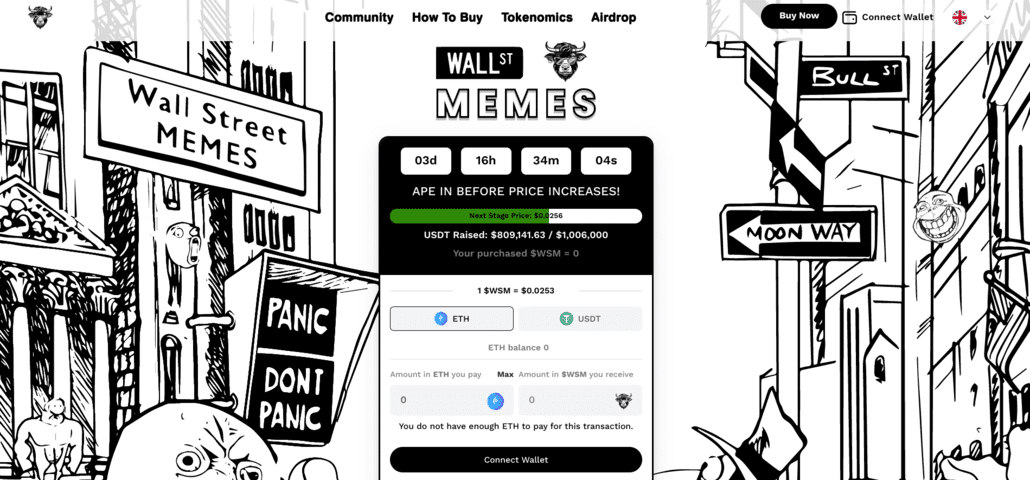 The project is meant to go against the norms of traditional finance and so far has seen significant support from the community – raising over $2 million in less than a week. Its explosive start immediately puts the project in contention for the best ICOs to buy.
While all presales come with risk, meme coins are community-driven tokens, so Wall Street Memes' large community puts it is at an immediate advantage.
Currently in its stage five presale, priced at $0.0256, the price will incrementally increase through 30 ICO stages.
The presale has a hard cap of $30,577,000, with 50% of its two billion total supply available to buy throughout the event. The remaining tokens are allocated to community rewards and liquidity.
In celebration of its launch, the Wall Street Memes team is running an airdrop for $50k worth of $WSM. Users must complete a series of simple tasks to become eligible; find out more on the project's Discord.
On top of its strong community, Elon Musk has also notably engaged with the Wall Street Memes Twitter account on multiple instances. As our Wall Street Memes price prediction mentioned, this could significantly impact the project's success, particularly in the next meme coin bull run.
| | |
| --- | --- |
| Presale Started | 25 May 2023 |
| Purchase Methods | ETH, USDT |
| Chain | Ethereum |
| Hard Cap | $30,577,000 |
| Min Investment | 100 $WSM |
| Max Investment | None |
2. Ecoterra – New Green Crypto Project with an Altruistic Goal
Although the crypto market boasts numerous projects that offer inventive financial applications, only a small number of them focus on philanthropic objectives that contribute positively to the world. Nevertheless, an increasing trend shows that several crypto investors are redirecting their focus to projects that aim to make a positive difference in the world.
Ecoterra is a recently established blockchain venture that endeavors to motivate users and companies to fight climate change. It has a range of applications and marketplaces that function cohesively to create a comprehensive system aimed at helping stakeholders make a favorable impact on the environment.

One of its remarkable features is the Recycle2Earn app, which offers ECOTERRA tokens to users who recycle items through the platform. These tokens can be held, staked, or spent again to further support eco-friendly initiatives such as green energy projects and cleanup drives.
The Recycle2Earn app is a means for users to earn tokens and is also connected to their user profiles, which record their environmental actions.
Similarly, companies can establish their impact trackable profiles, allowing them to purchase impact packages composed of different material types from users to offset the adverse environmental impact of production. Thus, all stakeholders can demonstrate their dedication to sustainability.
As per the ecoterra whitepaper, its platform comprises several notable attributes, including the carbon offset and recycled materials marketplaces. The carbon offset marketplace allows both individuals and corporations to use ECOTERRA tokens to offset their carbon emissions by supporting verified and high-quality eco-friendly projects worldwide.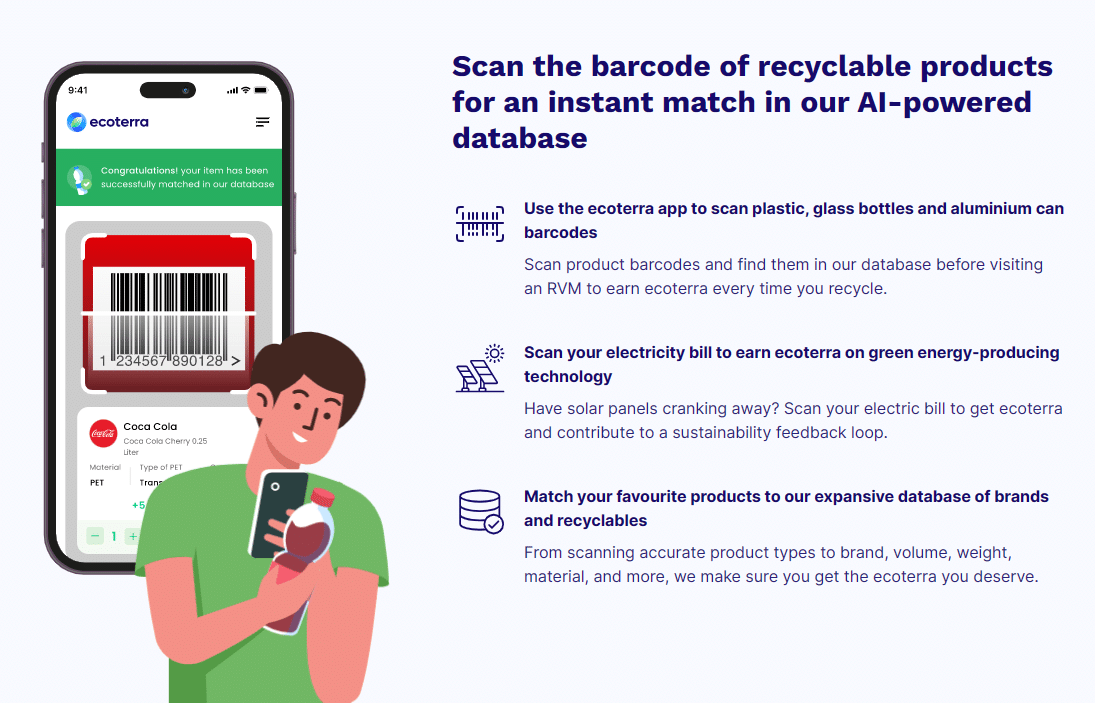 These accomplishments can be converted into NFTs, which can be earned by supporting eco-friendly initiatives. The recycled materials marketplace is designed for businesses to explore recycled materials, collaborate with recyclers, and more.
Ecoterra is at the forefront of the industry, exemplifying how decentralized technology can be employed to make a positive impact on the world. The diverse features are well incorporated, and there is a high likelihood that ecoterra will inspire a new trend of similar crypto ventures. Users can consider entering the ecoterra Telegram channel for the latest updates.
The project has already raised more than $4.5 million during its ICO in just a month and presale purchasers can also take advantage of a 5% USDT affiliate program.
| | |
| --- | --- |
| Hard Cap | $6,700,000 |
| Total Tokens | 2,000,000,000 |
| Tokens available in presale | 1,000,000,000 |
| Blockchain | Ethereum Network |
| Token type | ERC-20 |
| Minimum Purchase | $10 |
| Purchase with | USDT, ETH, Bank Card |
3. yPredict – AI-Powered Trading Terminal now in ICO Phase
yPredict is offering its native $YPRED tokens during an ICO which is already in stage 6 with almost $2m raised so far.
The tokens are used for the yPredict trading terminal, which operates from a freemium model with three different tiers offering access to different features and analytical insights from the protocol.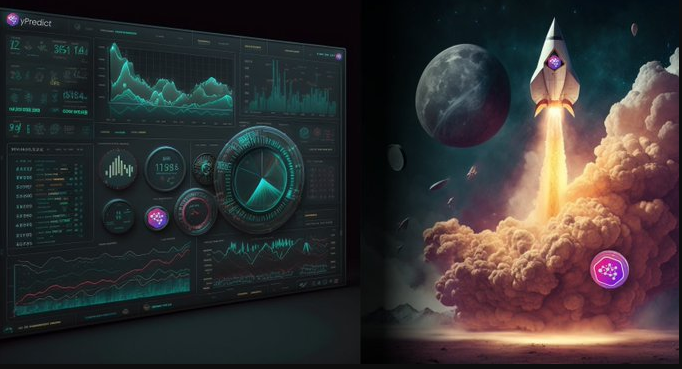 [/su_note]Although tokens cost $0.9 at the time of writing, they will rise by 33.3% to $0.12 when they list on exchanges – with BitMart already confirmed as one CEX listing. [/su_note]
yPredict will help crypto traders maximize their profit-making potential and make better-informed decisions by providing a wide range of data and metrics and the ability to build and develop AI-powered predictive models based on machine learning.
The yPredict AI will also provide pattern recognition, transaction analysis, sentiment analysis and indicator analysis, while users can offer their predictive models to other users and earn from them based on their performance.
The yPredict team is doxxed and KYC-verified and is comprised of an experienced team of professional quants and traders, software developers and machine learning experts.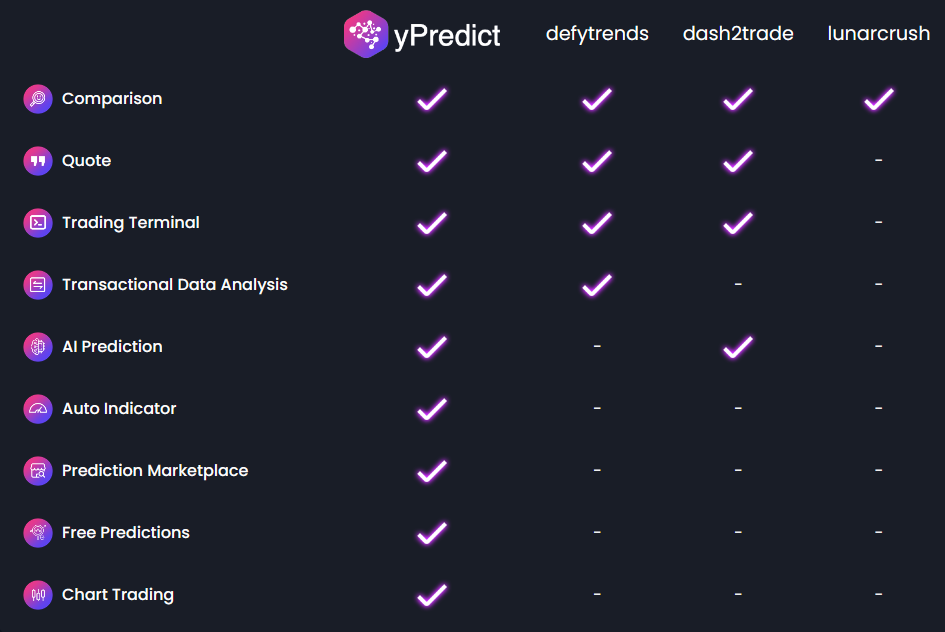 Of the 100 million max supply, 80% has been made available during an eight-stage presale, with 50% of those to be unlocked during the token generation event and 50% to have a six-week lock and six-month vesting period.
Read through the yPredict whitepaper for more information on the terminal, or join the Telegram group.
| | |
| --- | --- |
| Presale Started | Q1 2023 |
| Purchase Methods | MATIC, ETH, USDT, BNB, Card |
| Chain | Polygon |
| Hard Cap | $6,500,000 |
| Min Investment | 200 YPRED |
| Max Investment | None |
4. DeeLance – Platform Tokenizing Freelance Work Products into NFTs
DeeLance is poised to reshape the freelance and recruitment landscape by capitalizing on blockchain technology's transformative power via its ICO.
The platform is built on the Ethereum blockchain and utilizes its native token ($DLANCE) to offer enticing rewards to early investors during a three-stage presale. Now in the second phase of the ICO, $DLANCE tokens can be bought for a mere $0.038 each and rising to $0.05 for its exchange listing.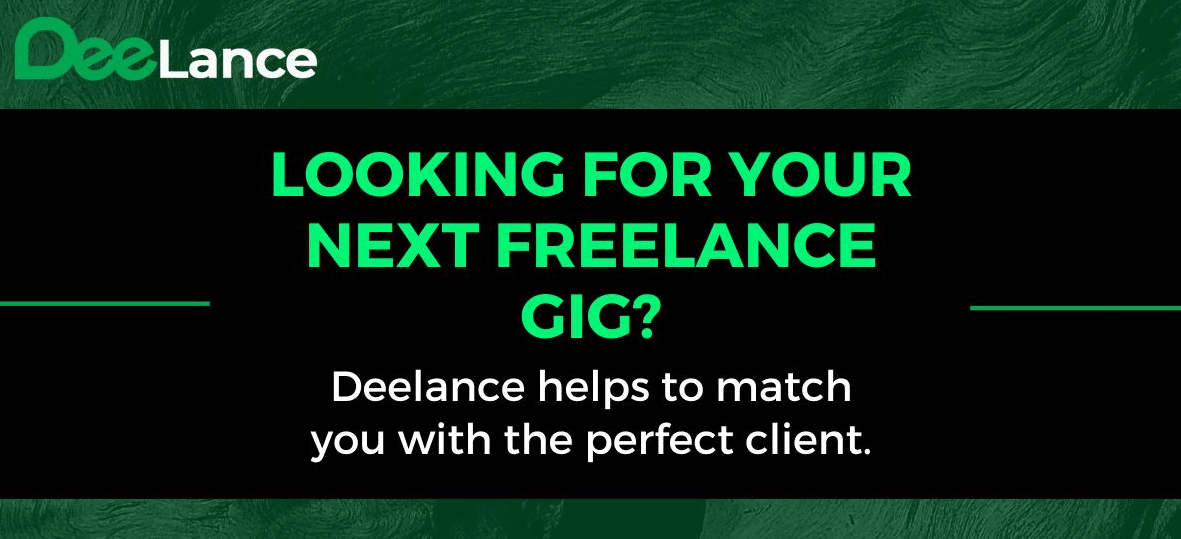 The $DLANCE token holds value within the DeeLance metaverse and NFT marketplace, where it can be exchanged for office leasing, advertising, and more services. The primary objective of DeeLance is to challenge the established leaders in the global HR and recruitment industry.
DeeLance leverages the metaverse, NFTs, and decentralized networks to optimize the hiring process for all parties by ensuring payment security and safeguarding intellectual property. The platform features lower fees, expedited payments, and a secure escrow account to protect funds.
By integrating NFTs, DeeLance embodies digital work ownership, which instills confidence in hiring managers and guarantees payment for freelancers.
Moreover, the platform's client fees stand at 2%, and freelancer fees at 10%, which are below industry averages. Furthermore, there are no restrictions on task size, currency conversion times, or withdrawal amounts.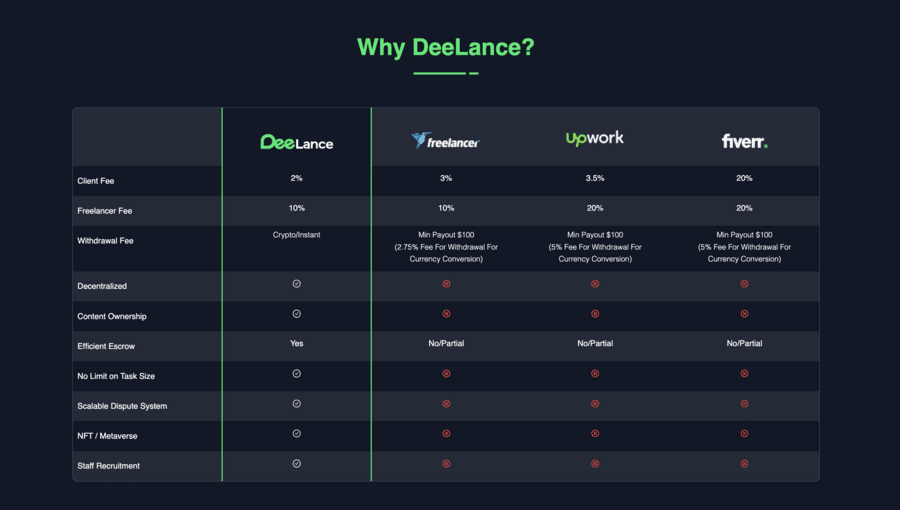 As the DeeLance whitepaper describes, the platform's core functionalities seamlessly accommodate NFTs and the metaverse. Freelancers can securely store their work as NFTs on the platform, preserving privacy until payment is received. Smart contracts are employed to handle transaction logic, effectively eliminating the need for intermediaries.
Overall, DeeLance's offerings are built upon three fundamental elements: an NFT marketplace, a metaverse, and a hiring platform, all tailored to enhance the freelance experience.
The integration of the metaverse envisions a future where NFTs signify ownership and serve as the foundation for avatars interacting in virtual spaces. Within DeeLance's virtual world, freelancers and businesses can connect, collaborate, offer services, and promote their offerings.
The ICO has so far raised more than $1.2m since launch with presale buyers also utilizing a 5% referral program – those interested can subscribe to the DeeLance Telegram channel to stay informed on the latest developments.
| | |
| --- | --- |
| Hard Cap | $6,000,000 |
| Total Tokens | 1,000,000,000 |
| Tokens available in presale | 300,000,000 |
| Blockchain | Ethereum Network |
| Token type | ERC-20 |
| Minimum Purchase | $10 |
| Purchase with | USDT, ETH, Card |
5. Launchpad XYZ – High Potential ICO Driving Mass Adoption to Web3
Launchpad XYZ is another high-potential ICO that has only just started and aims to drive mass adoption of users from Web2 to Web3.
The site will have a myriad of features that will make navigating Web3 easier for crypto users – both new and experienced ones – by acting as a one-stop gateway portal to other destinations. More than $800k has been raised in the presale so far.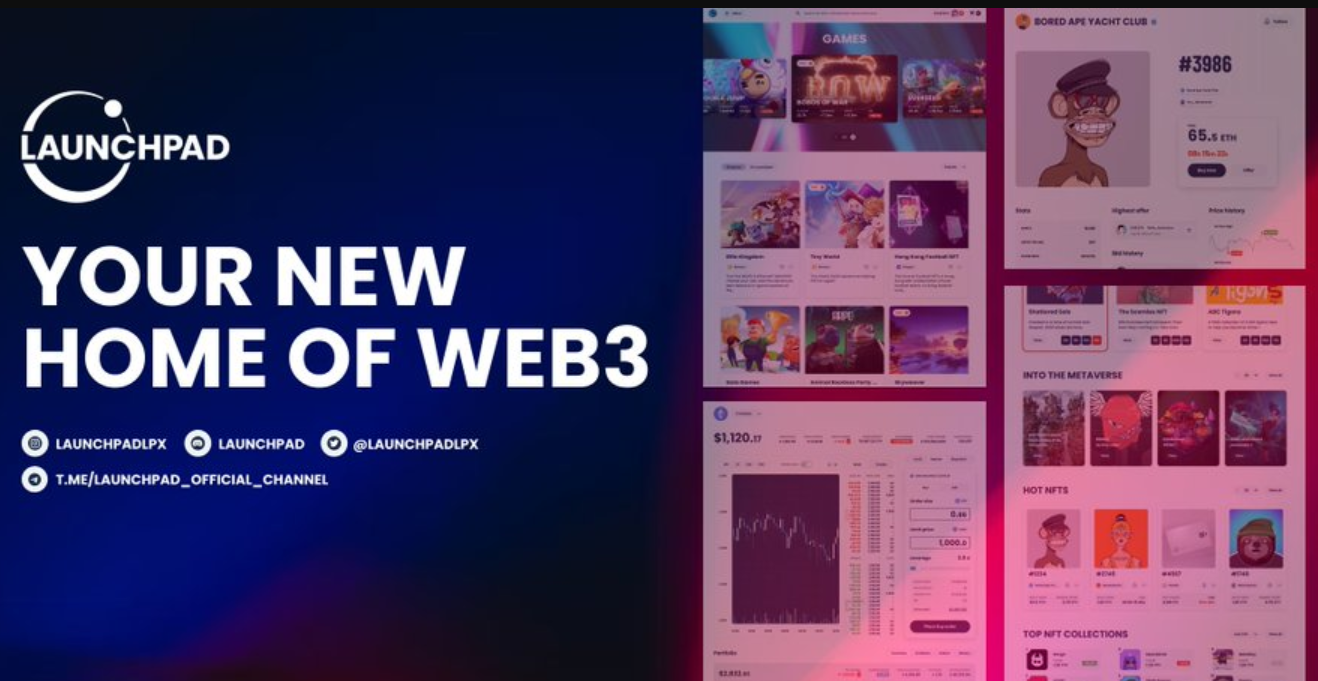 Crypto adoption continues to rise, but still only represents a small minority of the global population, with many potential users put off by the high level of technical knowledge needed to operate in the space.
There are a wide variety of wallets, protocols, dApps, exchanges and marketplaces where users can trade crypto, play games or purchase items with tokens and Launchpad XYZ wants to help users by granting easier access.
The platform, which will incorporate its own Web3 crypto wallet, will also provide a wide range of information, live data and unbiased insights to help provide an unbiased view of the space for its users.
Launchpad XYZ features include a trading terminal, decentralized exchange, NFT marketplace, crypto gaming hub, fractionalized assets and even whitelist places to select new crypto presale projects.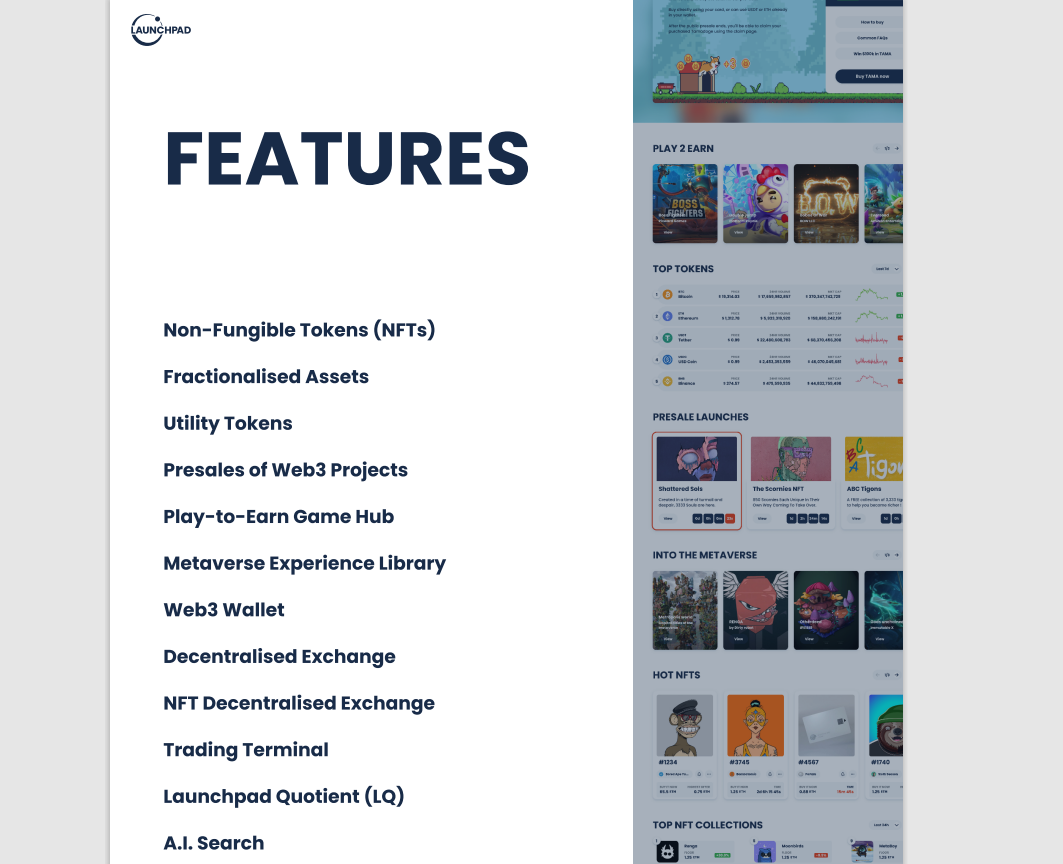 The LPX token ICO has just started stage 2 where tokens are available for $0.0445, rising to $0.07 in the final round.
The project has been developed by an experienced and doxxed group of founders, with 250 million (25% of max supply) available to purchase during the ICO with no vesting period and a hard cap of $12.5 million.
LPX tokens are used in a variety of ways in the platform, including for staking, which grants the ability to sell NFTs, trade tokens or gain access to presale projects.
Read through the Launchpad XYZ whitepaper or join the Telegram group for more info on the project.
| | |
| --- | --- |
| Presale Started | 26 April 2023 |
| Purchase Methods | ETH, USDT, BNB, Card |
| Chain | Ethereum |
| Hard Cap | $12,500,000 |
| Min Investment | 100 LPX |
| Max Investment | None |
6. AiDoge – Sold Out ICO Heading for Exchanges
AiDoge is another exciting project as it has combined two of the crypto niches that are set to explode in the next bull run – artificial intelligence (AI) and memes.
The project sold out its $14.9 million ICO hard cap in just four weeks with $AI tokens now heading for an imminent listing on exchanges.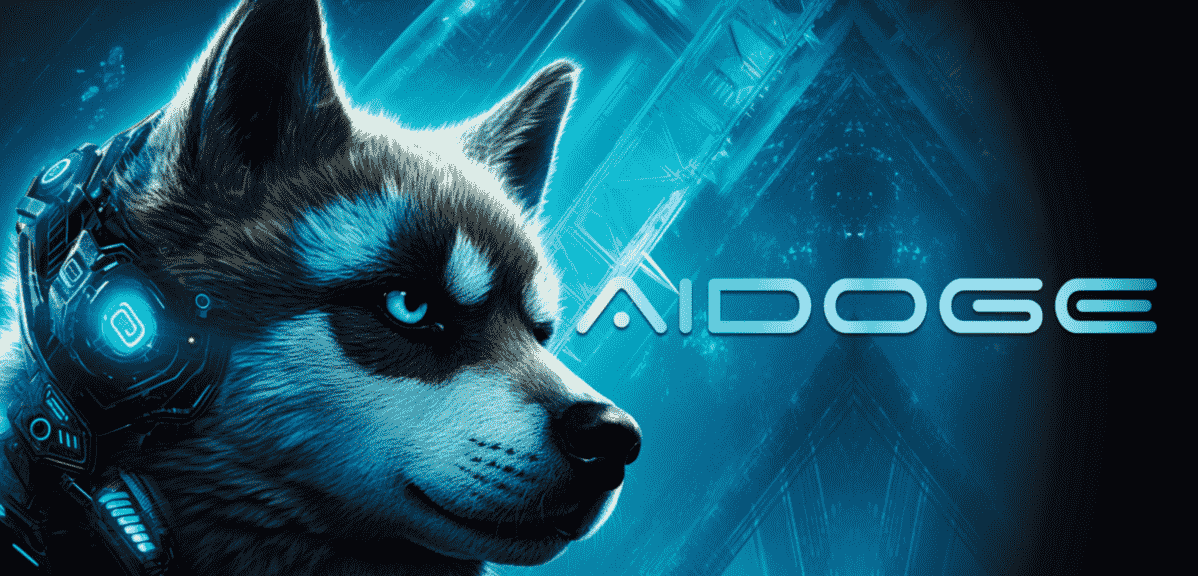 The two asset classes have enjoyed a stunning start to 2023, with numerous projects seeing huge gains, including the likes of AI project SingularityNET (650%) and meme coin Pepe (330%).
AI is the single biggest trend in the whole investing space right now, with Big Tech giants such as Meta, Google, Apple and Amazon in an arms race to develop AI programs after the explosion in popularity of OpenAI's ChatGPT.
AiDoge aims to capitalize on this interest and has developed a platform that will allow users to create memes with generative AI from text prompts.
Users then vote on the memes, with the most upvoted and shareable winners seeing the creator rewarded with the native $AI token – which, as an ERC-20 token, can also be staked to generate APY.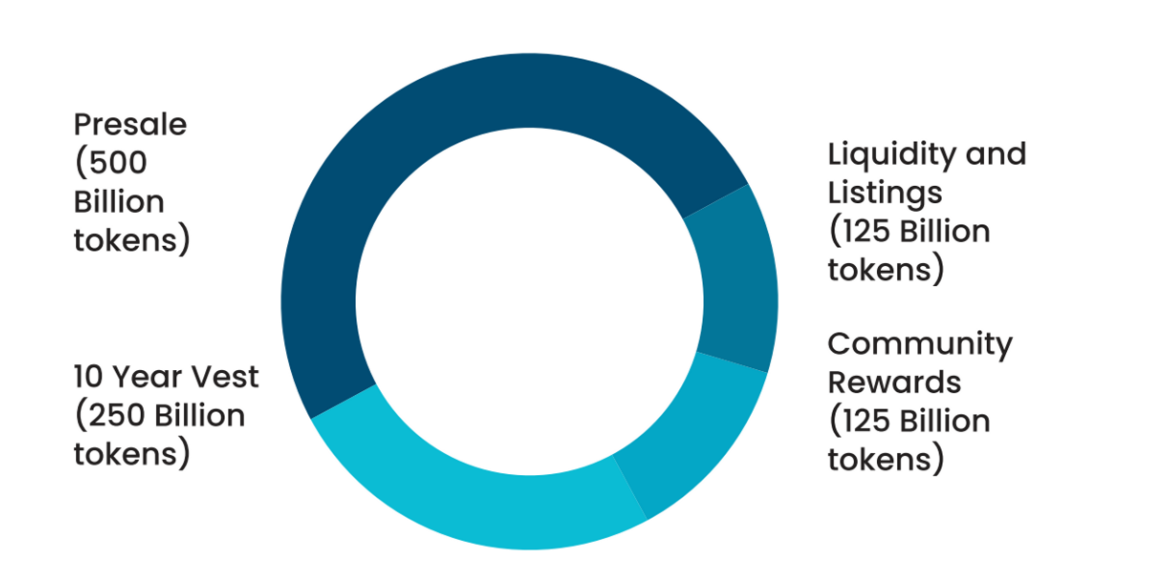 Although the AiDoge team is anonymous – not uncommon for meme projects such as Dogecoin and Shiba Inu which have provided huge returns for investors over the years – the $AI token smart contract is undergoing its audit with reputable security firm Certik. Team tokens are also locked for 10 years, highlighting their long-term commitment to the project.
They made 50% of the 1 trillion max supply available to purchase during the presale, with no vesting period.
Join the Telegram group for the latest news on the IEO listing or read the AiDoge whitepaper for more info.
| | |
| --- | --- |
| Presale Started | 25 April 2023 |
| Purchase Methods | ETH, USDT, BNB Credit Card |
| Chain | Ethereum |
| Hard Cap | $14,900,000 |
| Min Investment | 100 $AI |
| Max Investment | None |
7. Doge Rush – New P2E Single-Player Meme Cryptocurrency
$DR is a new cryptocurrency and the native token of the Doge Rush ecosystem. This platform offers play-to-earn (P2E) gaming opportunities and daily competitions events.


Currently, $DR is available to buy through the ongoing ICO. The token has a total supply of 2 billion tokens, 1 billion of which has been allocated for the ongoing presale.
During the ongoing presale phase, the token is priced at $0.0055 per token. By the final presale round, the price will jump by 80% to $0.0099 per token.
Once the presale ends, another 20% of the token supply will be released during the exchange listing. This utility token can be used within DogeHub, the gaming platform.
On the platform, users can engage in side-scrolling games which are reminiscent of popular games such as Subway Surfers and Sonic Dash. But, the game features Elon Musk and doge as playable characters.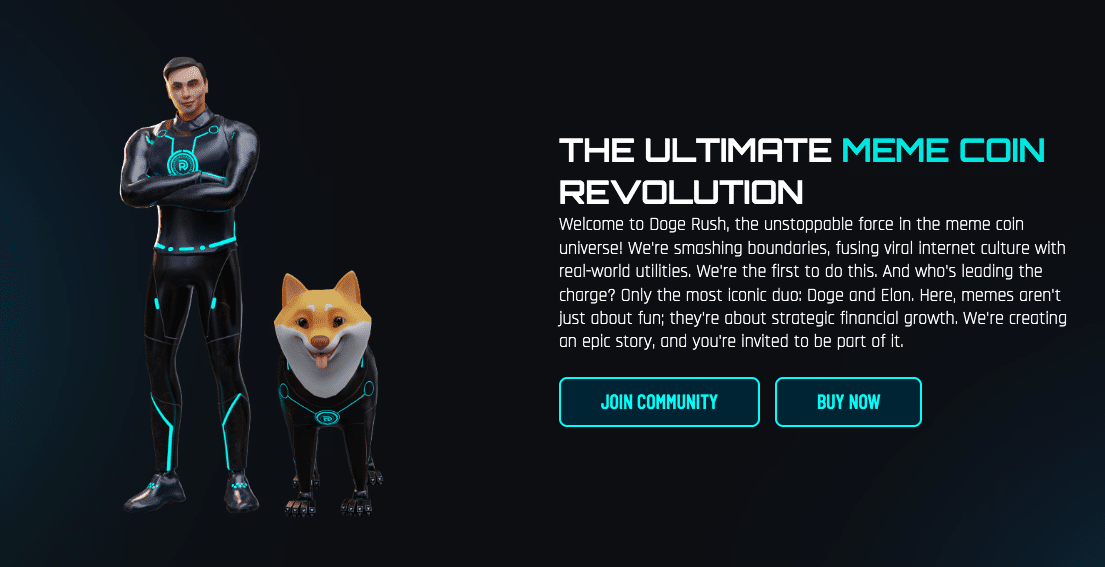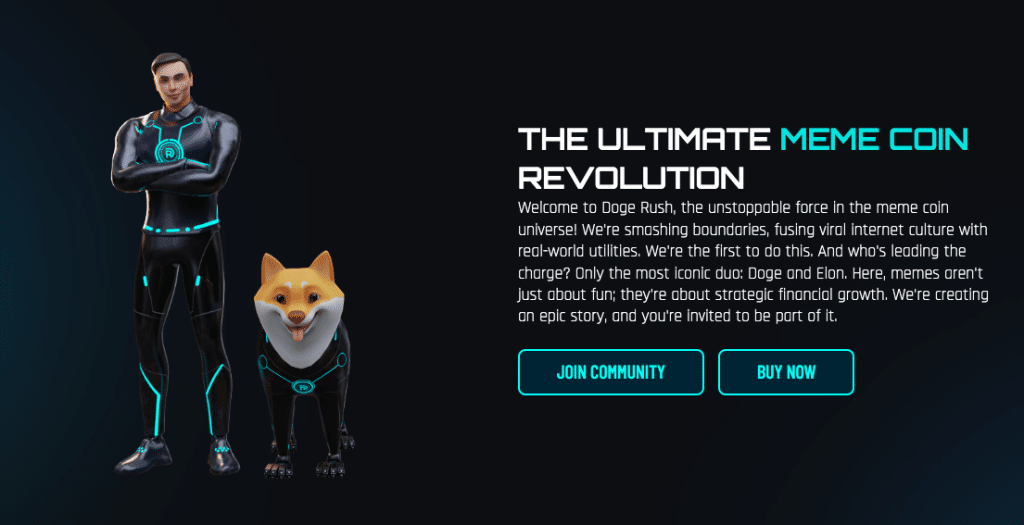 Users can earn coins while playing the games and use tokens to buy NFT skins on the Doge Rush marketplace. Through the DogeWin platform, users can also take part in hourly competitions and raffle events.
This platform has raised more than $330K since the start of the presale. Read the Doge Rush whitepaper and join the Telegram group to learn more about the project.
| | |
| --- | --- |
| Presale Started | Q2 2023 |
| Purchase Methods | ETH, USDT |
| Chain | Ethereum |
| Min Investment | N/A |
| Max Investment | N/A |
8. Scorpion Casino – A Next-Gen Crypto Betting Platform

The crypto casino market has been on the up-and-coming for the past few years, with many projects becoming enormously popular in a short span of time. However, there's one new project and platform that looks like it's going to shake up this niche heavily.
This project is Scorpion Casino, a betting platform that is leading the sector into the future. The basic premise of this project is to offer users a seamless and fun gaming experience that allows everybody to earn.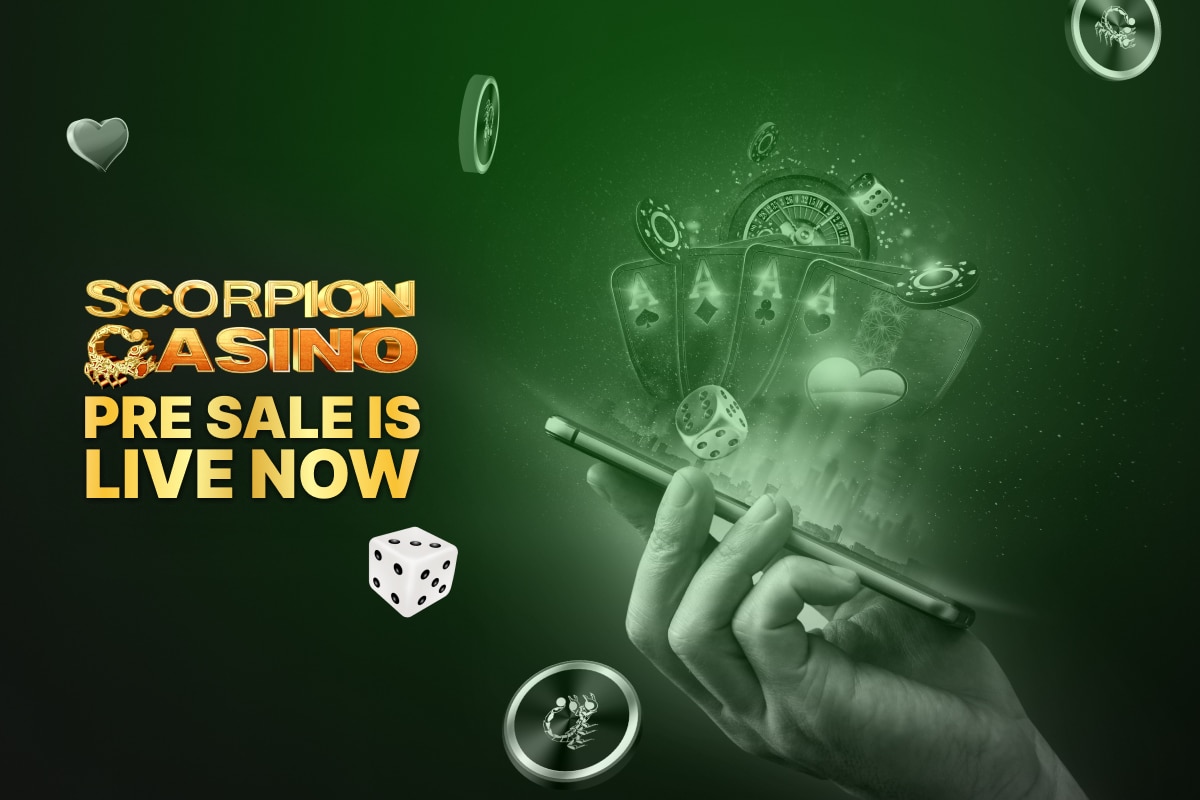 With the global online betting platform estimated to be worth $530.2 billion, there is plenty of opportunity here to Scorpion Casino to pounce and capture that market. The online betting market is nothing to scoff at either, as it is estimated to reach $145.6 billion by 2030.
Scorpion Casino has three major elements to its ecosystem: the Scorpion Casino, the affiliate system, and the SCORP token. The first is a licensed crypto sports betting and casino platform, while the affiliate system is a referral and reward mechanism, and the token is a governance and reward token for users.
The Scorpion Casino has over 200 casino games and 160 live games – which are licensed and provably fair. Expect such games as slots, blackjack, roulette, poker, and live casino. The casino is also connected with all major providers, including Evolution, NetEnt, Play N Go, Novomatic, EGT, and AMATIC. Sports betting options include football, tennis, American football, horse racing, basketball, golf, boxing, and MMA.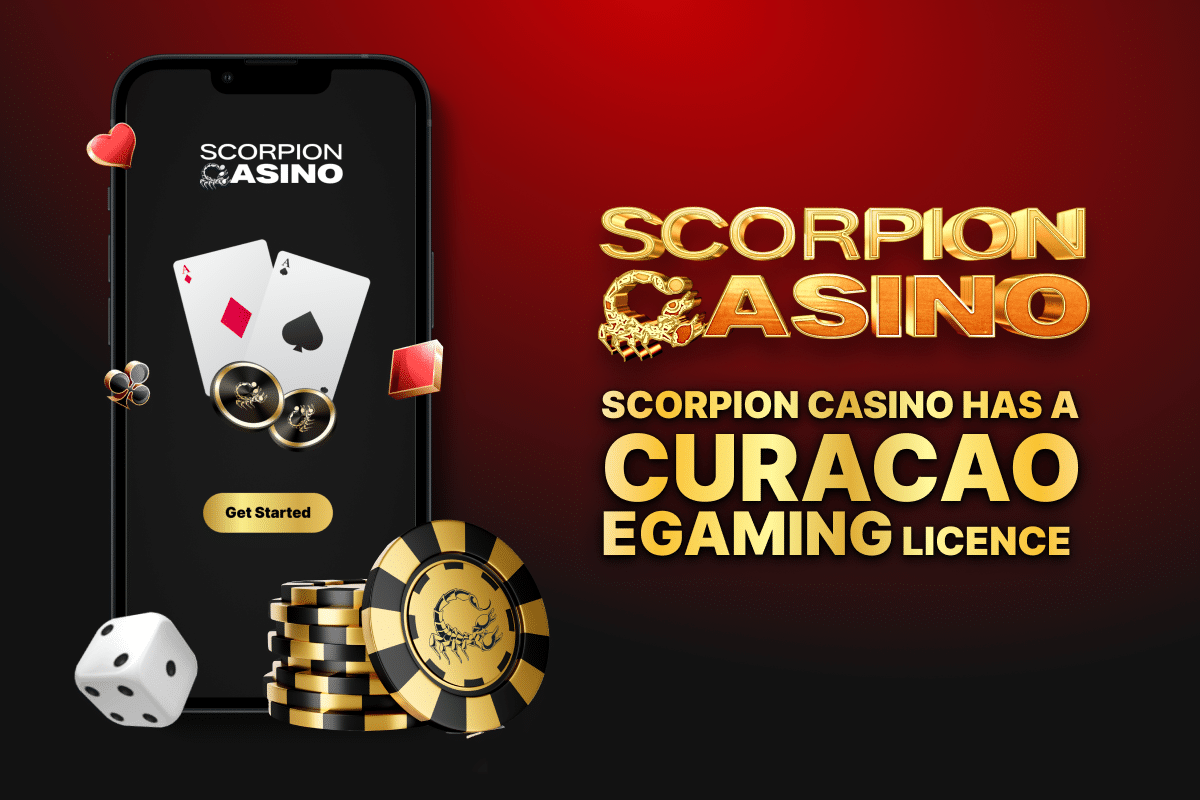 The SCORP token plays a central role in the ecosystem, with four major benefits: it is the exclusive payment method in the ecosystem, offers passive income earnings, grants weekly bonuses and free games, and is also involved in the affiliate system.
The SCORP token has a total supply of 1 billion, with 280 million SCORP allocated for the presale. 300 million has been allocated for the affiliate rewards.
The Scorpion Casino team has also released a roadmap, with upcoming developments including live affiliate events, partnerships, marketing campaigns, and collaborations. The latter half of the year will work on scaling the platform into something much bigger.
| | |
| --- | --- |
| Token symbol | SCORP |
| Presale supply | 200,000,000 SCORP |
| Token type | BEP-20 |
| Payment methods | ETH, USDT, BNB |
| Listing price | $0.05 |
9. RobotEra – Explore the Metaverse and Monetize Virtual Lands
RobotEra is creating a highly engaging metaverse game where players can build their own virtual worlds and monetize them in a variety of ways. The game allows players to create robot avatars, mine their virtual land for resources, and participate in the running and rebuilding of the metaverse world, Taro.
Here, players will have complete autonomy over what they wish to do and, currently in its ICO phase, RobotEra has now raised more than $1.2 million.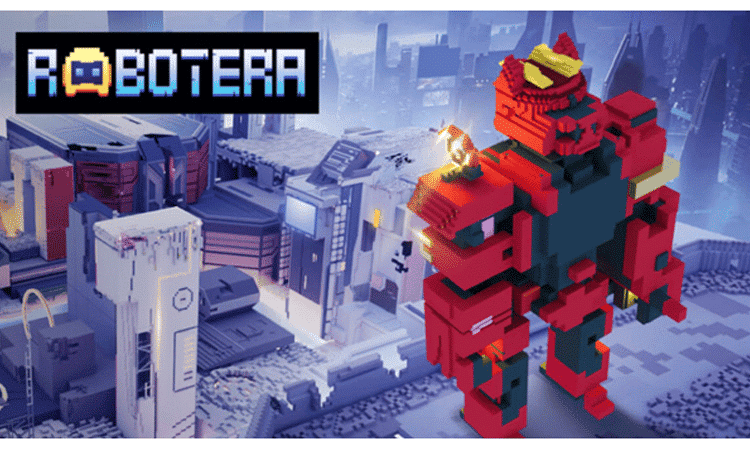 Although Meta may be pulling away from the metaverse, gamers with RobotEra can create more robot companions to help them out, build structures on their land, sell virtual services, host events, or simply explore their land.
Moreover, all in-game assets available on RobotEra are shaped as NFTs. This means that not only can users play games, but they can also monetize their time and creations on RobotEra.
Billboard space can be sold to real-world advertisers, admission can be charged for events or visiting buildings and galleries and the robots – which are needed to rebuild the planet Taro – can be upgraded, customized and sold themselves.
The project will come with custom building tools meaning no prior coding knowledge is needed and the team expects new avenues for revenue will emerge over time.
The RobotEra team has also announced that it will integrate AR and VR components in the future. While the team is working on its metaverse game, the project's native token, TARO, is available for investors via a presale ICO right now.
Given the prospects of its metaverse, crypto analysts argue that RobotEra's exchange listing has the potential to be one of the best crypto ICOs of 2023. Those who hold TARO tokens will also be able to stake them and earn voting rights on RobotEra's DAO.
| | |
| --- | --- |
| Presale Started | Q4 2022 |
| Purchase Methods | ETH, USDT |
| Chain | Ethereum |
| Min Investment | 1,000 TARO |
| Max Investment | N/A |
10. Pikamoon – One of the Best Crypto ICOs to Invest in and a Play-to-Earn Virtual World Inspired by Pokemon
Having launched its presale in mid-April 2023, Pikamoon is currently one of the best crypto ICOs to invest in 2023. Pikamoon is a blockchain-based metaverse ecosystem and a play-to-earn platform offering a thrilling gaming experience and an investment opportunity.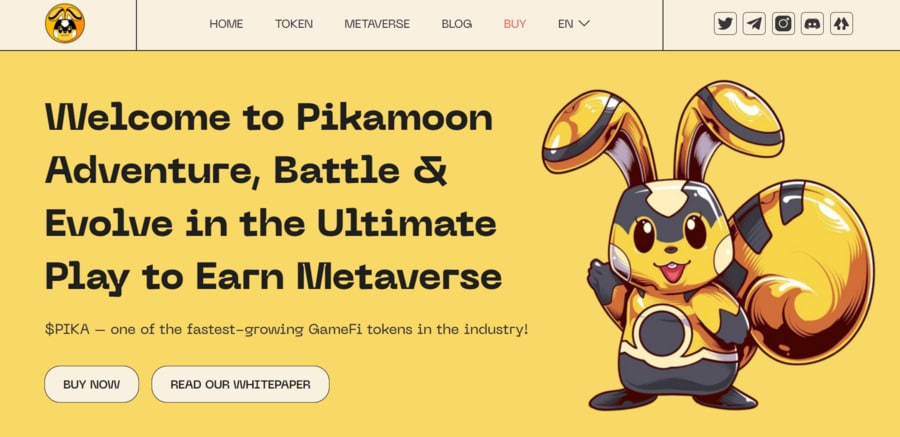 In essence, Pikamoon is a combat, strategy, and exploration game where players can traverse the fictional realm of Dreva built in the metaverse. Completing missions and emerging victorious from fights against other characters can grant you the platform's native token, $PIKA.
$PIKA can then be used in the platform's marketplace to buy items like health boosts and treats, increasing characters' strength and durability in battles. In addition, the project's whitepaper states that holders can also sell their tokens on an exchange or trade them for other crypto coins.
Many users have recognized Pikamoon's potential, which allowed the project to earn $1.4 million in a short amount of time and get halfway to its ultimate goal of $3 million. The platform started its presale with a price of $0.0002 per token and is now in its second presale phase at $0.0004. This is still a great time to jump on the bandwagon before the token's price increases to $0.0006 in the third and final presale stage.
To get more information about the project and keep up with the latest developments, make sure to join the project's growing Telegram channel.
| | |
| --- | --- |
| Presale Started | April 2023 |
| Purchase Methods | USDT and ETH |
| Chain | Ethereum |
| Hard Cap | $6 million |
| Minimum investment | None |
| Maximum investment | None |
11. Swords of Blood – New ICO Crypto Looking to Disrupt the Blockchain Gaming Sector
Swords of Blood is another project with the potential to become one of the best crypto ICOs this year. Currently in its presale phase, it has already generated huge attention due to its pioneering game mechanics and AAA visuals – something that's yet to be seen in the blockchain-gaming niche.
In the Swords of Blood game, players can create in-game avatars and progress through 'dungeons' to collect loot and resources. Employing hack-and-slash mechanics, Swords of Blood's team aims to leverage the success of blockbuster games like Diablo, all while integrating various Web3 technologies.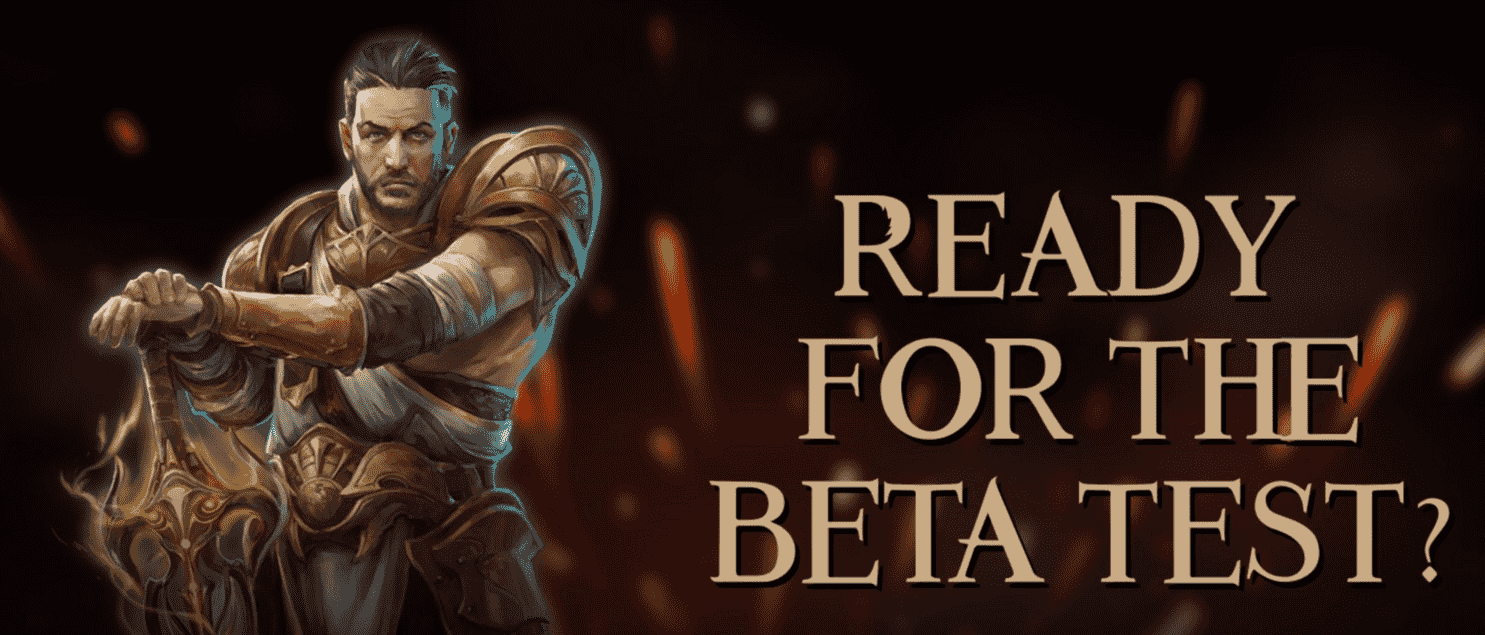 Per the whitepaper, these technologies include NFTs, tokenized rewards, and community ownership. The NFT aspect is fascinating since many of the items gamers find throughout the world's dungeons will be structured as NFTs. In turn, these NFTs can then be sold on the in-game marketplace to earn SWDTKN tokens.
SWDTKN is the center of the Swords of Blood ecosystem, used as a transactional and rewards currency. Importantly, Swords of Blood is free-to-play, although gamers must own some SWDTKN tokens to level up their items and progress past a specific 'Hero Level.'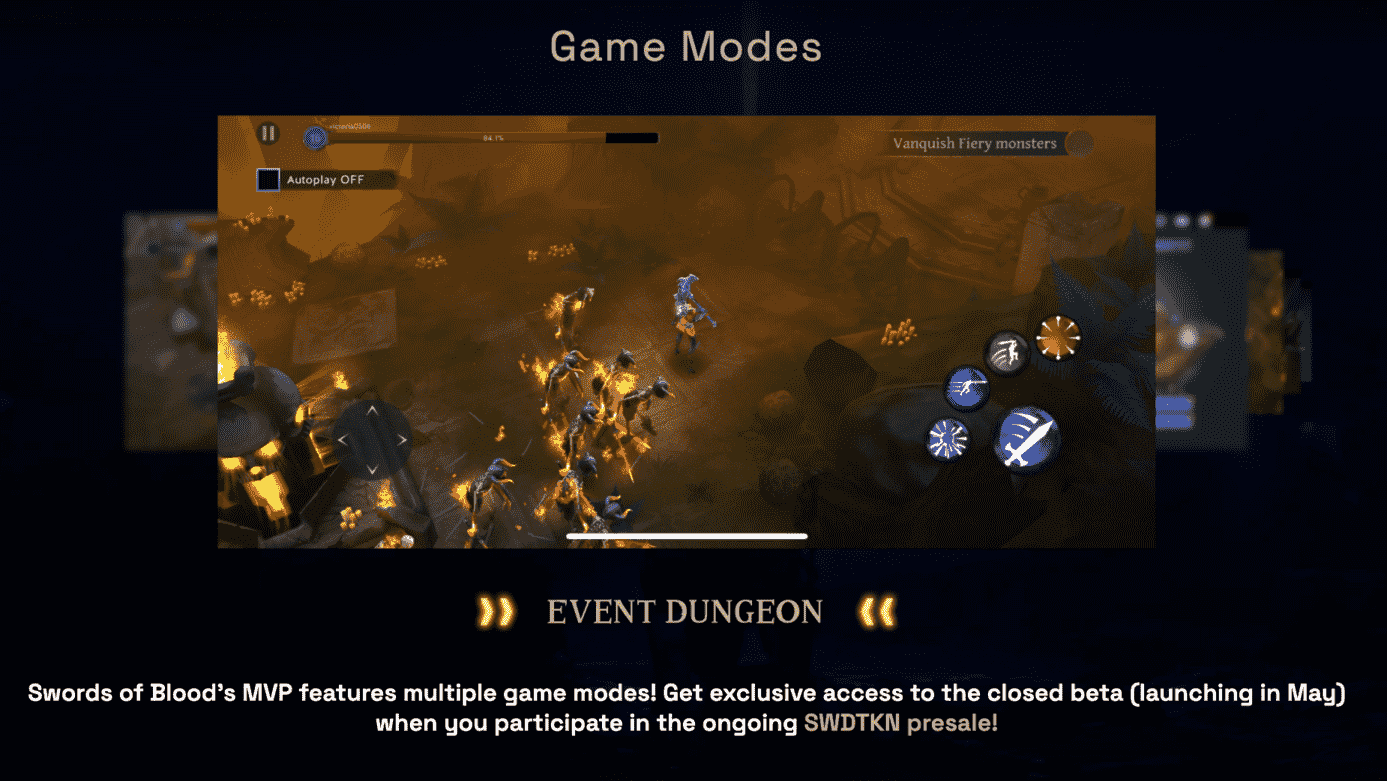 Alongside the dungeon-crawling gameplay loop, players can participate in player-vs-player (PVP) battles. Those with the highest skills and best success rate will rise up the global leaderboard and earn exciting prizes, like rare in-game items of SWDTKN distributions.
Swords of Blood is still in its presale phase, although investors can buy SWDTKN tokens before its release. The presale will have three stages, with Stage 2 ongoing and tokens priced at $0.070, with more than $1.2 million raised so far.
| | |
| --- | --- |
| Presale Started | 15 March 2023 |
| Purchase Methods | ETH, USDT USDC, DAI |
| Blockchain | Polygon |
| Minimum Investment | N/A |
| Maximum Investment | N/A |
12. SOLA-X – Solana-Based Smart Liquidity Protocol
SOLA-X is a crypto project that aims to transform how automated market makers (AMMs) are designed within the Solana ecosystem. It plans to achieve this by creating a smart and flexible liquidity pool. SOLA-X's routing feature ensures that a liquidity provider can directly stake their assets in a pool.
Staked assets are then distributed to different liquidity pools that offer high APYs, depending on where they are needed the most. The fees are then re-distributed to individual stakers. In other words, SOLA-X ensures automatic pool selection and the highest interest rates. Staking pools can also support multiple assets, thus allowing investors to deposit one or more cryptocurrencies.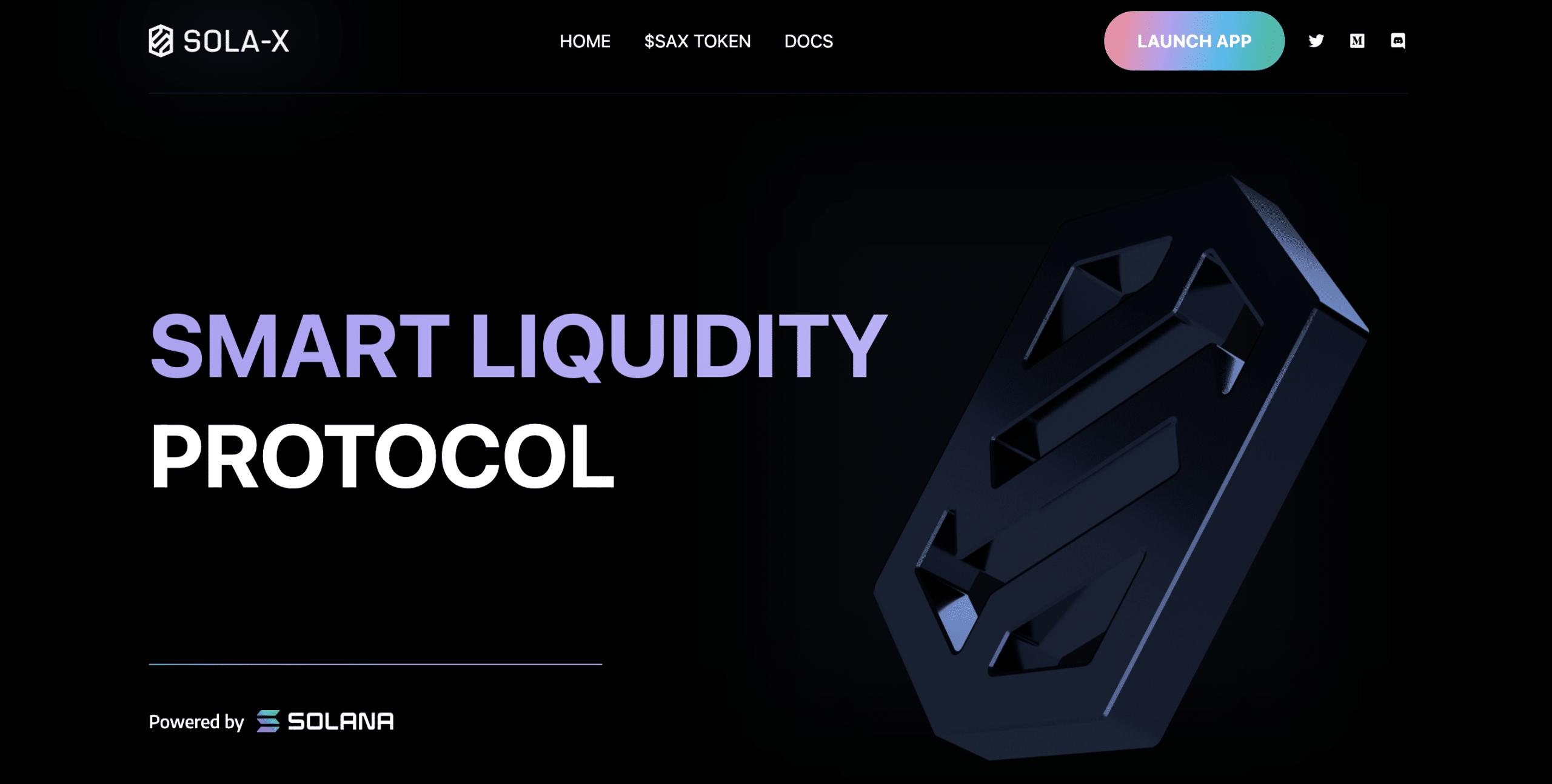 SOLA-X is one of the first projects to improve the AMM architecture within the Solana ecosystem – which gives it an early-mover advantage. SOLA-X is selling its native token, SAX, via an ICO.
The ICO requires a minimum spend of at least $10,000, however, so this is a project for experienced and serious investors only.
13. KryptView – Research-to-Earn Platform With Upcoming ICO
KryptView is calling itself the world's first research-to-earn platform. It uses blockchain mechanisms to reward users who generate fundamental analyses of different cryptocurrencies. The data provided by a contributor is automatically structured and reviewed by the community before it is shared with KryptView users.
As is clear, rather than focusing on technical analysis, it aims to provide access to the fundamental data of a cryptocurrency. KryptView also comes with other features that allow its users to share their portfolio models and earn rewards if it performs well.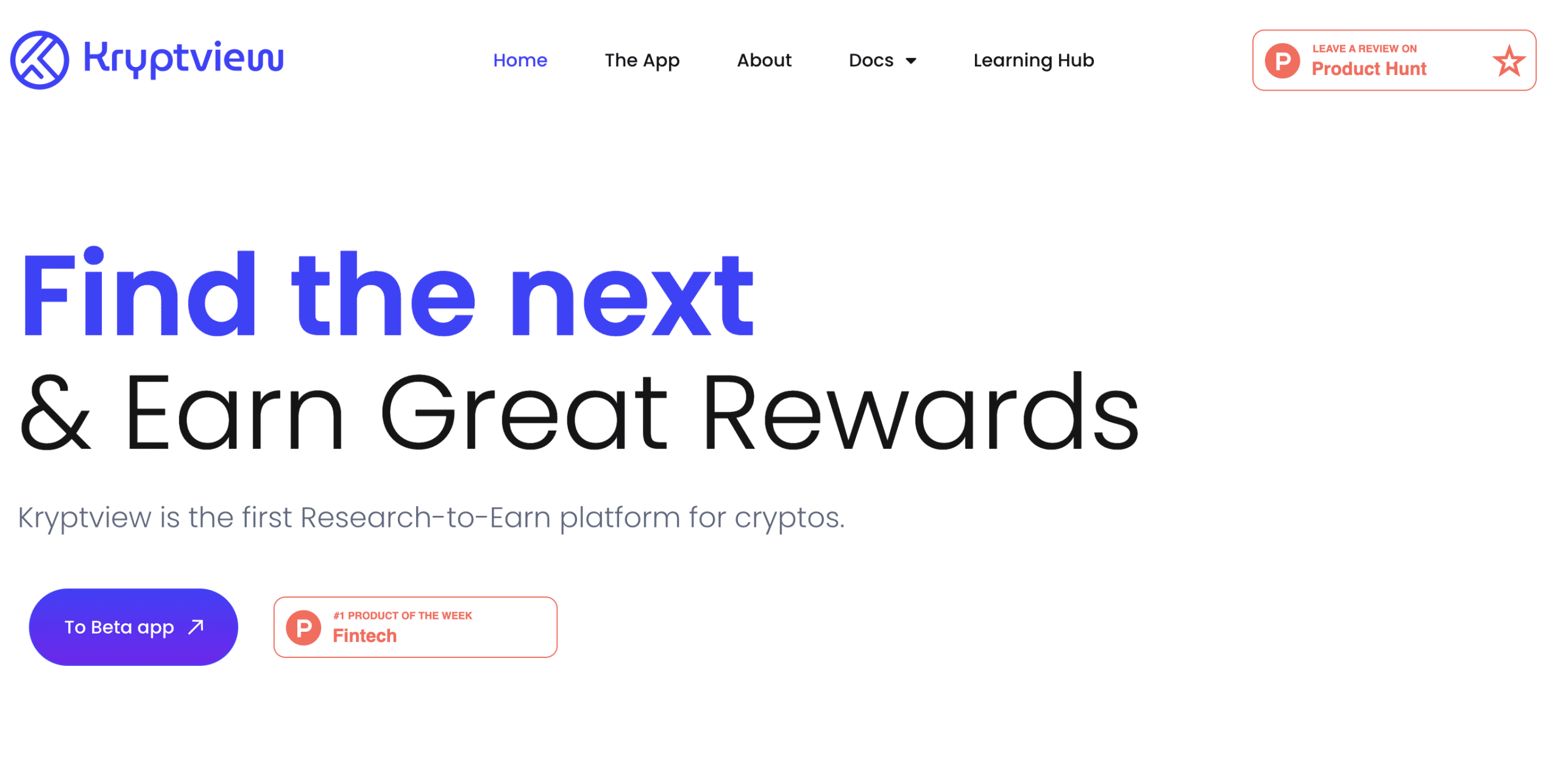 It also offers real-time market data on cryptocurrencies.
KryptView has designed a new digital token, KVT, for the purpose of rewarding its users.
14. Incentive – Earn Crypto Rewards by Completing Surveys
There are already several applications that incentivize users with coupons and, sometimes, even cash, for completing surveys. Incentive aims to add blockchain technology to this space, allowing users to gain crypto rewards for their contributions. Incentive has created a utility and governance token that fuels surveys via an easy and secure reward system.
Using INC tokens allows app providers to eliminate the need of relying on intermediaries. It is built on the Polygon network, which facilitates higher transaction speeds and lower gas fees.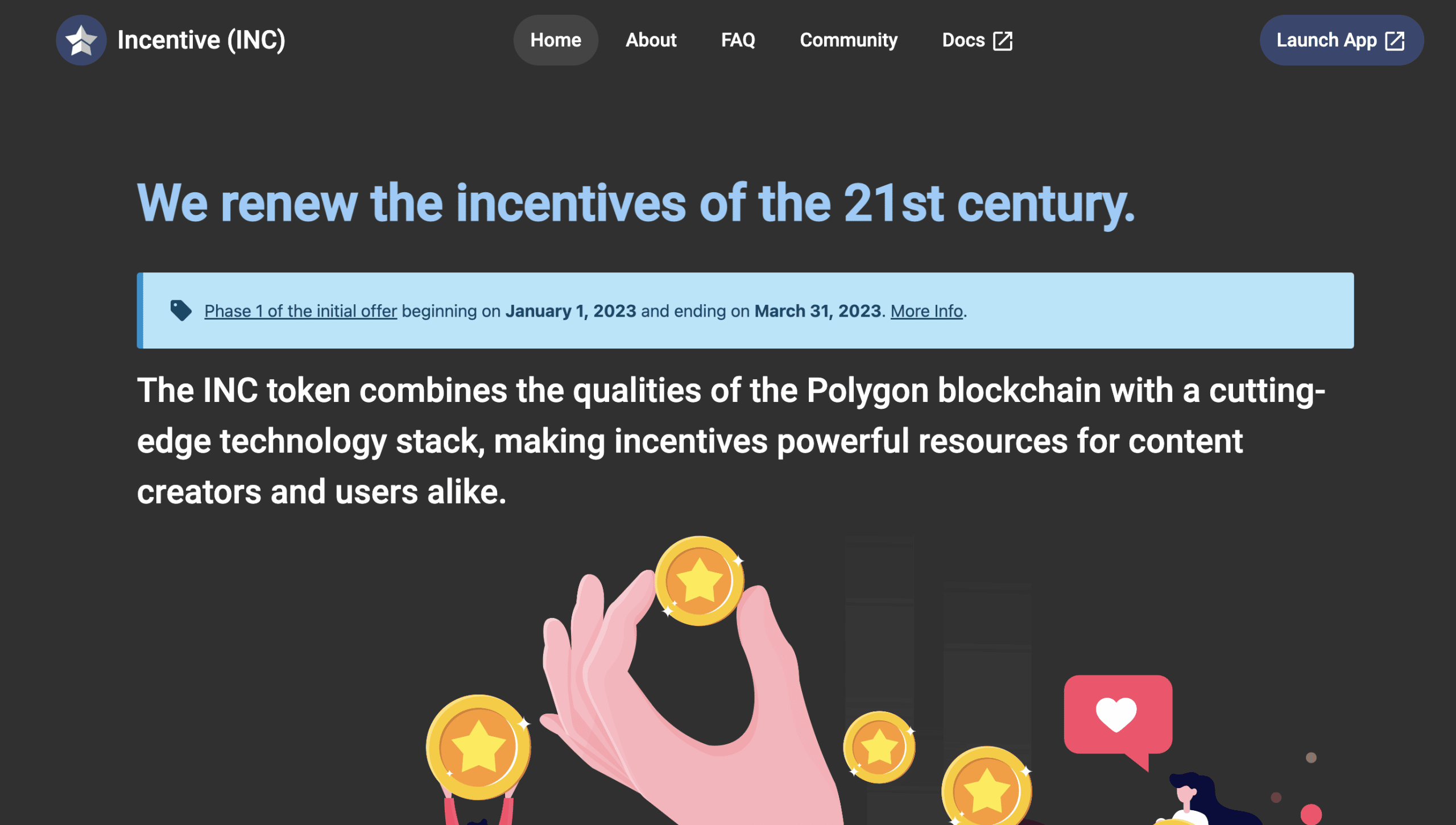 Moreover, INC transactions are immutable, and according to Incentive – this means that ownership of tokens is completely anonymous.
Interestingly, companies can develop INC-based applications via the project's upcoming application.
What is an Initial Coin Offering?
If you're new to crypto, you may wonder what an ICO is. An initial coin offering is a popular way new projects raise funds and generate attention to kick-start development or pique interest. Some of the cheapest cryptos to buy also offer an ICO to raise funds for the project.
Typically, in order to launch a new crypto project, the team has to approach a VC or an individual investor for funding.
When compared to such traditional and strenuous methods, ICOs are considered the easier alternative – as it allows projects to receive funding from a wider group of investors, both institutional and retail.
As well as benefitting the project, many ICOs have also generated significant returns for early investors, if they can find them ahead of the rest of the market.
This is because, during an ICO, the respective cryptocurrencies are often offered at prices below their eventual listing price.
There are several examples of hugely successful ICOs in the crypto market's history.
For instance, Ethereum's ICO took place back in 2014 and ended up raising $18.4 million. Cardano, which improved on some of the biggest shortcomings of Ethereum, had an even more successful ICO in 2017, raising over $62 million.
A more recent example saw Tamadoge raise $19 million in presale funding in just eight weeks before pumping almost 2,000% higher than its first round price.
All that being said, ICOs are also unregulated, which means that investors should exercise a high degree of caution before investing in them, conduct thorough research and due diligence and only invest what they can afford to lose.
Even if an ICO ticks all the correct boxes in terms of its potential, roadmap, tokenomics and developing term, there is no guarantee it will be a success, with the market ultimately deciding.
How do ICOs Work?
Here is a quick outline of how most ICOs work:
An entity announces a new crypto project with a product that is set to launch in the market.
The entity creates a website and publishes a whitepaper that details the project's vision and objectives.
The whitepaper will also include technical details of the project, tokenomics, and information on the development team.
Ideally, the website should also feature a roadmap of the project.
The goal here is to give investors an idea of the ambitions of the crypto project and how the team aims to achieve them.
Next, the entity proceeds to raise awareness about the project with marketing.
Then, the entity hosts the ICO, where investors can purchase the platform's tokens in exchange for other cryptocurrencies.
The funds from investors go towards the new crypto venture.
During the presale, tokens will likely be sold at a huge discount – meaning investors will pay much less than the eventual exchange listing price. While some entities have private presales, others open them to the public.
In fact, some of the best crypto ICOs we covered in our guide are in the presale stage – which means that investors have a window to buy these tokens at a lower price before they are listed on exchanges.
Is a Crypto ICO a Good Investment?
Anyone can launch an ICO nowadays – there is virtually no barrier to entry. For the same reason, investors need to be cautious when deciding to risk their money on ICOs. Some investors use the best Telegram crypto signals to gauge the best buy and sell opportunities but with the crypto market being so volatile, there's always a risk involved.
Here are some factors that can help investors decide whether an ICO crypto token is a good choice for their portfolio.
Early Access to Innovative Crypto Projects
The best way to make money from cryptocurrency is to invest early in crypto projects that have the potential to explode in the future.
A cryptocurrency ICO offers an excellent opportunity for investors to get in on the ground floor of a new project.
A good example is AiDoge, which has only just launched but is combining memes and generative AI – two of the hottest niches in the crypto and investment world.
Launchpad XYZ is another innovative project that wants to drive mass adoption from Web2 to Web3 by offering an easily navigable gateway portal for all that the space has to offer.
Potential for Huge Returns
ICOs also tend to offer cryptocurrencies at a low entry price point. This makes emerging tokens more accessible to investors, and moreover, it also encourages people to buy ICO cryptos early.
And as such, if the project takes off, the potential returns can be enormous.
Risks of Icos and How to Find Legit and Safe Offerings
Although ICOs have many attractions, they do not come without risk.
For instance, ICOs allow developers to issue tokens without having to follow any regulatory measures to protect investors. This means that many ICOs might turn out to be a scam – which is a significant risk.
This is why investors need to do their own due diligence to find out which are the best ICOs that are worth their attention.
Here are some tips for finding legit and safe crypto ICO offerings:
Research the Team
One of the most important factors to consider when evaluating an ICO is the team behind the project. Make sure to research and look into the background of the team members.
Many meme coin projects feature anonymous developers, which can be a red flag. However, savvy investors can spot a good meme project from a bad one by thoroughly investigating other parts of the project, such as its roadmap, tokenomics and social media community, and whether reputable companies have audited the smart contract.
Evaluate the Token
The token is the cryptocurrency that is being offered in the ICO. Evaluating the token to determine whether it has long-term potential is important. Look at market demand, total supply, and token distribution.
Check the Security Measures
ICO investments can be risky, so it's important to check the security measures to protect investors' funds. Look for information about the project's security measures and how they plan to protect investors' funds.
In the following section, we will explain the core metrics that investors can use to find the best ICO cryptos in the market.
How to Find the Best ICOs to Invest in
Investors who are set on buying into a crypto ICO should ensure that they do sufficient homework to gather information about the specific project.
Here, we have outlined a number of factors that investors should consider before risking their money.
Read the Whitepaper
A whitepaper is a document that explains a crypto project's objectives and other related information.
Typically, it offers insight into the team's philosophy and long-term ambitions. Some crypto projects even include technical reports of the project's underlying technology.
Investors can even find data on how the project plans to utilize the funds and distribute the tokens. Needless to say, this document can help investors get an idea of what the vision of the project is and, importantly, how they wish to achieve it.
If a new crypto project doesn't publish a whitepaper or offers one that lacks clarity, investors should consider it a red flag.
Consult Social Media
Social media plays a big role in helping investors gain exposure to upcoming ICO projects. Investors can use hashtags or follow popular crypto-related pages to get real-time information about new projects launching in the market.
Strong social media followings is also a good indicator that the project will be popular with other investors and have a user-base when the time comes for a protocol to be set live.
Additionally, it would also be a good idea to follow financial and crypto influencers on platforms such as YouTube and Twitter to find the best new ICO crypto for 2023.
Crypto Aggregates and News Websites
There are also websites that are dedicated to tracking everything happening in the crypto space. Platforms such as Yahoo Finance, Bloomberg Crypto, etc., are excellent resources for crypto-related news. Most of these websites also have a dedicated newsletter encapsulating the latest crypto-related news and analysis.
Most of these websites also feature an initial coin offering list that investors can refer to in order to find attractive projects.
Discord/Telegram Channels
Discord and Telegram are popular messaging platforms used by cryptocurrency enthusiasts to discuss new projects and investment opportunities. Here are some tips on using Discord and Telegram channels to find new best crypto ICO projects:
Join Crypto Communities
Joining crypto communities on Discord or the best Telegram crypto groups is a great way to stay up-to-date on the latest news and investment opportunities. Search communities focused on ICO projects or specific cryptocurrency niches like DeFi or GameFi.
Investors can join Jacob Bury's Discord channel to get the latest updates on the best ICOs.
Participate in Discussions
Participate in discussions and engage with the community to gain insights and perspectives on new ICO projects. Ask questions and share your thoughts to learn more about the projects and potential investment opportunities.
Join ICO Announcement Channels
Many ICO projects have their own Discord and Telegram channels where they announce updates and investment opportunities. Join these channels to stay informed about the latest developments and investment opportunities.
Are Crypto ICOs Legal?
ICOs have become increasingly popular for new crypto projects looking to raise capital, but their legality has been debated in many jurisdictions.
Many ICOs fall outside existing regulations, leading to a lack of oversight and instances of fraud. However, in some cases, ICOs may be considered securities offerings and fall under the jurisdiction of regulatory bodies such as the US Securities and Exchange Commission (SEC). In fact, a recent report from Bloomberg expands on US Judge's rule on ICOs being covered by securities law.
The SEC has warned investors to exercise caution and diligence when investing in ICOs and to research the legality of offers and the people behind them. It has also cautioned against unrealistic return guarantees and warned that anyone involved in promoting offers or selling coins or tokens must adhere to regulatory standards.
In some countries, such as the United States, ICOs are subject to strict regulatory requirements and must comply with securities laws. In other countries, ICOs are regulated and considered a legitimate way of raising funds.
How to Invest in an ICO
The process of investing in crypto ICOs differs from one project to another.
Some projects allow investors to buy emerging cryptocurrencies directly from their websites. On the other hand, with some projects, investors might need to complete the process via a fair exchange listing.
Below, we provide an outline of how to buy $WSM tokens – a cryptocurrency that has already begun its ICO listing and has now raised more than $1 million in four days.
Step 1 – Create a crypto wallet: Wall Street Memes

is offering $WSM tokens directly via its website. To connect to the presale site, investors will first need to have access to a crypto wallet. MetaMask is a popular wallet that is compatible with the ERC-20 token standard and can be used to connect to the presale platform.

Step 2 – Buy ETH/USDT: Investors should ensure they have sufficient ETH, BNB or USDT tokens to fund their Wall Street Memes purchase. Investors can buy any of the tokens from a crypto exchange or broker and then transfer the digital tokens to their private digital wallet. Most wallets also allow direct purchase of major tokens.
Step 3 – Connect wallet: Next, head over to the Wall Street Memes website

and connect the wallet.

Step 4 – Buy WSM tokens

: Once connected select the correct option and then enter the amount of $WSM tokens to be purchased. The dialogue box will prompt users that a certain amount of the purchasing tokens will be needed in reserve to cover network transaction fees. Confirm the transaction and network fees to complete the purchase.

Step 5 – Claim WSM tokens: Purchased tokens will be stored on the Wall Street Memes website until the ICO is fully complete. Tokens can then be claimed ahead of listing on an exchange.
Conclusion
As this guide has emphasized, crypto ICOs are a great way for investors to get in on a new project at an early stage and secure high-potential tokens.
However, considering the risks and lack of regulatory measures, investors should also be cautious before risking any funds, understand their own tolerance for risk and realize that returns are not guaranteed.
Our research concluded that there are a number of exciting crypto projects that are launching their digital tokens through ICOs this year.
At the top of our list is Wall Street Memes, which has already completed a successful launch in crypto once before, and now looks to do so with a meme coin – the ICO has been a roaring success so far, with more than $2 million raised in less than a week.
FAQs
What are the best ICOs to invest in?
What is the best ICO cryptocurrency for 2023?
Which was the best crypto ICO for 2022?