Investors are often drawn to ICOs because they offer the opportunity to get in on the ground floor of a new and exciting crypto project, with discounted tokens also usually offered to build anticipation, kickstart development and raise capital.
Bitcoin initially offered BTC tokens to investors back in 2010 at a price of $0.04865. Just over a decade later and BTC's price hit an ATH of $68.789 allowing early ICO investors to boast long-term gains of +141,395,583%.
In terms of short-term gains, meme coins like Pepe coin have returned huge ROIs for traders with one anonymous crypto enthusiasts spending $263 on PEPE which then turned into a 5,000,000% profit.
In this guide, we highlight the best crypto ICOs for 2023 – so that investors can choose an early-stage project that best fits their preferences, as well as offer tips on how to find them.
The Best Upcoming Crypto ICOs This Year
Let's take a quick look at the best crypto ICOs for 2023:
Bitcoin Minetrix – Top ICO project offers Etherum-based smart contract Bitcoin mining, with a stake-to-mine model where burned tokens equal more earnings. Raised over $100k within hours of launching and an easy way to access BTC rewards without knowledge or hardware.
Meme Kombat – New meme ICO where players wager on the most established meme tokens, such as Pepe, Doge, Shiba, in a unique play-to-earn Battle Arena. Live betting offered on blockchain-facilitated combat with AI-rendered graphics and 112% APY yield for fight spectators – an entirely new concept in meme coin ICOs.
Bitcoin BSC – Emerging Bitcoin clone on the Binance Smart Chain that offers lucrative staking rewards. With an initial pool of over 6 million tokens and a starting price under a dollar, it has already raised $5 million in three weeks of its official launch.
TG.Casino Token – KYC-free betting with direct deposits, all through Telegram, one of the world's most popular messaging applications. Users can benefit from 2,000% APY and become indirect shareholders in the casino, as the token appreciates due to aggressive burning mechanisms.
Launchpad XYZ – Crypto project that aims to act as a bridge between Web2 and Web3 and drive mainstream adoption into crypto by acting as a gateway portal – more than $1.75 million raised in its ICO.
yPredict – Crypto trading platform that utilizes artificial intelligence and machine learning to help traders make smarter decisions and maximize profit-making potential. The $YPRED ICO has raised $3.9 million.
Chimpzee – Revolutionary crypto platform which allows token holders to earn passive income and protect the environment. The $CHMPZ ICO has raised over $1.35 million so far.
Scorpion Casino – Next-gen crypto betting platform that provides passive rewards for all holders that increases with platform usage. The $SCORP token has raised $1m in its ICO.
eTukTuk – With the $TUK token, holders can contribute to a revolutionary automotive project which is creating electric vehicle charging stations. The ICO has priced $TUK at $0.024 per token and has already raised $60k.
Wall Street Memes

– High potential meme coin founded by a well-known crypto and finance meme brand that also offers staking rewards. It has over 1 million followers, its ICO raised a massive $25m and it launched on a T1 exchange recently.

ScapesMania – This revolutionary new gaming cryptocurrency has just launched its initial coin offering in 2023. The Binance Grant Winner of 2023, ScapesMania offers a gaming ecosystem that benefits Web3 users, whilst Web2 gamers play.
Anarchy Coin – Meme coin empowering people to fight against problems like government inefficiencies, inflation, and corruption in traditional systems. It's based on a DAO model, and with every transaction, a small portion (0.5%) of the coin is removed or "burned" – $5 million raised in the ICO so far.
Pikamoon – Pikamoon is a P2E game inspired by Pokemon. Its native token, $PIKA, is its main currency, used to access free NFT characters, make purchases in the marketplace, and more. $4 million raised in the ICO, which is in its final stage.
Bluesky – A new protocol for online social conversations, allowing users to transfer their data and contacts across social platforms while promoting user moderated content.
SOLA-X – A smart liquidity protocol that aims to transform how automated market makers are designed within the Solana ecosystem, although a minimum $10,000 investment is needed.
KryptView – Research-to-earn platform that rewards users who provide access to fundamental data and information on cryptocurrencies, rather than just technical analysis of charts.
Superstate – Short term government bonds backed on an Ethereum blockchain for enhanced operational efficiency, improved recordkeeping, and regulatory compliance.
Analyzing The Best Crypto ICOs to Invest in
New cryptocurrencies are entering the market almost every week. Therefore, to spot the best crypto ICOs, investors must set aside sufficient time for research and conduct their due diligence.
Some of the main factors that need to be considered include the main goals of the project, whether it is a reasonable solution to a real-world issue, its roadmap, target market, tokenomics and other unique features.
With this in mind, we have ranked and reviewed the best crypto ICOs that investors should keep an eye on in 2023.
1. Bitcoin Minetrix ($BTCMTX) – New ERC20 Presale With Bitcoin Mining Solution Raises Over $100k Within Hours
Bitcoin Minetrix ($BTCMTX) is a brand new presale that is already proving extremely successful, with over $100k raised within hours of launching. The reasons for its popularity are clear. It provides a clean and easy way for laypeople to mine Bitcoin, the world's most successful crypto.
But, ironically, it does this through a much more powerful and eco-friendly Ethereum blockchain, as opposed to Bitcoin's deprecated Proof-Of-Work architecture.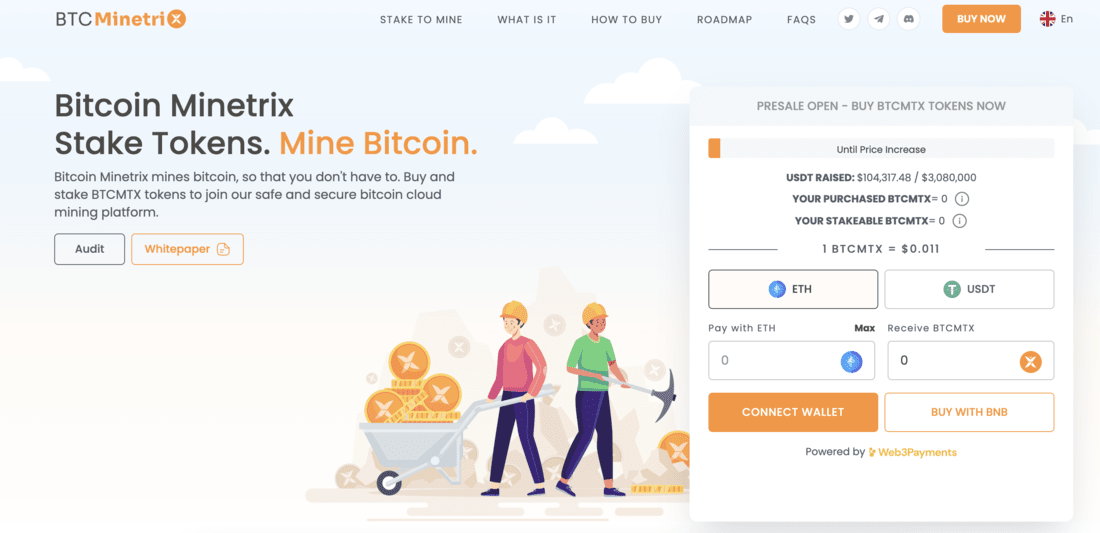 The Bitcoin blockchain is dominated by a small number of centralized mining companies. These companies use specialized hardware rigs (known as ASICs) that are very expensive and incredibly damaging to the environment. Bitcoin came under heavy criticism precisely for this reason.
Bitcoin Minetrix has a neat solution. When the application launches, it offers stake-to-mine credits. In other words, staking your tokens (often a one-click process) will enable users to automatically earn mining credits from the Bitcoin blockchain. No specialized hardware or even software is required.
All that is necessary is a Web3 wallet and the ability to buy and stake coins. Mining credits are non-transferrable ERC20 tokens and cannot be staked. They are burned to purchase BTC mining power. The more you burn, the more you earn.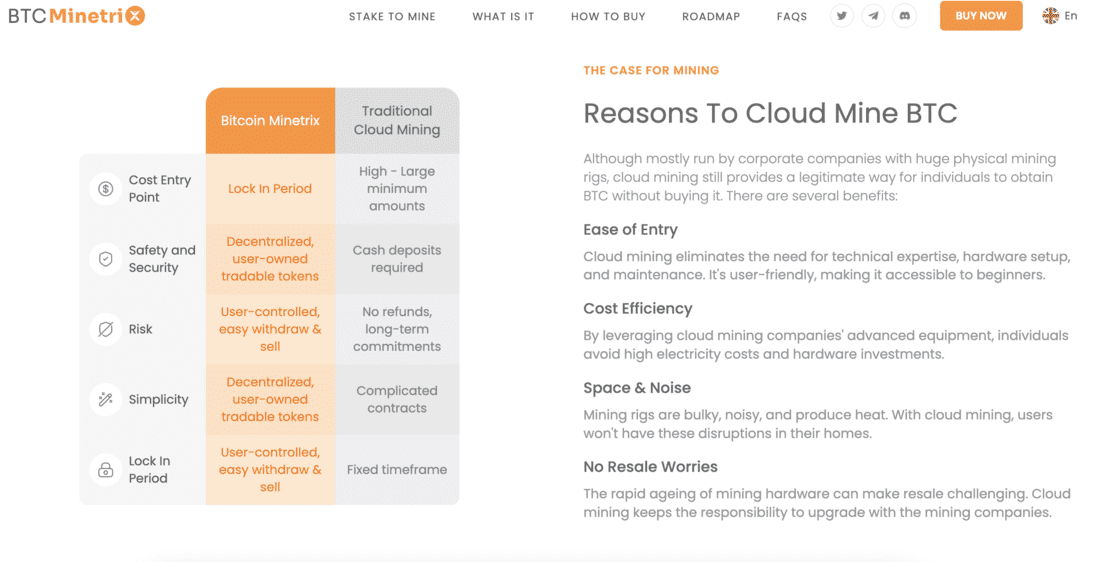 All metrics can be analyzed through a unified dashboard, including rewards, mining credits earned, mining credits bought, etc. This provides a great overview of how your mining ecosystem is doing. The project even aims to launch a mobile application in the near future, where people can mine on the fly.
Over 2.8 billion $BTCMTC tokens are available in presale, at a starting price of $0.011, which goes up with each progressive stage. The total token supply is 4 billion.
For those interested in earning some BTC, this could be a direct and simple option without any environmental cost.
Further details can be found within the Twitter and Telegram accounts.
| | |
| --- | --- |
| Hard Cap | $32 Million |
| Total Tokens | 4 Billion |
| Tokens available in presale | 2.8 Billion |
| Blockchain | Ethereum Network |
| Token type | ERC-20 |
| Minimum Purchase | $10 |
| Purchase with | USDT, ETH, BNB |
2. Meme Kombat ($MK) – Top ERC20 Meme ICO Offers 112% APY, Exciting Meme Combat, & Live Wagering
Meme Kombat ($MK) is a market newcomer, as one of the very first presales to offer not a meme token, but a meme ecosystem. It is a location for the world's favorite memes (Floki, Shiba Inu, Doge, Sponge, Pepe) to battle it out, with state-of-the-art illustrations helped with AI rendering and live betting on combat outcomes.
Outcomes in the play-to-earn Battle Arena are facilitated on-chain, which means they are immutable, transparent, and fair.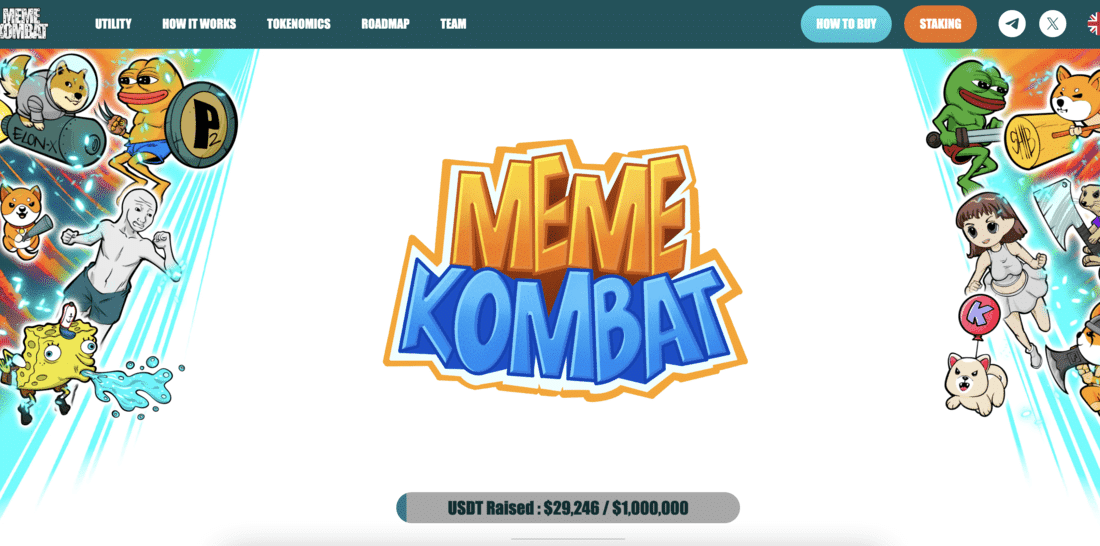 This is a different take on meme ICOs, which usually center around a specific meme icon. Instead, meme icons come to this blockchain to engage in meme combat. This is interesting as many meme icons have large and active online user bases. Season one will feature 11 memes – Doge, Floki, Baby Doge, Milady, Kishu, Mong, Pepe, Pepe 2, Shiba, Sponge, and Wojack. Season 2 could feature more.
The campaign offers both passive and active ROI. Meme Kombat allows for staking rewards that are currently set at 112%. The active ROI aspect is facilitated through various betting options – direct, P v P, or P v Game. Users can become proficient at predicting outcomes based on statistics and can develop their own strategy, potentially increasing their returns, with various in-play bets also available.
AI sequencing ensures that battle sequences are random and unpredictable. Visuals are also generated by AI rendering for greater accuracy and engaging combat. Visual appeal is a large selling point with this campaign.
And we know from previous experience that the quality of visuals can play a large part in presale success – most of the most successful meme tokens rely on the strength of their visuals, which help to capture user attention far more rapidly than text content.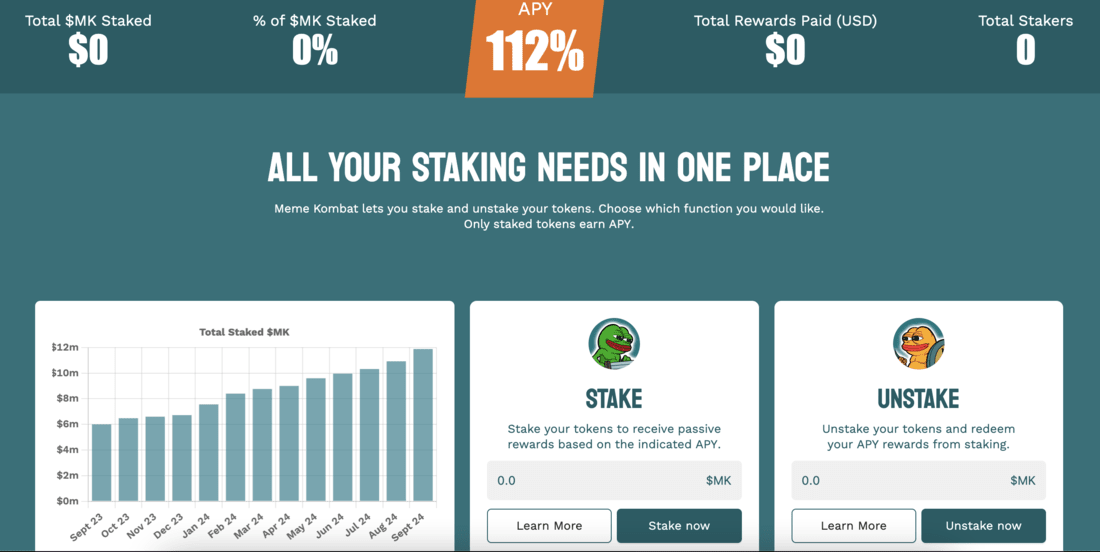 Battle outcomes are automatically processed on-chain. The project is also quite unique in the sense that the founder, Matt Whiteman, is publicly available on LinkedIn, which is extremely uncommon in terms of meme presales – it has also undergone an audit from respected firm Coinsult.
The presale hard cap is $10 million with a current token price of $1.667. 50% of of the total 12 million token supply – low for a meme coin – is available in presale.
We think this is a very strong ICO due to the quality of its visuals, the core concept allowing the world's most popular memes to engage in AI-assisted combat and the fact that the founder has gone public.
More info can be found on the Whitepaper, as well as the social channels – Telegram and Twitter.
| | |
| --- | --- |
| Hard Cap | $10,000,000 |
| Total Tokens | 12,000,000 |
| Tokens available in presale | 6,000,000 |
| Blockchain | Ethereum Network |
| Token type | ERC-20 |
| Minimum Purchase | 100 tokens |
| Purchase with | USDT, ETH, BNB |
3. Bitcoin BSC – Eco-Friendly Staking Platform Giving Rewards Every 10 Minutes and $5m Raised in 3 Weeks
Bitcoin BSC ($BTCBSC) is a hot new ICO on the Binance Smart Chain, capturing investors' attention with its huge staking rewards distributed every 10 minutes.
Priced at just $0.99 the initial circulating supply is over 6 million tokens – the same price and supply as Bitcoin in April 2011. Within just three weeks of launching, more than $5 million has already been raised and 2.5m tokens have been locked in its staking pool.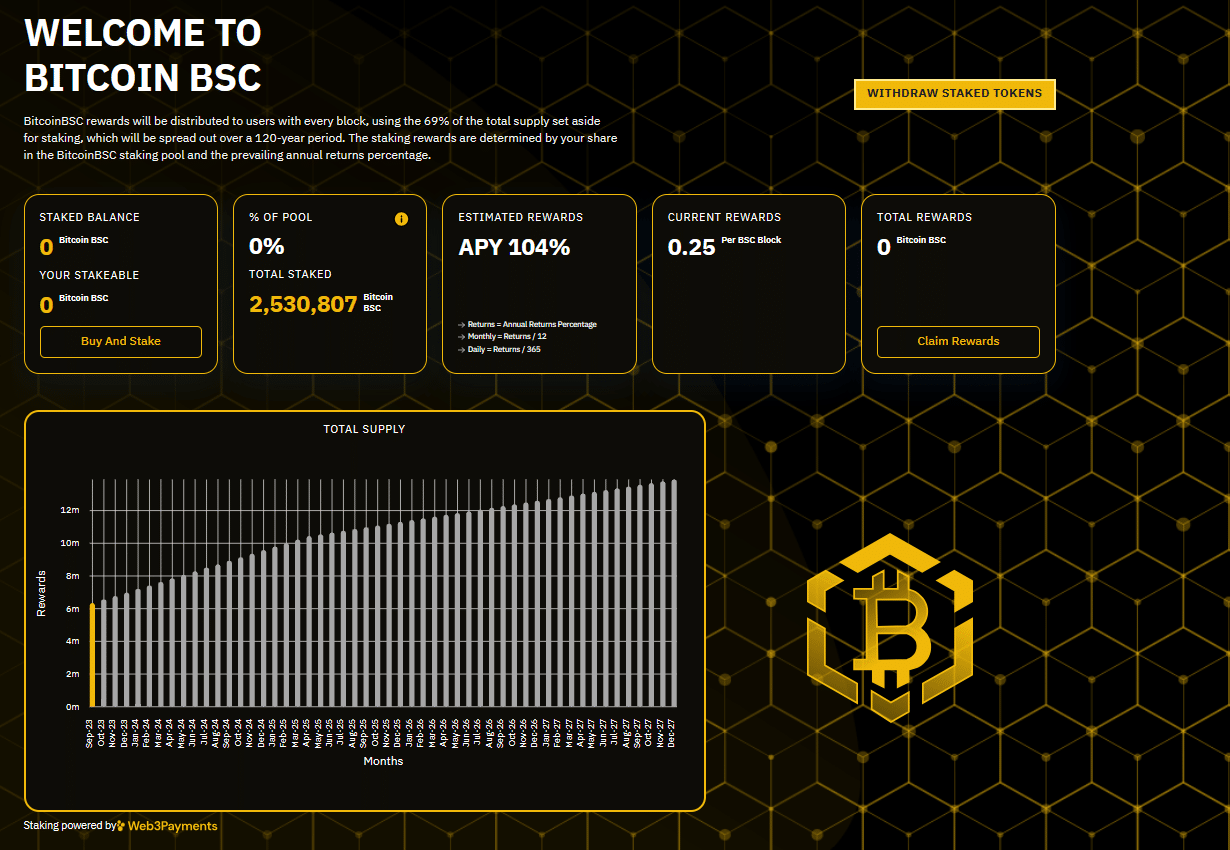 BTCBSC operates on a Proof-of-Stake (PoS) system, a departure from Bitcoin's Proof-of-Work (PoW) model. This PoS approach allows investors to earn passively by staking their tokens. The rewards depend on the stake's size; for instance, owning 20,000 BTCBSC tokens in a pool of 100,000 would let you claim 20% of the block rewards.
At the time of writing, the platform promises an APY of nearly 105%, making it an attractive investment option for early buyers, with that percentage to reward as more tokens are locked into the pool.
The token follows Bitcoin's framework by capping the total supply at 21 million – out of this, 6.125 million tokens are set aside for initial circulation. The first phase of the presale has commenced with 4 million tokens, with an additional 2.125 million reserved for the next phase to cater to a potential high demand. That looks likely to be needed, given the earl success, with any unsold tokens added to the staking pool.
Per the Bitcoin BSC whitepaper, the leftover 14.455 million tokens are reserved for staking and will be vested over 120 years, similar to Bitcoin's original roadmap.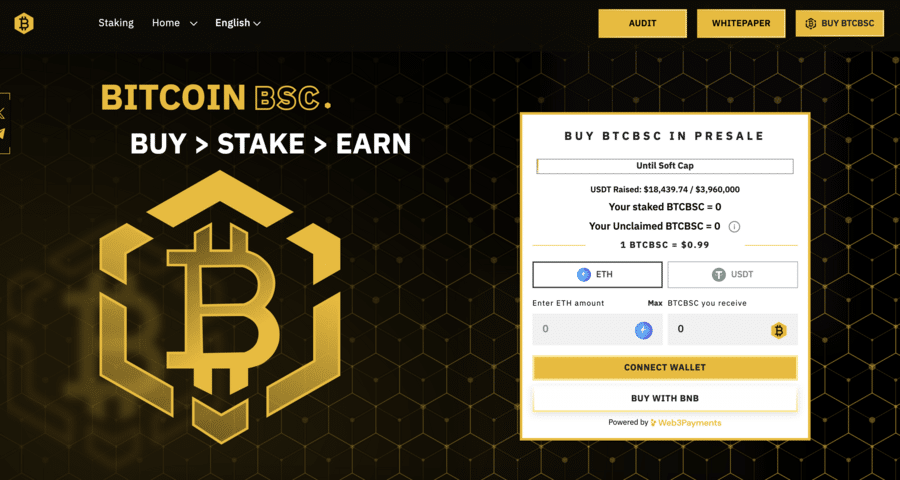 BTCBSC's low entry point can particularly appeal to those who missed the Bitcoin boom. Adding to its charm are unique features like less transaction fees, a small carbon footprint, and versatile smart contract functionality.
Potential buyers can join the Bitcoin BSC Telegram channel to stay updated.
| | |
| --- | --- |
| Hard Cap | $6,063,750 |
| Total Tokens | 21 million |
| Tokens available in presale | 6,125,000 |
| Blockchain | BNB Smart Chain |
| Token type | BEP-20 |
| Minimum Purchase | $10 |
| Purchase with | USDT, ETH, BNB, Bank Card |
4. TG.Casino Token – Licensed Telegram Casino ICO Offers KYC-Free Gambling and 2,000%Yields
TG.Casino Token ($TGC) is a brand new ICO that is being offered by an upcoming Telegram-powered crypto casino. It offers an exclusive location for anonymous crypto gambling, with no other software required other than a Telegram account. In other words, it provides a means of accessing gambling that is quicker, and with less bureaucracy, than any other model of casino.
It's the means of access that is the major selling point here, because there is no need for account setup or to deal with a representative from a traditional online casino – you just visit the casino through Telegram, deposit your crypto, bet on outcomes, and withdraw through Telegram. In a world of red tape, these kinds of innovations can prove to be very appealing to customers and investors.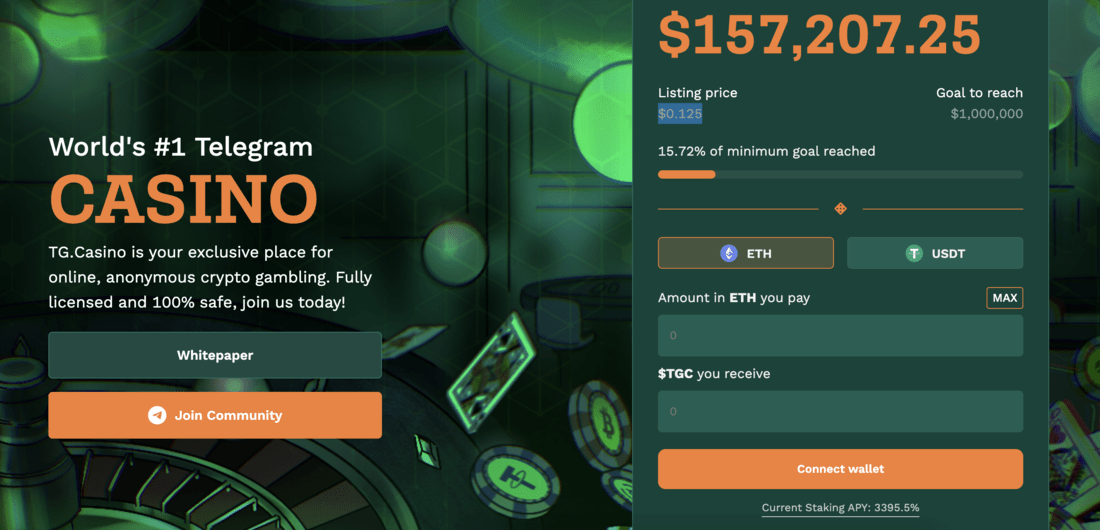 TG.Casino also provides a more democratic model of rewards distribution. In classical online casinos, rewards are distributed to a smaller number of hidden casino owners. With TG.Casino, a portion of the profits are used to buy back the token.
The token is then either burned (resulting in price appreciation), with 40% of the purchased token sent to a burn address, or given back to the community in the form of rewards or bonuses, with 60% going to those staking $TGC.
In this way, people who hold the token can be likened to casino shareholders. Aside from price appreciation and bonuses, the PoS token is presently offering 2,000% APY, which is a gigantic yield.
In other words, the ICO offers maximum accessibility combined with democratized rewards for $TGC holders.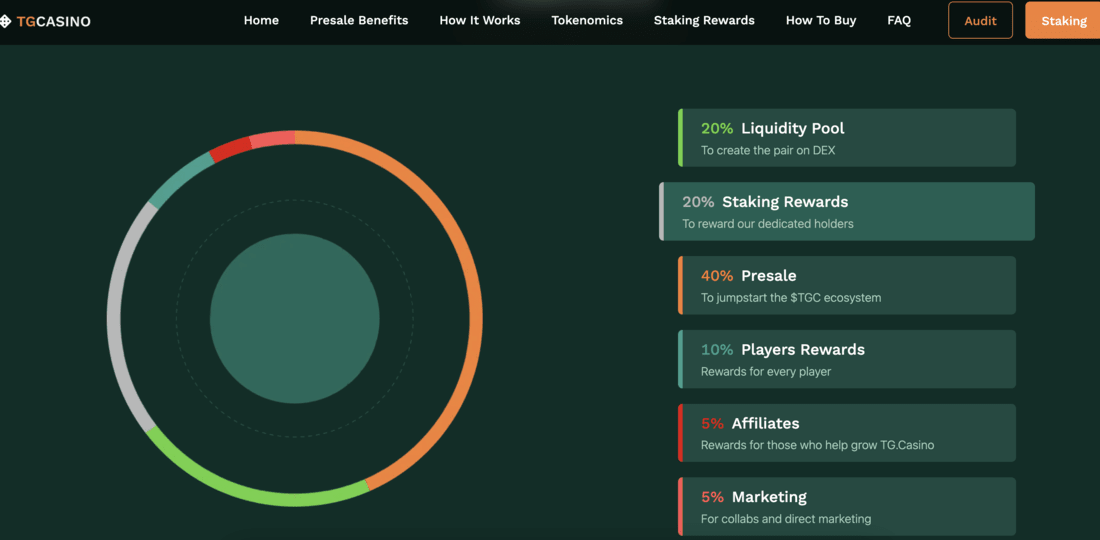 There are a total of 100 million $TGC tokens with 40% (40 million). The price per token is $0.125 and the hard cap is $5 million.
To purchase the token, ETH, USDT, or BNB are required, and the campaign is currently compatible with 7 major Web3 wallets. The presale has already raised over $220,000.
We think this is a great concept that allows never-before-seen accessibility through Web3's most popular messaging application – Telegram. It allows direct access, democratized rewards and huge staking rewards.
For more info re the tokenomics and this ICO campaign, connect via Telegram or Twitter, and explore the Whitepaper in detail.
| | |
| --- | --- |
| Hard Cap | $5,000,000 |
| Total Tokens | 100 million |
| Tokens available in presale | 40 million |
| Blockchain | Ethereum |
| Token type | ERC-20 |
| Minimum Purchase | 100 tokens |
| Purchase with | USDT, ETH, BNB |
5. Launchpad XYZ – High Potential ICO Driving Mass Adoption to Web3
Launchpad XYZ is another high-potential ICO that has only just started and aims to drive mass adoption of users from Web2 to Web3.
The site will have a myriad of features that will make navigating Web3 easier for crypto users – both new and experienced ones – by acting as a one-stop gateway portal to other destinations. More than $1.75 million has been raised in the ICO so far.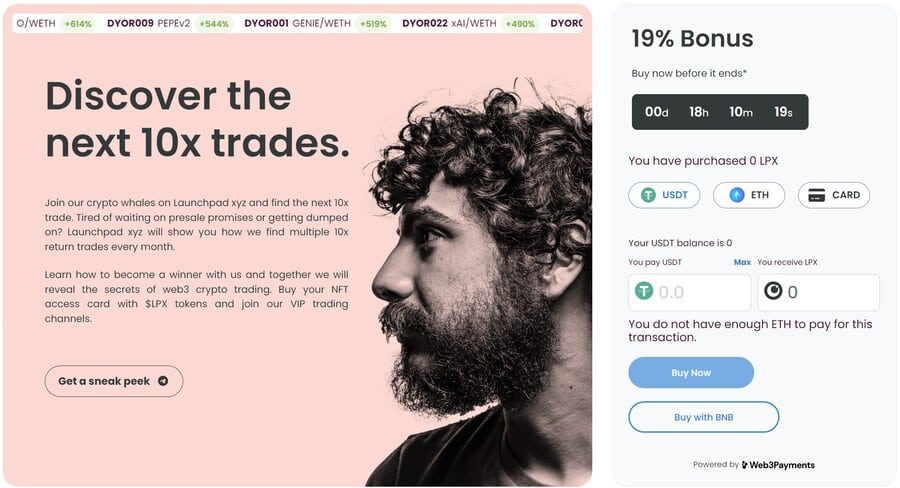 Crypto adoption continues to rise, but still only represents a small minority of the global population, with many potential users put off by the high level of technical knowledge needed to operate in the space.
There are a wide variety of wallets, protocols, dApps, exchanges and marketplaces where users can find the best cryptocurrency to invest in, play games or purchase items with tokens and Launchpad XYZ wants to help users by granting easier access.
The platform, which will incorporate its own Web3 crypto wallet, will also provide a wide range of information, live data and unbiased insights to help provide an unbiased view of the space for its users.
Launchpad XYZ features include a trading terminal, decentralized exchange, NFT marketplace, crypto gaming hub, fractionalized assets and even whitelist places to select new crypto presale projects.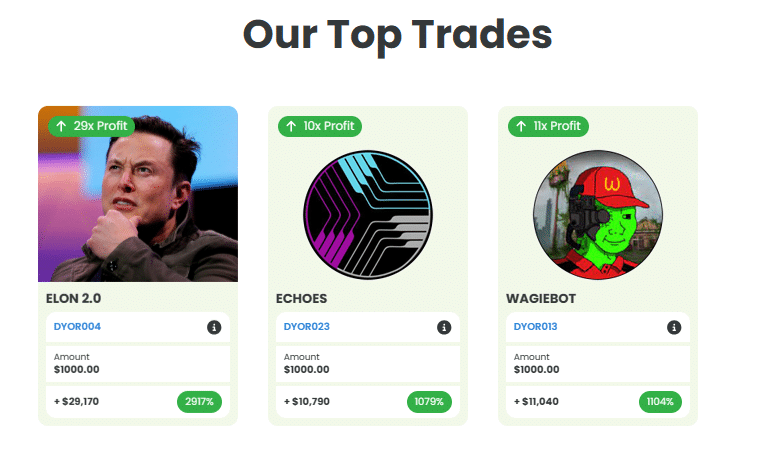 The LPX token ICO is offering tokens for $0.0445. One of its main features is already live, with an alpha signals Telegram group making multiple 1,000%-plus calls in the last month.
The project has been developed by an experienced and doxxed group of founders, with 250 million (25% of max supply) available to purchase during the ICO with no vesting period.
LPX tokens are used in a variety of ways in the platform, including for staking, which grants the ability to sell NFTs, trade tokens or gain access to presale projects.
Read through the Launchpad XYZ whitepaper or join the Telegram group for more info on the project.
| | |
| --- | --- |
| Presale Started | 26 April 2023 |
| Purchase Methods | ETH, USDT, BNB, Card |
| Chain | Ethereum |
| Hard Cap | $12,500,000 |
| Min Investment | 100 LPX |
| Max Investment | None |
6. yPredict – AI-Powered Trading Terminal now in ICO Phase
yPredict is offering its native $YPRED tokens during an ICO which has already raised over $3.9m.
The tokens are used for the yPredict trading terminal, which operates from a freemium model with three different tiers offering access to different features and analytical insights from the protocol.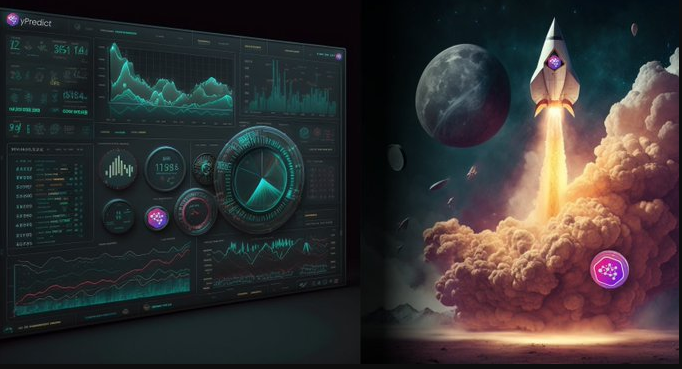 Although tokens cost $0.1 at the time of writing, they will rise to $0.12 when they list on exchanges – with BitMart already confirmed as one CEX listing.
yPredict will help crypto traders maximize their profit-making potential and make better-informed decisions by providing a wide range of data and metrics and the ability to build and develop AI-powered predictive models based on machine learning.
The yPredict AI will also provide pattern recognition, transaction analysis, sentiment analysis and indicator analysis, while users can offer their predictive models to other users and earn from them based on their performance.
The yPredict team is doxxed and KYC-verified and is comprised of an experienced team of professional quants and traders, software developers and machine learning experts.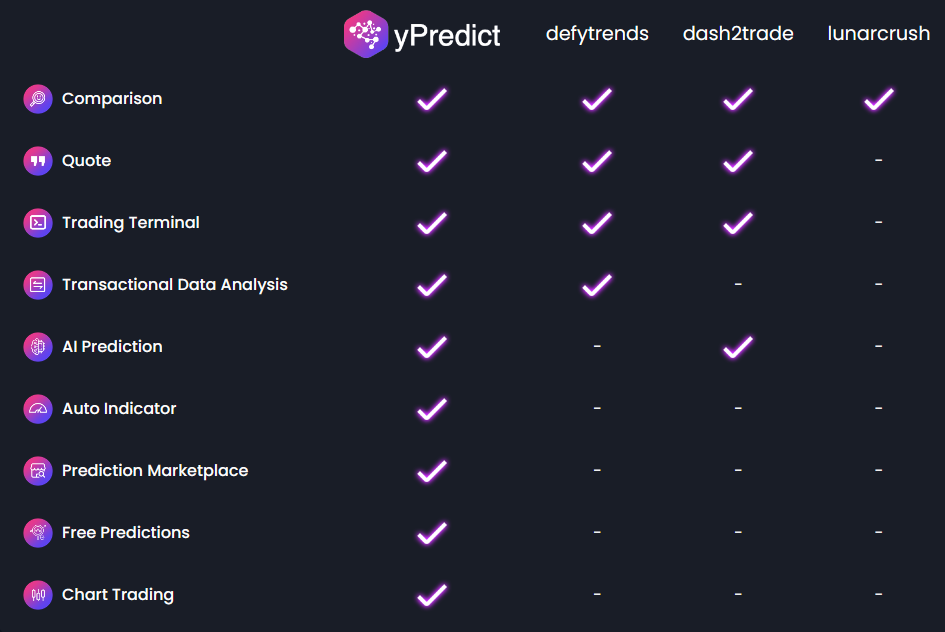 Of the 100 million max supply, 80% has been made available during an eight-stage presale, with 50% of those to be unlocked during the token generation event and 50% to have a six-week lock and six-month vesting period.
Read through the yPredict whitepaper for more information on the terminal, or join the Telegram group.
| | |
| --- | --- |
| Presale Started | Q1 2023 |
| Purchase Methods | MATIC, ETH, USDT, BNB, Card |
| Chain | Polygon |
| Hard Cap | $6,500,000 |
| Min Investment | 200 YPRED |
| Max Investment | None |
7. Chimpzee – Passive Income Generating Charity Token available on Presale
Chimpzee leverages blockchain technology to offer revenue-earning opportunities for investors and to contribute to environmental and wildlife charities.
The token is priced at only $0.00085 and will rise to $0.00095 upon its exchange listing. Since the initial coin offering started, Chimpzee has already raised over $1.35 million.


At the center of the Chimpzee ecosystem is $CHMPZ, the native token. Investors can be a part of the ecosystem by purchasing $CHMPZ on the ongoing first presale round.
On the ecosystem, $CHMPZ can be used to purchase NFT passports, which can be staked to earn up to 20% annually.
According to the Chimpzee whitepaper, the token can also be used to purchase Chimpzee merchandise on the platform's online store. A portion of the revenue made on the online store will be donated to the charities Chimpzee works with.


With the NFTs, members can also take part in a play-to-earn ecosystem. From this platform, one can earn free tokens and exciting prizes.
Pledging to do good for the environment, Chimpzee has already helped plant 1,200 trees. The platform has also donated $15K to the WILD Foundation to protect elephants.
Join the Telegram channel to get updates on the cryptocurrency presale.
| | |
| --- | --- |
| Token symbol | CHMPZ |
| Total supply | 200 Billion |
| Presale supply | 40 Billion |
| Network | Ethereum (ERC20) |
| Purchase methods | ETH, USDT, Credit Card |
8. Scorpion Casino – A Next-Gen Crypto Betting Platform
The crypto casino market has been on the up-and-coming for the past few years, with many projects becoming enormously popular in a short span of time. However, there's one new project and platform that looks like it's going to shake up this niche heavily.
This project is Scorpion Casino, a betting platform that is leading the sector into the future. The basic premise of this project is to offer users a seamless and fun gaming experience that allows everybody to earn.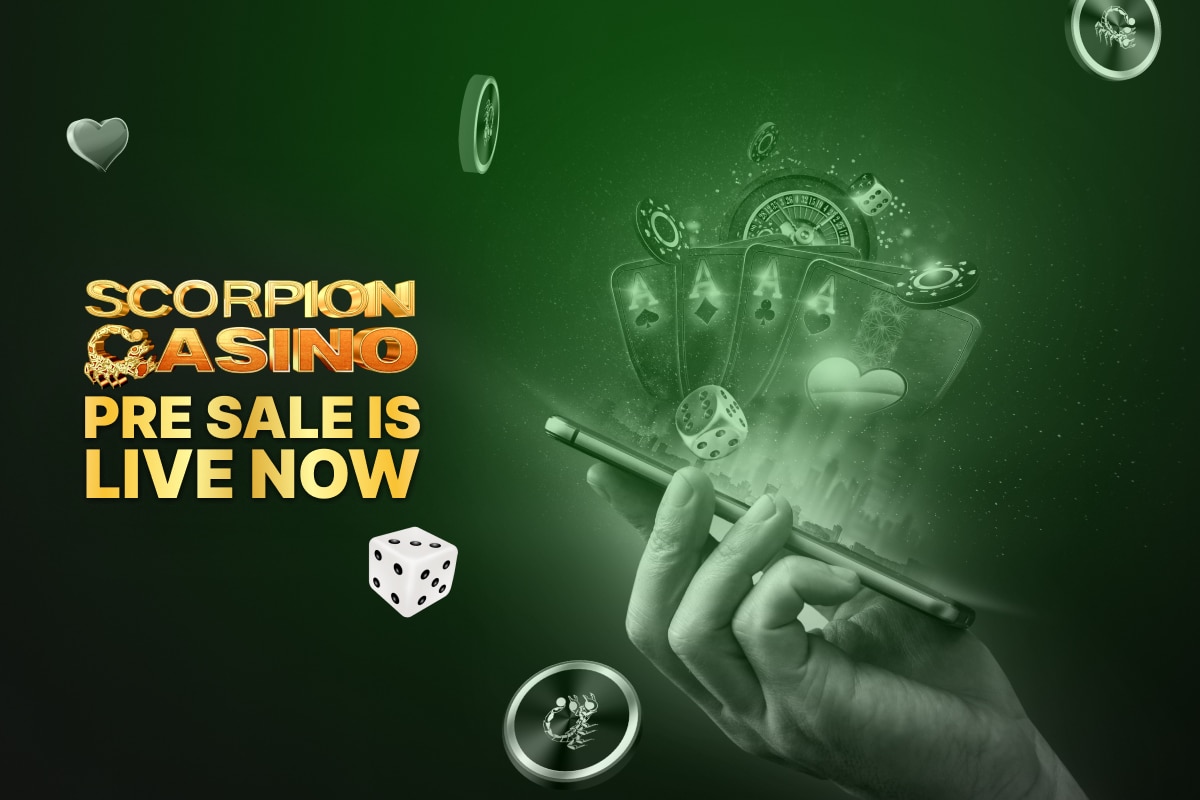 With the global online betting platform estimated to be worth $530.2 billion, there is plenty of opportunity here to Scorpion Casino to pounce and capture that market. The online betting market is nothing to scoff at either, as it is estimated to reach $145.6 billion by 2030.
Scorpion Casino has three major elements to its ecosystem: the Scorpion Casino, the affiliate system, and the SCORP token. The first is a licensed crypto sports betting and casino platform, while the affiliate system is a referral and reward mechanism, and the token is a governance and reward token for users.
The Scorpion Casino has over 200 casino games and 160 live games – which are licensed and provably fair. Expect such games as slots, blackjack, roulette, poker, and live casino. The casino is also connected with all major providers, including Evolution, NetEnt, Play N Go, Novomatic, EGT, and AMATIC. Sports betting options include football, tennis, American football, horse racing, basketball, golf, boxing, and MMA.
The SCORP token plays a central role in the ecosystem, with four major benefits: it is the exclusive payment method in the ecosystem, offers passive income earnings, grants weekly bonuses and free games, and is also involved in the affiliate system.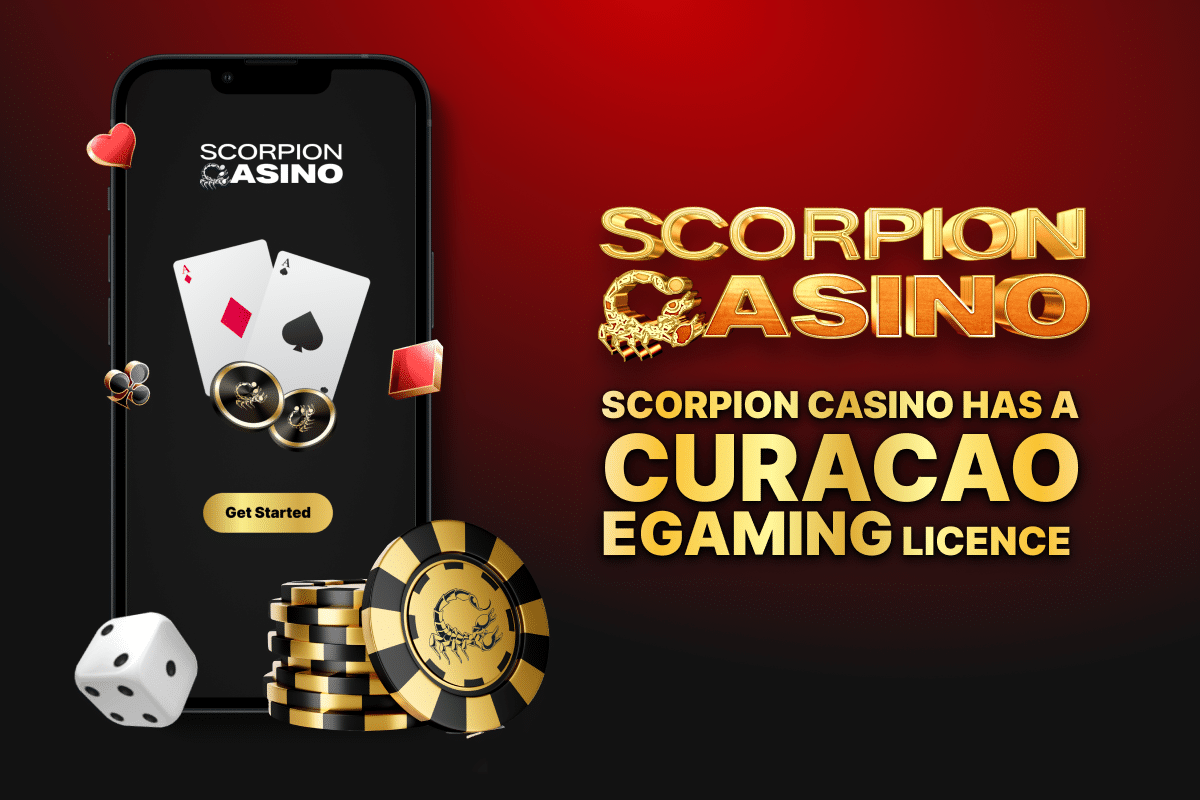 The SCORP token has a total supply of 1 billion, with 280 million SCORP allocated for the ICO, with 300 million has been allocated for the affiliate rewards. More than $1m has been raised in the ICO so far.
The Scorpion Casino team has also released a roadmap, with upcoming developments including live affiliate events, partnerships, marketing campaigns, and collaborations. The latter half of the year will work on scaling the platform into something much bigger.
| | |
| --- | --- |
| Token symbol | SCORP |
| Presale supply | 200,000,000 SCORP |
| Token type | BEP-20 |
| Payment methods | ETH, USDT, BNB |
| Listing price | $0.05 |
9. eTukTuk – New Crypto ICO that is Building Electric Charging Stations
eTukTuk aims to build a network of electric vehicle charging stations to tackle pollution and generate financial rewards for its community. Currently, more internal combustion engines (ICEs) release carbon dioxide compared to cars.
The project, which is built on the Binance Smart Chain, has not yet launched its ICO but whitelist spots are now open.

To solve this issue in developing countries, eTukTuk aims to get TukTuk drivers to start using zero-emission vehicles (ZEVs). One of the goals of eTukTuk is to set up Electric Vehicle Supply Equipment (EVSE) and charging stations in urban and suburban areas.
$TUK, the native token, will be vital to expanding this ecosystem. The platform will set up territories, which are regions where ZEVs and EVSEs will be built. These plants will be built with the help of territory partners that will be responsible for the manufacturing.
eTukTuk plans to release a driver app through which TukTuk drivers can make payments at the charging stations with $TUK tokens. A portion of each payment will be sent to the territory partners.
Token holders can also stake $TUK to maintain the ecosystem and earn commission from the transactions generated. Furthermore, users can stake tokens on a staking pool, regularly offering members inflationary rewards.
By using local power grids, eTukTuk aims to be fully self-sufficient. The platform also aims to use solar power, which will be a great alternative to fossil fuels and other non-renewable resources.
By focusing on local manufacturing, drivers will take 400% more pay due to the reduced costs of operations and maintenance. Interested readers can apply to be part of the token whitelist. This cryptocurrency is priced at $0.024 during the ongoing community sale.
10. Wall Street Memes – Trending Meme Coin Live on OKX
One of the most challenging things for any ICO is getting recognized by the masses. However, the Wall Street Memes presale had a massive head start as it entered its ICO with over one million followers.
Hype and interest swelled throughout the ICO period with Wall Street Memes enjoying one of the best presales ever – raising more than $25 million. $WSM tokens are now live on OKX.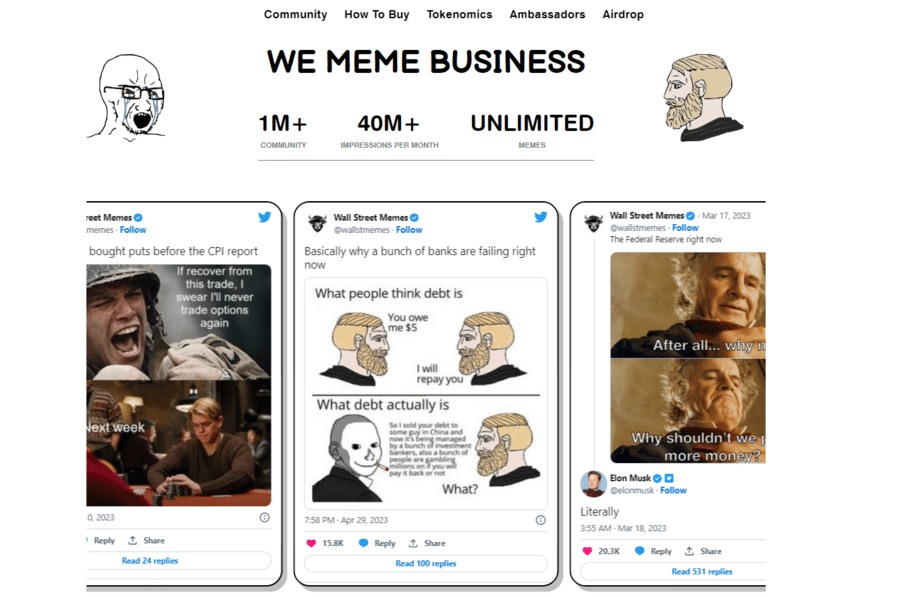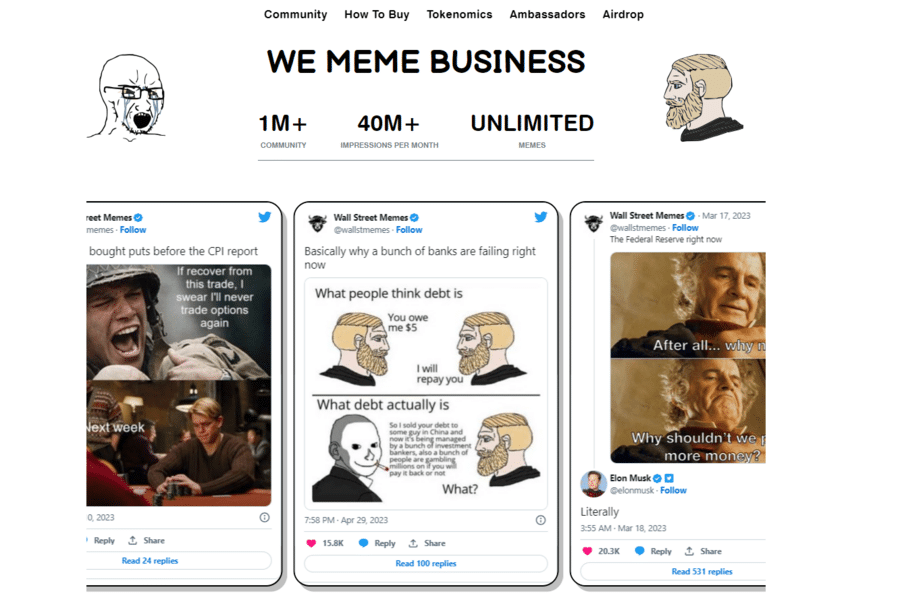 $WSM is a meme coin created by the Wall Street Memes brand, born from the Wall Street Bets Reddit community. The team previously started the Wall St Bulls NFT project in 2021, which sold out in 32 minutes. Now, the team aim to 'tokenize the movement', enabling everyday investors to get rich off 'useless meme coins'.
The project, which also offers stake-to-earn rewards, is meant to go against the norms of traditional finance and so far has seen significant support from the community – raising over $25 million since launch. Its explosive performance immediately puts the project in contention for the best ICOs to buy ahead of its presale closing on September 25.
While all ICOs come with risk, meme coins are community-driven tokens, so Wall Street Memes' large community puts it at an immediate advantage. Having said that meme coins are also subject to the same level of volatility as the rest of the altcoins. As quickly as it could rise it could also plummet. Always be sure to invest as much money as you can afford to lose.
The project is also a stake-to-earn token offering lucrative staking rewards – at the time of writing more than 300 million tokens have been locked in the staking pool, which is offering an estimated APY of 55%.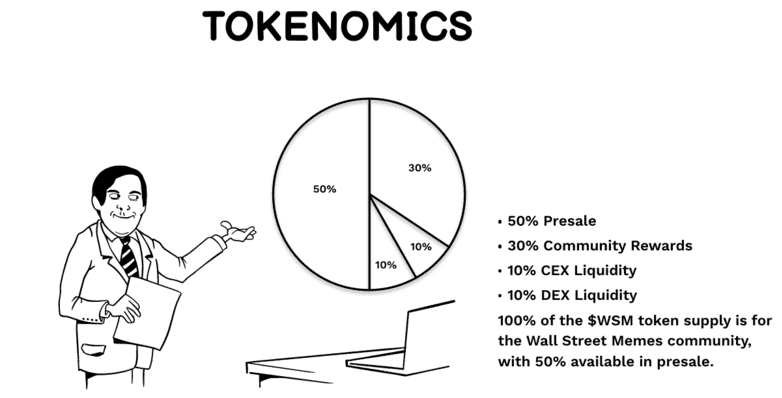 In celebration of its launch, the Wall Street Memes team is running an airdrop for $50k worth of $WSM. Users must complete a series of simple tasks to become eligible; find out more on the project's Discord.
On top of its strong community, Elon Musk has also notably engaged with the Wall Street Memes Twitter account on multiple instances. As our Wall Street Memes price prediction mentioned, this could significantly impact the project's success, particularly in the next meme coin bull run.
11. ScapesMania – New Gaming Presale Solving the Complexities of the P2E Gaming Space
ScapesMania ($MANIA) is a new gaming ecosystem which caters to the Web2 and Web3 gaming market. The play-to-earn (P2E) space has faced several challenges in recent years. Casual gamers are looking to engage in exciting gameplay, whereas crypto investors may not be interested in the gaming process.
With ScapesMania, Web2 gamers can engage in exciting gameplay, with the ecosystem expected to comprise multiple, full-fledged games and tournaments. For Web3 enthusiasts, the platform will offer governance opportunities through the DAO (Decentralized Autonomous Organization).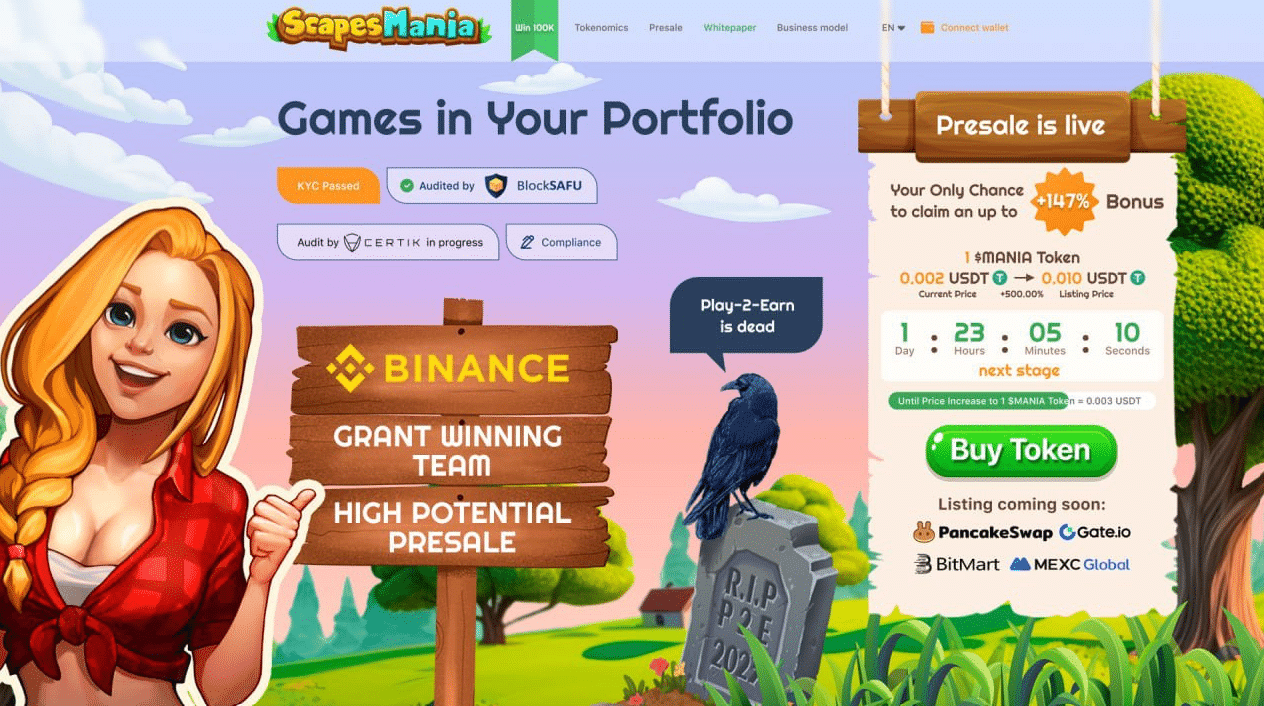 By holding $MANIA, the native token, users will eventually be able to vote on implementing new features and control the funds in the ecosystem. A safe platform to use, ScapesMania is KYC verified and has been audited by BlockSAFU.
$MANIA has a total supply of 4 billion tokens and can be used to purchase in-game assets from the ecosystem. After the engagement increases on the platform, ScapesMania will use approximately 30% – 50% of the revenue generated to buy back $MANIA to help limit the token supply.
The whitelist stage has been sold out, and currently, the $MANIA token is available on the early-bird presale round. In total, the presale will allocate 1.2 billion tokens, representing 30% of the total token supply. The token is priced at only $0.00213.
The platform is going to be listed on popular cryptocurrency exchanges, including PancakeSwap, Gate.io, BitMart, and MEXC Global.
| | |
| --- | --- |
| Hard Cap | $5,205,000 |
| Total Tokens | 4,000,000,000 |
| Tokens available in presale | 1,200,000,000 |
| Blockchain | Binance Smart Chain |
| Token type | BEP-20 |
| Minimum Purchase | $10 |
| Purchase with | BNB, BUSD, USDT, USDC |
12. Anarchy Coin – A Meme Coin Using a DAO and Deflationary Measures to Combat Inflation
Instead of following the trend of meme-based cryptos that prioritize humor for financial gains, Anarchy coin ($ANA) employs a dual-purpose strategy. It aims to address widespread financial issues such as inflation, corruption, and systemic inefficiencies while operating on a profitable model.
$ANA, built on Ethereum, blends the appeal of memes and the effectiveness of a sound DeFi model. Usually, platforms like Dogecoin are at the forefront of the meme-coin landscape, but Anarchy Coin seeks to take a different path by building a platform for its community members.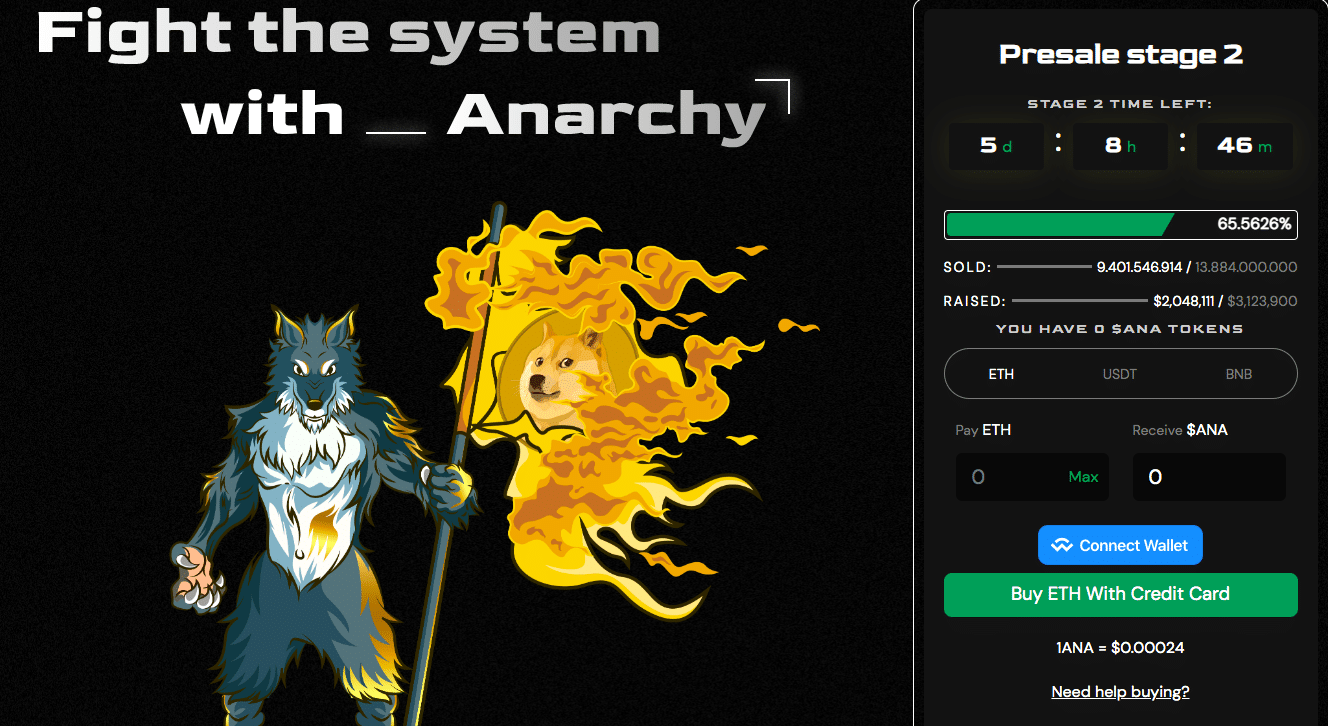 Here, they can revolt against the traditional financial systems while engaging in community-based decision-making. Currently, $ANA tokens are selling out at a price of $0.00024 USDT.
A notable feature of the Anarchy Coin is its Decentralized Autonomous Organization, known as Anarchy DAO. This community-driven model invites members to propose and vote on how the DAO treasury funds should be allocated. The Anarchy DAO's focus on transparency and community participation lends $ANA a competitive advantage.
The DAO emphasizes philanthropy and investment while implementing Gnosis Safe multi-signature solutions for transparent fund distribution. This ensures that $ANA token holders are not mere investors but active contributors to the DAO's everyday treasury management.
Anarchy Coin employs a deflationary approach, utilizing a burning mechanism that gradually reduces the circulating token supply. Each transaction triggers a 0.5% burn, curtailing the total supply and driving up the token value.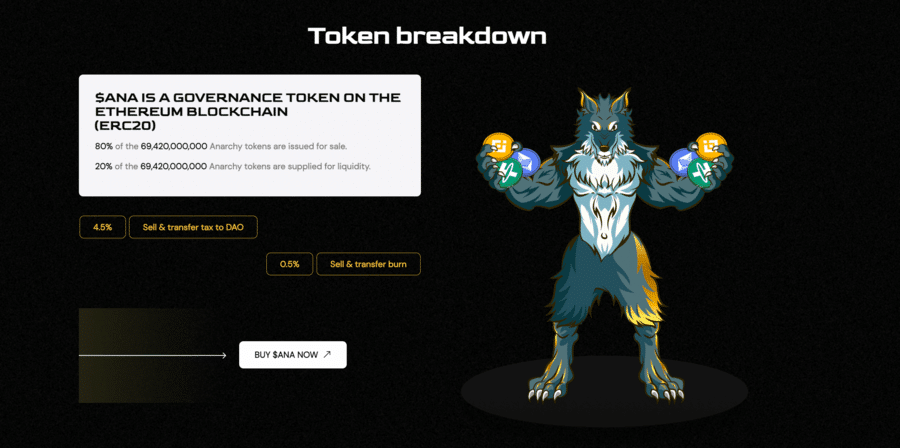 Around $5 million has been raised in the presale so far.
Interested individuals can stay updated with the latest developments by following the Anarchy Coin Twitter page or joining their Telegram channel.
| | |
| --- | --- |
| Presale Started | Q2 2023 |
| Purchase Methods | ETH, USDT, BNB |
| Chain | Ethereum |
| Min Investment | None |
| Max Investment | None |
13. Pikamoon -Promising Crypto ICOs to Invest in and a Play-to-Earn Virtual World Inspired by Pokemon
Having launched its presale in mid-April 2023, Pikamoon is currently one of the best crypto ICOs to invest in 2023. Pikamoon is a blockchain-based metaverse ecosystem and a play-to-earn platform offering a thrilling gaming experience and an investment opportunity.
In essence, Pikamoon is a combat, strategy, and exploration game where players can traverse the fictional realm of Dreva built in the metaverse. Completing missions and emerging victorious from fights against other characters can grant you the platform's native token, $PIKA.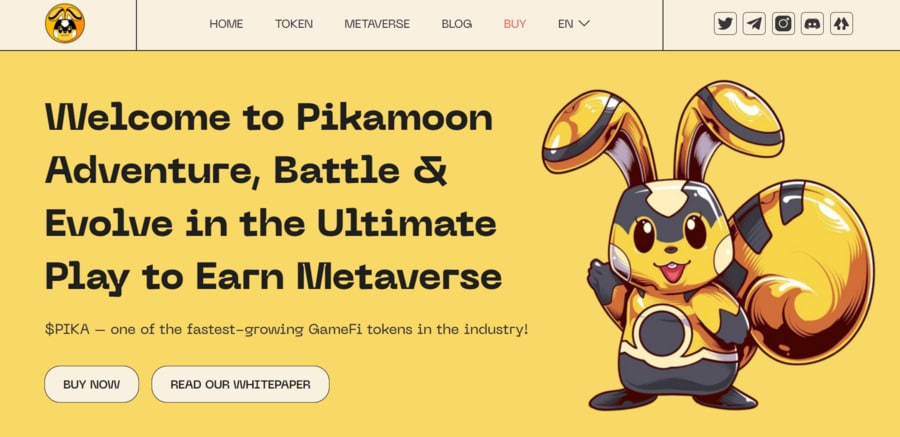 $PIKA can then be used in the platform's marketplace to buy items like health boosts and treats, increasing characters' strength and durability in battles. In addition, the project's whitepaper states that holders can also sell their tokens on an exchange or trade them for other crypto coins.
Many users have recognized Pikamoon's potential, which allowed the project to earn $4 million in a short amount of time. The platform started its presale with a price of $0.0002 per token and is now in its third presale phase at $0.0006.
To get more information about the project and keep up with the latest developments, make sure to join the project's growing Telegram channel.
| | |
| --- | --- |
| Presale Started | April 2023 |
| Purchase Methods | USDT and ETH |
| Chain | Ethereum |
| Hard Cap | $6 million |
| Minimum investment | None |
| Maximum investment | None |
Bluesky is an upcoming ICO that was initially kickstarted by Jack Dorsey of Twitter. Though it no longer has any affiliation with Twitter, it still has the same Blue and White color scheme and is involved with social media interaction.
Jack Dorsey still serves on the board of the Public Benefit LLC. Its mission statement is to "develop and drive large-scale adoption of technologies for open and decentralized public conversation."

Bluesky aims to build a social internet through a new model – the AT protocol. This protocol will allow users to take their users and content with them from platform to platform. This means that if they get banned or censored from a given platform, they will still be able to take their resources with them.
Through Bluesky, users will be able to subscribe to specific tags, and this will dictate what content shows up on their feed. It allows users to control, filter, and monitor what shows up. This is a more effective model than having a third-party content moderation team or a series of platform guidelines.
Bluesky also has benefits for developers. For instance, a centralized platform like Twitter can suddenly restrict or charge access to an API.
The idea of portable accounts that allows users to retain ownership of their content and subscribers is one the market seems to be seeking – many people make a career out of social content in the modern era, and are at the mercy of centralized media. This is why we have seen a lot of alternative social platforms cropping up – Rumble, Theta Network, DTUBE, Zion, etc.
Bluesky adds something different as it is a protocol allowing for easy transfer across its network. Developers could build multiple social media applications on Bluesky, and users can transfer their accounts over if they wish, giving them full autonomy.
Stay tuned for the upcoming ICO in 2023. Token type ie ERC20.
15. SOLA-X – Solana-Based Smart Liquidity Protocol
SOLA-X is a crypto project that aims to transform how automated market makers (AMMs) are designed within the Solana ecosystem. It plans to achieve this by creating a smart and flexible liquidity pool. SOLA-X's routing feature ensures that a liquidity provider can directly stake their assets in a pool.
Staked assets are then distributed to different liquidity pools that offer high APYs, depending on where they are needed the most. The fees are then re-distributed to individual stakers. In other words, SOLA-X ensures automatic pool selection and the highest interest rates. Staking pools can also support multiple assets, thus allowing investors to deposit one or more cryptocurrencies.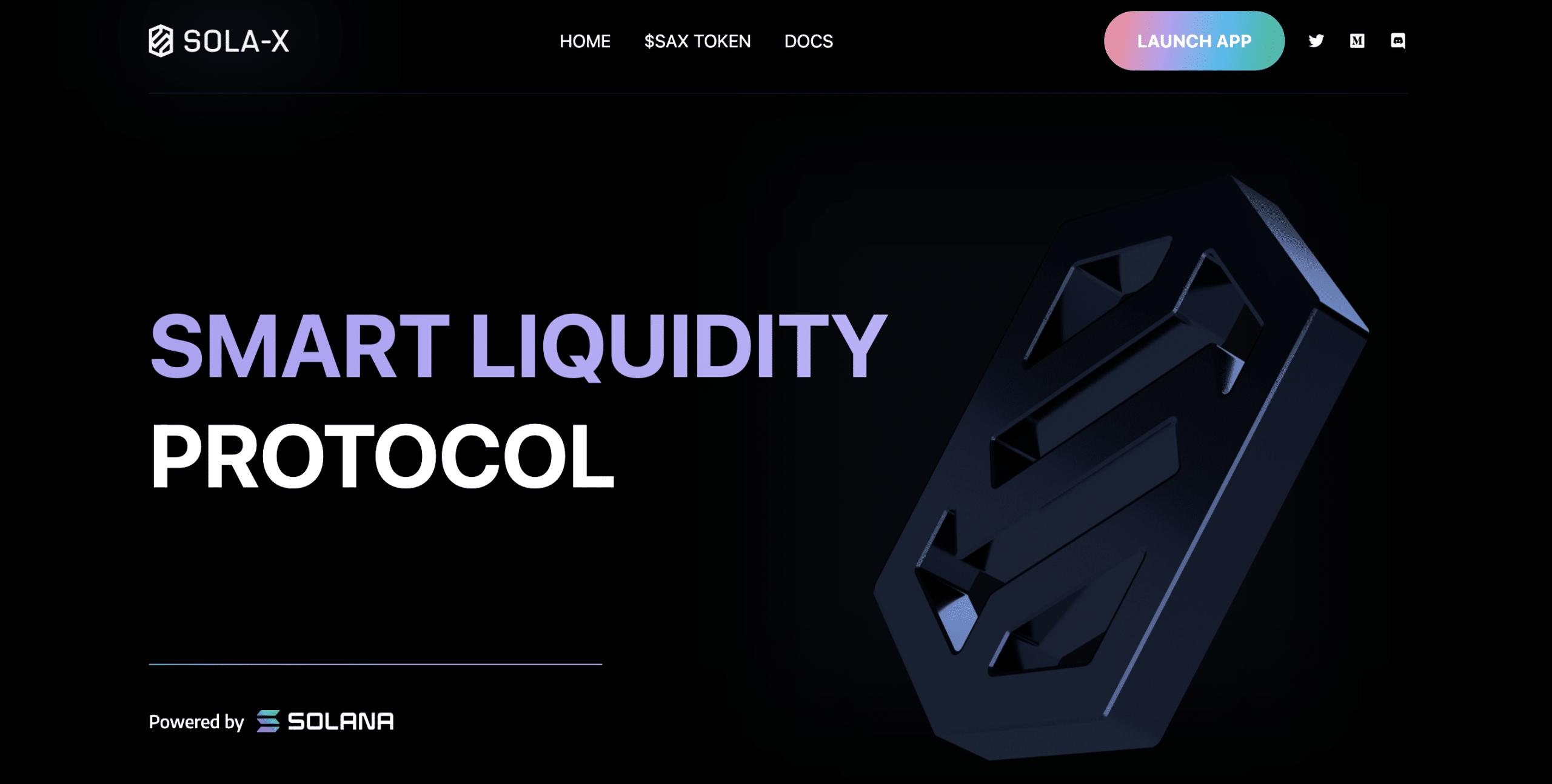 SOLA-X is one of the first projects to improve the AMM architecture within the Solana ecosystem – which gives it an early-mover advantage. SOLA-X is selling its native token, SAX, via an ICO.
The ICO requires a minimum spend of at least $10,000, however, so this is a project for experienced and serious investors only.
16. KryptView – Research-to-Earn Platform With Upcoming ICO
KryptView is calling itself the world's first research-to-earn platform. It uses blockchain mechanisms to reward users who generate fundamental analyses of different cryptocurrencies. The data provided by a contributor is automatically structured and reviewed by the community before it is shared with KryptView users.
As is clear, rather than focusing on technical analysis, it aims to provide access to the fundamental data of a cryptocurrency. KryptView also comes with other features that allow its users to share their portfolio models and earn rewards if it performs well.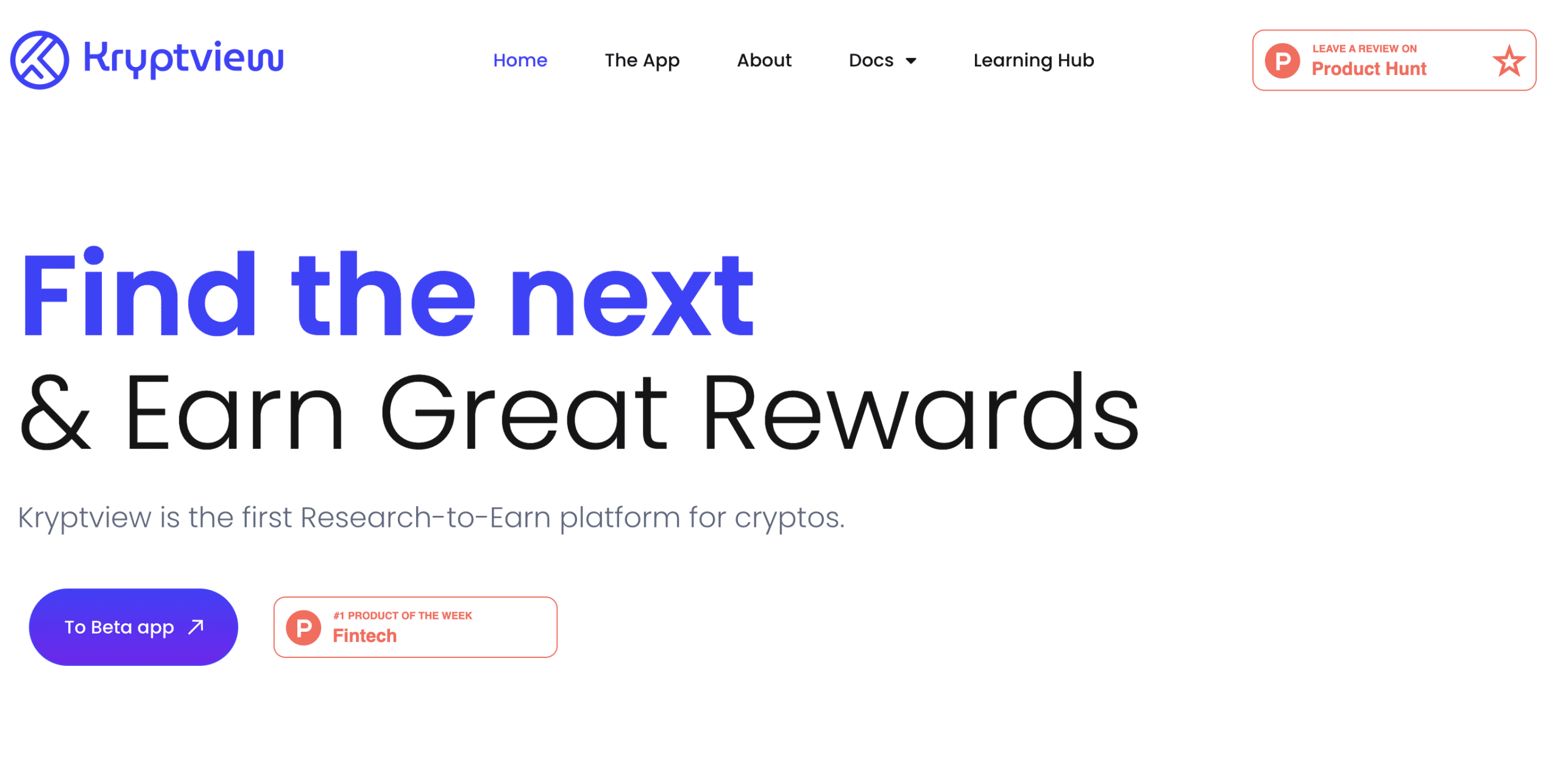 It also offers real-time market data on cryptocurrencies.
KryptView has designed a new digital token, KVT, for the purpose of rewarding its users.
17. Superstate – Bringing Bonds to the Blockchain in a Regulatory Compliant Manner
When governments start actively using blockchain technology, it could be a signal for mainstream adoption. The Superstate mantra is "Building the future of compliant, blockchain-based financial products". Superstate is a trust filed with the SEC as of 26 June, 2023. Its principal business office is in San Francisco, California.
The intention of the fund is to seek consistent income from government securities in line with liquidity. The fund does not invest in anything related to cryptocurrency and is specifically concerned with short term US government securities. The team behind Superstate is looking to give DeFi investors an easy way to get access to real-world yield, essentially owning two asset classes – DeFi yield and government bond yields.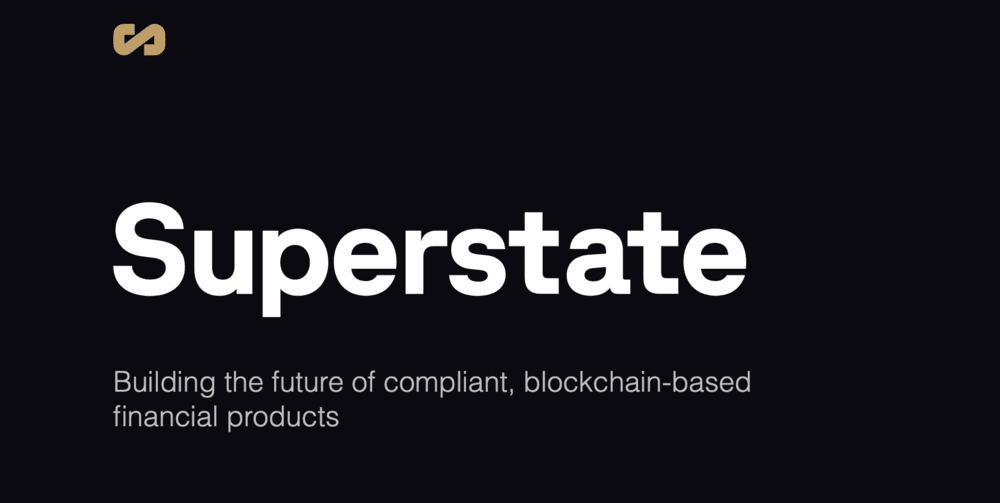 The fund is investing in short term government bonds, placing them on an Ethereum blockchain. Other government instruments are to be considered in the future. SuperState was created by Robert Leshner, the CEO and founder of Compound Finance, an Ethereum DeFi application. Leshner has described this as an upgrade of the financial system.
While short term government bonds can be described as "boring", the ethos of Lesher is to start small and take on more risk with time. He states "Eventually, hundreds of trillions of offline assets will find their way onto blockchains…We plan to facilitate that migration."
Superstate is a combination of traditional and modern finance. A Wall Street Transfer Agent will keep ownership records of fund owners, while Ethereum will serve as a secondary source of verification. The blockchain based record keeping will enhance operational efficiency and improve the quality of service for fund owners.
Fund shareholders will be able to hold a digitally issued record of ownership through the Ethereum blockchain. The dual strategy of Blockchain/Agent ownership can help in terms of security, as ownership records kept only on a Blockchain can be lost forever, if the user forgets the private key.
Superstate is listed as an upcoming ICO, but no details are available or finalized. Such an ICO might have positive implications for the wider cryptocurrency industry, adding to its legitimacy, as Superstate helps to enhance TradFi products.
What is an Initial Coin Offering?
If you're new to crypto, you may wonder what an ICO is. An initial coin offering is a popular way new projects raise funds and generate attention to kick-start development or pique interest. Some of the cheapest cryptos to buy also offer an ICO to raise funds for the development of their projects.
ICOs differ from IEOs and private sales which represent different sale phases. But we'll explore the differences a bit further down.
What's the most famous ICO example?
There are several examples of hugely successful ICOs in the crypto market's history.
For instance, Ethereum's ICO took place back in 2014 and ended up raising $18.4 million. Cardano, which improved on some of the biggest shortcomings of Ethereum, had an even more successful ICO in 2017, raising over $62 million.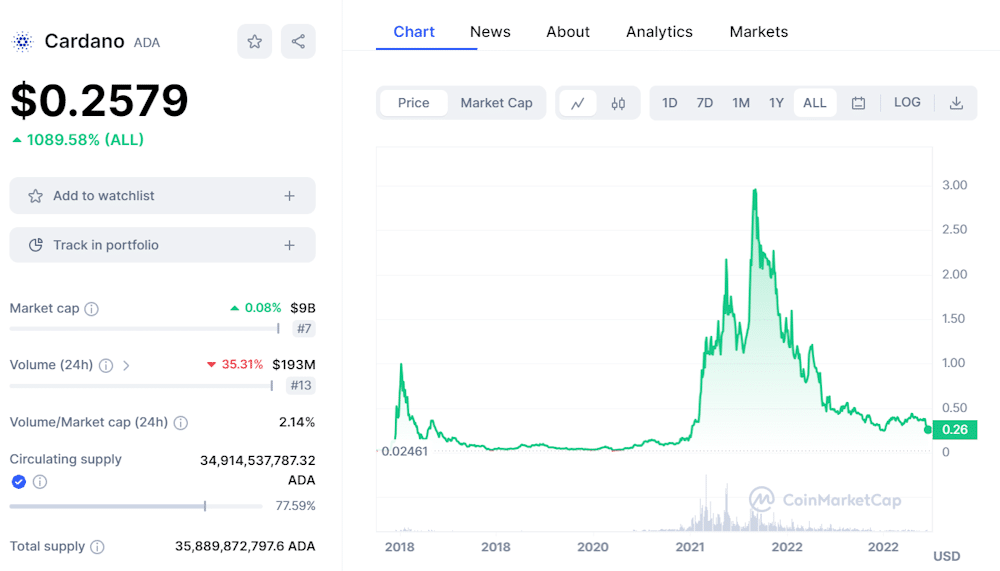 A more recent example saw NEO raised $28.06M in ICO funding and now yields an ROI of +38.57x in comparison to the USD.
There are also several ICOs that generated unprecedented returns for investors in the short to mid-term.
Bancor gathered a whopping $153M making it one of the best selling ICOs in 2017. Since it's ATL of $0.1174 in March 2020 it's risen by 197.35%.
ICOs vs IEOs – Understanding the Difference
New crypto projects attempting to raise funds via an IEO (initial exchange offering) have a recognized partner. This could be a third-party intermediary such as a cryptocurrency exchange or DEX. This partners acts as the middle man between the developers and the buyers. The CEX or DEX assess the new crypto projects that have filed for an IEO and manage the fundraising process.
When it comes to an ICO, new cryptos are typically not listed on a crypto exchange straightaway but rather weeks or months later once the token sale finishes. In certain rare occasions the listings do not happen and the project fails.
When it comes to an ICO, the developers and sales team come up with a marketing campaign using popular mediums such as PPC, social media and online forums such as Reddit and Discord to help entice new investors. With an IEO the third-party intermediary such as a centralized crypto exchange will handle the marketing and sales on behalf of the new crypto project.
All that being said, ICOs are also unregulated, which means that investors should exercise a high degree of caution before investing in them, conduct thorough research and due diligence and only invest what they can afford to lose.
Even if an ICO ticks all the correct boxes in terms of its potential, roadmap, tokenomics and developing term, there is no guarantee it will be a success, with the market ultimately deciding.
How we Ranked the Best ICOs
Given the abundance of ICOs in the current market, it is vital to evaluate specific factors to discover projects with significant growth potential.
Our selection process for identifying the top crypto ICOs involves thorough examination of various metrics, such as their practical use cases and value, short and long-term potential, main exchange listings, and the social hype and size of their followers.
We Ask the Following Questions when Picking ICOs with Most Potential
Do they have the potential to generate significant returns in both the short and long-term?
What about use cases and utility? Do they offer real-world utility that could lead to widespread adoption and subsequent gains?
How do like-minded investors and crypto traders feel about the particular project on social media? Is there significant hype surrounding the ICO in question?
Potential for Huge ROIs
When looking for the next best ICO it's important to ask whether the crypto project could yield huge returns in both the short and long-term.
In 2017 crypto ICOs raised $180M an increase of $79M in comparison to 2016, according to Smith + Crown. With that in mind, did you know that investors who bought XRP during its ICO in 2017 are now looking at an ROI of +7,152.97%.
It's important to note that when exploring ICOs based on their potential to yield high returns it's equally vital that we examine other key factors such as use cases, tokenomics, and price history. ICOs are notoriously volatile so as quickly as they can appreciate in value they can also collapse. Investors and traders should only invest money they can afford to lose.
Mainstream Use Cases and Real-World Utility
Another key metric we use when ranking the best crypto ICOs in 2023 is real-world utility. In other words how can this crypto be used in our everyday lives? When trying to figure out what to invest in next it's crucial to pick assets that are unique – maybe because they have innovative business offerings and solve issues faced by society.
Therefore by finding ICOs with promising use cases, we can gauge which projects are most likely to enter mainstream culture after their listed on an exchange.
An example of a crypto ICO offering real-world utility is that of ecoterra. This green crypto is pioneering a Recycle2Earn app featuring recycling tokens, carbon credits and ecology actions. It's launching its first ICO and aims to raise $2M during the initial stage.
To gain a good understanding of a new ICO's utility, one of the most effective methods is examining its whitepaper. These documents provide valuable insights into the project's objectives, tokenomics, roadmaps, and more. Consequently, when it comes to making investment decisions concerning ICOs, whitepapers play a pivotal role, offering essential information that shouldn't be overlooked.
Last but not least, ranking the top ICOs for 2023 means being aware of trending coins on social media. According to a CNBC survey, 1 in 10 people have invested in cryptocurrency one way or another.
Most of these retail investors get their insights from the best crypto Telegram signals, YouTube channels or Twitter feeds.
Therefore, because we kept a close eye on social media channels we could easily pick out the top ICOs that were trending right now. We could then compare this social media hype against other determining factors such as price history and utility to ensure these new ICOs have a real upside potential.
Please keep in mind that although the surge in social media buzz may cause the value of a cryptocurrency to rise due to increased trader activity, it doesn't necessarily indicate a solid long-term investment opportunity.
Numerous newly introduced tokens garner substantial hype and experience rapid price jumps, only to subsequently crash. That's why it's crucial to establish your risk tolerance and appropriately diversify your assets to mitigate potential risks.
How do ICOs Work?
Typically, in order to launch a new crypto project, the team has to approach a VC or an individual investor for funding.
When compared to such traditional and strenuous methods, ICOs are considered the easier alternative – as it allows projects to receive funding from a wider group of investors, both institutional and retail.
As well as benefitting the project, many ICOs have also generated significant returns for early investors, if they can find them ahead of the rest of the market.
The ICO Process
During an ICO, the project issues and sells its own tokens in exchange for established cryptocurrencies, such as USDT or Ethereum.
Investors participating in the ICO receive the newly issued tokens, which represent a stake or utility within the project.
The funds raised through the ICO are typically used to finance the development of the project, infrastructure, marketing, and other operational expenses.
This is because, during an ICO, the respective cryptocurrencies are often offered at prices below their eventual listing price.
During the presale, tokens will likely be sold at a huge discount – meaning investors will pay much less than the eventual exchange listing price. While some entities have private presales, others open them to the public.
In fact, some of the best crypto ICOs we covered in our guide are in the presale stage – which means that investors have a window to buy these tokens at a lower price before they are listed on exchanges.
Why do People Buy Crypto ICOs?
Anyone can launch an ICO nowadays – there is virtually no barrier to entry. For the same reason, investors need to be cautious when deciding to risk their money on ICOs.
Investing in crypto ICOs carries a significant level of risk and potential reward. Some coins have experienced substantial price surges, increasing by hundreds or even thousands of percentage points shortly after listing on exchanges. However, it's important to note that certain ICOs have encountered depreciation due to early investors swiftly selling their tokens, while some projects fail to fulfill their potential for various reasons.
Certain projects have ambitious long-term plans that may take years to materialize, leaving investors in a state of uncertainty during the development process. Therefore, it is crucial for investors to thoroughly comprehend the nature of their investment before purchasing any tokens.
While some ICO cryptos hold the potential to become lucrative investments, others may witness initial surges followed by significant sell-offs, leaving token holders with devalued assets. The outcome often depends on specific factors such as the project's unique characteristics, target market, future potential, and more.
Nonetheless, there are common advantages associated with investing in crypto ICOs, which we will explore further below.
Potential for Huge Short and Long-Term Returns
Investing in crypto ICOs presents the potential for substantial profits due to several key factors.
Firstly, early-stage investments in ICOs allow investors to access tokens at a lower cost compared to their potential future value. If a project gains traction and achieves significant adoption, the value of the tokens obtained during the ICO can experience substantial appreciation. This was the case with the father of crypto, Bitcoin, which first hit the markets at a price of $0.04865 back in 2010 and then broke records when it reached $68,789.63 in November 2021. This represents an increase of +52,602,382.66%.
Secondly, ICOs often attract a considerable amount of attention and excitement from the crypto community, leading to rapid price surges once the tokens are listed on exchanges. This initial hype can create lucrative opportunities for investors who get in early.
Lastly, successful ICO projects may introduce innovative technologies, revolutionary business models, or solutions to existing problems. If these projects effectively deliver on their promises and gain widespread adoption, the value of the associated tokens can skyrocket, generating substantial profits for early investors.
However, it's crucial to acknowledge that investing in crypto ICOs also carries significant risks, including the potential for scams, regulatory uncertainties, and market volatility. Thorough research and due diligence are essential to identify projects with strong fundamentals and promising potential for long-term success.
Early Access to Innovative Crypto Projects
The best way to make money from cryptocurrency is to invest early in crypto projects that have the potential to explode in the future.
A cryptocurrency ICO offers an excellent opportunity for investors to get in on the ground floor of a new project.
Launchpad XYZ is another innovative project that wants to drive mass adoption from Web2 to Web3 by offering an easily navigable gateway portal for all that the space has to offer.
What About Herd Mentality and FOMO?
Investing in crypto ICOs due to herd mentality and a fear of missing out (FOMO) can be alluring but it's important to consider the following points.
Firstly, the herd mentality refers to the tendency of investors and crypto enthusiasts to follow the actions of the masses. When a particular ICO gains significant attention and generates buzz in the market, some traders feel compelled to invest simply because others are doing so. This fear of being left out can drive individuals to join the investment frenzy without thoroughly evaluating the project's fundamentals or potential risks.
Secondly, the fear of missing out (FOMO) plays a significant role in driving ICO investments. As ICOs often witness substantial price surges in the early stages, investors fear missing out on massive profits if they don't participate. The fear of missing the next big investment opportunity can lead to impulsive and irrational decision-making, driven by the desire to capitalize on huge returns.
Furthermore, the allure of quick wealth generation associated with successful ICOs can amplify FOMO. Stories of individuals who made significant gains by investing in ICOs, such as Dogecoin and Shiba Inu, further contribute to the fear of missing out, enticing more people to join the bandwagon.
Pro Tip
It's important to note that investing based solely on herd mentality and FOMO can be risky. Such investment decisions may lack careful analysis and due diligence, increasing the chances of falling victim to scams, market manipulation, or investing in projects with weak fundamentals.
It is crucial for investors to exercise caution, conduct thorough research, and base their investment decisions on a well-rounded assessment of the project's viability, potential risks, and long-term prospects.
How to Find the Best ICOs to Invest in
Investors who are set on buying into a crypto ICO should ensure that they do sufficient homework to gather information about the specific project.
This is because there are hundreds of ICOs and dozens are added on a daily basis.
Here, we have outlined a number of factors that investors can use to find the best crypto ICOs right now.
Make the Most of ICO Calendars
Investors use ICO calendars as valuable tools to identify the best crypto ICOs for their investment strategies. Here's how they do it:
Finding comprehensive information in one place can be time consuming and near impossible at times. ICO calendars provide a centralized source of useful information about upcoming ICOs.
Investors can access details such as project descriptions, token sale dates, fundraising targets, team information, and links to official project websites. This compiled data allows investors to quickly evaluate multiple ICOs and make informed decisions.
Evaluating a project's suitability and sustainability – Investors can analyze the ICO calendar to assess whether a project aligns with their investment goals and preferences.
They can consider factors like the project's industry, use case, technology, and team expertise to determine if it matches their investment criteria. This evaluation process helps investors narrow down the ICOs that best suit their portfolio and risk appetite.
Discovering market trends and community sentiment – ICO calendars such as that offered by CoinMarketCap, often include user ratings, reviews, and discussions. By examining these insights, investors can gauge market sentiment and community feedback surrounding a particular ICO.
They can assess the level of excitement, potential demand, and the overall perception of the project. This information aids investors in identifying ICOs that generate significant interest and have a supportive community.
Conducting your own due diligence and research – ICO calendars serve as a starting point for investors to conduct further due diligence and research. Once investors shortlist potential ICOs, they can delve deeper into the project's whitepaper, roadmap, team backgrounds, partnerships, and market analysis.
This thorough examination helps investors evaluate the project's viability, potential risks, and growth prospects, allowing them to make more informed investment decisions.
Can I rely on ICO calendars wholeheartedly?
It's important to note that while ICO calendars provide a convenient overview, investors should exercise caution and perform their own independent research and market analysis to validate the information presented on these ICO calendars.
Social media plays a big role in helping investors gain exposure to upcoming ICO projects. Investors can use hashtags or follow popular crypto-related pages to get real-time information about new projects launching in the market.
Strong social media followings is also a good indicator that the project will be popular with other investors and have a user-base when the time comes for a protocol to be set live.
Additionally, it would also be a good idea to follow financial and crypto influencers on platforms such as YouTube with Jacob Crypto Bury, and Twitter to find the best new ICO crypto for 2023.
Crypto Aggregates and News Websites
There are also websites that are dedicated to tracking everything happening in the crypto space. Platforms such as Yahoo Finance, Bloomberg Crypto, etc., are excellent resources for crypto-related news. Most of these websites also have a dedicated newsletter encapsulating the latest crypto-related news and analysis.
Most of these websites also feature an initial coin offering list that investors can refer to in order to find attractive projects.
Discord/Telegram Channels
Discord and Telegram are popular discussion platforms used by cryptocurrency enthusiasts to discuss new projects and investment opportunities.
Here are some tips on using Discord and Telegram channels to find new best crypto ICO projects:
Join Crypto Communities
Joining crypto communities on Discord or the best Telegram crypto groups is a great way to stay up-to-date on the latest news and investment opportunities. Search communities focused on ICO projects or specific cryptocurrency niches like DeFi or GameFi.
Investors can join Jacob Bury's Discord channel to get the latest updates on the best ICOs.
Participate in Discussions
Participate in discussions and engage with the community to gain insights and perspectives on new ICO projects. Ask questions and share your thoughts to learn more about the projects and potential investment opportunities.
Join ICO Announcement Channels
Many ICO projects have their own Discord and Telegram channels where they announce updates and investment opportunities. Join these channels to stay informed about the latest developments and investment opportunities.
Are There any Risks When Buying ICOs?
ICO investments can be risky, so it's important to check the security measures to protect investors' funds. Look for information about the project's security measures and how they plan to protect investors' funds.
In the following section, we will explain the core metrics that investors can use to find the best ICO cryptos in the market.
Potential Rug Pulls and Pump and Dump Schemes
Investing in crypto ICOs exposes traders to some risks, more specifically rug pulls and pump and dump schemes. Let's explore some of these risks:
What are Rug Pulls?
Rug pulls occur when dishonest crypto developers or insiders deliberately manipulate the value of a token after its launch, leading to significant losses for investors.
These scams typically involve the sudden removal of liquidity from a token's trading pool, resulting in an acute price decline. Investors who fall victim to rug pulls may lose a substantial portion or even the entirety of their investment.
What about Pump and Dump Schemes?
Pump and dump schemes involve artificially inflating the price of a cryptocurrency through coordinated buying and hyped marketing, creating a false sense of FOMO, and demand.
Once the price reaches a certain level, the suspects sell their holdings, causing a rapid price decline. Unsuspecting investors who enter the market during the pump phase may end up purchasing overvalued tokens, only to face significant losses when the dump occurs.
Cryptos are an Unregulated Asset
Due to the lack of regulation and investor protection schemes the crypto ICO market is relatively more volatile and risky compared to traditional financial markets, leaving investors vulnerable to fraudulent activities.
Scammers can easily set up fictitious ICO projects, gather money from investors, and then vanish with it. Furthermore, because cryptocurrencies are decentralized, it may be difficult to identify and charge offenders, making it harder for investors to regain their losses.
Those considering taking part in crypto ICOs should be cautious, conduct plenty of research, and be on the look out for red flags that could signal possible scams or malicious schemes.
Read the Project's Whitepaper to Gauge Legitimacy
A whitepaper is a document that explains a crypto project's objectives and other related information.
Typically, it offers insight into the team's philosophy and long-term ambitions. Some crypto projects even include technical reports of the project's underlying technology.
Investors can even find data on how the project plans to utilize the funds and distribute the tokens. Needless to say, this document can help investors get an idea of what the vision of the project is and, importantly, how they wish to achieve it.
If a new crypto project doesn't publish a whitepaper or offers one that lacks clarity, investors should consider it a red flag.
Research the Team
One of the most important factors to consider when evaluating an ICO is the team behind the project. Make sure to research and look into the background of the team members.
Many meme coin projects feature anonymous developers, which can be a red flag. However, savvy investors can spot a good meme project from a bad one by thoroughly investigating other parts of the project, such as its roadmap, tokenomics and social media community, and whether reputable companies have audited the smart contract.
Are Crypto ICOs Legal?
ICOs have become increasingly popular for new crypto projects looking to raise capital, but their legality has been debated in many jurisdictions.
Many ICOs fall outside existing regulations, leading to a lack of oversight and instances of fraud. However, in some cases, ICOs may be considered securities offerings and fall under the jurisdiction of regulatory bodies such as the US Securities and Exchange Commission (SEC). In fact, a recent report from Bloomberg expands on US Judge's rule on ICOs being covered by securities law.
The SEC has warned investors to exercise caution and diligence when investing in ICOs and to research the legality of offers and the people behind them. It has also cautioned against unrealistic return guarantees and warned that anyone involved in promoting offers or selling coins or tokens must adhere to regulatory standards.
In some countries, such as the United States, ICOs are subject to strict regulatory requirements and must comply with securities laws. In other countries, ICOs are regulated and considered a legitimate way of raising funds.
How to Invest in an ICO
The process of investing in crypto ICOs differs from one project to another.
Some projects allow investors to buy emerging cryptocurrencies directly from their websites. On the other hand, with some projects, investors might need to complete the process via a fair exchange listing.
Below, we provide an outline of how to buy $MK tokens:
Step 1 – Create a crypto wallet: Meme Kombat

is offering $MK tokens directly via its website. To connect to the presale site, investors will first need to have access to a crypto wallet. MetaMask is a popular wallet that is compatible with the ERC-20 token standard and can be used to connect to the presale platform.

Step 2 – Buy ETH/USDT/BNB: Investors should ensure they have sufficient ETH, BNB or USDT tokens to fund their $MK purchase. Investors can buy any of the tokens from a crypto exchange or broker and then transfer the digital tokens to their private digital wallet. Most wallets also allow direct purchase of major tokens.
Step 3 – Connect wallet: Next, head over to the Meme Kombat website

and connect the wallet.

Step 4 – Buy $MK tokens

: Once connected select the correct option and then enter the amount of $MK tokens to be purchased. The dialogue box will prompt users that a certain amount of the purchasing tokens will be needed in reserve to cover network transaction fees. Confirm the transaction and network fees to complete the purchase.

Step 5 – Claim $MK tokens: Purchased tokens will be stored on the Meme Kombat website until the ICO is fully complete. Tokens can then be claimed ahead of listing on an exchange.
Conclusion
As this guide has emphasized, crypto ICOs are a great way for investors to get in on a new project at an early stage and secure high-potential tokens.
However, considering the risks and lack of regulatory measures, investors should also be cautious before risking any funds, understand their own tolerance for risk and realize that returns are not guaranteed.
Our research concluded that there are a number of exciting crypto projects that are launching their digital tokens through ICOs this year.
At the top of our list is Bitcoin Minetrix. It provides a novel way to mine Bitcoin with no environmental damage. Soon, people will mine from the comfort of their phones and can have a neat overview of expected rewards from an integrated dashboard.
This altcoin offers a new paradigm in Bitcoin mining.
References:
FAQs
What are the best ICOs to invest in?
What is the best ICO cryptocurrency for 2023?
Which was the best crypto ICO for 2022?