Cryptocurrencies with a low market capitalization can sometimes have higher upside potential for investors who take a punt on them.
We've researched and ranked the best low-cap crypto to invest in for 2023 to narrow down the search.
Not only will we look at a diverse range of listed low-cap cryptos, but we'll also analyze the presales that are most likely to blow up.
Best Low Market Cap Cryptocurrencies to Buy Today
Our range of low cap cryptos to buy in 2023 includes several projects still at the presale phase:
Wall Street Memes (WSM) – Leveraging the success of the Wall St Bulls NFT collection, the Wall Street Memes token presents an exciting opportunity to invest in its low-cap meme coin with solid upside potential.
AiDoge (AI)

– Currently on presale for $0.0000304, $AI is the native token of AiDoge. This platform uses AI tools to automatically generate memes and offer rewards to members. Through 20 presale stages, AiDoge aims to raise nearly $15 million.

Ecoterra (ECOTERRA) – Sustainable Crypto offering Recycling rewards to individuals and companies. Earn tokens by recycling waste and offsetting carbon emissions.
yPredict

– The $YPRED token can be used to buy subscriptions of trading models on yPredict. With $YPRED, users can earn passive income and access Learn2Earn environments and a P2E space.

DeeLance (DLANCE) – A decentralized freelancing cryptocurrency platform. Hold $DLANCE to enter a metaverse environment and NFT marketplace.
Launchpad XYZ

– With the $LPX token, one can access a decentralized exchange, Web3 wallet, and presale listings through Launchpad XYZ's Web3.0 ecosystem. $LPX is priced at $0.0445 during the ongoing presale.

Pikamoon (PIKA)

– Exciting play-to-earn metaverse game with NFT monsters. Powered by PIKA, the project's native token, the crypto is still in the presale stage.

RobotEra (TARO) –

A multiverse like Sandbox with tokenized robots and land. With $TARO, you can purchase in-game NFTs.

Lucky Block (LBLOCK) – Casino and sports betting platform backed by a low market cap native token, LBLOCK.
Tamadoge (TAMA) –

By purchasing $TAMA, users can buy NFTs, and earn rewards through a P2E arcade.

ImmutableX (IMX) –

This is an NFT scaling solution platform and staking token. The $IMX token can be used to cover transaction costs in the ecosystem.

Itheum (ITHEUM) –A cross-chain data brokerage that users can use to trade personal data. $ITHEUM can be staked to earn more tokens.
Fetch.ai (FET) – A p

roject combining the best of blockchain and AI technology.
Analyzing the Top Low Market Cap Crypto Gems
Investors searching for the best low market cap cryptocurrency to add to their portfolio will find a comprehensive analysis of the top projects next. Notably, some haven't been listed yet so investors who like the sound of them can lock in a discounted price now and claim the tokens later.
1. Wall Street Memes – Low-cap Meme Token With a Stong Community Backing
Navigating the world of low-cap crypto coins can be risky, yet it holds the potential for high returns. One of the most recent entrants in this sphere is Wall Street Memes with its native $WSM token. Powered by a resilient community of over a million strong across various social media channels, the $WSM token is an emerging low-cap crypto.
Wall Street Memes is no stranger to successful blockchain projects. It gained notoriety for its Ethereum-based NFT collection, the Wall Street Bulls, limited to an exclusive 10,000 pieces. This has led to unique benefits for its dedicated investor community, such as exclusive NFT collections and access to an Options Market.
This venture's success is evident in the quick sale of its first NFT collection, which sold out within a mere 32 minutes. This feat builds confidence in the potential of the $WSM token, capitalizing on its reputation and actively keeping up with the latest trends, including minting Bitcoin Ordinal NFTs.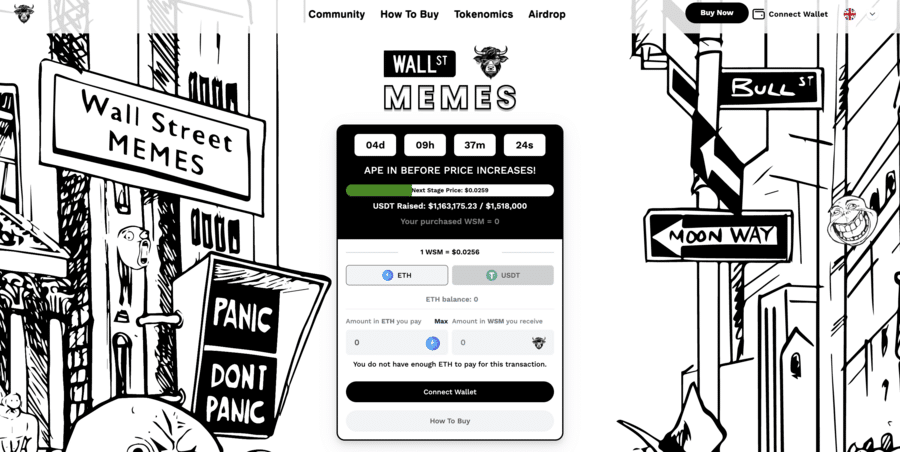 At press time, $WSM tokens are available at $0.0256 USDT in the presale stage. While presales inherently have a risk factor, the robust Wall Street Memes community serves as a backbone that could foster the longevity of this project.
WSM's influence isn't just confined to their community. It has attracted attention from high-profile individuals, including Elon Musk, amplifying its prospects of being listed on top-tier exchanges post-presale. Additionally, the $WSM presale kickoff was coupled with an announcement of an airdrop celebration, providing an easy participation process.

With a total capped supply of 2 billion tokens, the $WSM token keeps its community as the central focus. The distribution has been planned with 50% for the presale, 20% towards liquidity, and 30% for community rewards.
Consider joining the Wall Street Memes Telegram channel to stay up-to-date with recent news. Since low-cap meme coins have recently outperformed more established assets like Bitcoin and Ethereum, there's potential for significant ROI for early $WSM investors.
| | |
| --- | --- |
| Hard Cap | $30,577,000 |
| Total Tokens | 2,000,000,000 |
| Tokens available in presale | 1,000,000,000 |
| Blockchain | Ethereum Network |
| Token type | ERC-20 |
| Minimum Purchase | 100 tokens |
| Purchase with | USDT, ETH, BNB, Bank Card |
2. AiDoge – AI-Based Low Cap Crypto to Buy on Presale
AiDoge ($AI) is a presale token that allows users to create memes using the power of artificial intelligence. Currently, $AI, the native token, is available to buy on presale for only $0.0000304 per token. By the final round of the presale, the price will increase to $0.0000336 per token.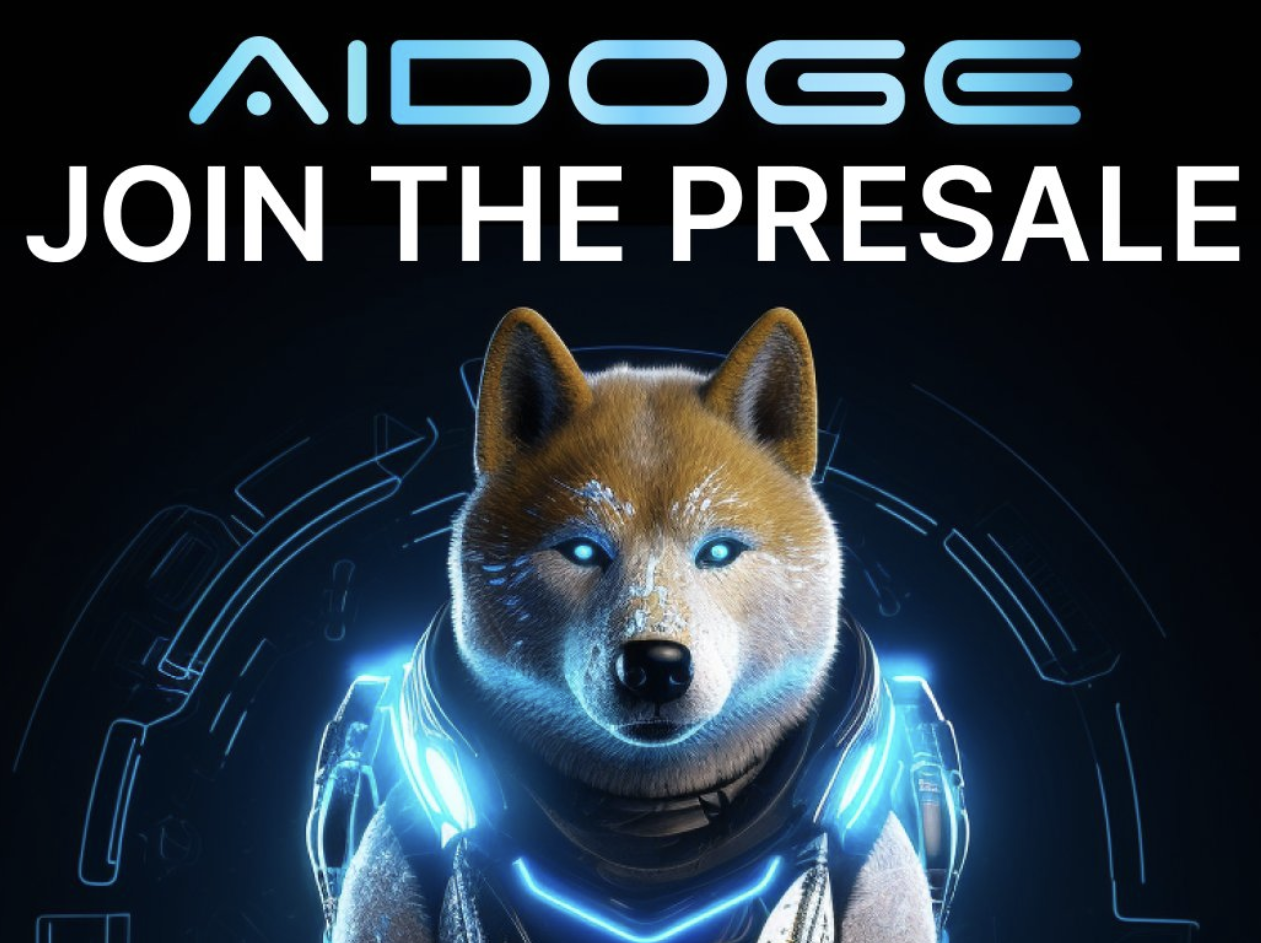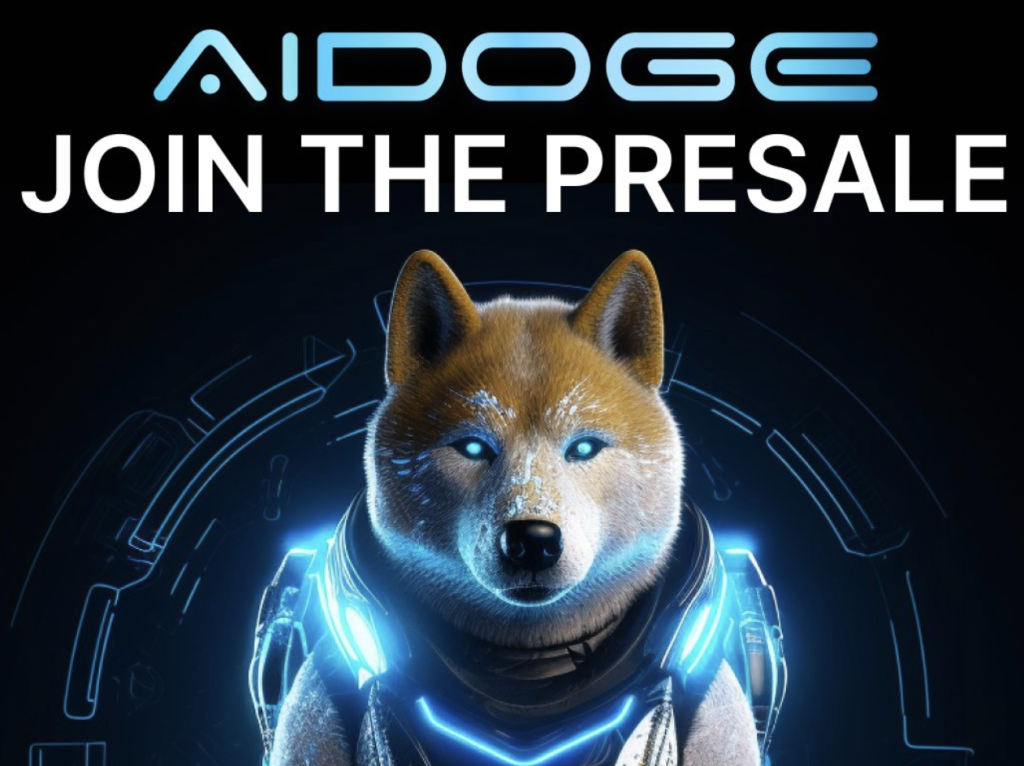 This low cryptocurrency has set a hard cap presale target of $14.9 million. From a total supply of 1 trillion, 500 billion tokens have been allocated for the presale. The presale will consist of 20 rounds, each allocating 25 million tokens. AiDoge has raised over $8 million since the presale started. After the presale is over, 125 billion tokens will be released for exchange listings.
The $AI token can be used to purchase credits on the platform, which can then be used to generate memes automatically. All a user needs to do is provide the AI with text-based prompts. After the data is processed, the memes are created and made available on a public wall for everyone to see. Additionally, the AiDoge whitepaper states that the platform will release a voting system where users can upvote or downvote the available memes.
The users that create the best memes and get the most votes at the end of every month will receive rewards in the form of free $AI tokens. The token can also be staked on the ecosystem to generate daily credit rewards.
Users can stake their tokens on the platform to earn credits faster and receive daily credit rewards. Apart from this, members can access new meme templates and platform enhancements by staking $AI.
Since AiDoge offers all these use cases by leveraging AI, the presale has raised over $8 million in just a few weeks. Interested readers can buy $AI now before the exchange listing takes place.
Join the AiDoge Telegram group to stay updated with all the new developments.
| | |
| --- | --- |
| Hard Cap | $14,900,000 |
| Total Tokens | 1 trillion |
| Tokens available in presale | 500 billion |
| Blockchain | Ethereum Network |
| Token type | ERC-20 |
| Minimum Purchase | 100 tokens |
| Purchase with | USDT, ETH, BNB, Card |
3. Ecoterra (ECOTERRA) – Upcoming Sustainable Crypto with Recycling Awards
Ecoterra, a platform dedicated to fostering recycling as a strategy against global warming and climate change, is among the most promising altcoin investments in 2023.
The platform encourages users to recycle by rewarding them. Additionally, the project aims to raise public awareness about the significance of recycling and offer attractive incentives to encourage this practice.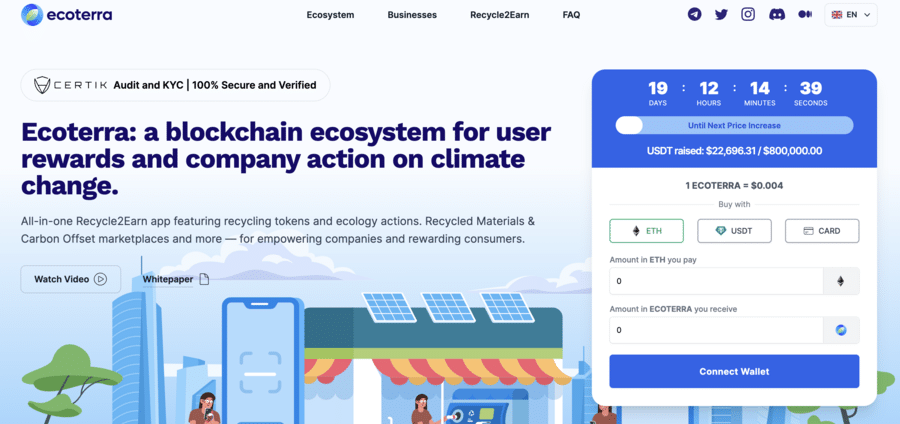 As the presale proceeds, the token's price will surge according to a progressive pricing mechanism. At the time of writing, buyers can purchase the token at its current rate of $0.004 USDT.
Drawing inspiration from the play-to-earn and move-to-earn concepts within the GameFi market, the Recycle2Earn app motivates users to adopt eco-friendly practices. Ecoterra, the platform's native token, represents recyclable materials.
The developers have designed the app to allow anyone to recycle and receive compensation. Initially, users must employ an AI-assisted scanner to locate the item's barcode in a database. As per the Ecoterra whitepaper, the app then guides the user to the closest Reverse Vending Machine (RVM), where they can deposit the item for recycling. The user must upload a photograph of the recycling receipt once the procedure is finished. Upon verification, Ecoterra tokens are deposited into the user's wallet.

The app also awards bonus points for various environmentally conscious activities beyond recycling. Users can use their Ecoterra tokens to purchase recycled plastics, glass, or aluminum from the platform's Recycled Materials Marketplace. This marketplace lets users list unique specifications for recycled materials, allowing businesses worldwide to connect and acquire them.
In partnership with VERA, the platform also offers a Carbon Offset Marketplace where users can purchase verified carbon offsets. Furthermore, the Impact Trackable Profile feature enables users to track the positive effects of their environmentally friendly actions. Buyers can also join the Ecoterra Telegram channel for the latest updates.
| | |
| --- | --- |
| Hard Cap | $6,700,000 |
| Total Tokens | 2,000,000,000 |
| Tokens available in presale | 1,000,000,000 |
| Blockchain | Ethereum Network |
| Token type | ERC-20 |
| Minimum Purchase | $10 |
| Purchase with | USDT, ETH, Bank Card |
4. yPredict – Crypto Analytics Platform Offering Multiple Use Cases
yPredict is a crypto analytics and research platform that utilizes AI-driven predictive models to give users an outlook on how certain digital assets may perform in the future. At the center of the ecosystem is $YPRED, the native token.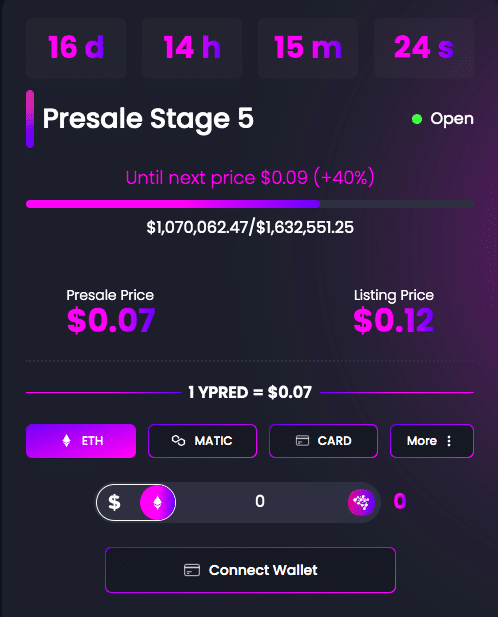 With $YPRED, users can purchase subscriptions to monthly predictive models. The models are created by AI developers and financial experts. The yPredict DAO (Decentralized Autonomous Organization) makes them available to the public after verifying them. The platform uses advanced tools like sentiment analysis and chart recognition algorithms to determine the direction of coins in the market.
For instance, yPredict leverages its own patent pending chart recognition algorithm to determine whether an asset is bullish or bearish. The platform also offers AI trading signals and technical indicators.
The $YPRED token can be used to enter a play-to-earn competition. On this ecosystem, users are required to generate directional bets to determine the future of certain assets. The top performers are rewarded with $YPRED tokens.
While this token is still new, it also allows users to learn and increase their knowledge in the crypto space. Through a Learn2Earn environment, one can take quizzes and tests on crypto-related topics. By passing these tests, you are rewarded with $YPRED tokens.


The $YPRED token is available for purchase through the presale. $YPRED holders can earn a high APY by staking the token. Passive income is generated every time a new subscription is generated, as 10% of the revenue is sent toward a staking pool. Furthermore, 15% of all swapping fees on the platform are sent towards the staking pool.
Currently, this low cap cryptocurrency has raised more than $1 million through the ongoing presale. The $YPRED token is priced at $0.07 and will jump to $0.12 by the final presale round. Read the yPredict whitepaper and join the Telegram channel to learn more about this cryptocurrency.
| | |
| --- | --- |
| Presale Started | Q1 2023 |
| Purchase Methods | MATIC, ETH, BNB, USDT, Card |
| Chain | Polygon |
| Minimum Purchase | 200 tokens |
5. DeeLance (DLANCE) – New Crypto Revolutionizing Web 3.0 Recruitment
$DLANCE, the native low-cap crypto token of DeeLance, is a revolutionary decentralized freelancing platform with a metaverse. This innovative platform links potential employees or freelancers with employers seamlessly.
At present, investors can participate in the crypto presale of $DLANCE, acquiring tokens at an initial rate of $0.025 each. Over three rounds, the token's price will gradually increase to $0.03. The presale goal for DeeLance is set at $6 million, after which the $DLANCE token is scheduled to launch on cryptocurrency exchanges in Q2 2023.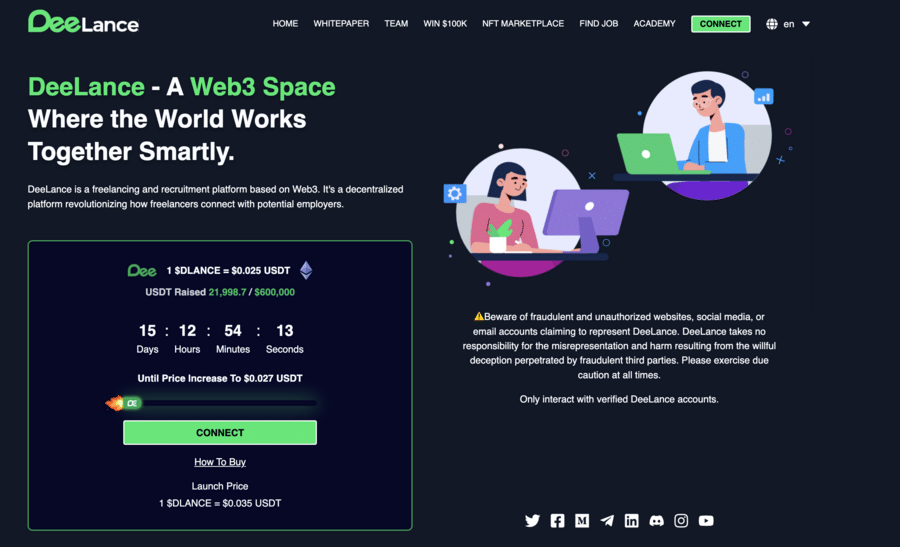 Within the DeeLance ecosystem, $DLANCE tokens serve multiple purposes, including NFT trading on the platform's marketplace. Freelancers can even convert their projects into NFTs, simplifying the transfer of ownership to recruiters. This is possible because all actions are securely logged on the blockchain.
DeeLance's whitepaper outlines the platform's use of smart contracts to ensure transaction safety and the incorporation of escrow payment services, enabling freelancers to receive funds at specified times.
Additionally, the metaverse allows freelancers and recruiters to interact through virtual lobbies and offices. Users can employ $DLANCE tokens to buy office spaces, promote their services, and purchase in the marketplace.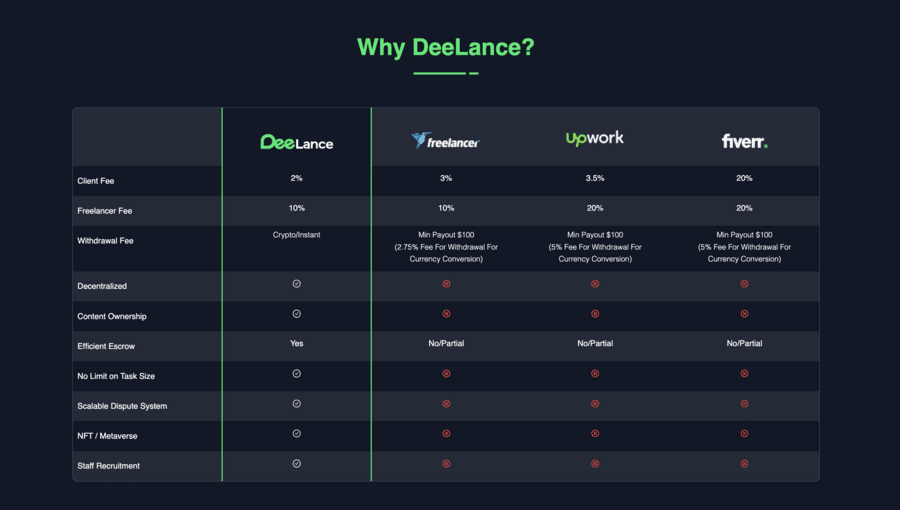 DeeLance plans to launch a recruitment platform connecting top professionals with the most sought-after positions. The platform's objectives include identifying exceptional talent, expanding the available talent pool, and fostering long-term career growth.
DeeLance's strategy also includes offering educational resources, utilizing social media for increased exposure, and providing ambassador and affiliate programs. Instant transactions are facilitated by the platform's embrace of cryptocurrency payment options. Remarkably, the client fee charged by DeeLance is a mere 2%, considerably lower than leading freelance platforms.
Interested users are encouraged to join the DeeLance Telegram channel to stay informed about this exciting project.
| | |
| --- | --- |
| Hard Cap | $6,000,000 |
| Total Tokens | 1,000,000,000 |
| Tokens available in presale | 300,000,000 |
| Blockchain | Ethereum Network |
| Token type | ERC-20 |
| Minimum Purchase | $10 |
| Purchase with | USDT, ETH, Card |
6. Launchpad XYZ – Web3.0 Ecosystem offering Access to Multiple Services
Launchpad XYZ is a new platform dedicated to connecting users to the Web3.0 sector. The aim for Launchpad XYZ is to create an all-in-one hub through which multiple Web3.0 ecosystems can be accessed.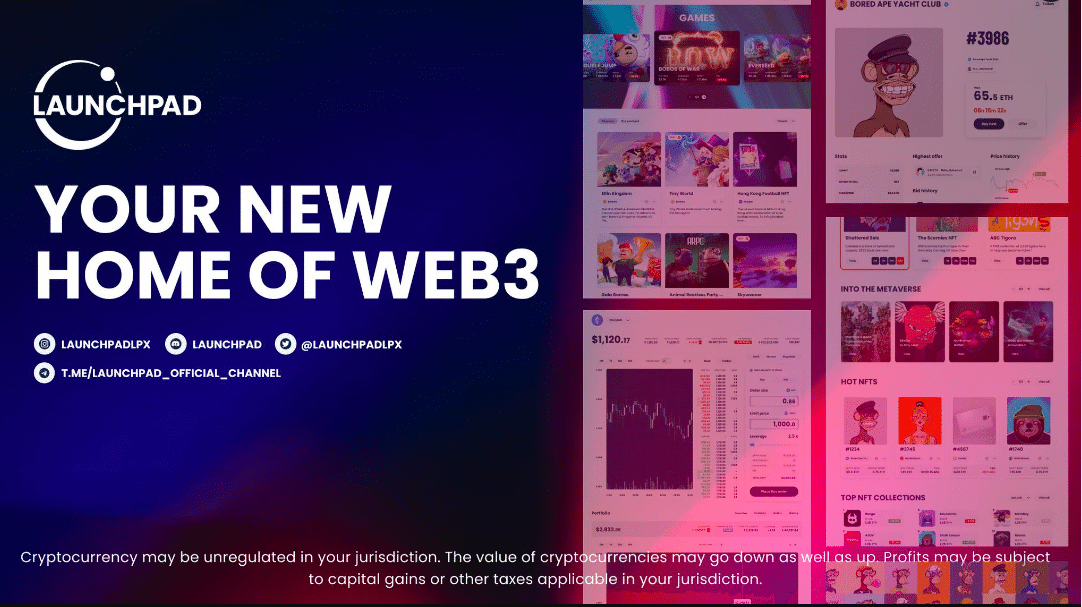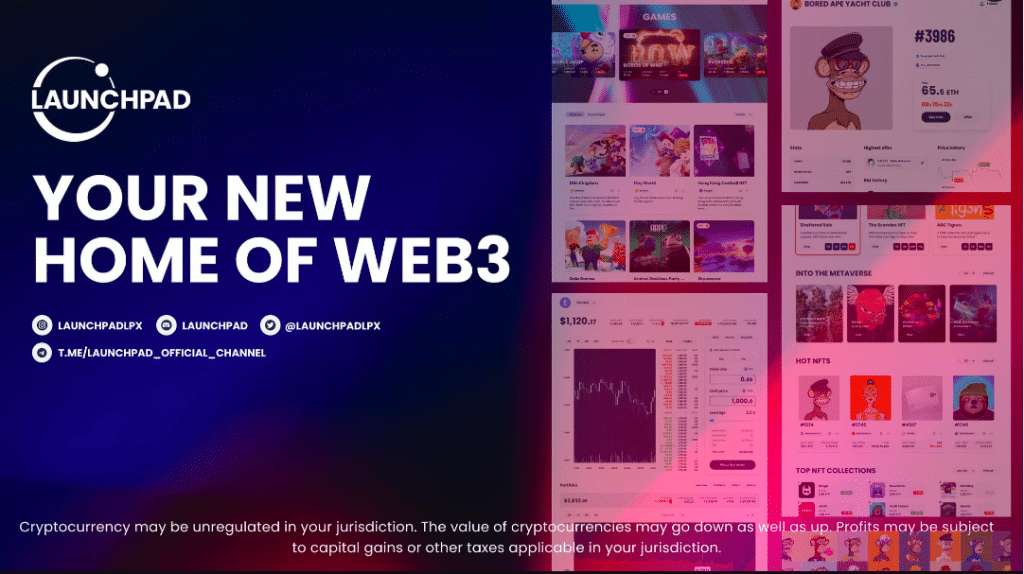 All this is made possible with the platform's native cryptocurrency, $LPX. This token can be used to earn discounts on trading fees on Launchpad XYZ's decentralized exchange (DEX). The DEX will offer hundreds of crypto trading pairs and allow users to enter into perpetual contracts.
Through Launchpad XYZ, one can create their own Web3.0 crypto wallet. All users need to do is enter their email address or phone number to create the wallet. The Web3.0 wallet will let you connect with different DApps (decentralized applications), access self custody of assets, and interact with various Web3.0 services.
The $LPX token can be used to purchase fractionalized assets as well. These represent assets offering historical value, such as real estate and art. Users that stake a monthly average of 10,000 $LPX can get guaranteed access to presale listings.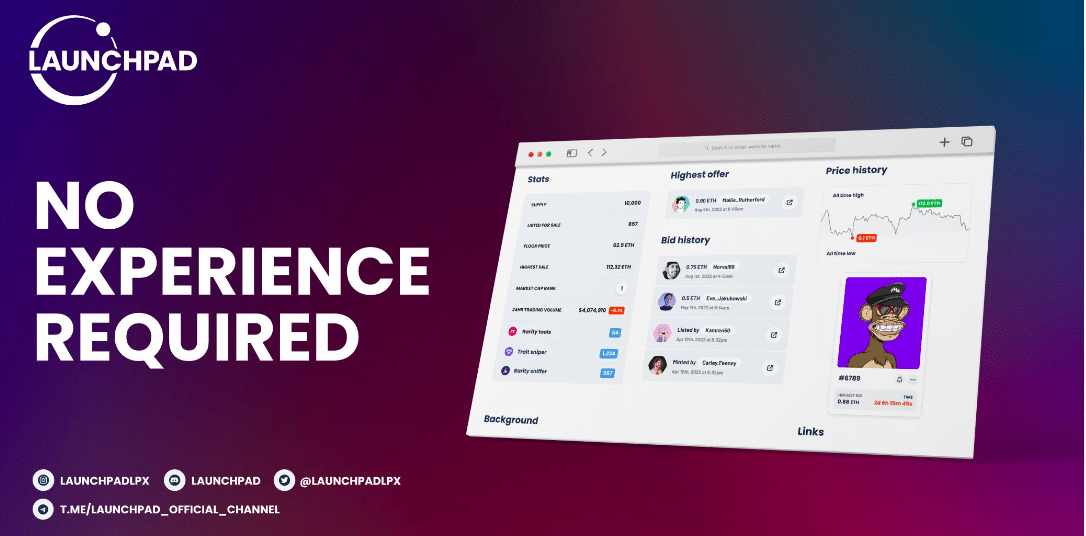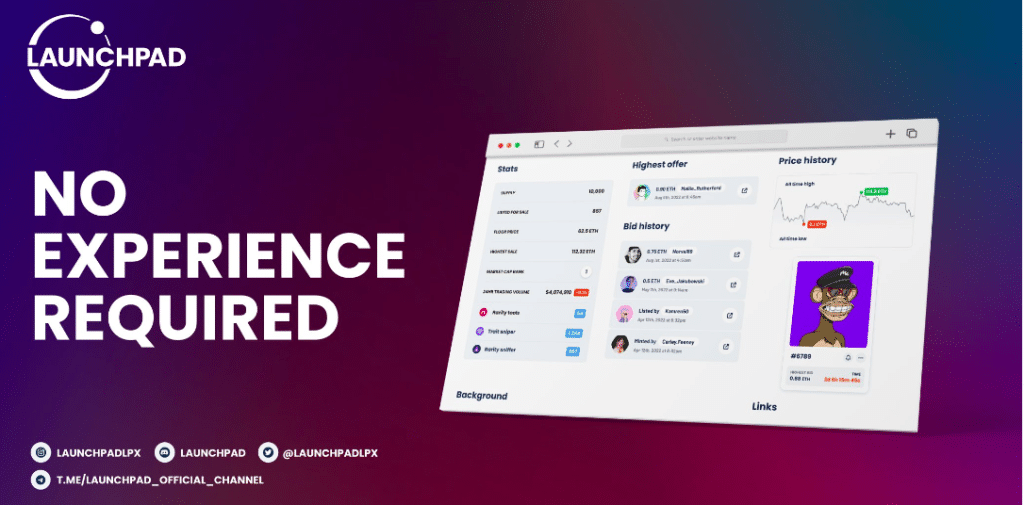 The platform regularly hosts new Web3 listings, and users can receive the tokens for the new listings on their cryptocurrency wallets.
$LPX is available to buy through the ongoing presale. 250 million of a total supply of 1 billion $LPX tokens have been allocated for this phase. Currently, the price of $LPX is $0.0445. By the final round, the price will jump to $0.7. Since the presale started, Launchpad XYZ has raised over $440K.
One can read the Launchpad XYZ whitepaper to learn more about this cryptocurrency. Join the Telegram channel to keep yourselves updated with all the latest updates.
| | |
| --- | --- |
| Hard Cap | $12,500,000 |
| Total Tokens | 1 billion |
| Tokens available in presale | 250 million |
| Blockchain | Ethereum Network |
| Token type | ERC-20 |
| Minimum Purchase | 100 tokens |
| Purchase with | USDT, ETH, BNB, Card |
7. Pikamoon (PIKA) – Exciting Play-to-Earn Metaverse Game That Rewards Players With PIKA Tokens
Pikamoon is an upcoming metaverse game and cryptocurrency based on the Ethereum chain. The game is an homage to Pokemon, the famous anime and video game series. It's a play-to-earn project, meaning that actions in the game can yield rewards in the form of $PIKA tokens, the platform's native crypto.
As you can see from the project's whitepaper, the action takes place in Dreva, a magical realm inhabited by unique monsters you can capture and use in various adventures. You can explore the four regions of Dreva, complete quests, and even battle other players' Pikamoons. You earn $PIKA tokens in return and can use them to upgrade your monsters or purchase items.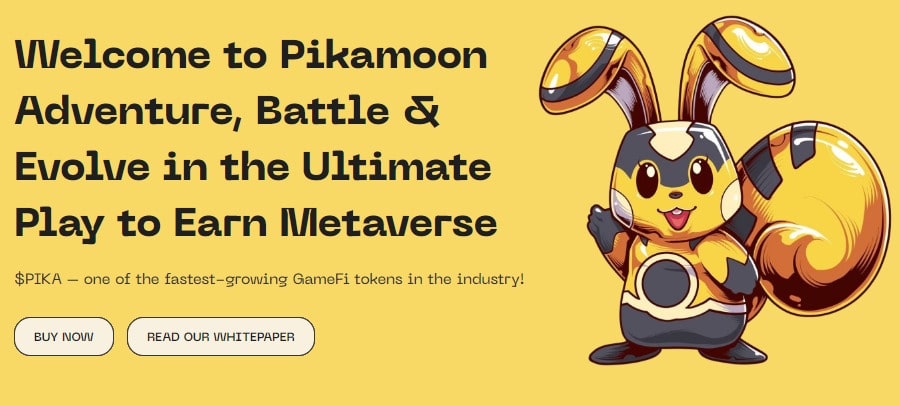 You can use $PIKA tokens on the in-game marketplace filled with various items like treats and boosts. The interesting part is that 5% of the tokens spent on it will be burned forever in the hopes of increasing the value of $PIKA.
The project is still in the presale stage, so the market cap is minuscule, as the $PIKA tokens will be issued to investors once the presale ends. We are currently in the middle phase of the presale, Round 2, where the price of one $PIKA is $0.0004. The final round will increase the value to $0.0006. If you want to learn more about the presale, you should follow the official Telegram channel.
At the time of writing, the presale has already raised more than $1.55 million, and the goal is to reach $3 million before the last phase begins. In total, there are 15 billion tokens on sale, with around 6.4 billion already owned.
| | |
| --- | --- |
| Presale Started | April 2023 |
| Purchase Methods | USDT and ETH |
| Chain | Ethereum |
| Min Investment | None |
| Max Investment | None |
8. RobotEra (TARO) – Multiverse Like Sandbox With Tokenized Robots and Land
Investors who enjoy Sandbox, the popular P2E game, will love RobotEra. After a war, the planet Taro was devastated in the RobotEra metaverse. Humanized robots have been left behind to rebuild the multiverse. As such, all players in this metaverse will become playable NFT robots.
The RobotEra utility token is called TARO and is one of the best low cap crypto gems for gamers for 2023. Investors can lock TARO tokens in at a presale price of $0.020 during the first stage of the campaign.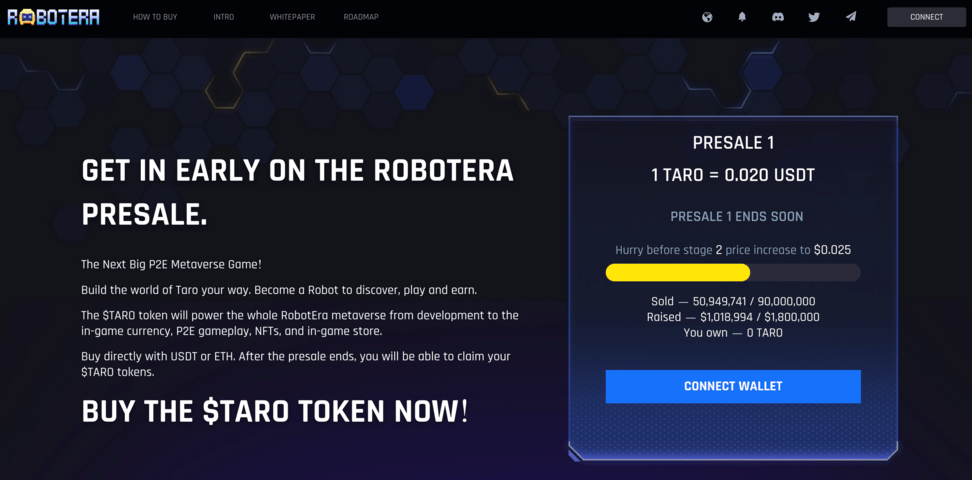 When the presale of TARO progresses to stage two, tokens will increase by 25%. RobotEra offers NFT land parcels that are transferable so can be sold, and even rented out, much like in the aforementioned Sandbox game.
This multiverse also features Robot companions. They are playable NFTs that gather raw materials, mine minerals, and construct projects on metaverse plots. They may be built, upgraded, and sold by players on the open market.
| | |
| --- | --- |
| Presale Started | Q4 2022 |
| Purchase Methods | ETH, USDT |
| Chain | Ethereum |
| Min Investment | 1,000 TARO |
| Max Investment | N/A |
9. Lucky Block (LBLOCK) – Casino and Sports Betting Site Backed by Low Market Cap Crypto
Lucky Block might be the best low cap crypto to invest in for anyone who likes to dabble in online gambling. The casino is backed by LBLOCK, which was one of the fasted crypto tokens at the time of its ICO to hit a market capitalization of $1 billion.
Things have since cooled down in the crypto market and Lucky Block is one of the top low cap cryptos to consider for 2023. Over 80 popular software providers back this crypto and fiat casino and as such, it offers a huge variety of games.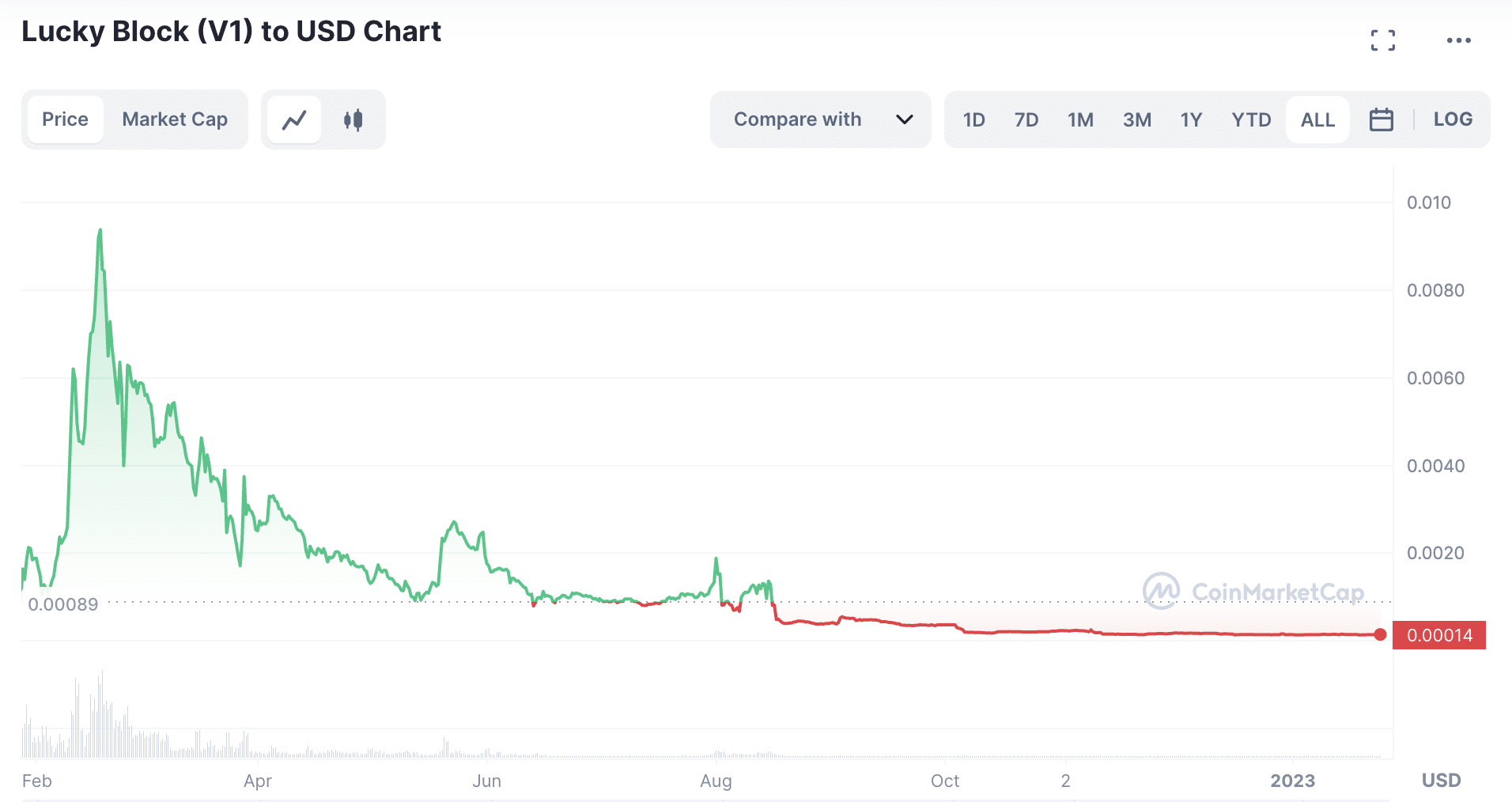 As any investors who've ever visited a casino would expect, this includes slots, and also table games such as roulette and poker. In this case, the platform also offers a plethora of live dealer titles for players that like the full casino experience. This platform also allows players to bet on a diverse range of sports with great odds. The market capitalization of LBLOCK as of writing is just over $5.6 million.
10. Tamadoge (TAMA) – Arcade Games on the Blockchain With NFTs and Crypto Rewards
Tamadoge is the best low cap crypto to buy for arcade lovers. Tamadodge mainly focuses on fun gameplay and NFT pets that can be bred and taken to battle. Players can buy NFT pets based on their traits such as luck, agility, strength, vision, and stamina.
layers of Tamadoge games will have access to the metaverse, where they can take their own NFT pets to combat with real players. The first game released by this low cap crypto project is Super Doge. Tamadoge is developing a full arcade of simplistic but entertaining games where players will try to get to the top of the leaderboard for crypto rewards.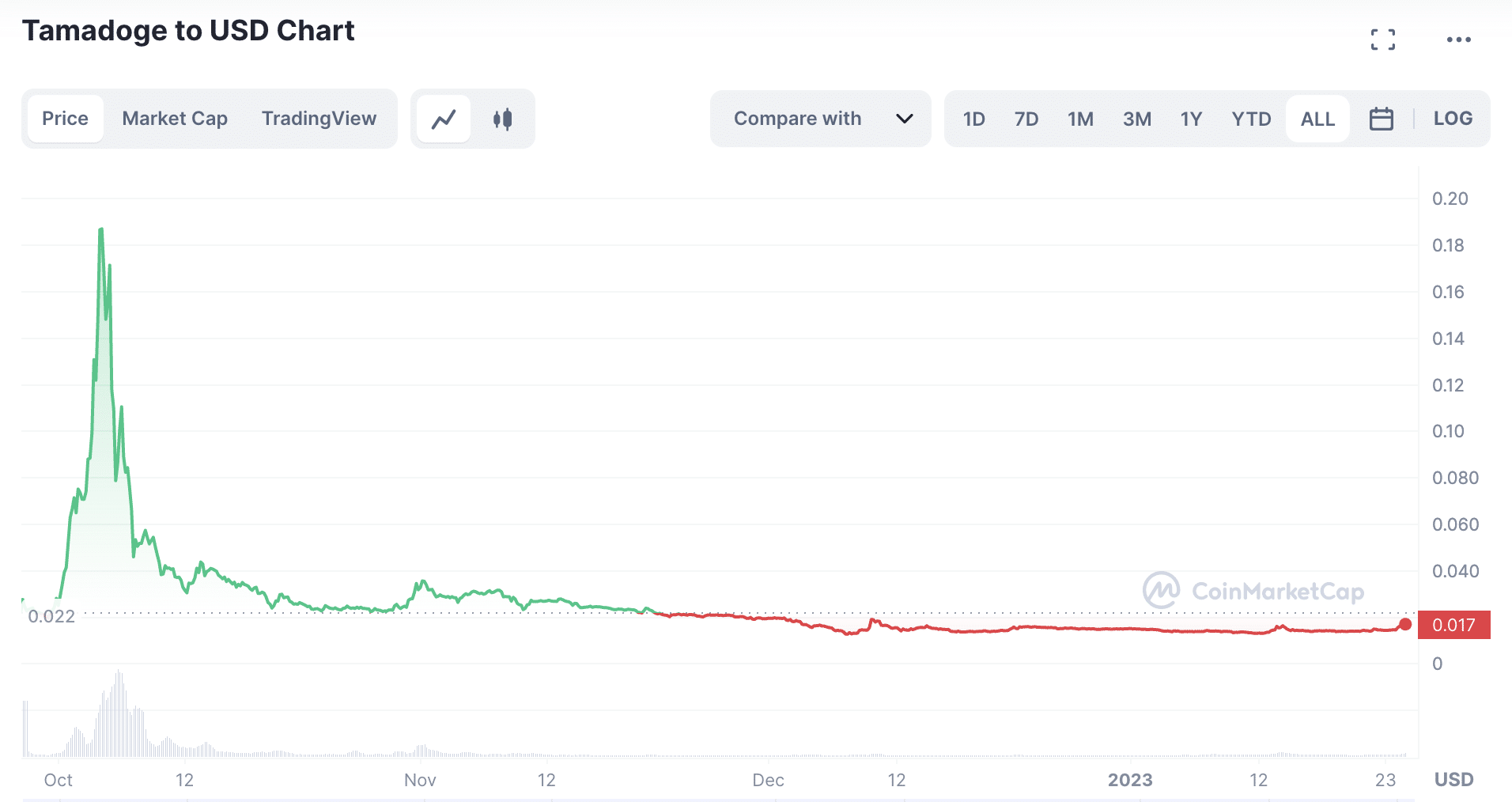 The next P2E arcade titles to be released will be Rocket Doge, To The Moon, Tamadgoge Run, and Tama Blast. The Tamaverse is powered by the native low market cap cryptocurrency, TAMA. With a market capitalization of $20.7 million as of writing, it's one of the lowest crypto assets in this guide that's listed.
11. ImmutableX (IMX) – NFT Scaling Solution Platform and Staking Token
ImmutableX is another one of the top low cap cryptocurrencies on this list that may appeal to gamers. The project's team wants to introduce asset ownership to the digital world by using the power of Immutable NFTs.
The cryptocurrency used by Immutable X is called IMX. In addition to being staked, these tokens may be used to cover transaction costs on the platform. Those who hold ImmutableX tokens can also vote on the protocol's roadmap.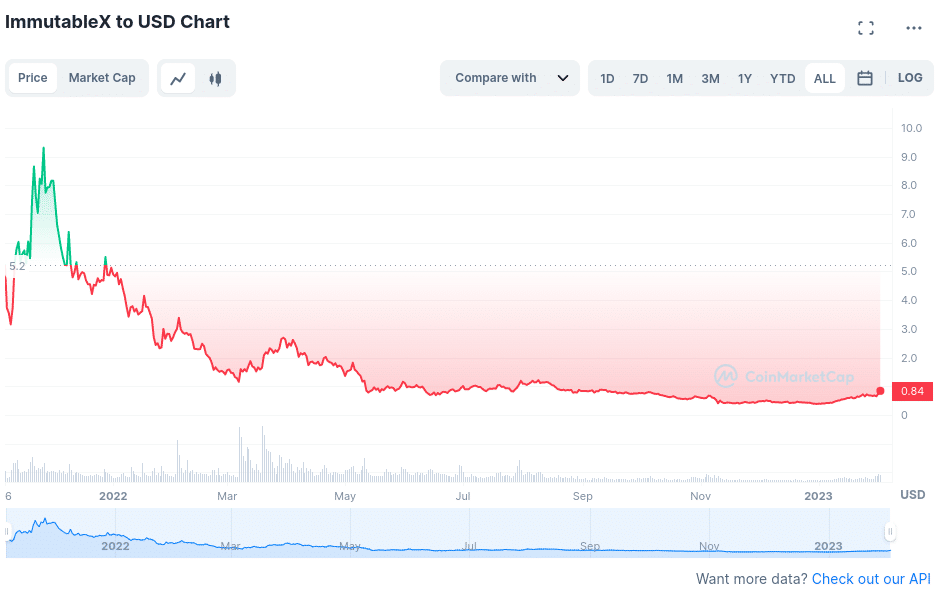 Additionally, the project will debut its own 'Immutable Passport' in mid-2023. The goal is to offer a unified method for game developers to enroll players into Web3. This is comparable to an Xbox Gamertag, or an Apple ID. It will essentially function as a gamer profile, authentication, and non-custodial wallet all rolled into one. The market capitalization as of writing is around $665 million.
12. Itheum (ITHEUM) – Cross-Chain Broker Site to Trade Personal Data
Itheum (ITHEUM) is a crypto with low market cap that also claims to be the first decentralized, cross-chain data brokerage platform in the world. With the help of Itheum's suite of blockchain-powered technologies, customers are able to connect high-value data to web3.
The platform also uses cutting-edge peer to peer technology, to allow users to claim ownership of their own data and also exchange it if they wish. Members of the community can stake their ITHEUM tokens in exchange for more.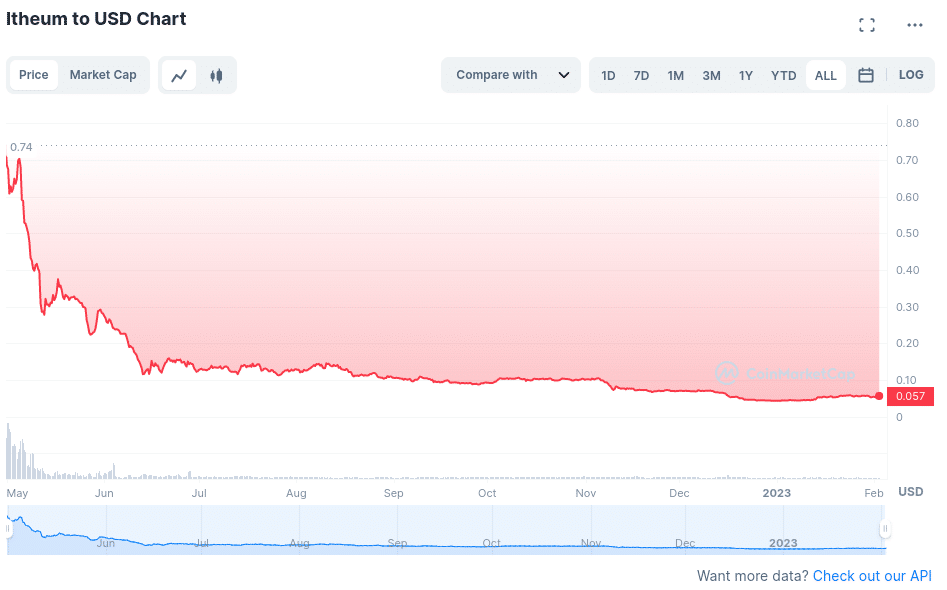 This is achievable by offering liquidity and farming services on the platform. It helps to maintain the stability of the project's global MultiversX web3 ecosystem. As a result, the Itheum protocol team hopes it will be more widely adopted within in the community. This new low cap crypto carries a market capitalization of $19.8 million as of writing.
13. Fetch.ai (FET) – Project Combining the Best of Blockchain and AI Technology
Fetch.ai is a cutting-edge open-access blockchain platform that combines machine learning, AI, and DLT to disrupt various markets and sectors. Users of the platform can engage and communicate with objects, entities, services, and other users in the decentralized Fetch.ai marketplace.
The goal of this initiative is to create a new, intelligent digital economy by fusing blockchain and AI technologies together. The token that powers the platform is FET, one of the best low cap cryptos to watch. Many different types of enterprises can use Fetch.ai's technology.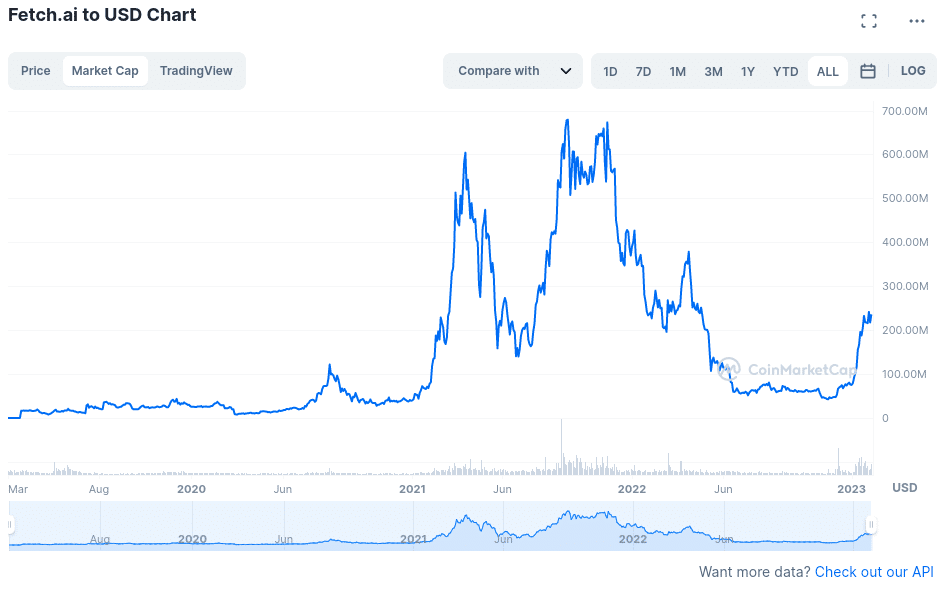 According to the platform, this includes transportation and mobility, the decentralized banking sector, EV infrastructure, supply chain, railway systems, and other many industries. Additionally, in the future, autonomous AI travel agencies might cut out the need for centralized aggregators. This is possibly the best low cap crypto to invest in for those interested in AI technology.
As of writing, Fetch.ai has a market cap of just over $234 million.
What is Low Cap Cryptocurrency?
Small cap cryptocurrencies are digital assets with a modest market capitalization. Bitcoin is the original and has the largest market capitalization. As such, others are also commonly referred to as altcoins.
The general consensus is that the market capitalization of these cryptocurrencies is under $1 billion

In contrast, the market capitalization of large-cap cryptocurrencies like Bitcoin and Ethereum are almost $460 and $205 billion respectively (as of writing)

Investors may find small-cap cryptocurrencies appealing due to a variety of characteristics or use cases, not to mention growth potential
It's essential to remember that investing in small-cap cryptocurrencies might be riskier than doing so with bigger ones
This is because they may be more subject to more price volatility and have lower liquidity
That said, the best low cap crypto to invest in will have a strong roadmap. Furthermore, finding presales is a good way to grab a bargain with plenty of room for growth.
How Does Market Cap Affect a Crypto Token?
A market capitalization indicator is a tool for monitoring and measuring a cryptocurrency's market worth. That is to say, a cryptocurrency is seen as more dominant in the space if its market cap is bigger.
Typically, investing in cryptocurrencies with large market caps is a wise course of action for newbies. These coins are presumably less volatile than other cryptocurrencies, albeit still more volatile than conventional assets like equities.

That said, investors may not necessarily see a huge amount of growth with large cap currencies. That is to say, compared to cryptocurrencies with larger market caps, small-cap coins have considerably more upside potential for investors.
How to Find Cryptos with Low Market Cap
The market is flooded with low cap cryptocurrencies as well as some of the cheapest cryptos to invest in. As such, below is a simple guide to finding the top projects to invest in today.
Look for Presales
Crypto presales are renowned for giving early bird investors a huge discount for their support of a new project. With this in mind, it makes sense that many investors searching for the best low cap crypto to buy start by researching presales.
We've talked about some great crypto presale campaigns today and as we said, they offer a large discount to early investors. As a byproduct, this typically means that the value of low cap cryptocurrencies will increase concurrently, which is why presales are attractive to many investors.
Crypto-Centric Price Tracking Sites
Thousands of cryptos with low market caps are now being actively exchanged globally. These cryptocurrencies may be grouped into a broad variety of sectors and categories. One way in which investors can quickly find low market cap crypto is by using one of the several price tracking websites.
For instance, on CoinMarketCap or CoinGecko. On sites like this, low market cap cryptocurrencies can be filtered and sorted by their valuation or sector.
Investigate Emerging Blockchain Markets
Looking ahead into the future, blockchain will open new opportunities and strategies. As such, it's a common strategy for investors to narrow down the projects that they consider. One way they may achieve this is by trying to identify the market segments that are experiencing rapid expansion in the crypto space.
This guide found that the sectors gaining the most momentum as of writing are P&E, P2E, M2E, NFTs, and metaverse projects. Additionally, crypto with low market caps that focus on tokenized carbon credits is also increasing in popularity.
As such, this type of project would be the best low cap crypto to buy for those with concerns over global warming and other environmental issues.
Check Social Media Groups
Another option is to browse social media platforms by entering keyword searches. There are sites with communities dedicated to finding the best low cap crypto gems.
For instance, Reddit has groups like r/smallcapcoins and r/CryptoMoonShots. Both subreddit groups aim to offer insight on the best low cap crypto to buy.
There are also subreddits that offer insights into the best cryptos on Reddit based on consumer hype and investor sentiment.
Why Invest in Low Market Cap Crypto?
We've listed some of the main reasons traders might be looking for the best low cap crypto to invest in.
Some Low Cap Crypto Projects Offer Rewards
The best low cap crypto to buy will offer incentives to investors. This might be in the form of staking, crypto airdrops, or rewards that players can earn during gameplay.
Each established or new low cap crypto project will be different. As such, those who are looking for rewards and incentives from their crypto investments should research each one individually.
Upside Potential
As we said, finding the best low cap crypto to invest in has the added benefit of upside potential.
See below:
In the Wall Street Memes presale, investors can buy tokens for $0.0256 USDT each.

By the final round, the price will jump to $0.0337.
However, it's clear that upside potential is one of the main reasons investors are researching the best low-cap crypto for 2023.
Conclusion
This guide has revealed the best low cap crypto to invest in for 2023, in addition to a diverse range of other projects worth researching.
We found $WSM, the token that backs the Wall Street Memes platform, to be the best low-cap cryptocurrency. By harnessing the reputation of Wall St Bulls NFTs, it has created an exciting environment for investors.
Given its digital popularity, fair token distribution, and potential for high returns, $WSM stands out as a promising prospect. The presale has already raised over $1.1 million in only four days.
FAQs
Is a low market cap good for crypto?
What is the lowest market cap crypto?
Which crypto has the lowest supply?
What is the best low cap crypto?