The original meme coin – Dogecoin, was set up merely as a joke. With that said, many meme coins – including DOGE, have not only generated significant returns for investors – but some are now multi-billion dollar projects.
This year has brought another meme coin frenzy with various tokens showing huge gains in recent weeks and opportunity across the market.
The latest meme coin to hit the ground running is Pepe, a crypto based on a viral internet meme of a frog, soared 7,000% in 3 weeks after its launch in April. It subsequently breached a market value of $1.8Bn one month later according to data from CoinGecko.
Another more established example is Shiba Inu, a dog-inspired meme coin which blew up in popularity thanks to Elon Musk's Twitter posts. According to Binance, a $1k investment in SHIB tokens back in 2020 would have generated returns of $22m in 2023.
In this guide, we take a closer look at meme coins and what investors should know before buying them. We also review the best meme coins to buy in 2023.
Top Meme Coins to Invest in Today
Let us start our guide with a quick overview of the best meme coins of 2023.
Meme Kombat – Creative presale redefining the meme industry with a play-to-earn Battle Arena for the world's most successful memes (Doge, Floki, Shiba, etc.), with betting options on the outcomes, AI-enhanced illustrations, and blockchain-assisted combat. Bets are processed on-chain and the founder is public.
Wall Street Memes – Meme coin cryptocurrency now heading for its IEO on OKX after enjoying one of the best meme presales ever, raising more than $25 million. Also offering staking rewards, it has the potential to go viral after gaining attention from Elon Musk on Twitter, and has over 1m followers on social media.
Chimpzee – A token that is doing good for the world by donating to charities that prevent climate change, while providing a passive income for holders. More than $1.35 million raised in its presale.
Pikamoon – Novel NFT play-to-earn metaverse and GameFi token with the potential to explode. It features staking and an in-game marketplace that burns 5% of tokens to increase overall value. Over $4 million raised in its presale.
RizzMonkey – A new meme cryptocurrency that has raised over $125k on presale. $RZZMNKY is priced at $0.000005367 and will rise by 16.7% after conducting its initial exchange offering.
Dogecoin – The original, largest and most recognizable meme coin with an $11 billion market cap and huge daily volume of more than $300 million.
Shiba Inu – Another huge meme coin, often described as the 'Doge Killer', Shiba Inu has a market cap of around $6 billion but, unlike DOGE, offers utility such as its metaverse and NFTs.
Floki – Fast-growing meme token with multiple utility projects, including play-to-earn games and a marketplace. Has enjoyed a strong start to 2023 with a market cap of $300 million.
Dogelon Mars – Community-driven meme coin built around Elon Musk's space ventures. Current market cap of around $145 million but is down in 2023.
Baby Doge Coin – Hyper-deflationary meme token with its own DeFi swap platform. Also has a market cap of $300 million and has doubled in price in 2023.
SamoyedCoin – First meme coin built on the Solana blockchain and also features an NFT collection. Small market cap of only $13 million and up slightly in the year-to-date.
Hoge Finance – DeFi meme coin that incentivizes long-term investing with a tax on transactions. Had a strong surge in February but has since retraced to January prices.
MonaCoin – Long-established meme coin popular in Japan and used for payments. Market cap of $30 million, but not available on many exchanges.
Analyzing the Best Meme Crypto Coins to Buy
Anyone with the required technical knowledge can create a cryptocurrency. However, turning a cryptocurrency into a popular meme coin is an entirely different feat – and one that has only been successfully achieved multiple times.
Below, we dive into the specifics of the top meme coins in today's market – evaluating the key factors that can drive their growth in the coming years.
1. Meme Kombat ($MK) – New PoS Presale Token With 112% APY Offers AI-Enhanced Meme Combat And Live Betting
Meme Kombat ($MK) is an inventive new presale that does not provide a meme of its own. Instead, it offers an arena for all of your favorite memes – Floki, Pepe, Doge, Shiba Inu, etc. – to engage in play-to-earn combat, where users can bet on the outcomes.
This is something completely new, that we have not witnessed before – while most presales are based around a meme, Meme Kombat is offering an AI-enhanced Battle Arena where spectators can bet on fight outcomes.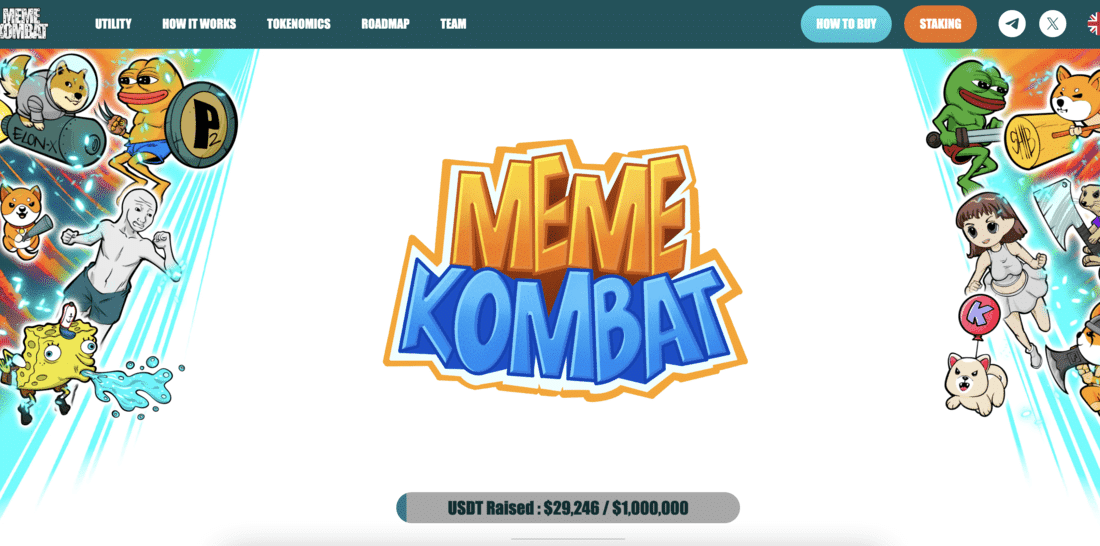 The appeal is obvious, as many of these memes have huge audiences and supporters online. The $MK token allows for staking rewards, which are currently estimated at 112%. APY is available immediately during the presale. However, it also provides active income opportunities, as players look at betting strategies and statistics in order to maximize their ROI.
The automated Battle Arena fights take place on-chain for maximum transparency and automatic reward distribution, with the decentralized process allowing for maximum security and tamper-resistant results. AI-rendered visuals make the combat much more engaging for the spectators betting on the outcome.
As well as betting on the result of the battles in the Battle Arena, there will also be a range of side markets and in-play betting, to allow for even more opportunities to win.
Another item setting this project apart is that the founder is doxxed and publicly available on LinkedIn – this is extremely uncommon within the presale industry. The campaign has further undergone a third-party smart contract audit from Coinsult, with no issues found. So it scores top marks in terms of transparency.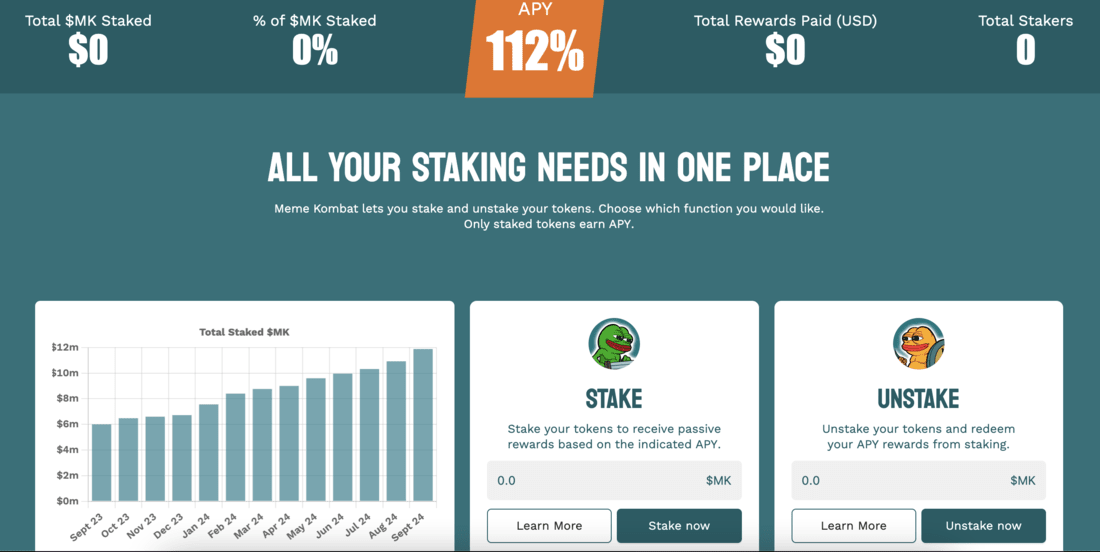 In terms of token allocation, 50% is available in the presale, 30% to staking/battle rewards, 10% to DEX liquidity, and 10% to community rewards. The price per token is $1.667 with an overall $10 million hard cap. ETH, USDT, or BNB can be used to finalize the transactions.
This is not just another meme presale, but a new idea that could disrupt the existing meme industry if it gains momentum. The project is also very transparent, unlike the majority of other meme presale offerings, which is why we think it could be a top performer in 2023, and has 10x potential behind it.
More info can be found in the Whitepaper, as well as the social accounts (Telegram and Twitter).
| | |
| --- | --- |
| Hard Cap | $10,000,000 |
| Total Tokens | 12,000,000 |
| Tokens available in presale | 6,000,000 |
| Blockchain | Ethereum Network |
| Token type | ERC-20 |
| Minimum Purchase | 100 tokens |
| Purchase with | USDT, ETH, BNB |
2. Wall Street Memes – Explosive Meme Coin Now Listed on IEO after Huge $25m Presale
Wall Street Memes ($WSM) is a new meme token launched by the founders of the Wall St Bulls NFT collection – which back in 2021 sold out all 10,000 Ethereum-based NFTs in its first mint in just 30 minutes.
The project raised more than $25 million during its presale, making it one of the best ever, and is now available to trade on tier-1 centralized exchange OKX.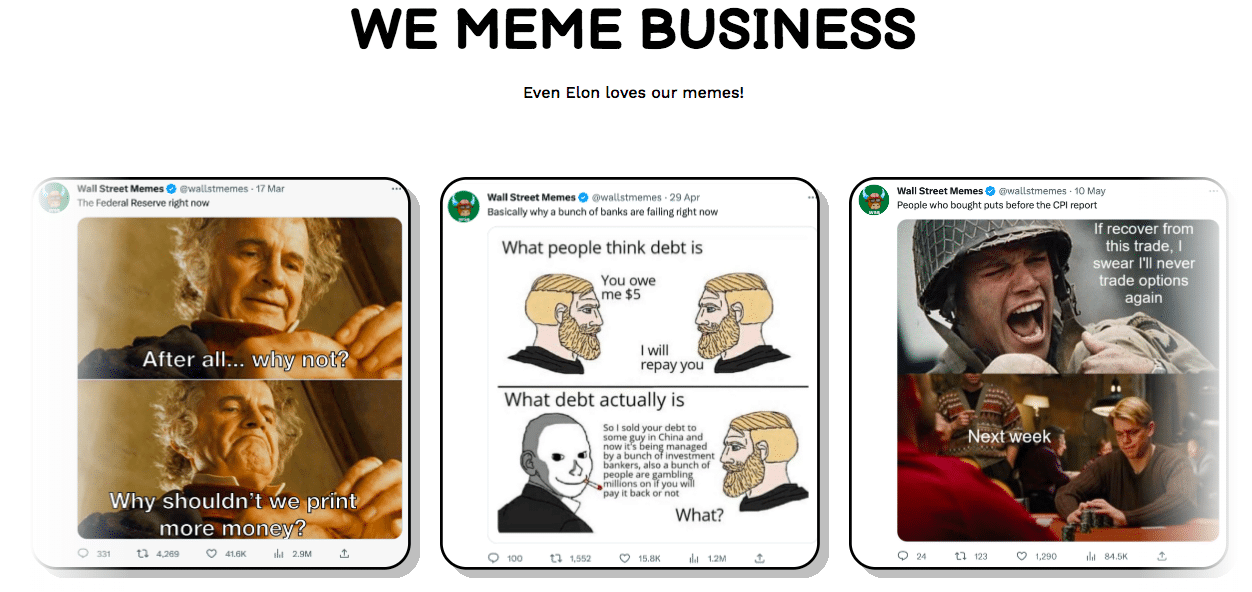 This legacy NFT project has a following of more than a million people, including half a million on its Instagram page devoted to internet memes.
The Twitter page of Wall Street Memes dates back to 2019, and popular celebrities such as Elon Musk have interacted with its community. The project, which also offers stake-to-earn rewards, has now built on its experience to release its first meme coin, $WSM.
This token could have an advantage over other meme coins, such as Wojak or Turbo, since it already has a large community that could be motivated to hold for the long term – avoiding the 'pump and dump' many meme tokens go through.
$WSM has a total supply of 2 billion tokens, 50% of which were allocated to presale investors. A 100% community-focused token, the remaining tokens will be used for community rewards and liquidity on exchanges.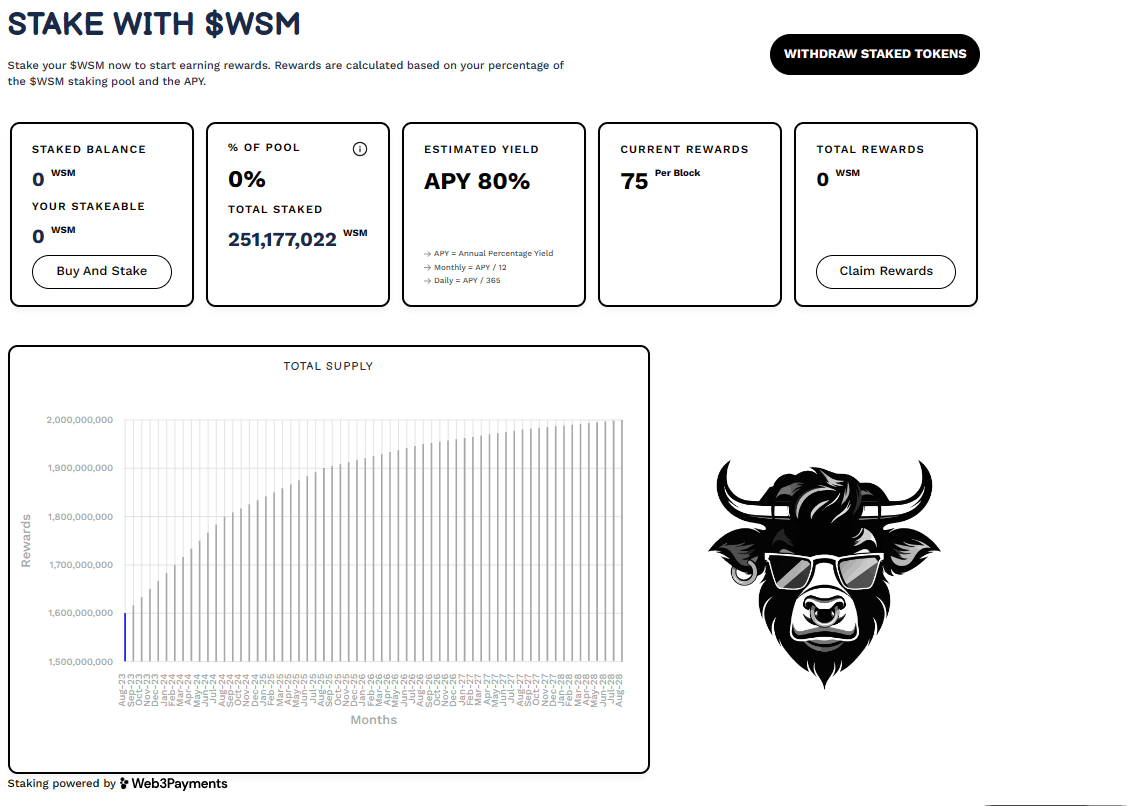 The project also has longevity through its staking pool – at the time of writing, more than 300 million tokens have been added to the pool, which is offering an estimated APY of 50%.
While meme coins can generate huge returns over the short and long-term it's important to remember that the crypto market is extremely volatile. This means that as quickly as the prices rise they can also drop. Be sure to invest as much as you can afford to lose. Join the Wall Street Memes Telegram for more updates on this meme coin presale.
3. Chimpzee – A Token That is Doing Good for the World and Offers NFTs, P2E and Much More
While numerous cryptocurrency projects are innovating in the realm of financial solutions, there is a noticeable dearth of practical environmental and social initiatives. However, a new trend is emerging, led by a select few pioneering endeavors.
A good example of this is Chimpzee, which places a strong emphasis on preserving the planet and its wildlife. Chimpzee offers a range of features that enable users to earn passive income while actively contributing to environmental causes.

These features, including Play-to-Earn, Shop-to-Earn, and Trade-to-Earn, are accessible through the Chimpzee shop, NFT marketplace, and Zero Tolerance Game. The Chimpzee team has allocated 10% of the token supply and a portion of their profits to support organizations dedicated to these causes.
Maximizing passive income in the most lucrative way is made possible through the ownership of a Chimpzee passport, enabling users to earn additional CHMPZ tokens by engaging with various elements of the ecosystem.
Chimpzee will unveil mobile app powered by AI technology that generates personalized chimpzee avatars for its users. These avatars serve as the key to creating a unique Chimpzee NFT passport, with some of the same benefits of a Diamond NFT Passport.
To join the Chimpzee presale and obtain these exclusive passports, a total of 40 billion CHMPZ tokens will be made available across four rounds. Currently, 1 CHMPZ is worth 0.0007. The token will be listed at $0.00185.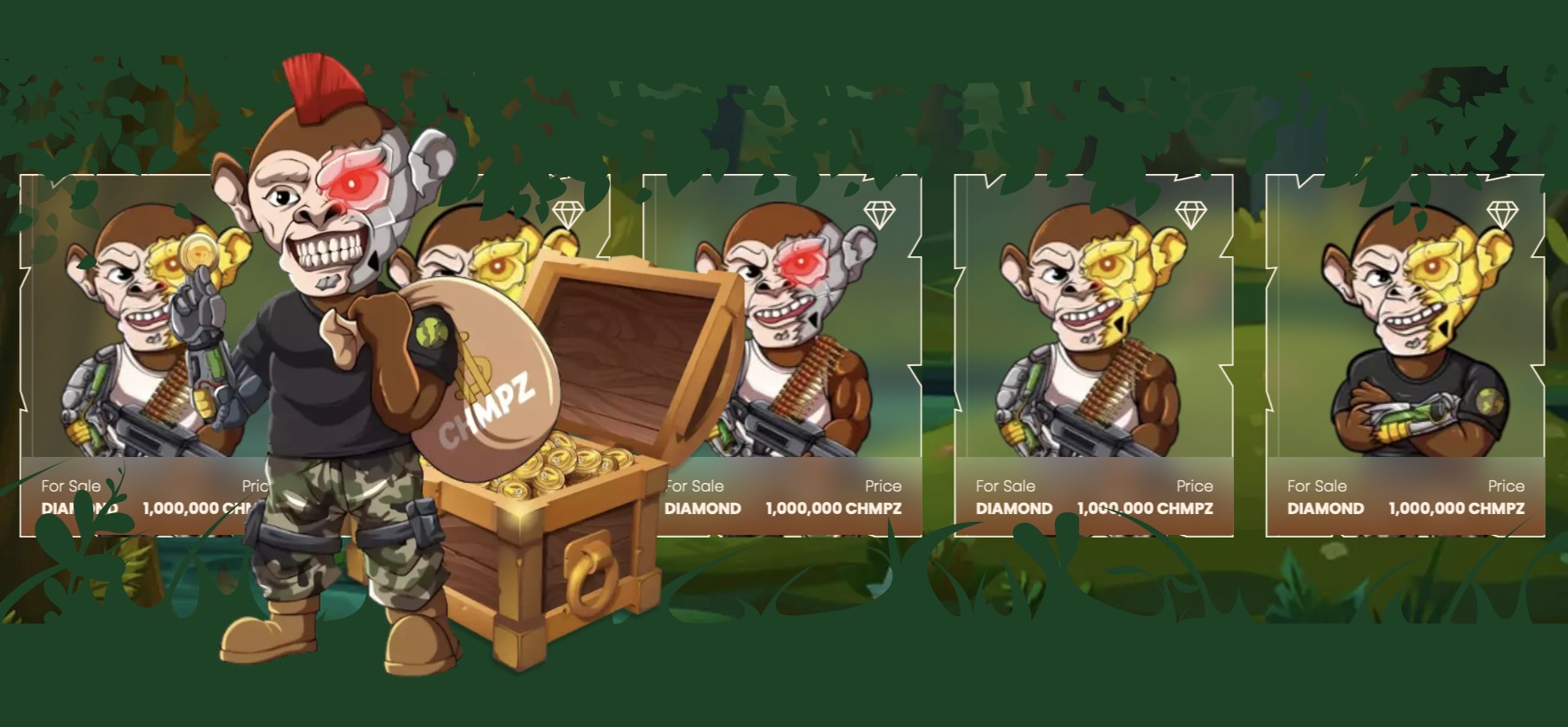 Acquiring the Chimpzee Diamond NFT passport during the presale offers users the greatest rewards, as the supply is limited. Those who miss out on the presale will need to purchase the passports at a higher price and wait until after the whitelist NFT passport prelaunch, which is exclusively reserved for presale investors.
Only people that buy in Stage 1 of the presale will have an opportunity to buy and mint a Diamond NFT passport in the exclusive pre-launch event. Chimpzee has the potential to have a significant impact in the realm of environmental projects and is definitely worth monitoring. Seizing the opportunity to participate in the presale early on comes with enticing benefits.
More than $1.35 million has been raised in the presale so far.
| | |
| --- | --- |
| Token Symbol | CHMPZ |
| Total Supply | 200 Billion |
| Presale Supply | 40 Billion |
| Network | Ethereum (ERC-20) |
| Purchase Method | ETH, USDT, Credit Card |
4. Pikamoon – Play-to-Earn Metaverse and Token With Staking Capabilities
Pikamoon is a new metaverse based on the play-to-earn concept. It's hugely inspired by Pokemon, allowing you to create and invest in NFT monsters called Pokemoons. You lead them into battles and earn $PIKA tokens, the native cryptocurrency, as a reward.
Every Pikamoon monster can be captured, just like in Pokemon, and you can have several of these companions in a fully-developed world with four distinct regions inspired by the elements – Earth Regions, Water Kingdom, Flame Empire, and the Thunder Collective.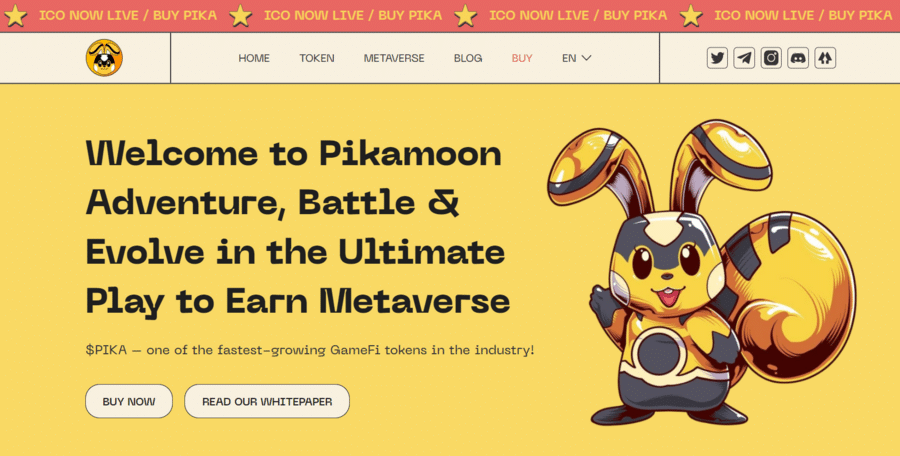 Pikamoon has the potential to explode in the future for several reasons. First, the presale phase is separated into three rounds, each increasing the token's price, going from $0.0002 in Round 1 through $0.0004 in Round 2 and $0.0006 in Round 3.
Only 30% of all tokens will be sold in the presale, with as much as 10% being used as staking rewards. Pikamoon features standard staking rewards like many cryptos of its kind, but it also rewards hodlers by not charging the 2.5% fee on purchases, only on Transfer and Sell orders.
More than that, the in-game marketplace, one of the cornerstones of the Pikamoon metaverse, where players can purchase various items, burns 5% of the tokens spent. As the whitepaper explains, the founders implemented this move to induce future scarcity. It means the overall supply of $PIKA will drop over time, potentially increasing the value several times.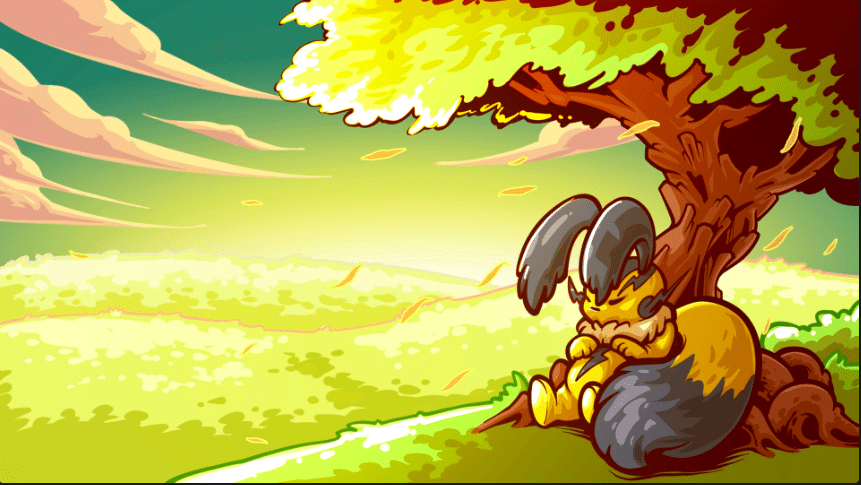 Buyers can purchase the tokens for $0.0006 each during Round 3 of the presale – this will be the final presale stage with almost $4 million raised so far.
Visit the official site if you're interested in buying, and make sure to follow the project's Telegram channel to learn more.
5. RizzMonkey – Exciting New Meme Token is Priced at $0.000005367 on Presale, Over $125k Raised
The next cryptocurrency on our list is $RZZMNKY, the native token of RizzMonkey.
This cryptocurrency is currently available to buy on presale for just $0.000006264 per token and has now raised more than $125k.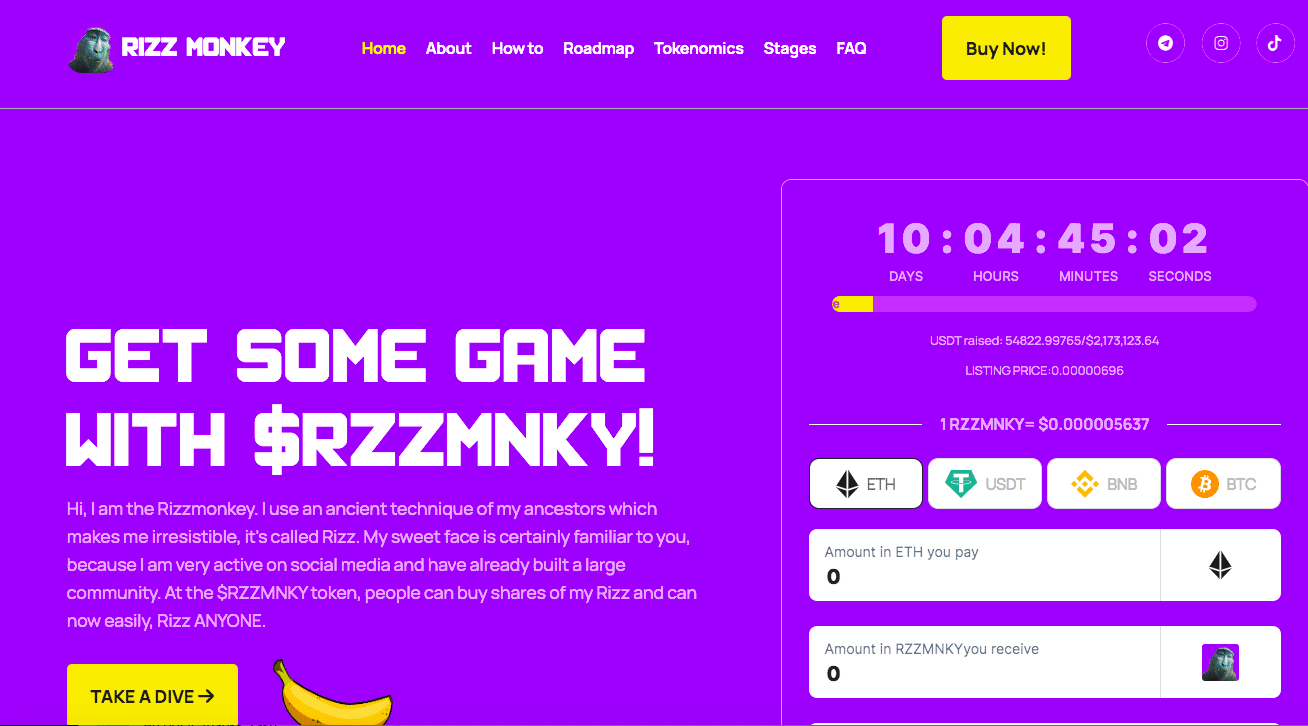 Similar to popular meme coins such as Pepe Coin and Miladys, RizzMonkey is looking to attract a loyal customer following and explode in price. Through the ongoing presale, RizzMonkey wants to raise a hard cap of more than $2.17 million. In total, Rizzmonkey has a total token supply of 696 billion, 55% of which has been allocated for the ongoing presale.
The presale will consist of three rounds, the first two of which offer 36% of the token supply. The third and final round will offer 19% of the token supply. Currently, $RZZMNKY is on stage two of the three-round presale. The price will rise from $0.000005367 to $0.000006264 by the final round.
After the presale ends, RizzMonkey will conduct its initial exchange offering (IEO). The IEO price is set at $0.00000696, a 16.7% price jump from current levels. As the listing takes place, there is a potential for RizzMonkey to soar in valuation. Due to the volatility of meme tokens, RizzMonkey may be suitable for risk-taking investors.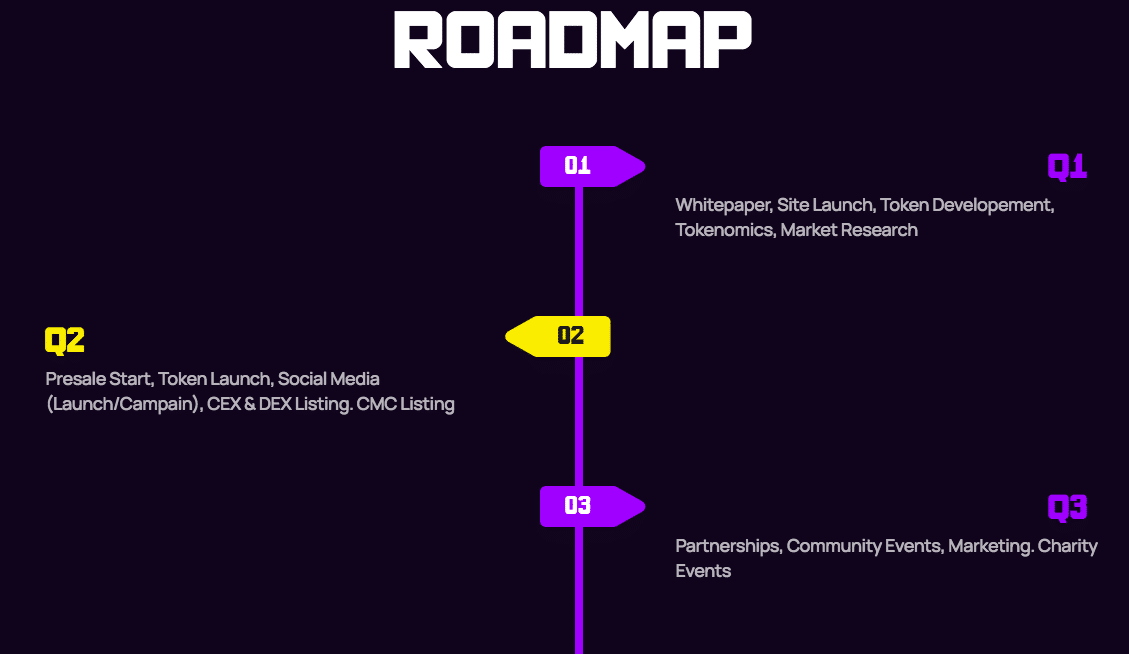 To keep yourselves updated with all the new presale developments, read the RizzMonkey whitepaper and join the Telegram channel.
6. Dogecoin – Original Meme Coin With a Significant Market Cap
The very first meme coin, Dogecoin, was created as a satire of Bitcoin and was launched in 2013 and featured the image of a Shiba Inu Dog. Little did the crypto community know that DOGE would become one of the best cryptos to invest in for a huge ROI.
It continues to be the most popular meme coin and has amassed a faithful community of supporters over the years. Today, Dogecoin has a market cap of more than $11 billion.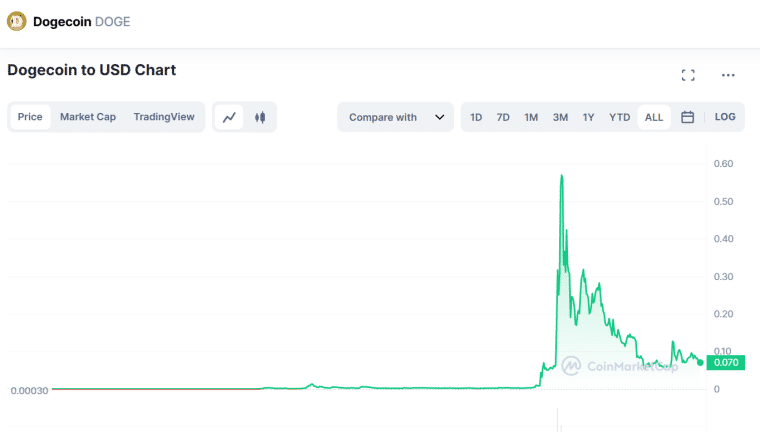 For those unaware, Twitter CEO Elon Musk is one of the prominent endorsers of Dogecoin. In fact, he has openly voiced his belief in this cryptocurrency via Twitter and the billionaire has even touted Dogecoin as a serious source of payment – which has helped boost the cryptocurrency's price in the market.
Today, many online merchants and crypto gambling sites accept Dogecoin as payment. However, Dogecoin doesn't have any unique utility that gives it a competitive edge in the market.
Yet, since 2013, Dogecoin has generated a monumental return of over 28,000%. Most of this growth was achieved as recently as 2021.
Although Dogecoin lost a significant amount of value in 2022, this cryptocurrency continues to retain its position as the market leader among meme coins.
This has led many crypto analysts to believe that Dogecoin is potentially one of the best meme coins to explode in 2023, especially if the broader crypto market begins the next bull run again.
Cryptoassets are a highly volatile unregulated investment product.
7. Shiba Inu – Trending Meme Coin Known as the 'Dogecoin-Killer'
Shiba Inu was created in August 2020 by a pseudonymous developer named Ryoshi. According to Ryoshi, Shiba Inu is a crypto project that is essentially an experiment in community governance and decentralization. When Shiba Inu was launched, it was branded as the 'Dogecoin-Killer'.
However, it wasn't until February 2021 that this meme coin started seeing any notable price action in the market. By October 2021, Shiba Inu had witnessed monumental growth. For instance, a single Shiba Inu token that was worth around $0.0000000002 in October 2020 was trading at around $0.000079 a year later.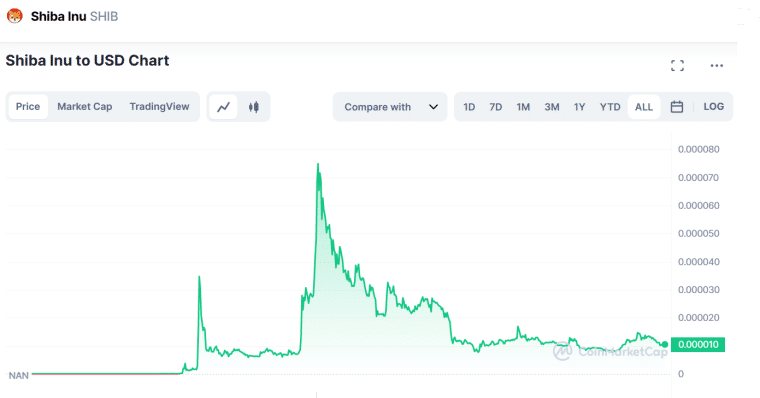 This meme token is compatible with the Ethereum network, which can help propel its adoption as a payment option. The cryptocurrency has also generated interest with its Shibarium layer-2 protocol, which will function as an expanded development framework for the Shiba Inu ecosystem, facilitating faster transactions, lower fees, and scalability.
Since its all-time high back in October 2021, Shiba Inu has lost more than 85% of its value. As of writing, this token is priced at around $0.000011. Nevertheless, Shiba Inu continues to be one of the top meme coins in the market – in terms of popularity and adoption.
Cryptoassets are a highly volatile unregulated investment product.
8. Floki – Growing Meme Token With Multiple Utility Projects
Floki calls itself 'The people's cryptocurrency.' The platform aims to bridge the gap in the crypto industry by creating awareness about blockchain technology and digital tokens. To do this, the platform has developed a cryptocurrency named FLOKI, inspired by memes.
Aside from this, Floki also has three utility projects in the making – Valhalla, FlokiPlaces, and FlokiFi. Valhalla is a play-to-earn, NFT gaming metaverse, while FlokiPlaces helps people buy physical goods with cryptocurrencies, with Floki tokens as the payment method.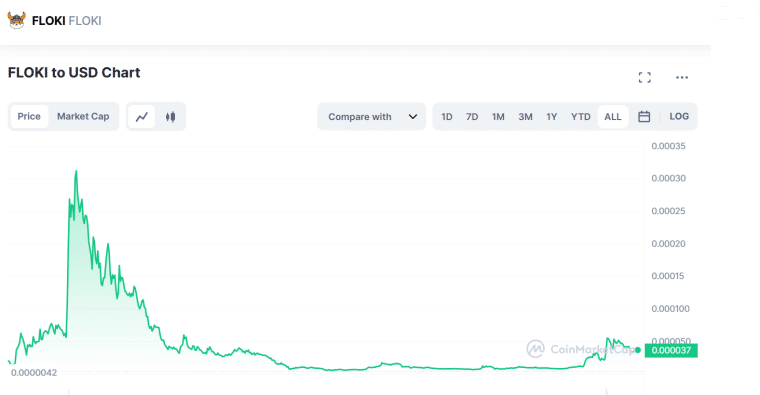 The third endeavor, FlokiFi, is a decentralized exchange that investors can use to swap their digital assets. In other words, FLOKI tokens indeed have utility – which makes it one of the best meme coins to buy in 2023. FLOKI token is available on both Ethereum and Binance Smart Chain.
9. Dogelon Mars – Community-Driven Meme Coin
Dogelon Mars was another meme-themed cryptocurrency launched in 2021. The team behind this project wanted to create a fair and transparent entry to the market and as such – opted against allocating any ELON tokens for themselves. Instead, the team sent about half of the total supply to Vitalik Buterin – the co-founder of Ethereum, who then donated it to the Methuselah Foundation.
The other half of Dogelon Mars tokens were deposited in a liquidity pool on Uniswap – via an ELON/ETH pair. The team then burned the liquidity provider tokens they received – thus demonstrating that the project isn't a rug pull.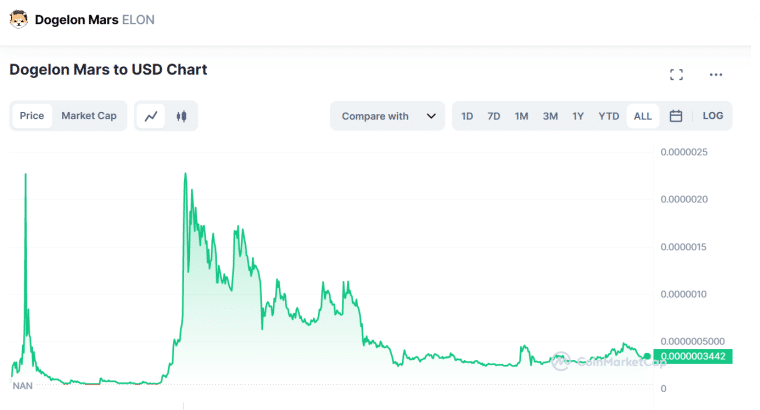 In addition to this, the founders also encouraged the Dogelon Mars community to donate their ELON tokens to victims of scams.
The team has also announced plans to expand the Dogelon Mars ecosystem by launching an NFT collection and a new governance token. All these initiatives have helped Dogelon Mars garner noteworthy community support in the crypto market – which could help boost the price of this meme coin in the future.
10. Baby Doge Ccoin – Hyper-Deflationary Meme Token With a DeFi Swap Platform
Baby Doge Coin is a cryptocurrency designed by the doge meme community. According to the Baby Doge Coin whitepaper, the main purpose of this project is to spread awareness of animal adoption. Additionally, the community has also launched a token-swapping platform.
Interestingly, all Baby Doge Coin token holders receive the lowest swap fees on Binance Smart Chain on this decentralized exchange. The platform also supports the staking of many cryptocurrencies, including Baby Doge Coin. As of writing, investors can receive an APR of 64% via the BNB/BABYDOGE staking pool.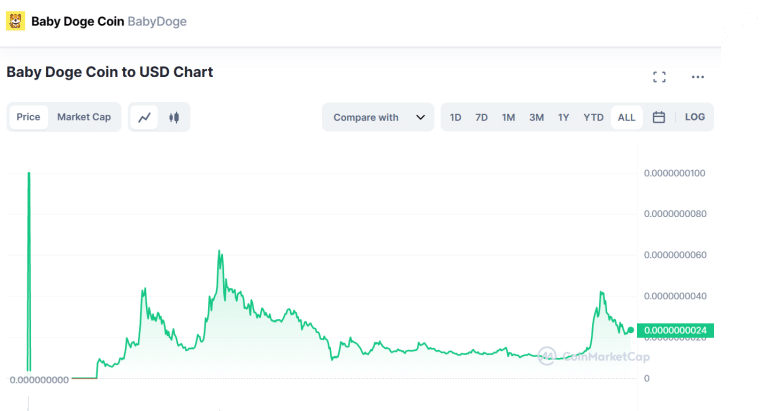 Baby Doge Coin is also designed to be a deflationary token. These tokens are burned at regular intervals – which, according to the team, will gradually tighten the supply and boost liquidity over time. In late 2022, Baby Doge Coin also announced the launch of its Onramper feature, which will allow users to buy cryptocurrencies with fiat money directly on the decentralized exchange.
11. SamoyedCoin – First Meme Coin Built on the Solana Network
Perhaps the most distinctive feature of SamoyedCoin is that it doesn't use the Shiba Inu breed as its mascot. Instead, it uses Samoyed, a dog breed that looks similar to a wolf. SamoyedCoin also differentiates itself by being the first meme token issued on the Solana blockchain.
This means that SamoyedCoin's transactions are more efficient when compared to other meme coins. They are significantly faster, cheaper, and more energy-efficient than both Dogecoin and Shiba Inu. As such, it isn't surprising that SamoyedCoin's main goal is to serve as an ambassador of the Solana network.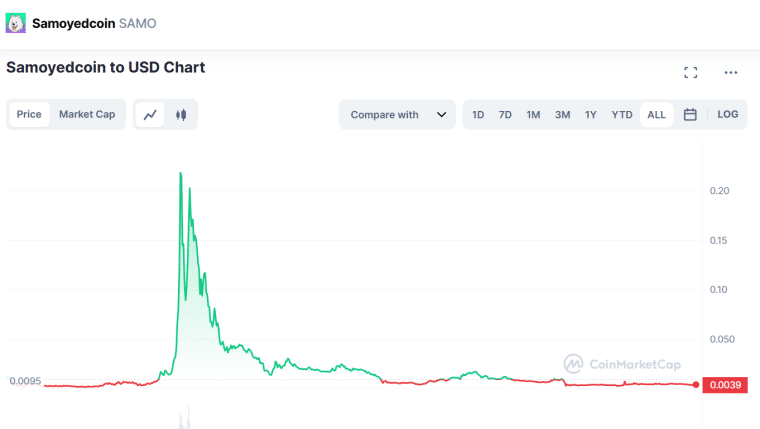 In addition to its meme token, the team has also launched a collection of SamoyedCoin NFTs. As the platform grows, the team hopes to provide its token and NFT holders with exclusive benefits. This meme coin is also deflationary in nature – which is another factor that could help SamoyedCoin become more attractive to investors.
12. Hoge Finance – Earn Passive Rewards by Holding HOGE Tokens
If SamoyedCoin aims to ramp up the Solana network, Hoge Finance was developed to do the same for Ethereum and DeFi. Hoge Finance identifies itself as a community-driven crypto project that rewards its investors for holding the token. The platform achieves this by charging a 2% tax on every transaction.
A portion of this tax is burned, while the rest is redistributed to everyone with HOGE tokens in their crypto wallet. This way, Hoge Finance aims to reduce its total supply while incentivizing its loyal supporters. Hoge is also one of the only meme tokens to have had a Certik audit conducted on its code – which can help spot vulnerabilities in the program.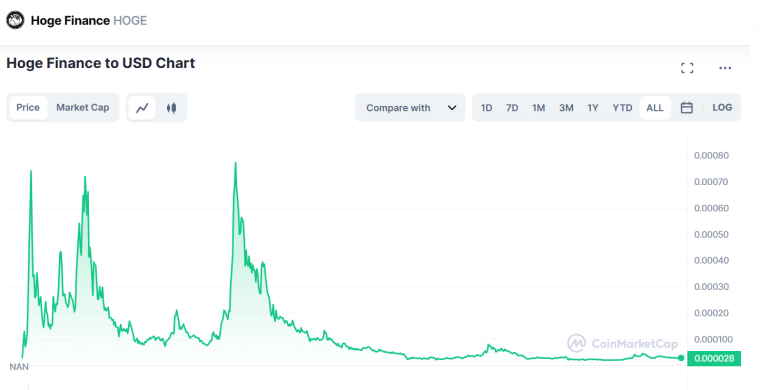 But, the most unique aspect of Hoge Finance is that it intends to launch a mini-satellite to generate NFTs in space. It even supports an open-source initiative to study data security for this purpose. Investors who find all these efforts endearing might view Hoge Finance as one of the best meme coins to buy this year.
13. MonaCoin – Veteran Meme Coin Used for Payments
Another cryptocurrency that caught our eye when searching for the best meme coins for 2023 is MonaCoin. Unlike many meme coins, MonaCoin is not a newly-invented cryptocurrency. Instead, it has been around since January 2014 and has an open-source, decentralized model.
Like Dogecoin, MonaCoin was originally created as a hard fork of Litecoin. Moreover, this meme coin is particularly popular in Japan since its logo is based on a widely recognized cat character in the country. However, MonaCoin doesn't have any other utility – other than being a viable payment option.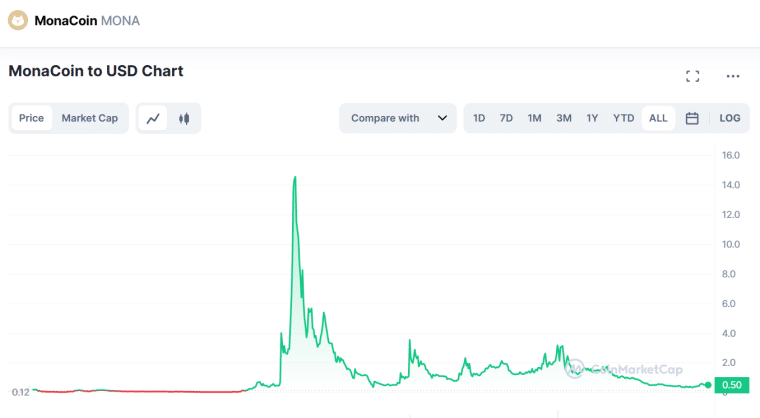 In fact, this meme coin is widely used on third-party mobile applications for tipping in online gaming communities. That being said, the main downside of this cryptocurrency is that there are not many exchanges that list it.
What are Meme Crypto Coins?
Meme crypto coins were initially developed as a light-hearted joke. These tokens tend to be centered around a trend or a funny idea. The majority of these coins do not have any specific underlying utility. Instead, the price of these tokens is often driven by community support and celebrity endorsements.
However, over the years, some meme coins have ballooned in value, gaining multi-billion dollar market caps and attaining wide-scale adoption.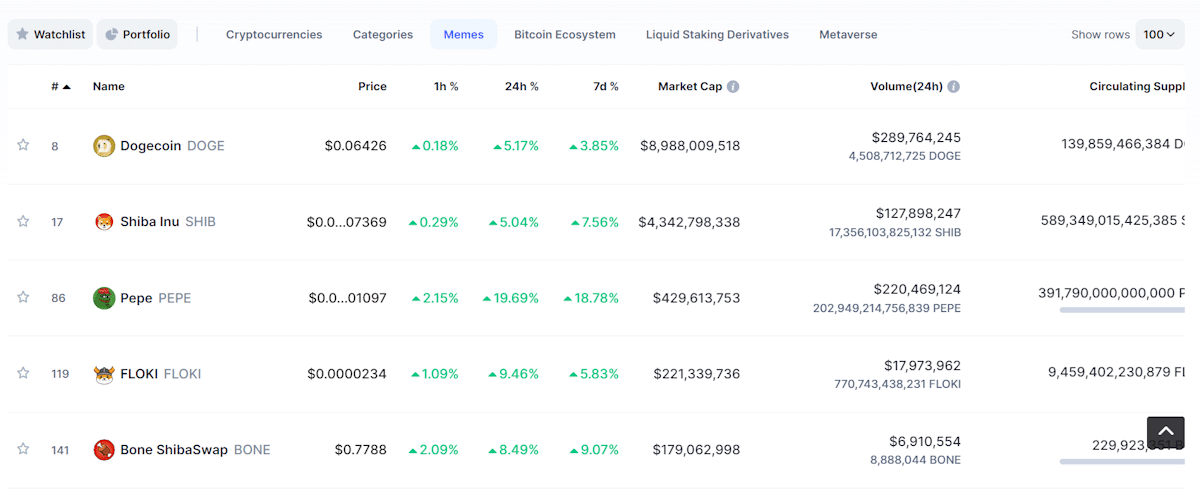 In fact, following the success of Dogecoin, crypto projects have begun developing digital tokens inspired by memes – albeit with some utility. According to CNBC reports a $1,000 investment in DOGE back in 2021 would have yielded gains of over 12,000%.
Unfortunately, this isn't the case with most meme coins. As such, meme tokens tend to be highly volatile and unpredictable – which makes it hard for crypto enthusiasts to pick the right project to invest in.
The History of Meme Coins
Joke coins and other cryptos based on internet memes have recently gained popularity in the cryptocurrency market. Dogecoin, the original meme coin, was made in 2013 as a joke by Billy Markus and Jackson Palmer. Dogecoin was created as a parody of the Shiba Inu dog meme, which typically features comic sans font captions.
Dogecoin was created as an internet joke, but it has gained a large fan base and is now valued in the billions. Its success spawned similar meme coins like the Shiba Inu coin and the SafeMoon, both of which saw similar popularity and market value surges.
Meme coins, as they are called, are often criticized for having no real function or value beyond their meme-inspired branding. However, proponents of these tokens argue that they can help raise awareness and funds for good causes while also providing a fun and accessible entry point to cryptocurrency for newcomers.
Meme coins' initial comedic intent belies the serious role that online communities play in the widespread adoption and subsequent success of cryptocurrencies. Observing how meme coins and their influence on the market development as the cryptocurrency industry progresses will be fascinating.
What Drives the Price of Meme Coins?
Popularity on social media and FOMO
Real-world use cases and utility
Investor sentiment and speculative investing
Market volatility
Market value is often driven by the hype and buzz generated by social media and online communities, but several other factors contribute to the price of meme coins.
Let's explore what these are.
The social media buzz and online community engagement surrounding meme coins often significantly impact their price. As news and discussion about a particular meme coin spread, demand for that coin can increase, driving its price.
If we look at the example of Dogecoin again, this meme coin blew up in popularity because of Elon Musk's tweets showcasing his excitement for the project.
As a result a widespread fear of missing out (FOMO) was born and nearly all crypto enthusiasts were rushing to add DOGE to their portfolios.
When FOMO for a particular crypto increases, the market price typically jumps as the markets become bullish.
Nevertheless, FOMO usually results in retail investors losing money when they invest during a peak and then lose money when the price takes a nose dive.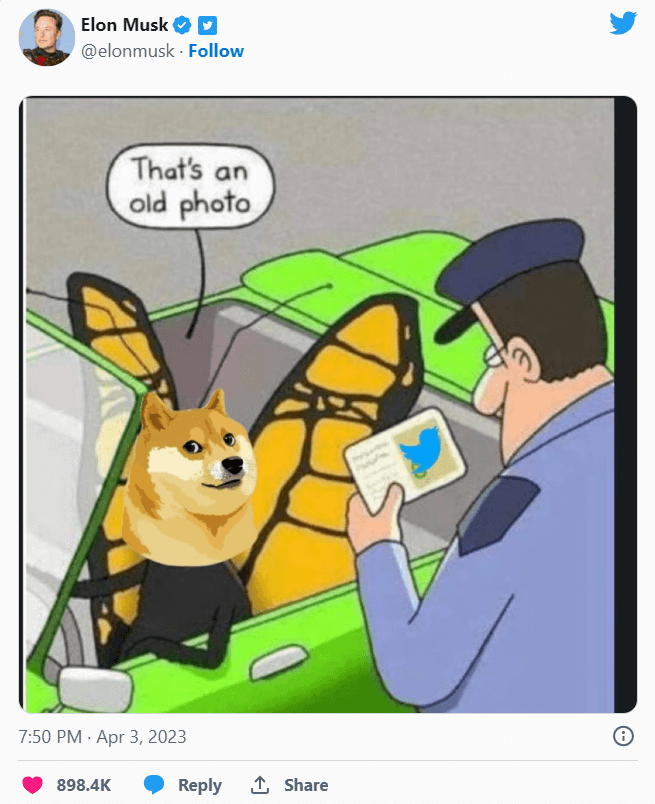 Supply and Demand
Like all cryptocurrencies, the price of meme coins is determined by supply and demand. The price will increase if more people are interested in buying a particular meme coin than selling it. Conversely, if more people are selling than buying, the price will decrease.
The basic economic theory of supply and demand has a significant impact on the pricing of meme cryptocurrencies like Dogecoin and Shiba Inu. Demand is the desire of investors and traders to possess and trade these cryptocurrencies, whereas supply is the overall number of these cryptocurrencies available on the market.
Let's start by thinking about the supply side. Meme coins frequently have a significant and rising supply. For instance, Dogecoin was designed with an unlimited supply, allowing for continual coin production.
On the other hand, Shiba Inu has a huge overall supply, which can affect its price dynamics. Prices of these meme currencies may be under pressure if their supply grows quickly or if it is thought that there is no shortage.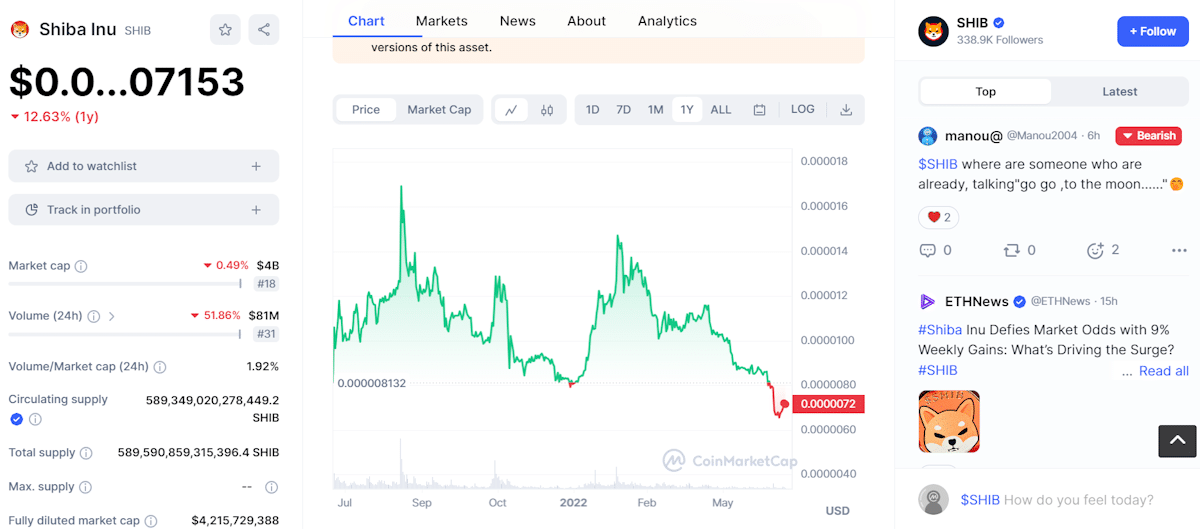 On the other hand, if the supply is restricted or reduced, it may lead to scarcity and possibly higher costs because the demand will outstrip the supply.
Now let's look at the demand side. Meme coins develop traction due to a variety of circumstances, including social media hype, powerful endorsements, and participation from the investing community.
Prices for these coins can soar when demand, which is frequently fueled by public awareness and speculative interest, rises. Similarly, when powerful individuals like Elon Musk show support or interest for these meme coins, it can significantly increase demand and raise prices.
It's crucial to keep in mind, though, that meme cryptocurrencies are quite volatile, and their values can change considerably in response to changes in market sentiment and other outside causes.
Adoption and Acceptance
The adoption and acceptance of meme coins by merchants and businesses can also impact their prices.
If more merchants and businesses begin accepting a particular meme coin as payment for goods and services, its value may increase as more people use it for transactions.
This was seen when Elon Musk accepted DOGE as a form of payment for Tesla merchandise.
Speculation and investment
Speculation and investment can also drive the price of meme coins. Some investors may see meme coins as a potential investment opportunity, hoping to buy low and sell high for a profit. This can create volatility in the market as the price fluctuates based on investor sentiment.
An example of this is Pepe coin which witnessed significant rallies including a jump of 525% after 14 days of launching into the market.
Some investors who got in early made returns of 5,000,000% with one anonymous trader purchasing trillions of Pepe coins for a mere $263 on UniSwap which consequently turned into $3.8M in profits.
Why do People Invest in Meme Coins?
Are meme coins a good investment? A question that many traders and investors ask themselves before buying into the meme crypto hype.
When it comes to meme coins there are both pros and cons that can have a huge impact on the outcome of the investing strategy.
According to CoinMarketCap, there are more than 1,000 meme coins trading in the crypto market today. This can make it overwhelming, even for experienced investors, to assess which are the best meme coins to buy for their portfolio.
Meme coins typically have no utility but this hasn't stopped the likes of Dogecoin, Shiba Inu, Pepe coin, and now Wall Street Memes to make huge returns in both the short and long term.
Shiba Inu for example experienced its market cap grow to $40bn as it rallied by over 20,000% in the first few months since it was launched in 2020.
In this section, we cover several factors that can help investors decide whether or not they should consider purchasing meme coins.
High Upside Potential
It is impossible to overlook the monumental returns generated by some of the popular meme coins in the past. As we have already noted, Dogecoin and Shiba Inu set records in the crypto industry – by skyrocketing in value within a short period of time.
Most recently Pepe coin turned a retail trader into a millionaire in just 40 days after the market price rally translated a three-figure initial investment into a 5,000,000% profit.
Wall Street Memes is another example of a meme coin that witnessed huge widespread adoption after its presale enjoyed one of the best ever, raising more than $25 million in five months.
With that in mind, YouTube can be a great medium to find the best meme coins in 2023 provided that you use it with a pinch of salt and are aware of the potential risks.
If you're new to crypto investing then you're in the right place as we'll cover the main risks to look out for further down in this guide. So keep reading.
However, investors should also remember that bull runs won't happen with every meme coin after presale, and therefore, should proceed with caution.
Consider the Community Support
One of the main reasons why Dogecoin and Shiba Inu performed well in the market is because of the backing from their respective communities.
This indicates that meme coins that have sizable community support have a better chance of generating notable returns and growth.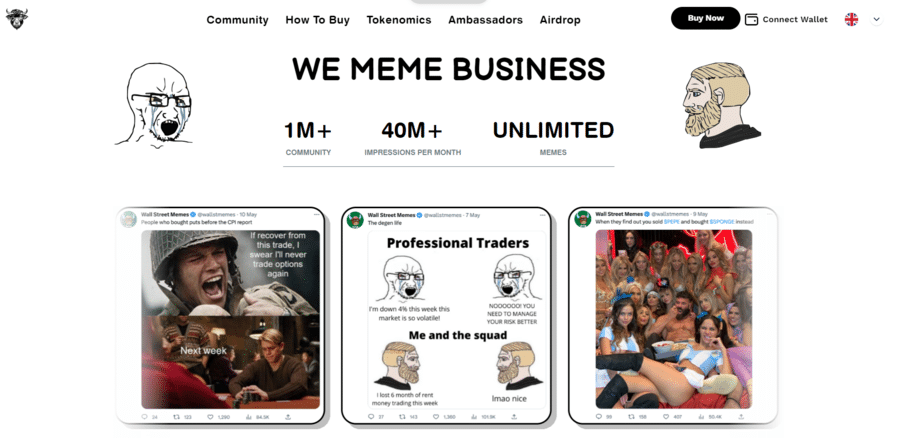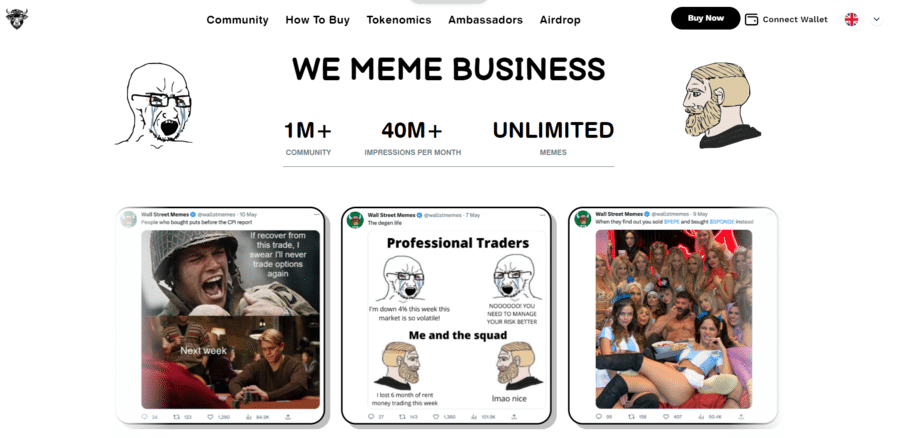 Some of the top meme coins on our list are popular among crypto enthusiasts. For instance, despite being a new crypto on the market, Wall Street Memes already has over 1M followers on social media.
Additionally, Elon Musk's tweets concerning the meme coin has had 1.1M views highlighting how much exposure the new crypto has had on social media.
Having a community that's passionate about the project can help instill trust and build awareness about a meme coin.
When it comes to Dogecoin this meme coin has gathered a loyal community that has a significant track record in raising funds for charity events such as:
Raising $25k to a nonprofit organization 4 Paws For Ability
Over $30k to another nonprofit initiative set up to give access to clean drinking water in under-developed countries such as Kenya
Why is this important when looking to invest in a meme coin? Finding a meme token with a strong community such as Dogecoin's highlights that the project has legitimate backing and that the community is interested in raising money for nonprofit campaigns as opposed to just being about making profits.
Both Dogecoin and Shiba Inu have sizable communities, which is reflected in their $14 billion total market capitalization as of right now.

Furthermore, the communities for a wide variety of different meme currencies are expanding.
The assurance that your money is safe and has the ability to appreciate comes from investing in the most popular meme coins.
Instead of relying just on follower counts, it's critical to take engagement levels on posts into account because certain projects may purchase accounts with huge followings or use spam bots.
A lack of activity on social media may be a sign that a meme project is less popular than it first appears to be.
When it comes to meme coins, social media mentions, the best crypto Discord groups, and Reddit forums can dictate how these cryptocurrencies perform in the market.
For instance, in 2021, Dogecoin was pumped by a Reddit group called SatoshiStreetBets. Following this frenzy, Dogecoin's value shot up in the market making it one of the best Reddit cryptos to invest in.
Similarly, Elon Musk's tweets about Dogecoin also helped this token gain more exposure. The same happened with Shiba Inu. Given this history, it is important to consider social networks to get an impression of the market sentiment towards a specific cryptocurrency.
Real-world examples highlight the impact of social media on the price of meme coins. Dogecoin's (DOGE) situation is one well-known example. Early in 2021, DOGE's price had a significant increase that was mostly fueled by social media attention.
Influential people like Elon Musk, who frequently tweeted about DOGE, sparked a viral trend and fed the hysteria. The price of DOGE increased dramatically as a result, surging to an all-time high of roughly $0.70 in May 2021, a big difference from its ATL of $0.00008547. The enormous interest and debate on websites like Twitter and Reddit sparked a rush of bullish activity, showcasing the influence of social media on meme coin prices.
Unique Proposition
As we have already established, the majority of meme coins don't have any utility. Even some of the most popular meme coins, such as Dogecoin and Shiba Inu, don't bring anything new or unique to the table.
However, from our list of meme coins, there are a few, such as Wall Street Memes, Meme Kombat, Baby Dogecoin, and Floki, that offer benefits to their investors in one way or another.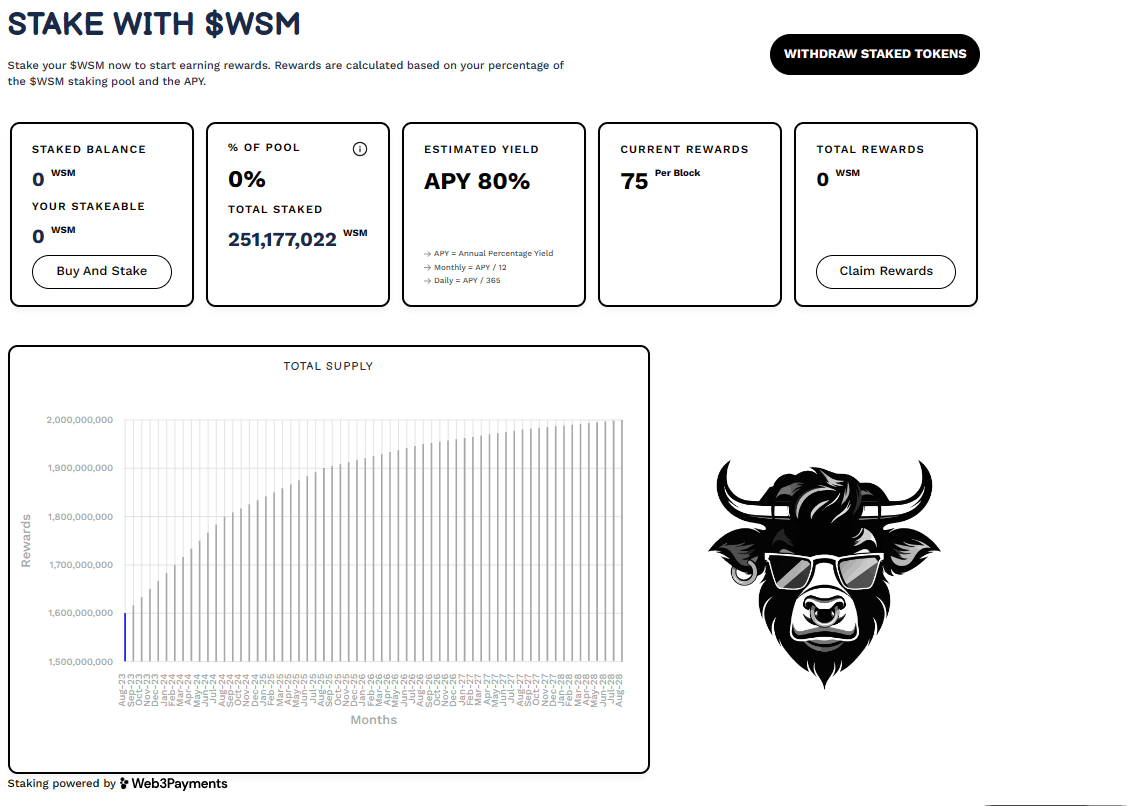 These cryptocurrencies have a better chance of sustaining in the market, even if the meme trend dies down eventually. Therefore, when looking for meme coins that will explode, investors should pay close attention to the utility of the token.
Are There Any Risks When Buying Meme Coins?
By nature meme coins have no utility. This means that they rely on social hype and community support to thrive.
With this level of susceptibility to market volatility, investor sentiment it's no wonder that meme coins are considered one of the most risky crypto investments on the market.
Prices can rapidly increase with something as simple as a tweet from a celebrity but they can suddenly drop as is the case with pump and dump schemes.
Going back to the point about limited utility, having little to no real-world use cases makes it difficult to forecast the long-term sustainability of a meme project.
Meme tokens are also vulnerable to scams. For example the meme coin BOB fell 45% following Elon Musk's claim that its Twitter Bot account "sure looks like a scam crypto account. If so, it will be suspended."
Volatility
While there are potential upsides to investing in meme coins, it is also important to understand the risks.
The crypto market is volatile – however, meme coins are considered to be particularly unpredictable in nature, as their prices are often driven by social media frenzy.
Pepe coin is another example of a new meme coin that has experienced the impact of market volatility.
Riding highs of $0.000004354 Pepe has fallen by -74.4% which has sparked questions about the speculative and unpredictable nature of the crypto market.
In fact, meme coins have been known to explode or crash at a moment's notice. Given the nature of meme coins, investors should only inject money they can afford to lose on these cryptocurrencies.
Pump and Dump Schemes
A crypto pump and dump scheme is a deceptive method of trading cryptocurrencies in which one or more parties artificially inflate the price of a particular cryptocurrency, or "pump," and then quickly sell their holdings to unsuspecting buyers, causing a sharp and sudden price decline, or "dump."
The standard approach entails concerted efforts to disseminate favorable and alluring information about the targeted cryptocurrency across a variety of channels, including social media and online discussion forums. Potential investors feel pressured and compelled to buy the asset quickly, which raises the price.
The manipulators carry out their strategy and sell their holdings at a profit whenever the price hits a predetermined level, which causes the price to fall.
As a result, consumers who bought cryptocurrencies during the pump phase frequently experience significant financial losses.
Due to their deceitful nature and the harm they cause to unwary investors, cryptocurrency pump and dump schemes are regarded as fraudulent and illegal in many jurisdictions.
They influence prices for their own gain by taking advantage of the cryptocurrency market's comparatively lax regulation and the ease with which information can be shared online. To prevent falling for such scams, it is crucial for investors to use caution, do their homework, and be skeptical of dubious and overstated statements when buying meme coins.
Are Meme Coins Legal?
Meme coins have become increasingly popular in cryptocurrency, but their safety and legality are still a matter of debate.
Legal status: In some jurisdictions, meme coins are considered legitimate forms of cryptocurrency and are subject to the same regulations as other cryptocurrencies. However, meme cryptocurrencies may be subject to stricter regulations.
The SEC is initiating legal action against meme projects in an effort to control the crypto market and reduce risks.
As the government attempts to lessen market volatility and the demise of significant crypto businesses, this crackdown could result in a protracted court dispute.
The development of the cryptocurrency sector could be hampered by excessive regulation or a lack of a uniform framework, which would have an effect on meme coins like DOGE, SHIB, and BIG.
How to Buy the Best Meme Coin – Meme Kombat
As we noted in our guide, $MK could be one of the best meme coins to watch because it has garnered significant interest from the crypto community.
Step 1: Set up Crypto Wallet
Before getting started, investors need to download a crypto wallet and set up an account to store their tokens. MetaMask and Trust Wallet are two leading examples – and both are free – although there are plenty of others available.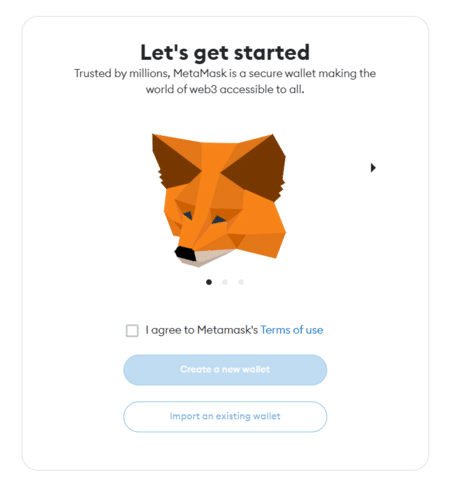 They can be downloaded as a browser extension or via any app store.
Step 2: Purchase ETH, BNB or USDT
Investors need to hold ETH or USDT in their crypto wallet to then convert into $MK.
Both MetaMask and Trust Wallet allow users to purchase the tokens directly on the wallets. Alternatively, investors can purchase ETH or USDT, via a trusted crypto exchange/broker and then transfer it.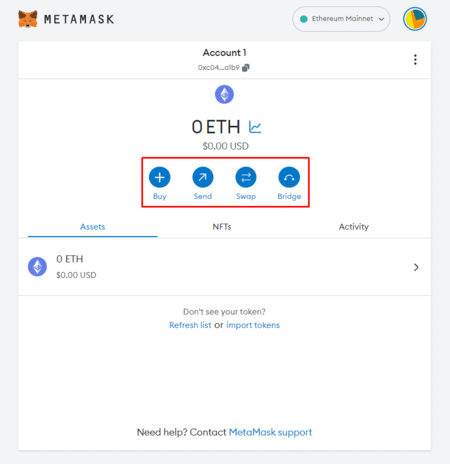 Note that Ethereum gas (transaction) fees will apply to the $MK purchase so some ETH must be held in the wallet.
Step 3: Connect and Purchase $WSM
When there is ETH or USDT in the wallet, visit the Meme Kombat website and click 'Connect', then complete the sign-in process.
Next, click on either Ethereum or USDT, and enter the number of tokens you want to swap for $MK.
Click on 'Buy Now' to complete the process.
Step 4: Claim $MK Tokens
After the purchase is complete, $MK tokens can be claimed once the presale ends, by connecting your crypto wallet to the Meme Kombat presale website.
What is the Best Wallet for Buying Meme Coins?
When buying meme coins, investors naturally need a place to store them safely – and one of the most popular solutions in this regard is Best Wallet.
Best Wallet is a brand-new wallet app designed for mobile devices that allows crypto enthusiasts to securely store coins, tokens, and NFTs. Not only that, but Best Wallet supports several major blockchain networks, including Ethereum and Binance Smart Chain, ensuring its suitable for users of all experience levels.
However, what catches the eye about Best Wallet is its AI-powered chatbot. This chatbot, built into the user interface, can answer questions about crypto-related topics and provide in-depth insights about each user's portfolio. It can even answer queries regarding how to use the wallet app.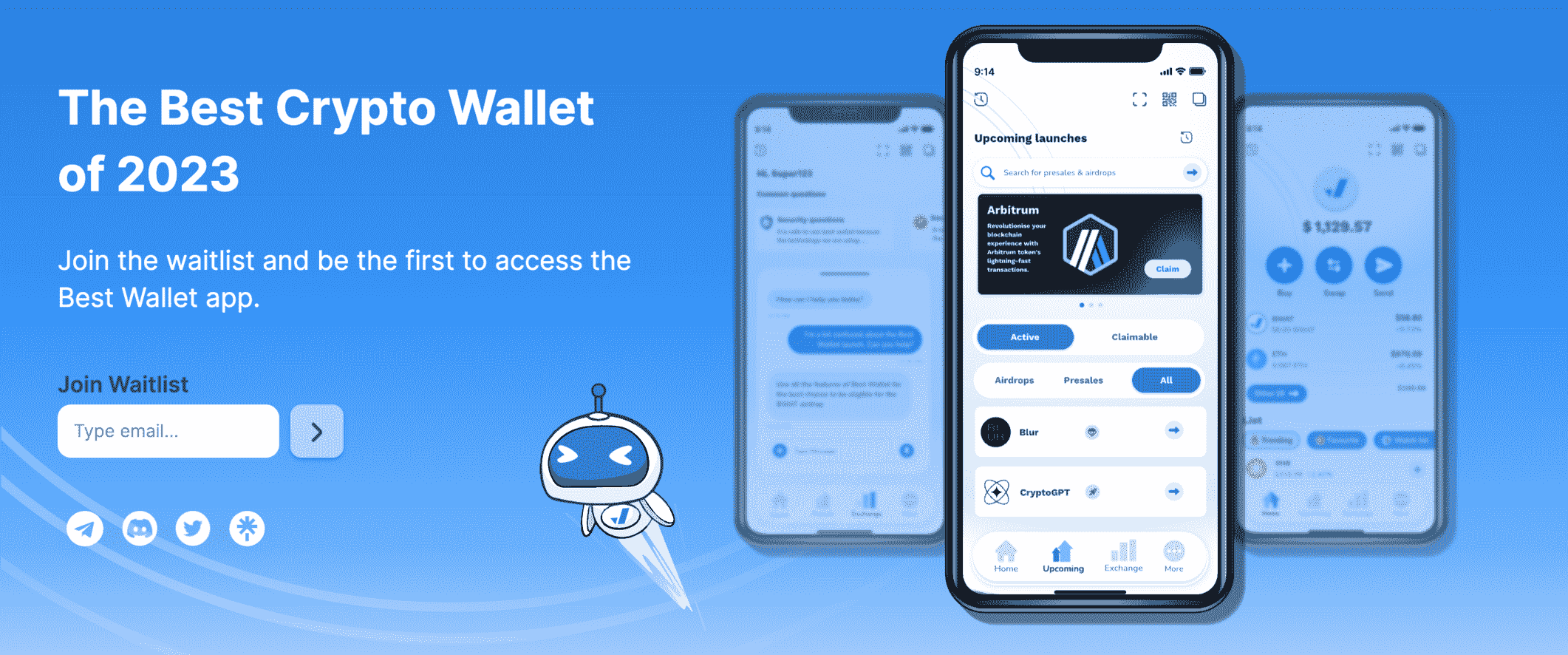 Best Wallet also has a native token called $BWAT, which provides holders various valuable benefits. Those who opt to stake their $BWAT tokens will also benefit from zero gas fees – ideal for users who make regular wallet transfers.
Finally, Best Wallet boasts top-tier security protocols, including advanced cryptography and biometric authentication. Combining this with the features noted above creates a fantastic solution for those seeking to store their meme coins safely.

Where to Buy Other Meme Coins
When deciding to invest in meme coins, such as Dogecoin and Shiba Inu, the process can be carried out via a regulated crypto broker. eToro is a reputable online trading platform that supports a variety of assets, including cryptocurrencies. It is regulated by the SEC, ASIC, FCA, and CySEC.
eToro lists more than 70 of the most profitable cryptocurrencies, which includes leading digital tokens, as well as newly launched projects. Moreover, eToro features crypto Smart Portfolios.
These are baskets of cryptocurrencies created based on a theme or common denominator – such as the top digital tokens by market cap. Smart Portfolios allow investors to diversify into the crypto industry without having to do any of the legwork.
eToro's Copy Trading feature is also a handy tool for new investors. On eToro, investors can start buying cryptocurrencies from just $10. There are multiple payment methods supported – from credit/debit cards and e-wallets to conventional bank transfers.
Crucially, when depositing US dollars, eToro doesn't levy any payment processing fee at all. The broker also has a competitive fee structure for trading crypto – at a flat 1% commission plus the spread.
If needed, investors can also download the eToro Money app to their phone – which will function as their private digital wallet for storing cryptocurrencies.
Cryptoassets are a highly volatile unregulated investment product.
Conclusion
While meme coins have the potential to bring notable gains to investors – they are also volatile and risky. Therefore, when considering buying meme coins, investors should explore their financial goals and risk threshold.
We found that Meme Kombat has all the right elements to become one of the best meme coins to buy now. The $MK token can be staked to earn a 112% annual yield. On Meme Kombat, users can also access an AI-enhanced battle arena and wager tokens to earn rewards. From a low supply of 12 million, 6 million tokens have been allocated for the presale.
Wall Street Memes is another high-potential meme coin now available to buy on OKX after a $25 million-plus presale.
References:
FAQs
What is the best meme coin to buy?
Which meme coin has the most potential?
Which meme coins will explode in 2023?