The original meme coin – Dogecoin, was originally designed as a parody of cryptocurrencies. With that said, many meme coins – including DOGE, have not only generated significant returns for investors – but some are now multi-billion dollar projects.
This year has brought another meme coin frenzy with various tokens showing huge gains in recent weeks and opportunity across the market.
However, meme coin investment also presents a significantly higher risk than other crypto niches with the tokens subject to increased volatility, sudden peaks and troughs and having a larger number of scam operators.
In this guide, we take a closer look at meme coins and what investors should know before buying them. We also review a dozen of the best meme coins to buy in 2023.
Top Meme Coins to Invest in Today
Let us start our guide with a quick overview of the best meme coins of 2023.
Wall Street Memes – A new meme cryptocurrency backed by one of the biggest internet meme movements in the crypto and stocks space. Buy $WSM on presale for just $0.025 per token.
AiDoge – Exciting new meme coin leveraging generative AI technology to create shareable memes, with users then earning rewards for the best creations. It's crypto presale has now raised more than $1.2 million in just 10 days.
Tamadoge – Leading meme coin with a growing crypto gaming ecosystem and wide utility. Also features a much smaller supply than most projects and was one of the best performing meme coins of 2022.
Love Hate Inu – Meme project that has developed vote-to-earn concept to transform the online polling market. Heading for an imminent tier-one IEO after reaching its $10 million presale hard cap in just eight weeks.
Chimpzee – A token that is doing good for the world by donating to charities that prevent climate change, while providing a passive income for holders.
Doge Rush – Meme Coin offering utility through its competition platform and play-to-earn environment.
Hollywood x Pepe – Newly launched meme coin with hilarious new attention-grabbing hype video and claims of A-list backing.
Mooky – Innovative meme token where blockchain meets environmental preservation. It brings you $MOOK, enabling users to support global reforestation efforts and access a range of unique NFTs linked to real-world tree planting.
Pikamoon – Novel NFT play-to-earn metaverse and GameFi token with the potential to explode. It features staking and an in-game marketplace that burns 5% of tokens to increase overall value.
Spongebob – Spongebob token ($SPONGE) has a low total supply of 40.4 billion and launched at a market capitalization of $2.75 million, quickly increasing that almost tenfold in its first day.
Copium – This new community-driven meme token offers investors the opportunity to win NFT airdrops and other exciting rewards. $COPIUM launched for the low price of $0.001213.
Dogecoin – The original, largest and most recognizable meme coin with an $11 billion market cap and huge daily volume of more than $300 million.
Shiba Inu – Another huge meme coin, often described as the 'Doge Killer', Shiba Inu has a market cap of around $6 billion but, unlike DOGE, offers utility such as its metaverse and NFTs.
Floki – Fast-growing meme token with multiple utility projects, including play-to-earn games and a marketplace. Has enjoyed a strong start to 2023 with a market cap of $300 million.
Dogelon Mars – Community-driven meme coin built around Elon Musk's space ventures. Current market cap of around $145 million but is down in 2023.
Baby Doge Coin – Hyper-deflationary meme token with its own DeFi swap platform. Also has a market cap of $300 million and has doubled in price in 2023.
SamoyedCoin – First meme coin built on the Solana blockchain and also features an NFT collection. Small market cap of only $13 million and up slightly in the year-to-date.
Hoge Finance – DeFi meme coin that incentivizes long-term investing with a tax on transactions. Had a strong surge in February but has since retraced to January prices.
MonaCoin – Long-established meme coin popular in Japan and used for payments. Market cap of $30 million, but not available on many exchanges.
Analyzing the Best Meme Crypto Coins to Buy
Anyone with the required technical knowledge can create a cryptocurrency. However, turning a cryptocurrency into a popular meme coin is an entirely different feat – and one that has only been successfully achieved multiple times.
Below, we dive into the specifics of the top meme coins in today's market – evaluating the key factors that can drive their growth in the coming years.
1. Wall Street Memes – New Meme Token Backed by a Community of over 1 Million Followers
Wall Street Memes (WSM) is a new meme token launched by the founders of the Wall St Bulls NFT collection – which back in 2021 sold out all 10,000 Ethereum-based NFTs in its first mint in just 30 minutes.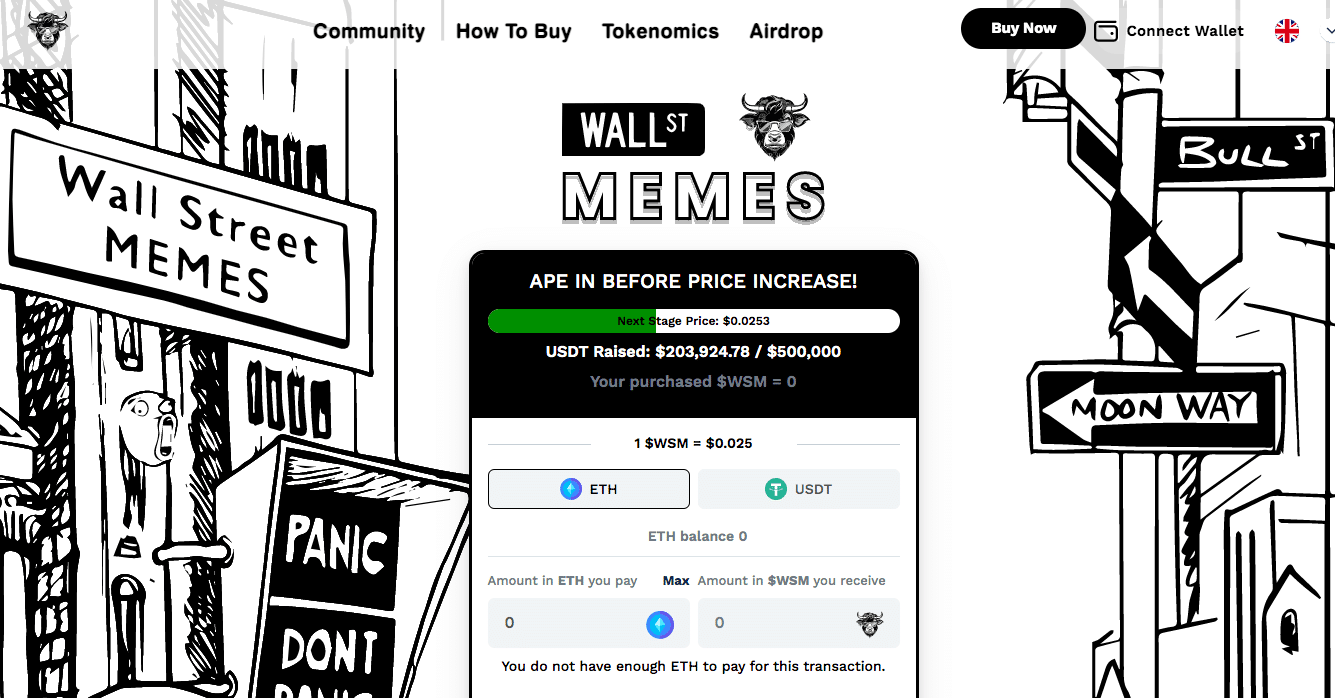 This legacy NFT project has a following of more than a million people, including half a million on its Instagram page devoted to internet memes. The Twitter page of Wall Street Memes dates back to 2019, and popular celebrities such as Elon Musk have interacted with its community. The project has now built on its experience to release its first meme coin, $WSM.
This token could have an advantage over other meme coins, such as Wojak or Turbo, since it already has a large community that could be motivated to hold for the long term – avoiding the 'pump and dump' many meme tokens go through.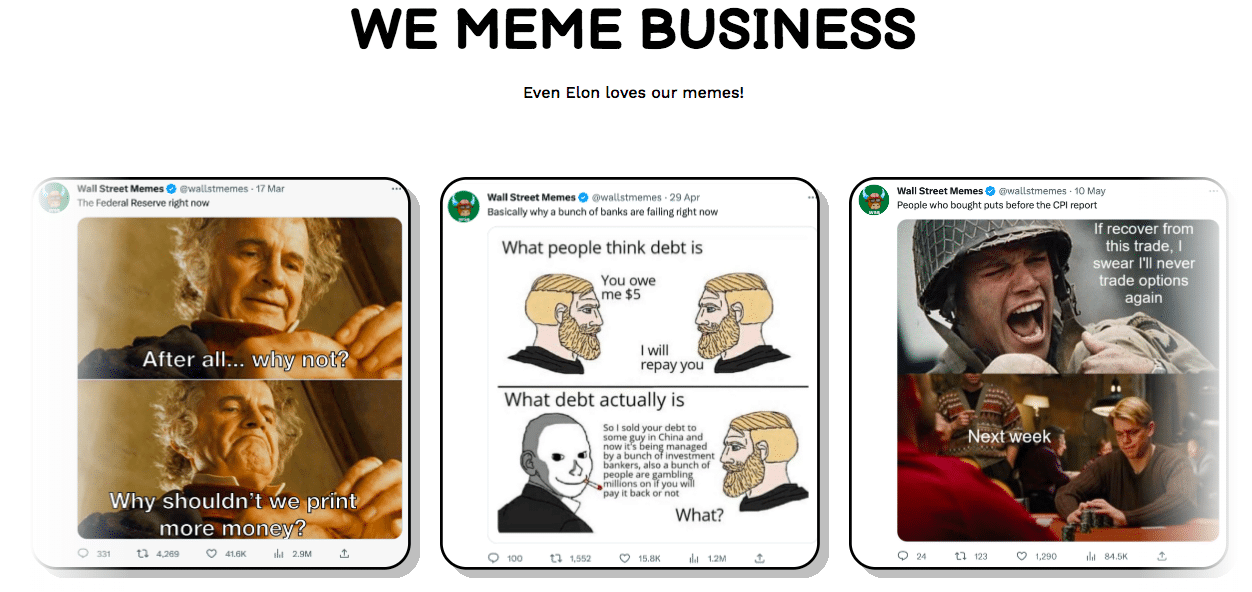 $WSM has a total supply of 2 billion tokens, 50% of which have been allocated to presale investors. A 100% community focused token, the remaining tokens will be used for community rewards and liquidity on exchanges.
Presale investors can join the Wall Street Memes airdrop, where $50k will be distributed as five $10k prizes, by following the community's social media pages.
The presale will consist of 30 rounds. Most of the first round tokens were bought within 24 hours of its launch. In total the viral meme coin project aims to raise a hard cap of just over $30.5 million.
Join the Wall Street Memes Telegram for more updates on this meme coin presale.
| | |
| --- | --- |
| Hard cap | $30,577,000 |
| Total tokens | 2,000,000,000 |
| Tokens available in presale | 1,000,000,000 |
| Blockchain | Ethereum Network |
| Token type | ERC-20 |
| Minimum purchase | 100 tokens |
| Purchase methods | USDT, ETH, BNB, Bank Card |
2. AiDoge – AI-powered Meme Generation with Staking
AiDoge is the latest meme coin based on the shiba inu dog meme – the original meme that started it all. However, it's more than just a meme coin. This project offers real-world utility for memesters by leveraging AI to help create more memes.
With AiDoge, users have access to the same generative AI technology that powers platforms like ChatGPT and DALL-e. Users simply enter a prompt about the meme they want to create, and AiDoge will take care of the rest. It only takes seconds to go from a seed of an idea to a ready-to-go-viral meme.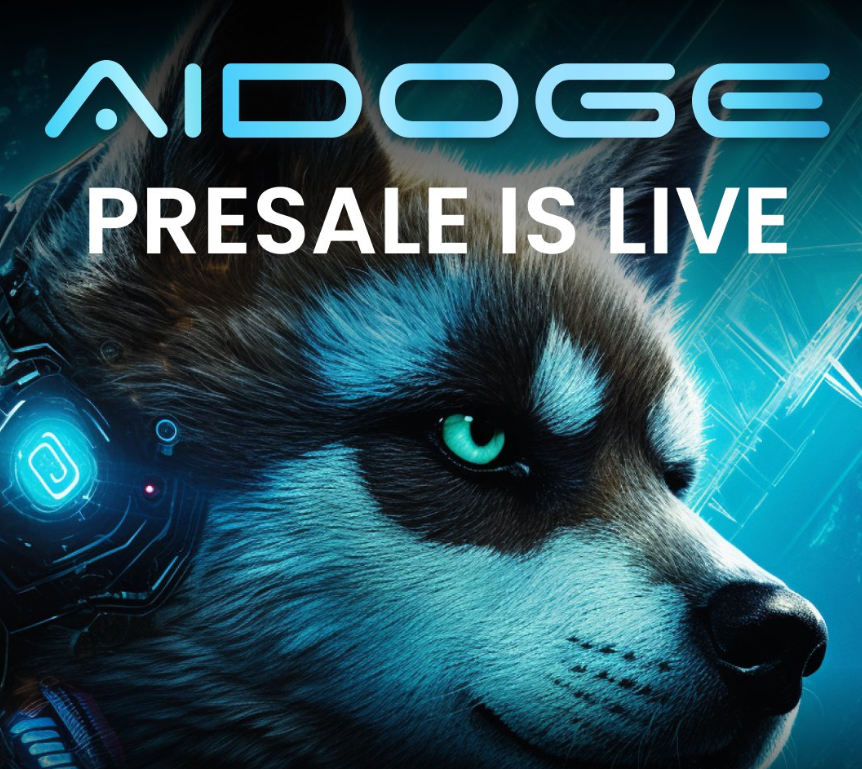 Users can easily find the best memes generated by AiDoge on the platform's public wall. This is a central location where users can vote on their favorite new memes.
Part of what's unique about AiDoge is that it incentivizes memesters to be more creative than ever before. The top-rated memes on the public wall earn rewards in the form of AiDoge's native $AI token at the end of each month.
So, memesters who can come up with the most viral meme stand to earn crypto. Voting resets monthly, enabling new outstanding memes have a chance to rise to the top.
AiDoge's $AI token also plays other important roles in this ecosystem. It can be used to pay for credits, which users need to spend to generate memes using the AI tools.
Alternatively, users can stake their $AI and earn daily rewards in the form of credits. This allows users to create memes without spending any of their $AI. Instead, they can hold it and wait for its value to rise. Check out the AiDoge whitepaper for all the details about staking.
It's hard to know for sure that the price of $AI will rise. After all, there's no historical price data for this new token. However, meme coins in the past have gained a lot more value with a lot less utility, so many analysts are bullish about AiDoge.
The AiDoge presale is now sold out and crypto exchanges listings soon to be announced. Join the AiDoge Telegram group to get all the latest updates on this project's presale.
3. Tamadoge – Leading Meme Coin with Huge Utility and Gaming Ecosystem
Tamadoge is one of the newest meme coins to hit the crypto market, but does it have what it takes to become the next Shiba Inu in 2023? The project borrows inspiration from the 'meme coin' trend but is also likely to stand out with its unique play-to-earn ecosystem that comprises the main Tamadoge game, five arcade-style games and even an augmented reality app.
The metaverse-integrated gaming ecosystem – on of the best metaverse projects in the space – is powered by its meme coin, TAMA, which flew 1,900% from its presale price in late 2022 and has been a top 5-10 meme coin by daily trading volume ever since.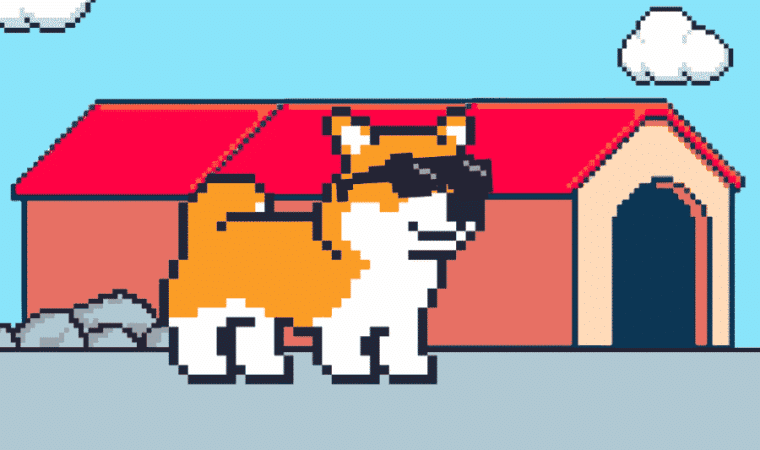 The platform will feature a gaming arcade and a virtual space called the 'Tamaverse', where players can meet and engage with other users.
Tamadoge employs play-to-earn mechanics, allowing players to generate TAMA tokens as a reward by participating in its games. Super Doge, Rocket Doge, To The Moon and Tama Blast have already been released to great feedback from the community.
To start playing games, players must first mint their Tamadoge NFT pets and use them to compete against others. As players win games, they are offered 'Dogepoints'. Those with the most points at the end of each month are rewarded with TAMA tokens.
The main Tamadoge game is next. Based on the 90s craze Tamagotchi, players breed, grow and eventually battle their pets for a place on the leaderboard and major prizes – later this year, the AR app will allow the pets to leap off the screen and explore the real world.
To play the game, Tamadoge NFTs are also needed, with the 21,100 collection enjoying some huge sales in recent months.
Although Tamadoge is relatively new, it made a huge splash in the market with its presale. Tamadoge had one of the best crypto presales of 2022, raising $19 million from early investors before pumping all the way from $0.01 to an all-time high of $0.194.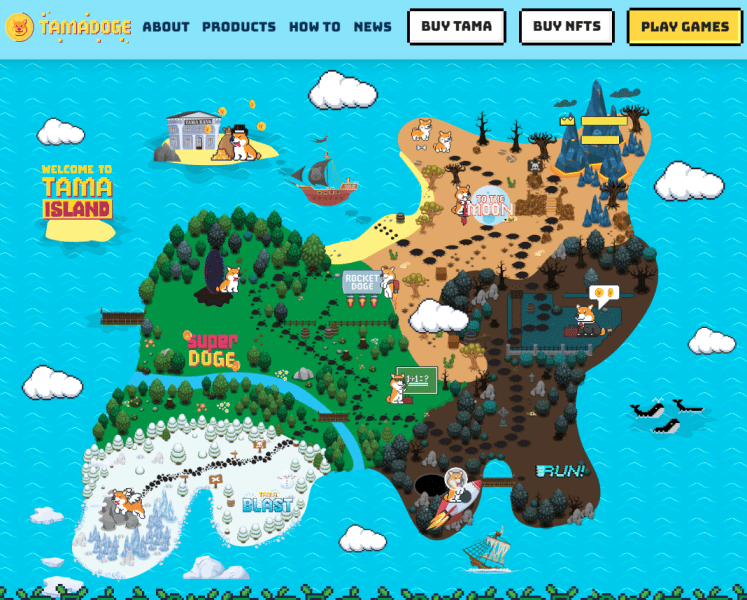 While prices have retraced amid the crypto bear market, plenty of analysts still see huge potential in TAMA in the next bull run.
As is clear, Tamadoge has a lot going for it – apart from its utility, has a supply of just 2 billion coins, extremely small for a meme coin project.
Furthermore, TAMA is also a deflationary token and every time TAMA tokens are used in the pet store – where users buy food and treats in the game – 5% of tokens are burned.
This mechanism could potentially help drive up the scarcity of this popular meme coin. Tamadoge can be purchased via leading crypto exchanges such as OKX, LBank, MEXC, and others.
4. Love Hate Inu – Meme Coin with Vote-to-Earn Rewards
Love Hate Inu is another one of the overall best meme tokens to invest in based on our research. The wider market appears to agree, with more than $1.2 million USDT in funding secured with only 10 days left before its initial coin offering.
The project is already one of the best crypto presales of 2023 and is making huge waves in the space with investors excited by both the high potential of the meme coin and its central concept – vote-to-earn – which is a first in Web3.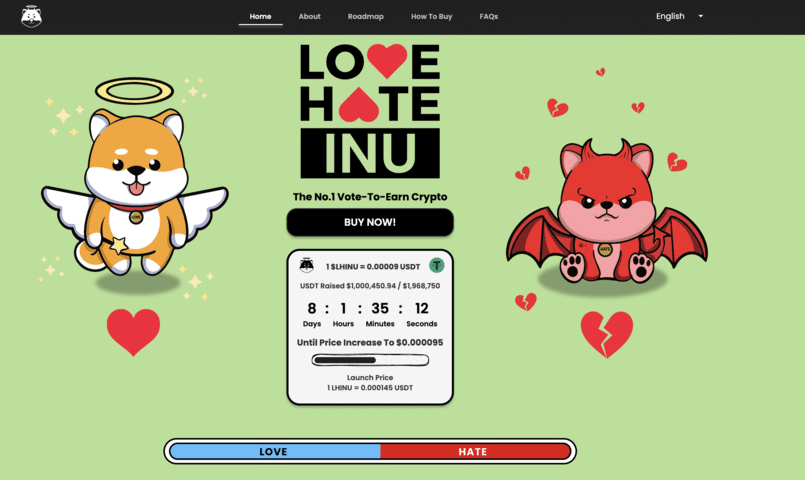 LHINU tokens are currently on sale for $0.00009, but by the eighth and final stage, they will cost $0.000145, an increase of 61.1% before the project even reaches its IEO, where it is predicted to rocket.
Each stage lasts just 7.5 days and the whole presale will be finished by May 8. Like many of the very best shitcoins to invest in, the project will be in the hands of the community, with 90% of the 100 billion supply available to purchase in the presale and the final 10% reserved for liquidity on exchanges.
As the fun characterizations already show, Love Hate Inu will be producing plenty of meme-worthy and shareable content, while its community focus will also appeal to fans of meme coin projects.
Love Hate Inu will also offer answers on more serious issues and will utilize blockchain technology to give a definitive answer – with polls and surveys unable to be questioned or manipulated.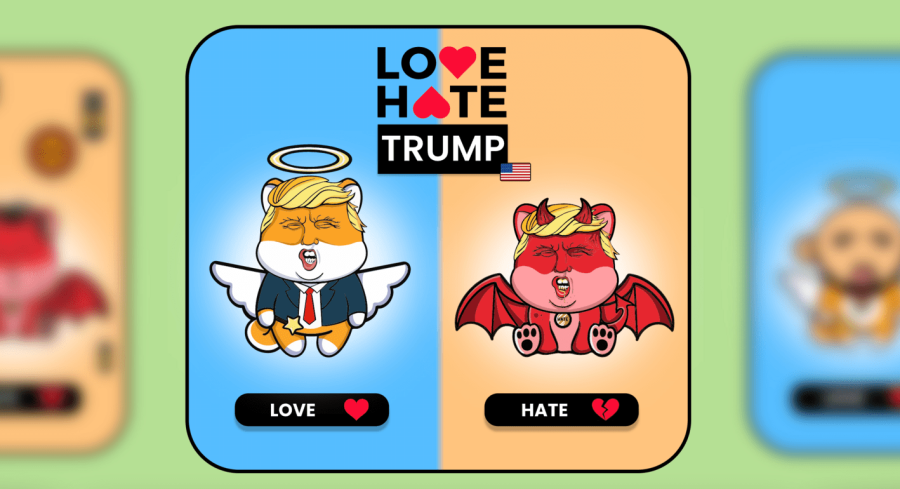 That's because users will have to stake their LHINU tokens for at least 30 days to be able to vote and earn rewards, leaving brigading activists and spam bots unable to force the outcome they want.
The online survey and polling industry is already worth $3 billion in 2023 and is expected to double by 2027, with Love Hate Inu also set to partner with other Web3 crypto projects, firms and brands to offer sponsored posts that further monetize the project and also offer unique rewards, while providing immutable and secure results for those asking the question.
While Love Hate Inu will manage the first set of polls, by Q4 2023, the project will be in the hands of the community – with users able to submit their own polls and the community as a whole deciding which ones should move forward.
For more information, join the Love Hate Inu Telegram group.
5. Chimpzee – A Token That is Doing Good for the World and Benefits You
While numerous cryptocurrency projects are innovating in the realm of financial solutions, there is a noticeable dearth of practical environmental and social initiatives. However, a new trend is emerging, led by a select few pioneering endeavors.

A good example of this is Chimpzee, which places a strong emphasis on preserving the planet and its wildlife. Chimpzee offers a range of features that enable users to earn passive income while actively contributing to environmental causes. These features, including Play-to-Earn, Shop-to-Earn, and Trade-to-Earn, are accessible through the Chimpzee shop, NFT marketplace, and Zero Tolerance Game. The Chimpzee team has allocated 10% of the token supply and a portion of their profits to support organizations dedicated to these causes.
Maximizing passive income in the most lucrative way is made possible through the ownership of a Chimpzee passport, enabling users to earn additional CHMPZ tokens by engaging with various elements of the ecosystem.
Chimpzee will unveil mobile app powered by AI technology that generates personalized chimpzee avatars for its users. These avatars serve as the key to creating a unique Chimpzee NFT passport, with some of the same benefits of a Diamond NFT Passport.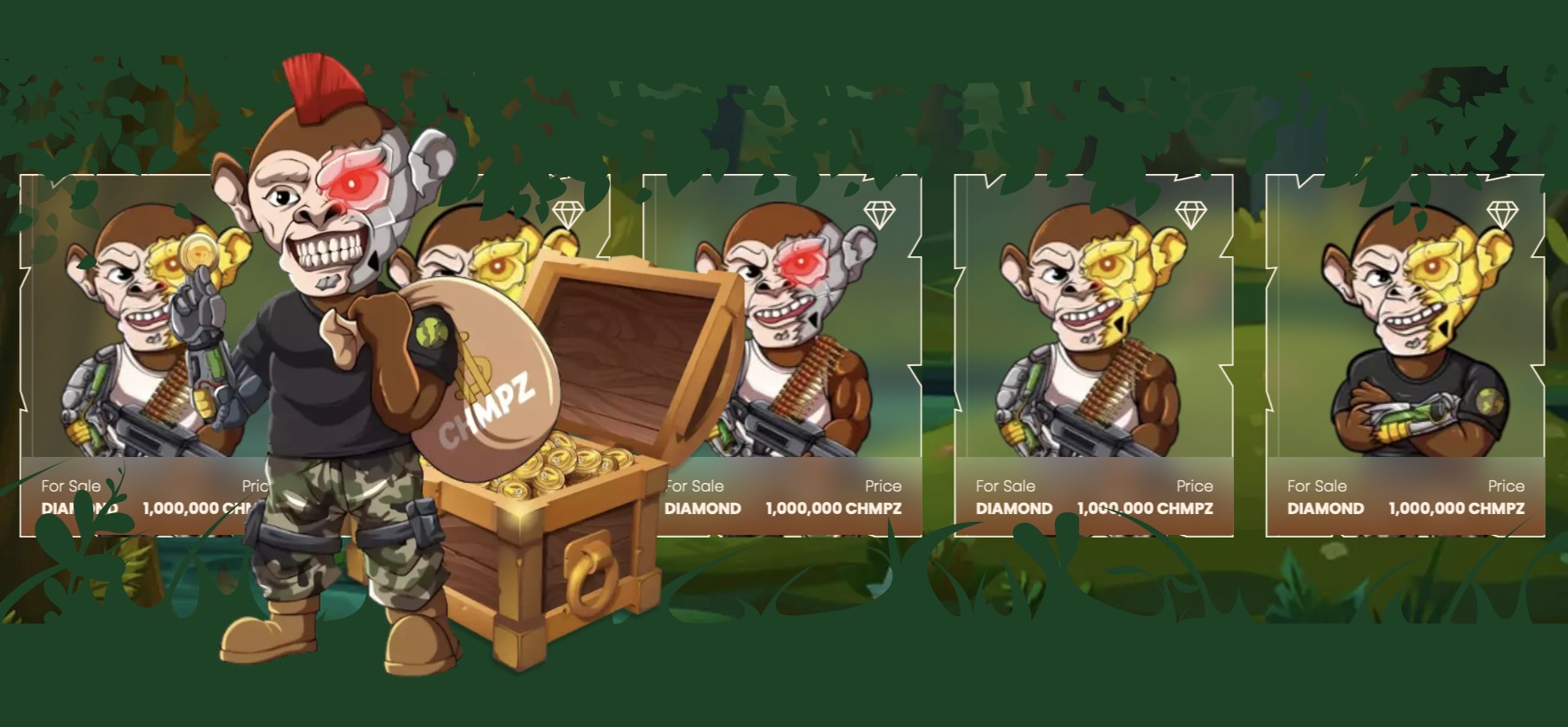 To join the Chimpzee presale and obtain these exclusive passports, a total of 40 billion CHMPZ tokens will be made available across four rounds. Currently, 1 CHMPZ is worth 0.00055 USDT and will increase in price to 0.0006 soon. The token will be listed at $0.00185.
Acquiring the Chimpzee Diamond NFT passport during the presale offers users the greatest rewards, as the supply is limited. Those who miss out on the presale will need to purchase the passports at a higher price and wait until after the whitelist NFT passport prelaunch, which is exclusively reserved for presale investors. Only people that buy in Stage 1 of the presale will have an opportunity to buy and mint a Diamond NFT passport in the exclusive pre-launch event.. Chimpzee has the potential to have a significant impact in the realm of environmental projects and is definitely worth monitoring. Seizing the opportunity to participate in the presale early on comes with enticing benefits.
| | |
| --- | --- |
| Token Symbol | CHMPZ |
| Total Supply | 200 Billion |
| Presale Supply | 40 Billion |
| Network | Ethereum (ERC-20) |
| Purchase Method | ETH, USDT, Credit Card |
6. Doge Rush – Play-to-earn Meme Coin on Presale
Doge Rush is revolutionizing the meme cryptocurrency space by offering real utility and earning opportunities through its ecosystem.


The platform will offer a play-to-earn gaming environment known as 'DogeHub,' where users can access single-player games. On the platform, users can win and use $DR tokens, the native cryptocurrency, on the Doge Rush marketplace.
The platform will feature multiple rebranded versions of popular games such as Subway Surfers and Sonic Dash. The games will integrate doge and Elon Musk as playable characters.
Players can earn tokens and share collectible NFTs across the environment. On the Doge Rush marketplace, users can purchase unique in-game characters and NFT skins. The storyline consists of your avatar, doge, running away from Elon Musk, and collecting points along the way.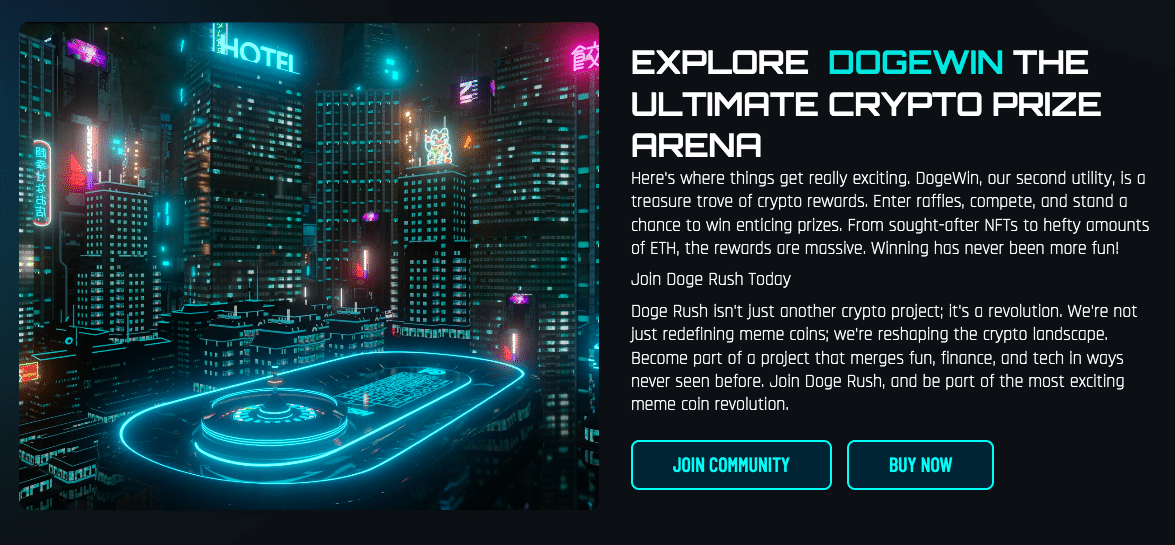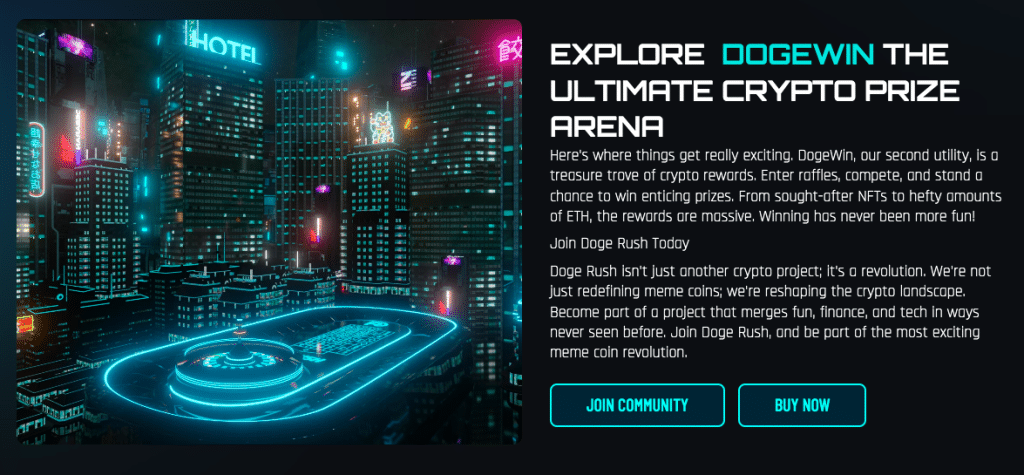 The Doge Rush whitepaper states that it will also incorporate a competition platform known as 'DogeWin.' On this platform, users can take part in raffle and hourly competitions to win exciting rewards such as $DR tokens, NFTs, and ETH.
Doge Rush's smart contract is fully audited by Coinsult and 100% secure. Currently, interested investors can purchase $DR for $0.0055 per token through the ongoing presale.
The presale has allocated 50% of the 2 billion token supply, and will list 20% of the supply when the exchange listing takes place. Doge Rush will list $DR on Uniswap, a popular decentralized exchange (DEX).
$DR will be priced at $0.0099 by the exchange listing, which equates to an 80% price increase from current levels. To stay updated with this project, join the Doge Rush Telegram channel.
| | |
| --- | --- |
| Presale Started | Q2 2023 |
| Purchase Methods | ETH, USDT |
| Chain | Ethereum |
| Min Investment | N/A |
| Max Investment | N/A |
7. Hollywood X Pepe – Brand New Meme Coin with Hilarious Hype Video
Hollywood X Pepe is a brand new meme coin but one that has immediately grabbed attention with its new promotional video.
Shot in the style of a music video and released on YouTube, the video shows a man in a Pepe the Frog mask partying with models, popping champagne and throwing around cash at a mansion in the Hollywood Hills.
The video, which also features partying in a swimming pool, Lamborghini and Limousine, is sure to catch the eye of meme coin speculators in the coming days and weeks.
The project, which has anonymous developers aiming to flip $PEPE and $DOGE, has only just launched on Ethereum with $HXPE tokens available for purchase during its presale.
The name is not only riding the Pepe meme coin wave but also has instant name recognition with Hollywood – the global home of entertainment.
The project also claims to have backing from A-list stars.
8. Mooky – Green Meme Token with A Focus on Environmental Preservation
Embracing the goal of environmental preservation, Mooky launched $MOOK, its unique native meme token. Mooky has carved out a distinct niche within the meme crypto world through its green agenda, committing to the cause by aligning with charities focused on tree planting and rainforest conservation.
At press time, each $MOOK token holds a price tag of $0.00000516 USDT. The token's value is expected to reach $0.00003125 by the final round. Maintaining transparency, Mooky has publicly earmarked 3% of its token supply for charity purposes.
A standout feature of Mooky is the ability for its users to acquire a variety of Non-Fungible Tokens (NFTs) using $MOOK tokens. Each NFT is bound to a real tree in the real world, traceable within the Mooky ecosystem. Users can mint NFTs of varying rarity: Common, Uncommon, Rare, Super Rare, and Legendary.
Two of these NFT types, the Super Rare and Legendary, act as keys to the Mooky Ventures Club, a decentralized autonomous organization within the ecosystem. As club members, users are granted voting rights on crucial platform decisions, eligibility for airdrops, and potential for passive income generation via investment portfolios.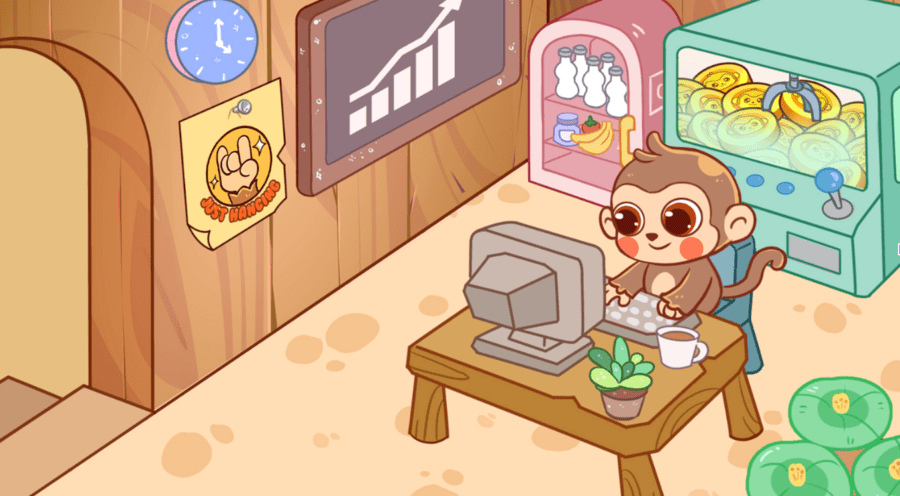 Besides token transactions, Mooky levies transaction fees on NFT trades, ensuring consistent support for its associated charities. Investors can enter the Mooky Telegram channel to receive the latest updates.
Interestingly, Mooky upholds a no-transaction-tax policy on its tokens, encouraging user activity. An impressive 70% of the 500 billion $MOOK tokens have been reserved for presale to foster a strong community, with an additional 20% marked for exchange listings.
Mooky, with its token $MOOK, champions the fusion of meme cryptos' fun with environmental preservation. Its commitment to global tree-planting and supporting eco-focused charities makes it a noteworthy contender among the top meme coins.
| | |
| --- | --- |
| Presale Started | Q2 2023 |
| Purchase Methods | ETH, USDT, BNB |
| Chain | Ethereum |
| Min Investment | None |
| Max Investment | None |
9. Pikamoon – Play-to-Earn Metaverse and Token With Staking Capabilities
Pikamoon is a new metaverse based on the play-to-earn concept. It's hugely inspired by Pokemon, allowing you to create and invest in NFT monsters called Pokemoons. You lead them into battles and earn $PIKA tokens, the native cryptocurrency, as a reward.
Every Pikamoon monster can be captured, just like in Pokemon, and you can have several of these companions in a fully-developed world with four distinct regions inspired by the elements – Earth Regions, Water Kingdom, Flame Empire, and the Thunder Collective.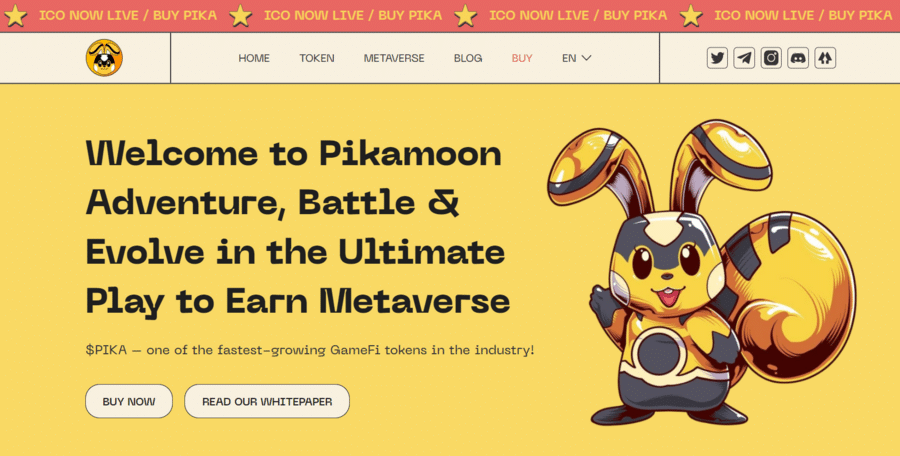 Pikamoon has the potential to explode in the future for several reasons. First, the presale phase is separated into three rounds, each increasing the token's price, going from $0.0002 in Round 1 through $0.0004 in Round 2 and $0.0006 in Round 3.
Only 30% of all tokens will be sold in the presale, with as much as 10% being used as staking rewards. Pikamoon features standard staking rewards like many cryptos of its kind, but it also rewards hodlers by not charging the 2.5% fee on purchases, only on Transfer and Sell orders.
More than that, the in-game marketplace, one of the cornerstones of the Pikamoon metaverse, where players can purchase various items, burns 5% of the tokens spent. As the whitepaper explains, the founders implemented this move to induce future scarcity. It means the overall supply of $PIKA will drop over time, potentially increasing the value several times.
You can buy the tokens for $0.0004 each, as we are currently in Round 2 of the presale. The project has already sold around 6.1 billion tokens and raised more than $1.44 million.
Visit the official site if you're interested in buying, and make sure to follow the project's Telegram channel to learn more.
10. Spongebob – Best Meme Coin on Uniswap For High Returns
The popularity of cryptocurrency continues to surge, and a new contender has emerged in the form of the Spongebob token ($SPONGE). This meme coin has generated a buzz among investors eager to make potential gains similar to those seen with recent meme coins such as $PEPE and $TURBO.
Although it is unclear what the long-term utility of $SPONGE will be, the coin amassed an impressive trading volume of over $1 million within hours, indicating strong demand for the token. The total supply of $SPONGE is 40.4 billion, and its market capitalization at launch on May 4th was $2.75 million.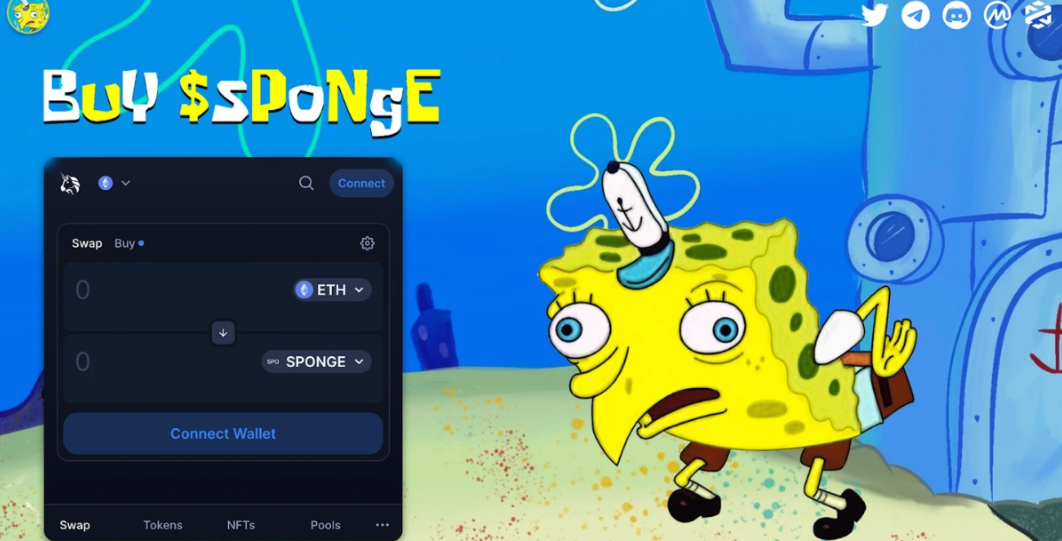 That quickly exploded to $16 million at the time of writing, an approximately 600% price rise.
An emerging trend in the cryptocurrency market is the growing popularity of decentralized exchanges (DEXs), which are favored by an increasing number of investors over centralized exchanges. This shift may be partly due to regulatory challenges facing large exchanges like Coinbase, the largest exchange in the US market.
In addition, the ease with which new coins can be launched has contributed to the proliferation of meme coins. The Turbo Toad Token ($TURBO) was created within a week using OpenAI chatbot ChatGPT.
For those interested in trading $SPONGE, the coin can be traded directly on the project's website sponge.vip using the Uniswap widget. Links to its Twitter, Telegram and Discord can also be found there.
Investors should be aware that investing in meme coins can speculative and risky, and thorough research should be conducted before making investment decisions. Despite the potential for lucrative returns, the cryptocurrency market is highly volatile, and investments can go either way.
Overall, the Spongebob token ($SPONGE) has generated considerable interest from investors, and it will be interesting to see how the coin develops in the coming days and weeks.
You can also join the official Telegram to stay informed about the latest happenings.
11. Copium – Community-Driven Meme Cryptocurrency
This community-based meme project is based on the popular expression 'Copium.' The project wants to build a community of those coping with the FOMO of missing out on popular cryptocurrencies. It aims to build a sense of community by promoting humor and laughter and offering exciting rewards.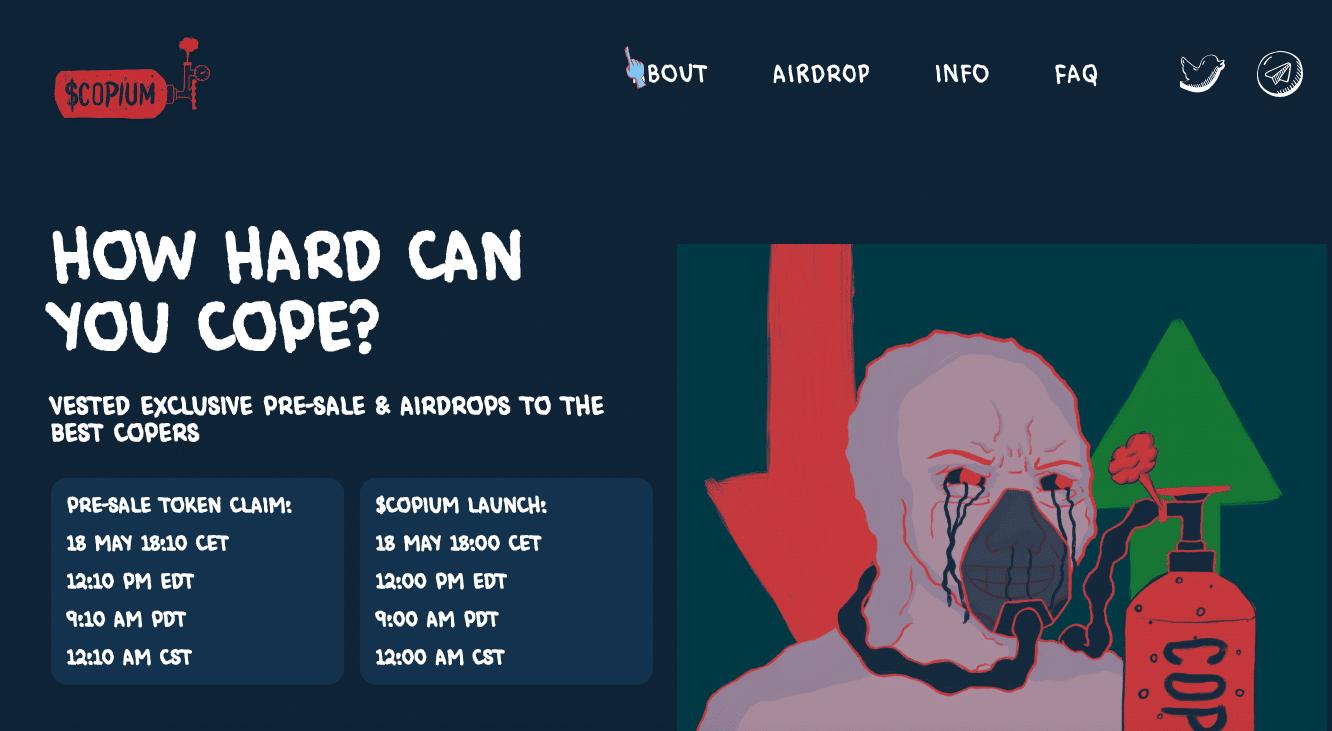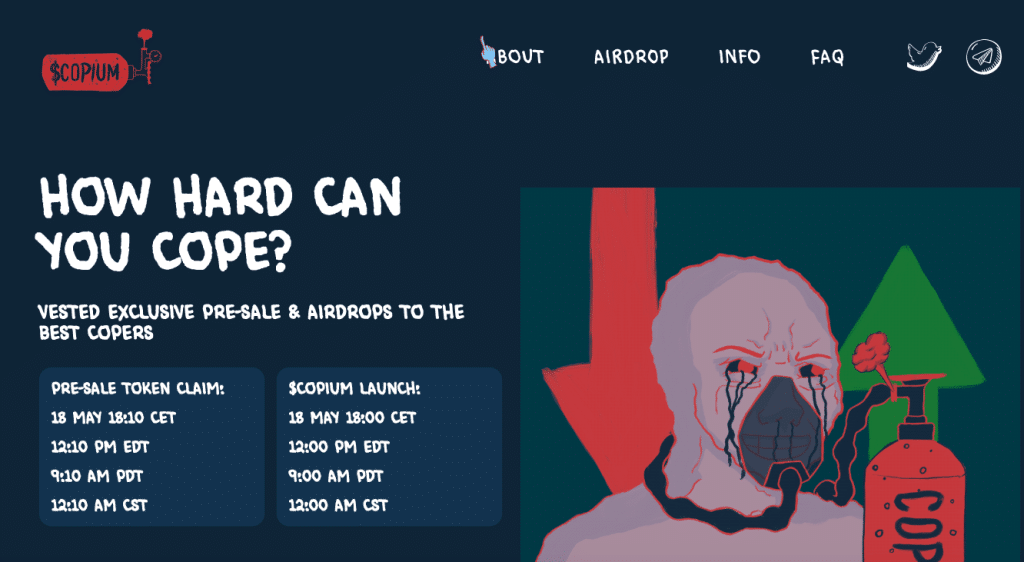 Those who missed out on the sensational rise of meme tokens such as $DOGE or $PEPE can look to invest in $COPIUM, the native cryptocurrency of this project. On May 18th, $COPIUM was launched at a price of $0.001213. The token is available to purchase on Uniswap, the popular decentralized exchange. The presale allocated 300 million tokens, representing 30% of the 1 billion token supply.
Moreover, the presale worked on an invitation-only basis. The project has made this decision to attract key influential investors to the project.
Notably, the top 200 wallet holders, depending on the number of tokens they hold, will win free NFT airdrops on the Copium platform. Furthermore, 10 million tokens have been set aside for airdrop giveaways as well.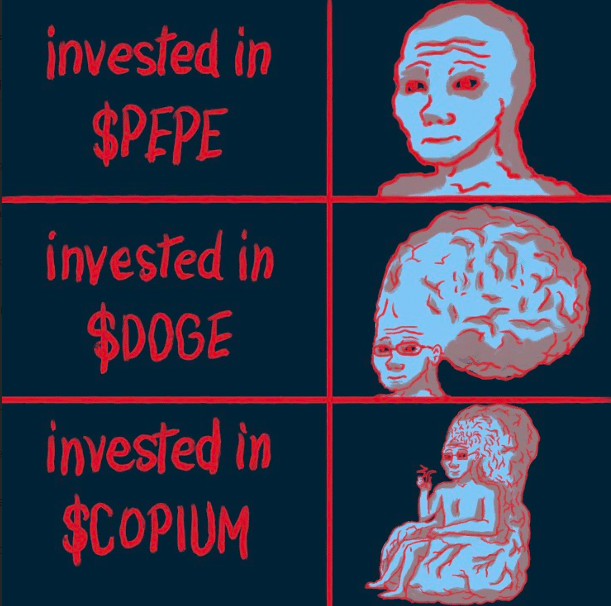 Investors that purchased $COPIUM during the presale will be able to unlock 10% of the tokens instantly. The remaining 90% will be vested and unlocked linearly over the course of three weeks. This will stop short-term traders from making quick profits and hopefully bring more stability to the ecosystem.
Join the Copium Telegram channel to stay updated with the latest presale news and developments.
12. Dogecoin – Original Meme Coin With a Significant Market Cap
The very first meme coin, Dogecoin, was created as a satire of Bitcoin and was launched in 2013 and featured the image of a Shiba Inu Dog. Little did the crypto community know that DOGE would become one of the best cryptos to invest in for a huge ROI.
It continues to be the most popular meme coin and has amassed a faithful community of supporters over the years. Today, Dogecoin has a market cap of more than $11 billion.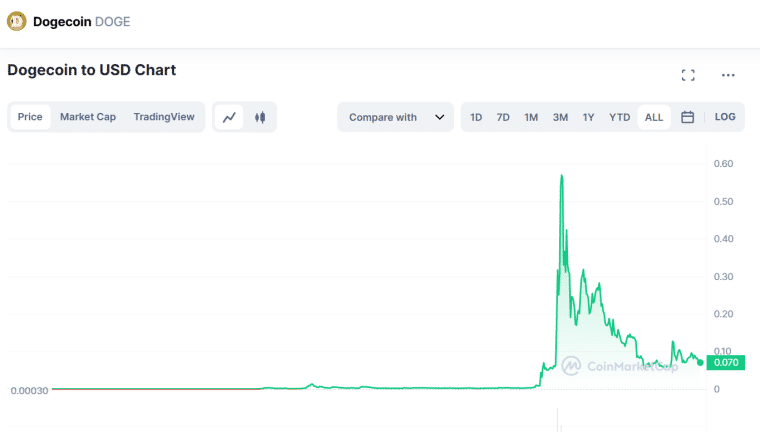 For those unaware, Twitter CEO Elon Musk is one of the prominent endorsers of Dogecoin. In fact, he has openly voiced his belief in this cryptocurrency via Twitter and the billionaire has even touted Dogecoin as a serious source of payment – which has helped boost the cryptocurrency's price in the market.
Today, many online merchants and crypto gambling sites accept Dogecoin as payment. However, Dogecoin doesn't have any unique utility that gives it a competitive edge in the market.
Yet, since 2013, Dogecoin has generated a monumental return of over 28,000%. Most of this growth was achieved as recently as 2021.
Although Dogecoin lost a significant amount of value in 2022, this cryptocurrency continues to retain its position as the market leader among meme coins.
This has led many crypto analysts to believe that Dogecoin is potentially one of the best meme coins to explode in 2023, especially if the broader crypto market begins the next bull run again.
Cryptoassets are a highly volatile unregulated investment product.
13. Shiba Inu – Trending Meme Coin Known as the 'Dogecoin-Killer'
Shiba Inu was created in August 2020 by a pseudonymous developer named Ryoshi. According to Ryoshi, Shiba Inu is a crypto project that is essentially an experiment in community governance and decentralization. When Shiba Inu was launched, it was branded as the 'Dogecoin-Killer'.
However, it wasn't until February 2021 that this meme coin started seeing any notable price action in the market. By October 2021, Shiba Inu had witnessed monumental growth. For instance, a single Shiba Inu token that was worth around $0.0000000002 in October 2020 was trading at around $0.000079 a year later.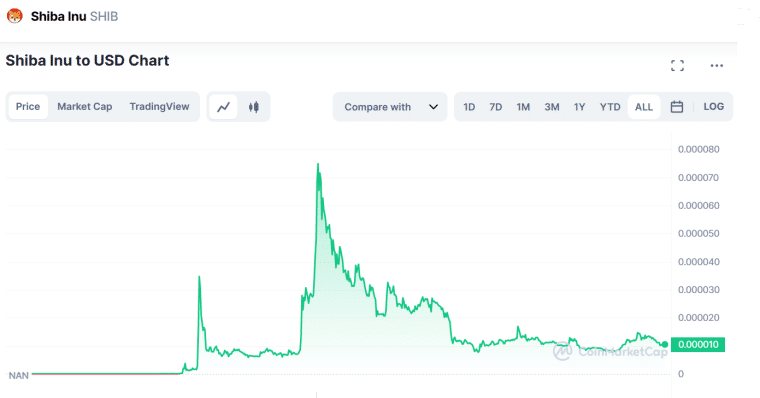 This meme token is compatible with the Ethereum network, which can help propel its adoption as a payment option. The cryptocurrency has also generated interest with its Shibarium layer-2 protocol, which will function as an expanded development framework for the Shiba Inu ecosystem, facilitating faster transactions, lower fees, and scalability.
Since its all-time high back in October 2021, Shiba Inu has lost more than 85% of its value. As of writing, this token is priced at around $0.000011. Nevertheless, Shiba Inu continues to be one of the top meme coins in the market – in terms of popularity and adoption.
Cryptoassets are a highly volatile unregulated investment product.
14. Floki – Growing Meme Token With Multiple Utility Projects
Floki calls itself 'The people's cryptocurrency.' The platform aims to bridge the gap in the crypto industry by creating awareness about blockchain technology and digital tokens. To do this, the platform has developed a cryptocurrency named FLOKI, inspired by memes.
Aside from this, Floki also has three utility projects in the making – Valhalla, FlokiPlaces, and FlokiFi. Valhalla is a play-to-earn, NFT gaming metaverse, while FlokiPlaces helps people buy physical goods with cryptocurrencies, with Floki tokens as the payment method.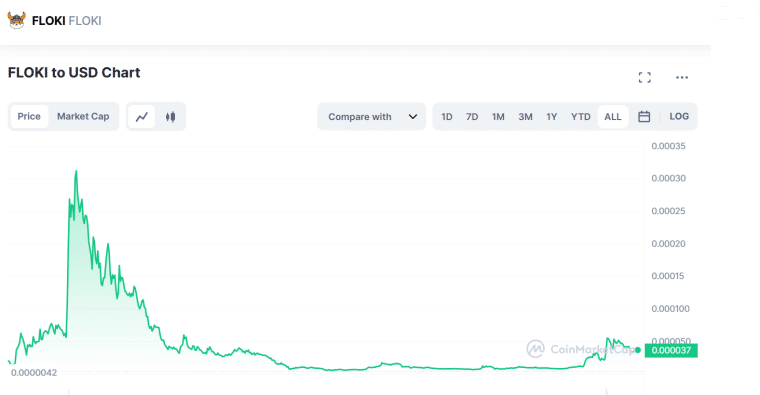 The third endeavor, FlokiFi, is a decentralized exchange that investors can use to swap their digital assets. In other words, FLOKI tokens indeed have utility – which makes it one of the best meme coins to buy in 2023. FLOKI token is available on both Ethereum and Binance Smart Chain.
15. Dogelon Mars – Community-Driven Meme Coin
Dogelon Mars was another meme-themed cryptocurrency launched in 2021. The team behind this project wanted to create a fair and transparent entry to the market and as such – opted against allocating any ELON tokens for themselves. Instead, the team sent about half of the total supply to Vitalik Buterin – the co-founder of Ethereum, who then donated it to the Methuselah Foundation.
The other half of Dogelon Mars tokens were deposited in a liquidity pool on Uniswap – via an ELON/ETH pair. The team then burned the liquidity provider tokens they received – thus demonstrating that the project isn't a rug pull.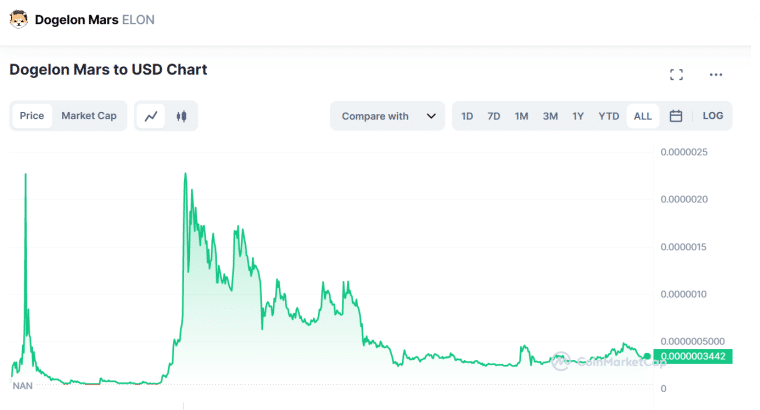 In addition to this, the founders also encouraged the Dogelon Mars community to donate their ELON tokens to victims of scams.
The team has also announced plans to expand the Dogelon Mars ecosystem by launching an NFT collection and a new governance token. All these initiatives have helped Dogelon Mars garner noteworthy community support in the crypto market – which could help boost the price of this meme coin in the future.
16. Baby Doge Ccoin – Hyper-Deflationary Meme Token With a DeFi Swap Platform
Baby Doge Coin is a cryptocurrency designed by the doge meme community. According to the Baby Doge Coin whitepaper, the main purpose of this project is to spread awareness of animal adoption. Additionally, the community has also launched a token-swapping platform.
Interestingly, all Baby Doge Coin token holders receive the lowest swap fees on Binance Smart Chain on this decentralized exchange. The platform also supports the staking of many cryptocurrencies, including Baby Doge Coin. As of writing, investors can receive an APR of 64% via the BNB/BABYDOGE staking pool.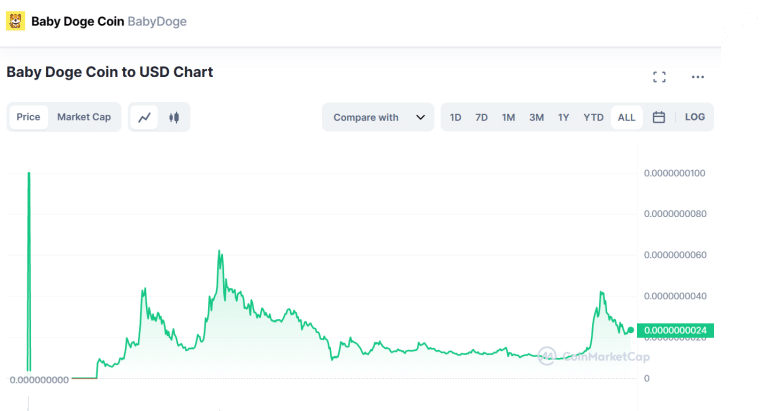 Baby Doge Coin is also designed to be a deflationary token. These tokens are burned at regular intervals – which, according to the team, will gradually tighten the supply and boost liquidity over time. In late 2022, Baby Doge Coin also announced the launch of its Onramper feature, which will allow users to buy cryptocurrencies with fiat money directly on the decentralized exchange.
17. SamoyedCoin – First Meme Coin Built on the Solana Network
Perhaps the most distinctive feature of SamoyedCoin is that it doesn't use the Shiba Inu breed as its mascot. Instead, it uses Samoyed, a dog breed that looks similar to a wolf. SamoyedCoin also differentiates itself by being the first meme token issued on the Solana blockchain.
This means that SamoyedCoin's transactions are more efficient when compared to other meme coins. They are significantly faster, cheaper, and more energy-efficient than both Dogecoin and Shiba Inu. As such, it isn't surprising that SamoyedCoin's main goal is to serve as an ambassador of the Solana network.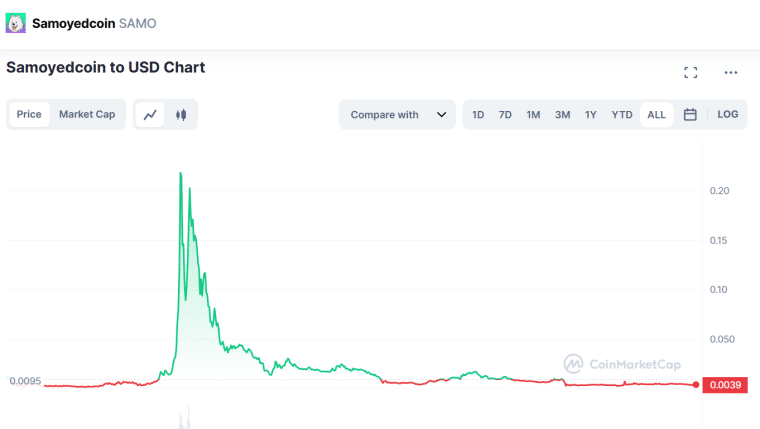 In addition to its meme token, the team has also launched a collection of SamoyedCoin NFTs. As the platform grows, the team hopes to provide its token and NFT holders with exclusive benefits. This meme coin is also deflationary in nature – which is another factor that could help SamoyedCoin become more attractive to investors.
18. Hoge Finance – Earn Passive Rewards by Holding HOGE Tokens
If SamoyedCoin aims to ramp up the Solana network, Hoge Finance was developed to do the same for Ethereum and DeFi. Hoge Finance identifies itself as a community-driven crypto project that rewards its investors for holding the token. The platform achieves this by charging a 2% tax on every transaction.
A portion of this tax is burned, while the rest is redistributed to everyone with HOGE tokens in their crypto wallet. This way, Hoge Finance aims to reduce its total supply while incentivizing its loyal supporters. Hoge is also one of the only meme tokens to have had a Certik audit conducted on its code – which can help spot vulnerabilities in the program.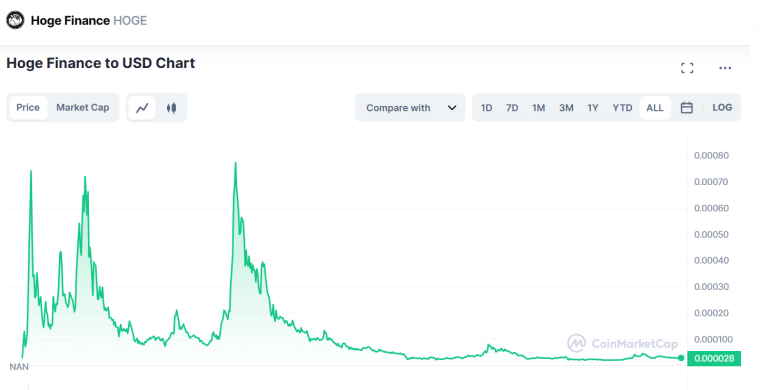 But, the most unique aspect of Hoge Finance is that it intends to launch a mini-satellite to generate NFTs in space. It even supports an open-source initiative to study data security for this purpose. Investors who find all these efforts endearing might view Hoge Finance as one of the best meme coins to buy this year.
19. MonaCoin – Veteran Meme Coin Used for Payments
Another cryptocurrency that caught our eye when searching for the best meme coins for 2023 is MonaCoin. Unlike many meme coins, MonaCoin is not a newly-invented cryptocurrency. Instead, it has been around since January 2014 and has an open-source, decentralized model.
Like Dogecoin, MonaCoin was originally created as a hard fork of Litecoin. Moreover, this meme coin is particularly popular in Japan since its logo is based on a widely recognized cat character in the country. However, MonaCoin doesn't have any other utility – other than being a viable payment option.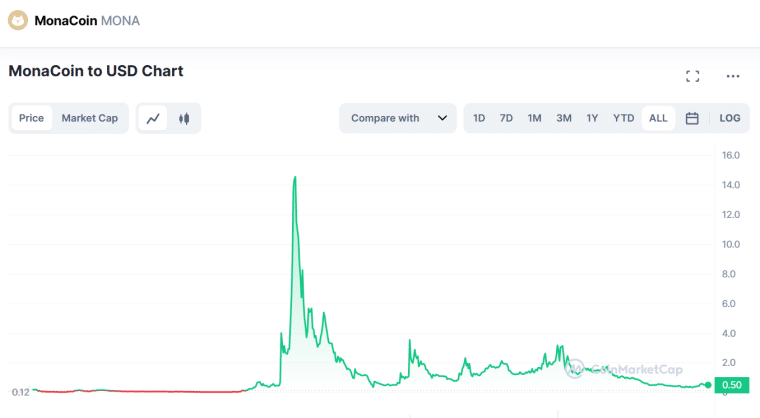 In fact, this meme coin is widely used on third-party mobile applications for tipping in online gaming communities. That being said, the main downside of this cryptocurrency is that there are not many exchanges that list it.
What are Meme Crypto Coins?
Meme crypto coins were initially developed as a light-hearted joke. These tokens tend to be centered around a trend or a funny idea. The majority of these coins do not have any specific underlying utility. Instead, the price of these tokens is often driven by community support and celebrity endorsements.
However, over the years, some meme coins have ballooned in value, gaining multi-billion dollar market caps and attaining wide-scale adoption.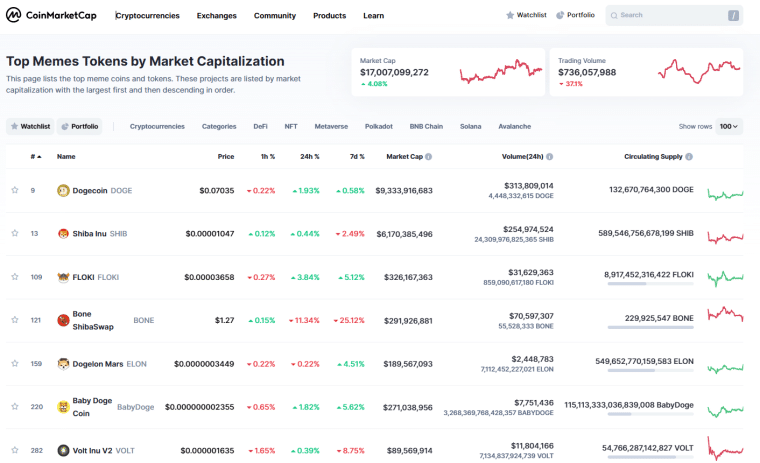 In fact, following the success of Dogecoin, crypto projects have begun developing digital tokens inspired by memes – albeit with some utility. Tamadoge is a prime example of this trend. This metaverse project was created based on the meme trend; nevertheless, the platform's TAMA has a clear utility within its gaming ecosystem.
In other words, aside from being a meme token, Tamadoge also has other factors that could potentially drive its growth in the coming years. Unfortunately, this isn't the case with most meme coins. As such, meme tokens tend to be highly volatile and unpredictable – which makes it hard for crypto enthusiasts to pick the right project to invest in.
The History of Meme Coins
Joke coins and other cryptos based on internet memes have recently gained popularity in the cryptocurrency market. Dogecoin, the original meme coin, was made in 2013 as a joke by Billy Markus and Jackson Palmer. Dogecoin was created as a parody of the Shiba Inu dog meme, which typically features comic sans font captions.
Dogecoin was created as an internet joke, but it has gained a large fan base and is now valued in the billions. Its success spawned similar meme coins like the Shiba Inu coin and the SafeMoon, both of which saw similar popularity and market value surges.
Meme coins, as they are called, are often criticized for having no real function or value beyond their meme-inspired branding. However, proponents of these tokens argue that they can help raise awareness and funds for good causes while also providing a fun and accessible entry point to cryptocurrency for newcomers.
Meme coins' initial comedic intent belies the serious role that online communities play in the widespread adoption and subsequent success of cryptocurrencies. Observing how meme coins and their influence on the market development as the cryptocurrency industry progresses will be fascinating.
What Drives the Price of Meme Coins?
The price of meme coins is driven by several factors, including:
Popularity on social media
The meme coin's tokenomics
Whether it is accepted for payments
Whether it provides utility for token holders
How volatile it is
Meme coins, also known as joke coins or meme-inspired cryptocurrencies, have gained significant popularity in the world of cryptocurrency.
While their value is often driven by the hype and buzz generated by social media and online communities, several factors contribute to the price of meme coins.
Social Media and Online Communities
The social media buzz and online community engagement surrounding meme coins often significantly impact their price. As news and discussion about a particular meme coin spread, demand for that coin can increase, driving its price.
Supply and Demand
Like all cryptocurrencies, the price of meme coins is determined by supply and demand. The price will increase if more people are interested in buying a particular meme coin than selling it. Conversely, if more people are selling than buying, the price will decrease.
Adoption and Acceptance
The adoption and acceptance of meme coins by merchants and businesses can also impact their prices. If more merchants and businesses begin accepting a particular meme coin as payment for goods and services, its value may increase as more people use it for transactions.
Speculation and investment
Speculation and investment can also drive the price of meme coins. Some investors may see meme coins as a potential investment opportunity, hoping to buy low and sell high for a profit. This can create volatility in the market as the price fluctuates based on investor sentiment.
Deciding Whether to Invest in Meme Coins
When deciding whether to invest in a meme coin, consider whether community support – and investor demand – for that crypto token will be sustained. Highly volatile coins may be best-suited for traders who have shorter time horizons. Investing in meme coins can be risky.
According to CoinMarketCap, there are more than 340 meme coins trading in the crypto market today. This can make it overwhelming, even for experienced investors, to assess which are the best meme coins to buy for their portfolio.
In this section, we cover several factors that can help investors decide whether or not they should consider purchasing meme coins.
High Upside Potential
It is impossible to overlook the monumental returns generated by some of the popular meme coins in the past. As we have already noted, Dogecoin and Shiba Inu set records in the crypto industry – by skyrocketing in value within a short period of time.
A new meme coin presale, Love Hate Inu, raised more than $120k on its first day and has raised more than $880,000 in just a week since it first launched, signaling the huge investor appetite for the project and its novel vote-to-earn concept.
However, investors should also remember that bull runs won't happen with every meme coin after presale, and therefore, should proceed with caution.
Consider the Community Support
One of the main reasons why Dogecoin and Shiba Inu performed well in the market is because of the backing from their respective communities.
This indicates that meme coins that have sizable community support have a better chance of generating notable returns and growth.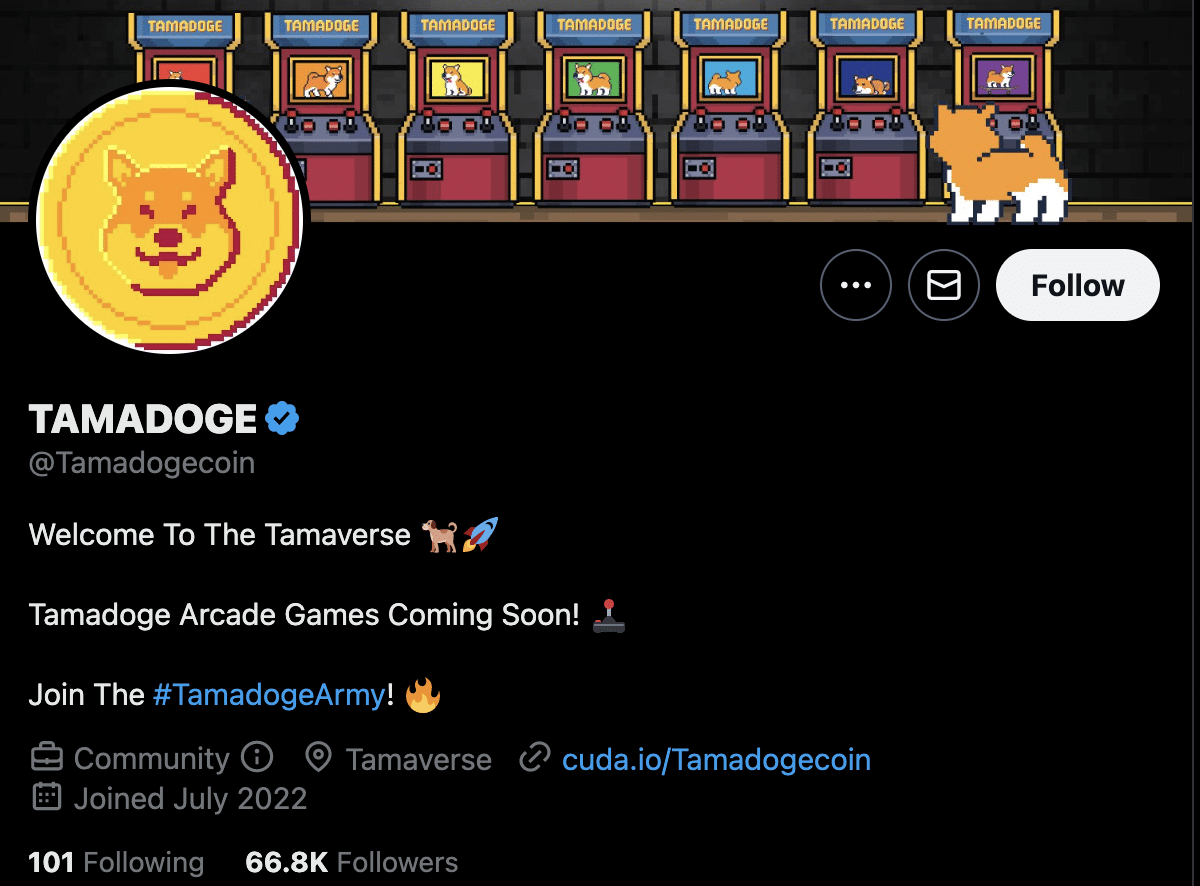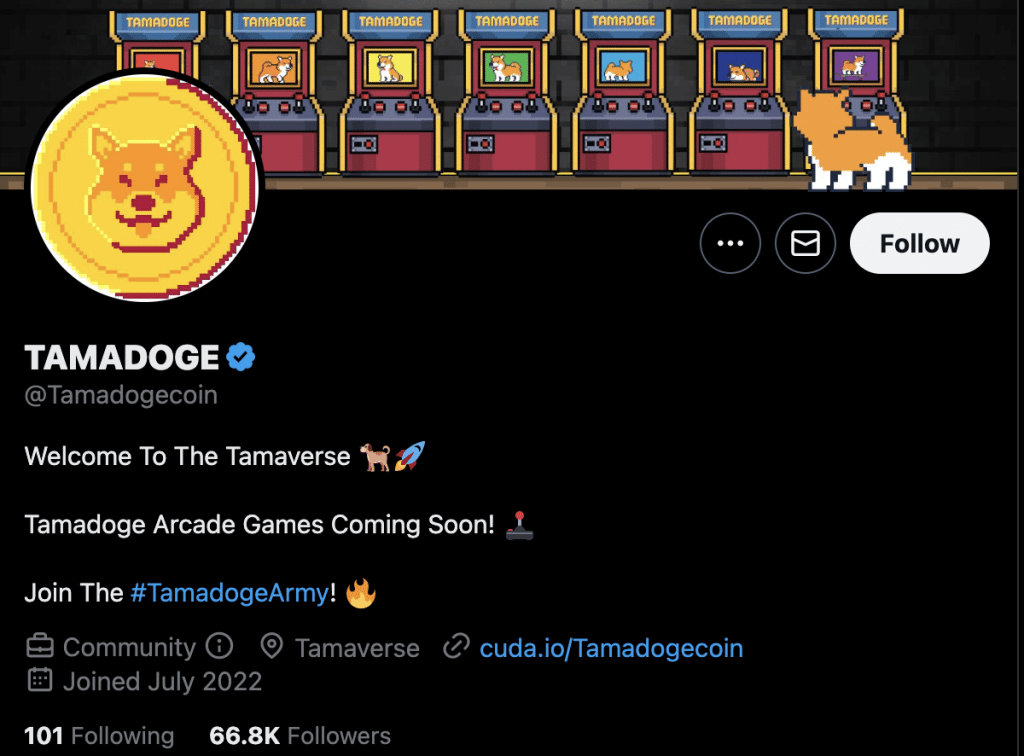 Some of the top meme coins on our list are popular among crypto enthusiasts. For instance, despite being a new crypto on the market, Tamadoge already has close to 70,000 followers on Twitter.
Having a community that's passionate about the project can help instill trust and build awareness about a meme coin.
Discussions on Social Media and Online Forums
When it comes to meme coins, social media mentions, the best crypto Discord groups, and Reddit forums can dictate how these cryptocurrencies perform in the market. For instance, in 2021, Dogecoin was pumped by a Reddit group called SatoshiStreetBets. Following this frenzy, Dogecoin's value shot up in the market making it one of the best Reddit cryptos to invest in.
Similarly, Elon Musk's tweets about Dogecoin also helped this token gain more exposure. The same happened with Shiba Inu. Given this history, it is important to consider social networks to get an impression of the market sentiment towards a specific cryptocurrency.
Unique Proposition
As we have already established, the majority of meme coins don't have any utility. Even some of the most popular meme coins, such as Dogecoin and Shiba Inu, don't bring anything new or unique to the table.
However, from our list of meme coins, there are a few, such as Love Hate Inu, Tamadoge, Baby Dogecoin, and Floki, that offer benefits to their investors in one way or another.

These cryptocurrencies have a better chance of sustaining in the market, even if the meme trend dies down eventually. Therefore, when looking for meme coins that will explode, investors should pay close attention to the utility of the token.
Volatility
While there are potential upsides to investing in meme coins, it is also important to understand the risks.
The crypto market is volatile – however, meme coins are considered to be particularly unpredictable in nature, as their prices are often driven by social media frenzy.
In fact, meme coins have been known to explode or crash at a moment's notice. Given the nature of meme coins, investors should only inject money they can afford to lose on these cryptocurrencies.
How to Buy the Best Meme Coin – Wall Street Memes
As we noted in our guide, $WSM could be one of the best meme coins to watch because it has garnered significant interest from the crypto community. The project raised more than $250k within hours of launching its presale.
Step 1: Set up Crypto Wallet
Before getting started, investors need to download a crypto wallet and set up an account to store their tokens. MetaMask and Trust Wallet are two leading examples – and both are free – although there are plenty of others available.
They can be downloaded as a browser extension or via any app store.
Step 2: Purchase ETH, or USDT
Investors need to hold ETH or USDT in their crypto wallet to then convert into $WSM.
Both MetaMask and Trust Wallet allow users to purchase the tokens directly on the wallets. Alternatively, investors can purchase ETH or USDT, via a trusted crypto exchange/broker and then transfer it.
Note that Ethereum gas (transaction) fees will apply to the $WSM purchase so some ETH must be held in the wallet.
Step 3: Connect and Purchase WSM
When there is ETH or USDT in the wallet, visit the Wall Street Memes presale site and click 'Connect', then complete the sign-in process.
Next, click on either Ethereum or USDT, and enter the number of tokens you want to swap for $WSM. You must purchase at least 100 $WSM tokens.
Click on 'Buy Now' to complete the process.
Step 4: Claim $WSM Tokens
After the purchase is complete, $WSM tokens can be claimed once the presale ends, by connecting your crypto wallet to the wallstmemes.com website.
Where to Buy Other Meme Coins
When electing to invest in meme coins, such as Dogecoin and Shiba Inu, the process can be carried out via a regulated crypto broker. eToro is a reputable online trading platform that supports a variety of assets, including cryptocurrencies. It is regulated by the SEC, ASIC, FCA, and CySEC.
eToro lists more than 70 of the most profitable cryptocurrencies, which includes leading digital tokens, as well as newly launched projects. Moreover, eToro features crypto Smart Portfolios.
These are baskets of cryptocurrencies created based on a theme or common denominator – such as the top digital tokens by market cap. Smart Portfolios allow investors to diversify into the crypto industry without having to do any of the legwork.

eToro's Copy Trading feature is also a handy tool for new investors. On eToro, investors can start buying cryptocurrencies from just $10. There are multiple payment methods supported – from credit/debit cards and e-wallets to conventional bank transfers.
Crucially, when depositing US dollars, eToro doesn't levy any payment processing fee at all. The broker also has a competitive fee structure for trading crypto – at a flat 1% commission plus the spread.
If needed, investors can also download the eToro Money app to their phone – which will function as their private digital wallet for storing cryptocurrencies.
Cryptoassets are a highly volatile unregulated investment product.
Are Meme Coins Safe and Legal?
Meme coins have become increasingly popular in cryptocurrency, but their safety and legality are still a matter of debate. Here are some key points to consider:
Safety concerns: Meme coins are generally considered to be high-risk investments due to their volatile nature and lack of fundamental value.
Their prices can fluctuate wildly based on social media hype and other factors, and there is no guarantee that investors will make a profit. Additionally, meme coins are often created without proper due diligence or oversight, increasing the risk of fraud and scams.
Legal status: In some jurisdictions, meme coins are considered legitimate forms of cryptocurrency and are subject to the same regulations as other cryptocurrencies. However, meme cryptocurrencies may be subject to stricter regulations.
Conclusion
While meme coins have the potential to bring notable gains to investors – they are also volatile and risky. Therefore, when considering buying meme coins, investors should explore their financial goals and risk threshold.
We found that Wall Street Memes has all the right elements to become one of the best meme coins to buy now.
This meme token has the community backing of more than 1 million users on social media. $WSM, the native token, is priced at $0.025 during the ongoing presale round.
FAQs
What is the best meme coin to buy?
Which meme coin has the most potential?
Which meme coins will explode in 2023?