MetaMask is the most popular wallet that communicates with the Ethereum network. It connects easily to many Ethereum-based dApps and stores hundreds of thousands of ERC tokens and NFTs.
However, MetaMask's most significant advantage is also its biggest downside for users who want to store BTC and cryptos from other blockchains. Therefore, we decided to research the best Metamask alternatives and present them in this guide. Read on.
Top 7 MetaMask Alternatives Ranked
Trust Wallet

— Like MetaMask, Trust Wallet is an established wallet with a browser extension. Its main advantage over MetaMask is support for other blockchains. Aside from that, it's part of the Binance family.

Exodus Wallet

— With the support of more than 260 cryptos from different blockchains, Exodus positioned itself as one of the most popular crypto wallets in the world. It is available for macOS, Windows, Android, and iOS.

MyEtherWallet

— MyEtherWallet is a wallet-creation, meaning it can generate software or paper wallet. It is similar to MetaMask because it supports only the Ethereum network and ERC tokens.

Coinbase Wallet

— Part of one of the largest crypto exchanges in the world, Coinbase supports many blockchains and a range of cryptos. With US regulation, it's one of the best options for the American market.

Coinomi

— This multi-currency support features cross-platform capability and puts an emphasis on security and privacy. Furthermore, it offers a built-in cryptocurrency exchange, making trading and managing tokens easy.

OKX

— This is a transparent and regulated wallet with a user-friendly interface and support for major networks, including Ethereum and Bitcoin. It's also easily integrated into the OKX ecosystem, which includes staking, lending, and other services.

Mycelium

— The wallet features a built-in exchange and military-grade security. Moreover, the FIO network it is part of provides great inter-wallet interoperability.
Reviewing the Best Alternatives to MetaMask
Let's explore the MetaMask alternatives in more detail below.
1. Trust Wallet — Wallet That Accepts 4.5+ Million Coins
Trust Wallet is one of the most popular options around the globe, as it's part of the Binance sphere. To date, Binance remains one of the largest crypto exchanges in the world, offering many other tools and solutions, Trust being one of them.
With millions of users worldwide, this hot and non-custodial wallet offers multi-chain interoperability, letting you store virtually any cryptocurrency out there, including BNB, the native coin to the Binance chain.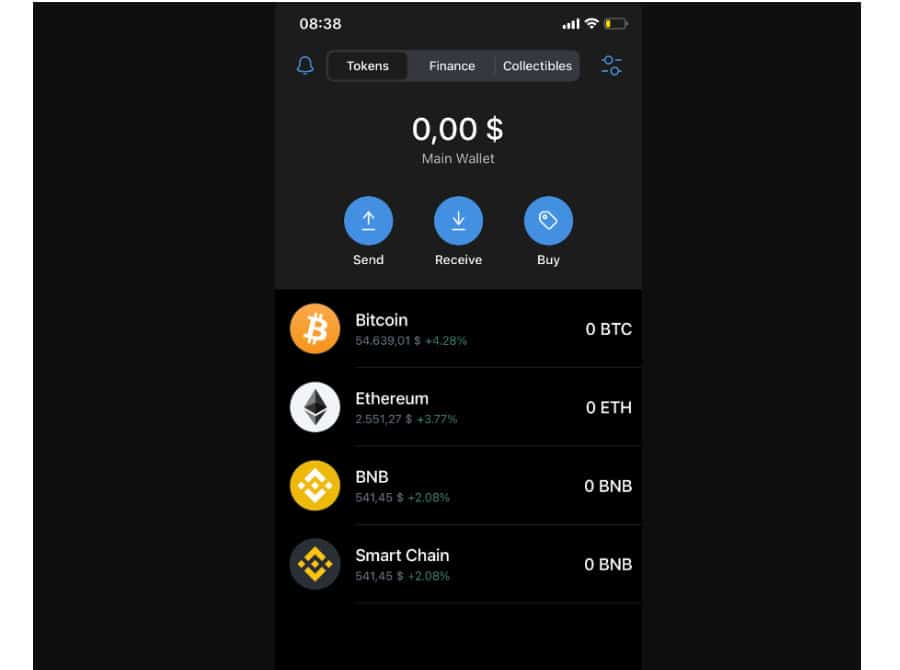 Trust Wallet is becoming increasingly popular, thanks to the variety of cryptos it supports. It even made it to our list of the best XRP wallets.
There might only be complications for Trust Wallet users if they decide to start using the Binance exchange in combination with the wallet. Namely, Binance offers dozens of advanced features that many will find confusing unless they're expert traders. However, if you stick to only using the wallet, you shouldn't have any trouble. This is especially true for mobile users, as Trust is highly popular on both Android and iOS devices.
If you're fighting between MetaMask and Trust Wallet then we recommend reading our article on MetaMask vs Trust Wallet to see which wallet comes out on top.
Pros:
High ratings on App Store and Google Play

Multi-chain support, with a focus on Binance chain

Beginner-friendly

Built-in and easy-to-access staking functionalities

4.5+ million cryptos accepted
Cons:
Cold storage unavailable

Somewhat confusing advanced settings
2. Exodus Wallet — Multi-Chain Wallet That Can Be Connected to Trezor
Exodus is another popular option among crypto owners, as it accepts more than 260 different cryptos and supports multi-chain interoperability. The app is available for PC, Android, iPhone, and more. Like MetaMask, it can be installed as a Google Chrome plugin. You can also get it as a standalone Windows, Linux, or macOS application.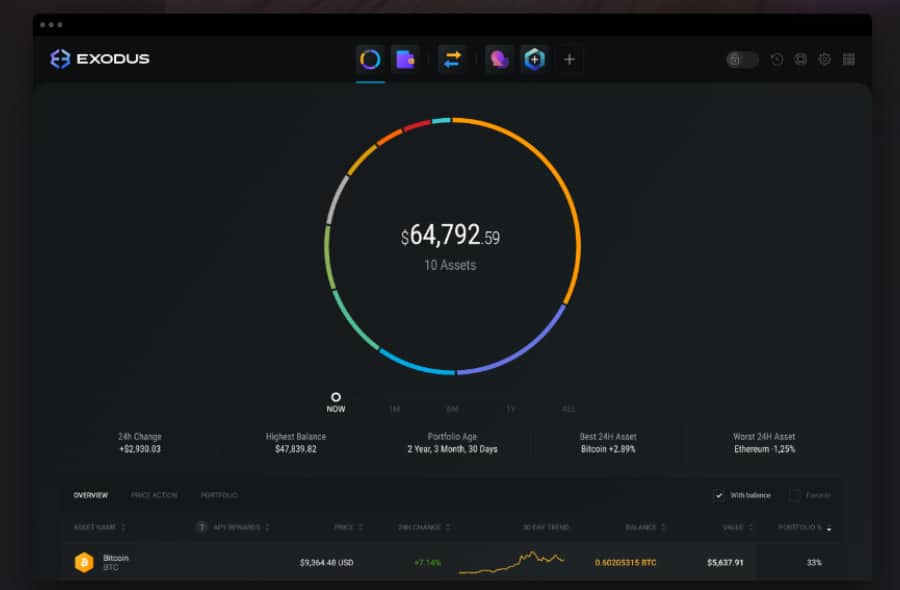 Exodus works well with Trezor, meaning you can connect the popular models of cold storage hardware to your app and make crypto cold storage coin management easier. Exodus and Ethereum work so well together that it even appeared on our list of the best Ethereum wallets.
Unfortunately, the wallet remains closed-source, a disadvantage for many MetaMask users. MetaMask is fully open-source, meaning everyone has access to look at the underlying code, a necessity for many crypto and blockchain enthusiasts.
For more details on this popular crypto wallet be sure to check out our Exodus wallet review.
Pros:
Available on Windows, Linux, and macOS, in addition to iOS and Android

Staking capabilities

Great customer support and community surrounding the wallet

Easily connected to the Trezor cold wallet

No fees for the crypto purchase
Cons:
Not open-source, like MetaMask

Some security features need to be addressed
3. MyEtherWallet — Direct Competitor to MetaMask
It's safe to say that MyEtherWallet is the unicorn in the world of crypto wallets, as it features an option to create your own Ethereum wallet instead of acting as a wallet of its own. The project is fully open-source and even features its own collection of NFTs. Interested parties can even install the multi-chain wallet extension and access the apps from all Ethereum and Polkadot chains.
There's also an official mobile app to help you create a wallet and connect to the MyEtherWallet web on the move.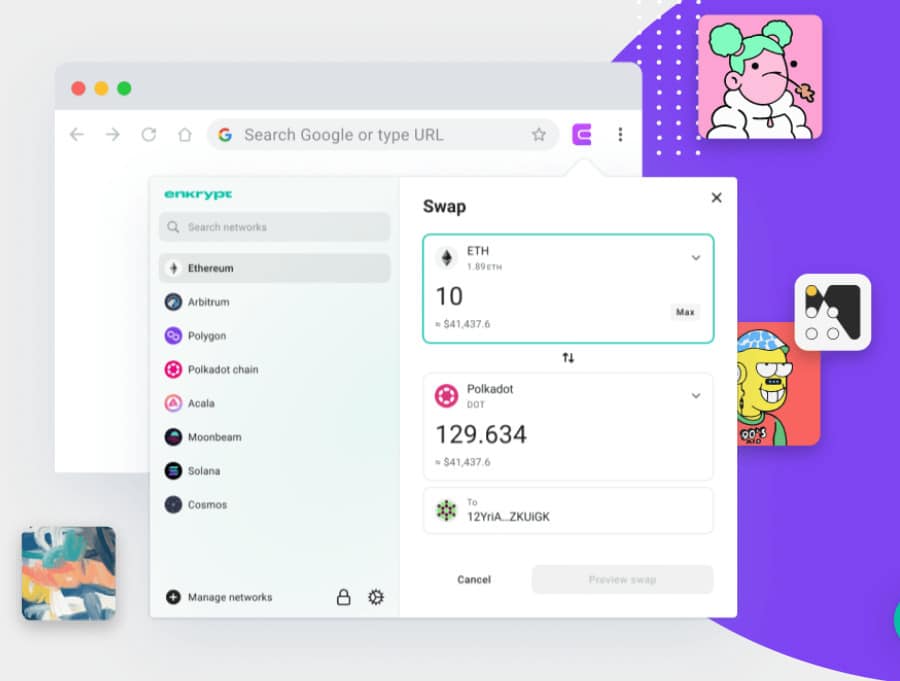 Since Tether (USDT) is available via the Ethereum network, you can store it in MyEtherWallet, which was listed as one of the best Tether wallets in 2023.
Occasional security breaches happened because users failed to recognize tricks. For example, in 2018, the hackers spoofed the MyEtherWallet website, attracting interested parties to the scam site.
If MyEtherWallet is the direct competitor to MetaMask, why not include it in the first place? Even though they are very similar, MetaMask is much more popular. Furthermore, the wallets listed above proved better in many other aspects, including security, ease of use, etc. In other words, the similarity between wallets isn't the only factor we considered.
Pros:
Built-in management dashboard for NFTs

Features its own NFTs

Liquid staking pools and support for full validators

Lets you create your wallet

Supports all ERC tokens and NFTs
Cons:
Not multi-chain (focuses on Ethereum, Polkadot, and chains devised from them)

Third-party web browser extension
4. Coinbase Wallet — Great MetaMask Alternative for Newbies
Assuming you haven't been living under a rock, the chances are you've heard about the Coinbase exchange, which currently ranks as one of the most popular in the world. The exchange decided to offer its non-custodial wallet that can be easily connected to the main platform, making swaps easy and streamlined.
The exchange caters to more than 70 million customers around the globe, many of whom are novices or inexperienced, as Coinbase features an easy and intuitive overview suitable for beginners. If you're new to crypto wallets, the Coinbase Wallet would also be a decent entry point, thanks to its simple yet effective interface.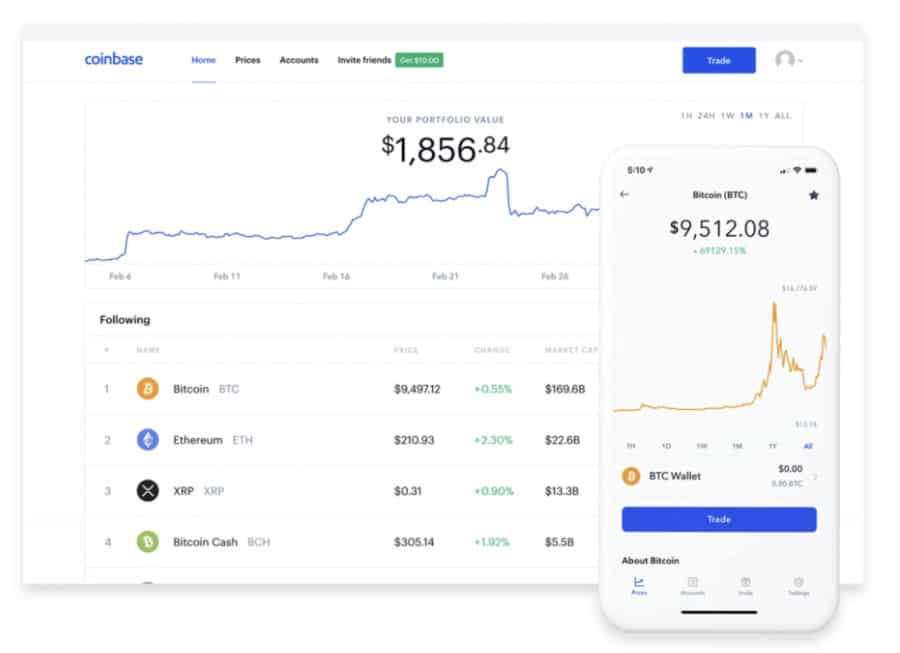 Coinbase works great with BTC, making it to our list of the best Bitcoin wallets for iPhone. Moreover, it accepts a range of ERC tokens, which is why we added it to our MetaMask alternatives list.
It's also worth mentioning that the Coinbase exchange has been subject to some legal drama in America, as it was sued by the US Securities and Exchange Commission. However, the wallet still operates smoothly in many other countries around the globe.
Pros:
Great for newcomers interested in storing their first crypto

Easily connected to a range of DeFi applications

Available as a mobile app for iOS and Android

Wallet data not shared with the Coinbase exchange
Cons:
Ongoing legal problems in the US related to the Coinbase exchange

Above average fees, especially when compared to MetaMask
5. Coinomi — Wallet Supporting 125+ Different Blockchain Networks
This non-custodial wallet is a standalone app for mobile and desktop devices. You can download it for iOS or Android if you want to use it on the move or pick a Windows/Mac version for your computer.
The wallet offers a range of features, including cold staking tools that help users stake idle cryptocurrencies while keeping them in cold storage. A major advantage of Coinomi is impeccable customer support, available round the clock.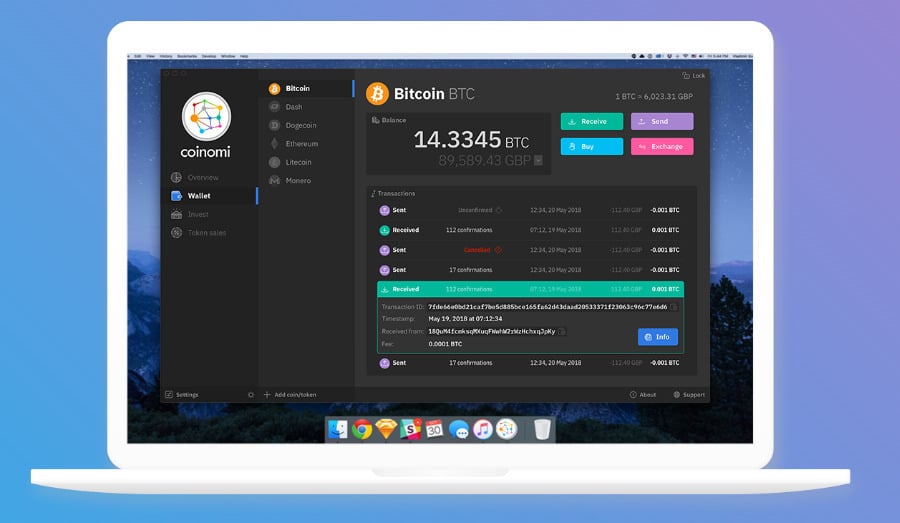 Coinomi is available worldwide, with a significant user base in Asia. The sheer fact that it works with 125 different blockchains means we're talking about hundreds of thousands. Of course, it's on this list because it supports the Ethereum network, which is MetaMask's primary focus.
Even though the mobile app features biometric authentication, it lacks the 2FA security feature, which is a potential drawback. On the other hand, 2FA is not available on many unmanaged wallets, including MetaMask.
Pros:
Established in 2014, with a proven history of great service

Supports more than 125 blockchains

Various cold staking features

Available for Windows, Mac, iOS, and Android as a stand-alone application
Cons:
No 2FA

High fees for connecting your credit/debit card
6. OKX Wallet — Self-Custodial Mobile-First Wallet
OKX is a non-custodial and decentralized wallet that gives full control of private keys to the user. Because of such an approach, there's no need to register, ensuring complete anonymity. The wallet features a native app compatible with Android and iOS devices. Alternatively, users can access OKX via a browser extension, much like MetaMask.
The wallet supports 50 blockchain networks, along with Bitcoin and Ethereum, making it suitable for ETH-focused MetaMask users who want to switch to a different wallet.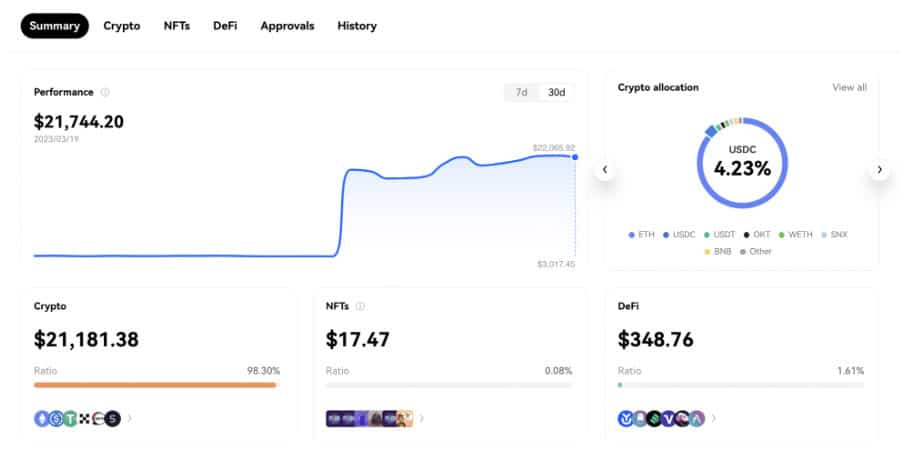 Moreover, the OKX family has been expanding worldwide, receiving proper licenses in many countries. Recently, the OKX exchange got a license from Dubai's Vara.
Despite being great, OKX still has one major flaw: it trusts its customers too much. It is easy to end up in a situation that nobody likes: losing private keys. In that case, all crypto wealth stored on OKX remains locked away.
Pros:
Compatible with more than 50 blockchains, including Ethereum

Anonymous and decentralized, no need to register or provide sensitive info

Additional features like staking and yield farming

Best market exchange rates (when using built-in swapping feature)
Cons:
Inconvenient to self-guard private keys

Losing keys irreversible
7. Mycelium — Mobile-Only MetaMask Alternative
Mycelium is a crypto wallet mainly used by mobile investors and traders. It features a range of functionalities, such as integration with many hardware wallets, allowing full control over assets in a truly decentralized fashion. In addition to that, Mycelium is an open-source piece of software.
Mycelium scores pretty high in many other countries, as it's free to use and highly effective. Unfortunately, the sheer number of features combined with a somewhat clunky and outdated interface put Mycelium in the category of advanced wallets. In other words, beginners will have a hard time getting around, let alone harnessing the wallet's true potential.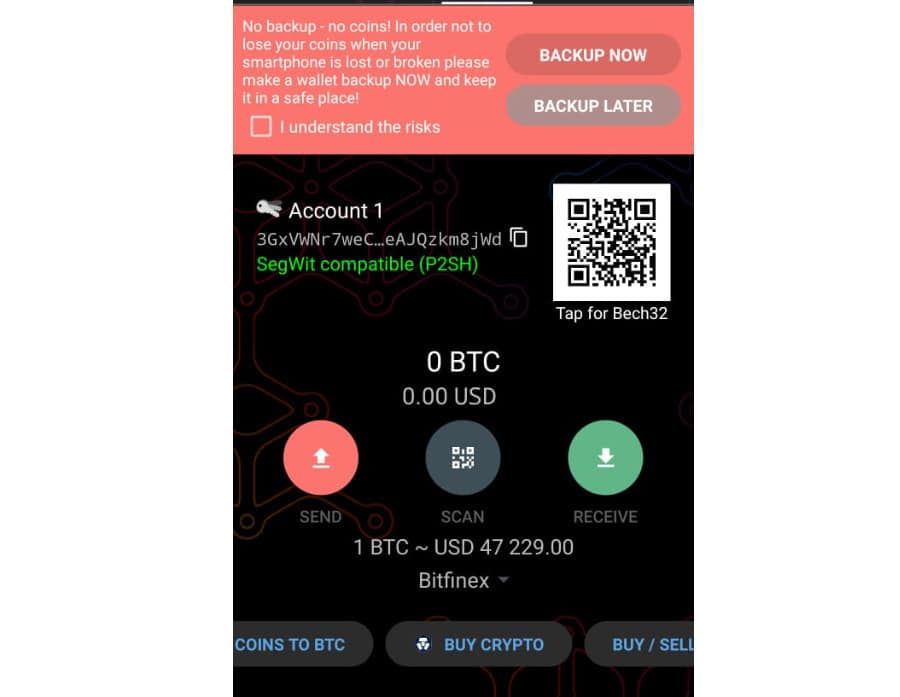 If you're looking for 0 CEX exposure in a wallet, Mycelium is definitely an option to consider. However, if you're used to the Chrome-based MetaMask plugin on your desktop, this may be an issue, as Mycelium is only available on mobile devices.
Pros:
Secure and private wallet

Range of integration options for hardware wallets

Complete control over private keys

Open-source and decentralized

Zero exposure to centralized exchanges
Cons:
Only available for mobile devices

Customer support could use improvement

Steeper learning curve
What to Look for in a MetaMask Alternative
It's no secret that MetaMask is one of the best decentralized crypto wallets right now. However, some people simply don't enjoy the service it offers, including its interface and available features. Therefore, finding a great alternative was a challenge. Here's what we paid attention to when reviewing the wallets featured in this guide.
Ethereum Network and ERC Support
MetaMask is primarily based on the Ethereum network, so it's essential to determine whether the alternative wallet supports it. The Ethereum blockchain should be connected seamlessly and securely.
Ethereum has a variety of token standards called ERC (Ethereum Request for Comment). Tokens created on the Ethereum blockchain must adhere to these standards. Several ERC standards can be supported by a MetaMask alternative, including the ERC-20 (fungible tokens), the ERC-721 (non-fungible tokens or NFTs), and the ERC-1155 (multi-token standard). This way, a wide range of decentralized applications (DApps) and token ecosystems can be integrated.
That said, MetaMask is Ethereum-only, whereas many alternatives we suggested also communicate with other blockchains, which means you can store non-ERC tokens on them. Most wallets communicate with Bitcoin and other relevant networks besides Ethereum.
Supported Cryptocurrencies
We included some wallets that support a diverse range of cryptocurrencies beyond Ethereum. While Ethereum is the focus, having the flexibility to manage other cryptos within the same wallet can be beneficial. This gives users more control over their funds, increases their ability to take advantage of crypto volatility, and allows them to diversify their cryptocurrency portfolio while reducing their overall risk.
For example, the Coinomi wallet currently supports 125 different blockchains, meaning it can accept cryptocurrencies other than Ethereum or ERC tokens. You can store BTC, LTC, ETH, DASH, BCH, and dozens of other big cryptos.
Security Features
Just like MetaMask, any alternative wallet should prioritize security and privacy. For starters, robust encryption mechanisms should protect users' private keys and sensitive data.
Then there is also multi-factor authentication. We aimed to list the wallets with at least one additional authentication option. The process involves combining something a user knows (password), something they have (e.g., a mobile device for receiving authentication codes), or something they are (biometric data such as fingerprints).
In plain English, we ensured that all wallets featured on this page include additional security features besides the standard ones. Many come with 2FA, and some wallet options even have biometric security, which means the user can turn on fingerprint ID or face ID to access the wallet.
Supported OSs and Devices
MetaMask is available as a Chrome plugin or standalone app across devices. Not all featured wallets have the same functionality, but we tested each across devices and OSs to see if they're supported.
First, we checked if the alternative wallet supports the primary desktop operating systems such as Windows, macOS, and Linux.
Considering the increasing use of mobile devices for cryptocurrency management, it was crucial to assess whether the alternative wallet supported them. We looked for compatibility with popular mobile operating systems like iOS for Apple devices and Android for a wide range of smartphones and tablets.
Next, we checked if MetaMask alternatives offered browser extensions for your preferred web browser. Using these, you can connect to the Ethereum network seamlessly and securely, interact with decentralized applications (dApps) and manage tokens directly from your browser. Truth be told, not many performed as well as MetaMask in this regard, and many don't feature such extensions.
Finally, we checked if hardware wallet integration was available. If you use or plan to use a hardware wallet like Ledger or Trezor, you should verify if the alternative wallet supports these devices.
User Interface and Experience
The wallet's core functionalities, for instance, sending and receiving crypto, should be easily accessible and understandable. We also paid attention to additional features like token management, dApp integration, and transaction history, as they make wallets more user-friendly. We ensured all the features were correctly placed and intuitive so that users could take advantage of them without any trouble.
Yet, you'll notice that some recommended wallets, such as Mycelium, aren't great examples of good UI and UX. So, why did we include them in our list? The answer is simple — they ranked well in other aspects, security being the main one. In Mycelium's case, the fact that it's open source and non-custodial stood out more than the wallet's interface.
Swapping and Exchanging Cryptocurrencies
Some alternative wallets integrate with popular cryptocurrency exchanges or offer built-in exchange features. Users can conveniently swap or trade cryptocurrencies without transferring funds to external exchanges using this integration. Having this feature on your alternative wallet can be very useful if you frequently trade cryptocurrencies.
The MetaMask app allows you to swap ERC-20 tokens quickly and conveniently. However, it cannot exchange cryptocurrencies from different blockchains. This is where some suggested alternatives, like Coinbase Wallet, come into play. MetaMask does not support the Bitcoin blockchain, so swapping ETH for Bitcoin is not an option. With Coinbase, however, that's very much possible since it's connected to the centralized exchange, as long as you live in a country that supports it.
Reputation and Trustworthiness
We researched the development team behind alternative wallets, looking for information about their background, experience, and expertise in the blockchain and cryptocurrency industry. If the wallet is developed and maintained by a reputable and experienced team, you can be confident that it will be reliable.
Unfortunately, it's not always possible to see a team's identity, especially with decentralized and open-source wallets, where they choose to remain anonymous. Getting information about the project's progress and development can also be hard.
So, how does one know if a wallet is trustworthy? Well, we have to check what users are saying, as they will often provide enough information to decide if a wallet is a good pick. We carefully examined relevant forums, social media groups, and other helpful sites for every wallet we reviewed. We also looked at the number of downloads and ratings from app stores. This gave us an indication of the level of trust other users had in that wallet.
Updates and Community Support
The wallet's functionality, security, and compatibility with the latest technologies are regularly maintained and enhanced by the development team, or at least that's how it's supposed to be. We checked all featured wallets to see if the teams behind them are actively working on improving their service. Updates demonstrate commitment to addressing bugs and vulnerabilities and adding new features based on user feedback.
We assessed every wallet's roadmap to see if the development was on-track and if everything was being implemented.
Also, community support and engagement are essential for the growth and development of any blockchain project. That's why we need to know how actively the wallets engage with their user community. We looked for evidence of open communication channels, forums, social media presence, and developer documentation. A wallet with an active community can provide valuable resources, assistance, and feedback to users.
Conclusion
MetaMask caused quite a revolution when it first appeared. Moreover, it remains one of the most popular Ethereum wallets to date. However, it also limits you to the Ethereum network and chains built on top of it, meaning you cannot use it to store Bitcoin and other popular cryptocurrencies.
The good news is that the best MetaMask alternatives featured in this guide have multi-chain support, so you can have more flexibility when managing crypto. If you're unsure where to start, we advise exploring our guide on the best crypto wallets in 2023 so you can start storing your crypto assets in a safe and rewarding way.
References:
https://blog.chain.link/cross-chain-vs-multi
https://www.pcmag.com/news/hacker-steals-cryptocurrency-from-myetherwallet-users
https://www.reuters.com/legal/us-sec-sues-coinbase-over-failure-register-2023-06-06/
https://www.thenationalnews.com/business/cryptocurrencies/2023/06/15/crypto-exchange-okx-receives-viable-product-licence-from-dubais-vara/
FAQ
What is the best alternative to MetaMask?
What is the alternative to MetaMask in Web3?
Is MetaMask better than Trust Wallet?