In addition to the internet of things (IoT), NFTs (non-fungible tokens), and web3, the metaverse is one of the hottest investment trends in 2023.
Therefore, the purpose of this market insight is to explore the best metaverse crypto coins for early exposure to this growing marketplace.
Best Metaverse Cryptocurrencies to Invest in Today – Metaverse Crypto Coins List
Our market research concluded that the projects listed below represent the overall best metaverse crypto coins to gain exposure to in 2023:
Love Hate Inu (LHINU)

– Overall Best Vote-to-Earn Metaverse Crypto in 2023

DeeLance (DLANCE) – Web 3.0 Recruitment Platform with Metaverse and Fast Payments
Ecoterra (ECOTERRA) – Upcoming Green Crypto Offering a Recycle2Earn App
Tamadoge (TAMA)

– Metaverse Gaming Ecosystem With Augmented Reality

Pikamoon (PIKA) – Join the Pikaverse and Earn Free in-Game NFTs
Mooky (MOOK) – Platform that unites memes, NFTs, and eco-friendly actions in a vibrant, accessible platform.
RobotEra (TARO) – Metaverse Project for Owning Virtual Land and Real Estate
Battle Infinity (IBAT) – Fantasy Sports Games in an Immersive Metaverse World
Ethereum (ETH) – Decentralized Smart Contract Blockchain Hosting Some of the Best Metaverse Projects
Decentraland (MANA) – One of the Most Established Metaverse Ecosystems
The Sandbox (SAND) – Metaverse World Frequented by Snoop Dogg and Other Celebrities
ApeCoin (APE) – Largest Metaverse Coin by Market Capitalization
The metaverse crypto coins projects above each target a different niche from within this marketplace. Therefore, diversification will enable investors to reduce the overall risk spectrum.
Analyzing the Best Metaverse Crypto Coins to Buy
The following market insight into the best metaverse crypto coins explains each and every metric that investors should know before risking their capital.
This includes factors surrounding the project objectives, whitepaper, roadmap, team, and tokenomics – and how this fits into the future of the metaverse.
Read on to find our top picks regarding the best metaverse coins to invest in.
1. Love Hate Inu (LHINU) – Overall Best Vote-to-Earn Metaverse Crypto in 2023
Love Hate Inu is a unique crypto platform that enables users to earn rewards by staking tokens and participating in various meme polls. Users must stake the platform's native cryptocurrency, $LHINU, to engage in the voting process.
The platform has plans to launch a demo version of its voting algorithm in the coming months, and it aspires to expand into the metaverse by the first quarter of 2024.
Love Hate Inu's whitepaper outlines its goal to incorporate numerous metaverse experiences within its platform – the voting process remains anonymous as the only platform facilitating online voting via cryptocurrency tokens.
To obtain token rewards, users must stake $LHINU, an ERC-20 token, and vote in diverse meme polls across categories such as entertainment, politics, and social issues.
A minimum staking period of 30 days is required for tokens. Poll creators are responsible for providing the tokens and distributing $LHINU to participants.
The token has already gained significant social media traction, with over 34,500 Twitter followers and over 14,000 Telegram channel members. Since the presale's launch less than two weeks ago, Love Hate Inu has raised over $1.27 million.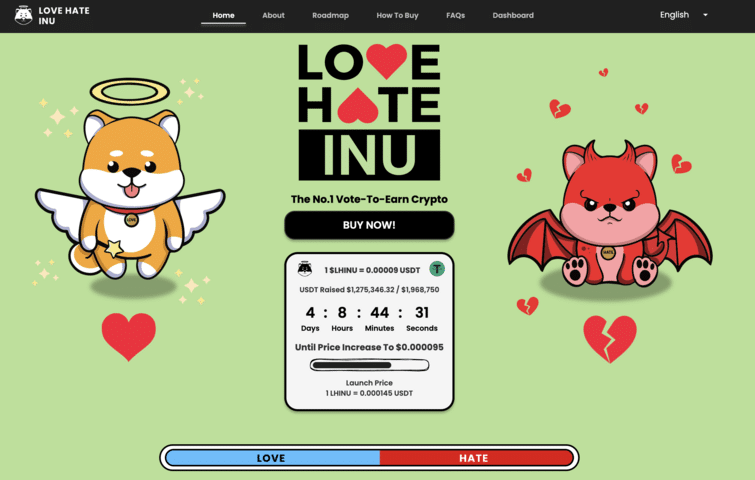 Investors can purchase $LHINU in the second presale stage for $0.00009 – by the final round, the price of $LHINU will surge by over 61% to $0.000145 USDT.
Love Hate Inu also plans to introduce a vote submission portal, allowing users to create new polls, making it one of the best meme coins with utility. The platform also employs a staking mechanism to prevent voting manipulation.
Additionally, Love Hate Inu's limited token supply of 100 billion contributes to the potential long-term increase in the token's value. Love Hate Inu has divided 900 million tokens equally among eight presale rounds.
10% of the total tokens have been reserved for exchange listings and liquidity. Buyers can join the Love Hate Inu Telegram channel for the latest updates.
| | |
| --- | --- |
| Presale Started | March 8, 2023 |
| Purchase Methods | ETH, USDT, Credit Card |
| Chain | Ethereum |
| Hard Cap | $10,068,750 |
| Min Investment | 10 $LHINU |
| Max Investment | None |
2. DeeLance (DLANCE) – Web 3.0 Recruitment Platform with Metaverse and Fast Payments
DeeLance is a groundbreaking decentralized platform for freelancers, featuring an integrated metaverse and its native crypto, $DLANCE. The platform is designed to connect freelancers seamlessly with employers looking for their expertise.
DeeLance's metaverse aspect enables freelancers and clients to interact in virtual waiting areas and workspaces. Users can spend $DLANCE tokens on renting workspaces, advertising their services, and purchasing in the marketplace.
$DLANCE tokens can be acquired during the ongoing crypto presale phase at just $0.025 USDT. The token's value is set to rise to $0.035 toward the end of six phases.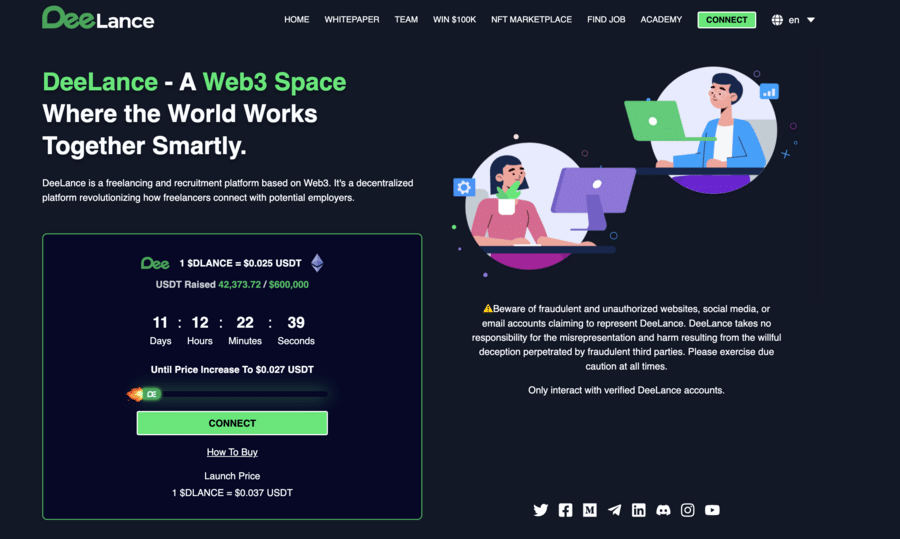 If the presale goal of $6.8 million is reached, $DLANCE tokens will become available on various crypto exchanges in Q2 2023 with a lunch price of $0.037 USDT.
$DLANCE tokens serve multiple purposes within the DeeLance ecosystem, including buying and selling NFTs in the platform's marketplace. Freelancers can turn their projects into NFTs, making it easier to deliver work to clients. The platform employs blockchain technology to record all transactions securely.
The DeeLance whitepaper explains how smart contracts safeguard transactions and how escrow payment services are integrated, ensuring freelancers get paid at predetermined intervals.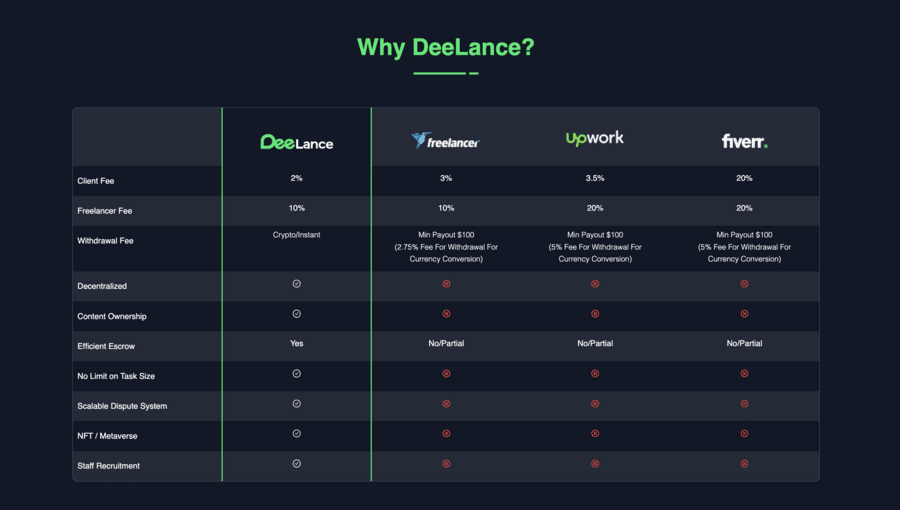 Why Choose DeeLance?
DeeLance aspires to build a platform that connects exceptional talent with remarkable job opportunities. Its goals include discovering outstanding freelancers, broadening the talent pool, and promoting long-term professional development.
The project's strategy includes offering educational resources, engaging with users on social media, and launching ambassador and affiliate programs.
Adopting crypto payments allows for faster transaction times, while the platform's low client fee of 2% sets it apart from other leading freelance platforms.
To learn more about this exciting project, potential users can join the DeeLance Telegram channel.
| | |
| --- | --- |
| Hard Cap | $6,800,000 |
| Total Tokens | 1,000,000,000 |
| Tokens available in presale | 300,000,000 |
| Blockchain | Ethereum Network |
| Token type | ERC-20 |
| Minimum Purchase | $10 |
| Purchase with | USDT, ETH, Card |
3. Ecoterra (ECOTERRA) – Upcoming Green Crypto Offering a Recycle2Earn App
Ecoterra's Recycle2Earn platform encourages users to participate in eco-friendly activities by offering rewards in the form of tokens. This gamification approach could be extended to or integrated with the metaverse. Users could participate in virtual environmental initiatives, engage with others who share the same goals, and utilize their Ecoterra tokens in a digital marketplace.
Interested investors can purchase $ECOTERRA tokens for only $0.004 USDT each during the initial presale period.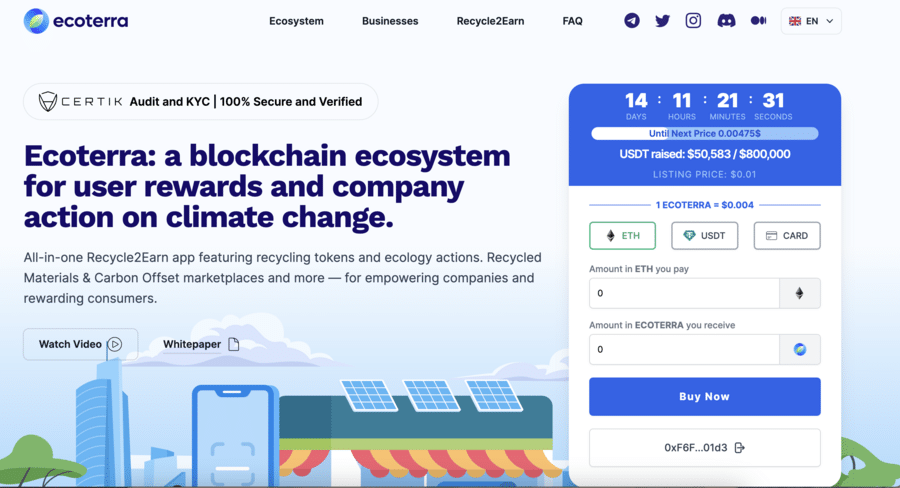 The Ecoterra whitepaper highlights the user-focused design of the Recycle2Earn application. First, users scan a barcode recognized by the app's AI-driven system. The app then directs users to the closest Reverse Vending Machine (RVM) for recycling. Afterward, users submit a photo of their receipt and receive Ecoterra tokens in exchange.
Uniquely, the platform expands beyond recycling. The Recycled Materials Marketplace lets users buy recycled materials like glass, plastic, and aluminum using Ecoterra tokens.
Moreover, individuals can purchase carbon offsets from the Carbon Offset Marketplace to decrease their carbon impact. The Impact Trackable Profile feature allows users to monitor their positive contributions to the Ecoterra ecosystem.

Currently, Ecoterra is holding a presale of its native token that can be used to buy products and earn in-app rewards. Using a tiered pricing structure, the initial token price will rise over time, which may benefit early investors when the token is listed on well-known exchanges.
Ecoterra has developed an inventive solution inspired by the play-to-earn concept to address climate change and urgent environmental concerns.
Users can join the Ecoterra Telegram group to stay updated on the latest news and advancements.
| | |
| --- | --- |
| Hard Cap | $6,700,000 |
| Total Tokens | 2,000,000,000 |
| Tokens available in presale | 1,000,000,000 |
| Blockchain | Ethereum Network |
| Token type | ERC-20 |
| Minimum Purchase | $10 |
| Purchase with | USDT, ETH, Bank Card |
4. Tamadoge (TAMA) – Metaverse Gaming Ecosystem With Augmented Reality
Tamadoge (TAMA) is also one of the best metaverse cryptos for investors that wish to gain exposure to play-to-earn gaming. This gaming ecosystem enables players to mint their own virtual pet NFTs which need to be cared for and fed – the individual traits of each Tamadoge pet can be improved through training.
This is an important segment of the game, as players can enter battles to try and win TAMA tokens. The Tamadoge whitepaper also notes that players can breed their NFT pets, which will create a new pet that is 100% owned by the respective player.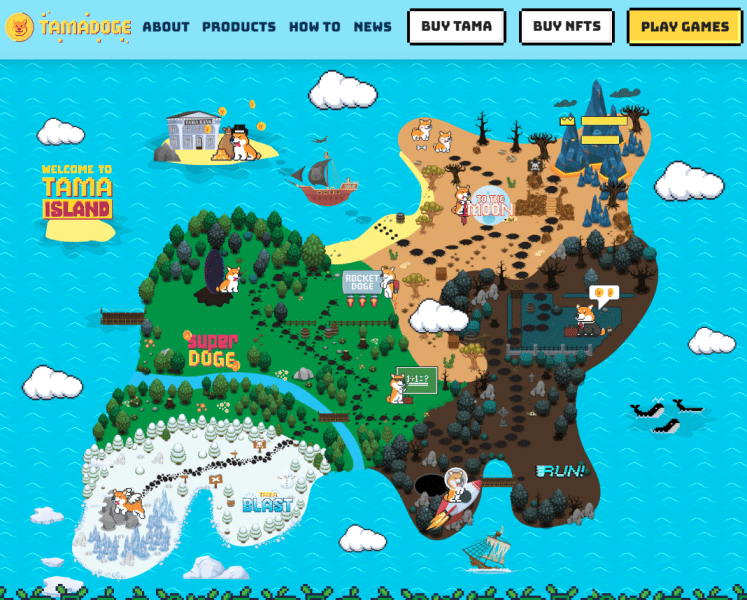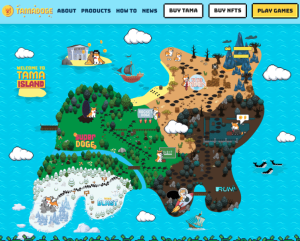 Another reason why we found that Tamadoge is one of the best metaverse crypto coins is that it is working on augmented reality. This will enable gamers to explore their real-world environment in the search for TAMA tokens.
Tamadoge is also building a suite of mini-arcade games and the first four titles – Super Doge, Rocket Doge, To The Moon and Tama Blast have already launched. Each game offers further opportunities to earn crypto rewards via TAMA.
Tamadoge is also working on the development of its metaverse. The 'Tamaverse' will enable players to enjoy Tamadoge games in an immersive environment, not to mention socialize with other players. When entering the Tamaverse, players will be represented by their respective virtual pets.
As one of the top metaverse crypto coins in the play-to-earn space, the Tamadoge presale sold out in record time in late 2022, raising a little over $19 million.
TAMA is now available to buy from multiple crypto exchanges and is expected to be one of the best altcoins of 2023. Considering its market capitalization is below $25 million, this is one of the top 12 metaverse coins for upside potential.
5. Pikamoon (PIKA) – Join the Pikaverse and Earn Free in-Game NFTs
Pikamoon is a new metaverse cryptocurrency project that lets users take part in its free-to-play cryptocurrency environment. $PIKA, the native token, can be used to enter the Pikaverse, where members are available to explore and engage in battles.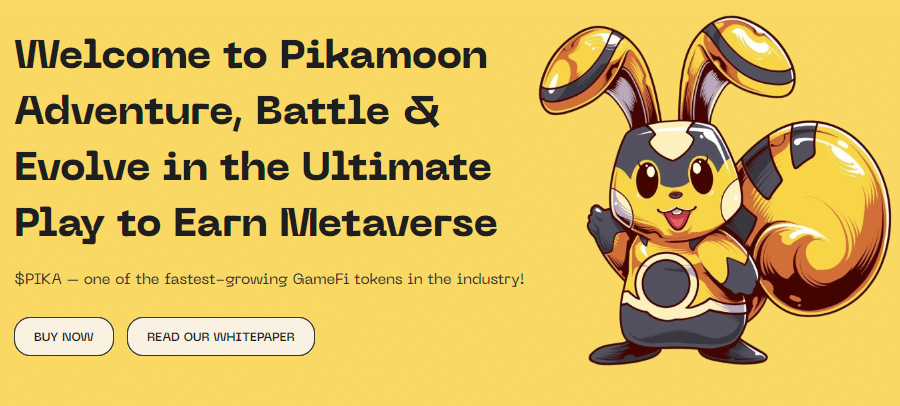 Before entering the Pikaverse, users can purchase one of the available 18,012 Pikamoon NFTs, which will be their in-game avatars. Early investors who hold the highest number of $PIKA tokens will have the opportunity to min the NFTs for free.
Depending on the NFTs you hold, you can access one of the four different regions in the virtual world of Dreva – the Thunder Collective, Earth Regions, Flame Empire, or the Water Kingdom.
Users can explore and purchase virtual land, and even capture Pikamoon avatars on the game. The game aims to replicate popular features of games such as Pokemon.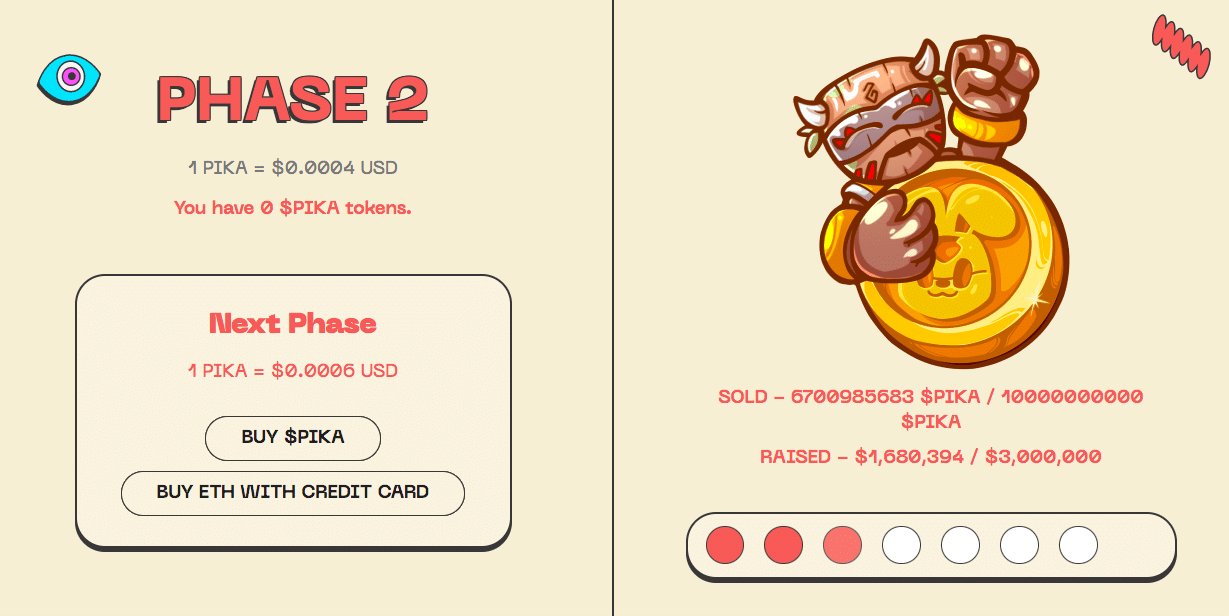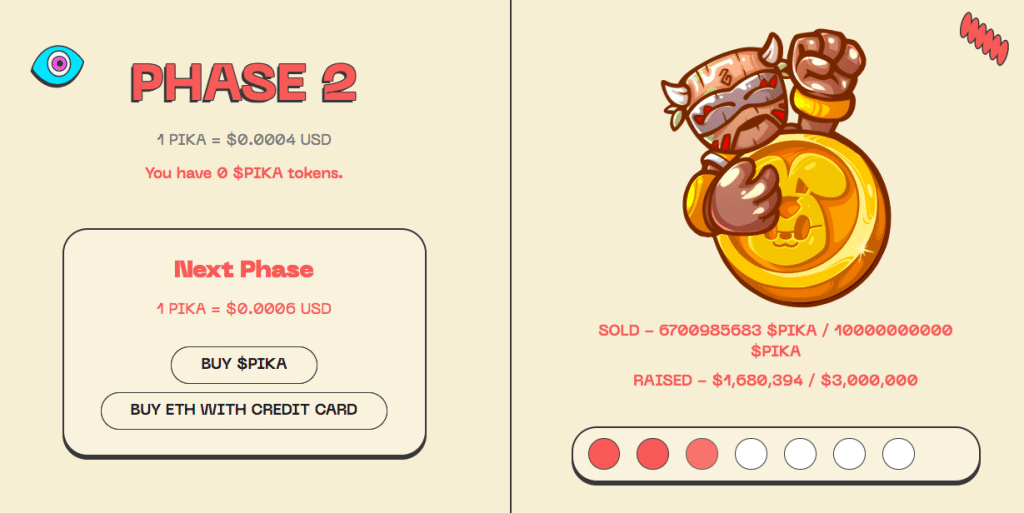 Through a battle system, players can leverage their NFT avatars to engage in battles and earn $PIKA tokens as rewards. To stand a better chance in the battles, you can purchase and apply NFT items such as healing potions, capture devices, and boosts.
The $PIKA token is currently available to purchase on presale for $0.0004 per token. By the next and final phase, the price will soar to $0.0006 per token.
From a 50 billion token supply, 15 billion tokens have been allocated for the presale. Pikamoon has raised more than $1.6 million since the start of the presale. Read the Pikamoon whitepaper and join the Telegram channel to stay updated with the developments of this project.
| | |
| --- | --- |
| Presale Started | April 2023 |
| Purchase Methods | USDT and ETH |
| Chain | Ethereum |
| Minimum investment | N/A |
| Maximum investment | N/A |
6. Mooky (MOOK) – Meme Coin Platform Using NFTs For a Positive Impact
Mooky ($MOOK) is an innovative platform harnessing the meme crypto's popularity to promote environmental preservation. As the Metaverse expands, environmentally conscious platforms like Mooky may play an integral part in its sustainable development.
With its ongoing presale, 1 USDT gives access to 136,054 MOOK tokens, translating to $0.00000735 USDT for each token. This price will surge to $0.00003125 USDT toward the end of the presale stages.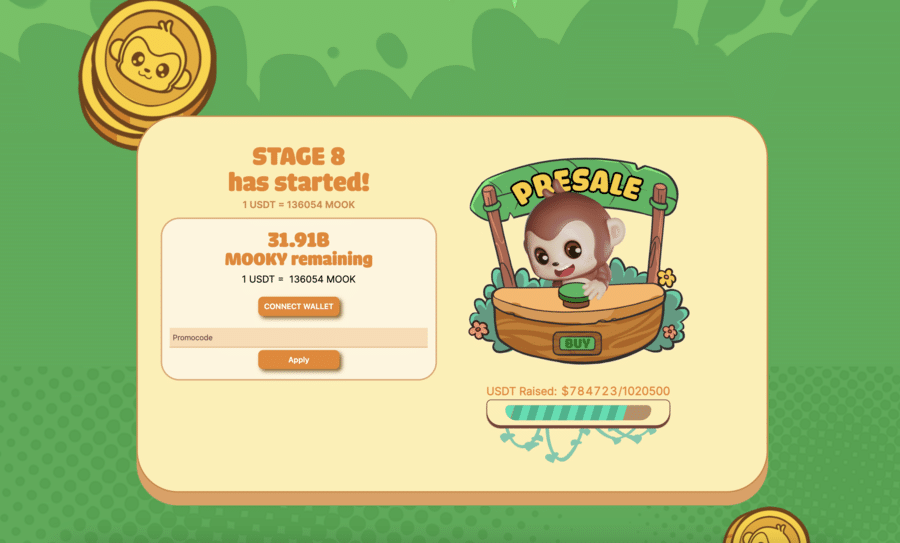 Unique to Mooky is the integration of NFTs into its ecosystem. These NFTs come in five distinct rarity levels, adding layers of engagement and value for holders.
The Super Rare and Legendary categories take this a notch higher, granting membership to the Mooky Ventures Club. As a Club member, privileges include a voice in key platform decisions, earning through investment portfolios, and exclusive airdrops – enhancing the appeal of the $MOOK token.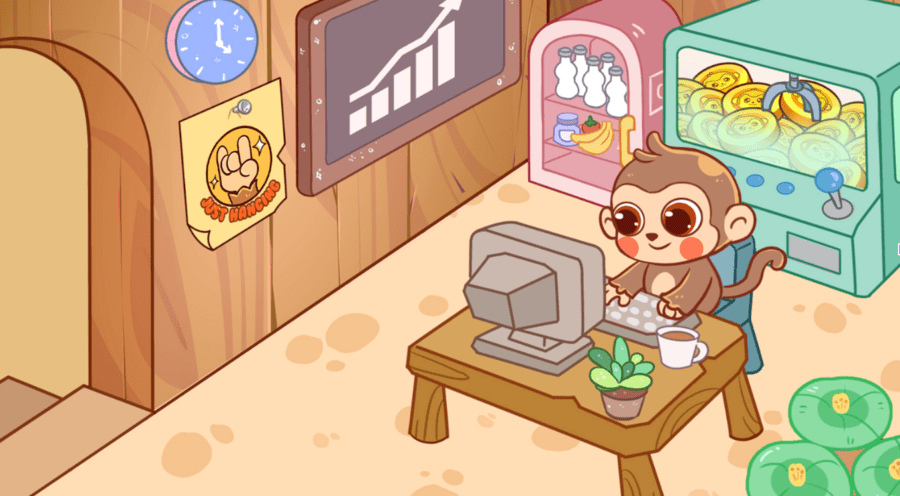 Mooky's presale includes a generous 70% allocation from the total supply of 500 billion tokens, indicating the project's commitment to mass accessibility. Furthermore, a dedicated 3% of the total supply supports charity endeavors, ensuring continual assistance to charitable foundations.
A unique element of Mooky is the 15% transaction tax on NFT trades, with 2% channeled to charities. This reflects Mooky's founding vision: combining crypto's dynamic world with a mission to preserve the environment.
As for updates, Mooky's Telegram channel keeps community members updated with the project's latest developments.
| | |
| --- | --- |
| Presale Started | Q2 2023 |
| Purchase Methods | ETH, USDT, BNB |
| Chain | Ethereum |
| Min Investment | None |
| Max Investment | None |
7. RobotEra (TARO) – Metaverse Project for Owning Virtual Land and Real Estate
RobotEra (TARO) is a clear winner when it comes to investing in the metaverse through virtual ownership. In fact, this is also one of the best metaverse crypto projects for buying digital real estate – this is because RobotEra enables users to purchase plots of land, which are backed by NFTs on the Ethereum blockchain.
Once land has been purchased, users can begin their desired construction project. Unlike the real world, the RobotEra metaverse has no limitations in this regard and users can decide to build a villa, sports arena, office block, or nightclub – anything is possible.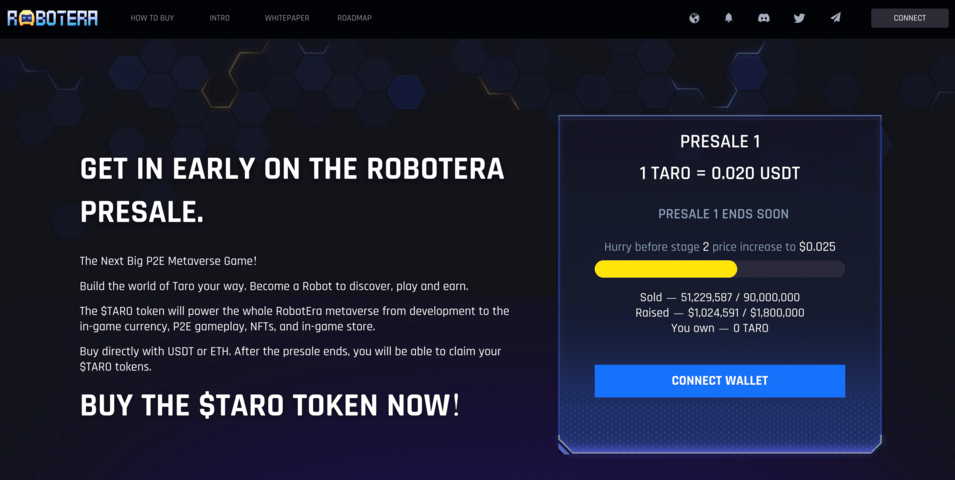 What's more, once virtual real estate has been digitally erected, users can generate passive income from it. Examples here include renting a villa out to another RobotEra user or even hosting an event in a virtual stadium and selling tickets. Either way, when buying, selling, or trading virtual items in the RobotEra metaverse, the currency of choice is TARO.
TARO is an ERC-20 token that is unique to the project. The only way to invest in virtual real estate via the RobotEra metaverse is by having access to TARO.
The token is among the best crypto ICOs on offer right now, with stage one pricing still at $0.02. Stage two is priced 25% higher at $0.025 and stage three will sell tokens for $0.032 – more than $1 million has been invested so far.
| | |
| --- | --- |
| Presale Started | Q4 2022 |
| Purchase Methods | ETH, USDT |
| Chain | Ethereum |
| Min Investment | 1,000 TARO |
| Max Investment | None |
8. Battle Infinity (IBAT) – Fantasy Sports Games in an Immersive Metaverse World
Next up on this list of the best metaverse crypto coins in Battle Infinity (IBAT). When its presale concluded in late 2022, it raised its hard cap target of over $5 million – now IBAT trades on a range of exchanges and is available to buy at an attractive entry price.
Battle Infinity is building a metaverse world that will facilitate immersive fantasy sports games. Users can earn rewards by selecting a team of players from their preferred sport, such as soccer or cricket. Rewards are based on how the team of selected players performs in real-world matches.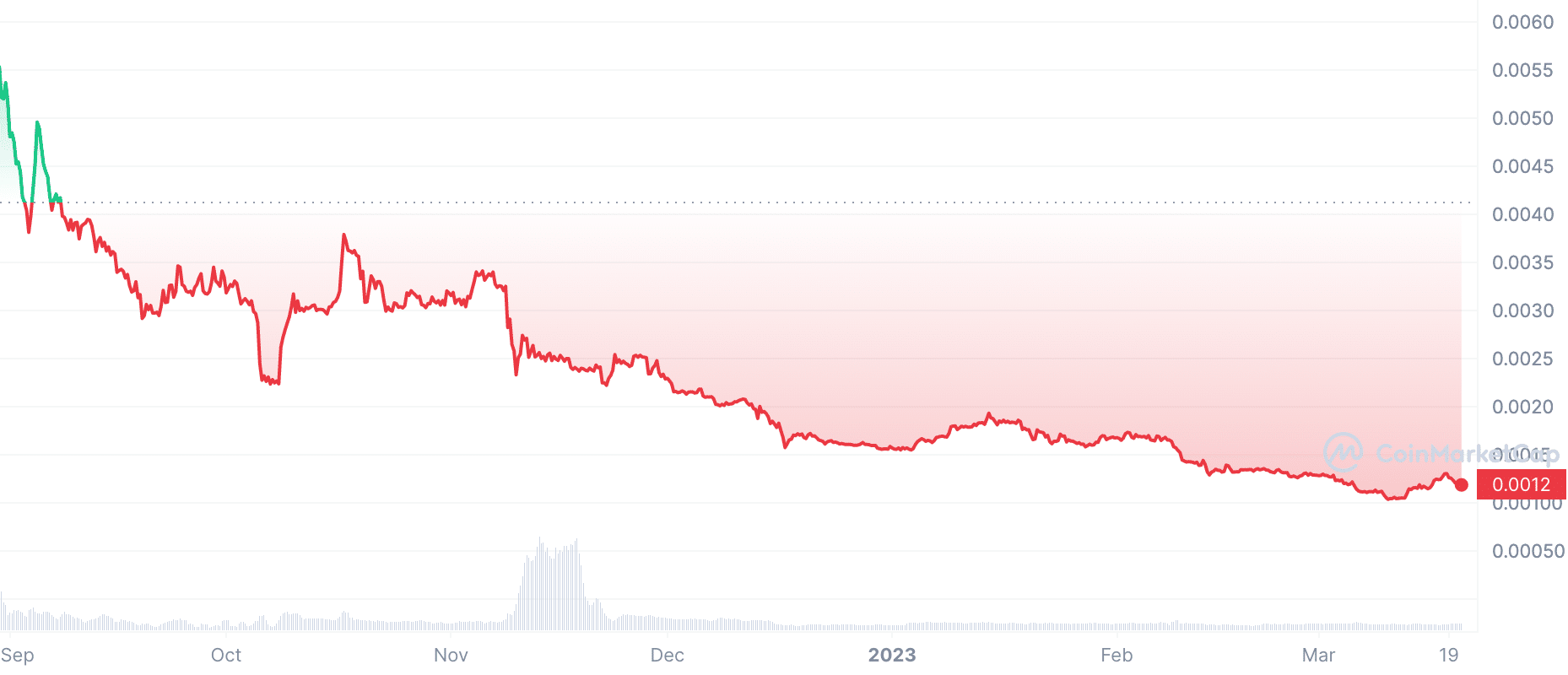 The Battle Infinity metaverse is branded as the 'Multiverse' and it will support more than just fantasy sports games. This includes a decentralized exchange (DEX), staking tools, and other play-to-earn games.
As of writing, IBAT is trading with a small market capitalization of just over $5 million, so there is plenty of upside for long-term metaverse investors.
9. Ethereum – Decentralized Smart Contract Blockchain Hosting Some of the Best Metaverse Projects
With the exception of Battle Infinity – which is built on top of the Binance Smart Chain, each of the metaverse projects discussed thus far operate on the Ethereum (ETH) blockchain.
Ethereum is the world's second-largest crypto coin by market capitalization and has long been one of the best cryptos to invest in, so the upside potential may be limited compared to newer projects.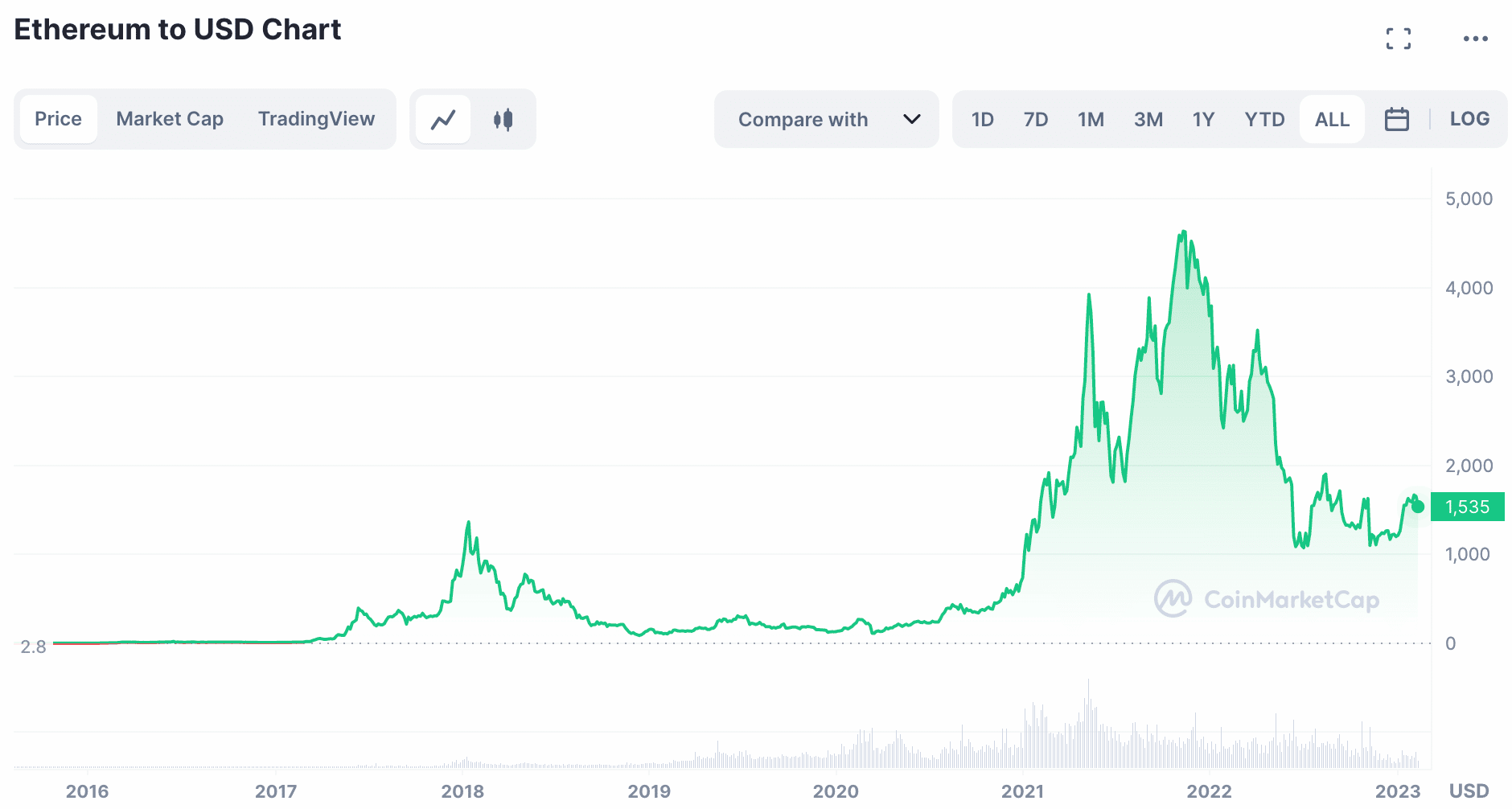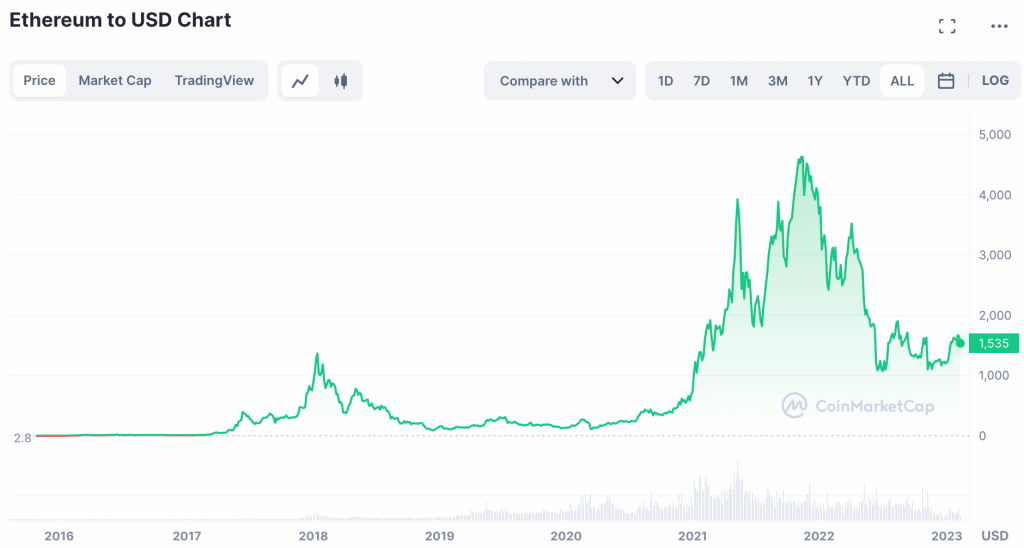 Nonetheless, as the de-factor blockchain of choice of many leading metaverse projects and other decentralized apps (dApps) Ethereum is still worth considering. This is especially the case when investors factor in the price difference between Ethereum's current valuations and its former all-time high.
As of writing, those electing to buy Ethereum will pay approximately 65% below its 2021 peak of $4,900.
81% of retail investor accounts lose money when trading CFDs with this provider.
10. Decentraland (MANA) – One of the Most Established Metaverse Ecosystems
Decentraland (MANA) is one of the most established metaverse crypto projects in this space. In fact, the team behind Decentraland began working on its metaverse in 2015 and the platform was officially launched two years later.
This means that Decentraland has a huge head start over many of its metaverse counterparts.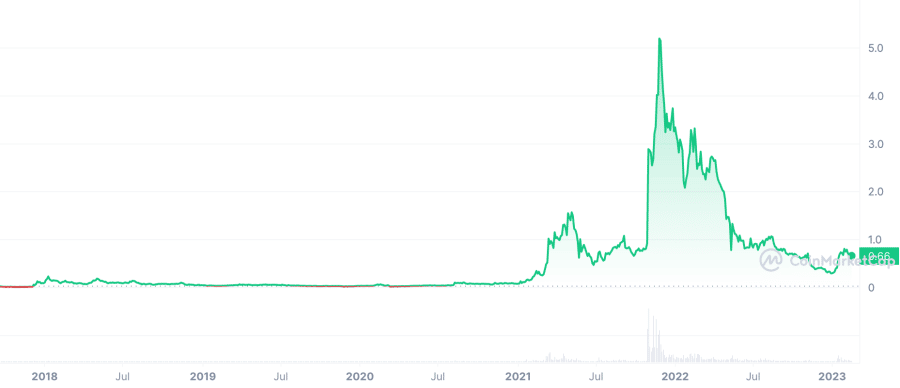 Users that enter the Decentraland metaverse can create their own virtual avatar and socialize with others via on-screen text. users can also explore the many virtual worlds hosted in Decentraland and even purchase virtual plots of land, payable in MANA.
As of writing, Decentraland carries a market capitalization of just under $1.5 billion.
81% of retail investor accounts lose money when trading CFDs with this provider.
11. The Sandbox (SAND) – Metaverse World Frequented by Snoop Dogg and Other Celebrities
The Sandbox (SAND) is one of the most popular metaverse projects in this space, and its underlying digital asset now commands a market capitalization of just over $1.3 billion. This metaverse is frequented by a wealth of celebrities, including Snoop Dogg.
In fact, not only has Snoop Dogg bought his own plot of land and virtual mansion in the Sandbox, but he has also released his own music video specifically for the metaverse.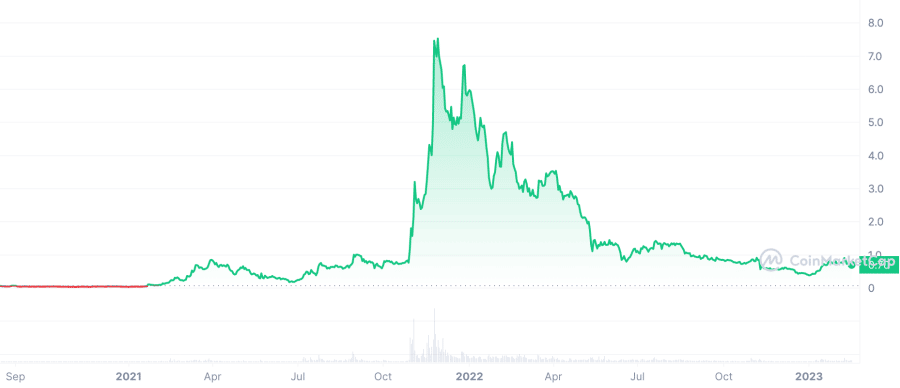 Real estate prices are extraordinarily high in the Sandbox metaverse, with some plots having sold for several million dollars.
Nonetheless, one of the best ways to gain exposure to the Sandbox metaverse is to buy and hold SAND tokens. Just like Ethereum and Decentraland, SAND can be purchased at SEC-regulated broker eToro from just $10.
81% of retail investor accounts lose money when trading CFDs with this provider.
12. ApeCoin (APE) – Largest Metaverse Coin by Market Capitalization
Looking for the top metaverse coins by market capitalization? If so the largest digital currency in this space is ApeCoin (APE) – with a market capitalization of over $2 billion as of writing.
ApeCoin is the native token of the Otherside metaverse, which is still in the early stages of development.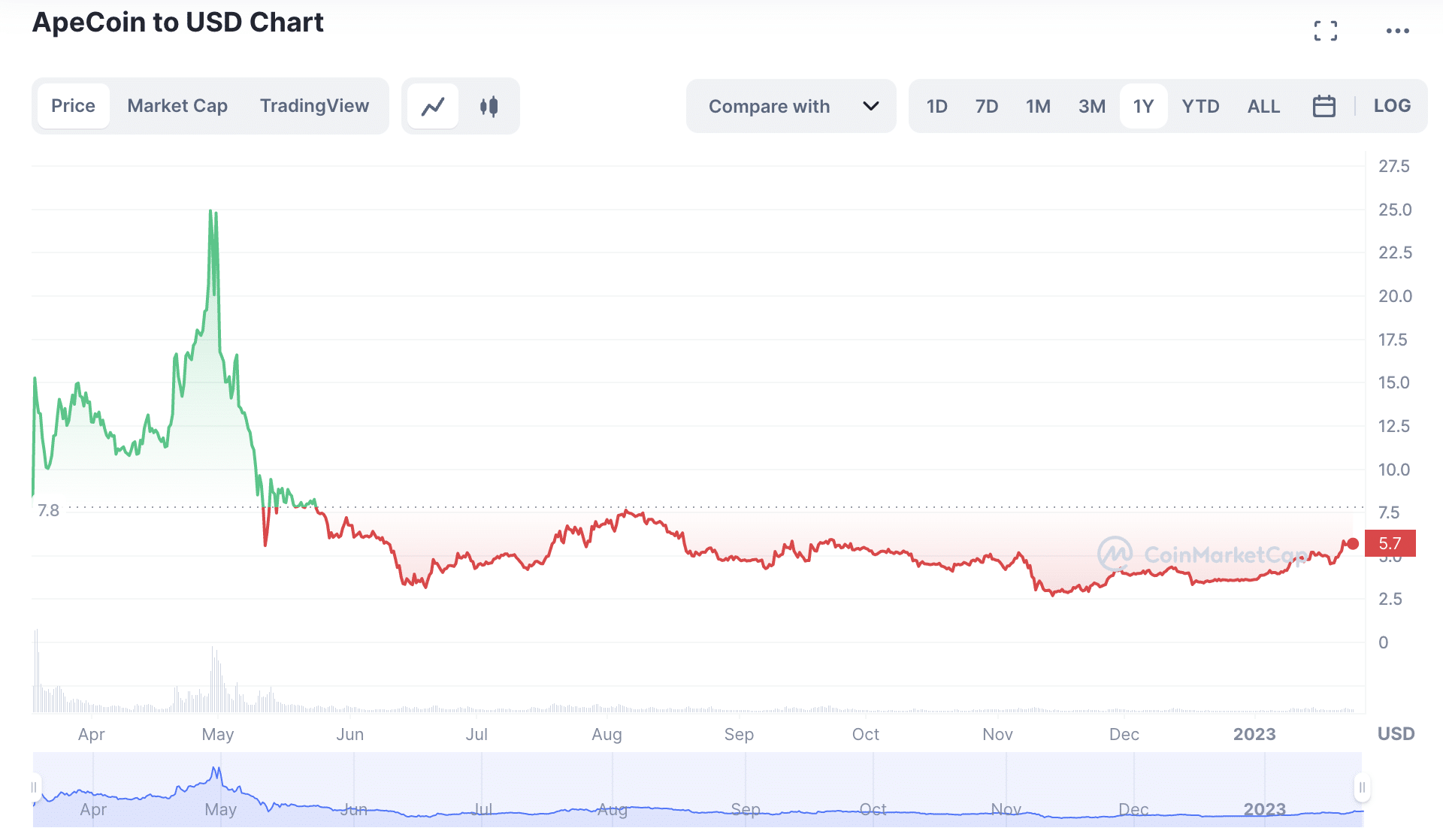 ApeCoin will be required to purchase virtual plots of land in the Otherside metaverse and subsequently invest in digital real estate.
Interestingly, both ApeCoin and the Otherside are being developed by Yuga Labs – the company behind the massively successful Bored Ape Yacht Club NFT collection.
81% of retail investor accounts lose money when trading CFDs with this provider.
What is Metaverse Crypto?
The metaverse is simply defined as a virtual reality world in which users can interact with each other and the computer-generated environment around them.
However, the metaverse is not one defined place and has many variations – whether that be in its look, environment or what can be done inside of it. Each project has a unique and distinct metaverse and will have its blockchain-backed crypto coin. Each respective coin will serve a specific purpose within the metaverse, which ensures that it has utility.
For example, $LHINU is the utility coin of the Love Hate Inu metaverse. $LHINU enables players to earn income by voting on several polls and surveys.
Not only do crypto coins serve a purpose in their respective metaverse, but they also enable investors to easily gain project exposure. This is because, in theory, the more successful a metaverse project is, the more valuable its native crypto coin will become.
This investment thesis centers on the market forces on demand and supply.
Let's take Decentraland and its MANA token as a prime example:
According to CoinMarketCap, MANA was initially trading at just $0.025 when it was launched in late 2017. At its peak in late 2021, MANA was trading at just under $5.
This means that those investing in MANA when the project was first launched would have been looking at potential gains of almost 20,000%.
For every $1,000 invested, this would have translated into $200,000.
In the following sections, we discuss the investment potential of metaverse crypto coins in more detail.
How is Crypto Used in the Metaverse?
Crypto plays a crucial role in the metaverse, shaping its development and integration with real-world systems.
The convergence of three technologies that will shape the future of the metaverse includes advancements in virtual reality, blockchain, and artificial intelligence, which promise to revolutionize how we interact, work, and play in digital spaces.
As a result, cryptocurrencies and blockchain technology have emerged as fundamental components in this evolving digital landscape. One current example is the use of cryptocurrency for in-game transactions, such as purchasing virtual goods, real estate, or avatars.
It is estimated by 2026 that 25% of the global population will spend at least one hour per day in the metaverse for digital activities including work, shopping, education, socializing or entertainment, with a third of global businesses projected to offer products and services in the metaverse.
Decentraland, a prominent virtual world, allows users to buy and sell land using its native cryptocurrency, MANA. Similarly, The Sandbox employs its native token, SAND, for various in-game transactions and governance.
Another application of crypto in the metaverse is the creation and trade of non-fungible tokens (NFTs). These unique digital assets represent ownership of virtual goods like art, collectibles, and even virtual real estate. Platforms like OpenSea and Rarible facilitate the buying, selling, and trading NFTs, often using popular cryptocurrencies like Ethereum.
In the future, the use of cryptocurrencies in the metaverse could extend to decentralized finance (DeFi) applications.
This could enable users to access financial services such as lending, borrowing, and earning interest on their digital assets within the virtual world. Imagine a scenario where users can seamlessly manage digital assets and financial transactions without leaving the metaverse.
Another potential development is the emergence of crypto-based virtual economies that mirror real-world economic systems. Users can earn digital assets in these economies by offering goods, services, or labor within the metaverse.
For instance, Axie Infinity, a popular blockchain-based game, allows players to earn tokens by participating in battles, breeding Axies, or trading them in the marketplace.
Are Metaverse Crypto Projects Worth Investing in?
Read on to learn more about the investment thesis of the best metaverse crypto coins that the market has to offer in 2023.
Unprecedented Upside Potential
We mentioned that from its launch in 2017 to its peak in 2021, Decentraland's underlying token – MANA, witnessed unprecedented growth of nearly 20,000%.
This is because when MANA was first launched, it was a small-cap project that was entering the metaverse market for the first time. Although MANA still has plenty of upside potential it is already valued at over a billion dollars, so gains will be unlikely to mirror previous returns.
With that being said, there is a small selection of other metaverse crypto coins that are only just getting started and thus – are yet to list on a crypto exchange. This means that early investors can secure a super-low entry price and subsequently gain exposure to the project while it has a small market capitalization.
Moreover, a recent study discovered that the metaverse will be all around us and worth $5 trillion by 2030, demonstrating its potential influence on diverse aspects of society and the global economy.
Metaverse Concept Supported by Established Global Brands
While skeptics will argue that the metaverse is a fad, this sentiment isn't shared by many of the world's largest brands.
For example, Facebook rebranded to Meta Platforms in late 2021. This is associated with the social media giant's plans to dominate the metaverse space in the coming years.
In addition to Meta Platforms, other brands that are investing in the metaverse include Google, Apple, Microsoft, Nvidia, and many others, with the likes of Adidas, Samsung and Louis Vuitton buying metaverse plots of land in The Sandbox and Decentraland.
Land and Real Estate Ownership
One of the most attractive features of many metaverse projects is that it enables investors to buy virtual plots of land. Each plot will be backed by an NFT on the blockchain, so ownership is verifiable.
Furthermore, NFTs can be traded in open marketplaces. This means that at some point in the future, owners of virtual metaverse land have the opportunity to sell their investment to another person.
Just like in the traditional real estate market, land prices in the metaverse are determined by demand and supply. This is why some plots in the Sandbox are now trading for seven figures.
A more affordable option is to buy virtual land in an emerging metaverse project, such as RobotEra – once its metaverse launches later in the year, there will be plenty of plots up for grabs, which can be built upon and used to generate income through renting property or holding ticketed events.
Metaverse Diversification
We analyzed 12 of the best metaverse crypto coins in the market earlier in this guide, but there are many others. In fact, according to CoinMarketCap, there are now more than 240 metaverse tokens in this space.
This enables investors to build a diversified portfolio of metaverse projects. In most cases, metaverse coins can be purchased for just a few dollars.
A potential strategy here is to invest in metaverse coins from a range of niche markets. For example, RobotEra is a top option for metaverse real estate, while LHINU is great for gaining exposure to vote-to-earn rewards.
Bear Market Pricing
Although there appears to be a slight recovery in the making, the cryptocurrency markets are still largely bearish. From an investment perspective, this means that it is possible to buy a range of quality metaverse crypto coins at a discount.
For instance, the likes of Tamadoge and Battle Infinity are both trading below their former all-time highs – this is also the case for Decentraland and The Sandbox, which are hugely down from the 2021 bull run.
Buying into top-rated metaverse projects during the bear market is a great way to gain exposure to this space at an attractive entry price.
Metaverse Presales
We listed several projects currently engaged in their respective presales. By investing in one of the aforementioned presales, investors will secure the lowest cost price possible.
In almost all instances, once the presale is over, the respective metaverse coin will list on a crypto exchange at a higher price.
Conclusion
The metaverse is expected to become a trillion-dollar industry within the next decade, so now could be a great time to begin building a portfolio of quality coins.
Love Hate Inu is a top-rated new metaverse project currently raising funds via its presale. Nearly $1.3 million has been raised in just two weeks since launch thus far, highlighting this metaverse coin's popularity.
Investors can buy $LHINU tokens right now via the Love Hate Inu presale dashboard, which accepts ETH and USDT.
FAQs
What is crypto metaverse?
Which cryptos are in the metaverse?
What is the best metaverse crypto to invest in?