Move-to-earn (M2E) cryptocurrencies are the latest trend in the market, allowing you to earn real money by completing tasks, working out, or playing games. This emerging niche aims to encourage physical movement by offering crypto incentives.
This article explores the best move-to-earn crypto to invest in. We'll analyze each coin, review its performance, and provide an overview of these M2E projects. We'll also see why it's a good time to invest in M2E projects, especially while the crypto market strives to recover.
The Top 10 Move-to-Earn Crypto to Buy for 2023
As per our research, we have compiled the best move-to-earn crypto to buy for 2023 below.
Bitcoin ETF Token: Best M2E Alternative With A Unique Market Concept And 25% Token Burn
Bitcoin Minetrix: Another Move-to-Earn Alternative With Great ROI Mechanisms And High APY

Fight Out

: Great Play-To-Earn Crypto with a Train-to-Earn Model Offering Exciting Rewards

STEPN

: Promising M2E crypto to Buy that Rewards You for Hitting Your Daily Step Goals

Step App

: Emerging Fitness App Rewarding Users for Completing Daily Steps

Green Satoshi Token:

STEPN's Utility Token with Huge Upside Potential

Sweat Economy:

A Decentralized M2E Crypto that Rewards Users for Engaging in Fitness Activities

Walken

: Fitness App with Exciting M2E Rewards for Walking and Running

Dotmoovs:

Platform that Rewards Users for Participating in Virtual Sports Competitions

Genopets:

A Blockchain-based Game Rewarding Players for Upgrading Digital Pets
Analyzing the Best Move-to-Earn Crypto to Invest In
Looking for the best crypto projects in any sector often requires analyzing the project's use cases and potential in the coming times.
In the following sections, we'll look in-depth at ten investment opportunities within the M2E crypto sector, providing a better picture of the top ways to earn money.
1. Bitcoin ETF Token: Best Move To Earn Alternative With 500% PoS APY And 25% Token Burn
Bitcoin ETF Token ($BTCETF) is a new initiative and great M2E alternative that aims to capitalize on assumed SEC approval of Bitcoin ETFs. Many industry insiders have hinted that this is an inevitability and is a question of when, not if.
Those who believe such an approval is imminent might benefit from holding this token, which could easily 10x, should it take place.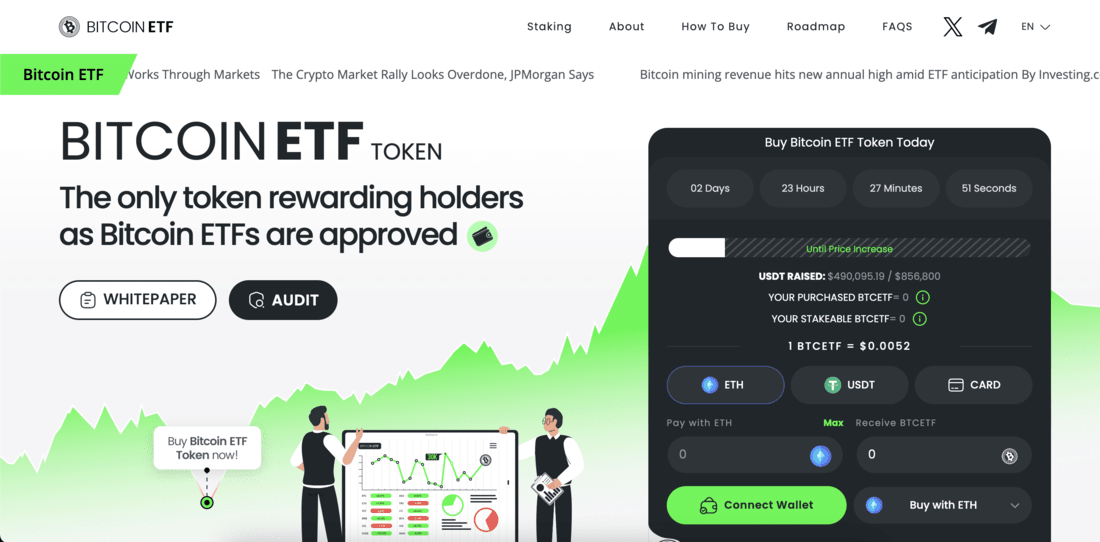 This campaign is different from most crypto presales because it is connected to real events in the wider market. For instance, the roadmap outlined in the Bitcoin ETF Token Whitepaper has five key milestones. All but one of these relate to significant market events, such as the price of Bitcoin hitting $100,000 or the total AUM of the BTC ETF market reaching $100 billion.
The main milestone is the SEC approval of Bitcoin ETFs, and this is what that campaign hinges upon. Should this come to pass, it could open up the markets to far more investment. The price of BTC and altcoins could skyrocket, and the total crypto market cap could increase by hundreds of billions of dollars.
As each milestone is achieved, 5% of the total supply is burned and the 5% burn tax is reduced by 1%. This is a huge 25% token burn, a deflationary mechanism that serves to reward coin holders. Along with this, the presale offers high dynamic PoS APY (currently above 500%) and a large presale price increase.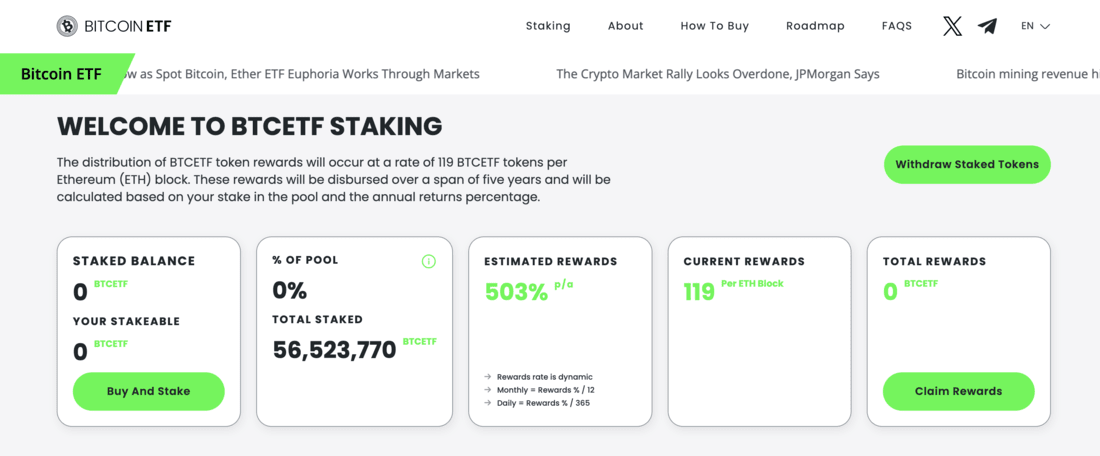 In the first round, the price per $BTCETF is $0.0050. This will rise to $0.0068 by stage ten, which is nearly a 40% increase. There are 840 million tokens up for grabs in the presale, out of the total 2.1 billion supply.
This could be the best token on the market to hold if the SEC ends up passing Bitcoin ETFs, a move that could be executed as soon as December 2023.
More details can be extracted from the Bitcoin ETF Token Whitepaper. For essential alerts and updates, it's a good idea to connect with the Twitter and Telegram social media accounts.
| | |
| --- | --- |
| Hard Cap | $4.956 Million |
| Total Tokens | 2.1 Billion |
| Tokens available in presale | 840 Million |
| Blockchain | Ethereum Network |
| Token type | ERC-20 |
| Minimum Purchase | NA |
| Purchase with | USDT, ETH, BNB, MATIC, Card |
2. Bitcoin Minetrix: Top Crypto Coin With 1,260% APY% World First Stake To Earn Ecosystem
Bitcoin Minetrix (BTCMTX) is an inventive new presale that offers three ROI verticals for investors – price appreciation, APY, and BTC mining rewards. It currently offers a 1,260% APY as is priced at a presale discount. The cost is $0.011 in its initial stage, though this will rise to $0.0119 by the final stage, stage 10.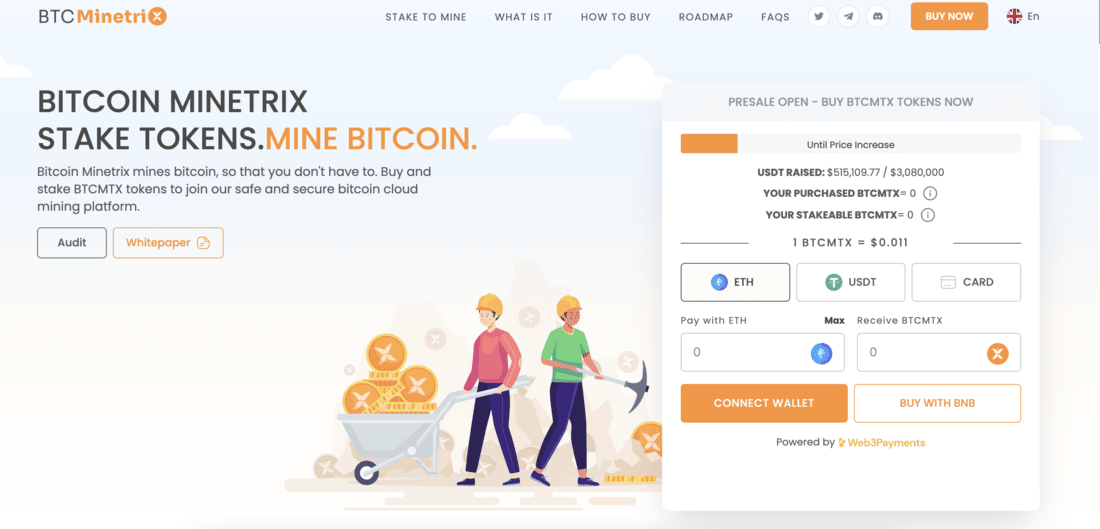 It does this through a new stake-to-mine mechanism, which is the first of its kind. Stakers burn their BTCMTX ERC20 token in return for Bitcoin cloud mining credits. These Bitcoin cloud mining credits are then burned in return for Bitcoin. It's very simple, and requires only a $10 upfront investment.
Users can manage all of their activity in a single interface, with the option to stake, withdraw, or burn their tokens. A mobile application is also under development to enhance the user experience.
This is in stark contrast to the existing situation regarding Bitcoin mining. It is very expensive and hard to compete, not to mention environmentally destructive.
And there are few reliable BTC cloud mining companies on the market, the industry being known for unsafe providers who steal client funds. Bitcoin Minetrix, on the other hand, allows users to retain full control, with non-transferrable Bitcoin cloud mining credits.
There are a total of 4 billion tokens, with 2.8 billion up for grabs in the presale. In terms of token allocation, 42.5% go to mining, 35% to marketing, 15% to the community, and 7.5% to staking. The campaign has further undergone a smart contact audit with an established provider, with stellar results.
While this project does not meet the classical definition of a stake-to-earn, we felt we had to include it due to its positioning, with multiple ROI verticals and a truly unique concept that could open up the Bitcoin cloud mining industry, once again.
For more information, read the Bitcoin Minetrix Whitepaper, and tuneinto the socials – Twitter and Telegram.
| | |
| --- | --- |
| Presale Started | September 2023 |
| Purchase Methods | USDT, ETH, BNB |
| Chain | Ethereum |
| Hard Cap | $32 Million |
| Min Investment | $10 |
| Max Investment | None |
3. Fight Out: Excellent Play-To-Earn Crypto with a Train-to-Earn Model Offering Exciting Rewards
Fight Out is a revolutionary fitness platform that combines gamification with cutting-edge features to keep its users motivated and invested in their health and wellness routines.
With its innovative train-to-earn approach, Fight Out establishes itself as a leading contender in the play-to-earn domain.
After quickly raising over $5.9 million USDT in its ongoing presale phase, the platform has attracted investor attention recently. With $FGHT selling out for a presale rate of only $0.0333 USDT, Fight Out is one of the best crypto presales in 2023.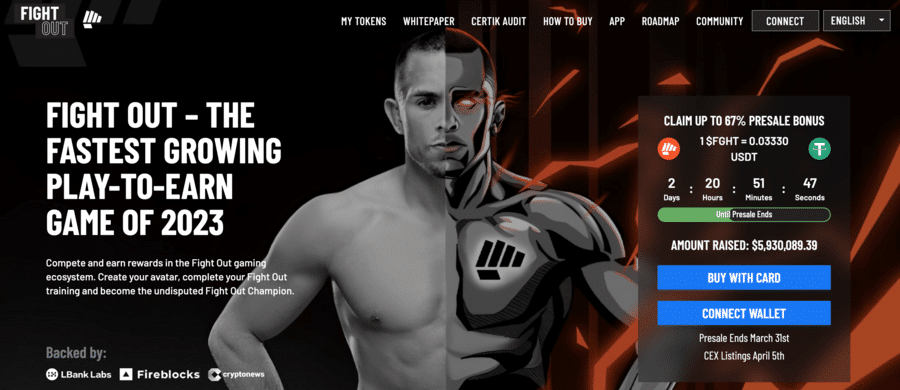 As per the Fight Out whitepaper, Fight Out's gamification strategy includes the creation of Soulbound NFT avatars in its metaverse, a feature not found in other fighting games. Adding a new layer of fun and engagement makes the user's fitness journey more enjoyable and interactive.
Unlike its competitors that mainly emphasize walking and demand pricey NFTs, Fight Out has developed an application that takes a more comprehensive approach to improve user well-being. As a result, Fight Out could be the next crypto to explode in the NFT fitness industry.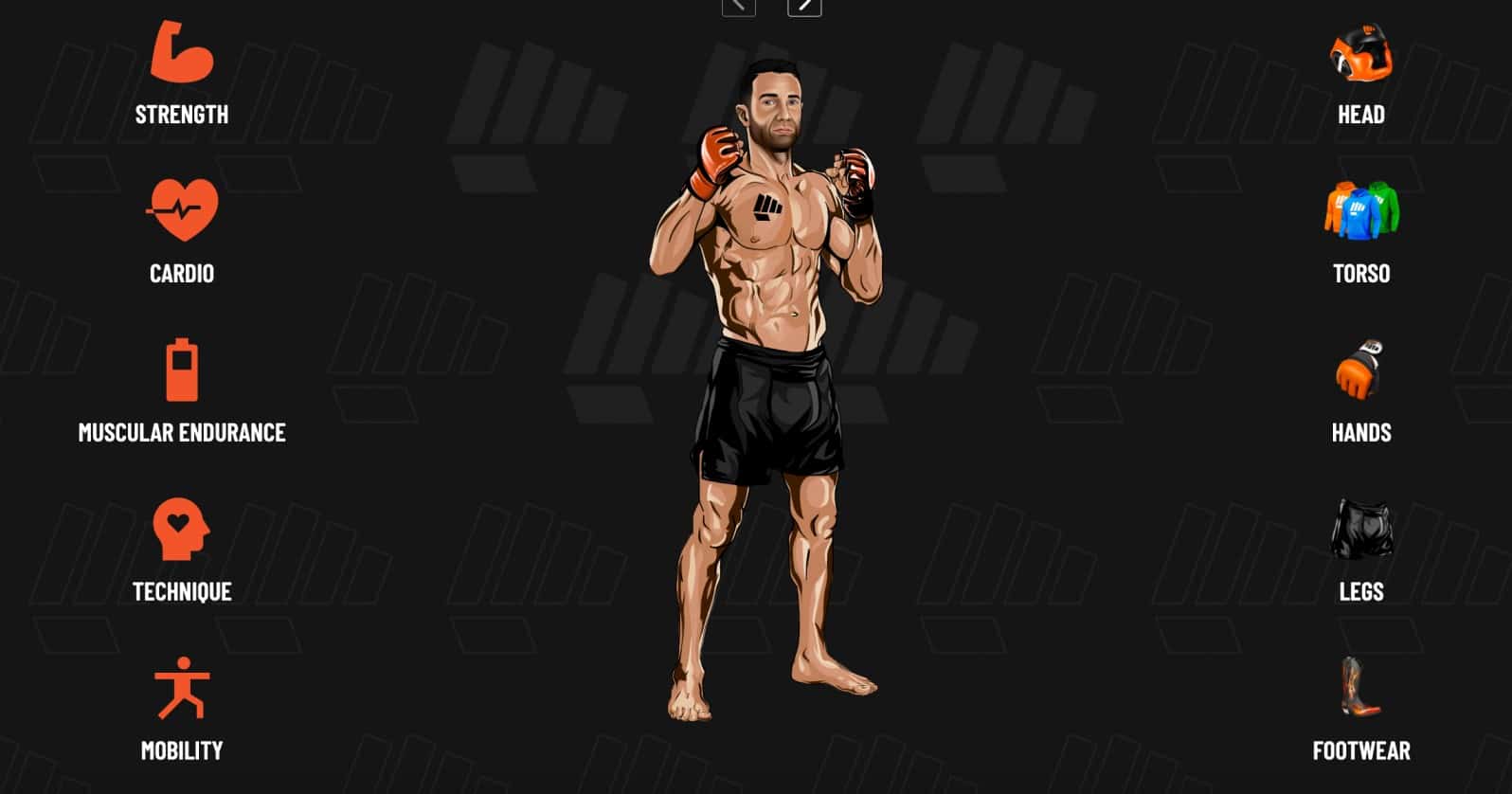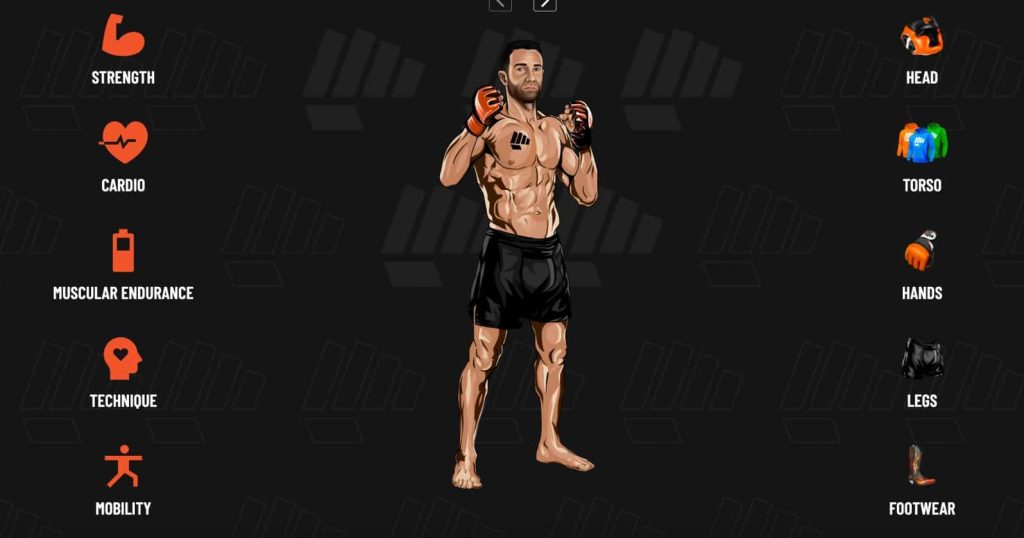 Soulbound NFTs, tied to the users' actual physical fitness data, increase in value as users improve their fitness levels. This allows players to engage in competitive gameplay within Fight Out's metaverse, making $FGHT one of the best metaverse coins.
Moreover, revenue in the Metaverse health and fitness sector is forecasted to reach US$6.57bn in 2023. Fight Out's unique train-to-earn approach can help the platform thrive in this growing industry.
Fight Out rewards a digital currency called REPS that users can earn by completing in-app challenges and daily workouts. It is an additional incentive to keep users committed to their fitness goals. Users can then use REPS to buy NFTs and other subscriptions on the platform, adding more value to their exercise routine.
Working with well-known mixed martial artists like Amanda Ribas and Taila Santos has boosted Fight Out's credibility and appeal as a fitness platform, in addition to the platform's innovative features.
In addition to the opportunity to compete in platform tournaments, investors can reap the benefits of the platform's Tokenomics and Bonuses.
Starting April 5th, the price of the $FGHT token is set to be listed on CEX, and early investors can earn up to a 67% bonus during the presale, depending on the amount invested and lock-up duration.
The new bonus system eliminates the previous three-month minimum vesting period requirement. Additionally, current investors will receive a 10% airdrop on their holdings. These purchase bonuses and unique train-to-earn rewards make Fight out one of the best altcoins in the P2E sector.
Early investors will have access to 13.5% of the total 10 billion tokens during the presale. Users can join the Fight Out Telegram Channel to keep up with the latest news.
| | |
| --- | --- |
| Presale Started | December 14 |
| Purchase Methods | ETH, USDT, Transak |
| Chain | Ethereum |
| Min Investment | None |
| Max Investment | None |
4. STEPN: Promising M2E crypto to Buy that Rewards You for Hitting Your Daily Step Goals
The STEPN app is designed to make it simple for its users to keep track of their physical activity throughout the day. STEPN rewards its users for leading healthy, energetic lives.
The cryptocurrency is "step-based," meaning that users gain coins in proportion to their daily steps. The community has responded positively to this new approach of earning rewards, which helps STEPN stand out from other move-to-earn initiatives.

Earning potential is increased thanks to the variety of tasks and missions available on STEPN. Users can earn cryptocurrency by participating in a wide variety of activities, and they're sure to find something they'll enjoy.
A user can earn cryptocurrency by walking, running, cycling, and even doing chores around the house. There are challenges within the app that users can complete for extra benefits.
STEPN is a unique gaming platform where players can buy NFT sneakers at varying prices depending on their rarity, special features, and other factors. To encourage millions of people to adopt a healthier lifestyle through monetary incentives, this is one of the most exciting NFT games currently available.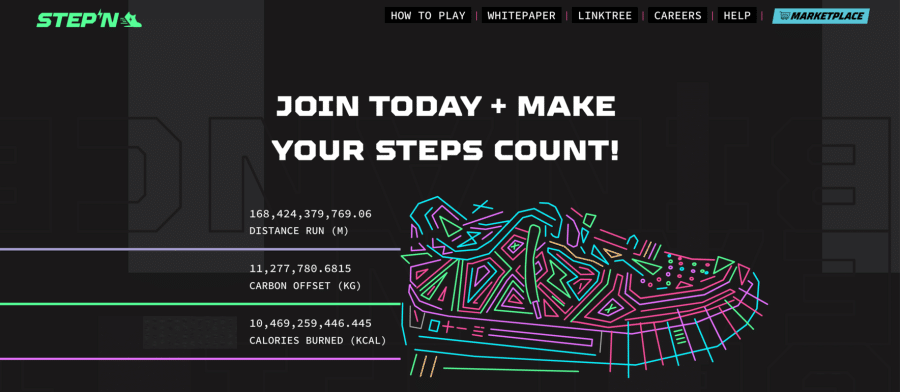 GMT (Green Metaverse Token) is the platform's governance token, granting users access to premium features and customizations. This token is vital to the STEPN ecosystem as it offers numerous advantages and rewards to participants. If you're interested in the GMT token, you can begin trading it on the Crypto.com platform.
The NFT sneakers in STEPN gain levels as players use them, which is an excellent feature. Moreover, the GPS tracking system ensures that players' movements are monitored. The platform has also incorporated innovative moonwalking techniques to keep players motivated and engaged as they strive to achieve their goals.
5. Step App: Emerging Fitness App Rewarding Users for Completing Daily Steps
The Step App (FITFI) cryptocurrency project bridges the gap between the fitness and financial industries to form the new FitFi sector. The Step App is an augmented reality fitness app that, like STEPN, allows users to undertake fitness quests alongside their metaverse avatars.
Players need to buy Sneaks, which stands for usable NFTs, to keep track of their in-game progression. Users can purchase FITFI, the platform's governance token, in exchange for tokens earned through walking and jogging.
The tokens have a 5 billion unit supply cap and are fueled by ecosystem fees. The token's price as of March 2023 is $0.0178.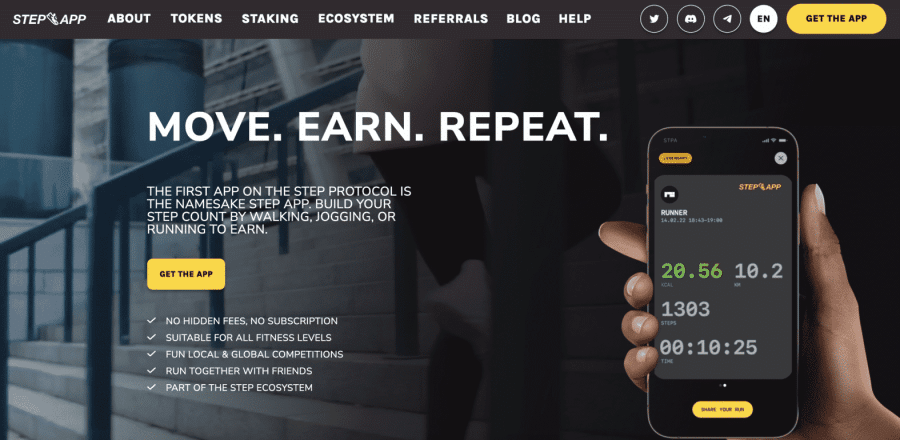 In-game earned KCAL tokens can be used to buy Sneak NFTs on the platform. The Step App is unique in that it rewards users for exercising and allows them to engage in a new, exciting form of gaming that combines fitness and cryptocurrency.
The Step App is a ground-breaking venture that merges the fields of fitness, gaming, and cryptocurrency to form a brand-new market segment called FitFi. The Step App is set to become a significant player in cryptocurrency and wellness with its augmented reality-based technology and exciting gameplay. You can get started and obtain FITFI by purchasing it on the crypto.com platform.
6. Green Satoshi Token: STEPN's Utility Token with Huge Upside Potential
Like GMT, Green Satoshi Token (GST) plays a significant role in the STEPN ecosystem. Although GMT is used for governance purposes, GST is the platform's utility token because it grants access to those features.
Players who have invested in a pair of NFT shoes on the platform can switch to Solo mode and begin accruing GST tokens through normal gameplay. Energy is needed to earn tokens, with 1 energy equaling 5 minutes of movement.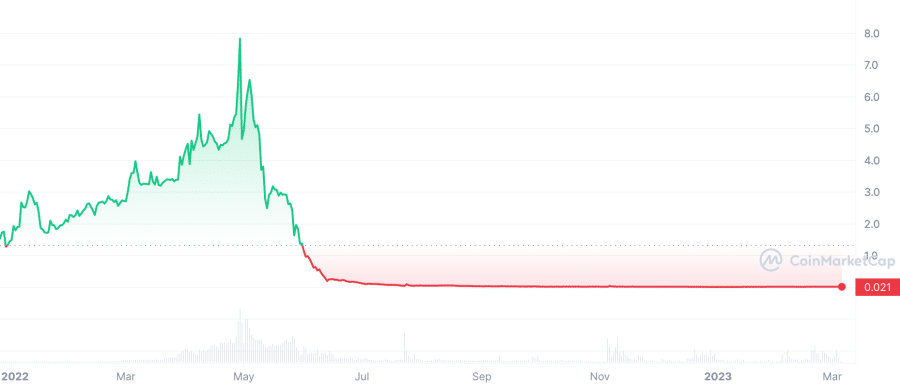 Different styles of NFT footwear have different levels of efficiency, so different types of sneakers can be used to accumulate energy faster. For instance, the 'Runner' NFT sneaker can produce 6 GST for every 1 energy gained when traveling at top speed.
Not only can users buy NFT shoes with GST, but they can also use GMT tokens to mint sneakers and advance in levels.
GST has an infinite supply of tokens, a current market cap of nearly $15 million, and a price per token of $0.021. Over the years, the token has survived user criticism and the collapse of the cryptocurrency market.
As the token keeps gaining popularity, it could continue to see more listings on top exchanges like eToro. CopyTrader and CopyPortfolios are among the copy trading features supported by eToro. The platform also boasts a crypto wallet with low trading fees.
7. Sweat Economy: A Decentralized M2E Crypto that Rewards Users for Engaging in Fitness Activities
Sweat Economy (SWEAT) incentivizes users to move and earn physical rewards. SWEAT has gained considerable traction among health-conscious individuals who value physical activity.
The SWEAT app records the number of steps and movements throughout the day, and users are rewarded with SWEAT coins for these moving.
It's no secret that one of SWEAT's main selling points is the motivation it gives its users through real-life rewards. With the ability to trade these rewards for other cryptocurrencies or fiat currencies, users can cash out their efforts in real money. Those with difficulty sticking to their workout routines may find this very encouraging.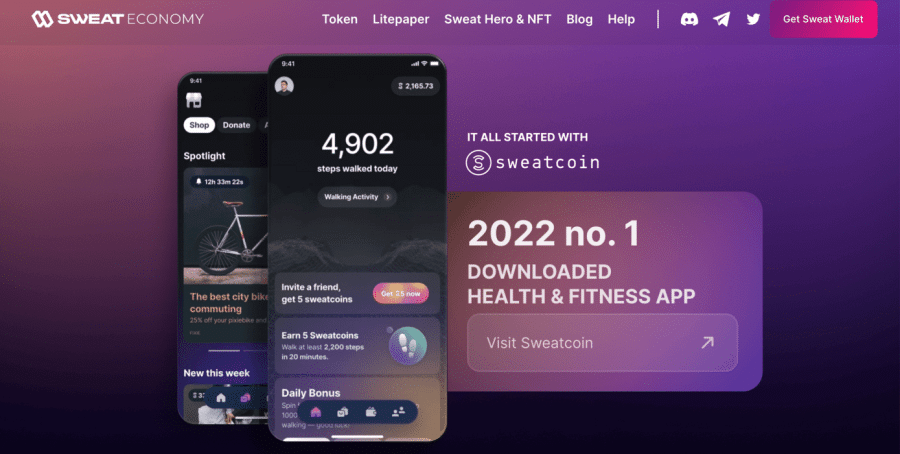 Because of SWEAT's intuitive design, anyone can quickly and easily begin earning crypto rewards. It includes several helpful features and tools that simplify tracking your physical activity levels and accumulating SWEAT coins.
The app's users also have the opportunity to connect with others who share their interests in health and fitness. The app can be downloaded for free on Android and iOS devices. The growing popularity of this token could lead to additional listings on major exchanges such as eToro, which offers a range of features with affordable trading fees.
8. Walken: Fitness App with Exciting M2E Rewards for Walking and Running
The Walken platform is a mobile app that rewards users for exercising and playing games with WLKN tokens. It is a fungible governance and staking token that can be spent in the app's simplified DeFi applications and used to improve the user's experience.
By syncing information from Apple Healthkit and Android Health, the app can calculate a user's daily step count and reward them with Gems, the app's virtual currency, in exchange for those steps.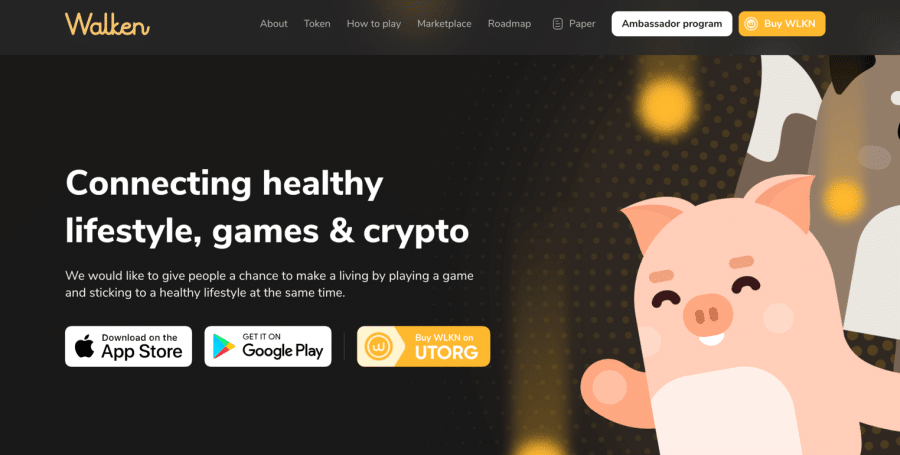 To participate in battles and win WLKN tokens, users must first level up their characters, or CAThletes, using Gems. Users can earn WLKN tokens by staying active and playing the app's games, and those tokens can be spent in NFT marketplaces to purchase or sell the game's in-app characters.
The true power of Walken is in its ability to integrate directly with DeFi platforms, thereby encouraging new crypto holders to begin earning more tokens by adopting a healthier lifestyle.
Thanks to the app's social sharing feature, users can join forces with friends or random users to build a leaderboard and brag about their accomplishments on social media. Moreover, the token's surge in popularity can help it secure more listings on exchanges like eToro in the coming times.
9. Dotmoovs: Platform that Rewards Users for Participating in Virtual Sports Competitions
Dotmoovs is an innovative tech and sports company that uses artificial intelligence and a custom algorithm to track player movement and skill.
The platform has integrated NFTs and its native crypto, MOOV, into its cutting-edge technology platform. As a reward for performing sports tricks and skills, network users can compete in peer-to-peer challenges and win MOOV tokens.
Tokens, minted as NFTs and used to buy in-game items and virtual avatars, can also be earned by competing in dance and soccer tournaments.
To top it all off, the platform has its own NFT marketplace where users can shop for digital versions of real-world items like soccer balls and sneakers. Currently, buyers can grab the tokens for nearly $0.0074 each.
As more people become aware of the token's benefits and use cases, demand for it will likely increase, further driving its popularity and adoption. Given their reputations as leading platforms for crypto trading and investments, Crypto.com and eToro could list the token thus boosting its chances of mainstream adoption.
10. Genopets: A Blockchain-based Game Rewarding Players for Upgrading Digital Pets
The Genopets (GENE) platform is a new-age, free-to-play, M2E cryptocurrency built on the Solana blockchain. Users are incentivized to keep moving by adding their step count to a larger pool of data for use in a game's "play-to-earn" economy.
Users can create their own NFT avatars called "Genopets," representing their real-life fitness performance. As they move and upgrade their NFT avatars, players can help their pets develop, and they can pit their pets against one another in challenges on the Genoverse.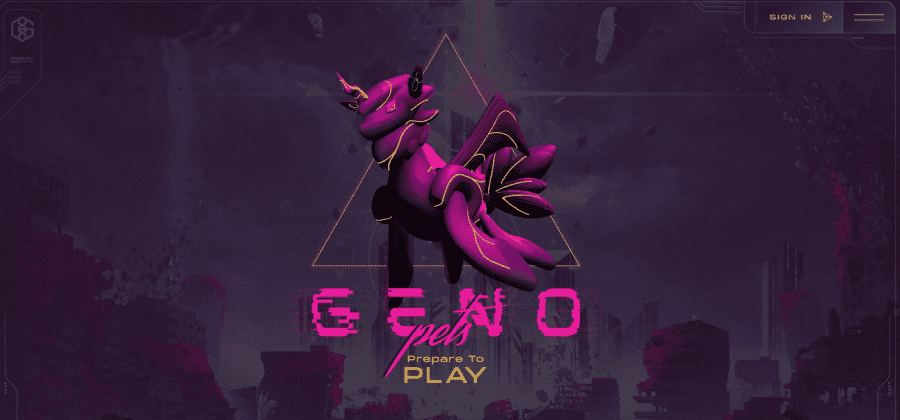 The value of a user's Genopets on the platform is measured in GENE, the platform's governance token. Out of the 100 million GENE tokens, only 4.7 million are circulating at press time. As the bears stepped in, the price of a single GENE token dropped from its all-time high of $35 in November 2021 to its current low of $0.68.
As the public's knowledge and understanding of the token's advantages and practical applications continue to expand, its demand is expected to increase, strengthening its popularity and adoption. As a result, reputable cryptocurrency trading and investment platforms such as eToro and Crypto.com may choose to list the token.
What is Move-to-Earn Crypto?
Move-to-earn apps have exploded in popularity because they allow users to earn cryptocurrency rewards for participating in physical activity. Compared to more conventional Play-to-Earn (P2E) web3 apps, which provide users financial incentives for participating in online games, M2E encourages users to maintain an active lifestyle by engaging in various physical exercises and activities.
The M2E model takes existing technologies and seamlessly integrates them to create a brand-new fitness product. These apps use GPS, NFTs, blockchain, cryptocurrencies, and gaming technologies to monitor users' movements and award them points as they play.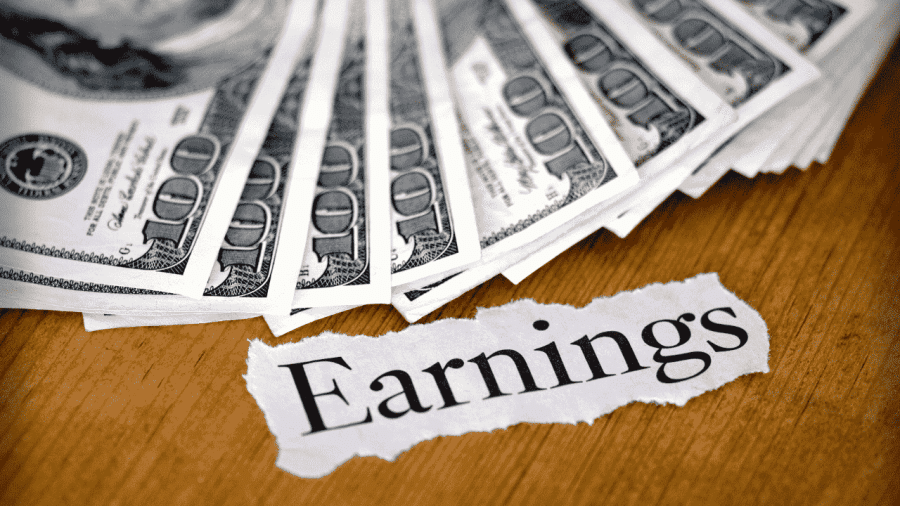 Earning M2E rewards allows players to buy or create their own NFTs, which can then be used to purchase or improve NFTs that reflect the player's real-life fitness metrics. These NFTs or cryptos can be traded for real money on a secondary market, allowing players to profit from their time spent in the game.
Some 'move to earn' apps are free to download and use, while others require users to first buy NFTs. Users can earn real money by staying active and earning rewards through these apps.
The rise of "move to earn" apps has changed the gaming industry by incentivizing users to be more active in achieving their goals. Developers have created an engaging and profitable ecosystem for users and developers alike through blockchain, NFTs, and cryptocurrencies. It will be fascinating to see how M2E apps progress to help people lead healthier and more active lives worldwide.
Why Invest in M2E Crypto Projects?
Move-to-earn projects have been gaining popularity in the crypto world, with more people interested in combining fitness and cryptocurrency. Investing in M2E crypto projects can be a wise decision for several reasons. Here are some reasons why:
Expanding market
Growth in the market for M2E apps and products provides investors a chance to back M2E ventures with promising financial prospects. In recent years, and especially during the COVID-19 pandemic, there has been a rise in the demand for fitness and wellness apps as more people look for ways to stay active to improve their overall health.
The health and fitness app market will likely continue growing from its current level in the coming years. In fact, the global M2E market is expected to grow at a CAGR of 18.3% until 2030.
This expansion opens up a vast window of possibility for M2E projects to reach a sizable audience, providing a steady revenue stream for users and investors.
Alternative to Traditional Exercise Programs
M2E projects provide an alternative to traditional exercise programs. While some enjoy going to the gym or taking fitness classes, others find these activities boring or intimidating.
Move-to-earn platforms, on the other hand, offer a fun and interactive way to stay fit. By gamifying physical activities and offering rewards for completing challenges, M2E projects make exercise more engaging and enjoyable.
M2E platforms create a new market for fitness-related products and services. As more people become interested in these projects, companies will develop new products and services to meet their needs.
This could include fitness trackers, workout gear, and other accessories designed for M2E activities. This new market could provide significant opportunities for investors and entrepreneurs.
Opportunities For Existing Products
Users can usually sell or buy their NFTs and other cryptocurrency rewards on a secondary market for M2E projects. Because of this, buying and selling these assets can generate a profit for investors. As more people become interested in combining fitness and cryptocurrency, the secondary market for M2E projects has the potential to expand.
Generates Passive Income
Investing in M2E projects can also generate passive income. Investors can earn a steady income stream without additional work by earning rewards for completing physical activities. This can be particularly attractive to investors looking for alternative income sources.
Diversification
Investing in the move-to-earn crypto projects can also offer diversification benefits to investors. By allocating a portion of their portfolio to these projects, investors can gain exposure to a different asset class and potentially reduce their overall portfolio risk.
Promotes Environmental Sustainability
Finally, M2E projects can promote environmental sustainability. Many M2E projects are designed to encourage people to walk, bike, or use public transportation instead of driving. This can help reduce carbon emissions and promote a more sustainable way of life.
Investing in M2E projects can provide several benefits. From promoting physical fitness and encouraging social interaction to create a new market for fitness-related products and services, M2E projects offer a unique value proposition that can appeal to a wide range of investors and entrepreneurs.
Conclusion
The concept of move-to-earn platforms, which reward users in crypto for participating in physical activity, has emerged as an exciting new trend.
According to our research, Bitcoin ETF Token is the best available token right now, even if it is not technically a move to earn in the classical sense of the word.
It provides amazing ROI potential with a unique concept that targets SEC approval of BTC ETFs, and further offers high APY to investors.
FAQs
What is Move-to-Earn cryptocurrency?
Can I earn crypto by walking?
How can I earn crypto for free?