NFTs are steadily becoming mainstream, and have now grown past the simple PFP pictures of apes and animals that many people previously sneered at. With the rise in NFTs have come numerous NFT marketplaces, and selecting the best NFT marketplace for you is a challenge.
Here, we rank the best NFT marketplaces, detail their pros and cons, and what factors we use to rank them, and go through the many different types of NFT marketplaces out there.
The Top NFT Marketplaces Ranked
Once you've dived into the world of NFTs, finding the best NFT marketplace for you can seem impossible. That's why we've ranked the 8 best NFT marketplaces here and given a detailed review of each below.
OpenSea: The most popular NFT marketplace, and regularly ranked best NFT platform, for newbies. OpenSea lists NFTs from nine different blockchains and has held the top spot in the market for a while.
BLUR: BLUR has quickly risen through the ranks of NFT platforms and is eyeing the top spot by regularly posting the highest daily trading volume of all NFT marketplaces. It is feature-rich and offers sophisticated trading tools for NFT collectors and flippers.
Rarible: An open and community-owned NFT marketplace that offers multiple wallet connections and aggregates listings from other top marketplaces.
Nifty Gateway: An NFT marketplace curating art from vetted artists for serious art collectors. Best known for selling the work of Beeple. Offers credit and debit card payments, and users of a custodial wallet can enjoy gas-fee-less transactions.
OKX NFT Marketplace: Offers NFTs on an incredible 17 different chains and is connected to the OKX exchange should users want to trade their crypto for a different currency to purchase NFTs.
SuperRare: Through a clean and easy-to-use interface, SuperRare offers a community of art lovers a selection of curated crypto-art. Artist royalties are enforced, and community governance of the platform is on the horizon.
Binance: An NFT marketplace connected to the biggest name in crypto exchanges, operating on a similar format to the Binance exchange and making NFT trading easy for the beginner.
SuperRare: Offering a curated selection of art to a community of art lovers. Users receive rewards in the platform's token, which can be staked to earn a share of the platform's fees. Also aggregating listings from the best NFT marketplaces.
The Best NFT Trading Platforms Reviewed
In this section we'll review the top 8 most popular NFT marketplaces in 2023 saving you the time and effort.
1. OpenSea: Most Popular, Beginner-Friendly, Multi-chain, Accepts Fiat Payments
OpenSea is the platform we have ranked as the best NFT marketplace. It is one of the oldest platforms out there, having launched in December 2017, and has kept up with the pace of the market and customer's needs since then. It is easy for beginners to use and features an extensive education section to help newcomers to the NFT scene get to grips with what is going on and even mint and sell their own NFT.
OpenSea is an open NFT marketplace and lists all types of NFT including, art, gaming, metaverse, trading cards, music, photography, and more! According to DappRader, OpenSea has the highest number of NFT traders and sales, just shy of 65 million, and has seen over $36 billion in NFT volume—beating the other marketplaces in these categories by a considerable margin.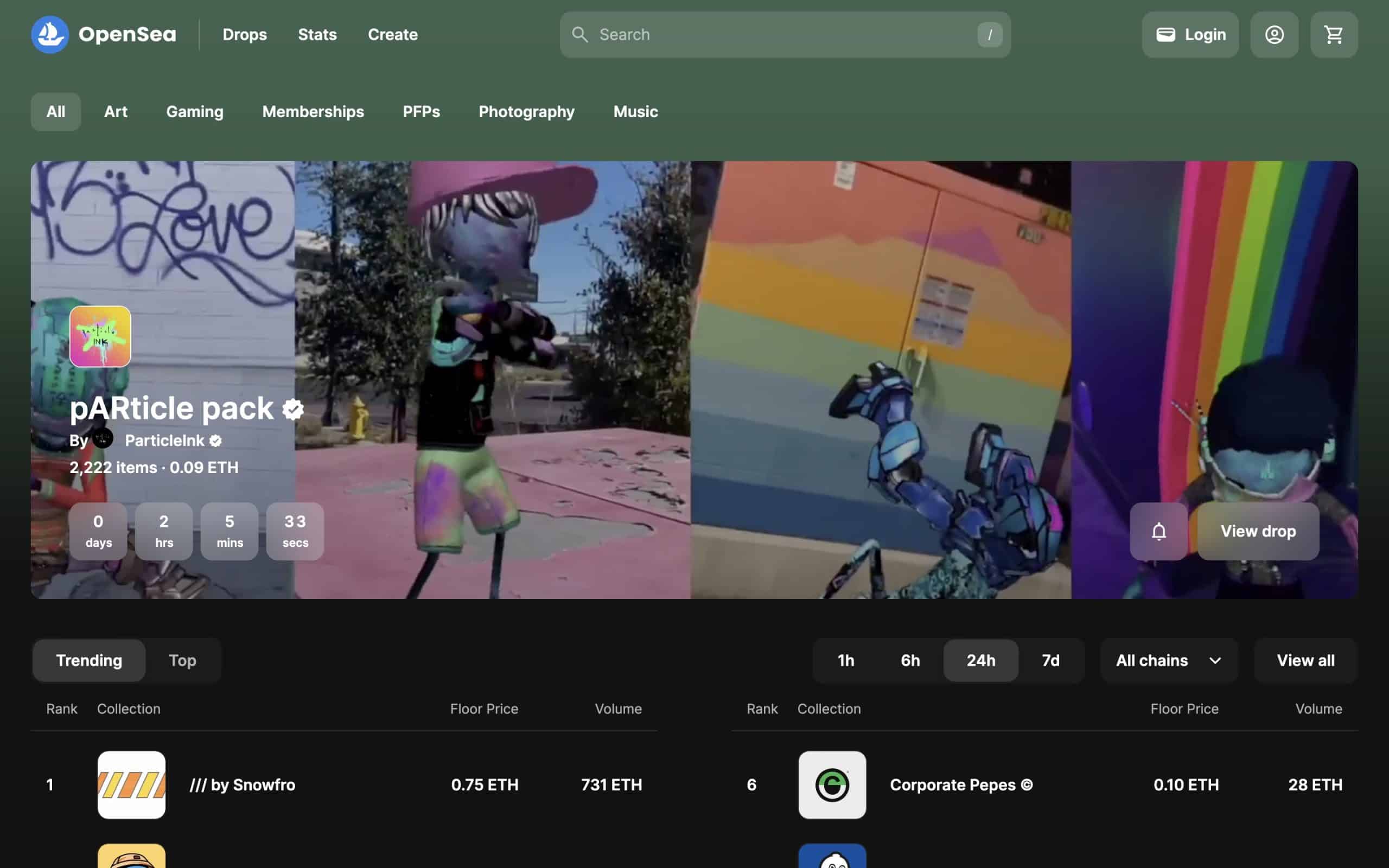 Regarding features, OpenSea is feature-rich, allowing you to search the platform in multiple ways and refine your search by collection, chain, sales type and more! On that note, NFTs can be sold and bought at a fixed price or through timed auctions.
A flat 2.5% fee is charged to the seller for each item sold on the platform. One factor that makes OpenSea hugely beginner-friendly is that you can buy an NFT with a credit or debit card (through the MoonPay 3rd party service) on OpenSea, meaning you don't have to own or go through the process of buying, cryptocurrencies.
The OpenSea marketplace lists NFTs from 9 different blockchains, the second most out there behind the OKX NFT Marketplace. From a seller's point of view, royalties are not enforced on the platform, but they are optional if the seller does want to honor the royalties set by an NFT's creator.
It is worth noting that, because it has such a large market share, OpenSea has not been immune to bad news and there was a hack in 2022 and several users fell foul of a phishing attack in the same year.
There was also a former OpenSea manager convicted of insider trading in 2023.
Finally, OpenSea offers another version of its NFT marketplace, called OpenSea Pro, that targets high-volume buyers and sellers. OpenSea Pro is a NFT marketplace aggregator that allows you to browse and buy NFTs from over 170 marketplaces, alongside those from OpenSea. It offers a different fee structure and some extra features.
| | |
| --- | --- |
| Stats | OpenSea |
| Chains | Ethereum, Polygon, Klaytn, Solana, Arbitrum, Optimism, Avalanche. BNB, Base |
| Fiat Payments accepted | Yes (3rd party) |
| Platform Fees | 2.5% |
| Services | Buy, Mint, Sell |
| Auctions | Yes |
| Royalty Enforcement | No |
| App | Yes (iOS and Android) |
Top Features

Most popular NFT marketplace
Easy for beginners to use with lots of educational content
Covers the most popular NFT networks
Pros
Wide variety of listings
Lists NFT from multiple chains
Can use debit and credit cards through 3rd party
Easy to use with an extensive education section
Cons
2.5% platform fees
Doesn't enforce creator royalties
Has been hacked before
2. BLUR: Up-and-Coming, Ethereum-Only Marketplace for Serious Traders and Collectors with 0% Fees
The BLUR NFT marketplace was launched in October 2022 and has since gained a huge following in the NFT world. It is currently second, behind OpenSea, in overall trading value, and consistently tops the daily trading volume charts by a large amount.
BLUR is not built for beginners and newbies and is designed for NFT enthusiasts. Specifically, it is best for:
Traders, those who like to flip NFTs
Collectors, those who want to search through collections to find specific traits
Offering tools that assist both these types of users in their goals. On top of its own listings, BLUR aggregates (Ethereum only) listings from the OpenSea and LooksRare marketplaces. Alongside this, the platform also offers a sniping service, with in-depth collection and wallet analytics tools, to help give users an advantage over others. There is also a tool that allows users to sweep the floor of multiple NFT collections at once.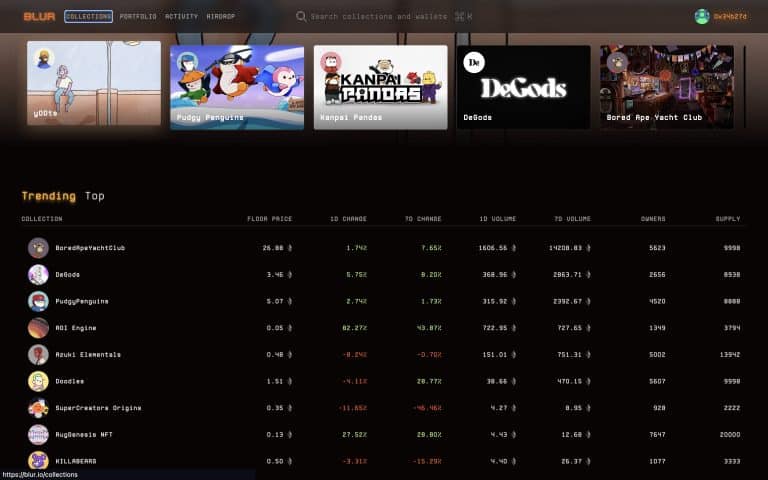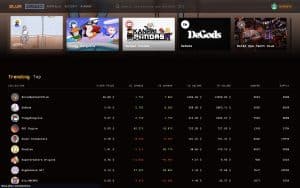 One of the platform's biggest selling points is that it offers NFT trading with 0% fees and enforces a minimum of 0.5% royalties on all sales. BLUR also allows users to offer out ETH loans against an NFT. The platform is also in the process of airdropping its token to loyal users. This token will be used in platform governance and will allow holders to receive a share of the platform's profits.
| | |
| --- | --- |
| Stats | BLUR |
| Chains | Ethereum |
| Fiat Payments accepted | No |
| Platform Fees | 0% |
| Services | Buy, Sell |
| Auctions | No |
| Royalty Enforcement | Yes (0.5% minimum) |
| App | No |
Top Features

Feature rich platform for professional trader and NFT collector
Can offer ETH loans against NFTs
Pros
Sophisticated trading tools for users
Upcoming community governance
Most popular marketplace by daily trading volume
Aggregates listings from OpenSea and LooksRare
0% fees
Cons
Not for NFT beginners
Only operates on Ethereum
No auction services
3. Rarible: Community-Run, Multi-Chain, Marketplace Aggregator, Fiat Payment Options
According to DappRader, the Rarible NFT Marketplace ranks number one when organized by the number of unique wallets—by a large margin. It is an open marketplace that supports a wide variety of NFTs, in all sorts of media formats.
The platform is similar to, although not as intuitive as, some of its competitors, and it offer a large amount of features for sorting through all NFTs. This allows it to appeal to those familiar with other NFT platforms and doesn't make it too hard for new users to get to grips with. Importantly, users can use a 3rd party service, MoonPay, to purchase crypto with a debit or credit card, to then use to buy an NFT.
Importantly, while you can list your NFTs on Rarible, the platform is also an aggregator and displays NFTs from multiple other marketplaces, including OpenSea.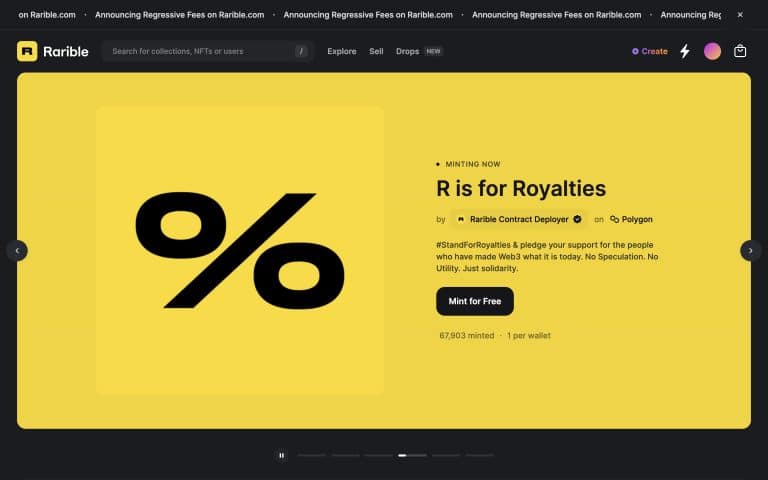 Rarible operates over 4 chains, Ethereum, Tezos, Polygon, and Immutable X, and is community-owned and governed through the $RARI token. Votes are held to decide how the Rarible Foundation should act. However, these votes are non-binding.
Lastly, Rarible supports multiple wallets, including MetaMask and the WalletConnect standard, and creators on the platform must be verified before they can post an NFT for sale, helping to reduce the number of fake NFTs appearing directly on the platform.
| | |
| --- | --- |
| Stats | Rarible |
| Chains | Ethereum, Tezos, Polygon, Immutable X |
| Fiat Payments accepted | Yes (through 3rd party) |
| Platform Fees | 2.5% |
| Services | Buy, Mint, Sell |
| Auctions | Yes |
| Royalty Enforcement | Yes (on natively listed assets) |
| App | Yes (iOS and Android) |
Top Features

Community-owned and managed
Aggregators NFT listings from other marketplaces
Dedicated auction section of the website
Pros
Creators have to submit to be verified
Offer Mobile apps
Supports most popular wallets and WalletConnect connection standard
Cons
Limited education resources
Slightly more challenging interface than competitors
4. Nifty Gateway NFT Marketplace: Curated Art from Vetted Artists, Payments by Credit and Debit Card, Eliminated Gas Fees
The Nifty Gateway NFT Marketplace is where to buy NFT art. The platform has sold artwork by numerous well-known artists and was the place where Beeple, the artist who sold a piece of NFT artwork for $69 million, has sold a lot of his NFT work. The platform is only for art, and they vet artists and offer a curated collection of art for sale—so not just anyone can mint and sell their artwork on the platform.
For this reason, Nifty Gateway is seen as the platform for serious art collectors.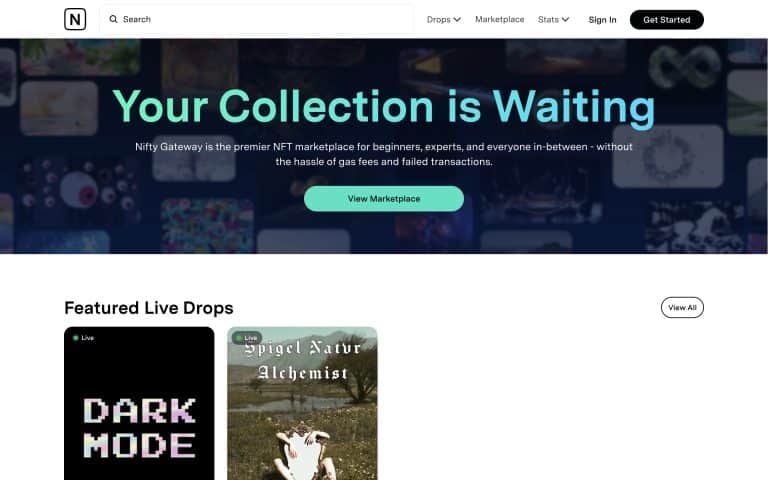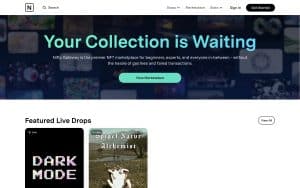 Nifty Gateway offers users a custodial wallet, but also allows them to connect their Metamask wallet should they wish to use a non-custodial wallet. Connecting your Metamask wallet, however, still requires signing up to the platform. Using the Nifty Gateway custodial wallet does come with numerous benefits, the main one being significantly reduced gas fees—which is a substantial benefit if you're spending hundreds of thousands on an art piece.
While it is made for serious art collectors, Nifty Gateways has not been developed for anyone new to art sales or NFTs, and offers limited educational materials to help onboard newbies. It is also connected to, and owned by, Gemini exchange, allowing users from there to easily transfer over their ETH and pay for their purchase directly with credit or debit cards.
| | |
| --- | --- |
| Stats | Nifty Gateway |
| Chains | Ethereum |
| Fiat Payments accepted | Yes (credit and debit cards) |
| Platform Fees | 2% |
| Services | Buy, Sell |
| Auctions | Yes (credit and debit cards) |
| Royalty Enforcement | Yes |
| App | Yes (iOS and Android) |
Top Features

Sells work by vetted and renown artists
Accepts credit and debit card payments
Low to no gas fees possible
Pros
Accepts credit and debit cards
Curated art and vetted artist for serious NFT collectors
Connected to Gemini exchange
Using custodial wallet eliminates gas fees
Cons
Only Ethereum
Need to create an account
Very limited type (just art) and selection of NFTs
Not beginner friendly
5. OKX NFT Marketplace: 0% Fee Platform, Across 17 Chains, and Aggregates other NFT Marketplace Listings
The OKX NFT Marketplace is an open marketplace operating over a total of 17 different blockchains and layer 2s, and aggregates NFT listings from seven different marketplaces: OpenSea, LooksRare, X2Y2, Magic Eden, Element, Immutable, and CryptoPunks; to provide users with access to the vast majority of NFTs in existence.
All this is offered in a slim-line interface, which is also available through mobile apps for Android and iOS, where users can easily sort and search through NFTs in collections to find what they're looking for.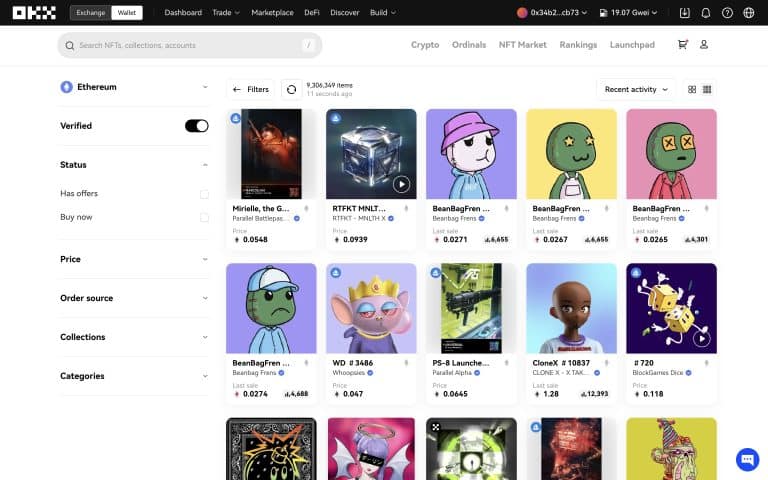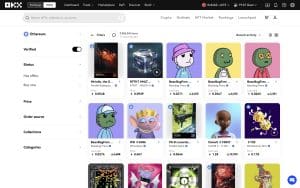 A cart functionality allows users to bundle multiple NFTs together into one transaction to save on gas costs. On the subject of costs, the OKX NFT Marketplace is fee-less! Users cannot, however, escape paying the fees for the marketplaces aggregated alongside the NFTs listed on OKX's NFT Marketplace. If a user wants to, they can list their NFT for sale on OKX, or they can choose to list it on OpenSea or LooksRare through the OKX NFT Marketplace interface.
The OKX NFT Marketplace is connected to the OKX exchange. However, users do not need an exchange account to access the NFT marketplace. This is because the NFT marketplace is decentralized, and users can buy and sell NFTs at their leisure by simply connecting their wallet.
There is also a stats section for those who wish to up their NFT game and start looking to become a trader or collector once they've got the hang of the ropes.
| | |
| --- | --- |
| Stats | OKX |
| Chains | OKTC, Ethereum, Bitcoin, Polygon, Solana, Aptos, Avalanche C, Immutable X, Arbitrum One, Optimism, Klaytn, zkSync Era, BNB Smart Chain, SUI, Arbitrum Nova, LINEA, BASE. |
| Fiat Payments accepted | No (but through connected exchange) |
| Platform Fees | No |
| Services | Buy, Mint, Sell |
| Auctions | No |
| Royalty Enforcement | No |
| App | Yes (iOS and Android) |
Top Features

Offer NFTs from 17 chains and layer 2s
Aggregates listing from 7 different marketplaces
Pros
No fees
Sleek interface is excellent for beginners
Connected to OKX Exchange
Can list on multiple marketplaces from the OKX platform
Cart function allows for the bulk buying of NFTs to save on gas
Cons
Can't use fiat to buy NFT or top up wallet
No auction option
6. SuperRare: Curated Crypto-Art Marketplace, Minimalist Interface, and Enforced Artist Royalties of 10%
While not a highly ranked NFT marketplace by all the common metrics, SuperRare is considered to be the top NFT art marketplace. Offering a curated selection of crypto-art, although only operating Ethereum, SuperRare focuses on quality over quantity and encourages the collection of art.
SuperRare offers a very different buying and selling experience to other NFT marketplaces with a clean, minimalist interface. With a separate space for auctions and a space promoting independent galleries and spaces, SuperRare targets at the art collector over your standard NFT collector.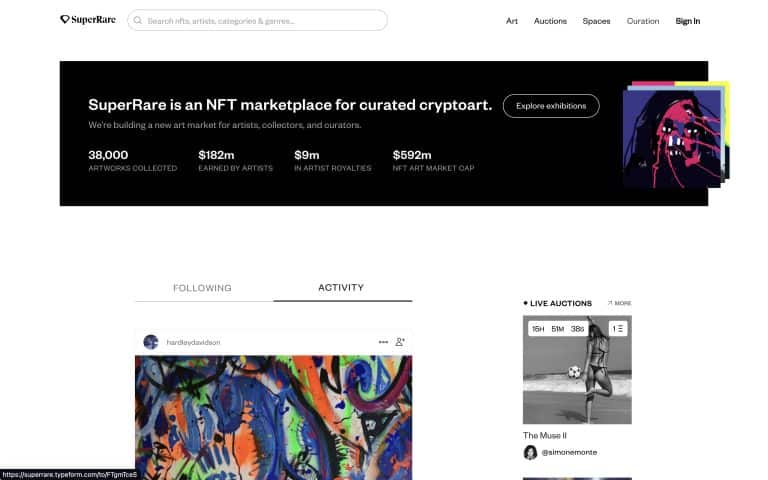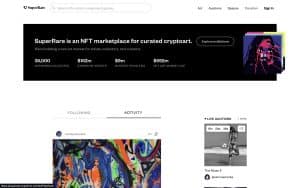 For those looking to get into NFT art, SuperRare's easy-to-use interface is appealing. However, the platform does not offer card payments, so some prior knowledge of blockchains is required to get tokens onto the platform.
All art is reviewed and artists are vetted before being posted for sale. While this process is currently in the hands of the SuperRare team, it will slowing, through the governance $RARE token, be shifted toward token holds. Holding this token will also give these community members control of platform parameters.
| | |
| --- | --- |
| Stats | SuperRare |
| Chains | Ethereum |
| Fiat Payments accepted | No |
| Platform Fees | 3% |
| Services | Buy, Sell |
| Auctions | Yes |
| Royalty Enforcement | Yes (10% flat) |
| App | No |
Top Features

Curated selection of art
Community of art lovers
Clean, easy to use interface
Community governance coming soon
Pros
Curated art from vetted artists
Enforced artist royalties
Minimalist interface
Cons
Focuses only on art
Difficult for artists to sign up
No fiat payments
7. Binance: NFT Marketplace Backed by a Household Name, Great for Beginner wanting to Mint and Sell
Binance is a household name in crypto and one that beginners will be confident using—on top of this, it is also easy to use, again great for beginners. It is an open marketplace, meaning anyone can list pretty much any NFT—so long as it is on Ethereum or BNB. However, the Binance NFT marketplace is a centralized platform, and accessing it does require completing KYC requirements.
This NFT marketplace has a simple interface with a layout very similar to the Binance exchange, meaning that Binance users will feel right at home here. They also charge a flat 1% fee on every trade.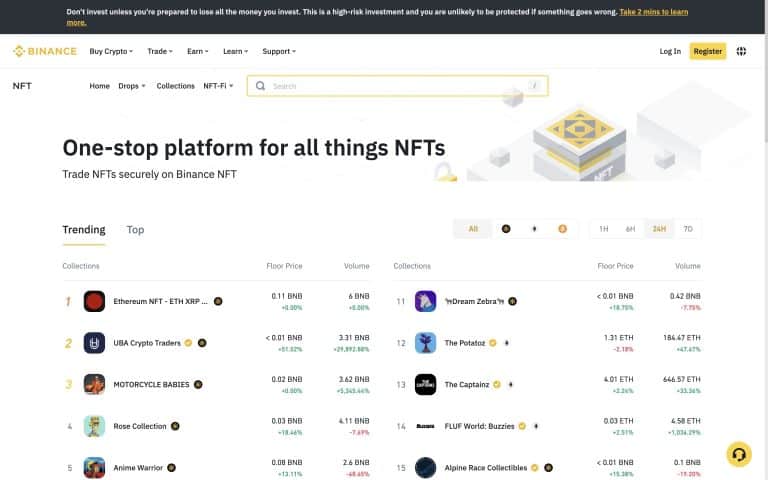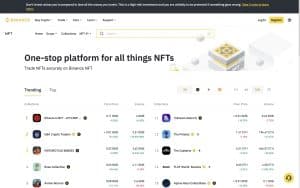 The Binance NFT marketplace is renown for its low NFT minting fees—but not low platform fees—and large audience, which, when combined, make it perfect the perfect springboard for aspiring NFT artists, be they producing visual art or music NFTs.
| | |
| --- | --- |
| Stats | Binance NFT |
| Chains | BNB and Ethereum |
| Fiat Payments accepted | No (but on connected exchange) |
| Platform Fees | 1% |
| Services | Buy, Mint, Sell |
| Auctions | Yes |
| Royalty Enforcement | Yes (on BNB only) |
| App | Yes (iOS and Android) |
Top Features

Easy minting services
Beginner friendly
Connect to Binance exchange
1% fees
Pros
Beginner friendly
Low minting fees
Household name in crypto
Similar layout to Binance exchange
Cons
Restrictive Minting Permissions
Centralized and requires KYC
8. LooksRare: Low (0.5%) Fee, Aggregating Listing from Top NFT Marketplaces, Offer Rewards for Activity and Staking of Community Token
The LooksRare NFT Marketplace incentivizes listings and platform activity by rewarding users with $LOOKS tokens for using the platform. These tokens can then be staked to earn a share of the platform's fees, distributed in $LOOKS. It also offers some of the lowest fees in this list, at 0.5%.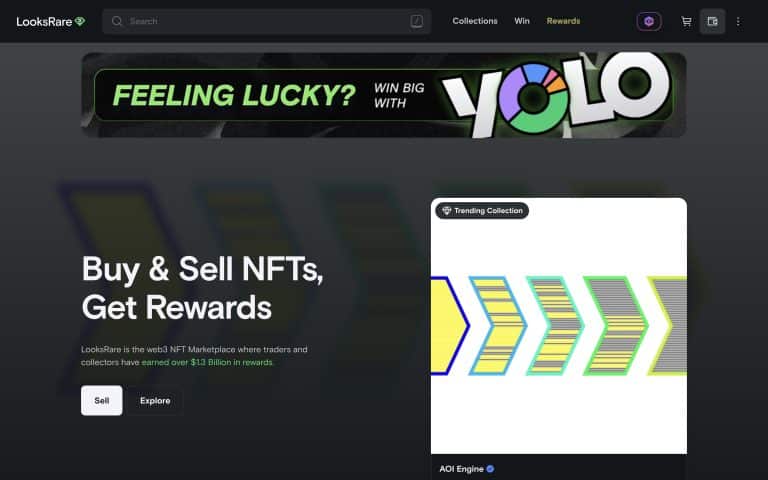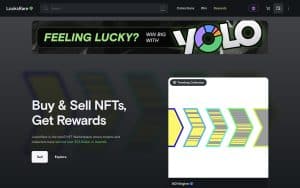 LooksRare aggregates listings from the top NFT platform, OpenSea, as well as the second ranked platform, BLUR, alongside its own listings. The LooksRare platform is aimed at slightly more experienced NFT traders, with collection analysis tools and floor sweeping tools to help them in their trading experience. It also allows traders to bundle listing and purchases to save on those all important gas fees.
Finally, the LooksRare platform allows users to buy NFTs using credit and debit cards, using the 3rd part service MoonPay, and users can connect multiple wallets to the platform, giving them flexibility in how they connect.
| | |
| --- | --- |
| Stats | LooksRare |
| Chains | Ethereum |
| Fiat Payments accepted | Yes (through 3rd party) |
| Platform Fees | 0.5% |
| Services | Buy, Sell |
| Auctions | No |
| Royalty Enforcement | No |
| App | Yes (iOS and Android) |
Top Features

Aggregates listings from top marketplaces
Users receive community token rewards
Token can be staked to earn a share of platform profits
Pros
Aggregates listings from other platforms

Users can receive rewards in a community token and stake it to earn a percentage of fees
Can use debit and credit cards through 3rd party
0.5% fees
Cons
Only lists Ethereum NFTs
limited features, and a bit more difficult for new users
0% royalties default
What is an NFT Marketplace?
An NFT marketplace is a place where people can buy and sell NFTs. There are a huge variety of NFT marketplaces out there, some are curated and focus on a specific niche, e.g., art, music, sport, ticketing, and others offer almost anything. Artists, or the creator of the NFTs, can also set up their own NFT marketplaces where they permit only their collection to be traded.
NFT marketplaces can be centralized (meaning that a centralized entity controls trading) and decentralized (meaning that trades are executed directly between the buyer and seller through a smart contract).
What is an NFT?
NFT stands for Non-Fungible Token. Fungible means that something can be replaced by another, identical asset, e.g., Ethereum is fungible, because 1 Ethereum can be replaced with any other Ethereum. The same is the case for a dollar, 1 dollar is identical in value to every other dollar.
NFTs are non-fungible, meaning that they are unique, one-of-a-kind blockchain tokens, and they are typically used to represent an asset on the blockchain, with their value being derived from the unique asset they represent. Each NFT has a unique fingerprint that cannot be replicated, and this means that each NFT can be proven, without doubt, to be the real NFT and not a fake.
Where is an NFT Stored?
NFTs are tokens, and they are stored in your wallet. These tokens, however, usually represent something else; the most popular use case for NFTs at the moment is to represent digital artwork. What an NFT represents is stored in the NFT's metadata. Metadata is coded on-chain information that tells us about what that NFT represents.
Often, this metadata points to an external file that is too big to store on the blockchain itself, e.g., a piece of digital art, the title for a house, a character for a game, etc. These items can be stored in many places, but the most popular location is the IPFS (InterPlanetary File System).
The IPFS is a decentralized storage network that uses unique content addresses to store each file across a network of computers. The IPFS is not controlled by a centralized entity, meaning that your file cannot be taken down and will still be accessible, even if one part of the network goes offline.
Using the IPFS to store files for NFTs ensures that whatever is represented by that NFT is as immutable as the blockchain-based NFT token representing it—all in keeping with the blockchain movement's ethos of decentralization.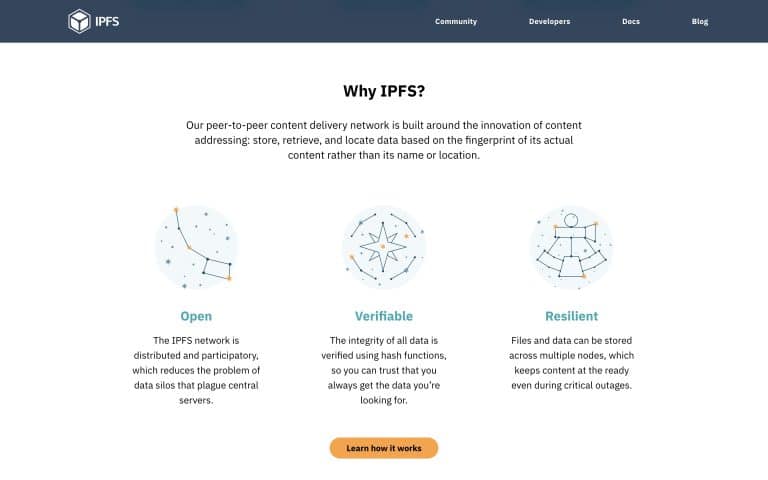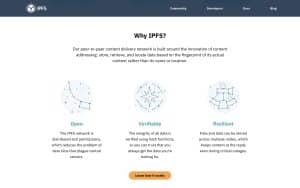 How Does Buying & Trading NFTs Work?
NFTs are bought and sold on NFT marketplaces. These trades are controlled by smart contracts, there is no middleman who can prevent you from buying a particular NFT.
When buying an NFT, you are typically only able to pay for it with cryptocurrency, although some of the best NFT platforms do allow you to purchase NFTs with fiat money using debit and credit cards.
Fixed Sales and Auctions
There are two common types of ways NFTs can be sold: fixed sale and auction; both are done using smart contracts. The owner locks the NFT in the smart contract until it is either sold or they cancel the listing and return the NFT to their wallet.
Fixed Sales: A person lists an NFT for sale at a particular price. Much like they do with their goods on any online marketplace. Many of the top NFT marketplaces, like those listed above, allow other users to send the NFT owner a "bid", if they want to offer a lower price than what the seller is asking for their item.
Auction: Much like on eBay, users can list their item for sale in an auction format where the item is sold to the highest bidder once the timer runs out. They set the number of days they want the auction to last, and they can also choose to set a reserve price.
The above-described auction format is known as an English auction, but there are many other auction types that can be used to sell items. However, these other types of auctions are not that common and, therefore, only a few NFT platforms offer then.
What is a Smart Contract, and How Does it Work?
A smart contract is a programmable contract that is stored on the blockchain. Smart contracts can be programmed to perform a range of tasks, ranging from incredibly simple to very complex. When someone lists their NFT for sale, they are depositing it in a smart contract and setting the parameters on that contract. In that way, the smart contract will act like the middleman for them.
Say you want to sell an NFT for 10ETH, you deposit the NFT into a smart contract and set the parameters of the smart contract so that it requires another party to deposit 10ETH into it before it executes. Once someone sends 10ETH to the contract, the contract executes, sending the NFT to the depositor of the 10ETH and the 10ETH to the person who deposited the NFT—facilitating a trade without requiring the use an expensive, and potentially malicious 3rd party.
While this all sounds complicated, all of this is done behind the scenes, and the seller and the buyer are interacting on one of the many available NFT marketplace websites, like those listed above, that have the look and feel of any existing online store.
Platform Fees, Gas Fees, and Royalties
When you buy or sell an NFT through an NFT trading platform, you will pay some form of fee for doing so. These fees can be split into three categories: platform fees, gas fees, and royalties.
Platforms Fees: These will vary by marketplace and are often charged as a percentage of the overall sale price of the NFT. These can be charged to the seller or the buyer, sometimes both, at the discretion of the marketplace. They are typically charged to the seller and taken from the amount they receive for their NFT.
Gas Fees: Gas fees, also known as transaction fees, are the fees paid to the validators on a blockchain network to confirm that transaction. These typically vary depending on how busy the network is, and who pays these fees can also vary, although the buyer usually pays gas fees.
Royalties: Royalties are set by the creator of an NFT at the time of creation and are paid to the creator each time an NFT is sold on the secondary market. Royalties are taken as a percentage of the total sale amount, e.g., if the royalties on an NFT are 5% then if it is sold for 10ETH the seller will receive 9.5ETH (minus any platform fees), and the creator will receive 0.5ETH, 5% of the sale price.
The Significance of Royalties
Prior to the creation of NFTs, there was almost no way anyone could receive royalties when something was resold on the secondary marketplace. So, even if a piece of artwork was incredibly popular, and exchanged hands for many times what the original buyer paid for it, the artist themselves would not receive any of it. Having just a 3% royalty on that piece (royalties are typically set between 0–10%) would mean little to the seller's profits but a lot to the artist.
In web3, NFTs are typically sold in collections, often aiming to provide funding for building a project and building a community around it. Having royalties placed on the resale of these NFTs means that the project continues to generate funding from the initial NFT collection. This means that they don't have to sell more NFTs, and devalue the initial collection, to continue funding their project.
Outside of web3, royalties will have huge implications for other industries. Ticketing is a great example, where ticket scalping, buying tickets and reselling them for a much higher value, is a commonplace practice that ruins the fan's experience and does nothing for the artist. Adding royalties to secondary ticket sales can mean that the band can realize profits from these sales, and could, if the correct mechanisms are put in place, eliminate ticket scalping entirely.
The Process of Buying NFTs
Buying an NFT is a simple 5 step process.
Find the NFT that you want to buy on an NFT marketplace you trust.
Get a wallet that operates on the blockchain the NFT is on.
Load the wallet with enough currency to buy the NFT, making sure you have the correct currency that the NFT is being sold in.
Go to the NFT marketplace and click to buy the NFT on its page.
Sign the transaction in your wallet and wait for the transfer to happen (often this is almost instantaneous). Now you own the NFT!
If you're buying an NFT from a well-known collection, make sure to check that you're buying the legitimate version, not a copy (often well-known collections are verified on the top NFT marketplaces. Blockchain transactions cannot be reversed once complete.
Types of NFT Marketplaces
NFTs might have started in the digital art world, but their wide-ranging utility and endless possibilities have been recognized by many, and they are being trialed and implemented across many different industries. As a result, niche and curated marketplaces have arisen to service these industries, and others will emerge as blockchain technology and NFTs begin to disrupt other industries.
NFT Art Marketplaces
These art-centric marketplaces often offer curated content from a small selection of approved artists (some platforms are invite-only) to ensure that the content they offer is high quality. They can focus on digital art or real-world art. Those focused on real-world art are often focused on fractionalizing art, allowing many to own a share of a single, acclaimed piece of real art. Examples include:
NFT Gaming Marketplaces
Blockchain gaming is a steadily growing industry, and NFTs are seen as a technology that can greatly improve the gamer's experience. It allows them to buy, sell, and trade in-game items, self-created items and skins, and profit from their playing hours. Some NFT gaming marketplaces are game agnostic, some are game-specific, examples are: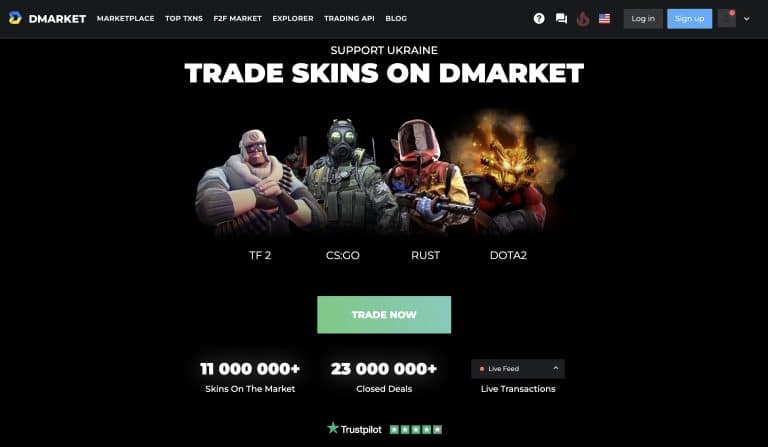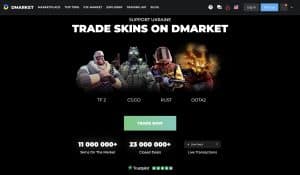 NFT Ticketing Marketplaces
Ticketing is an industry that can—and steadily is—be disrupted by NFTs and blockchain technology. It can be used to ensure artists earn from secondary sales, to help end ticket scalping, and to help prevent ticketing fraud. Some NFT ticket marketplaces have already been created by companies that offer NFT ticketing services:
NFT Sports Marketplaces
Sports memorabilia and trading cards have been around for eons. Now the ownership of such items, and the existence of others, is going digital. On some marketplaces, you can join communities and win prizes; on others you can buy clips of those golden moments in some of your favorite sports!
NFT Domain Marketplaces
Blockchain wallet addresses are long strings of letters and numbers that are nigh-on-impossible to remember and easy to make a mistake with. QR codes are implemented in wallets, but what is even easier is being able to assign a name to your wallet. With NFT domains you can, and these can be bought and sold between users as often as they like!
Community (Collection Specific) NFT Marketplaces
Some of the most popular NFT collections and games have NFT marketplaces specifically for their collection or NFTs for their games, as do some brands that existed before the emergence of blockchain technology. These include: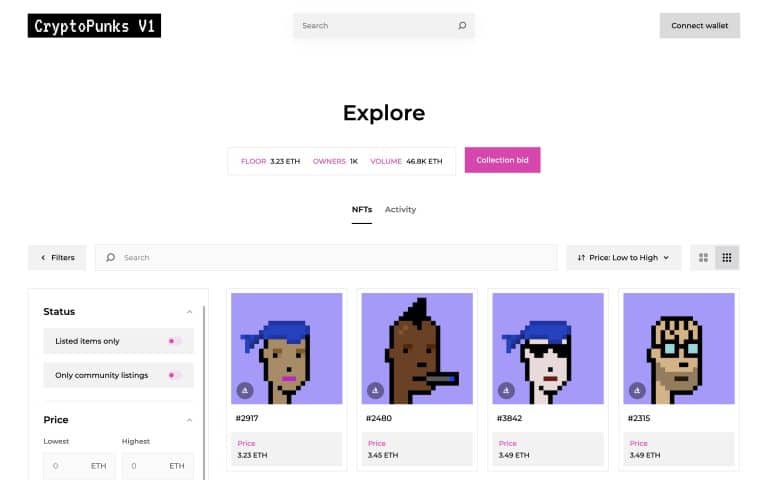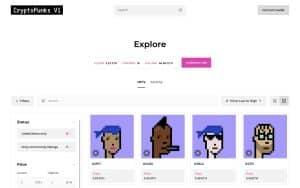 Open NFT Marketplaces
Open NFT marketplaces include some of the most popular and top NFT platforms, come in centralized and decentralized forms, and allow users to create and sell their NFTs right in their website. These include:
Centralized vs Decentralized NFT Marketplaces
Centralized NFT marketplaces are controlled by a single entity who acts as a middleman between buyers and sells and also operates a gateway onto the marketplace to protect buyers from scams and fake NFTs. They are often built and operated by established centralized token exchanges.
Because you don't need to use the blockchain to interact with a centralized NFT marketplace, the transactions are settled quicker, and the user experience is much smooth—making it better for blockchain and NFT beginners. However, using centralized entities does come with security risks, as there is a central point of failure, and, subsequently, they do charge higher fees than their decentralized counterparts.
Decentralized NFT marketplaces, on the other hand, require some prior blockchain use or knowledge to operate, but they offer better security as there is no centralized point of failure. Because of this, the costs associated with using decentralized NFT marketplaces is also much less.
However, because everything happens in real time on the blockchain, transactions are often processed much slower.
Aggregator NFT Marketplaces
Because there are now so many NFT marketplaces out there, aggregators have arisen that allow users to browse them all at once. Some focus on particular blockchains, others aggregate specific marketplaces, and many of them also allow users to create and list NFTs. Aggregator NFT marketplaces include:
How to Pick an NFT Marketplace
The factors below are those that we used to help us rank the best place to buy NFTs. All of these need to be considered when choosing where to buy NFTs.
Everyone will have different needs, and the importance of each of these factors will differ between people.
Platform Fees
For providing their services, each platform takes (or adds on) a fee for the sale of each NFT. This fee varies by platform and typically ranges from 1–3%, with some platforms even charging a 0% fee.
Platform fees are typically taken from the overall sale amount and automatically deducted from the amount received by the seller upon the sale of their NFT. However, some marketplaces will charge them to the buyer, as an addition to the price of the NFT.
Wallet Compatibility
Many people only use a hot wallet for executing trades, electing to store the majority of their assets in a cold storage wallet. If their hot wallet is not compatible with a certain marketplace they'll often elect not to use it or create another one.
Royalty Enforcement
Royalties are a novel feature for artists that are enabled by NFTs. As such, many feel passionately about paying them, yet others may not want to. Some platforms enforce royalties, and others don't, allowing you to choose a platform that aligns with your views on royalties.
Payment Methods
NFTs are blockchain assets, so they need to be paid for with the base cryptocurrency of the chain they're hosted on. Some NFT marketplace will have onboarding ramps that allow you to buy an NFT with a credit or debit card, but with fees for doing so. Others, like the Binance NFT marketplace, are run by crypto exchanges where you can buy crypto with fiat money to use to buy your NFT.
Chains Availability
NFTs exist across multiple blockchains, but not all marketplaces offer NFTs from all the available blockchains. Which chain you want to buy NFTs on will depend on whether you own the base currency of that chain and on your willingness to exchange tokens to obtain that base currency.
Range of NFTs
There are millions of NFTs in existence, across hundreds of thousands of NFT collections, minted on dozens blockchains. Not all NFT marketplaces will offer all chains or all NFT collections. This is also determined by the marketplace's popularity, the best places to buy NFTs are also the best places to sell NFTs.
User Friendliness
Depending on your level of familiarity with web3, some NFT marketplaces might be difficult to navigate and use. Many NFT marketplaces offer video and text guides to help new users get to grips with their platform.
Verification Process
Many marketplaces are open and decentralized, meaning that you don't to complete a verification process. All you need to do here is connect your wallet to it to begin buying and selling NFTs.
Some marketplaces, centralized ones, will require you to complete KYC requirements before using their services, and many not be available in some countries. This helps them to protect their users, and you, from bad actors, and makes new users feel much more comfortable using their marketplace.
Security
Like the wider world of cryptocurrencies, the world of NFTs is decentralized. This means that the markets are open to anyone and everyone, and anyone can create and post any sort of NFT they want. This has resulted in many people creating and posting fake versions versions of some of the most popular NFTs to try and trick people into buying them.
Fortunately, many of the best NFT marketplaces have systems in place to review new NFT collections to check they're not fraudulent. As with everything in web3, always make sure you verify before proceeding with any form of transaction or purchase.
Apps
The NFT market, like the wider crypto market, doesn't sleep, it is a global market that is active 24/7/365. So, if you're looking to dive really deep into the world of NFTs, then you'll want to be able to buy and sell them at any point of the day. That means having easy and instantaneous access to the platforms you use.
This is why some of the best, most popular, and highest ranked NFT marketplaces offer mobile apps so you can browse, buy, sell, and even mint NFTs on the go.


Conclusion
NFTs are in full swing, and selecting the best NFT marketplace for you is crucial to having a successful and enjoyable NFT experience. Here, we've listed the best NFT marketplaces but also shown you that there are many niche NFT marketplaces where you can browse hundreds of thousands of different types of NFTs.
Shopping for NFTs should be a fun process, and taking the time to explore the help sections and features of a particular marketplace can help ensure that you have the best NFT experience possible!
References
FAQs
What is an NFT marketplace?
What is the most popular NFT marketplace?
What is the cheapest NFT marketplace?