When looking for the best non-fungible tokens (NFTs) to buy, you have to consider multiple factors: Is the art good? Is there any utility beyond just being a "simple jpeg"? The two most important factors to weigh in, though, are the community and the team leading the project.
Keep in mind, the NFT world is highly volatile and you should do your own due diligence before committing your hard-earned money.
The 15 Best NFTs to Buy
We rounded up the 15 best NFTs to buy that tick all the boxes.
Chimpzee – The best NFT project with a real-world twist: You get to save animals and help plant trees to fight climate change.
Launchpad XYZ – A popular Web3 platform that lets you explore NFTs across other marketplaces or exchange NFTs peer-to-peer.
Tamadoge – An NFT project in the Tamagotchi style where you can look after your doge or use it to play pixelated arcade games and earn TAMA tokens if you're on top of the leaderboard.
Bored Ape Yacht Club (BAYC) – One of the first digital collectibles in the NFT space that acts as a membership card for the exclusive perks and benefits of the "Yacht Club".
Mutant Ape Yacht Club (MAYC) – Derived from the BAYC, MAYC gives you the same access as BAYC with the main difference being the NFT art.
Mineable Punks – A unique NFT project derived from Crypto Punks where the only way to mint the NFTs is via computer mining, similar to Bitcoin mining.
Azuki – A digital avatar NFT collection in the anime style that gives you access to the Garden where you can get exclusive streetwear collabs, NFT drops and more.
Otherdeed Expanded – A digital land ownership collection in the upcoming Bored Ape video game where you can participate in the dynamic economy within the Otherside metaverse.
DeGods – Formerly on the Solana blockchain and now on Ethereum, this is one of the most popular collections that lets you earn DUST tokens by staking your NFT, as well as getting access to the DeDAO.
Mad Lads – This is the most popular NFT collection on the Solana blockchain built by the team behind the Backpack crypto wallet.
The Heist – A risk-based Web3 game built on the Solana blockchain where you can send your NFTs on heists and robberies to earn tokens and craft items.
0N1 Force – Anime-style profile picture collection with early access to apparel and merchandise.
Pudgy Penguins – Get access to experiences, events, intellectual property licensing opportunities and other perks with this NFT collection.
Solcasino.io – An NFT collection that earns its holders passive income from the share of the profits from Solcasino.io.
Famous Fox Federation – An OG NFT collection on the Solana blockchain that gives holders access to useful features like auctions, raffles, peer-to-peer NFT swaps and more.
A Closer Look at the Best NFT Tokens to Buy in 2023
Let's take a look at the most popular NFTs to buy right now based on hype and sales volumes.
1. Chimpzee — The Best Eco-Friendly Crypto Project Aiming to Create Passive Income While Saving the Environment
This is a new crypto project that combines tokens and NFTs with the goal of saving the environment and animals at the same time. This project has an ambitious roadmap where the team plans to make a Web3 game, an NFT marketplace and a merch shop where a portion of all profits will be donated to organizations that protect the forests and fight climate change.
Currently, you can only buy the CHMPZ token with USDT or Ethereum in a presale. The token's price increases after every stage, but you can get a discount depending on how much you buy. This price increase gives early adopters a chance to buy in cheaper as the list price goes up by the end of the presale.
There's $1.3 million raised so far out of the target $1.8 million for the presale. Once the presale ends, you will be able to claim your tokens after a 30-day vesting period. This marks the end of Phase 1 on the roadmap and the introduction of the NFTs.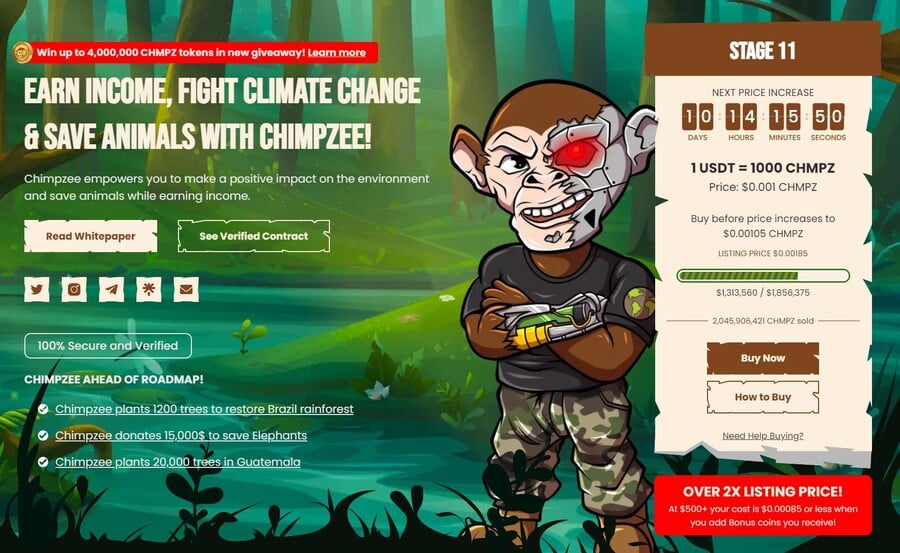 Chimpzee will launch its NFT passports after the presale is over. Those who participated in the token presale will get a whitelist for purchasing and minting NFT passports. These passports are NFTs that you can stake to earn yield in CHMPZ tokens. You will also get a percentage of the NFT marketplace trading fee profits and through in-game challenges once it goes live.
The game is called Zero Tolerance where your NFT will fight poachers to protect the animals. The game is designed to reward players with CHMPZ tokens once they reach certain milestones. Players who own an NFT passport will receive additional benefits.
Another benefit to holders will be the merch shop where you could earn CHMPZ tokens when customers purchase Chimpzee gear.
As for the CHMPZ tokens, all unsold tokens in the presale will be burned at the end of the presale. The second burning event happens when CHMPZ owners use their tokens to buy Chimpzee NFT passports. All of these tokens will be burned as well.
The team behind this project has allocated 10% of its total coin supply to a charity wallet that will be used to donate to organizations. There will be an online donations tracker so that everyone can see the contributions to save animals and protect the forests.
2. Launchpad XYZ — Leading Web3 Platform With Multiple Features Including Peer-to-Peer NFT Exchange
Launchpad XYZ is not an NFT collection. It's an upcoming gateway to Web3 with multiple features, including access to NFTs listed on every marketplace with filters you can set; you can buy and sell tokens; you can browse through all available play-to-earn games; or find metaverse projects that you would like to invest in.
The NFT hub is planned to show new releases as well as exclusive deals if you list, stake or custody of your NFTs.
Launchpad XYZ will also come with a Web3 wallet where you can swap tokens and interact with decentralized apps (DApps). Other features in the pipeline include the Apollo, Launchpad's custom AI designed to help users find the next hyped project in Web3.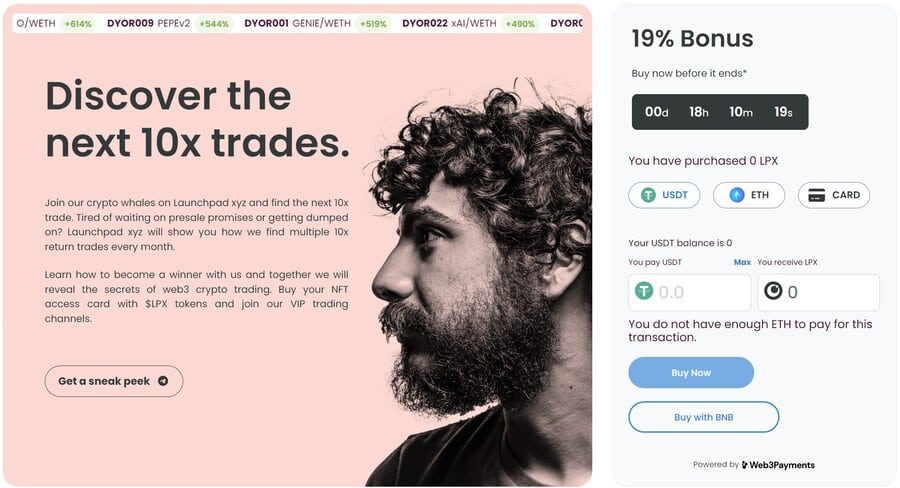 The team also plans to have a decentralized NFT marketplace where you can transfer NFTs directly, peer-to-peer. Another planned feature is the trading terminal for professional trades and investors.
On top of that, Launchpad XYZ aims to offer custody of assets like art, cars and real estate, and allow anyone to invest in these assets for a fraction of the cost. Something like a crowdfunding effort.
Through the platform, you could be able to see in-depth data on cryptocurrencies and identify the best liquidity exchange. This could help you find arbitrage opportunities if you trade tokens often. The team plans to add trading insights from top traders to help beginners make better trading decisions.
The platform also plans to help other crypto projects presale their tokens. Holders of the Launchpad XYZ token may be assigned participation allowance in certain presales. On top of that, there are plans for a decentralized exchange.
To get access to this and all the upcoming features you need Launchpad XYZ's token LPX. The token is available for purchase on their website. Its planned use case is staking later on and getting fee reductions in many of the platform's upcoming features. The company has so far raised over $1,6 million in presale.
3. Tamadoge — Popular Mobile Play-to-Earn Game Offering Market-Leading NFTs
Tamadoge is a play-to-earn crypto game where you play as a pixelated doge character with the goal of climbing the leaderboard to earn TAMA tokens. The game is available for download on the App Store and on Google Play, but you can also play in your browser.
You can buy TAMA tokens on decentralized exchanges, such as Gate.io and OKX with USDT and use them either to stake and earn rewards, to buy credits in-game or to buy Tamadoge NFT pets. You can also buy your pets on Open Sea with ETH if you prefer to use an NFT marketplace.
The TAMA token launched in July 2022 and is designed to be deflationary, which is what the best NFT tokens are. With a supply of 2 billion tokens, it may seem a lot, but the team is planning to burn 5% of the tokens spent in the Tamadoge store to reduce the supply. The majority of the tokens spent on the store, or 65% of it, will be used for the play-to-earn prize pool.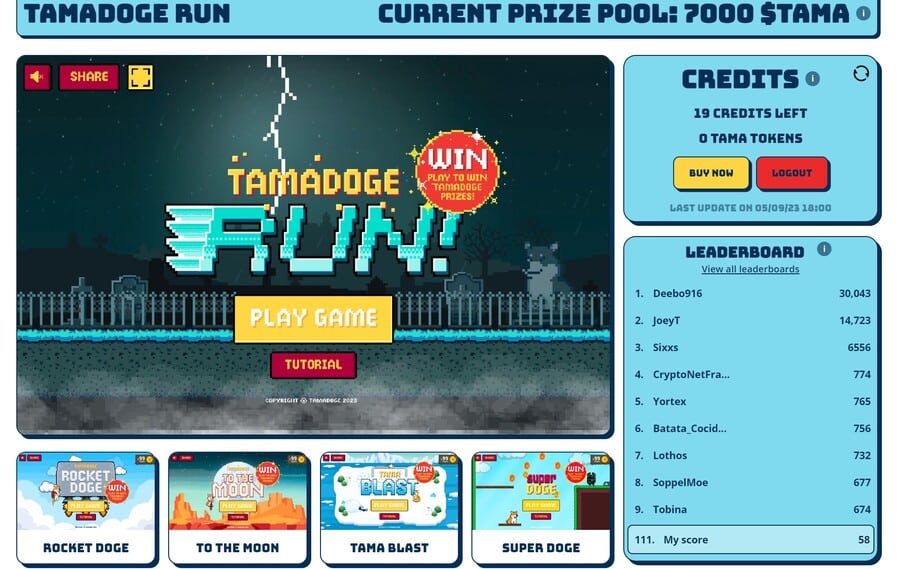 Tamadoge pets are the center of the Tamadoge ecosystem. Similar to the Tamagotchi pets, once you buy them, they'll grow over time and you'll have to care for them. Your doge will increase in strength and endurance over time, which you could potentially use to play with them in the arcade, teach them tricks and take them on walks.
The more you interact with your Tamadoge, the more TAMA tokens you will earn. The Tamadoge are planned to be animated 3D models and to be integrated within the Tamadoge AR app. This is planned for Q4 2023, according to the team's roadmap.
The team plans to launch a mystery project soon as they deliver on their roadmap. New mystery projects and giveaways are frequently in their pipeline.
4. Bored Apes Yacht Club (BAYC) — The Most Popular NFT Collection by Trading Volume
This project has 10,000 unique NFTs with different traits on the Ethereum blockchain. The team behind it is Yuga Labs, the veterans in this space who have built some of the most popular NFT collections, including CryptoPunks, Bored Ape Kennel Club and the Mutant Ape Yacht Club.
BAYC was a poster child of the NFT boom in 2021 with pieces owned by celebrities and businessmen like Snoop Dogg, Post Malone and Mark Cuban. The collection had a launch price of 0.08 ETH, around $200 at the time, and skyrocketed to hundreds of thousands of dollars per NFT. A few even sold for a couple of million dollars. In July 2023, however, the floor price dropped almost 90% from its 2022 peak.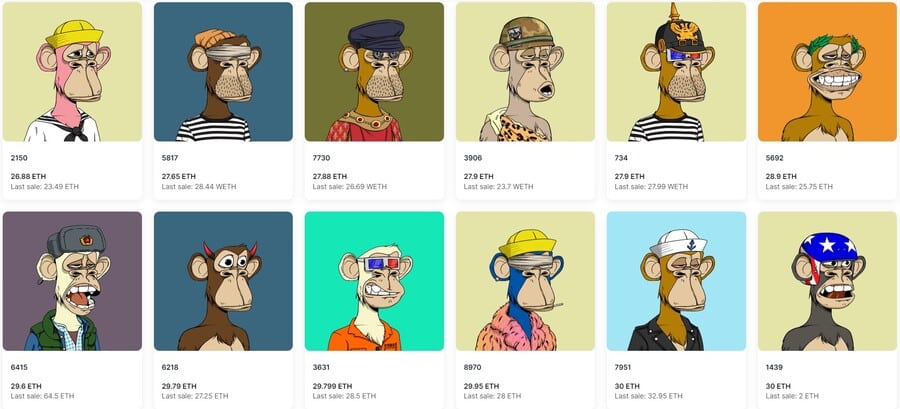 This is one of the first NFT projects that had a utility beyond the art. As a BAYC holder, you get membership access to a private online club and meetings in real life to network. Given that a lot of the club members are high net-worth individuals, this perk alone could be worth the investment.
Another value aside from the potential of its floor price going up is that you could get airdrops of future NFTs and coins as we saw with the mutant vials and Apecoin airdrops.
5. Mutant Ape Yacht Club (MAYC) — Trending NFT Collection With a Lower Floor Price
This NFT collection is an extension of the Bored Apes. It contains up to 20,000 Mutant Apes — half of which were minted in a public sale and half were created by "mutating" existing Bored Apes with a vial of "mutant serum".
The ones that were mutated from BAYC kept the original traits but the art was mutated.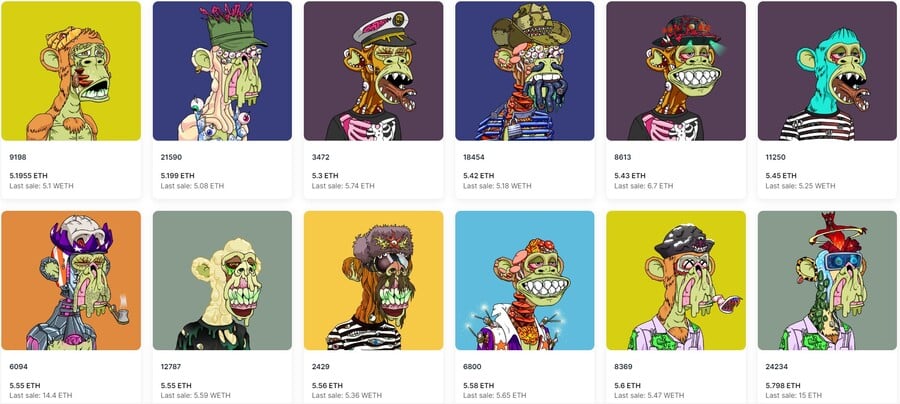 Yuga Labs, the creator of MAYC wanted to reward its community, to whom it attributed the success of their NFT collections, and it airdropped the mutant serum vials. This was designed to reward existing BAYC holders but also to welcome new members to the community with the public mint.
The newly minted 10,000 Mutant Apes raised $96 million within an hour of the launch with a Dutch auction where the starting price was 3 ETH and was supposed to reduce to .01 ETH over the course of 9 hours but it sold in the first hour. Once the public sale ended, the existing BAYC holders were available to "mutate" their own apes.
What makes the MAYC collection appealing is that it gives access to the BAYC community, you get exclusive perks, there's the potential for price appreciation and the floor price was relatively cheaper compared to BAYC. The team behind the apes has already proven themselves in terms of delivering value to its holders, and that could be another reason to hold a MAYC.
6. Mineable Punks — Unique NFT Collection That You Can Mine With Your Computer
This NFT collection brings a twist to the way NFTs are minted: punks are generated using cryptopunk assets, meaning your NFT could look like a cryptopunk NFT but it won't be the same. This means MineablePunks cannot be claimed by paying a certain amount on the launchpad, you have to mine them like you would mine Bitcoin.
All you need is a computer with a powerful graphics card (GPU) and a miner software to join a mining pool. If you find a punk, it's randomly generated. Of course, you can still buy NFTs from this collection on secondary marketplaces like OpenSea.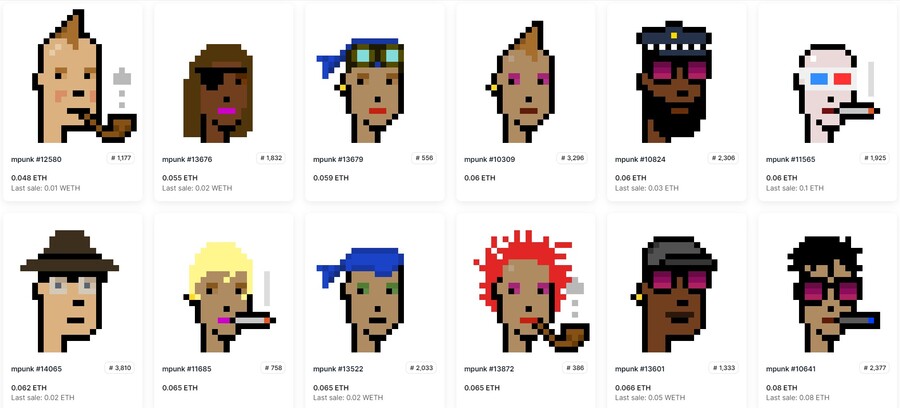 There can be a total of 10,000 NFTs in this collection once all are mined. However, the mining difficulty increases as more punks are mined. For example, once 6,000 punks are mined, you would need 10,000 RTX 3080 graphics cards to mine 1 hour to find one punk.
7. Azuki — Hottest Anime-Style Hand-Drawn NFT Collection
The Azuki is a profile picture (PFP) project with 10,000 anime-inspired NFTs. This collection was first minted in January 2022 and quickly rose to the top five projects by volume traded because of the art and the ambitious roadmap.
Similar to other NFT projects, the Azuki collection boasts a randomized selection of traits that make each PFP unique. Originally, the collection was set to launch via Dutch Auction where the price of mint drops over time, with a starting price of 1 ETH and declining by 0.05 every 20 minutes until it reaches 0.15 ETH. The collection never reached the lower price as it was sold out in three minutes.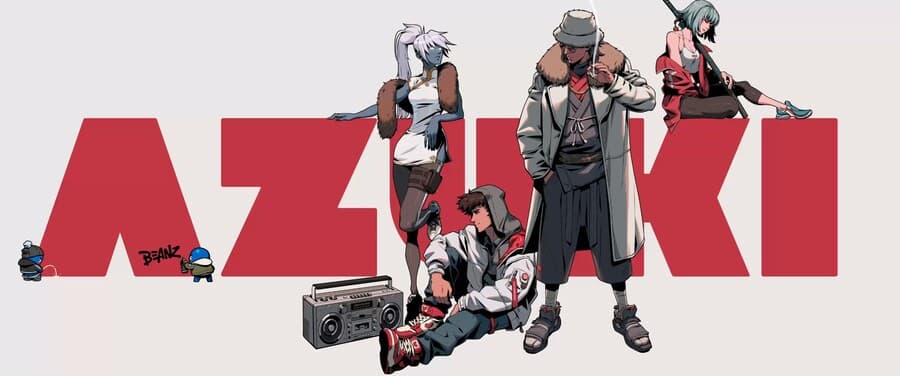 The team behind Azuki is Chiru Labs who have now expanded the Azuki collection with the Beanz and the Elementalz. The idea behind the expansions was to let other users become members at a lower price. However, some Azuki holders felt that the Elemantlz art didn't distinguish itself from the original Azuki collection and that it diluted existing holders.
Owning an Azuki NFT grants you access to The Garden. This is the Azuki collectors community where you can get exclusive drops, streetwear collabs, live events, and more.
This collection didn't go without controversies, though. Zagabond, one of the Chiru Labs team members, was behind the now-defunct projects Tendies, CryptoZunks, and CryptoPhunks. Some of these were considered rug pulls by the NFT community.
8. Otherdeed Expanded — A Metaverse Virtual Land Collection
This is another NFT project from Yuga Labs and an addition to the BAYC. Except this is not a PFP project but a digital land ownership in an upcoming metaverse game called Otherside.
Each land parcel has one or more of the four resource types, such as anima, ore, root and shard, and each parcel is built on one of five sediment tiers such as biogenic swamp, chemical goo and rainbow atmos. Sediments and resources give different features and benefits to holders.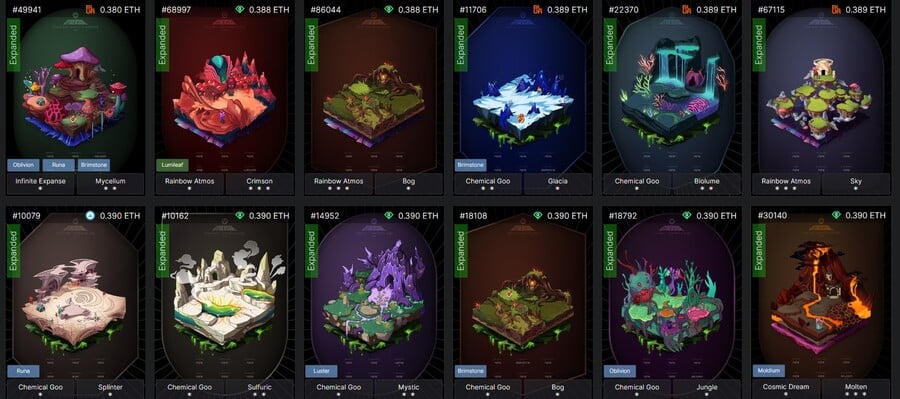 The collection was minted in April 2023 via the Koda Decoupling and Vessel Claiming event. That's when users burned their Otherdeeds to become Otherdeed Expanded. There are 46,800 NFTs in this collection, dwarfing the number of BAYC and MAYC collections.
9. DeGods — Leading NFT Collection For Networking And DAO Participation
This PFP collection contains 10,000 NFTs. DeGods was the most popular collection, and most valuable in terms of market cap, on the Solana blockchain where it first launched. But it later migrated to the Ethereum blockchain where it stands in the top five NFT collections by trading volume and popularity.
Each DeGod has up to seven traits, which include background, skin, clothes, neck, head, eyes, mouth, and specialty such as wings. The combination of these traits determines the rarity; The rarer the NFT, the more valuable it is.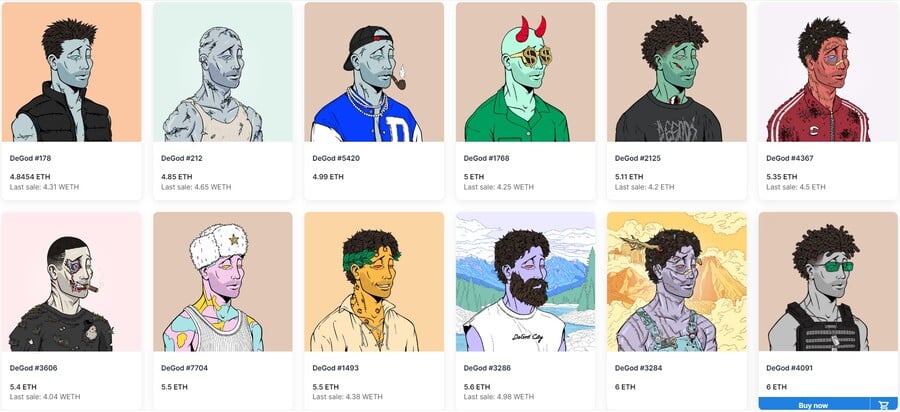 Aside from being used as a profile picture on social media, DeGods can be staked to earn a token called DUST.
With subsequent expansions, DeGods could be upgraded using 333 DUST into DeadGod in Season 2 and again into another art upgrade in Season 3. Those who didn't want to upgrade their DeGod could downgrade them with 333 DUST tokens.
Unlike other tokens where the founders get a portion and a presale event is held for early adopters, the DUST token has entirely been created by staking DeGods. The total supply of DUST tokens is 33.3 million and is halved in certain time intervals similar to Bitcoin.
10. Mad Lads — The Most Popular NFT Collection on The Solana Blockchain
The most popular NFT PFP collection on the Solana blockchain with 10,000 NFTs. Each NFT was minted for a price of 6.9 SOL on April 20, 2023. Soon after launch it became a blue-chip collection on the Solana blockchain.
This NFT collection was created by the Solana framework development company Coral, led by Armani Ferrante and Tristan Yver. When the NFT dropped, you had to have Backpack, a wallet app created by the same company to mint your Mad Lad. Even though Coral wasn't known beforehand, the Mad Lads mint put it right in the spotlight.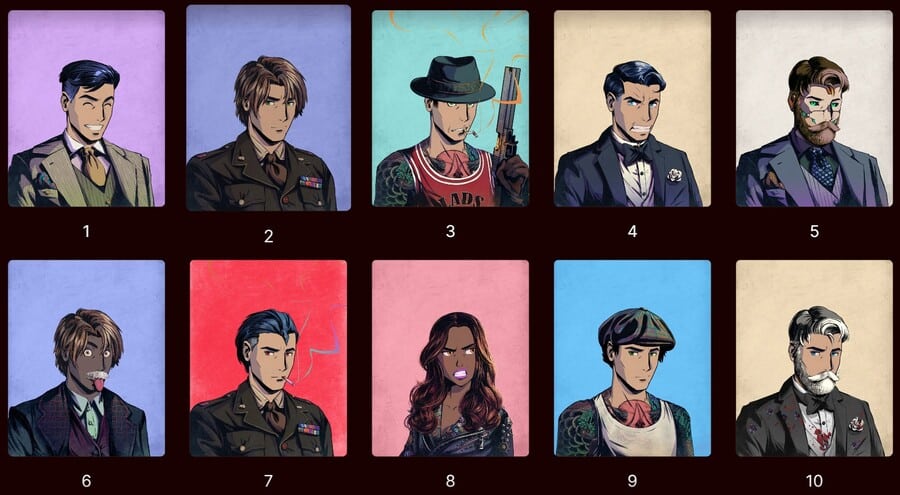 Backpack is built around executable NFTs (xNFTs), which are often referred to as the next-gen NFTs. This means the xNFTs are platforms for operable Web3 applications. If this is indeed the future of NFTs, Mad Lads could be leading the charge.
The team already took a snapshot of holders on April 29 but it's still a mystery about a potential airdrop for holders.
https://www.madlads.com/
11. The Heist — Leading Gamified NFT Staking Platform
The heist is a high-stakes, risk-based game on the Solana blockchain where you use your NFTs to rob certain locations in Peel City for a token that changes each season. This gives the NFTs utility beyond being a pure profile picture and makes it one of the best NFTs for 2023.
There are 13,500 chimps, 1,500 gorillas, and 12,000 orangutan NFTs in Season 2, with more being minted every week. Each of these factions has a different gameplay style. For example, gorillas earn tokens passively while they are staked at each location, while chimps and orangutans roll a random number generator to get a positive or a negative event, such as 5x tokens or getting captured by the opposing faction.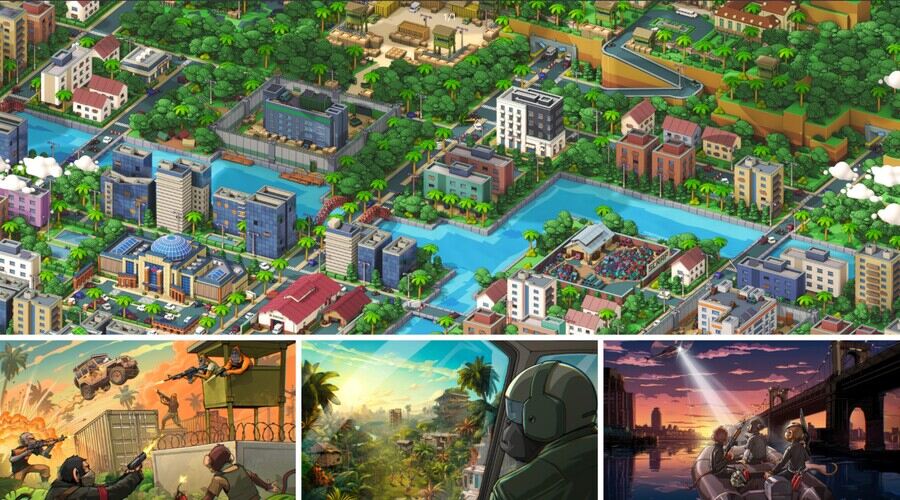 The game started in April 2023 and the collection was sold out within hours. Five months after the mint, less than 1% remain listed on the marketplaces, which shows the popularity of the game months after the mint.
https://theheist.game/login
12. 0N1 Force — The Best Low-Fi Style NFT Collection
This NFT collection is made of 7,777 anime-style characters known as the 0N1. Each character is made of hand-drawn attributes such as cat ears, oni masks and headphones.
The team plans to extend the collection in the future with the release of 0N1 Frames, which will be free to claim for 0N1 holders. But you will have to pay the gas fees. Future releases may also include land, vehicles and accessories.
0N1 collection's main goal is to serve as profile pictures for online social sites. The additional utility is early access to apparel and merchandise. There are also plans to develop an online store for 0N1 Force NFT holders.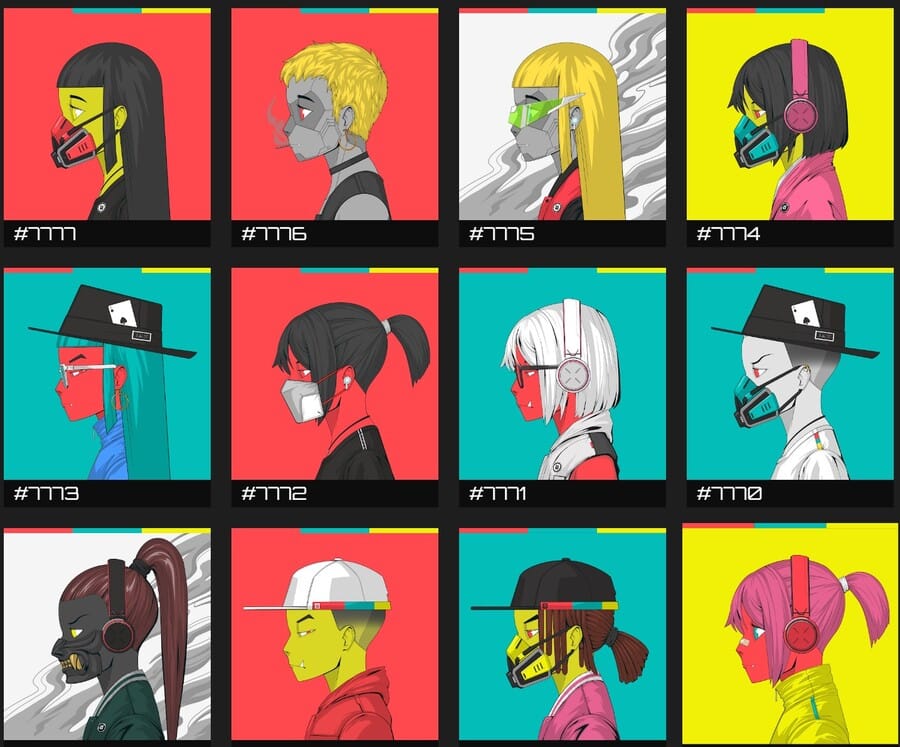 The team behind this collection is already working behind the scenes to launch a digital comic, which will be an NFT available to holders.
Celebrities that own 0N1 Force include Logan Paul, Bobby Kim, Gary Vaynerchuk and Steve Aoki.
13. Pudgy Penguins — The Most Popular Penguin NFT Collection
This is an NFT collection of 8,888 cartoon penguins. Each penguin has individual rarity traits such as hats, eyewear and backgrounds. As a holder, you get access to various experiences, events, intellectual property licensing opportunities and other perks.
The Pudgy Penguins project was founded by ColeThereum and Mr Tubby in 2021, but they were removed in January 2022 due to unfulfilled promises and allegations. Luca Netz acquired the project in April 2022 with the goal of reviving the project.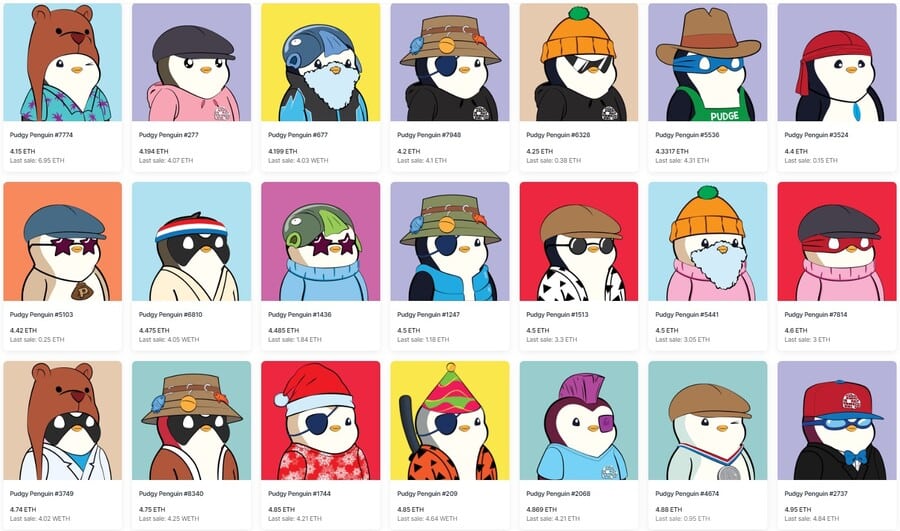 The new team secured licensing deals to create physical toys based on the NFTs. During the height of the bull run in 2022, the project returned to popularity when it received a $9 million seed round. This is still one of the top 10 NFT projects by trading volume on OpenSea.
14. Solcasino.io — Trending Passive Income NFT Collection
Solcasino is an NFT collection of 5,000 bears on the Solana blockchain. The collection's first mint was in April 2023 for a price of 12 SOL, but it quickly sold out, leaving around 1% of the collection on the secondary marketplace months after the mint.
Solcasino.io is an online casino on the Solana blockchain where you can play games or bet on sporting events. All you have to do is connect your Solana wallet and you're good to go.
The NFT collection, however, has some cool use cases. First, you can stake your NFT for a period of time to earn a share of the profits from Solcasino.io, as well as other casino privileges such as rakeback and bonuses.

The team also plans to add a new feature where you can collateralize your Solana NFTs for instant USDC liquidity to use for gambling.
If you're looking for some passive income streams, this could be one of the best NFTs to invest in.
15. Famous Fox Federation (FFF) — The Best NFT Collection with Various Utility to Holders
This is one of the OG and utility-filled NFT collections on the Solana blockchain. It has 7,777 cartoon-style foxes that can be staked or used as a profile picture. The collection launched in September 2021 at a mint price of 1 SOL.

As an FFF holder, you get access to the DAO, which comes with features such as raffles, airdrops, NFT mints and more. The FFF website holds useful features such as:
A token market

where you can trade any token, even those that aren't listed on exchanges.

Citrus lending program

where you can borrow SOL for the NFTs you put as collateral or lend SOL to borrowers.

FoxySwap

peer-to-peer swapping system where you can exchange NFTs with other holders.

Auctions

where you can auction your NFT and potentially earn more of the sale than you could earn on a secondary marketplace.
How We Ranked the Best NFTs to Invest in
To identify the best NFTs to invest in, we evaluated several factors that can impact the success of a project. We deep-dived into four key parts:
Trading Volume
This is often a reliable indicator of an NFT's liquidity and demand. If the liquidity is low it means you would have a hard time selling whenever you want. We compared all-time trading volume on exchanges such as OpenSea and Magic Eden when selecting the best NFTs to invest in.
Collection Popularity
We examined the communities surrounding these collections on social media platforms — especially X (formerly Twitter) and Discord — gauging their size, engagement and overall enthusiasm for the project.
Team Expertise
We scrutinized the development teams, assessing their experience, track record and commitment to the project's success. Teams with prior success in the NFT space often carry that experience over to new projects.
Utility
Beyond their aesthetic appeal, NFTs with real-world utility tend to have long-term value. This includes the option to stake your NFTs to earn tokens as rewards, or for future airdrops or to simply get access to exclusive perks and events. Collections focused only on being profile pictures tend to lose interest eventually.
How to Buy the Best NFT Tokens
Depending on where the NFT is listed — either on Open Sea or Solana's Magic Eden marketplace — the process is simple. Here's how to buy NFTs:
You need a crypto wallet.

Phantom wallet

is the best wallet for NFTs because it lets you switch between Solana and Ethereum, the two blockchains with the most NFT trading volume. But you can also get

MetaMask

, a popular Ethereum crypto wallet, or an alternative wallet.

Fund your wallet with ETH or SOL, depending on which network your desired NFT is.

Connect to the marketplace like Magic Eden or Open Sea.

Purchase your NFT.
Some NFTs, like the Chimpzee collection, have a different approach. Here's how it works:
1. Visit the Chimpzee website
Once you visit the Chimpzee website, you'll have to connect your wallet. There are multiple wallets to choose from, including MetaMask. Once you connect your wallet, make sure you have enough funds to make the purchase.
2. Click Buy Now
There's a counter on the right side that counts the days until the next stage as it gets close to the end of the presale. Click Buy Now to buy the CHMPZ tokens.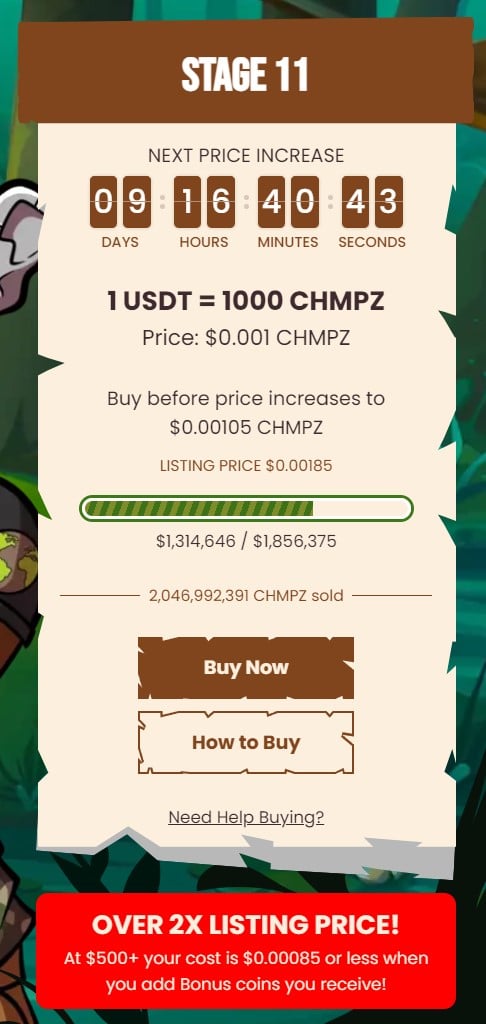 3. Select your currency
There are two options to buy CHMPZ: With the USDT stablecoin or with Ethereum. Select the option you want.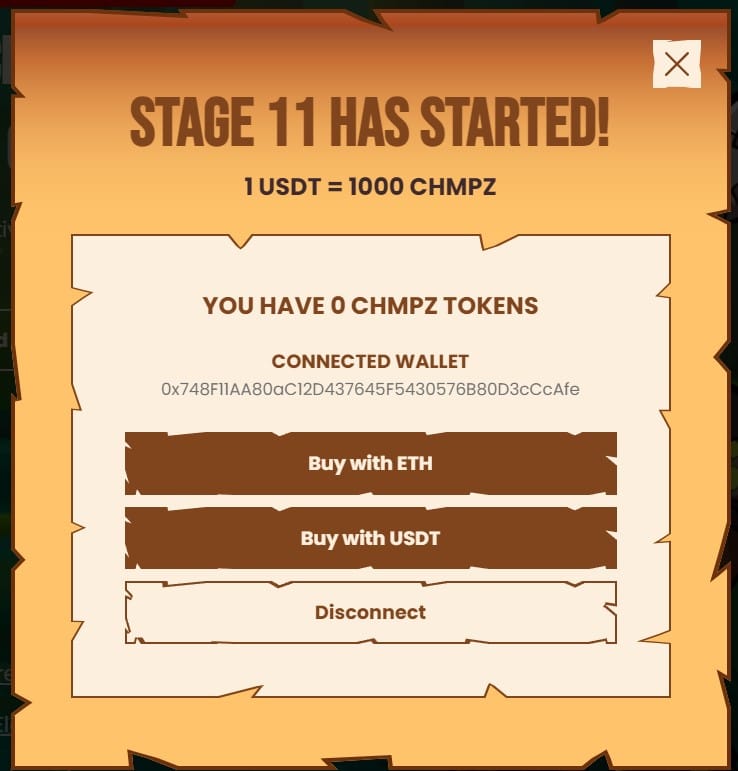 4. Enter the amount
Enter the amount you wish to spend. There are bonuses for select amounts.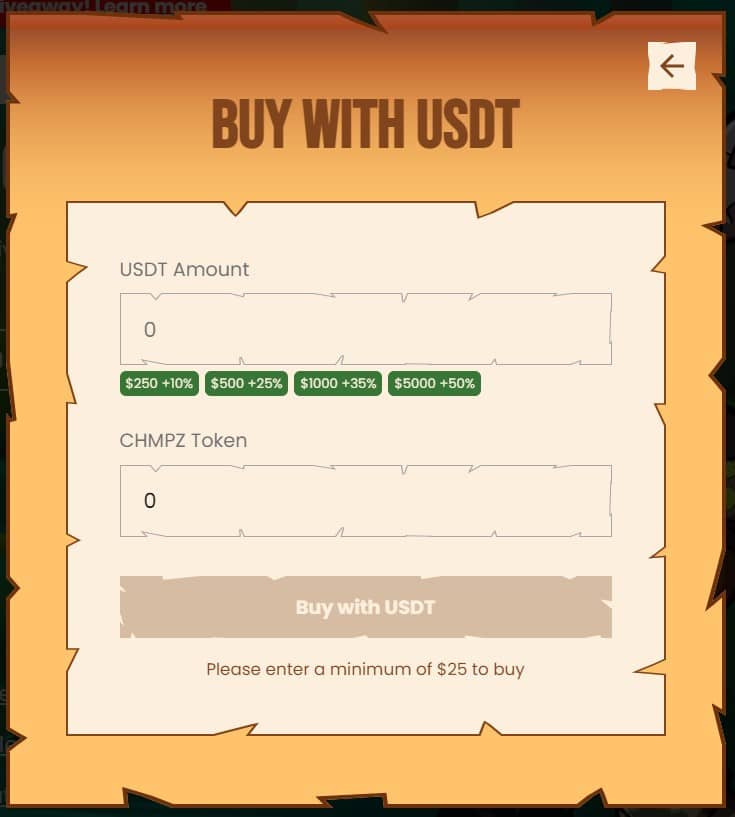 5. Click Buy
Once you buy the tokens, you have to wait for the presale to end. After that, there is a 30-day vesting period after which you can claim your tokens.
Are NFTs Safe?
The best NFT projects are typically safe, especially if you buy them from reputable exchanges. Despite that, you still have to protect your crypto wallet from external attacks.
Risks of Phishing When Buying NFTs
Phishing is a form of cryptocurrency and NFT scam where the victim is tricked into giving their private keys or personal info that could be used to steal funds. The way it works is the attacker poses as a legitimate entity — such as an NFT marketplace or a crypto wallet — and they will ask you to provide your wallet seed phrase.
As soon as you provide that information, the scammer will log in to your crypto wallet and quickly drain it from funds and NFTs.
Seriously. No one with good intentions will ever ask you to provide your seed phrase. Not even the crypto wallet providers. Write it on a paper and keep it safe. If someone asks you to input your seed phrase, it's likely a bad actor.
Use a hardware wallet
Hardware wallets, also known as cold wallets, like Ledger and Trezor keep your crypto wallets safe. This is a small USB device with buttons that you have to physically press to initiate a transaction. If your computer is infected with malware, they could see the assets in your wallet but they will not be able to move them.
Inspect links
Scammers typically use links with typos, such as maglceden.com instead of magiceden (notice the "l" instead of "i"). These links are either for fake marketplaces or fake crypto wallets that look exactly like the original, such as MetaMask.
If it's the latter, the website will look exactly like the real one and you will have to input your seed phrase to "recover" your wallet or assets. That's how the scammers will steal your crypto. Never ever input your seed phrase. If in doubt, Google the real wallet website and try to fix your issue from there. If there is any issue, do not use the link that's being sent to you.
Use a burner wallet
This is a must if you're connecting to a new website; never use your wallet where you hold all of your funds and NFTs. Open a new wallet with just the amount you're planning to use to buy NFTs or tokens.
It doesn't cost anything to get a new wallet. If by any chance you get scammed, you will only lose the small amount you moved from your main wallet. If all is good, you can always transfer the NFT you bought to your main wallet.
Test the waters
Fear of missing out can cause you to buy anything even if you can't afford it. A project may seem appealing, but you can always invest a small amount to try it out. If it's legit and you're happy, great. If not, it will save you from further losses.
Conclusion
Buying some NFTs in a bear market could be a great investment option. You could buy a collection simply because you like the art, like Mad Lads, or because you like to help save the planet, like Chimpzee.
However, make sure you do your due diligence, employ safety measures like using hardware wallets and burner wallets to connect to new sites, and never invest more than you can afford to lose.
References
https://www.coindesk.com/web3/2022/10/14/here-are-the-most-expensive-nfts-bought-by-celebs-and-what-theyre-worth-today
https://decrypt.co/79718/bored-ape-yacht-club-sells-96-million-of-nfts-in-hour-for-mutant-apes-launch
https://www.otherside-wiki.xyz/otherdeed
https://www.thetimes.co.uk/money-mentor/article/non-fungible-tokens-nfts
https://www.saunders.co.uk/news/how-to-avoid-nft-scam
https://www.cnbc.com/2022/02/02/this-36-year-old-made-over-109000-in-about-9-months-selling-nfts.html
https://www.coindesk.com/web3/2023/07/03/bored-ape-yacht-club-nft-collection-floor-price-sinks-to-20-month-low/
FAQs
What is the best NFT to invest in?
What kind of NFT is trending?
What makes an NFT worth buying?
Is NFT profitable in 2023?
How do beginners invest in NFTs?
Can you keep the NFT forever?
Is it possible to become rich from NFT?