As 2023 reaches the final stretch, the number of cryptocurrency exchanges that prioritize anonymity without requiring Know Your Customer (KYC) verification is dwindling.
Even KuCoin, a popular no KYC crypto exchange, caved in to the pressure of global requirements and introduced mandatory KYC for all users who want to deposit funds.
In this article, we'll delve into the top eight no KYC crypto exchanges for 2023, highlighting their features, advantages and why they stand out as attractive options for those looking to trade cryptocurrencies with a greater degree of anonymity.
The Top No KYC Crypto Exchanges Ranked
No KYC crypto exchanges offer a haven for traders seeking to maintain their financial privacy while navigating the crypto market. Whether you're a seasoned trader or just entering the crypto space, these exchanges may hold the key to a more discreet trading experience.
Best Wallet — The best non-custodial multi-chain wallet that lets you exchange and swap coins from a variety of blockchains all through a single mobile app. You can also trade NFTs and read crypto news to stay informed on the current crypto trends.
MEXC — One of the largest and most popular no KYC crypto exchanges that offers over 1,000 cryptocurrencies with 0% trade fees. You can withdraw up to 30 BTC within 24 hours, which is the largest amount among no KYC exchanges.
CoinEx — This is another popular crypto exchange that offers spot trading and futures trading without identification requirements. You can also yield farm with your idle crypto.
Phemex — A centralized crypto exchange that offers crypto spot trading and margin trading. Those who don't want to directly trade can copy other traders on the platform.
Uniswap — This is the most popular decentralized crypto exchange on the Ethereum blockchain with over $2.7 billion of total value locked (TVL). There you can swap tokens and NFTs by using your MetaMask wallet.
PrimeXBT — A multi-asset trading platform where you can trade crypto on leverage and you can copy other traders. There are also contests with virtual funds that you can participate in to earn real rewards.
PancakeSwap — This is the most popular DEX on the BNB Smart Chain with over $1.2 billion in TVL. The platform offers token swaps, yield farming, NFT trading and gaming.
Changelly — One of the oldest crypto exchanges where you can swap crypto coins without opening an account.
The Best No ID Crypto Exchanges Reviewed
No identification crypto exchanges offer an opportunity to transact in the crypto market without the cumbersome KYC verification processes, which ensures a higher level of privacy. Let's dive deeper.
1. Best Wallet – The Best Non-Custodial Multi-Chain Wallet Designed For All Things Crypto and Web3 in 2023
Best Wallet is a multi-chain wallet, meaning you can store coins and tokens on a variety of blockchains such as Ethereum, Polygon and BNB Smart Chain, with Bitcoin coming in the future. This makes it convenient as you will have all your crypto assets in one place.
This is also a non-custodial wallet, meaning the user holds the private keys to the crypto funds stored inside. As of this writing, the Best Wallet is only available for download on Android and iOS devices.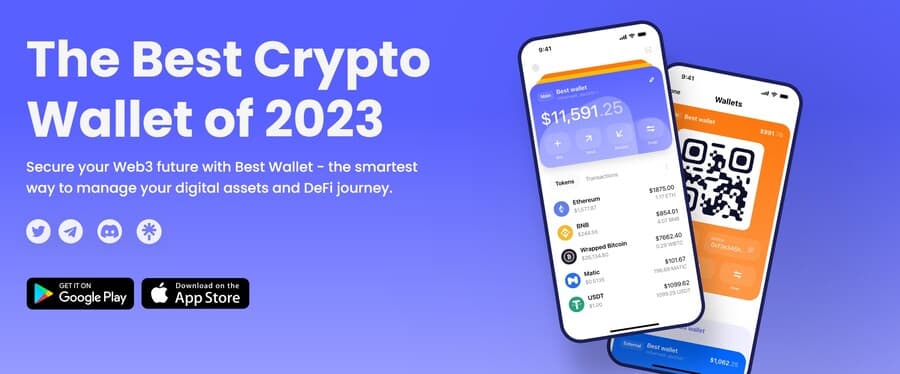 Swap and trade any of these tokens within the wallet without KYC registration via the Best DEX.
The team behind the wallet has projected six phases of development. Phase one is the core wallet functionality, which is live. Phase two covers in-app token swaps. Phases three and four will integrate NFTs, crypto news feed and crypto education. The last two phases cover staking, Bitcoin integration and multi-chain bridges.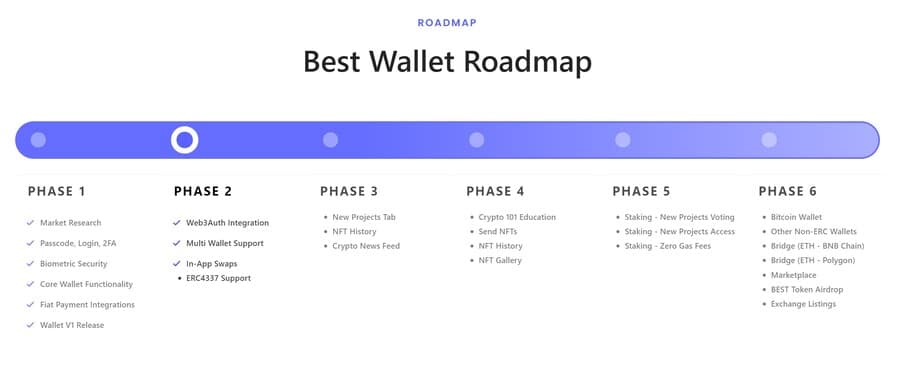 To complement the full crypto picture, the Best Wallet will introduce the BEST token. This will be the utility and governance token, which would unlock exclusive features like market analysis tools, swaps without fees, the potential to get NFT drops and more.
For the moment, you can't buy the token; you can only earn it by using the Best Wallet and the Best DEX. When the time comes, you will be airdropped tokens depending on the points you earn by completing weekly tasks.
However, most of these features are in development and it may take months before they are released.
Follow the Best Wallet on X and on the Best Wallet Telegram channel to get up-to-date information on the Best Wallet releases.
Pros
Multi-chain support
Integrated token swap
Available for Android and iOS devices
BEST native token drop for active Best Wallet and Best DEX users
NFT gallery and swaps
Cons
Only available as a mobile app, while the browser extension is under development
| | |
| --- | --- |
| No KYC features | Swapping coins and tokens |
| Spot trading fees | No spot trading feature |
| Can you buy crypto with a card? | Yes via third-party services |
| Additional features | Multi-chain support, NFT gallery, $BEST token |
2. MEXC — A Popular Crypto Exchange That Offers Spot Trading of 1,000+ Coins With 0% Fees & up to 30 BTC Withdrawal Limits
MEXC is one of the largest and most popular no KYC crypto exchanges that offers multiple features with low fees without you ever sharing your ID.
MEXC offers spot and futures crypto trading for those who don't want to identify themselves, but the OTC market is out of reach until you pass basic KYC. Spot trading comes with 0% maker and taker fees, which no other cryptocurrency exchange without KYC can match. Even the best exchanges with KYC will find it hard to beat these numbers.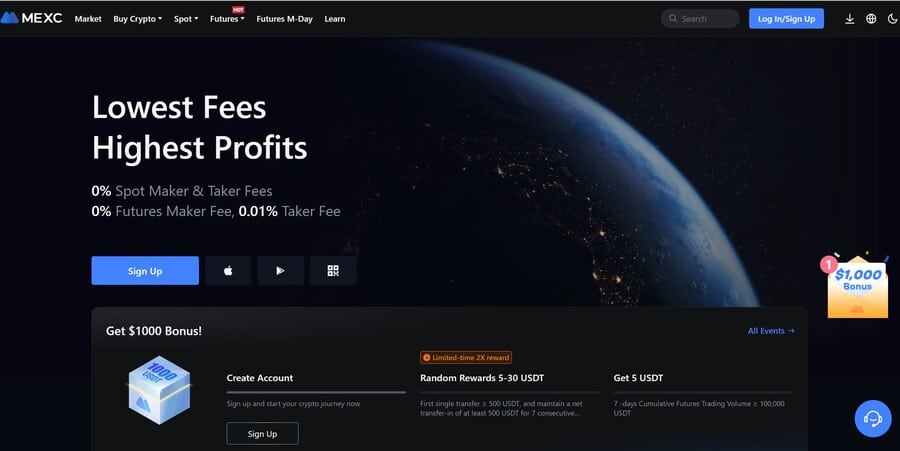 Futures trading, on the other hand, comes with a 0.01% taker fee and 0% maker fee, which is still lower than most crypto exchanges.
MEXC doesn't require that you sign up with your email. You can sign up using your crypto wallet, such as MetaMask, deposit crypto, swap it for other cryptocurrencies or trade it and withdraw it back into your crypto wallet. The 24-hour withdrawal limit is set to 30 BTC. To increase this number to 80 BTC, you would have to pass basic KYC.
If you want to buy crypto with fiat, you would have to pass KYC verification as the process goes through a third party from MoonPay, Simpex, Banxa and Mercuryo. Some of these accept Visa and Mastercard, and some accept Apple Pay, Google Pay and Sepa transfers.
Pros
Spot and futures trading without KYC
Spot trading fees of 0%
High crypto withdrawal limits without KYC
Advanced trading charts
Over 1,000 cryptocurrencies to choose from
Cons
Buying crypto with fiat currency goes via third parties that require KYC
OTC trading not available without KYC
| | |
| --- | --- |
| No KYC features | Spot crypto trading, futures trading |
| Spot trading fees | 0% maker/taker fees |
| Can you buy crypto with a card? | Yes with MoonPay, Simplex, Banxa and Mercuryo |
| Additional features | Beginner guides |
3. CoinEx — Centralized Crypto Exchange That Offers Spot Trading, Futures and Yield Farming
CoinEx is a Hong Kong-based centralized crypto exchange that offers crypto spot and futures trading without a KYC process. There's also margin trading, yield farming by becoming a market maker, and staking your idle coins.
This exchange uses the maker/taker fee model where the price you pay for trading crypto depends on whether you buy it with a market order (taker) or set a limit order at a certain price (maker). The starting fee is 0.2% for both market makers and takers, but you can lower the fees by holding CET tokens.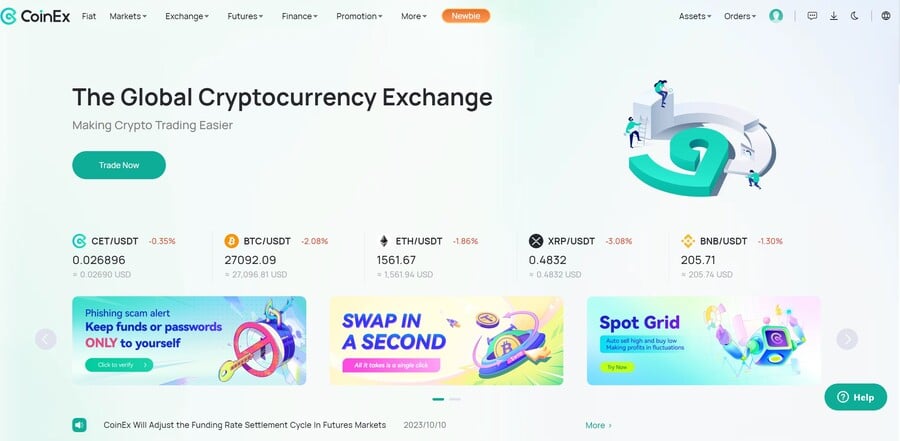 Without KYC, you are limited to $10,000 worth of crypto per 24 hours. If you want to increase this number, you would have to verify your account.
Similar to most crypto exchanges, you can buy crypto with a credit card, but you can also sell it. However, this process goes via third-party services such as MoonPay, AdvCash and Mercuryo, which require KYC on their sites.
Pros
Spot and futures trading without KYC
Spot trading fees start at 0.2%, but you can lower them with CET tokens
$10,000 withdrawal limit without KYC
Advanced trading charts
Over 600 cryptocurrencies to choose from
Cons
Buying crypto with fiat currency goes via third parties that require KYC
A limited number of features
| | |
| --- | --- |
| No KYC features | Spot crypto trading, futures trading |
| Spot trading fees | Start from 0.2% maker/taker fees |
| Can you buy crypto with a card? | Yes with MoonPay, Simplex, Mercuryo, Guardian, AdvCash and Banxa |
| Additional features | Yield farming via AMMs and staking |
4. Phemex — A No KYC Crypto Exchange With Spot Trading, Margin Trading and Copy Trading Features
Phemex is a crypto investment and trading platform where you can buy crypto with fiat or swap with other cryptocurrencies. There are over 150 crypto pairs where you can trade and swap without going through a KYC process.
The way this works is you connect your MetaMask wallet and deposit crypto from your wallet into Phemex.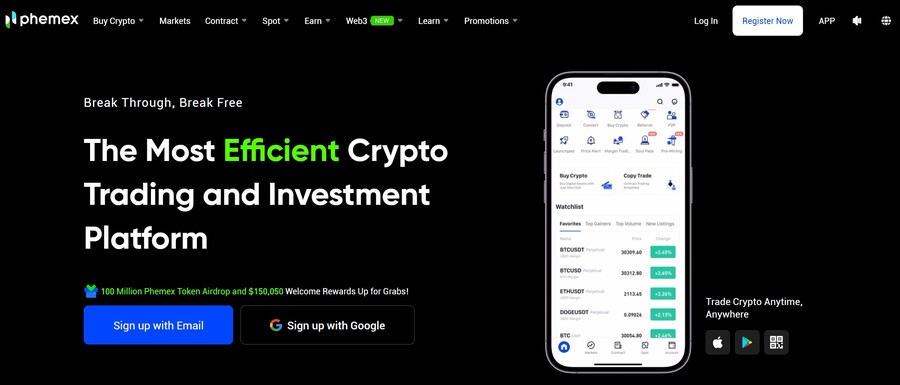 You can also buy crypto with a debit or credit card or deposit fiat currencies. However, using these features requires that you identify yourself to MoonPay or Mercuryo, depending on which one you choose.
Phemex doesn't require KYC, but users who want to get additional benefits like a premium membership and bonuses should complete KYC. This includes zero trading fees for up to $1 million per day, or bonuses such as a $5 voucher for following Phemex's X account, or vouchers for completing quizzes, depositing funds or copying traders.
Additional features of Phemex include copy trading and trading bots. You can either build the bots yourself or copy their trades. Seasoned traders get to use margin trading with 5x leverage. This means you can trade $50,000 worth of crypto with just $10,000 in your account. Even though this may sound like an enticing offer, know that it comes with a higher risk as well.
Pros
Multiple features available without KYC
Copy trading and bot trading
Spot trading and trading on a 5x margin
Staking with Phemex Earn
Multiple cryptocurrencies to choose from
Cons
Fiat onramp via Moonpay or Mercuryo
VIP features and bonuses only for KYC users
| | |
| --- | --- |
| No KYC features | Deposit crypto, spot crypto trading |
| Spot trading fees | Make fees from 0.00% to 0.01%, taker fees from 0.045% to 0.100% depending on your 30-day trading volume |
| Can you buy crypto with a card? | Yes with Moonpay or Mercuryo |
| Additional features | 5x margin trading, copy trading, bot trading, Phemex earn, price prediction rewards, Web3 features |
5. Uniswap — Popular Decentralized Crypto Exchange on The ERC20 Blockchain Where You can Swap Tokens and NFTs Directly With Your MetaMask Wallet
Uniswap is a decentralized exchange (DEX) on the Ethereum blockchain and its layer 2 chains like Polygon, Arbitrum and Optimism, as well as BNB Chain tokens. This means it's not owned by any entity that can freeze your assets. The way it works is you connect your crypto wallet and swap the tokens you want. This doesn't require a KYC process and is anonymous.
Aside from token swapping, you can trade NFTs and buy crypto with a card or a bank account — a process that goes through MoonPay and its KYC policy. If you go the credit card route, you would have to reveal your identity to MoonPay but not to Uniswap since the two don't share customer data.
Another interesting feature of the Uniswap app is that you can provide liquidity and earn passive income in the form of new crypto tokens.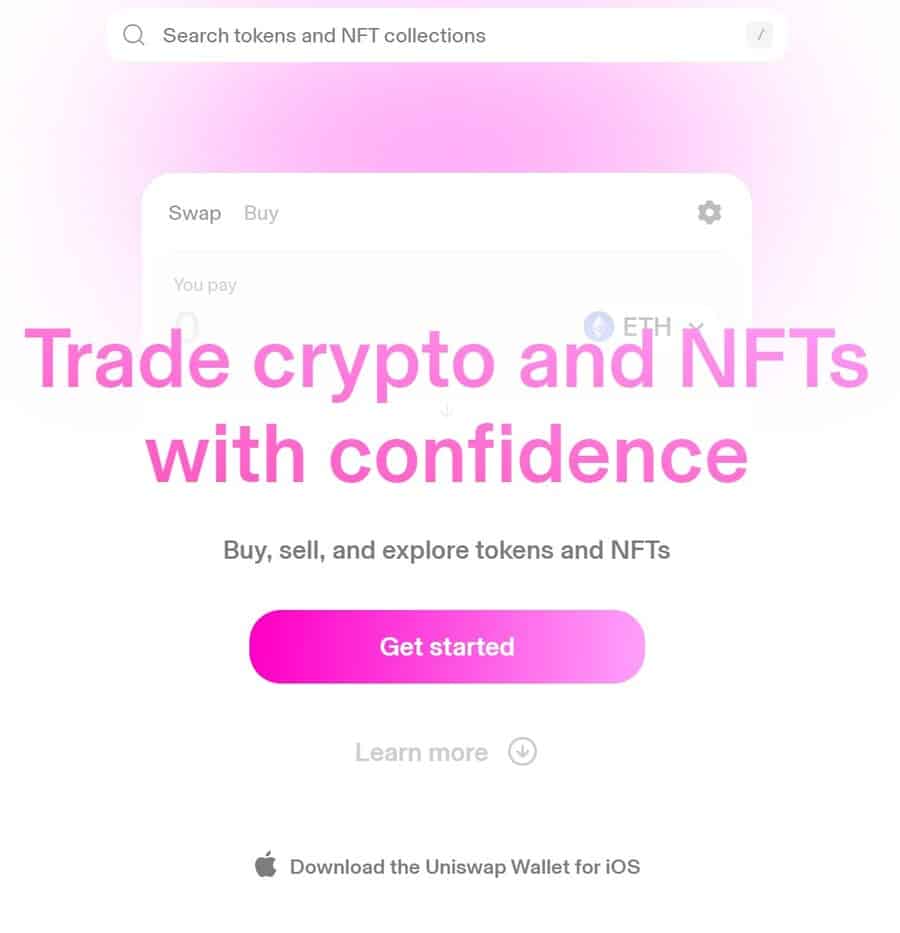 Uniswap comes with a Uniswap Wallet for iOS devices, which you can download and seamlessly interact with decentralized finance (DeFi) and NFT apps, and use all of the desktop features directly in the palm of your hand.
Pros
Largest DEX on Ethereum
User-friendly interface
Can trade NFTs
Liquidity farming
Multiple cryptocurrencies to choose from
Cons
Fiat onramp via MoonPay
Higher swap fee compared to other exchanges
| | |
| --- | --- |
| No KYC features | Swap crypto tokens and NFTs and use the Uniswap liquidity pool |
| Spot trading fees | 0.3% for swapping tokens |
| Can you buy crypto with a card? | Yes with MoonPay |
| Additional features | NFT trading and yield farming with Uniswap's liquidity pool |
6. PrimeXBT — A Multi-Aset Trading Platform That Allows For Crypto Trading With Leverage, Copy Trading and Virtual Contests With Real Prizes
PrimeXBT is a no KYC crypto exchange that allows you to trade cryptocurrencies with leverage, copy trade and invest in other assets. Even though the exchange doesn't require a KYC procedure for most of its features, the company may require ID verification whenever they deem it necessary. So if you're looking for full anonymity, other exchanges like Uniswap could be a better option.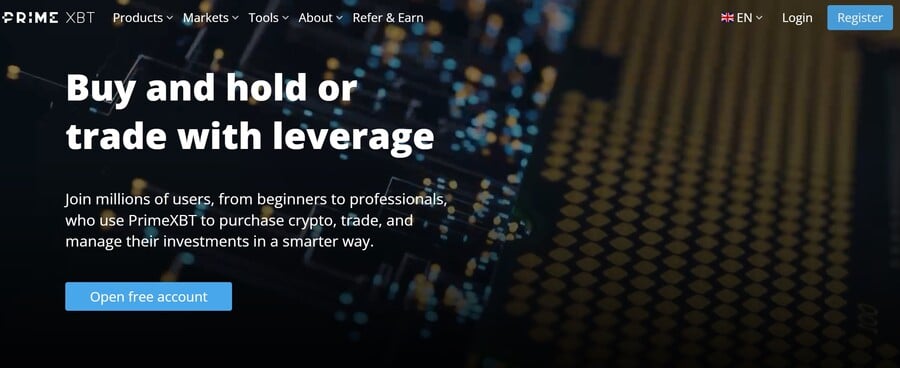 The exchange offers an academy where you can learn how to trade cryptocurrencies. Once you're ready, you can participate in free trading contests with virtual funds where you can win $1,000 USDT in the form of tradable bonuses, which you can use as margin to open positions or to cover fees. You can also design your own crypto trading competitions with zero costs.
Similar to other centralized exchanges, you can deposit crypto anonymously or you can buy crypto with AdvCash fiat deposits, which you can buy with a card or bank transfer. Accounts that aren't KYC verified have a withdrawal limit of $20,000 within 24 hours. If you're trying to withdraw cash, know that only AdvCash is the option for fiat withdrawals.
Pros
Trade crypto on margin
Copy trading
Virtual contests with real prizes
Can trade other assets like forex, indices and commodities
Free market research tools
Cons
Fiat onramp/offramp via AdvCash
PrimeXBT reserves the right to do KYC
| | |
| --- | --- |
| No KYC features | Sopt trading, trading on leverage, copy trading |
| Spot trading fees | 0.05% for crypto |
| Can you buy crypto with a card? | Yes via AdvCash |
| Additional features | Contest with virtual funds and real prizes, copy trading, forex, indices and commodities trading |
7. PancakeSwap — A BSC-Based DEX Offering Token Swaps, Yield Farming, Gaming & NFT Trading
PancakeSwap is one of the most popular crypto exchanges without KYC operating on the BNB Smart Chain. It comes with a user-friendly interface and low transaction fees, making it a preferred choice for crypto enthusiasts. Notably, PancakeSwap charges a 0.01% to 1% fee per transaction — depending on the pair — for V3 liquidity pools and a 0.25% fee for V2 liquidity pools, the latter of which is cheaper than other DEXs like Uniswap.
PancakeSwap boasts a diverse range of features including yield farming, bridging across blockchains, as well as trading perpetual swaps. Should you wish to directly buy crypto, you can do so with fiat currency via MoonPay, Mercuryo and Transak.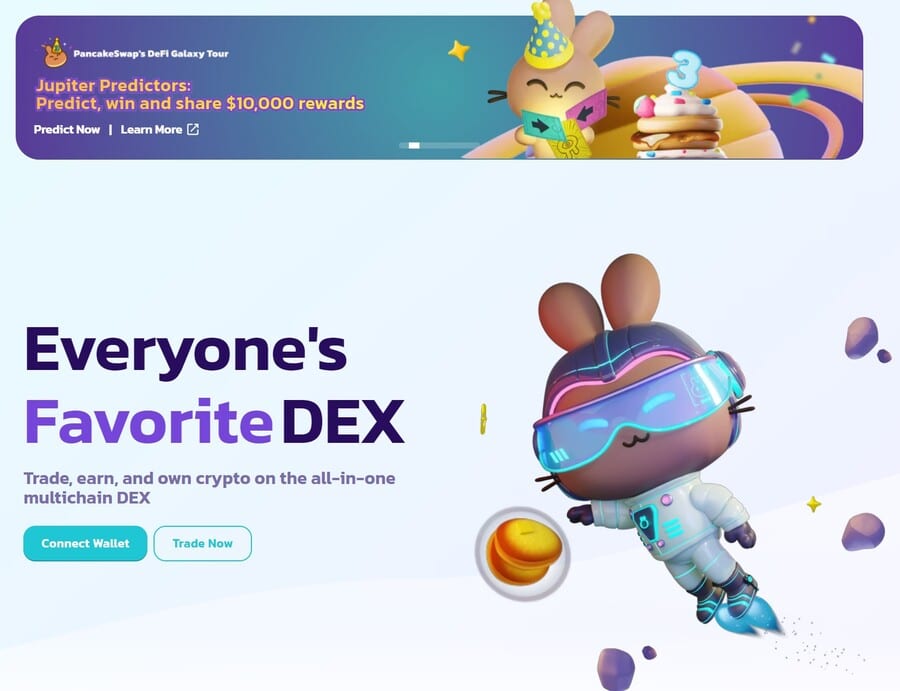 PancakeSwap has also gamified its platform. You can forecast token prices, play PvP and PvE tower defense games, participate in lotteries or trade NFTs on the BNB chain. If that's something you want to do after you get your crypto, check out the game and NFT section. There's no KYC requirement to do any of this.
Pros
Buy crypto with fiat
Swap tokens on the BNB chain and Ethereum
Fast transfers
Low swap fees for stable pairs
No KYC for swapping tokens, yield farming and gaming
Cons
Crypto onramp via MoonPay, Mercuryo and Transak
Swapping less popular coins come with the highest fees
| | |
| --- | --- |
| No KYC features | Token swap, yield farm, perpetual swaps trading, multi-chain bridge, NFT trading, gaming |
| Swap fees | From 0.01% to 1% depending on the coins |
| Can you buy crypto with a card? | Yes via MoonPay, Mercuryo and Transak |
| Additional features | Liquid staking, liquidity pool farming, price prediction and lottery |
8. Changelly — Leading Crypto Exchange Where You Can Quickly Swap Crypto Coins Without Signing Up
Changelly is one of the oldest crypto exchanges with no KYC, founded in 2015. It started by offering direct crypto purchases with a credit card, but it now offers selling crypto and DeFi swaps on BNB Smar Chain and Ethereum blockchain and its layer 2s.
To buy crypto with fiat, you can use a card that goes through MoonPay, Simplex or Wert, or you can buy crypto with Apple Pay or PIX. You can also swap between multiple currencies from different blockchains. For example, you can exchange Bitcoin for Ethereum or Solana.
Its notable feature is the crypto offramp, meaning you can sell your crypto for fiat currency and get it in your bank account. This is done via Mercuryo, though. To use this feature, you have to pass a KYC with Mercuryo, not with Changelly.
If you haven't done KYC with Mercuryo before, the crypto offramp feature may not be useful to you, given you can go through KYC with other exchanges like Kraken or Binance and get cheaper quotes on swapping and withdrawing your crypto and fiat.
Pros
Buy crypto with fiat
Sell crypto for fiat
Exchange multi-chain tokens
DeFi exchange
Cons
Crypto offramp via Mercuryo and requires KYC
Higher exchange rates than other CEXs and DEXs
| | |
| --- | --- |
| No KYC features | Exchange and swapping crypto |
| Swap fees | 0.25% exchange fee, purchasing crypto depends on the third-party service you use |
| Can you buy crypto with a card? | Yes via MoonPay, Simplex or Wert, or with Apple Pay |
| Additional features | None |
What is a Non-KYC Cryptocurrency Exchange?
There is a subset of exchanges that operate without a Know Your Customer (KYC) verification requirement. These exchanges allow users to trade cryptocurrencies without undergoing the verification process. Users can typically register with just an email address and password or a cryptocurrency wallet such as MetaMask.
The primary allure of a non KYC exchange is the preservation of user privacy. In an era where data breaches are commonplace, many investors and traders are wary of sharing personal information, especially when a lot of crypto exchanges are unregulated. These platforms cater to such privacy-conscious users, ensuring that their identity remains undisclosed.
However, the anonymity comes with a set of challenges. Without KYC, these platforms can become hotspots for illegal activities. Moreover, they might face regulatory crackdowns, as governments increasingly scrutinize the crypto space. Users of non-KYC exchanges also forgo some protections. For example, in case of disputes or issues, having an unverified account can complicate resolutions. Also, if the exchange goes under, the assets you store there may be lost forever.
Some of these issues can be avoided by using decentralized exchanges like Uniswap and PancakeSwap. These exchanges aren't owned by a company and are unlikely to be forced by governments to request KYC verifications from their users. What's more, DEXs don't store your coins, they are simply passing through your coins. That means if the exchange is hacked, your funds should be safe in your wallet.
Keep in mind, even no KYC exchanges may use third-party services for converting fiat to crypto and vice versa. These services may require KYC verification.
The Future of Non KYC Exchanges
The future of no-identification crypto exchanges is uncertain. As regulatory bodies continue to tighten their grip on the cryptocurrency industry, these platforms may face increasing pressure to implement KYC procedures.
Bitget, a popular no KYC crypto exchange announced it would implement KYC from September 2023, a few months earlier, KuCoin announced it would introduce mandatory ID checks. This trend is likely to continue.
Luckily, there are still no KYC crypto exchanges to choose from at the moment.
Potential Benefits of No Identification Crypto Exchanges
Crypto exchanges without identification come with several benefits, including:
Anonymity and Privacy
One of the most significant benefits is user anonymity. In an age where personal data is a valuable commodity and breaches are common, some investors and traders are looking for platforms that don't require personal details.
Trading on these exchanges ensures that users' identities remain private. This also obscures their crypto trading activities, which are impossible to track on-chain if they were executed on centralized exchanges.
Efficiency and Accessibility
No identification crypto exchanges streamline the trading process. Without the need for time-consuming verification procedures, users can quickly sign up with a crypto wallet or an email, deposit crypto funds and start trading.
This efficiency is particularly beneficial for those who wish to seize market or arbitrage opportunities without waiting for approval. Additionally, these platforms offer a more inclusive environment given that citizens of some countries are blocked from using centralized exchanges. Non-KYC platforms provide an accessible gateway to the world of cryptocurrencies for these underserved populations.
Enhanced Financial Sovereignty
Cryptocurrency enthusiasts who follow the ethos of cryptocurrencies like the idea of decentralization and financial autonomy. No identification exchanges align closely with this philosophy because they allow users to trade without intermediaries and without providing personal information.
This gives individuals greater control over their financial activities. Users retain full ownership of their funds, especially through DEXs, which reduces the risks of centralized entities' potential mismanagement or insolvency.
What is The Use of No KYC Exchanges if I Can't Buy Crypto With Fiat?
Since you can't buy crypto with fiat currency without revealing your identity in one way or another, the use of no KYC crypto exchanges is to take advantage of the crypto market.
For instance, you may see that a certain cryptocurrency pair trades at $1.1 at one exchange and at $1.3 at another exchange. You can use this arbitrage opportunity to buy the crypto cheaper and sell it higher on another exchange.
Another use case is to buy cryptocurrency that is not available on your native exchange. For example, you have Ethereum but you want to buy some token "X" on the Solana blockchain. You can't directly swap ETH coins for X on Uniswap, so you would have to find an exchange where X is offered to make the swap.
Alternatively, you're looking to trade cryptocurrency and not hold it. Typically, you can find better rates at a centralized exchange, such as MEXC, than you would get on a decentralized exchange.
How to Pick a No KYC Exchange
As more crypto exchanges are embracing KYC verification, you have to dig deep to find the best no KYC exchanges. Here's what to consider:
Look for user reviews, expert opinions and any issues or controversies. Reddit often provides valuable information on many exchanges.
What are you looking for in an exchange? If you want to move fiat to crypto and back, this will require KYC even if not by the exchange, then by a third-party service such as MoonPay or Mercuryo. But if you're looking to take advantage of arbitrage or market opportunities, no KYC crypto exchanges are a great place to start quickly.
Check if the platform uses encryption, cold storage, two-factor authentication, and other security protocols to protect your funds.
An intuitive and user-friendly interface is often a requirement if you're starting out. This will make the entire process of buying and selling crypto more straightforward.
Ensure the exchange supports the cryptocurrencies you're interested in trading. Typically no KYC crypto exchanges like MEXC will list almost every popular crypto you can find. But exchanges like Changelly might have a limited selection.
Examine the fee structure. While some no KYC exchanges might offer competitive rates, others could have higher fees, especially if you buy crypto with a credit card. Compare the costs with other platforms to ensure you're getting a fair deal.
Responsive customer support can be crucial, especially if you encounter any issues. You can always reach out to customer support before you start trading on an exchange to see how they respond.
Understand the jurisdiction under which the exchange operates. Some countries may not be supported by the crypto exchange. You could bypass this with a VPN, but that would be at your own risk.
Some exchanges offer additional features like staking, yield farming and NFT trading. If you're interested in these services, ensure the platform provides them.
Consider how easy it is to withdraw your funds. This is the most important part. Some no KYC exchanges might have withdrawal limits or specific conditions. Ensure you're comfortable with these terms before committing to a platform.
Are NO KYC Exchanges Safe and Legal?
From a safety perspective, this means that users' personal data is less susceptible to potential breaches or unauthorized access, as minimal information is stored. This would make them relatively safer than KYC exchanges.
However, the lack of regulation and oversight can also make these platforms more vulnerable to other risks, such as money laundering or fraud. Moreover, since they often operate outside of traditional financial systems, users might have limited recourse in case of disputes or losses.
The legality of no KYC exchanges varies by jurisdiction. In many countries, cryptocurrency exchanges are required by law to implement KYC procedures. Operating without KYC can lead to exchanges facing legal repercussions, including fines or shutdowns.
However, in some regions, the regulatory environment is less defined, allowing no KYC exchanges to operate in a legal gray area. Decentralized exchanges like Uniswap or PancakeSwap are typically allowed in most countries.
Either way, you have to do thorough research, understand the risks and stay informed about the regulatory environment in your country before engaging with no KYC exchanges.
Can You Buy Crypto Without KYC?
Unless you buy crypto with fiat from someone you know or with cash, you would need to go through a KYC process. Even no KYC exchanges that pass this feature through third parties require ID verification.
Conclusion
In 2023, the best no KYC crypto exchanges continue to offer a blend of privacy, efficiency and accessibility.
One of the top no KYC exchanges is Best Wallet, which can store coins and tokens on a variety of blockchains in one mobile app. On it, you can swap coins and NFTs without a sweat.
However, make sure to do your own research about each exchange and to stay informed about regulatory changes to avoid issues.
References
FAQs
Are there any non KYC crypto exchanges?
Do I need KYC for KuCoin?
Why do people avoid KYC in crypto?