Penny cryptocurrencies are low-cost digital assets that often trade for just a few cents. This will appeal to investors on a budget who want to buy a large number of tokens.
Read on to discover over a dozen of the best penny crypto assets to buy for maximum upside potential in 2023.
19 Best Penny Crypto to Buy in 2023
Here's our list of the top penny cryptos to invest in right now at a low price point:
Wall Street Memes

– New presale meme coin created by an established brand with over one million followers. The project is inspired by the meme stocks movement, aiming to "tokenise the movement". The presale raised over $1 million in less than four days.

AiDoge – Innovative crypto project using cutting-edge AI technology to generate memes. Offers a user-friendly platform and tokenized rewards for meme creators.
Ecoterra – Green crypto token with users able to earn rewards for recycling household items such as plastic, glass and cardboard -with tokens then held or used to fund further eco-friendly projects.
yPredict – AI-powered crypto analysis platform offering in-depth asset price predictions. Leverages the immense potential of AI to provide insights and sentiment evaluations that enable traders to make better decisions.
DeeLance – Crypto presale project that aims to revolutionize the freelancing and recruitment economy, by utilizing blockchain technology to make it more secure, efficient and transparent.
Launchpad XYZ – Pioneering Web3-focused crypto platform aiming to streamline the transition into Web3. Features a fractionalized assets marketplace, crypto wallet, NFT DEX, trading terminal, and other valuable features.
Copium

– This new meme project is backed by popular social media influencers. $COPIUM can be purchased on the Uniswap DEX.

Sponge – This meme penny cryptocurrency has just been listed on Uniswap. Still under a penny, $SPONGE is currently up by over 500%.
Love Hate Inu – Emerging Penny Crypto with Viral Potential
Pikamoon

–

Pikamoon is a play-to-earn game currently in its presale stage. The penny crypto dubbed $PIKA fuels the in-game metaverse economy and helps you purchase character NFTs, unique items, and more.

Tamadoge – Blockchain-Based Games With Virtual Pet Ownership
Stellar – Large-Cap Penny Crypto With a Prolonged IBM Partnership
Dogecoin – Popular Meme Coin and Payment Currency With Several Million Token Holders
TRON – Decentralizing the Entertainment Industry via the Blockchain
Decentraland – Established Metaverse Project With Virtual Land Ownership via NFTs
Algorand – Near-Carbon-Negative Blockchain for a Sustainable Future
The Graph – Indexing Protocol Servicing the Future of Web3
1inch Network – Decentralized Financial Services With 350+ Liquidity Providers
Enjin Coin – Blockchain-Based Gaming Guild for Play-to-Earn Titles
Best Penny Cryptocurrencies to Buy: Our Analysis
Our list of the best penny cryptocurrency to invest in
is based on many factors, such as upside potential, current pricing levels, and the token's use case.
Read on to evaluate the 19 best crypto under a penny that could outperform in 2023.
1. Wall Street Memes – Presale Meme Coin With Over One Million Followers
Created by the founders of the Wall St Bulls NFT project, the Wall Street Memes presale got off to an explosive start, raising over $1 million in its first four days.
The strong presale is a result of the its already-established brand, which has over one million followers across all its social media platforms including Instagram and Twitter.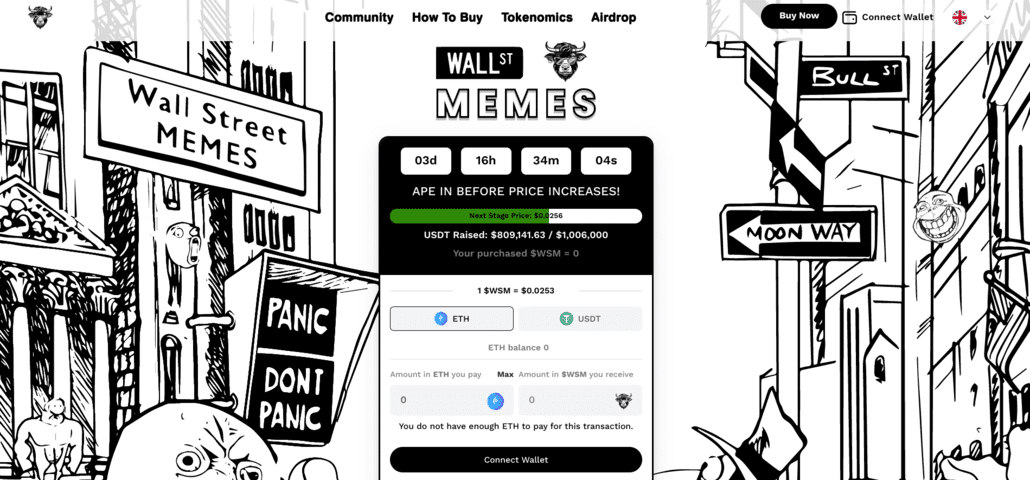 From the moment it launched, the presale has been a roaring success, raising over $100K in the opening minutes and analysts like Jacob Bury forecasting it to be one of the best penny meme coins.
The project has its roots in the Wall Street Bets and 'meme stocks' (or 'stonks') movement popular on Reddit in 2021 and since. The Wall Street Bets ethos is for retail investors to gain the upper hand on institutional investors, who they claim have always taken advantage of the average investor.
However, following the Wall Street Bets saga in 2021, brokerages halted trading on GameStop and other volatile stocks. This caused many investors to look toward crypto, where users could trade assets without relying on a trusted intermediary.
This dawned the creation of the Wall St Bulls NFT project, later leading to the Wall Street Memes meme coin presale. The Wall Street Memes website says the meme coin will "tokenise the movement", referring to the Wall Street Bets ideology.
Elon Musk has famously engaged with the Wall Street Memes Twitter on multiple occasions, with Wall Street Memes once responding "Bullish" in April.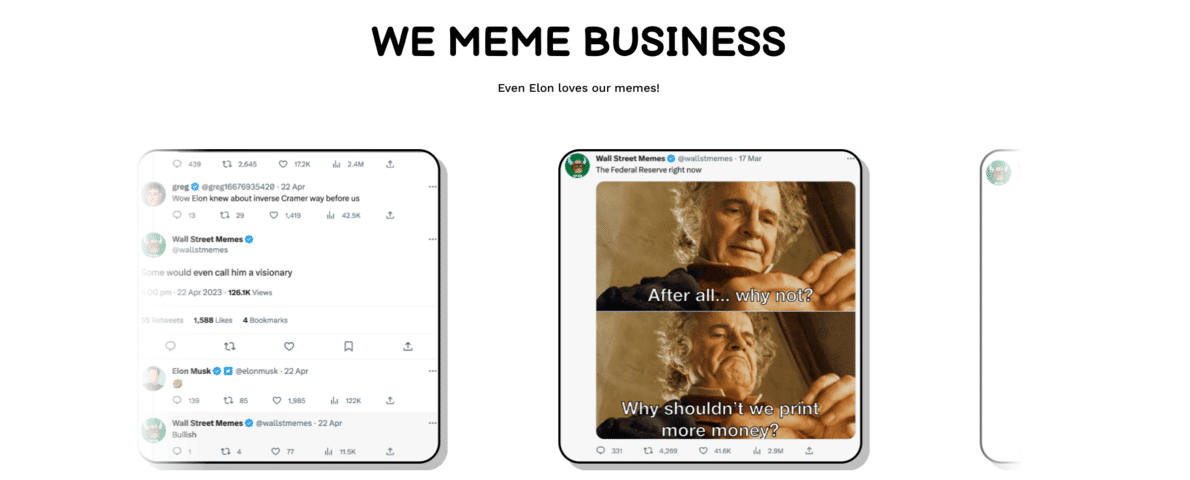 Our Wall Street Memes price prediction forecasts the price could rise by 492% by 2025, with the connection to Elon Musk playing a pivotal role.
$WSM is currently in its stage three presale, priced at 0.0256. There are 30 rounds altogether, and the price will rise for each. In total, there are two billion tokens; 50% are available at the presale, 30% towards community rewards, 10% to DEX liquidity and 10% to CEX liquidity.
Check out our guide if you want to know how to buy $WSM, or visit the project's website to learn more.
​
| | |
| --- | --- |
| Hard Cap | $30,577,000 |
| Total Tokens | 2,000,000,000 |
| Tokens Available in Presale | 1,000,000,000 |
| Blockchain | Ethereum |
| Token Type | ERC-20 |
| Minimum Purchase | 100 $WSM |
| Accepted Purchase Methods | ETH, USDT |
2. AiDoge – Overall Best Penny Crypto Project in 2023
Investors seeking the best penny crypto project to invest in this year may wish to check out AiDoge – the new and innovative Ethereum-based platform that combines the power of memes and artificial intelligence (AI) technology.
Due to its AI-powered "meme generator", AiDoge has taken the crypto market by storm and has raised over $1.3 million in funding at the time of writing. This meme generator is AiDoge's flagship feature, trained on huge datasets to automate the meme creation process.

Those wishing to use the meme generator must buy credits, which can only be purchased using $AI – AiDoge's native ERC-20 token. Aside from being used to purchase credits, $AI can also be staked to earn daily credit rewards and additional perks, like meme templates and community voting rights.
As noted in AiDoge's whitepaper, the total supply of $AI will be one trillion, with half of these tokens set aside for the project's presale phase. By taking this approach, AiDoge's team has ensured that the community controls a significant portion of the token supply, preventing "bad actors" from influencing the price.
While investing in presale cryptocurrencies is undoubtedly risky, the potential for exponential returns cannot be ignored. Investors are urged to do their own research to determine whether buying $AI tokens is the right move for them and their investment goals.

Those who wish to participate in the presale can buy AiDoge tokens for $0.0000268 during Stage 3, which is now ongoing. However, the presale will have 20 stages in total, meaning that everyone will get a chance to get involved – although the later the stage, the higher the token price.
For more information, investors can check out the official Telegram channel.
​
| | |
| --- | --- |
| Hard Cap | $14,900,000 |
| Total Tokens | 1,000,000,000,000 |
| Tokens Available in Presale | 500,000,000,000 |
| Blockchain | Ethereum |
| Token Type | ERC-20 |
| Minimum Purchase | N/A |
| Accepted Purchase Methods | ETH, USDT, BNB, Credit/Debit Card |
3. Ecoterra – Green Crypto with Recycling Rewards And High Upside Potential
Ecoterra is an upcoming green 'penny crypto' striving to bridge the gap that hinders individuals from adopting eco-conscious habits. The platform has created a unique Recycle2Earn system to tackle environmental challenges.
Ecoterra offers users incentives to recycle various items, motivating them to make eco-conscious choices due to the instant rewards they obtain.
Currently, the platform is in its presale stage, with tokens priced as low as $0.004 USDT each, allowing early investors to capitalize on the reduced prices during this period.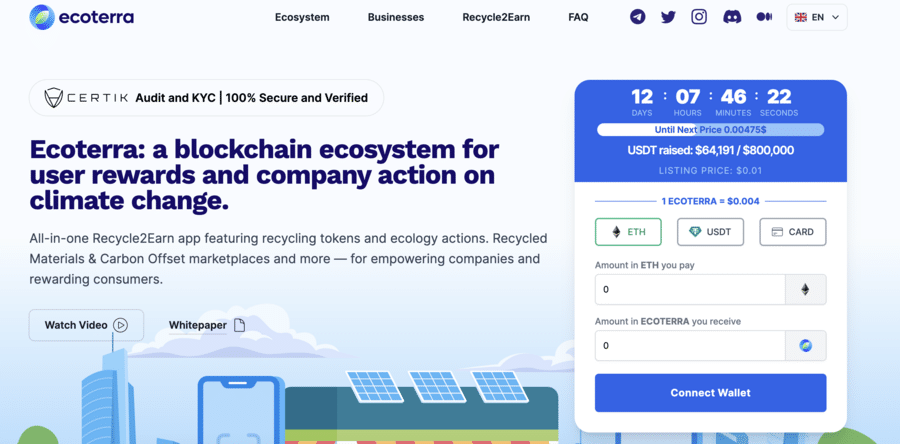 The Ecoterra app allows users to scan recyclable items and earn $ECOTERRA tokens. These tokens can be retained, staked, or used for funding green initiatives.
The app features a carbon offset marketplace, a social platform for tracking environmental footprints, and a market for recycled goods catering to user requirements. This comprehensive strategy encourages eco-friendly actions globally.

Ecoterra's whitepaper states that the application's AI-powered database allows users to easily identify recyclable materials through scanning.
Subsequently, the app suggests the nearest Reverse Vending Machine (RVM) for appropriate disposal. After completing the recycling process, users can claim their rewards by photographing their receipts and uploading them to the app.
Ecoterra's flexible design ensures compatibility with RVM users, catering to various industries, including consumer goods, technology, fashion, and hospitality.
If you're intrigued by the prospect of investing in Ecoterra and its new-age approach to promoting eco-friendly behavior with financial incentives, join the Ecoterra Telegram group to stay updated on the latest developments.
| | |
| --- | --- |
| Hard Cap | $6,700,000 |
| Total Tokens | 2,000,000,000 |
| Tokens available in presale | 1,000,000,000 |
| Blockchain | Ethereum Network |
| Token type | ERC-20 |
| Minimum Purchase | $10 |
| Purchase with | USDT, ETH, Bank Card |
4. yPredict – AI-Powered Crypto Analytics Platform with Ongoing Presale
yPredict is a cutting-edge platform that harnesses the power of artificial intelligence (AI) to offer in-depth analysis to crypto traders. Not only that, but yPredict also provides precise price forecasts developed by industry-leading AI and ML professionals.
The ultimate goal for yPredict's team is to simplify the cryptocurrency trading process for investors of all experience levels. yPredict's suite of analytical tools is designed to help achieve this – all of which are built on the Polygon blockchain.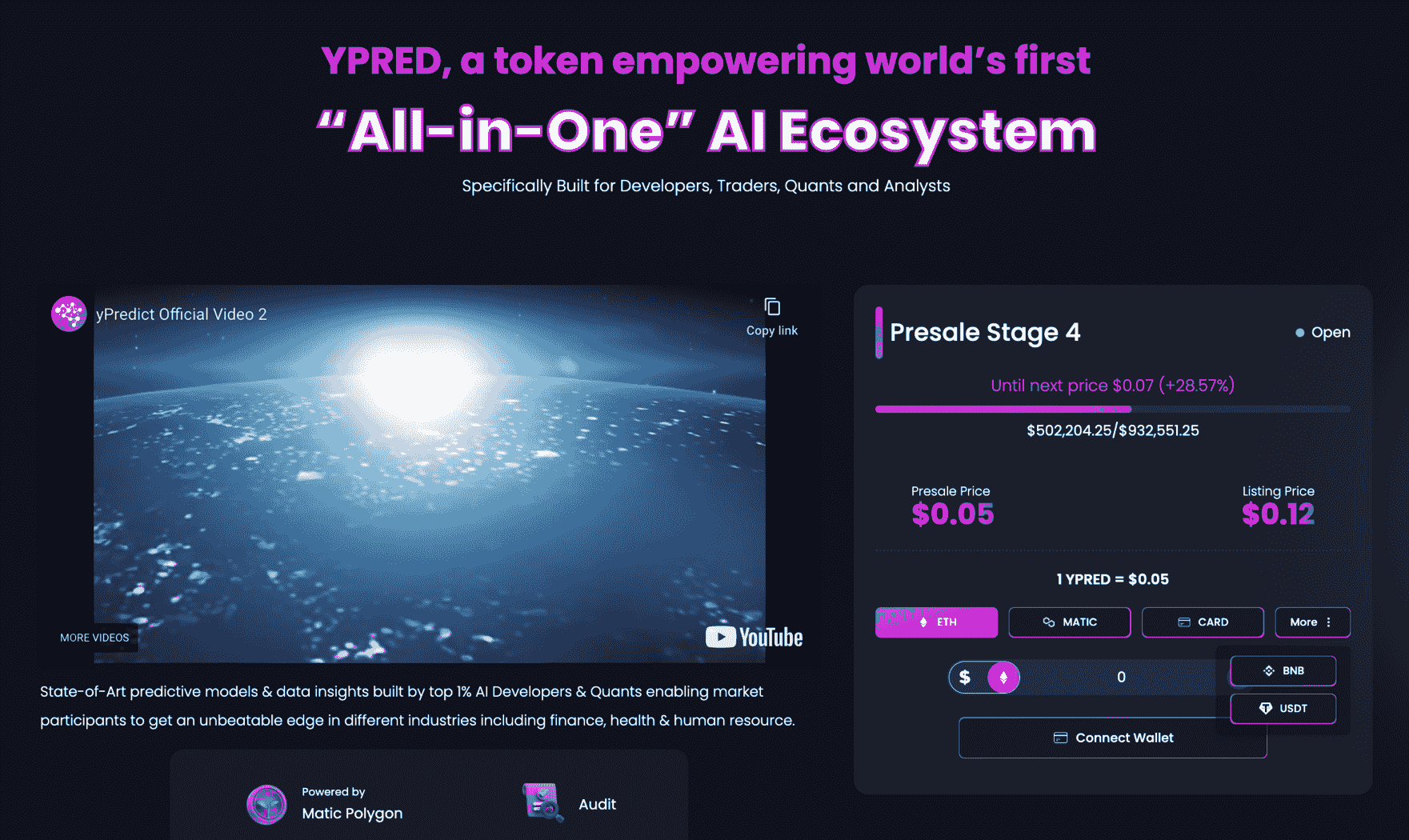 According to the yPredict whitepaper, the platform will include features like automatic price pattern recognition, AI-driven price predictions, trader sentiment analysis, high-end technical indicators, and more. Many of these tools are usually reserved for high-net-worth investors, yet yPredict aims to ensure they're accessible to all.
On top of these tools, yPredict will also have its own financial model marketplace. In this marketplace, AI and ML experts can list their price forecast models, which other users can subscribe to. Subscription fees are paid in YPRED – yPredict's native ERC-20 token.
This token will be crucial to yPredict's growth and will have a capped supply of 100 million. Not only can users subscribe to models using YPRED, but they can also gain access to the yPredict Analytics dashboard – and even stake their tokens to earn a predictable yield.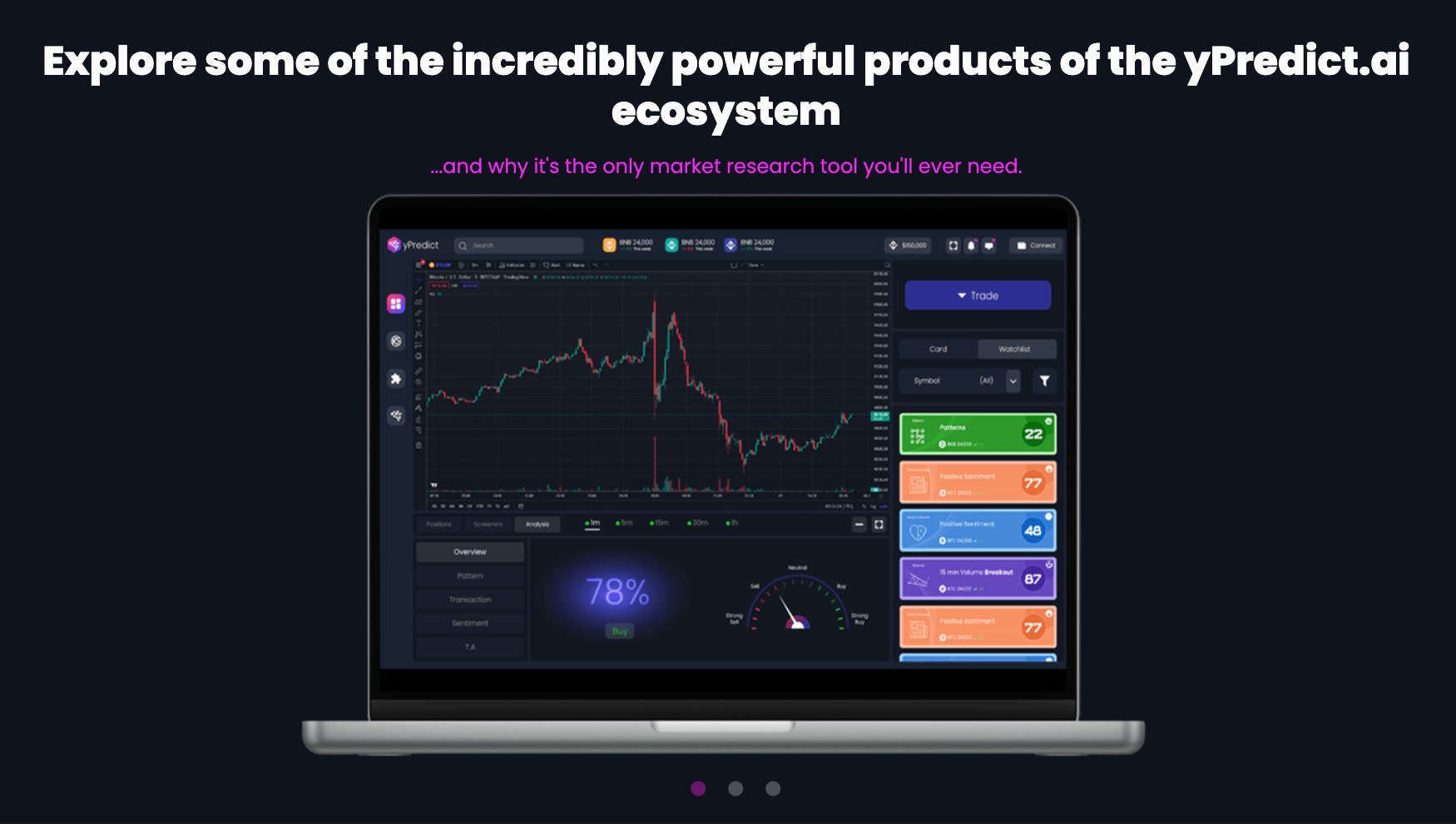 Given that yPredict is still in its presale phase, investors need to be aware that the project has no track record – meaning there's no guarantee of success. However, this is discounted by the fact that investors can buy yPredict tokens at a low price point, which lowers the risk somewhat.
At the time of writing, yPredict tokens are priced at just $0.05 – far lower than the stated listing price of $0.12. Those looking to learn more about yPredict can check out the project's Telegram channel.
| | |
| --- | --- |
| Hard Cap | $6,500,000 |
| Total Tokens | 100,000,000 |
| Tokens Available in Presale | 80,000,000 |
| Blockchain | Polygon |
| Token Type | ERC-20 |
| Minimum Purchase | N/A |
5. DeeLance – Decentralized Recruitment Portal with Fast Payments
DeeLance is an innovative decentralized freelancing and recruitment platform set to emerge as a promising 'penny crypto' with significant growth potential.
This unique project offers a metaverse environment, crypto payment methods, and the opportunity to convert your work into tokens, thereby enhancing transparency and affordability for freelancers.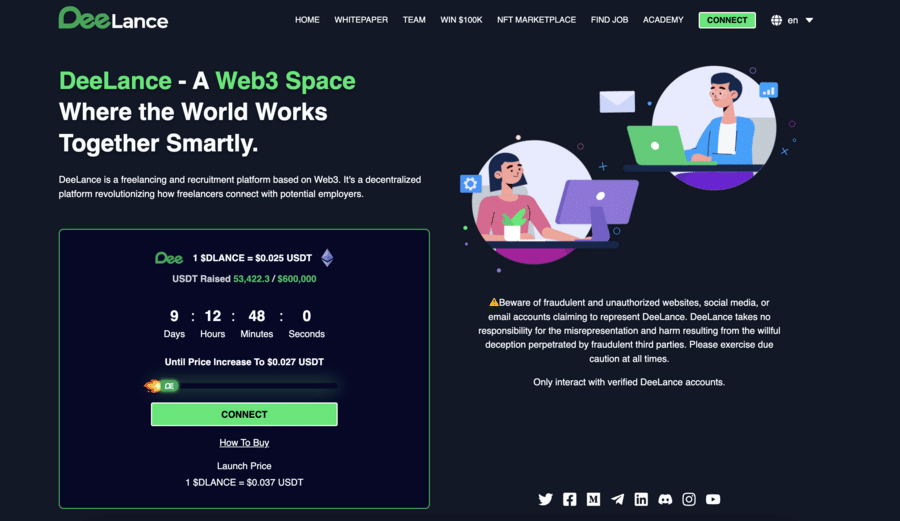 Now in its presale stage, the platform's native crypto, $DLANCE, is gaining much traction from investors. The platform has already raised over $53,000 USDT in a relatively short amount of time.
Notably, the $DLANCE token will be listed on crypto exchanges by the second quarter of 2023. Currently priced at $0.029 USDT, the value of one $DLANCE token is set to rise to $0.048 in its final presale stage.
As per the DeeLance whitepaper, freelancers can interact with clients in the metaverse using $DLANCE tokens, collaborating on projects in spaces such as lobbies, meeting rooms, and offices.
Moreover, virtual land and office spaces in the metaverse can be purchased using $DLANCE tokens, providing users with a customizable environment.
DeeLance's recruitment platform enables clients to connect with a diverse range of highly skilled independent professionals. All interactions and agreements between parties are securely recorded on a public blockchain, minimizing the risk of misunderstandings and fraudulent activities. Also, DeeLance offers escrow services to ensure timely freelancer payment upon project completion.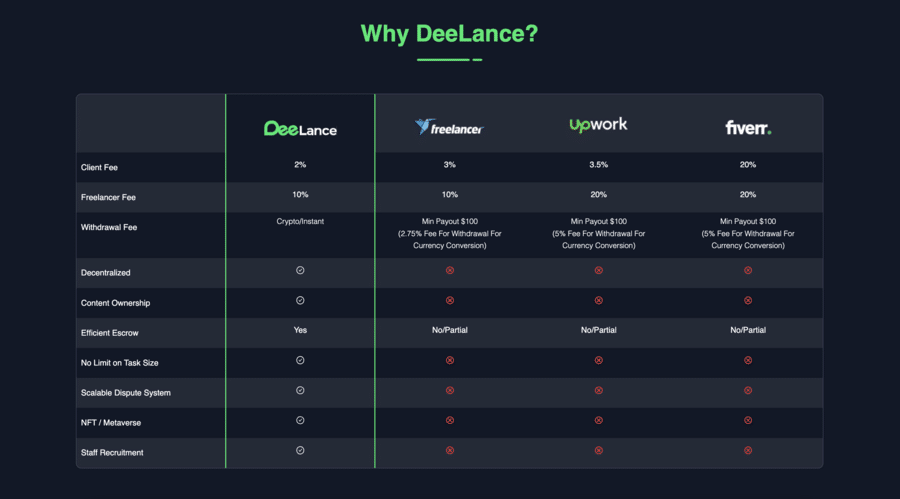 With a competitive fee structure, DeeLance charges clients a minimal 2% fee and freelancers a 10% commission, which is lower than its primary competitors. DeeLance's NFT marketplace also allows users to transform their work into NFTs, trade popular assets, and create their NFTs.
As a result, it is an excellent time to invest in $DLANCE before its value increases upon listing. To better understand this innovative decentralized freelancing platform, you can read the DeeLance whitepaper. For the latest updates on the presale, join the DeeLance Telegram channel.
| | |
| --- | --- |
| Hard Cap | $6,800,000 |
| Total Tokens | 1,000,000,000 |
| Tokens available in presale | 300,000,000 |
| Blockchain | Ethereum Network |
| Token type | ERC-20 |
| Minimum Purchase | $10 |
| Purchase with | USDT, ETH, Card |
6. Launchpad XYZ – New Web3 Crypto Project with Low Presale Price
Another penny crypto that has caught the investment community's attention is Launchpad XYZ. This project strives to streamline the Web3 crypto landscape for investors by offering a "one-stop-shop" that caters to the needs of individuals and businesses alike.
Built on the Ethereum blockchain, Launchpad XYZ is designed to remove the friction from NFT and crypto investing. Launchpad XYZ's development team has crafted an extensive suite of tools and services to do this, all included in the platform's user-friendly dashboard.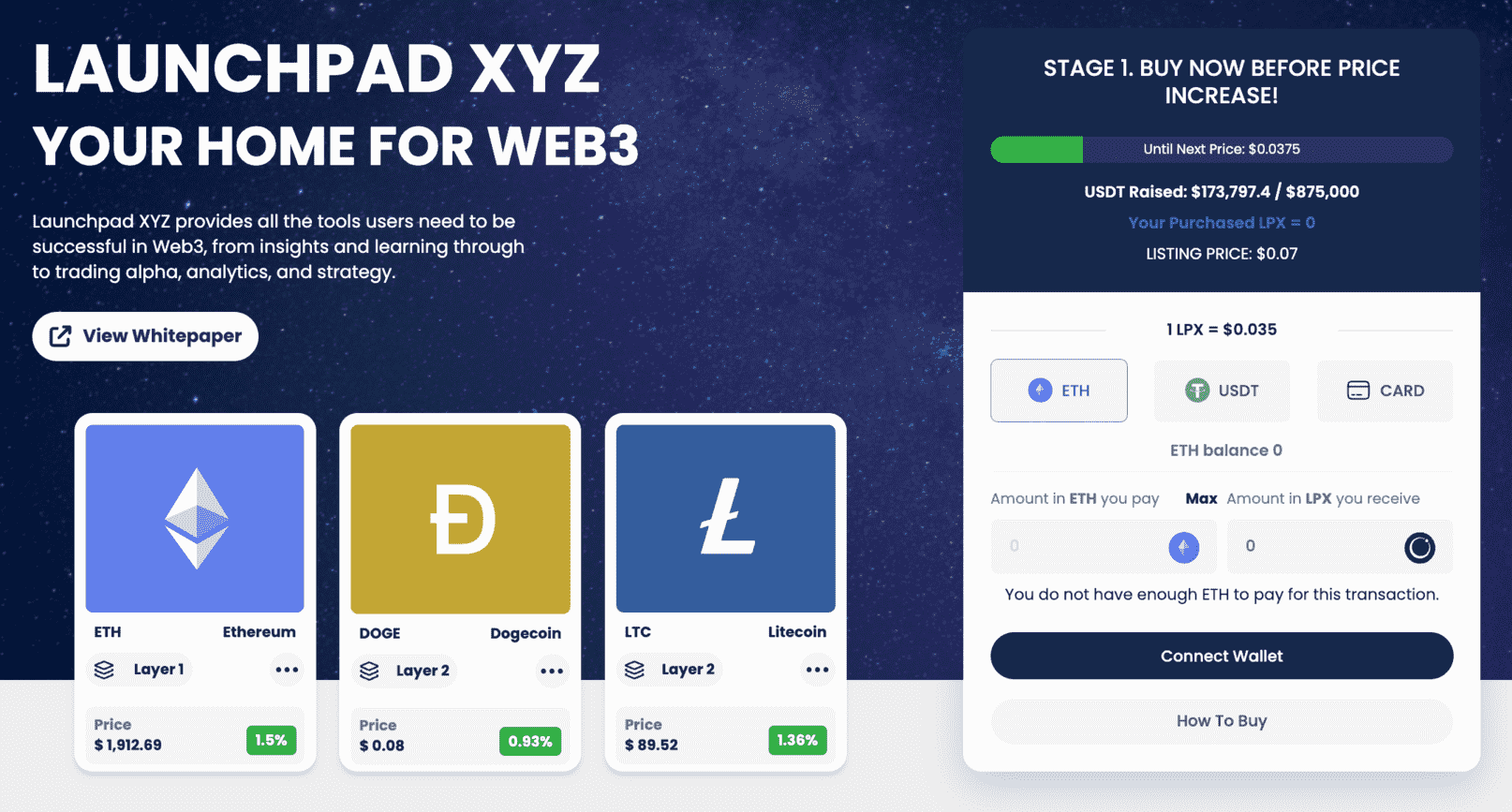 As outlined in the whitepaper, this dashboard offers tools such as a cryptocurrency presale marketplace, a play-to-earn (P2E) gaming hub, a metaverse experience library, an advanced Web-powered crypto wallet, and a fractionalized assets marketplace.
On top of all these features, Launchpad XYZ's team will introduce the "Launchpad Quotient", which is a unique score assigned to NFTs and cryptos. The Launchpad Quotient will utilize hundreds of individual data points to produce a single value that allows investors to quickly assess an investment's potential.
Making all of these features possible is LPX – Launchpad XYZ's native token. Users must own LPX to pay for trading fees and access certain features, although the token can also be staked to generate a regular passive income stream.

Like many other projects on our list, Launchpad XYZ is still under development, although early investors can buy Launchpad tokens through the presale phase. This presale will have ten stages, each featuring a different price, meaning that the earliest investors benefit from the lowest entry point.
This is undoubtedly compelling, although investors must recognize the dangers of investing in presale cryptocurrencies, given that success is not guaranteed. However, these cryptocurrencies can also yield considerable returns in the cases where they list on CEXs and flourish.
For more information on the Launchpad XYZ project, investors can visit the project's Telegram channel.
​
| | |
| --- | --- |
| Hard Cap | $12,500,000 |
| Total Tokens | 1,000,000,000 |
| Tokens Available in Presale | 250,000,000 |
| Blockchain | Ethereum |
| Token Type | ERC-20 |
| Minimum Purchase | N/A |
| Accepted Purchase Methods | ETH, USDT, Credit/Debit Card |
7. Copium – Meme Token which has Sky-Rocketed since its Uniswap Launch
Copium ($COPIUM) is a new community-driven meme token. The project's name is based on the combination of two words – 'Cope' and 'Opium.' The name refers to crypto degenerates aiming to cope with their losses experienced in the cryptocurrency markets.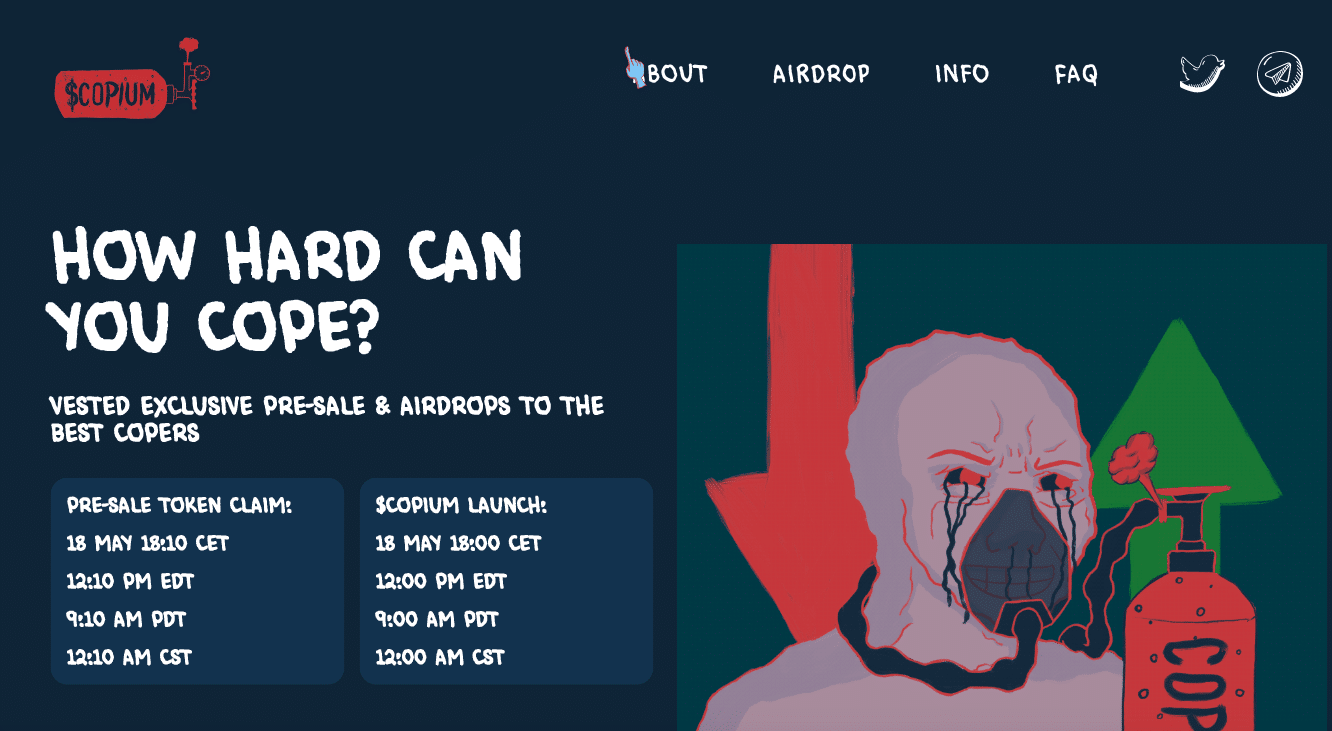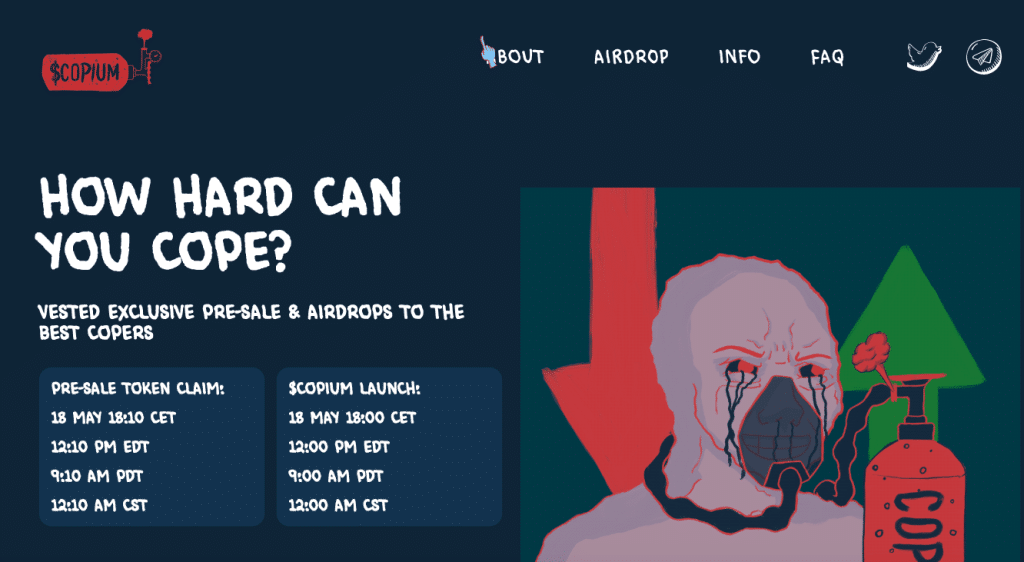 Before launching on the Uniswap exchange, Copium allocated 300 million tokens for its presale, representing 30% of the overall token supply. However, the presale worked on an invitation-only basis. As is the case with multiple meme cryptos, support from influencers and big personalities can help push up the price.
Therefore, the project's team decided to onboard popular social media influencers such as Faze Banks and DeeZe to be a part of the project. The token aims to become the next $PEPE coin, one of the most popular meme tokens.
While $PEPE has raised more than 1,000% in the past month, $COPIUM has also offered huge gains since its launch on May 19th, 2023. After listing at just $0.001213 per token, the cryptocurrency has raised to $0.08 per token, a price jump of more than 550%.
DEXTools states that the token is enjoying a 24-hour trading volume in excess of $44 million and already has a market cap of $8.2 million. The market cap is far lesser than other popular meme tokens such as $PEPE and $LADYS, but the positive launch could help build up the token's adoption in the long term.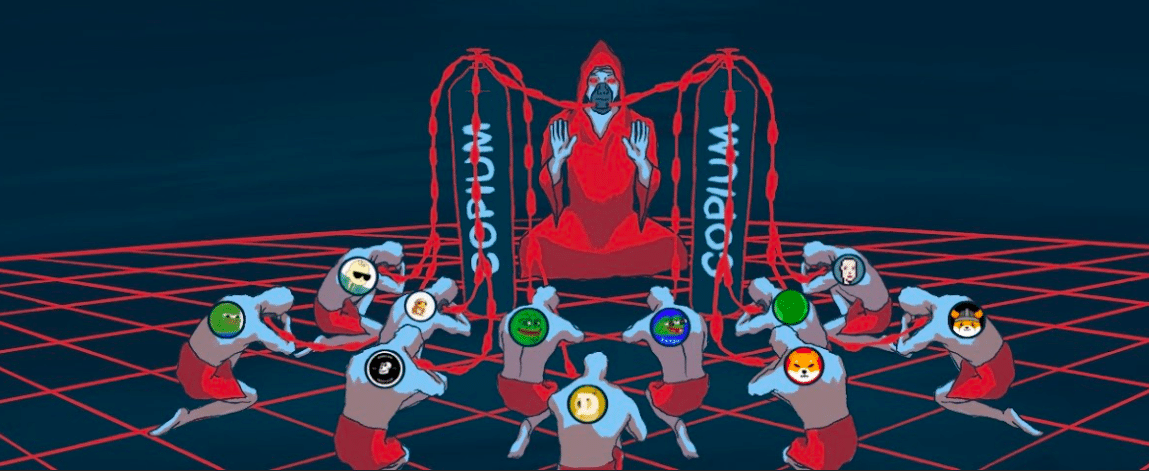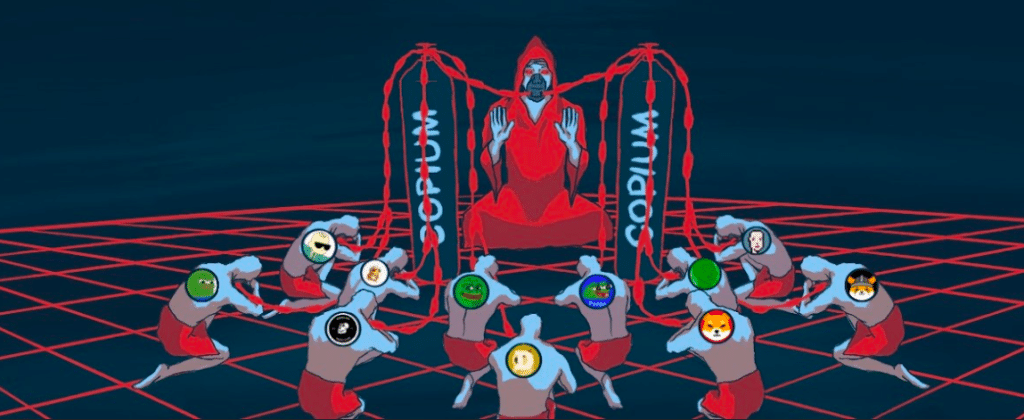 To promote the project, Copium has awarded NFT airdrops to the 200 biggest $COPIUM holders. To avoid short-term trading and dumping of the token, a three-week vesting period has been set for the presale coins. Only 10% of the tokens will be unlocked immediately, while the remaining will be vested.
Join the Copium Telegram channel to learn more about this cryptocurrency project.
8. Sponge – Meme Penny Cryptocurrency Soaring After Exchange Listing
$SPONGE is the native cryptocurrency of Sponge, a decentralized meme project based on the hit cartoon. On May 4th 2023, $SPONGE was listed on Uniswap decentralized exchange.
After being listed at the low price of $0.00005844, the token is currently trading at $0.00042. This equates to a price jump of 620%. DEXTools states that the market cap of $SPONGE is currently just above $17 million, still leaving a lot of room for future growth.
Categorized as the 'Krabby Patty of meme coins,' Spongebob aims to gather a loyal community base in the coming years. The project hopes to reach a market cap of over $1 billion.
The sensational price increase has come following the explosion of popular cryptocurrencies such as Wojak (WOJAK). That particular meme token has soared by more than 1,338% in the past week and has a market cap of over $70 million.
Spongebob will hope to reach similar highs in the coming weeks. Interested parties can buy $SPONGE now, as the price is still trading around the $0.0004 zone.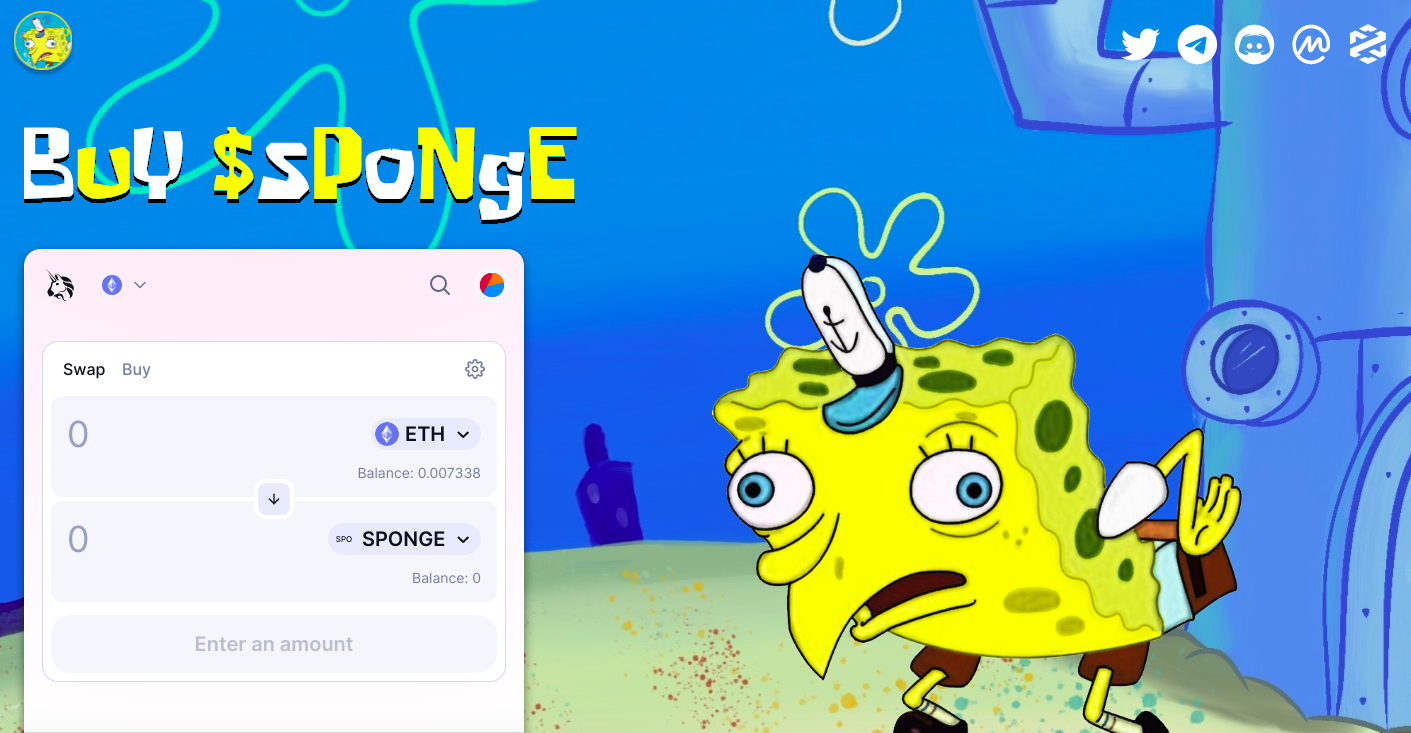 Join the Spongebob Telegram channel to stay updated with all the new developments.
For further information on the $SPONGE token, read our Spongebob price prediction guide.
9. Love Hate Inu – Emerging Penny Crypto with Viral Potential
Love Hate Inu is another of the best penny cryptos to buy today. In a nutshell, Love Hate Inu is a newly founded blockchain project that is revolutionizing how society votes.
Love Hate Inu has developed a vote-to-earn framework that rewards voters with LHINU tokens.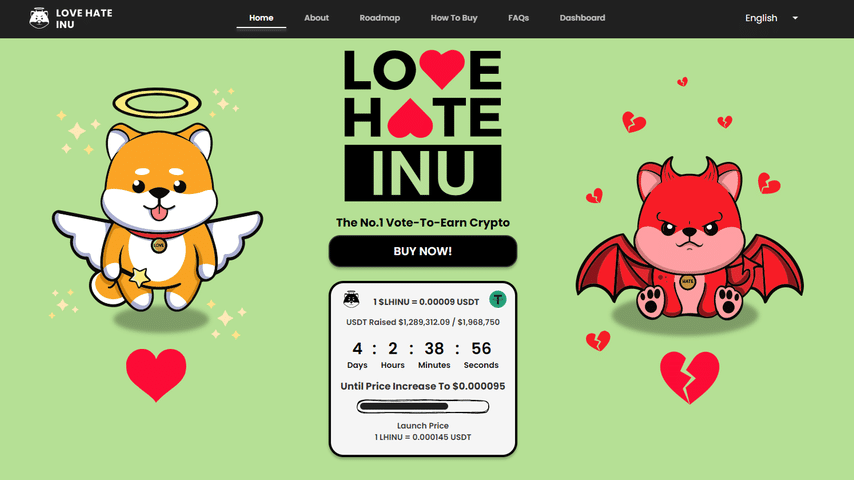 This is the penny crypto that fuels the Love Hate Inu and it is currently being sold at just $0.00009 each via the recently launched presale. This means that by allocating just $100 to the presale, investors will receive over one million LHINU tokens. As one of the best low cap coins, this could be the biggest presale of the year and more than $1.2 million has already been raised.
Having analyzed the Love Hate Inu whitepaper, we discovered that its proprietary voting platform solves many real-world issues. For example, it is impossible for fraudulent votes to take place, as access to the dashboard requires LHINU to be staked. Love Hate Inu also prevents the risk of voter manipulation. This is because votes take place on the blockchain via immutable smart contracts.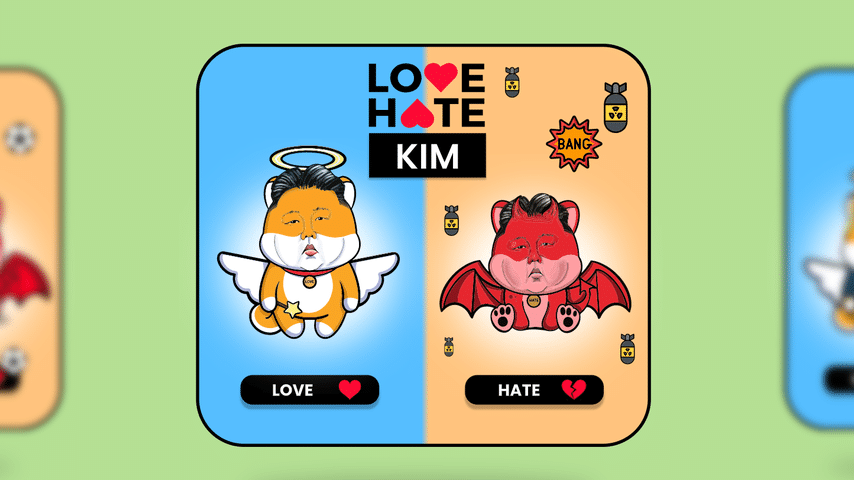 Moreover, Love Hate Inu removes the threat of voters being intimidated by third parties, such as governments or trade unions. This is because votes are conducted and recorded anonymously. The only information viewable is the voter's wallet address. Additionally, the rewards system being developed will motivate more people to vote.
After all, voting turnouts in many countries remain on a downward trajectory, as per a University of Essex and University of Montreal joint study. In contrast, Love Hate Inu users are rewarded in two different ways – when staking LHINU tokens and again when conducting votes.
Not only is Love Hate Inu the overall best crypto under a penny
now, but the presale offers an immediate upside. This is because each presale stage increases the price. For instance, the presale is currently in stage two, so each LHINU token costs just $0.000090. But by the eighth and final stage, the price increases to $0.000145.
This means that stage two investors have an upside of 60%. This is also the price that LHINU will be listed on an exchange after the presale finishes. The Love Hate Inu presale accepts ETH and USDT, meaning investors can buy LHINU anonymously. Credit cards are also accepted, but investors will need to upload some ID.
For more details on this best shitcoin to buy in 2023 be sure to check out the chart below and Jacob Crypto Bury's YouTube video above.
10. Pikamoon – A Penny Crypto Used for a Pokemon-Inspired P2E Metaverse Game
Pikamoon is a penny coin that will be used in a play-to-earn game bearing the same name. The in-game currency, $PIKA, is currently in its presale, which consists of three stages. The second phase is currently underway, and a single unit of $PIKA is available at $0.0004. The price will increase to $0.0006 during the third phase, making it a penny coin. According to Pikamoon's whitepaper, the initial price during the first phase of pre-sale was $0.0002 per coin.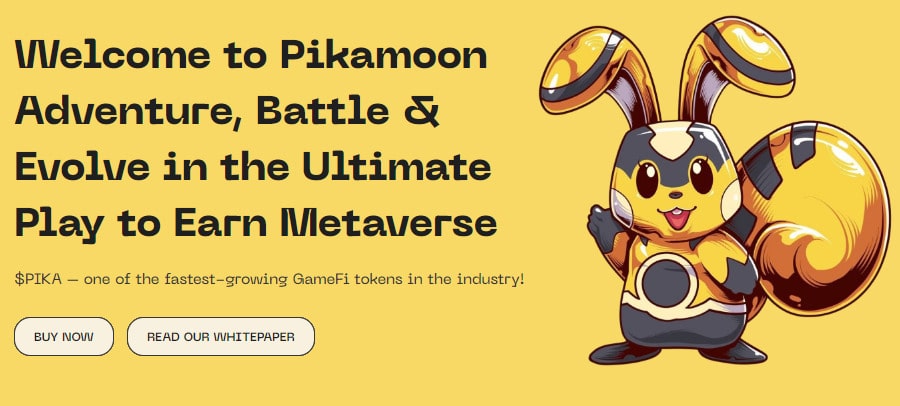 At the moment, the project raised more than $1.3 million, aiming to raise $3 million. Those who purchase $PIKA will also gain access to a free Pika NFT — in-game characters that are also non-fungible tokens. Players will be able to upgrade their characters before embarking on an adventure. You can also duel other players and earn additional coins.
So, how does Pikamoon work? In short, it's a video game based on decentralized technologies, meaning $PIKA and in-game NFTs will be part of the metaverse and have real value. You can use $PIKA to buy in-game items and improve your NFTs, which will, in turn, help you achieve more success in the game. The story takes place on the fantastic continent of Dreva, where magical creatures called Pikamoons reside.
The project features a detailed roadmap that is regularly updated. Even though many tasks are marked as completed, there's still plenty to do after the presale period ends. The team behind Pikamoon did an excellent job at presenting the project, sharing the latest updates with the investors and interested parties via the official Telegram group.
| | |
| --- | --- |
| Presale Started | April 2023 |
| Purchase Methods | USDT and ETH |
| Chain | Ethereum |
| Minimum investment | None |
| Maximum investment | None |
11. Tamadoge – Blockchain-Based Games With Virtual Pet Ownership
Having completed its fundraising campaign in late 2022, Tamadoge is no longer available to buy at presale prices. But with a market capitalization of just $12 million, its native token, TAMA, is one of the best penny crypto to buy for maximum upside. Tamadoge has built a gaming ecosystem that is backed by web3 technologies.
Each gamer will have their own Tamadoge pet that is backed by an NFT. Players must care for their pets while also training them to improve their traits. Tamadoge pets can then be entered into battle on a PvP (Player-vs-Player) basis. Victorious players will then be rewarded with TAMA tokens.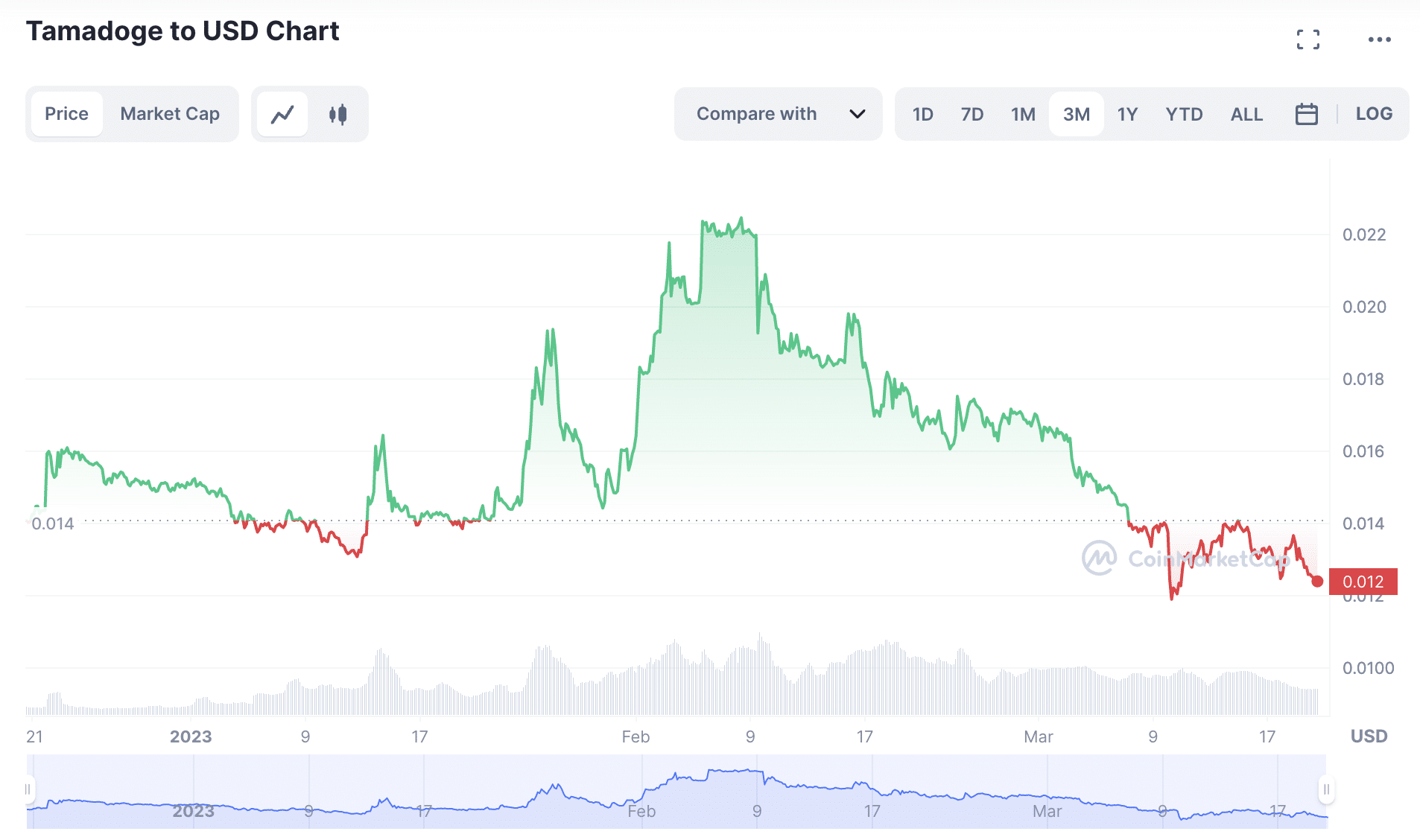 Built on the Ethereum blockchain, Tamadoge is also developing its metaverse. Further down the line, its games will also support augmented reality. In the meantime, Tamadoge has launched a variety of arcade-style games that also enable players to earn TAMA.
This includes Super Doge, which is reminiscent of a classic side-scroller game. Tama Blast, on the other hand, requires players to score as many goals as possible within the allocated time frame. Tamadoge also offers a collection of in-game boosters, backed by NFTs. This enables players to fast-track the development of their Tamadoge pets. In turn, this increases the player's earning capabilities. Interested in finding out more about the best gaming coins in 2023? Follow the link below to explore the Tamaverse today.
12. Stellar – Large-Cap Penny Crypto With a Prolonged IBM Partnership
Those in the market for a large-cap project might consider Stellar as the best penny crypto to buy. Stellar has its own blockchain network that doubles up as a global payment system. It is already being used by IBM and MoneyGram, plus plenty of small-to-medium businesses.
The reason for this is that the Stellar blockchain supports more than 1,500 transactions per second, with each transfer taking less than five seconds to process. Plus, Stellar transactions cost under a cent to process, regardless of the transfer size or destination. Its proprietary crypto token, XLM, enables companies to settle transactions on-chain.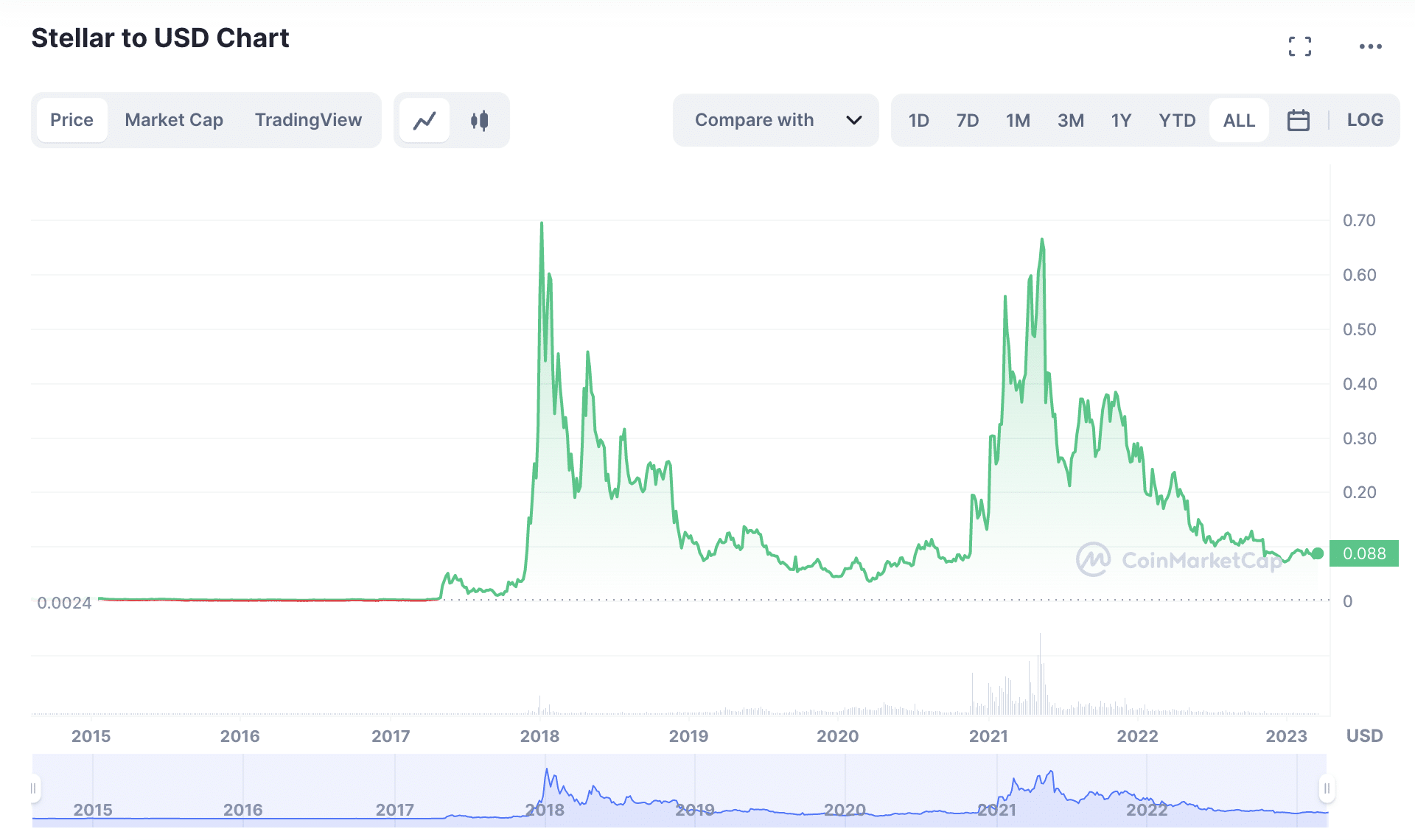 XLM also provides cross-currency transactions with real-time liquidity. Stellar is also an established blockchain project, with its XLM token first launching in 2014. According to CoinMarketCap, XLM was originally priced at $0.0024. XLM has since hit an all-time high of $0.70.
Currently, however, XLM is trading at just $0.08 – nearly 90% below its all-time high. Nonetheless, this is still one of the best penny crypto to buy for long-term gains. After all, as more and more companies integrate the Stellar network into their payment processes, this will increase demand for XLM.
13. Dogecoin – Popular Meme Coin and Payment Currency With Several Million Token Holders
Dogecoin is one of the most popular penny crypto tokens in this space, with more than 3.5 million holders. The project was one of the first to introduce the 'meme coin' concept back in 2013. During this time, Dogecoin was priced at just $0.00030. With that said, it wasn't until early 2021 that global interest in Dogecoin went viral and slowly became the best meme coin to buy.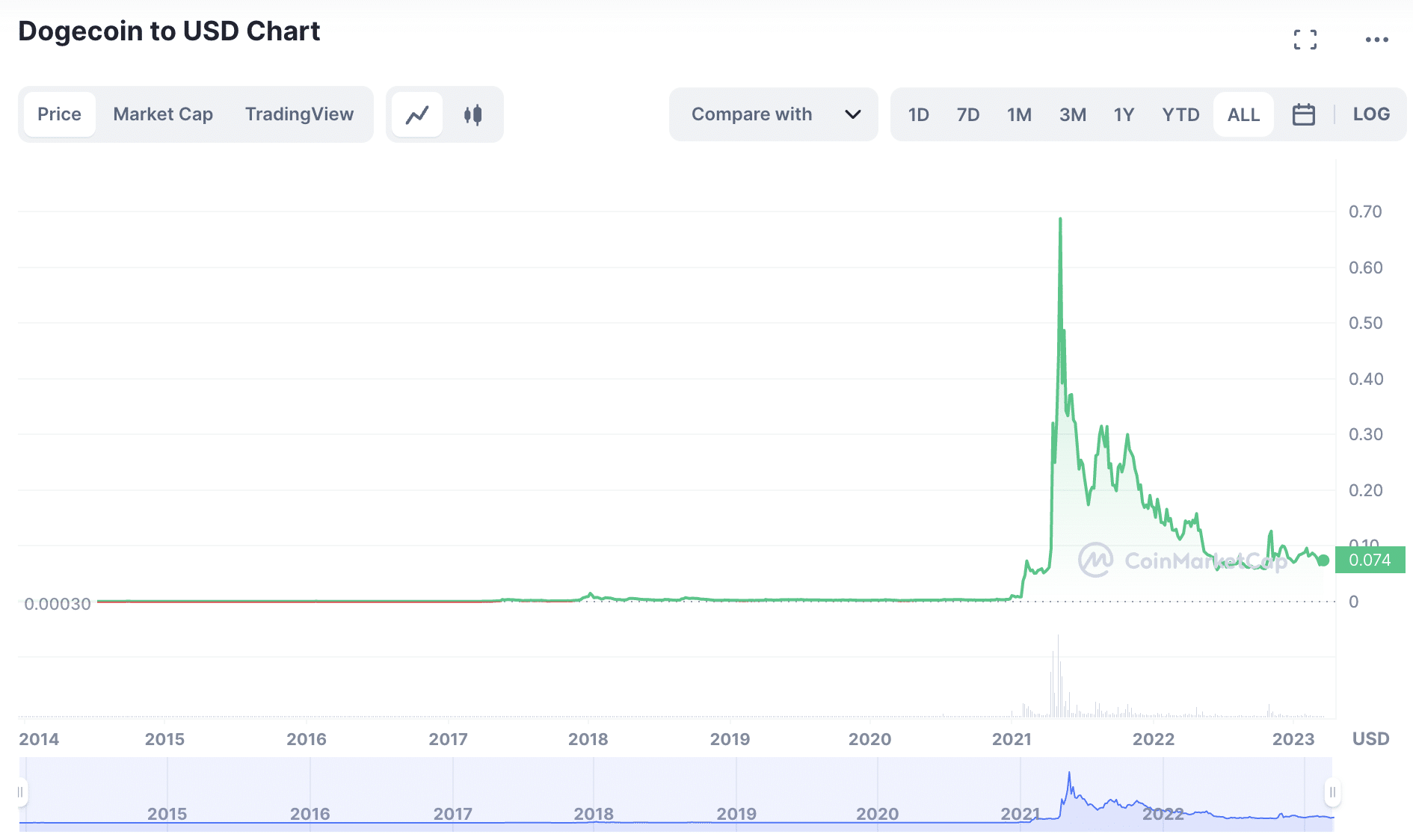 Elon Musk was at the forefront of this sudden spike in interest, with the Tesla CEO tweeting about the meme coin regularly. By mid-2021, Dogecoin hit an all-time high of $0.74. This represented year-to-date gains of over 10,000%. Like many other penny cryptocurrencies, the price of Dogecoin has since declined considerably.
As of writing, Dogecoin can be purchased for under $0.08 per token. If Dogecoin can recover its former all-time high of $0.74, this would yield an upside of over 800%.
14. TRON – Decentralizing the Entertainment Industry via the Blockchain
Founded in 2017, TRON aims to revolutionize the global entertainment industry through web3 technologies. The project has its own native blockchain that supports smart contract agreements. This means that content creators can use the TRON blockchain to sell their works.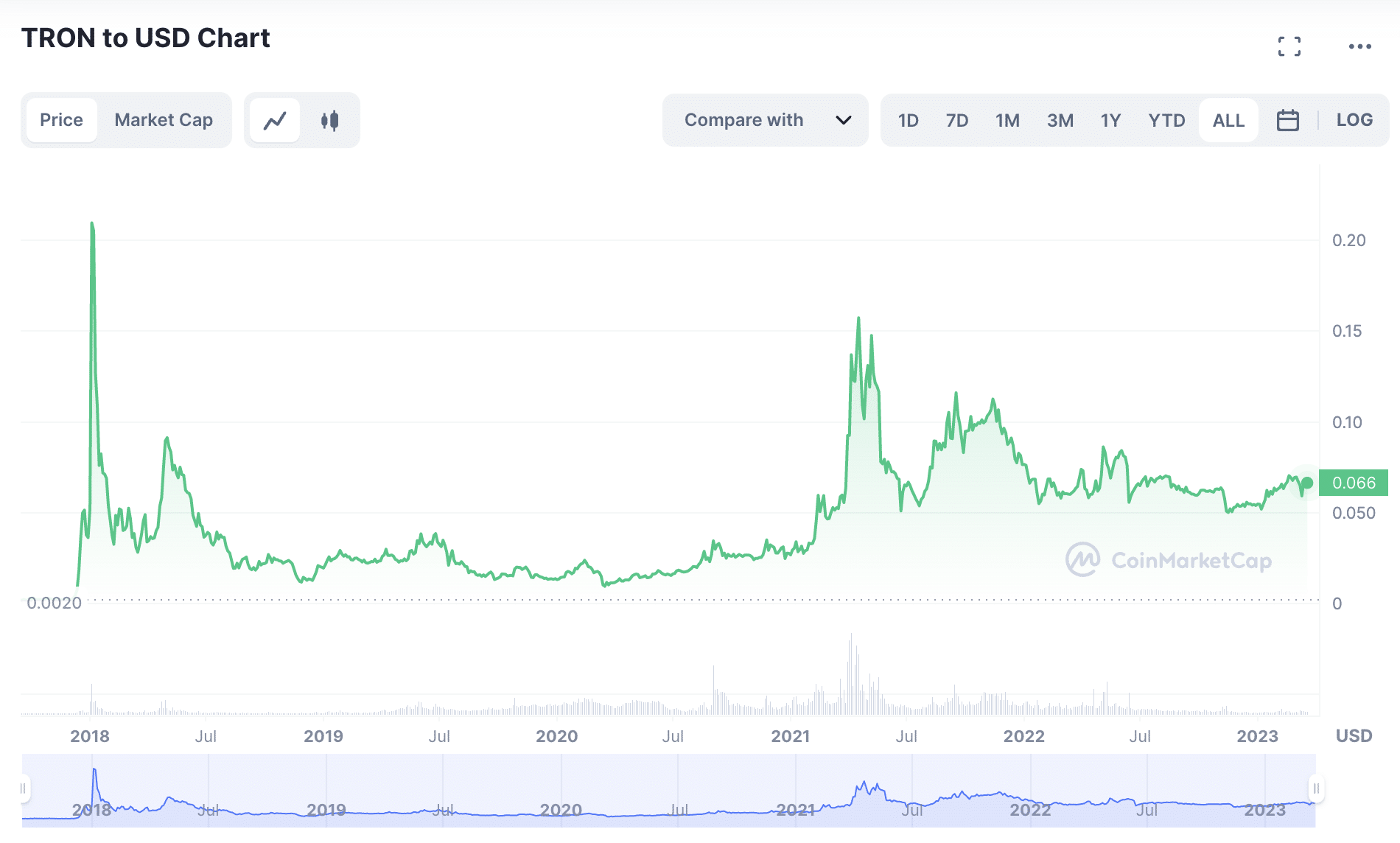 As the TRON ecosystem is decentralized, creators can set their own terms. All content sales conducted via TRON are processed in TRX. TRON transactions are significantly faster and cheaper than Ethereum. This is why TRON is sometimes described as the 'Ethereum Killer'. As of writing, TRX tokens are trading for under $0.07 each.
15. Decentraland – Established Metaverse Project With Virtual Land Ownership via NFTs
Decentraland is an established metaverse project that was founded in 2015. But it wasn't until 2020 that its metaverse was released to the public. Decentraland allows users to socialize in the metaverse, play games, and even buy plots of land.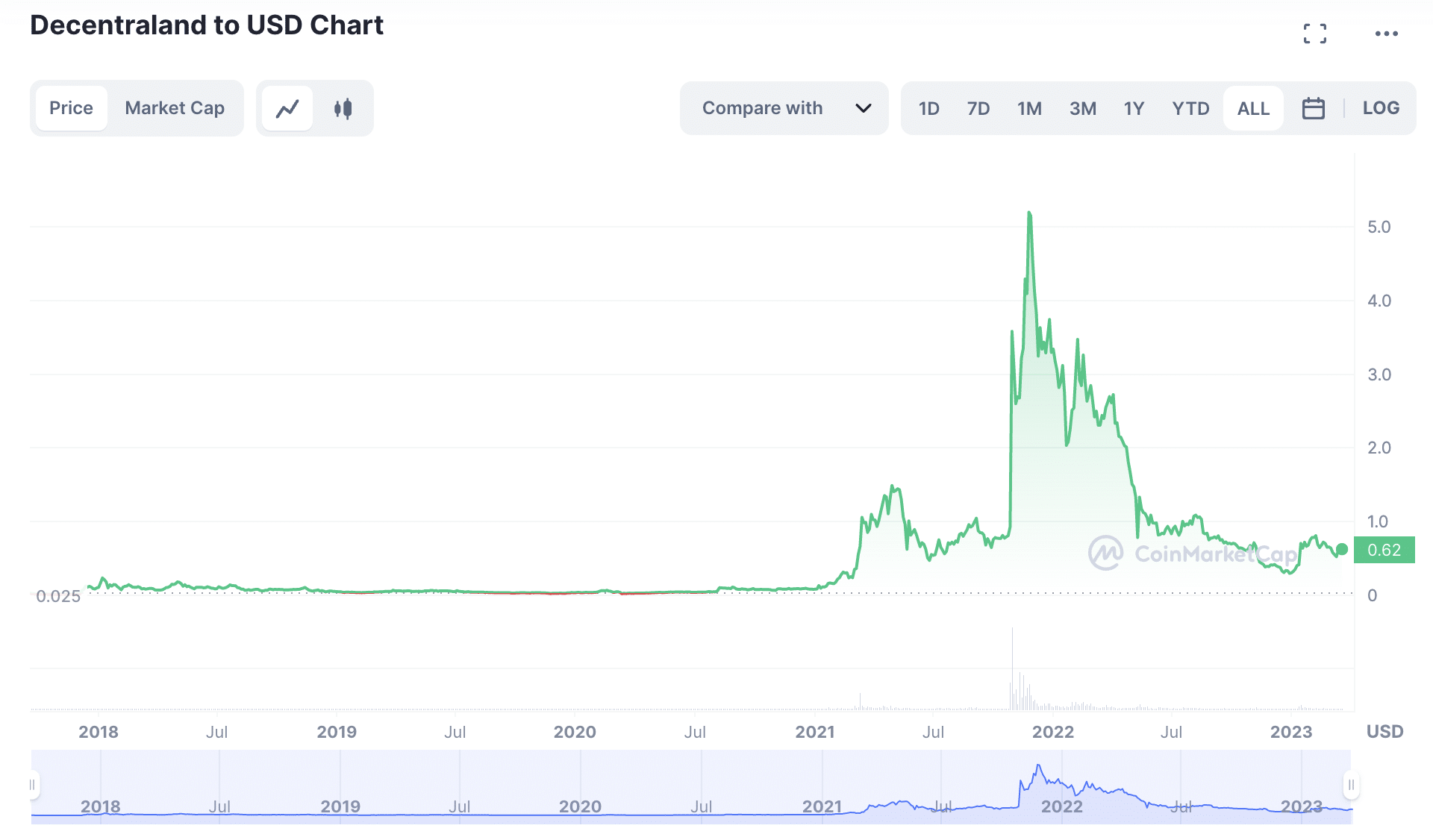 Users can also construct virtual buildings on the land that they purchase. According to Reuters, a record-setting $2.4 million was spent by just one user for a plot of land in Decentraland. Many other seven-figure purchases have since been made.
MANA is the utility token of Decentraland and is required to buy land. MANA has been hit hard by the broader bear market, trading at $0.62 as of writing. This is 85% lower than its all-time high of $5.20.
16. Algorand – Near-Carbon-Negative Blockchain for a Sustainable Future
Algorand claims to be the most sustainable and green blockchain network in this industry. Its network is already achieving near-carbon-negative transactions. This means that Algorand requires next-to-no energy to operate.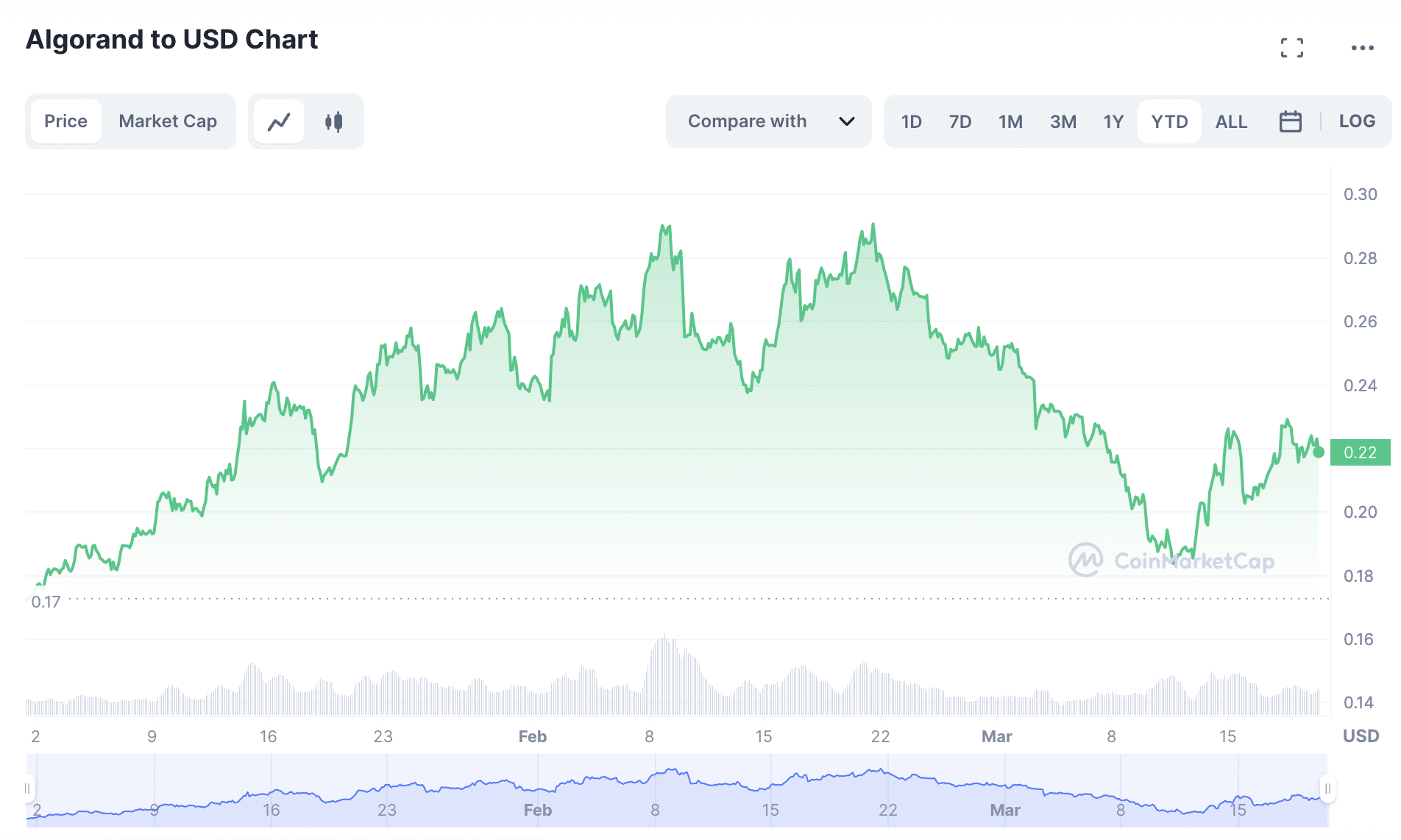 In comparison, Bitcoin currently uses more energy than many countries on a national level. The Algorand blockchain is also efficient when it comes to fees and speed. For example, the average transaction fee is just 0.0002 – regardless of how much is being sent.
Moreover, it takes under four seconds for Algorand to validate a transaction. Algorand also has its own penny crypto – ALGO. Trading at just $0.22 as of writing, ALGO is the best penny cryptocurrency to buy for green investors.
17. The Graph – Indexing Protocol Servicing the Future of Web3
Web3 is a transaction-heavy industry consisting of crypto, blockchain, smart contracts, NFTs, and more. As such, many networks in this space continue to struggle with efficiency. This is because too much data passes through the blockchain at any given time.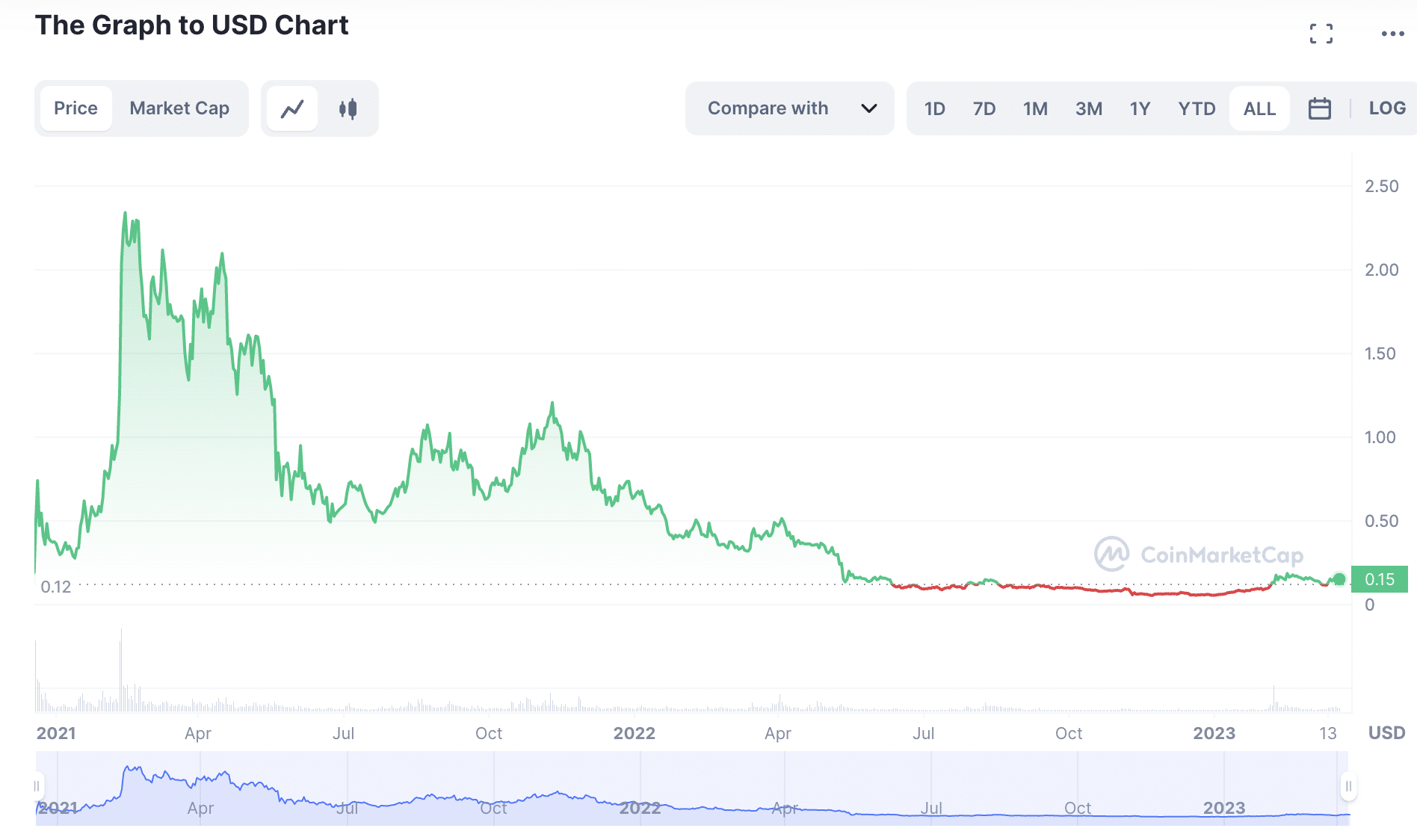 The Graph solves this issue through its native indexing protocol. Not only does the Graph organize blockchain data, but it makes it easily accessible. This enables the respective blockchain to operate in a faster, lower-cost, and more scalable manner.
GRT is the penny crypto that fuels the Graph ecosystem. Moreover, GRT is required to access its indexing protocol, so it has real-world value. As of writing, GRT tokens can be purchased for under $0.15 each.
18. 1inch Network – Decentralized Financial Services With 350+ Liquidity Providers
1inch Network solves a major issue in the world of decentralized trading – liquidity. The reason for this is that 1inch Network utilizes over 350 liquidity providers to ensure that traders never lose out to slippage. Moreover, the 1inch Network ecosystem supports multiple blockchain networks.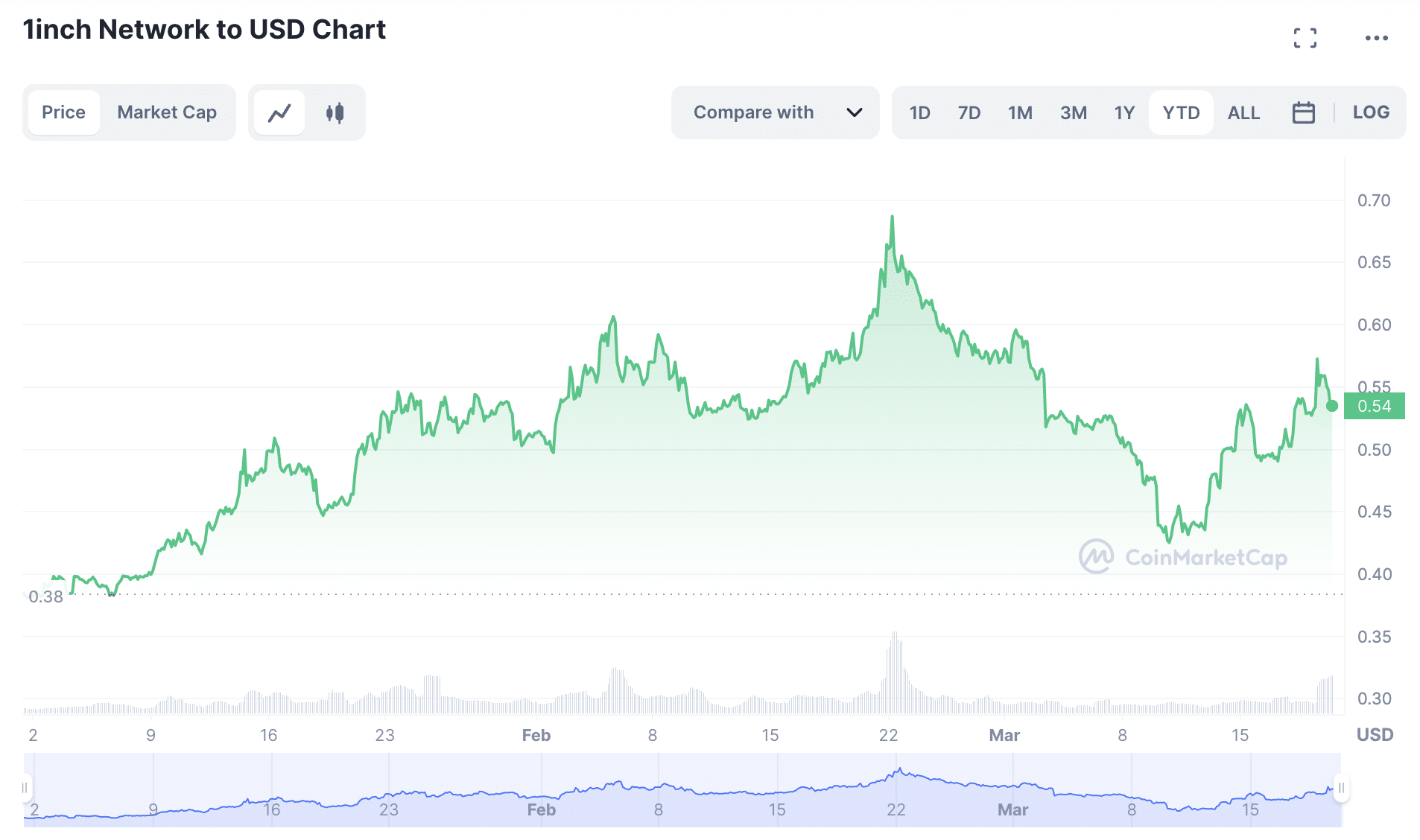 This includes Ethereum, Binance Smart Chain, Polygon, Optimism, Fantom, and others. This project has its own governance and utility token – 1INCH. Currently, 1INCH can be purchased for just $0.53 per token. This is just a fraction of its 52-week high price of $2.07.
19. Enjin Coin – Blockchain-Based Gaming Guild for Play-to-Earn Titles
Launched in 2017 and built on top of the Ethereum network, Enjin Coin is a gaming guild that specializes in play-to-earn titles. This enables third-party developers to build and deploy games on the Ethereum blockchain, via Enjin Coin.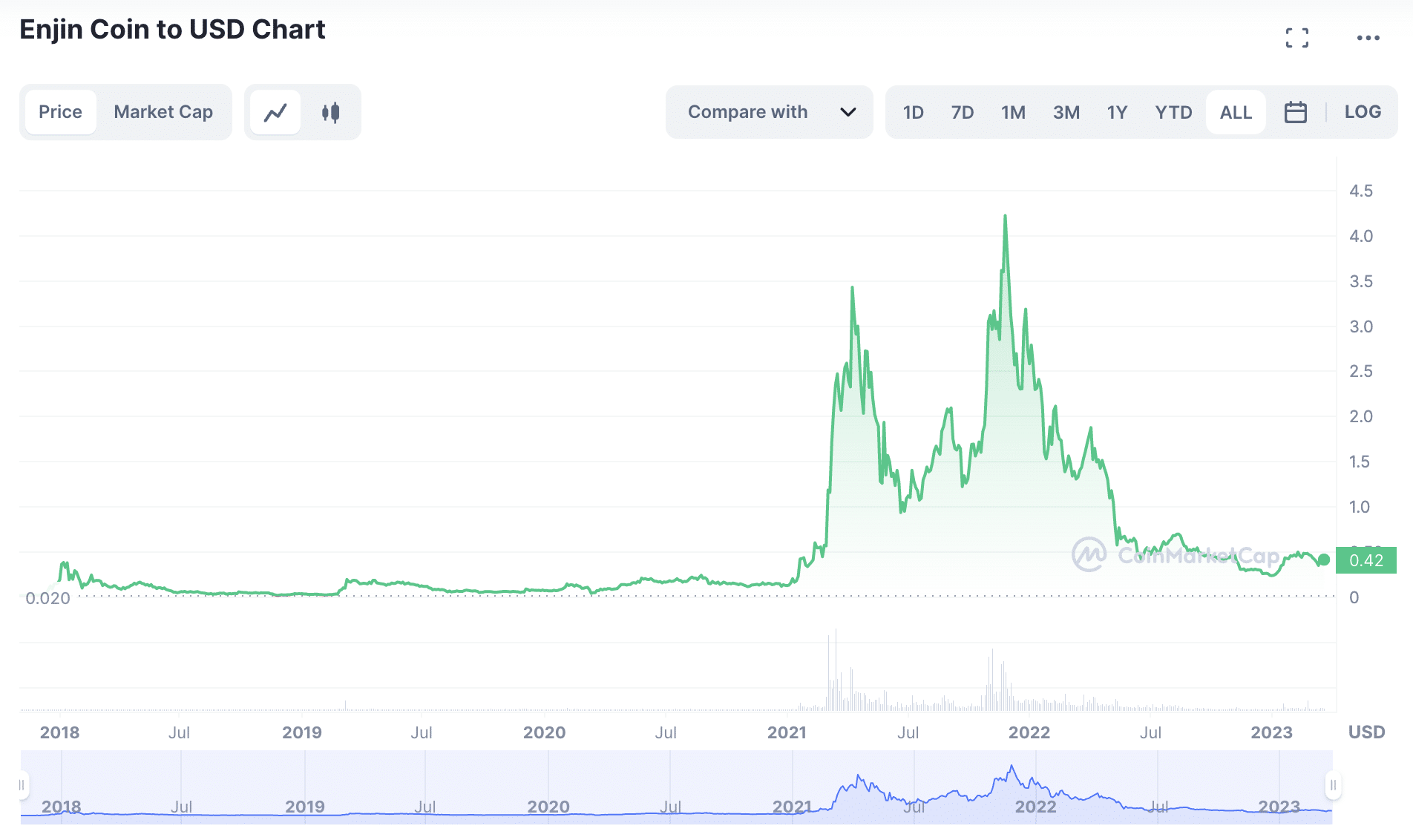 Moreover, all games hosted by Enjin Coin enable players to earn ENJ, the native token backing the project. ENJ has had a good start to 2023, generating year-to-date gains of 75%. But at $0.42, this is still a small fraction of its all-time high of $4.30.
If Enjin Coin can recover its former peak, this would offer an upside of over 900%. Like most of the penny cryptocurrencies discussed in this guide, Enjin Coin can be purchased from the regulated broker eToro from just $10.
What are Penny Cryptocurrencies?
There is no standard universal definition of penny cryptocurrencies. With that said, the term is generally used to describe the best cryptocurrencies with a value of under $1. This means that penny cryptocurrencies are ideal for investors that wish to buy a larger number of tokens without breaking the bank.
After all, with quality penny cryptocurrencies like Wall Street Memes available at just $0.025, a $100 investment yields four thousand tokens. Many penny cryptocurrencies are small-cap tokens that have the potential to generate sizable long-term gains. This requires investors to enter the market early and be prepared to hold for several years.
This buy-and-hold strategy is often the most effective way to approach penny cryptocurrencies. For example, when MANA was launched in 2017, it was trading at just $0.025. When MANA hit an all-time high of $5.14 four years later, this translated into gains of over 20,000%.
How are Penny Crypto Prices Determined
Penny cryptocurrencies follow the same pricing framework as any other digital asset. Put simply, pricing is determined by market forces. When buying pressure increases, so will the price of the penny cryptocurrency.
And conversely, too much selling pressure will negatively impact the price of a cryptocurrency. Many penny cryptocurrencies that go on to generate huge returns do so because of hype.
For example, Wall Street Memes – which is the best penny crypto to buy today, has already raised over $1.2 million via its four day old presale.
Additionally, another top penny crypto project – DeeLance, has raised over $53K USDT in just a few days. The presale of its $DLANCE token is due to finish in the coming days but is still ongoing as of writing.
Should I Buy Penny Cryptos?
What are the challenges that the crypto sector is facing? Are penny cryptos a good investment during the crypto winter?
In this section, we take a closer look at whether or not cheap cryptocurrencies are worth investing in.
Low-Cost Tokens
One of the main attractions of penny cryptocurrencies is the low token price on offer.
For example, $100 allocated to the Wall Street Memes presale while it was on its first stage would yield four thousand tokens.
Now compare this to Bitcoin.
The same $100 investment will yield just 0.0036% of one BTC token.
Although the number of tokens owned is somewhat arbitrary, this can be beneficial in the long run.
For instance, if the project decides to burn some of its supply, then this will artificially increase the value of its token. Therefore, holding a larger number of tokens will yield additional value.
Often Related to Presales
Many penny cryptocurrencies begin life via a presale campaign. This enables the project to raise capital from the public. For example, Wall Street Memes, DeeLance, and Ecoterra are all running their presale campaigns right now.
This allows investors to invest in their chosen presale at a huge discount. This is because as each presale stage sells, the price of the token increases. After the presale finishes, the token will list on an exchange at an even higher price.
Consider the Market Capitalization
It is important not to focus exclusively on the current price of a penny crypto when assessing its investment viability. Instead, investors also need to consider the market capitalization. This is because some penny cryptocurrencies are large-cap projects.
For instance, as of writing, Ripple and Stellar are trading at $0.38 and $0.08 respectively, but have a market capitalization of over $19 billion and $2 billion. The main reason for this is that both Ripple and Stellar have a huge supply of tokens in circulation.
As such, the upside potential on these penny cryptos will be much lower when compared to Wall Street Memes and DeeLance. After all, both are in presale, so investors can gain exposure to the next cryptos to explode at the best price possible.
How to Buy Penny Cryptocurrencies
To buy penny cryptocurrencies with potential, investors first need to assess whether or not the tokens are currently trading on exchanges.
Wall Street Memes (WSM), AiDoge (AI), Launchpad XYZ (LPX), DeeLance (DLANCE), and Ecoterra (ECOTERRA) are all currently engaged in a presale campaign. This means that rather than buying tokens from an exchange, the purchase can be made directly with the presale provider.
In the case of the other most promising penny cryptocurrencies discussed, an investment can be made at the regulated broker eToro. This popular broker requires a minimum investment of $10 and it accepts debit/credit cards and e-wallets.
How to Choose Penny Crypto Tokens for a Portfolio
Here's a quick overview of how to find a top penny crypto for 2023:
Presales: We mentioned above that presales are home to some of the best penny crypto to invest in. Early presale investors get the most favorable entry price and there is often an immediate upside available. This is because presales like Wall Street Memes increase the price as each batch of tokens sells. For more details on how to buy the latest tokens in 2023 be sure to read our beginner's guide.
Focus on Innovation: The most successful crypto investors are those that focus on the underlying product or service being developed. For instance, Ecoterra is building a recycle-to-earn platform on the blockchain.
Stick With Low-Cap Gems: Penny cryptocurrencies with a low market capitalization offer the most attractive upside. Conversely, the risks are also higher. To counter the risk of loss, consider diversifying across multiple low-cost projects at equal investment sums.
Consider Cryptocurrency Penny Stocks: For an even greater level of diversification, consider penny cryptocurrency stocks. These are likely to be micro-cap companies that trade on the OTC markets. When exploring the best crypto penny stocks to buy, be sure to keep stakes sensible.
Conclusion
Penny cryptocurrencies offer a sizable upside – especially those that are purchased during a presale campaign. Moreover, this marketplace enables those on a budget to buy a larger number of tokens with a small capital outlay.
Overall, Wall Street Memes is the best crypto under a penny that has caught investors' attention in recent weeks.
Considering that meme coins are community-driven, and Wall Street Memes (WSM) already has one million followers while still being in presale, the project could have massive upside potential.
FAQs
What is penny cryptocurrency?
What is the best penny crypto to buy now?
Are penny cryptos worth it?