Penny cryptocurrencies are low-cost digital assets that often trade for just a few cents. This will appeal to investors on a budget who want to buy a large number of tokens, and can have considerable upside appeal.
Within the first nine months of 2021, Axie Infinity (AXS) gained 10,000%, Fantom (FTM) gained 7,000%, and The Sandbox (SAND) gained 1,800%. All of these traded for less than $1 before the price explosion. Even Bitcoin (BTC) was once a penny crypto, trading at $0.06 in July 2010. It's now trading at $30,000 – a 50,000,000% increase.
So penny cryptos can deliver real returns. The issue is in finding the ones that are of a higher quality, because there are also lots of penny cryptos that don't have any long term viability. This guide should help to sort out the difference between the two.
Read on to discover over a dozen of the best penny crypto assets to buy for maximum upside potential in 2023.
Best Penny Crypto to Buy in 2023
Here's our list of the top penny cryptos to invest in right now at a low price point:
Bitcoin ETF Token

– The best cryptocurrency in 2023, Bitcoin ETF Token is priced at just $0.005 on presale. $BTCETF can be staked to earn high APYs, and will burn 25% of its token supply in the long-term.

Bitcoin Minetrix – A new penny crypto priced at just

$0.011 allows for an alternative mechanism of BTC cloud mining over Ethereum that is fast, low-cost, eco-friendly, and accessible to all. The presale raised $100k within hours of launching.

Meme Kombat – Just launched presale provides an arena for exciting meme combat (Shiba vs. Pepe, Doge vs. Sponge, etc.) facilitated through blockchain processing and AI-visuals. Spectators can place a variety of bets on combat outcomes and stake their tokens for a 112% yield.
TG.Casino – Licensed Telegram casino provides direct KYC-free access to games with instant crypto deposits/withdrawals. The price is just $0.125 per token with 3,395% APY, and it has raised $150,000 within 24 hours of launching.
Wall Street Memes

– New presale meme coin created by an established brand with over one million followers. The project is inspired by the meme stocks movement, aiming to "tokenize the movement". The finished presale has already raised over $25m and is listed on the OKX exchange.

eTukTuk – Upcoming presale token which will be used to make payments at EV charging stations. Operates on the Binance Smart Chain.
Chimpzee – This multi-use token will let token holders engage in a P2E environment, buy NFTs, and earn rewards. $1.3 million raised throughout its presale.
Scorp Token – Top penny cryptocurrency used to maintain a thriving crypto-based casino and sports betting platform. Over $1m raised on presale.
Launchpad XYZ – Pioneering Web3-focused crypto platform aiming to streamline the transition into Web3. Features a fractionalized assets marketplace, crypto wallet, NFT DEX, trading terminal, and other valuable features. Over $1.7 million raised in its presale.
yPredict – AI-powered crypto analysis platform offering in-depth asset price predictions. Leverages the immense potential of AI to provide insights and sentiment evaluations that enable traders to make better decisions. Currently on presale, it has raised $3.8 million.
Cogwise

– New AI-based cryptocurrency offers accurate trading insights into the crypto and blockchain space. Hold $COGW to earn passive income and multiple rewards. This penny token will rise by 225%.

Doge Uprising

– New Doge-themed cryptocurrency is based on its own manga series. $DUP can be held to earn staking rewards, buy NFTs, and receive airdrops. The token is priced at $0.000013 on presale.

Stellar – Large-Cap penny crypto with a prolonged IBM partnership. Described as an "open network for storing and moving money", all types of currency can utilize its blockchain.
Dogecoin – Popular meme coin and payment currency with several million token holders. Endorsed by Elon Musk and with a gigantic social following, DOGE is an immensely popular meme coin.
TRON – This ecosystem is decentralizing the entertainment industry via the blockchain. Tron is mainly focused on the content creation industry and was founded by Justin Sun, a notable Web3 figure.
Decentraland – Established metaverse project with virtual land ownership via NFTs. Users may buy virtual plots of land in the browser-based platform as NFTs, through the MANA cryptocurrency.
Algorand – An eco-friendly blockchain for a sustainable future. Algorand also offers staking rewards in the region of 9% and aims to connect traditional and Web3 finance.
The Graph – This is an indexing protocol servicing the future of Web3. An industry-leading means of aggregating and processing Web3 blockchain data.
1inch Network – Decentralized financial services with 350+ liquidity providers. 1Inch has over 4.5 million wallets and $280+ billion in total volume. It optimizes trades across multiple exchanges.
Enjin Coin – Blockchain-based Gaming guild for play-to-earn titles. Enjin Coin is designed to integrate with existing games and is one of the most well known coins in Web3 gaming.
Best Penny Cryptocurrencies to Buy: Our Analysis
Our list of the best penny cryptocurrency to invest in is based on many factors, such as upside potential, current pricing levels, and the token's use case.
Read on to evaluate the 20 best crypto under a penny that could outperform in 2023.
1. Bitcoin ETF Token – Overall Best Penny Crypto Boasting Deflationary Tokenomics and High Staking Yields
At the top of our list for the best penny cryptocurrency is $BTCETF – the native token of Bitcoin ETF Token. Through ten presale stages – Bitcoin ETF Token will allocate 840 million tokens to early investors.


This cryptocurrency speculates on the imminent arrival of the first Bitcoin ETF.
Bitcoin ETF Token will burn 25% of its token supply after conducting 5 burning events. Each burn will be conducted after a list of milestones related to the Bitcoin ETF is met. For instance, 5% of the token supply will be burned after the SEC approves the first Bitcoin ETF.
Another 5% will be burned after the first Bitcoin ETF is released. Bitcoin ETF Token will also charge a 5% trading tax per transaction – which will decrease by 1% as each milestone is met. Furthermore, investors can also receive high staking rewards after the burns take place.
From the total 2.1 billion supply, 25% will be allocated through staking rewards. At press time, Bitcoin ETF Token is offering staking APYs (Annual Percentage Yields) as high as 1,100% through its smart contract.


Interested investors can buy $BTCETF for just $0.005 during the first presale round. By the final presale stage, the price will increase by 36% to $0.0068 per token. Due to the deflationary tokenomics and high staking returns, this penny crypto could soar in price after conducting its initial exchange offering.
Investors can buy $BTCETF on the presale with Ethereum, BNB, and Tether. Read the Bitcoin ETF Token whitepaper and join the Telegram channel for more information.
| | |
| --- | --- |
| Hard Cap | $4.956 Million |
| Total Tokens | 2.1 Billion |
| Tokens available in presale | 840 Million |
| Blockchain | Ethereum Network |
| Token type | ERC-20 |
| Minimum Purchase | N/A |
| Purchase with | USDT, ETH, BNB, MATIC and Card |
2. Bitcoin Minetrix – Penny Crypto Offers a Brand New Way to Mine BTC Over Ethereum, Raises $300k Within a Week.
Bitcoin Minetrix ($BTCMTX) is an Ethereum-based crypto project that provides a brand new way to access BTC mining, without any of the stress and problems that are typically associated with BTC mining.
The token, currently priced at just $0.011, is staked and generates Bitcoin cloud mining credits over time. These credits are then burned in return for BTC. The more tokens that are burned, the more BTC received.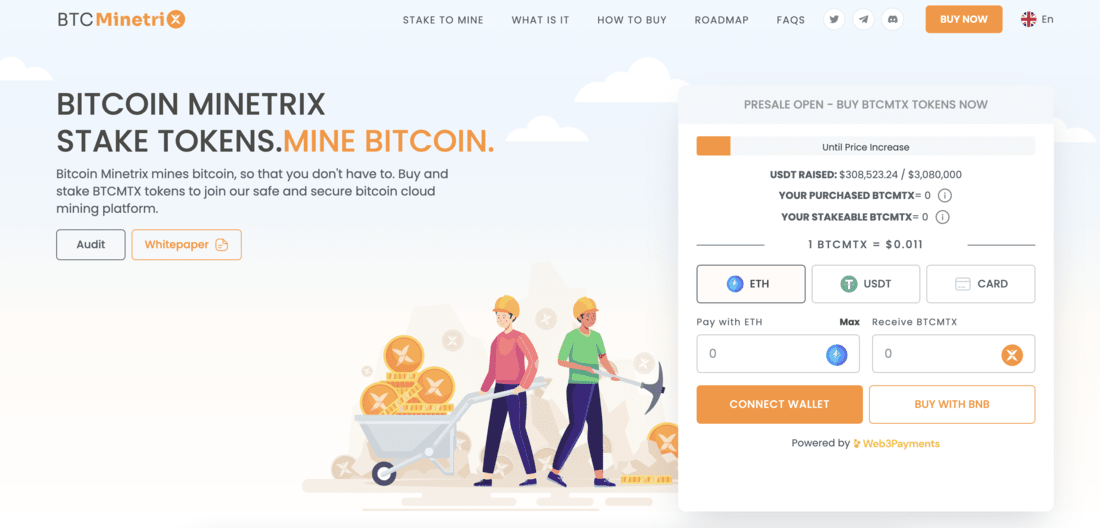 This reduces the technical complexity and environmental inefficiency of Bitcoin mining. It is not currently feasible for regular people to mine Bitcoin.
The hardware costs thousands of dollars (without including electricity costs) and it takes a lot of technical expertise and resources to pull off, without going bankrupt.
But this penny crypto project allows for indirect BTC mining over an Ethereum framework. The mining is done through a singular dashboard that allows for burning, withdrawing, and staking.
A mobile application is also set for release to complement the main dash. This allows just about everybody to take advantage of Bitcoin rewards.
This is an entirely new technique in terms of Bitcoin mining that is globally accessible, requiring only a $10 upfront investment.
No other software needs to be downloaded, though users must have Metamask to connect to the listing page and purchase the token initially.
The price of the penny crypto will rise to $0.0119 in the final stage of the presale.
There are 10 stages in total, with price increases at each stage, so early investment will result in greater rewards.
This campaign has undergone a third party smart contract audit from Coinsult, and the code was found to be 100% clean, with no issues found.
For more information, users can interact with the Twitter and Telegram socials.
It's also important to look at the Whitepaper to understand how this project works under the hood.
| | |
| --- | --- |
| Presale Started | September 2023 |
| Purchase Methods | USDT, ETH, BNB |
| Chain | Ethereum |
| Hard Cap | $32 Million |
| Min Investment | $10 |
| Max Investment | None |
3. Meme Kombat – ERC20 Platform Allows for AI-Enhanced Meme Combat and Live Betting With 112% APY
Meme Kombat ($MK) is an ingenious concept that allows users to wager on the outcome of automated meme combat, with a variety of betting options. This currently includes the most successful and popular meme coins in history – Doge, Floki, Baby Doge, Milady, Kishu, Mong, Pepe, Pepe 2, Shiba, Sponge, and Wojack.
More memes are likely to be incorporated in season two, along with more battle styles and wagering methods.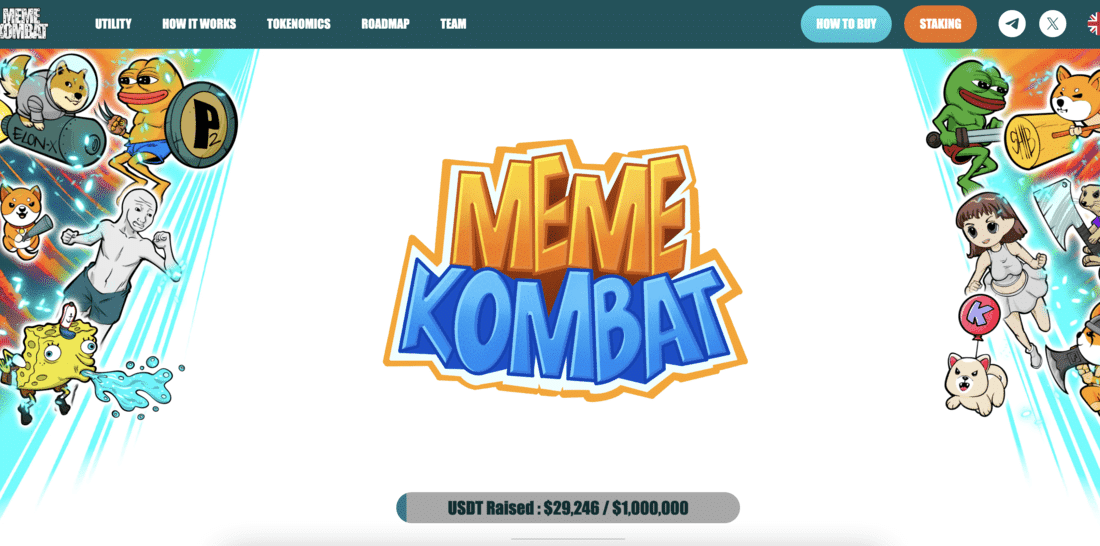 The price has changed from $1 to $1.667, so it's a little above the classical definition of a penny crypto, but not by much. What we like about this crypto is that it has stayed true to the origins of the memes while enhancing it greatly through AI-generated visuals.
This campaign has placed quite a strong emphasis on advanced visuals, which is noteworthy given that these projects survive nearly entirely on the quality of their graphics.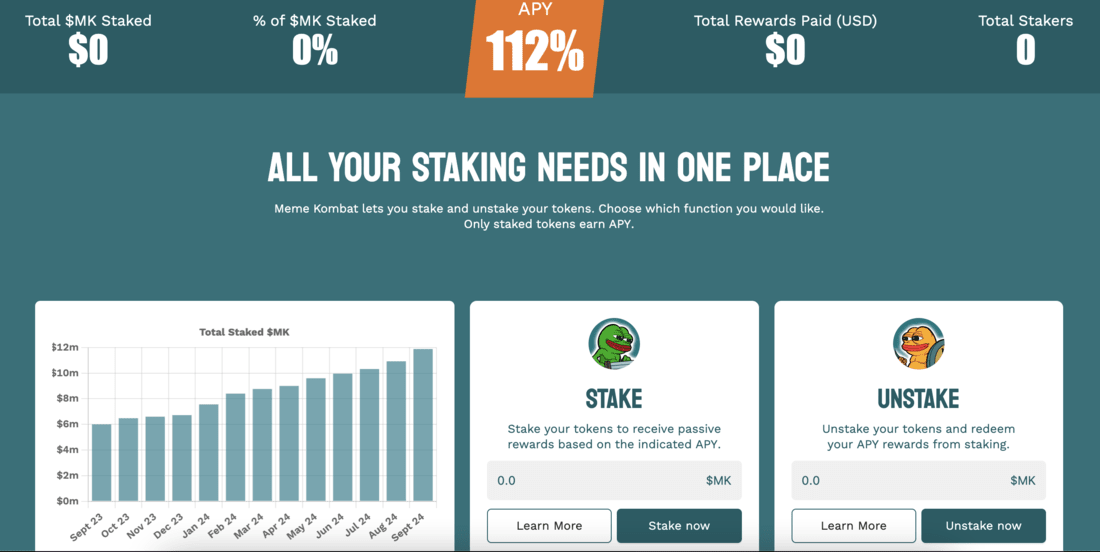 The battle is processed on-chain with rewards automatically distributed, vastly increasing the levels of transparency and efficiency. Random order sequencing ensures there is no pattern to capitalize on, in terms of who battles who. Aside from active rewards from wagering, there are passive PoS yields, which are currently set at 112%.
The founder of this project, Matt Whiteman, is "doxxed" (has released his name and LinkedIn profile). This is not at all common within the meme coin industry, with unnamed teams backing the project. It has also undertaken a smart contract audit to locate any issues contained within the codebase.
This is a brilliant concept that takes the worlds most successful meme tokens and pits them against each other in an exciting combat format.
Instead of having the appeal of a single meme token, it has the appeal of multiple meme tokens, with passive and active rewards, providing genuine utility.
More info can be found on the Whitepaper.
The social channels – Telegram and Twitter – are additional sources of information.
The presale hard cap is $10 million with 6 million tokens, and staking rewards are accrued instantaneously.
| | |
| --- | --- |
| Hard Cap | $10,000,000 |
| Total Tokens | 12,000,000 |
| Tokens available in presale | 6,000,000 |
| Blockchain | Ethereum Network |
| Token type | ERC-20 |
| Minimum Purchase | $5 |
| Purchase with | USDT, ETH, BNB |
4. TG.Casino – Penny Crypto at $0.125 Offers 3,395% APY With KYC Free Betting Through Telegram
TG Casino ($TGC) is a penny crypto priced at just $0.125, with 4o million $TGC available in the presale, for a hard cap of $5 million. The presale for this penny crypto has already raised over $150,000 in just 24 hours of its launch, showcasing how much interest there has been from both industry professionals and retail investors.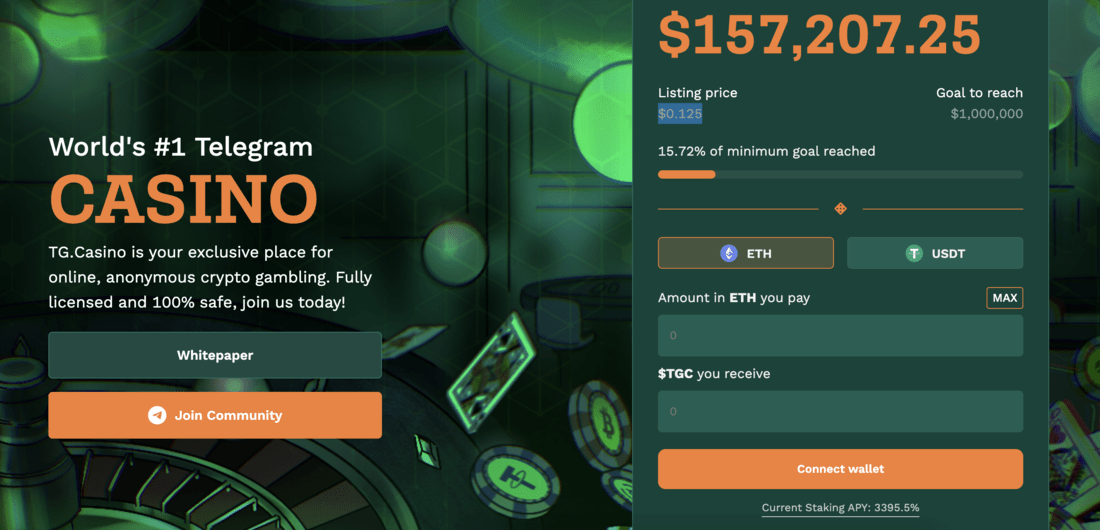 This is due to the novel concept introduced by TG.Casino. In a nutshell, the presale provides a means to access casino games exclusively through the Telegram messaging application, without needing to undergo any KYC procedures or download any additional software. This is all done legally – TG.Casino is a licensed provider, based in Curacao.
Direct Telegram access provides the maximum in terms of usability and market access. Users can deposit via crypto through the telegram casino and directly access the games, playing (and even withdrawing) in minutes. The casino offers hundreds of games and over 30 different sports to bet on.

Aside from this, it offers many levels of incentivization for users. The most obvious would be the large 3,395% APY yields for customers. Staking yields are unlocked immediately, even during the presale. But the way the casino is operated is such that all token holders can benefit. The more the casino earns, the more the token holders earn, in one sense.
This is because a portion of the TG.Casio profits goes towards buying back the tokens and either burning them (for price appreciation) or giving them away to users in the form of community rewards. This is completely different from how legacy casinos operate, as they aim to extract value from their clients.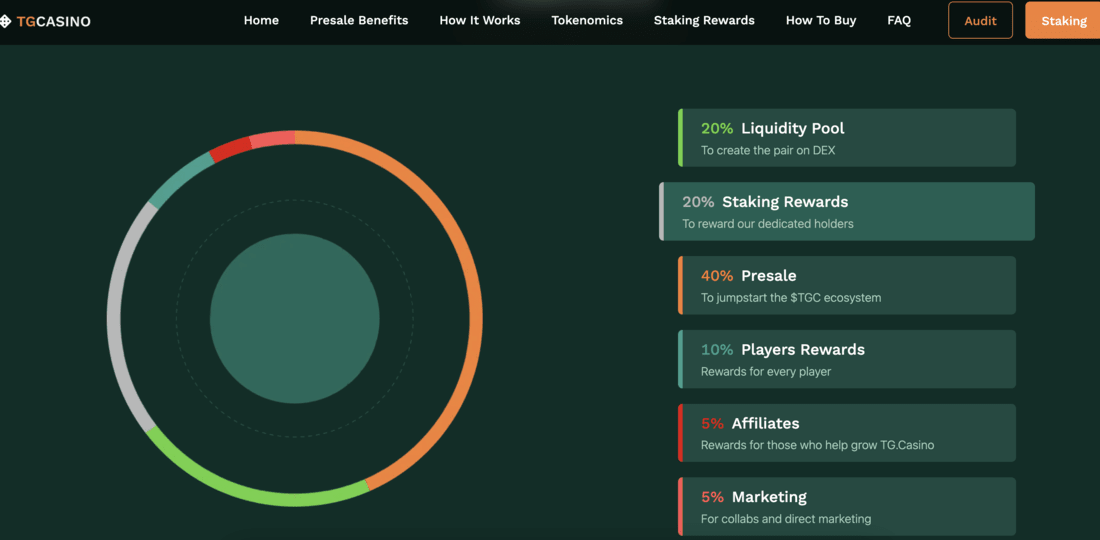 This is a unique presale with a number of attractive USPs and multiple layers of incentives.
To take part in this penny presale, a Web3 wallet is required along with ETH, USDT, or BNB.
For more info regarding the tokenomics and the project in general, reach out via Telegram or Twitter, and read the Whitepaper in detail.
| | |
| --- | --- |
| Hard Cap | $5,000,000 |
| Total Tokens | 100 million |
| Tokens available in presale | 40 million |
| Blockchain | Ethereum |
| Token type | ERC-20 |
| Minimum Purchase | 100 tokens |
| Purchase with | USDT, ETH, BNB |
Created by the founders of the Wall St Bulls NFT project, the Wall Street Memes presale has been one of the best of the year, raising more than $25 million.
On 26th September 2023, the $WSM token went live on OKX and Huobi – two of the biggest crypto exchanges in the world.
The strong presale is a result of its already-established brand, which has over one million followers across all its social media platforms including Instagram and Twitter.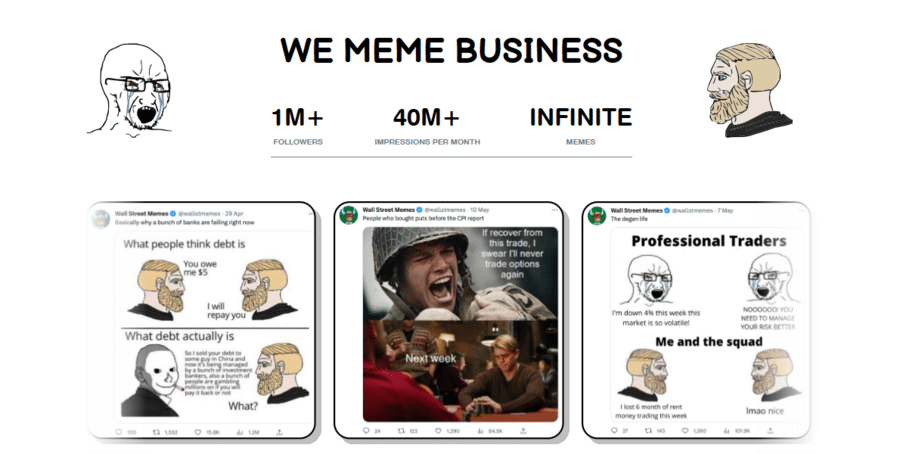 The project has its roots in the Wall Street Bets and 'meme stocks' (or 'stonks') movement popular on Reddit in 2021 and since. The Wall Street Bets ethos is for retail investors to gain the upper hand on institutional investors, who they claim have always taken advantage of the average investor.
However, following the Wall Street Bets saga in 2021, brokerages halted trading on GameStop and other volatile stocks. This caused many investors to look toward crypto, where users could trade assets without relying on a trusted intermediary.
This dawned the creation of the Wall St Bulls NFT project, later leading to the Wall Street Memes meme coin presale. The Wall Street Memes website says the meme coin will "tokenise the movement", referring to the Wall Street Bets ideology.
Elon Musk has famously engaged with the Wall Street Memes Twitter on multiple occasions, with Wall Street Memes once responding "Bullish" in April.
Our Wall Street Memes price prediction forecasts the price could rise by 492% by 2025, with the connection to Elon Musk playing a pivotal role.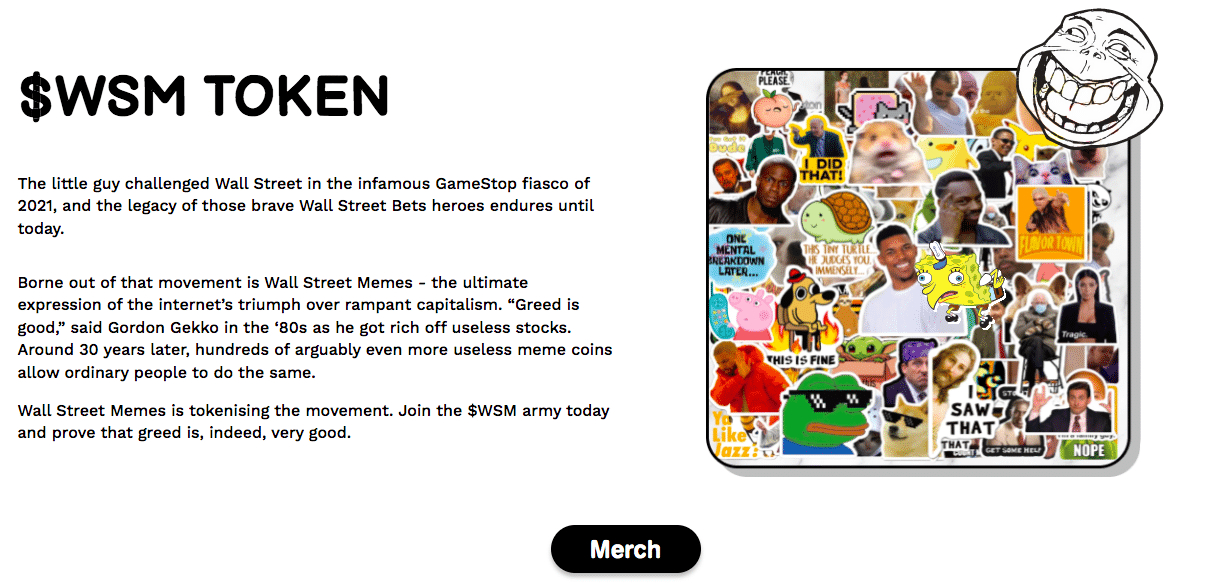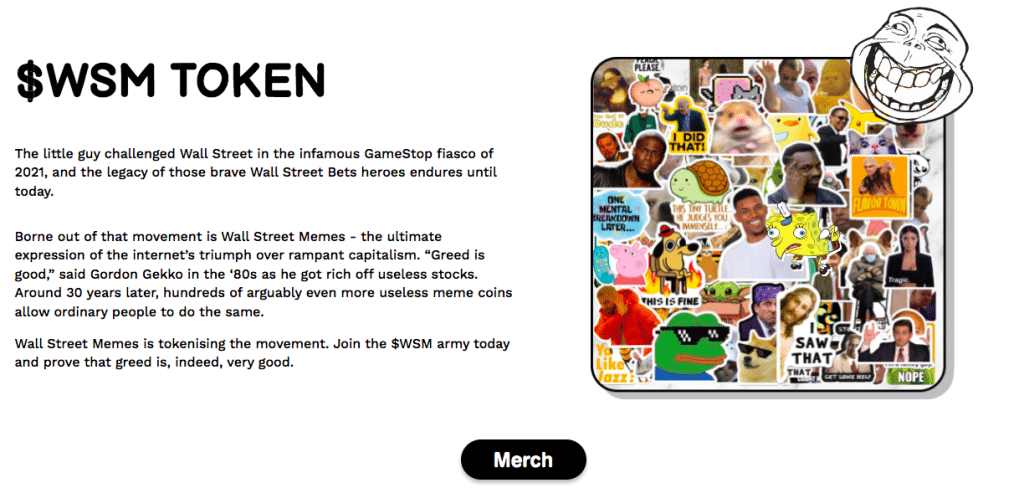 Wall Street Memes also offers utility in the form of staking rewards, with the current annualized yield percentage sitting at 60% with more than 340 million tokens locked in the pool.
Check out our guide if you want to know how to buy $WSM, or visit the project's website to learn more. But remember that just like stonks, the price of meme crypto can be extremely volatile. Complete due diligence and only risk what you can afford to lose.
At press time, $WSM is trading at the $0.035 levels.
6. eTukTuk – New Presale Token which will be used to Make Payments at EV Charging Stations
$TUK is the native token of eTukTuk, a BSC-based automotive cryptocurrency project. eTukTuk will help TukTuk drivers start using electric vehicles (EVs) by creating charging stations using local manufacturing.
eTukTuk will set up Electric Vehicle Supply Equipment (EVSE) and charging stations in developing countries. In 2023, it will release its first plants out of Colombo, Sri Lanka.

While TukTuk drivers mostly use Internal Combustion Engines (ICEs), these contribute to releasing more carbon dioxide than cars. Thus, to help reduce air pollution and tackle against the rising energy costs, eTukTuk aims to increase the adoption of zero-emission vehicles.
Within the ecosystem, users will be able to contribute to a shared economy by staking the native token, $TUK. The platform will set up a drivers app, through which TukTuk drivers can make payments with $TUK at the charging stations.
As the number of EVSEs and charging stations increases, the payments will rise as well. This will allow staked token holders to earn a larger APY (Annual Percentage Yield).
Moreover, the platform will also offer inflationary rewards on the ecosystem over a period of 15 years. To set up the EVSEs and charging stations, eTukTuk will take the help of territory partners, who will locally help in installations and other operations.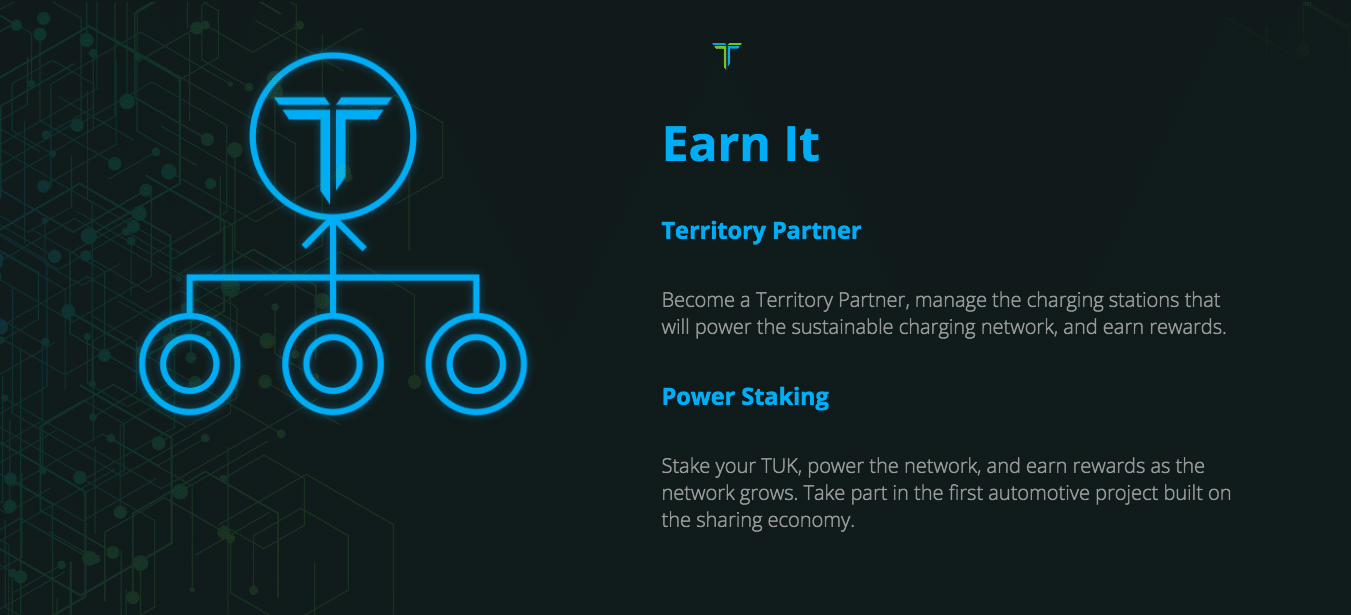 Interested investors can join the $TUK token presale, and buy the coin for only $0.024. From an overall supply of 2 billion, 12.5% of the $TUK supply will be made available for the presale stages.
To get more information on this new cryptocurrency platform, read the eTukTuk whitepaper and join the Telegram channel.
7. Chimpzee – Presale Cryptocurrency Donating to Animal Charities, $1.3M Raised In Its Presale
Chimpzee ($CHMPZ) is a new cryptocurrency platform that helps protect animals and preserve the environment. With $CHMPZ, token holders can buy NFTs, take part in a play-to-earn game, and earn different rewards.
More than $1.3 million has been raised in the presale so far.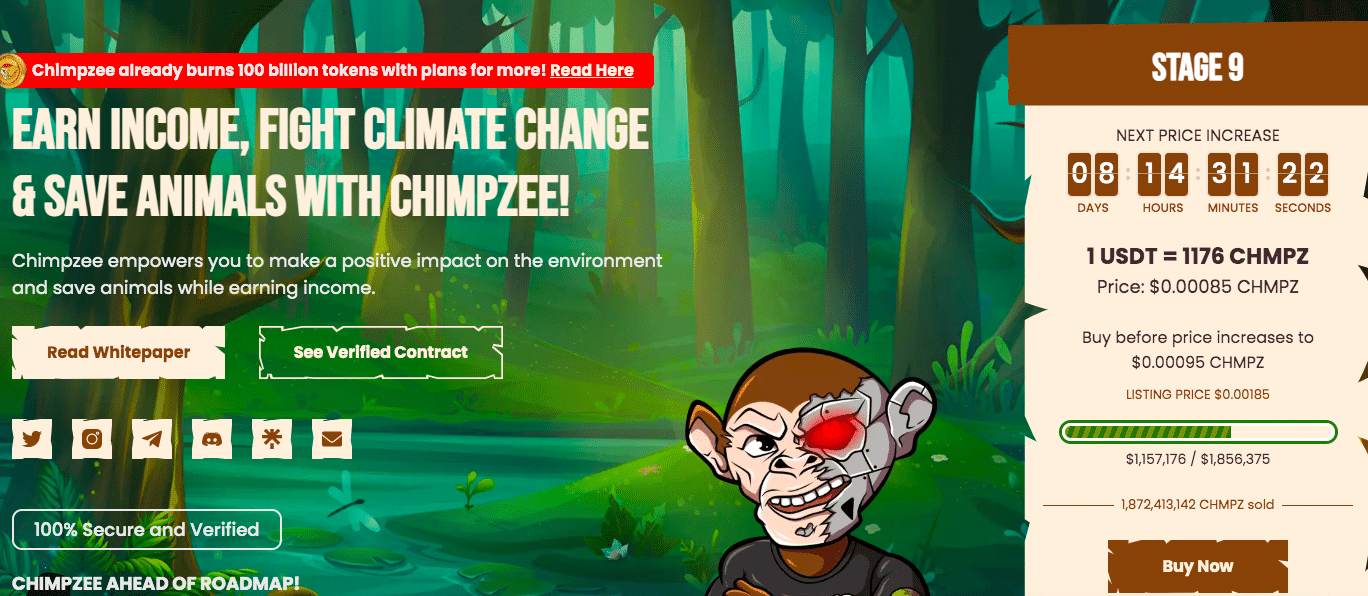 Users can leverage $CHMPZ to purchase NFT passports. These NFTs can also be staked on the ecosystem to earn an APY (Annual Percentage Yield) of up to 20%. Furthermore, the NFTs are created using artificial intelligence, so they can replicate your physical features.
The NFT can also be used in the zero-tolerance game, the P2E environment of the platform. The game involves fighting off forest poachers and allows users to earn premium prizes and $CHMPZ tokens.
Platform members can also trade their NFTs on an NFT marketplace. Chimpzee collects trading fees on the NFTs and will distribute a portion of it to traders. Those holding NFT passports will earn a higher share of the profits.
You can also upgrade your in-game avatars with $CHMPZ on the Chimpzee store. A portion of the profits collected are distributed to animal and wildlife charities. Chimpzee has also donated $15K to the WILD Foundation, which helps protect elephants.

This penny cryptocurrency is priced at just $0.00067 during the ongoing presale round. Since the start of the presale, Chimpzee has raised more than $1.1 million. The price of $CHMPZ will jump to $0.00185, when the exchange listing takes place.
Read the Chimpzee whitepaper and join the Telegram channel for more information on this cryptocurrency.
| | |
| --- | --- |
| Token symbol | CHMPZ |
| Total supply | 200 Billion |
| Presale supply | 40 Billion |
| Network | Ethereum (ERC20) |
| Purchase methods | ETH, USDT, Credit Card |
8. Scorp Token – New Cryptocurrency Pioneering a Casino & Sports Betting Platform, Priced at only $0.016 Per Token
Scorp Token (SCORP) is a new cryptocurrency that is used to settle payments on Scorpion Casino's casino platform. The token can be staked to earn passive income or leveraged to earn bonuses on the crypto betting platform.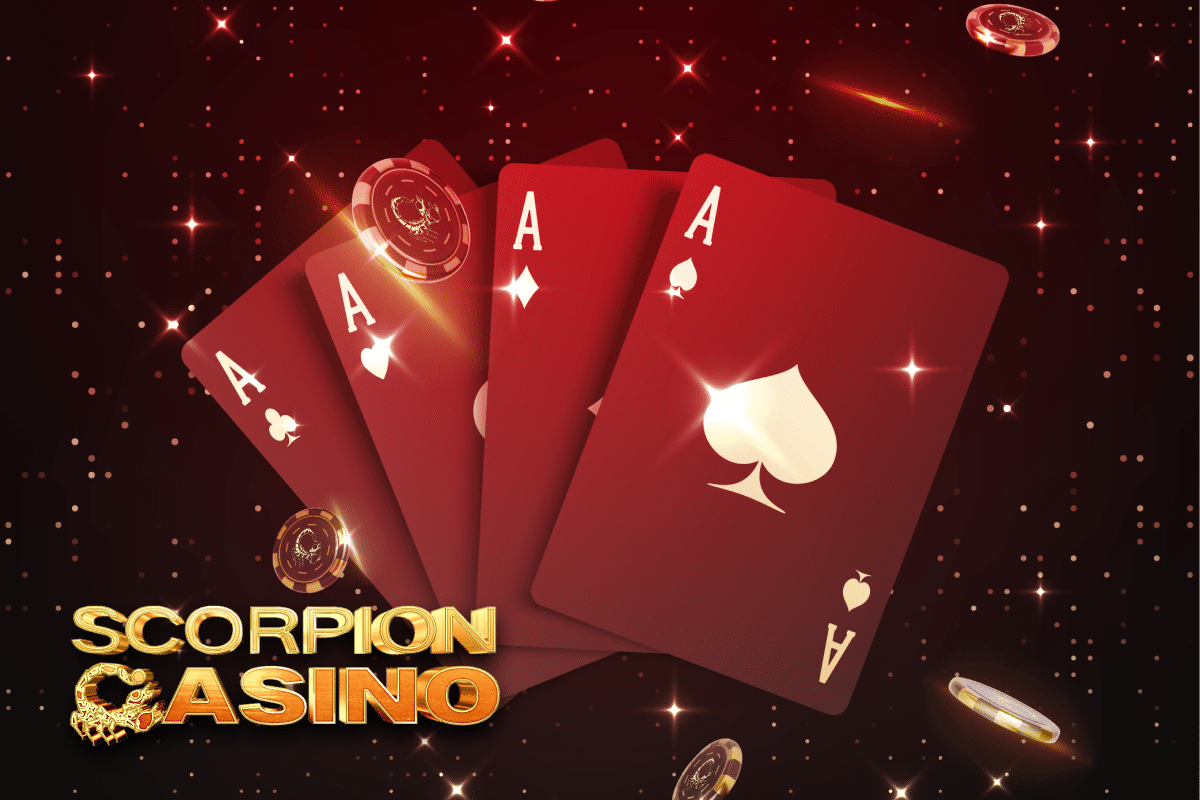 $SCORP token holders earn up to 40% of free credits on casino games. Scorpion Casino hosts hundreds of popular games offered by some of the best providers, including Evolution, Novomatic, and Netent.
Through a sportsbook, users can also make bets on live sports matches. The sports betting platform gives access to 30+ sports betting markets such as Soccer, Basketball, Boxing, and MMA. 20% of the operating profits collected through the sportsbook is used to buy back $SCORP tokens.
A portion of this is also burnt on the platform. $SCORP can be staked to earn daily passive staking income. The funds are generated from a staking pool and sent to the staked token holders. Scorpion Casino also collects a 10% tax on all sell transactions, 2% of which are sent to the staking pool.
$SCORP is currently priced at just $0.016 on presale. Since the presale started, the cryptocurrency has collected more than $1m. After the presale ends, $SCORP will be listed on exchanges for $0.05 per token.
To get more information on this cryptocurrency platform, read the Scorpion Casino whitepaper. To stay updated with the latest presale developments, join the Telegram channel.
| | |
| --- | --- |
| Token symbol | SCORP |
| Presale supply | 200,000,000 SCORP |
| Token type | BEP-20 |
| Payment methods | ETH, USDT, BNB |
| Listing price | $0.05 |
9. Launchpad XYZ – New Web3 Crypto Investment Project with Over $1.7 Million Raised In Its Presale
Another penny crypto that has caught the investment community's attention is Launchpad XYZ. This project strives to streamline the Web3 crypto landscape for investors by offering a "one-stop-shop" that caters to the needs of individuals and businesses alike.
Built on the Ethereum blockchain, Launchpad XYZ is designed to remove the friction from NFT and crypto investing. Launchpad XYZ's development team has crafted an extensive suite of tools and services to do this, all included in the platform's user-friendly dashboard.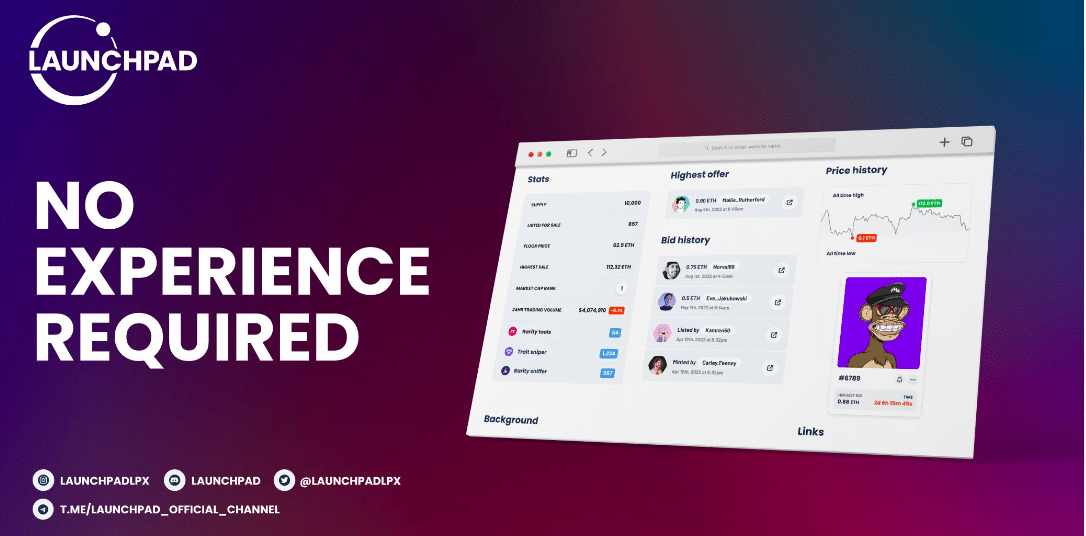 As outlined in the whitepaper, this dashboard offers tools such as a cryptocurrency presale marketplace, a play-to-earn (P2E) gaming hub, a metaverse experience library, an advanced Web-powered crypto wallet, and a fractionalized assets marketplace.
On top of all these features, Launchpad XYZ's team will introduce the "Launchpad Quotient", which is a unique score assigned to NFTs and cryptos. The Launchpad Quotient will utilize hundreds of individual data points to produce a single value that allows investors to quickly assess an investment's potential.
Making all of these features possible is LPX – Launchpad XYZ's native token. Users must own LPX to pay for trading fees and access certain features, although the token can also be staked to generate a regular passive income stream.
Its alpha signals Telegram group, one of the top features on the platform, is already live and recently made a 7,000% call on LINQ.

Like many other projects on our list, Launchpad XYZ is still under development, although early investors can buy Launchpad tokens through the presale phase. This presale will have ten stages, each featuring a different price, meaning that the earliest investors benefit from the lowest entry point.
This is undoubtedly compelling, although investors must recognize the dangers of investing in presale cryptocurrencies, given that success is not guaranteed. However, these cryptocurrencies can also yield considerable returns in the cases where they list on CEXs and flourish.
For more information on the Launchpad XYZ project, investors can visit the project's Telegram channel.
​
| | |
| --- | --- |
| Hard Cap | $12,500,000 |
| Total Tokens | 1,000,000,000 |
| Tokens Available in Presale | 250,000,000 |
| Blockchain | Ethereum |
| Token Type | ERC-20 |
| Minimum Purchase | N/A |
| Accepted Purchase Methods | ETH, USDT, Credit/Debit Card |
10. yPredict – AI-Powered Crypto Analytics Platform with $3.8 Million Ongoing Presale Raise
yPredict ($YPRED) is a cutting-edge platform that harnesses the power of artificial intelligence (AI) to offer in-depth analysis to crypto traders. Not only that, but yPredict also provides precise price forecasts developed by industry-leading AI and ML professionals.
The ultimate goal for yPredict's team is to simplify the cryptocurrency trading process for investors of all experience levels. yPredict's suite of analytical tools is designed to help achieve this – all of which are built on the Polygon blockchain.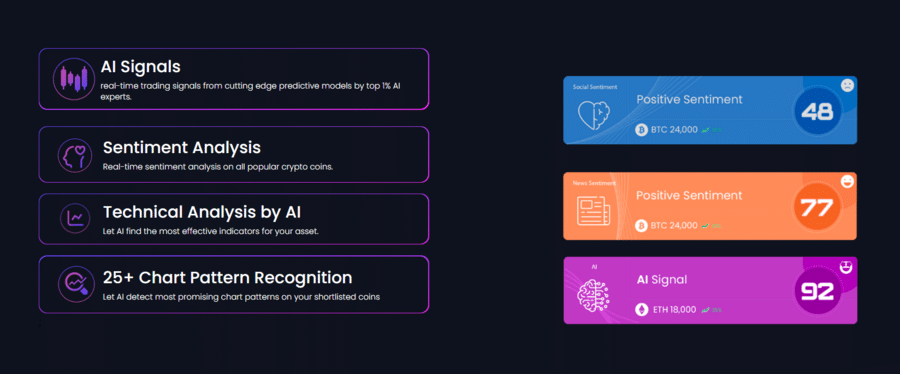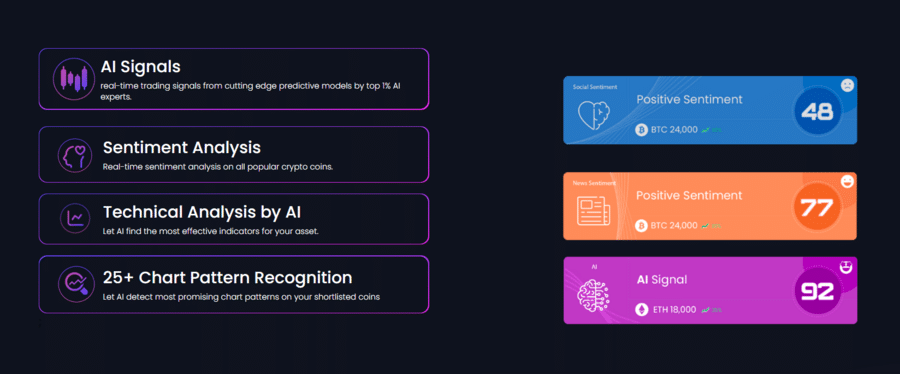 According to the yPredict whitepaper, the platform will include features like automatic price pattern recognition, AI-driven price predictions, trader sentiment analysis, high-end technical indicators, and more. Many of these tools are usually reserved for high-net-worth investors, yet yPredict aims to ensure they're accessible to all.
On top of these tools, yPredict will also have its own financial model marketplace. In this marketplace, AI and ML experts can list their price forecast models, which other users can subscribe to. Subscription fees are paid in YPRED – yPredict's native ERC-20 token.
This token will be crucial to yPredict's growth and will have a capped supply of 100 million. Not only can users subscribe to models using YPRED, but they can also gain access to the yPredict Analytics dashboard – and even stake their tokens to earn a predictable yield.
Given that yPredict is still in its presale phase, investors need to be aware that the project has no track record – meaning there's no guarantee of success. However, this is discounted by the fact that investors can buy yPredict tokens at a low price point, which lowers the risk somewhat.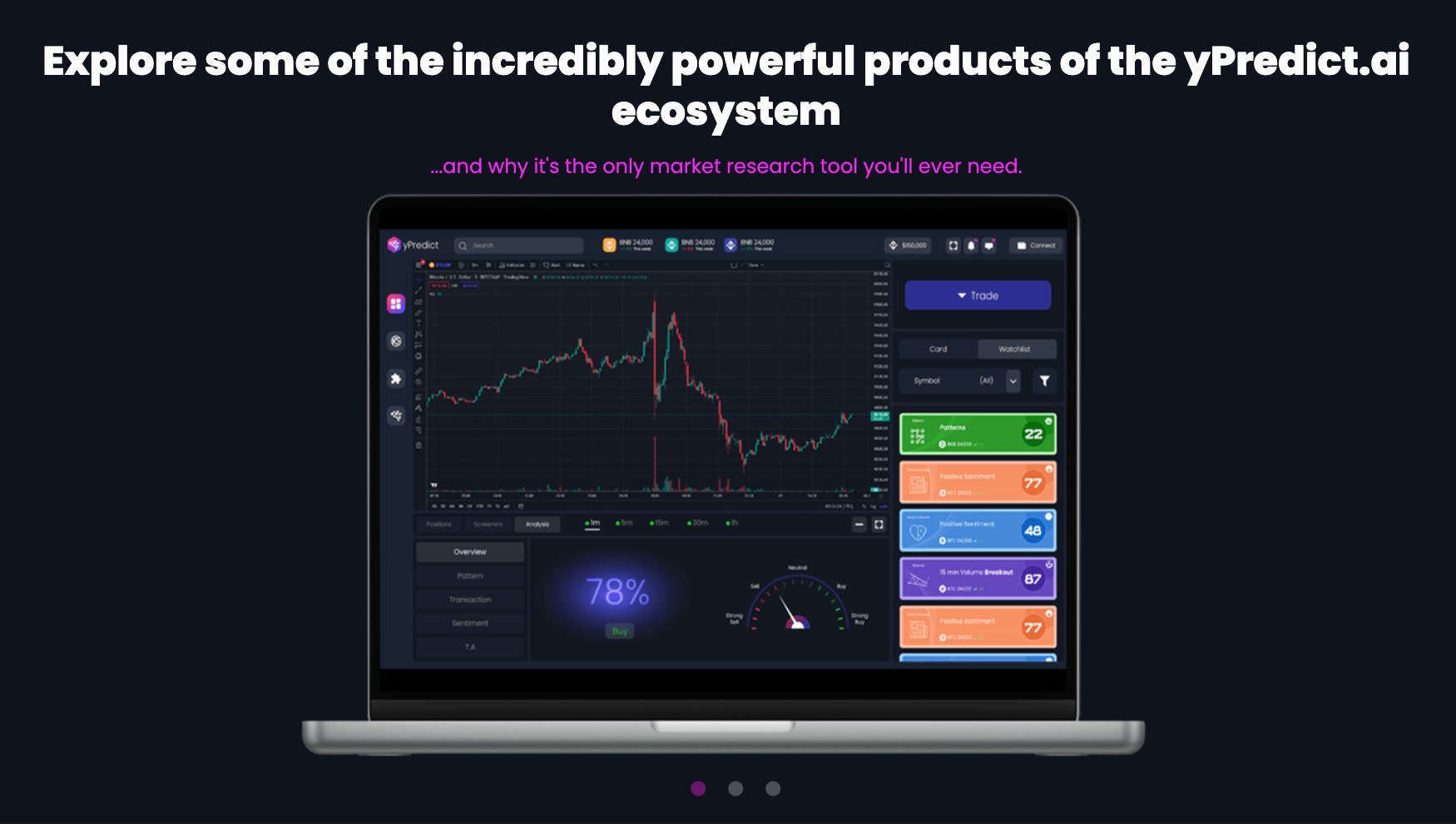 At the time of writing, yPredict tokens are priced at just $0.1 – far lower than the stated listing price of $0.12. Those looking to learn more about yPredict can check out the project's Telegram channel.
While no investment return is certain, it is possible to benefit from the price difference between the current $0.1 price to the final $0.12 price. But make sure to check the lock-up terms and conditions because the price can fall after listing or within the time when you are not able to sell.
| | |
| --- | --- |
| Hard Cap | $6,500,000 |
| Total Tokens | 100,000,000 |
| Tokens Available in Presale | 80,000,000 |
| Blockchain | Polygon |
| Token Type | ERC-20 |
| Minimum Purchase | N/A |
11. Cogwise – Multi-Use AI Cryptocurrency Offering Staking Benefits and a Deflationary Token Supply
The next cryptocurrency on our list is Cogwise ($COGW). This new platform leverages artificial intelligence to provide users with an in-depth analysis of the crypto space.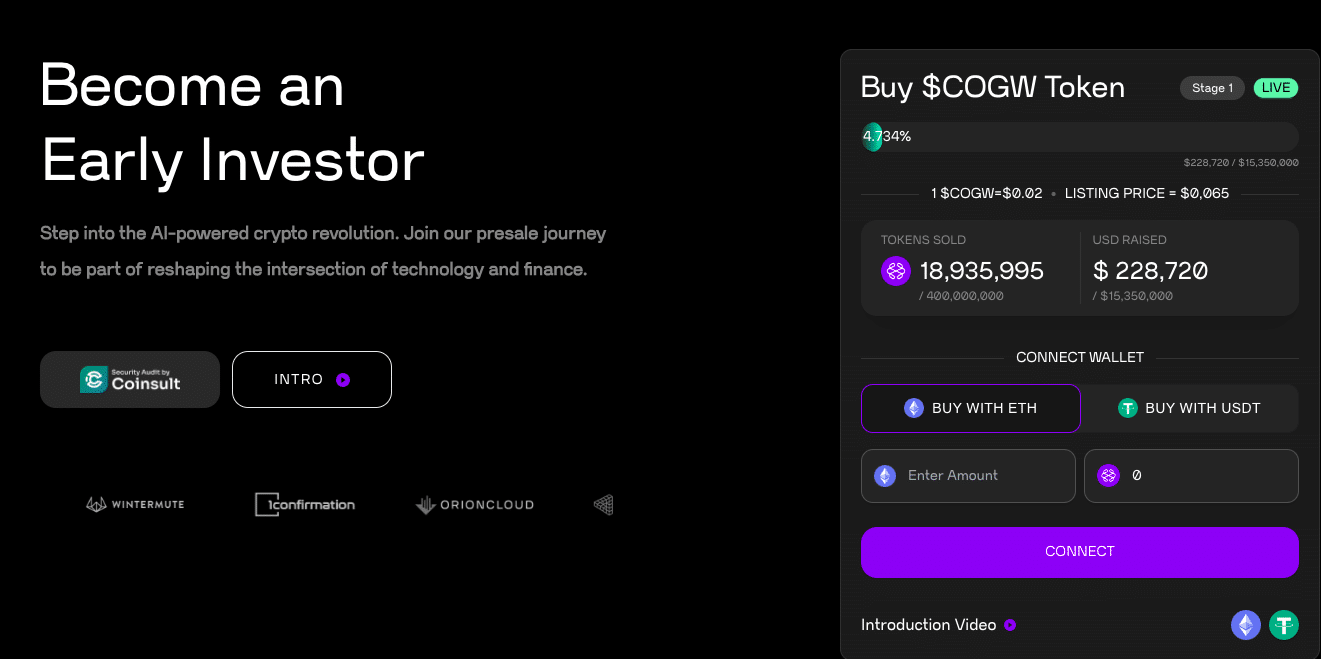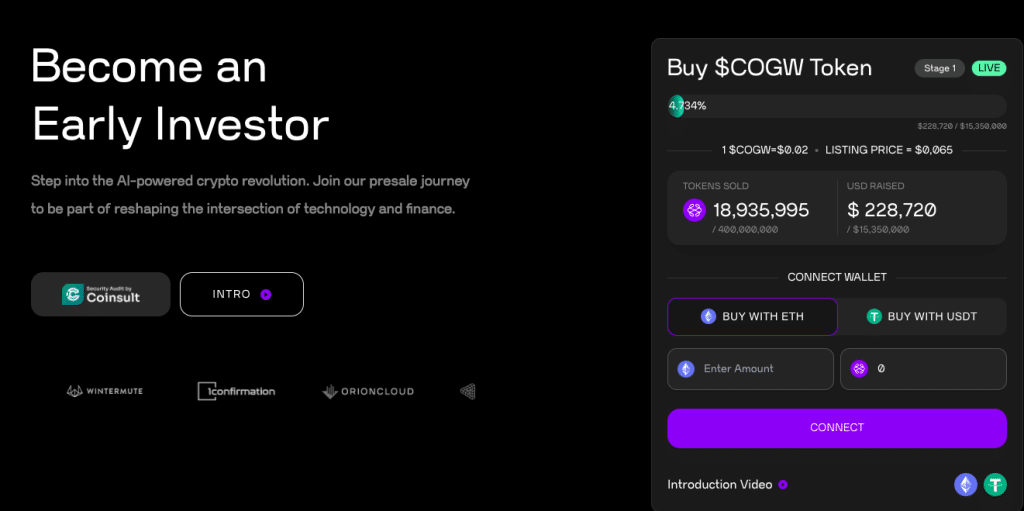 By holding the $COGW token – one can access trading insights, wallet tracking information, and earn passive income. Cogwise provides access to all of its AI-based insights by staking 10,000 $COGW tokens.
One of the key features of this platform is the CogwiseAI Core – a conversational AI-powered assistant. The assistant is programmed to follow the exact command of users and provide practical solutions. Since Cogwise leverages machine learning tools such as Natural Language Processing, the AI can easily communicate with users.
The $COGW token has a total supply of 1 billion but will reduce over time. 35% of all profits generated from this ecosystem will be burned. As the token supply reduces, a rise in demand could help push the price upwards.
Furthermore, token holders can stake $COGW on a liquidity pool to provide liquidity to other decentralized exchanges. This is done to earn passive income on the ecosystem. 400 million tokens have been allocated for the Cogwise presale, as the platform aims to raise a hard cap of $13.5 million.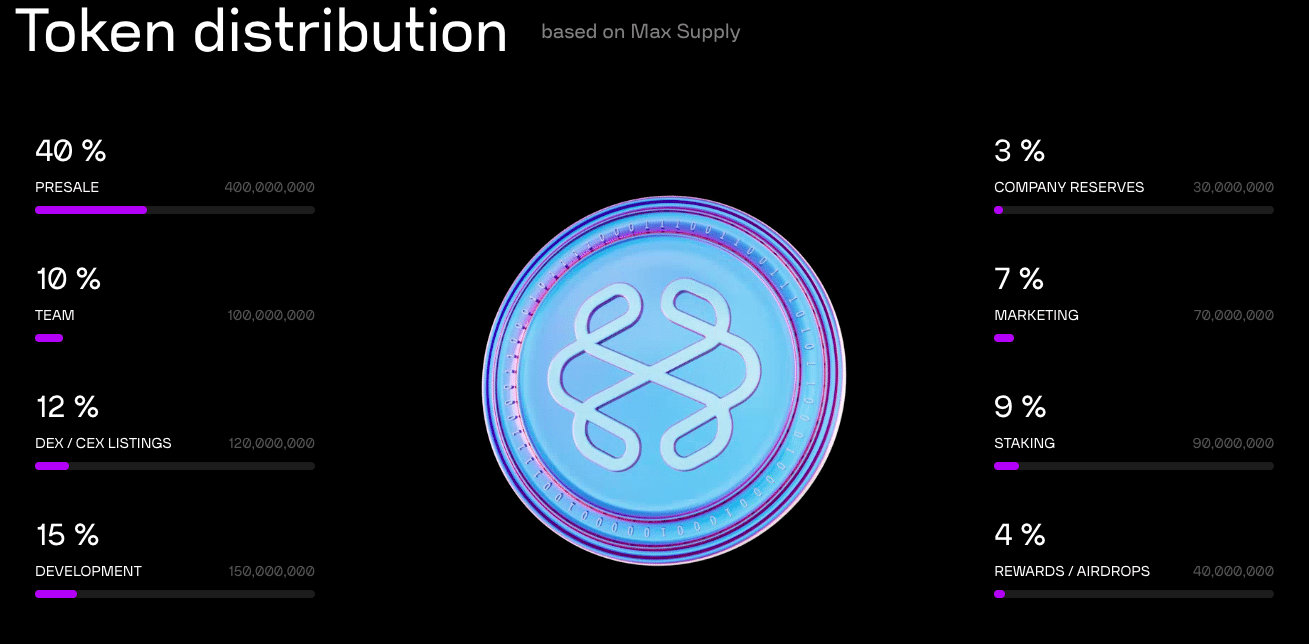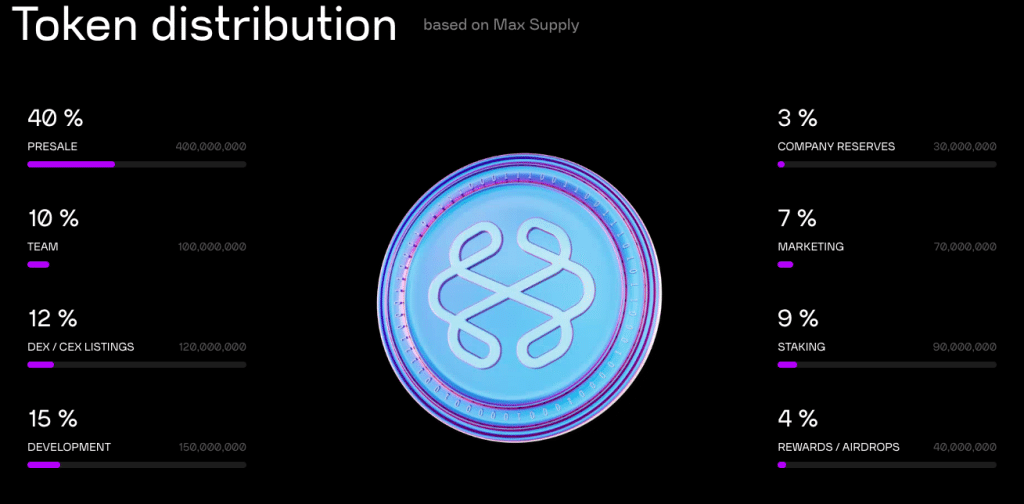 Currently, $COGW is priced at just $0.02 per token. However, by the initial exchange offering, the price will soar to $0.065 – a 225% price increase. Therefore, interested investors can buy $COGW on the presale before the price increases. The presale has raised more than $228K. Read the Cogwise whitepaper and join the Telegram channel to stay updated with this cryptocurrency.
| | |
| --- | --- |
| Hard Cap | $15,350,000 |
| Total Tokens | 1 Billion |
| Tokens available in presale | 400 Million |
| Blockchain | Ethereum Network |
| Token type | ERC-20 |
| Minimum Purchase | None |
| Purchase with | USDT, ETH |
12. Doge Uprising – Doge-Themed Meme Cryptocurrency Will Soar by 100% on Presale, Priced at $0.000013
Doge Uprising ($DUP) is a new Doge-themed meme token that is available to buy on presale. The token can be held for future staking rewards and NFT buying opportunities.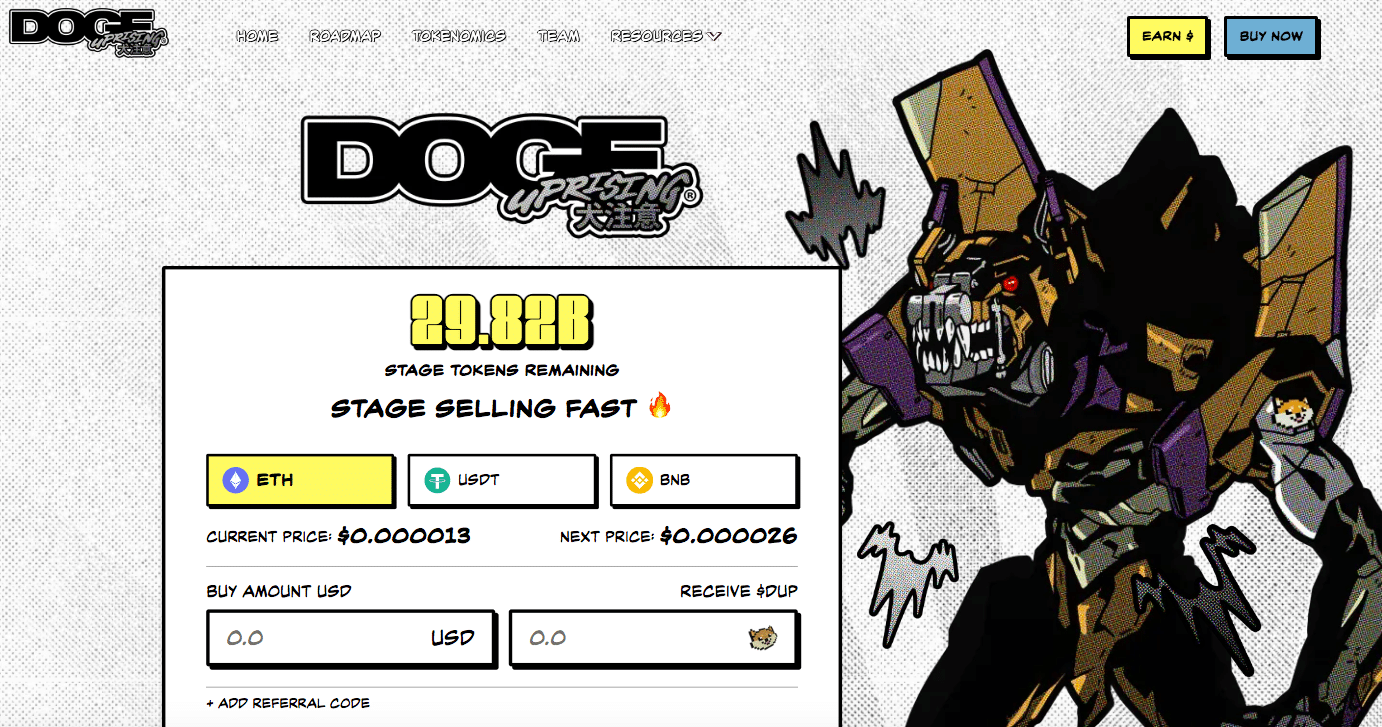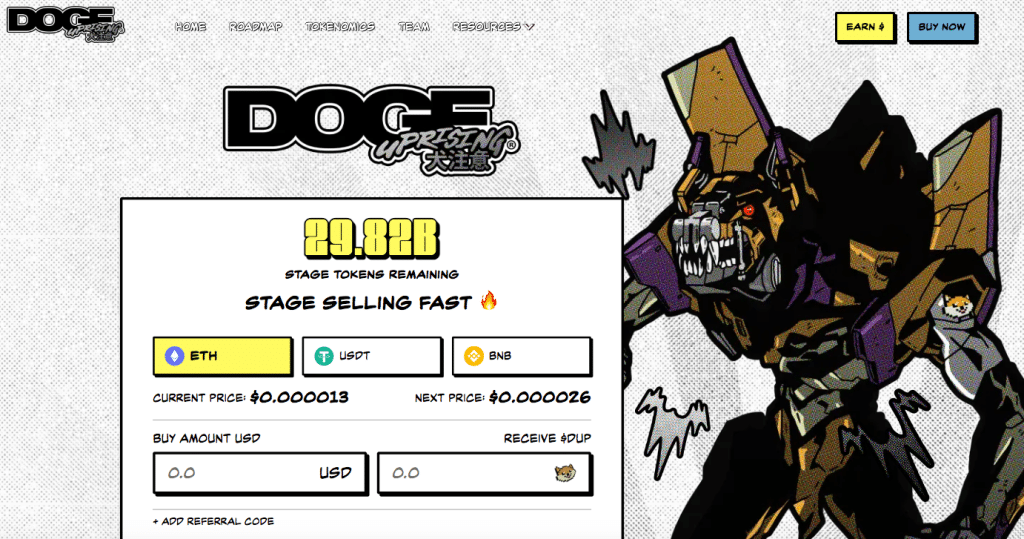 The Doge Uprising whitepaper states that one of the key components of this platform is the manga series, which has created an interesting narrative about the Doge Uprising revolution. Doge Mechas, which can be purchased as NFTs, will arise to fight off the Lizard king's reign.
All these features will be soon added to the ecosystem. The current roadmap phase is focusing on the $DUP token presale. From a maximum supply of 450 billion tokens – 270 billion have been allocated for the presale. At press time, $DUP is priced at only $0.000013 per token.
By the next round, the price will soar by 100% to $0.000026 per token. The tokens can be purchased with popular cryptos such as Ethereum (ETH), Tether (USDT), and BNB (BNB). A further 10% of the supply will be rewarded through airdrop, while 10% will be split for marketing and development.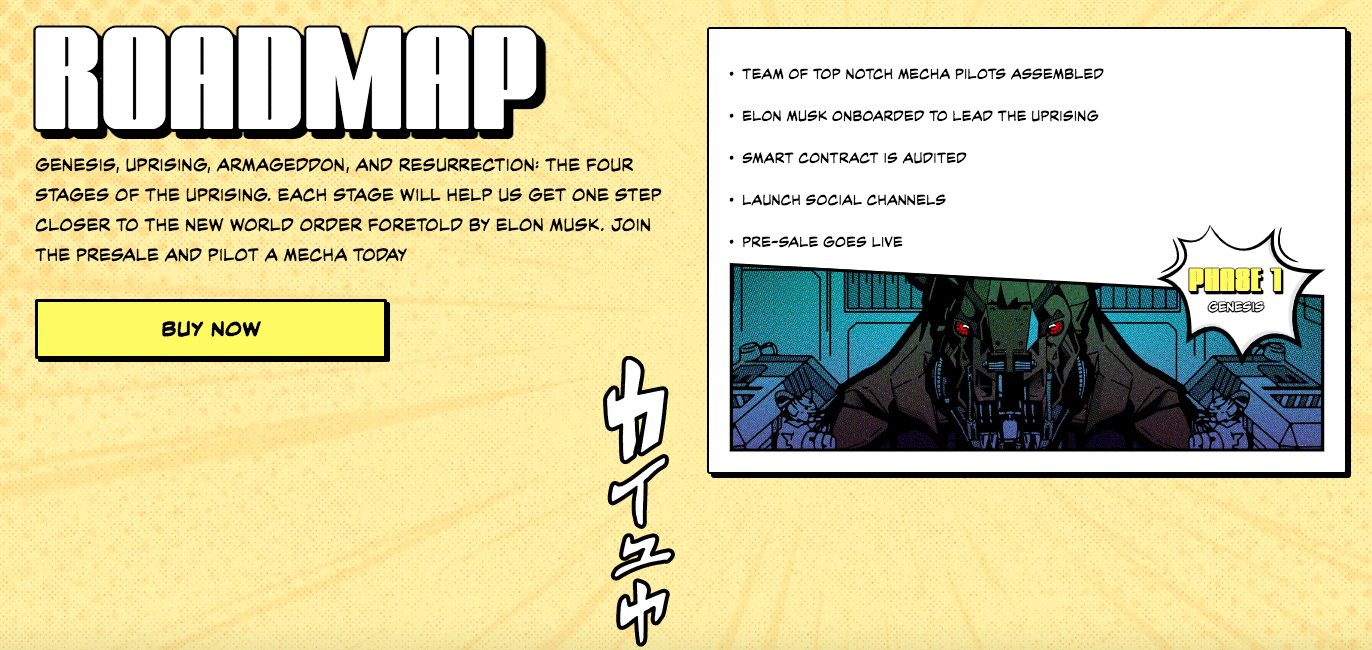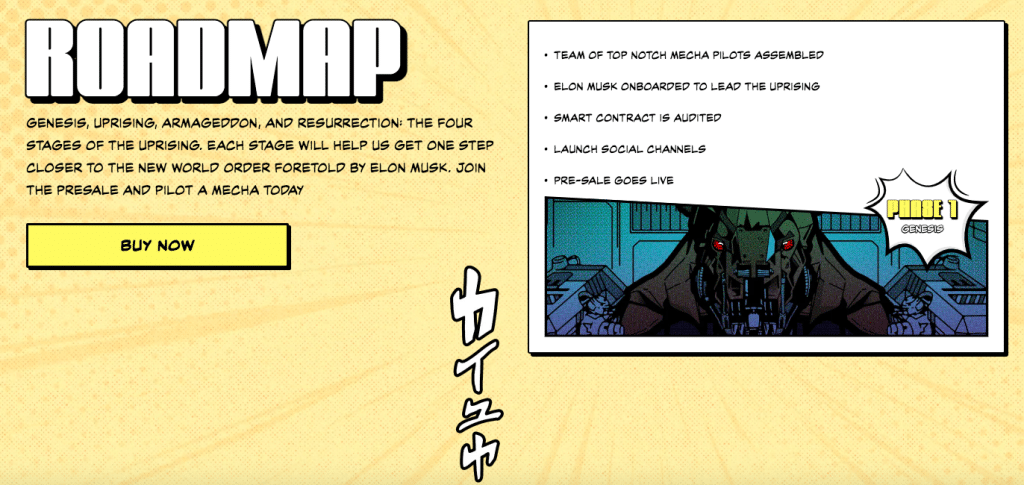 After the presale ends, Doge Uprising will be listed on the Uniswap exchange. 20% of the token supply will be reserved for the exchange listings. Join the Doge Uprising Telegram channel to find out more about this meme coin.
The Doge Uprising smart contract has been audited by SolidProof – a leading security company in the blockchain space.
| | |
| --- | --- |
| Token symbol | DUP |
| Presale supply | 270,000,000 DUP |
| Token type | ERC-20 |
| Payment methods | ETH, USDT, BNB |
| Listing price | N/A |
13. Stellar – Large-Cap Penny Crypto With a Prolonged IBM Partnership
Those in the market for a large-cap project might consider Stellar as the best penny crypto to buy. Stellar has its own blockchain network that doubles up as a global payment system. It is already being used by IBM and MoneyGram, plus plenty of small-to-medium businesses.
The reason for this is that the Stellar blockchain supports more than 1,500 transactions per second, with each transfer taking less than five seconds to process. Plus, Stellar transactions cost under a cent to process, regardless of the transfer size or destination. Its proprietary crypto token, XLM, enables companies to settle transactions on-chain.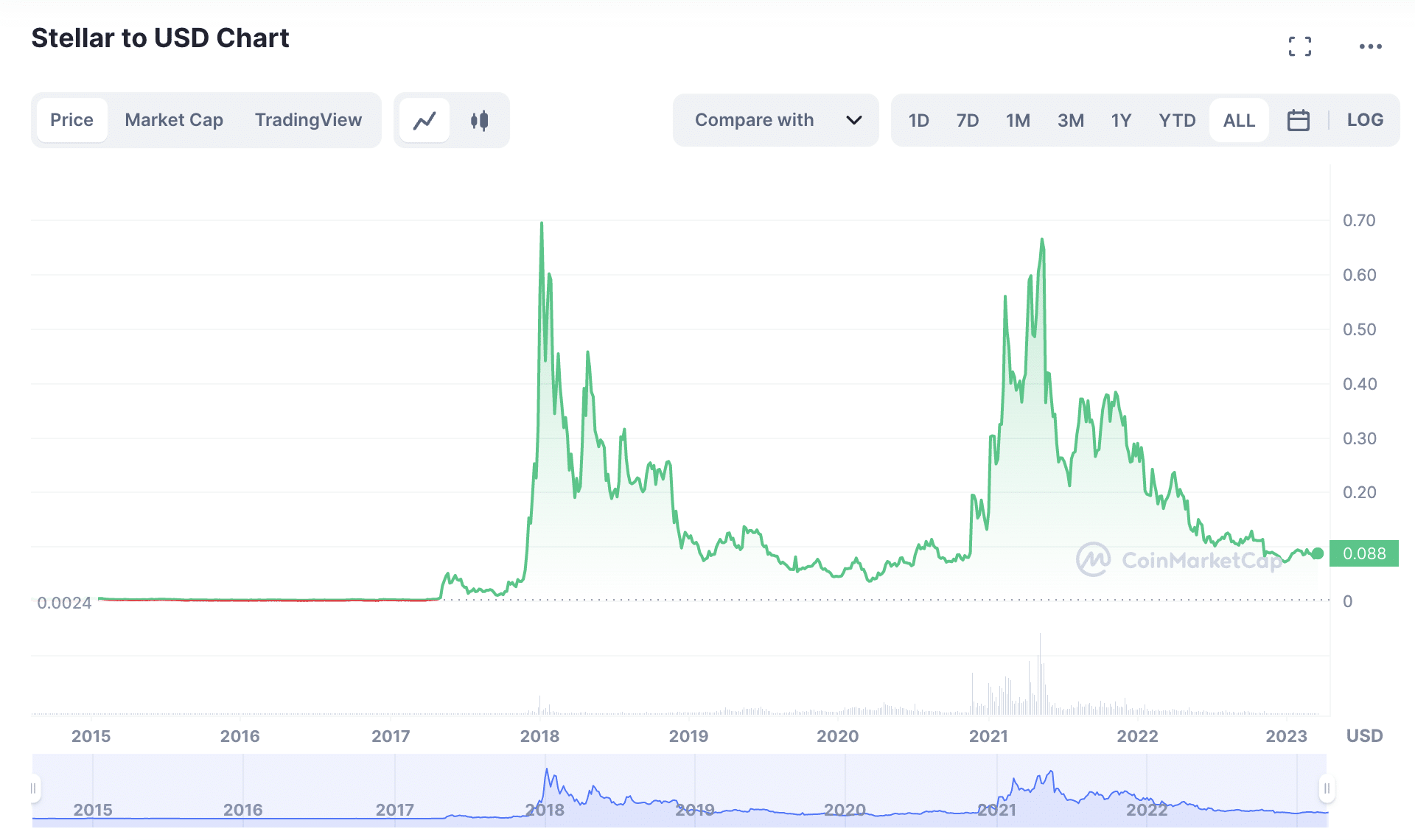 XLM also provides cross-currency transactions with real-time liquidity. Stellar is also an established blockchain project, with its XLM token first launching in 2014. According to CoinMarketCap, XLM was originally priced at $0.0024. XLM has since hit an all-time high of $0.70.
Currently, however, XLM is trading at just $0.16 – significantly below its all-time high. Nonetheless, this is still one of the best penny crypto to buy for long-term gains. After all, as more and more companies integrate the Stellar network into their payment processes, this will increase demand for XLM.
14. Dogecoin – Popular Meme Coin and Payment Currency With Several Million Token Holders
Dogecoin is one of the most popular penny crypto tokens in this space, with more than 3.5 million holders. The project was one of the first to introduce the 'meme coin' concept back in 2013. During this time, Dogecoin was priced at just $0.00030. With that said, it wasn't until early 2021 that global interest in Dogecoin went viral and slowly became the best meme coin to buy.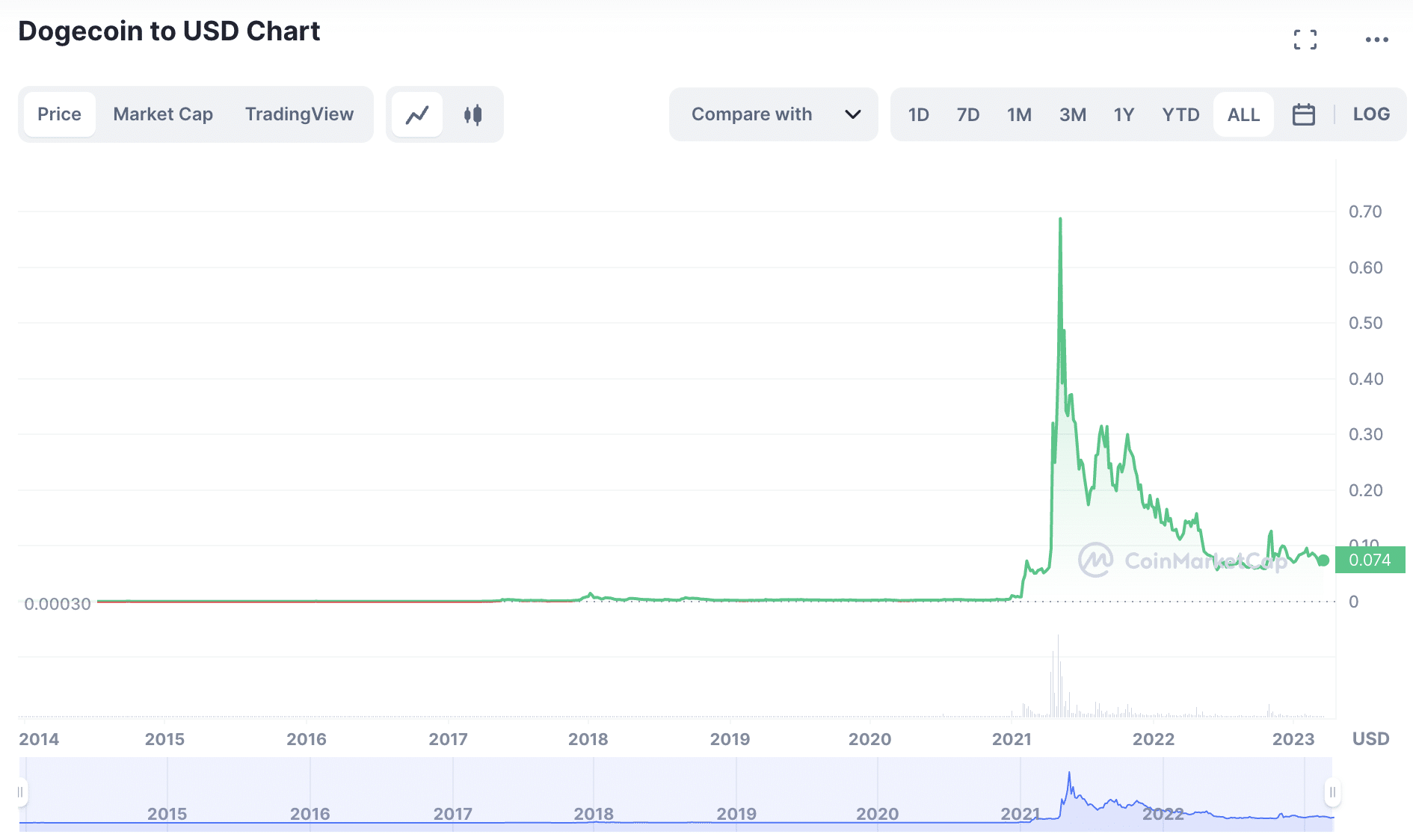 Elon Musk was at the forefront of this sudden spike in interest, with the Tesla CEO tweeting about the meme coin regularly. By mid-2021, Dogecoin hit an all-time high of $0.74. This represented year-to-date gains of over 10,000%. Like many other penny cryptocurrencies, the price of Dogecoin has since declined considerably.
As of writing, Dogecoin can be purchased for under $0.08 per token. If Dogecoin can recover its former all-time high of $0.74, this would yield an upside of over 800%.
15. TRON – Decentralizing the Entertainment Industry via the Blockchain
Founded in 2017, TRON aims to revolutionize the global entertainment industry through web3 technologies. The project has its own native blockchain that supports smart contract agreements. This means that content creators can use the TRON blockchain to sell their works.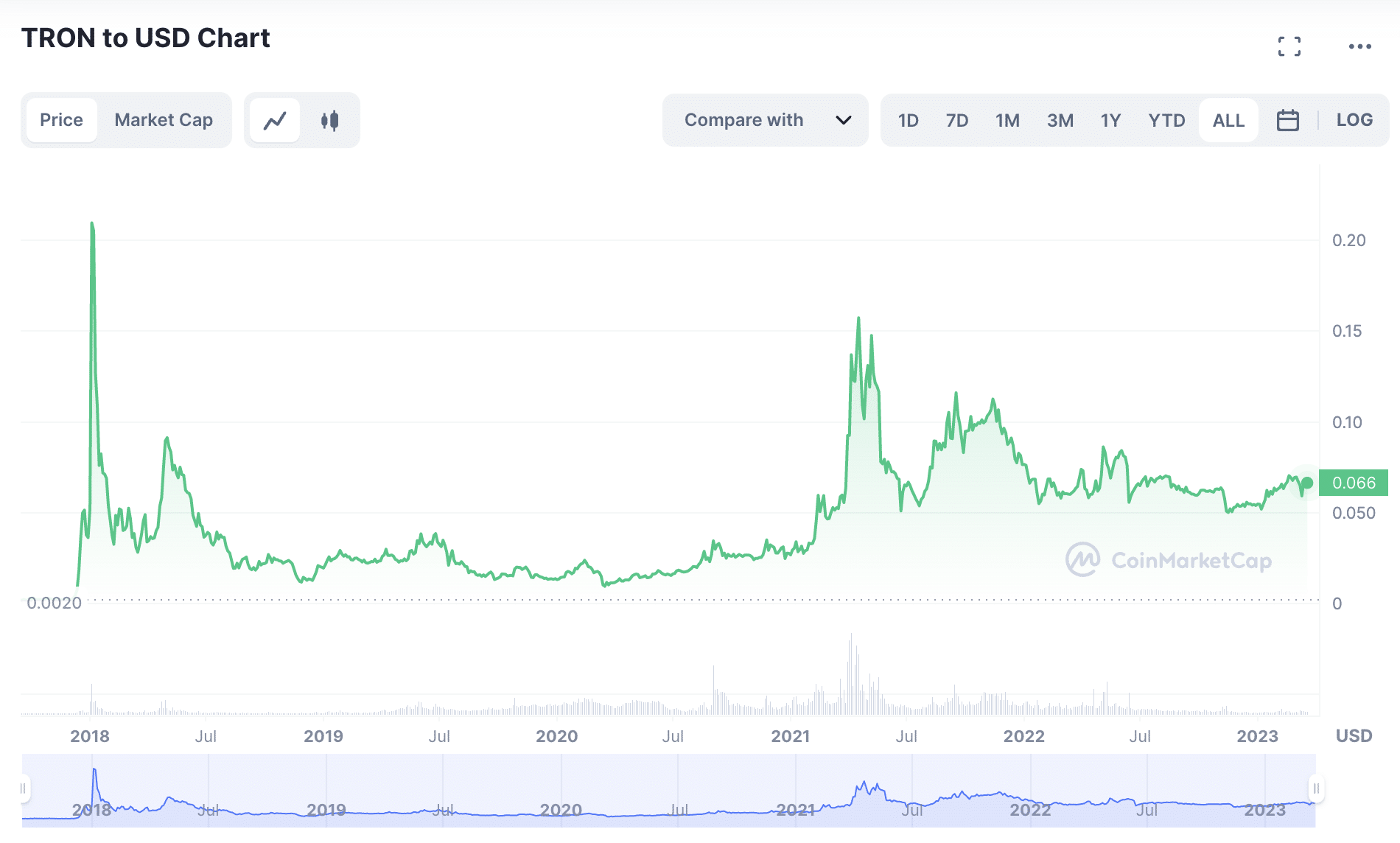 As the TRON ecosystem is decentralized, creators can set their own terms. All content sales conducted via TRON are processed in TRX. TRON transactions are significantly faster and cheaper than Ethereum. This is why TRON is sometimes described as the 'Ethereum Killer'. As of writing, TRX tokens are trading for under $0.08 each.
16. Decentraland – Established Metaverse Project With Virtual Land Ownership via NFTs
Decentraland is an established metaverse project that was founded in 2015. But it wasn't until 2020 that its metaverse was released to the public. Decentraland allows users to socialize in the metaverse, play games, and even buy plots of land.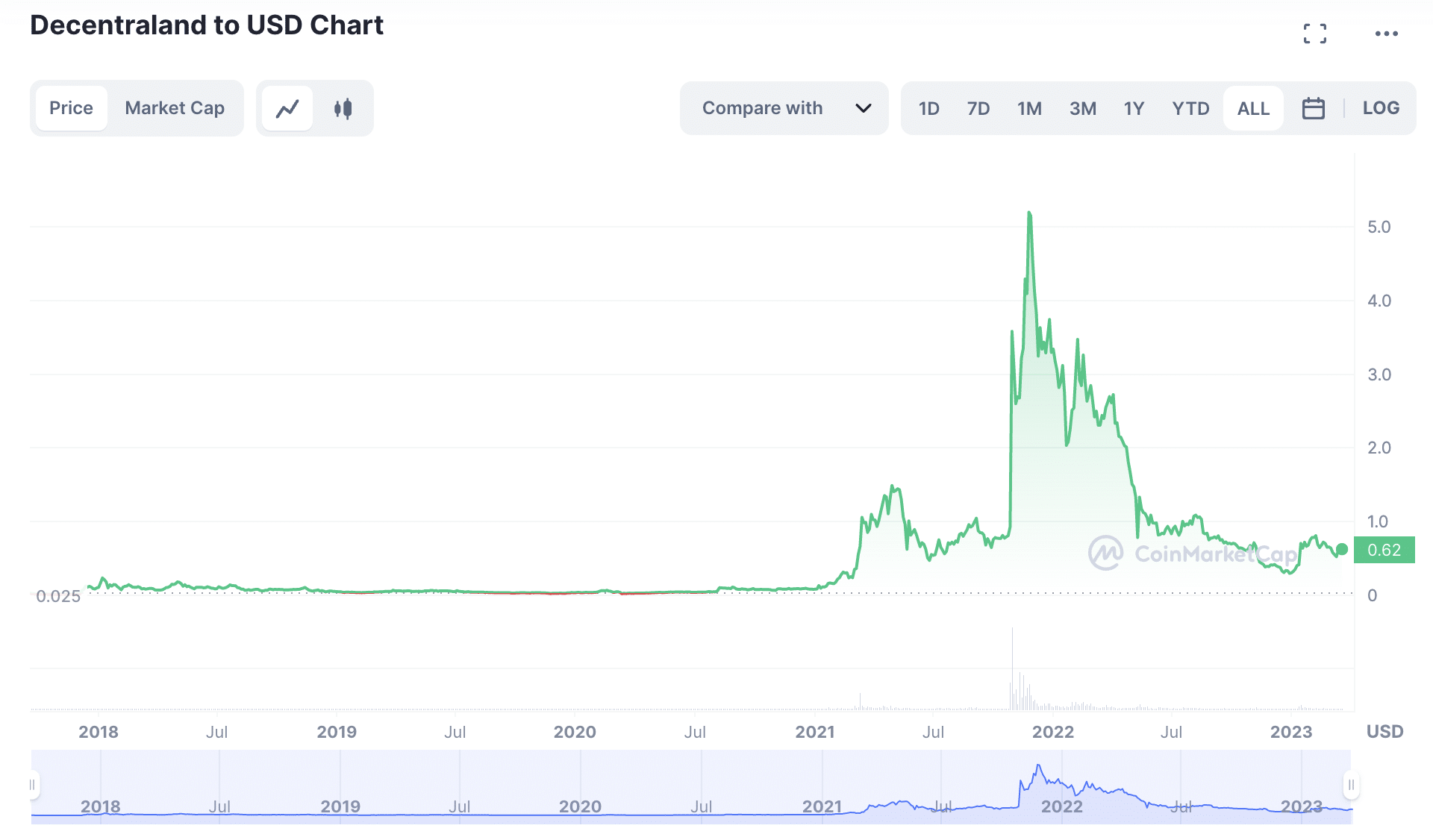 Users can also construct virtual buildings on the land that they purchase. According to Reuters, a record-setting $2.4 million was spent by just one user for a plot of land in Decentraland. Many other seven-figure purchases have since been made.
MANA is the utility token of Decentraland and is required to buy land. MANA has been hit hard by the broader bear market, trading at $0.39 as of writing. This is far lower than its all-time high of $5.20.
17. Algorand – Near-Carbon-Negative Blockchain for a Sustainable Future
Algorand claims to be the most sustainable and green blockchain network in this industry. Its network is already achieving near-carbon-negative transactions. This means that Algorand requires next-to-no energy to operate.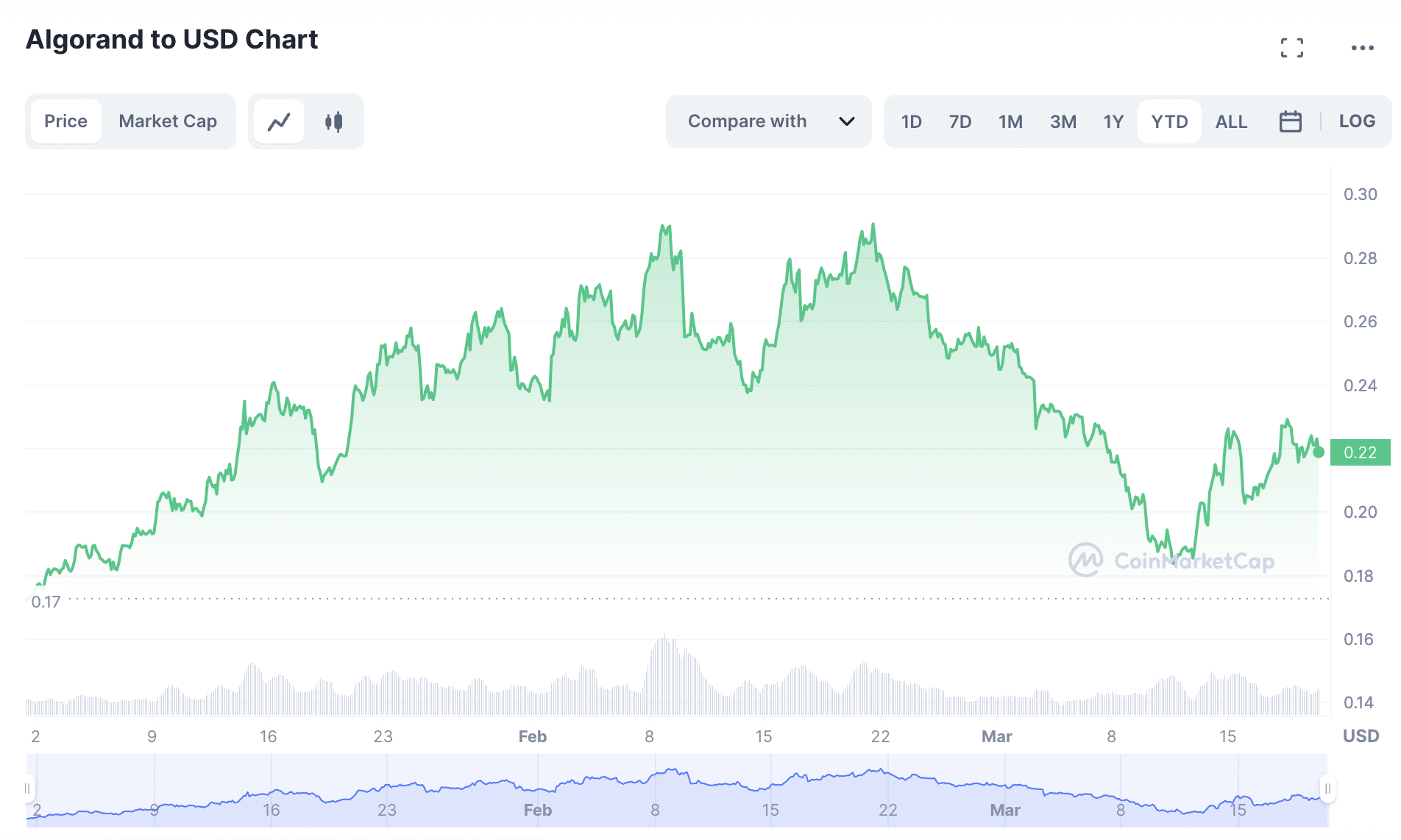 In comparison, Bitcoin currently uses more energy than many countries on a national level. The Algorand blockchain is also efficient when it comes to fees and speed. For example, the average transaction fee is just 0.0002 – regardless of how much is being sent.
Moreover, it takes under four seconds for Algorand to validate a transaction. Algorand also has its own penny crypto – ALGO. Trading at just $0.11 as of writing, ALGO is the best penny cryptocurrency to buy for green investors.
18. The Graph – Indexing Protocol Servicing the Future of Web3
Web3 is a transaction-heavy industry consisting of crypto, blockchain, smart contracts, NFTs, and more. As such, many networks in this space continue to struggle with efficiency. This is because too much data passes through the blockchain at any given time.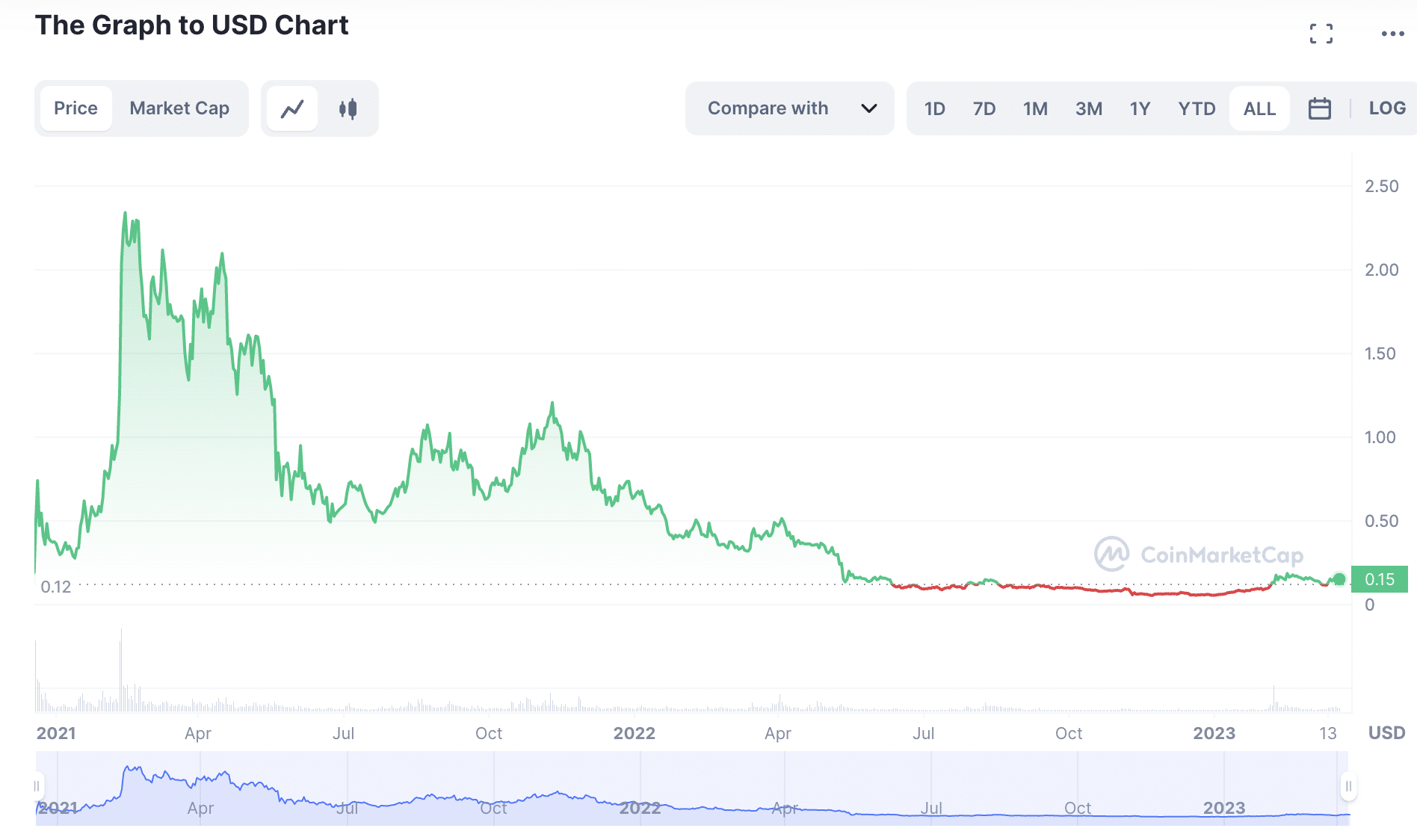 The Graph solves this issue through its native indexing protocol. Not only does the Graph organize blockchain data, but it makes it easily accessible. This enables the respective blockchain to operate in a faster, lower-cost, and more scalable manner.
GRT is the penny crypto that fuels the Graph ecosystem. Moreover, GRT is required to access its indexing protocol, so it has real-world value. As of writing, GRT tokens can be purchased for under $0.11 each.
19. 1inch Network – Decentralized Financial Services With 350+ Liquidity Providers
1inch Network solves a major issue in the world of decentralized trading – liquidity. The reason for this is that 1inch Network utilizes over 350 liquidity providers to ensure that traders never lose out to slippage. Moreover, the 1inch Network ecosystem supports multiple blockchain networks.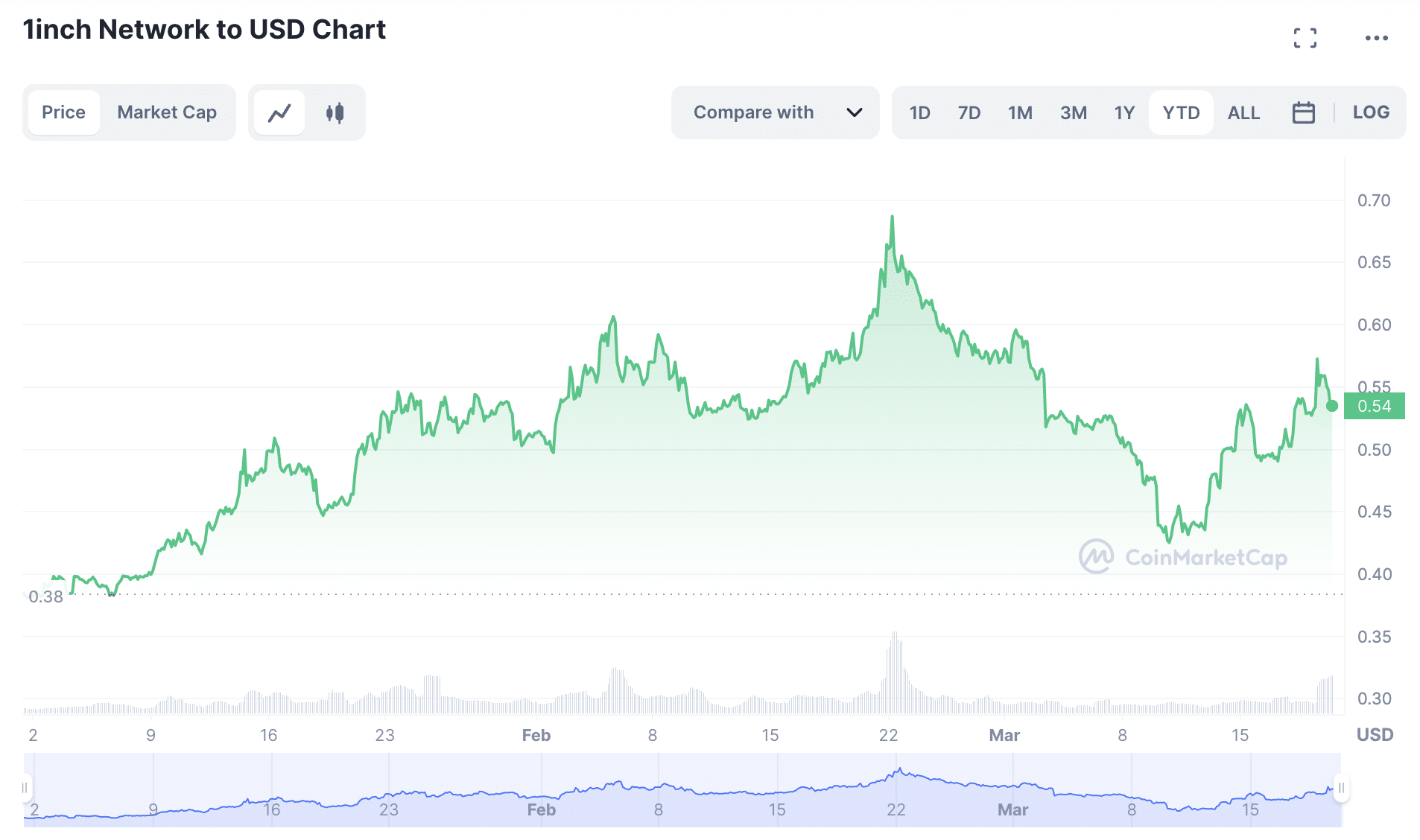 This includes Ethereum, Binance Smart Chain, Polygon, Optimism, Fantom, and others. This project has its own governance and utility token – 1INCH. Currently, 1INCH can be purchased for just $0.30 per token. This is just a fraction of its 52-week high price of $2.07.
20. Enjin Coin – Blockchain-Based Gaming Guild for Play-to-Earn Titles
Launched in 2017 and built on top of the Ethereum network, Enjin Coin is a gaming guild that specializes in play-to-earn titles. This enables third-party developers to build and deploy games on the Ethereum blockchain, via Enjin Coin.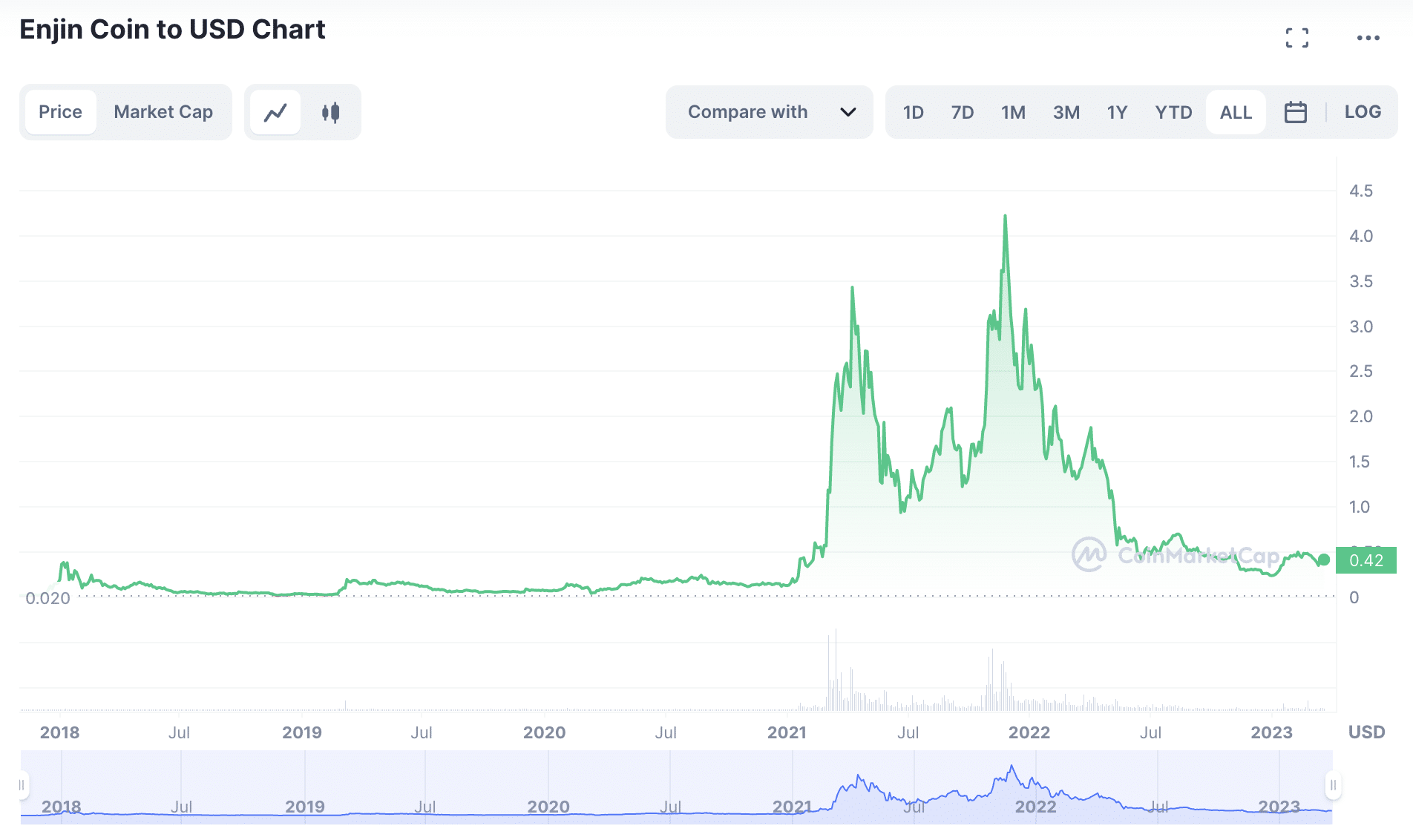 Moreover, all games hosted by Enjin Coin enable players to earn ENJ, the native token backing the project. ENJ has had a good start to 2023, generating year-to-date gains of 75%. But at $0.30, this is still a small fraction of its all-time high of $4.30.
If Enjin Coin can recover its former peak, this would offer an upside of over 900%. Like most of the penny cryptocurrencies discussed in this guide, Enjin Coin can be purchased from the regulated broker eToro from just $10.
What are Penny Cryptocurrencies?
There is no standard universal definition of penny cryptocurrencies. With that said, the term is generally used to describe the best cryptocurrencies with a value of under $1. This means that penny cryptocurrencies are ideal for investors that wish to buy a larger number of tokens without breaking the bank.
Many penny cryptocurrencies are small-cap tokens that have the potential to generate sizable long-term gains. This requires investors to enter the market early and be prepared to hold for several years.
This buy-and-hold strategy is often the most effective way to approach penny cryptocurrencies. For example, when MANA was launched in 2017, it was trading at just $0.025. When MANA hit an all-time high of $5.14 four years later, this translated into gains of over 20,000%.
Potential Benefits of Trading Penny Crypto
The most common and noteworthy benefit of penny crypto is simply that they can offer the opportunity for explosive growth as compared to the more established cryptocurrencies to buy. For instance, Doge went from $0.01 to $0.6 between November 2020 to May 2021. A $100 investment would have turned into $6,000.
But it's not simply a lower price of entry – that can be found on early stage tokens.
Penny cryptos, especially meme penny tokens, often have very motivated followers who are passionate about the ecosystem. These serve to increase the price of the token and can act as a form of secondary marketing, posting on sites like Reddit and Tweeting about the benefits of the coin.
Investing vs Trading vs HODLing Penny Cryptos – What's the Difference?
While many people use the terms interchangeably, there are differences between investing, trading, and HODLing penny crypto. These differences relate primarily to the time horizons. Generally speaking, a trader will buy/sell cryptocurrencies within minutes, hours, and days.

An investor would purchase a cryptocurrency for one month up to perhaps three years. A HODLer is in it for the long term, three years and above. Note that the definitions are not the same as for traditional trading. A long time horizon in traditional investment would be ten years, but crypto moves very quickly.

One trader made nearly a 5,000,000% profit after investing $263 into the PEPE penny crypto in 2023. This would be a good crypto to trade as opposed to HODL, because the project lacks the foundations for long term viability (KYC, roadmap, whitepaper, etc). The same applies for the trending PEPE 2.0 token, which has been recently released, and is currently trending.
The following are the three primary benefits of trading penny crypto to take into consideration.
Potential for Explosive Returns
One of the best reasons to invest in penny crypto is the potential for high returns. Cryptocurrency as an asset class is known for its impressive ROI. Penny crypto compounds this effect significantly because it typically represents increased growth potential. A lot of coins that trade at around $1.5 – $20 now (SOL, AXS, CAKE) were once penny crypto, that went on to skyrocket past the $1 mark.
Established non-penny cryptocurrencies that have already reached their peak are unlikely to do so again. Binance (BNB), a non-penny crypto, gained 1,300% in 2021. Currently priced at $250, it would have to go up by 13x to meet its previous all time high. In contrast, penny crypto that is just emerging still has the potential to reach these new highs, as opposed to non penny crypto.
Moreover, they can reach these highs in a much shorter time frame. Pepe shot up 1,000% in just two days, something that is far less likely to happen with Bitcoin, Ethereum, Binance Coin, or any of the other major coins nowadays. While this obviously does not happen with all penny crypto and there are inherent risks, it does offer a shorter road to profitability as compared with more established cryptocurrency.
Potentially Lower Investment Costs
Though this does not apply to all penny crypto, many of them are currently in the presale stage or in the early stages of growth. Early stage cryptocurrencies often trade for less than their more established counterparts. If you can buy a coin for 20% of the price at an early stage, it could result in vastly increased profits over a longer period of time.
Solana (SOL) was available for $0.22 in public auction in March 2020. It is currently priced at $18, and is no longer a penny crypto. You would be paying 80 times more to enter today as opposed to in 2020.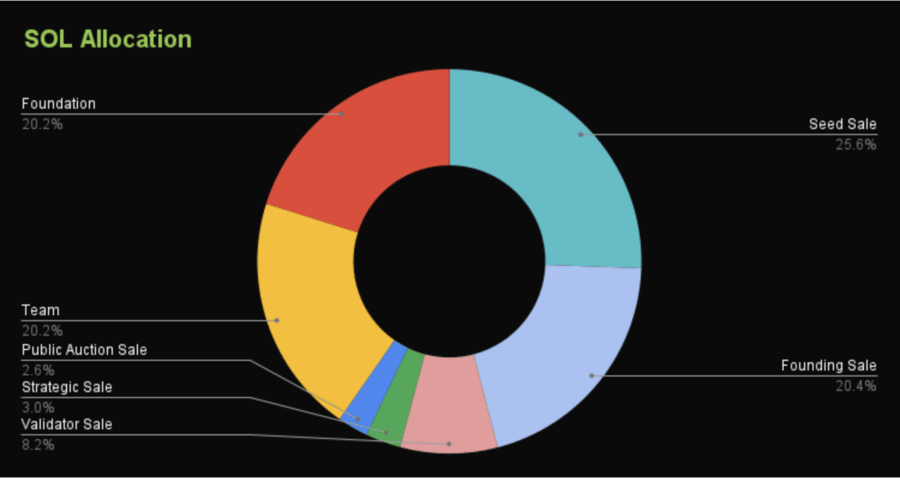 With Polkadot (DOT), the average price in the private sale funding round was $0.288, in 2017. In 2020, the average price for the private sale funding round was $1.2. It currently trades at around $5. The difference between the 2017 early bird price and the current price is nearly 2,500%. Consider that the price of Ethereum (ETH) during its ICO was a mere $0.30. Now the price hovers at $1,800 – a 6,000x multiplier.
So it pays to get in early when the price is low, provided the penny crypto is high quality. You can find these low cost presale/early stage investments by utilizing free tools (outlined in more detail below), staying in touch with crypto media outlets, and joining high quality discord groups.
Hype and Celebrity Appeal
Penny cryptocurrency often has large followings on social media and benefits from a strong community. This can have a powerful impact on the ROI. Shiba Inu gained 40,000,000% in 2021 – a large part of this was due to a Change.org petition urging Robinhood to list the token. The petition was pushed forward by a multitude of loyal followers.
The r/Shibarmy Reddit page has 480,000 members and is in the top 1% by size. Early on in the tokens development, the anonymous founder "Ryoshi" gave 50% of the coin supply to Vitalik Buterin of Ethereum, who donated it to a Covid-19 relief campaign in India. This was a gigantic sum worth $1 billion at the time. These kinds of activities generate enormous social appeal.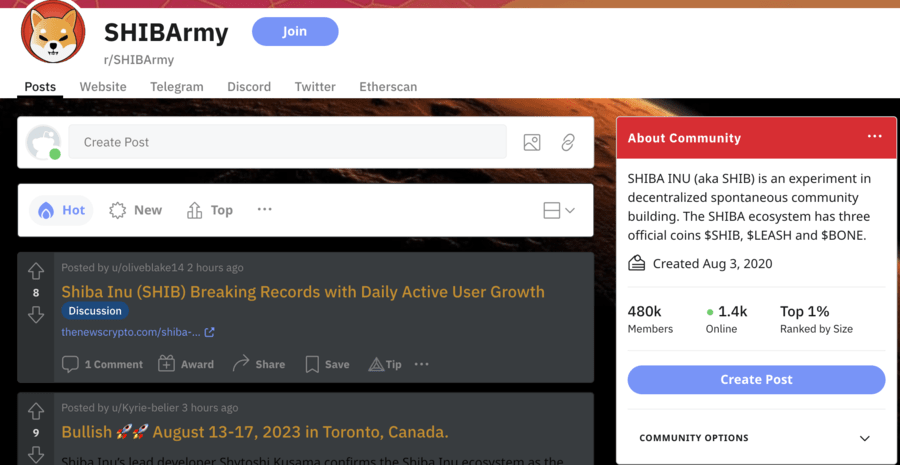 Elon Musk is also known to regularly increase or decrease the price of the DOGE penny crypto, even claiming that he was the "CEO of Dogecoin". His Tweets have been shown to increase the price of DOGE by 100%. The Dogecoin Reddit has over 2.4 million subscribers, and, just like Shiba Inu, has a passionate following.
Lacking any real fundamentals, these coins are driven purely by their communities and celebrity endorsement. But it works very well – Dogecoin is currently the 8th biggest cryptocurrency by market capitalization, ahead of Solana, Litecoin, Tron, Polkadot, and Polygon.
How to Find the Best Penny Cryptos
With the number of penny cryptos on the market, it can be difficult to pick out the very best ones that have a chance of reaching their full price potential. You'll have to take a number of different factors into account to pick the ones that stand out – a coin might look good from one or two angles but there could be other information that renders it a bad buy.
So use a combination of the following tools to pick out the best ones on the market.
DEXTools

We are slowly seeing a migration away from centralized exchanges towards decentralized exchanges (though centralized exchanges like Binance and Coinbase remain in very strong positions, in terms of overall trading volume). With the influx of decentralized technology, there has also been a rise in the number of decentralized tools to spot new trading insights.
One such tool with a great many features is DEXTools. This free tool allows traders to analyze pairs on a variety of decentralized exchanges, swap tokens (provided the Web3 wallet is connected), view the daily losers/winners, and look at statistics on major decentralized exchanges.
Pairs are assigned an overall DEXT score based on five criteria – pool, creation, holders, transactions, and information. Right now, BTC/ETC has a DEXTscore of 98. The platform has its own educational channel on Youtube and is continually listing new pairs. This tool can be used to identify penny crypto that is starting to show signs of positive momentum before a breakout.
Discussion Groups
Joining discussion groups is another method to gain access to penny crypto before it hits the all time high (ATH). Telegram and Discord are probably the best places to join groups that are designed specifically for trading penny crypto. One of the top resources is Jacob Bury's Crypto Clan, currently with over 14,000 subscribers.
On this discord server, educational content is generated regarding the best exchanges to trade and the principles of smart investment, and giveaways are offered frequently. This group is particularly useful when it comes to presale information and penny cryptos, breaking down the coin prices at each stage and even giving estimated ROIs for tokens.
The ICO Analytics Telegram group, meanwhile, has over 70,000 subscribers and a five-year history. It points out reputable upcoming ICOs and further breaks down analytics on new tokens. Crypto Signals is a useful Telegram resource for finding penny crypto to invest in, enabling investors to copy-trade the positions of professional traders and witness the rationale behind certain positions. Another great Telegram group for crypto investment is Learn2Trade, which also caters to the Forex trading market.
Crypto Signals Breakdown
Crypto signals are technical indicators that point towards upward or downward price movements for specific pairs. For instance, Crypto Signals indicated in a blog that BTC had peaked at $31,500 on June 27, 2023, outlining their rationale. Within 48 hours, the price had dipped to $30,000. There are too many technical indicators to go into in any detail, but some of the more common ones include:
On Balance Volume (OBV) – Measures the tokens buying/selling pressure based on trade volume. An Increasing OBV points to a price rally while a decreasing OBV points toward a price decline.
Moving Average Convergence-Divergence Indicator (MACD) – Highly utilized in traditional trading. A positive MACD points towards an uptrend while a negative MACD points towards a downtrend.
Relative Strength Indicator (RSI) – Like the MACD, this is another momentum-based indicator. A scale between 0 to 100 indicates buying/selling activity.
Crypto Fear and Greed Index – Novice crypto investors could make use of this simple index which is a thermometer between 0 to 100, to gauge market sentiment. As a general rule of thumb, sell when the market is greedy and buy when the market is fearful.
No one indicator can be taken on its own. But over time, technical indicators can be combined with other criteria (network upgrades, partnerships, regulatory news, macroeconomic data, etc) for a more rounded decision making process, when it comes to crypto investment.
Reddit is another great resource when it comes to finding the best penny crypto. Useful groups include r/ICO (for upcoming coin offerings) and r/CryptoCurrencyTrading (for advanced trading strategies).
Reddit is an excellent resource for penny cryptos. In fact, it is one of the main repositories for some of the highest performing penny cryptos of all time – Dogecoin and Shiba inu. These penny cryptos are driven mainly by Reddit support, where the tokens are discussed and community initiatives are put forward.
Due to the supportive, interactive, and conversational nature of Reddit, it's easy to post a question about the project and receive an answer, as opposed to reading a whitepaper from an official webpage and deciding what to do on your own. You can become part of the community and see how the penny crypto has developed with time, as well as receiving the latest updates.
Crypto Media
Cryptocurrency media outlets such as Coindesk are excellent resources for finding out about the latest news in terms of regulation, fundraising, partnerships, network upgrades, and more. Bookmark some top media publications to stay on top of the latest news regarding penny crypto prices. While this is not quite as powerful as getting the information before it becomes publicly available, it's still important to stay in touch with the wider markets.
This is due to the fact that an individual project might be doing extremely well, but other factors could send the market tanking. For instance, the SEC lawsuit against Coinbase and Binance led to price and volume declines across the board. MATIC (-27%), SOL (-29%), ADA (-25%), and BNB (-23%) all declined due to the event.
Macroeconomic events like the Federal Reserve pausing interest rates (5.0% – 5.25%) after 15 months of hikes will play a role. This is obviously going to have a knock on effect in terms of investors purchasing penny crypto. So bookmark both crypto media and traditional media to stay abreast of as many impactful items as possible.
YouTube
YouTube is a particularly good resource for three main reasons. The first is because it allows users to learn in a more dynamic manner than reading static text (and there is a lot to learn about how penny crypto behaves). The second is that you can often gain access to key information that is either not available elsewhere, or others have simply not paid attention to. The third is that Youtube happens to be the second largest social media platform in the world, second only to Facebook, according to Search Engine Journal.
Michael Wrubel's YouTube channel, for example, has over 300,000 subscribers and 1,800 videos, specializing in undervalued cryptos that have the potential to skyrocket. BitBoy Crypto is another excellent resource, with over 1. 5 million subscribers. This channel is interesting because it often features guest speakers for debate and additional perspectives. Along with a Discord group, Jacob Bury also has a Youtube Channel with key information relating to presales and penny crypto.
If you want to spot upcoming penny crypto before the crowd, it is definitely worth checking out some of the top YouTube channels, where the experts have dedicated their time to deep coin analysis.
How are Penny Crypto Prices Determined?
Penny cryptocurrencies follow the same pricing framework as any other digital asset. Put simply, pricing is determined by market forces. When buying pressure increases, so will the price of the penny cryptocurrency. Conversely, too much selling pressure will negatively impact the price of a cryptocurrency. But a multitude of factors affects this buying and selling pressure. These factors include celebrity endorsements, regulation, and whale movements.
Celebrity Tweets and Activities
Penny crypto prices can be heavily influenced based on celebrity actions. This had already been demonstrated through moves from Elon Musk (Doge) and Vitalik Buterin (Shiba Inu). Many penny cryptocurrencies that go on to generate huge returns do so simply because of marketing and mass appeal.
Wall Street Memes – which is the best penny crypto to buy today, has already raised over $10.5 million via its presale. Elon Musk is also connected to this meme penny crypto through his Tweets, the movement has over 1 million social followers. Musk is also connected to Doge, as previously mentioned, with the power to increase or decrease the token price via his Tweets. When he changed the Twitter blue bird logo to the DOGE logo, it pushed the price of the meme token up 20%.
Tweets from antivirus specialist John McAffee had the power to move the price of Verge (XVG) in 2017. Just 4 days after his initial Tweet, the price of the token would move up 500%. Low volume penny cryptos are hugely affected by celebrity figures.
Regulation
Regulation affects the entire crypto market. Practically all cryptocurrencies, including penny crypto, are correlated to Bitcoin. A crackdown on exchanges will severely affect trade volume, and can adversely affect the price of all penny cryptos that trade on centralized exchanges. The SEC lawsuit against Coinbase/Binance led to price declines and a reduction in trade volume.
And this happens across the board, so it does not matter if it is a high priced crypto or a low priced crypto. It also does not matter if it is a high volume or low volume cryptocurrency. Regulatory concerns affect the entire market, and it largely moves in unison.
Other major events like the FTX collapse will have implications across the board, sending the entire market reeling. This happened in late 2022, and the overall market took a hit, including penny crypto.
Whale Positions
A whale is a trader that has a disproportionate amount of influence relative to the overall market capitalization of a crypto. If you have $5 million and the market capitalization of a cryptocurrency is $50 million, you would be classified as a whale.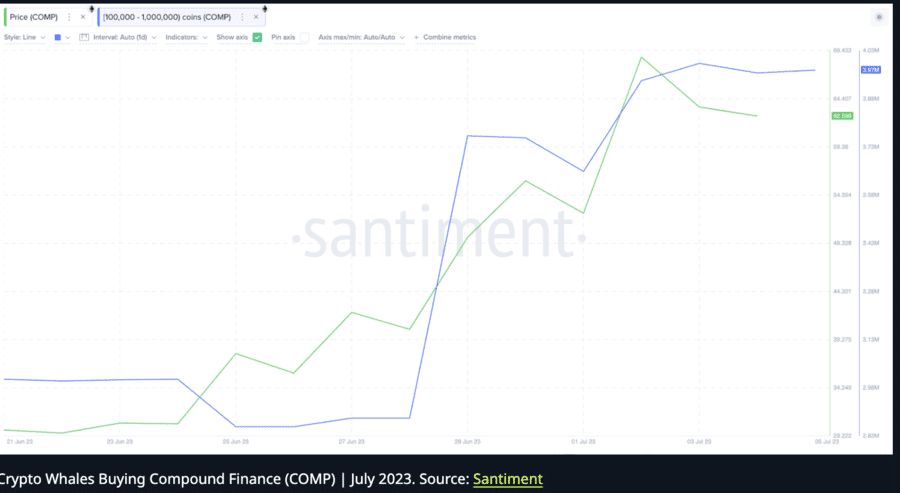 In May 2023, crypto whales started to buy the PEPE token after the price dropped. One wallet purchased $2.7 million in PEPE. The token had a $420 million trading volume in a 24 hour period. This demonstrates that aside from just retail investors, there are many large investors focused on the meme token. The purchases took place amidst a 50% price decrease.
Just like higher priced crypto, whales exert a significant influence on the price of a token. If anything, they have even more of a powerful effect when it comes to penny crypto, because a penny crypto might have a lower market capitalization than an established crypto. A low volume cryptocurrency is more heavily affected by large buy or sell orders, which whales can execute.
Many traders focus exclusively on what whales are doing, because they have such power over prices. You can track whales across blockchains by using ClankApp or a similar tool.
Disadvantages and Risks of Trading Penny Crypto
While there is incredible potential for price gains when trading penny crypto, it does come with some risks that need to be stated. When you learn about the disadvantages, you can avoid them in advance.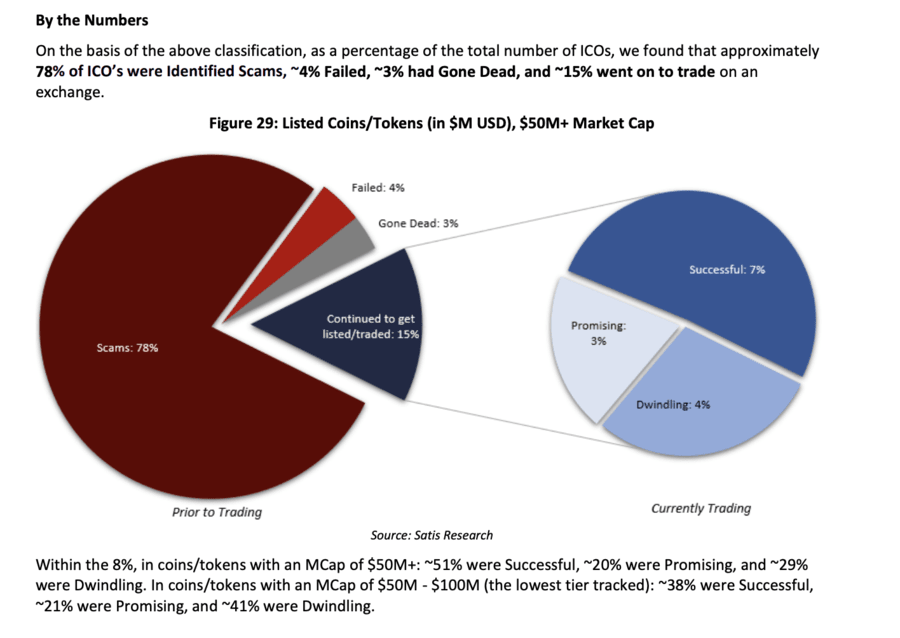 The following are some of the pros and cons of penny crypto investment.
Volatility
The first major risk is that penny cryptos can be extremely volatile. This applies to the entire crypto market but especially applies to low-volume penny crypto. Volume is a strong indicator of volatility and the lower the volume, the more the volatility, generally speaking.
It is unlikely that all your investments are going to proceed forward in a straight line without any dips, so only invest if you can survive for the long term. If you are investing early, there might also be a lockup period where you can't sell for a specified period, such as 12 months or 24 months. New penny cryptos might not be easy to exchange due to a lack of liquidity.
Lock Up Periods in Crypto
Many token offerings have lock up periods for investment. This simply means that you might not be able to sell your crypto for a predefined period of time after the initial investment. This is useful for price stability because it ensures that people don't invest with the intention of selling all the crypto as soon as the price appreciates. It can help reduce the volatility so a major investor does not come along and dump the tokens as soon as possible.
Lack of Historical Information
If there is a lack of historical trading data, traders are pretty much operating in the dark. With established cryptocurrencies, there is a lot of information from various blockchain scanners, such as dAppradar or Etherscan. It's easy to find information on the market capitalization, token supply, and trading information. With a new penny crypto, this might not be the case, as no trends and patterns have been established.
So with a low volume penny crypto you are typically taking on more risk because no information is available. You might not even have access to key information like who the founders are and what the roadmap is. This is a serious detriment to any investment.
Hacks and Scams
Penny cryptos are very susceptible to many kinds of scams, most notably rug pulls. A rug pull is when a core development team creates a crypto and then runs off with investor money after a fundraising round, such as an ICO.
Many of the ICOs that took place in 2017 had no working product and no significant number of active users. Yet investors poured billions into such products, and later it was revealed that almost 80% of them were fraudulent.
Most 2017 ICOs were scams
A research report from Satis Group has indicated that nearly 80% of all ICOs that took place in 2017 were scams. The project noted that many of these ICO tokens traded at 4 times the value of the underlying network. Most of the tokens were bullet on Ethereum with transparent addresses for viewing. Practically all of these ICOs started off as penny cryptos, including Ethereum (at $0.30 per ETH in 2014). Remember that there are many ways to spot a crypto scam – you can learn to differentiate between the good and bad tokens.
There is a long list of tokens that did not make it – so do your research and ensure you avoid failed projects.
How to Buy Penny Cryptocurrencies
To buy penny cryptocurrencies with potential, investors first need to assess whether or not the tokens are currently trading on exchanges. They can also trade on decentralized exchanges where accessible, but these tokens may have slightly more risk.
Presales like Wall Street Memes (WSM), and Launchpad XYZ are all currently engaged in a presale campaign. You can purchase direct from their pages before further price increases takes place. Aside from new presales, you can also access traditional penny crypto like DOGE and SHIB, as well as trending coins like Pepe 2.0.
To buy penny crypto during presales, you'll need to have a compatible wallet. Metamask.io will allow you to interact with Web3, and it is simple to set up. You will need to have some crypto to trade in the first place – ETH, BNB, USDT, and other options will likely be available for purchase. Of course, you can also purchase penny crypto that trades on exchanges, potentially receiving the token into your exchange account.
In the case of the other most promising penny cryptocurrencies discussed, an investment can be made at the regulated broker eToro. This popular broker requires a minimum investment of $10 and it accepts debit/credit cards and e-wallets.
Where to Buy Penny Crypto
If you are interested in buying penny cryptos, eToro is a popular option for several different reasons.
eToro – Best Place to Buy Penny Crypto in 2023, with Copy Trading Tools and Low Fees
eToro is one of the most popular options when it comes to buying crypto in 2023. It's a highly respected exchange with excellent copy trading features. Trading costs on eToro are low, with a 1% flat rate to both buy and sell crypto, this is in addition to the market spread.
eToro is best known for its extensive copy trading features. It was one of the first social trading platforms where users could copy the positions of any trader, after viewing their history and stats. There is no extra charge for the copy trade feature, and you can stop when trades start to go south.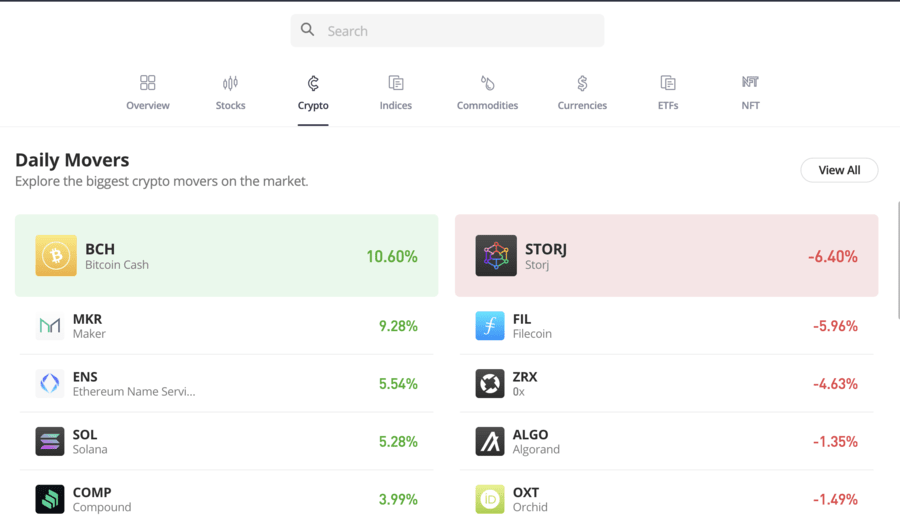 It's a great way to save time in terms of penny crypto investment without having to research individual trades, and you can easily leverage the expertise of others. eToro also boasts top class customer service and is 4.4 star rated on TrustPilot.
The fees are quite transparent on eToro, so you know what you're going to pay. There are no deposit fees and the minimum deposit is just $10. At the present time, eToro offers 80 cryptocurrencies. Aside from crypto, it also offers access to other asset classes for those interested in branching out – stocks, currencies, commodities, ETFs, and indices.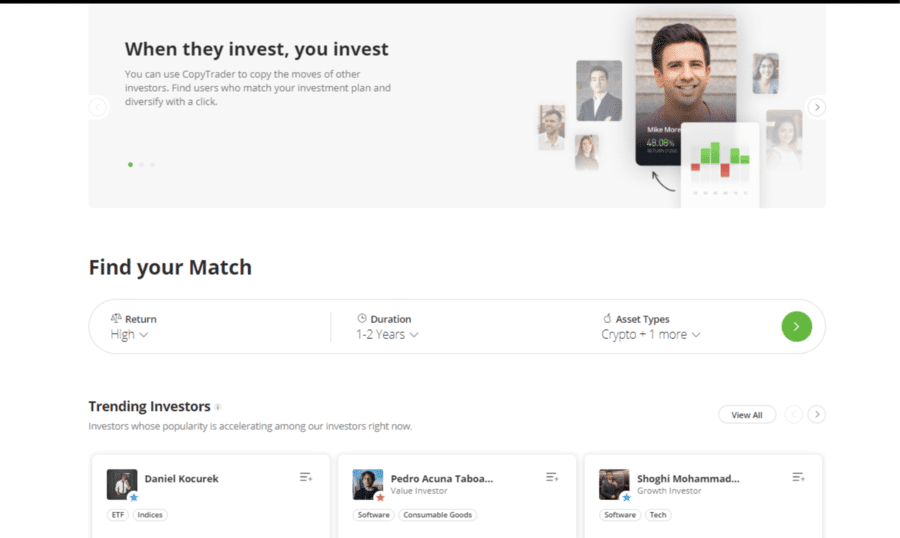 You will also have the added benefit of knowing that you are dealing with a superior penny crypto. It's highly unlikely that a scam token would ever get listed on a massive international brokerage like eToro. But just because this can reduce considerable burdens from a due diligence perspective, it does not prevent you from taking a bad position on a penny crypto movement. Use risk mitigation strategies and study the market.
Investors who are not comfortable messing around with Metamask and other Web3 wallets can also find safety in eToro, where eToro will add purchased tokens to an easily accessed portfolio. The eToro Money wallet also comes in the form of a crypto app and safeguards your investments with a range of security features. eToro serves more than 30 million traders and is regulated by multiple regulators, which include the SEC and the FCA.
With eToro, there is no fee on USD deposits, 0.5% on non-US deposits, and a 1% crypto fees only. This 1% is in addition to the market spread charged by all brokerages, the spread being the difference between the buying and selling price of an asset.
| | |
| --- | --- |
| Number of Cryptos | 80+ |
| Fiat Deposit Fees | Zero fees on USD deposits. 0.5% on non-USD payments. |
| Fee to Buy Bitcoin | 1% (plus the bid/ask spread) |
| Proprietary Wallet? | Yes |
| Top Features | Superb copy trading features; Heavily regulated; No deposit fees on USD payments; 3,000+ assets; Large list of cryptos |
Pros
Excellent crypto exchange for newcomers
Over 3,000 assets to trade, including stocks, ETFs, Forex, etc.
Supports Bitcoin and 80 popular altcoins
Fee-free debit/credit card and e-wallet USD payments
Regulated by multiple regulatory agencies (FINRA, CySEC, FCA, etc)
Low minimum deposit ($10)
World class social investment and copy-trading tools.
Smart portfolios for long term investment
Cons
Non-USD payments have a 0.5% deposit fee
Not available in all US states
Cryptoassets are highly volatile and unregulated in most countries. No consumer protection. Tax on profits may apply. Your capital is at risk.
How to Choose Penny Crypto Tokens for a Portfolio: Summary
Here's a quick recap of how to find a top penny crypto for 2023:
Presales: We mentioned above that presales are home to some of the best penny crypto to invest in. Early presale investors get the most favorable entry price and there is often an immediate upside available. This is because presales like Wall Street Memes increase the price as each batch of tokens sells. For more details on how to buy the latest tokens in 2023 be sure to read our beginner's guide.
Focus on Innovation: The most successful crypto investors are those that focus on the underlying product or service being developed. For instance, yPredict is building a unique AI-driven data insights platform that's designed by the top AI developers aiming to give market traders an 'unbeatable edge' in various sectors such as finance, health and HR.
Stick With Low-Cap Gems: Penny cryptocurrencies with a low market capitalization offer the most attractive upside. Conversely, the risks are also higher. To counter the risk of loss, consider diversifying across multiple low-cost projects at equal investment sums.
Consider Cryptocurrency Penny Stocks: For an even greater level of diversification, consider penny cryptocurrency stocks. These are likely to be micro-cap companies that trade on the OTC markets. When exploring the best crypto penny stocks to buy, be sure to keep stakes sensible.
Conclusion
Remember that although certain low-value cryptocurrencies have yielded substantial profits for certain investors, there are always inherent risks associated with market volatility and investor sentiment. Seasoned traders and investors engage in extensive market research and analysis prior to committing their capital. It is advisable to only invest funds that you can afford to lose.
Still, penny cryptocurrencies offer a sizable upside – especially those that are purchased during a presale campaign. Moreover, this marketplace enables those on a budget to buy a larger number of tokens with a small capital outlay.
Overall, Bitcoin ETF Token is the best penny crypto for a variety of reasons. Firstly, the token can be staked to generate huge yields. Moreover, $BTCETF will burn 25% of its token supply in the long-term.
Currently, the token is available to buy during the first presale round. The price will increase subsequently per each of the ten rounds.
References
FAQs
What is penny cryptocurrency?
What is the best penny crypto to buy now?
Are penny cryptos worth it?