Polkadot's unique Nominated Proof-of-Stake (NPoS) mechanism allows its users to stake DOT and secure and advance the network as nominators or validators. In return, they can benefit from an average 15% annual interest rate.
Considering it's one of the top 20 coins in the world, storing and staking Polkadot is advantageous. This is evident from the fact that almost half of the network is currently staking its DOT coins.
If you want to start, you can use Polkadot's official platform or go for optimized third-party options, like the best Polkadot staking platforms we cover in this article. Keep reading to see what they offer and learn more about Polkadot staking.
Top 6 Polkadot Staking Platforms Ranked
Those who want to find the best Polkadot staking platform can look at the following list and choose the one that works best for them. What's more, our top pick may surprise you, as it does not pertain to Polkadot, but there's a good reason for that.
Before we get into detailed reviews of every platform, here's a quick take on what makes each option a great choice:
Wall Street Memes

— Our top choice does not offer DOT staking but offers far higher rewards than any other platform on the list. Wall Street Memes is a new meme coin project that also offers staking and, at the time of writing, is offering an estimated annualized percentage yield (APY) of 80%. The presale has also been a roaring success, raising more than $25 million so far, with the project heading for exchanges in late September.

Binance

— Biggest crypto exchange with Polkadot staking through the Binance Earn option with up to 13.5% APY. Binance is a known crypto exchange that tops all others in terms of daily trading volume. Investors can choose how long to stake their DOT and use lock-in options for higher profits. Beginners receive 100 USDT upon registration.

Kraken

— Popular international crypto exchange offering Polkadot staking with 8% to 12% interest with flexible terms. DOT staking with lock-in comes with 15% to 21% APY. Kraken is known for offering stake options for numerous coins and requires no minimum investment. Moreover, it features a user-friendly platform.

CEX.io

— One of the best platforms without lock-in terms. APYs go as high as 10% on Polkadot, payouts are monthly, and you can stake as little as 1 DOT. The site has a calculator showing exact daily, monthly, and yearly rewards. You can stake more than a dozen other coins without paying a commission.

Crypto.com

— Renowned crypto exchange with

Polkadot staking APY

s as high as 14.5%. Private members get an extra 2%, while every user can choose the amount they stake, the period, and the number of CROs they lock in their wallet, all of which affect the APY. The site features a calculator, and you can stake over 20 cryptos.

ByBit

— Great platform for active traders looking to remain anonymous.

DOT staking

comes with flexible terms and APYs up to 3%. The percentage is lower than most platforms. However, it's still reasonable, considering that you get to trade simultaneously. Moreover, you can stake 2–2,000 DOT without paying a commission.
Reviewing the Best DOT Staking Platforms
Every Polkadot staking platform we've recommended offers much more than what we've discussed above. With that in mind, the detailed reviews below will help you select the best option for your needs. Let's dive in.
1. Wall Street Memes — Best Polkadot Staking Platform Alternative with an Estimated APY of 80%
Wall Street Memes ($WSM) is a brand new crypto presale and although it doesn't offer Polkadot staking, it does offer rewards much higher than any other platform on this list.
At the time of writing, the project has had more than 250 million tokens added to the staking pool and is offering an estimated annualized percentage yield (APY) of 80% – at least four times higher than the other platforms.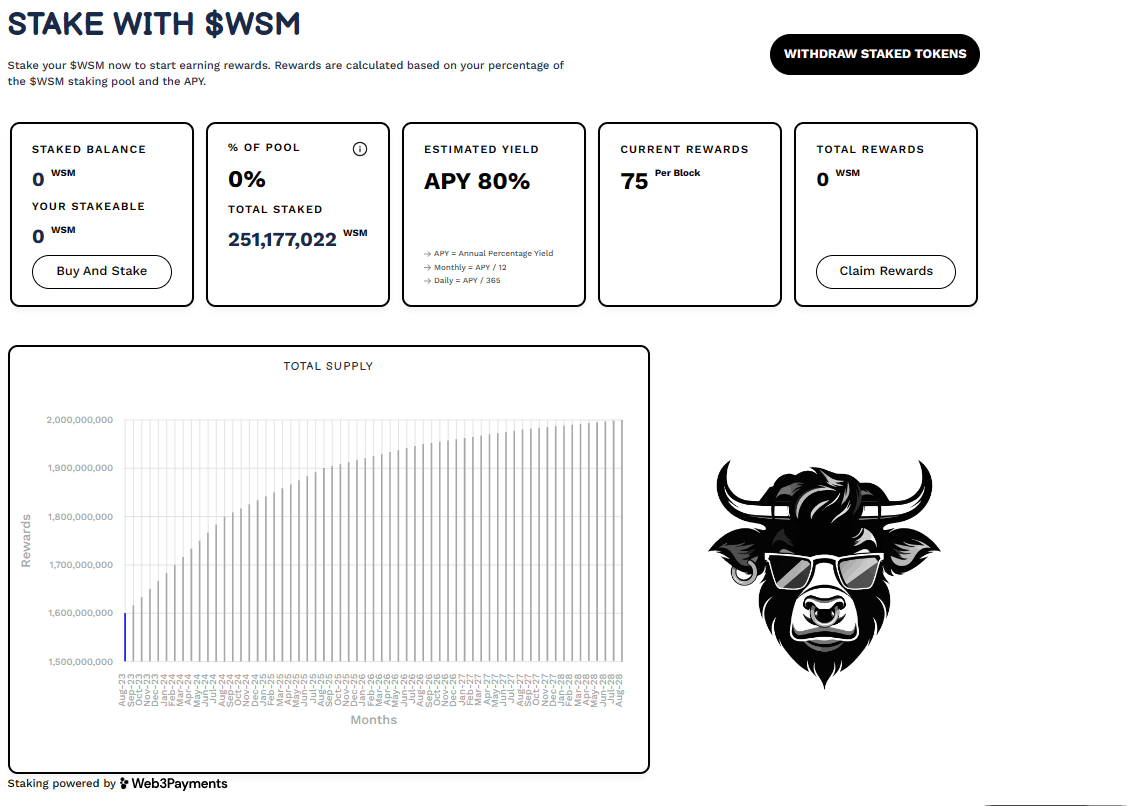 The meme coin has been a roaring success since it launched its presale, raising more than $25 million since the end of May, with tokens on sale for $0.0337.
However, potential buyers have limited time to secure their tokens, with the presale set to close in the next couple of weeks, ahead of an IEO on Uniswap and tier-1 exchanges in late September.
The project has been so successful because it has been developed by a team with a long track record of success in Web3 and one that has more than a million followers on social media.
The team, which is anonymous, previously developed the Wall Street Bulls NFT collection on Ethereum, which sold out in just 30 minutes when it launched in 2021, as well as one on Bitcoin Ordinals.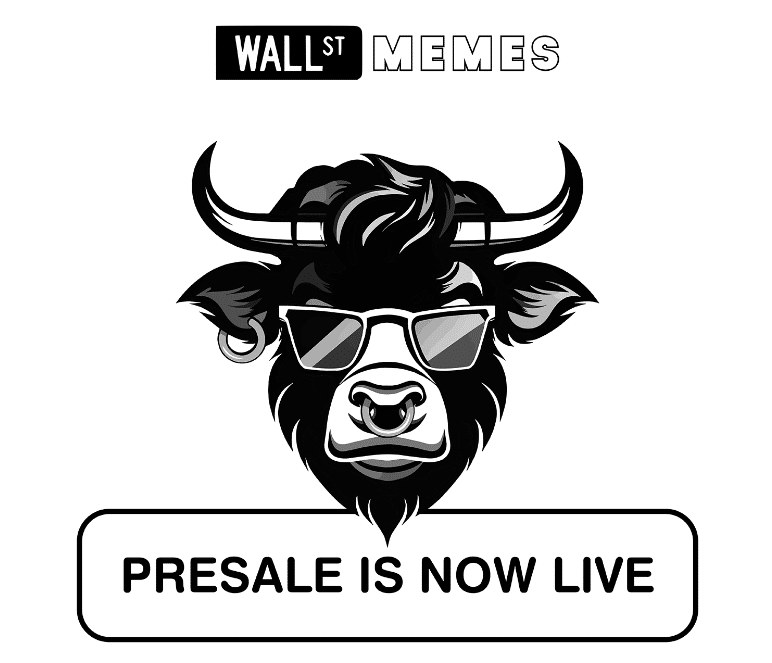 The social media pages have also seen multiple interactions from Elon Musk, with the billionaire CEO of Tesla and X previously sending laughing emojis on one Tweet where he was referenced and replying to another that was retweeted by the Shiba Inu founders.
A crypto whale recently spent more than $1 million on WSM tokens, according to Etherscan, leading to rumors that the wallet – that spent more than 500 ETH in six transactions – belonged to Musk.
Wall Street Memes is also offering holders the chance to win $50,000 in an airdrop, while YouTube analysts such Joe Parys (380,000 subscribers) and Michael Wrubel (310k) have offered positive reviews of WSM in recent weeks.
For more information on the project, read through the whitepaper or follow the Linktree.
Pros
:
Large staking rewards – current APY of 80%

Meme coin with huge potential
$25 million raised in the presale so far
1 million-plus social media following and experienced developers
Elon Musk connection
$50,000 Airdrop
Cons
:
Doesn't offer Polkadot staking

Still in its early stages
| | | |
| --- | --- | --- |
| Interest rate | Lock-in period | Payout frequency |
| Currently 80% | 7 days minimum | 7 days |
2. Binance — Biggest Crypto Exchange With Polkadot Staking APY Reaching 13.5%
If you're interested in high and secure Polkadot staking yield, Binance is arguably the best choice. It's the biggest crypto exchange on the planet, allowing you to stake over 100 cryptocurrencies, including DOT.
Binance makes this possible with its Binance Earn feature, where you can stake and auto-invest tokens. Moreover, you can use various other options like DeFi staking and liquidity farming. Binance is also one of the top platforms with high DeFi interest rates.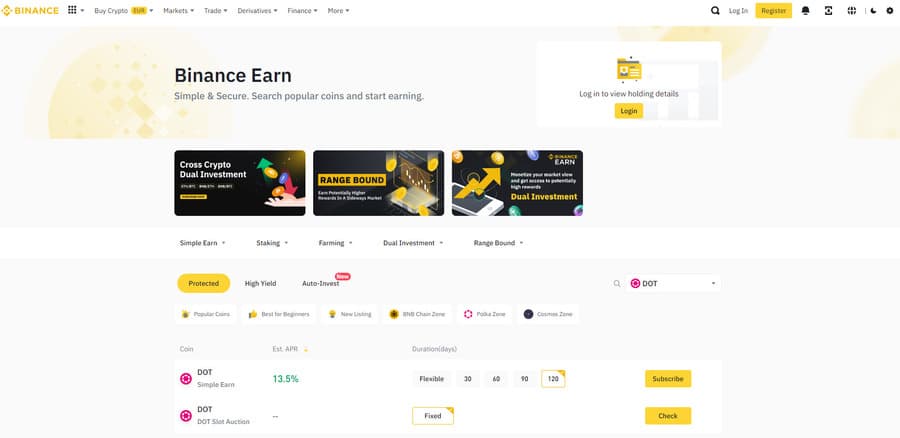 Naturally, not all of these features are available with every coin. With Polkadot, you get the DOT Slot Auction, a parachain auction with a mechanism that randomizes the moment when the winner is selected. It's an exciting prospect to consider, but for regular investors, there are also flexible and staking opportunities with lock-in terms. They include 30, 60, 90, and 120 days, all with different interest rates, the highest being 13.5% on 120-day investments.
If you haven't yet used Binance for trading crypto, all new members get a $100 welcome bonus in USDT.
The site provides a decent calculator that shows your estimated earnings based on your chosen option. For instance, if you invest 1,000 DOT using 90-day fixed terms with a 12.5% yield, you'll earn an additional 30.8219 DOT after 90 days and as much as 123.2876 DOT after a year.
Pros
:
Secure and reputable platform

Several staking options

Both flexible and lock-in periods

Daily rewards

Up to 13.5% APY
Cons
:
Staking unavailable in some countries, like the US

Staking options often sold out

Poor customer support
| | | |
| --- | --- | --- |
| Interest rate | Lock-in period | Payout frequency |
| 2.16%–13.5% | Flexible, 30, 60, 90, 120 days | Daily |
3. Kraken — Popular Crypto Exchange Offering DOT Staking With 8%–12% Interest Under Flexible Terms
Kraken is one of the top US-based crypto exchanges and among the best in the world. It has a simple interface made for both trading and staking. As for the latter, it covers around 20 cryptocurrencies. Moreover, Polkadot has some of the highest interest rates, as it usually does on many sites.
The platform offers up to 25% in yearly rewards, and with Polkadot, you can get from 15% to 21% as long as you use lock-in terms. If you want to be more flexible, Polkadot staking yield drops to 8%–12%, which is still pretty good. The numbers are actually pretty high with most cryptocurrencies, which is why Kraken ranks among the best crypto-staking platforms.
You can get paid twice a week and benefit from competitive pricing and fees if you choose Kraken Pro, the more advanced Kraken account.
The said fees pertain to other features on the site, while Kraken doesn't charge commission on staking Polkadot. You'll also have the standard deposit and withdrawal costs when dealing with fiat, like a 3.75% deposit and withdrawal fee for debit cards.
Pros
:
Up to 12% interest with flexible terms
Up to 21% interest if locked for 28 days
Advanced tools and graphs with Kraken Pro
Bi-weekly payouts
Cons
:
Many country restrictions, including the US
| | | |
| --- | --- | --- |
| Interest rate | Lock-in period | Payout frequency |
| 8%–12% (flexible), 15%–21% (lock-in) | Flexible or 28 days | 2x per week |
4. CEX.io — Excellent Platform Without Lock-in Terms
CEX.io is a popular crypto exchange from the UK that allows investors two options for passive income. They include a savings account similar to traditional savings and a staking option for a wider range of cryptocurrencies and better interest rates.
Staking is available for around 15 cryptocurrencies, with new ones being added all the time. Polkadot is among these, and the DOT staking rewards are 10% yearly. Naturally, this is an estimated interest rate. The good news is that CEX.io makes things simple by giving you a single number so you know what to expect.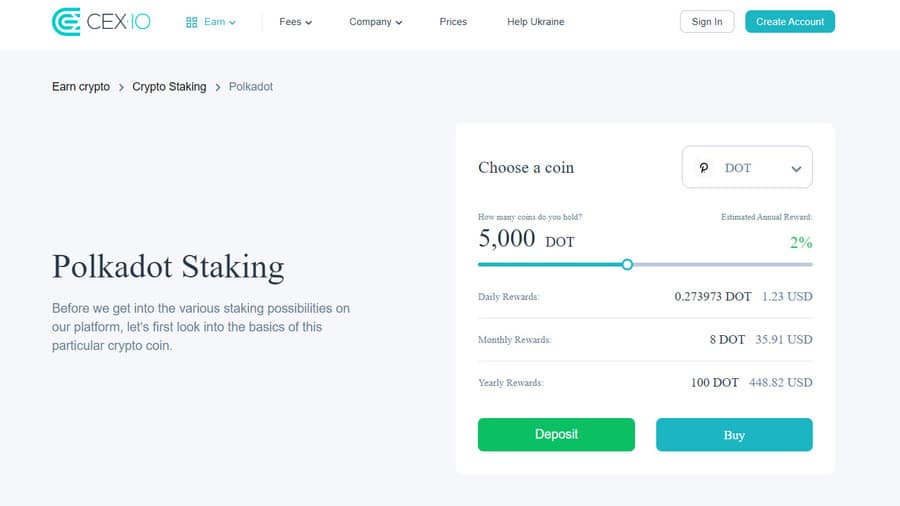 CEX.io features a simple calculator that lets you pick the exact number of DOT coins you want to stake and shows the daily, monthly, and yearly rewards you can expect in both DOT and USD (based on the current exchange rate).
Most importantly, there are no lock-in terms whatsoever, so you're free to take your DOT out whenever you need to, which is ideal for regular traders.
You can start staking with as little as 1 DOT, and there are no commission fees to worry about. Remember that you still need to have at least 10 DOT in your account, even though you don't have to stake all of them.
Pros
:
Great for beginners and advanced users

Flat interest rate, 10% for

DOT staking

No lock-in periods

Stake as little as 1 DOT

No commission
Cons
:
Payments received once a month

Complicated identity verification procedure
| | | |
| --- | --- | --- |
| Interest rate | Lock-in period | Payout frequency |
| 10% | None | Monthly |
5. Crypto.com — Renowned Crypto Exchange With Polkadot Staking APYs as High as 14.5%
Crypto.com is another renowned crypto exchange used across the globe. It offers a lot of stalking options and a lot of flexibility. It's also very user-friendly and comes with a convenient mobile app that can be used for both trading and staking.
It lets you stake over 20 cryptocurrencies, including popular ones like Bitcoin, Ethereum, Tether, USD Coin, Cardano, Solana, and Polygon. Naturally, Polkadot is there as well, and in the usual fashion, it comes with some of the highest interest rates you can get on the platform.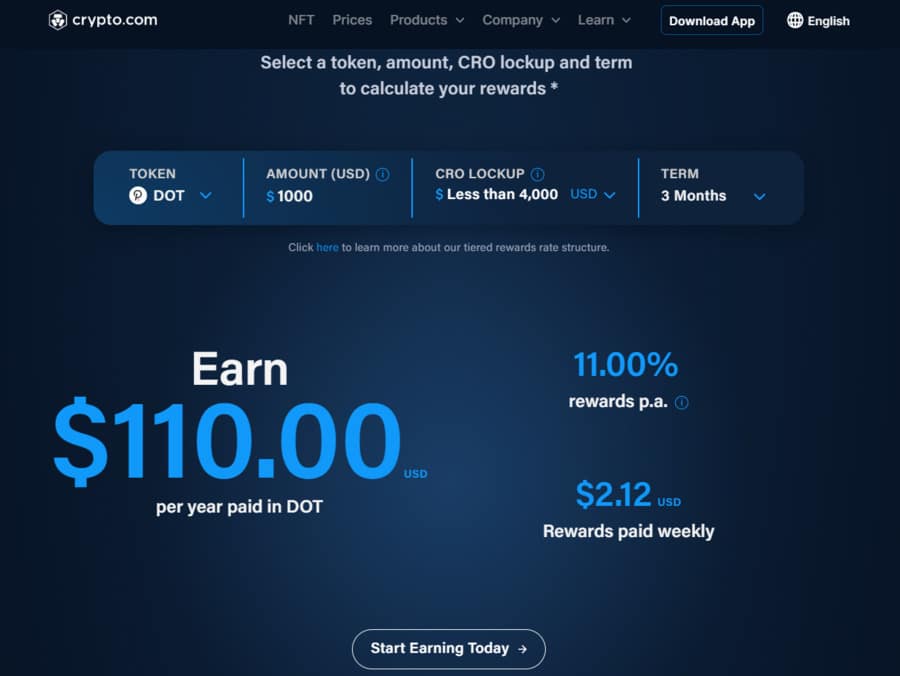 There's a lot of flexibility with Polkadot staking pool rewards due to several factors. In essence, the estimated interest rate depends on the number of tokens staked, the term, and the number of Cronos tokens (CRO) you have locked in your Crypto.com account for six months.
On top of that, you get an added 2% interest if you're a private member. If it sounds confusing, don't worry; the on-site calculator tells you how much you'll get paid in USD.
The platform has only two lock-up periods, one and three months, and it also provides a flexible option so you can take out your DOT any time you want.
Overall, interest goes as high as 12.5% for DOT staking or 14.5% for private members. However, there are many caveats here — the highest interest rate is only on the first $3,000 worth of DOT and when you have more than $40,000 worth of CRO locked for six months.
Pros
:
Up to 14.5% interest rate
Better rates for private members
Both flexible and locked terms
Rewards paid weekly
Great on-site calculator
DOT interest highest of all crypto available
Cons
:
$40,000 worth of CRO required for the highest interest
Highest rates only on the first $3,000 worth of DOT
Added 2% for private members paid in CRO
High requirements to become a private member
| | | |
| --- | --- | --- |
| Interest rate | Lock-in period | Payout frequency |
| Up to 14.5% | Flexible, 1 or 3 months | Weekly |
6. ByBit — Great Platform for Active Traders Looking to Remain Anonymous
ByBit is another crypto trading platform allowing you to stake cryptocurrencies. It's one of the best Polkadot staking platforms because it lets users remain anonymous while trading and is fully optimized for active investors. Anonymity comes from the fact that you're not required to go through a KYC procedure when registering.
More importantly, it offers flexible terms. While ByBit has a 3% interest rate on Polkadot staking, which is lower than many of its competitors, it is still understandable since it only offers flexible terms. It provides fixed terms, too, but largely on other cryptocurrencies.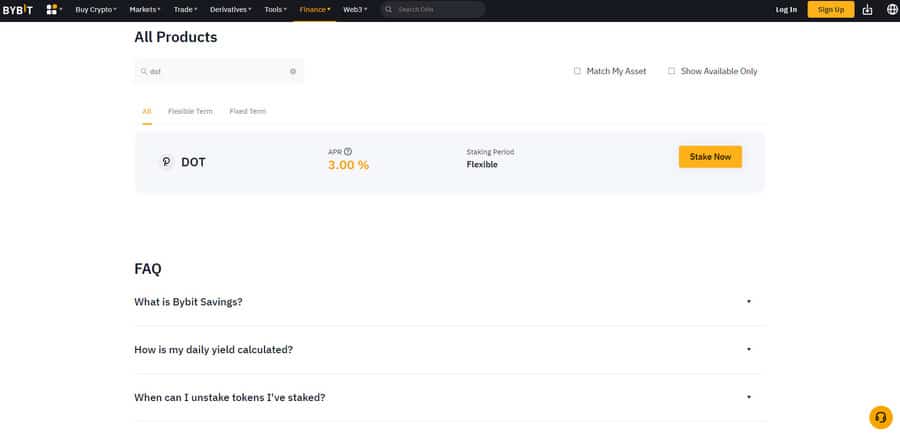 ByBit supports more than 30 coins and tokens, and strangely, interest rates are, in many cases, much larger than what you get on Polkadot. They sometimes reach triple-digit percentages because the platform lets you stake some less-known tokens and introduces new ones periodically.
One of the bigger advantages of Polkadot staking with ByBit is that interest accrues daily. As you can trade simultaneously, you can obtain more trading funds on short notice. It's also worth noting that ByBit is more focused on being an exchange, which is another reason why it doesn't have higher interest rates for DOT staking.
Pros
:
Only flexible terms for

DOT staking

Interest is paid daily

30+ coins and tokens for staking

Auto-Earn feature for automatic staking

Full anonymity, no KYC needed
Cons
:
3% interest rate is too low for DOT

No fixed terms for higher interest rates
| | | |
| --- | --- | --- |
| Interest rate | Lock-in period | Payout frequency |
| 3% | Flexible | Daily |
How Does Staking Polkadot Work?
Staking Polkadot is very simple, just like crypto staking in general. You first need to register on one of the platforms where staking DOT is supported.
If you have DOT, you need to transfer it to the wallet you get to create on that app. If you don't, you can buy it directly if the platform is also an exchange, and the best ones usually are.
Once you have the funds, you only need to pick one of the available staking options, decide how many DOT coins you want to stake, and confirm it. Once done, you'll start accruing interest and get paid according to the terms outlined by the platform.
Bear in mind that there's a difference between lock-in periods and flexible terms for staking:
Lock in

— You have to lock your assets for a predetermined period, and you'll get them back after it expires. If you take them out before it's over, you'll risk losing interest. The longer the lock-in period, the higher the interest rate.

Flexible

— Your coins accrue interest for as long as you keep your DOT in the staking pool. You can take them out at any point you want. The interest rate is usually significantly lower than with lock-in terms.
Overall, the best Polkadot staking platforms make the whole process incredibly simple. You just leave the coins in and accrue interest over time. Here's a brief overview of the steps involved:
Buy or deposit DOT coins.

Decide how many DOTs you want to stake.

Choose the period and terms (flexible or lock-in).

Stake your coins.

Wait for the payments.
You can also stake DOT directly on the Polkadot network, a process known as on-chain staking (off-chain staking is when you use a third-party platform).
It comes with many benefits, including decentralization, complete control over assets, having a say in network governance, and more. However, it can be more complicated based on your choice, and it's not suitable for investors looking to stake other coins, too.
Benefits of DOT Staking
Staking Polkadot comes with several crucial benefits you need to know about. Let's review them in more detail.
Simple Form of Passive Income
On-chain Polkadot staking can often be complex as there are responsibilities you need to assume as a nominator or validator. However, with off-chain staking, you get to leave all of that to the platform you're using.
This way, DOT staking becomes an ideal form of passive income. In essence, once you stake the coins, there's nothing more to do — you just leave the crypto to accrue interest for you. Moreover, depending on the platform's payment schedule, you'll receive the proceeds on a regular basis automatically.
Staking Contributes to the Growth and Security of the Network
Staking is essential for cryptocurrencies like Polkadot to remain secure and grow. The more people work as stakers, the better off the whole network will be, including investors.
This is the same as investing in any other cryptocurrency, even those without staking capabilities. Simply put, their value will grow just from the number of people holding the crypto.
Perfect HODL Incentive
Staking Polkadot is the perfect incentive for investors to become long-term hodlers. Many of the best Polkadot staking platforms have lock-in periods, meaning you must keep your DOT staked for a certain time, or you'll lose interest rewards.
More importantly, the very fact that many investors are incentivized to keep their coins staked benefits everyone. The more people hold on to their assets, the more secure Polkadot's value will be. Less volatility leads to more trust and more assured profits, and the interest rewards also keep their value.
Support for the Polkadot Ecosystem
Polkadot is known for being a pioneer of blockchain interoperability. The developers working on the platform are constantly improving it, adding more functionalities as they go. By becoming a DOT stakeholder, you're contributing to this growth.
The better Polkadot's unique functionalities get, the more valuable the platform will become. Consequently, the profits of everyone involved will increase.
How Much Can I Earn Staking Polkadot?
Polkadot is regarded as one of the best options for people interested in staking crypto, as it often comes with high annual yields. The interest on staking DOT is often in double-digit percentages, going as high as 21%, the maximum you get on Kraken.
Most cryptocurrencies often have annual staking rewards below 10%, and those comparable to Polkadot are often less popular cryptocurrencies.
However, this can sometimes be a good thing, as some of these tokens have the potential to take off in the future. For this reason, we recommend Wall Street Memes as the best alternative to standard Polkadot staking. Its APY is 80% at the time of writing.
Is Polkadot Staking Worth it?
Answering this question is not easy as it's one you need to figure out for yourself. Whether or not staking any crypto is worthwhile depends on how willing you are to take risks.
Staking is an investment as you need to get coins, which requires spending real money. That's why it's best to do it only if you're willing to lose your investment.
More than that, you need to consider the various pros and cons of Polkadot staking. Let's review the advantages first:
It has high APYs, often higher than most other cryptocurrencies.

Polkadot is more stable than many other coins.

Polkadot's underlying technology is fairly unique, and the platform is a pioneer in blockchain interoperability.
Now for the main cons:
The platform was hacked twice in its history, so its security is not ideal.

Polkadot has several notable competitors solving similar problems, including Cardano and Tezos.
In addition, you need to consider the risks of Polkadot staking:
Interest rates are not set in stone and can easily drop significantly.

Locked terms often have better rates.

Many platforms don't pay your interest rates daily.
It's always a good idea to consider some alternatives, too, which is why we've reviewed Wall Street Memes and added it as an excellent staking opportunity in place of Polkadot.
Do You Pay Tax on Polkadot Staking?
The subject of tax is often complicated and convoluted, mostly because every country has its own laws. Most of the time, these regulations don't apply to crypto in the way you'd expect.
That's why it's necessary to consult with a tax professional and examine your government's rules. As for us, we'll only provide a few details so you know what to expect, but you shouldn't take this as advice as we are not tax experts.
That said, many countries, including the US, have a system where cryptocurrencies are taxed like existing assets, securities, for instance. In most cases, you need to pay tax on the increase in value, not the whole amount staked.
To better understand how this works, here's an example for the US. Let's say you stake $10,000 worth of DOT. The annual interest rate is 10%, meaning that you'll have accrued $1,000 in DOT after a year. In any case, you won't have to pay any tax until you've sold those DOTs for USD.
Let's say the value of DOT rises after two months, and now you have $1,300 in DOT. Once you sell them, you need to include the original $1,000 in your gross income for that year, and it will be taxed at the current rate, just like your salary.
The remaining $300 is also subject to the same rate as long as they were accrued in the same year. If they weren't, you'd have to pay taxes upon sale the following year.
Is Staking Polkadot Safe?
Polkadot itself is highly secure, while the safety during staking depends on the platform you're using. As long as it's a reputable exchange like the ones recommended here, the risk is minimal.
Breaches can still happen, but they are very rare, and most exchanges have systems in place to compensate users in the event of a loss.
You still need to understand that Polkadot staking is risky in another sense — the coin's volatility. The price of Polkadot, just like any other crypto, can change at any point.
Even though it's unlikely, the value can drop to a few cents, making any investment a lost cause. Smaller drops in value are more likely, so you should only think about that when considering whether to invest or not.
Conclusion
Polkadot is one of the best major cryptocurrencies for staking because of its high-interest rates and a more stable price. You can stake DOT on the native Polkadot platform or go off-chain by picking one of the best Polkadot staking platforms listed here.
However, we believe that it's better to take a completely different route and go for an alternative, like Wall Street Memes, our top pick on the list. It's a high-potential meme token currently on presale that has already raised more than $25 million and also offers huge staking rewards.
At the time of writing, more than 250 million tokens have been added to the staking pool returning an estimated APY of 80%.
Potential buyers need to move quickly, however, with the APY falling as more tokens are staked and the presale set to close in the next couple of weeks ahead of its IEO in late September.
References
https://www.polkadot.network/features/staking/
https://medium.com/stakin/the-ultimate-polkadot-staking-guide-33da475d8163
https://taxbit.com/blog/what-is-crypto-staking-and-how-does-it-work/
https://www.irs.gov/individuals/international-taxpayers/frequently-asked-questions-on-virtual-currency-transactions
https://pro.bloombergtax.com/brief/cryptocurrency-taxation-regulations/
FAQs
Is Polkadot worth staking?
How much can you make staking Polkadot?
Is Polkadot staking profitable?
What are the best Polkadot staking platforms?