Proof-of-stake (PoS) coins have risen in popularity due to the staking returns they offer and their sustainability compared to proof-of-work tokens. This guide will analyze 10 of the best proof of stake coins based on their returns, processing time, and other use cases.
We include a diverse range of PoS cryptos, covering new presale projects and established cryptocurrency tokens.
Top 11 Best Proof of Stake Coins to Invest in 2023
Below is a list of the 10 best proof of stake cryptos to watch in 2023.
Meme Kombat – A new ERC20 PoS campaign allows for exciting meme vs. meme (Doge vs. Shiba Inu, etc.) combat with a variety of betting options on the outcome, as well as a generous 112% APY – providing dual means of ROI for investors.
Wall Street Memes

– This presale meme cryptocurrency has raised over $25 million in a few months. $WSM can be staked to earn a high APY and is now live on the OKX exchange after a hugely successful presale.

TG.Casino – A new Telegram-only KYC-free casino model that redistributes rewards to players and provides a 2,546% APY. This Ethereum-based token has raised $188,000 within 48 hours and is 100% licensed to operate, with instant crypto deposits and withdrawals.
Launchpad XYZ –

This Web3 curated portal will be your entry point to access presales, NFT marketplaces, and more. Stake $LPX to get guaranteed access to presales and various discounts.

Chimpzee

– $CHMPZ can be used on the Chimpzee ecosystem to access NFT staking benefits and P2E rewards. Chimpzee contributes to wildlife foundations and has helped plant more than 20,000 trees worldwide.

yPredict –

Get multiple rewards from a staking pool by locking in $YPRED tokens. yPredict uses AI to offer financial predictions on various crypto assets.

Polygon –

This

proof-of-stake cryptocurrency is built on the Ethereum blockchain and processes blocks in only 2.1 seconds.

Cardano –

This popular cryptocurrency has been built on the popular PoS consensus protocol, Ouroborus. Cardano can validate a block every 20 seconds.

Solana –

The Solana cryptocurrency combines the proof-of-stake consensus with the proof-of-history protocol. $SOL, the native token, is trading at $20 per token.

BNB –

This is the native token of Binance, one of the largest crypto exchanges in the world. BNB can be staked to earn rewards and is used within the Binance exchange to earn discounts.

Ethereum –

The largest altcoin in the world, Ethereum has a market cap of nearly $200 billion. Ethereum recently shifted to a PoS protocol in 2022.
Best Proof of Stake Cryptos to Buy Now Reviewed
In the sections below, we will review 10 of the best proof of stake coins to buy in 2023.
Our review will include the unique benefits each PoS token offers, token prices, and other important features.
1. Meme Kombat ($MK) – ERC20 PoS Meme Coin With 112% APY and Combat Betting
Meme Kombat ($MK) is a simple yet brilliant concept that offers meme vs meme combat under one roof. Individual memes such as Pepe and Shiba Inu have enormous appeal on their own.
But with one vs. one meme fights, with a variety of betting options on the outcomes, this presale could prove to be even more popular. Meme tokens are known to have large and zealous online followings.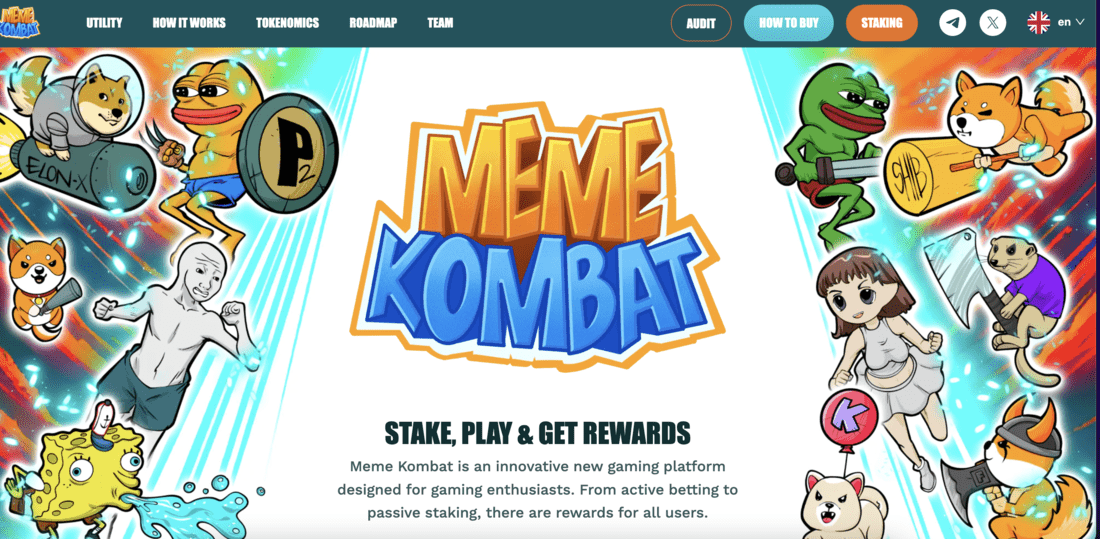 This is a new concept that we have not seen before. There are three primary betting options – P v P, P v Game, and Direct. A variety of betting options makes it more interesting for spectators. They can even bet against one another, for a personalized wager. Side bets on niche outcomes are also an option, such as time of victory, method of victory, etc.
The combat and the visual effects are enhanced due to a combination of blockchain processing and AI. Fights are randomly assigned with results and rewards are automatically processed and distributed on-chain. This makes it much more transparent, and the campaign has further undergone a third-party smart contract audit, with good results.
Plus, the founder has made his LinkedIn profile public, something that is very rarely seen in these kinds of presales. This PoS initiative scores top marks in terms of transparency.
Aside from potential income from betting on meme vs meme warfare, users will benefit from a steady 112% APY. This is an additional incentive. Users can select how much of their available portfolio they would like to stake, and how much they would like to have available for wagering.
In terms of tokenomics, there are 12 million tokens with 50% of them being made available in the presale, at a price of just $1.667. The hard cap for this presale is $10 million.
For further details on Meme Kombat, check out the project Whitepaper, as well as the socials – Telegram and Twitter.
| | |
| --- | --- |
| Hard Cap | $10,000,000 |
| Total Tokens | 12,000,000 |
| Tokens available in presale | 6,000,000 |
| Blockchain | Ethereum Network |
| Token type | ERC-20 |
| Minimum Purchase | $5 |
| Purchase with | USDT, ETH, BNB |
2. Wall Street Memes – Exciting Meme PoS Crypto Has Raised Over $25 Million on Presale, Now Live on OKX
One of the best PoS crypto to buy right now is Wall Street Memes ($WSM). In 2023, Wall Street Memes has become one of the most successful presales in 2023, having already raised more than $25 million.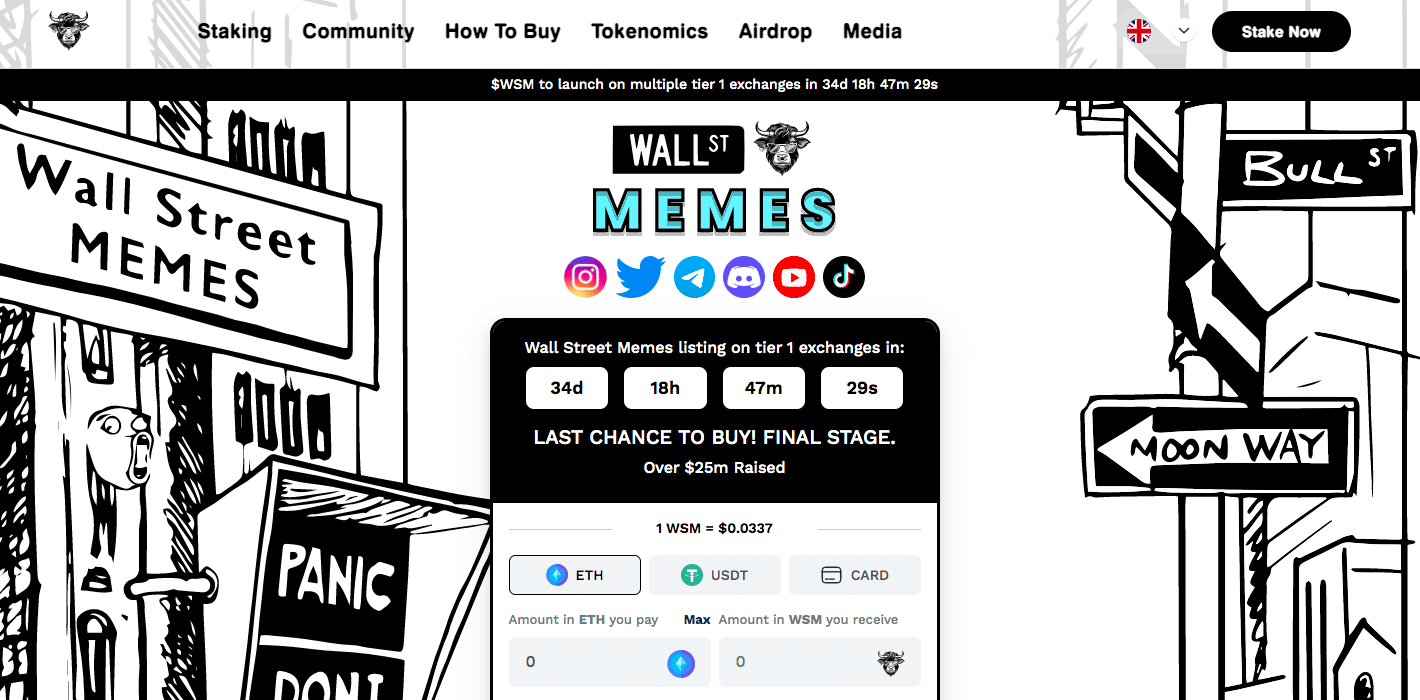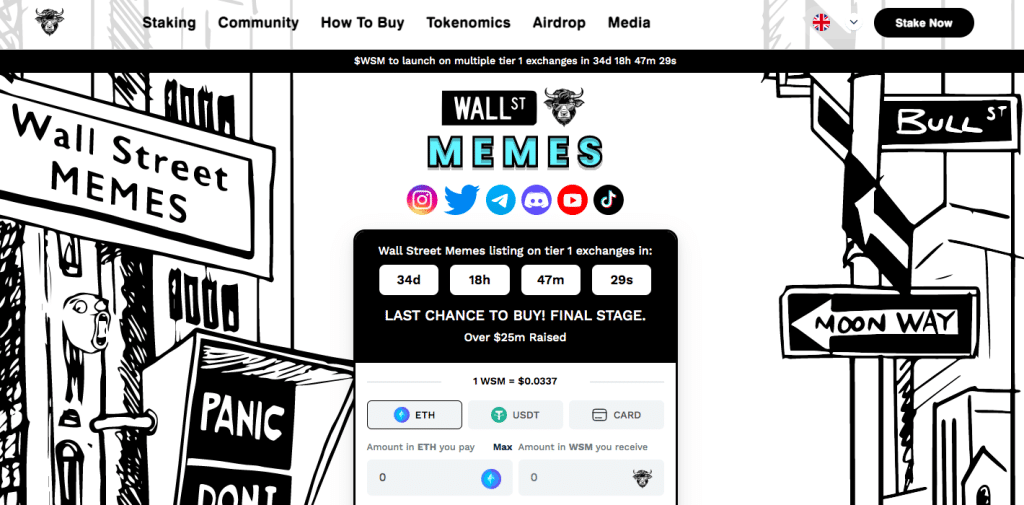 One of the key reasons for this is due to the huge staking benefits that cryptocurrency offers. $WSM tokens can also be staked to earn a high APY through the staking contract. In return for staking your crypto on the Wall Street Memes platform, you will earn an APY (Annual Percentage Yield) of 58%.
This meme cryptocurrency platform has existed since 2019. In four years, it has amassed over 1 million followers on popular social media platforms like Twitter and Instagram.
Furthermore, the creators of Wall Street Memes also launched a successful NFT project called Wall St Bulls in 2021. During the first NFT drop, 10,000 Ethereum-based NFTs sold out in just 32 minutes. After the success of the NFT project, the creators have decided to create the $WSM token.
Investors can purchase $WSM through the ongoing presale right now. The presale has allocated 50% of the token supply and is priced at $0.0337 during the final round. The presale's hard cap is more than $30 million.
With the success of the presale, Wall Street Memes will look to list the $WSM token on popular crypto exchanges such as Coinbase or Binance. 20% of the token supply will be used to maintain CEX and DEX liquidity.
Join the Wall Street Memes Telegram channel for more information on this proof of stake cryptocurrency.
| | |
| --- | --- |
| Presale Started | May 26, 2023 |
| Purchase Methods | ETH, USDT, BNB, credit card |
| Chain | Ethereum |
| Hard Cap | $30,577,000 |
| Min Investment | 100 $WSM |
| Max Investment | N/A |
3. TG.Casino – Telegram Casino & PoS ERC20 Coin With 2,546% APY and $188,000 Raised in 48 Hours
TG.Casino ($TGC) is a recently launched presale campaign that provides instant access to a large suite of games and sports betting just through a Telegram account.
Bets can be placed directly through Telegram, with zero KYC enforcement and instant deposits and withdrawals through cryptocurrency.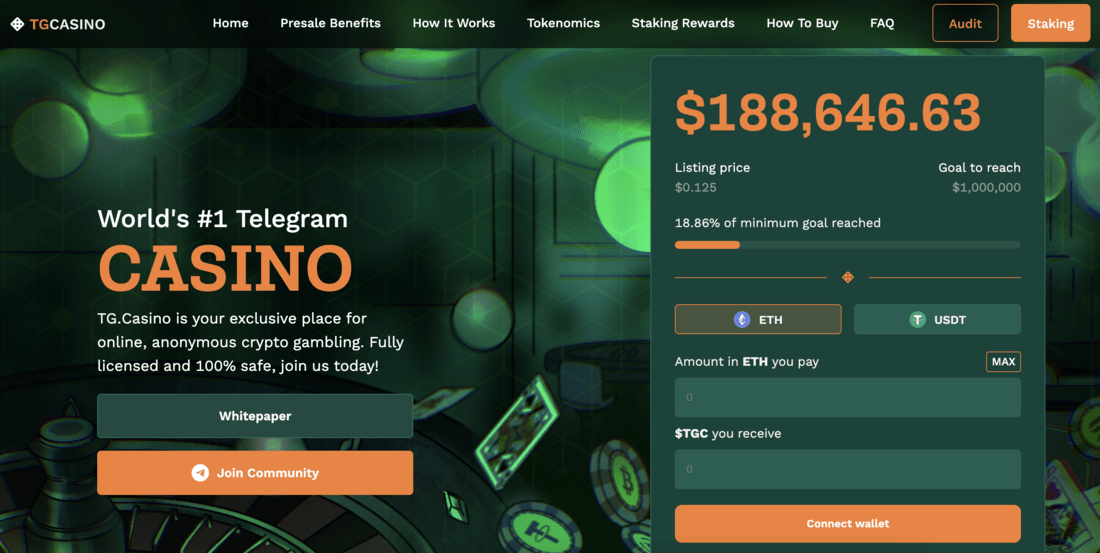 The Ethereum-based $TGC token offers 2,546 APY%, which was reduced from above 4,000% earlier this week. These are rocket yields, though they are likely to be further reduced as time goes by. Over 1.5 million $TGC have been staked so far.
This campaign has further levels of incentivization, as a portion of the profits is used to buy back and burn tokens, as well as returned to the community in the form of community rewards.
TG.Casino capitalizes on the fact that over 80% of online games are played on mobile devices. Telegram has over 1 billion users, estimated to rise to 1.5 billion users in the next 3 – 5 years.
The crypto casino market is currently valued at $250 million, just 0.1% of the total casino market which is $263 billion.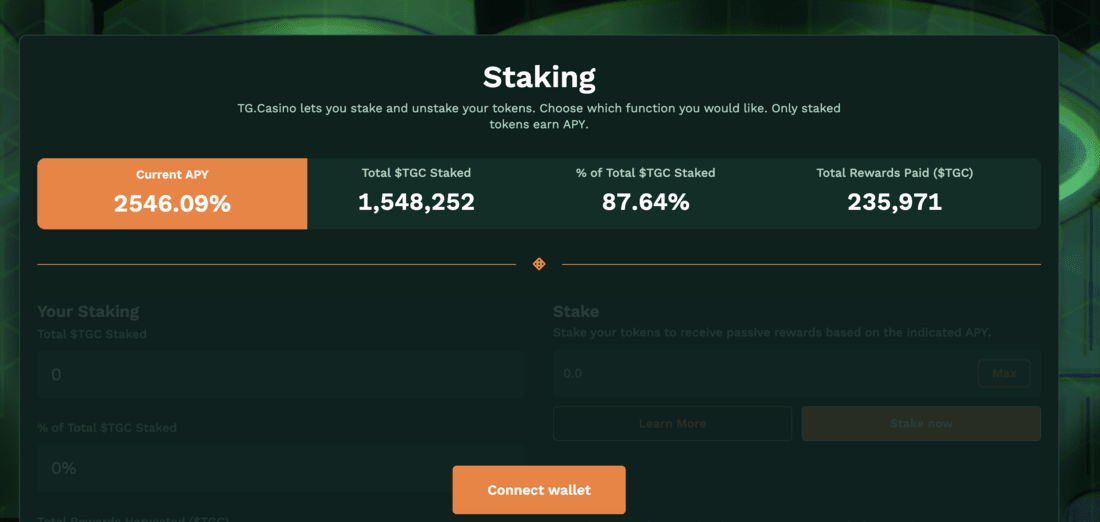 With the advantages of immediate crypto deposits and KYC-free, anonymous gambling, crypto casinos aim to eat into this market, and TG.Casino is one of the first to the table.
The whitepaper also outlines some of the inequalities in the gambling industry and how Web3 can serve to make it more equitable to all participants.
In terms of token allocation, 40% (40 million $TGC) of the 100 million token supply is available in the presale, with 20% to DEX rewards, 20% to DEX liquidity, 10% to player rewards, 5% to affiliates, and 5% to marketing. The price per token is $0.125 with an overall hard cap of $5 million.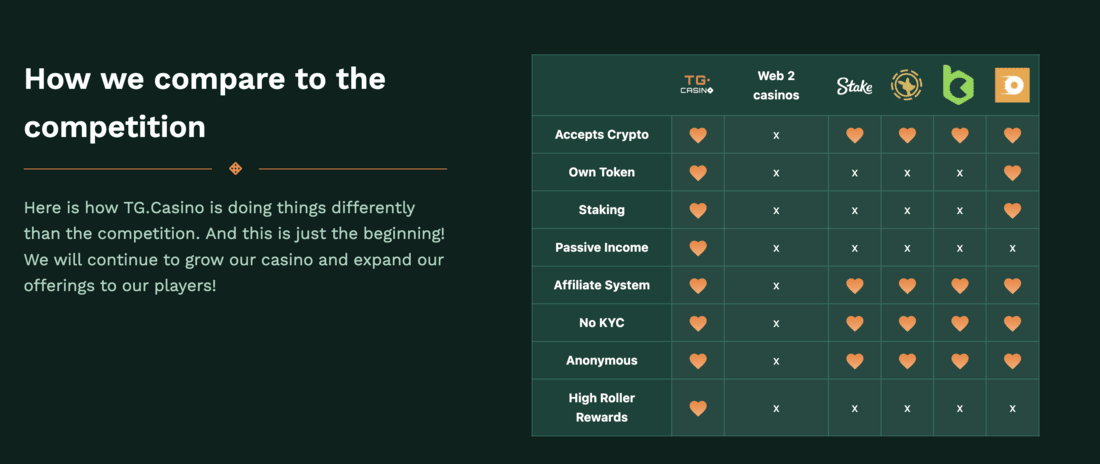 This is a staking coin with large APY that also offers upside potential, as it could disrupt an extremely profitable gambling industry, while allowing others to take some of the rewards home.
For more information, as well as alerts and updates, join the Telegram and Twitter accounts.
| | |
| --- | --- |
| Hard Cap | $5,000,000 |
| Total Tokens | 100 million |
| Tokens available in presale | 40 million |
| Blockchain | Ethereum |
| Token type | ERC-20 |
| Minimum Purchase | $5 |
| Purchase with | USDT, ETH, BNB |
4. Launchpad XYZ – An All-in-One Web3 Portal Offering Staking Rewards on NFTs and Trading Discounts
Despite the popularity of Web3, a high level of technical knowledge is required to get into this space. Therefore, Launchpad XYZ ($LPX) aims to create a Web3 hub through which a range of services can be accessed under one platform.


On Launchpad XYZ, users can set up their own Web3 wallet address by entering their email address and phone number. This will allow them to have self-custody of their assets, and interact with multiple DApps (Decentralized Applications).
Launchpad XYZ offers one of the best crypto PoS systems, allowing $LPX token holders to stake the cryptocurrency to earn several benefits. Firstly, those staking a minimum of 10,000 $LPX can get guaranteed access to exclusive presales Launchpad XYZ offers.
One can also get trading fee discounts on the Launchpad XYZ decentralized exchange. Staking $LPX will also reduce the trader's exchange fees.
Users can stake Blue Chip NFTs for exclusive deals and sell NFTs by staking the $LPX token. By offering all these services, Launchpad XYZ aims to become one of the best Web3 crypto coins.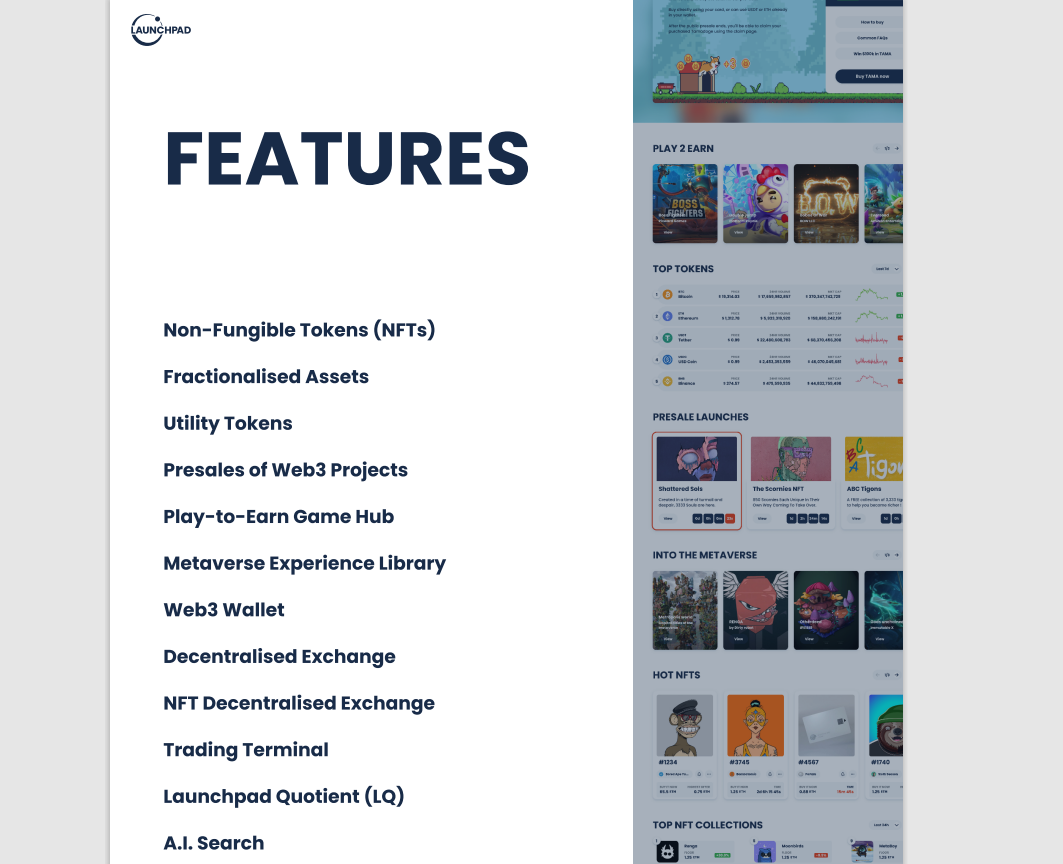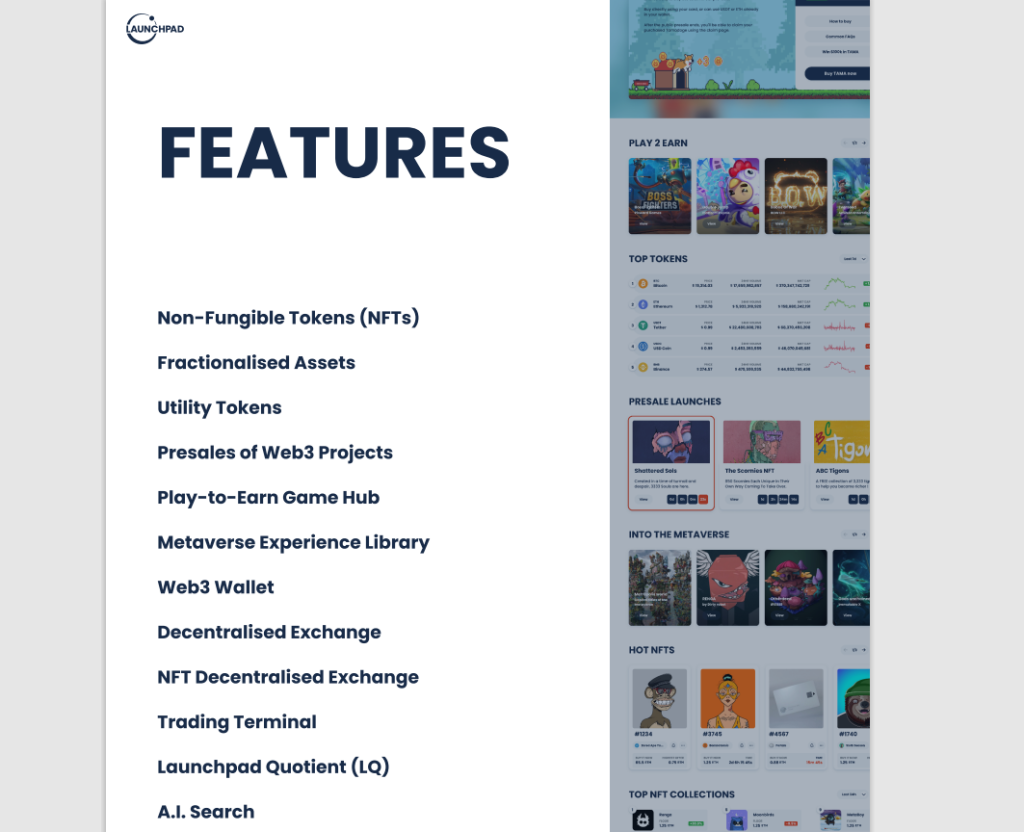 From a total supply of 1 billion, Launchpad XYZ has allocated 250 million tokens across ten presale rounds. At the time of writing, $LPX is priced at $0.0445 per token. One of the best PoS crypto with low market cap, Launchpad XYZ has raised over $1.7 million.
Read the Launchpad XYZ whitepaper and join the Telegram channel to stay updated with this cryptocurrency.
| | |
| --- | --- |
| Presale Started | 26 April 2023 |
| Purchase Methods | ETH, USDT, BNB, Card |
| Chain | Ethereum |
| Hard Cap | $12,500,000 |
| Min Investment | 100 LPX |
| Max Investment | None |
5. yPredict – AI-Driven Crypto Analytics Platform Offering Multiple Staking Rewards
Another of the best proof of stake coins in 2023 is $YPRED, the native token of the yPredict ecosystem. This ecosystem leverages artificial intelligence to offer predictive analytics and models on multiple cryptocurrency tokens.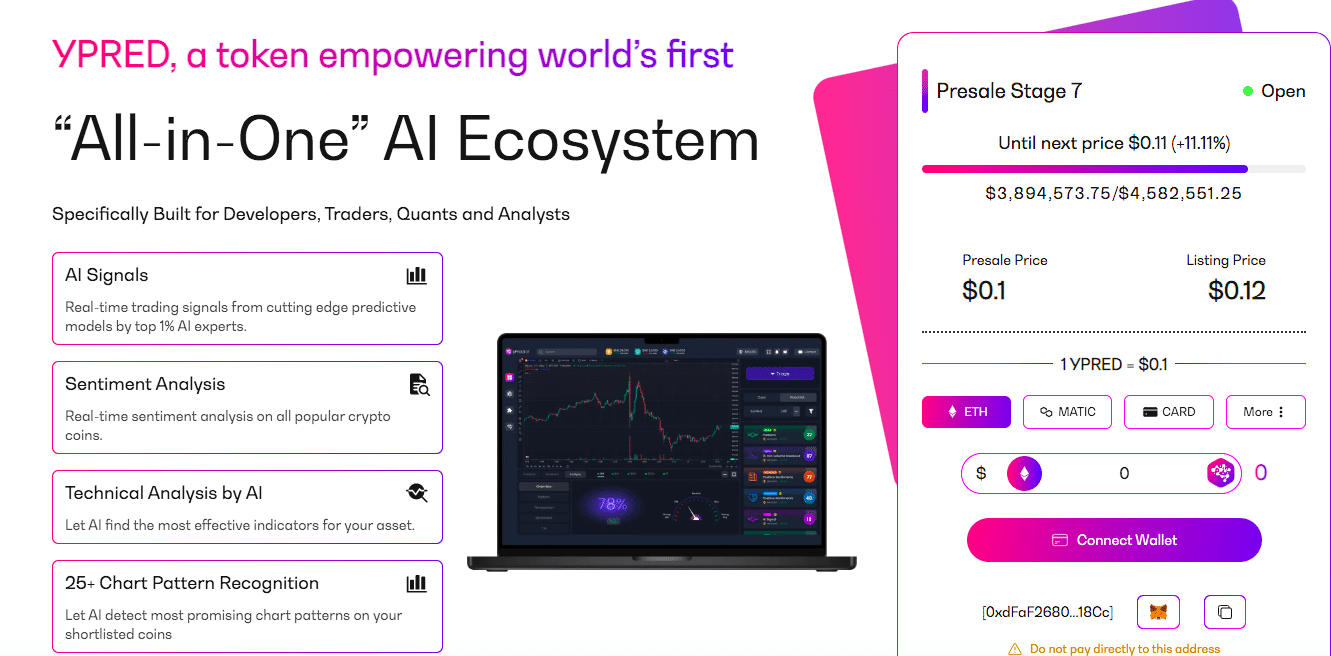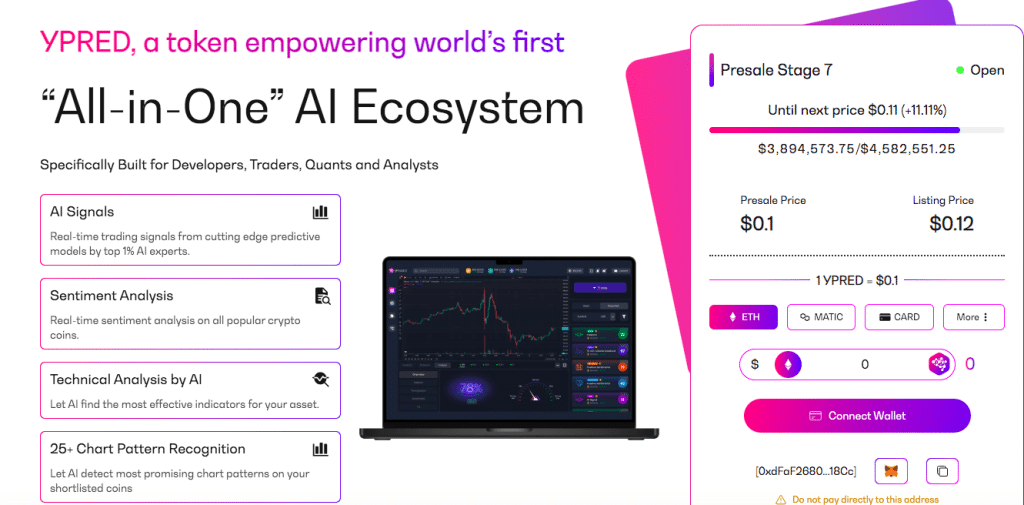 With $YPRED, token holders can purchase monthly subscriptions to these models and receive improved data gathering and analytics on various tokens. Some of the features yPredict uses include a patent pending pattern recognition algorithm. This feature identifies bullish and bearish candlestick patterns to determine future investments.
This proof-of-stake cryptocurrency also allows token holders to generate passive income in the ecosystem. By staking the $YPRED token, users can earn free tokens from yPredict's staking pool. For every new subscription on the financial marketplace, 10% of the revenue generated is sent to the staking pool.
yPredict will also collect swapping fees and allocate 15% of the fees for staked token holders. The multiple use cases being offered will allow yPredict to become one of the best future cryptocurrency projects. Other features accessible on yPredict include the play-to-earn (P2E) marketplace.


Members can join the P2E ecosystem where they can make bets on the future of various crypto tokens. The best performers in this ecosystem will be rewarded with free tokens. $YPRED is currently priced at $0.01 on the presale and has raised more than $3.8 million.
To learn more about this new cryptocurrency, go through the yPredict whitepaper and join the Telegram channel.
| | |
| --- | --- |
| Presale Started | Q1 2023 |
| Purchase Methods | MATIC, ETH, BNB, USDT, Card |
| Chain | Polygon |
| Min Investment | 200 YPRED |
| Max Investment | N/A |
6. Chimpzee – Green Crypto Project Offering NFT Staking Rewards and Donating to Rainforest and Wildlife Foundations
Chimpzee ($CHMPZ) is a revolutionary crypto project that is helping investors earn multiple rewards whilst simultaneously donating to animal and conservation charities.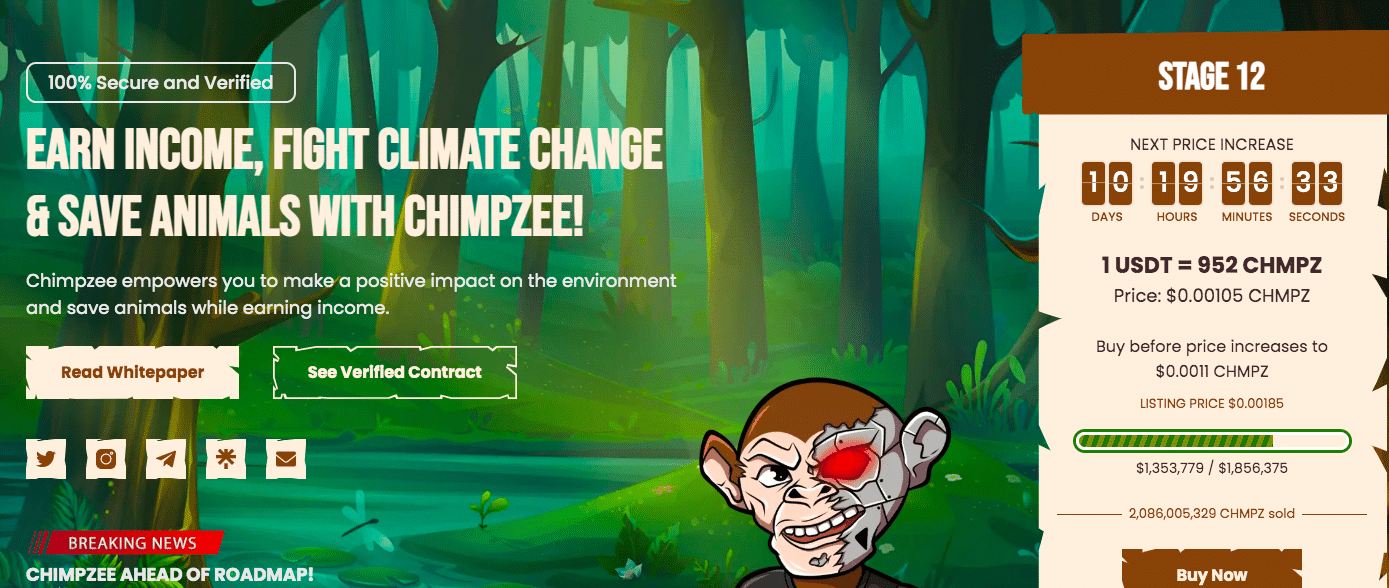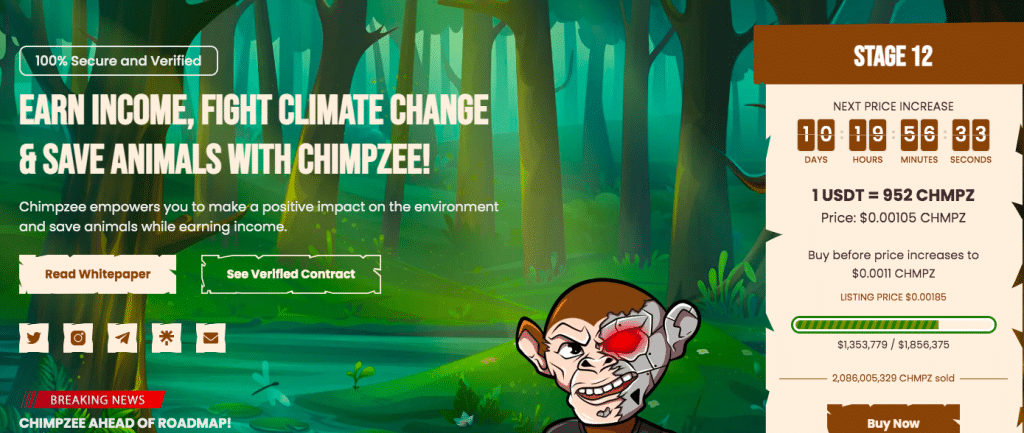 One of the top cryptos to watch, $CHMPZ, is at the center of the Chimpzee ecosystem. Token holders can access an NFT marketplace and purchase NFT passports within the ecosystem. Notably, these NFT passports can be staked to earn a huge APY of up to 20%.
On the trade-to-earn NFT marketplace, Chimpzee also collects trading fees. A portion of the trading fees is shared with community members. Those holding the NFT passports are offered a larger portion of the fees. With your NFTs, you can enter the play-to-earn (P2E) environment and participate in the zero-tolerance game.
This game offers $CHMPZ and NFT rewards to the top performers. Members are required to fight off forest poachers to win rewards on the ecosystem. The final component of Chimpzee is the Chimpzee shop. On this shop-to-earn ecosystem, users can purchase merchandise and earn free $CHMPZ tokens.
A portion of the profits generated on the online shop will be sent to the charities that Chimpzee is associated with. The platform has already donated $15,000 to the WILD Foundation – which protects elephants. Furthermore, Chimpzee has also helped plant more than 20,000 trees in Guatemala and over 1,200 trees in the Brazil rainforest.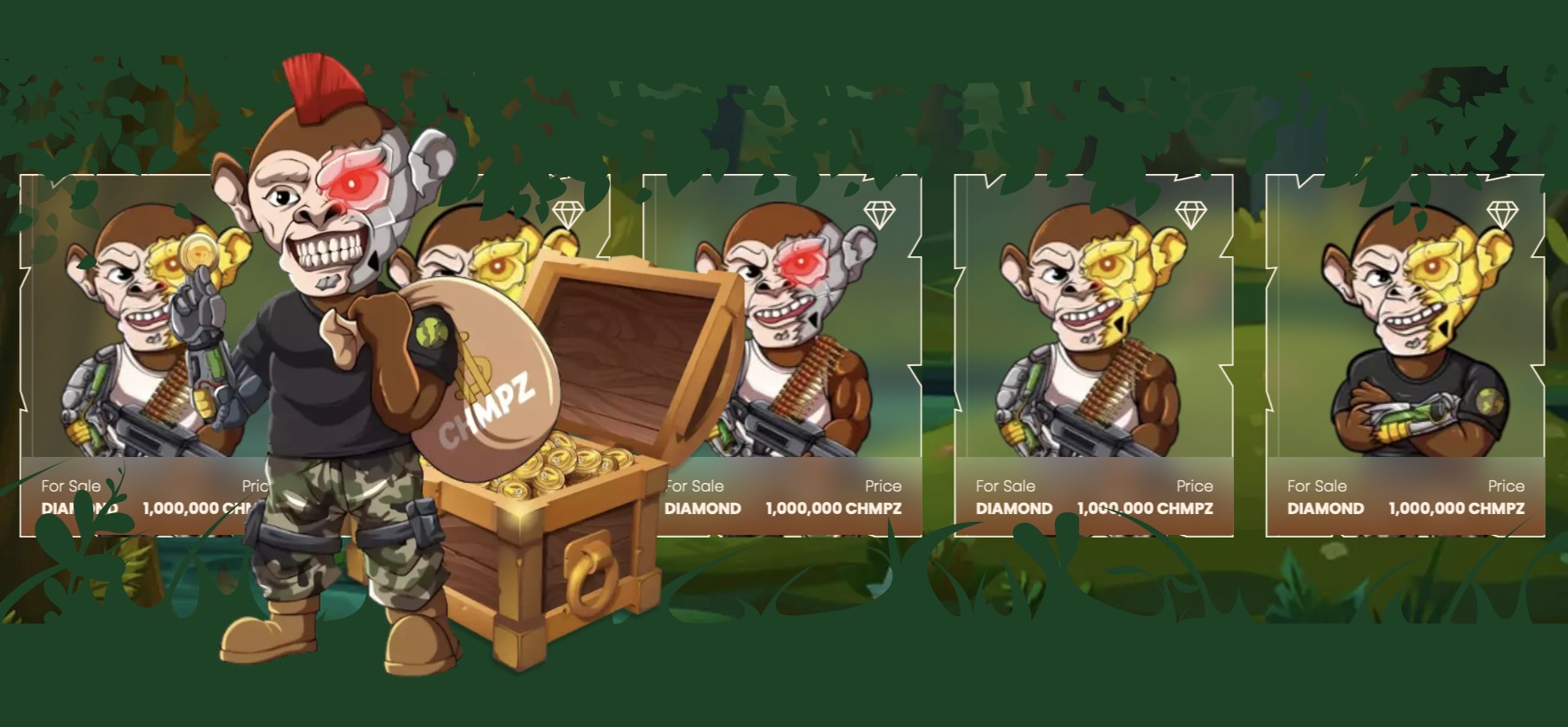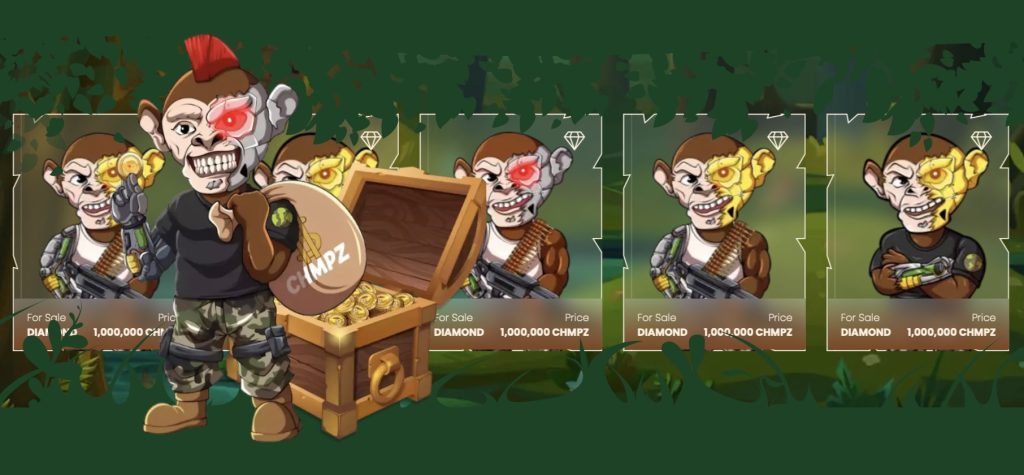 Currently, on presale, $CHMPZ is priced at $0.018 per token. This emerging cryptocurrency has raised over $1.35 million on presale.
Go through the Chimpzee whitepaper and join the Telegram channel for more information on this presale.
| | |
| --- | --- |
| Token symbol | CHMPZ |
| Total supply | 200 Billion |
| Presale supply | 40 Billion |
| Network | Ethereum (ERC20) |
| Purchase methods | ETH, USDT, Credit Card |
7. Polygon – Proof-of-Stake Cryptocurrency Built on the Ethereum Blockchain, Processes Transactions in 2.1 Seconds
Polygon ($MATIC) is a proof-of-stake cryptocurrency used to increase the scalability and flexibility of the Ethereum blockchain. Since Polygon is built on Ethereum, it leverages the security and structural benefits of the popular blockchain.
$MATIC, the native cryptocurrency, is used to settle transactions on the network and govern the Polygon ecosystem. By using the PoS consensus, Polygon validates all blocks on the network. On Polygon, the network participants stake $MATIC. Staking the token helps validate the network transactions on the Polygon ecosystem.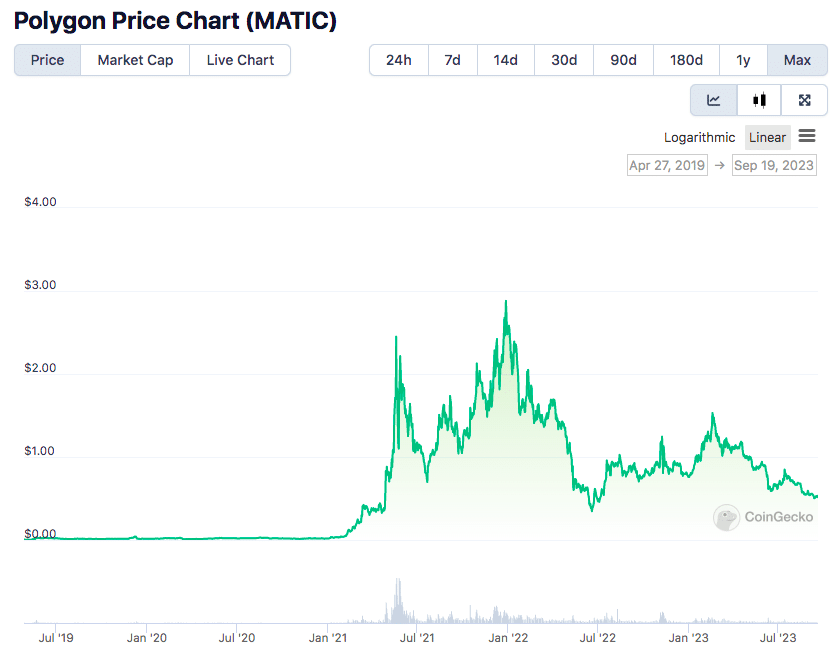 The successful validators are rewarded with free $MATIC tokens. Polygon is also a faster alternative to Ethereum since it processes blocks in just 2.1 seconds. This cryptocurrency uses zero-knowledge rollups to decrease network congestion and increase the transaction speed.
Since it is an ERC-20 token, it can also connect with other Ethereum projects. After Polygon launched in 2017, more than 2.5 billion transactions have been conducted on the ecosystem.
Currently, $MATIC is priced at $0.53 per token. One of the best altcoins, Polygon has a live market cap of nearly $5 billion.
Crypto assets are a highly volatile unregulated investment product. No UK or EU investor protection.
8. Cardano – Decentralized Blockchain Ecosystem Facilitating Peer-to-Peer Transactions
Cardano (ADA) is a unique proof-of-stake cryptocurrency. This cryptocurrency has been built on the Ouroborus consensus algorithm, the first ever to be created via peer-reviewed research.
To help validate new blocks, Cardano leverages stake pools. Each stake pool is run by a stake pool operator, through which $ADA tokens can be staked. Stake pools enable all users to take part in the staking protocol.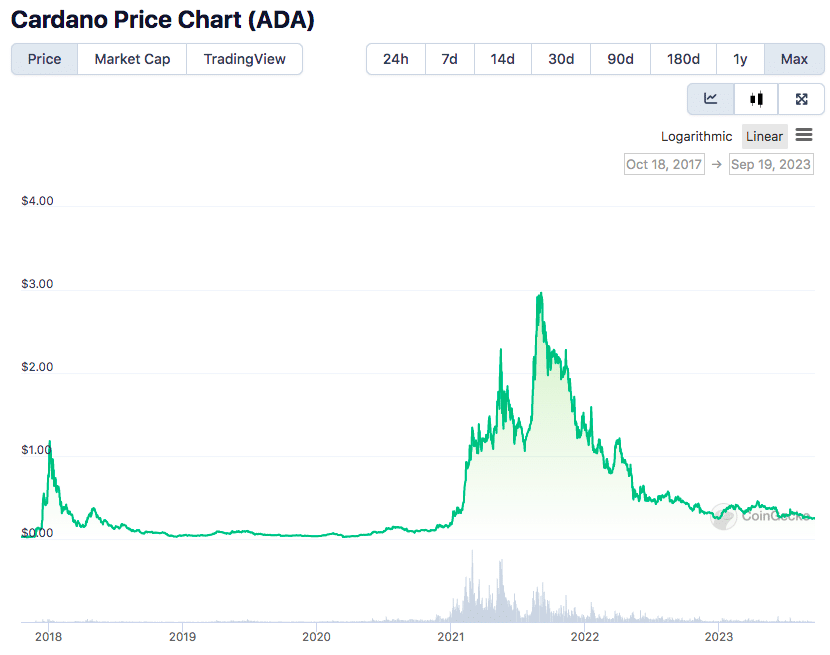 This is because token holders can maintain nodes on the staking pool without holding any technical expertise. A single stake pool will hold the stake of numerous stakeholders with a maintenance focus.
By staking ADA, token holders can earn rewards as new blocks are validated. Furthermore, this crypto token is used to settle transactions on the network. One of the best cryptocurrency tokens, Cardano is also used by developers to build DeFi (Decentralized Finance) applications and DApps (Decentralized Applications).
At the time of writing, $ADA is priced at just $0.25 per token. The token is trading 91% below its all-time high (ATHs) of $3.09. Despite the price correction, ADA is still the 8th largest cryptocurrency, with a market capitalization of over $8.8 billion.
Crypto assets are a highly volatile unregulated investment product. No UK or EU investor protection.
9. Solana – Scalable Cryptocurrency Combining the Proof-of-Stake and Proof-of-History Algorithms
Unlike all of the other proof-of-stake cryptocurrencies on our list, Solana ($SOL) combines two protocols. While Solana does adhere to the PoS network, it also uses a proof-of-history (PoH) consensus.
The PoH algorithm helps Solana become a more scalable blockchain, which helps increase the number of users in the ecosystem. Boasting one of the shortest processing times, Solana has a block processing time of 400 milliseconds. Furthermore, this unique cryptocurrency can process up to 65,000 transactions per second.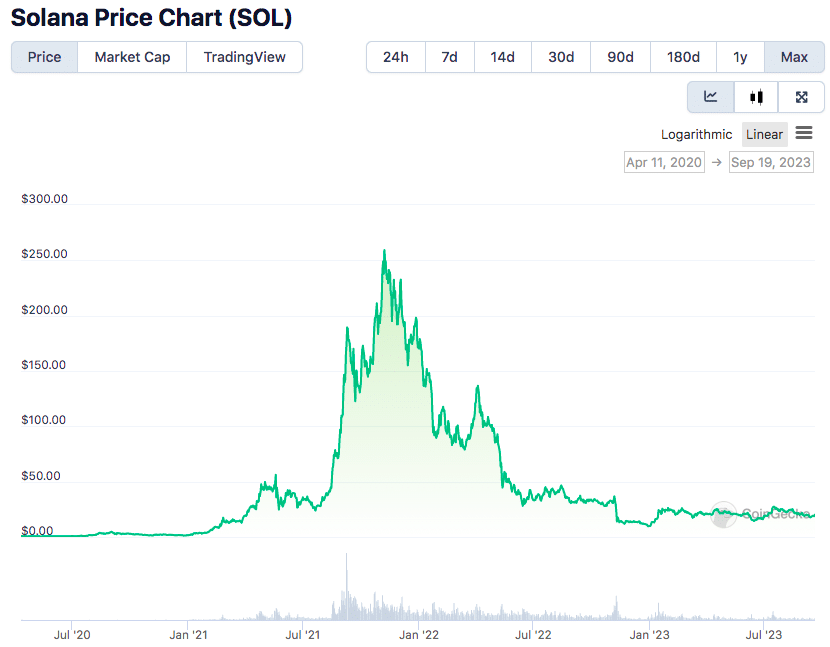 Solana supports smart contracts and the creation of decentralized applications. The $SOL token can be staked on the ecosystem and is used to settle transaction fees.
After $SOL was released in 2020, the token traded under $1. The token enjoyed a sensational price rise, soaring to an all-time high of $259 in November 2021. However, after the crypto correction in 2022, $SOL corrected to under $10. At the time of writing, $SOL is priced at $20.
Despite being 90% below its ATH, the cryptocurrency is still up nearly 4,000% since its launch. This cryptocurrency has a live market cap of more than $8.2 billion.
Crypto assets are a highly volatile unregulated investment product. No UK or EU investor protection.
10. BNB – Get Discounted Trading Fees and Staking Benefits on the Binance Cryptocurrency Exchange
BNB ($BNB) is the native cryptocurrency of one of the biggest crypto exchanges in the world, Binance. For context, Binance has a trading volume of more than $3.8 trillion in the last seven days.
BNB offers high scalability and quick transaction processing times by operating on a proof-of-stake consensus. Based on the Binance Smart Chain (BSC), BNB is used to settle network transactions and can be staked to earn rewards.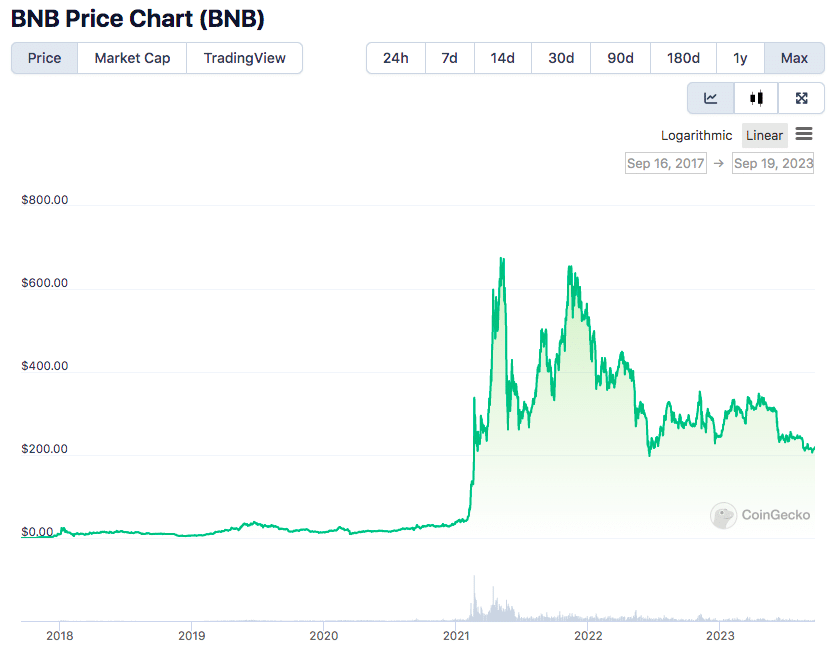 Binance has noticed a growing interest in this cryptocurrency due to the rewards it offers token holders. For example, users can save up to 25% on spot trading fees by holding this token. Thus, BNB is one of the best utility tokens to hold.
While BNB has a maximum supply of 200 million, the cryptocurrency uses an auto-burn feature to reduce the token supply. As the supply reduces, the token can become more valuable with increased demand.
Therefore, cryptos with limited supply are usually in high demand. So far, nearly 20% of the token supply has been burnt. The $BNB token is priced at $218 and has a market cap of over $33 billion.
Crypto assets are a highly volatile unregulated investment product. No UK or EU investor protection.
11. Ethereum – Largest Altcoin with a Market Cap of Nearly $200 Billion
Until 2022, Ethereum operated on a proof-of-work consensus. However, Ethereum has since shifted to a proof-of-stake algorithm to become a more secure and less energy-intensive network.
On the Ethereum PoS, validators stake $ETH into a smart contract. The validators then ensure that new blocks are validated on the blockchain. To become a validator on Ethereum, one needs to stake at least 32 ETH ($52,768). As new blocks are executed, the validators earn free tokens on the ecosystem.
After Bitcoin, Ethereum is the largest cryptocurrency in the world. The popular altcoin is currently priced at $1,650 per token, with a market cap of $198 billion. During its peak, Ethereum reached an ATH of nearly $5,000. In 2022, the token declined from the highs to the $1,000 level.
However, since the start of 2023, the token has crept past the $1,600 zone again. Ethereum is one of the most popular blockchains for developers since it is used to build several decentralized applications.
Crypto assets are a highly volatile unregulated investment product. No UK or EU investor protection.
What are Proof of Stake Coins?
Now that we have discussed 10 of the best proof of stake coins, it is time to get a deeper understanding of this protocol.
So what is a proof of stake coin? PoS is a mechanism that is used to validate a cryptocurrency transaction. Since digital assets are decentralized and not controlled by any government or financial institutions, proof-of-stake has developed as a concept to verify the validity of these transactions.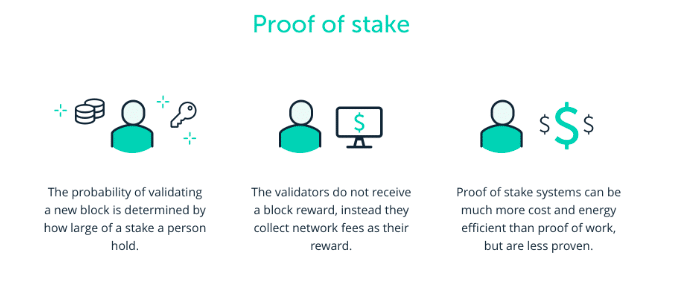 One of the key stakeholders of this consensus is the validator. A validator on a PoS consensus is willing to stake their crypto tokens to secure the network and verify the transactions. The tokens are used as collateral and are locked into the ecosystem. In return for staking their tokens on the ecosystem, the validators earn a reward for doing so correctly.
The rewards on the PoS consensus are shared in proportion to your staked amount. Therefore, a validator who stakes more tokens and successfully validates new transactions can earn higher rewards in the ecosystem.
If the validator is negligent in validating the transaction or tries to verify a fraudulent transaction, the system will automatically detect this event. The validators could be punished by slashing, which is a concept where all the staked tokens are burnt.
What's the Difference Between PoW and PoS?
PoW and PoS protocols have the same goal – to verify new blocks on the network. However, the difference that sets these two methods apart lies in how they function.
While the block creators are referred to as validators on PoS, they are termed miners on the PoW mechanism.
Miners verify new transactions by trying to solve a complex mathematical equation. The goal is to find the hash, a cryptographic number used to validate the transactions. To mine new tokens on the PoW mechanism, miners are required to purchase processing equipment and large machines.
PoS mechanisms require validators to stake crypto tokens on the network. This is used as collateral while the validators work to validate new blocks. The reward received is proportional to a user's ownership stake.
The PoW mechanism has been criticized for the huge amounts of energy that are used whilst trying to validate the blocks. The PoS mechanism was designed as a more energy-efficient and sustainable alternative to the outdated proof-of-work concept.
Are PoS Cryptos Worth it in 2023?
While our proof of stake cryptocurrency list covered 10 popular tokens, it is crucial to determine whether this sector would make for a good investment. Therefore, the sections below analyze whether investing in the PoS space in 2023 makes sense.
New Investment Opportunities
In the last 15 years, cryptocurrencies have offered staggering returns to investors. However, many have also missed out on the sensational bull runs of tokens such as Bitcoin and Ethereum.
In 2023, we have witnessed the rise of new cryptocurrency tokens, which offer proof-of-stake mechanisms. For instance, token presales such as Wall Street Memes ($WSM) and Bitcoin BSC ($BTCBSC) have raised millions. The success of these projects can be attributed to their staking mechanisms.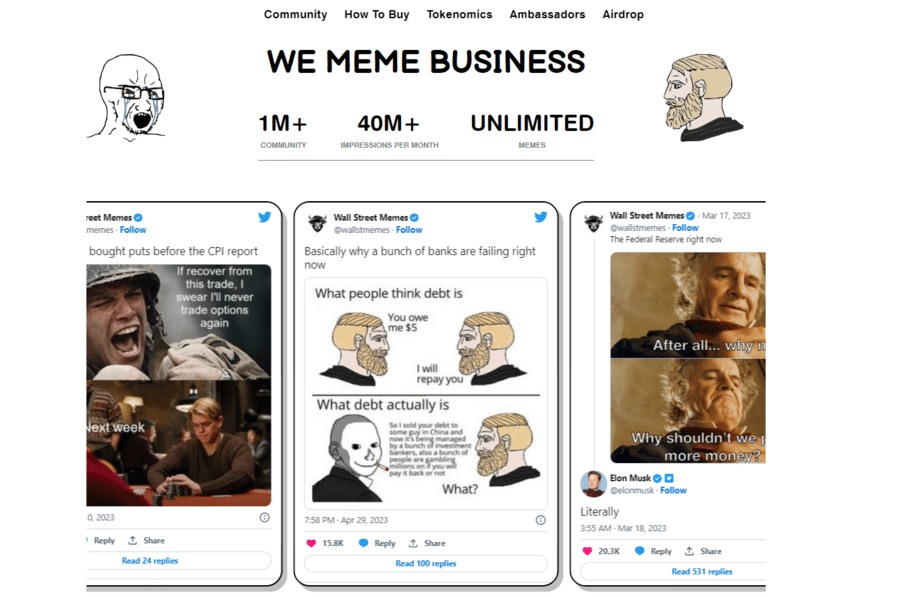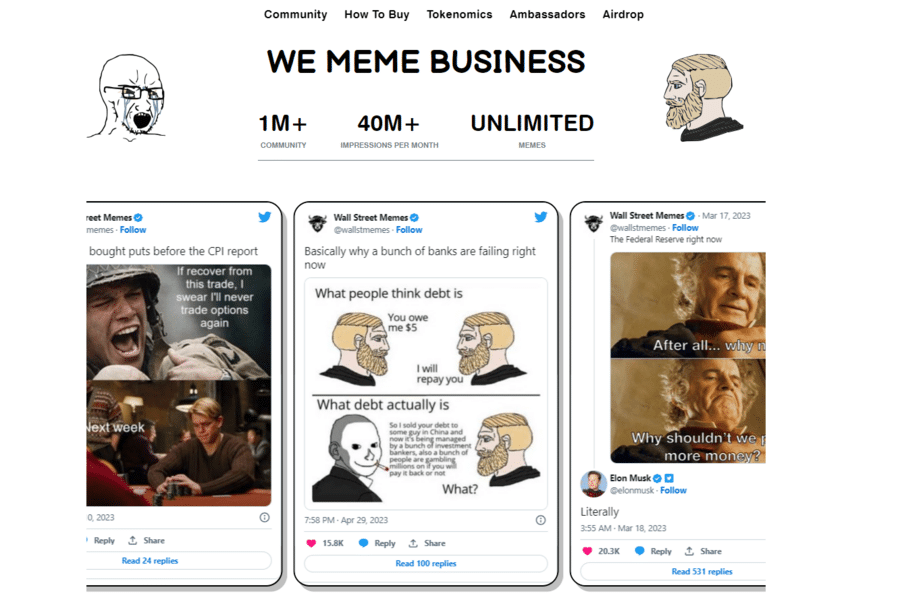 While most large-cap cryptos have corrected in the past few years, investors may be interested in diversifying their portfolios with new tokens such as the ones mentioned above.
Offers Passive Income Despite Volatility
One of the main advantages of holding proof-of-stake cryptos is the passive income they offer to investors. While there is no guarantee of making a profit on your investment, locking up the assets will help generate regular yearly income.
Thus, even if your investment corrects throughout the year, you will earn a side income through the staking APYs. Thus, proof-of-stake cryptos could be a valuable investment for those seeking some safety in this highly volatile market.
How We Ranked the Best Proof of Stake Coins
The sections below discuss how we ranked our top 10 proof of stake cryptos list. We discuss several features, such as the staking returns, available use cases, and the blockchain's processing speed.
Staking Returns
One of the key factors when finding the best proof of stake coins is the staking APYs and returns. The higher the APY, the more the likelihood of investors wanting to be a part of the project.
Throughout this review, we have found that some new PoS projects offer the highest returns. For instance, Wall Street Memes offers a live staking APY of 58% for staking $WSM. One of the cryptos with the best payout, Bitcoin BSC, offers an annual yield as high as 174%.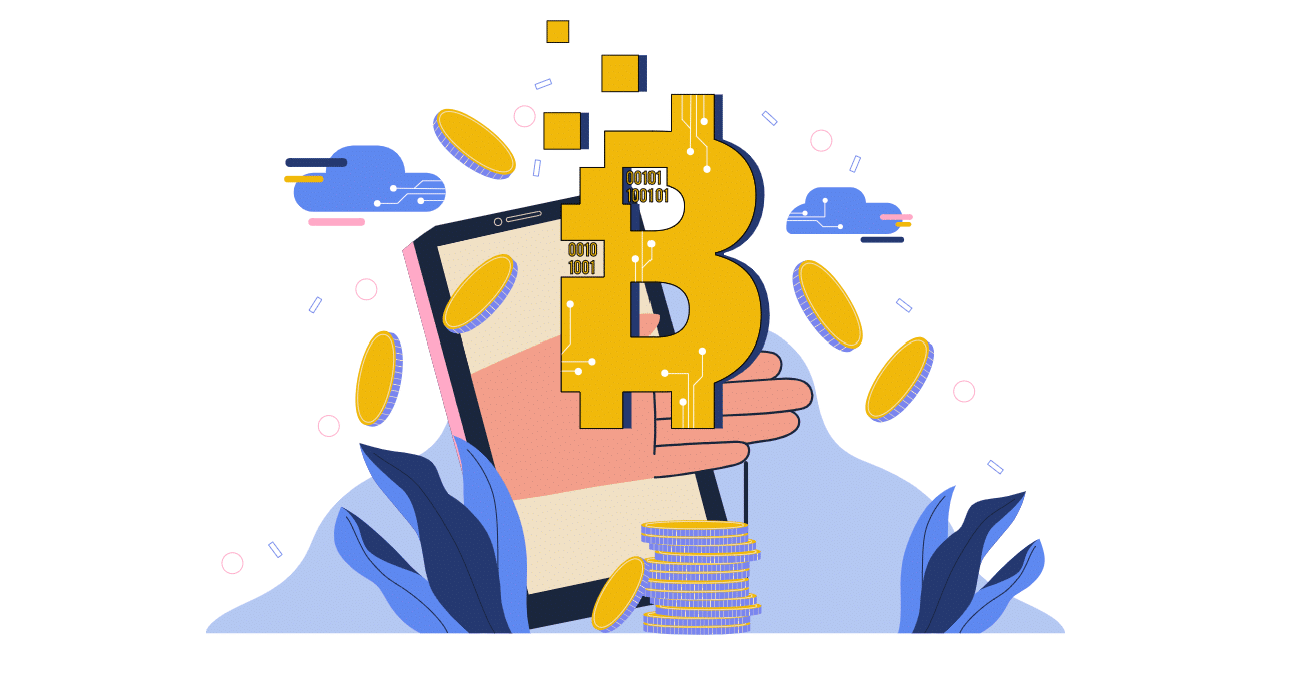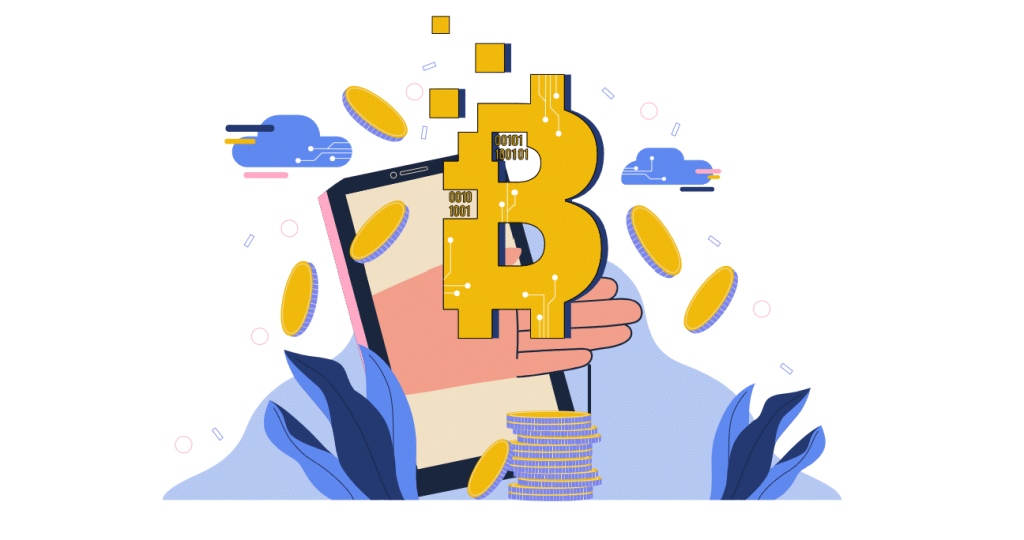 It is important to note that these APYs are subject to change as more tokens are staked on the ecosystem.
Block Processing Times
The faster a network can process transactions, the higher the chance of increasing scalability and usability. In this review, we have identified multiple networks, such as Solana and Cardano, which process transactions quickly.
For instance, the Solana blockchain can process a block in 4 milliseconds. This makes the network more attractive to developers looking to attract a large range of users on their applications. The more users on the network, the higher the likelihood of the trading volume to increase.
Additional Use Cases
Many of the cryptos we have covered offer stellar use cases, which make the asset an attractive investment. For instance, the BNB token makes trading cheaper on the Binance crypto exchange. One can access lower trading fees on various markets and earn higher staking rewards.
Similarly, tokens like MATIC are used to govern the ecosystem and settle transactions.
What are the Risks When Buying PoS Coins?
Before purchasing any asset, it is important to be aware of the pros and cons. Therefore, we will now cover some potential risks of buying proof-of-stake coins.
Price Volatility
When investing in PoS cryptocurrencies, many investors may forget to analyze the asset's technicals or fundamentals and simply focus on the returns. While a high return can be beneficial, it may not cover up for the potential price correction the asset faces.
For instance, you may earn a 10% APY on staking a token, but the token's use cases and long-term potential should also be taken into consideration. Otherwise, you may end up holding a coin that drops by 50% in no time.
While no crypto is immune to price corrections, investors should carefully analyze the project's use cases and features before investing.
Lockup Periods
Another associated risk with holding PoS coins is the lock-up period. Depending on the cryptocurrency, you may have to stake your coins anywhere from 7 days to a year. If you wish to sell a particular token that is correcting in valuation but have yet to complete the lock-up period, your assets will be stuck.
Therefore, it is worth looking at projects that offer more flexibility. For example, Wall Street Memes only requires you to lock up tokens for seven days on the ecosystem.
How to Buy Proof of Stake Coins Today
We will now show readers how to purchase Wall Street Memes ($WSM). Follow the sections below to learn how to join the $WSM presale before it sells out:
Step 1: Get a Crypto Wallet
Before purchasing $WSM, investors must download a cryptocurrency wallet to connect with the presale. Wall Street Memes is compatible with popular wallets such as MetaMask and Wallet Connect.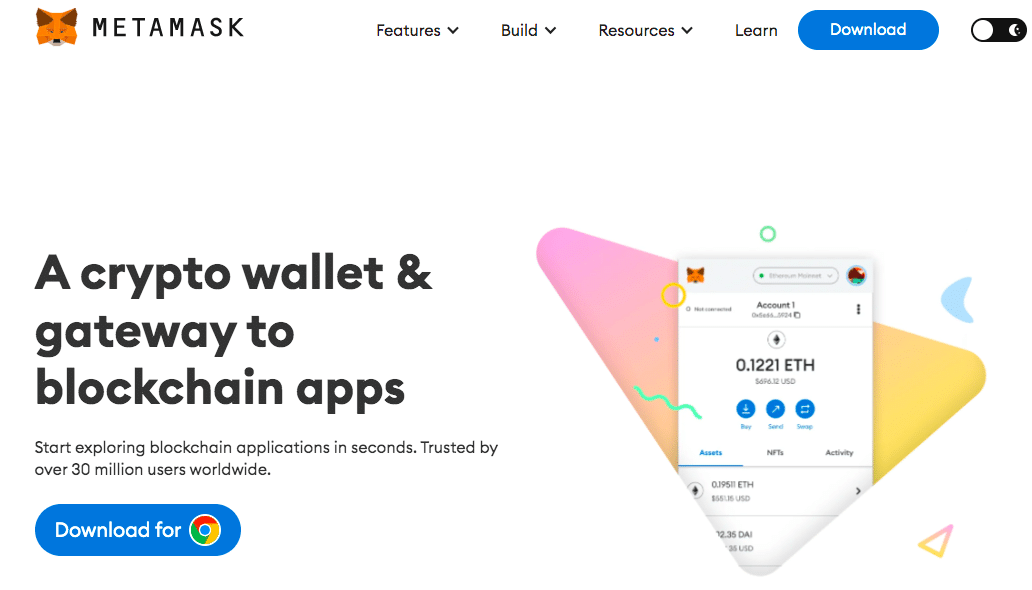 Get the web extension or download the crypto wallet app to get started.
Step 2: Purchase BNB, ETH or USDT
After your wallet is downloaded, you can purchase crypto tokens compatible with the presale. $WSM token can be swapped with other cryptos such as BNB, Ethereum, or USDT. Purchase one of these cryptos from a suitable crypto exchange and transfer the holdings to your wallet.
Step 3: Connect to the $WSM Presale
After transferring the tokens to your wallet, visit the Wall Street Memes presale website.
Click on 'Connect Wallet' and follow the instructions on-screen to connect with the presale.
Step 4: Buy $WSM Tokens
Now, you can fill in the amount of tokens you wish to purchase on the order box. Choose to swap $WSM for either BNB, Ethereum, or USDT. Alternatively, you can purchase the cryptocurrency with a card. Currently, $WSM is priced at $0.0337 during the final round of the presale.
After entering the amount, click 'Buy Now' to complete the transaction.
Conclusion
Our proof of stake guide has covered 10 unique coins that offer high staking returns, quick transaction speeds, and high throughput. Due to the high returns these assets offer, investors may look to venture into this space.
While established projects such as Solana and Ethereum are popular options among investors, we have noticed that new presale tokens are among the most exciting PoS assets. For instance, Meme Kombat is a unique meme cryptocurrency with a new concept and offers a 112% staking APY.
References
FAQs
What is the best proof of stake crypto?
Who has the best staking rewards?
Is proof of stake the future of crypto?
How profitable is proof of stake?
What are the benefits of PoS crypto?