The crypto space is constantly evolving with hundreds of new projects reaching the market each week. Savvy investors have discovered that finding newly launched tokens can be a successful strategy for earning major returns in the space and gaining an edge over the rest of the market.
That can be because tokens are offered at discounted prices during their presale, not only as projects want to raise capital for development, but to also build hype and interest around the new project before they list.
With this in mind, today's guide will review the best crypto presale to invest in for 2024. This guide will also help investors how to look for the best new crypto presales, how to evaluate projects, identify red flags and avoid scams.
To compile this list we looked at a range of different metrics to ensure legitimacy – such as a project's tokenomics, its development roadmap and team – in addition to dissecting their utility and potential future value.
It also remains vital that investors do their own individual research and conduct due diligence, as the presale space offers the chance for larger rewards but even greater risk compared to investing in established and arguably best crypto projects.
The Best Crypto Presales to Invest in Now
Below, we've listed the projects we believe could blow up in 2023.
Starting with our pick for the overall best crypto presale to invest in, this list can be found below.
Bitcoin ETF Token ($BTCETF) – A new token presale designed to reward holders around Bitcoin spot ETF approval events, but also with over 140% staking APY in the early stages combined with token burn mechanics. With a Bitcoin spot ETF approval by the SEC as a likely outcome, the $BTCETF token holders could see a huge benefit. More than $1.8 million now raised.
Bitcoin Minetrix ($BTCMTX) – The best crypto presale that revolutionizes cloud mining by allowing an easy stake-to-mine feature for its users. Users can stake $BTCMTX tokens to earn non-tradable Cloud Mining Credits, burn them for Bitcoin mining power, and enjoy high-security features with no upfront costs. It has now secured $4.5 million since it launched
Meme Kombat ($MK) – A combination of the world's most successful memes (Floki, Pepe, Doge, Shiba, etc.), brought together for an AI-enhanced battle royale where you can bet strategically on the outcome of your favorite to earn rewards. A new paradigm in the meme industry, and one that could pay gigantic rewards to the risk-tolerant. Over $2.1 million raised and staking rewards of 415% APY.
TG.Casino Token ($TGC) – Redefining the online gambling industry, TG.Casino has just launched and allows KYC-free, anonymous, registration-free betting through Telegram, with instant deposits and withdrawals. Currently offering 195% APY to clients along with numerous other benefits and incentives including a token buyback and burn – around $3 million raised in its presale.
eTukTuk (TUK) – Upoming token presale of a sustainable, Binance Smart Chain-based project that is building EV charging stations and reducing carbon emissions – the presale is now open with $265k raised and 770% staking APY on offer.
Green Bitcoin – Merges Bitcoin's recognition with Ethereum's eco-friendly tech, offering a less energy-intensive alternative. Features gamified staking and a presale with growth potential, focusing on sustainability and community engagement.
Scorpion Casino (SCORP) – Earn up to $10,000 in daily passive staking through casino revenues, which rise with increased Casino adoption and usage. The presale for $SCORP tokens – which are used to play on the platform – has now raised over $2 million.
Launchpad XYZ (LPX) – Launchpad XYZ is a new crypto presale project that is developing a portal that aims to drive mass adoption from Web2 to Web3. Its platform will act as a gateway for users, simplifying the space and providing a vast array of info and data. Over $2 million raised during the presale so far.
yPredict (YPRED) – AI-powered tool with a range of features, next-gen data, insights and metrics to help traders maximize earnings. Also allows developers to sell their predictive models. Over $5m raised since launching with 20% price increase before listing.
Cogwise (COGW)

– State-of-the-art AI model providing users with fast and accurate information on crypto and blockchain topics. The $COGW token offers staking capabilities and is a deflationary cryptocurrency. Cogwise has raised over $1.35 million on presale.

LandRocker (LRT)

– Join a space exploration P2E game and start winning crypto and NFT rewards. $LRT can be leveraged to earn staking rewards, and used to trade and buy exclusive NFTs. The token will soon be launched on presale.

Doge Uprising (DUP)

– A new meme cryptocurrency that will offer staking rewards and the opportunity to purchase Doge Mecha NFTs. The $DUP price will double by the next presale stage, with almost $35k now raised.

Scary Pepe (SCARYPP) – New Pepe-themed meme crypto presale taking the market by storm. $SCARYPP has a low supply of 1 billion, 99% of which has been allocated for the presale.
ADA20 (ADA20) – Inspired by the $ADA token, ADA20 is an ERC-20 token that gives users access to multiple DeFi capabilities. From a total supply of 45 billion, 18 billion tokens are allocated for the presale.
Merix Coin (MERIX) – Decentralized referral marketing platform that allows all users to benefit from networking with other individuals and businesses.
An In-Depth Analysis of Our Best Crypto Presale Tokens List
As mentioned above, it is vital to conduct proper research before investing in any crypto presale, as crypto ICOs represent new token offerings from brand new projects with no history in the market or established community of supporters to fall back on.
There are many new projects launched every day in the space and even though many offer bright and brilliant ideas, a strong team and robust tokenomics, none are guaranteed to bring success to investors.
Presale investment offers the most risk – and often, the most reward – in the space, but investors should be clear on their own tolerance for risk and the potential to endure losses. We believe the projects we've analyzed below are shaping up to be the best crypto presales in 2024.
1. Bitcoin ETF Token ($BTCETF) – Overall Best Crypto Presale with Over 140% APY and Token Burn
Bitcoin ETF Token is the latest ERC20 token presale that aims to reward early holders based on events surrounding the Bitcoin spot ETF approval, but also with a generous staking APY of more than 140% in the early stages – more than $1.8 million has already been raised.
Participate in the $BTCETF token presale by connecting your Ethereum-based crypto wallet like MetaMask and buying your desired number of tokens with ETH, USDT, or a card.


With 10 token presale stages, each consisting of 84 million tokens and a constant price increase, getting in early is likely to benefit you the most. Currently, $BTCETF is priced at $0.0058 per token. By the final round, the price will rise to $0.0068 per token.
Regardless of which presale stage you buy in, you can maximize your rewards with a generous staking APY that stands at 140% in the early stages. Keep in mind, this APY won't last forever. As more tokens are bought and staked, the APY will drop, which makes staking as early as possible the most potentially rewarding option.


There will be a maximum supply of 2.1 billion $BTCETF tokens, 840 million of which are dedicated to the token presale. For the staking rewards, there are 525 million tokens, and another 210 million for the liquidity pools.
The remaining 525 million tokens will be burned when each milestone around the Bitcoin spot ETF approval is reached.
The token burn starts with a 5% burn tax on every transaction. After each milestone, the burn tax will drop, eventually reaching 0%. The team behind Bitcoin ETF Token will burn 5% of the total supply for each milestone, including:
$BTCETF token reaches $100 million trading volume.
The first Bitcoin ETF is approved.
The first Bitcoin ETF is launched.
The total assets under management for all Bitcoin ETFs reaches $1 billion in value.
Bitcoin reaches a price of over $100,000.
As the whole concept of $BTCETF revolves around the spot Bitcoin ETF approval, the team will also provide news events in real time to help you make informed trading decisions. This could be valuable given how the price of Bitcoin reacts when there is news around Bitcoin ETF approvals.
Make sure to follow Bitcoin ETF Token on X and on the Bitcoin ETF Token Telegram channel to get the latest news about the spot Bitcoin ETF approval as well as to closely follow the $BTCETF project. Read the whitepaper to learn more.
| | |
| --- | --- |
| Hard Cap | $4.956 Million |
| Total Tokens | 2.1 Billion |
| Tokens available in presale | 840 Million |
| Blockchain | Ethereum Network |
| Token type | ERC-20 |
| Minimum Purchase | N/A |
| Purchase with | USDT, ETH, BNB, MATIC and Card |
2. Bitcoin Minetrix – Trending BTC Clone Crypto Presale with Stake-To-Mine Features
Bitcoin Minetrix secures second place on our list of the best crypto presales, which aims to simplify and democratize Bitcoin cloud mining.
The project is powered by its native ERC-20 token, $BTCMTX, which users can stake to earn mining credits. The platform presale is live in its first stage, with each token offered for a discounted price of $0.0119.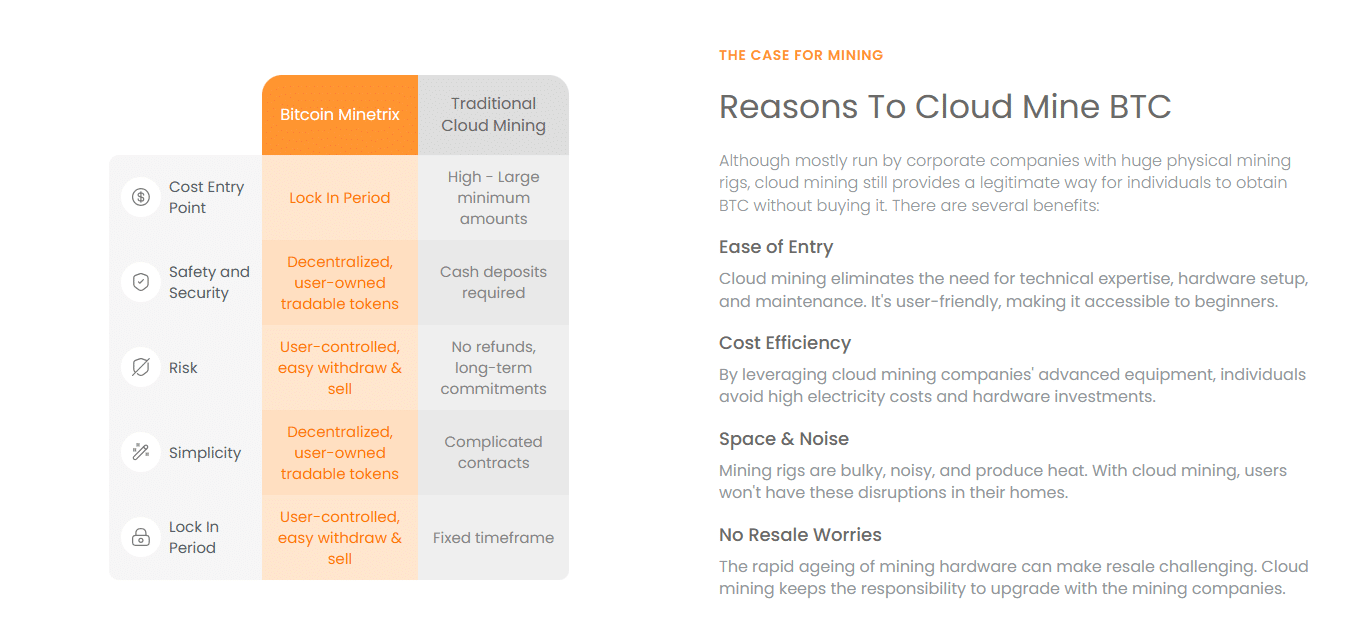 It follows a tiered pricing structure wherein the price of the tokens will increase after every stage until it reaches the final price of $0.0148 in the final presale stage (stage 39) over the coming weeks.
Notably, Bitcoin Minetrix has now raised over $4.5 million in over a month since it launched, showing massive community support.
Bitcoin Minetrix offers a new way to mine Bitcoin online. Instead of buying traditional cash contracts with mining companies, you can use $BTCMTX to earn mining credits. These credits let you mine Bitcoin on their platform.
It's safer

: You don't need to spend real money to start mining, making it less risky.

Extra secure

: The credits you earn can't be traded, so fraud or manipulation is less likely.

Accessible

: They're making a simple app for your phone and computer where you can do everything.
Per the Bitcoin Minetrix whitepaper, the platform also prioritizes end-user control. If users decide to exit, they can unstake their $BTCMTX tokens after meeting the minimum staking period and sell them at market prices. This contrasts with traditional mining contracts that often lock in users' funds.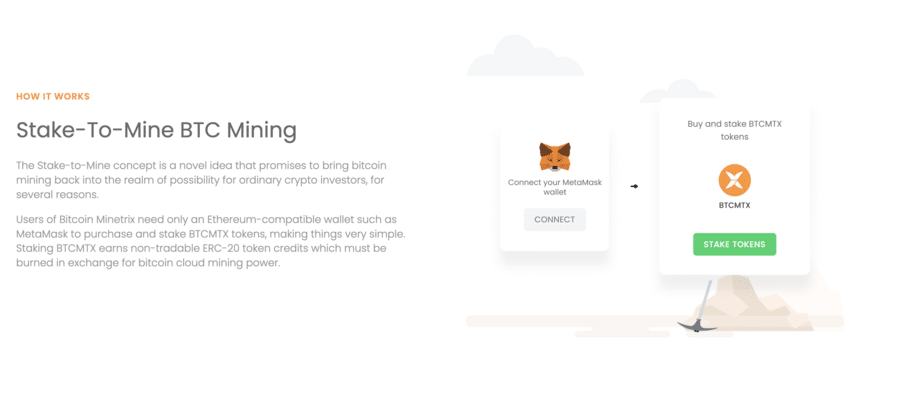 Bitcoin Minetrix uses cloud mining, which is more energy-efficient than conventional methods. This aligns with the growing eco-friendly crypto community, giving the project an edge in broader adoption.
With a total supply of 4 billion tokens, Bitcoin Minetrix aims to allocate 42.5% for mining and 7.5% for staking, among other distributions. Also, early supporters can benefit from a $30K minedrop on the platform.
Aiming to raise over $33 million as the hard cap goal, the funds are set aside for platform development, marketing, and staking rewards.
You can join the Bitcoin Minetrix Telegram channel or follow it on X (previously Twitter) to stay updated on the project's progress.
| | |
| --- | --- |
| Hard Cap | $33,460,000 |
| Total Tokens | 4 Billion |
| Tokens available in presale | 2.8 Billion |
| Blockchain | Ethereum Network |
| Token type | ERC-20 |
| Minimum Purchase | $10 |
| Purchase with | USDT, ETH, BNB |
3. Meme Kombat – Inventive ERC20 PoS Presale Offers 512% APY
Meme Kombat ($MK) is a brand new meme coin presale which takes a number of popular memes and allows users to bet on the outcome, as they face off against each other in combat. As the meme coins face each other in battle, users can check out the odds and research various betting strategies.
The meme coin characters engage in automated combat and outcomes are determined on-chain – meaning it is immutable, secure and transparent, with rewards and distributions automatically processed.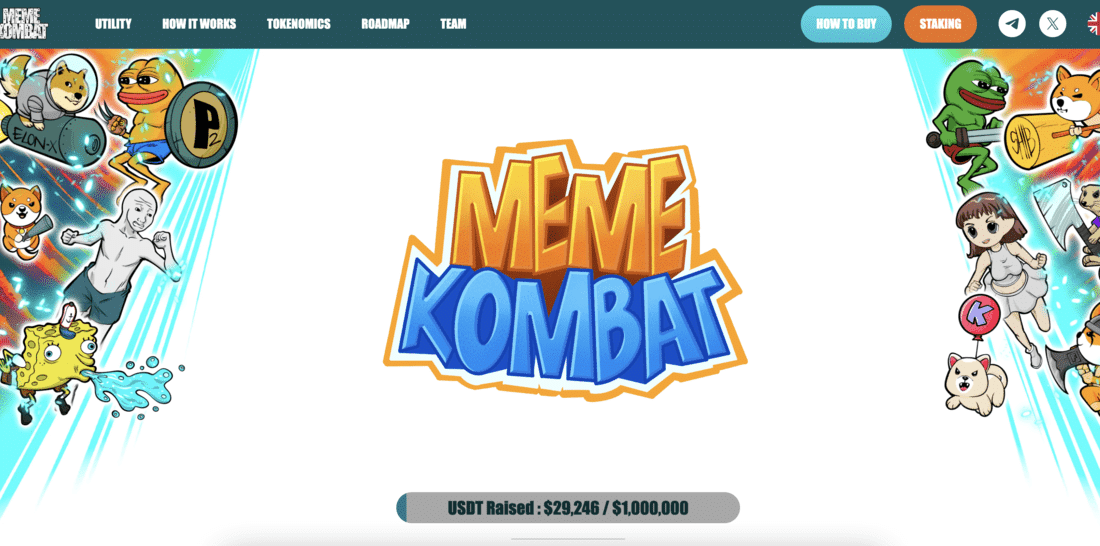 For "Season 1", there are 11 popular memes, including Sponge, Pepe, Floki, Doge, Baby Doge, Shiba Inu, etc. There are all highly popular meme coins with gigantic online followings, who might be attracted to presales such as this one.
The combat and graphics are assisted through AI to closely resemble the traits and characteristics of these trademark meme coins, sticking closely to the original while enhancing them through modern technology.
Artificial intelligence is used for dynamic visualization while randomized sequencing adds to the combat element considerably, providing an engaging experience for spectators. There are a number of betting options available – direct live bets on real-time battles, P v P, and also P v Game and main outcome bets and side bets. Betting options could evolve as the campaign continues to innovate.
Aside from active betting, passive rewards are available to customers. APY rewards are estimated to be in the region of 415% at the present time. The price per $MK token is $0.214, with a total of 60 million tokens (50% of the max supply) available in the presale, where over $2 million has now been raised. It can be purchased using ETH, BNB, or USDT.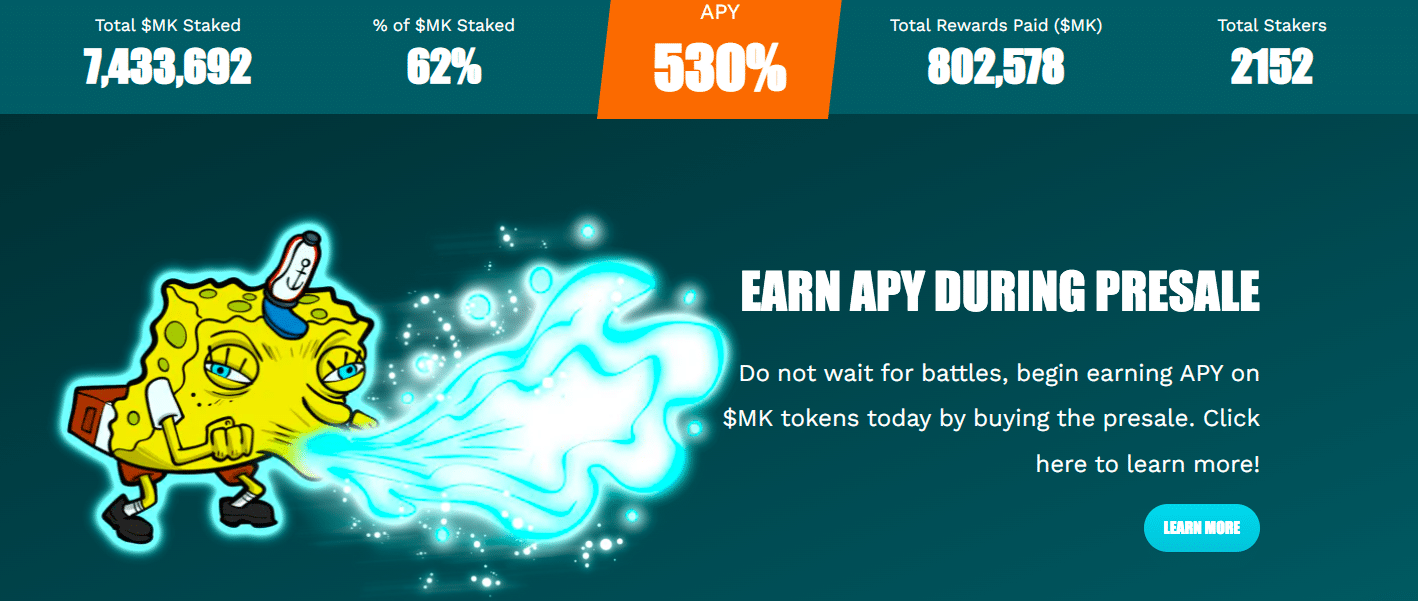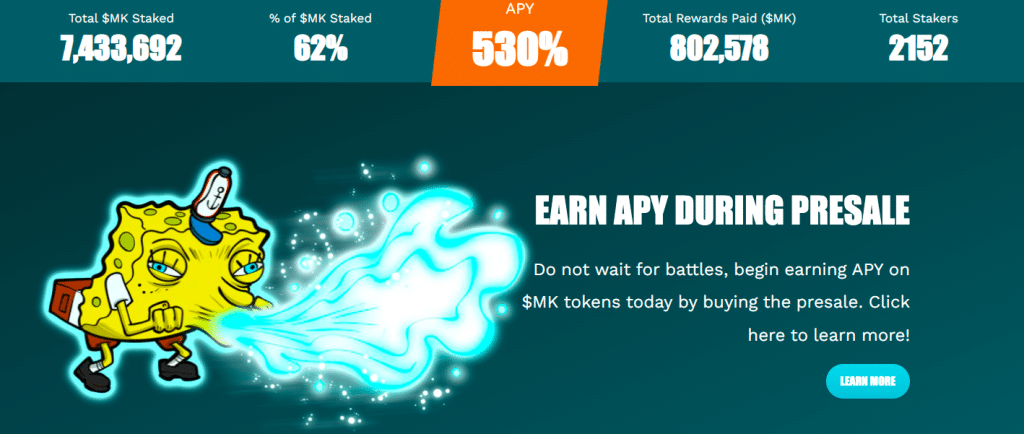 Be sure to read up on the Meme Kombat Whitepaper, prior to investment, and to join the socials (such as Telegram and Twitter) to understand the ecosystem in more detail. The project also features a doxxed and public-facing team, another rarity in the meme coin world.
The idea of bringing together all of Web3's meme tokens under one roof could be quite lucrative in terms of ROI, provided market conditions are correct and it gains further momentum. It could easily be a 10x coin, if not more, though this potential also comes with increased risks that investors will have to tolerate.
| | |
| --- | --- |
| Hard Cap | $10,000,000 |
| Total Tokens | 120 Million |
| Tokens available in presale | 60 Million |
| Blockchain | Ethereum Network |
| Token type | ERC-20 |
| Minimum Purchase | $5 |
| Purchase with | USDT, ETH, BNB |
4. TG.Casino Token ($TGC) – Telegram Casino with High Yields and Buyback
TG.Casino Token ($TGC) is a presale offering a revolutionary approach to online gambling, enabling users to access a suite of casino products through Telegram, one of the most popular messaging applications in the world and definitely the most commonly used amongst Web3 professionals.
This means that people with an existing Telegram account can sign up, KYC free, deposit their crypto and bet on their favorite casino offerings. In line with the original ethos of cryptocurrency, it provides full anonymity and the casino is now up and running.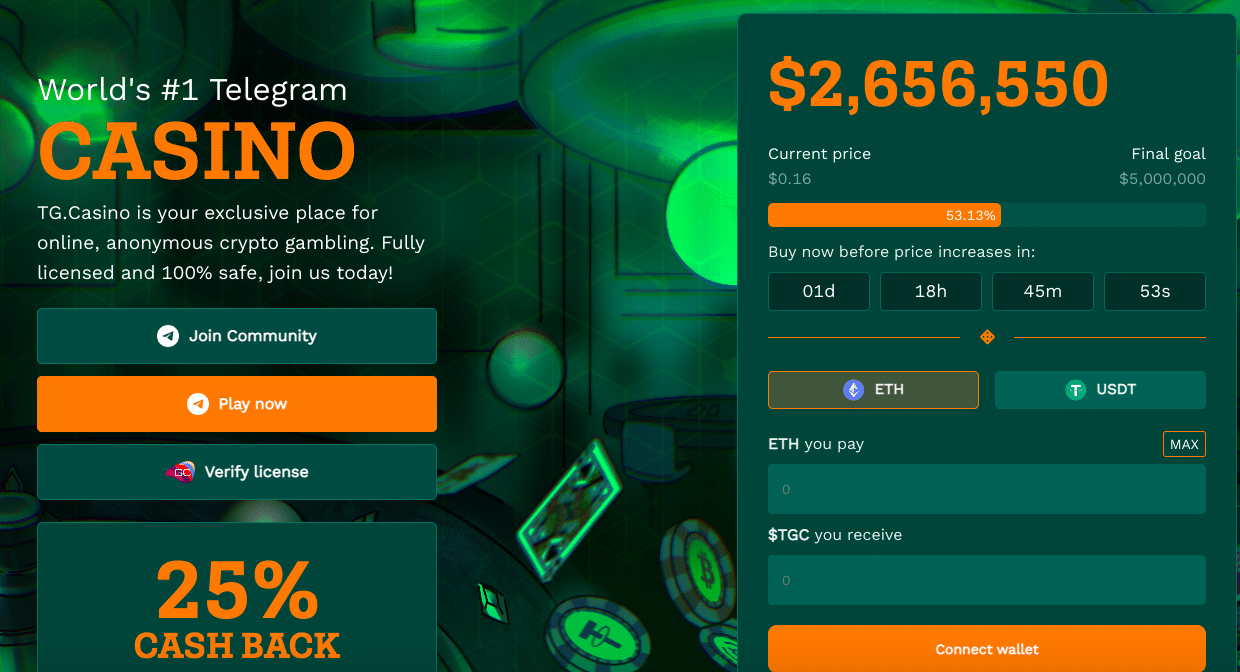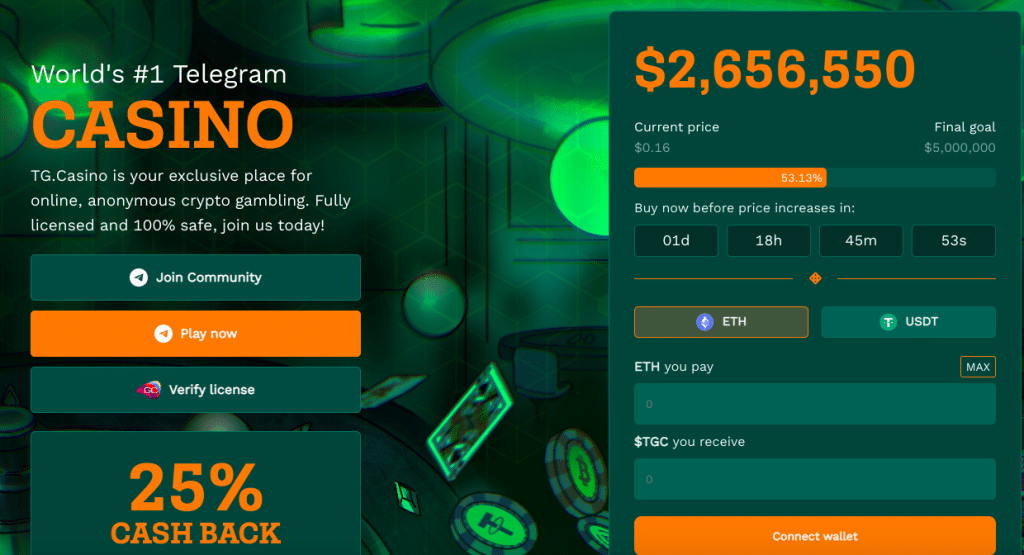 It's a complete redefinition of the traditional model and blows the doors wide open in terms of accessibility and usability. No additional software needs to be installed and no username or password is required – games can be accessed directly. Withdrawals are also straightforward, with no additional checks.
New players receive a matched first deposit welcome bonus of 200%, up to 10 ETH, plus those who play with $TGC can earn 25% weekly cashback on losses.
The TG.Casino Token presale has also enjoyed a strong start from retail investors, verified Twitter professionals, and Web3 experts. It provides a huge APY yield of over 195%, though that will reduce as more tokens are locked inside the pool.
Profits from the casino are reinvested back into the token as part of a buy-back system, used to purchase and burn the $TGC token (resulting in price appreciation) as well as being distributed in the form of rewards to the community. In this way, the community is rewarded and benefits alongside the casino.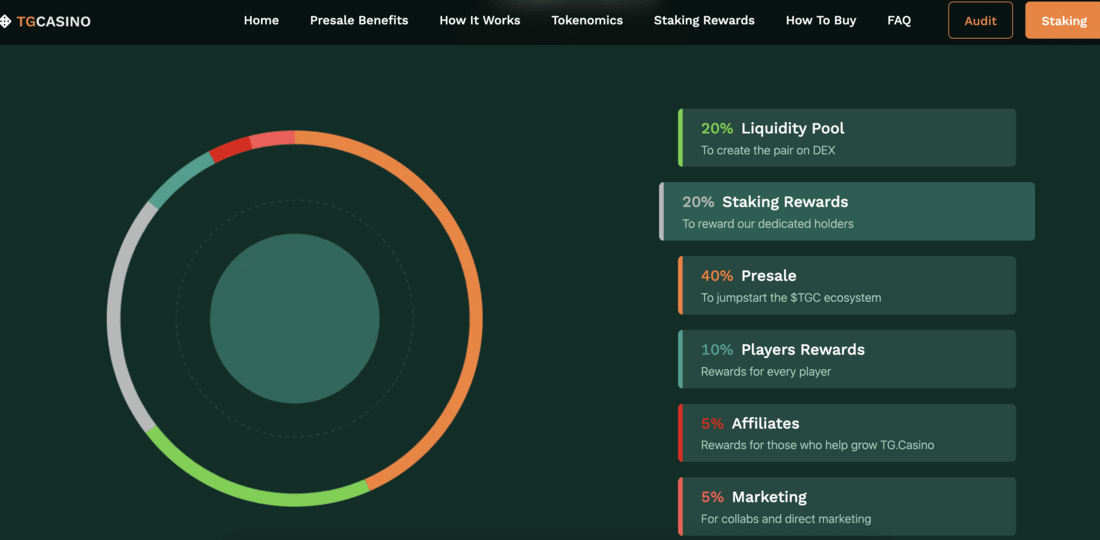 The reward-sharing scheme will see 60% of purchased tokens distributed to stakers and 40% sent to a burn address, making the token supply deflationary, which often leads to price increases. The presale has raised around $3 million.
TG.Casino has also undergone a smart contract audit from Coinsult, with no issues found within the code. For more details regarding the tokenomics and the project in general, reach out via Telegram or Twitter, and read the whitepaper in detail. 40% of the overall token supply (40 million $TGC) is available in the presale, at a price of $0.17, with a $5 million hard cap.
| | |
| --- | --- |
| Hard Cap | $5,000,000 |
| Total Tokens | 100 million |
| Tokens available in presale | 40 million |
| Blockchain | Ethereum |
| Token type | ERC-20 |
| Minimum Purchase | $5 |
| Purchase with | USDT, ETH, BNB |
5. eTukTuk – Sustainable Token to Earn Rewards and 770% APY
eTukTuk (TUK) aims to help TukTuk drivers from developing economies start using more sustainable practices by making the switch to EV vehicles.
Currently, ICEs (Internal Combustion Engines) are used to run the majority of TukTuks and release more CO2 into the air than cars.

Therefore, eTukTuk will be creating EV charging stations and Electric Vehicle Supply Equipment (EVSE) to promote the switch to using zero-emission vehicles.
Based out of Sri Lanka's capital Colombo, eTukTuk will be building these charging stations in the urban and suburban regions of various developing nations.
With the native Binance Smart Chain-based $TUK, token, eTukTuk will help expand the ecosystem – TukTuk drivers will be able to make purchases on the driver app using $TUK tokens.
A portion of the transactions generated will be sent to territory partners, who are responsible for manufacturing and setting up the EVSE and EV charging stations. According to the eTukTuk whitepaper, token holders can also stake the token to earn benefits.

An APY (Annual Percentage Yield) will be provided every time a driver makes a payment on the app. From a staking pool, the funds will be distributed to the staked token holders.
$TUK has a total supply of 2 billion tokens – the presale has now raised more than $265k with staking rewards still sitting at 770%. Join the eTukTuk Telegram channel for more information on this cryptocurrency.
6. Green Bitcoin – An Innovative and Eco-Friendly Crypto With High Staking Rewards
Green Bitcoin ($GBTC) is an emerging ERC-20 token, blending Bitcoin's legacy with Ethereum's sustainable Proof of Stake (PoS) tech.
Positioned as a more eco-friendly alternative, Green Bitcoin is approximately 10,000 times less energy-intensive than conventional Bitcoin mining.
Currently, $GBTC is available through a multi-stage public presale, starting at $0.33 per token. Upon exchange listing, this price will increase to $0.6.
The presale's staged structure means earlier buying typically results in a more favorable price, with the potential for significant gains once listed.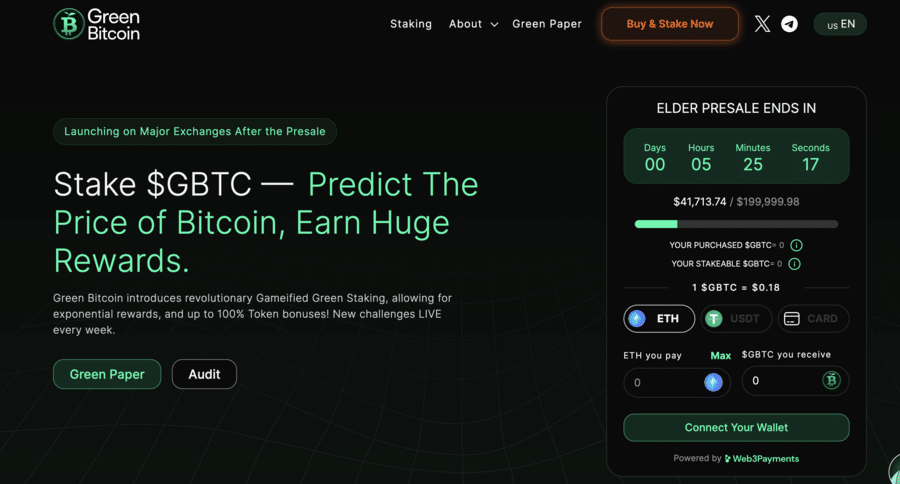 Green Bitcoin offers a unique 'Gamified Green Staking,' enabling users to earn rewards through accurate price predictions.
This model not only offers passive income but also creates active community participation. During the presale phase, stakers can benefit from high APRs, with the understanding that these rates will decline as more tokens are staked.
The token allocation is strategically designed, with a total supply of 21 million $GBTC tokens distributed as follows:
Presale: 40%

Staking Rewards: 27.50%

Liquidity: 10%

Community Rewards: 5%

Marketing: 17.50%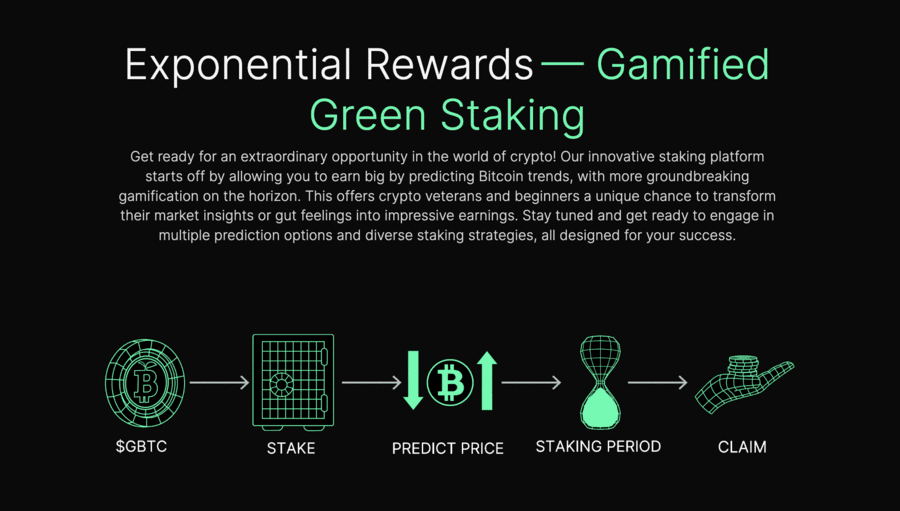 Per the Green Bitcoin whitepaper, the platform's roadmap is clearly outlined, consisting of four key phases:
Token presale launch.

Listing on A-tier exchanges.

Improvements of the gamified prediction system.

Activation of staking rewards and the prediction game.
Investors can stay updated and engaged by following the Green Bitcoin on X (Twitter) and joining the Green Bitcoin Telegram channel.
| | |
| --- | --- |
| Total Tokens | 21 Million |
| Tokens available in presale | 8,400,000 GBTC |
| Blockchain | Ethereum Network |
| Token type | ERC-20 |
| Minimum Purchase | None |
| Purchase with | USDT, ETH, Card |
7. Scorpion Casino – Earn up to $10,000 in Daily Passive Staking
The native token behind Scorpion Casino, SCORP, is one of the best crypto presales in 2023 with 10x potential, as it provides up to $10,000 in daily passive staking, depending on the performance of the casino.
The project is on a mission to build the number one social online gambling platform that allows users to earn and have a fun and seamless gaming experience.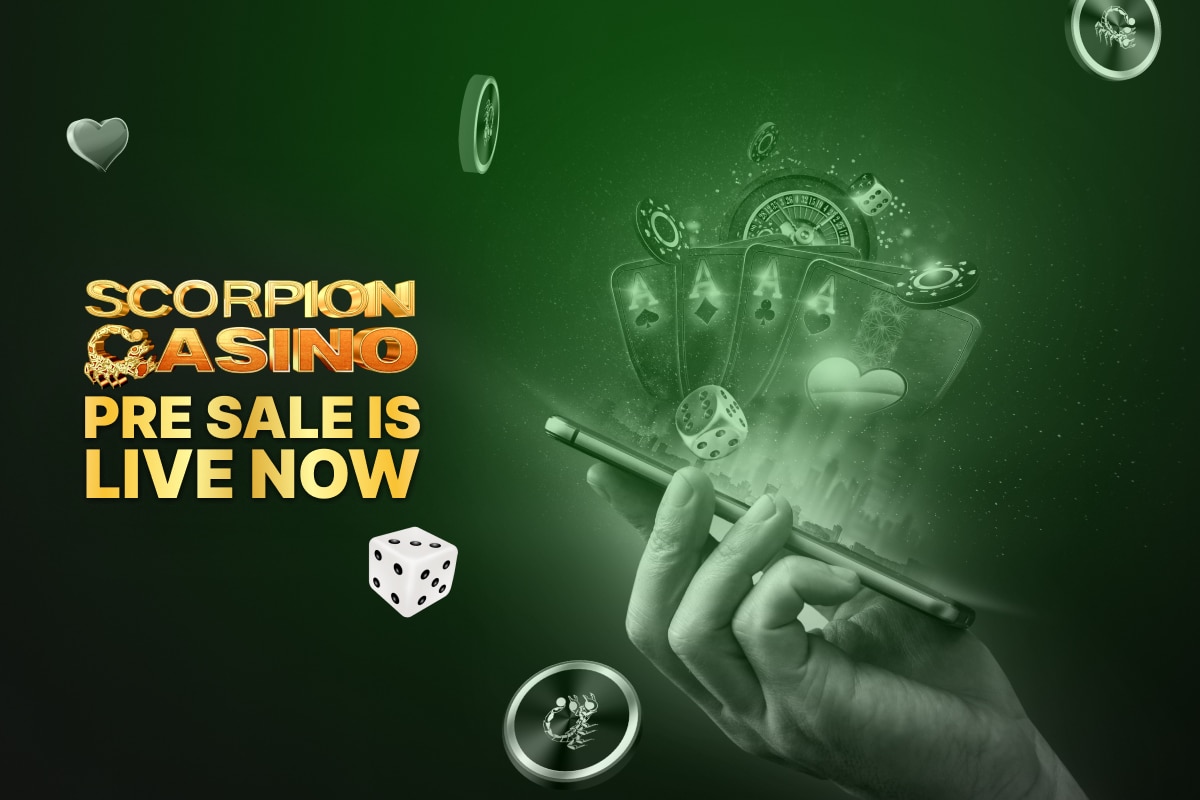 The casino is home to over 210 casino games, with an additional 160 live games. The games are of the highest quality as the casino is connected with all the major gaming providers, such as Evolution, NetEnt, and AMATIC. Everybody's favorite casino game, including blackjack, poker, roulette, and slots, is available.
The ecosystem also contains an entire sports betting platform, allowing users to place wagers on the outcome of their favorite sports matches. With over 30,000 betting options, Scorpion Casino has integrated all of the major sports leagues for sports like football, soccer, tennis, golf, horse racing, basketball, MMA, and boxing.
The casino is fully licensed and regulated by the Curacao EGaming licensing entity, making it totally transparent and provably fair. Furthermore, Scorpion Casino only works with reputable platforms such as BetRadar and CoinsPaid to provide the best possible experience.
The SCORP token is the exclusive payment method for the entire Scorpion ecosystem and is the default currency for betting across sports, esports, and the casino. Additionally, the token provides a passive income for holders through its 2% redistribution tax levied on all buy/sell transactions. Furthermore, a 1% burn tax makes the token deflationary.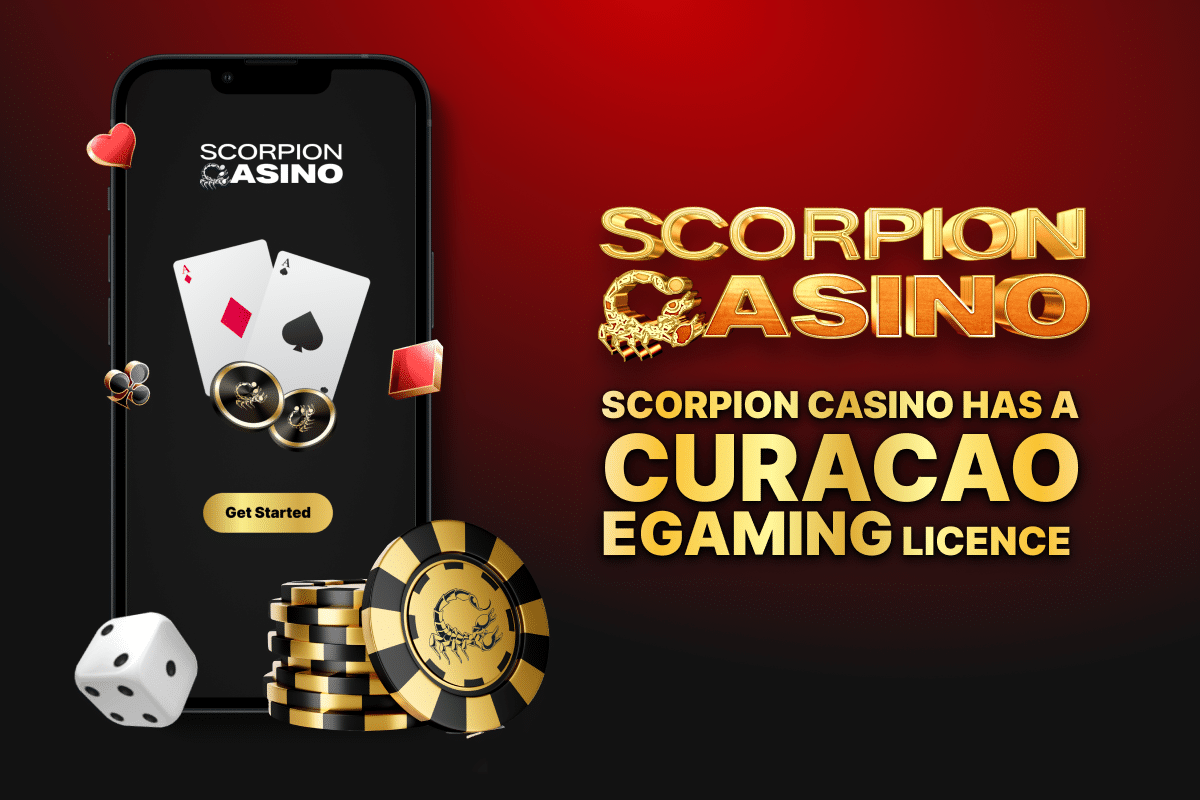 The project currently hosts a presale for SCORP. Those purchasing more than $1,000 receive additional benefits after being enrolled in the Scorpion Members Club, which provides VIP services, cashback on the casino, extra staking rewards, and additional SCORP tokens.
Furthermore, inventors that use the exclusive bonus code Scorpion20 in the presale – which has now raised around $2 million – can get an extra 20% tokens for a short period of time.
| | |
| --- | --- |
| Token symbol | SCORP |
| Presale supply | 200,000,000 SCORP |
| Token type | BEP-20 |
| Payment methods | ETH, USDT, BNB |
| Listing price | $0.05 |
8. Launchpad XYZ – Web3 Portal to Drive Mass Adoption
Launchpad XYZ is a newly launched crypto presale that has now raised over $2 million since launching.
Investors are excited by $LPX tokens as they will power the Launchpad XYZ dashboard, which is setting out to become a Web3 portal that helps drive mainstream adoption into crypto.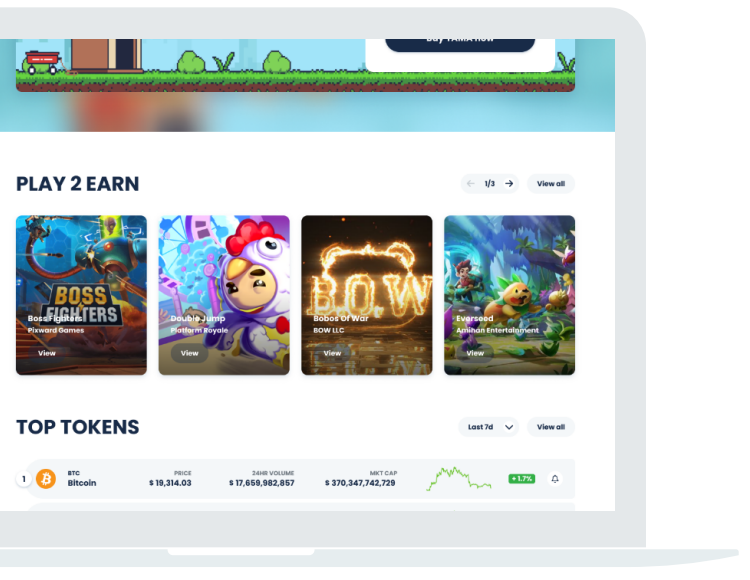 The Launchpad XYZ developers are KYC-verified and doxxed, with vast experience in a wide range of industries. One slight downside to potential investors may be that the platform is not expected to be totally complete until late 2024, although that is due to the sheer scale of what it will offer.
The portal has been designed to make Web3 adoption more simple for both retail and institutional investors, with a high level of technical knowledge and a vast array of dApps needed to operate in the space.
Launchpad XYZ's vast array of features includes a Web3 wallet, decentralized exchange, trading terminal and NFT DEX, as well as providing unbiased information and a vast array of data on existing and upcoming crypto tokens, the best NFTs, crypto games and fractionalized assets.
One of the major features is its alpha Telegram group, which provides trading signals and recently returned 7,000% gains for its members for a call on LINQ.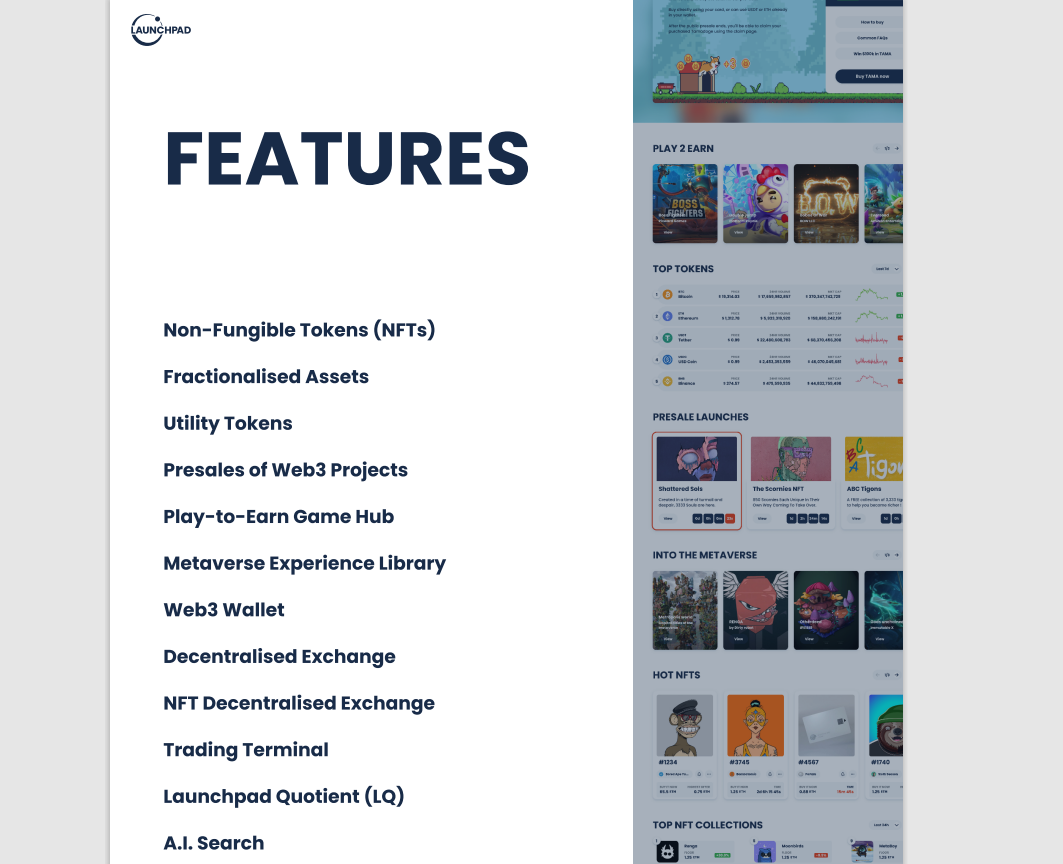 It will also utilize AI technology with its search and storage functions and provide users with a gateway to the rest of the Web3 and metaverse space.
LPX tokens can also be staked to generate passive income, as well as get whitelist places to NFT mints and guaranteed access to other crypto presales. To find out more about Launchpad XYZ, read through the project's whitepaper or join the Telegram group for the latest news.
| | |
| --- | --- |
| Hard Cap | $12,500,000 |
| Total Tokens | 1,000,000,000 |
| Tokens available in presale | 250,000,000 |
| Blockchain | Ethereum Network |
| Token type | ERC-20 |
| Minimum Purchase | 100 LPX |
| Purchase with | USDT, ETH, BNB, Card |
9. yPredict – AI-Powered Trading Tool set to Rise Another 20% Through Presale
yPredict is an AI-powered crypto project that is currently offering its native tokens through its $YPRED presale.
It will use artificial intelligence and machine learning to help crypto traders maximize their profit-earning potential.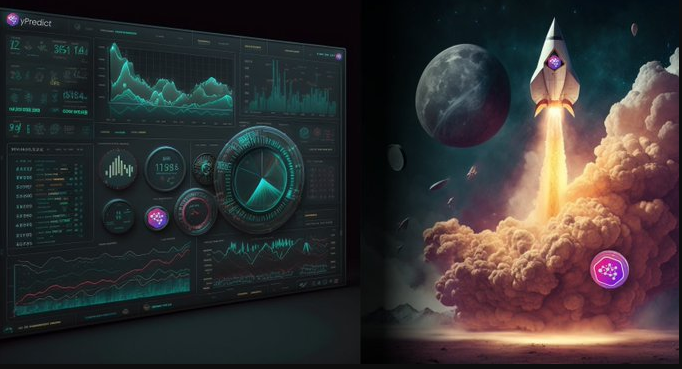 Already in stage 7 with $5 million raised, the YPRED presale is currently offering tokens for $0.11 each.
Those who invest now will still see the price of tokens increase by 20% by the time it reaches exchanges, with an expected listing price of $0.12 and leading exchange BitMart having already confirmed a listing.
The yPredict team is doxxed and KYC-verified, with the token smart contract fully audited by Coinsuly. Of the 1 billion max supply, 80% have been made available during the presale, with 50% of those unlocked at the token generation event and a hard cap of $6.5 million.
YPRED tokens, built on super-fast and efficient layer-2 Polygon, come with wide utility, with yPredict operating from a three-tiered freemium membership model.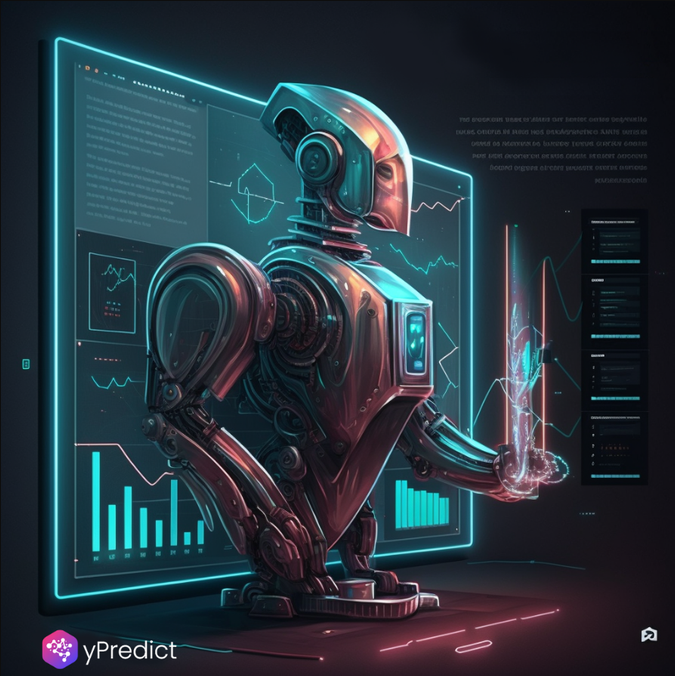 The tiers – free, active and pro – are paid for with YPRED tokens and each offer a different level of access to yPredict's features and insights.
The project is one of the best AI coins to purchase as it will use powerful artificial intelligence and machine learning to help traders gain an edge over the market. There will be pattern recognition of more than 100 chart patterns, sentiment analysis of the news cycle and social media, indicator analysis of hundreds of technical indicators and transaction analysis for assets to provide data-driven insights.
AI and machine learning developers are also able to sell predictive models on the yPredict marketplace and gain passive income from them, depending on the success rate of the model.
Read the yPredict whitepaper for more information on the AI tool, or join the Telegram group.
| | |
| --- | --- |
| Hard Cap | $6,500,000 |
| Total Tokens | 1 billion |
| Tokens available in presale | 800 million |
| Blockchain | Polygon |
| Token type | ERC-20 |
| Minimum Purchase | 200 YPRED |
| Purchase with | MATIC, USDT, ETH, BNB, Bank Card |
10. Cogwise – Advanced AI and Machine Learning Crypto
The next cryptocurrency on our list is $COGW – the native token of Cogwise. This platform aims to be an open-source community to encourage AI developers and experts to share their analysis on crypto and blockchain-based topics.
Cogwise will leverage artificial intelligence tools, such as Natural language processing (NLP), to interact and communicate with users. The goal is to provide fast and accurate information on smart contract generation, trading insights, and dApps creation.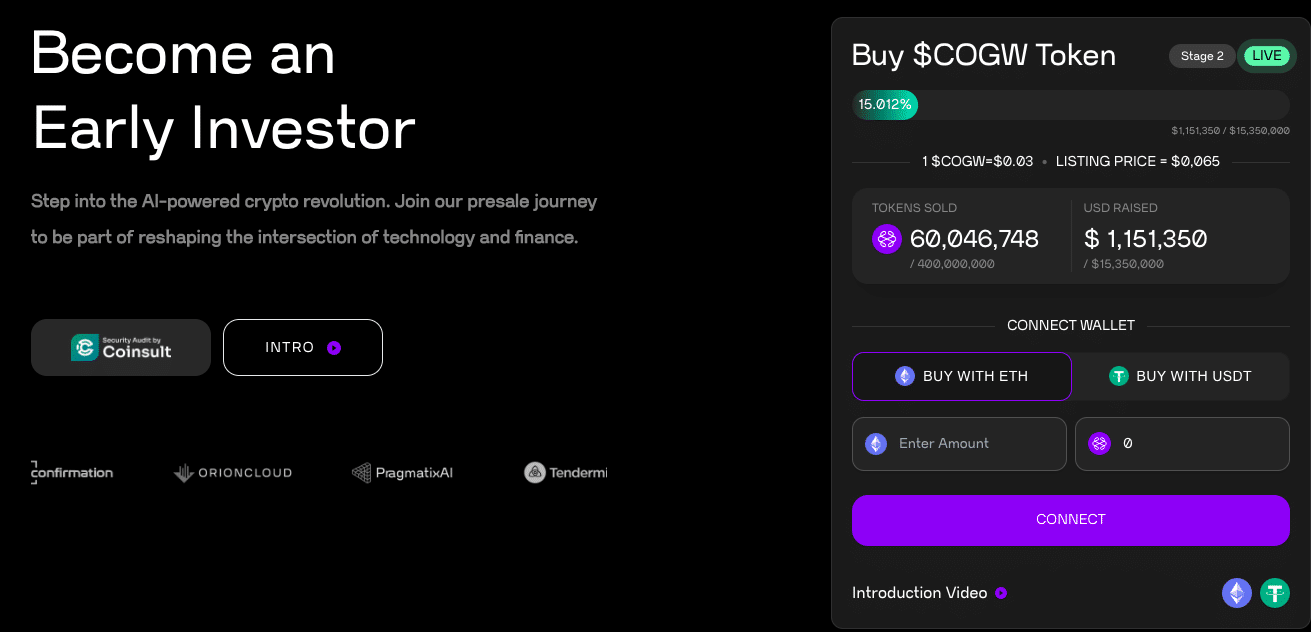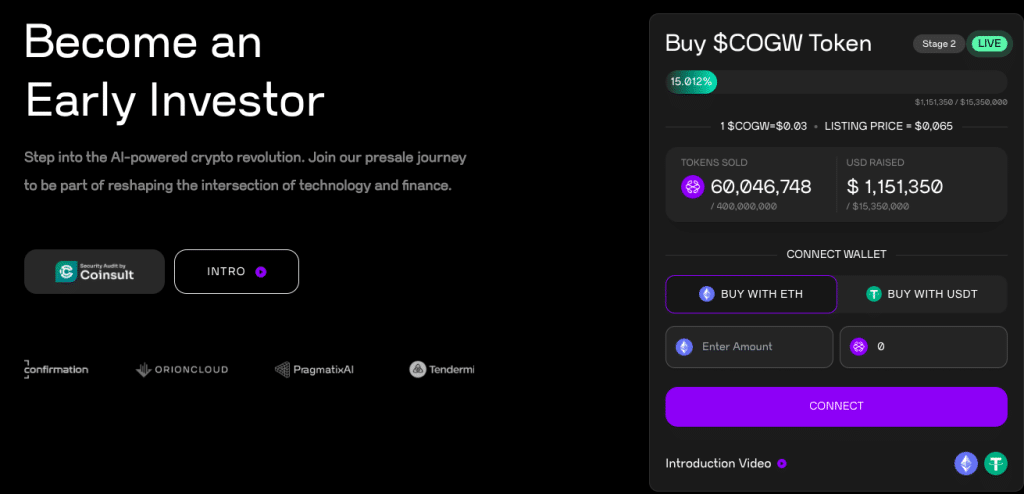 At the center of the ecosystem is the CogwsieAI Core – a conversational AI-powered assistant that supports users on the platform. One can access features such as real-time trading to improve their technical analysis and get better insights into chart patterns.
Cogwise also supports wallet tracking by leveraging a complex trading algorithm that analyzes market data and identifies large crypto wallet transactions. All these features are accessible through the premium AI models, which can be accessed with $COGW. By staking 10,000 $COGW, one can get access to the premium AI models.
To generate passive income, you can lock your tokens into liquidity pools. This helps provide $COGW liquidity on other decentralized exchanges. For each swap, the token holders are given a share of free tokens. Cogwise also implements a burning mechanism to reduce the token supply over time.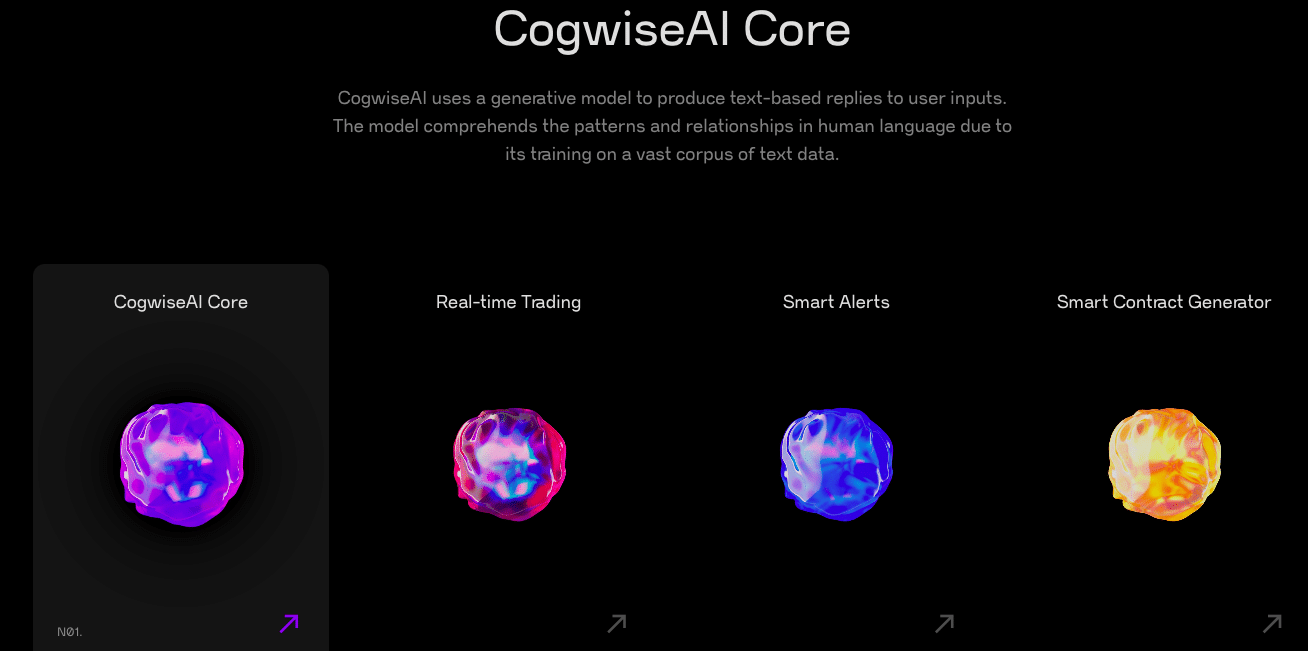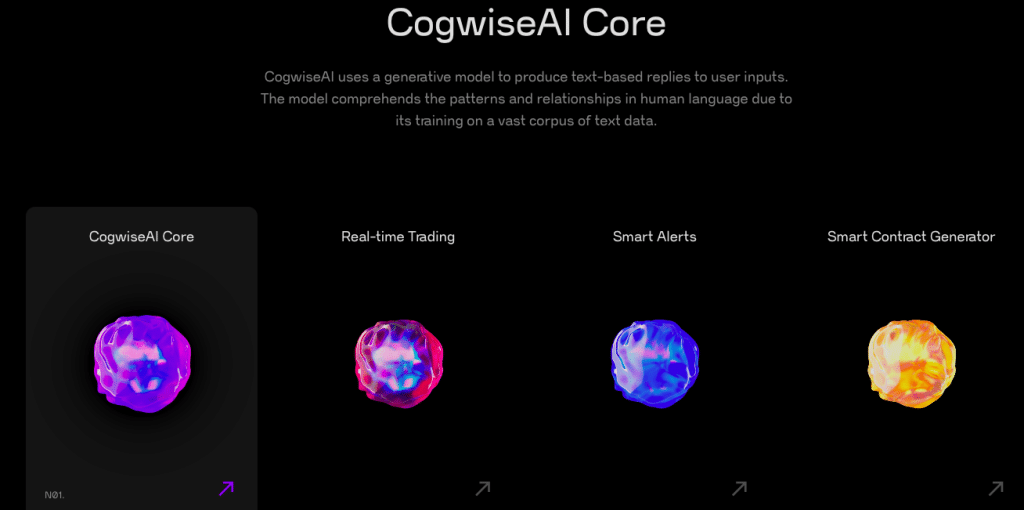 35% of all profits and revenues generated through the token will be burned. The rest will be used to grow the ecosystem. Currently on presale, $COGW is priced at $0.03 per token. However, the price will increase to $0.065 by the time it lists on exchanges.
Therefore, interested investors could join the token presale before the price potentially explodes. Cogwise has raised more than $1.35 million since the presale launched. Read the Cogwise whitepaper and join the Telegram channel to learn more about this cryptocurrency.
| | |
| --- | --- |
| Hard Cap | $15,350,000 |
| Total Tokens | 1 Billion |
| Tokens available in presale | 400 Million |
| Blockchain | Ethereum Network |
| Token type | ERC-20 |
| Minimum Purchase | None |
| Purchase with | USDT, ETH |
11. LandRocker (LRT) – Upcoming Presale of a Play-to-Earn Space Exploration Game
The next project on our list is LandRocker ($LRT) – a new play-to-earn cryptocurrency which will soon launch its three-stage presale campaign. The $LRT token is at the center of a space exploration-based P2E environment – fueling mining expeditions, NFT gameplay, and staking opportunities.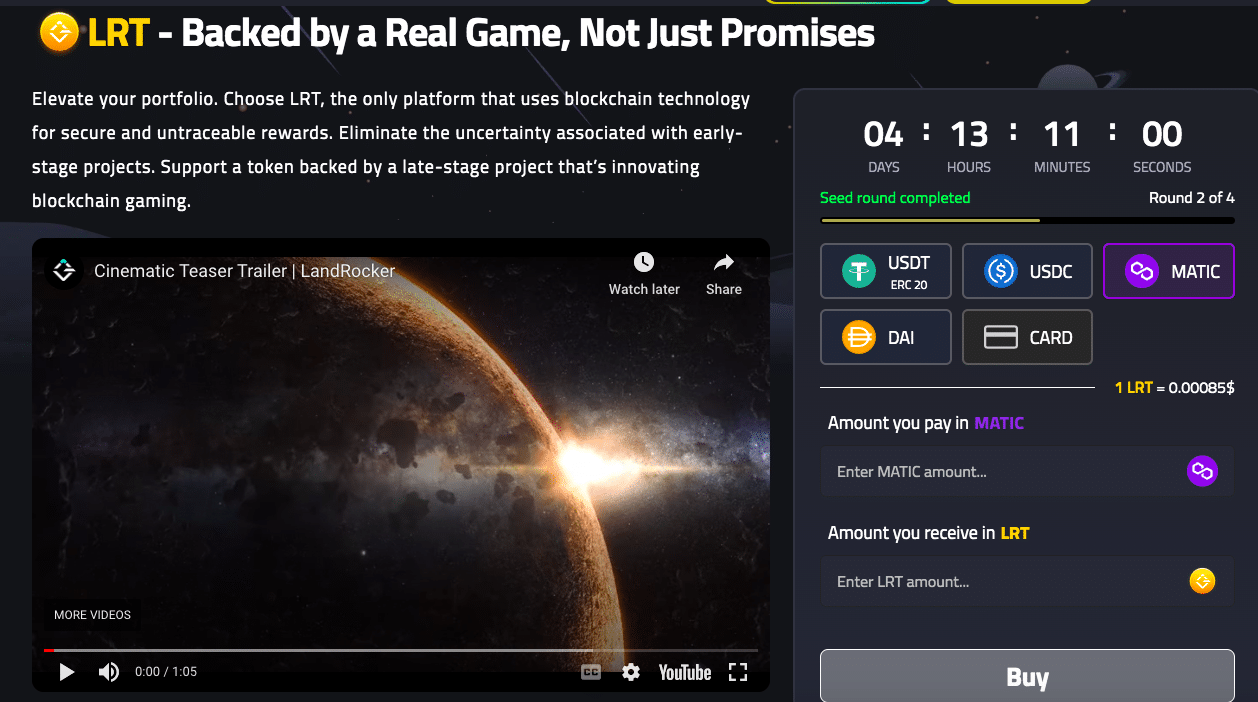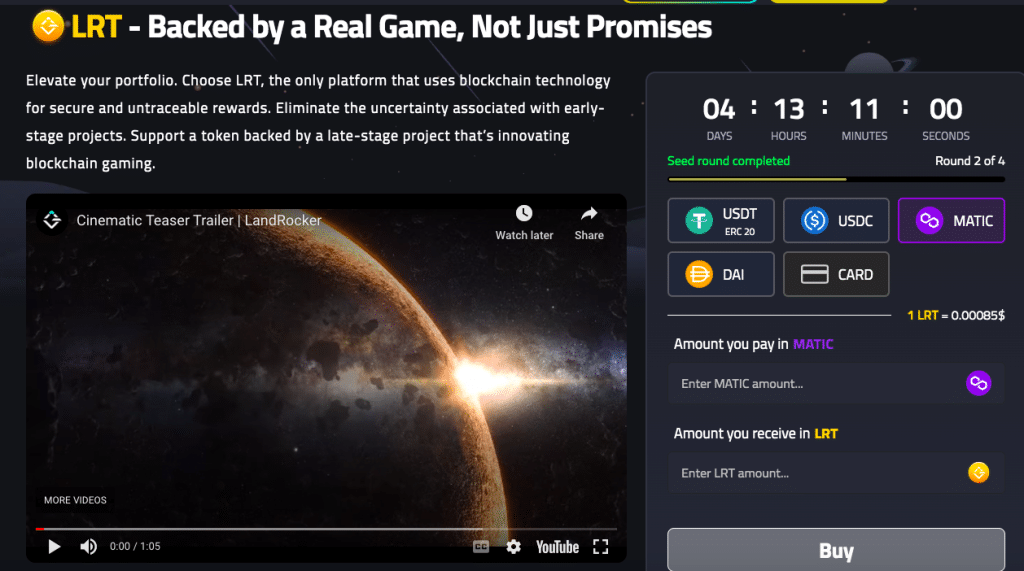 The token can be used to purchase items on an NFT marketplace – such as fuel, planets, rovers, and materials. Each of these NFTs allow you to access the various ecosystems within LandRocker. For instance, you can start mining planets with your upgraded NFT rovers and fuel – and generate crypto as a reward.
Precious materials can be traded on the NFT marketplace to generate high rewards, while your planets can be staked to earn fuel and passive income. LandRocker will support 3D gameplay options, where you can leverage NFTs within the game.
For instance, Finders Keepers allows players to embark on a hunt to find $LRT tokens. Other games such as Treasure Hunt allows players to find Bitcoin and other precious crypto assets. LandRocker will also support a 2D gameplay option. Notably, LandRocker recently completed its 2D gameplay's beta testing – which was tried by more than 65,000 people.
LandRocker also guarantees secure and untraceable rewards through its pioneering blockchain validation system distinction. This promotes fairness and transparency, making LandRocker a popular choice among P2E enthusiasts.


After raising $1.75 million through the seed round, LandRocker will launch $LRT on presale. From a 10 billion token supply, 1.2 billion tokens will be allocated across three rounds. The price will rise from $0.00085 to $0.0009 across the rounds.
Stay updated with this cryptocurrency by reading the LandRocker whitepaper and joining the Telegram channel.
12. Doge Uprising (DUP) – New Meme Crypto Offering Staking Rewards and NFTs
The next cryptocurrency presale on our list is $DUP – the native token of Doge Uprising. This is a meme cryptocurrency platform that will offer staking and NFT benefits to $DUP token holders.
At the core of the Doge Uprising ecosystem is its own manga series. The manga builds the core of this meme platform's narrative – based on a future where Doge Mechas are looking to challenge the reign of the lizard king.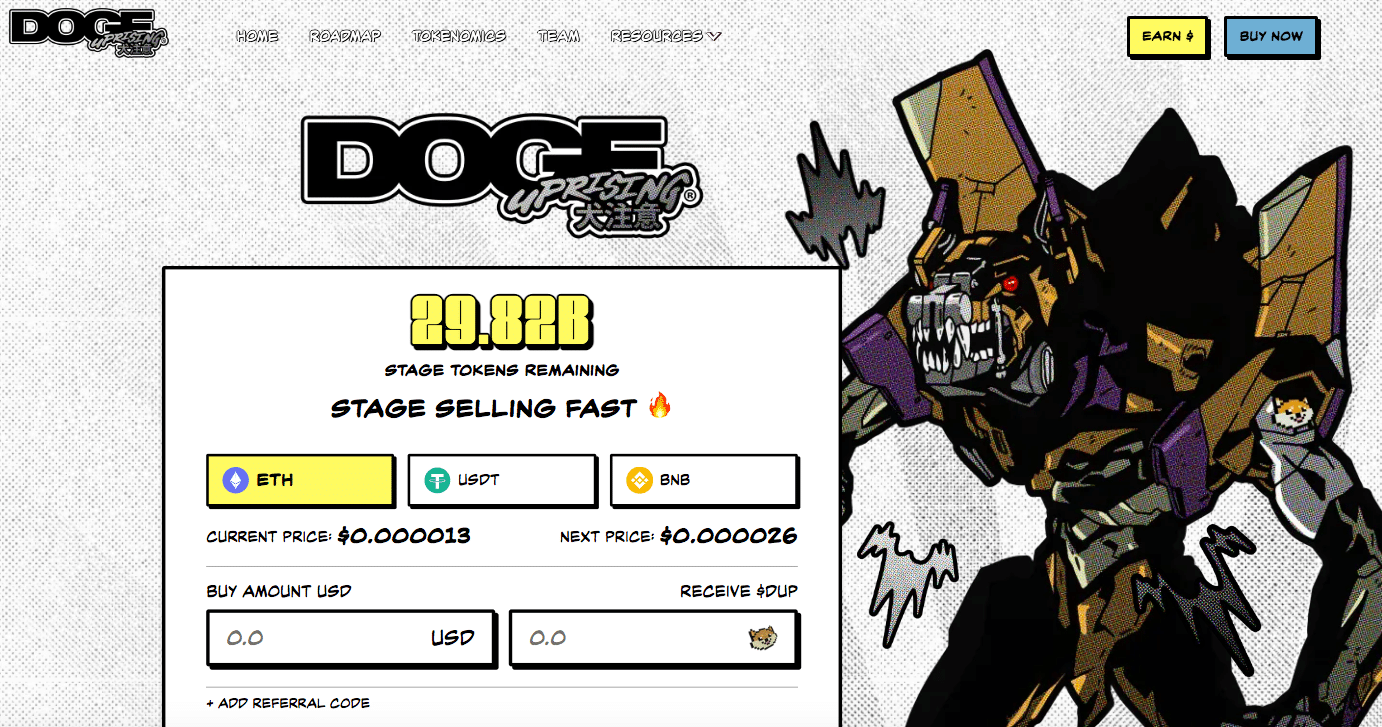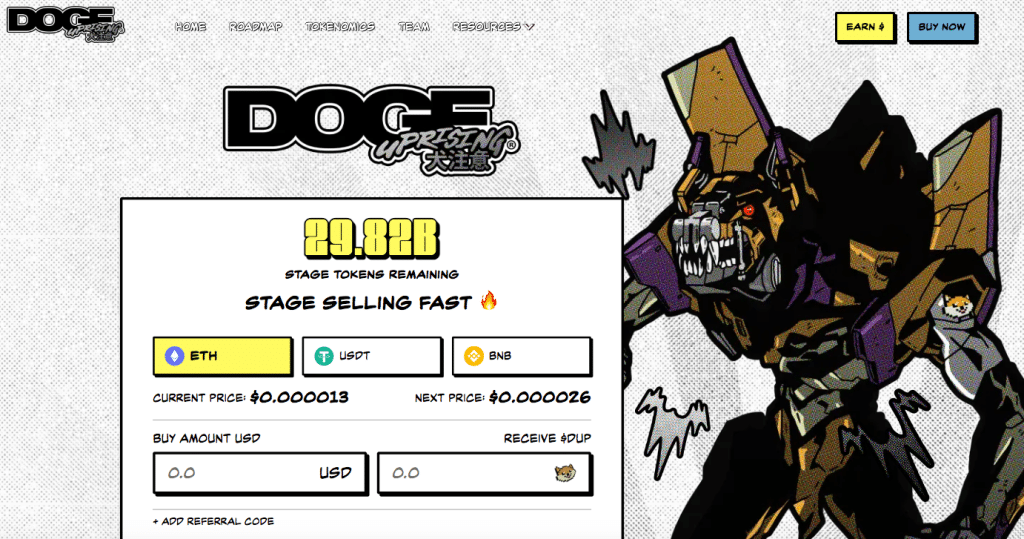 As per the platform roadmap, $DUP will be used to purchase Doge Mecha NFTs. The token will also offer staking benefits on an upcoming staking mechanism. $DUP has a total supply of 450 million, 60% (270 million) of which has been allocated for the ongoing presale.
At press time, $DUP is priced at only $0.000013 per token. However, the price will double to $0.000026 by the next presale stage. Doge Uprising will reward loyal token holders by allocating 10% of the total supply via airdrops. 10% will be split for marketing and development purposes, while 20% will be set aside for upcoming exchange listings.
The Doge Uprising smart contract has been successfully audited by SolidProof, and has displayed excellent results, while the presale has now raised over $30,000.
Interested investors can buy $DUP tokens with other popular crypto assets such as Ethereum (ETH), Tether (USDT), or BNB (BNB). For more information on this meme cryptocurrency, go through the Doge Uprising whitepaper and join the Telegram channel.
| | |
| --- | --- |
| Token symbol | DUP |
| Presale supply | 270,000,000 DUP |
| Token type | ERC-20 |
| Payment methods | ETH, USDT, BNB |
| Listing price | N/A |
13. Scary Pepe – Pepe-Themed Meme Coin has Allocated 99% of its Supply on Presale
The next cryptocurrency presale on our list is Scary Pepe ($SCARYPP). This new meme cryptocurrency is a spin-off of the popular Pepe Coin, which has soared since its launch in early 2023.
While Scary Pepe does not offer many use cases, it boasts a low token supply of just 1 billion. This is lower than most popular meme coins, such as Dogecoin and Shiba Inu. Furthermore, Scary Pepe has allocated 99% of its token supply through the ongoing presale. Thus, the project aims to give investors ample opportunity to buy $SCARYPP before the exchange listing takes place.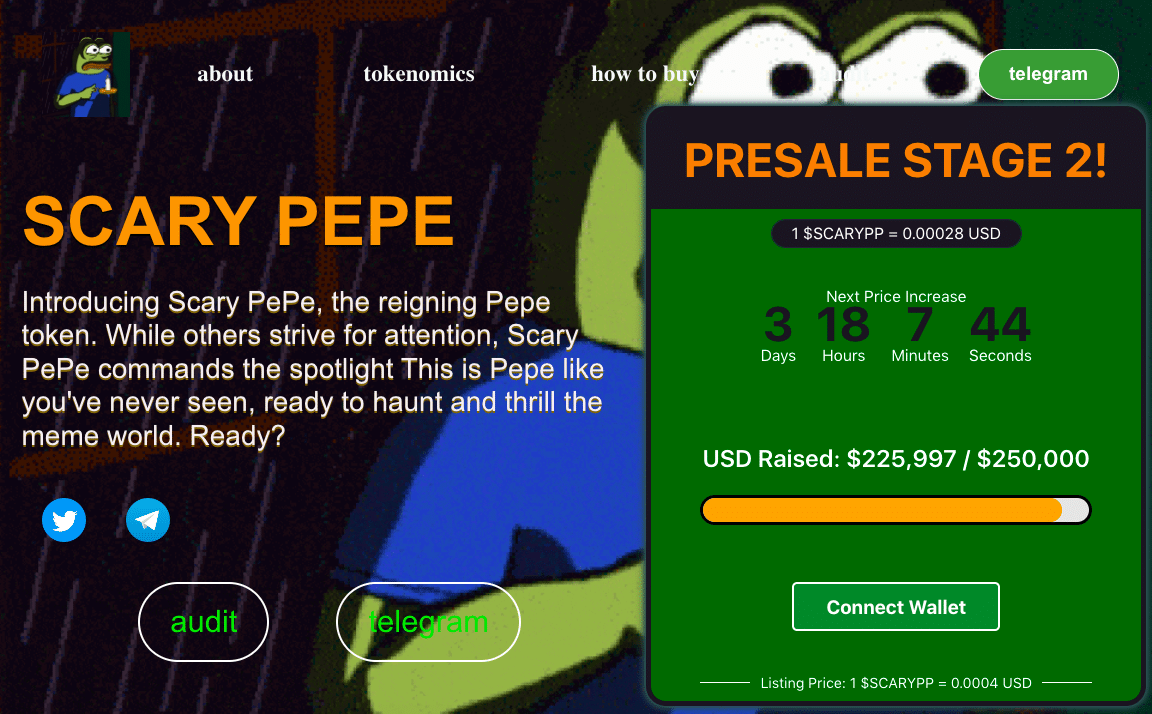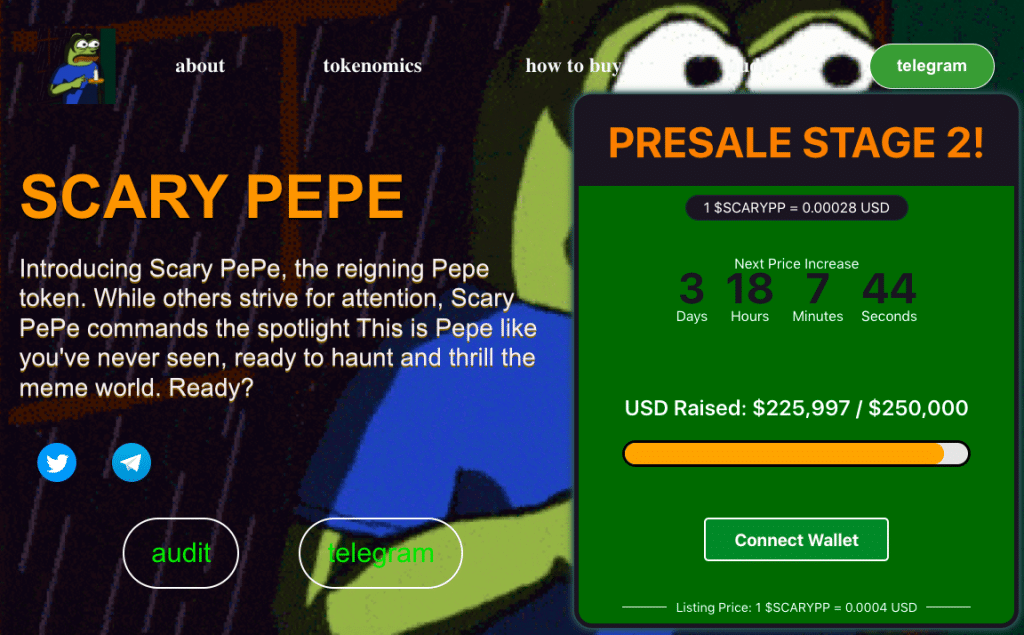 The remaining 1% of the token supply has been locked up in a multi-signature vault and will be used for future centralized and decentralized cryptocurrency exchange listings. Notably, Scary Pepe does not charge any buy or sell tax, allowing token holders to keep the entire amount while trading.
Currently, $SCARYPP is priced at only $0.00028 per token during the ongoing presale round. By the exchange listing, the price will increase to $0.0004 per token. Since the presale launched, Scary Pepe has raised more than $225k. The project looks to raise $250k by the end of the presale round. Join the Scary Pepe Telegram channel to stay updated with this new cryptocurrency presale.
14. ADA20 – New DeFi Crypto Presale Inspired by the $ADA Token, Get High Staking Rewards
ADA20 is a new presale that is inspired by the ADA cryptocurrency. While this project is not affiliated with Cardano (ADA), it offers similar tokenomics.
Just like ADA, $ADA20 has a maximum supply of 45 billion. However, ADA20 is an ERC-20 token built on the Ethereum blockchain. Thus, it will be able to give token holders access to several DeFi (Decentralized Finance) applications.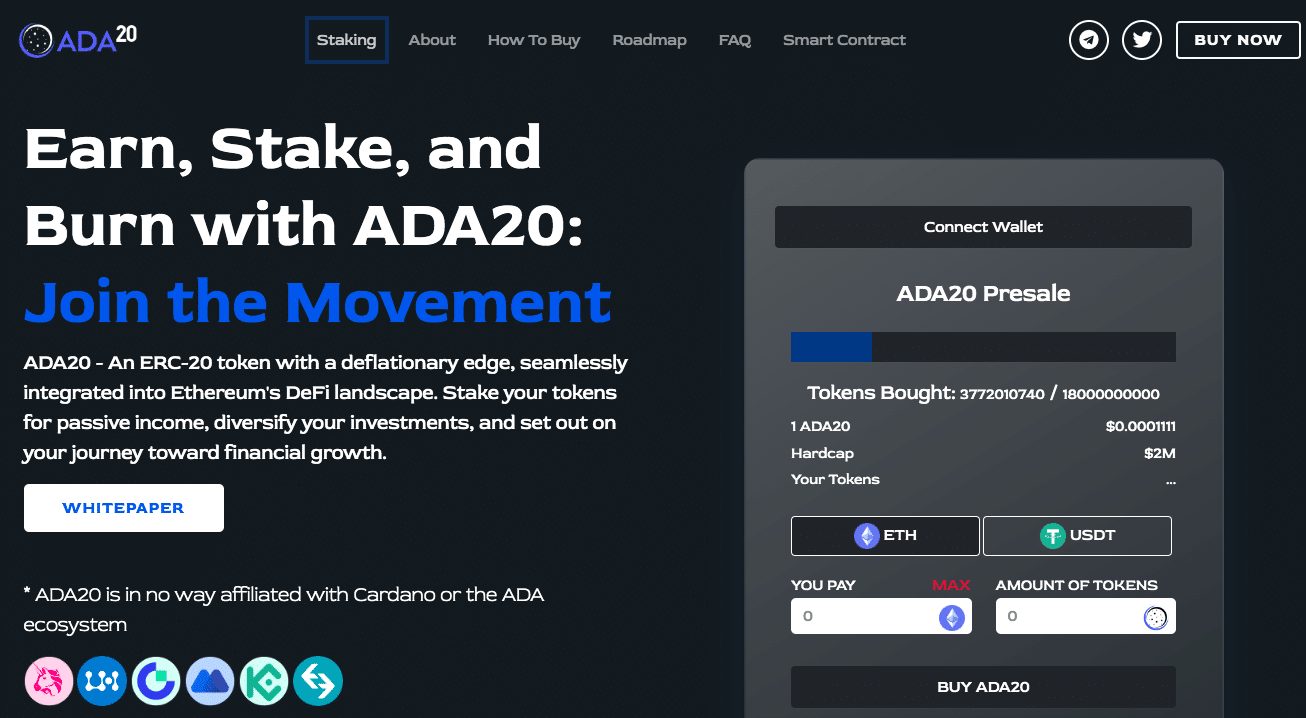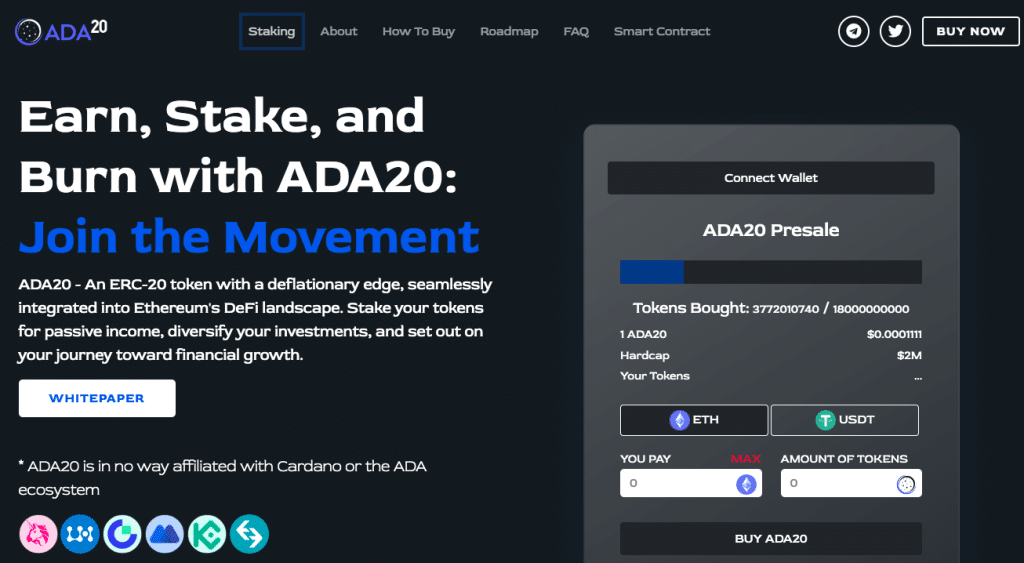 ADA20 allows investors to purchase this unique cryptocurrency for just $0.0001111 per token. From the 45 billion token supply, 18 billion tokens have been allocated for the presale. Another 18 billion tokens will be rewarded to token holders through a staking mechanism – which will offer passive income.
A deflationary cryptocurrency, ADA20 will burn 0.1% of all buy and sell transactions. The aim is to burn 10% of the overall supply in the long term. The reduced supply can help make $ADA20 a more valuable investment. ADA20 wants to raise a $2 million hard cap from the presale. Read the ADA20 whitepaper to learn more about this cryptocurrency.
15. Merix Coin – Exciting New Decentralized Referral Marketing Presale
Next up on the list of upcoming crypto presales is Merix Coin. This is a decentralized referral marketing platform built on the Polygon blockchain. The ecosystem includes a reward structure, and quick staking liquidity, among other things.
Investors who like the sound of this new crypto presale can buy 1,000 of the native token MERIX for just $1 as of writing. The presale is in phase one so investors have plenty of time left to join the community, that is unless it sells out ahead of time.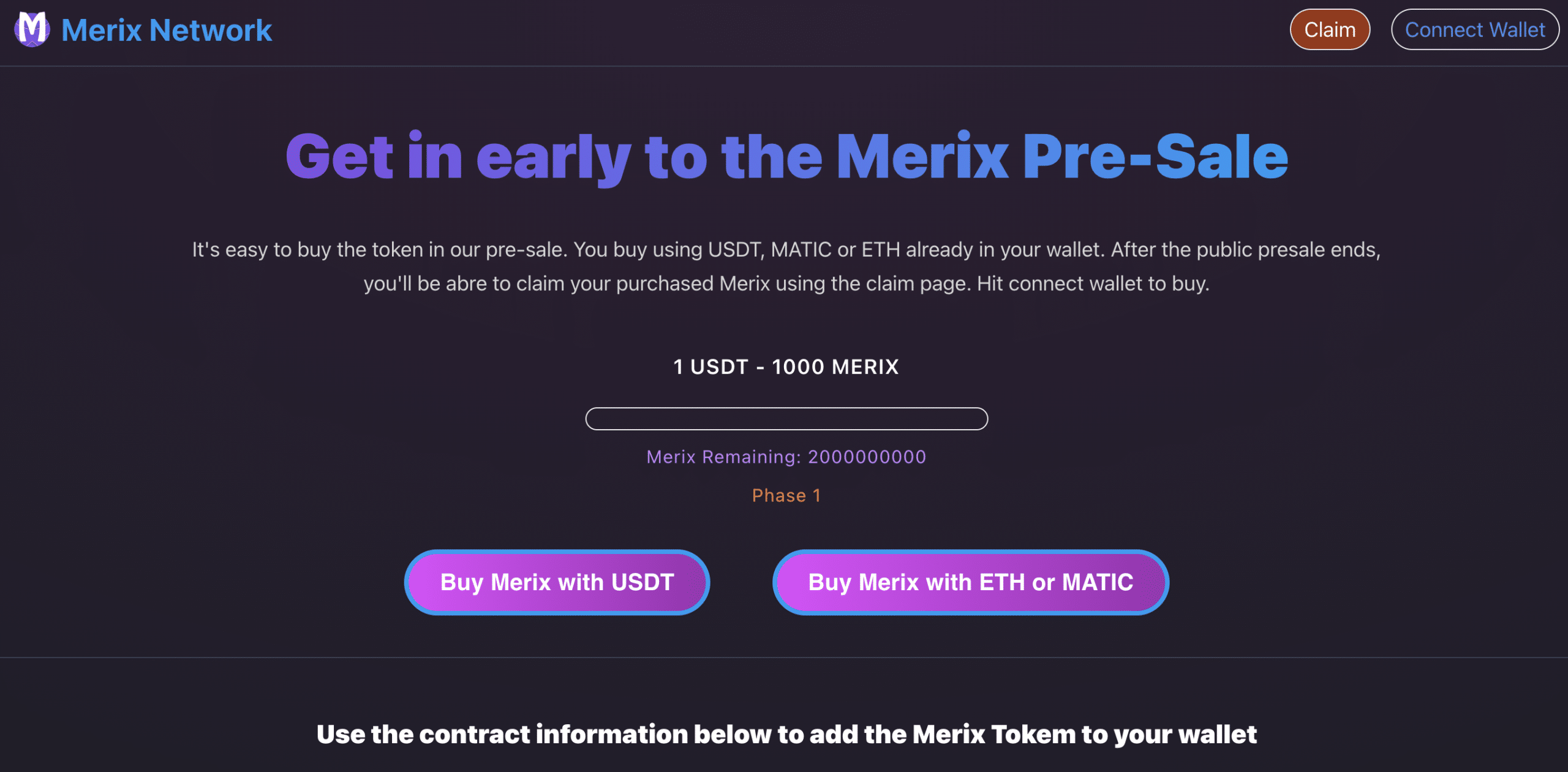 Early investors can check out the whitepaper for more information on the project. It's possible to buy MERIX with ETH, MATIC, or USDT on the Merix Coin platform. However, like most cryptocurrency presales, investors will need to return to claim the tokens once listed.
What are Crypto Presales?
Crypto presales allow investors to purchase tokens of new blockchain initiatives before they list on exchanges, typically at a discounted price to build hype and interest.
Many of the most profitable cryptos started life with a presale or initial coin offering (ICO) – the terms are interchangeable and generally refer to the moment when tokens are available to be purchased by the general public for the first time.
A crypto presale is a campaign that a project can run prior to its native token being listed on an exchange – projects are also able to launch straight-to-DEX (decentralized exchange) if they wish. Presales of cryptocurrency tokens are often restricted to a smaller pool of investors, because of the heightened risk.
They are often offered at discounted prices not only to help the projects raise capital but also to build hype – projects will often have staged price increases to entice investors to buy as early as possible.
Some of the best altcoins to invest in right now are available to buy via presale offering investors a unique opportunity to get in at the ground level before the market price goes to the moon.
Private Sale or Presale or ICO?
There is a distinct difference between private sales and presales (which can also be interchangeably referred to as a crypto ICO).
A private sale is NOT open to the general public and is when a project attempts to raise capital from high-net-worth individuals or Venture Capital firms, usually for a large stake in the project.
A presale or ICO is the first time a project makes tokens available for retail investors and the general public – at this stage, tokens can only be bought at a set price, not sold, as they are yet to launch on exchanges.
Once they hit exchanges the price will fluctuate based on various market factors.
How Do Cryptocurrency Presales Work?
As we said, crypto projects usually run presales to attract investment and build hype by offering tokens at a discounted price.
They generally follow the same template and timeline before launching on exchanges a couple of months later, depending on how successful they have been at selling out their presale allocation:
New projects can choose to launch a presale and offer a set amount of their token supply to presale investors.
They are usually conducted on a project's native website.
Presales often have various stages, which offer different prices, a different amount of tokens for sale and different price targets.
Presales are open to all but tokens can only be bought and not yet sold.
Buyers usually have to wait to the end of the presale, when all tokens have been sold, to claim their tokens.
The project will reveal when and how to claim presale tokens and which exchange they will list on.
This stage is called an IEO (initial exchange offering) and often sees huge price action in the opening hours and days.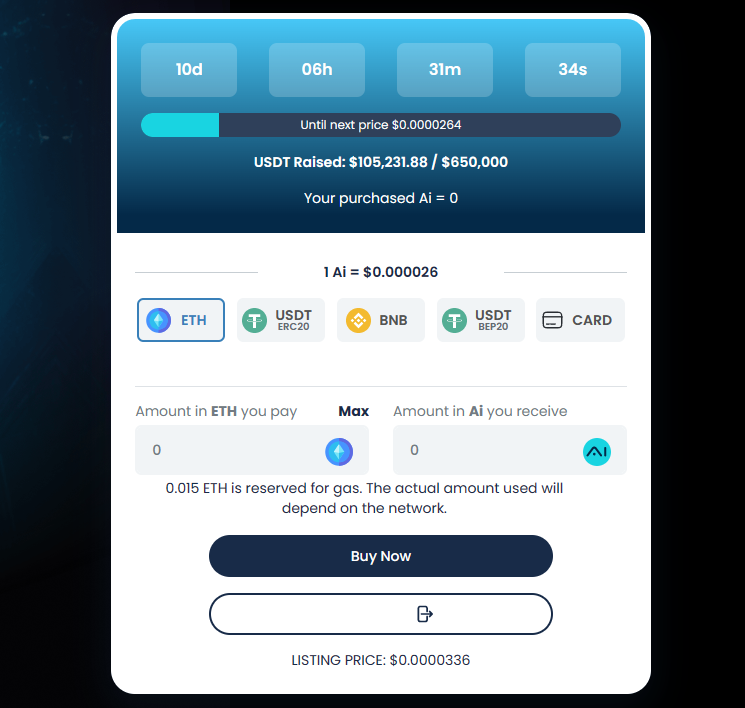 Projects will often run other promotions alongside their presale, such as airdrops, which allows investors to take part in a competition for more tokens.
That usually involves holding a certain amount of tokens by a certain date and completing tasks on social media, such as following pages, retweeting posts and tagging friends.
For more details about the next CEX listings, you can read our article on the best upcoming Binance listings.
Crypto Presales Glossary
As with the whole of the crypto and Web3 there are numerous key terms specific to presales that investors should be aware of before spending on tokens, as they can affect the price and even the ability to sell.
Stage/Phase: As mentioned above, projects will run a presale over a series of stages/phases with planned price increases and different quantities of tokens available in each one. The earlier stages are the cheapest.
Presale allocation: The number of tokens a project has made available during the presale for buyers. Tokens from the supply will have been allocated to various things (including for liquidity on exchanges or the team, for example). It is vital an investor thoroughly checks the tokenomics and allocation of a presale as it will have a huge impact on price.
Vesting period: The amount of time tokens will be locked for after they are launched on exchanges. Typically, choosing tokens with no vesting period is advantageous as it means an investor is free to sell from day one.
Soft/Hard cap: The amount of money a project is attempting to raise during the presale. The soft cap is considered a minimum amount and the hard cap the sell-out or maximum amount. This can be revised or changed if a presale is performing better/worse than expected.
Utility: The use case of a project, or the solution it is offering. This will also have a big impact on the long-term future of a project
What is the Best Wallet for Buying Crypto Presales?

When investing in crypto presales, investors clearly require a safe solution for storing their coins/tokens post-purchase. Fortunately, Best Wallet is a favored solution that is designed to meet the needs of presale investors, along with crypto traders as a whole.
Best Wallet is a mobile app that allows users to store an array of digital assets, including presale tokens and NFTs, securely. The app employs various security measures, such as advanced cryptography and multi-factor authentication, to ensure no "bad actors" can access user holdings.
Not only that, but Best Wallet offers compatibility with multiple blockchain networks, including Ethereum and Binance Smart Chain. This means users can access hundreds of DeFi protocols and maximize their earning potential.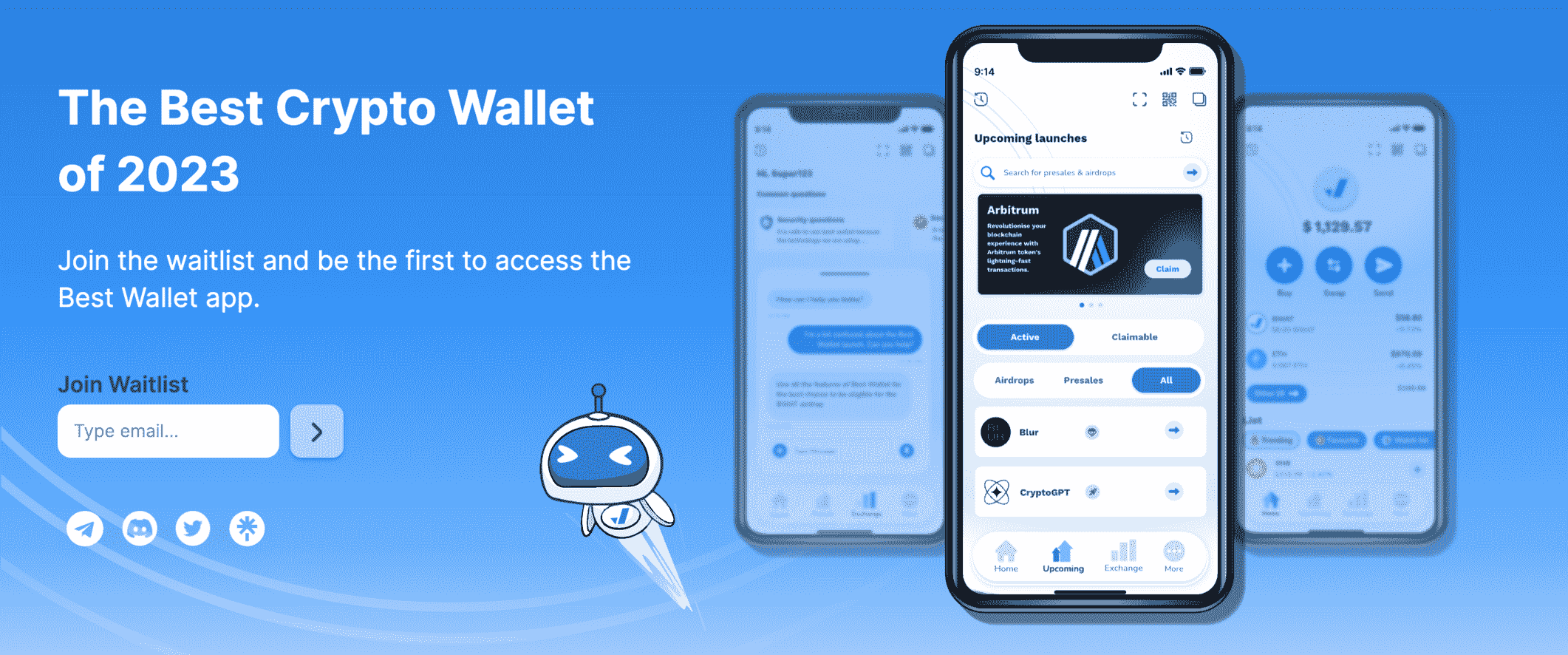 However, what differentiates Best Wallet is its AI-enabled chatbot, which is available to all users. This intuitive feature provides clear responses to crypto-related queries and can offer comprehensive insights into each user's digital asset portfolio.
Best Wallet even allows users to invest in crypto presales directly – removing the need to purchase coins/tokens from the project's website. When combined with the attributes noted above, this app serves as the ideal solution for those venturing into the presale market and looking to store their assets securely.
How to Find Good Crypto Presales with Potential
Presale coins are a popular option for investing in emerging cryptocurrencies with 10x potential, but you need to make sure you find high-potential projects that avoid typical red flags.
There are various ways in which investors can find presales themselves moving forward. For instance:
Presale Databases: There are numerous sites that list upcoming crypto presales, such as CoinSniper, ICO Drops, Binance and PinkSale. These databases usually include a link to the project in question, a brief summary and basic price and time information. Note that some websites can give away paid positions and should only be considered step one of your research, even if they offer scores.
Social Media Platforms: Sites such as Reddit and Twitter can help investors to identify the best cryptocurrencies on Reddit and the newest presales that are likely to blow up. Look for trending cryptocurrencies and check subreddits such as r/CryptoCurrency. YouTube also has hundreds of crypto analysts that will talk about new coins. Market sentiment plays a large part on whether a project will be successful so selecting popular projects is a good thing.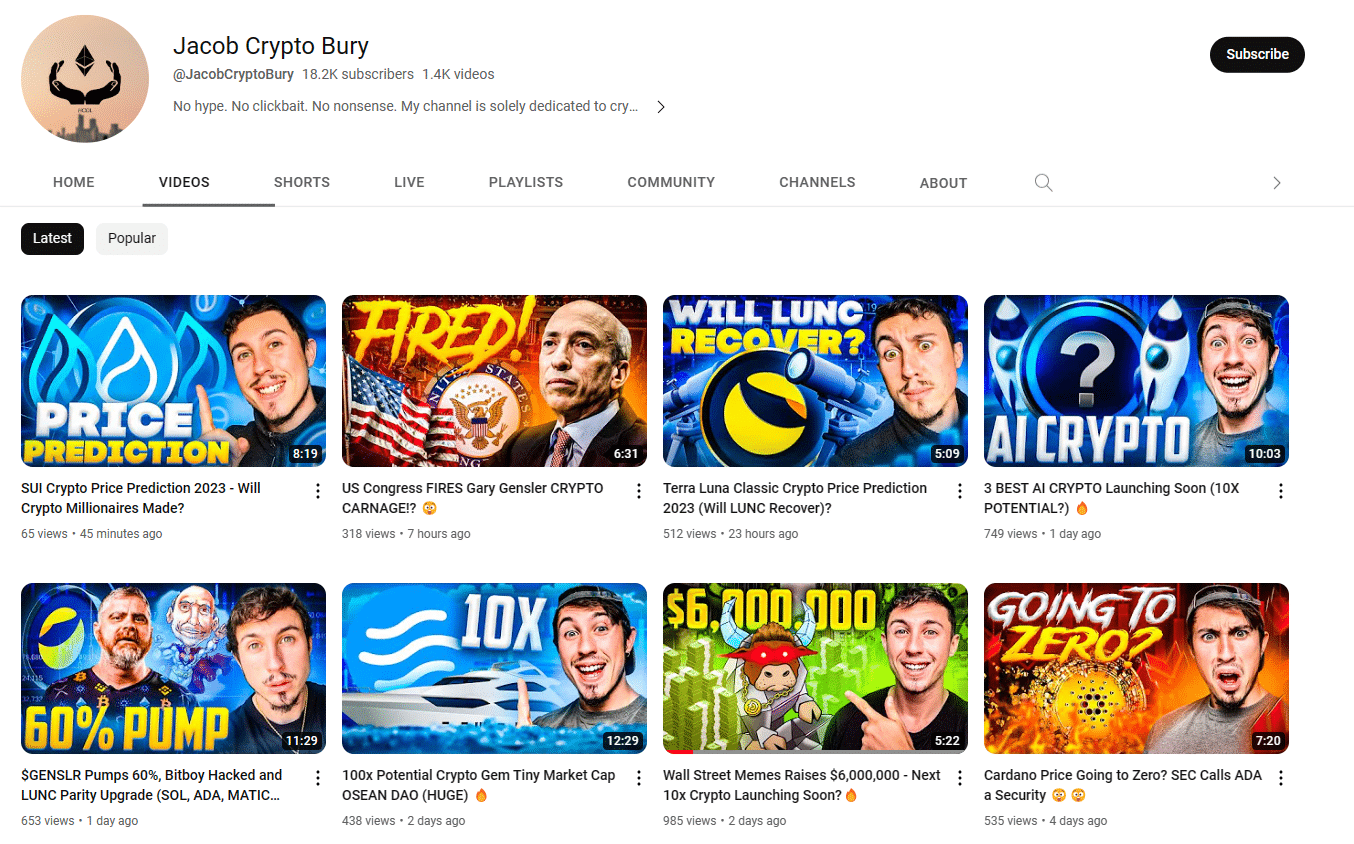 When searching for crypto presales, joining Discord groups and YouTube channels can also be beneficial in a number of ways. These platforms provide access to a community of like-minded individuals who are interested in investing in the best long-term cryptocurrencies. By joining these groups, you can get valuable insights, tips, and recommendations from experienced traders and crypto enthusiasts. You can also stay up to date with the latest news and developments in the crypto industry.
Discord groups and YouTube channels can also be a great resource for finding promising presale opportunities, as these platforms often have dedicated channels or sections for presale announcements and discussions. By participating in these conversations, you can learn about upcoming presales, evaluate their potential, and decide whether to invest.
Moreover, joining these communities can help you avoid scams and fraudulent projects by receiving feedback and warnings from other members. In short, joining Discord groups and YouTube channels can help you stay informed, connect with others, and make more informed investment decisions in the world of crypto presales.
With that said Jacob Crypto Bury's discord channel harbors one of the best online communities of crypto-hungry investors as well as an experienced group of crypto investors with their ears to the ground for new projects.
Jacob Crypto Bury's YouTube channel covers all the latest trending presales and meme coins from Meme Kombat and Chimpzee to Launchpad XYZ and yPredict. With over 12.2k subscribers, Jacob's channel is definitely one to watch if you're on the hunt for the next 100x crypto in 2024.
It's also worth mentioning that many crypto enthusiasts use the best Telegram crypto signals providers to find unique trading opportunities during market volatility.
This guide has analyzed the best upcoming crypto presale crypto projects at length to save investors some research.
But nonetheless, investors should always do their own research and consider these lists, presale sites, social media and any other means of finding a new project as the first stage of their research process.
How to Conduct Crypto Research
There are a few immediate steps that every crypto investor should look into when conducting research on new projects.
Read the Whitepaper: A crypto whitepaper is an overarching document that is supposed to outline everything about a given project. Good whitepapers will be full of information on what the token does and why, as well as offering information on the developing team, smart contract and more. A poorly written or nonsensical whitepaper is an immediate red flag.
Check the Roadmap and Tokenomics: A roadmap is a timeline for the future development of the project and should outline exactly how a new project will move forward and when it aims to achieve its goals. The tokenomics relates to a token's supply and how it will be allocated and distributed – which will have a huge affect on price.
Check Social Media Sentiment: Crypto success can be hugely driven by social media sentiment, popularity and hype, especially with new projects. A project may have huge potential and a groundbreaking concept, but if the community is not interested it may take years for investors to realize gains, if they ever come at all.
Why Invest in Presale Crypto?
Below, we talk about the reasons why some investors are constantly on the hunt for the best crypto presales in 2023.
Backing a Project on Its Way up
Crypto presales can potentially offer significant returns as they offer low entry prices and popular tokens often see a surge when they are listed on exchanges.
However, presale tokens can also be a risky investment, so it's important to find legit projects with high potential and genuine utility from verified teams.
Finding the best presale crypto to buy allows investors to become part of a growing community early on – this can be especially exciting when it's an innovative project with interesting ideas and a clear roadmap.
Many crypto presale projects offer unique or novel solutions to real-world issues by utilizing blockchain technology, offering a wide range of possibilities for Web3 users.
Are Crypto Presales Legal?
The legality of crypto presales can be a confusing subject. In general, crypto presales are not illegal, but they can be subject to various regulations depending on the jurisdiction in which they take place. The legality of a presale often depends on whether it meets certain criteria, such as whether the tokens being sold are considered securities, and whether the presale is open to accredited investors only.
One of the main reasons why there is some confusion around the legality of crypto presales is the lack of regulatory clarity in the crypto industry. Many countries have yet to fully define their regulatory stance on cryptocurrency and blockchain technology, leading to a patchwork of different rules and regulations. Additionally, the rapid pace of technological innovation in the crypto industry often outpaces the ability of regulators to keep up.

The US Securities and Exchanges Commission has just hit leading crypto exchanges Binance and Coinbase with lawsuits alleging they breached securities regulations and have named more than 10 popular cryptos as being securities.
The regulatory battle is expected to be a long and costly battle that will have a massive effect on the future of the space.
However, despite the uncertainty, many legitimate crypto projects have successfully conducted presales without any legal issues. It's important for both investors and projects to consult with legal experts to ensure that they are complying with all relevant laws and regulations. Ultimately, while the legality of crypto presales may be up in the air, with the right precautions and careful planning, they can be conducted lawfully.
Are Crypto Presales Safe?
We've analyzed a string of promising presale projects in this guide – sadly, not all presales are quite what they seem. When we research the best crypto presale to invest in, each project is properly vetted, with many different factors taken into consideration.
However, investors should still carry out their own independent and in-depth research, as outlined above.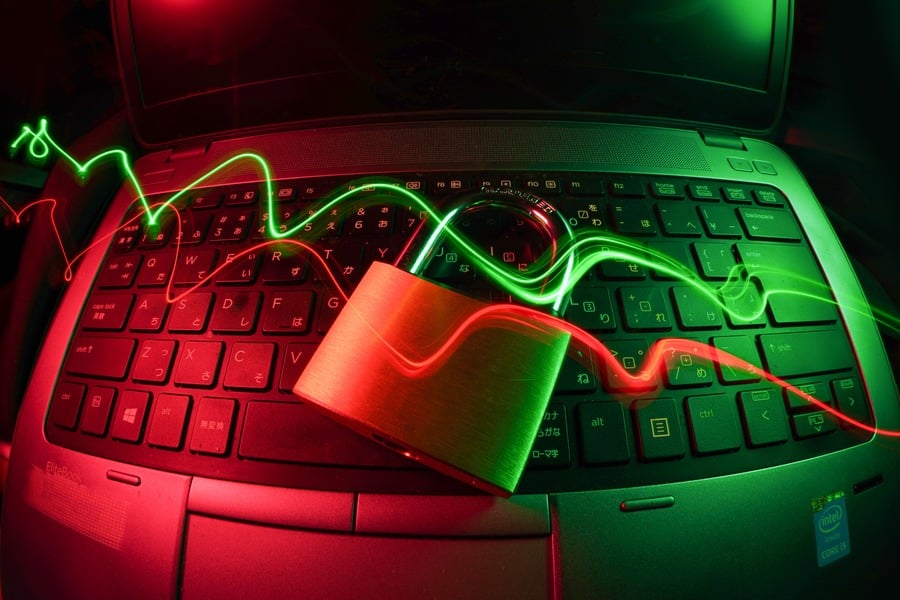 When investing in cryptocurrency, it's essential to do your due diligence to minimize the risk of fraud and scams. One way to ensure the legitimacy of a crypto project is to look for verified projects with doxxed and public teams. "Doxxing" refers to the practice of publicly disclosing personal information about individuals, including the names and backgrounds of the team members behind a project. By verifying the identities of the team members and their qualifications, investors can gain more confidence in the project's potential success.
One notable exception to this is meme coin projects, which usually have anonymous owners – such as Dogecoin and Shiba Inu. Therefore investors must take extra care when researching those projects, as many can turn out to be cash grabs or scams. Other things to look out for in meme coins – as with all projects – is a fully audited smart contract by reputable third-party blockchain security firms, robust tokenomics and a clear roadmap for future success.
Additionally, users can check online forums and social media platforms to see if there are any red flags or negative feedback about the project or its team.
Finally, you can directly reach out to the project's team members to ask questions and clarify any doubts or concerns you may have. By taking these steps, you can increase your chances of finding a legitimate and trustworthy crypto project to invest in.
Risk Tolerance
Investing in crypto is much more risky and speculative than other assets, with an extremely volatile market and a large margin for error. Crypto presale investment is at the even riskier end of the spectrum – although the rewards can be spectacular with the right project.
It is important for individual investors to understand their own risk tolerance and only spend money they can afford to lose. Good projects fail regularly, while others take many years to become profitable.
How to Invest in a Crypto Presale
Below is a step-by-step walkthrough of how to invest in the best presale cryptocurrency, Bitcoin ETF Token.
Step 1 – Download a Crypto Wallet
Investors will need a crypto wallet to store their $BTCETF tokens once listed on exchanges.
One can download a crypto wallet such as MetaMask for desktop users and Trust Wallet for those using a cell phone.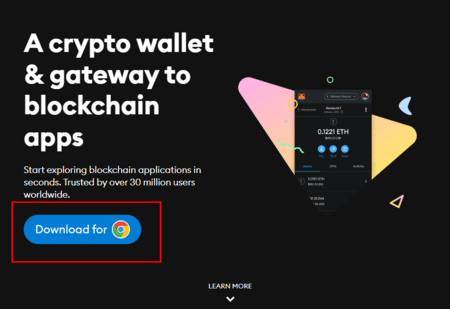 Step 2 – Add Crypto to the Wallet
The next step is to ensure there are funds in the wallet to purchase $BTCETF tokens.
Investors can buy tokens using Ethereum (ETH), Tether (USDT), BNB or MATIC. Those tokens can be bought via an exchange or broker and transferred to the wallet or, usually, directly on the wallet itself. However, buying the $BTCETF token presale with BNB and MATIC isn't recommended as you won't be eligible for the staking APY.
Buyers should also note that a small amount of a chosen token will need to remain in the wallet to cover network fees.
Step 3 – Connect Wallet to Bitcoin ETF Token Website
Once a wallet has been downloaded and has the required amount of tokens, head back over to the Bitcoin ETF Token platform and click 'Connect Wallet.'
Select the correct wallet to continue.
Step 4 – Purchase $BTCETF Tokens
Once connected, buyers will be presented with a dialogue box that allows them to select their method of payment and the amount of $BTCETF they wish to purchase.
Input the amount, leaving enough to cover network fees, and select 'Buy Now.' Another box will appear to confirm payment for the required network fees.
Again, confirm that transaction and complete the purchase. $BTCETF tokens will be stored on the website until the presale is finished.
Step 5 – Claim $BTCETF Tokens
Typically, investors have to wait for a token presale to end to claim their tokens.
Return to the Bitcoin ETF Token platform at the end of the presale and click 'Claim' to add them to the crypto wallet downloaded earlier.
Investors are advised to keep an eye on the social media platforms of the project closer to the time for relevant announcements.
Conclusion
In summary, investing in the best crypto presales is inherently more risky than in established cryptos but can also lead to greater returns.
It is vital presale investors conduct thorough research before investing as well as have a clear grasp of their own tolerance for risk and understand that even good projects may not guarantee profits.
Our top pick for the best crypto presale to invest in is Bitcoin ETF Token, which is a speculative token revolving around the Bitcoin spot ETF approval by the SEC.
On top of that, you can stake $BTCETF tokens to earn lucrative APY of over 140% in the early stages, with the presale already having raced past $1.8 million raised.
References
FAQs
What is a crypto presale?
How do I find crypto coin presales?
Where can I find new crypto before release?
Is it good to buy presale tokens?
What is the best upcoming cryptocurrency?
What are the best crypto presales?