The crypto space is constantly evolving. As more projects enter the market, investors are looking for the opportunity to access cheaper tokens prior to them being listed.
With this in mind, today's guide will uncover the best crypto presale to invest in for 2023.
When evaluating new crypto presales, we look at a range of different metrics to ensure they are legitimate, in addition to dissecting the tokens' use cases, and potential future value.
The Best Crypto Presales to Invest in Now
Below, we've listed the projects we believe could blow up in 2023. 
Starting with the overall best crypto presale to invest in, this list can be found below.
Love Hate Inu (LHINU) – Best Vote-to-Earn Meme Coin on Presale with 10x Potential in 2023
Fight Out (FGHT) – Web3-Centric P2E Project on Presale – More Than $5.5 Million Raised Thus Far
C+Charge (CCHG) – New Green Crypto Presale With Carbon Credits Rewards
RobotEra (TARO) – Sandbox-Style Multiverse and P2E Game With Robots and Tokenized Land
LuxWorld (LUX) – SocialFi and Travel to Earn Crypto Project in Stage Five of Presale
Merix Coin (MERIX) – Exciting New Decentralized Referral Marketing Presale
Arealeum (ARE) – New Crypto Presale Harnessing Cycle-Engined-Technology
Epnoc (EPN) – Hybrid Crypto Exchange With Cross-Chain NFT Marketplace
Gummys (GMY) – Web3 Learn, Stream, Watch and Earn Platform in First Stage of Presale
An In-Depth Analysis of the Top New Cryptocurrency Presales 
The Crypto Vault presale was a good example of how much interest a project can garner before it's even listed. 
Although there are no guarantees of success, we found that the projects we've analyzed below are shaping up to be the best crypto presales in 2023.
1. Love Hate Inu (LHINU) – Best Vote-to-Earn Meme Coin on Presale with 10x Potential in 2023
Are you ready for the best meme coin that's not just fun, but also lets you earn valuable tokens? Meet Love Hate Inu ($LHINU), the ultimate Vote-to-Earn platform for the meme-loving community. With $LHINU, users are rewarded in crypto for staking and voting on meme polls.
But it's not just about memes, the platform provides a unique opportunity for the community to engage in and create voting polls on a wide range of topics such as politics, entertainment, and social issues. As you participate in healthy discussions, you'll be earning free crypto tokens too.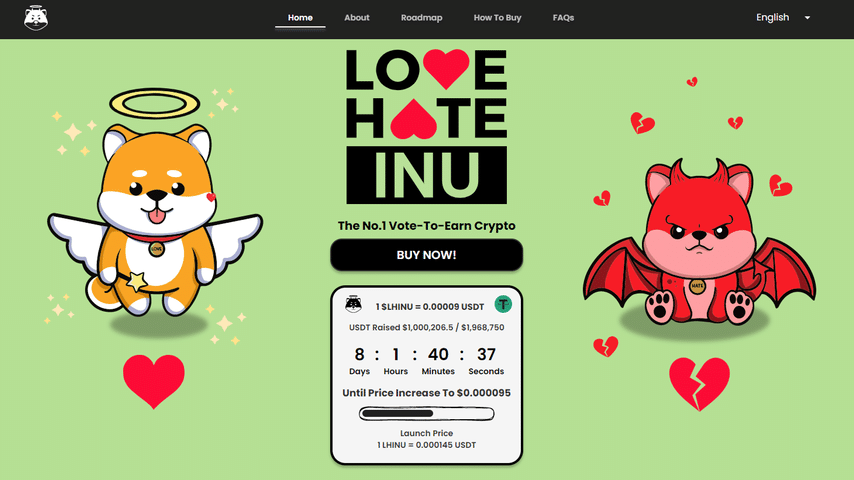 What's more, the voting system is built on blockchain technology, making the process fair, transparent, and secure. So you can rest assured that your votes and rewards are protected.
With $LHINU, the more you stake and the longer your staking period, the more voting power you accumulate. So get ready to start voting and earn LHINU tokens in the meantime. Join the Love Hate Inu community today!
Love Hate Inu is the overall best crypto presale in 2023. During the first stage of the campaign, LHINU tokens were priced at $0.00085. The team raised over $1.2M in just over a week and quickly moved on to stage two of the presale. As is the case with most presale cryptocurrency campaigns, tokens increase with each stage. At this rate of expansion Love Hate Inu could become the next crypto to explode and 10x in 2023.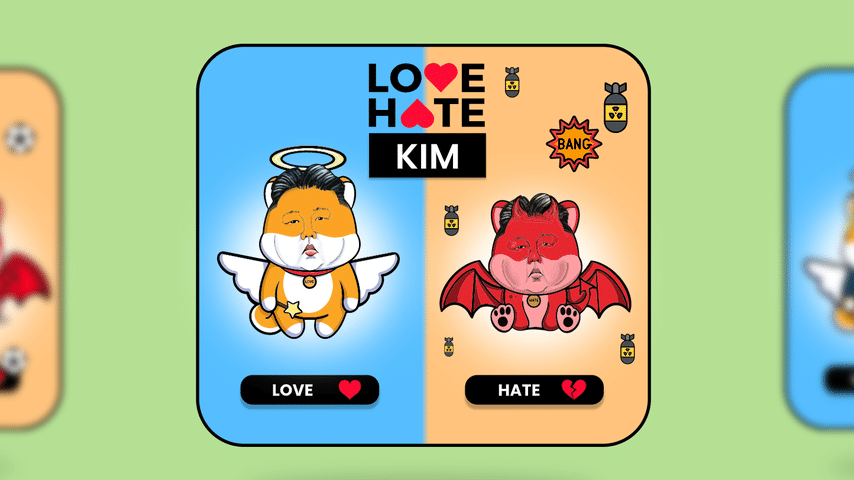 As of writing, the presale has progressed to stage two. During this phase, LHINU tokens can be locked in at a cost of $0.0009 USDT each. In stage three of the LHINU presale, tokens will be $0.000095 each. As such, theoretically, investors who lock in LHINU tokens during stage two will have already realized returns of around 5.6% when it hits phase three. 
This will continue to increase until the crypto asset is listed on an exchange. When looking for the best cryptocurrency in 2023, it's also important to look at the use cases of the token, in addition to what the project is all about. Love Hate Inu is the first web3 Vote-to-Earn meme coin platform where users are rewarded when they stake LHINU and vote on meme polls.
So what are you waiting for? Head over to the Love Hate Inu presale and get in at the ground level before this V2E meme coin goes to the moon. For more details, join the Love Hate Inu Telegram group and read the LHINU whitepaper.
| | |
| --- | --- |
| Hard Cap | $10,068,750 |
| Total Tokens | 100,000,000,000 |
| Tokens available in presale | 90,000,000,000 |
| Tokens for Listing | 10,000,000,000 |
| Blockchain | Ethereum Network |
| Token type | ERC-20 |
| Minimum Purchase | 10 $LHINU |
| Purchase with | USDT, ETH, Bank Card |
2. Fight Out – Web3-Centric P2E Project on Presale – More Than $5.5 Million Raised Thus Far
Investors researching the best cryptocurrency presales might have come across Fight Out, an innovative and new train-to-earn project. T2E enables crypto investors to earn when training, which includes working out, completing challenges, and more. As such, this is the best crypto presale to invest in for those that like to keep fit, or are keen to become healthier.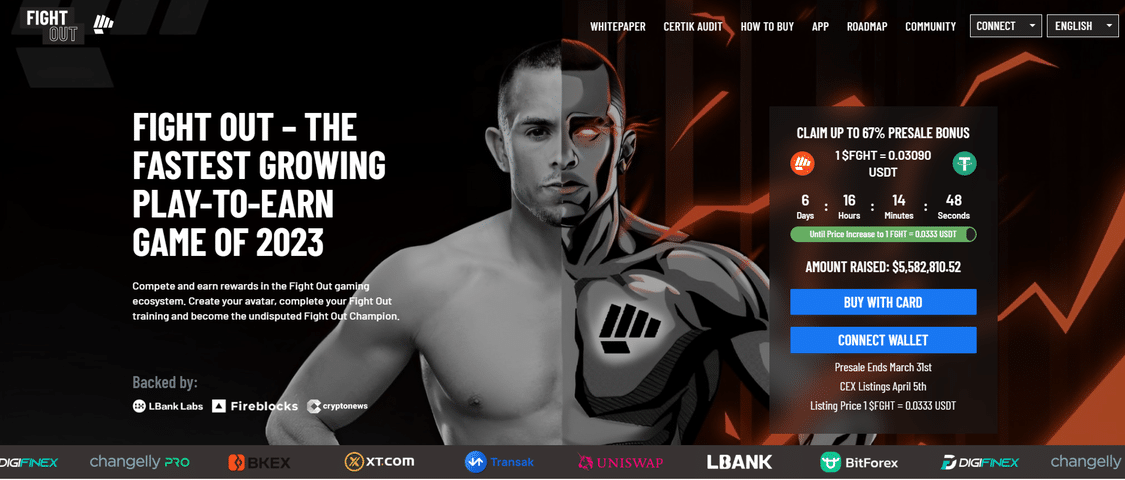 The token behind the P2E ecosystem is FGHT. This project has been extremely well received already. The presale campaign has now exceeded $5.5 million in FGHT token sales, so it's on track to be one of the biggest ICOs this year. Investors who make it in time for the latter phase of the presale can lock in a price of $0.03090 USDT per token.
Once Fight Out is listed on an exchange, it will start trading at $0.0333. As such, those who lock in the current presale price will instantly realize gains of over 100% by investing early. Essentially, early investors are rewarded for believing in the project by being able to lock in a discounted price. This rewards-based fitness project has plenty of plans in the pipeline.
For instance, in addition to the professional sports personalities that have agreed to be ambassadors, the platform will offer pro-fighter workouts. That's not all, the Fight Out ecosystem will include a virtual gym.
Investors who buy the FGHT token sale are eligible for up to 67% in bonus tokens, based on their purchase amount and the length of time they lock their tokens. Those who make a purchase of over $50,000 and have a vesting period of 36 months are entitled to the full bonus amount. Notably, the revamped bonus scheme eliminates the previous three-month minimum and eliminates vesting requirements. Additionally, previous investors will receive an airdrop of 10% more tokens than they previously held.
Furthermore, there is a strong incentive to invest sooner rather than later as the price of FGHT tokens increases each week, reaching a maximum of $0.0333. At the time of writing, this represents a 28% increase in price. Additionally, there is a 5% USDT referral program available to investors.
The Fight Out app will innovate further. All progress and achievements in relation to things like cardio, strength, muscular endurance, and technique are tracked and reflected in the avatar's attributes.
When it comes to earning elements of the ecosystem, players are awarded REPS. These tokens can be used to buy items from the Fight Out store, such as power-ups and the aforementioned cosmetics.
The Fight Out roadmap includes challenges, live and on-demand workout routines, releasing the cell phone app, acquiring gyms, and more. There is more information in the Fight Out whitepaper. With all this in mind, Fight Out is definitely a crypto to watch for high returns in 2023.
| | |
| --- | --- |
| Presale Started | December 14 |
| Purchase Methods | ETH, USDT, Transak |
| Chain | Ethereum |
| Min Investment | N/A |
| Max Investment | N/A |
3. C+Charge – New EV Charging Initiative With Carbon Credits Rewards and Green Crypto Presale
Readers who care about climate change may consider C+Charge as the best crypto presale to invest in right now. The ecosystem of this green crypto project is backed by CCHG tokens.  Investors who buy C+Charge's crypto tokens now will be getting a presale discount.
The discount for investing now is around 27% compared to the stage that will follow. As of writing, CCHG tokens can be locked in at $0.013 each. In the next stage, this brand new crypto presale will see tokens priced at $0.0165.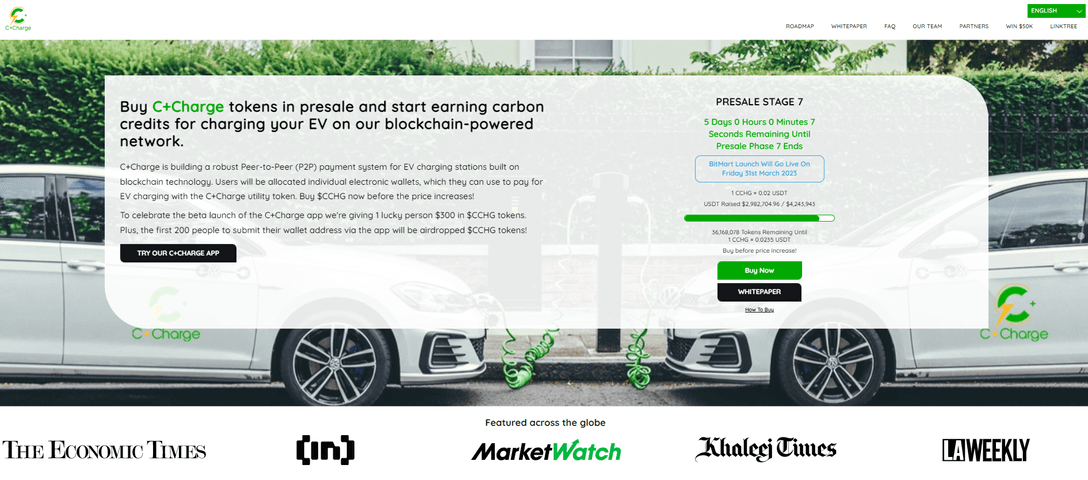 CCHG tokens are what drivers will be able to use as a form of payment when they charge their EVs. Furthermore, C+Charge is harnessing blockchain technology to shake up the way environmentally conscious individuals are rewarded for choosing to drive EVs.
The logic is simple, vehicles that run on electricity have a much lower carbon footprint than those using petrol or diesel. C+Charge will reward EV drivers that use its app and charging stations with GNT (Goodness Native Tokens).
These will be added automatically and are classed as tokenized voluntary carbon credits. It's also possible to buy them using CCHG tokens and the 1% tax charged for this is portioned out between investors.
4. RobotEra – Sandbox-Style Multiverse and P2E Game With Robots and Tokenized Land
Those who like the Sandbox concept should look no further in their search for the best crypto presale to invest in. In RobotEra, a metaverse ecosystem, the planet Taro was destroyed and robots have been left to rebuild it. The crypto asset on presale is the RobotEra utility token, TARO.
As of writing, investors can still lock in tokens at the stage one price, which is $0.02. When stage two begins, investors will pay $0.025. TARO tokens will be used to buy in-game assets as NFTs within the marketplace.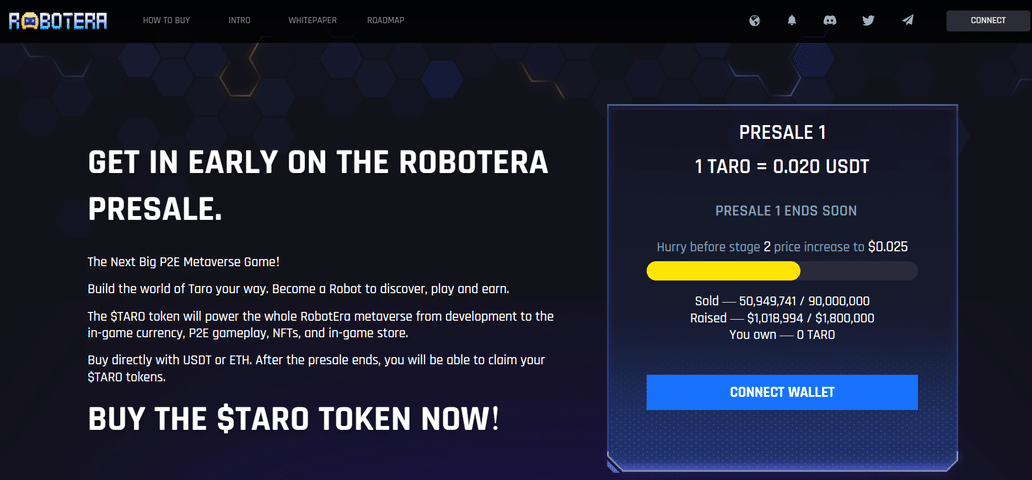 The RobotEra marketplace is also where gamers will be able to trade digitized commodities, continents, robot companions, and more. All players in this Sandbox-style P2E game are transformed into Robot NFTs.
In a nutshell, the aim of this game is to create tradable robot companions and build on land within the multiverse. Players can earn crypto by selling land and robot NFTs, as well as cultivating sacred trees, staking, and advertising.
Players will be able to converse with other gamers, and eventually, theme parks, museums, music halls, and other venues will be incorporated too. 
5. LuxWorld (LUX) – SocialFi and Travel to Earn Crypto Project in Stage Five of Presale
LuxWorld is developing a web3 lifestyle cell phone application that focuses on a T2E (travel to earn) model. This allows travelers to buy tokenized 'luggage' in the form of NFTs. These can be sold to raise funds, or used within the app.
Investors will also be able to buy 'check-in' NFTs. Travelers who use the LuxWorld app will earn LUX tokens as they go. As such, it's a form of incentivized travel, with social-fi elements. The app will show travelers inspirational stories from around the world.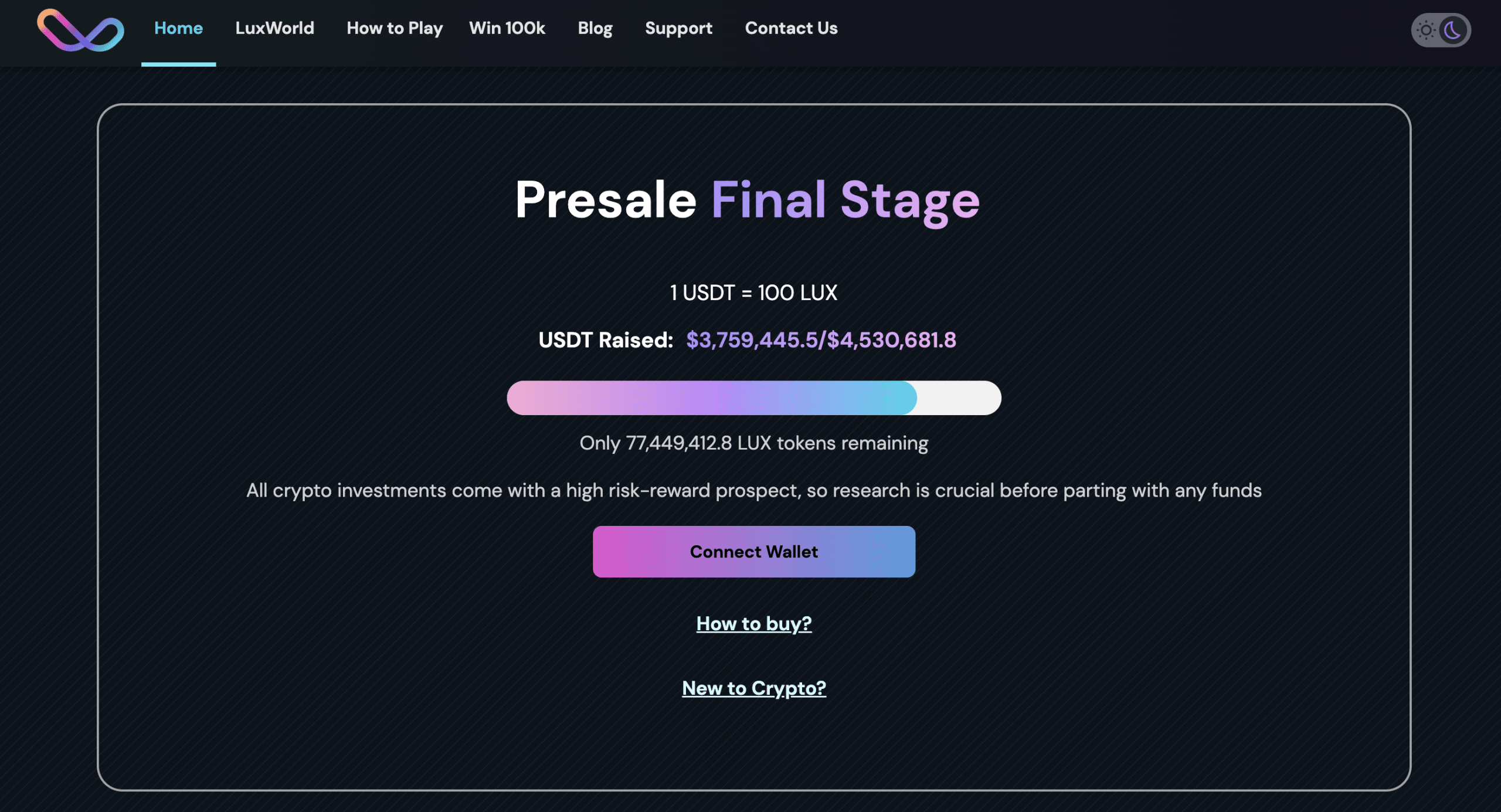 According to the whitepaper, app users can choose to be a traveler and buy luggage NFTs. Location owners will need to purchase check-in nodes. They will then attach them to a location to encourage travelers to check-in.
As of writing, LUX is on presale at $1 per 110 tokens. The campaign is in stage five and has raised over $3.3 million.
6. Merix Coin – Exciting New Decentralized Referral Marketing Presale
Next up on the list of upcoming crypto presales is Merix Coin. This is a decentralized referral marketing platform built on the Polygon blockchain. The ecosystem includes a reward structure, and quick staking liquidity, among other things.
Investors who like the sound of this new crypto presale can buy 1,000 of the native token MERIX for just $1 as of writing. The presale is in phase one so investors have plenty of time left to join the community, that is unless it sells out ahead of time.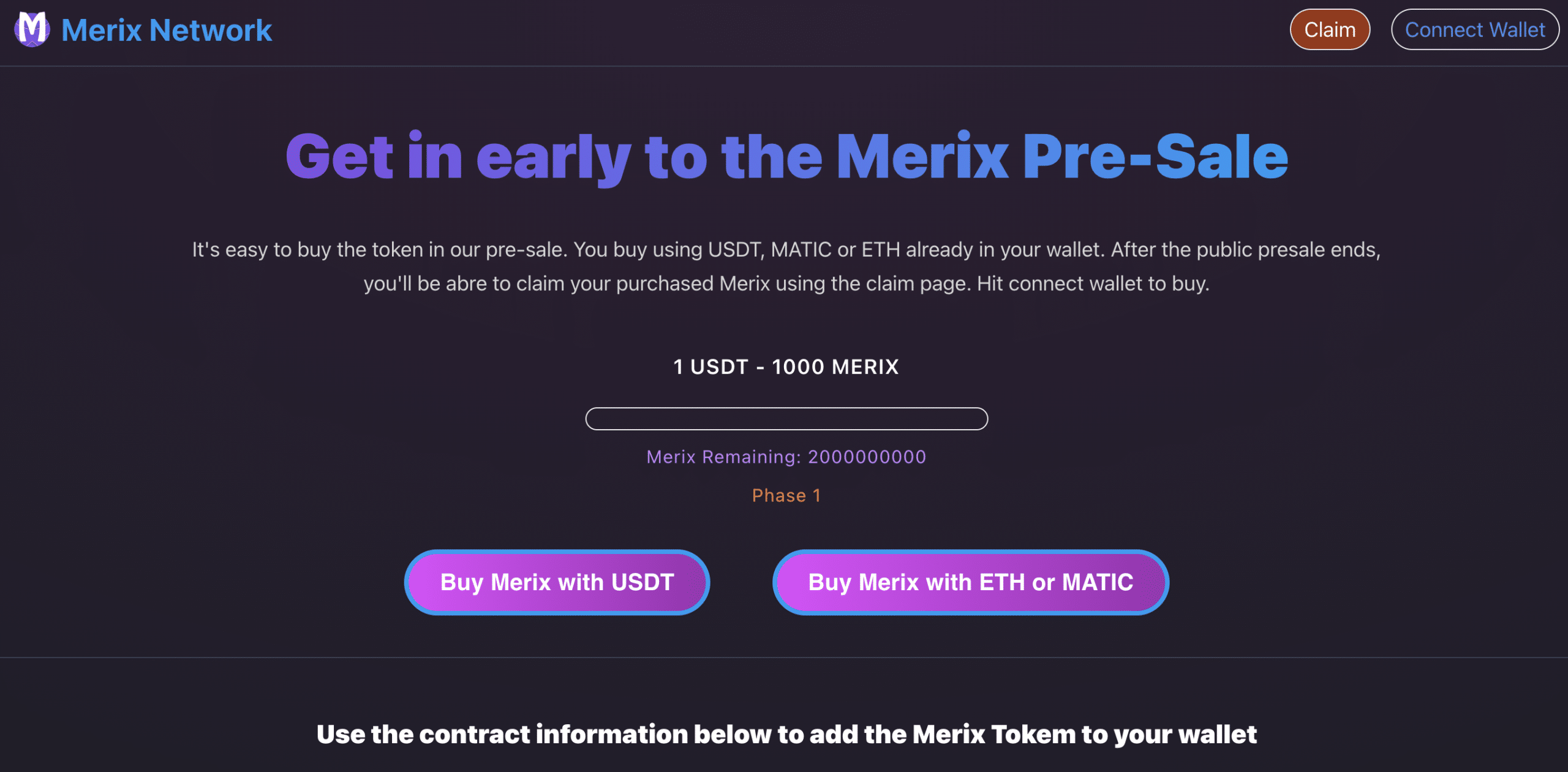 Early investors can check out the whitepaper for more information on the project. It's possible to buy MERIX with ETH, MATIC, or USDT on the Merix Coin platform. However, like most cryptocurrency presales, investors will need to return to claim the tokens once listed.
7. Arealeum – New Crypto Presale Harnessing Cycle-Engined-Technology
Arealeum is an interesting new crypto presale. The idea behind this project is that its native token ARE can be used to invest in projects across the world. Arealeum is a marketplace where users are able to buy and sell shares in various projects, in the form of digital tokens.
According to the Arealeum platform, these initiatives can include businesses like renewable energy initiatives, real estate, startups, and more.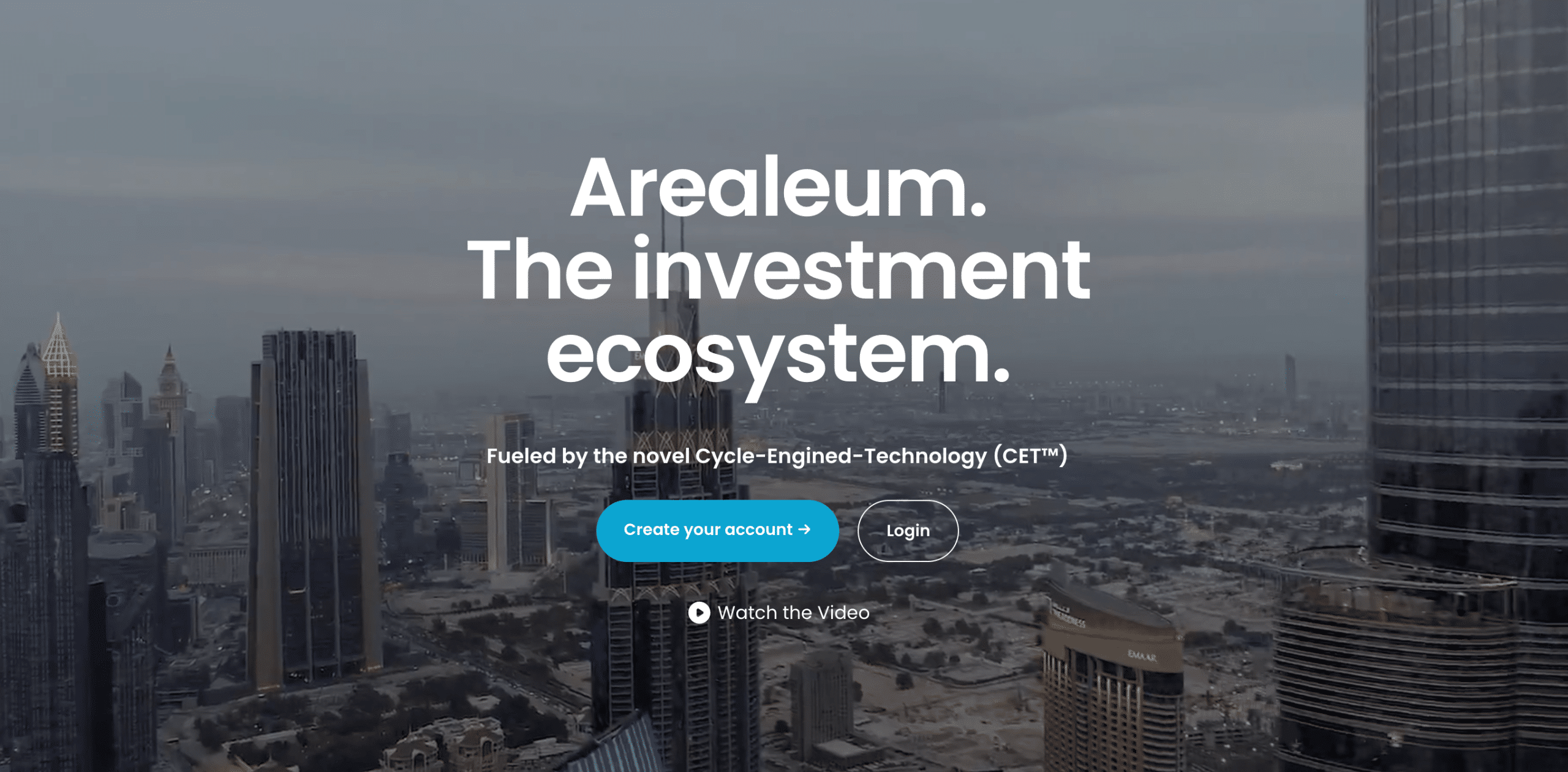 The Arealeum mechanism is based on algorithms that are established in a collection of publicly available contracts. ARE tokens are built on the Ethereum network. Investors who hold ARE tokens can use them to vote and participate in investment cycles.
The presale price is $0.04. To buy ARE tokens on presale, investors need to create an account with Arealeum.
8. Epnoc – Hybrid Crypto Exchange With Cross-Chain NFT Marketplace
Epnoc is a hybrid crypto trading platform that combines the benefits of both DEX and CEX. There will be a state-of-the-art cross-chain NFT marketplace incorporated within the Epnoc ecosystem. According to the whitepaper, the community-orientated platform will be the future of 'invest and earn'.
To provide multiple users with ownership of a single NFT, the platform will also facilitate fractional trading. The presale crypto token that powers this ecosystem is called EPN. Investors will be able to buy, hold and earn rewards with EPN.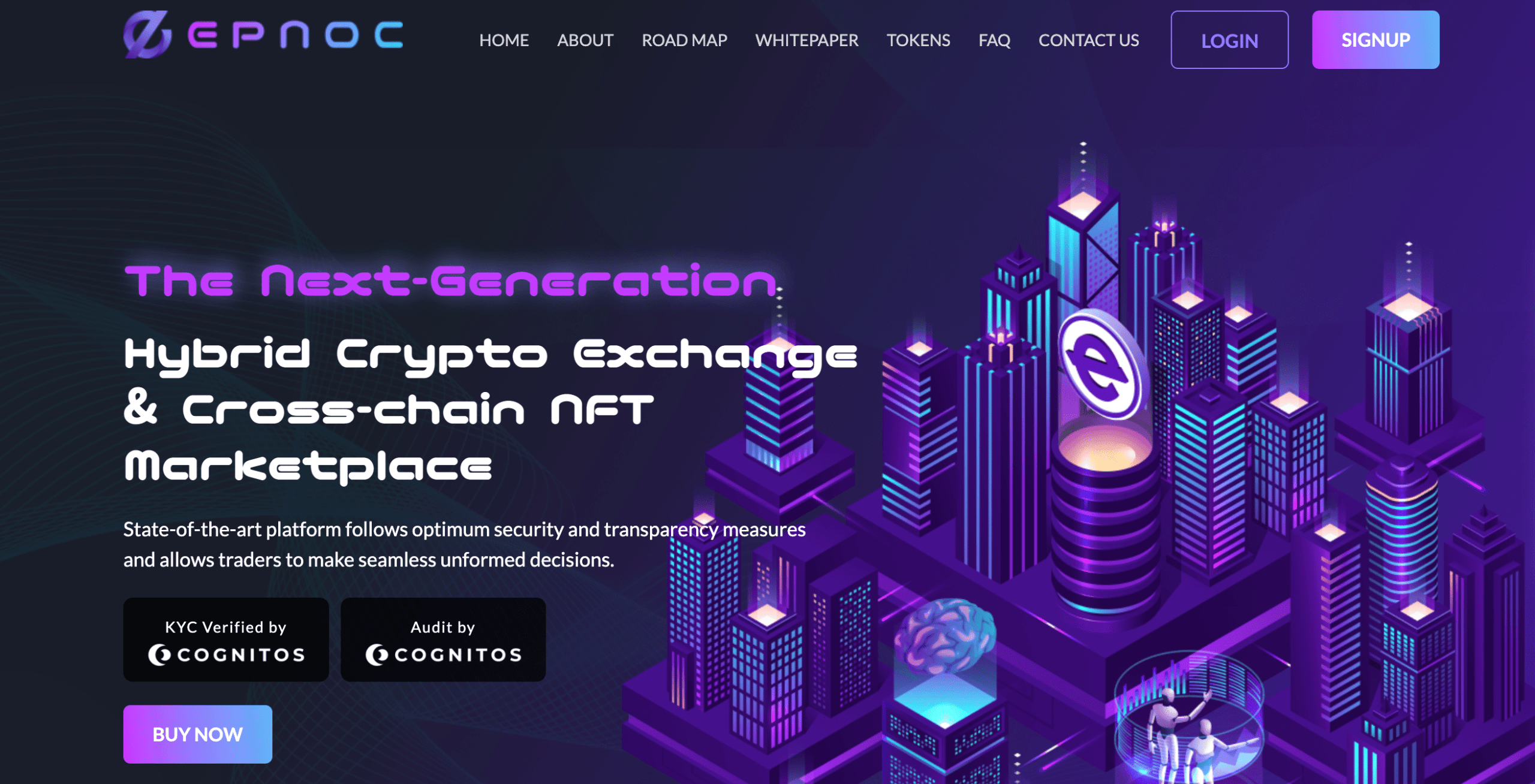 At the time of writing, EPN is in the initial stage of its presale. Early investors can lock in a price of $0.04 per EPN token. The roadmap includes the development of the hybrid exchange and NFT marketplace, as well as a membership club, staking, and treasury initiatives. 
9. Gummys – Web3 Learn, Stream, Watch and Earn Platform in First Stage of Presale
Gummys is a presale cryptocurrency project that will focus on bringing web3 streaming and video to the masses. The project will also reward users for watching, learning, and streaming on its P2P platform.
The platform has elements of GameFi and SocialFi, as well as pay to watch and stream to earn. The project intends to allow users to register from any location in the world. All they will need to join the Gummys community is their crypto wallet address.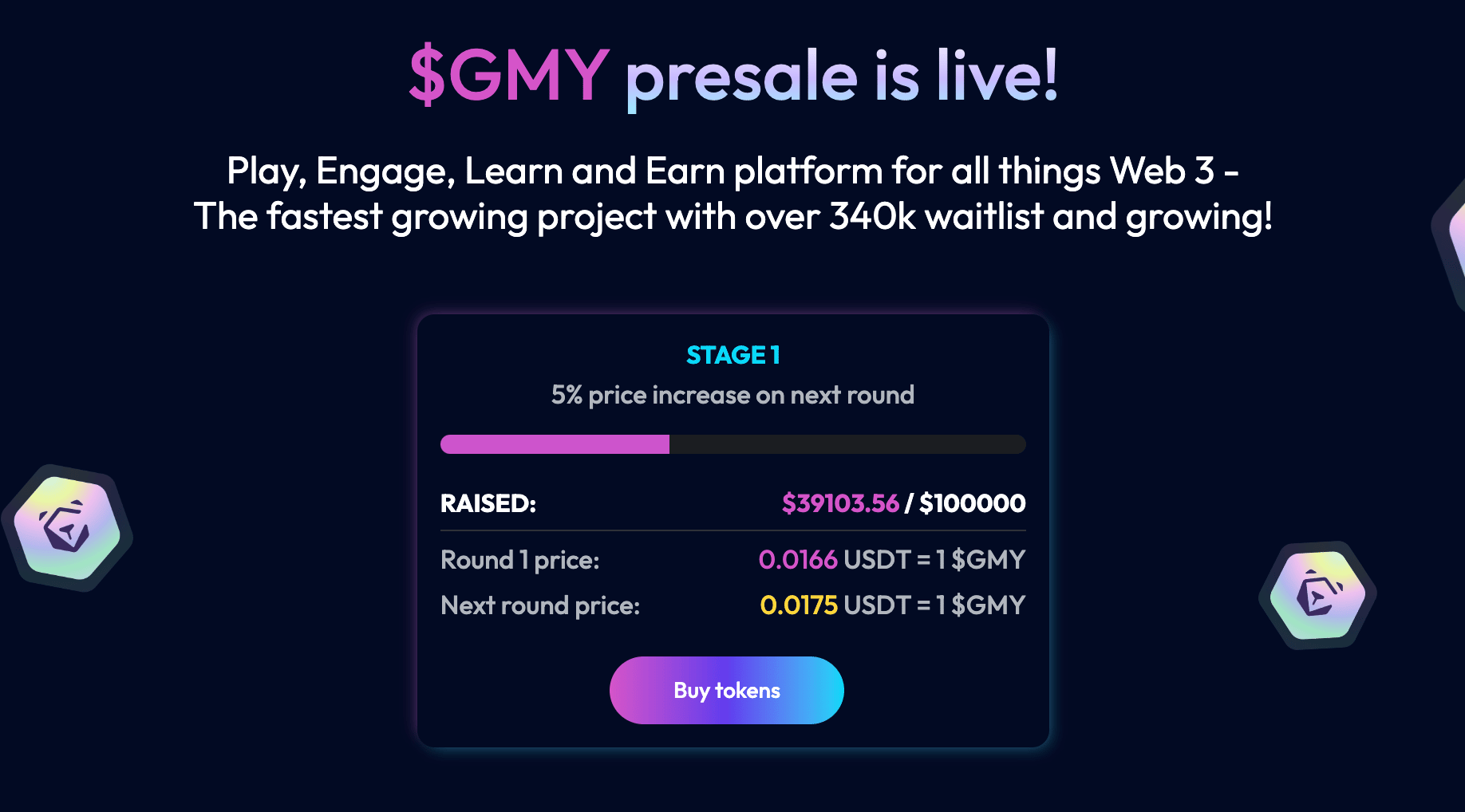 Gummys users will be able to submit content, broadcast without any fees, and interact with others. Each time a user plays or streams a video, they will also be able to earn money, in addition to the utility token GMY.
As of writing, investors can lock in the presale price of $0.0166 per GMY token. When the campaign progresses to stage two, tokens will go up to $0.0175 each, a 5% increase.
What are Crypto Presales?
Looking for the most profitable cryptos that are currently on presale? A crypto presale is a campaign that a project runs prior to its native token being listed on an exchange. Presales of cryptocurrency tokens are often restricted to a smaller pool of investors and offered at a reduced cost.
The main purpose of a new crypto presale is to generate some funds to use for the development of the project in question. Not to mention, drum up the interest of early investors to begin building a loyal community. Some of the best altcoins to invest in right now are available to buy via presale offering investors a unique opportunity to get in at the ground level before the market price goes to the moon. 
How do Cryptocurrency Presales Work?
As we said, a presale allows crypto projects to attract investors to buy their tokens by offering them a discounted price.
Here's how it usually works:
A presale often goes through various stages, offering tokens at a discounted price

After the presale has concluded, investors can claim the tokens they bought

Taking part in a presale at its early stages has several benefits

The listing price will be higher than the presale was, which is the main reason they are so attractive to investors

Some presales also offer early investors the chance to win their share of huge crypto prize pools worth anywhere up to $100,000

Many presale cryptocurrencies have use cases, such as buying in-game NFTs or carbon credits

This means that investors are buying tokens at a discount that could later be used to purchase things of a higher value
The best crypto presale to invest in will depend on the investor's own goals and interests as each project is different. Once a presale concludes the development team can then apply to be listed on a popular CEX or DEX. For more details about the next DEX listings you can read our article on the best upcoming Binance listings.
How to Find Good Crypto Presales with Potential
Presales are a popular method to invest in successful and emerging cryptocurrencies with 10x potential.
There are various ways in which investors can find presales themselves moving forward.
For instance:
Social Media Platforms: Sites such as Reddit and Twitter can help investors to identify the best cryptocurrencies on Reddit and the newest presales that are likely to blow up. Look for trending cryptocurrencies and check subreddits such as r/CryptoCurrency
Presale Databases:

There are numerous sites that list upcoming crypto presales. These databases usually include a link to the project in question as well as the start and end date of the presale

Read the Whitepaper:

This document can tell investors a lot about where a project may be headed. They almost always include a roadmap. If the roadmap is realistic and excites the investor, they will be more likely to want to become part of that particular crypto community
When searching for crypto presales, joining Discord groups and YouTube channels can be beneficial in a number of ways. These platforms provide access to a community of like-minded individuals who are interested in investing in the best long term cryptocurrencies. By joining these groups, you can get valuable insights, tips, and recommendations from experienced traders and crypto enthusiasts. You can also stay up to date with the latest news and developments in the crypto industry.
Discord groups and YouTube channels can also be a great resource for finding promising presale opportunities. With that said Jacob Crypto Bury's discord channel harbors one of the best online communities of crypto-hungry investors. These platforms often have dedicated channels or sections for presale announcements and discussions. By participating in these conversations, you can learn about upcoming presales, evaluate their potential, and decide whether to invest.
Moreover, joining these communities can help you avoid scams and fraudulent projects by receiving feedback and warnings from other members. In short, joining Discord groups and YouTube channels can help you stay informed, connect with others, and make more informed investment decisions in the world of crypto presales.
Jacob Crypto Bury's YouTube channel covers all the latest trending presales and meme coins from Love Hate Inu to Fight Out and C+Charge. With over 12.2k subscribers, Jacob's channel is definitely one to watch if you're on the hunt for the next 100x crypto in 2023.
It's also worth mentioning that many crypto enthusiasts use the best Telegram crypto signals providers to find unique trading opportunities during market volatility.
This guide has analyzed the best upcoming crypto presale crypto projects at length to save investors some research. But nonetheless, investors should always do their own research. 
Should You Invest in Presale Crypto?
Below, we talk about the reasons why some investors are constantly on the hunt for the best crypto presales in 2023.
Backing a Project on Its Way up
Finding the best presale crypto to buy allows investors to become part of a growing community early on. This can be especially exciting when it's an innovative project with interesting ideas and a clear roadmap.
For instance, Love Hate Inu. As we said, this is an exciting presale campaign that's developing the world's first web3 Vote-to-Earn platform on the blockchain. Fight Out is also a great new presale as the Train-to-Earn space is becoming increasingly popular.
A growing number of crypto investors and gamers are looking for different ways to earn whilst getting fit or having fun. The likes of Fight Out with its train-to-earn initiative and C+Charge with its carbon credit incentive, cater to these growing markets perfectly, making them among the best crypto presales in 2023.
Buy Crypto Tokens at a Low Price
Many investors look for the best crypto presale to invest in so that they can buy tokens at a discounted rate. 
This is possible because there will be various stages to a presale campaign. As each one passes the price of the crypto tokens will increase in increments.
For instance:
The aforementioned LHINU tokens cost $0.000085 during stage one of its campaign

Once $1M was raised it progressed to the second stage of presale

Tokens are $0.000090 at the time of writing (presale stage two)

In phases, three, four, and five, they will increase to $0.000095, $0.000105, and $0.000115 respectively

During the pre-sale period, the cryptocurrency's value cannot go down

As such, when the crypto asset enters the market it will usually give the investor an immediate profit by default

That is if they time the market correctly
Once the tokens have been listed, investors can claim them and add them to their digital wallet – crucially, at the price they locked in when placing the order.
Are Crypto Presales Legal?
The legality of crypto presales can be a confusing subject. In general, crypto presales are not illegal, but they can be subject to various regulations depending on the jurisdiction in which they take place. The legality of a presale often depends on whether it meets certain criteria, such as whether the tokens being sold are considered securities, and whether the presale is open to accredited investors only.
One of the main reasons why there is some confusion around the legality of crypto presales is the lack of regulatory clarity in the crypto industry. Many countries have yet to fully define their regulatory stance on cryptocurrency and blockchain technology, leading to a patchwork of different rules and regulations. Additionally, the rapid pace of technological innovation in the crypto industry often outpaces the ability of regulators to keep up.
Despite the uncertainty, many legitimate crypto projects have successfully conducted presales without any legal issues. It's important for both investors and projects to consult with legal experts to ensure that they are complying with all relevant laws and regulations. Ultimately, while the legality of crypto presales may be up in the air, with the right precautions and careful planning, they can be conducted lawfully.
Are Crypto Presales Safe?
We've analyzed a string of promising presale projects in this guide. Sadly, not all presales are quite what they seem. An example of this is the LunaOne crypto presale, which promised early investors that tokens would be listed at $0.25.
This seemed to be a great deal as the presale price was as low as $0.05 at one point. Unfortunately, what happened was LunaOne tokens were listed on the exchange at $0.05, 80% lower than promised.
When we research the best crypto presale to invest in, each project is properly vetted. However, investors should carry out in-depth research and look at the whitepaper of each project as well as ensure they have been audited.
When investing in cryptocurrency, it's essential to do your due diligence to minimize the risk of fraud and scams. One way to ensure the legitimacy of a crypto project is to look for verified projects with doxxed teams. "Doxxing" refers to the practice of publicly disclosing personal information about individuals, including the names and backgrounds of the team members behind a project. By verifying the identities of the team members and their qualifications, investors can gain more confidence in the project's potential success.
To find verified crypto projects with doxxed teams, it's important to do some research. One way to start is to look for projects that have been audited by reputable third-party firms. This can provide an additional level of verification and assurance that the project is legitimate.
Additionally, you can check online forums and social media platforms to see if there are any red flags or negative feedback about the project or its team.
Finally, you can directly reach out to the project's team members to ask questions and clarify any doubts or concerns you may have. By taking these steps, you can increase your chances of finding a legitimate and trustworthy crypto project to invest in.
How to Invest in a Crypto Presale
Below is a step-by-step walkthrough of how to invest in the best presale cryptocurrency, Love Hate Inu.
Step 1 – Download a Crypto Wallet
Investors will need a crypto wallet to store their LHINU tokens once it is listed.
The Love Hate Inu website recommends MetaMask for desktop users and Trust Wallet for those using a cell phone.
Step 2 – Connect Wallet to LHINU
Once downloaded, head back over to the Love Hate Inu presale platform and click 'Connect Wallet'.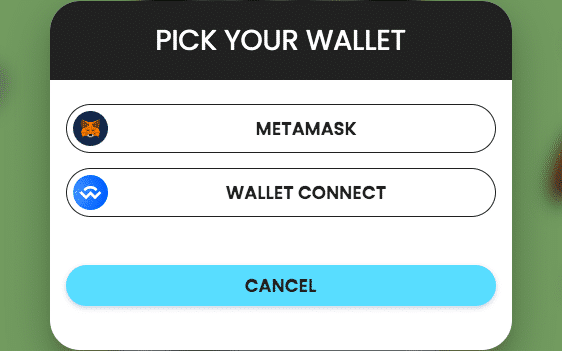 Select the correct wallet to continue.
Step 3 – Add Crypto to the Wallet
The next step is to ensure there are funds in the wallet with which to purchase LHINU tokens.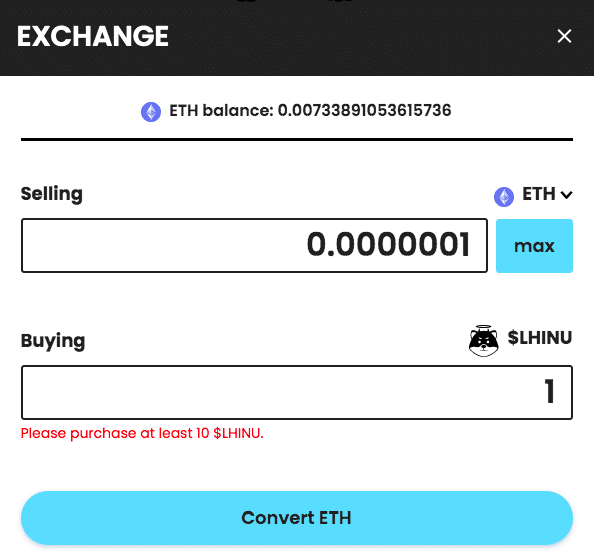 Investors can buy LHINU tokens using either Ethereum or Tether.
Step 4 – Claim LHINU Tokens
Next, investors must wait until the LHINU presale has concluded before being able to claim their tokens. 
Go to the Love Hate Inu platform and click 'Claim' to add them to the crypto wallet downloaded earlier. 
Investors are advised to keep an eye on the social media platforms of the project closer to the time for relevant announcements.
Conclusion
In summary, the overall best crypto presale to invest in is Love Hate Inu. The project is developing an ecosystem of Vote-to-Earn polls that will offer secure, reliable and anonymous voting.
Investors can place an order now to lock in a token price of $0.00009. 
By the 8th presale stage this will rise to $0.000145. As such, investors can make a profit by locking in this discounted price early in the campaign. Follow the link below to add LHINU to your portfolio today!
FAQs
What is a crypto presale?
How do I find crypto coin presales?
Where can I find new crypto before release?
Is it good to buy presale tokens?
What is the best upcoming cryptocurrency?
What are the best crypto presales?