The term 'Shitcoin' is popularly used to describe trending and popular cryptocurrency tokens that offer huge growth potential, regardless of their utility. Our guide will list a range of the best shitcoins to invest in 2023 wise and review their price history.
This article also explains the factors to consider when deciding to invest in shitcoins, along with analysis of some top presale projects that could offer exponential growth in the coming months.
Best Shitcoins to Buy Right Now
Below is a quick preview of our 2023 shitcoins list. Keep reading to find a more detailed analysis of the best shitcoins to invest in right now.
Meme Kombat – An arena for shitcoins to come together and wager war on one another, this is a once-off concept that could prove to be very successful among investors, with 112% APY and active income opportunities through live betting on fight outcomes.
Wall Street Memes – New meme coin appealing to the Wall Street Bets Reddit crowd that ape into shitcoins and penny stocks. Presale raised over $25M and recent OKX listing has sent market price up by 1.37% now trading at $0.051.
eTukTuk – A multi-use green cryptocurrency enabling TukTuk drivers to start using EVs. With $TUK, members can stake tokens to earn different rewards. Presale has recently launched with a small hard cap of $120,000.
Chimpzee – High utility shitcoin which offers passive income and allows users to donate to the environment and animal charities to help save the ecosystem and wildlife. More than $1.3 million raised in the presale so far.
Scorp Token – This multi-use case shitcoin powers a casino and sports betting platform. $SCORP offers daily passive income, weekly bonuses, and gaming credits – over $1 million of $1.25 million hard cap raised
Doge Uprising

– This Doge-themed shitcoin will offer staking rewards and NFTs to $DUP token holders. The story of Doge Uprising is based on its own manga series. $DUP is priced at only $0.000013 per token, but will rise by 100% on presale.

Sensei Inu

– Multi-utility MemeFi token offers token rewards through its trivia quiz Learn2Earn ecosystem. Buy $SINU, a deflationary cryptocurrency, on presale for just $0.0007 per token. Price is set to rise by over 14%.

Dogecoin –

The original and the biggest shitcoin, DOGE still has a market cap of more than $10 billion but its price is way down since 2021 peak.

ApeCoin

– Shitcoin that powers the prestigious Bored Ape NFT universe, with huge staking rewards. Price has continued to fall for 12 months but could explode in the next bull run.

Shiba Inu –

Popular shitcoin with much more utility than its top rival, Dogecoin. Market cap of $5 billion and had a strong start to 2023 before trailing off in recent weeks.

Floki Inu –

Top five shitcoin by market cap that has had a very strong 2023, rising more than 300% so far this year and increased utility over some meme coins.
In-Depth Look at the Top Shitcoins
We will take a look at some of the best shitcoins right now by reviewing their use cases, price movement, and potential for growth.
1. Meme Kombat – ERC20 Meme Shitcoin With 112% APY And Exciting Combat Format
Meme Kombat ($MK) offers something new in terms of crypto presales, as a platform for the world's most successful meme tokens (Doge, Floki, Baby Doge, Milady, Kishu, Mong, Pepe, Pepe 2, Shiba, Sponge, Wojack) to engage in combat, with live betting on the outcome.
Right off the bat, this is a shitcoin with potential as it provides elements that the market is known to buy into – memes, betting, and a PoS APY of 112%.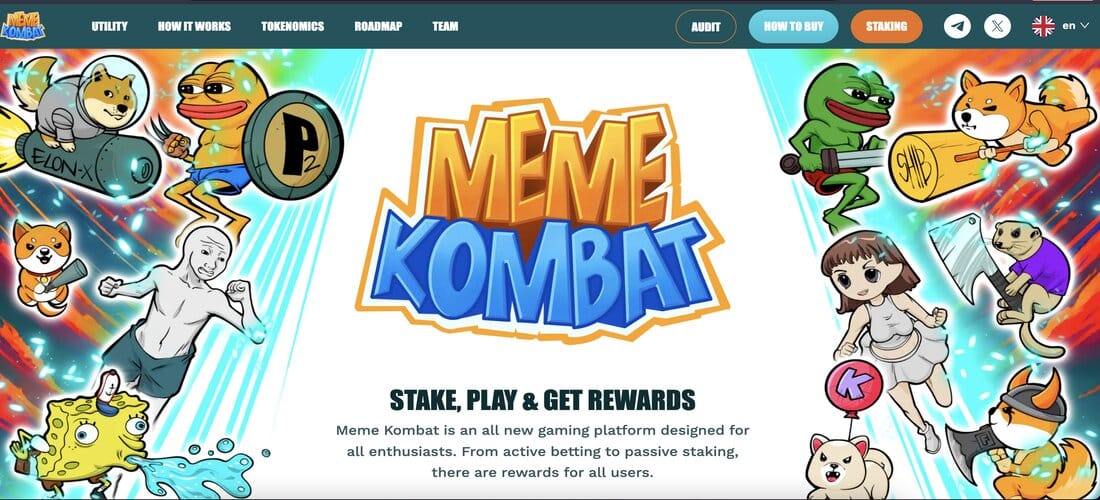 While other icos focus on a singular meme icon, Meme Kombat brings them together under one roof, even if it is only to engage in battle.
Memes often have online communities that number in the millions, such as Shiba Inu or Doge. Some of these individuals might gravitate towards Meme Kombat to place wagers on their favorite memes.
This is automated meme combat – users can investigate upcoming battles and make decisions based on the available statistics. It's also possible to make bets against a friend in P v P betting mode.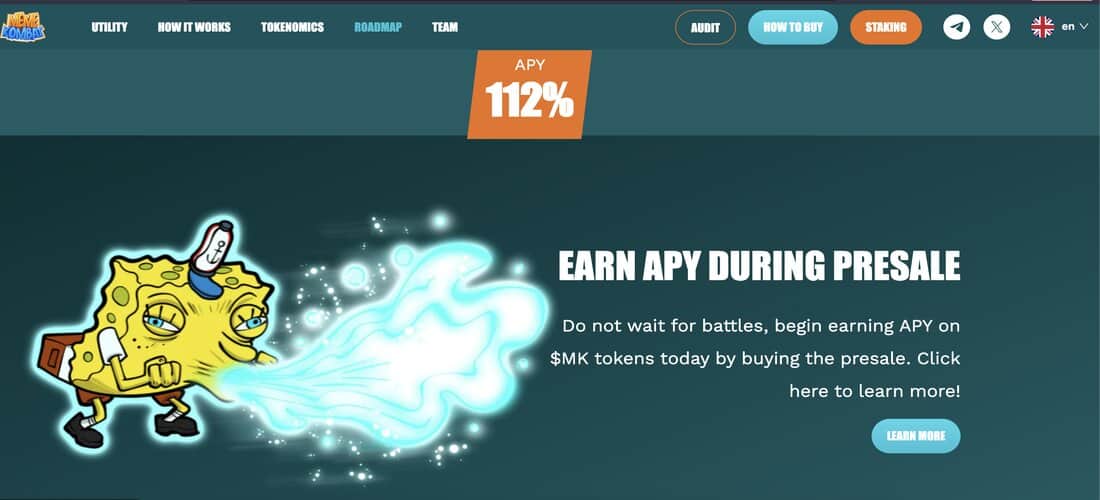 Random order sequencing ensures there is no pattern in terms of which meme fights another, and outcomes are facilitated on chain, assisting with transparency.
The founder of this project, Matt Whiteman, has been publicly unveiled, and the project has undergone an advanced manual third-party smart contract audit from Coinsult, with no severe issues found within the code base.
In other words, there are no apparent issues when it comes to transparency, and it is exceedingly rare that a founder is revealed.
6 million tokens are available in presale at a price of $1,667. The hard cap is $10 million. More information on this presale campaign can be obtained from the Telegram and Twitter accounts, along with the Whitepaper.
This is one of the first times we have ever seen the globe's most famous shitcoins under one roof, and it could be a huge hit, provided market conditions are favorable.
As other market analysts have suggested, it could 10x or more.
| | |
| --- | --- |
| Hard Cap | $10,000,000 |
| Total Tokens | 12,000,000 |
| Tokens available in presale | 6,000,000 |
| Blockchain | Ethereum Network |
| Token type | ERC-20 |
| Minimum Purchase | $5 |
| Purchase with | USDT, ETH, BNB |
2. Wall Street Memes – Trending Shitcoin to Buy Right Now, with Hot OKX Listing Pushing Price to $0.051 up 1.37%
The spirit of buying undervalued assets that then explode and outperform expectations is what sparked the infamous GameStop and AMC bull runs of 2021, and is now inspiring crypto shitcoins in 2023.
Wall Street Memes (WSM) is a brand new meme coin aiming to tap into that community, and already backed by a 1 million strong following thanks to its Ethereum NFT collection, Wall St Bulls on OpenSea.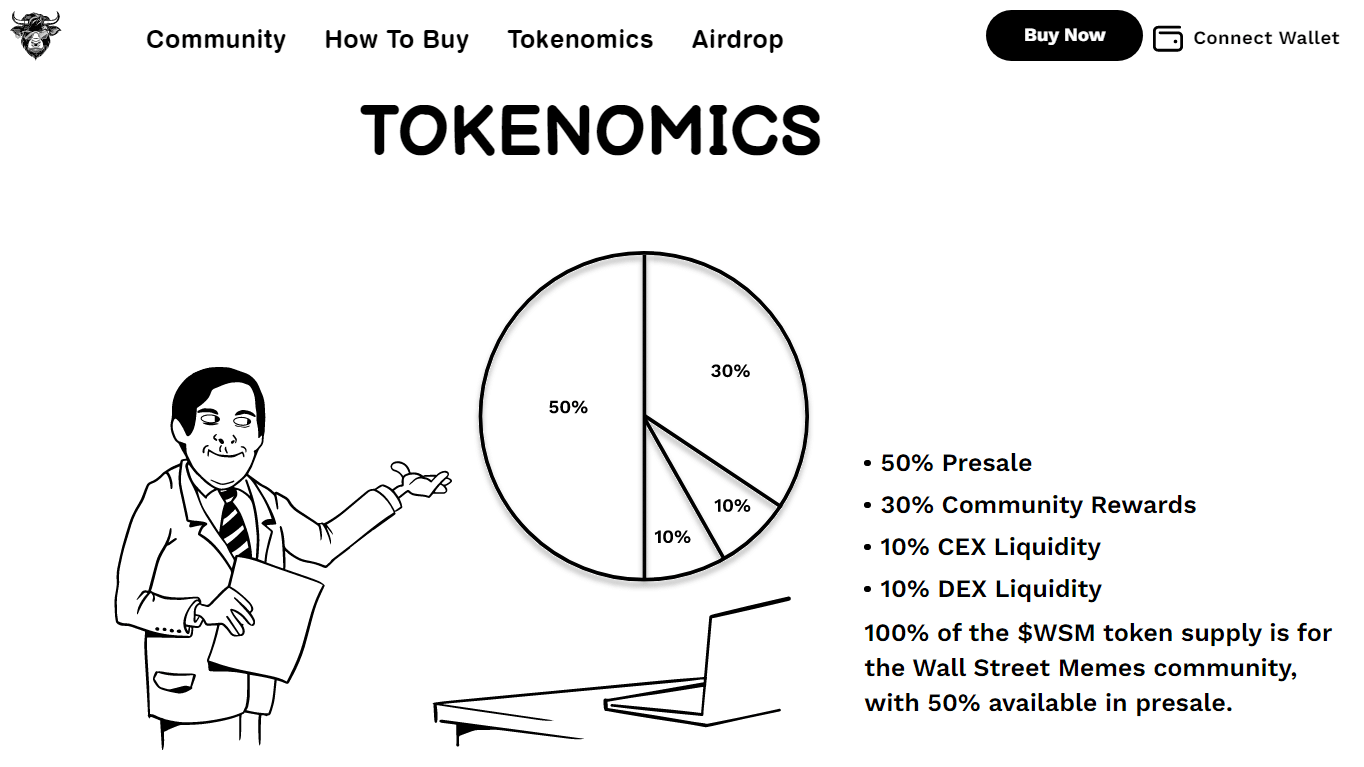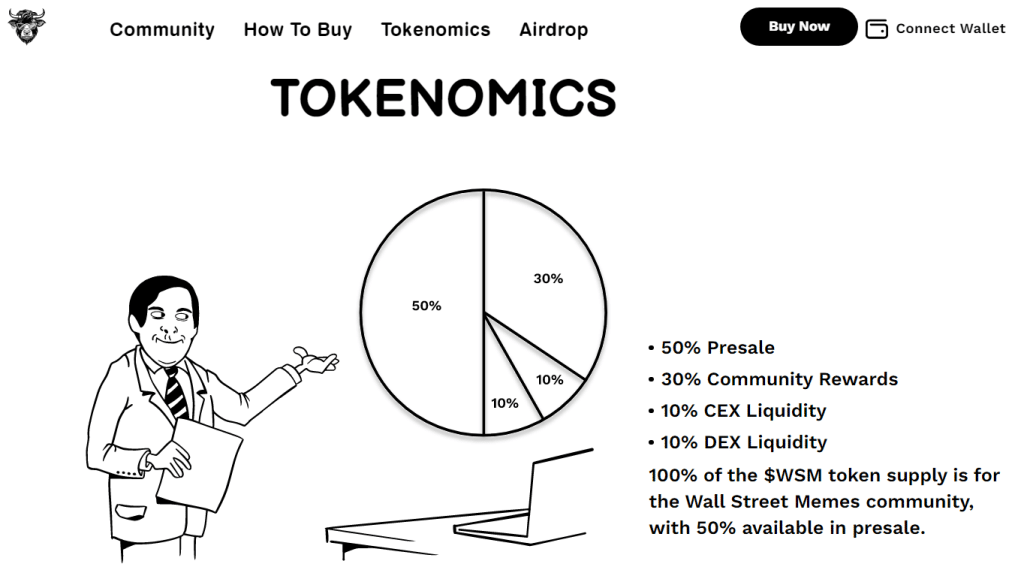 50% of this promising shitcoin's two billion supply is available to buy on presale now, and 100% will ultimately be able to be traded by the Wall Street Memes community or earned as rewards. That avoids the issue of large amounts of team tokens being dumped on the market, that has affected some shitcoins in the past.
The announcement of the $WSM token presale going live saw over $300,000 raised in its first 24 hours and it captured the attention of major crypto influencers.
It features on the best shitcoins list uploaded by Jacob Bury in the video below and has now raised more than $25 million in 3 months since it launched.
Join the Wall Street Memes socials including its Discord and Telegram communities to stay up to date on this viral shitcoin's progress as it aims to hit its hard cap of $30,577,000.
Discord members will also be eligible for a $50,000 $WSM airdrop, split between five winners.
Bear in mind that meme shitcoin are high risk, high reward investments and often don't follow traditional technical analysis – a highly inefficient market, they can trend very strongly in both directions.
| | |
| --- | --- |
| Token symbol | $WSM |
| Total supply | 2 billion $WSM |
| Presale supply | 1 billion $WSM |
| Network | Ethereum (ERC20) |
| Purchase methods | ETH, USDT, BNB, Card |
3. eTukTuk – Sustainable Cryptocurrency Building EV Charging Stations to Help TukTuk Drivers
eTukTuk (TUK) is building a global network of electric vehicle charging stations and proprietary electric vehicles to reduce air pollution and help TukTuk drivers use sustainable transportation.
Currently, over 270 million TukTuks run on Internal Combustion Engines (ICEs), which leads to more air pollution than cars. Due to this reason and the rising energy costs, ICEs are expected to go obsolete soon.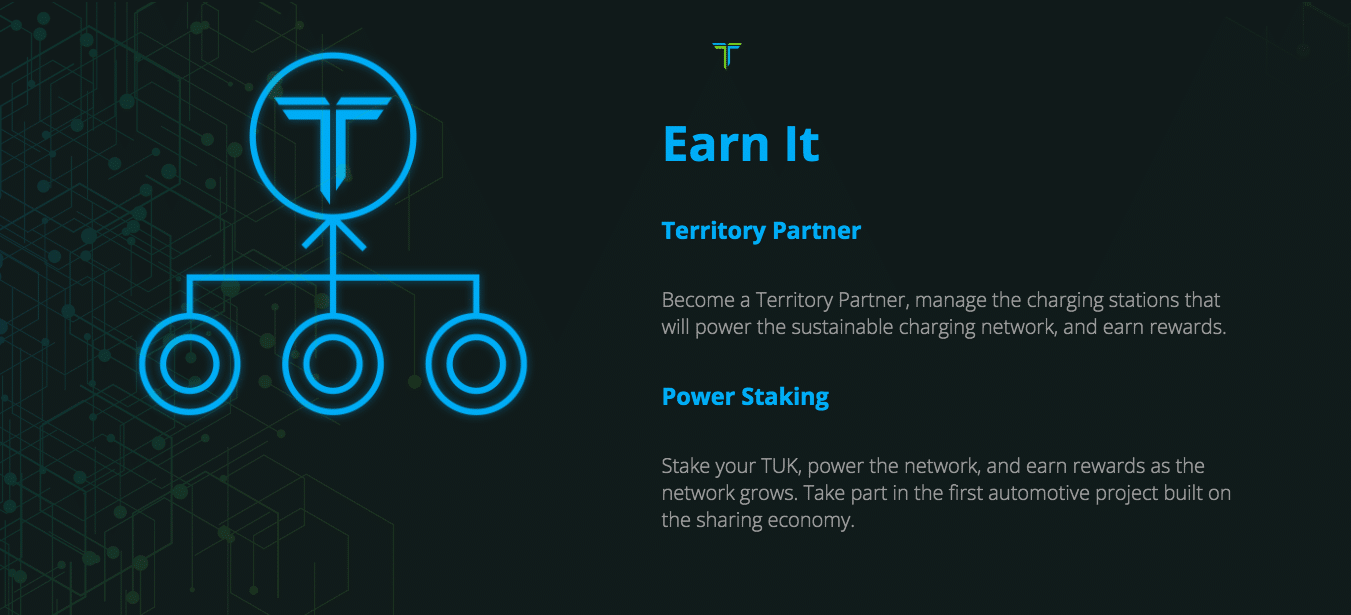 As TukTuk drivers from developing nations struggle to make a daily wage, eTukTuk will help push the adoption of zero-emission vehicles (ZEVs). It will do this by setting up Electric Vehicle Supply Equipment (EVSE) and charging stations in urban and suburban areas of developing countries.
To set these stations up, eTukTuk will use local manufacturing and support. The stations will be set up in different territories. eTukTuk will use territory partners to help with operations and installations.
After the charging stations are ready, TukTuk drivers can charge their EVs and make payments with EVs. The costs are expected to reduce by 75%, since the cryptocurrency results in low fees, being based on the Binance Smart Chain.
A portion of the revenue generated will be shared with the territory partners. Members can also help maintain the charging stations by staking coins. In return, they will earn an APY (Annual Percentage Yield) as the number of transactions and revenue increases.

Compared to other shitcoins, $TUK offers different use cases within the platform. By staking $TUK, eTukTuk will also offer inflationary rewards from a staking pool. $TUK has a total supply of 2 billion, 19.5% of which is reserved for staking rewards. 12.5% will be released for the upcoming token presale.
eTukTuk has just launched – to learn more about this cryptocurrency, go through the eTukTuk whitepaper and join the Telegram channel.
4. Chimpzee – Earn Passive Income with this Environment-Friendly Crypto Token
Unlike other shitcoins, Chimpzee offers real utility and contributes to the environment. $CHMPZ, the native token, can be leveraged on the ecosystem of Chimpzee's NFT marketplace, online store, and the play-to-earn environment.
With the token, users can earn passive income by purchasing and staking NFT passports. Chimpzee uses AI technology to scan your pictures to make the NFT replicate your face. The NFTs can be staked to generate a return of up to 20% annually.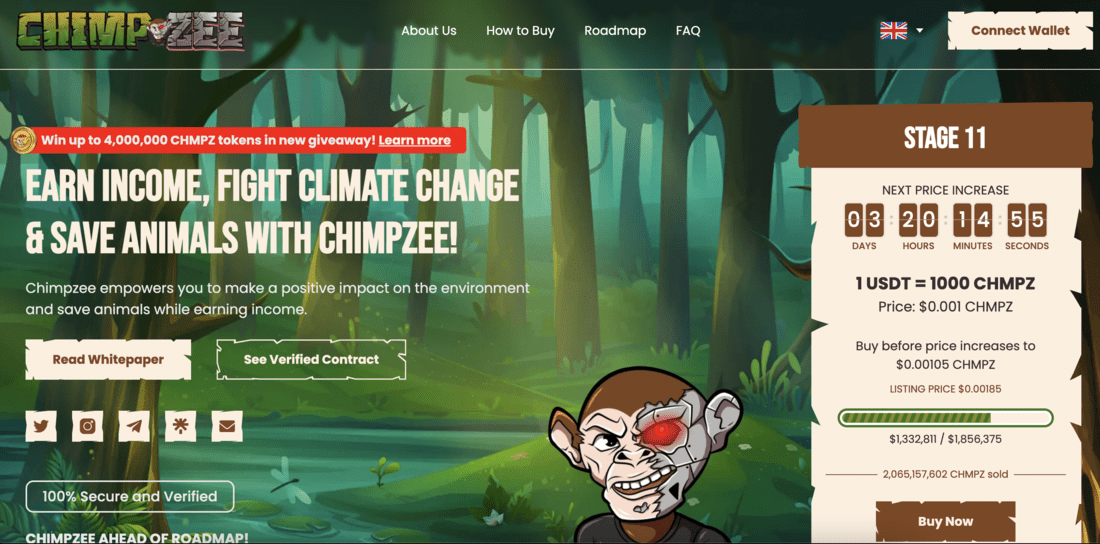 In the play-to-earn environment, your NFT avatars will be used to fight off other forest poachers and protect the environment. You can earn free $CHMPZ tokens and premium prizes through the zero-tolerance P2E game.
Through the Chimpzee online store, you can purchase merchandise and gear. You are rewarded with $CHMPZ tokens for purchasing items from the store. Chimpzee will also donate a portion of the revenue collected to charities it works with.
Through the NFT trade-to-earn marketplace, users can also trade and generate passive income. Chimpzee will set up a pool and allocate a portion of the trading fees generated as passive income. Those holding NFT passports will be able to earn a higher share of the pool.
Currently priced at $0.001, the price will rise to $0.00185 per token by the exchange listing.
Chimpzee has now raised around $1.2 million since the presale started – read the Chimpzee whitepaper and join the Telegram channel to stay updated with this project.
| | |
| --- | --- |
| Token symbol | CHMPZ |
| Total supply | 200 Billion |
| Presale supply | 40 Billion |
| Network | Ethereum (ERC20) |
| Purchase methods | ETH, USDT, Credit Card |
5. Scorp Token – Top Staking and Casino Token
The Scorp Token (SCORP) is a vital part of the Scorpion Casino platform, as it can be used to earn passive income, access crypto casino games, and get access to affiliate rewards programs.
Built on the Binance Smart Chain, $SCORP has a total supply of 1 billion. 400 million tokens have been allocated for the ongoing presale, and another 80 million will be offered to presale investors as rewards. By purchasing $SCORP on presale, investors can also be a part of a $250K giveaway.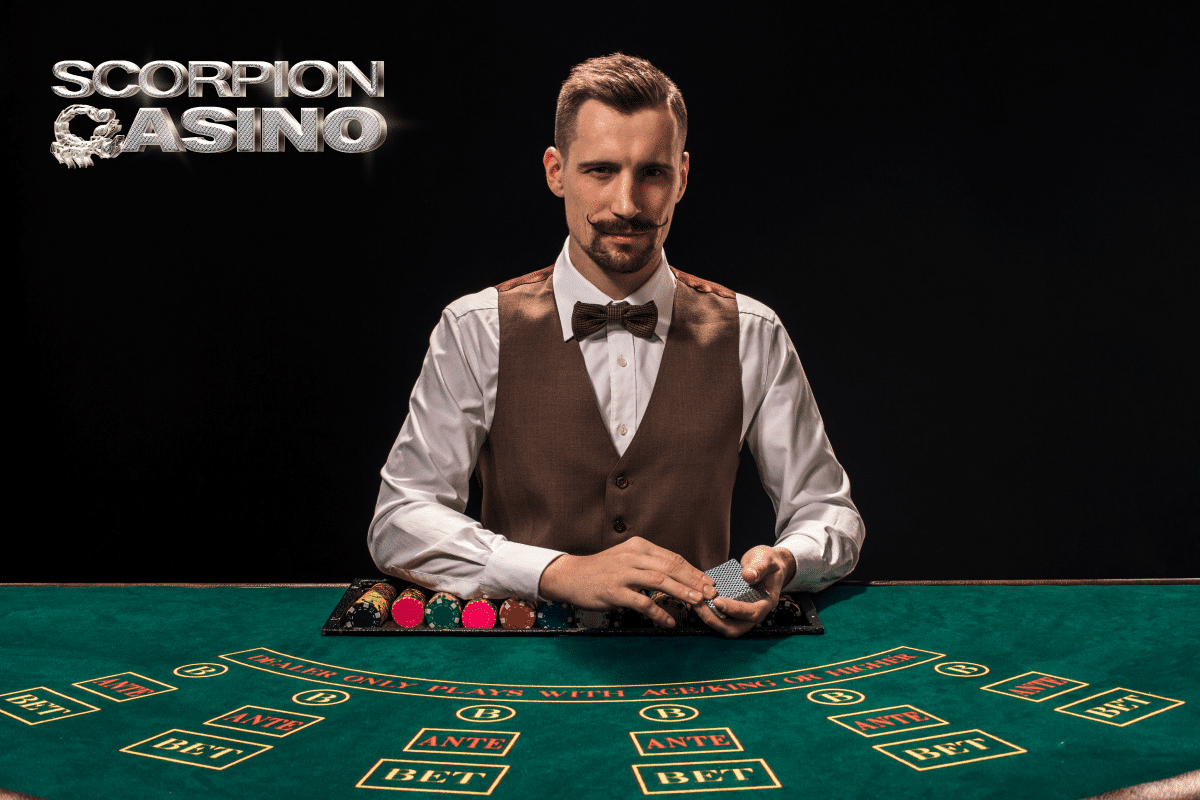 On the casino and sports betting platform, $SCORP token holders will be given exclusive benefits. Token holders can also earn weekly bonuses and free games. They will also get 40% in free credits on various casino games.
The token can be staked on the ecosystem to earn daily staking rewards. For each sell transaction, Scorp Token charges a 10% tax. 2% of this is sent to the staking pool, through which passive income is distributed.
Another 5% of the tax is used for marketing purposes, 1% is burnt, and 2% will be used for liquidity purposes. Furthermore, by spending over $1,000 on the casino, you will get access to the Elite Scorpion Members Club. Depending on your invested amount, this club gives access to additional staking rewards, VIP support, and cashback.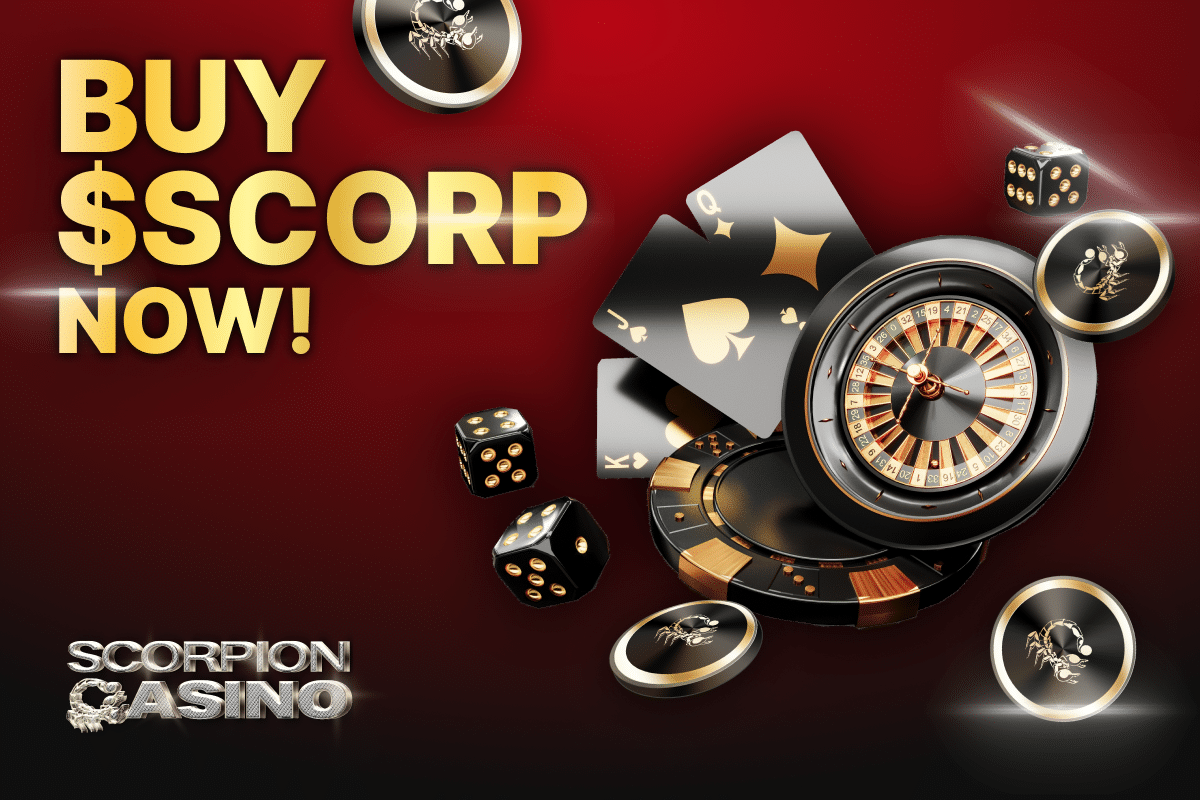 On the casino, users can play Poker, Blackjack, slot machines, Crash games, and other live casino games. A sportsbook comprising 35+ sports betting markets is also offered. The presale has raised more than $500k.
$SCORP will trade at the $0.05 level after listing on exchanges. Stay updated on this cryptocurrency by going through the Scorpion Casino whitepaper and join the Telegram channel.
The Doge Uprising smart contract has been successfully audited by SolidProof.
| | |
| --- | --- |
| Token symbol | SCORP |
| Presale supply | 200,000,000 SCORP |
| Token type | BEP-20 |
| Payment methods | ETH, USDT, BNB |
| Listing price | $0.05 |
6. Doge Uprising – Exciting Doge-Themed Shitcoin Can be Leveraged to Buy NFTs and Earn Staking Rewards
Doge Uprising ($DUP) is a new shitcoin that has been launched on presale. This doge-themed project is built on the narrative of a dystopian future where Doge Mecha avatars arise to take on the reign of the lizard king.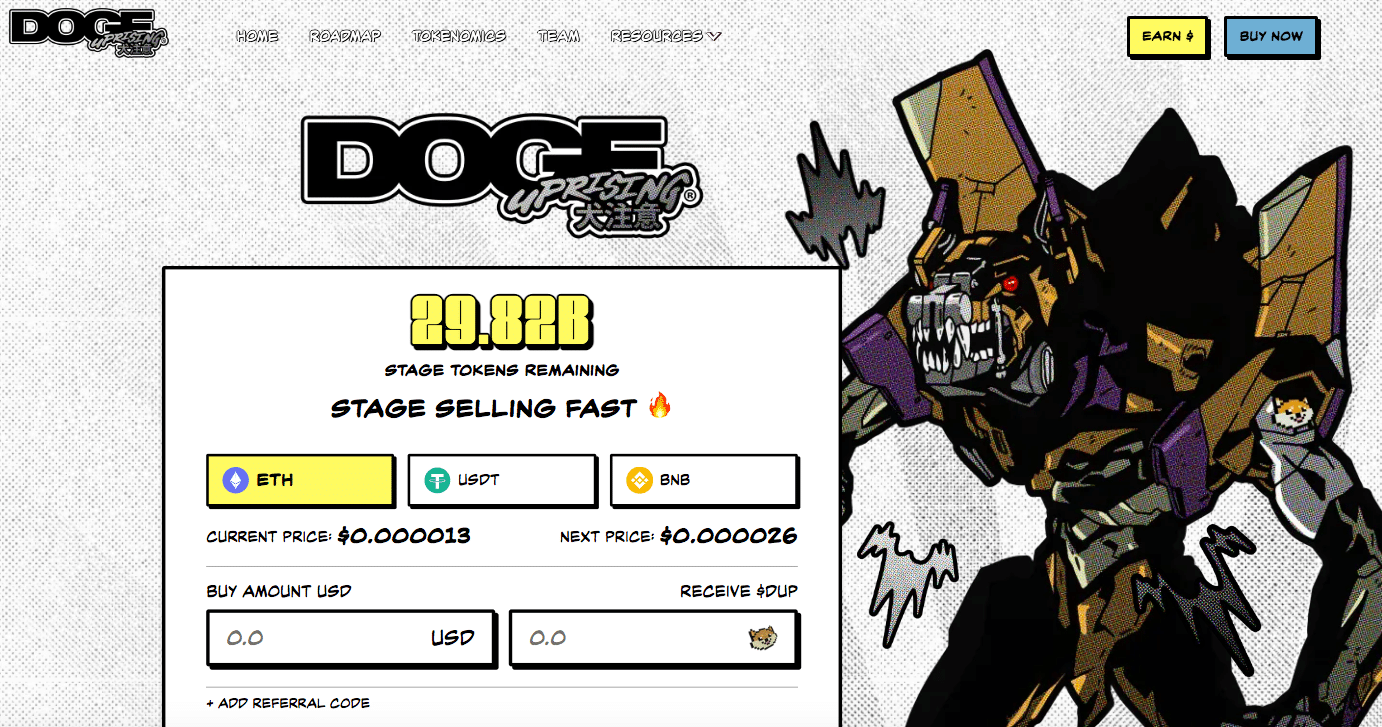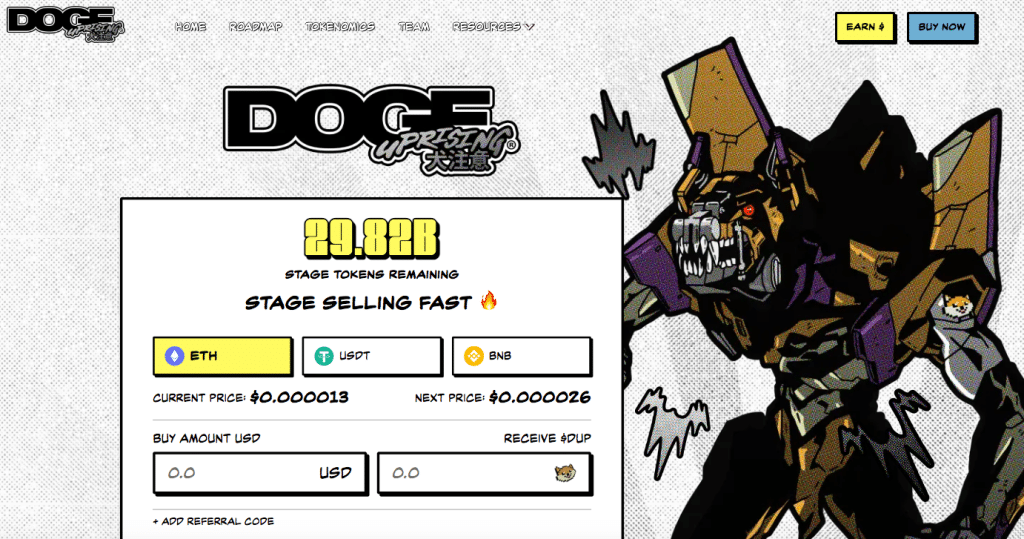 The narrative has been created by Doge Uprising's own manga series. It is based in the year 2045, where Mark Zuckerberg's technocratic rule is controlling the world.
The Doge Mechas arise to defeat his rule, as they are powered by the $DUP token. According to the Doge Uprising roadmap, the $DUP token can be staked on the ecosystem to earn rewards. In the future, token holders can also purchase Doge Mecha NFTs.
Currently, the $DUP token is priced at only $0.000013 on presale. By the next presale round, the price will double to $0.000026 per token. The cryptocurrency has a supply of 450 billion – 60% of which has been allocated for the ongoing presale. Another 10% of the supply will be offered through airdrops.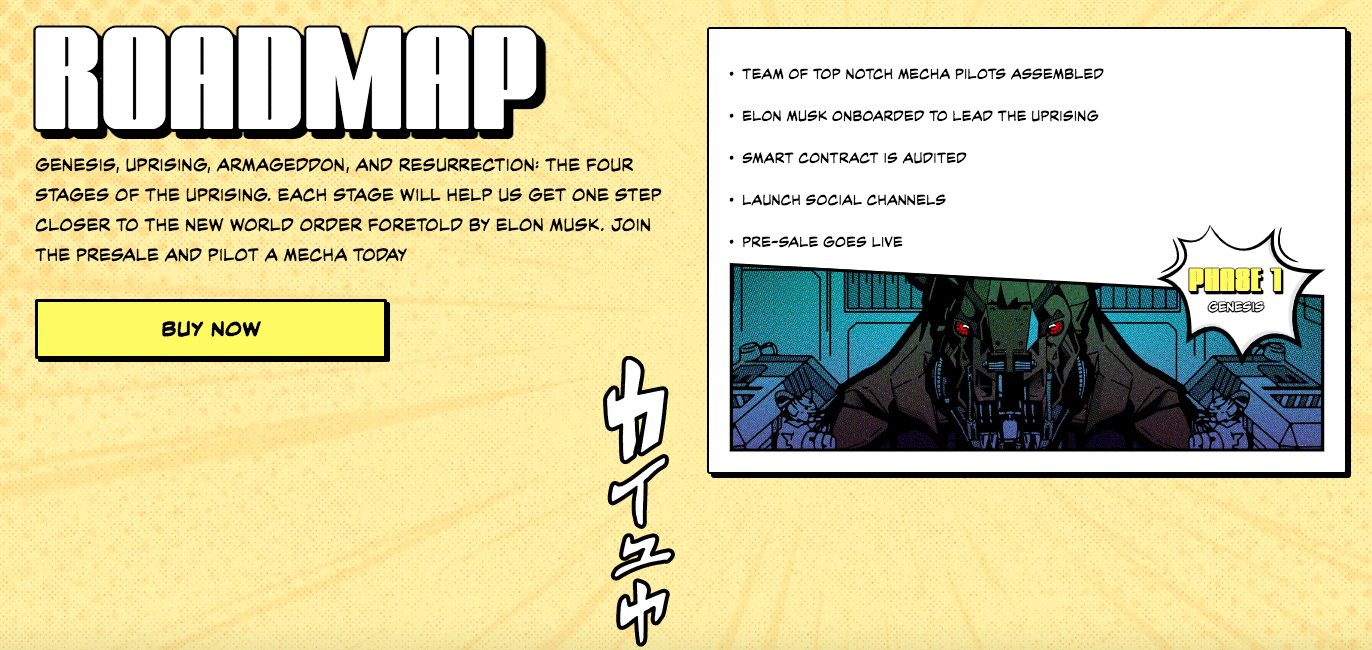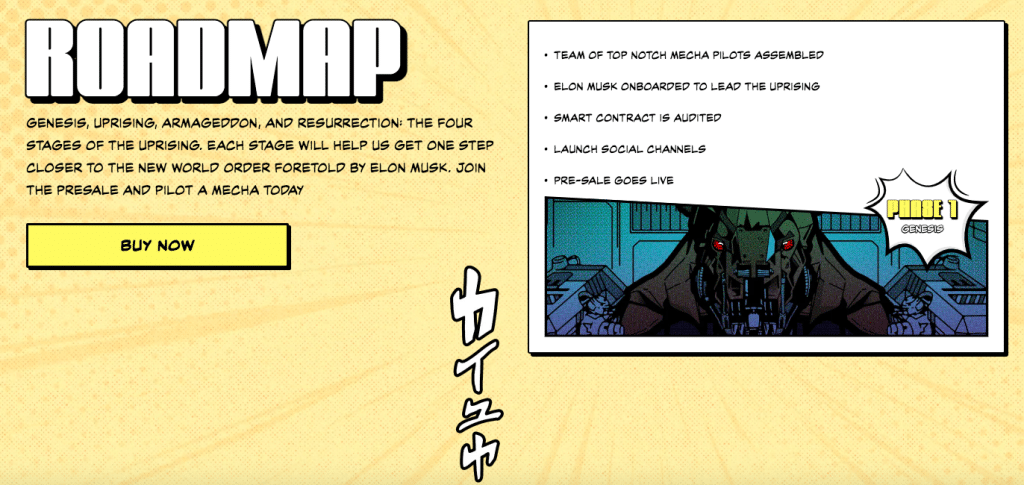 10% has been allocated for marketing and development purposes, while the remaining 20% will be reserved for exchange listings. Doge Uprising's roadmap states that the token will be listed on the Uniswap decentralized exchange.
Go through the Doge Uprising whitepaper and join the Telegram channel to learn more about this cryptocurrency.
| | |
| --- | --- |
| Token symbol | DUP |
| Presale supply | 270,000,000 DUP |
| Token type | ERC-20 |
| Payment methods | ETH, USDT, BNB |
| Listing price | N/A |
7. Sensei Inu – Deflationary Proof-of-Value Crypto will Rise By Over 14% on Presale
Sensei Inu ($SINU) is a new shitcoin that offers real utility to investors. Apart from being available at its lowest presale price possible – $SINU will offer deflationary characteristics, can be earned through a Learn2Earn ecosystem, and gives access to a decentralized autonomous organization (DAO).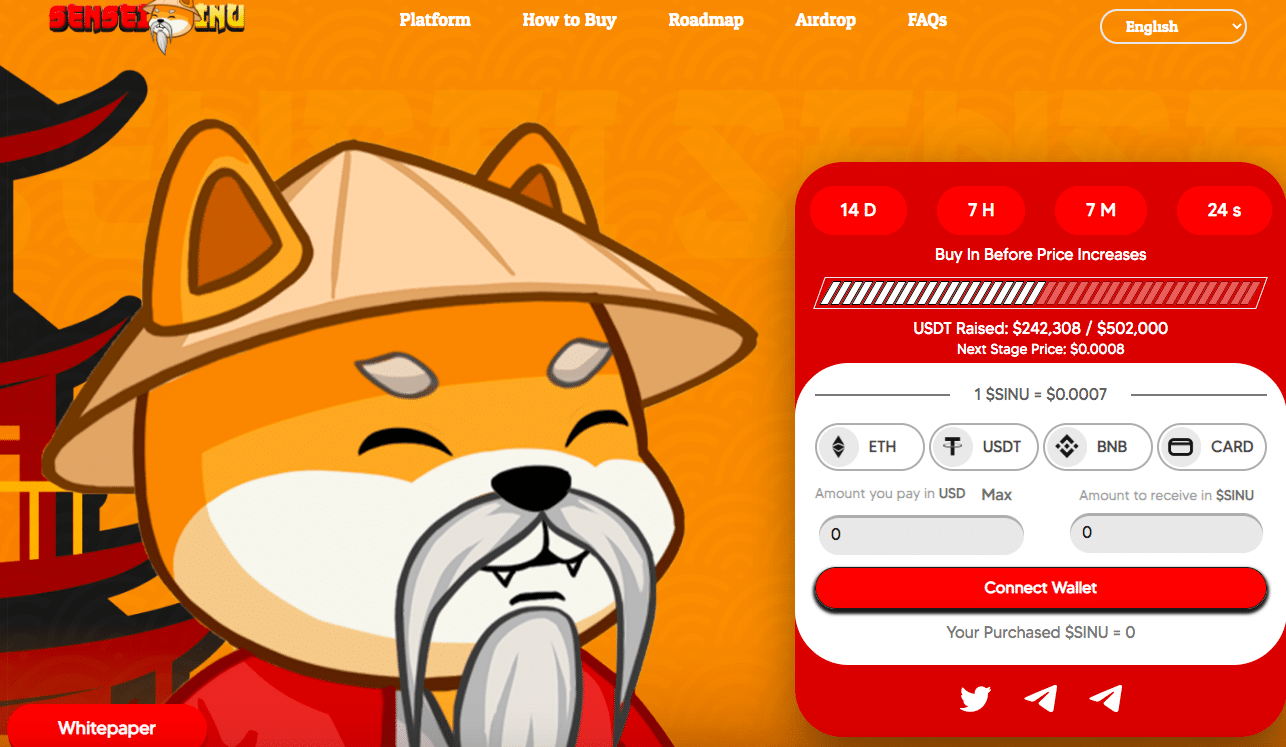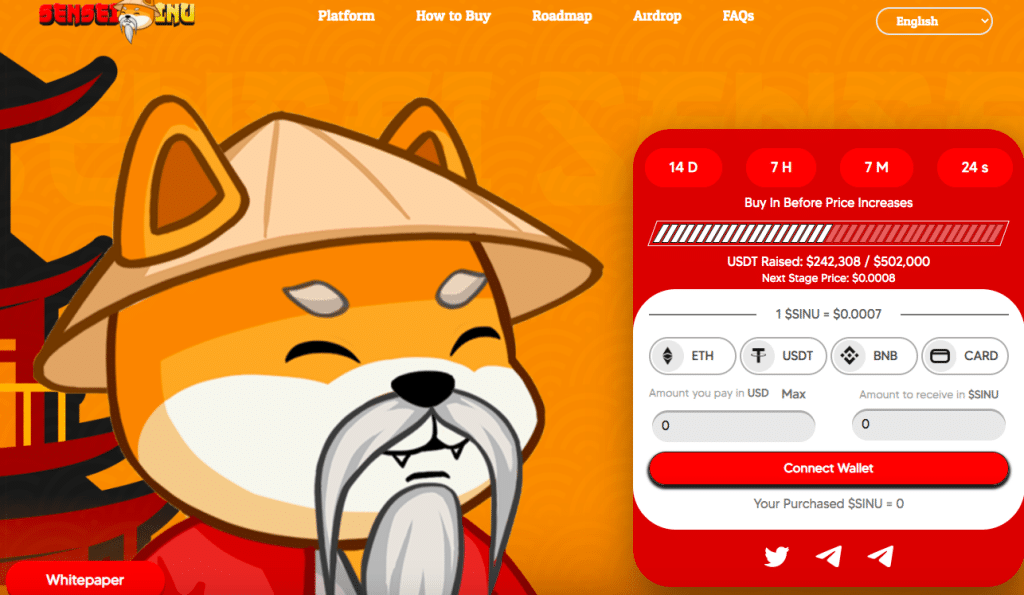 At the center of the Sensei Inu ecosystem is a trivia quiz platform. Sensei Inu adopts a proof-of-value mechanism – awarding $SINU tokens to investors possessing knowledge about the crypto markets. Every month, users can take part in trivia quizzes consisting of 10 questions each.
Sensei Inu will track the ten best performers through a leaderboard – and award them with $SINU tokens. Players can track their performances in real-time through a Sensei dashboard – which will be released in the future.
Token holders can get access to the Sensei Inu DAO – and vote on important platform-related discussions. This allows community members to play an integral part in dictating the future of the platform. To build a loyal following of investors, Sensei Inu is also running a presale airdrop campaign – which will award 50 million tokens.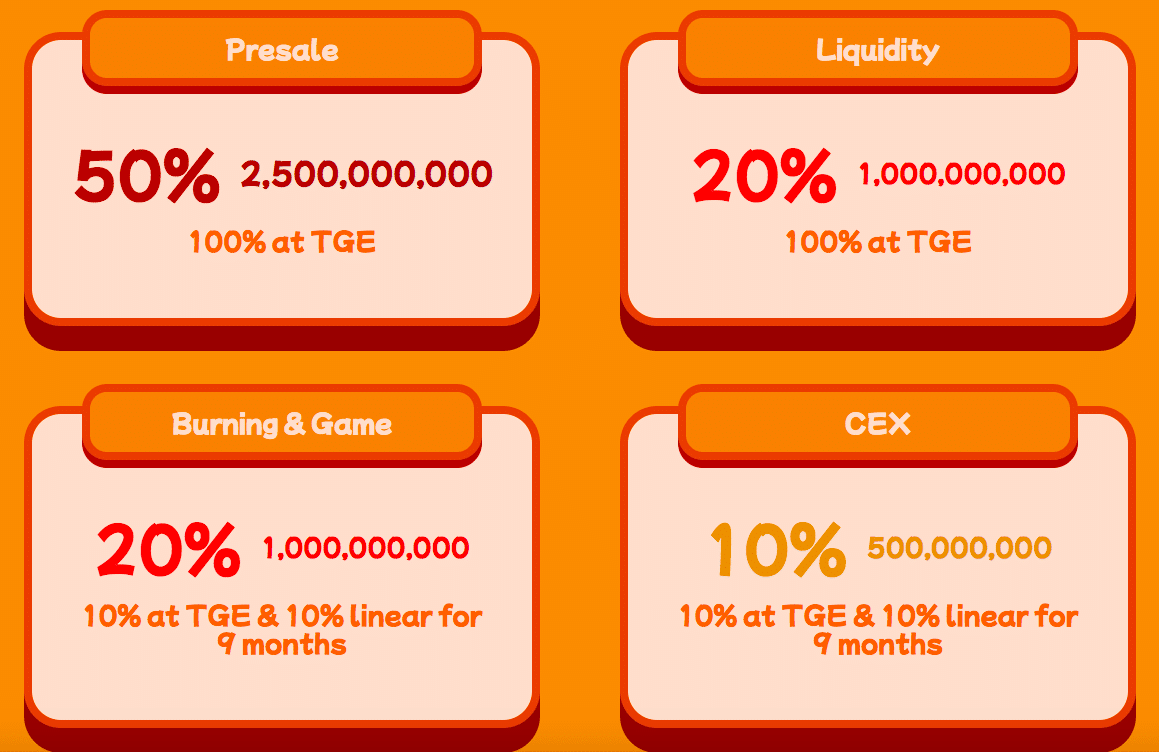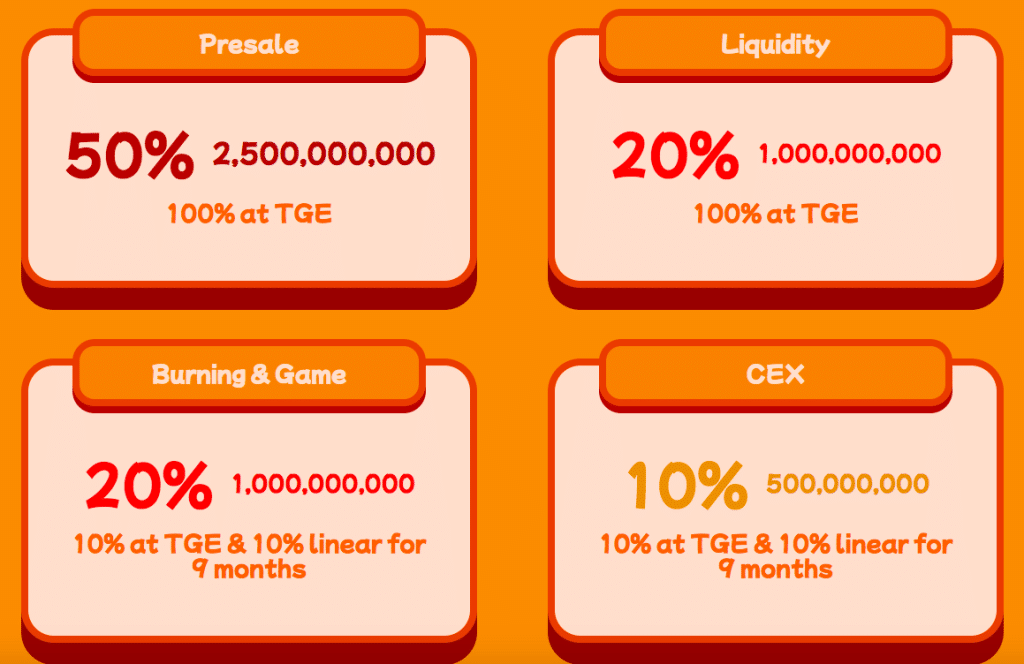 The ongoing presale round has priced $SINU for only $0.0007 per token – but will jump to $0.0008 by the next stage. This represents a 14.28% price increase. 2.5 billion tokens are allocated for the presale – representing 50% of the total 5 billion supply.
In the future, Sensei Inu will conduct a monthly burning event to further reduce the token supply. Sensei Inu has raised over $240K since the start of the presale. Stay updated with this cryptocurrency by reading the Sensei Inu whitepaper and joining the Telegram channel.
| | |
| --- | --- |
| Token symbol | SINU |
| Total supply | 5 Billion |
| Presale supply | 2.5 Billion |
| Network | Ethereum (ERC20) |
| Purchase methods | ETH, USDT, BNB, Credit Card |
8. Dogecoin – Popular 'Dog Token' with $8 Billion Market Cap
One of the first shitcoins in the cryptocurrency space, Dogecoin, was launched in 2013 and has since become one of the best shitcoins to buy right now. The creators of Dogecoin named the cryptocurrency after the popular 'Doge' meme which was circulating around the time.
To the surprise of the creators and the general public, Dogecoin's native token, DOGE, ended up becoming one of the biggest and top cryptocurrencies in the world. While the token offered little growth in its initial few years, the price of DOGE shot up in 2021.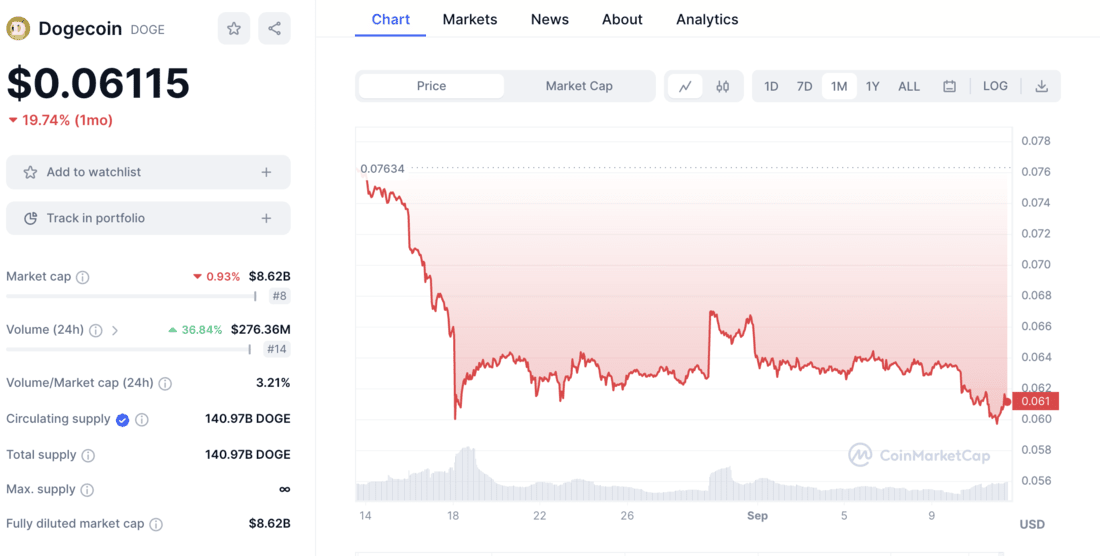 The shitcoin shares a fair bit of correlation with Elon Musks' views. In fact, Elon Musk's cryptic tweet about Dogecoin has caused the cryptocurrency to gain value, even amidst a wider downturn in the crypto market.
DOGE soared from the $0.0045 level in January 2021 to an all-time high (ATH) of $0.73 in May of the same year. This equates to a staggering price jump of 16,122%. The token also became very popular on social media after Elon Musk, the Tesla CEO, tweeted in favor of this project.
However, Dogecoin has proven to be a volatile cryptocurrency to trade. Due to the lack of use cases this shitcoin offers, it has dropped in value throughout the years.
This shitcoins price declined by nearly 60% throughout 2022. Currently, Dogecoin is priced at $0.061 per token, 90% below its ATH. However, DOGE is still a large cap digital asset, with a market cap of over $8 billion.
Don't invest unless you're prepared to lose all the money you invest. This is a high-risk investment and you should not expect to be protected if something goes wrong. Take 2 mins to learn more.
9. ApeCoin – Shitcoin launched by the Bored Ape Yacht Club Team
ApeCoin is a cryptocurrency created by the makers of Bored Ape Yacht Club (BAYC), the popular NFT collection with a market cap of more than $1.2 billion. This token is at the center of the APE Foundation, which aims to give voting and decision-making power to community members.
APE, the native token, is used to participate in the APE DAO (Decentralized Autonomous Organization). Members of the DAO can make decisions about fund allocations on the ecosystem, partnerships, and future plans.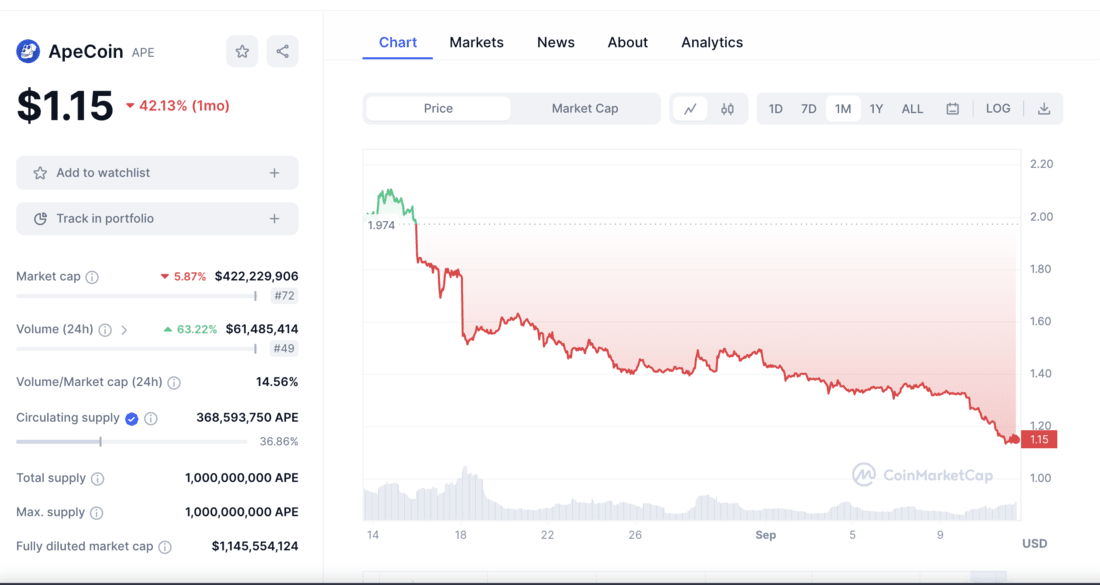 After launching in early 2022, APE managed to offer returns instantaneously.
The crypto soared from the $8.50 level in March 2022 to an ATH of $26 by April of the same year. After increasing by more than 3x since its launch price, APE declined throughout 2022, ending the year at the $3.60 mark.
As of May 2023, APE is priced at $1.15 per token.
Don't invest unless you're prepared to lose all the money you invest. This is a high-risk investment and you should not expect to be protected if something goes wrong. Take 2 mins to learn more.
10. Shiba Inu – Trending Meme Coin with Strong Brand Presence
After the success of the popular meme coin, DOGE, many dog coins started circulating the market. While most of the tokens did not attract much attention, Shiba Inu has grown as one of the biggest shitcoins in the cryptocurrency space.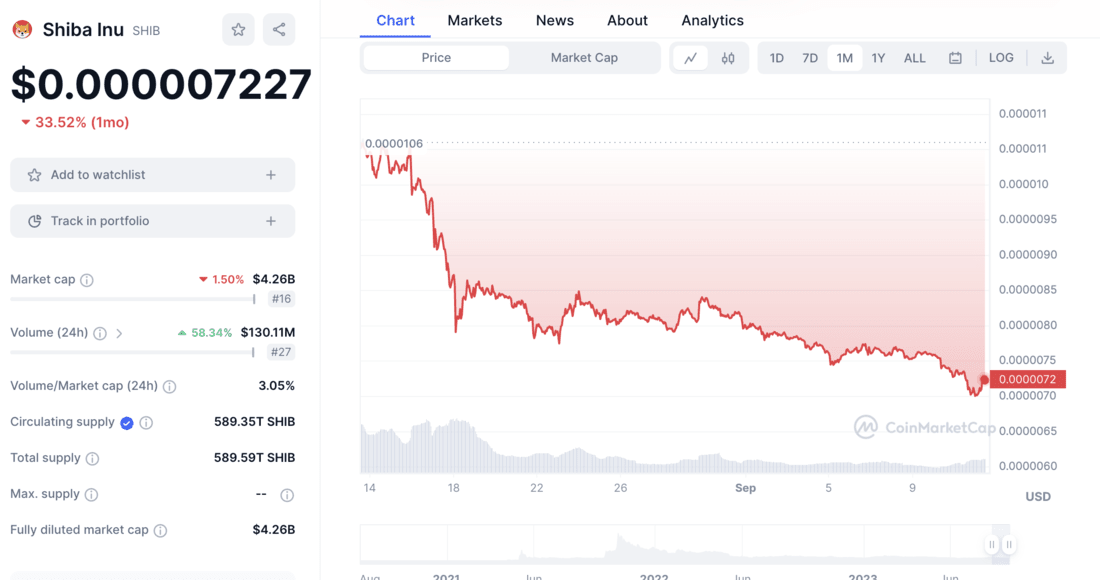 Launched in 2020, the Shiba Inu creators termed it the 'Dogecoin Killer'. In fact, SHIB, the native token, overtook Dogecoin's market cap in October 2021. SHIB is the 15th largest cryptocurrency, with a market cap of over $5 billion.
The platform has also been developing use cases for its ERC-20 token. In 2022, Shiba Inu announced the Shibaverse, which will function as the cryptocurrency's own metaverse. Another project that Shiba Inu announced is the Oshiverse, a play-to-earn video game currently being developed.

Shiba Inu burst onto the scene in 2021 after it skyrocketed by 111,399,000%, reaching an all-time high of $0.000086 in October 2021. Currently, this shitcoin price is 90% below its ATH, trading at just $0.000007 per token. However, Shiba Inu has built up a strong social media following, with more than 3.6 million Twitter followers and nearly 500k people using the SHIBArmy subreddit.
Don't invest unless you're prepared to lose all the money you invest. This is a high-risk investment and you should not expect to be protected if something goes wrong. Take 2 mins to learn more.
11. Floki Inu – Shitcoin that is Trading 300% Up in 2023
After launching in June 2021, Floki Inu (FLOKI) has become one of the biggest shitcoins in the digital assets space. The token was named after Elon Musk's new pet Shiba Inu, which goes by the same name.
Despite the meme status of this cryptocurrency, FLOKI is at the center of multiple ecosystem projects. Firstly, Floki Inu is developing Valhalla – its own NFT gaming metaverse ecosystem.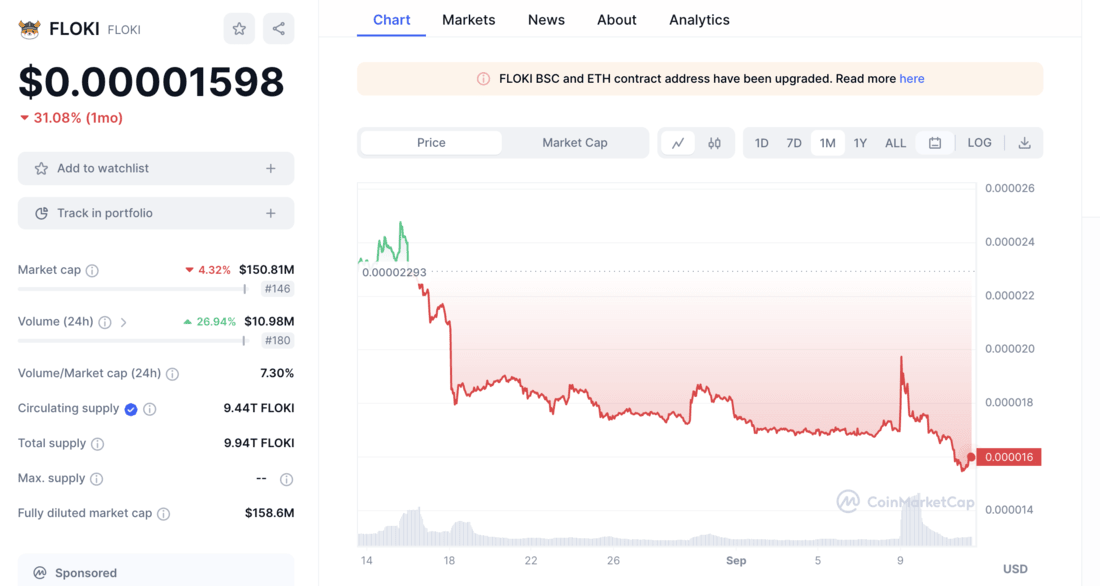 The Floki whitepaper also mentions that the token will be an integral part of the Floki University – an educational ecosystem through which members can learn about cryptocurrencies.
However, the cryptocurrency typically attracts movement due to viral social media posts. In 2023, the token started trading upwards after Elon Musk posted a picture of his Floki Dog.
Since the start of 2023, this cryptocurrency has soared from $0.000008 to $0.000015, equating to a 300-plus% price jump. FLOKI has a market cap of more than $150 million.
Binance listed Floki Inu at the start of May.
Don't invest unless you're prepared to lose all the money you invest. This is a high-risk investment and you should not expect to be protected if something goes wrong. Take 2 mins to learn more.
Shitcoins: Explained
Shitcoins generally refer to cryptocurrency projects not known for offering high utility and use cases.
Similar to meme tokens, shitcoins are popular cryptocurrencies that have witnessed explosive growth due to a variety of reasons.
For instance, shitcoins like Dogecoin and Shiba Inu are two of the market's biggest 'dog coins.' These tokens experienced staggering growth in 2021 when the cryptocurrency space was very bullish.

With projects like Shiba Inu, the creators never intended for this cryptocurrency to have any real purpose. But, after the token became one of the largest cryptocurrencies, the creators have begun to incorporate some use cases.

Other projects, such as Floki Inu, experience growth due to their online popularity. Since the token itself is named after Elon Musk's dog, it often moves higher after Musk tweets about his pet.

Finally, many shitcoins derive value since they have a huge social media following. Dogecoin is one of the most followed cryptocurrencies, raking in a Twitter following of more than 3.6 million.
Are Shitcoins Safe?
Shitcoins are generally considered risky investments. Unfortunately, crypto scammers are becoming increasingly sophisticated and can rip off billions of dollars through digital pump-and-dump schemes.
Individuals can artificially inflate the coin's price and then sell off their holdings at a profit, leaving unsuspecting investors with worthless tokens. Thus, buyers need to look at the team behind the project to avoid falling prey to such coins.
Another risk of shitcoins is the potential for security breaches and hacking attacks. As these coins are often created by unknown developers and traded on unregulated exchanges, there is a higher risk of vulnerabilities in their code, making them easy targets for hackers.
Furthermore, unlike established cryptocurrencies, a lot of shitcoins have no real-world use cases, making their value solely reliant on hype and speculation. This means their value can quickly plummet, leaving investors with significant losses. As a result, it's important to look for coins with real-world utility and a solid roadmap.
Should you Invest in Shitcoins?
Now that you have gone through our reviews of the top shitcoins to buy, it is vital to understand whether this space may be a good investment opportunity for you.
But how do you know which crypto will become the next Shiba Inu? We explain some of the reasons why you should and shouldn't invest in shitcoins.
Short-Term Returns
One of the reasons why investors trade shitcoins is due to short-term profits. Some of the best shitcoins have offered huge returns in the span of a couple of months – FLOKI, for instance has been up by nearly 300% since the start of 2023.
Similarly, Dogecoin managed to jump by over 16,000% when it was bullish in 2021. Thus, diversifying your portfolio and adding a small section of shitcoins can be a good way to enter the cryptocurrency market.
High-Risk and Speculative Investments
While shitcoins have offered high returns, it is essential to note that they are a volatile and high-risk asset to trade. Shitcoins have been termed as such due to the lack of value and utility they offer. Thus, they are traded mostly based on their current popularity and brand value.
Investors should only trade what they are willing to lose since this high-risk space is notorious for wiping out returns as fast as they deliver profits.
The Verdict
We have reviewed a range of the best shitcoins to buy in 2023. While popular cryptos such as Dogecoin (DOGE) and Shiba Inu (SHIB) have offered staggering returns, new projects with small market caps and presales are some of the top cryptocurrencies to watch out for right now as they offer more room for growth.
Meme Kombat (MK) is our top shitcoin to buy right now, offering staking and wagering opportunities on its battle arena.
FAQs
What are some of the best shitcoins to buy?