Telegram bots enable a wide range of automations through messaging. Telegram users can bet on their favorite casino games, place stock and crypto trades, set up reminders, chat with an AI, and so much more.
The number and quality of Telegram bots is growing by the day, making this a really exciting area for discovery. In this guide, we'll review the best Telegram bots to use in 2023.
The Top 11 Telegram Bots for 2023
Telegram bots can be both fun and incredibly useful. Let's jump straight into our best Telegram bots list.
Mega Dice – Popular crypto casino that enables players to bet and win with a Telegram bot, as well as sign-up and transfer securely and anonymously. Mega Dice offers thousands of games, including slots, blackjack, roulette, and more. New players earn a 200% welcome bonus up to 1 BTC.
TG.Casino – Upcoming crypto casino that utilizes the power of Telegram bots to offer anonymous, secure and instant sign-up and crypto transfers to a variety of Web3 wallets. Currently in its presale with investors able to earn 1,200% staking APY and be part of the casino's profit-sharing.
Skeddy – Easy-to-use automated reminder bot. Message Skeddy with an event or reminder and the date and time, and the bot will send a Telegram notification in the future.
DropMail.me – Fast and simple bot for creating disposable email addresses. Temporary emails are perfect for signing up for services. Email addresses are deleted after 10 minutes.
Sportsbet.io – Sports betting bot that accepts wager on the NFL, NBA, soccer, and more. Bets are routed through the Sportsbet.io sportsbook. Get a free bet after placing 3 bets with the bot.
Combot – Turn any Telegram group into a moderated community. The bot provides automated moderation, message analytics, anti-spam controls, and more. Combot is free for small groups.
File to Bot – Cloud storage bot for saving and sharing files. Just post a file and the bot will upload it to a private cloud storage container, then give you a link and QR code to share access to the file.
Stock Pro – Stock market Telegram bot that delivers real-time price data via messages. Ask for the latest price of any symbol, get updates on a watchlist, and more.
Feed Reader Bot – RSS-reader bot that monitors a user's favorite blogs and newsletters. Whenever there's a new post, the bot will deliver a notification and a link on Telegram.
Meme Autobot – Need a meme quickly? This Telegram bot delivers. Just describe the meme elements in a message and Meme Autobot will assemble it.
PollBot – Easily add polls to any Telegram group. Send a message with the poll options, select the group for the poll, and start collecting responses in seconds. PollBot is faster and easier than Telegram's polling tool.
The Best Telegram Bots Reviewed
There's such a wide range of Telegram bots to choose from that users can now find a bot for almost every purpose imaginable. Let's take a closer look at our favorite Telegram bots to try today.
1. Mega Dice – Crypto Casino Bot with Thousands of Games
Mega Dice is one of the best online crypto casinos and it now offers players access to its huge library of games through a Telegram bot.
Players can start chatting with the bot, launch a mini-version of the casino in Telegram, and start playing in seconds. Responsive buttons make the bot easy to use and it captures all of the magic of playing at Mega Dice's online casino.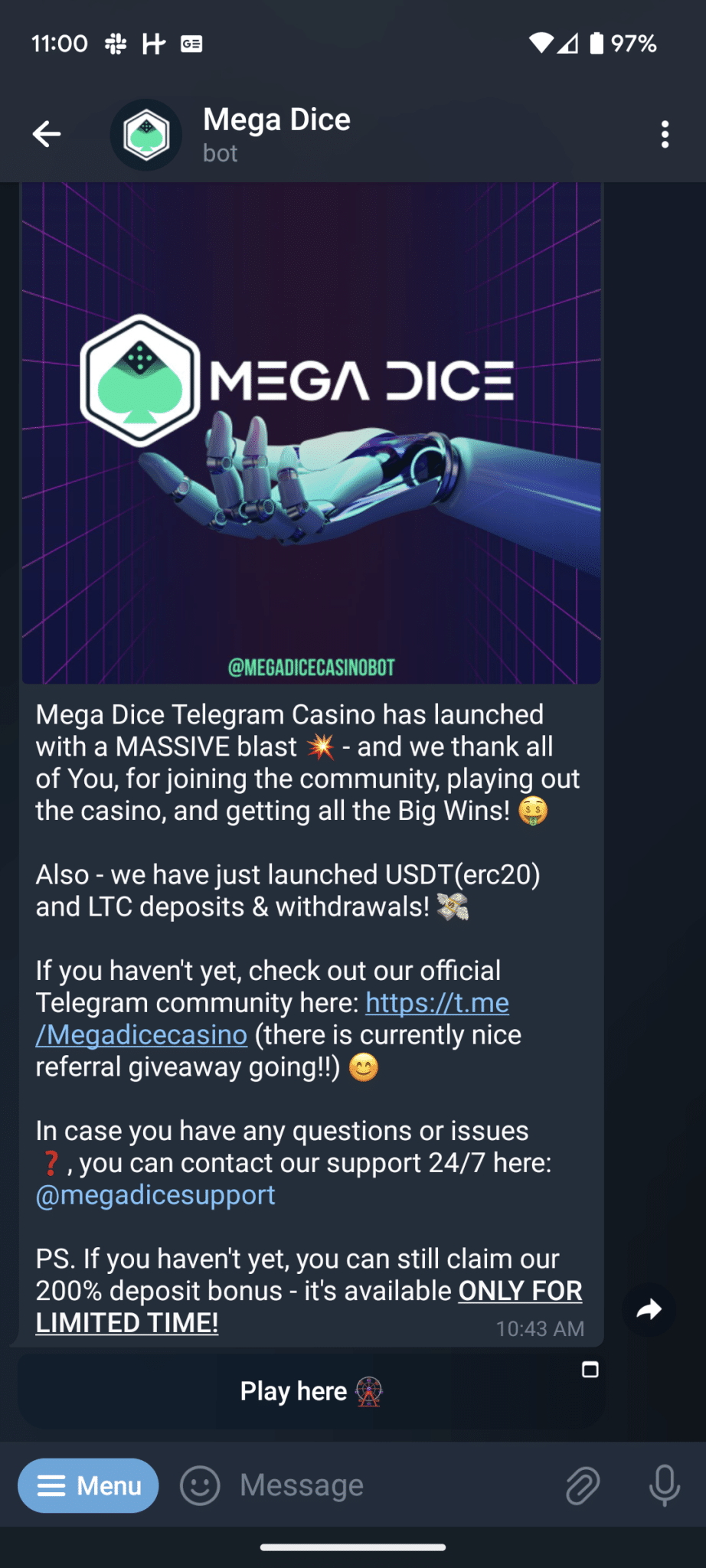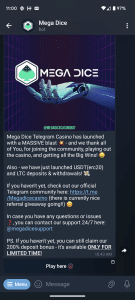 The Mega Dice bot offers everything from popular slots to classic table games like blackjack, roulette, and baccarat. Players can deposit crypto and win real money, just like they would on the Las Vegas Strip. Mega Dice currently accepts Bitcoin, Ethereum, Dogecoin, and Tether via Telegram.
One major advantage to playing with the best Telegram casino is that players don't have to register. That's big because many online casinos restrict players from the US and UK. With this Telegram bot, it doesn't matter where a player is—they can hop on the chat and start playing immediately.
Mega Dice also has a sweet deal for new players. When they join, the casino will match their first deposit 200% up to a maximum of 1 BTC. That's nearly $30,000 in bonus cash on the line.
Telegram address: @MegaDiceCasinoBot
2. TG.Casino – Upcoming Telegram-Powered Casino now on Presale with 1,200% APY and Profit-Sharing
TG.Casino utilizes powerful Telegram bots to make itself one of the best Telegram casinos despite not even launching yet.
The upcoming casino uses the powerful messaging app to allow players to sign-up and deposit and withdraw securely, instantly and anonymously.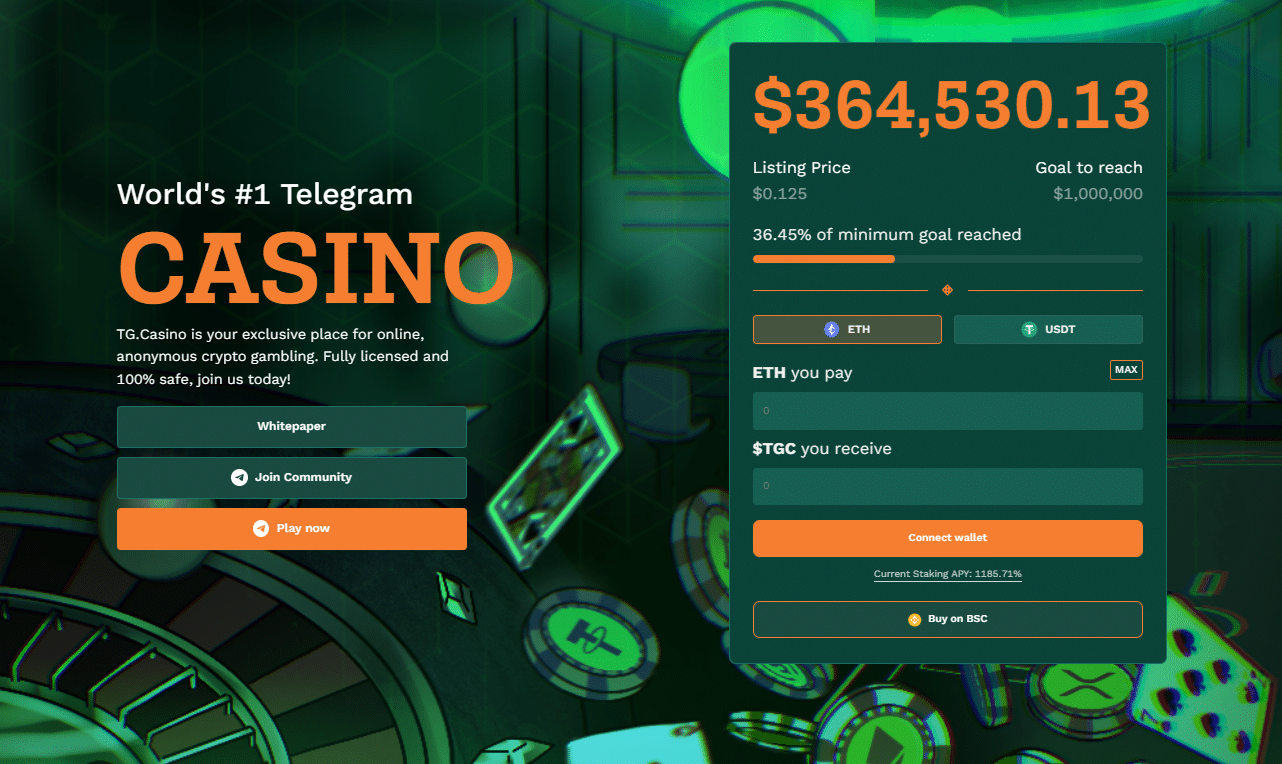 There is no KYC verification needed when signing up with Telegram and the app also has functionality with leading crypto wallets such as MetaMask and Coinbase – as well as offering no fees and a minimum transfer amount of just $1.
Although the casino is yet to launch, new players will be able to earn a huge welcome bonus of 150%, up to $30,000, plus 500 free spins.
TG.Casino will offer thousands of slots, including popular games like Aviator and Plinko, casino classics – with live dealers and tables to suit all levels of players – and a full sportsbook with pre-game and in-play markets on top competitions like the NFL, NBA and Premier League.
The project is currently offering native token $TGC during a high-potentual crypto presale that has already raised more than $375k.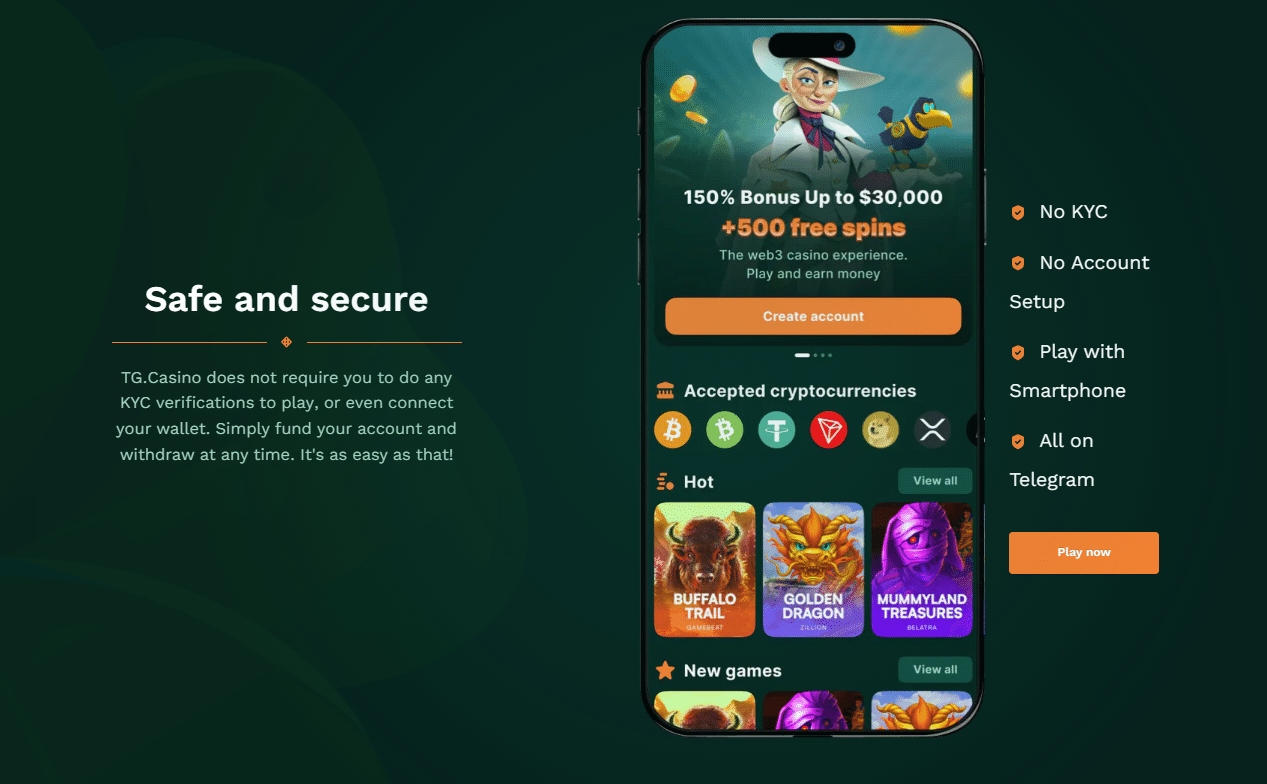 Tokens can be used to earn huge staking APY – currently around 1,200% – as well as to be rewarded in TG.Casino's profit-sharing program. The casino will use profits to buy back tokens and then distribute them to stakers, with 60% going shared as rewards and 40% sent to a burn address, making the supply deflationary.
More information on the casino and the $TGC token presale can be found in the whitepaper or the Telegram community group.
Telegram address: @TG_CasinoCommunity
3. Skeddy – Reminder Bot So Users Never Forget a Thing
Skeddy is a simple but powerful Telegram bot for creating automated reminders. Users can message the bot with a note or event and when they want to be reminded about it. Then Skeddy will send them a Telegram notification at the proper time.
It doesn't take much to create a reminder. For example, users can message "Email Jen tomorrow 10am" and Skeddy will set up an alert. When a notification drops, users can tell Skeddy to remind them again later if they want another reminder.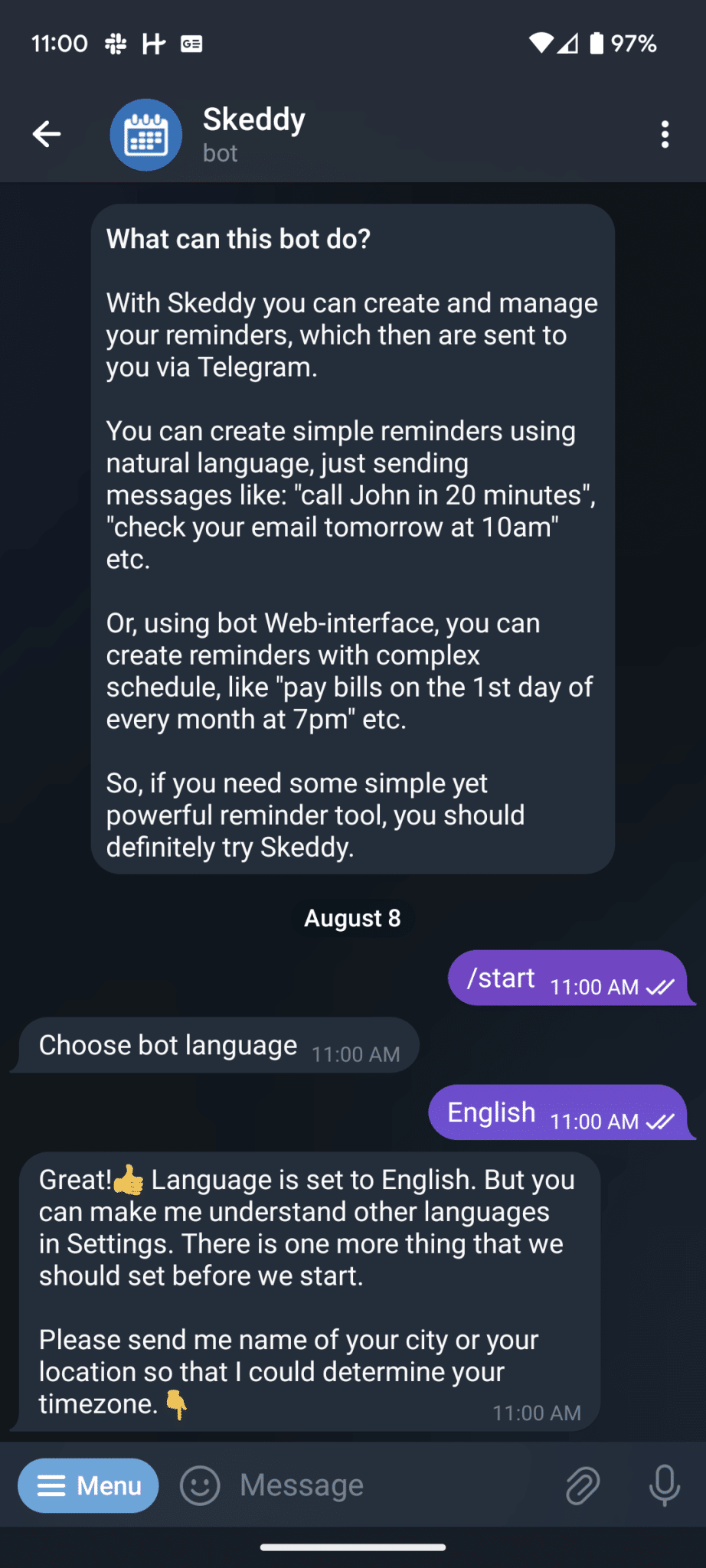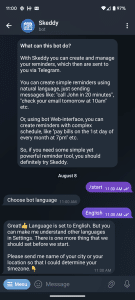 Skeddy can also take notes, making it great for to-do lists and shopping lists. Users can ask Skeddy to show all of the notes and reminders currently queued up at any time.
The bot is completely free and has its own dedicated channel, so it doesn't interfere with a user's other Telegram groups.
Telegram address: @SkeddyBot
3. DropMail.me – Generate Temporary Email Addresses in Seconds
DropMail.me is an awesome bot for privacy-focused Telegram users who hate giving out their email address. When signing up for a new service online, just ask DropMail.me to create a new email address and enter it into the sign-up form.
DropMail.me will display any messages sent to that email in Telegram, so it's easy to retrieve a one-time code or password.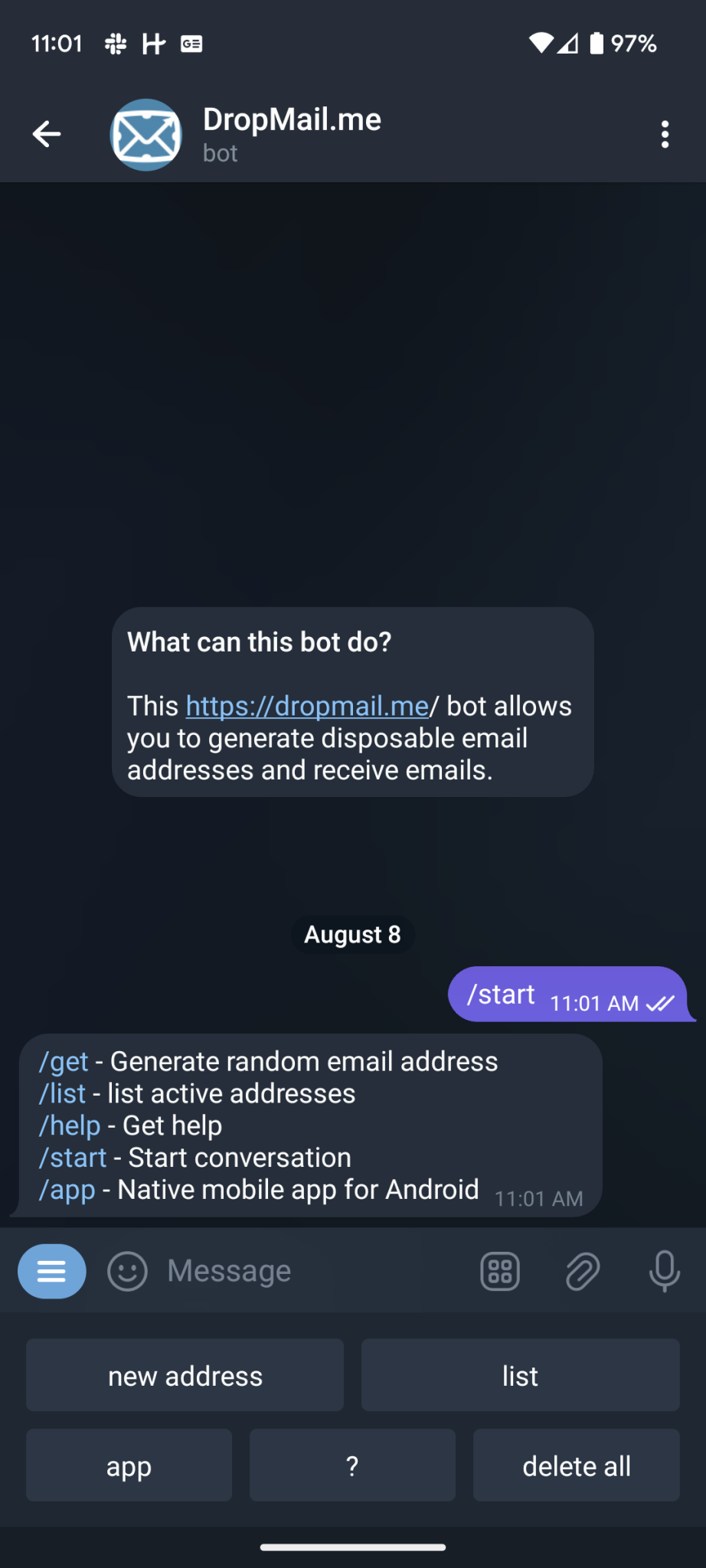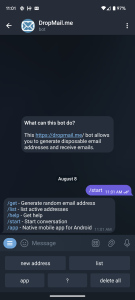 Just don't expect the email address to stick around for long. DropMail.me automatically deletes temporary email addresses after 10 minutes. Users can restore the email if needed, which is nice when it's needed to cancel a subscription or respond to another verification request.
Telegram address: @DropMailBot
4. Sportsbet.io – Sports Betting Bot Offering a Free Bet
Sportsbet.io is a top online sportsbook that recently released a Telegram bot to make betting easier than ever. The bot can give bettors the odds on upcoming events in the NFL, NBA, MLB, soccer, and tennis. Sportsbet.io is planning to add odds for even more sports markets in the near future.
Players must set up a Sportsbet.io account online before using the Telegram bot, but this only takes a minute. It's possible to make deposits and withdrawals right from the Telegram bot. This crypto sportsbook accepts more than a dozen popular cryptocurrencies and takes bets as little as 1 mBTC.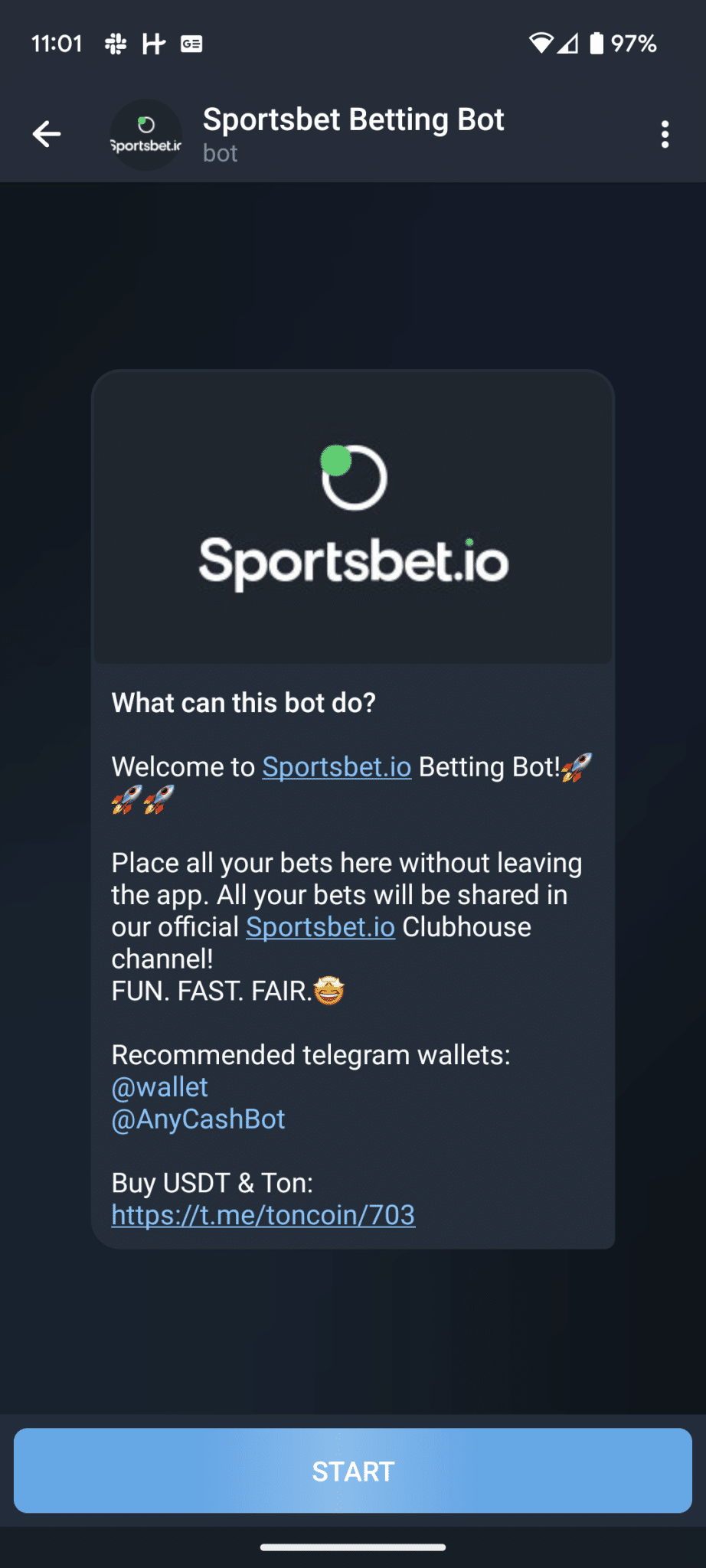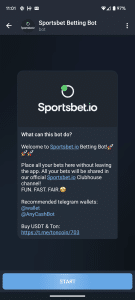 Sportsbet.io is currently offering a free bet to new players who use the Telegram bot. After they place 3 bets using the bot, their 4th bet is free up to 1 mBTC.
Telegram address: @betting_bot
5. Combot – Community Moderation Bot Offering Analytics, Anti-spam, and More
Combot is a community moderation bot that enables users to organize any Telegram group. It's perfect for a chat with a large group of friends, a growing work chat, or a purpose-driven community.
Combot steps in to handle dozens of small tasks like explaining rules to new users, moderating posts with inappropriate content or language, and preventing spam posts. The bot's filters and triggers are fully customizable, Combot also supports recurring and scheduled announcements.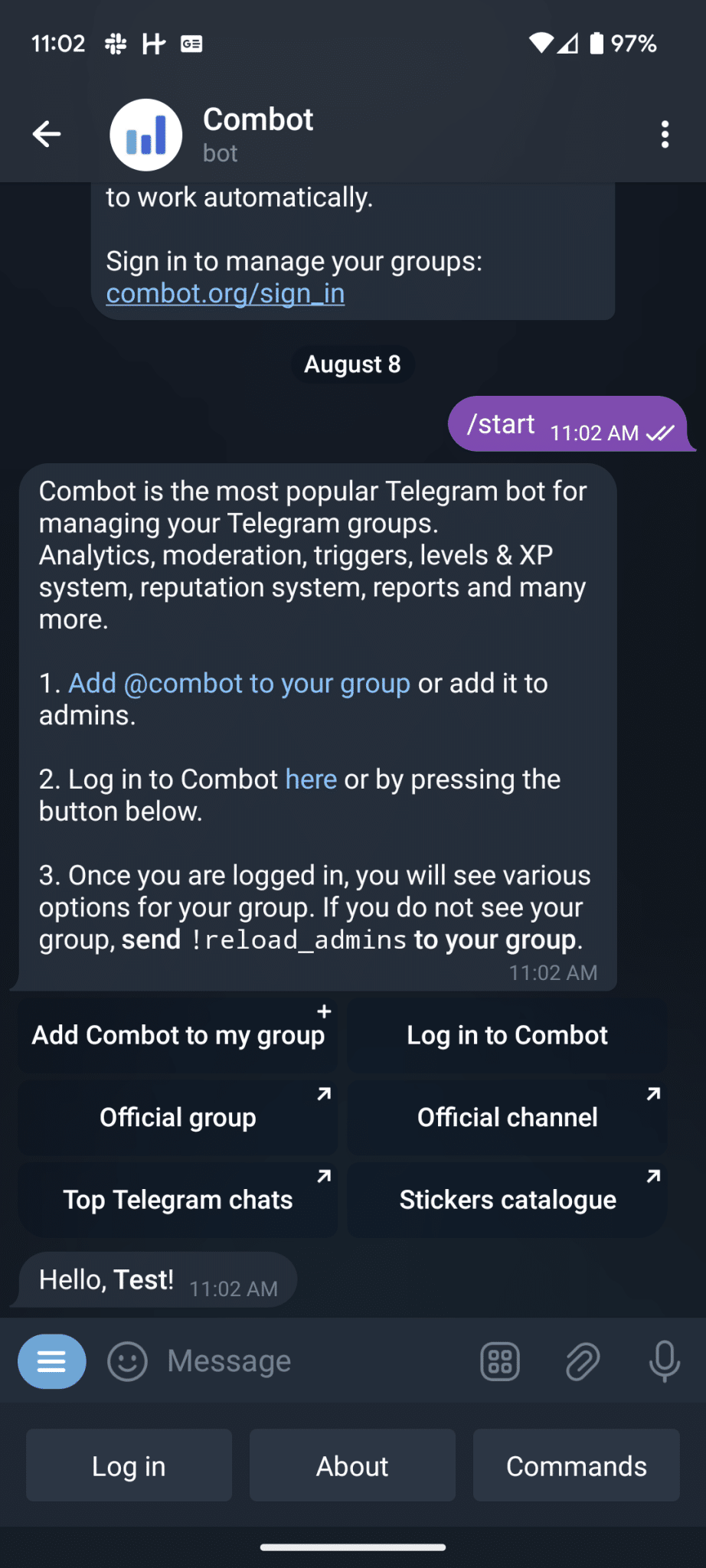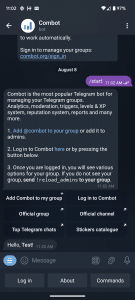 On top of that, Combot provides message analytics for group managers. This is helpful for monitoring activity in a channel, discovering the most-talked about topics, and more.
Combot is completely free for Telegram groups with up to 200 members. Pricing starts from $6 per month for larger groups.
Telegram address: @combot
File to Bot is a handy file storage and sharing Telegram bot. Post a file to the bot, and it will automatically upload it to a private cloud storage space. The bot will return a link and QR code, which users can easily share with friends on Telegram or on social media.
What's great about File to Bot is how simple it is to use. There are no limits on the number of files a user can store and links don't expire. There are no file size limits, either, and it's easy to download files from the Telegram bot to any device.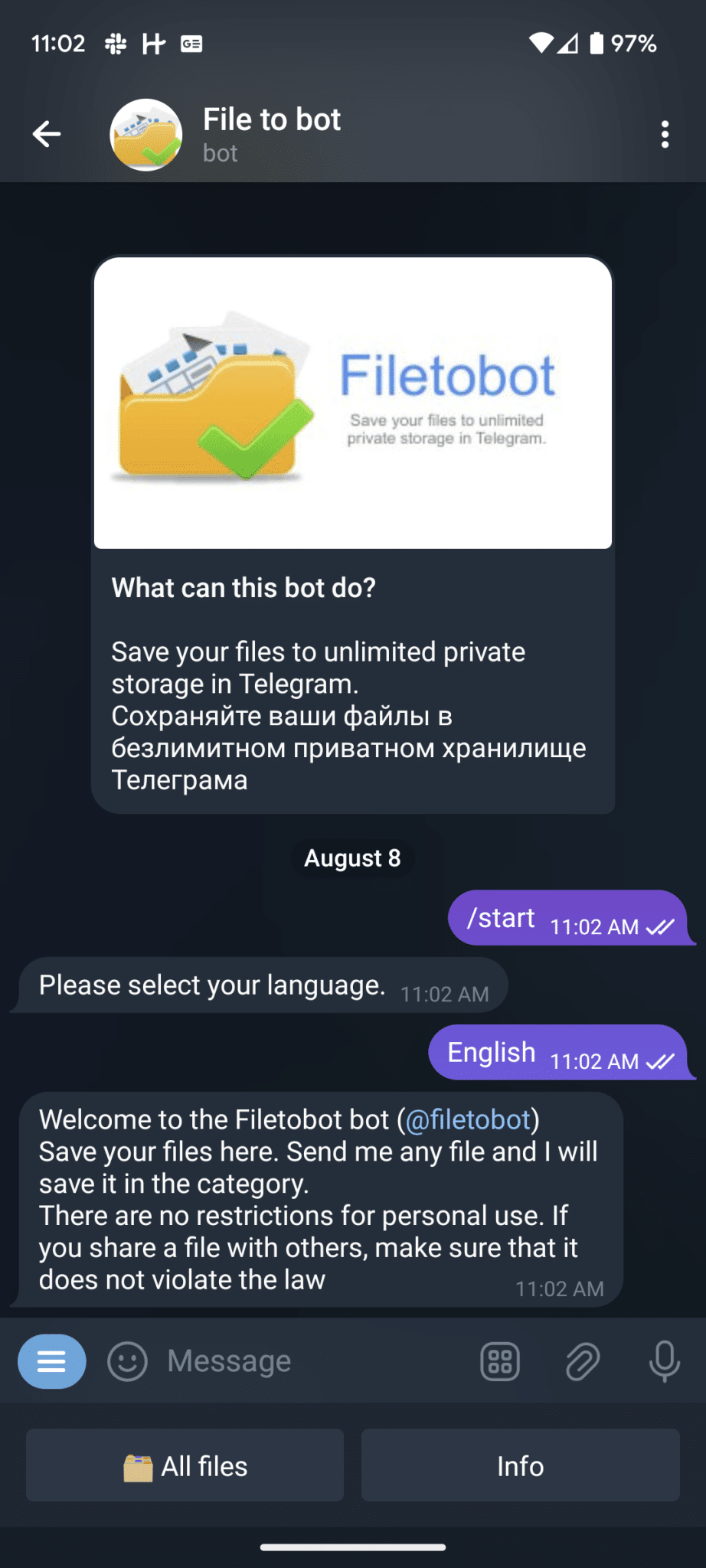 Best of all, File to Bot is completely free. It's one of the best free cloud storage solutions available right now.
Telegram address: @FiletoBot
7. Stock Pro – Stock Market Monitoring Bot with Real-time Prices and Watchlists
Stock Pro is a must-have bot for stock traders and financial experts. This bot allows users to quickly retrieve the price of any stock, ETF, mutual fund, index, or commodity in real-time. Users just need to enter the company name or ticker symbol to get the price.
Even better, Stock Pro can keep track of custom watchlists. Users can pull up price data for all of the stocks they're watching in a single message, making it easy to spot trading opportunities.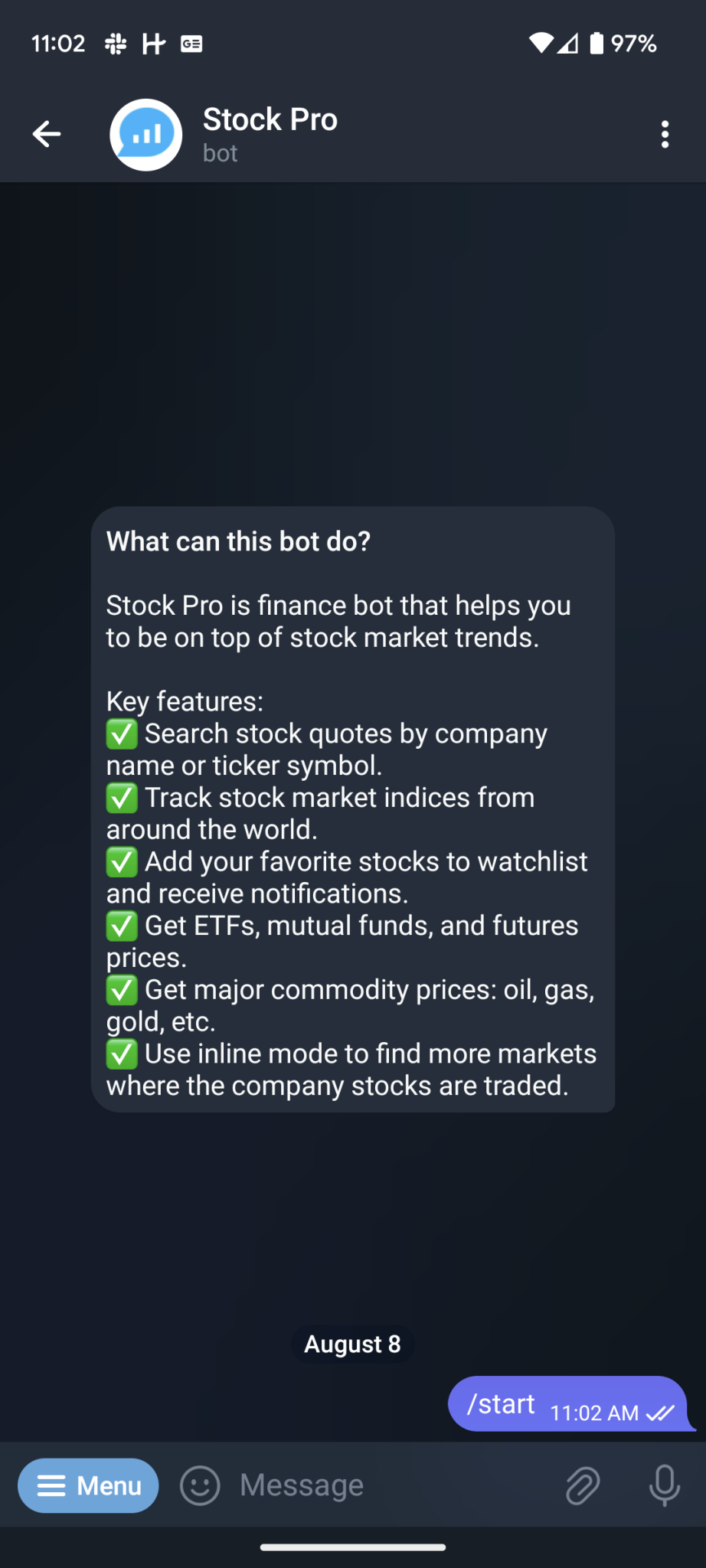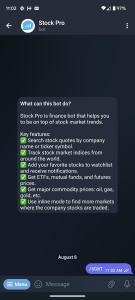 Stock Pro has its own channel, but it's possible to call the bot in any Telegram group. Just type '@stockprobot' and then the stock symbol to return a price. This is really great for channels focused on stocks and trading.
Telegram address: @StockProBot
8. Feed Reader Bot – Get a Notification Whenever A Favorite Blog Has a New Post
Feed Reader Bot ensures that users never miss a new post from their favorite blog. The bot uses RSS feeds to detect when a website has posted a new blog entry and send users a notification with a link to the post.
Feed Reader Bot is fully customizable, enabling users to direct it to notify them about only the sites they want to follow. Users can even import existing lists of RSS subscriptions using an OPML file.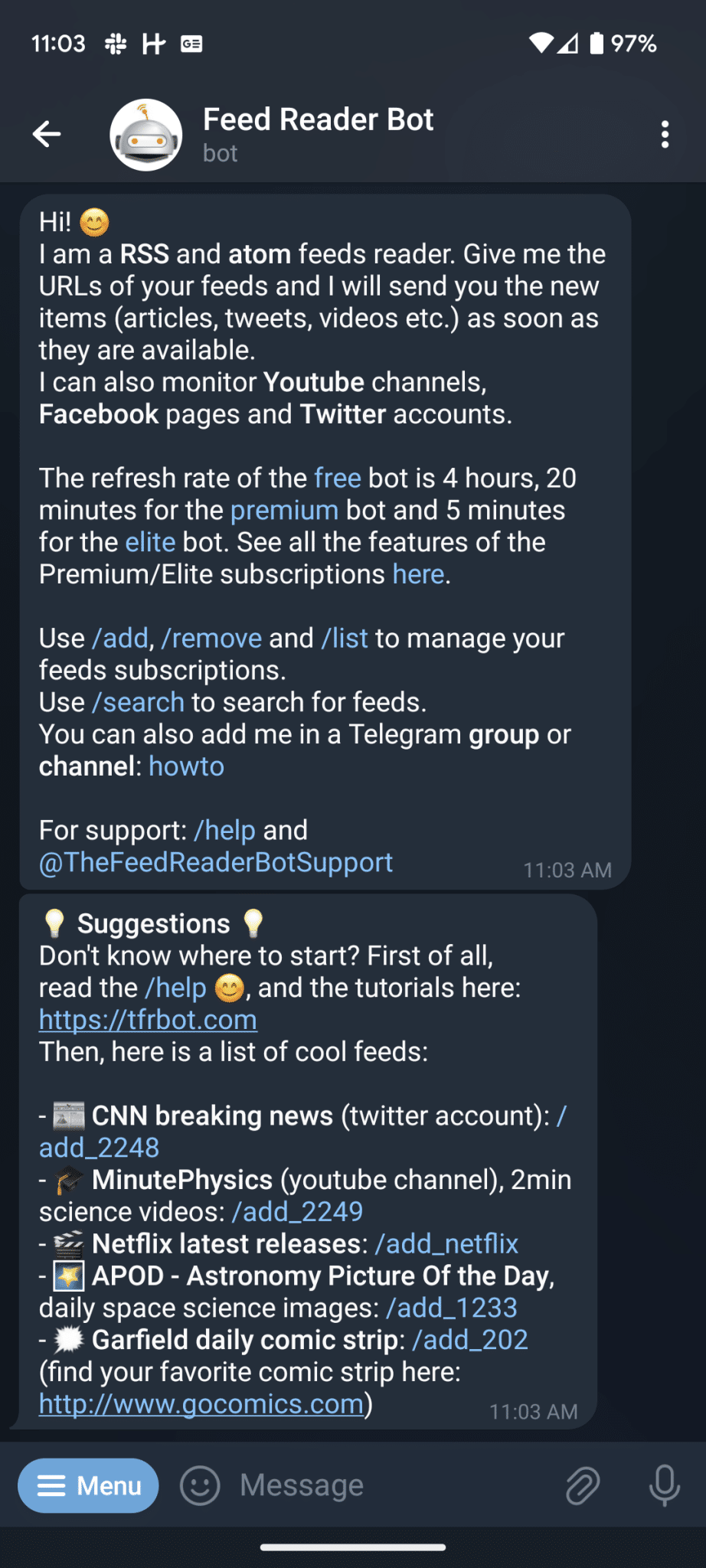 Helpfully, Feed Reader Bot isn't limited to blog sites. The bot can also send notifications about new Instagram posts, tweets, and YouTube videos. So, it's a one-stop bot for finding new content from outlets a user loves.
Telegram address: @TheFeedReaderBot
Meme Autobot is a simple meme generation bot within Telegram. Users can enter the text they want on the top of a meme and the text they want on the bottom, separated by a semicolon.
The bot will choose a popular meme image, add the text, and deliver the new meme in seconds.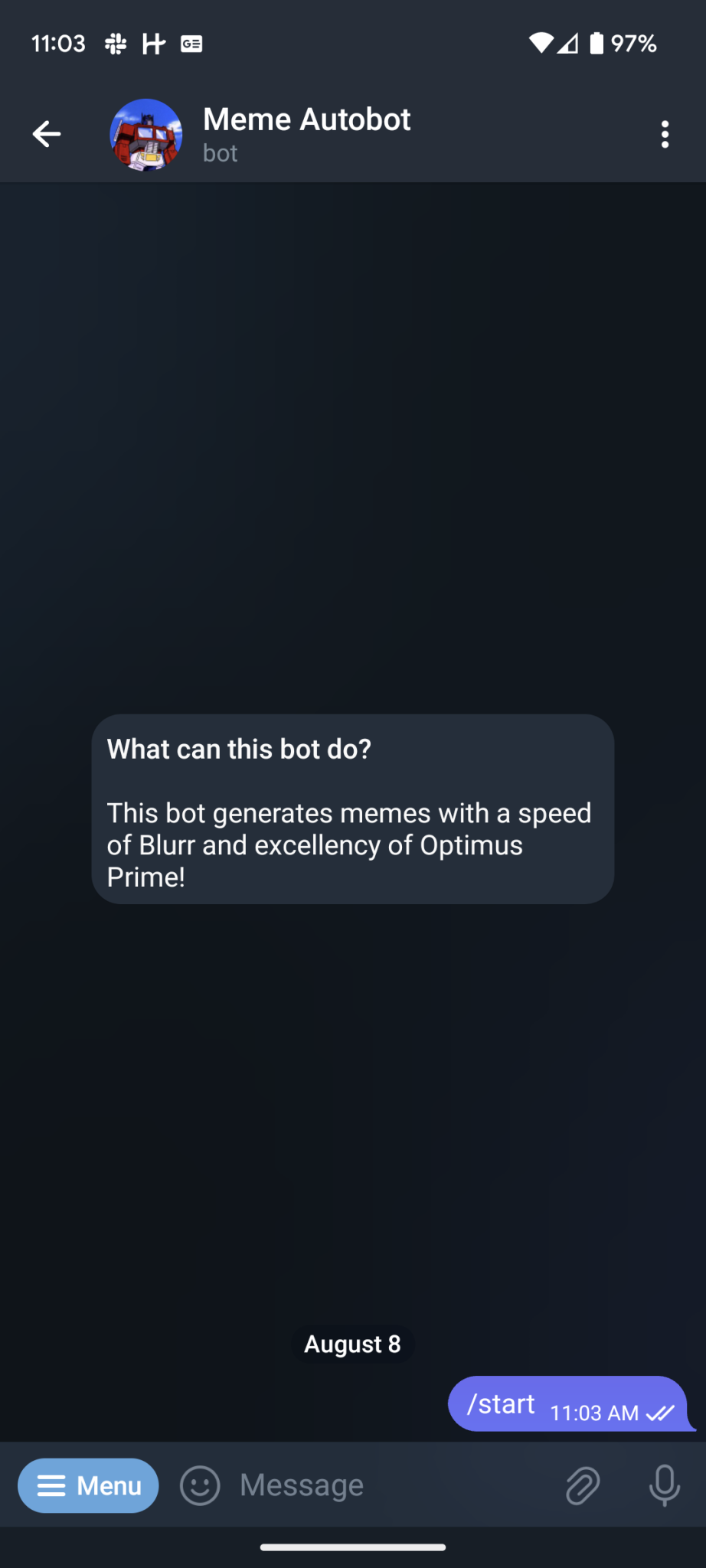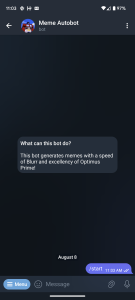 Users don't have control over the image that gets chosen for each meme, so Meme Autobot isn't likely to generate the next viral meme. However, it's perfect when users want to respond to a group chat with a meme and need to be ready with a response quickly.
Telegram address: @memeautobot
10. PollBot – Quickly Add Polls to Any Telegram Chat
PollBot is an easy-to-use Telegram bot for adding polls to any existing Telegram group. While Telegram has a built-in polling tool, we've found that PollBot is a lot faster and easier to use.
All users have to do is enter the question that they want to poll, and PollBot will do the rest of the work. Simply type '/results' to see the outcome of the poll. There are also commands to repeat the poll question—prodding community members to answer—and to close the poll.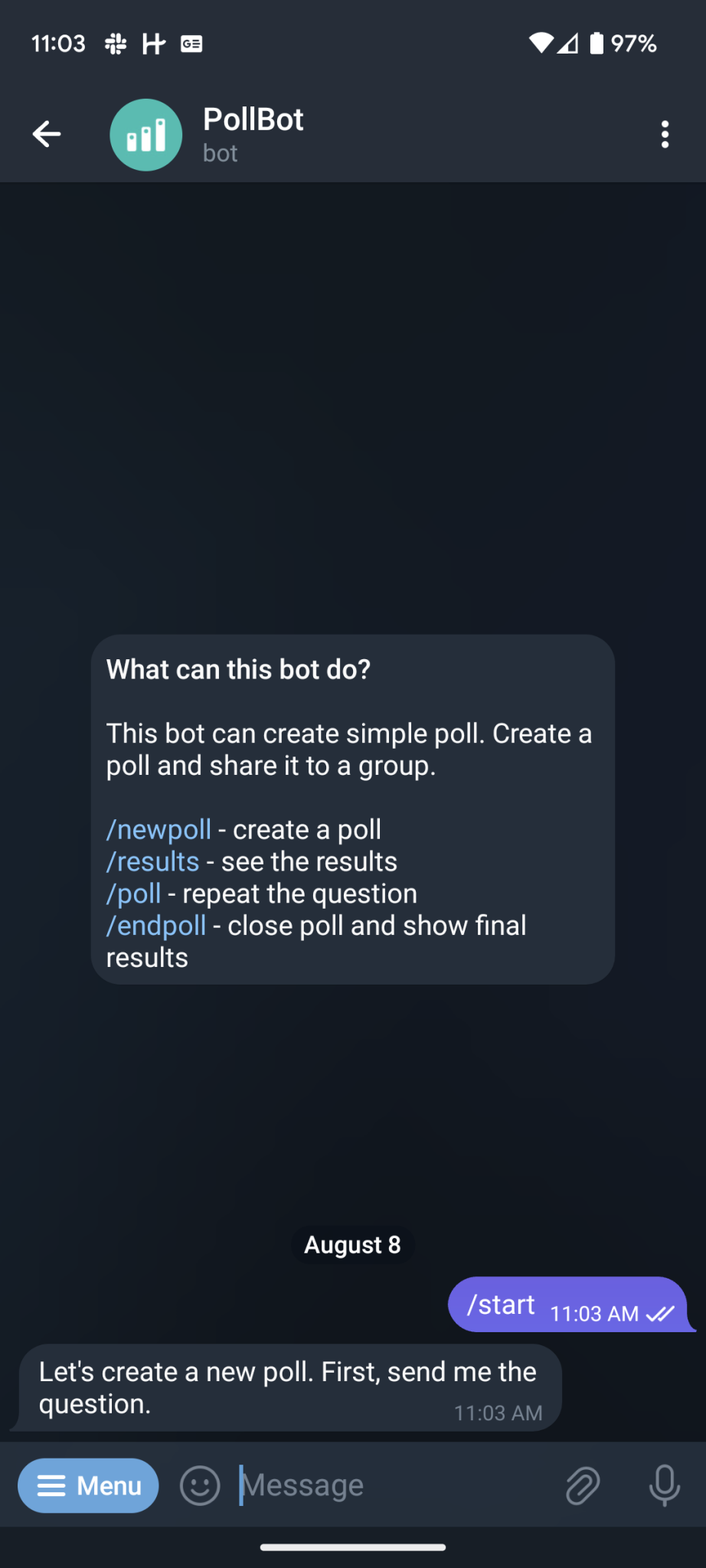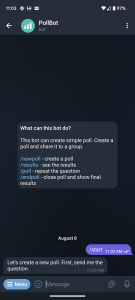 There's no limit on how many responses PollBot will record, so it works for groups of all sizes.
Telegram address: @pollbot
What Are Telegram Bots?
Telegram bots are automated accounts that users can use to accomplish tasks. They can be used for everything from setting reminders to fetching data like stock prices to providing access to a website like an online casino. Bots work 24/7 and are always available.
Telegram bots typically don't use AI, but rather rely on simple command loops that enable specific functions. So, any single bot has a limited number of tasks it can perform and will only respond to specific, predefined commands.
Every Telegram bot has its own handle, similar to users on the app. Some bots can only be called in a one-on-one conversation with the bot, while others can be called inside other Telegram groups.
Types of Telegram Bots
Telegram bots can be coded to serve a huge array of different functions. In fact, there are new Telegram bots being created all the time to handle new tasks. AI is only likely to make these bots even more powerful and general-purpose.
Let's look at some of the common types of Telegram bots available today.
Data-gathering Bots
One of the most popular categories of bots is data-gathering bots. These bots simply retrieve information from the internet and deliver it to users within Telegram.
For example, say a user wants to know the weather forecast for their town. They could use a weather bot in Telegram to retrieve the forecast and deliver it in a message.
Many data-gathering bots offer additional functionality to make them even more useful. For example, a weather bot might be able to send a user the weather forecast for the day each morning on an automated schedule.
Other data-gathering bots might collect financial data, news headlines, new blog posts, and more.
Casino and Sportsbook Bots
Online casinos and sportsbooks have increasingly turned to Telegram bots to give users even more ways to bet.
Online casino bots like the one from Mega Dice, for instance, enable users to play their favorite slots and table games just by messaging with a bot. Players can make deposits, join games, and win real money all within Telegram.
Sportsbook Telegram bots work similarly. Users can check the odds for an upcoming match and place a wager with the bot. Bettors can win real money just like they could at an online sportsbook.
Trading Bots
Telegram bots are also popular for stock, crypto (in the case of telegram bot tokens), and forex trading. Users can connect to a brokerage account and place a trade just by messaging the bot. It's often a lot faster to type out a trade in Telegram than it is to navigate through a broker's app. Thanks to bots, Telegram could even be considered a type of stock trading software.
Bots can also help with trading in ways other than placing trades. For example, users can set up bots to notify them on Telegram when a stock moves more than 5% in a day or when it breaks above or below a certain price threshold. These notifications can help traders stay on top of the market and find opportunities.
Productivity Bots
There are hundreds to thousands of Telegram bots for productivity. A growing number of business software platforms now offer Telegram integrations for their apps.
For example, Trello has a Telegram integration that allows users to add tasks to kanban boards and assign them to colleagues. This can be extremely powerful for managers. It's easier to assign a task via message in Telegram using a bot than it is to create a task in the Trello app.
Other productivity bots can deliver important emails as Telegram messages, remind users about tasks, and more.
Moderation Bots
Moderation bots are designed to help group administrators manage rapidly growing Telegram groups. They can handle tasks that otherwise take a lot of time, like telling new members about group rules or reviewing and removing potential spam posts.
Moderation bots can be all-in-one bots that handle all aspects of group administration, from spam controls to message analytics. Alternatively, users can add multiple different bots to a Telegram channel to take more control over their functionality.
Why Use Telegram Bots?
There are two main reasons why Telegram bots are so helpful.
First, they save a lot of time. Data-gathering bots can provide information to users when they need it almost instantly. It's a lot easier to get information in a message in Telegram than it is to go and search for that information on the web or in another app.
Similarly, productivity bots, moderation bots, and trading bots are all designed to cut down on the time it takes to complete tasks. The Telegram bot does the heavy lifting and repetitive tasks, leaving users free to focus their attention on things that bots can't do.
The other reason to use Telegram bots is that they turn Telegram from a simple messaging app into a kind of super-app. Users can do everything from chat with friends to manage work to trade cryptocurrencies in Telegram.
Having the ability to do everything in one app is convenient and efficient. For a lot of users, it's a lot better to accomplish all of their tasks in Telegram than to have to constantly switch back and forth between other apps.
How to Find Bots on Telegram
The best way to find bots on Telegram is to search for them. Telegram has an excellent built-in search function that makes it easy to find Telegram group bots by name. Most bots are named according to what they offer, so this search functionality works surprisingly well.
Another way to find top Telegram bots is to search for them online. We have lists of the top Telegram bots for different uses, such as the best Telegram casino bots. There are many other lists of top Telegram bots for groups, productivity, and more.
In addition, many casinos, sportsbooks, and other services that use bots also advertise the bots on their websites. Those mentions will show up in search results and there's usually a link to the bot's Telegram channel.
Conclusion
Telegram bots offer a wide range of functions that can save time and turn Telegram into a do-it-all super-app.
Our favorite Telegram bot for 2023 is Mega Dice, which allows users to bet on slots, blackjack, and other popular casino games right from Telegram. There's no registration required and users can bet crypto to win real money on games. Check out Mega Dice today and get a welcome bonus up to 1 BTC.
References:
https://research.binance.com/en/analysis/telegram-bots-exploring-the-landscape
https://www.thehindu.com/sci-tech/technology/explained-how-do-telegram-bots-function/article66982907.ece
FAQs
What is the best Telegram bot?
How do I add a Telegram bot to a chat?