While Telegram is primarily used as a secure messaging app, it also supports a range of games. This includes fun multiplayer games that can be played with friends.
In this guide, we reveal the 10 best Telegram games to play in 2023.
List of the 10 Best Telegram Games for 2023
Listed below are the 10 best Telegram games for 2023:
Mega Dice Casino: For the most immersive Telegram gaming experience, check out Mega Dice. Considered one of the best Bitcoin gambling sites, Mega Dice is the first regulated casino to launch a Telegram service. Users can gamble cryptocurrencies on live dealer tables, slots, and provably fair games within the Mega Dice Telegram channel. Perks include anonymous gambling accounts, instant withdrawals, and 50 free spins for new players.
Chess Exercises: This Telegram game will appeal to chess fans who want to play solo. The Chess Exercises bot will share an image of a mid-game chess board. Players need to select the most advantageous move based on multiple-choice options. Players guessing correctly on the first attempt will earn points. Incorrect guesses reduce points from the player, making Chess Exercises a competitive Telegram game.
xoBot: The age-old game Tic-Tac-Toe has made its way to the Telegram app. We like that xoBot can be played against the bot or with other players. Moreover, players can set their preferred difficulty level and multiple languages are supported. Unlike many Telegram games, xoBot doesn't rely on text prompts. Instead, players can click on the box they want to put their 'x' or 'o'.
Hangbot: One of the best games on Telegram for word enthusiasts is Hangbot. This game requires players to guess a randomly generated word. Players will initially only see the number of letters the word contains. They can then attempt to guess the word by choosing one letter. The aim is to guess the word before all lives are lost. This Telegram is reminiscent of Hangman. Hangbot requires two or more players.
Poker Bot: Those looking to play Texas Hold 'em on Telegram will like Poker Bot. Players begin the game with virtual chips, which they can use to call or raise bets. Cards are shown as emojis and hand decisions are text-based. Poker Bot can be played with friends or random people. This Telegram game is played by over 670,000 users globally.
Lumberjack: Lumberjack is a solo Telegram game with interactive features. Put simply, there is a never-ending virtual tree with branches to the left and right. The branches move southward and the player needs to cut them down before they reach the ground. The longer the player remains in the game, the higher the score. Lumberjack comes with a global leaderboard.
Quizarium: We found that Quizarium is the best Telegram game for playing quizzes. It is a multiplayer game, so at least one friend is required to play. Users can choose their preferred subject and the number of questions in the round. The aim is to answer questions correctly before the other player(s).
Blackjack Bot: This Telegram game allows players to enjoy blackjack against a bot. It's free to play, so there is no requirement to risk any money. Hands are shown as card emojis and players have two options – 'hit' or 'stand'. The dealer will always stand on hands of 17 and over. It will always hit on hands of 16 or under.
Unobot: Unobot is the best Telegram bot to play UNO with friends. While the game is initially a bit cumbersome, it's enjoyable once players know which commands to use. Each individual play is shown as a card image.
QuizBot: This Telegram game allows users to create their own quizzes. They can then be shared with friends on the Telegram app. Users can type in their own questions and even add images to make the quiz more interactive. Results are then shared with the group.
Full Reviews of the Best Telegram Games Bots
Now that we have listed the 10 best Telegram games, let's take a much closer look at how each one works.
1. Mega Dice Casino – Play Crypto Gambling Games on Telegram With a Regulated Casino
Mega Dice is a regulated online casino that specializes in cryptocurrency deposits and withdrawals. It recently became the first licensed gambling platform to launch a casino on Telegram. The Mega Dice Telegram casino offers many benefits to gamblers. For a start, players are not required to manually open an account with Mega Dice. As soon as players join its Telegram channel, an account is automatically assigned to their username.
This means that players can gamble on Telegram anonymously. As such, unlike traditional online casinos, there is no KYC process. We also like that Mega Dice offers a simple yet highly secure payment system. Each player will have their own unique deposit address after choosing their preferred cryptocurrency. Players can then transfer cryptocurrencies to this address, and Mega Dice will credit the payment within minutes.
Thereon, players can gamble on a range of classic casino games. This includes popular table games like roulette and blackjack. Players can play these games with live dealers too. This is because the Mega Dice Telegram casino has partnered with Evolution. So, within its Telegram channel, players can engage with human dealers. Mega Dice also supports slot games. This includes fan favorites like Mega Joker, Jammin Jars, Gates of Olympus, and Book of Ra.
These slot games are backed by licensed developers like Novomatic and Pragmatic Play. The Mega Dice Telegram casino also supports crypto games. These are backed by provably fair, so gaming outcomes can be verified on the blockchain. Examples include dice, Aviator (crash), plinko, and mines. Before getting started with the Mega Dice Telegram casino, consider claiming its welcome package.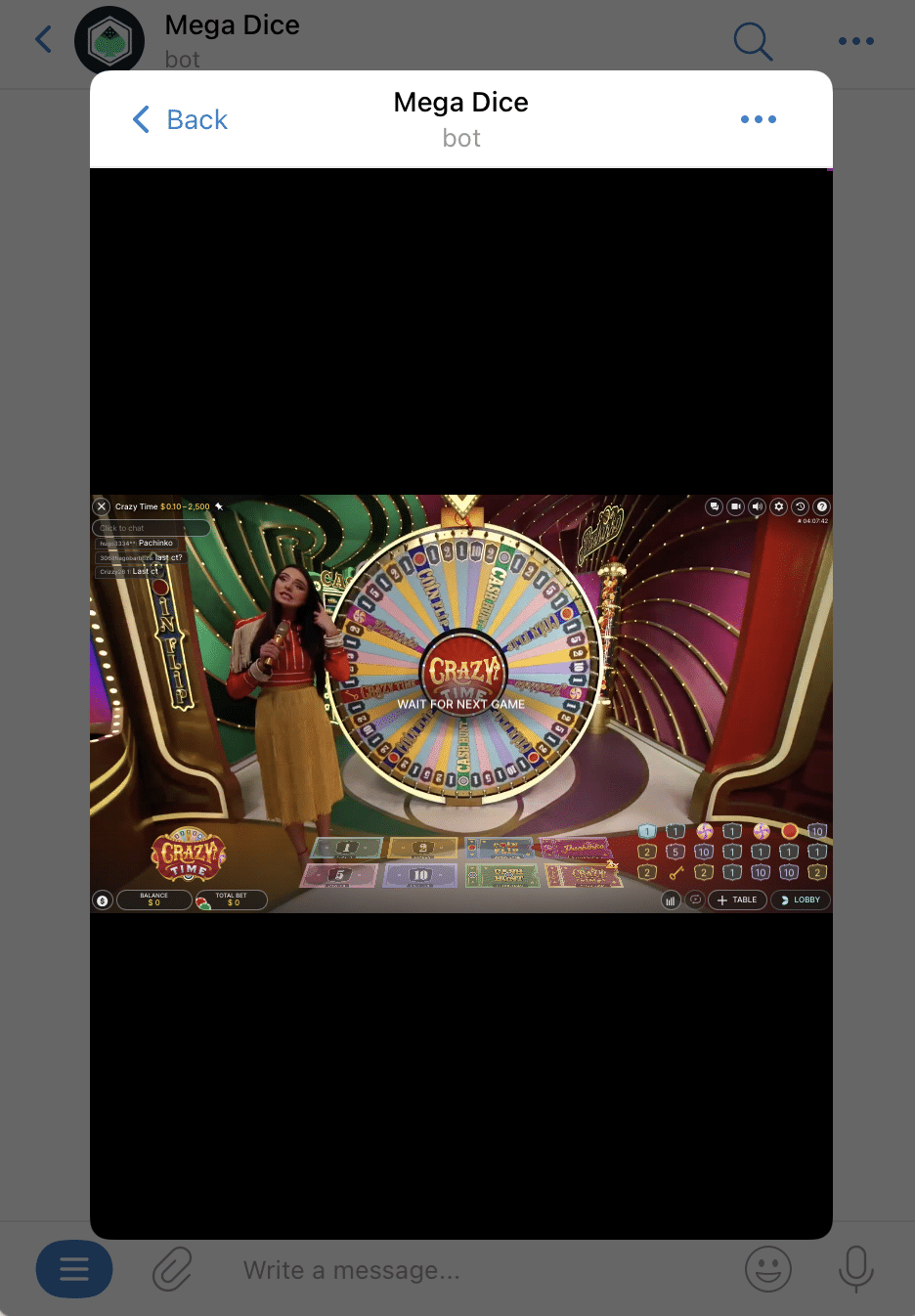 By depositing $20 or more, players will receive 50 free spins. Players will also have their first deposit matched by 200%. This is up to a maximum of 1 BTC, or the altcoin equivalent. Weekly deposit reloads are offered to existing players. When it comes to payments, Mega Dice approves withdrawal requests instantly. The cryptocurrencies will then be transferred back to the player's wallet address. What's more, we like that the Mega Dice Telegram casino offers live chat support 24/7.
2. Chess Exercises – Popular Chess Telegram Game for Improving Strategies
Chess Exercises is one of the best Telegram games for improving chess strategies. This is a simple yet highly useful chess game that is played against the bot. To begin, players can click the 'New' button, which reveals an image of a mid-game chess board.
The objective is simple – users need to select the best move for the player to take. Chess Exercises gives users five options, each of which represents a chess piece. If the user selects the most statistically appropriate move, they win that particular round.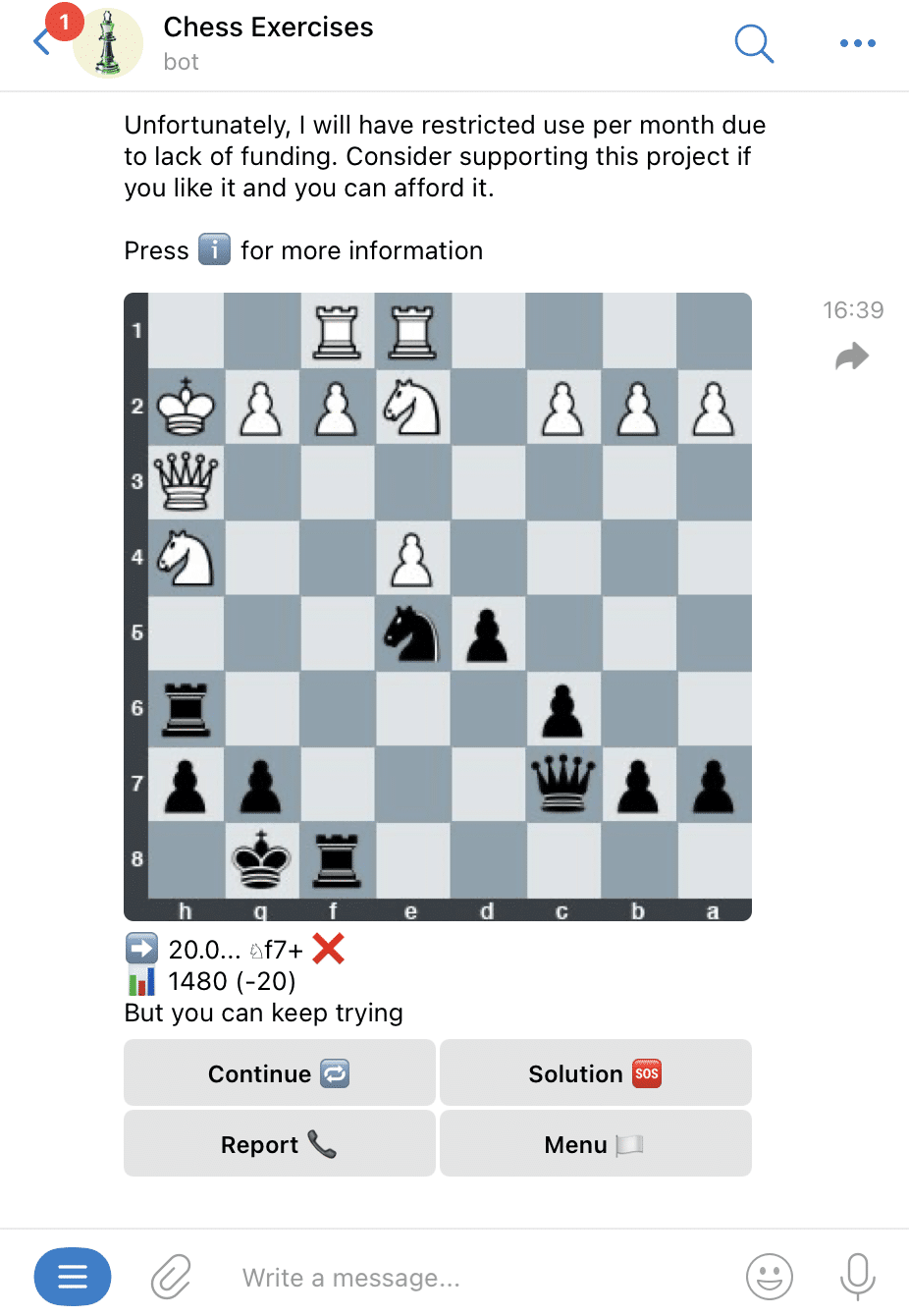 The user will also increase their gaming points. But if the wrong move is selected, players will lose points. Players can have another attempt or ask the Chess Exercises bot for the answer. This Telegram game is completely free to play. But oftentimes, we found that its server is down, so the game isn't always available.
3. xoBot – Play Tic-Tac-Toe Solo or With Friends
We found that xoBot is one of the best Telegram games to play Tic-Tac-Toe. This is a classic game that was invented by the ancient Egyptians. The concept is very simple – the game begins with a 3×3 grid of nine empty squares.
One player uses an 'o' while the other uses an 'x'. Each player takes turns to put their respective symbol in an empty square. The aim is to get a straight line in the 3×3 grid. The first to do so wins the game. What we like about the xoBot game is that players can play solo.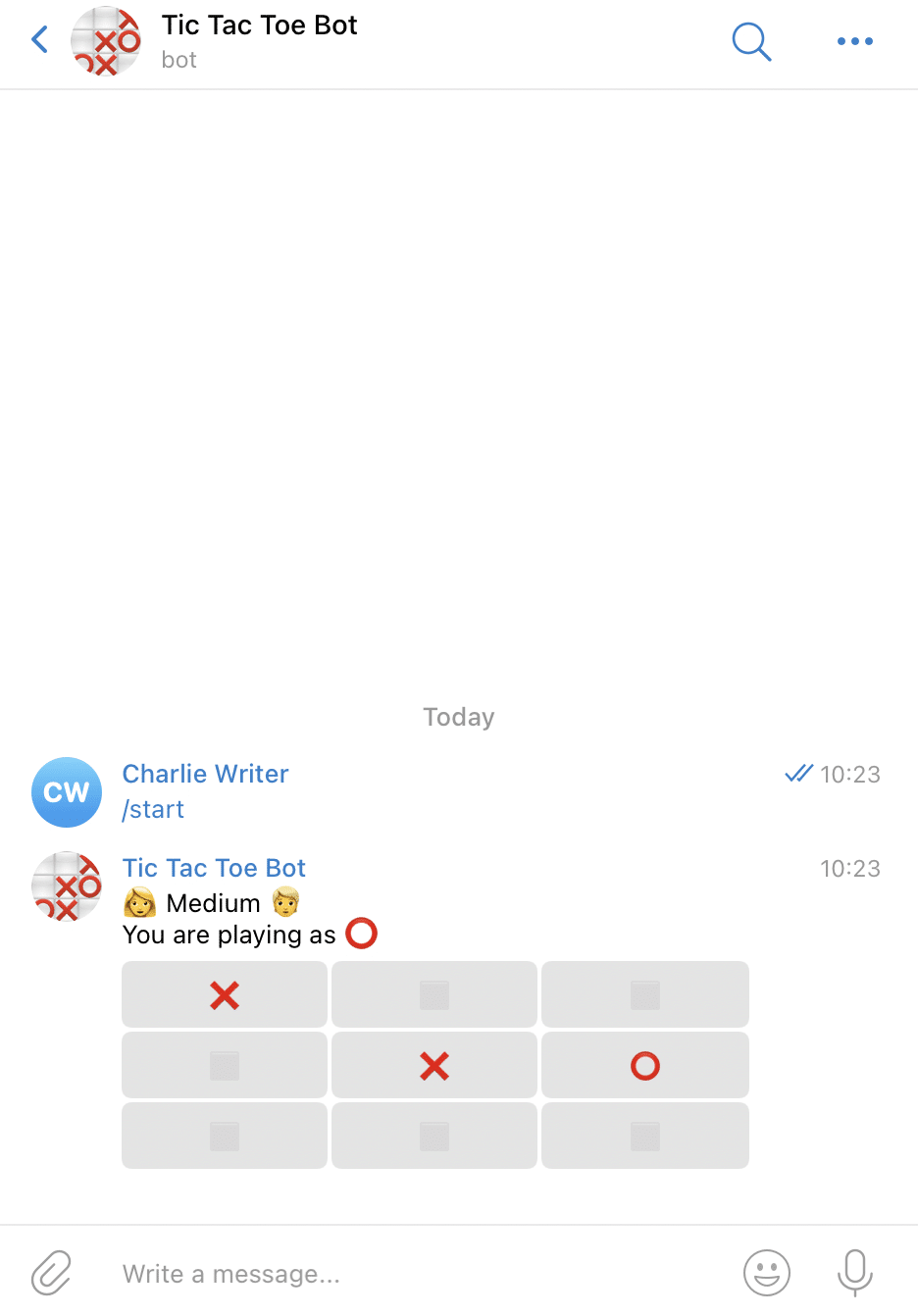 In this instance, the player competes against the bot. Moreover, players can select their preferred difficulty level. This covers easy, medium, and hard. Alternatively, xoBot can also be played with friends. Users simply need to add their friends to the xoBot Telegram chat box.
4. HangBot – Test Your Word Knowledge Through a Hangman-Style Game
One of the best Telegram games for word enthusiasts is HangBot. For all intents and purposes, this Telegram game is a replica of Hangman. The rules are very simple – players need to uncover a hidden word that is generated by the bot.
For example, suppose the secret word is 'Activate'. Instead of seeing 'Activate', the user will initially see '- – – – – – – -'. So, at this stage, all they know is that the word has 8 letters. To begin the game, the player will need to guess one letter from the hidden word. Suppose the player types in 'A'. Now, the HangBot word will look like this: 'A – – – – a – -'.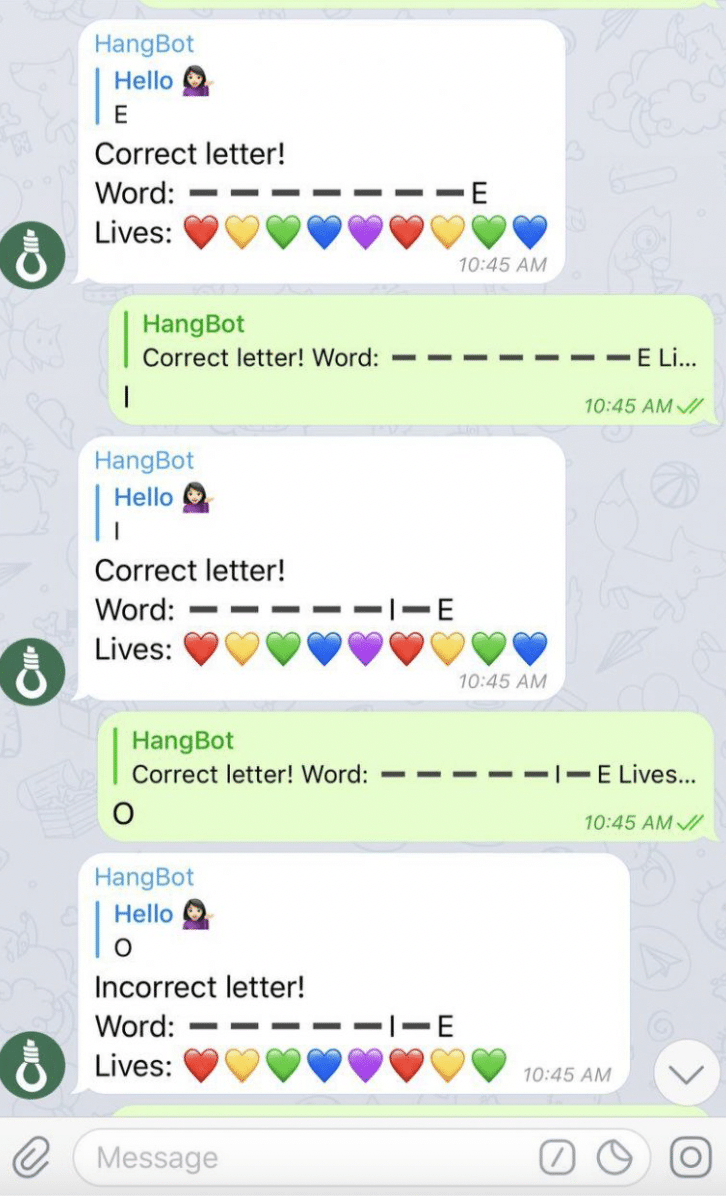 Players start with 10 lives. Every time an incorrect letter is guessed, a life is lost. The goal is to complete as many hidden words as possible before all the players' lives are gone. The main drawback is that HangBot cannot be played solo against the bot. Instead, players need to invite at least one Telegram friend to the HangBot chat box.
5. Poker Bot – Free Telegram Game for Playing Risk-Free Poker
Poker Bot is the most popular Telegram game for playing poker. This is a multiplayer game that can be played with friends. But solo players are also catered for, as Poker Bot will add the user to an active table.
Either way, this Telegram game is free. Players are initially given 1,500 chips to play with. Extra chips are offered each day after clicking the 'Bonus' button. But the best way to increase the chip count is to win poker games.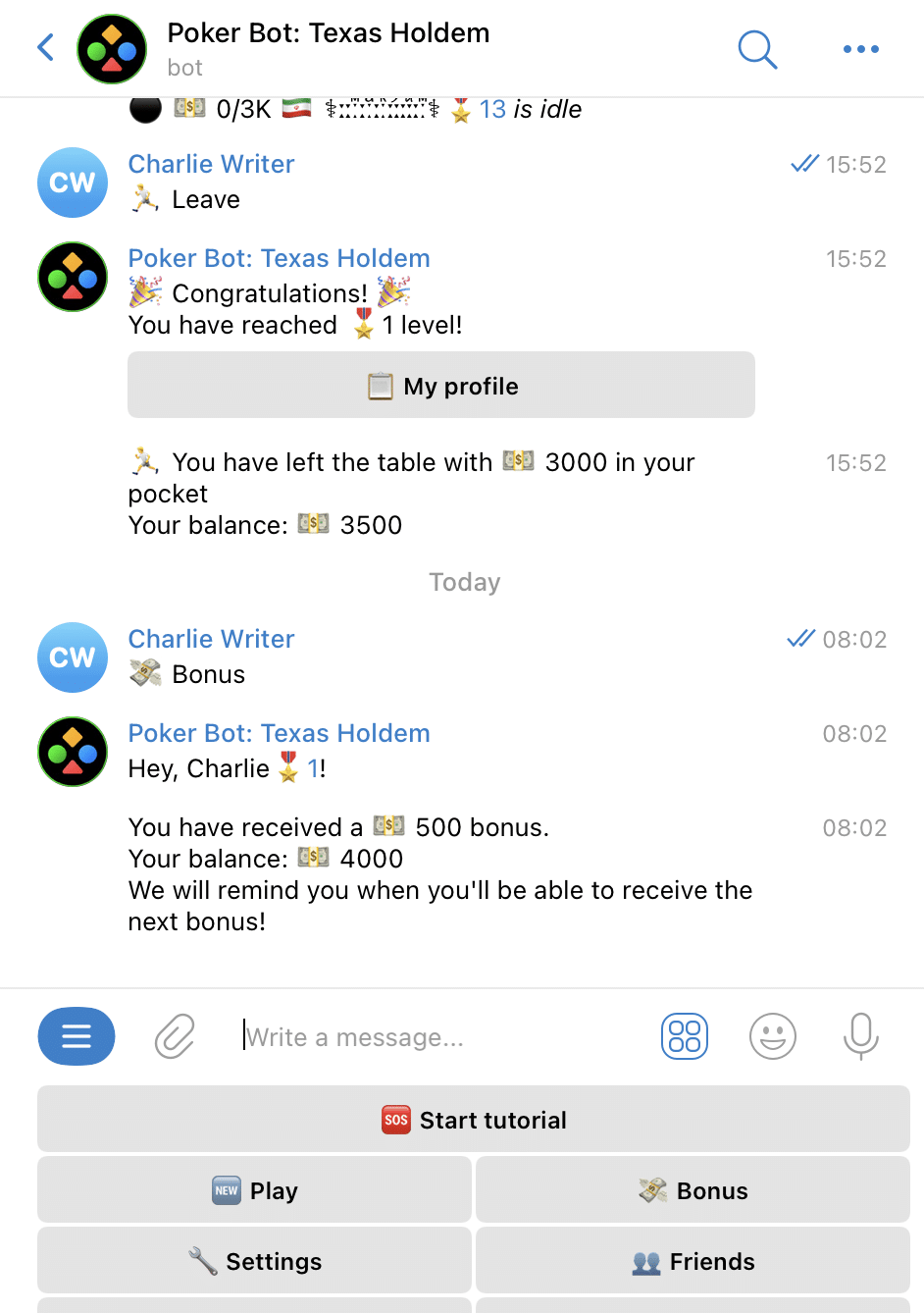 In terms of the layout, Poker Bot uses a combination of emojis and text. Emojis are used to show the player's cards. They are also used to show the flop, turn, and river. Text is used to describe the chip counts, bets, and player turns.
6. Lumberjack – Interactive Tree Chopping Game With a Live Leaderboard
Although its graphics are reminiscent of the 1990s, Lumberjack is one of the best Telegram games for its overall great interactive experience. Once the game begins, there is a never-ending tree that continues to move toward the ground.
On each side of the tree, there are randomly generated trunks. Players need to cut each trunk before it touches the ground. Players earn points for each trunk they cut, but the game is over if they miss one. The objective is to cut as many trunks as possible to maximize the player's score.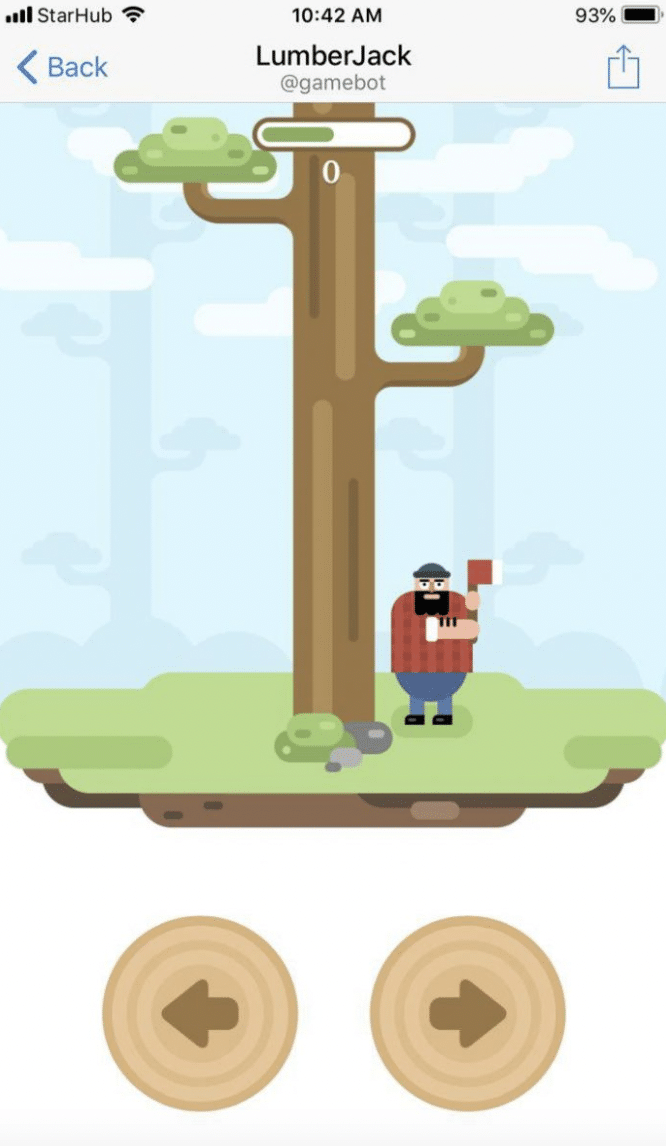 Only two buttons are required in this game – left and right. This instructs the Lumberjack character to chop. Although this is a solo Telegram game, it comes with a global leaderboard. To get started with Lumberjack, players need to search for @gamebot in the Telegram chat section.
7. Quizarium – Top-Rated Telegram Game for Playing Quizzes With Friends
We found that Quizarium is one of the best Telegram games for playing quizzes with friends. The game begins after players set their parameters. This requires users to choose which quiz subject the questions should follow.
There are many options, such as music, movies, or history. Players can also specify the number of questions in each round. By default, this is set at 10. When the first question is posted by Quizarium, players have 60 seconds to answer it. Answers are given as text prompts, so make sure the spelling is correct.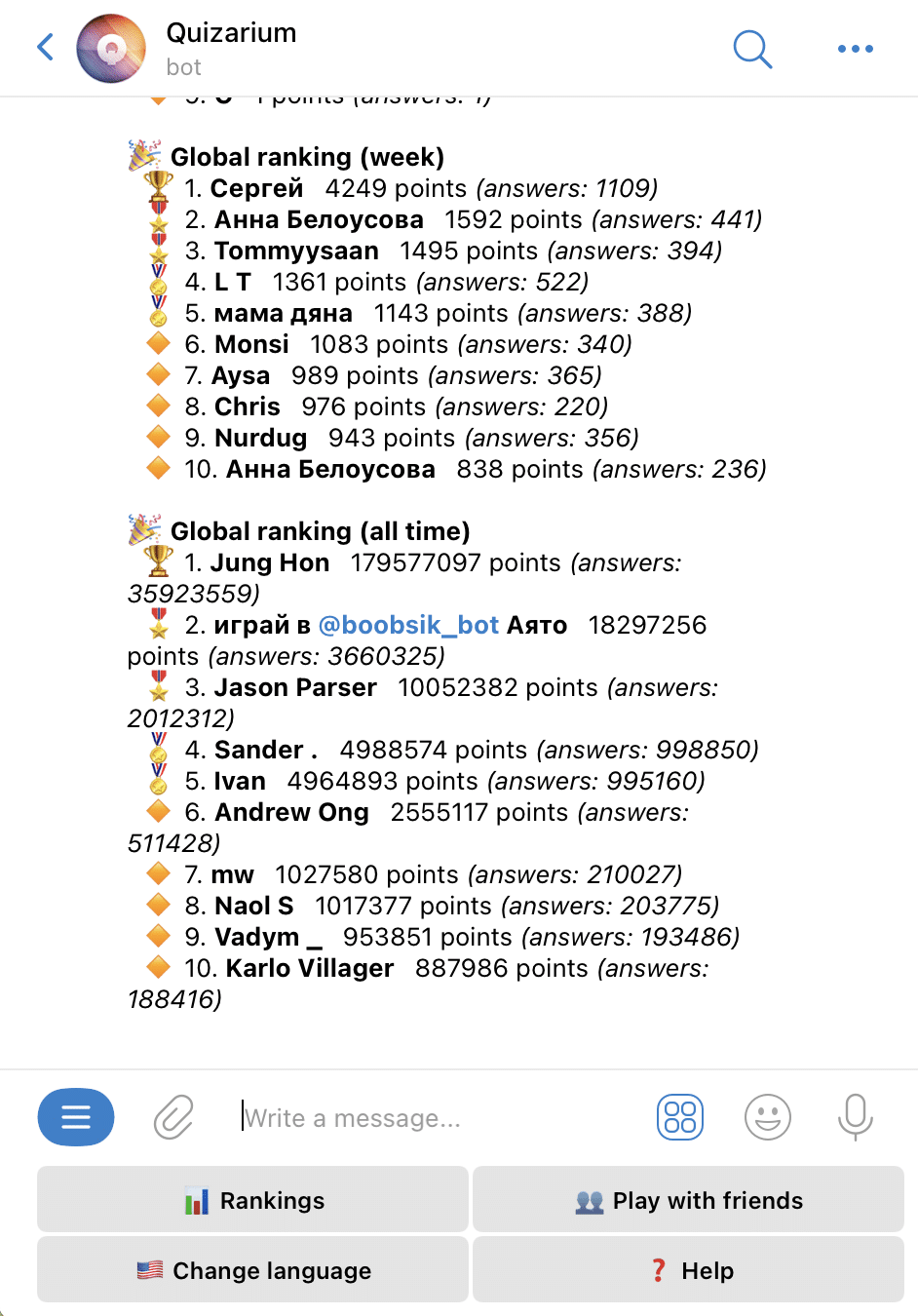 Players will accumulate points when playing Quizarium. This is determined by the number of correct answers and how quickly each was given. Scores are then compared with the global leaderboard for bragging rights.
8. BlackJack Bot – Play Blackjack Games Against a Telegram Bot
One of the best Telegram games for playing blackjack is BlackJack Bot. This Telegram bot offers a free and simplified version of the popular casino game. The bot will initially deal two cards to the player and one for itself.
The card's suit is displayed as a Telegram emoji. While its number is shown as text. For simplicity, BlackJack Bot also shows the current total for the player. After the cards are dealt, players need to select 'hit' or 'stand'.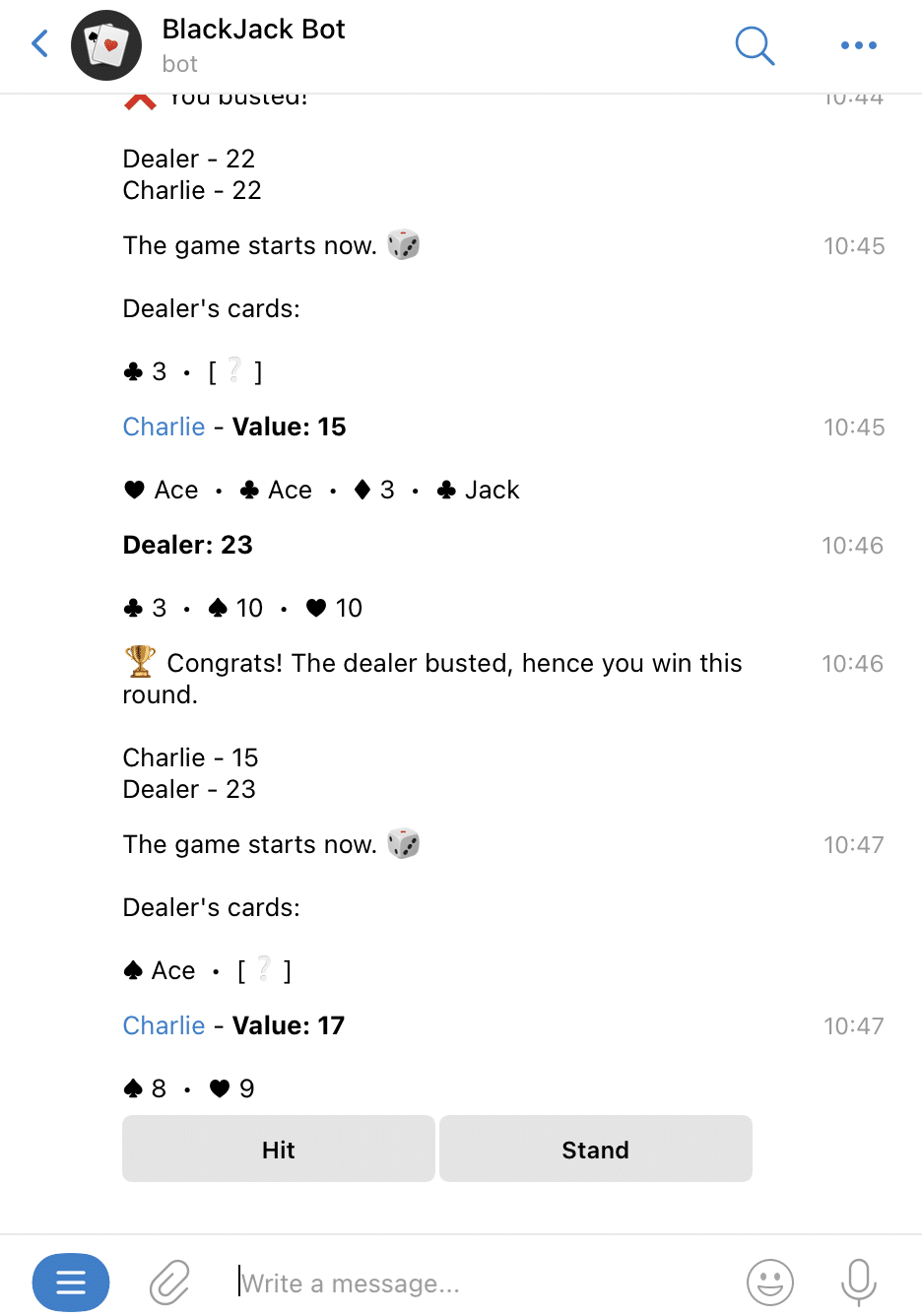 The bot will action the player's decision instantly. The main drawback with Blackjack Bot is that players cannot 'split' or 'double down'. Moreover, players cannot use virtual chips. This means that players cannot track how they are performing against the bot.
9. Unobot – Text and Image-Based Telegram Game for Playing UNO
UNO is one of the most popular card games globally, so it makes sense that there is now a fully-fledged Telegram bot. Unobot allows two or more friends to play UNO at the click of a button.
The game is somewhat slow, considering that commands are given as text instructions. Moreover, players need to wait for Unobot to show which card is on the discard pile – which is often delayed. Nonetheless, cards are displayed as an image rather than Telegram emojis.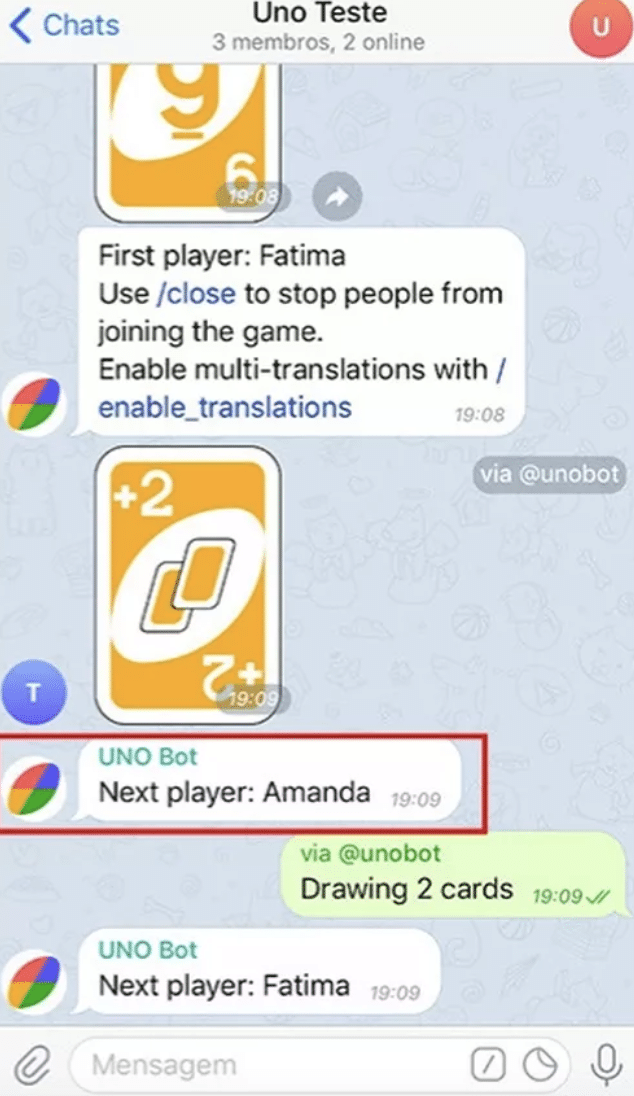 Unlike other multiplayer titles on Telegram, solo players cannot be added to a random game. As such, the only way to play is to have at least one other friend added to the Unobot chat box. Furthermore, we found that the Unobot server is often down.
10. Quiz Bot – Create Custom Quizzes and Test Your Friend's Knowledge
Quiz Bot is also one of the best Telegram games in the knowledge niche. Unlike Quizarium, players are not given a set of questions to answer. Instead, Quiz Bot allows players to create their own custom quizzes.
The process is entirely text-based, with clear instructions provided by the bot. To start, players are asked to give their custom quiz a title. For example, "15 questions about biology". Players are then asked to give a description of the quiz, although this step can be skipped.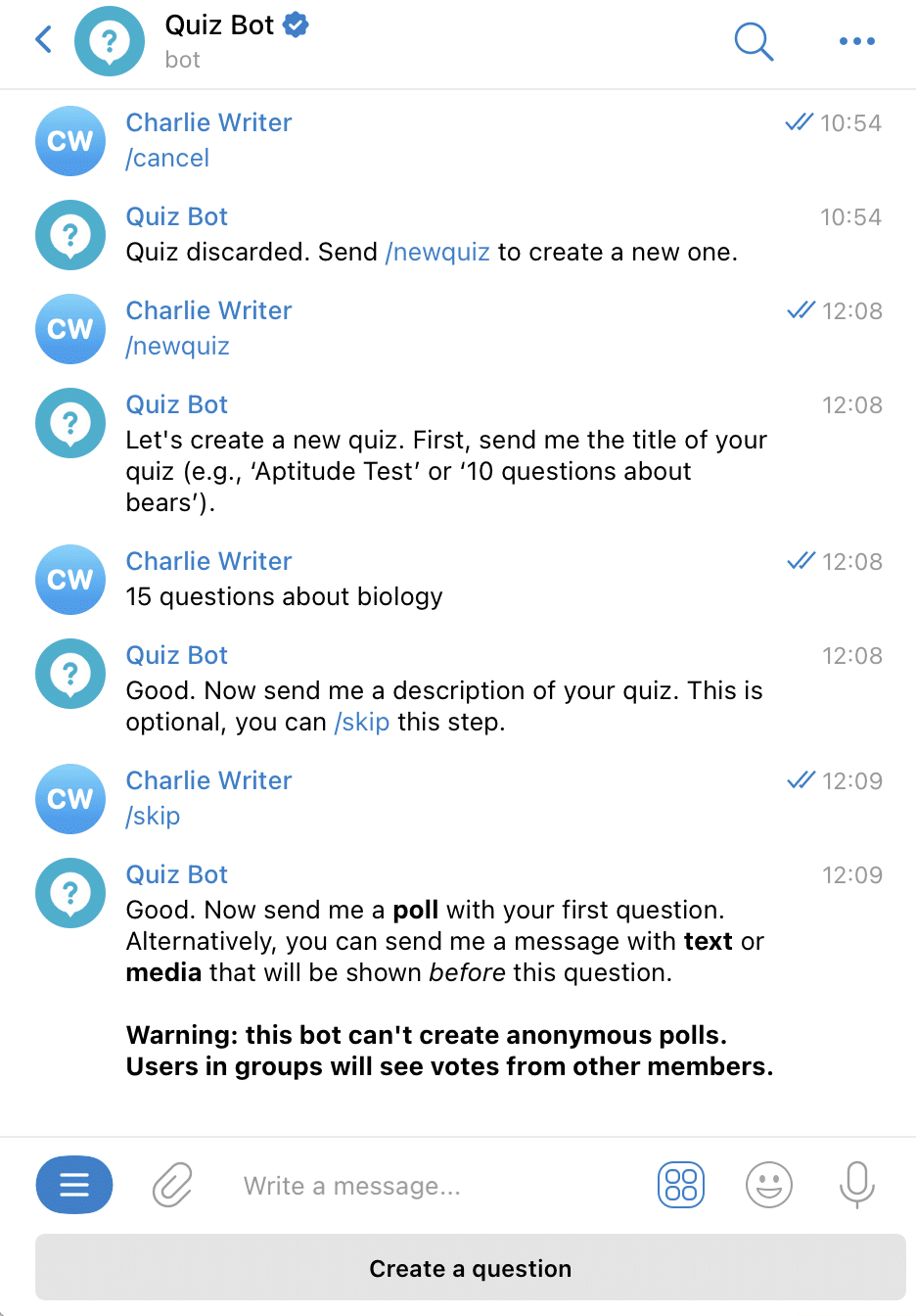 The player will then need to type in each question and answer manually. Once completed, the quiz can be shared with friends on Telegram. Everything on Quiz Bot is trackable, meaning that friends will accumulate points based on their right or wrong answers.
What Kind of Games can you Play on Telegram?
Telegram enables users to create their own automated bots. These bots can be configured into games and offered to the general public. However, there is a disparity in the types of games available on Telegram. From our research, the majority of Telegram games are very basic. For example, many games are text-based. This means instead of viewing interactive video software, images are represented by emojis.
Most players eventually lose interest, as they are simply too basic. Take Hangbot as a prime example. Hangbot uses a combination of text and emojis to replicate the classic Hangman game. While enjoyable for a few rounds, Hangbot, like many Telegram games, is not interactive enough for the modern era.
That being said, our research found that several online casinos are revolutionizing the Telegram gaming space. After all, Telegram has over 700 million users. The aim is to bring immersive and interactive gambling games to the Telegram community. One such example is Mega Dice, which is the first regulated casino to offer a Telegram service.
Instead of using text or emojis, Mega Dice generates an interactive window within the Telegram app. This loads a fully-fledged casino with thousands of games. Not only software-based games but live dealers too. As such, Telegram can now be used to gamble with human dealers in real-time.
Why Play Telegram Games?
Let's explore why Telegram is increasingly becoming popular with gamers.
No Account Sign Up – Play Games Instantly
Telegram makes it seamless to play games directly from its app. This is because there isn't any requirement to open an account with the gaming provider. Instead, games are played via the user's Telegram account.
As such, players can enjoy their preferred games instantly without needing to go through a cumbersome registration process. This isn't always the case when using traditional gaming platforms.
Play Games Anonymously
One of Telegram's greatest features is complete privacy. Not only are messages encrypted but users are not required to provide any personal data. Instead, users simply need to connect their mobile number to the Telegram app.
This level of anonymity extends to Telegram games. For example, Mega Dice automatically assigns an account to players when they join its Telegram casino channel. This includes a unique crypto wallet address, allowing players to deposit funds anonymously.
Moreover, Mega Dice does not have a KYC process. This means players will not be asked for any identification documents, such as a government-issued ID. This is because players are gambling with cryptocurrencies rather than 'real money'. So traditional KYC policies are not required.
Play Games With Other Players
Another benefit of Telegram is that users can play games with other people. Considering its 700+ million user base, that's a significant pool of players. Moreover, players can usually invite their friends to their favorite games.
For example, Poker Bot is a multiplayer poker game on Telegram with over 670,000 users. The game supports multi-table cash games with virtual chips.
Mega Dice also offers a social gaming experience. For instance, it offers live casino games with human dealers, such as blackjack and roulette. Not only can users chat with dealers but also other players. This is facilitated via a text chat box.
Gambling Games on Telegram
An increasing number of casinos are targeting the Telegram space. More specifically, these are casinos that specialize in cryptocurrency payments, such as Bitcoin and Ethereum. The reason for this is that cryptocurrencies do not fall within the remit of traditional gambling laws. As such, crypto casinos can offer Telegram users an anonymous gambling experience.
We found that currently, most gambling games on Telegram are basic. Just like other Telegram games, many are text and emoji-based. This offers a poor gambling experience. That said, Mega Dice has completely revolutionized the Telegram gambling space. As we mentioned earlier, Mega Dice offers a fully-fledged casino with interactive games.
This includes everything from Plinko, dice, and Aviator to slots, blackjack, and roulette. Mega Dice games are super-immersive, as they are viewed via a pop-up window that connects to the user's Telegram account. We found that Mega Dice also offers live dealer games. These are casino games that are run by human dealers via a HD camera feed.
The deposit and withdrawal process is also seamless when gambling on the Mega Dice Telegram casino. After choosing which cryptocurrency to deposit, a unique wallet address is displayed. Users can then transfer crypto to this address and the funds should appear within minutes. The withdrawal process is also seamless – players simply need to provide their receiving crypto wallet address. One of the best crypto wallets for Telegram gambling is eToro, although many other options also exist.
What Gambling Games Can You Play on Telegram?
Now let's take a much closer look at what gambling games players will find on Telegram. We've ranked the top 10, but there are many more.
Slots
The interoperability of Telegram slots really depends on the provider. For example, most providers offer text-based slots. Instead of using reels, symbols are represented by emojis. We found that this type of Telegram slot game gets monotonous very quickly. Instead, we much prefer the Telegram slots offered by Mega Dice. This is one of the best Bitcoin slots sites in the market.
So how do slots work on the Mega Dice Telegram casino channel? Put simply, Mega Dice hosts slots from licensed software developers. These are the same developers that provide slots for regular online casinos. For instance, Novomatic, Hacksaw Gaming, Push Gaming, and Pragmatic Play. As such, players will benefit from an immersive and legitimate slots experience.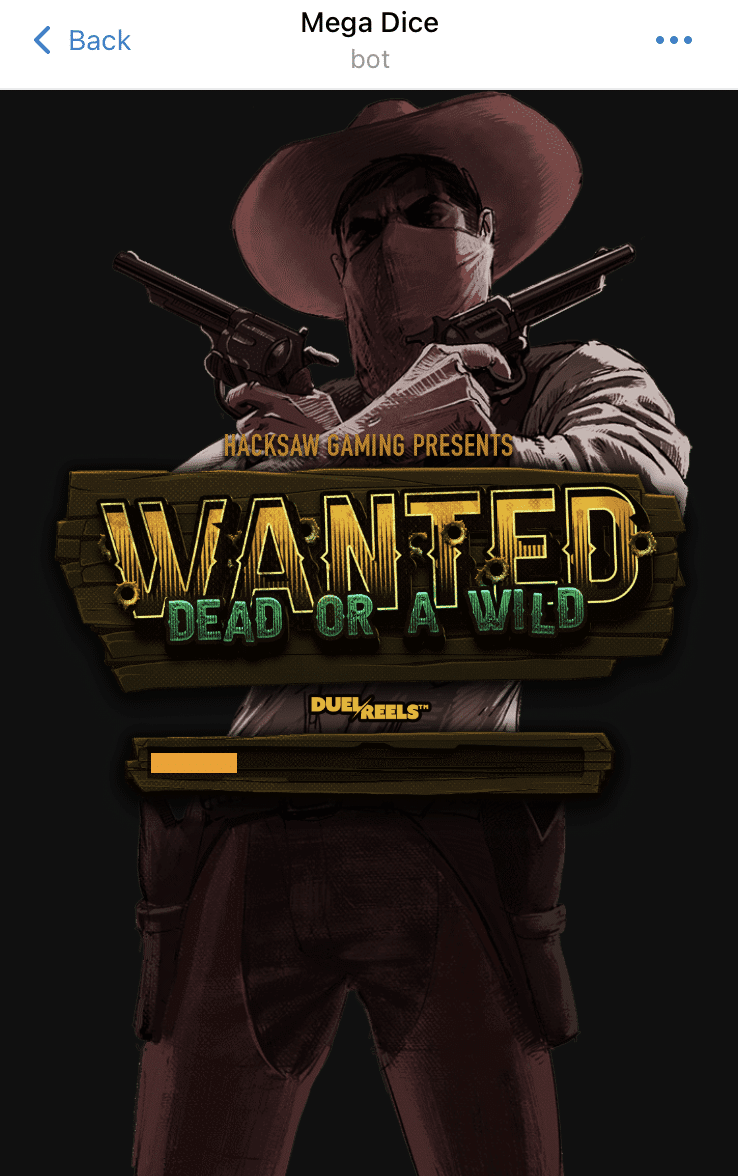 Moreover, our Mega Dice review found that new players joining today can claim a slots bonus. Put simply, those depositing at least $20 worth of cryptocurrencies will receive 50 free spins. These can be used on Wanted Dead or a Wild. This is a hugely popular slot game that can be played on the Telegram app. Backed by Hacksaw Gaming, Wanted Dead or a Wild comes with plenty of bonuses, features, and a maximum payout of 12,500x.
Another popular slot game on the Mega Dice Telegram casino is Book of Ra Deluxe. This is a fun video slot with a 5×3 grid layout. The minimum and maximum bet is just $0.10 and $60 respectively, so all budgets are catered for. Not only does Book of Ra Deluxe come with a payout of up to 12,000x the player's stake – but it is packed with features. This includes a free spins round with multiplier reels.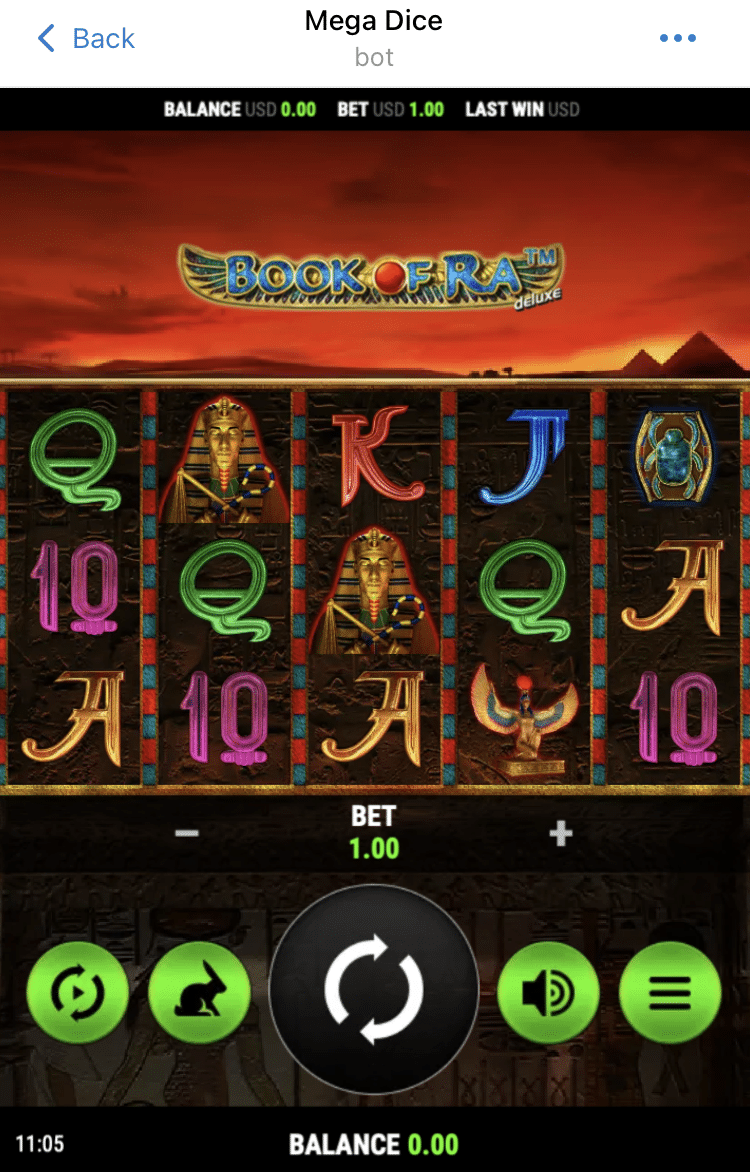 We should also mention Gates of Olympus, which can also be played on the Mega Dice Telegram casino. This slot game is backed by Pragmatic Play and it's one of the most popular in the online gambling industry. The reason for this is that the jackpot on Gates of Olympus is 50,000x the player's stake. So, even those staking the minimum of $0.20 per spin can win up to $10,000. What's more, Gates of Olympus is a bonus buy slot. This means that players can instantly gain access to the bonus round by paying a premium.
Aviator
Aviator is a popular crypto gambling game available at the best Bitcoin casinos. The good news is that Aviator is now accessible on the Telegram app. So what is Aviator, and why is it considered one of the best Telegram games to play? In a nutshell, Aviator is a variant of 'crypto crash'. Players are initially required to choose their stake. On the Mega Dice Telegram casino, this ranges from $0.10 and $200.
After starting the game, the Aviator plane will take off. As each second passes, the win multiplier will increase. However, the Aviator plan will eventually crash. But players don't know when this will happen, which adds to the thrill of the game. When the crash happens, anyone still in the game will lose their original stake. But those that exited the game before the crash will win the respective multiplier.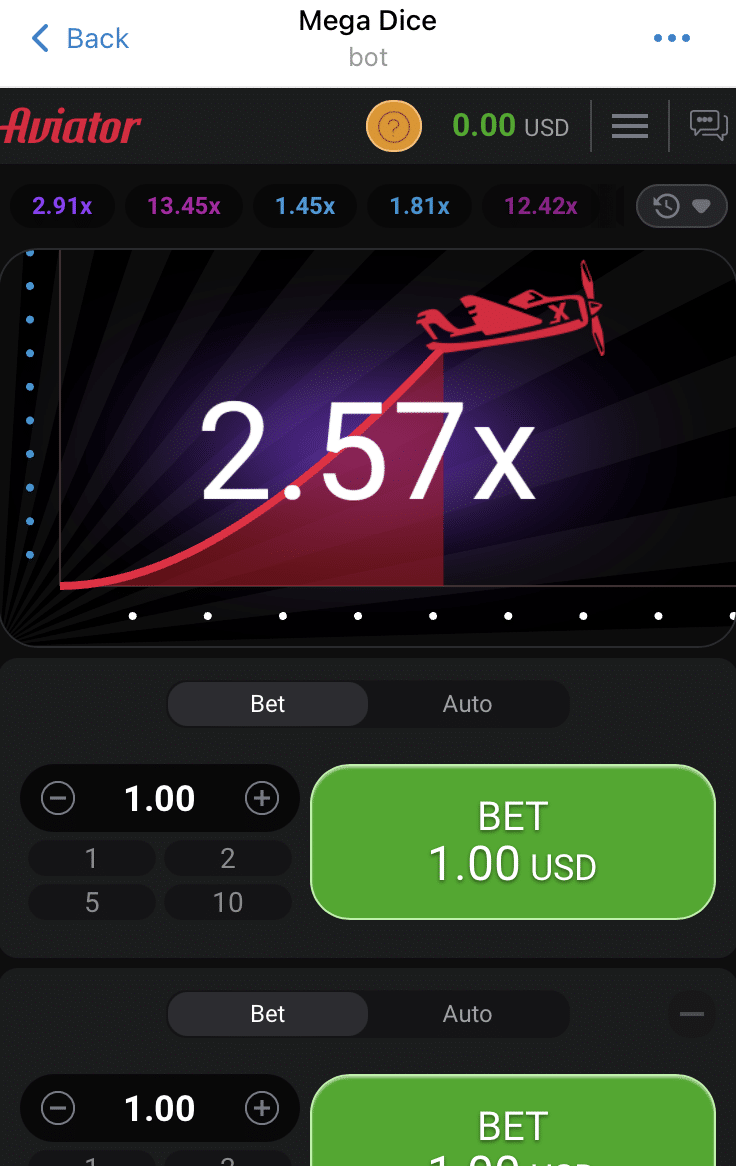 For example, let's suppose that a player wagers $10 worth of crypto on Aviator. After 10 seconds, the Aviator multiplier is at 7x. The player is happy with their winnings so they decide to exit the game. Based on a stake and multiplier of $10 and 7x respectively, the player won $70. Crucially, Aviator is one of the best Telegram games because of its 'provably fair' status.
For those unaware, provably fair games are backed by blockchain technology. Each gaming outcome takes a seed from the casino's server, as well as from the player. This ensures that outcomes are guaranteed for fairness and randomness. Check out our comprehensive guide on the best crash gambling sites for 2023.
Dice
Just like Aviator, dice is one of the most popular casino games in the crypto gambling space. What's more, dice is backed by provably fair, so players can rest assured that each gaming outcome is completely fair and random. The objective is to guess whether the dice will be higher or lower than a specific number. In most cases, the dice will be numbered from 1 to 100.
But this can vary depending on the Telegram casino. Moreover, dice enables players to set their own betting parameters. Let's take the Mega Dice variant as a prime example. First, players will need to decide how much to gamble on the next roll of the dice. The minimum and maximum bet per round is $1 and $10 respectively. As such, this game will appeal to casual gamblers.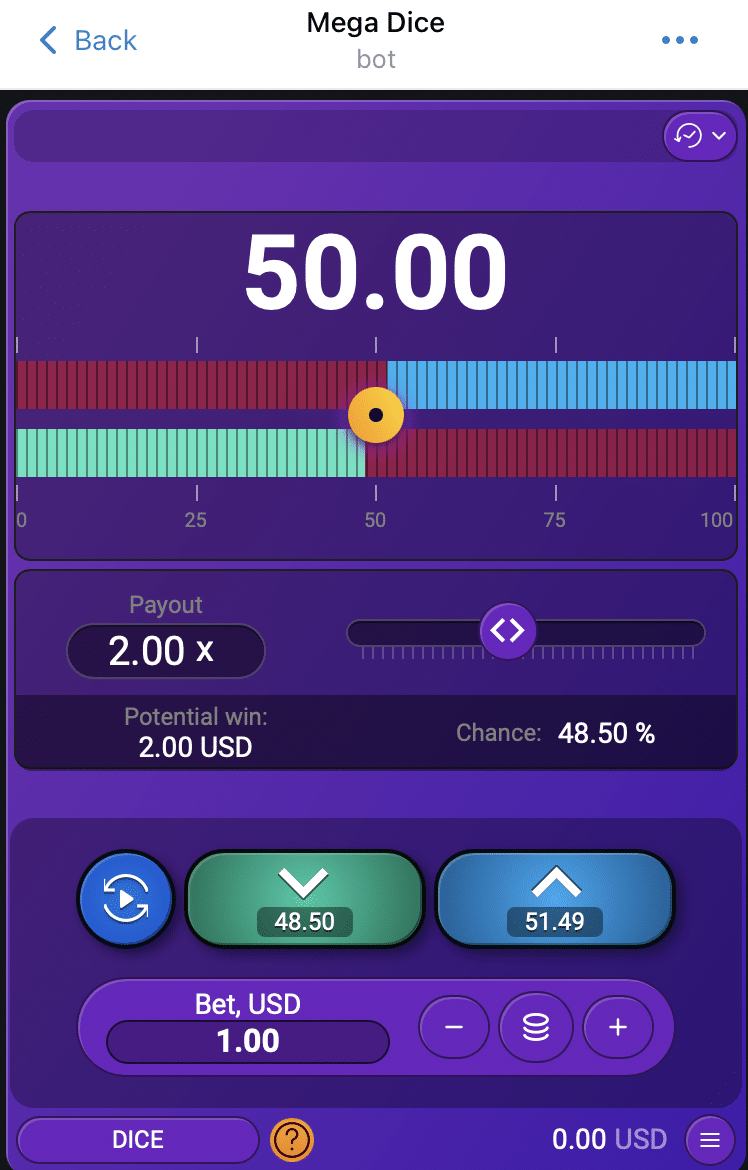 After entering the stake, players will need to choose their 'win chance'. Low-risk players can set this to 88.18%. This translates to odds of just 1.10x the player's stake. High-risk players can opt for the lowest chance of winning, which is 0.10%. However, this pays 970x the player's stake, so $970 for every $1 wagered.
Finally, players will need to roll the dice and hope for the best. If the dice lands within the player's parameters, they win the respective multiplier. If not, they simply lose their stake.
Blackjack
Blackjack is one of the most popular casino products globally. There are many variants of blackjack, but let's start with the basics. First, the player will need to decide how much they want to bet on the next blackjack round. Once the bet has been entered, the dealer will begin dealing the cards. In this example, let's suppose it's just the player and the dealer.
The player will be dealt two cards, both face up. This will usually be dealt from multiple decks to prevent 'card counting'. The dealer will also deal themselves two cards. Only one of the two cards will be face up, so the player doesn't know what hand the dealer has. Once the cards are dealt, the player will need to make their move. The two cards are added together to give a total.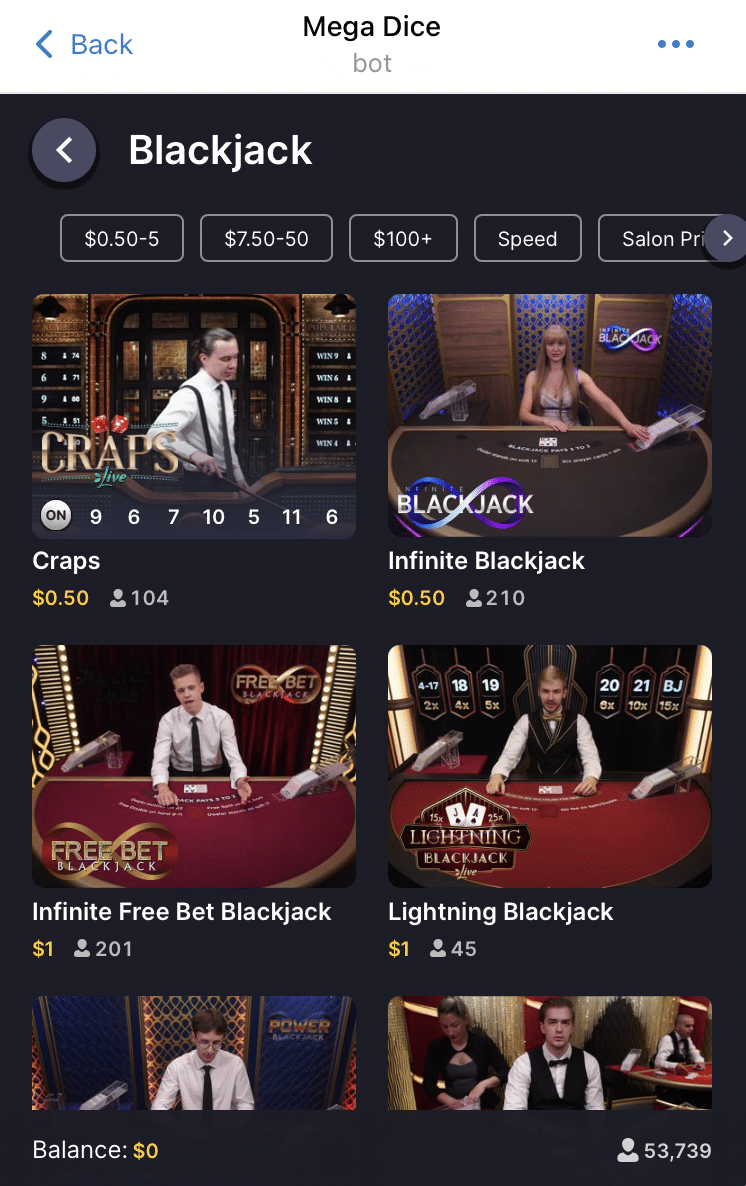 Cards from 2-10 are represented by their respective number. Picture cards (e.g. jacks, queens, kings) have a value of 10. While aces can be 1 or 11. The objective is to score a higher hand than the dealer. The maximum total the player can get is 21. If they go above this number, they 'bust' and the game is over. After receiving the initial two cards, players can 'stick' or 'hit'. By hitting, the player receives another card and this is added to the total.
By sticking, no more cards are dealt and the dealer will make their move. In most blackjack variants, the dealer will need to 'hit' if they have 16 or under, and stick if they have 17 or more. Those looking to play blackjack on Telegram for fun can consider Blackjack Bot. This Telegram channel uses a text-based version of the game.
Those looking to play blackjack on Telegram with human dealers can check out Mega Dice. Through its Telegram channel, players make their decisions on-screen. The human dealer will then action the player's hand decision. This offers an immersive blackjack experience without needing to visit a land-based casino. Plus, Mega Dice bet minimums range from just $0.50 to hundreds of dollars – so all budgets are welcome.
Mines
Mines is a simple yet fun gambling game. It can be customized to meet the player's risk profile. Although there are many variants to mines, the standard layout is a 5×5 grid. This means that the game comes with 25 blocks. Before getting started, players will need to choose how many mines they want within the 5×5 grid.
When playing the Spribe-backed version, players can choose between 1 and 7 mines. The more mines there are, the less chance there is of winning. But this also increases the odds. Once the game begins, players will need to click on an empty block. If there is a mine behind the block, the game is over and the player loses their stake.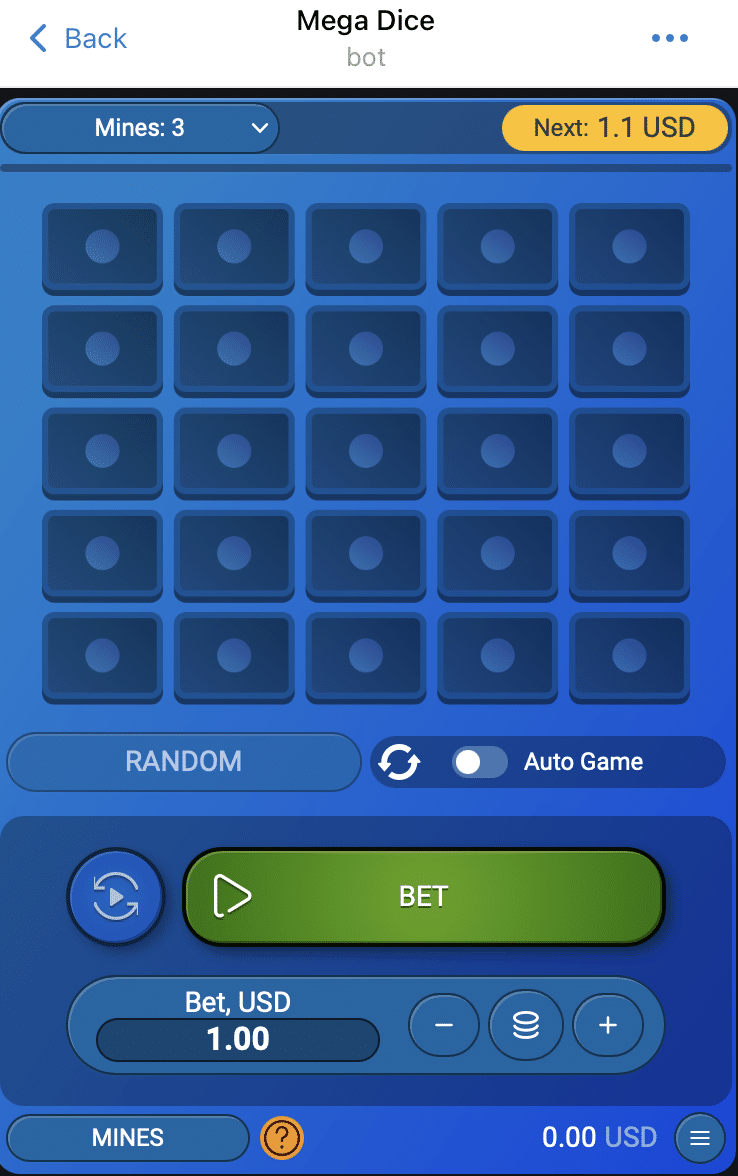 If not, the player can choose another empty block. But before doing so, they might consider cashing out. This is because after each empty block is revealed, the win multiplier increases. This is similar to Aviator but without any time limits. Those playing mines on the Mega Dice Telegram casino can play from just $0.10 per round.
High rollers will be pleased to know that the maximum bet on Mega Dice is $200. There is a maximum payout of $10,000. Most importantly, mines is backed by provably fair. Once again, this ensures that players can gamble in fair and random conditions.
Roulette
For many, roulette is one of the best gambling games to play. Similar to blackjack, there are many variations of roulette. The three main variants are American, European, and French. In terms of house edges, American is the least favorable roulette game for players. This is because American roulette comes with two green zeros. In turn, this reduces the odds of landing an outside bet, such as even/odd or red/black.
French roulette is the most favorable variant for players, as there is just one green zero. Moreover, players will receive a 50% refund on outside bets if the ball lands on zero. There are many other versions of roulette – including Japanese, Russian, Greek, Speed, Multiplayer, Lightning, and more. Each version comes with its own features, odds, and house edges.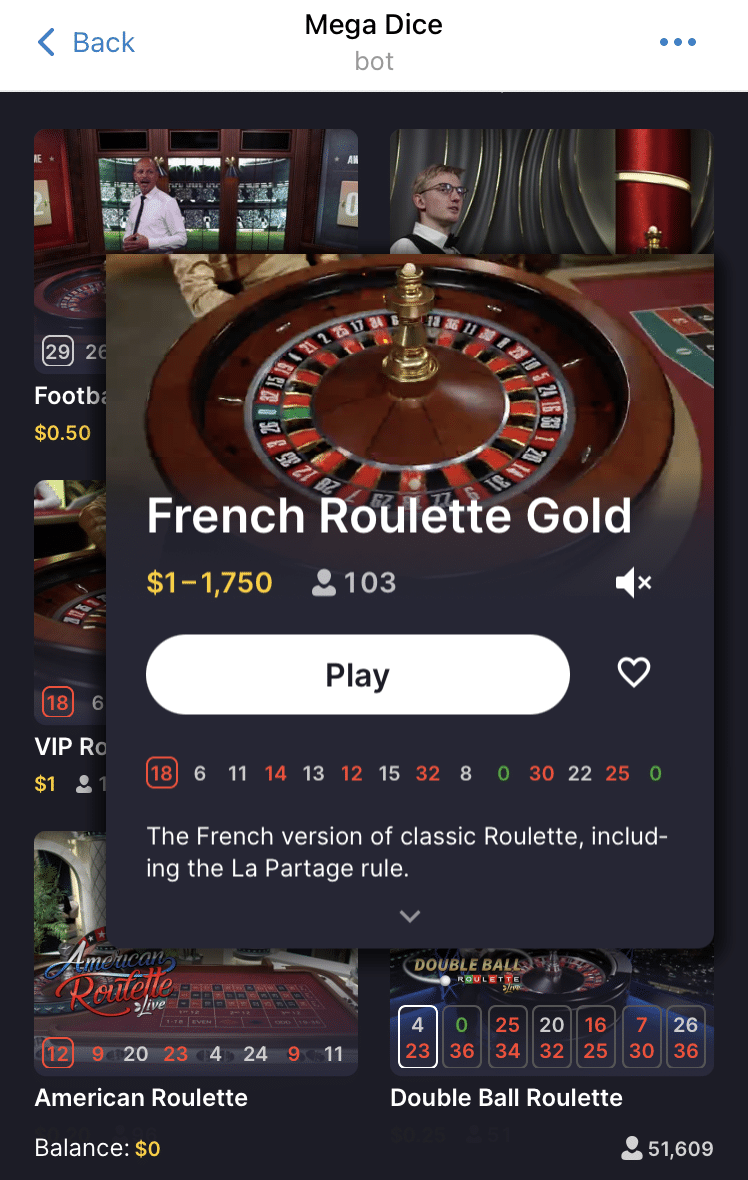 With this in mind, it's important to understand what version of roulette is being played when gambling on Telegram. What's more, players also have the option of playing with a human dealer when using Mega Dice. We much prefer the live version, as it offers an immersive casino experience without needing to leave the comforts of home.
Players will first need to join a table and place their bets. Both outside and inside bets are supported. The latter requires players to choose individual numbers, which ranges from zero to 36. Players will land odds of 36.0 if they choose the correct number. If opting for an outside bet, the odds are 2.0. After the time limit passes, the human croupier will then spin the roulette wheel in real-time.
Dream Catcher
Players looking for an immersive gambling experience might also consider Dream Catcher. This is a popular live casino game that is provided by Evolution. Here's how it works; the Dream Catcher wheel contains 54 different segments. This includes 52 numbered segments and two multipliers (2x and 7x).
Similar to roulette, players need to try and guess what segment the wheel will land on. However, unlike roulette, the specific number represents the odds. For example, if the wheel lands on number 7, it pays odds of 7/1 (8.0). The higher the number, the less chance there is of it landing. The biggest wins come when one of the two multipliers lands.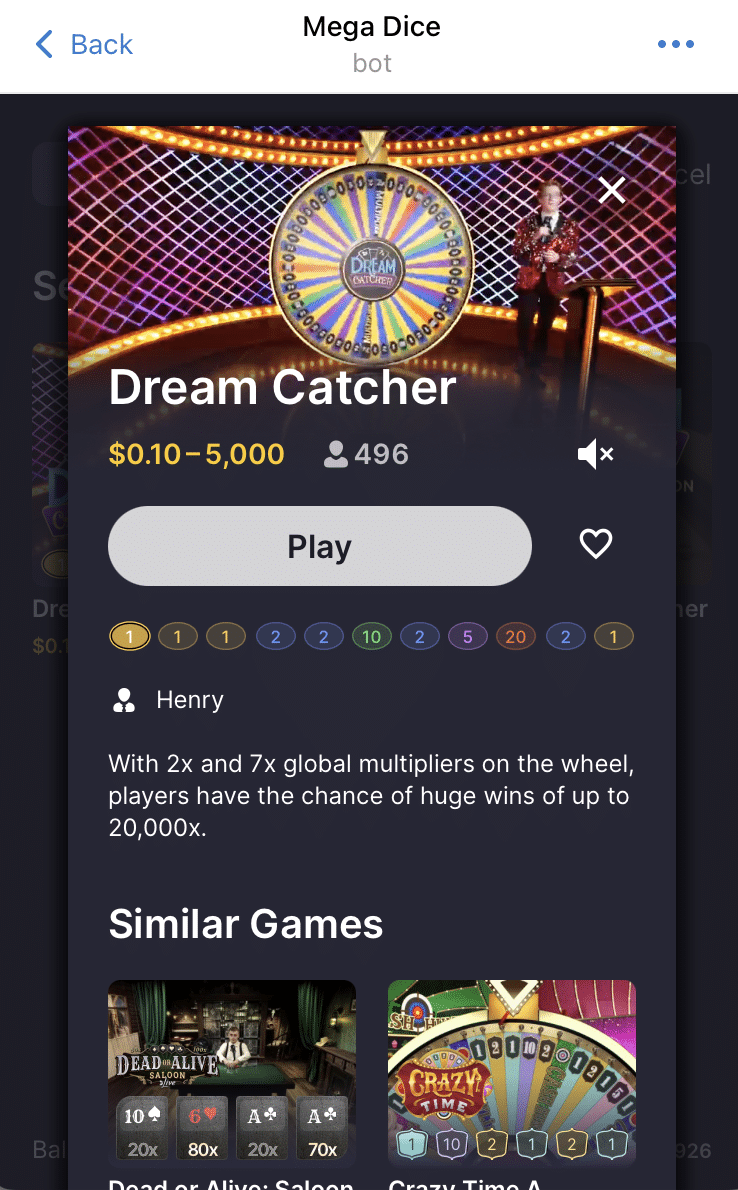 When this happens, the wheel will be spun again. Anyone that wins on the next spin will have the payout multiplied by 2x or 7x. For example, let's say that a player bets $20 on number 2. After the Dream Catcher wheel is spun, it lands on the 7x multiplier. So, the croupier spins the wheel again. This time, it lands on the number 2.
Ordinarily, the player would win $60 ($20 x 2/1), which includes their original stake. However, the $60 win is multiplied by 7x, so that's $420. Dream Catcher is also popular for its social elements. Not only does the croupier talk on the microphone, but players can communicate via a chat box.
Plinko
Plinko is a Telegram gambling game that is ideal for newbies. This game is simple yet highly engaging. Before getting started, players need to set up their betting parameters. First, a stake needs to be selected. Second, the player needs to choose their risk level. This includes green (low risk), yellow (medium risk), or red (high risk). The higher the risk, the higher the payout. But this also increases the chances of making a loss.
After starting the game, a ball is dropped into the pegged grid. It will continue falling until it lands in a slot. There are 15 slots in total and each will have its own multiplier. The multiplier range will depend on the risk level chosen. For example, low-risk games range from 0.5x to 18x. So, if the player bets $10 and it lands on 0.5x, they will get just $5 back. But if it lands on 18x, they will win $180.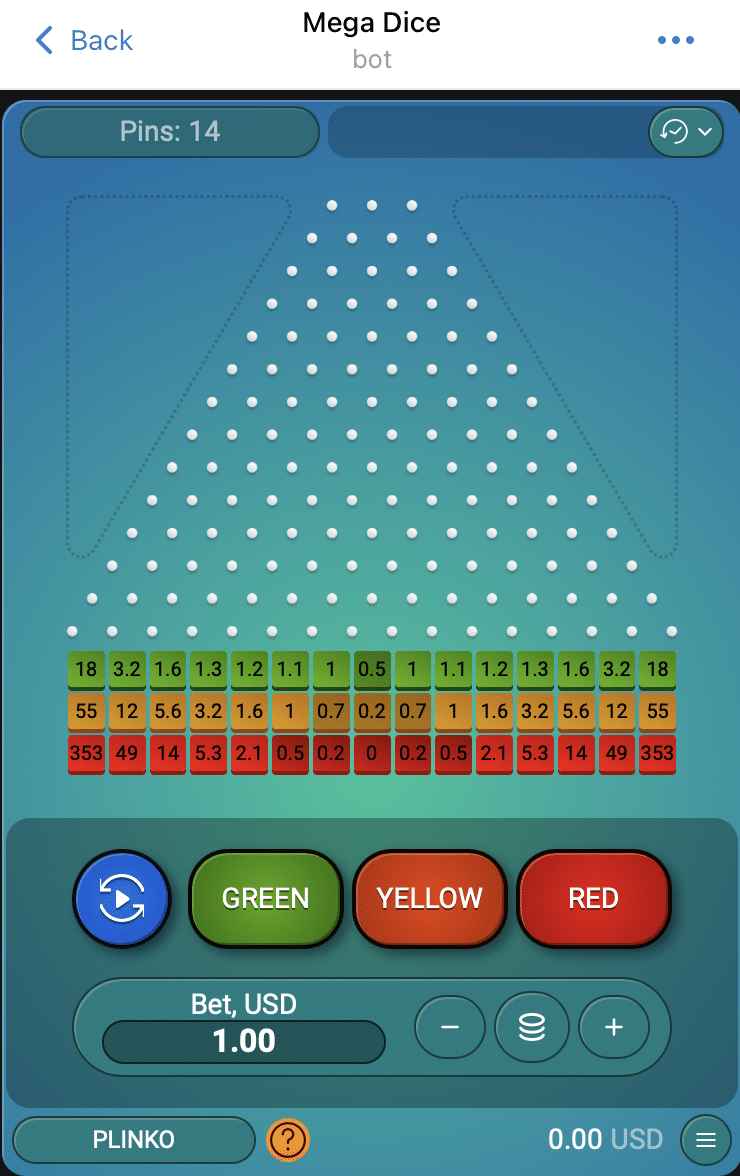 When opting for the high-risk level, the multiplier ranges from 0x to 353x. This means that for a $10 bet, the player could win anything from $0 to $3,530. The most popular variant of plinko is offered by Scribe. This is because Scribe specializes in provably fair games. Mega Dice hosts this plinko variant and the minimum stakes are just $1.
CricketX
Similar to Aviator, CricketX is a popular variant of crypto crash. It follows many of the same rules as Aviator, so we don't need to go into too much detail. One of the main differences is the interactiveness of the game. For instance, CricketX begins with a cricket ball being smashed into outer space.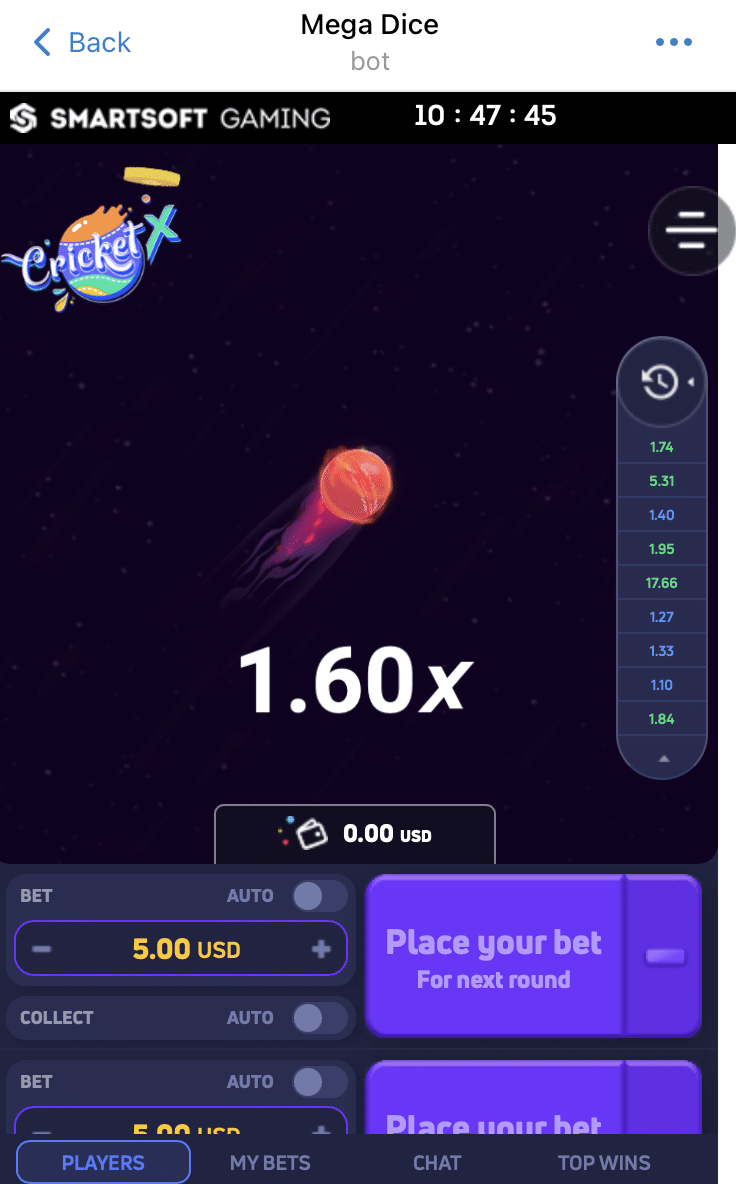 The ball will continue traveling until it explodes. The minimum and maximum stakes are $0.10 and $200 respectively. The maximum payout is $10,000, or the crypto equivalent. CricketX is backed by Smartsoft, a popular casino developer that is regulated by the Malta Gaming Authority.
Monopoly Big Baller
Monopoly Big Baller is another interactive game that comes with human dealers. Backed by Evolution, this is a bingo-style game. To begin the game, players need to choose their stakes and select one of four cards. This will randomly generate a set of numbers between 1-60, across a 5×5 grid.
The human dealer will then pull the lever and balls will be randomly drawn. Just like bingo, the aim is to match a line of numbers before other players. Monopoly Big Baller also comes with side features and bonuses. For example, players have a chance of multiplying their win by up to 20x when matching a line.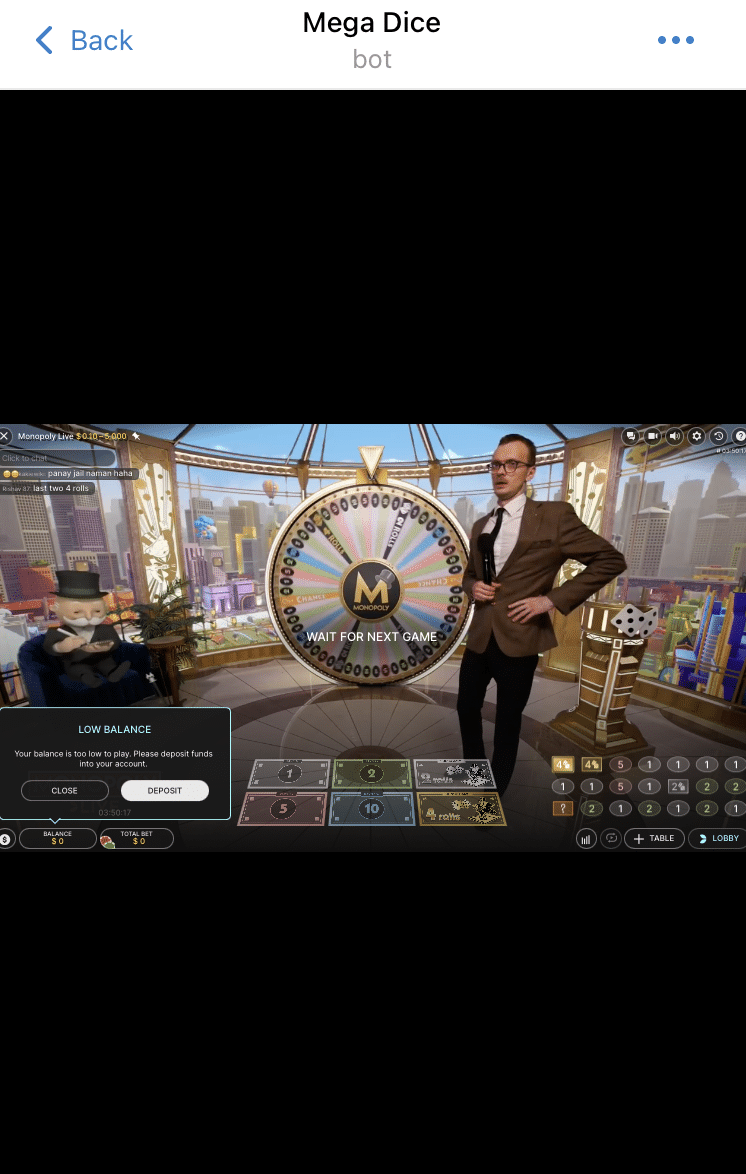 There is also a bonus round that gives players 3 or 5 rolls on a Monopoly-style board. This comes with plenty of random bonuses and additional multipliers. Monopoly Big Baller is available to play on the Mega Dice Telegram casino.
How to Find Games on Telegram
Telegram doesn't have a specific section dedicated to games. This is because Telegram doesn't develop or host games itself. Instead, games are built by Telegram users via bots. Considering the sheer number of users, this can make it hard to find the best Telegram bot games.
The only way to find games is to know the username of the provider. For example, in the screenshot below, we have searched for 'Blackjack'. This brings up thousands of results. Clicking through each username to find an actual blackjack game is both cumbersome and time-consuming.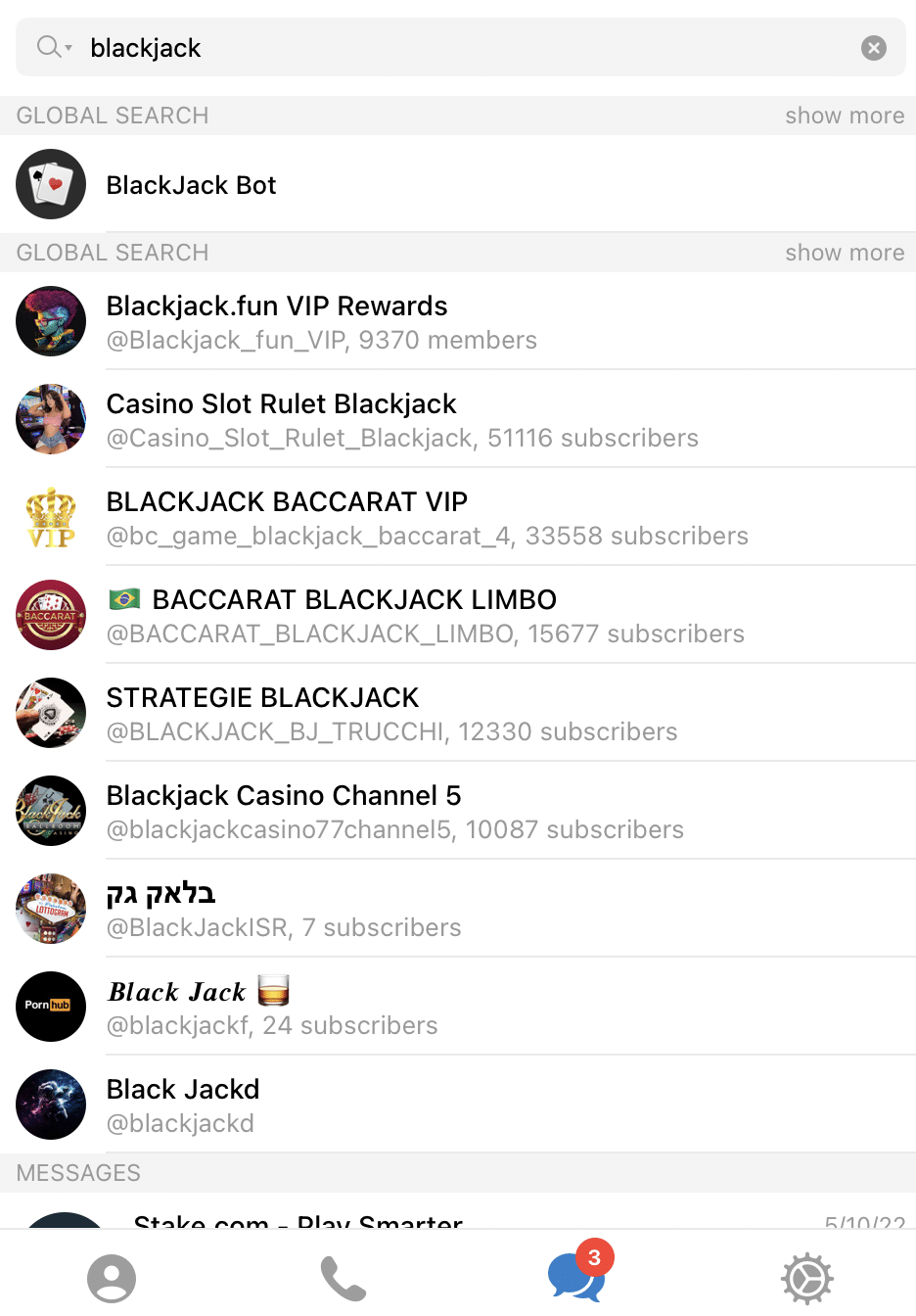 There isn't a workaround to this, so users will need to do some research to find their preferred games. Those looking to play gambling games like blackjack, roulette, slots, or baccarat can check out MegaDice – which has the Telegram username @megadicecasino.
How to Avoid Telegram Scams
Although the vast majority of Telegram users are legitimate, the anonymity of the app means that it also attracts scammers.
When entering a Telegram group, people can see which usernames have already joined.
This enables scammers to directly message each user.
The most effective way to avoid being scammed is to instantly block and report a user who sends a private message.
Conclusion
The best Telegram games for 2023 have been revealed – with the gambling niche leading the way. Rather than playing boring text-based games, gambling providers like Mega Dice offer an interactive and immersive experience.
This regulated Telegram casino supports virtual slots, blackjack, roulette, video poker, and even live dealer tables. What's more, Mega Dice offers instant crypto payments, meaning that players will receive their winnings immediately.
References
https://www.hacksawgaming.com/games/wanted-dead-or-a-wild
https://telegram.org/blog/700-million-and-premium
https://www.lexisnexis.com/en-gb/glossary/kyc
https://coinmarketcap.com/currencies/bitcoin/
https://help.coinbase.com/en/coinbase/getting-started/crypto-education/glossary/wallet-address
https://thelawreviews.co.uk/title/the-gambling-law-review/united-kingdom
FAQs
Are there games on Telegram?
How do I play games on Telegram?
Where can I find Telegram games?
What are the best games to play on Telegram?