In crypto, a competitive edge is the fastest way to make massive gains. One of the best competitive edges for newbies and intermediates is Telegram crypto groups. These groups are usually run by expert teams offering a wealth of knowledge and accurate trading calls.
What is the best crypto Telegram group to learn from? This guide breaks down some of the most popular groups to help you find the right one for you.
Top 10 Cryptocurrency Telegram Groups
B2C Crypto Calls & News – Best Crypto Telegram Group to Find Presale Cryptos
Cryptosignals.org – Delivers Crypto Signals With 82% Accuracy
Learn2Trade – Top Group for Price Action Analysis and Education
Binance Killers – The Largest Telegram Group That Provides Mid to Long-Term Trading Signals
Wolf of Trading – Technical and Fundamental Analysis on Bitcoin and Altcoins for Free
Wallstreet Queen Official – Providing Profitable Mid to Long-Term Bitcoin and Ethereum Signals
Bitcoin Bullets – Get 1-2 Signals per Day With 95% Accuracy and Free Market Analysis
CoinSniper – Community-Based Telegram Discussing Brand-New Cryptos
ICO Drops – Leading Group for Daily ICO News Updates
LA Crypto Community – Free Degen Yeild Farming Group With Expert Advice
Reviewing the Best Crypto Telegram Groups
Now that we have shown the best cryptocurrency telegram groups, it's time to explore which is best for you.
1. B2C Crypto Calls & News – Best Crypto Telegram Group to Find Presale Cryptos
When it comes to the best Telegram crypto group, the B2C Crypto Calls & News group is the clear winner. Business2Community is a news website covering breaking stories across crypto, tech, business and finance.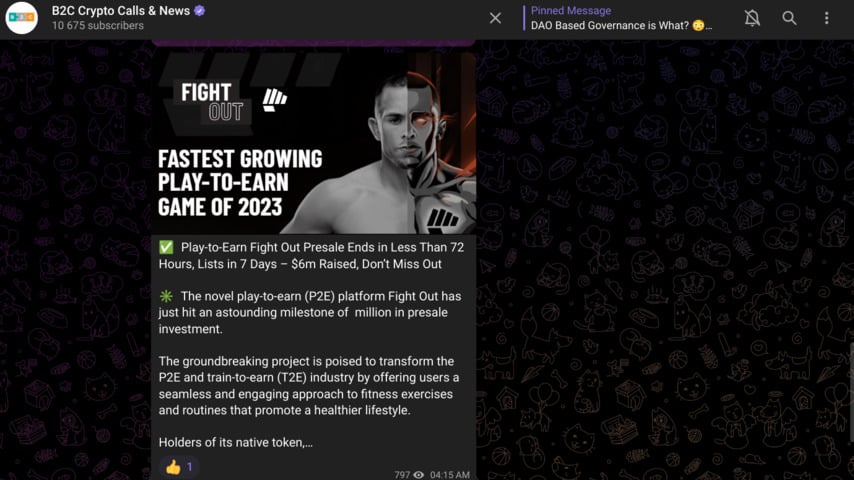 The crypto calls group is a must-join for anyone seeking knowledge on upcoming projects with huge potential. The group constantly drops alpha on presales, the hottest cryptos and industry updates and how they could affect the markets.
Joining the B2C Crypto Calls & News group is the easiest way to take your crypto knowledge to the next level. A wide range of industry experts with experience in everything from technical analysis to macroeconomics run the platform.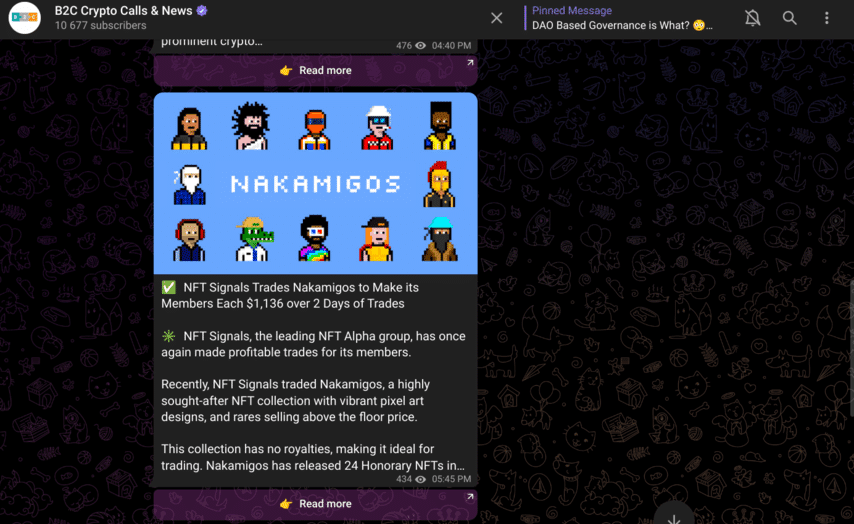 The issue some Telegram groups face is that one individual or a small team runs them. While this can be great for specialised knowledge, it also means you could miss out on massive opportunities.
On the other hand, the great thing about the B2C group is that the team is so diverse in knowledge and experience that the Telegram group covers all bases. This also helps avoid biases as you get multiple expert opinions in one group.
With so many crypto coins on the market, it can be challenging to know which ones have long-term potential for growth. However, the B2C Telegram group curates news articles from its site and external content from experts like Jacob Bury to provide you with all the information you need to succeed in the markets.
On top of this, the group provides updates around the clock on things like the recent Bitcoin price surge. To capitalize on emerging events, you must get the news quickly, no matter the time of day. B2C is an international company, so the team is always active in bringing you the most recent updates.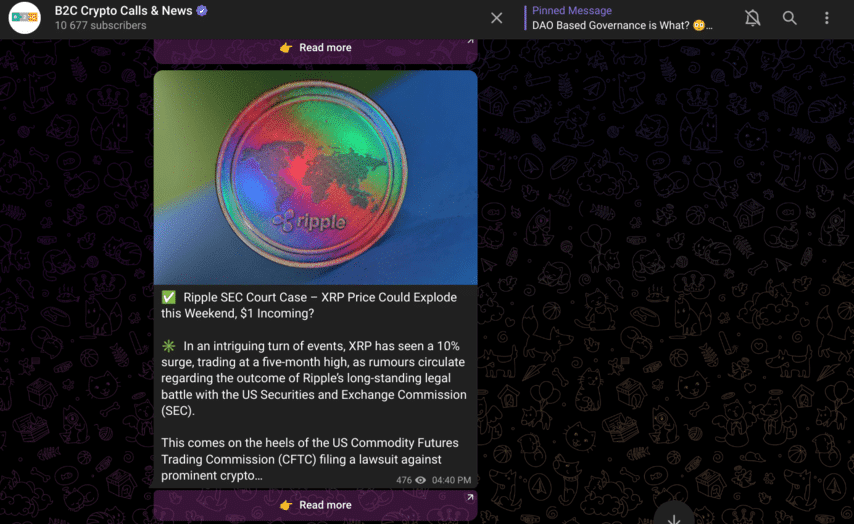 One of the group's highlights is its track record of providing tips on upcoming cryptos to explode. Many of these tips have been on presale coins, where B2C notify the community of cryptos in their stage one presale. This means they had the opportunity to buy at a fraction of the cost of the coins' launch prices.
With over 10K members already enjoying the B2C Telegram group's profitable calls, joining B2C Crypto Calls & News is a no-brainer. Get started today with the only crypto Telegram group providing round-the-clock updates from a multitude of industry experts.
2. Cryptosignals.org – Delivers Crypto Signals With 82% Accuracy
Although there's no such thing as shortcuts, the Cryptosignals.org Telegram group is the closest you can get. While the B2C group focuses more on education and long-term calls, Cryptosignals.org does the leg work for you. The group delivers some of the best cryptocurrency signals on telegram for lower time frame trading.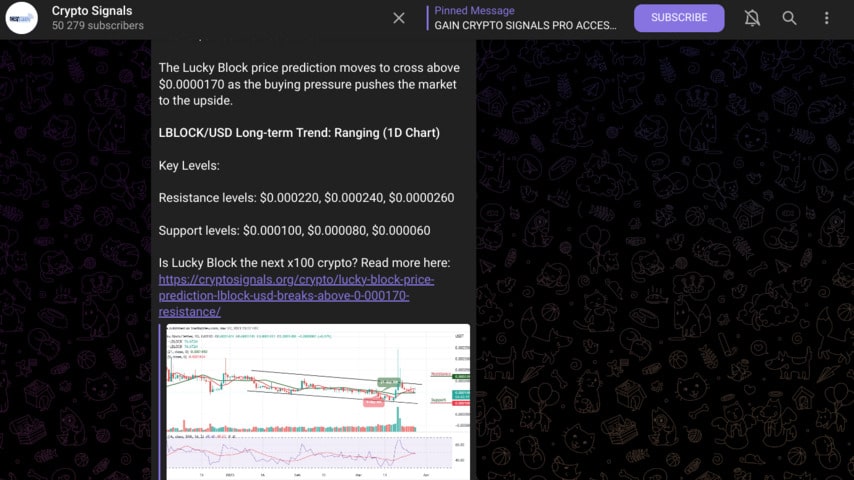 While some people prefer to be in the trenches, reading whitepapers and browsing Discord channels, others prefer to be told what coin to buy, when to buy it and when to close the trade.
Cryptosignals.org is perfect for those who want a crypto trading strategy laid out for them, albeit it might not be as insightful as if you carry out the research yourself.
The Cryptosingals.org free Telegram group is a brilliant way to get involved with crypto trading, particularly for newbies who are yet to have conviction in their own analysis. The Telegram is run by a team of expert traders who leverage bots, AI and technical indicators to track coins and predict their future prices.
Cryptosingals.org focuses on day trading and short-term investing, whereas B2C provides information projects like presales that generally have longer-term potential.
While both can be fantastic ways to generate profits, short-term trading is an excellent strategy for those looking to snowball a lower bankroll before investing in long-term projects.
As well as coin analysis, the group provides many other services such as education, news and how-to guides.
Regarding the signals, when you join the Telegram group, you will get three for free each week; however, if you sign up for the VIP Telegram group, which provides even more features such as risk-reward ratio and portfolio allocation. This is an excellent option for traders looking to take their strategies to the next level, costing £42 monthly.
3. Learn2Trade – Top Group for Price Action Analysis and Education
Trusted by over 25K traders, Learn 2 Trade is a market-leading trading education provider, offering signals and courses for crypto and Forex. Moreover, Learn 2 Trade is also a leading provider of news, guides and reviews.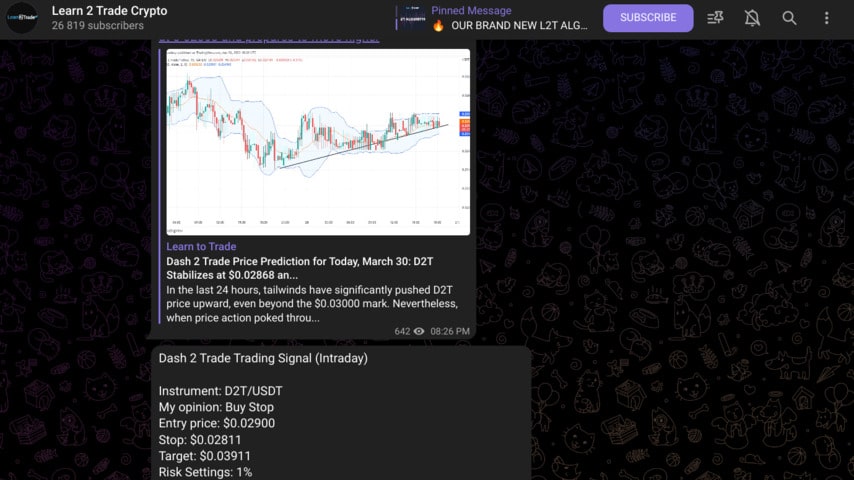 With Learn2Trade, you never have to miss an opportunity, as it operates 24/7. Moreover, it is one of the most profitable Telegram groups for short-term investing, with the team claiming a trade success rate of 79%.
Learn2Trade offers a free and VIP group. With the free group, you get three signals per week for free, as well as other weekly analyses such as Bitcoin fear and greed. On the other hand, the VIP group provides everything you need for crypto trading, including up to five signals per day, 24/7 chat with professional traders and exclusive live webinars.
The group also provides fundamental analysis, which can be a promising option for identifying projects with long-term potential.
4. Binance Killers – Largest Telegram Group That Provides Mid to Long-Term Trading Signals
Binance Killers is one of the largest Telegram crypto groups on the market, with over 175K members. A team of professional crypto traders runs the group and provides market analysis, members chat, personal support, exclusive VIP channels and much more.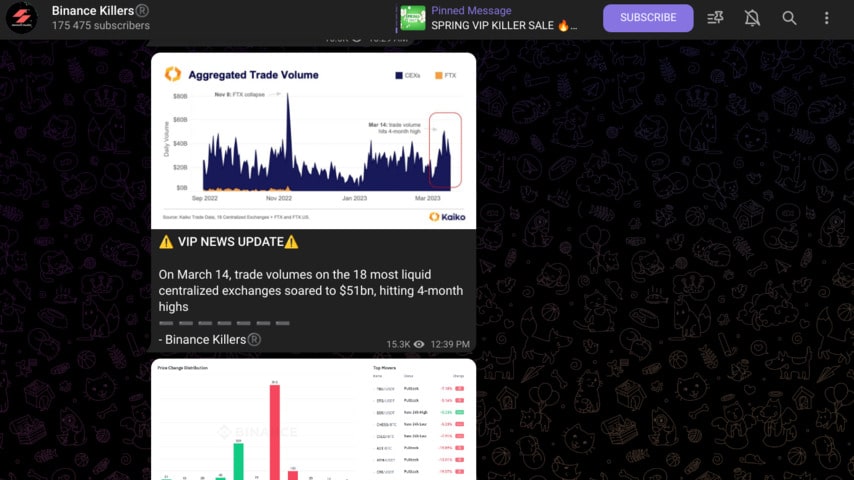 Binance killers focus on mid to long-term trading signals, with the occasional day trade or scalp.
The best thing about Binance Killers is the access to their customer support team. You can get help with everything from technical difficulties to managing your portfolio.
There are free and paid versions available. While the free version still provides signals and market analysis, the paid version features extra features like entries, targets, stop losses, and videos of deep market analysis.
If you want crypto signals for mid to long-term trades that you can set and forget, Binance Killers paid group is a great place to start.
Binance Killers only accepts Bitcoin payments for the paid membership, starting at 0.06 BTC for one month.
5. Wolf of Trading – Technical and Fundamental Analysis on Bitcoin and Altcoins for Free
Wolf of Trading is a free Telegram group that is ideal for beginners. As well as providing trading signals, it also includes market analysis on recent industry-related events.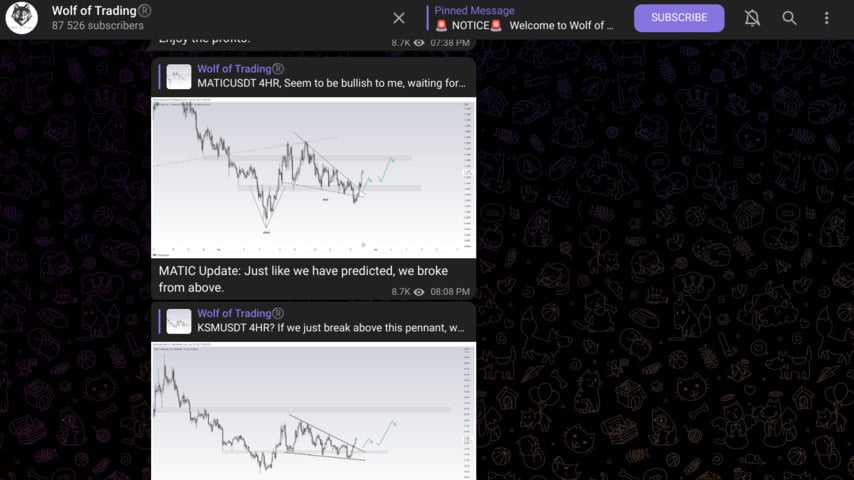 The group breaks down current events like the CFTC going after Binance and analyses how that might impact prices in the near and long term.
Market analysis is a valuable insight for any members, but newbies can particularly benefit from it as it helps them understand what goes into making trading decisions.
The group also frequently posts the Bitcoin Fear and Greed index, aligning this with current events to provide informed trading signals. Wolf of Trading also offers expert technical analysis, considering chart patterns, support and resistance and trading volume.
With this in mind, Wolf of Trading is one of the best Telegram cryptocurrency groups for newbies looking to join a risk-free group. As the group is free, there is no pressure to place large trades to make up the membership cost so that you can join and paper trade until you are confident the signals are right for you.
6. Wallstreet Queen Official – Providing Profitable Mid to Long-Term Bitcoin and Ethereum Signals
The Wallsteet Queen Official Telegram group is run by a highly successful crypto trader focusing mainly on high-leverage Bitcoin and Ethereum trading. That said, the group also provides signals on lower market cap cryptos with more potential for growth.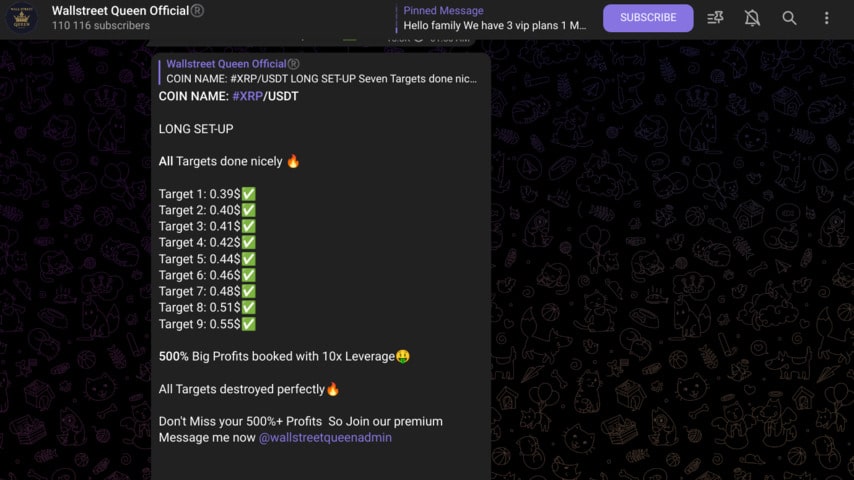 As well as trading signals, the group also discusses recent events in the crypto space that might affect coin prices.
Regarding signals, the group takes more of a technical analysis approach than a fundamental one. This means the signals will be based on support, resistance, technical indicators and chart patterns.
Also, the group mainly provides signals based on the 4HR to 1D charts, making it ideal for mid – long-term trading.
While there is a free version for the group, most signals are posted in the paid version. Nonetheless, you still get access to news updates in the free version, making it a great Telegram to join to stay relevant with industry events.
But if you are looking for trading signals from an expert trader, you must join the paid version, starting at $150 per month or $500 for the lifetime plan.
7. Bitcoin Bullets – Get 1-2 Signals per Day With 95% Accuracy and Free Market Analysis
Bitcoin Bullets is one of the most well-established signal Telegram groups in crypto. The group provides signals on Bitcoin and the best altcoins, mainly based on mid-term charts.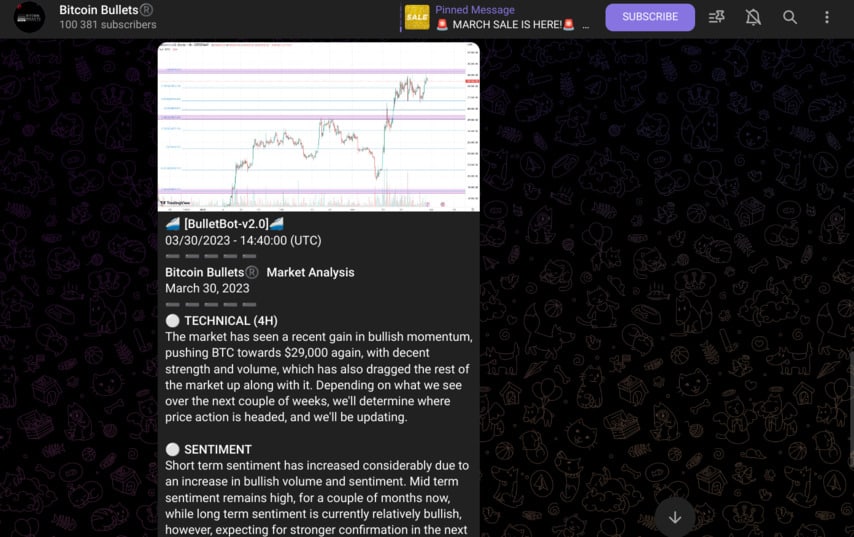 The great thing about Bitcoin Bullets is that it combines technical analysis with fundamental analysis to establish the market sentiment for the short, mid and long-term horizons.
That said, the Bitcoin Bullets free Telegram group only provides news updates and market analysis, but investors that want signals must subscribe to the VIP group. In the VIP group, you can expect 1-2 calls daily, but with a higher accuracy rate than its competitors.
The group claims an accuracy rate of 95%, making it one of the most profitable on the market.
But besides the signals, the thing we love about Bitcoin Bullets is the market analysis. By breaking down the market, the group educates its audience and allows them to make more informed decisions rather than blindly following signals.
And better yet, the market analysis is part of the free group, so you could combine this with other analyses or signals from other groups to trade like a pro.
8. CoinSniper – Community-Based Telegram Discussing Brand-New Cryptos
One of the most valuable ways to succeed in crypto is having access to data before anyone else. CoinSniper is a website that details just-launched cryptos, both presale and IEOs.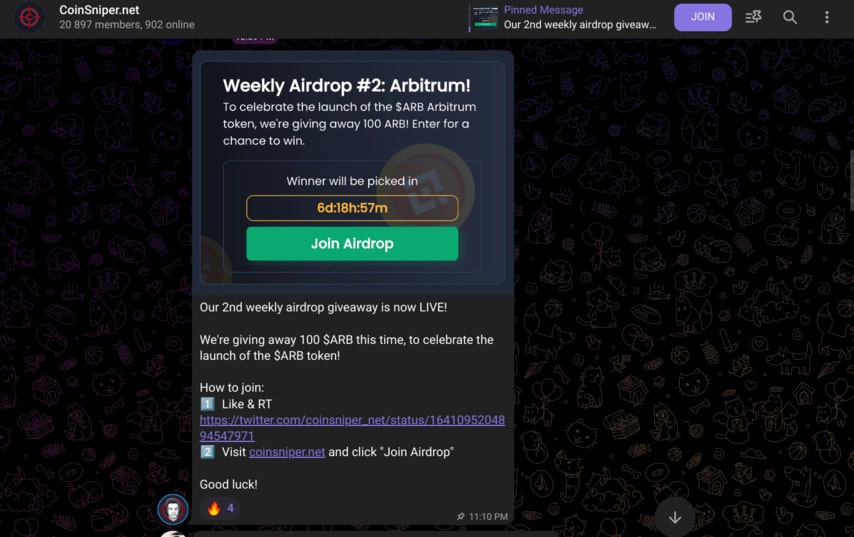 Although CoinSniper does not provide trading signals, it provides you with all the necessary tools to find cryptos with long-term potential.
The CoinSniper website audits websites based on their utility, tokenomics and roadmap. This is a big deal for projects, as each listing on CoinSniper has effectively been approved as a promising crypto.
The CoinSniper Telegram group allows community discussions; the great thing about this is that you can ask questions and learn from other members and the group's expert team.
As well as community discussions, the group updates members on matters like airdrops and changes to the site and recent news, such as the recent SEC action against Coinbase.
With this in mind, CoinSniper is a brilliant way to stay relevant with promising coin listings while getting support from a highly knowledgeable community.
9. ICO Drops – Leading Group for Daily ICO News Updates
Back in 2017, Initial Coin Offerings (ICOs) were booming. New coins were going live and raising millions almost daily. However, this turned out to be a bubble, with many coins going to a fraction of their listing price.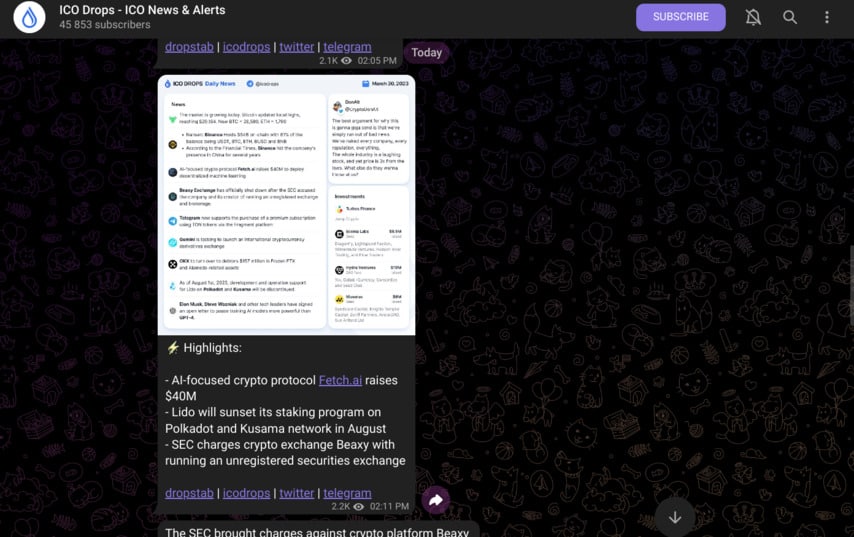 Nonetheless, the ICO industry has levelled out, with many coins now listed at a fair market price. The most popular site to find the best ICOs is ICODrops.com, a popular website and Telegram channel with over 40K members.
What we like about the ICO Drops Telegram channel is that members get a complete view of what's happening in the crypto market. As well as posting news related to ICOs, ICO Drops also updates on key industry events.
The group is free to join, making it a fantastic place to keep up with current events and have early access to high-potential crypto projects with a wide range of use cases.
10. LA Crypto Community – Free Degen Yeild Farming Group With Expert Advice
As the smallest channel on this list, LA Crypto Community sits at 1.1K members, but the group certainly packs a punch in terms of value. The group's founder also runs a YouTube channel, which explains "degen" yield farming strategies to make profits in bull markets.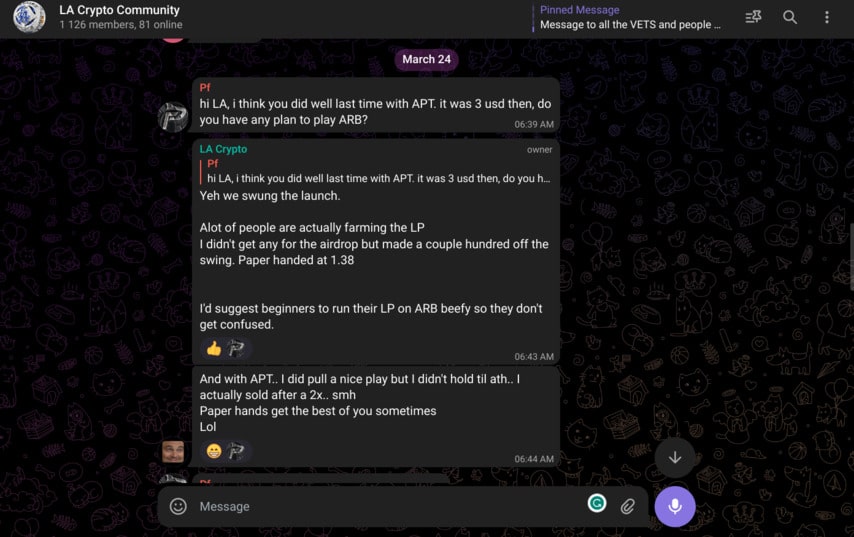 Throughout the bear market, the group has remained quiet, as the high-risk strategies the group uses are only profitable when new money enters markets.
That said, since the Arbitrum ecosystem has exploded recently, and the price of Bitcoin has pushed above 26K, activity has increased again.
Compared to other groups on the list, LA Crypto Community is not newbie friendly, it comes with high risk, and people who follow the group's strategies must use proper risk management. However, it's also a brilliant way to make extra income to compound your crypto during bull markets.
The group is a brilliant resource for anyone looking to delve deeper into the murky world of low-cap DeFi projects. It's also free to join, and many experts in the group are happy to help new members along the way.
Why Join a Crypto Telegram Group?
So, now you know the best Telegram crypto signals groups and how they compare. But before going further, it is best to understand the advantages of joining a group.
Check out the text below to discover why joining a group could take your crypto strategies to the next level.
Learn About Top New Coins
With so many new coins emerging each week, filtering out the good from the bad can be challenging. But many Telegram groups are run by a team of experts that specialise in identifying promising new tokens.
For example, B2C Crypto Calls & News channel's partner, YouTuber Jacob "Crypto" Bury, recently showed people two of the hottest new meme coins, LoveHate Inu and Tamadoge.
Jacob first covered both of these cryptos while they were in their stage one presale; in other words, you could buy them at the lowest possible price point.
LoveHate Inu is currently still in its presale, with the price continuing to rise each round. And Tamadoge is now live on exchanges, trading 20% higher than its stage one presale price.
With this in mind, the best place to learn about top new cryptos is the B2C Crypto Calls & News group. Many of the group's updates are based on news posted on their website, so it covers a wide range of topics and coins, so you will never miss a high-potential new crypto.
Learn From Experts
One of the most challenging things about crypto is the amount of information investors need to break down to make informed decisions. Especially for newbies to intermediates, there is usually too much information to process.
On the other hand, most Telegram crypto groups are run by seasoned experts who are well-versed in spotting great opportunities.
Sifting through hundreds of potential coins to buy can be overwhelming for many investors. There are so many tools and different methods to analyse coins, like technical analysis, tokenomics, fundamental analysis and market sentiment, that investors often get paralysis by analysis.
On the other hand, seasoned pros such as Jacob Bury and the B2C team provide data-backed tips and signals that can take your portfolio to the next level.
To put this into perspective, when Jacob Bury first mentioned Tamadoge, the cost per coin was $0.01. Today, the price sits around $0.012, which is a 20% increase; however, at its all-time high, Tamadoge was up over 15X for stage one investors.
The performance of Tamadoge shows that you can still make profits in bear markets if you are equipped with the knowledge. This is why learning from experts in Telegram groups is so beneficial.
A Second Opinion
Another great reason to use groups is to confirm your own theories. Suppose you are an intermediate to advanced investor with your own strategy. Sometimes, you need more conviction to pull the trigger on a trade.
That said, if you are in a community run by experts and their analysis aligns with yours, you can have higher conviction in your trades, leading you to place more significant positions and earn more profits.
Also, you can cross-reference crypto Telegram groups to gain an overall market sentiment of what industry experts are thinking and how they are positioning themselves. This can be especially useful when trading the most volatile cryptos.
Cut Down On Research
Finally, with new crypto presales, IEOs and trading opportunities happening daily, researching each one would be impossible. However, many crypto Telegram groups have a large team behind them that scour the markets to find the best opportunities.
By joining Telegram groups that bring you high-potential opportunities, such as the B2C Crypto Calls & News group, you have access to expert-approved curated coins. For example, the B2C Telegram has provided numerous calls on profitable cryptos under one dollar over the past year.
This leaves you with a more comprehensive list of crypto tokens to research with higher chances of success.
The great thing about this is that it saves you time and increases the chances of finding coins ready to explode.
Conclusion
Overall, joining a Telegram group run by crypto industry experts can equip you with everything you need for success in crypto without consuming all your free time.
Although there are many high-calibre groups on our list, the best is Crypto Calls & News, which covers everything from market updates to promising new presales. The best thing is that it is totally free, so join today to get the hottest crypto tips.
FAQs
Where can I find crypto Telegram groups?
What is the biggest crypto telegram group?
Where can I get crypto tips?