Trust Wallet is one of the best hot wallets on the market, supporting more than 60 blockchains and 4.5 million assets. However, it falls short in some crucial regards, like the fact that it fails to offer easy interoperability with cold storage wallets. Additionally, Binance owns it, so there is always a concern that it's not as non-custodial as it claims to be.
Luckily, you can always go for the best Trust Wallet alternatives, as there are plenty of great ones on the market. In this piece, we'll cover 7 of them, explaining how they differ from Trust Wallet and what makes them superior.
Top 7 Trust Wallet Alternatives Ranked
Before we begin discussing our top picks for the best Trust Wallet alternatives, let's provide a quick overview of each:
MetaMask

— One of the top alternatives for any Ethereum wallet, including Trust Wallet. MetaMask supports all Ethereum-based coins and ERC-20 tokens and is often the go-to choice for most people entering the token and Web3 markets. There's no support for Bitcoin and similar coins, but several blockchains can be manually added, like Polygon.

Exodus

— A popular multi-device crypto wallet favored by beginners and advanced users alike. It supports many blockchains and cryptocurrencies and features a user-friendly dashboard displaying your entire portfolio and real-time prices. The wallet's support system is among the best ones on the market, and it can pair seamlessly with any Trezor hardware wallet, which comes in handy for users looking to get cold storage.

Coinbase Wallet

— Widely used non-custodial wallet backed by the brand recognition of Coinbase exchange. It's fully decentralized and supports millions of assets on more than 50 blockchains, which makes it one of the top competitors to Trust Wallet. Moreover, 98% of crypto assets are placed in cold storage for added security.

Trezor Model One

— A very affordable hardware wallet made by one of the world's most reputable cold wallet manufacturers. The Model One is the cheaper version and represents a perfect entryway to the hardware wallet market. It's one of the few hardware wallets with full ERC-20 token support. Security is top-notch, and safety measures include hands-on verification.

Ledger Nano S Plus

— One of the safest and most popular hardware wallets on the market with an EAL 5+ Secure Element chip. It allows you to store more than 5,500 assets, and you can view, exchange, and trade all of them through the Ledger Live app. Ledger also enables seamless connection to various software wallets and supports NFTs and Web3 projects.

Coinomi

— A popular, SegWit-enabled non-custodial wallet with diverse blockchain network support. It features more than 125 blockchains and over 1,700 crypto assets, effectively covering most of the popular cryptocurrencies in the world. The wallet has an excellent track record, with no hacks since its release in 2014.

Guarda

— Multi-platform non-custodial wallet supporting over 400,000 assets on 50+ blockchains. The system has never been breached, which demonstrates its reliability. You can navigate the platform easily, as it was designed with user experience in mind. It lets you store, trade, swap, and earn crypto through the in-built staking mechanism. You can also get a Guarda Visa prepaid card, which will allow you to spend crypto almost anywhere.
Reviewing the Best Alternatives to Trust Wallet
Trust Wallet is one of the top wallets on the planet when it comes to the number of crypto assets it covers. It's a non-custodial software wallet made by Binance, so it can easily connect to this major crypto exchange. The wallet is still completely separate from the exchange, but many people are still worried because Binance has a lot of regulatory issues in the US.
Despite that, it offers multiple features, including storage, trading, NFT support, staking, and Web3 access. However, it lacks the one that would make it compatible with a hardware wallet or some other cold storage option.
Therefore, a great Trust Wallet alternative must include most (if not all) of these features while also resolving key issues. This is precisely what we looked into when compiling our list of the best alternative solutions to Trust Wallet. Let's take a closer look at the 7 best cryptocurrency wallets you could consider.
1. MetaMask — One of the Top Alternatives to Ethereum Wallets With Robust Web3 and NFT Support
MetaMask is one of the top crypto wallets on the planet, with more than 21 million users. It's a non-custodial wallet that requires no personal information to register. In other words, you can create a wallet immediately without handing over your email or other private info.
As such, it's already a great Trust Wallet alternative; however, it also supports cold storage. MetaMask can seamlessly connect to hardware wallets like Ledger and Trezor. Therefore, it's safer than Trust Wallet, which can only be used as a hot wallet.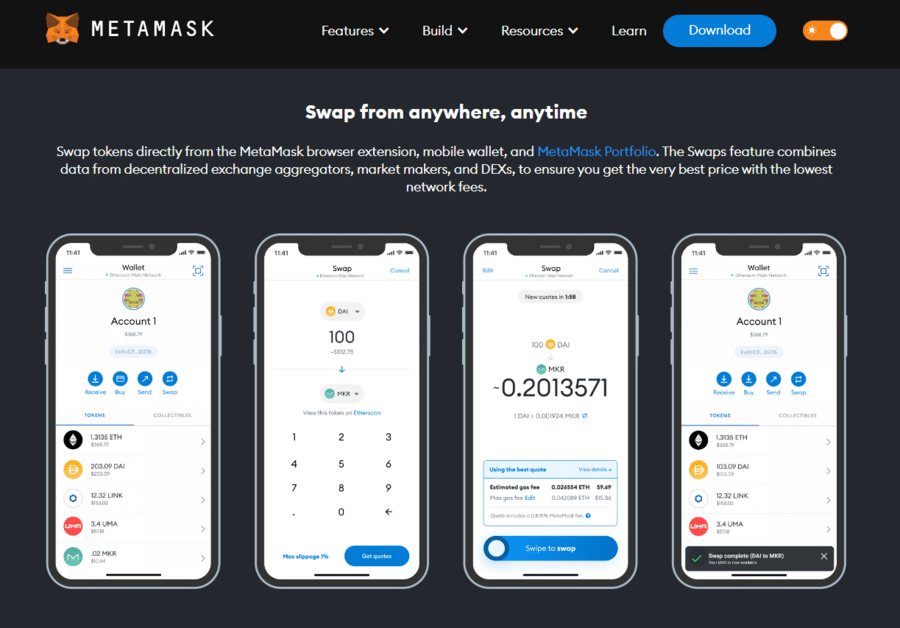 Our MetaMask review found that this leading crypto wallet is ideal for anyone looking to store Ethereum and ERC-20 tokens. It's also great for Web3 access, and it's usually the go-to option for people interested in entering this sphere and storing, buying, selling, and trading NFTs.
The wallet also features excellent customer support. There's a live chat feature; plus, you will find a bot for basic questions, which can also redirect you to human agents who can assist you further.
In many ways, MetaMask is on par with (or even better than) Trust Wallet. Nevertheless, there are some shortcomings. Most notably, MetaMask's crypto support isn't as extensive as Trust's. Moreover, it can't store regular coins like Litecoin and Bitcoin.
Finally, it charges fees on swaps and staking. We've also put together a more detailed Trust vs. MetaMask comparison if you want to learn more.
Pros:
Email/name not required

Hardware wallets supported

Better for Ethereum and ERC-20 tokens

Superior customer service

Ideal for Web3 access
Cons:
Doesn't cover as many coins

Charges fees on swaps and staking
2. Exodus — Multi-Device Wallet Popular Among Beginners and Advanced Users
Exodus is a popular non-custodial wallet favored by both beginners and advanced users. This is mostly because of its excellent UX, which is largely comparable to what Trust Wallet offers — and, in some areas, even better.
The wallet supports over 360 coins (much less than Trust Wallet) but covers all the major cryptocurrencies like Bitcoin, Ethereum, Litecoin, and Dogecoin. However, it has a similar range of staking options, including Solana, Cosmos, and Algorand, with the rewards varying a lot.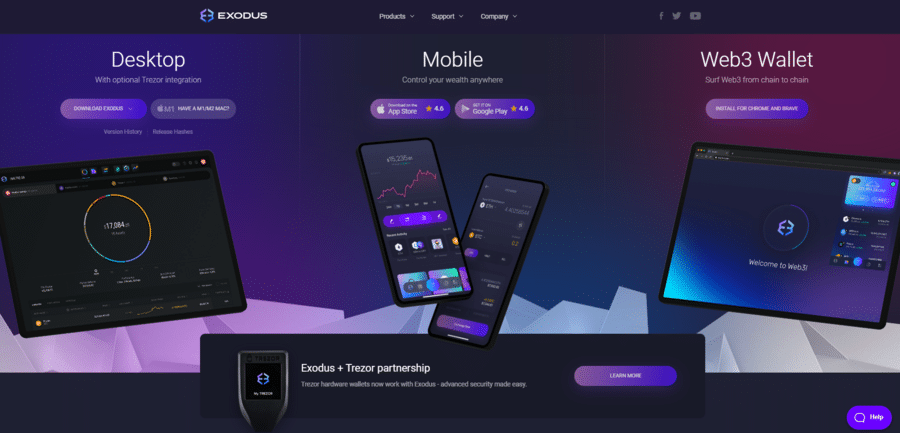 In terms of security, Exodus is a bit lacking. Still, it does feature cold storage support, primarily through its collaboration with Trezor. This offers a seamless connection to any Trezor hardware wallet. It also encrypts your private keys locally and lets you use 2FA for added security, which is unavailable on Trust Wallet.
In the end, it's important to mention that Exodus has better customer support, although by a small margin. This is primarily because it offers live chat support, besides the standard service through website and social media channels. Exodus also has a bigger community of loyal followers, so you can find a lot of assistance on platforms like Reddit and Twitter.
Interested in finding out more about this crypto wallet? Read our full Exodus wallet review for more details.
Pros:
Pairs with Trezor for cold storage

Better user reviews and feedback

Higher emphasis on the desktop app

Suited for both beginners and advanced users
Cons:
Not open-source

Inadequate security
3. Coinbase Wallet — Widely Used Non-Custodial Wallet Supported by the Coinbase Exchange
Coinbase Wallet is one of the best Trust Wallet alternatives, primarily because it's one of the few non-custodial wallets offering a similar diversity of supported coins and tokens. Namely, it features more than 450,000 cryptocurrencies and tokens — and even though Trust's numbers run in the millions, the ones Coinbase lacks are largely unknown, so you're unlikely to be interested in them.
In terms of security, Coinbase Wallet has stronger measures than Trust, such as Secure Element Technology for safer local private key storage.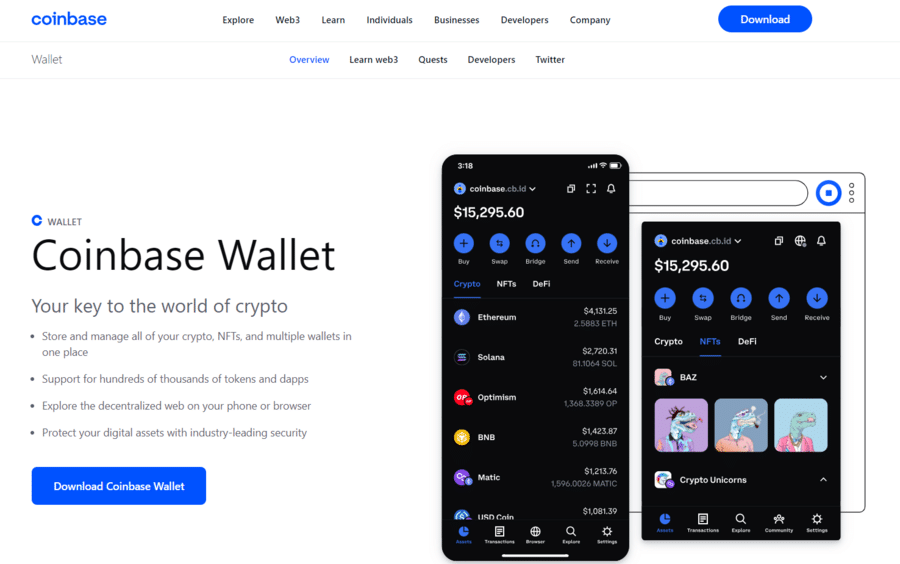 It's also important to note that Coinbase Wallet is interoperable with hardware wallets like Ledger, so it effectively offers cold storage through third parties.
Just like Trust, it's owned by a major centralized exchange, Coinbase (the second-biggest exchange, right after Binance). However, it's not connected to it — in fact, it's entirely non-custodial and one of the top decentralized wallets on the market. It's not to be confused with Coinbase CEX — the wallet Coinbase provides internally for its users. Still, you can connect your Coinbase Wallet to it if you want to.
Coinbase Wallet is very user-friendly and is also available on more devices than Trust. Specifically, you can install a desktop app on your PC or laptop, while Trust is limited to browsers and mobile apps only (both of which are offered by Coinbase Wallet).
Pros:
Cold storage support

Additional security measures

Desktop support

Low deposit minimums
Cons:
4. Trezor Model One — Affordable Hardware Wallet From One of the Most Trusted Cold Wallet Manufacturers
If you're looking for Trust Wallet alternatives for security reasons, you cannot go wrong with a hardware wallet — and the most affordable way into the world of cold storage wallets is Trezor Model One. Even though it's among the cheapest available options, it's also highly secure. That's why we've made it our top choice among the best cold crypto wallets, as well.
Since it's a hardware wallet, it's instantly safer than Trust. In addition, there's no need to worry about its convenience since it has a dedicated app. You can store over 1,200 cryptocurrencies, which you can then trade, sell, buy, swap, and even stake — just as you would with a good hot wallet.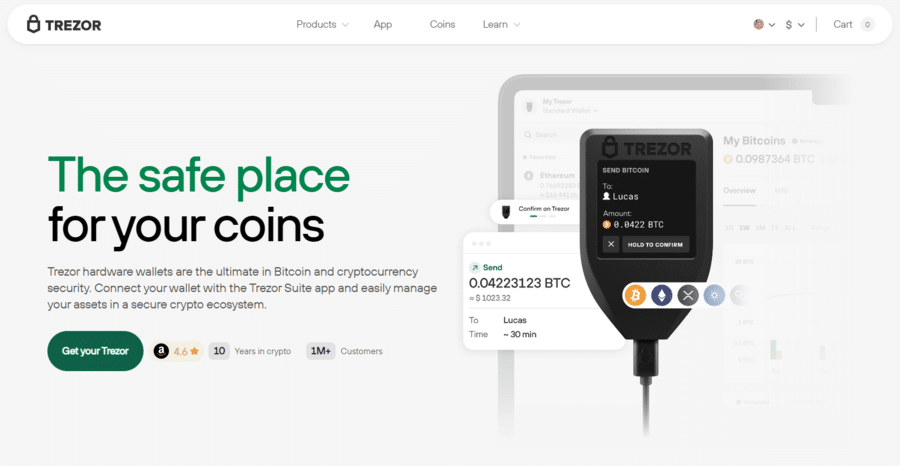 Naturally, since it's a hardware wallet, you need to buy it; however, after you've purchased it, you don't have to worry about costs. Its customer support is superior as well, especially in the early days when you need help setting it up.
It's worth noting that the base model offers all the security measures the company is known for, including hands-on transaction verification that protects users from hackers.
Pros:
Much safer, as its a hardware wallet

Better customer support

Robust security measures for the dedicated app

More suited for long-term investors

Compatible with other devices and wallets
Cons:
Has to be purchased first

Lower number of supported blockchains
5. Ledger Nano S Plus — Popular Hardware Wallet With a Highly Secure EAL 5+ Secure Element Chip
Ledger is a renowned hardware wallet maker, and its first product, the Nano S Plus, is an excellent substitution for Trust. Since it's a cold wallet your keys remain private. Plus, the assets stay offline which makes them much more secure.
Even though these wallets are typically less convenient, Ledger offers a Ledger Live app that will expand the scope of what you can do with the wallet. In other words, you'll get to trade and swap your crypto assets and store NFTs based on Polygon or Ethereum. Moreover, you can connect it to other hot wallets, which is a significant plus.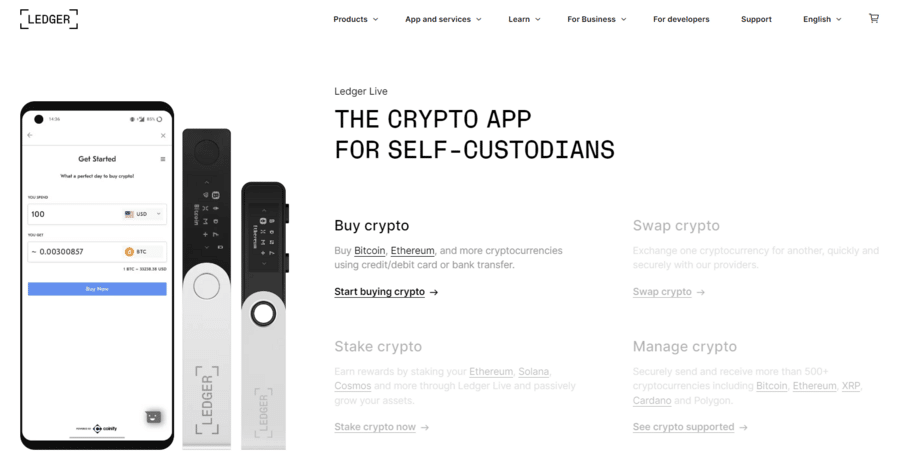 The Nano S Plus is the base version, which means it's much cheaper than its alternatives; however, it offers fewer features, as well. Plus, the OLED screen is smaller, which makes the device less user-friendly. Nevertheless, the security is intact, as it still uses Ledger's proprietary EAL 5+ certified secure chip for maximum protection.
The wallet usually stores around 500 cryptocurrencies, but pairing it with the companion app increases the number by around ten times.
Pros:
Cold storage

Connects to third-party hot wallets

Third-party staking rewards

Higher security and better safety options

Better user ratings and feedback
Cons:
Needs to be purchased

Can be inconvenient for daily use
6. Coinomi — Non-Custodial Wallet With Diverse Blockchain Network Support
Coinomi is an attractive non-custodial hot wallet that acts as one of the best Trust Wallet alternatives due to its ability to support more blockchains (around 125, which is almost twice as many). This means it has bigger potential even though it doesn't actually store more cryptocurrencies than Trust.
As a result, it can also keep a more diverse range of NFTs since they can be built on various blockchains, while Trust supports only Ethereum, Solana, and Polygon NFTs.
With only around a million users, it's not as popular as Trust (which has 25 million), but it's still a highly intuitive tool you can use for storage, trading, swapping, staking, and more.
Coinomi is SegWit-enabled, meaning you can use the upgrade to make faster and cheaper transactions on the Bitcoin network.
When it comes to security, Coinomi is more reliable, as it has an excellent track record. The wallet has never been hacked, even though it's been on the market since 2014.
It certainly seems to be doing something right; however, it has some vulnerabilities and bugs (albeit small ones that are easily fixed) that might lead to problems. One Redditor claims they have cost him more than $70,000.
Pros:
Larger number of supported blockchains

Desktop app

NFTs from more blockchains supported

SegWit enabled

24/7 live support
Cons:
Less user friendly due to outdated design

Higher fees
7. Guarda — Multi-Platform Non-Custodial Wallet With Support for 400,000+ Assets on 50+ Blockchain
Guarda is another non-custodial wallet that is a great alternative to Trust due to its robust security features. It's been on the scene since 2017 and has never been hacked. Moreover, it supports 50+ blockchains and more than 400,000 assets — a considerable number that can rival Trust.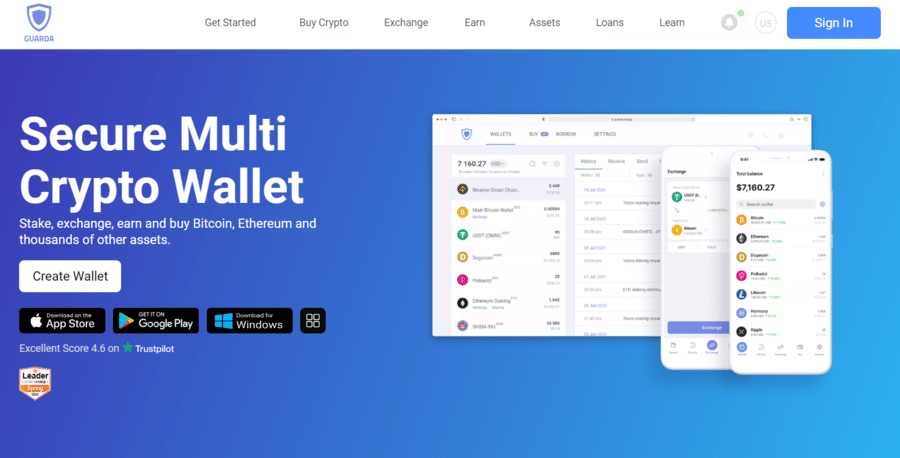 Guarda allows you to store, swap, and trade cryptocurrencies, but there's also an option to stake some of them (over 14, to be precise, including Ethereum, Tron, Cardano, Harmony, Cosmos, and Tezos). Rewards are typically high, usually in double digits. The highest returns come on ChangeNow — up to 25% APY.
You can use the wallet on your phone or desktop, and it features additional security options like encrypted backup, Face ID, and Touch ID.
Guarda Wallet offers a neat feature — the Guarda Prepaid Visa Card, which can be either virtual or physical. You can top it up using your crypto funds, and since it's a regular Visa prepaid card, you can pay with it almost anywhere. It works with Apple Pay and carries a small withdrawal fee when using an ATM.
Pros:
Pristine track record

Better customer support

Enhanced staking options

Prepaid Visa card

Desktop app
Cons:
Added swap fees

Fewer user ratings
What to Look for in a Trust Wallet Alternative
In order to find a crypto wallet that can adequately replace Trust Wallet, you need to know in which areas Trust is lacking. We've already mentioned a few things, like the absence of proper cold storage support, but there are a few more items to consider.
Let's review all the aspects and features that can be improved in Trust. Then, you can find a suitable alternative on our list based on what matters to you the most.
Security and Cold Storage
Trust Wallet is a highly secure non-custodial wallet. It's completely open source, but when it comes to phone apps, only the iOS code can be found on GitHub; the Android source code is unavailable.
The wallet uses all the latest security features and offers options like auto-lock time, which doesn't allow unauthorized persons to use the wallet. There's also Touch ID and Face ID on the app, but the wallet doesn't support two-factor authentication, which is quickly becoming the standard extra security feature.
Moreover, there's no support for hardware wallets, so if you're looking to store your assets in cold storage, you'll have to find a solution on your own.
Wallet Manufacturer
Trust Wallet is a non-custodial wallet, meaning the private keys are in the user's hands. As a result, it really shouldn't matter who the manufacturer behind it is. However, since that company is Binance, it might matter to some crypto owners.
As CoinMarketCap reports, Binance is the biggest crypto exchange globally, especially in terms of 24-hour trading volume and weekly visits. As a result, its wallet should be one of the most popular wallets on the planet (if not the most popular one).
However, this is far from true due to the various investigation issues in the US that have been plaguing the company for a while. This also raises concerns over the company's subsidiaries, including Trust Wallet.
Keep in mind, though, that there is no indication that Trust Wallet is in any way connected to Binance besides being owned by the company. The exchange the wallet uses is Binance DEX, not the main centralized exchange everyone is familiar with. However, if you're in any way worried, you should look for an alternative.
Privacy and Anonymity
Since it's a non-custodial wallet, Trust doesn't ask users to go through the standard KYC process during registration. The only data you need to share on the official website is your name and email, which shouldn't be a problem for most — still, it constitutes personal data the company stores internally.
Trust Wallet doesn't share this information with untrusted third parties; however, if you're big on privacy, you may want to get a wallet that doesn't ask for any information or, at the very least, doesn't store it or share it with anyone.
For instance, MetaMask, one of our picks for the best Trust Wallet alternatives, doesn't ask for any data and stores only IP and wallet address information, while you get to create a wallet straight away. You should go for an option like that if you don't want to give any personal information to the manufacturer.
Integration
Trust Wallet offers all the common features that robust software wallet solutions are known for. This includes crypto trading, swapping, and staking. However, this wallet also features decentralized and Web3 services like dApp and DeFi support, NFT storage, and more.
Many of these are excellent, but some are better within other solutions. This is most notably the case with Web3 and decentralized apps. Other wallets, like MetaMask offer more robust Web3 and dApp support.
Tools and Additional Features
Many companies try to differentiate themselves from the competition in the crowded crypto wallet market. Sadly, Trust Wallet offers nothing unique — only the basic tools for monitoring your portfolio and investments. So, if you're looking for additional features, tools, and learning materials, you should opt for another service.
Customer Support
Trust Wallet offers fairly basic customer support. There's no direct service, and you can only submit tickets or try to get someone over social media; plus, there aren't many online communities that discuss this wallet in depth.
Other wallets offer a more robust service, like live chat support, which is often available 24/7. Furthermore, they come with a lot of reading material and larger and more active online communities where you can ask questions. Exodus is the best example here, but MetaMask also offers full customer service.
Conclusion
When searching for the best Trust Wallet alternatives, you should choose those that provide adequate replacements for most (if not all) of its options and features while also addressing its downsides. Naturally, no wallet can replace Trust entirely, as it's still a convenient option for millions of users.
Nonetheless, there are some viable alternatives, the best of which is MetaMask. It's a popular non-custodial wallet with robust Web3 support, multi-chain interoperability, improved security features, rewarding staking capabilities and much more. It can also be integrated with Ledger devices.
For those on the hunt for a safe alternative to Trust Wallet be sure to follow the link below and explore the best crypto wallets on the market.
FAQ
What is the best alternative to Trust Wallet?
Is Trust Wallet safer than MetaMask?
Is MetaMask better than Trust Wallet?