Utility tokens are cryptocurrencies that have an actual use case to power the protocol or concept they are offering – a crucial metric for long-term investors.
They are different from purely speculative tokens, including a large number of meme coins, which exist only as investment vehicles with little other purpose.
In this guide, we discuss the best utility tokens to buy in 2023 – read on to discover the most in-demand utility crypto coins right now.
The Best Utility Coins to Buy
In our view, listed below are the 9 best utility tokens in the market right now:
Bitcoin Minetrix (BTCMTX)

– A PoS cryptocurrency offering tokenized cloud mining credits through its stake-to-mine mechanism. Get Bitcoin mining power and high staking yields with Bitcoin Minetrix, which has recently launched on presale.

Launchpad XYZ (LPX) – Launchpad XYZ is a newly founded project that specializes in Web3 investments. It offers access to a wide range of assets that would otherwise be difficult for retail clients to source. This includes private presale campaigns, exclusive NFT launches, and fractionalized property. Most features on Launchpad XYZ require native utility token LPX. LPX is currently selling at a huge presale discount, with more than $1.5 million raised.
yPredict (YPRED) – yPredict is another new cryptocurrency project that is offering its native utility token, YPRED, at presale prices. yPredict hosts predictive models that enable traders to make smart, automated decisions. Backed by artificial intelligence, predictive models can only be purchased with YPRED, ensuring the token will remain in demand long-term. More than $3.6 million raised in the presale so far.
Chimpzee (CHMPZ) – Chimpzee provides people with passive income while also fighting climate change and helping animal conservation attempts. 10% of proceeds are automatically given to charity and the project has already donated $15,000 to wildlife conservation. $1.2 million raised throughout presale.
Ethereum (ETH) – The world's leading smart contract blockchain, Ethereum has thousands of utility tokens using the ERC-20 standard. All ERC-20 transactions require ETH to pay GAS fees, ensuring the tokens have solid utility and a long-term use case. Ethereum also has utility for its NFT framework, which follows the ERC-721 standard.
Arbitrum (ARB) – Arbitrum is a leading layer-2 solution for Ethereum and ERC-20 tokens. Those bridging to the Arbitrum network can increase transactional output from 30 TPS to 40,000 TPS. Arbitrum also provides ERC-20 projects with lower GAS fees. Its native utility token, ARB, is required to pay fees and enables holders to make governance decisions.
BNB (BNB) – BNB, formally known as Binance Coin, is the native utility token of the world's largest exchange. It has many use cases, providing traders with reduced commissions and access to the Binance Smart Chain. Tranches of BNB are regularly removed from circulation, reducing the overall supply.
Chainlink (LINK) – Chainlink was designed for the Web3 era, bridging the gap between blockchain networks and real-world data. Through oracles, Chainlink enables smart contracts to extract data from verifiable and trusted sources in an autonomous manner. LINK, the project's native utility token, is required to execute data queries.
The Sandbox (SAND) – The Sandbox is a popular metaverse project that enables investors to buy virtual plots of land. Investors can then build virtual properties or choose to sell the land on the Sandbox marketplace. Either way, real estate purchases and sales can only be made with the project's utility token, SAND.
Reviewing the Crypto With the Best Utility
From an investment perspective, the utility of a cryptocurrency is very important. However, there are many other factors to consider before proceeding.
This includes the upside potential of the utility token and current market prices – not to mention whether or not the cryptocurrency has a unique value proposition or concept that means it stands apart in a crowded market.
Read on to discover our insights on the 9 best utility tokens to buy today.
1. Bitcoin Minetrix (BTCMTX) – Stake-to-Mine Token Offering High Staking Returns and Cloud Mining Credits, Soaring on Newly Launched Presale
One of the top utility tokens to look at right now is Bitcoin Minetrix (BTCMTX). This is a stake-to-mine cryptocurrency that combines token staking and cloud mining. The key utility being offered by Bitcoin Minetrix is the tokenization of cloud mining – making it safer and cheaper to enter this space.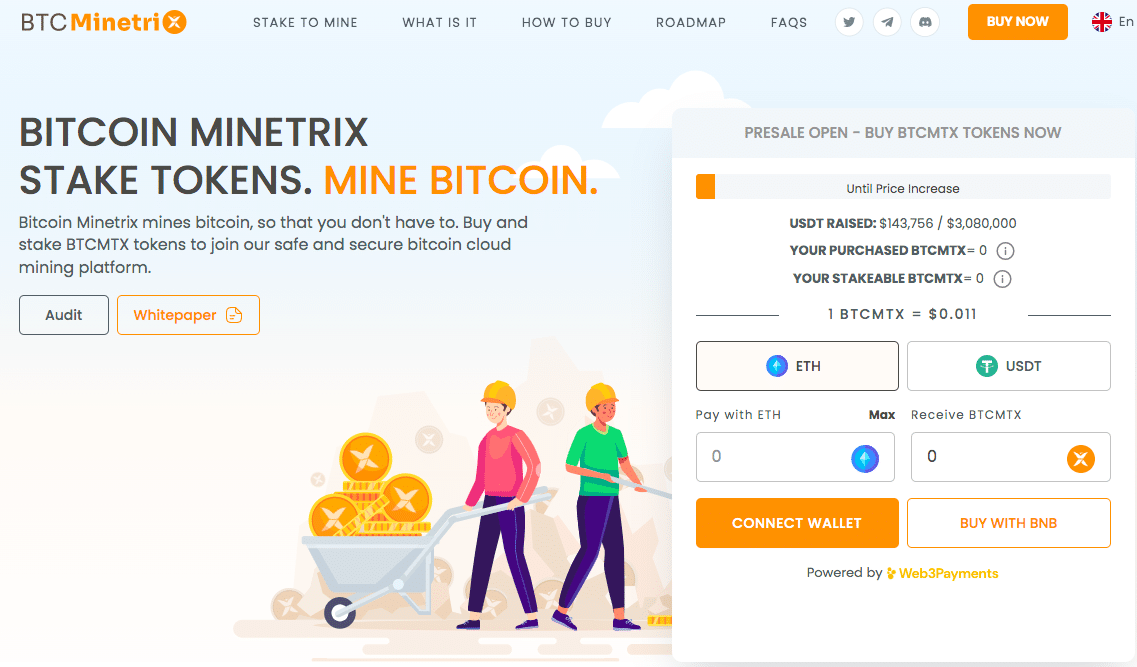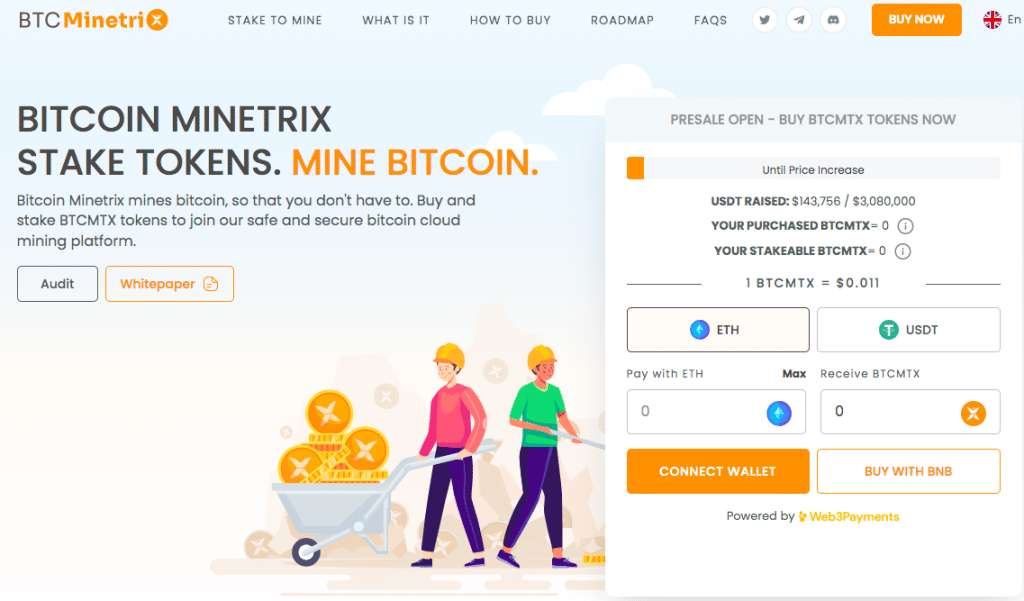 The main benefit of tokenizing cloud mining is providing investors with more autonomy and transparency over this activity. On Bitcoin Minetrix, individuals can access cloud mining credits by staking $BTCMTX, the native cryptocurrency.
This solution has emerged due to the prevalent scams through third-party cloud mining operations. By decentralizing this whole process, Bitcoin Minetrix ensures all users' safety. Furthermore, Bitcoin Minetrix promises to offer very high yields to token stakers.
The cloud mining credits access are ERC-20 non-tradable tokens. The tokens can be burned on the ecosystem to acquire Bitcoin mining power. Thus, investors do not need to set up their own mining rigs or purchase advanced equipment to get started. The Bitcoin mining power can be used to earn allocated mining time, which will help you earn a share of mining revenues.
This utility token has recently started its token presale. $BTCMTX is priced at $0.011 during the first presale round and will be priced at $0.0119 by the tenth and final round. The token has a total supply of 4 billion, from which 2.8 billion have been allocated for the presale.
The tokens will mainly be used to allocate staking rewards, support Bitcoin mining, and for the community. 30% of the token supply will be used for marketing purposes. To learn more about this utility token, read the Bitcoin Minetrix whitepaper and join the Telegram channel.
| | |
| --- | --- |
| Hard Cap | $32 Million |
| Total Tokens | 4 Billion |
| Tokens available in presale | 2.8 Billion |
| Blockchain | Ethereum Network |
| Token type | ERC-20 |
| Minimum Purchase | $10 |
| Purchase with | USDT, ETH, BNB |
2. Launchpad XYZ (LPX) – All-in-One Ecosystem to Gain Exposure to Web3 Investments
Launchpad XYZ is building an all-in-one ecosystem that offers exposure to the growth of Web3. In particular, its platform is aimed at casual investors with limited knowledge and resources. For example, Launchpad XYZ enables users to buy fractionalized assets like real estate and supercars for a small price, as the assets are tokenized.
Launchpad XYZ is also building a decentralized exchange and wallet that will support cryptocurrencies across multiple blockchains, not to mention NFTs and fractionalized assets. While many features are available to all Launchpad XYZ users, some are reserved for premium members – this simply requires investors to stake the project's native utility token, LPX, which is on our list for the best crypto winter tokens.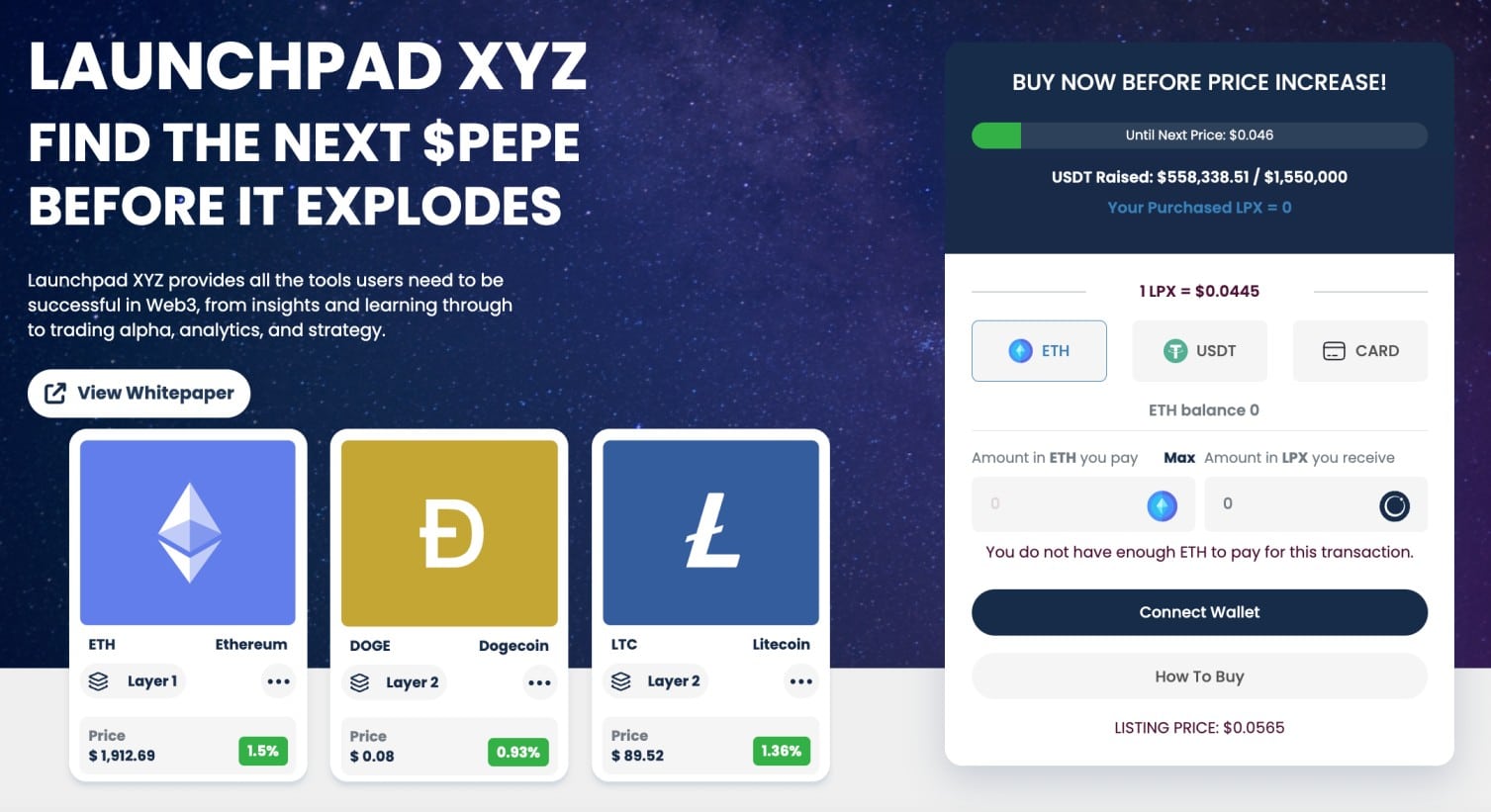 In doing so, this provides access to unreleased NFT launches, private presale campaigns, discounted commissions, and many other Web3 markets. Launchpad XYZ is newly launched, so its LPX tokens are currently being sold at presale prices.
The project aims to raise $12.5 million during the presale, and early investors will secure the lowest price possible. More than $1.5m has been raised in the presale at the time of writing.
| | |
| --- | --- |
| Hard Cap | $12.5 million |
| Total Tokens | 1 billion |
| Tokens available in presale | 250 million |
| Blockchain | Ethereum Network |
| Token type | ERC-20 |
| Minimum Purchase | 100 LPX |
| Purchase with | USDT, ETH, BNB, Bank Card |
3. yPredict (YPRED) – Predictive Models to Automate the Crypto Analysis Process
yPredict will also appeal to high-risk, high-return investors seeking the best utility tokens to buy. This newly founded project has developed an all-in-one ecosystem for predictive models. yPredict helps traders navigate the cryptocurrency markets, removing the need to waste hours on manual analysis and research. This is because the project provides real-time insights via artificial intelligence and machine learning.
For example, there are predictive models that automate the technical analysis process, highlighting key trends and potential market moves. There are also predictive models that provide trading signals, including the suggested entry and exit prices – yPredict even provides sentiment analysis, highlighting the hottest coins to buy based on core technical data.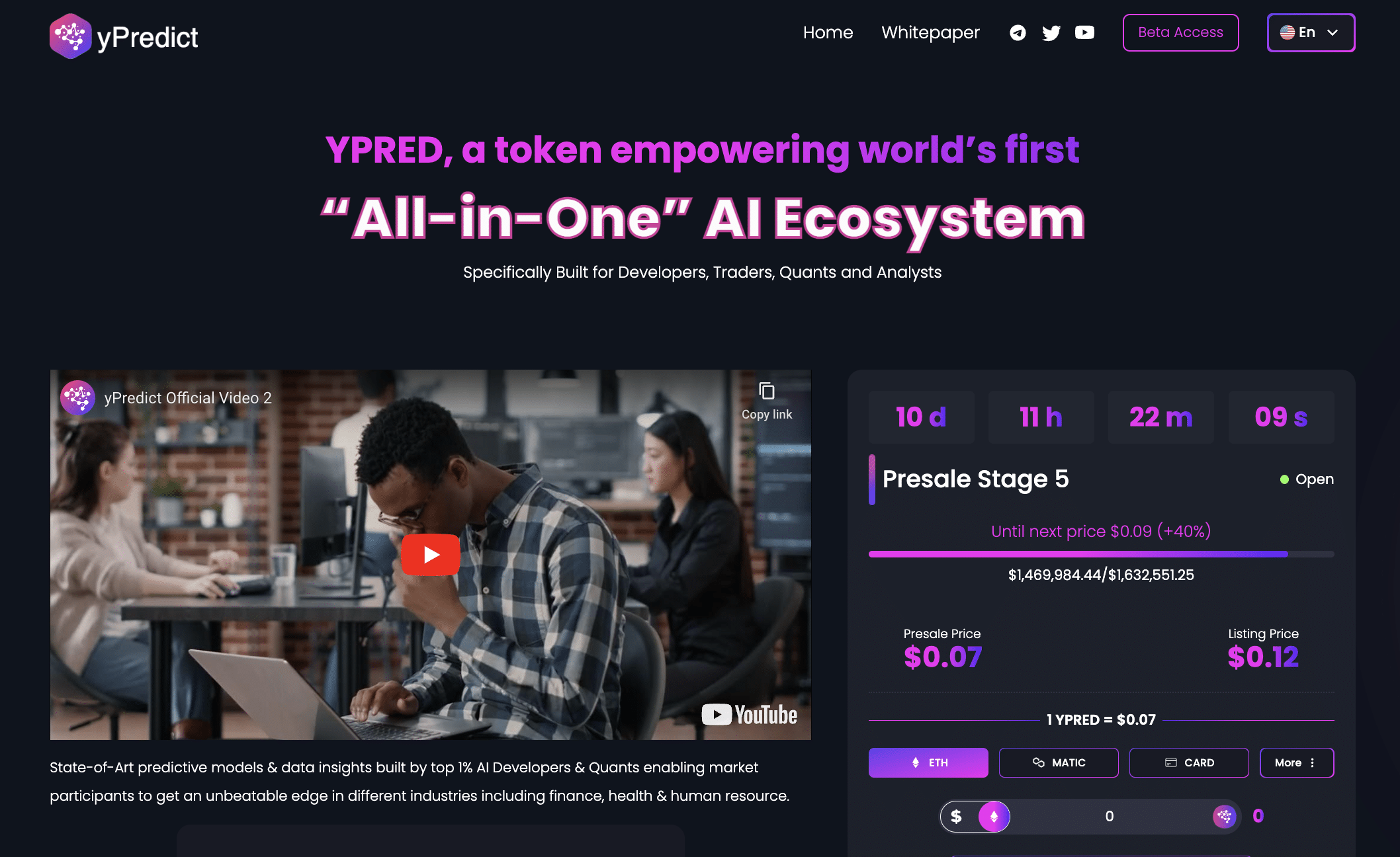 Importantly, yPredict does not create the predictive models that it lists on its marketplace, instead, predictive models are created by external data scientists and quant traders. This enables experts to monetize their models to an ever-growing community and crucially, yPredict models are sold via a subscription model – payable in YPRED.
This is the native utility token fueling the yPredict ecosystem. As such, this creates demands for the tokens, as YPRED is the only accepted payment method for buying predictive models. We also like that predictive models go through a highly stringent testing process before being listed on yPredict – this is facilitated by the yPredict decentralized autonomous organization (DAO).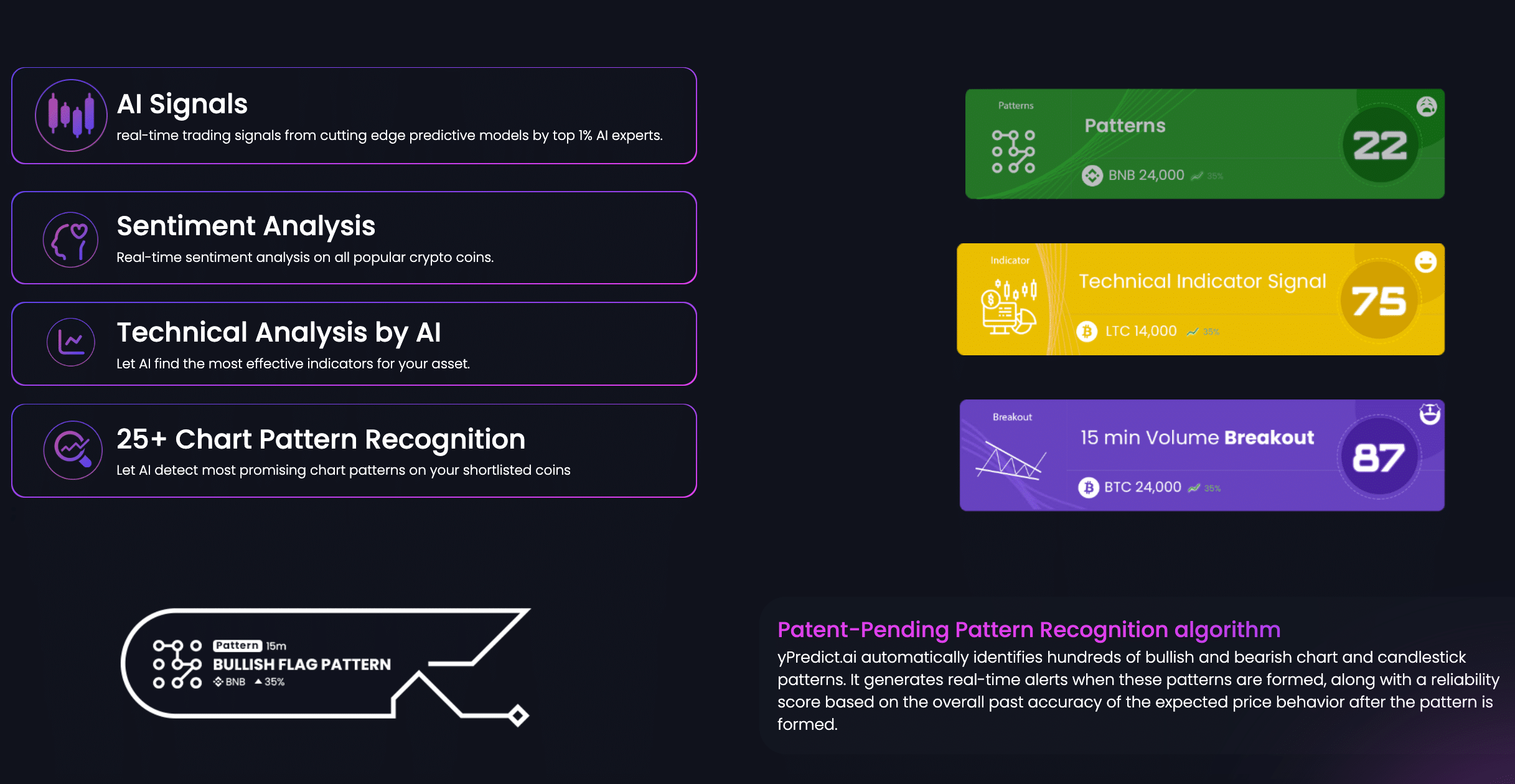 The yPredict DAO will trial new predictive models and transparently publish the results. This ensures that users can make an informed decision before subscribing to a model. Another use case for YPRED tokens is the yPredict staking mechanism, with those staking YPRED receiving a share of the subscription fees generated by predictive model sales.
That said, the success of yPredict will be dependent on the performance of the predictive models it sells. If there isn't enough demand from the markets, this will have a direct impact on the value of its token and considering that YPRED is a presale project, this further increases the risk factor. After all, yPredict notes that YPRED tokens will be listed on exchanges with a market capitalization of just $6.5 million. As such, investors should expect enhanced volatility.
Nonetheless, those with an appetite for low-cap utility tokens with a solid use case might wish to check out the ongoing presale. So far, yPredict has raised over $3.5 million from early investors.
The presale offers a huge discount too – while investors will pay just $0.01 today, making it one of the best cryptos to buy under $1. YPRED will be listed on exchanges at $0.12 after the presale.
| | |
| --- | --- |
| Hard Cap | $6.5 million |
| Total Tokens | 1 billion |
| Tokens available in presale | 800 million |
| Blockchain | Polygon |
| Token type | ERC-20 |
| Minimum Purchase | 200 YPRED |
| Purchase with | MATIC, USDT, ETH, BNB, Bank Card |
4. Chimpzee – Sustainability Focused Utility Token With Multiple Revenue Streams For Users
Chimpzee (CHMPZ) is a utility token with a focus on the environment. The unique Chimpanzee ecosystem is an interconnected network of various Web3 Platforms and features, including the Chimp Store (Shop-2-Earn), the NFT Marketplace (Trade-2-Earn), and the Zero Tolerance Game (Play-2-Earn). A portion of all profits (10%) are donated to organizations that have animals and protect the forests to fight climate change.
This project has already made good on a number of promises. It has donated $15,000 to protect elephants while also planting a total of over 20,000 trees to protect the rainforest. It can be used within the ecosystem to make trades, purchase from the store, and donate to worthy causes.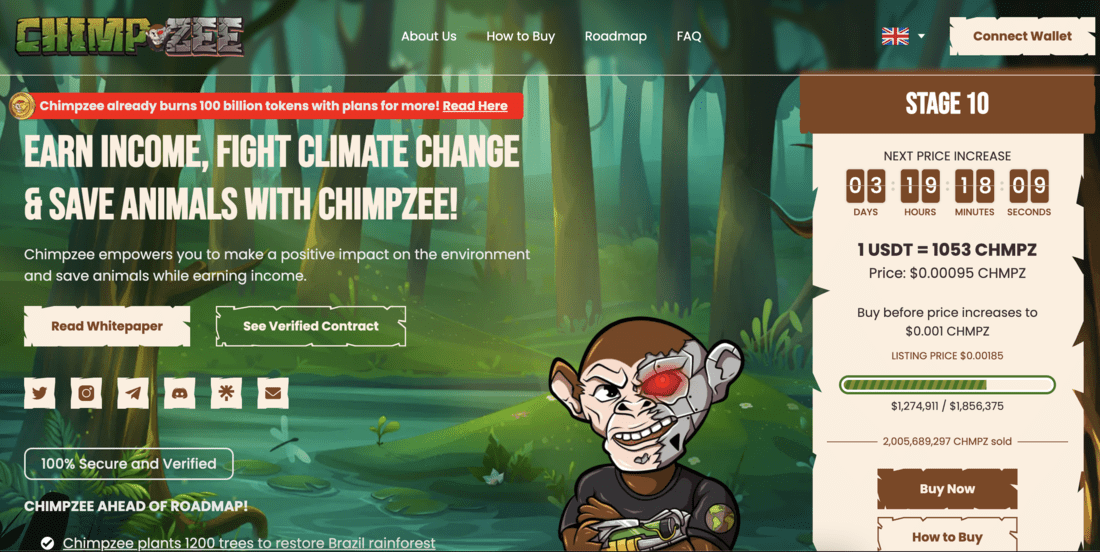 There are a total of 100 billion CHMPZ tokens, which is set to be reduced to 60 billion. This token burning can result in scarcity and price appreciation. 45% of the tokens are available in presale, with only 5% going to the team.
It's also quite secure in relation to other projects. The 5% team allocation is locked up for 2 years. The project has undertaken a smart contract audit from Solidity Finance and has further acquired a KYC certificate from Coinscope.
For users, the best way to earn rewards is through the NFT passport system, which is divided into 4 distinct categories – Diamond, Gold, Silver, and Bronze.
Diamond and Gold NFT passports offer the best rewards and benefits. But these are only available in the earlier presale stages. A Diamond NFT offers 20% APY yields while a Bronze NFT offers 10% APY yields.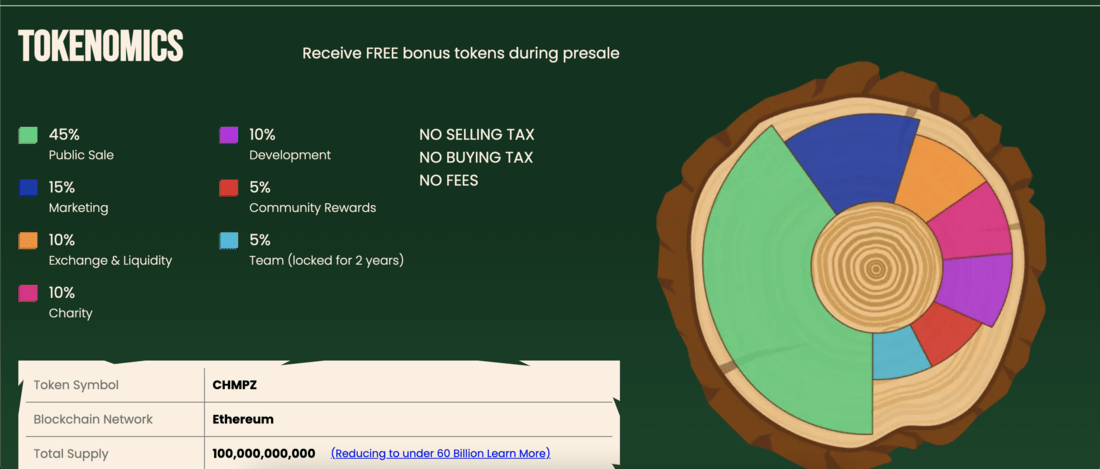 Chimpzee is available at a much larger discount for presale investors as compared to the exchange listing – $0.00185 vs $0.00095, meaning you can get the token for half the price.
For reasons such as these, Chimpzee could be a great utility token moving forward, tied to a real-world initiative and a great cause.
Presale payment can be made through a Web3 wallet using ETH, USDT, or Card. Socials – Twitter, Discord, Telegram, Link Tree, as well as Instagram – should be joined for further information.
Potential investors are also encouraged to check out the whitepaper in detail prior to any financial involvement. All investments carry risk.
| | |
| --- | --- |
| Hard Cap | $1,856,375 |
| Total Tokens | 100 billion |
| Tokens available in presale | 45 billion |
| Blockchain | Ethereum Network |
| Token type | ERC-20 |
| Minimum Purchase | NA |
| Purchase with | ETH, USDT, Bank Card |
5. Ethereum (ETH) – Leading Smart Contract Ecosystem Supporting Thousands of ERC-20 Tokens
As the world's second-largest cryptocurrency by market capitalization, it will come as no surprise to see Ethereum on this list. Crucially, the Ethereum blockchain is used by thousands of projects and decentralized apps (dApps). In order to execute transactions, ERC-20 projects must pay GAS fees which are payable in ETH and which makes Ethereum one of the best utility coins to buy.
Let's take Uniswap as a prime example, which is a decentralized exchange built on the Ethereum network. According to CoinMarketCap, Uniswap processed over $500 million worth of ERC-20 transactions in the prior 24 hours. Each of these transactions requires GAS fees and, thus – ETH.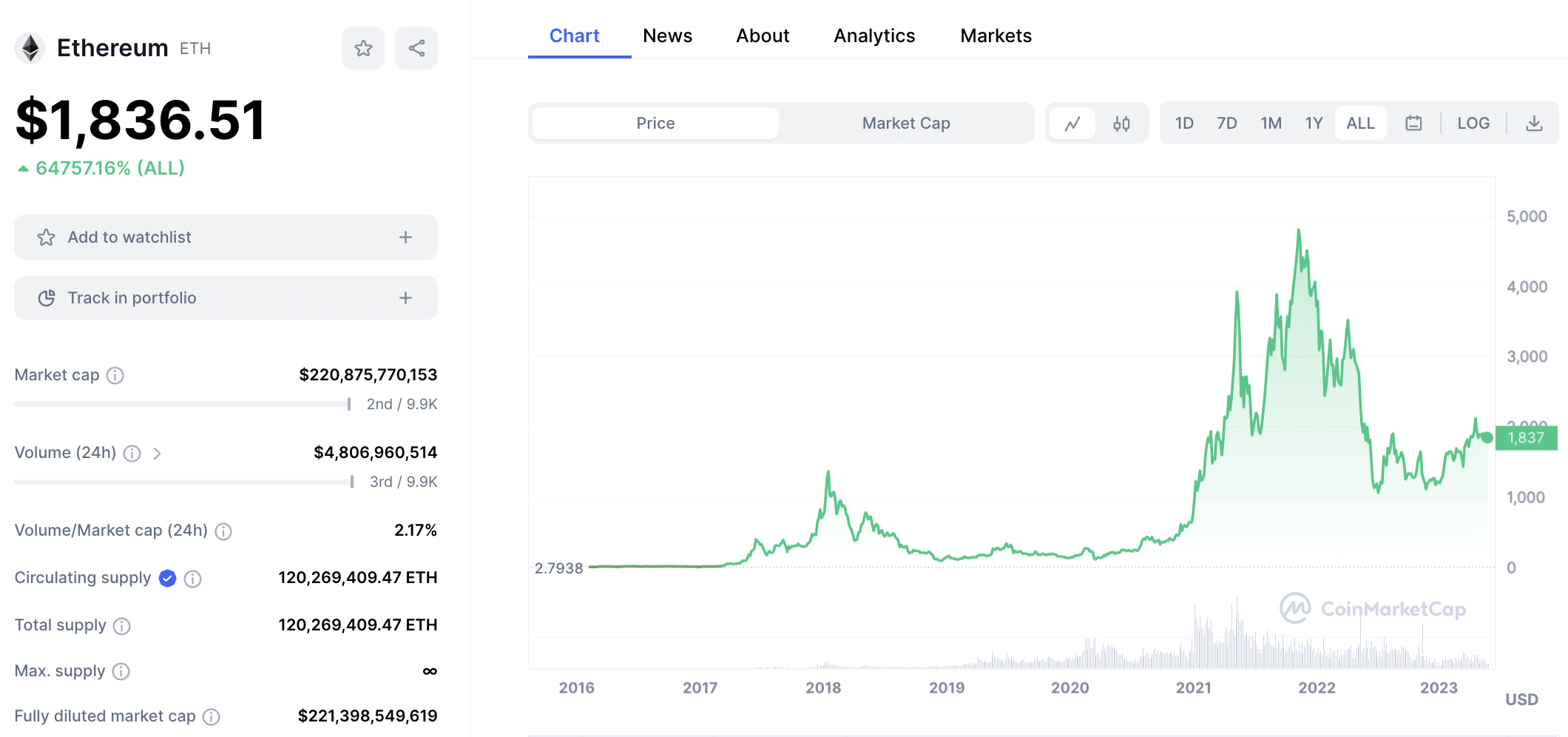 What's more, ETH is also required when minting and transferring Ethereum-based NFTs. This is another huge marketplace that continues to grow, meaning that demand for ETH is following suit.
Those looking to invest in Ethereum today will secure a huge discount from its former all-time high of almost $5,000, with the price currently more than 60% lower.
Cryptoassets are a highly volatile unregulated investment product.
6. Arbitrum (ARB) – Instant Solution to Ethereum's High Fees and Scalability Restrictions
We found that Arbitrum is also one of the best utility tokens to buy. Put simply, this is a layer-2 solution for the Ethereum blockchain, solving the issue of high fees and scalability restrictions. To provide some context, we mentioned above that thousands of ERC-20 tokens use the Ethereum network – while beneficial for ETH tokens, fees remain extremely high, and transactions are limited to just 30 per second.
These inefficiencies are solved by bridging to the Arbitrum network and, according to CoinMarketCap, more than 220 ERC-20 projects have already completed this step. This increases scalability from 30 transactions per second to 40,000, with those bridged to Arbitrum also benefiting from much lower fees.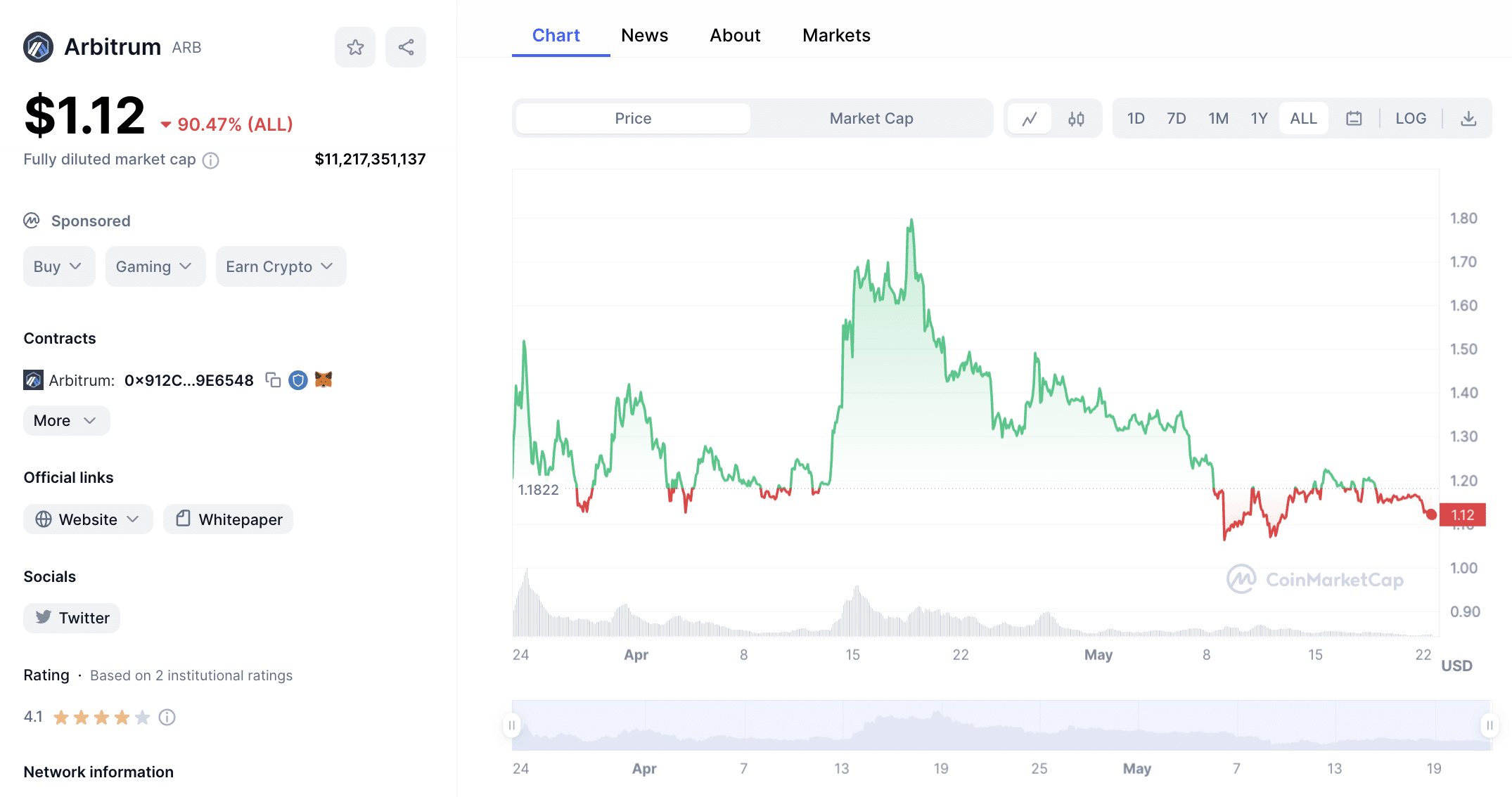 Arbitrum has its own utility token, ARB, which is used for paying fees and as a governance token, enabling holders to vote on key proposals made by the Arbitrum community.
ARB was listed on exchanges in March 2023, securing tier-one listings on eToro, Binance, Coinbase, Kraken, KuCoin, and many others. Since listing, ARB has declined by over 90% – for some, this offers an unprecedented discount, considering the project's use cases.
Cryptoassets are a highly volatile unregulated investment product.
7. BNB (BNB) – Large-Cap Utility Token Fueling the Binance Ecosystem
BNB is the best utility token to buy for exposure to Binance. The world's biggest crypto exchange launched BNB in late 2017, and it is now the fourth-largest token by market capitalization. Crucially, Binance has created a wide range of use cases for BNB, ensuring that the token remains in high demand, including fuelling the Binance Smart Chain.
This blockchain network is home to almost 2,000 tokens. Any transactions executed on the Binance Smart Chain require GAS fees to be paid in BNB. Moreover, most tokens on the Binance Smart Chain are traded against BNB, creating further demand – BNB also entitles holders to a 25% discount on trading fees, while we also like that tranches of BNB tokens are regularly removed from circulation.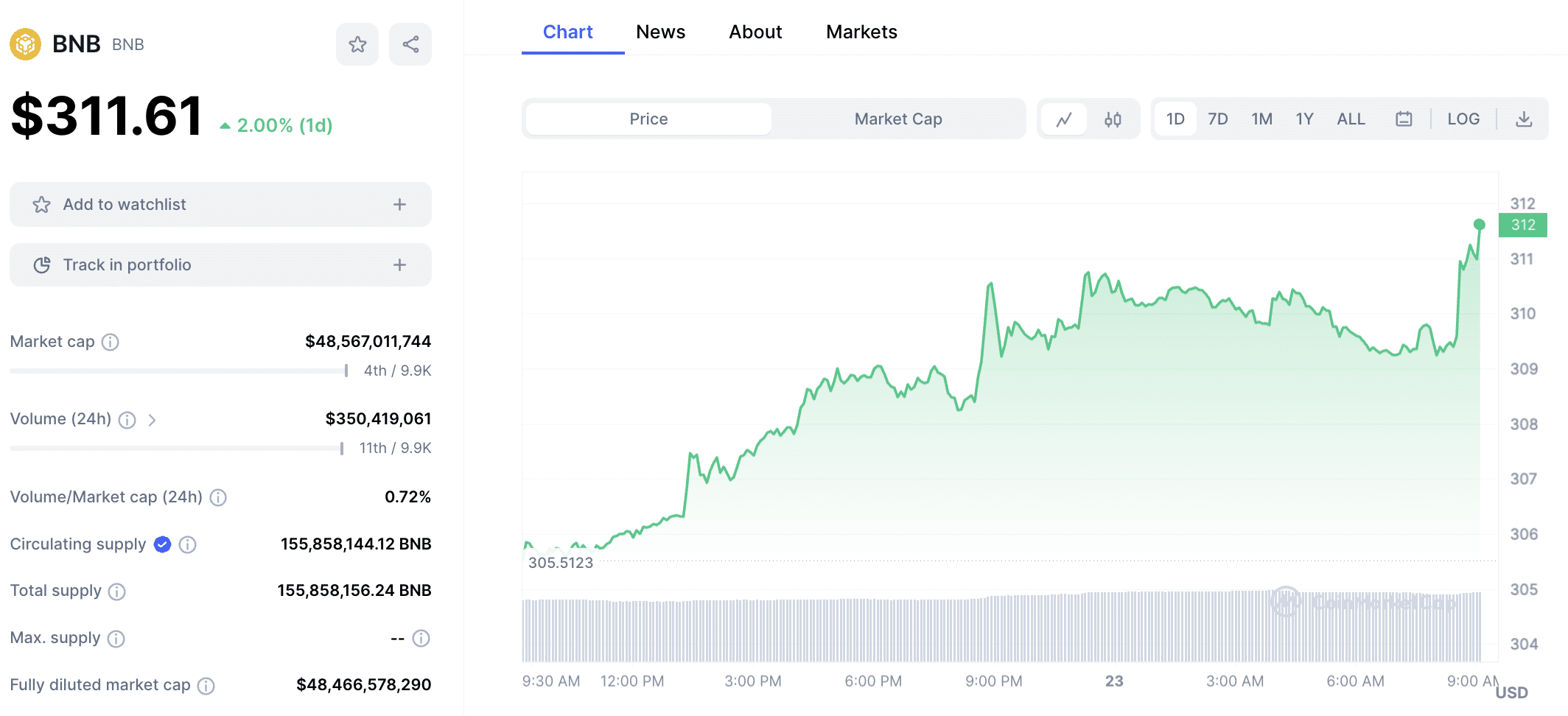 Binance frequently burns BNB tokens, with the platform reporting figures every quarter – in the most recent burn, Binance removed over $670 million worth of BNB from the circulating supply. As such, BNB is one of the best utility crypto coins for those seeking a deflationary investment. Currently, BNB is trading over 50% below its bull market peak.
Cryptoassets are a highly volatile unregulated investment product.
8. Chainlink (LINK) – Connecting Blockchains and Smart Contracts With the Real-World
Launched in late 2017, Chainlink is a top-25 cryptocurrency by market capitalization and specializes in 'oracles', which bridge the gap between smart contracts and the real world. Put simply, Chainlink oracles can extract real-time data from verifiable sources, ensuring that smart contracts play a crucial role in the Web3 era.
For example, let's suppose a decentralized gambling site offers sports betting markets. After a sporting event finishes, Chainlink oracles can scan real-time data points from trusted sources – not only does this enable the decentralized gambling site to verify the outcome of the event, but the smart contract can instantly release the winnings to players.
Online gambling is just one use case for the Chainlink ecosystem. Its oracles will find use in most industries, from insurance and banking to predictive markets and supply chains.
The project's native utility token, LINK, is required to send oracle queries and is among the best Web3 coins – LINK has generated returns of over 4,000% since launching in 2017.
Cryptoassets are a highly volatile unregulated investment product.
9. The Sandbox (SAND) – Metaverse Ecosystem Supporting Real Estate Investments
The Sandbox is a metaverse ecosystem that created significant hype during the prior bull market. Put simply, the Sandbox metaverse enables investors to buy plots of land that are backed by NFTs. Just like real-world property, those buying land in the Sandbox own the plot outright. Moreover, the value of land rises and falls based on market demand.
There are various 'neighborhoods' in the Sandbox metaverse, some more exclusive than others. For example, Snoop Dogg purchased a virtual mansion in 2021, which increased the value of the land around Snoop Dogg's plot, with one investor paying over $450,000 to live next door. That said, this is 'small fry' when compared to some of the biggest land purchases made in 2021.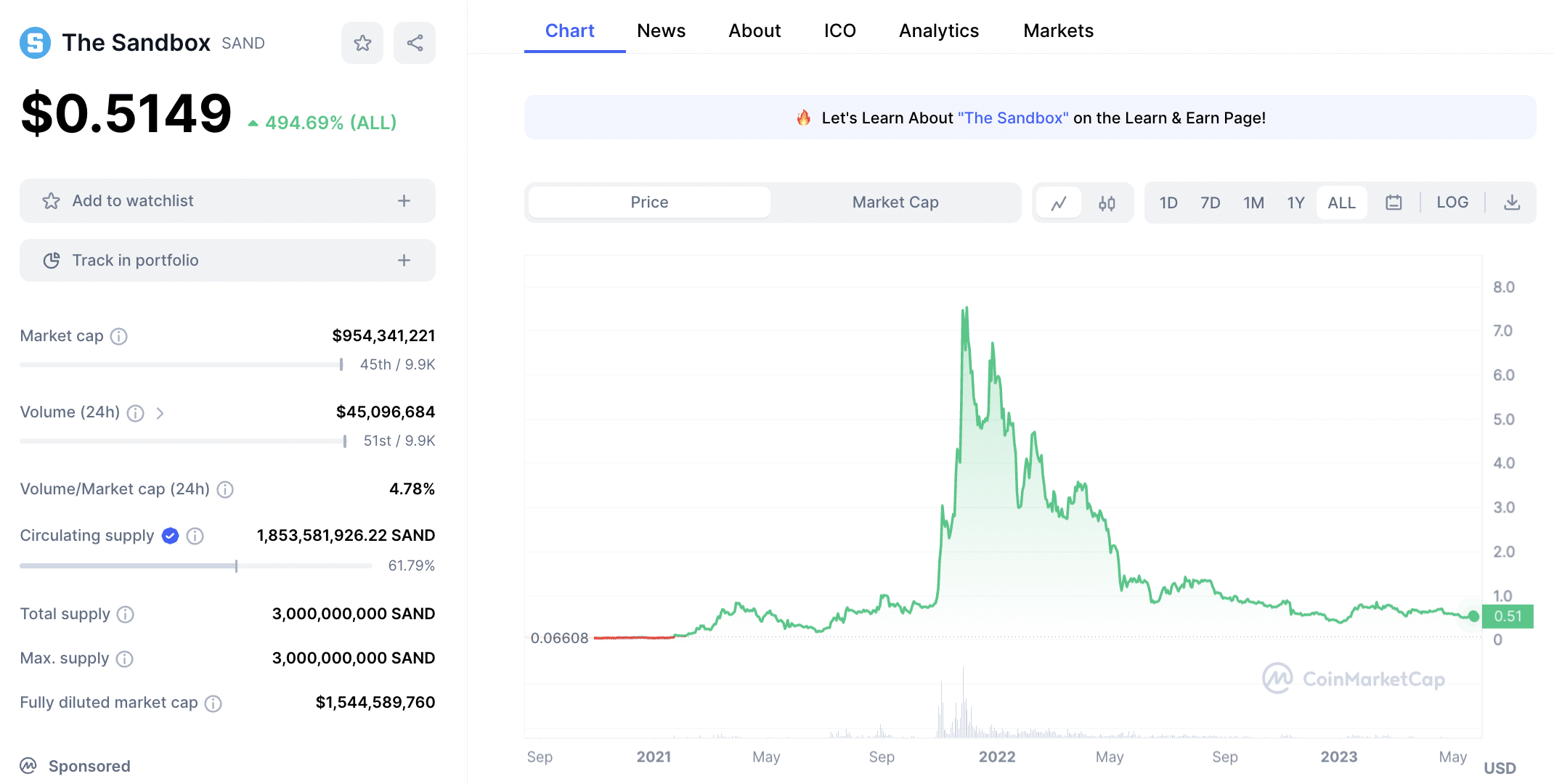 For example, CNBC notes that an investor paid over $4.3 million for some Sandbox metaverse land. Nonetheless, all land purchases in the Sandbox are paid with SAND, the project's native utility token. SAND trades on most tier-one exchanges and currently has a market capitalization of almost $ 1 billion. This is a sizable decline from the project's $7 billion valuation in late 2021.
Cryptoassets are a highly volatile unregulated investment product.
What are Utility Tokens?
In a nutshell, utility tokens are cryptocurrencies that serve a specific purpose. This might be to pay for transaction fees, access products, and services, or invest in metaverse real estate. The key takeaway is that people have a reason to buy crypto utility tokens other than for just speculation.
Utility tokens are cryptocurrencies that operate on a blockchain network. However, not all cryptocurrencies are utility tokens. Put simply, if a cryptocurrency has utility, this means that it has an actual use case within the project's ecosystem.
For example, we mentioned that ETH is the native utility token of Ethereum. ETH has utility because it is required to pay GAS fees when executing smart contract transactions.
In contrast, most cryptocurrencies do not have any utility. These are often referred to as 'meme coins', as the growth of the project is exclusively based on hype and speculation. While some meme coins have witnessed success, most fail. This leaves investors with tokens worth a tiny fraction of the original investment price.
This is why seasoned investors will often focus on utility tokens – whether it's Ethereum, BNB, or Chainlink, these projects have created a token required for a specific purpose. This means that Web3 users will purchase these tokens not only as an investment vehicle but to use or engage with the protocol and project they have developed.
For example, developers buy LINK tokens to access Chainlink's oracle service, while recruiters need DLANCE to hire freelancers on the DeeLance platform. Similarly, manufacturers need ECOTERRA tokens to buy recycled raw materials on the ecoterra dashboard – with the token also given as a reward for users that recycle household waste.
Crypto utility tokens could see a huge surge in price in the next crypto bull run, which is expected within 18 months as Bitcoin approaches its next halving cycle.
Crypto Utility Explained
Now let's dig a little deeper into the different types of utility within the cryptocurrency ecosystem.
GAS Fees
One of the most common utilities for cryptocurrencies is to pay blockchain GAS fees, which are network/transaction fees for a particular blockchain. For example, we mentioned earlier that the Binance Smart Chain is used by almost 2,000 projects, including everything from decentralized exchanges to play-to-earn games.
Either way, any transactions conducted within the respective ecosystem must be paid in BNB. As such, this means BNB has real-world utility across a significant number of projects.
Exclusive Payment Method
Another way that cryptocurrencies can have utility is that they are the exclusive payment method for a specific product or service.
Similarly, DLANCE tokens are required by recruiters wishing to hire talent on DeeLance. The DLANCE tokens are deposited in escrow via smart contracts and automatically released to freelancers once the job is completed.
In these scenarios, utility tokens experience increased demand when more people wish to access the respective products or services. And hence, increased demand often leads to price appreciation.
Layer 2 Services
Another angle to explore is layer-2 service providers like Arbitrum – ERC-20 projects bridging to the Arbitrum network benefit from increased transaction throughput and reduced fees.
ARB, the network's native utility token, is required when bridging to Arbitrum. This is also the case for other layer-2 solutions, with MATIC tokens required when bridging to the Polygon network, for example.
Metaverse Real Estate
Some of the best utility coins can be found within the metaverse space. SAND tokens are required when buying virtual plots of land in the Sandbox and MANA tokens are the only accepted currency when buying plots in Decentraland.
This means that investors need to buy the respective utility token should they wish to buy a stake in the metaverse. Moreover, investors will receive the utility token when selling their metaverse land.
Staking
Staking is another crucial aspect of the utility token scene. For example, we mentioned earlier that yPredict has developed a marketplace for crypto-predictive models.
yPredict enables users to stake their tokens, meaning they are locked for a certain number of days – during the staking period, investors earn a share of the revenues generated from yPredict subscriptions.
Rewards
Some utility tokens serve as a rewards currency for crypto ecosystems. For instance, play-to-earn games like Tamadoge enable players to earn TAMA when completing tasks, including entering virtual pets into battle and playing mini-arcade games.
In another example, ecoterra rewards users with ECOTERRA tokens when they recycle. Whether it's glass bottles or plastics – rewards are paid instantly after depositing items in a reverse vending machine.
The tokens can then be held as an investment, staked, sold on exchanges or used to fund other eco-friendly projects.
Are Utility Tokens a Good Investment?
While utility crypto tokens have an actual use case, there is no guarantee that an investment will yield a financial return – most utility tokens are volatile, so investors should tread with caution.
Some crypto investors will only consider buying utility tokens, the reason for this being that utility tokens often have a greater chance of success and for being among the most profitable crypto coins. After all, cryptocurrency utility tokens represent more than just a speculative investment.
This is because many utility tokens are purchased by people outside of the investment space.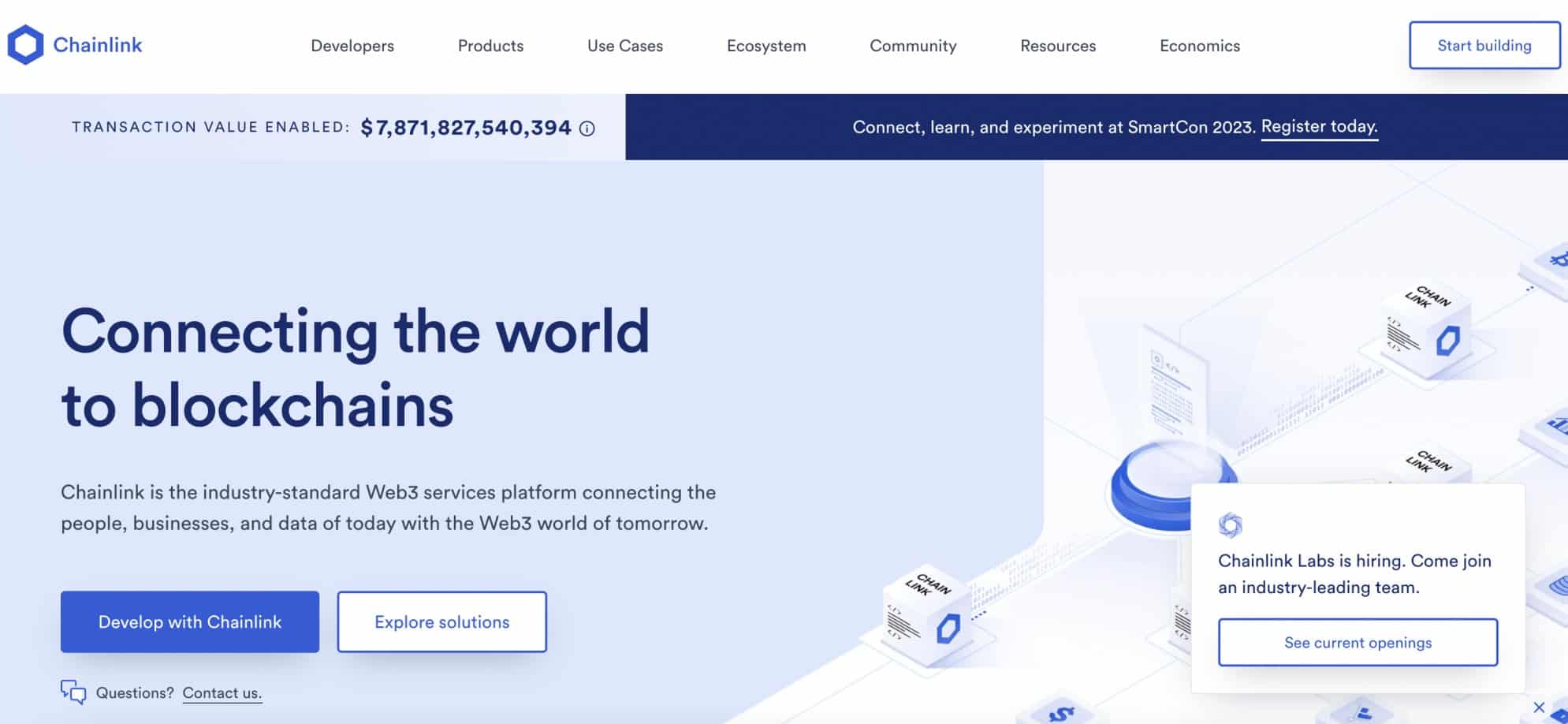 Similarly, smart contract developers wishing to extract real-world data might consider buying LINK tokens, which enable them to access Chainlink oracles, bridging the gap between the real world and the blockchain space.
From an investment perspective, utility tokens fluctuate like any other asset class. Whether the tokens rise or fall in value will depend on market demand. As more people buy a specific utility token, its value will increase. But if demand wanes, this will have the opposite effect.
Things to Consider Before Buying Utility Cryptos
Predicting the future demand and value of a utility token is no easy feat, in fact, with such a large number of utility tokens in the market, picking the next crypto to explode has never been more challenging.
This is why diversification is so important. Rather than attempting to pick one utility token, consider gaining exposure to many different projects and use cases – we covered 9 of the best utility coins, but there are thousands more to choose from.
Additionally, consider building a portfolio that covers utility tokens at various stages of development. For example, we discussed established utility tokens with billion-dollar valuations, such as Ethereum, BNB, and Chainlink.
At the other end of the spectrum, we also discussed some of the best utility tokens in presale – including Bitcoin Minetrix, yPredict, and Launchpad XYZ – which represent a higher risk, higher reward prospect to established and arguably best crypto projects.
Ultimately, by investing in a broad range of utility tokens, investors can avoid putting all of their eggs into one basket.
Conclusion
Utility tokens are attractive to investors seeking solid long-term gains. Unlike meme coins and other cryptocurrency types, utility tokens have an actual use case. This means that people will buy utility tokens to access specific services within a blockchain ecosystem.
In our view, one of the best utility coins to buy today is Bitcoin Minetrix. This cryptocurrency is decentralized cloud mining by allowing users to stake $BTCMTX and earn cloud mining credits. The main goal is to offer Bitcoin mining power to individuals.
Users can purchase $BTCMTX through the ongoing presale for only $0.011 per token. The presale will consist of ten rounds and allocate 2.8 billion tokens.
FAQs
What is an example of a utility coin?
What is utility coin vs token?
Do utility tokens have value?
Do utility tokens increase in value?