Web3 is the next generation of the Internet, consisting of technologies like 5G, blockchain, artificial intelligence, and NFTs. One of the most effective ways to gain exposure to this emerging market is through cryptocurrencies.
In this guide, we examine the best Web3 coins to buy right now. Read on to discover the most innovative Web 3.0 crypto projects in 2023.
Best Web3 Crypto Coins to Buy in 2023
In our view, these are the 10 best Web3 coins in 2023:
AiDoge ($AI) – AiDoge is capitalizing on a full suite of Web3 products, including artificial intelligence, NFTs, and the Ethereum blockchain. Put simply, these technologies have enabled AiDoge to create a 'meme generation' tool. Users enter some text explaining what meme they want to create, and AiDoge instantly generates one. Investors can gain exposure to AiDoge via its ongoing presale, which has already raised over $12 million in four weeks.
yPredict (YPRED) – This Web3 crypto project enables quant traders and data scientists to sell their predictive models. In turn, users can buy yPredict models with its native Web3 token, YPRED. Some of the best predictive models being developed include crypto trading signals, automated technical analysis, and market sentiment scores. The yPredict presale is ongoing, offering investors a discounted entry price of 40%, with $1.5 million raised.
Ecoterra (ECOTERRA) – A major part of the Web3 economy is focused on sustainability and green technologies. Ecoterra is at the forefront of this with its recycle-to-earn platform. In a nutshell, users scan their recyclables via the ecoterra mobile app and receive rewards after depositing them in a reverse vending machine. Ecoterra, backed by the Ethereum blockchain, has already raised over $4 million via its presale.
DeeLance (DLANCE) – The Web3 economy is likely to see a significant increase in freelance working agreements. DeeLance is capitalizing on this growth through its decentralized freelancing platform. Freelancers can connect with recruiters directly via the blockchain, resulting in reduced fees and increased efficiency. DeeLance is also running its presale, which has raised $1 million, with those investing today securing an immediate upside.
Launchpad XYZ (LPX) – This project is revolutionizing the way that consumers invest in Web3 products. From fractionalized real estate and NFTs to private initial coin offerings – Launchpad XYZ provides a platform for the 'causal' investor. Its native token, LPX, is required to access premium Web3 opportunities. LPX is currently in presale, with over $500,000 raised so far.
Ethereum (ETH) – The Ethereum blockchain is considered the de-facto home for Web3 coins. Whether that's DeFi platforms, NFT marketplaces, or stablecoins – Ethereum already supports thousands of crypto ecosystems. All of which require ETH to execute smart contract transactions.
Ripple (XRP) – Often underappreciated by investors, Ripple could play a significant role in the future of Web3. Its decentralized network is already being used by hundreds of financial institutions for cross-border payments. XRP, which provides liquidity for cross-currency transactions, offers exposure to Ripple's growth.
Polygon (MATIC) – The Web3 ecosystem will require an unprecedented number of transactions on the blockchain. This causes issues for smart contract leaders like Ethereum, with transactions still limited to just 30 per second. Polygon's layer 2 solution solves this issue, enabling Ethereum-based projects to increase scalability to 100,000 transactions per second.
Uniswap (UNI) – Another area of Web3 to focus on decentralized finance, or DeFi. Ecosystems in this space enable users to save, trade, and borrow funds without a third party. Uniswap is the largest decentralized finance platform of its kind, appealing to Web 3.0 investors.
Cosmos (ATOM) – The Web3 era will require multiple blockchains to process data and execute smart contracts. Cosmos plays a significant role in this regard, as the project facilitates blockchain interoperability. This means that Cosmos enables two or more blockchains to information data without an intermediary.
The projects from the above Web3 crypto coins list are analyzed in the following section.
A Closer Look at the Best Web3 Tokens to Invest in
We will now analyze the best Web 3.0 coins listed above. Read on to learn more about each cryptocurrency project and how it offers exposure to the Web3 investment space.
1. AiDoge ($AI) – Overall Best Crypto for Web3
We would argue that AiDoge is one of the best Web3 coins to buy. First and foremost, this is a brand-new cryptocurrency project that is currently in presale. This means that $AI tokens can be purchased before being listed on an exchange. This offers preferential pricing for early investors, and more than $12 million has already been raised in just four weeks since it launched.
So why does AiDoge represent a solid Web3 investment? Put simply, AiDoge is targeting one of the most undervalued niches on social media – memes. Approximately one million memes are shared every day on Instagram alone, so the true figure is much higher when factoring in Facebook, Twitter, and other social networks. That said, the same meme designs are often shared over and over again.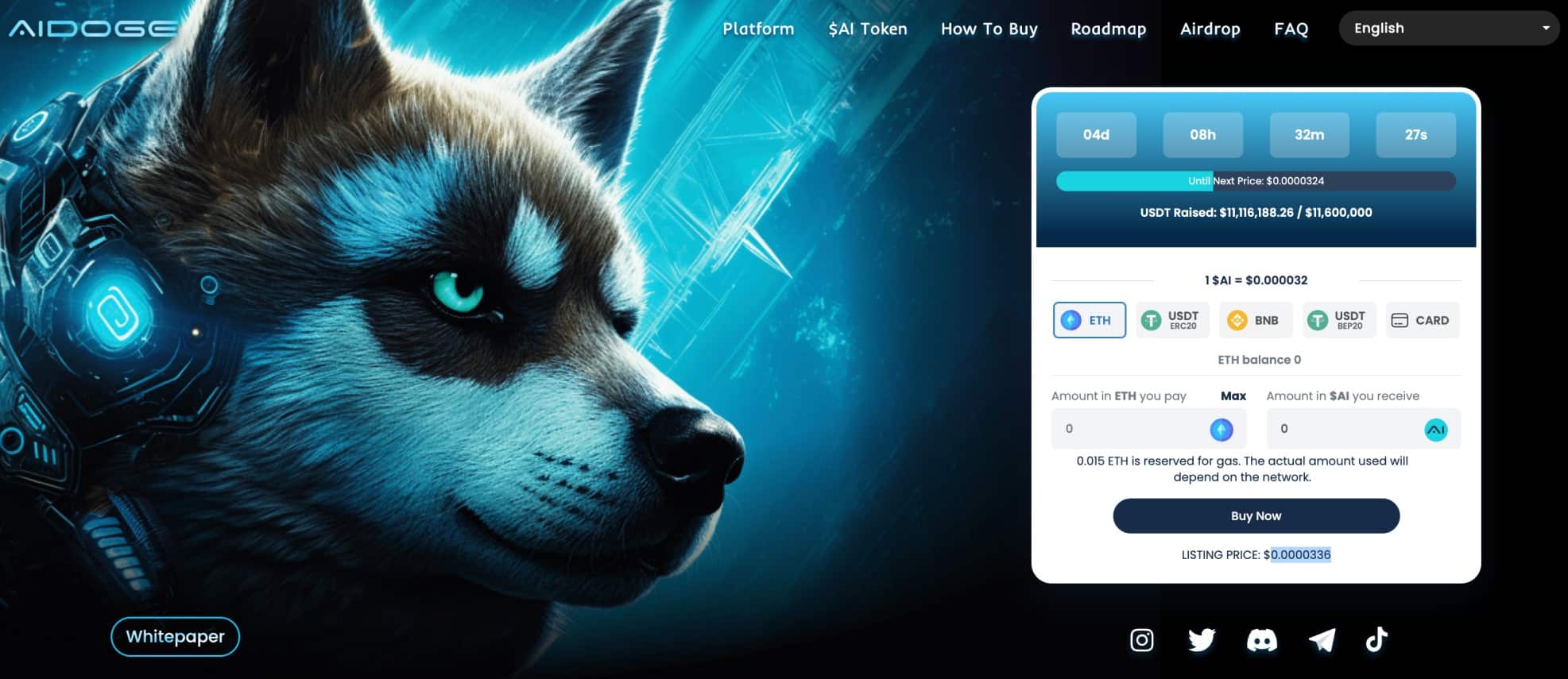 This means the global meme space is set for a sea-change, with AiDoge at the forefront. In a nutshell, AiDoge has developed a tool that creates unique and shareable memes instantly, with the tool backed by two leading Web3 technologies – blockchain tech and artificial intelligence. In fact, AiDoge memes can also be minted as NFTs, which proves ownership for meme creators on the Ethereum blockchain.
Moreover, should a meme go viral, the creator could sell it by transferring the NFT to the buyer. Another crucial Web3 technology – cryptocurrency, also fuels the AiDoge economy, with native $AI tokens needed to buy credits when creating memes. This will appeal to Web3 investors, as $AI tokens could experience high demand once the meme generation tool is officially launched.
To secure a first-mover advantage on this top-rated Web3 coin, check out the AiDoge presale, which offers a discount for those investing in its presale – approximately 80% of the funding target has already been raised, so the presale is expected to sell out within a couple of weeks.
However, before proceeding, do remember that newly launched Web 3.0 crypto projects like AiDoge are inherently risky. While the project is developing an innovative product, it is yet to be marketed to the masses.
Moreover, the cryptocurrency markets are still bearish, with most coins trading at a fraction of their former highs – nevertheless, this is just the high-risk, high-reward nature of investing in emerging concepts like Web3. More information is available on the AiDoge Telegram group or in the whitepaper.
| | |
| --- | --- |
| Hard Cap | $14.9 million |
| Total Tokens | 1 trillion |
| Tokens Available in Presale | 500 billion (50%) |
| Blockchain | Ethereum Network [Bridged to Arbitrum] |
| Token Type | ERC20 |
| Minimum Purchase | 100 $AI |
| Pay With | USDT, ETH, BNB, Bank Card |
2. yPredict (YPRED) – Crypto Prediction Models Fueled by Machine Learning and Artificial Intelligence
yPredict has positioned itself as the home of crypto predictive models. Fueled by machine learning and artificial intelligence, yPredict offers a marketplace for expert analysts and quants who wish to monetize their data insights. This includes a wide range of products, such as chart recognition patterns and technical indicators.
In turn, yPredict users can source real-time market trends and sentiment without needing to perform manual analysis. This will appeal greatly to beginners and those without the time to actively monitor the markets.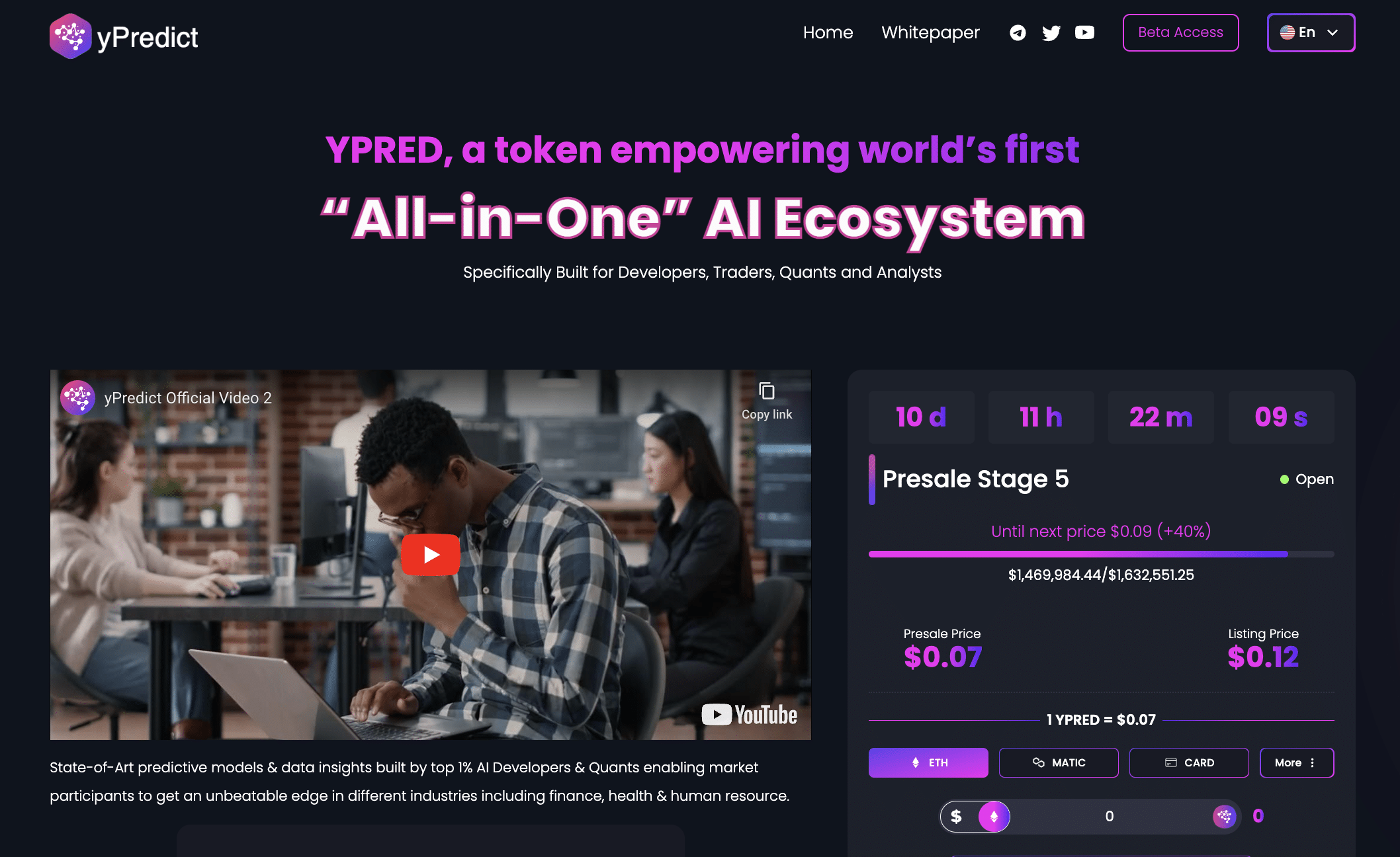 yPredict, which is a leading AI crypto, models also cover trading signals and the underlying algorithm will analyze the markets around the clock and alert users when a trading opportunity has been discovered.
The predictive model will then suggest whether the user should go long or short on the finding and which limit, stop-loss, and take-profit orders to place. Ultimately, yPredict enables traders of all experience levels to seamlessly navigate the crypto markets. Predictive models will need to be vetted by the yPredict community before being listed for sale.
This is a crucial safeguard that ensures only the best quality predictive models are marketed. Once a yPredict model passes the vetting process, users can subscribe to gain access. The only way to pay for the subscription is with YPRED, the native token backing the yPredict ecosystem.
YPRED is currently being sold via a presale campaign, where there is a 40% discount available for those investing at the current price of $0.07 – more than $1.5 million has already been raised.
| | |
| --- | --- |
| Hard Cap | $6.5 million |
| Total Tokens | 1 billion |
| Tokens available in presale | 800 million |
| Blockchain | Polygon |
| Token type | ERC20 |
| Minimum Purchase | 200 YPRED |
| Purchase with | MATIC, USDT, ETH, BNB, Bank Card |
3. Ecoterra (ECOTERRA) – Earn Crypto Rewards for Recycling in the Web3 Era
We also like the look of ecoterra, one of the best Web3 coins for green investors. The project is revolutionizing the global recycling space, which desperately needs attention. After all, the World Economic Forum estimates that 85% of plastic packaging ends up in landfills.
To address this global concern, ecoterra has developed an incentivization system known as 'recycle-to-earn', which rewards its users for recycling plastics, glass, cans, packaging, clothing, and unwanted technology.
The recycle-to-earn mechanism utilizes various Web3 products to achieve this goal. For example, once users have deposited their recyclables in a reverse vending machine, this triggers a smart contract on the Ethereum blockchain.
The AI-powered algorithm recognizes the deposit and subsequently rewards the user with ECOTERRA tokens. Moreover, recycle-to-earn transactions are stored on the blockchain for transparency. The ecoterra ecosystem also consists of other green concepts, such as carbon offsetting, and also enables companies to purchase recycled raw materials and showcase their green initiative via an 'Impact Tracker'.
Ecoterra is now raising funds from investors via its ongoing presale. Having raised over $4 million so far, this could be one of the best crypto presales in 2023. Like many presales, investors will get a reduced entry price before ECOTERRA tokens are listed on exchanges. That said, the project still has a long way to go before it has a completed product. As such, investors will need to consider the added risks of investing in a Web3 project with a limited proof of concept.
Learn how to buy ECOTERRA tokens in our comprehensive guide.
| | |
| --- | --- |
| Hard Cap | $6.7 million |
| Total Tokens | 2 billion |
| Tokens available in presale | 1 billion (50%) |
| Blockchain | Ethereum Network |
| Token type | ERC20 |
| Minimum Purchase | $10 |
| Purchase with | USDT, ETH, Bank Card |
4. DeeLance (DLANCE) – Invest in the Future of the Web3 Freelancing Economy
DeeLance is building the Web3 version of the Gig Economy. Since the COVID pandemic, demand for freelancing services has skyrocketed. But currently, the industry's three leaders – Upwork, Fiverr, and Freelancer.com, are arguably not fit for purpose, because of high fees, slow payments, and an overly centralized resolution system.
For example, freelancers on these platforms often need to wait for a holding period to pass before they receive their earnings. In comparison, DeeLance releases payments as soon as the work is approved by the client – in fact, payments are automated via smart contracts, ensuring speed and cost-effectiveness and DeeLance service fees are also a lot more competitive when compared to the industry average.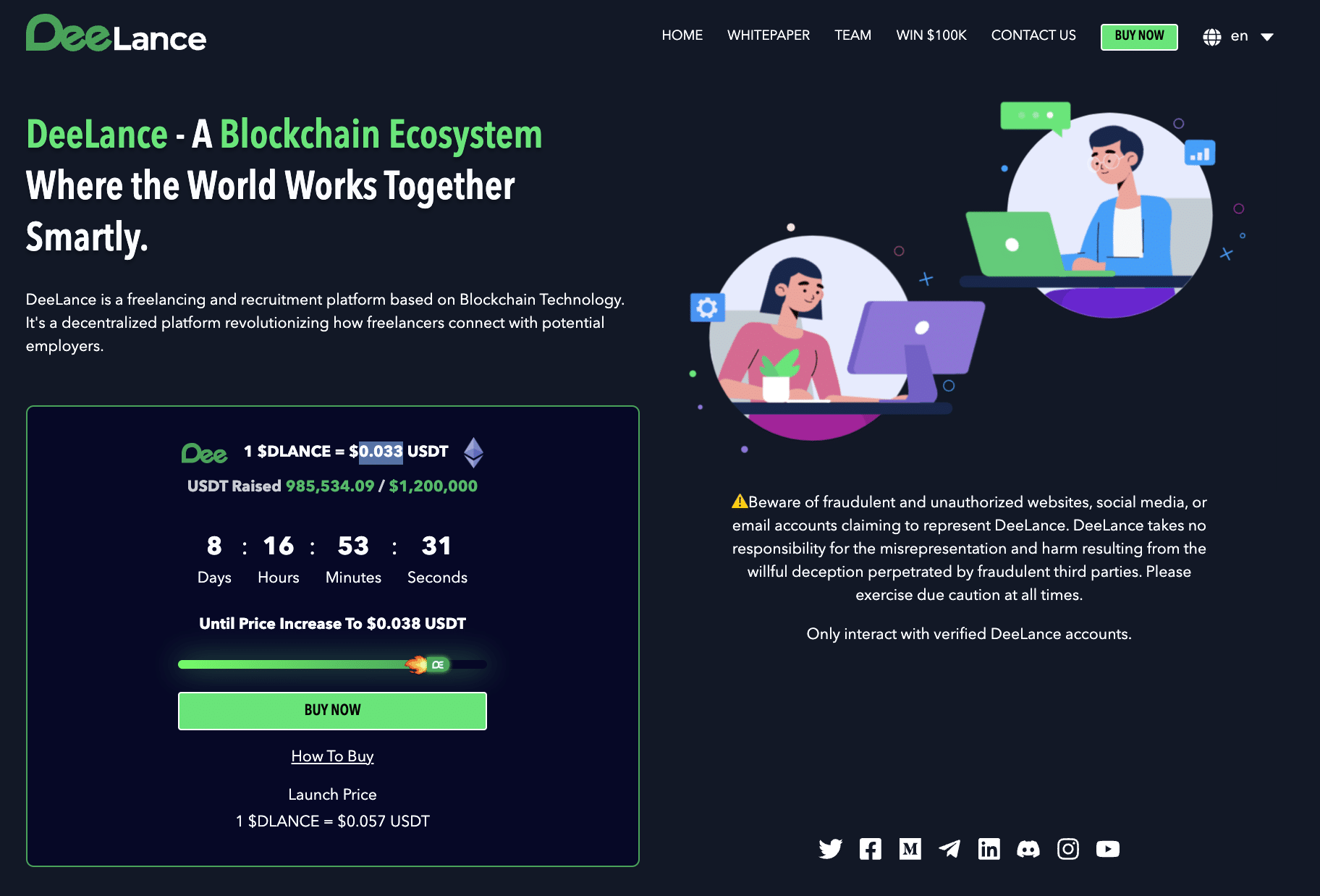 For example, Upwork and Fiverr charge freelancers up to 20%. but DeeLance takes just 10%. Additionally, DeeLance is a decentralized freelancing platform, so clients and recruiters can collaborate on a peer-to-peer basis. This also means that disputes are handled in a safe, transparent, and fair way.
Moreover, investors are also bullish on the DeeLance metaverse that is being developed – in addition to providing immersive working spaces, the DeeLance metaverse will enable recruiters and freelancers to buy virtual offices. What's more, virtual office purchases are backed by NFTs, ensuring ownership is secured on the blockchain.
DeeLance is backed by DLANCE tokens, one of our top cryptos with the most potential, the exclusive payment currency of its ecosystem. DLANCE can be purchased via the recently launched presale at an attractive discount, with around $1 million raised so far.
Learn more about DeeLance and how to buy DLANCE tokens via the presale.
| | |
| --- | --- |
| Hard Cap | $6 million |
| Total Tokens | 1 billion |
| Tokens available in presale | 300 million (30%) |
| Blockchain | Ethereum Network |
| Token type | ERC20 |
| Minimum Purchase | $10 |
| Purchase with | USDT, ETH, Bank Card |
5. Launchpad XYZ (LPX) – Web3 Market Insights and Exclusive Access to New Investments
Launchpad XYZ is attacking the Web3 era head-on with its consumer-focused dashboard. The project aims to become the de-facto home of Web3 investments and offers access to a wide pool of Web3 products on a fractional basis. This means that consumers can invest in the future of Web3 without requiring a huge lump sum.
For example, Launchpad XYZ will tokenize high-value assets like real estate and fine art, enabling casual investors to purchase assets that would otherwise be unaffordable. Moreover, Launchpad XYZ also provides data insights into trending Web3 cryptocurrencies and NFTs. This means those without any knowledge of the industry can make smart investment decisions.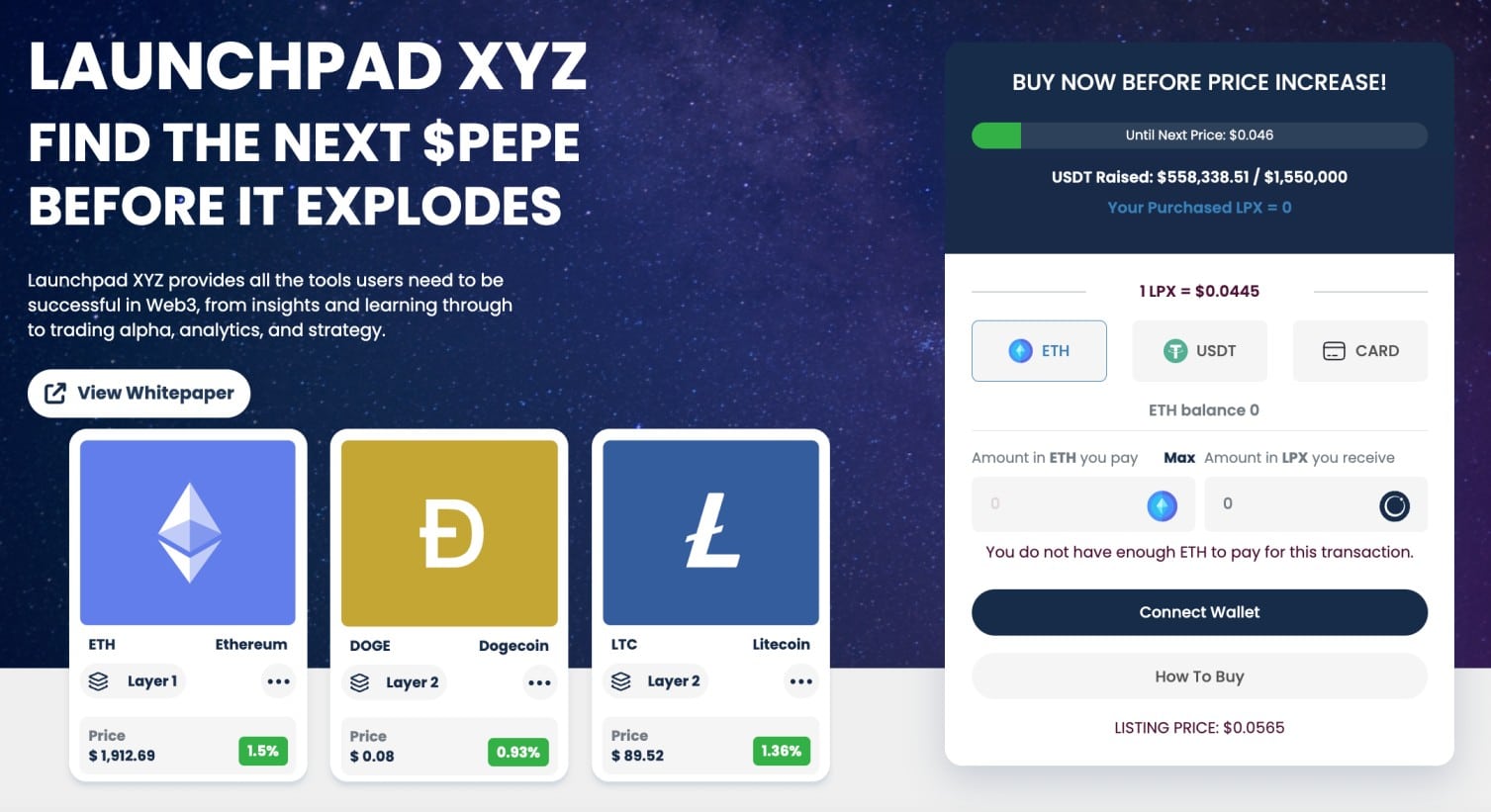 Launchpad XYZ will also purchase allocations from private NFT launches and exclusive presale campaigns, with the allocation then split between Launchpad XYZ users, ensuring that even those on a budget can invest. This is in addition to the Launchpad XYZ decentralized exchange. Once launched, this will enable users to buy, sell, and trade Web3 products without going through a third party.
What we really like about Launchpad XYZ is that its native token, LPX, has a solid use case as it needs to be staked to access premium Web3 products. LPX is a brand-new cryptocurrency currently in presale with over $500,000 raised so far and Web3 investors snapping up the presale discount on offer. Currently, LPX is being sold for just $0.0445, but this will increase as the presale progresses.
| | |
| --- | --- |
| Hard Cap | $12.5 million |
| Total Tokens | 1 billion |
| Tokens available in presale | 250 million |
| Blockchain | Ethereum Network |
| Token type | ERC20 |
| Minimum Purchase | 100 LPX |
| Purchase with | USDT, ETH, BNB, Bank Card |
6. Ethereum (ETH) – The De-Facto Blockchain for Web3 Ecosystems
Ethereum is one of the best Web3 crypto projects in the market and has long been the top altcoin to buy, cementing its place behind Bitcoin as the second-biggest token in the whole space.
Thousands of cryptocurrencies operate on the Ethereum blockchain, many of which are revolutionizing the Web3 space – for example, decentralized exchanges like Uniswap, SushiSwap, Yearn.finance, and dYdX utilize Ethereum.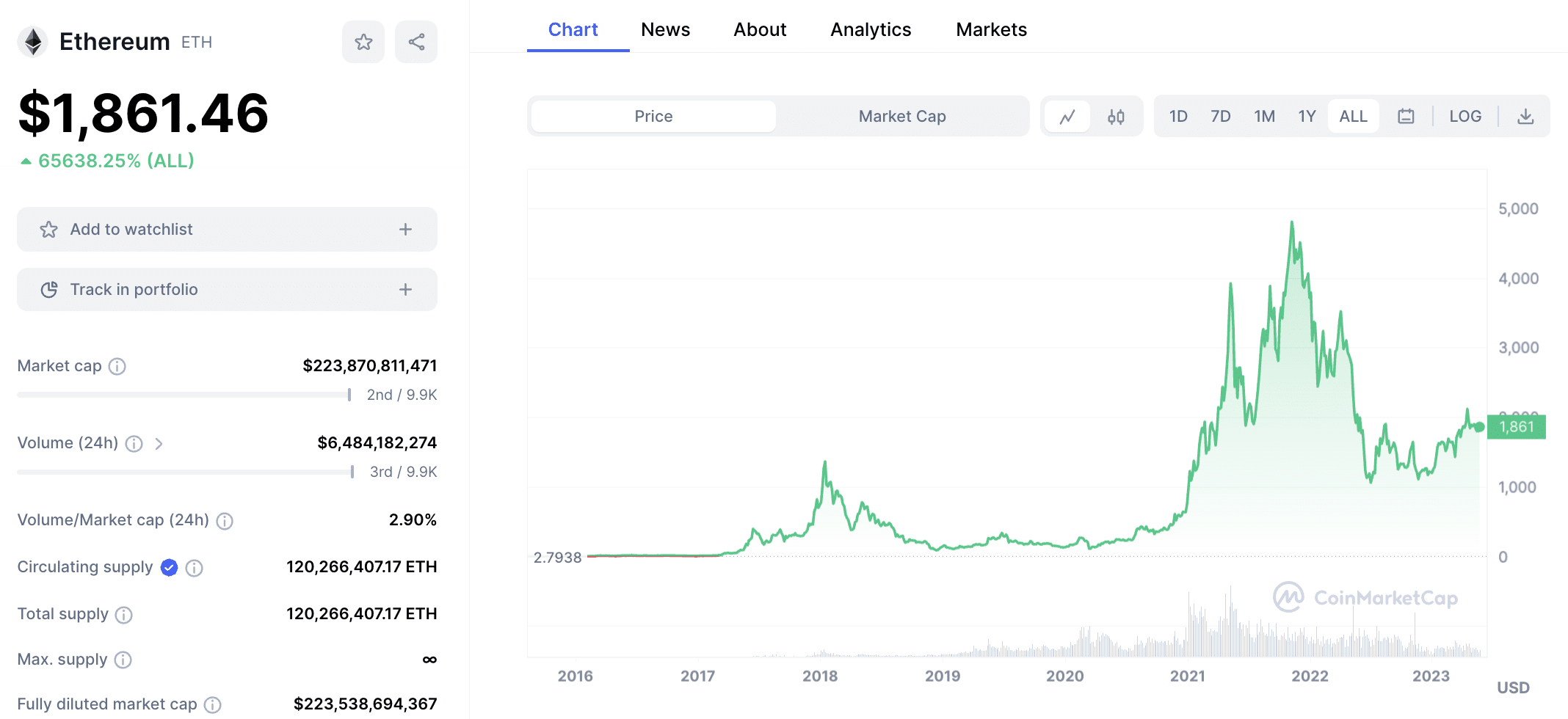 This means that token swaps, yield farming, staking, and other decentralized services require Ethereum smart contracts. In turn, each smart contract transaction requires GAS fees – essentially Ethereum network/transaction fees, paid in Ethereum's native token, ETH. Similarly, some of the biggest metaverse projects, including Decentraland and the Sandbox, are built on Ethereum.
Once again, all metaverse transactions – including virtual real estate purchases, require ETH to cover GAS fees. Ethereum also enables Web3 projects to utilize NFTs. These follow the ERC721 standard, and all NFT mints require ETH.
According to DeFiLlama Ethereum has a TVL of around $27.5 billion – that stands for Total Value Locked, the value of other projects built on Ethereum, which is more than double the TVL of the Binance Smart Chain. Although Ethereum currently has a market capitalization of over $220 billion, it was valued at more than $560 billion during the prior bull market.
Cryptoassets are a highly volatile unregulated investment product.
7. Ripple (XRP) – Innovative Cross-Border Payments Network for Financial Institutions
Ripple is an established blockchain project that enables financial institutions to send and receive funds across borders. Its technology not only saves fees and increases speed but reduces red tape. For example, cross-border payments via Ripple take just 4-5 seconds and average a micro-fraction of a cent – moreover, this is the case irrespective of which currencies are being transferred.
Although Ripple is aimed at banks and financial institutions, its native token, XRP, is still one of the best Web3 coins to buy for traders and investors. This is because XRP offers exposure to the success of Ripple. Hundreds of financial institutions are already using the technology, and additional partnerships are being made frequently, crucially, XRP is required for liquidity purposes when minor and/or exotic currencies are being transferred.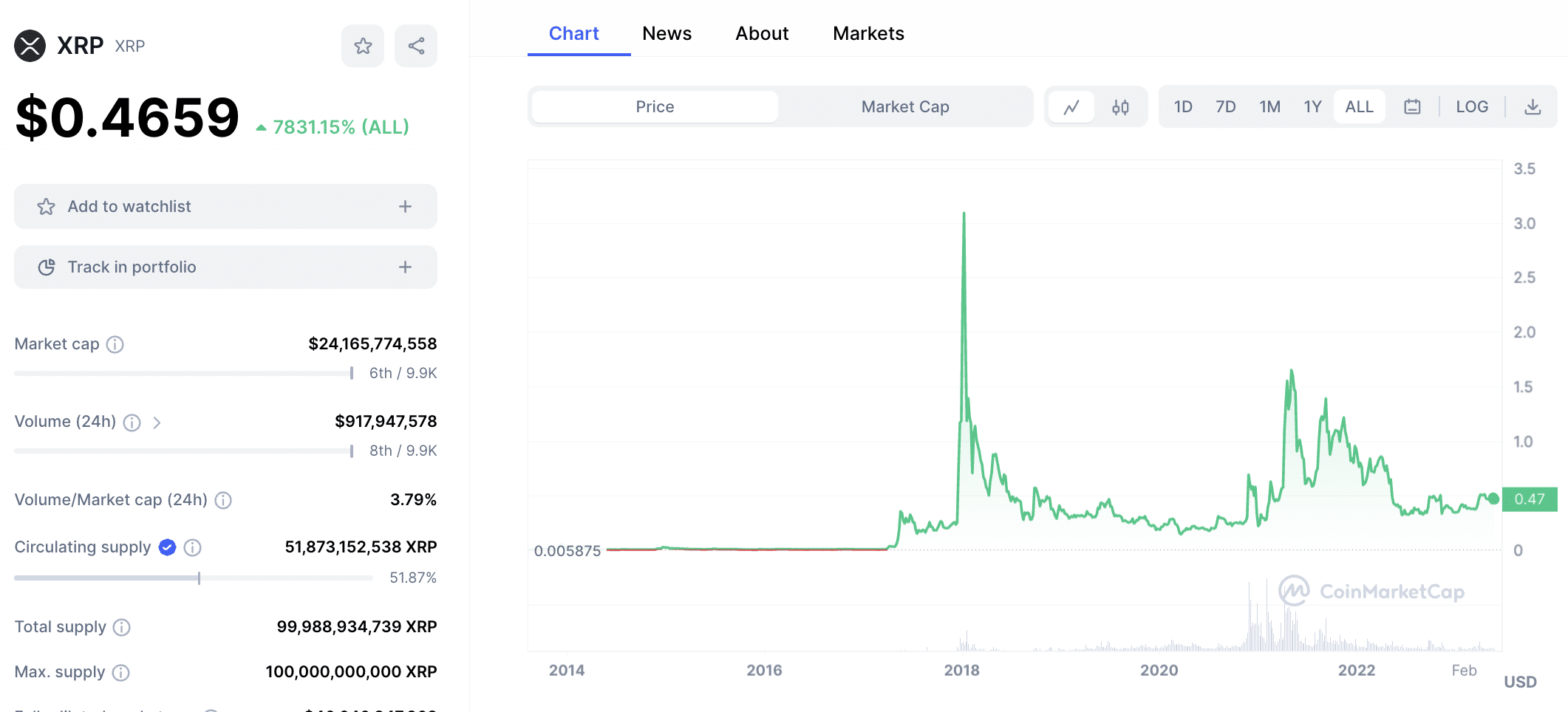 As such, this Web3 coin has a specific use case. In terms of performance, XRP still trades well below its all-time high price of $3.84. Currently, investors can secure a discount of over 85%.
This offers an attractive upside should XRP return to its former highs in the Web3 era, although a large part of its future success will hinge on the outcome of its ongoing court case against the US Securities and Exchange Commission.
Cryptoassets are a highly volatile unregulated investment product.
8. Polygon (MATIC) – Layer 2 Solution for Scalability and Fees
Polygon is also one of the best Web 3.0 coins to keep an eye on. The project solves a major issue facing the Web3 space – scalability. After all, whether it's crypto payments, NFT transfers, or metaverse real estate purchases – all transactions must go through the blockchain.
Ethereum, in particular, continues to struggle with the unprecedented amount of transactions it is required to handle, which causes expensive network fees and slow transactions.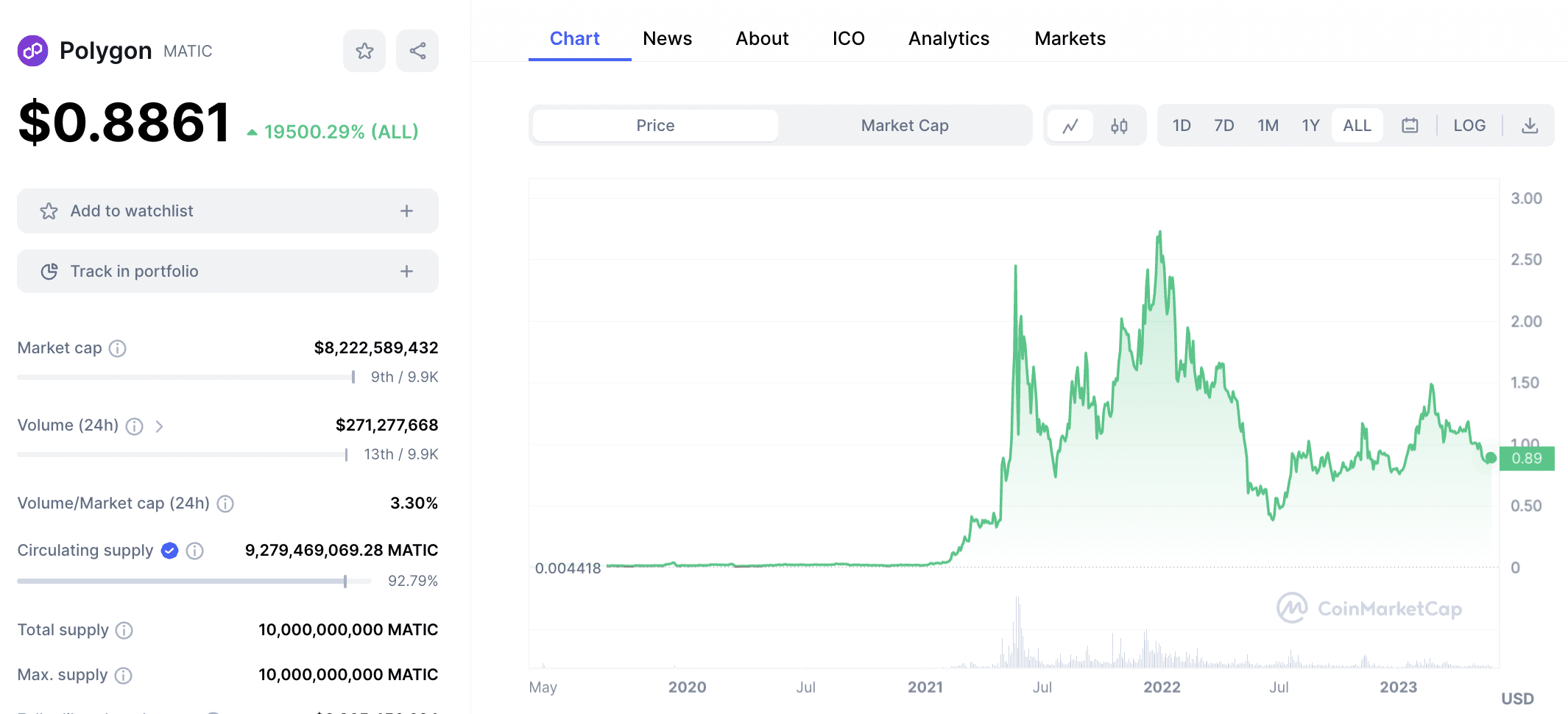 In fact, Ethereum can handle just 30 transactions per second – this is where Polygon comes in, with its layer-2 solution enabling ERC-20 projects to bridge to its network. Not only does this increase scalability to 100,000 transactions per second, but fees are reduced too.
In light of this, more than 200 cryptocurrencies have since bridged to Polygon. Its native token, MATIC, remains one of the largest cryptocurrencies by market capitalization – currently valued at over $8 billion.
Cryptoassets are a highly volatile unregulated investment product.
9. Uniswap (UNI) – Decentralized Trading and Investing Without Borders
Uniswap is one of our best long-term cryptos and is likely to play a major role in future of Web3. Founded in 2018, Uniswap enables people to access investment services without going through a third party.
At the forefront of this is its automated market maker (AMM) model. This enables users to swap cryptocurrency tokens without needing another market participant.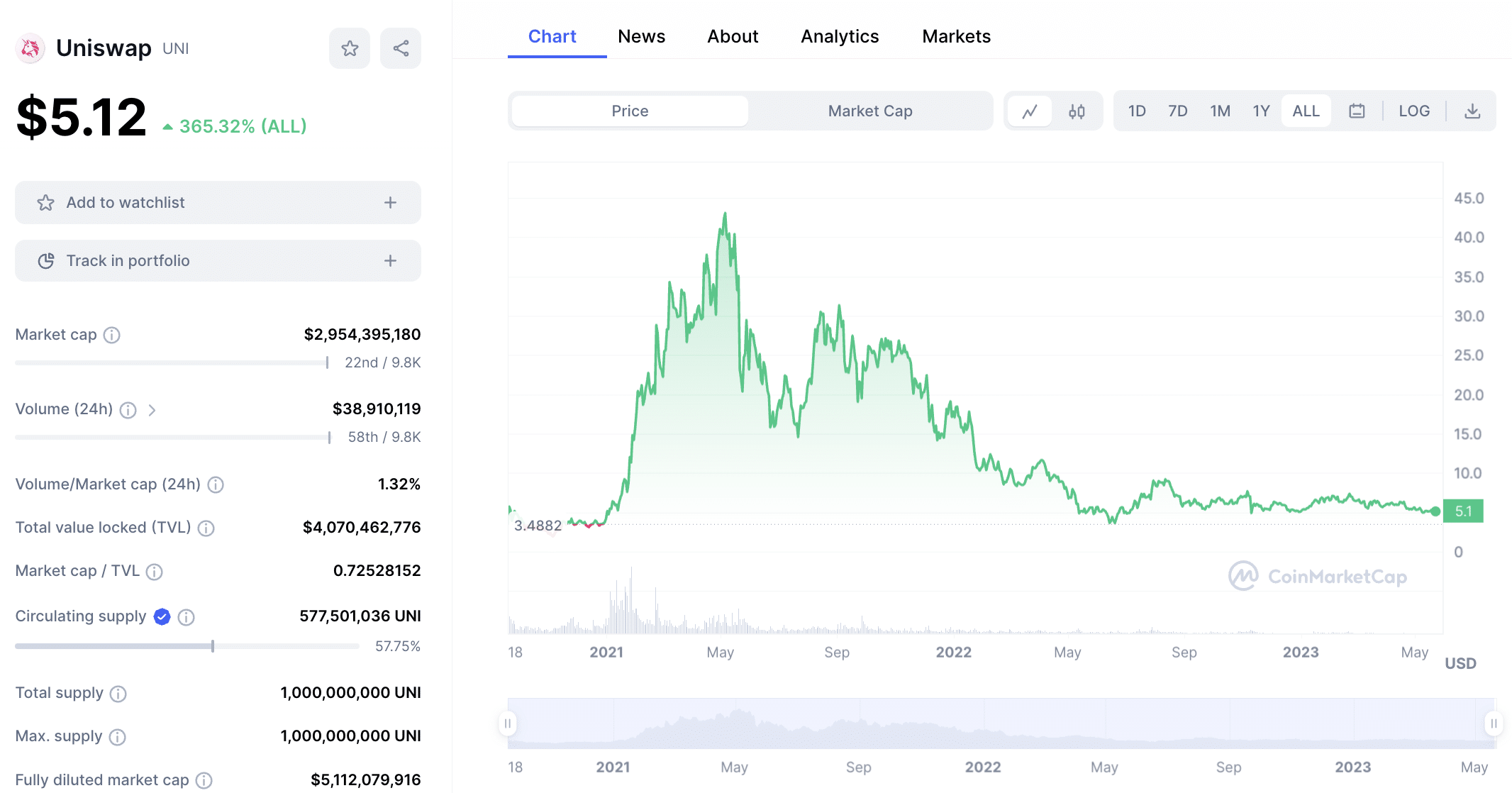 AMM instead uses liquidity pools that contain equal amounts of two tokens, such as ETH and USDT. Another feature of Uniswap is that users can add tokens to a liquidity pool. In doing so, users earn a share of trading fees.
Uniswap also adopts a governance model, enabling UNI token holders to vote on key proposals. According to CoinMarketCap, Uniswap is the largest decentralized exchange in the market.
Cryptoassets are a highly volatile unregulated investment product.
10. Cosmos (ATOM) – Bridging the Gap Between Blockchain Standards
Cosmos solves a crucial issue facing the Web3 era – interoperability. This is because most blockchain networks have their own independent standard. This means that competing blockchains are unable to share information.
Cosmos has created the 'Internet of Blockchains', enabling data sharing between networks to solve that particular issue.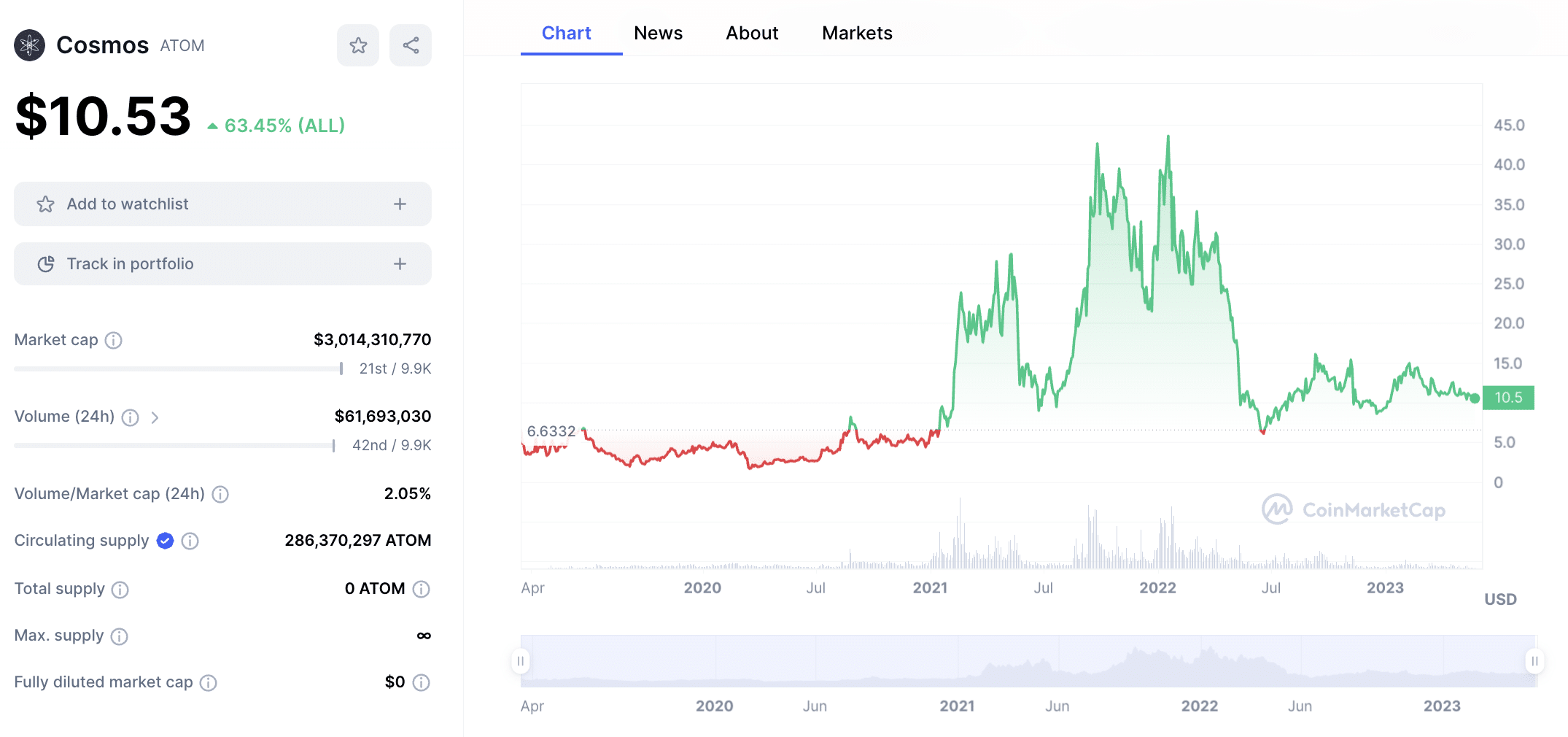 Moreover, Cosmos is a highly efficient blockchain. The project notes that transaction times average just seven seconds at a fee of $0.01. Cosmos is backed by ATOM, its native token. Those holding ATOM can stake their tokens directly on the Cosmos blockchain.
Cosmos notes that currently, this provides an APY of 9.7%. According to CoinMarketCap, Cosmos has a market capitalization of over $3 billion. This is just a fraction of Cosmos's $11 billion valuation in early 2022.
Cryptoassets are a highly volatile unregulated investment product.
What is the Best Web3 Crypto to Buy in 2023?
Overall, we found that AiDoge is the best Web3 crypto project in the market, especially for those seeking a new cryptocurrency with a sizable long-term upside. Although we briefly covered AiDoge earlier, here's a recap on why it's one of the best Web3 coins to buy.
Founded in 2023, AiDoge has developed an innovative meme generation tool. This tool is backed by blockchain technology and artificial intelligence, enabling users to create memes with ease. In fact, memes are created based on the user's text prompt – for example, the text prompt might ask for a meme that 'Shows the joy of seeing a crypto investment 100x'.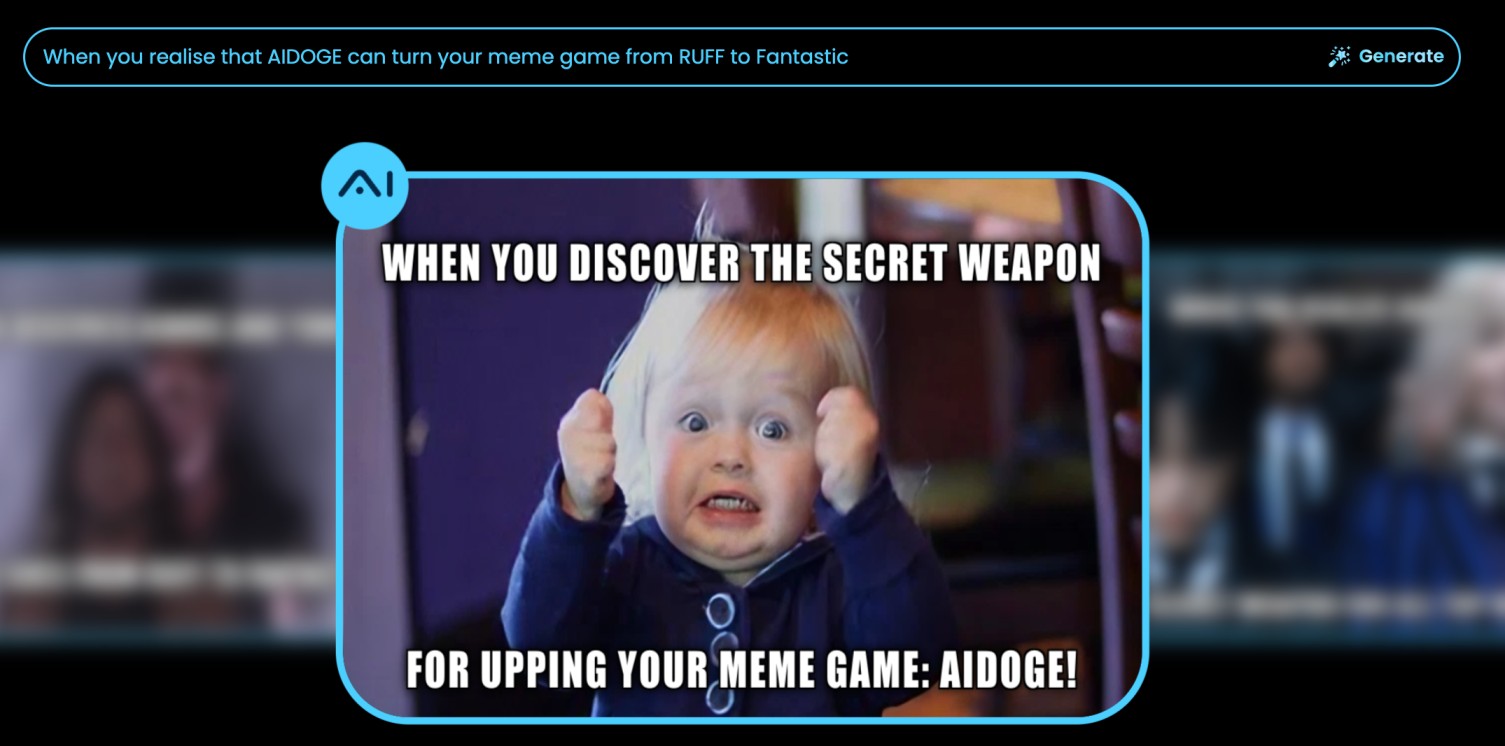 The AiDoge tool will instantly generate a meme alongside an image, with each meme unique and shareable at the click of a button. Another reason why AiDoge is one of the best crypto for Web 3.0 is that it has developed a sustainable business model, with users required to buy credits to create memes. As per the AiDoge whitepaper, credits can only be purchased with $AI tokens. This is the proprietary token backing the AiDoge ecosystem.
What's more, users can upgrade their meme experience by minting an NFT which they can keep for the long term, or sell the rights to it through an NFT transfer. This also ensures that ownership of the meme is proven via the blockchain. Additionally, features of AiDoge include a crypto staking tool and a vote-to-earn mechanism – where users will earn rewards for voting on their favorite memes.
Those with the most votes will appear on the AiDoge public wall and will provide memes with exposure to the broader community. When staking $AI, users can generate free credits to create more memes, with the number of free credits earned depending on how many $AI tokens have been staked.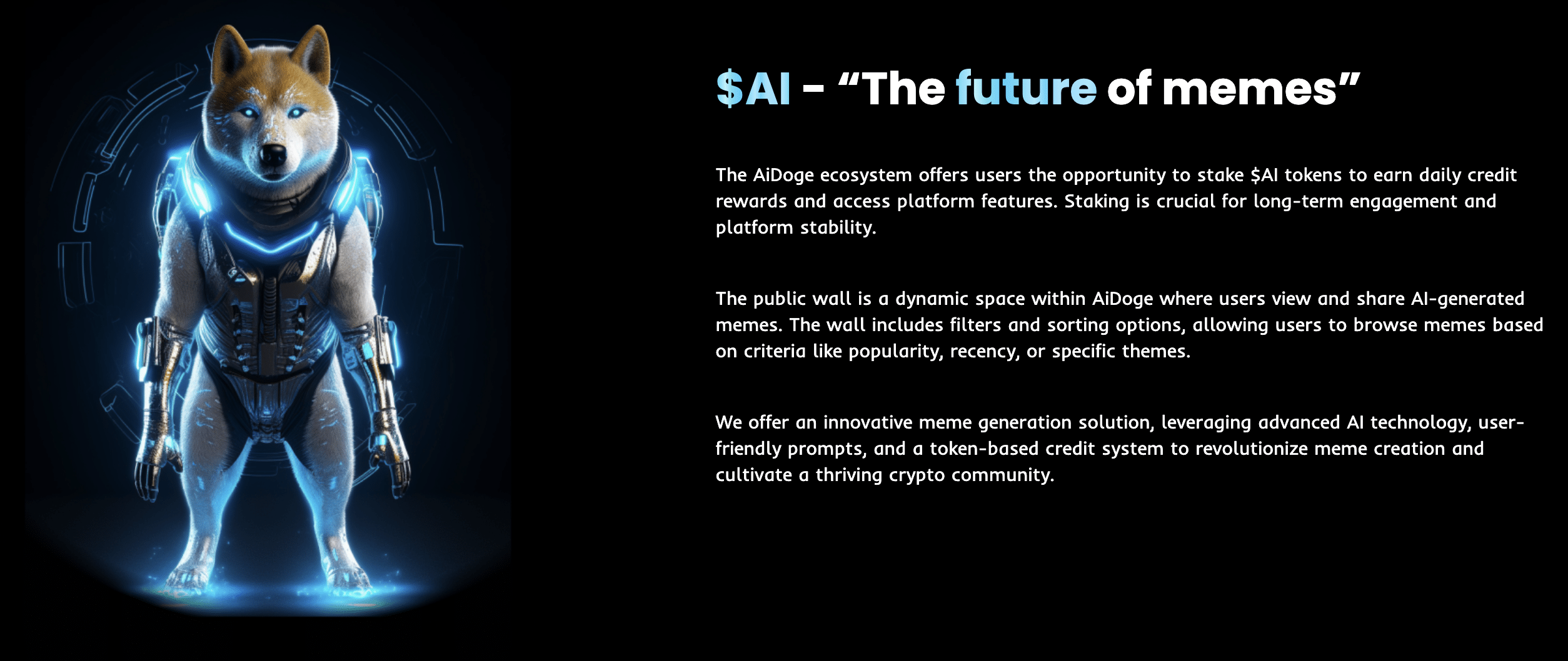 When it comes to the investment thesis, it is difficult to predict how $AI tokens will perform in the coming months and years. After all, this is a brand-new project, and $AI tokens are yet to list on crypto exchanges. That said, investors can gain exposure to the project today by investing in the AiDoge presale campaign, which offers early investors a discounted entry price before the exchange listing.
Those buying $AI tokens today will pay just $0.0000324, in stage 17 of 20. This means for every $100 invested, over three million $AI tokens will be acquired. While presales and meme coins like AiDoge are a lot riskier than established Web3 coins, this hasn't hindered the fundraising campaign. On the contrary, the AiDoge presale has already raised over $12 million in just four weeks, with the presale to end once the hard cap of $14.9 million is reached. Based on the presale's current trajectory, this could be reached in the next few days.
How to Buy AiDoge
Leading on from the above section, we will now explain how to buy AiDoge tokens before the presale concludes.
Step 1: Download Metamask Wallet
To invest in the AiDoge presale and safely store $AI tokens, investors need a crypto wallet. While there are dozens of suitable options, this tutorial will explain the steps with Metamask.
This is a top-rated wallet used by over 30 million people. What's more, investors can choose from the Metamask app or browser extension.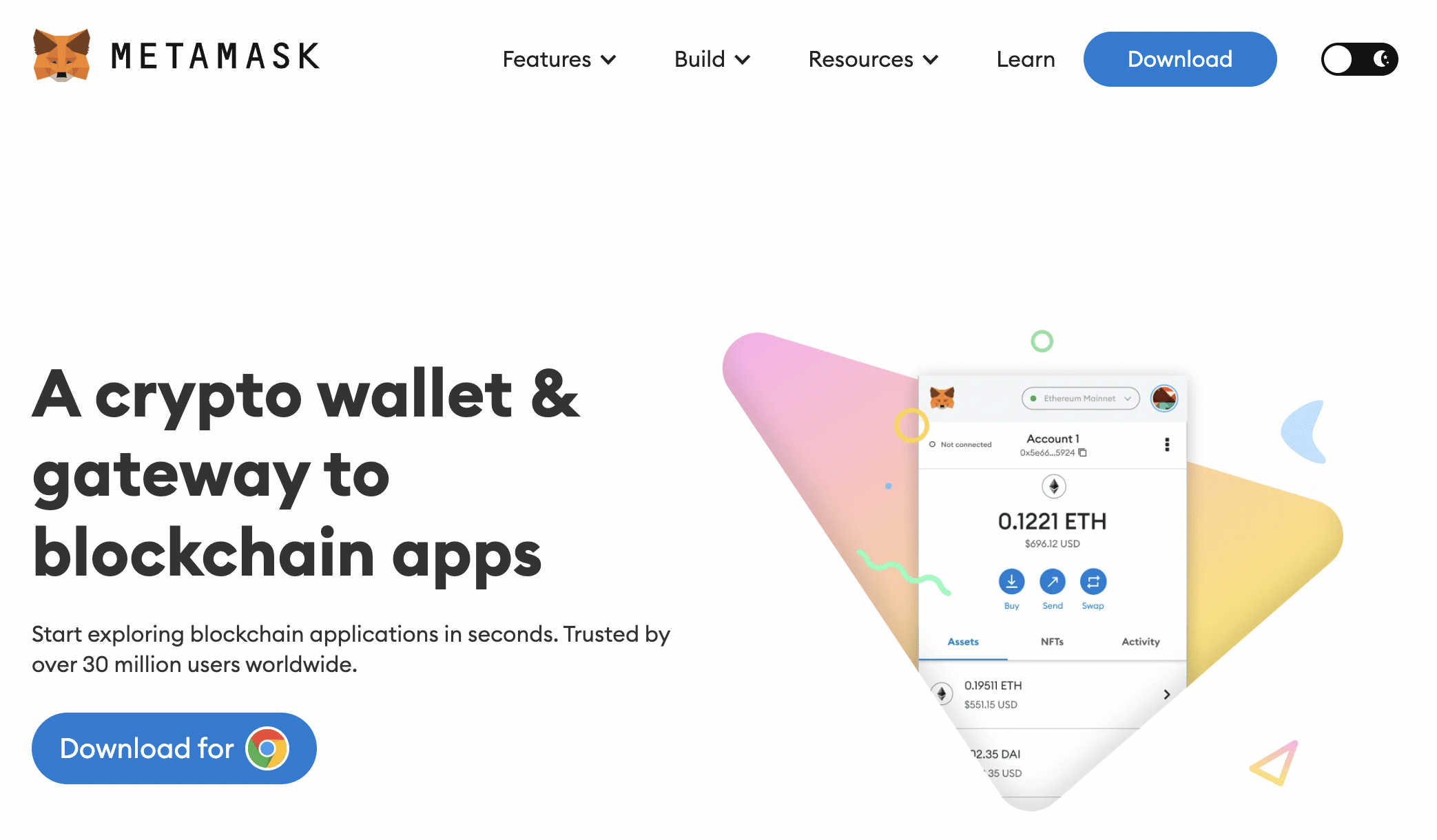 Simply visit the Metamask website and download the preferred wallet type. Then open Metamask and create a strong password.
Finally, take note of the 12-word passphrase displayed on the screen. This provides access to the wallet if the password is forgotten. As such, never share it with anyone.
Step 2: Add Ethereum to Metamask
The AiDoge presale accepts Ethereum, Tether, and BNB. For this tutorial, we'll show the steps with Ethereum.
In a nutshell, investors need to deposit Ethereum tokens in their Metamask wallet. This will enable investors to connect their wallet to the AiDoge presale to pay for the purchase.
But first, investors without Ethereum tokens will need to buy some. Consider doing so with eToro, a regulated crypto broker with over 30 million customers.
After buying Ethereum, copy the Metamask wallet address. Head back to the platform where the Ethereum tokens were purchased and request a withdrawal. Finally, paste the Metamask wallet address and complete the transfer.
Step 3: Set up the Presale Order
Once the Ethereum tokens are transferred, they should appear in the Metamask wallet within a couple of minutes. A notification should appear once they arrive.
When they do, visit the AiDoge website. Then, look for the presale order box, like the image below.
First, select the cryptocurrency that will be used to pay for the presale investment. In our example, we are using ETH. Then, type in the number of ETH tokens to swap for AiDoge.
Finally, click on 'Buy Now' before moving on to the next step.
Step 4: Buy AiDoge Tokens
Now that the order has been submitted, AiDoge will ask the investor to select which crypto wallet will be used. In our example that's Metamask.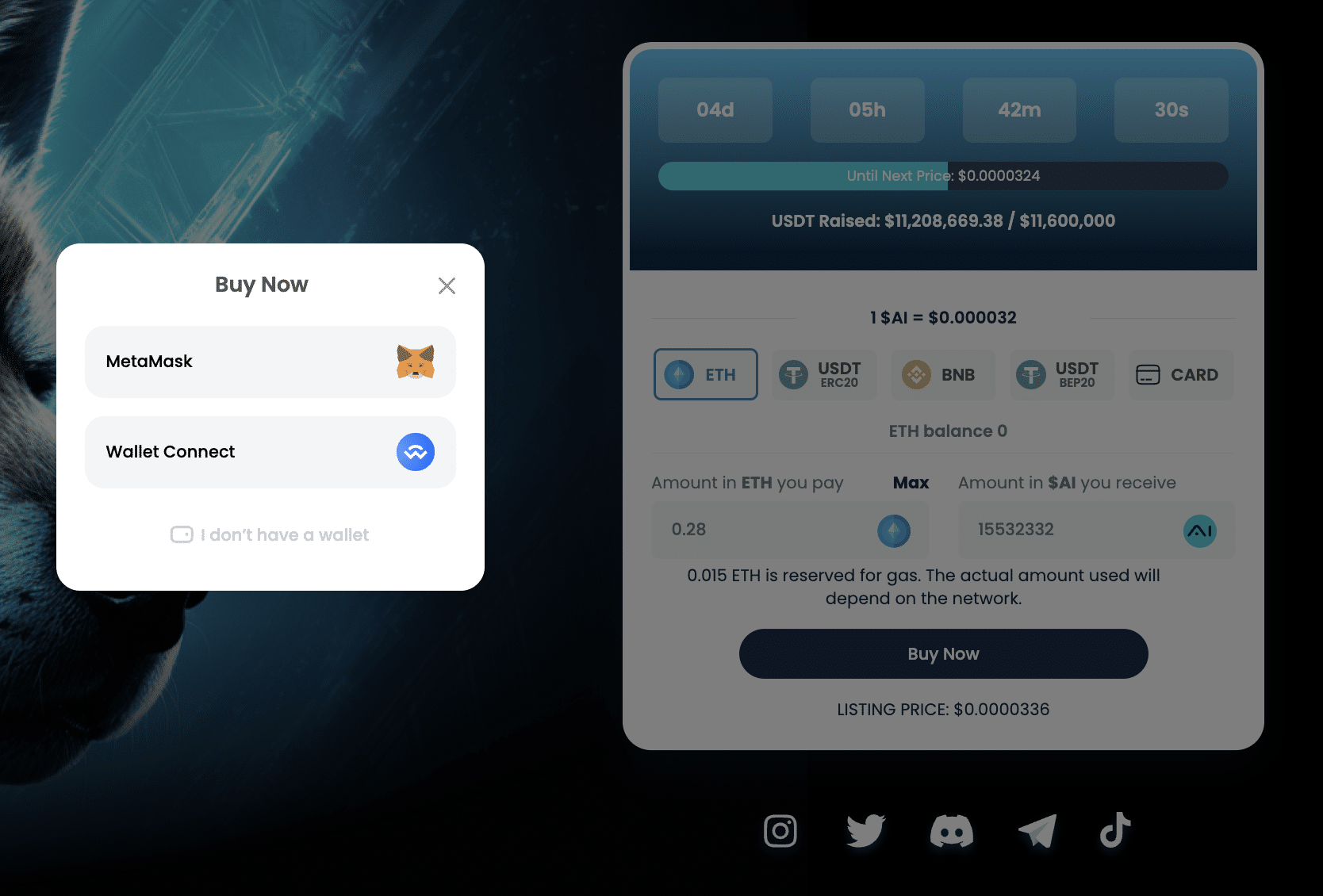 After clicking 'Metamask', a notification will appear from the wallet. This will ask for confirmation on the presale purchase. Make sure the number of ETH tokens being transferred matches the order form.
If everything looks correct, confirm the transaction via Metamask. In doing so, that completes the AiDoge presale investment. The $AI tokens purchased can be claimed after the presale finishes.
Join the AiDoge Telegram group to get real-time updates on the presale. Alternatively, join over 34,000 like-minded investors by following the AiDoge Twitter.
What are Web3 Crypto Coins?
While Web 1.0 refers to the original Internet in the 1990s, Web 2.0 incorporated social media and mobile connectivity. Web 3.0 – more commonly referred to as Web3 – will take things to the next level through 5G, cryptocurrencies, metaverse experiences, and NFT ownership.
Web3 coins are cryptocurrency projects that offer exposure to the Web3 era. This refers to the next generation of the Internet and incorporates a wide range of emerging technologies – this includes everything from NFTs, blockchain, and smart contracts to 5G, artificial intelligence, and the metaverse, with all of these technologies expected to play a major role in Web 3.0.
In other words, those buying Web3 coins do so for speculative reasons. If the chosen Web 3.0 crypto project takes off, this can lead to price appreciation, with the investor making a financial return on their purchase. The tricky part is knowing which Web3 projects to invest in. After all, while we have discussed 10 projects on our Web3 crypto coins list in 2023 but there are thousands more.
Nonetheless, Web3 coins play a specific role within their respective ecosystem. For example, $AI tokens enable users to buy AiDoge credits for creating unique memes. While YPRED enables users to buy crypto-predictive models on yPredict. In another example, ETH is required by ERC-20 projects to pay for GAS fees. The key takeaway is that the best Web 3.0 coins have an actual use case.
Are Web3 Coins a Good Investment?
Web3 is a concept rather than a specific investment product. As such, investors will need to perform in-depth research when selecting the best Web3 crypto tokens to buy. Many Web3 crypto projects are unproven, so consider the risks before proceeding.
In this section, we explore whether or not Web3 coins represent a viable long-term investment.
Invest in Web3 Pureplays
Those wishing to gain exposure to Web3 can do so in various ways. This includes stocks that are involved in Web3 technologies, such as 5G and machine learning.
However, there are very few Web3 'pureplays' on the stock market.
Instead, most Web3 stocks are largely involved in other areas.
For example, while Meta Platforms is working on its metaverse ambitions, the firm's primary business model is social media.
In contrast, the best Web 3.0 coins offer direct exposure to this industry. For example, Launchpad XYZ is building a decentralized portal that will enable consumers to seamlessly invest in Web3 products. This includes NFTs, crypto presales, and fractionalized real estate.
Similarly, DeeLance offers exposure to the future of employment in the Web3 area. It has developed a decentralized marketplace that connects freelancers and recruiters. Payments are made in crypto via smart contracts, ensuring speed, cost-effectiveness, and transparency. Moreover, work submitted to recruiters can be backed by NFTs, proving ownership on the Ethereum blockchain.
Ethereum – and native token ETH – is an example of a Web3 blockchain coin, a protocol that other decentralized app (dApp) builders use to develop their own projects. Some investors see buying into projects that act as building foundations can be more prudent and lower risk, although the potential rewards are also stunted as many of these projects have been around for a while.
Ultimately, those seeking Web3 pureplays will find plenty of options in the cryptocurrency space.
First-Mover Advantage
Seasoned growth investors will focus on new and emerging technologies before they take off.
Whether it's desktop computers or electric vehicles, these concepts were still unproven at the time.
As such, investors took a major risk on the unknown.
But in doing so, they witnessed life-changing returns.
This concept is much the same as investing in Web3 coins. While the risks are high, the rewards can be significant – this is because investments are being made before Web3 is fully functional and the cryptos explode in price.
For example, after the AiDoge presale is over, $AI tokens will be listed on exchanges with a market capitalization of just $29.8 million. While there is no knowing how successful its meme generation tool will become, such a small valuation offers a superb entry point for growth investors.
Ideal for Diversification Strategies
Web3 coins are ideal for diversification strategies, considering how many projects are active in this space. Not only does this offer access to a broad range of Web 3.0 coins, but it mitigates the long-term risks.
After all, while it is likely that many Web3 coins will fail to deliver, it only takes one to take off to see sizable returns – the best way to build a diversified portfolio is to cover various niches within the Web3 space.
For example:
Ethereum remains the leading smart contract network for Web3 projects to build on.
Polygon enables ERC-20 projects to scale and reduces fees for users.
Uniswap, on the other hand, offers exposure to decentralized finance.
Then there's ecoterra, which is revolutionizing how people will recycle in the Web3 era.
These are just a few examples of many. The key point is that diversifying mitigates the risks of investing in the Web3 industry.
Things to Bear in Mind Before Buying Web3 Coins
Here's what to consider before investing in Web3 crypto projects:
There is no universally accepted definition of what Web3 will look like. This is because the concept is still in its very early stages – this makes diversification more important than ever.
Web3 coins operate in a highly volatile market and investors should always note that Web3 token prices will rise and fall like any other asset. But the crypto markets are particularly speculative, so investors should only risk what they can afford to lose.
It's wise to focus on Web3 coins that are actual utility tokens within their respective ecosystems. This means that the coin is required to serve a specific purpose. For example, Web 3.0 coins bridged to the Polygon network need MATIC to pay transaction fees.
Some of the best Web 3 coins are brand-new projects that have just entered the market. While this increases the risks, new Web3 coins generally offer the lowest cost price – for example, the AiDoge presale is selling $AI tokens before being listed on exchanges. This is similar to investing in a stock during its IPO process.
To diversify effectively, it's worth covering a wide range of Web3 niches. This might include projects linked to NFTs, artificial intelligence, blockchain interoperability, decentralized finance, and the Gig Economy.
Web3 Crypto Price
It is also wise to understand how Web3 crypto prices work – Web3 coins trade on crypto exchanges, which enables people to buy and sell Web3 coins in the open market.
Like any other asset, the value of Web3 coins rises and falls based on market demand. In other words, Web3 tokens need to attract more buyers than sellers to appreciate in value.
The value of Web3 coins is often dictated by the broader sentiment. For example, during the prior bull market, many Web3 crypto projects witnessed rapid growth but when the bull market came to a close, most Web3 coins lost significant value – this enhanced volatility should be built into the investment thesis.
On the flip side, never before has there been a better time to invest in Web3 coins ahead of an expected crypto bull run in the next 18 months. This is because the broader market decline has created huge discounts, allowing investors to build a portfolio of Web3 coins at a fraction of their former all-time high prices.
Note: Emerging cryptos and presale projects like AiDoge and yPredict are yet to trade on public exchanges as presales collect funds from investors in a private setting. The tokens will be listed on exchanges after the presale concludes.
Where to Buy Web3 Crypto Coins
Wondering where to buy Web3 coins in 2023? We found that eToro lists some of the best Web3 blockchain coins in the market, including many of the projects discussed today. Whether it's Ethereum, Ripple, Polygon, Uniswap, or Cosmos – eToro enables investors to buy Web3 coins in a regulated environment.
The platform holds licensing with various tier-one regulators, including FINRA (US), CySEC (Cyprus), ASIC (Australia), and the FCA (UK). Moreover, eToro boasts a customer base of over 30 million traders. We also like eToro for its simple and user-friendly investment dashboard.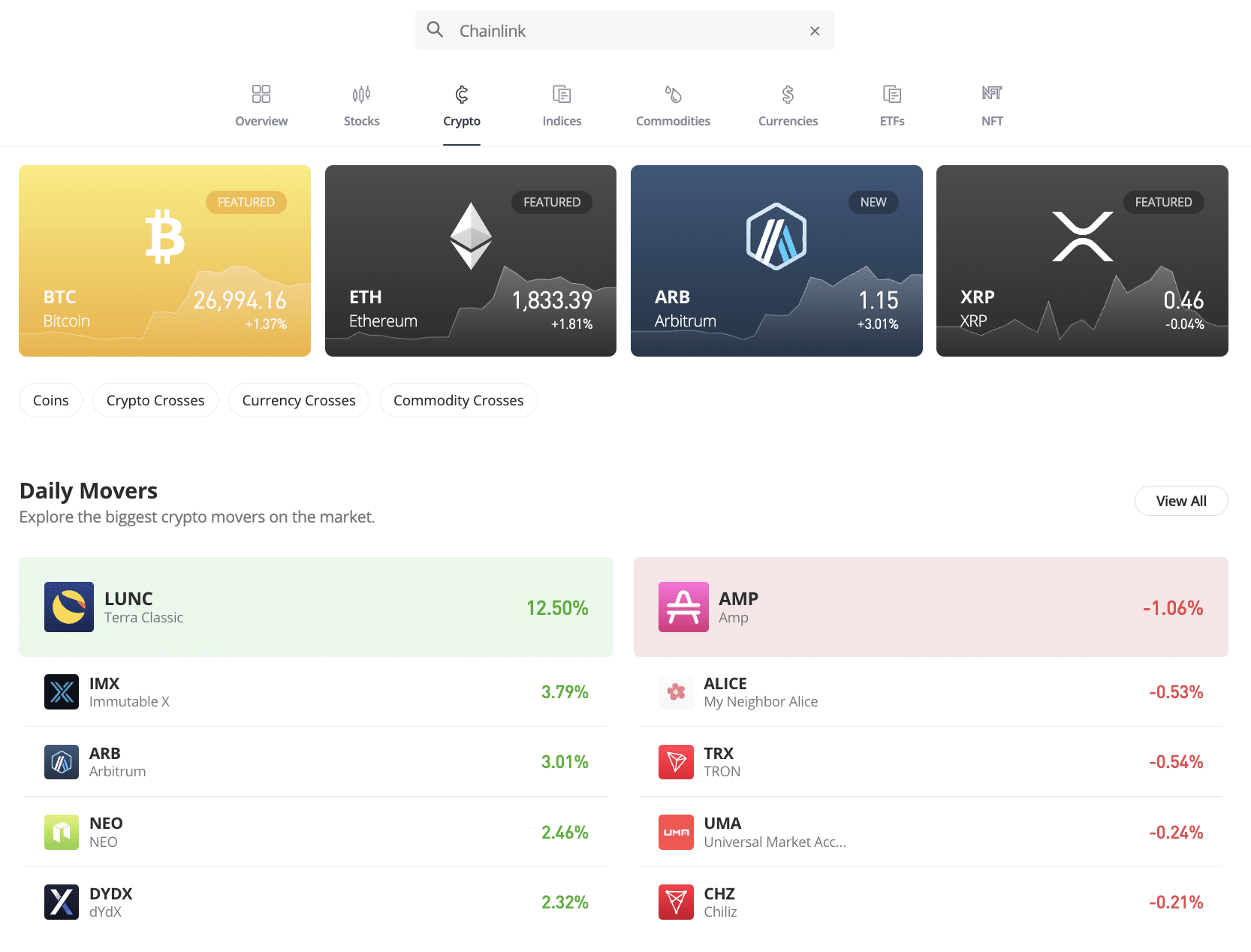 New customers can create an account in minutes and instantly deposit funds with a debit/credit card or e-wallet. After that, it's just a case of selecting the preferred Web3 coin and completing the investment. eToro supports more than 90 cryptocurrencies, making diversification seamless. What's more, the minimum trade requirement is just $10.
This enables those on a budget to create a diversified portfolio of Web3 coins. We also like that eToro offers competitive fees. For example, there are no fees on any supported payment method when depositing funds in US dollars. That said, other currencies attract a 0.5% deposit fee. Nevertheless, crypto trading commissions at eToro amount to 1% per slide.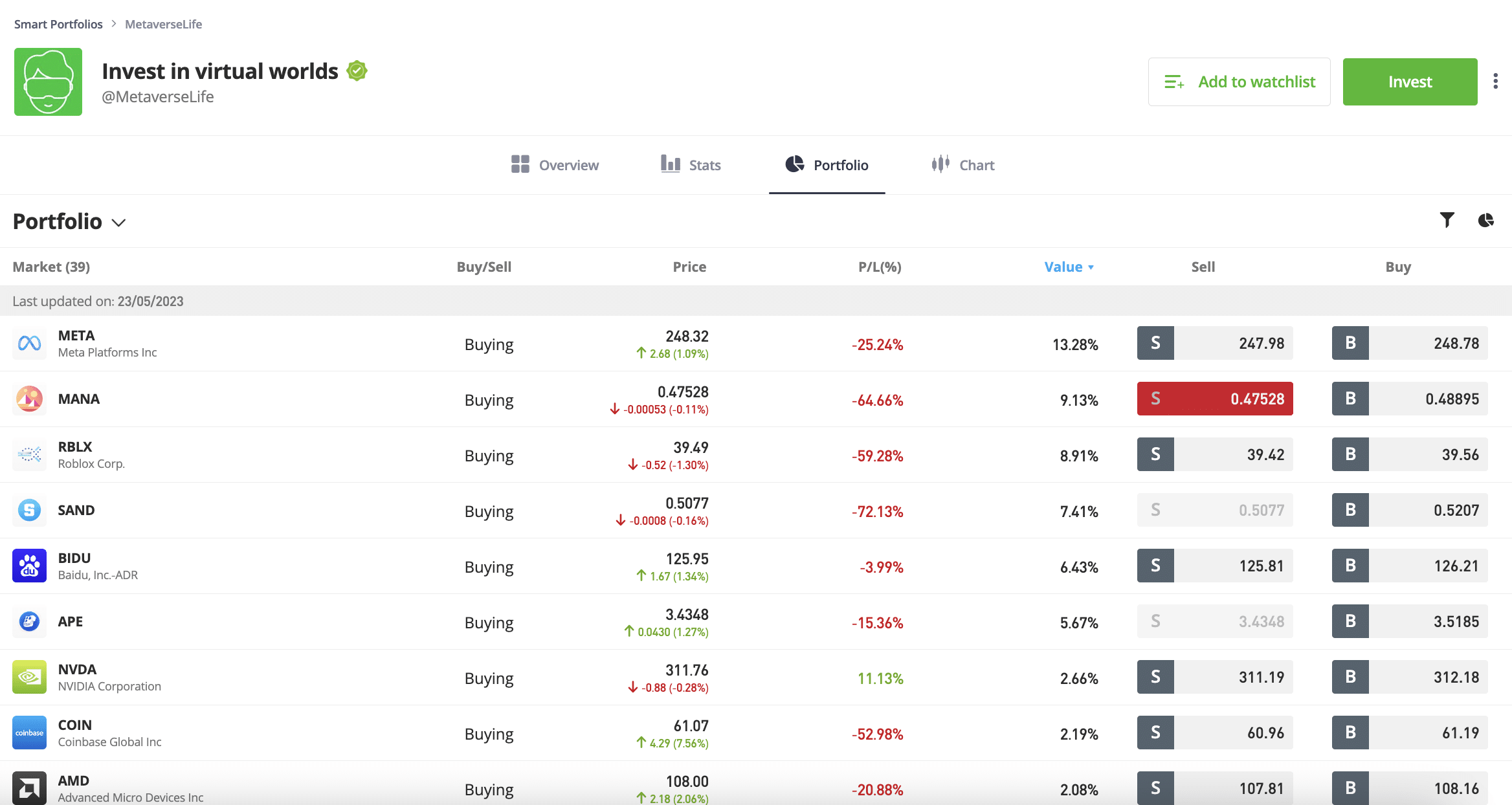 Another benefit of eToro is it offers a proprietary crypto wallet for storing Web3 coins. Investors can choose from the eToro web or mobile wallet, with the latter available on iOS and Android devices. All that being said, one of the best features of eToro is that it offers managed portfolios linked to the Web3 space.
For example, the 'MetaverseLife' portfolio offers exposure to Web3 stocks and coins. The former includes Roblox, Coinbase, Meta Platforms, and NVIDIA. While the latter includes Decentraland and the Sandbox. There's also a managed portfolio that tracks the decentralized finance industry.
Cryptoassets are a highly volatile unregulated investment product.
How to Buy Web3 Coins on eToro
In this section, we explain how to buy Web3 coins on eToro.
Step 1: Open an eToro Account
Before buying Web3 coins, an eToro account will need to be opened.
Visit the eToro website and click on 'Sign Up'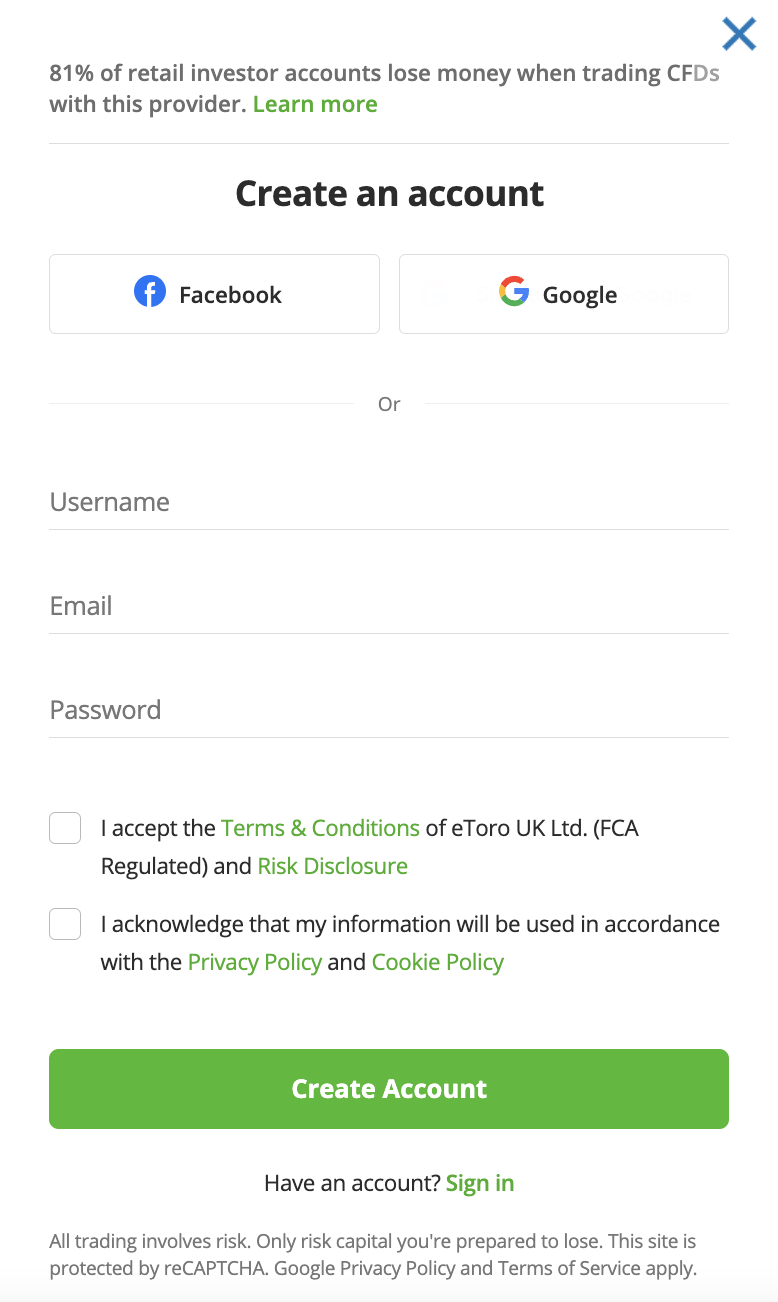 Enter some personal information and contact details as prompted.
Step 2: Upload KYC Documents
eToro is a regulated crypto broker, so the KYC process is mandatory.
This requires new customers to upload a copy of their government-issued ID. eToro also requires proof of address, such as a bank statement.
Step 3: Deposit Funds
Now that the KYC process is out of the way, it's time to make a deposit.
The minimum deposit at eToro is $10 for UK and US clients. This increases to $50 for other nationalities.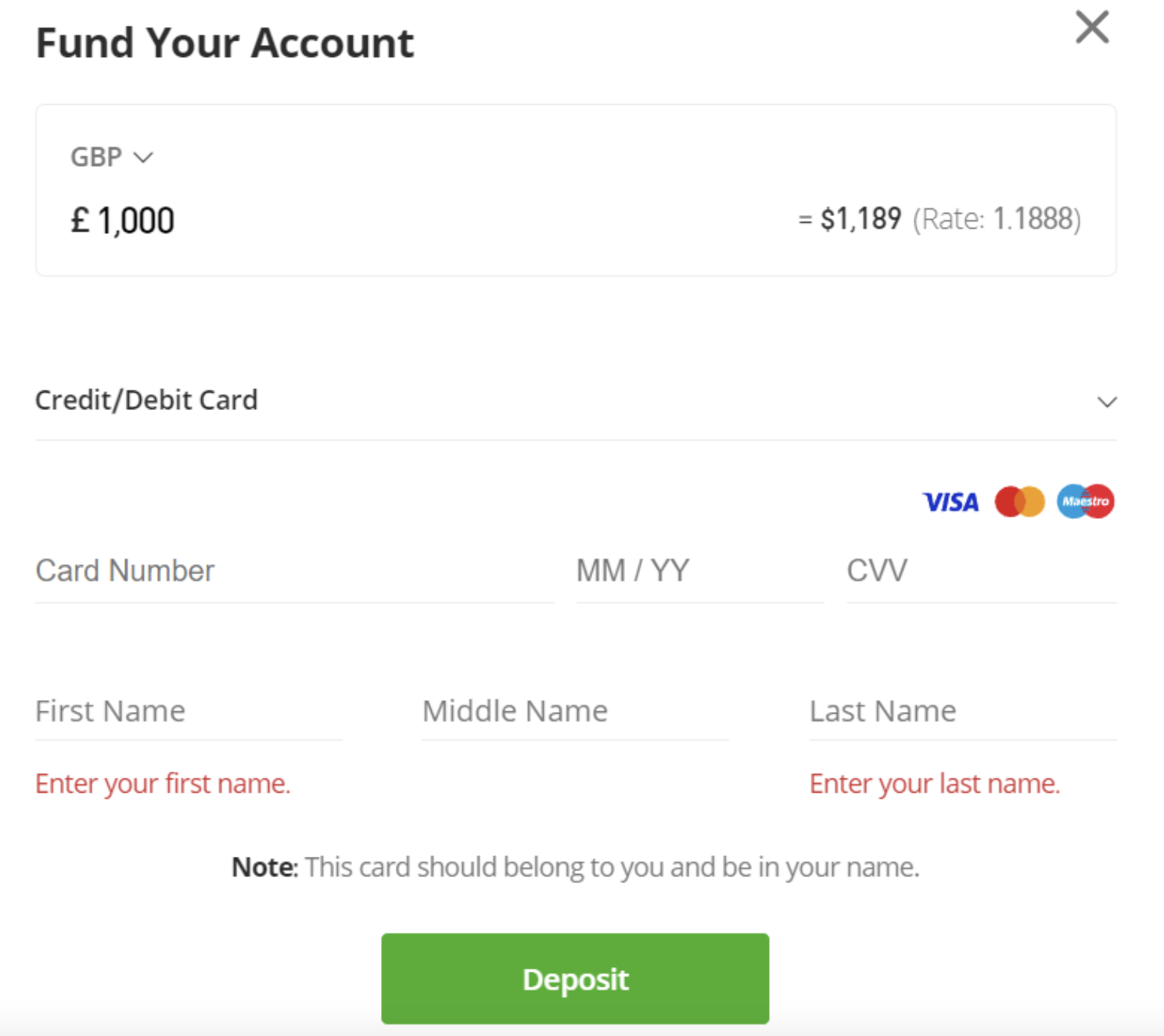 Accepted payment methods include debit/credit cards, bank wires, Paypal, Skrill, and other e-wallets.
Type in the funding amount and click on 'Deposit' to confirm.
Step 4: Choose Web3 Coin to Buy
With funds in the eToro account, it's time to search for a Web3 coin to buy. There are various options in this regard.
First, consider clicking on 'Discover' followed by 'Crypto'. This will provide a list of all supported Web3 coins.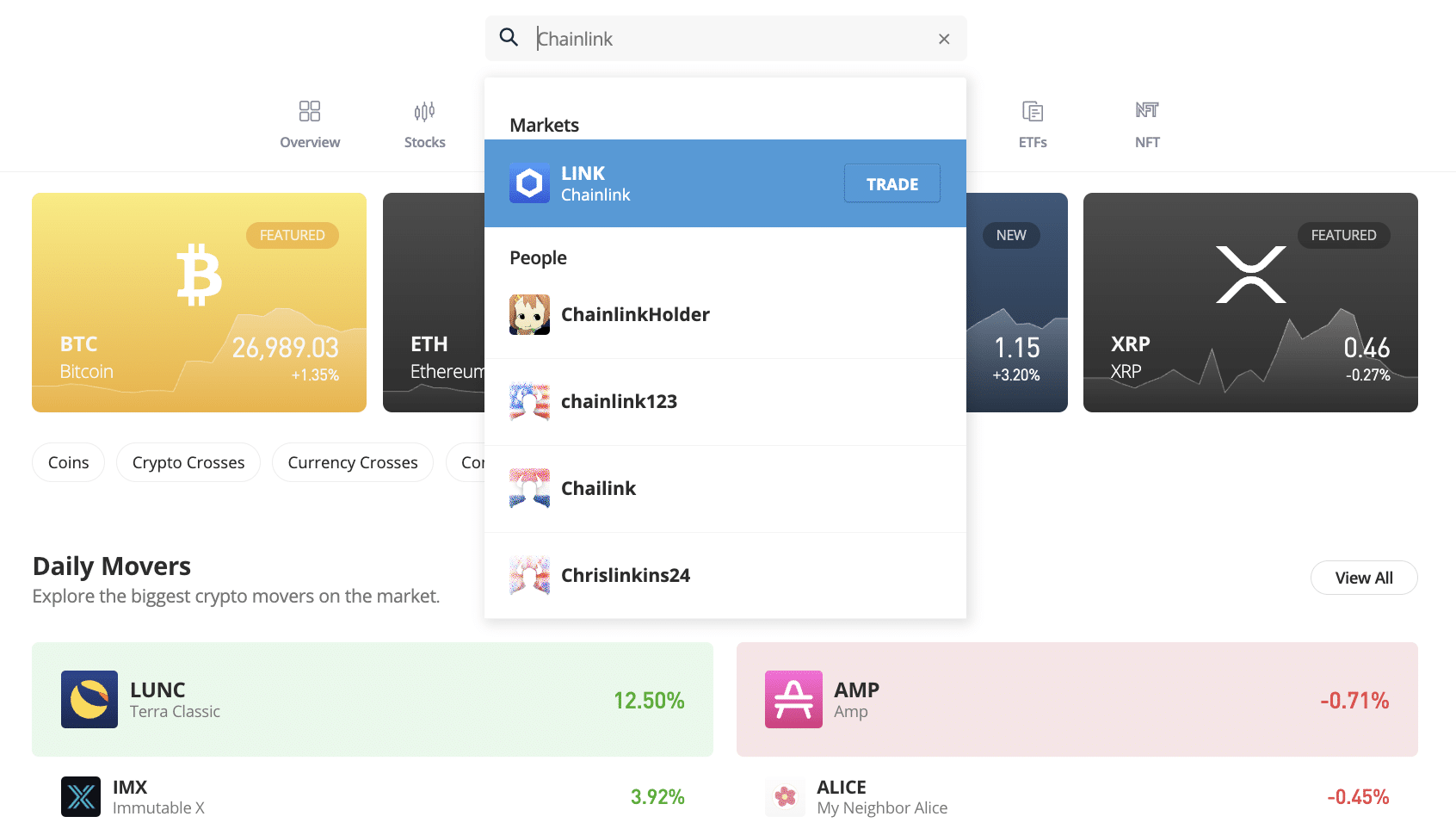 Alternatively, type in the name of the Web3 coin in the search box. In our example above, we are searching for Chainlink.
Another option is to invest in a managed portfolio that tracks a specific Web3 niche. For example, there are portfolios that offer exposure to the metaverse, as well as decentralized finance.
Step 5: Buy Web3 Coins
The final step is to complete the Web3 investment. In our example, we are buying Chainlink, so we simply need to fill out an order box.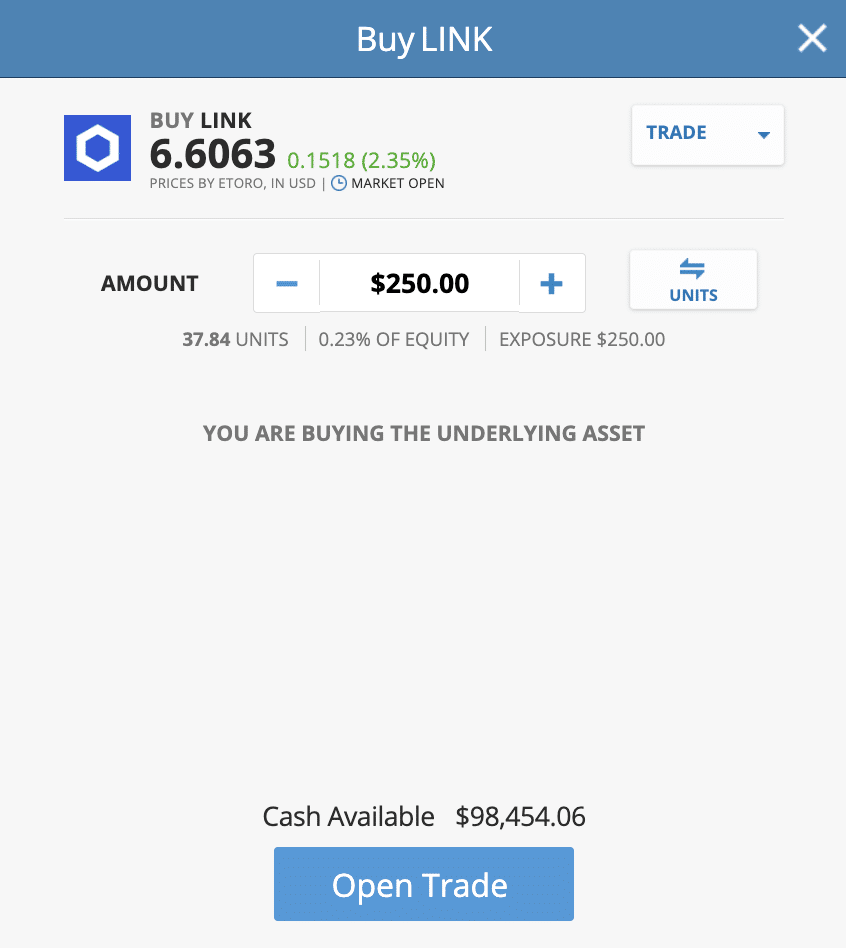 As per the image above, we are buying $250 worth of LINK tokens. To complete the order, we click on 'Open Trade'.
Conclusion
Growth investors are preparing for the next generation of the Internet by purchasing Web3 coins. Diversification is key here, considering how the number of Web3 crypto projects in the market.
That said, we particularly like the look of AiDoge and its meme-generation concept. Through the blockchain, smart contracts, and artificial intelligence – AiDoge enables users to instantly create memes from text instructions.
This is a brand new Web3 project that is currently in the midst of its presale campaign. Although more than $11 million has already been raised from Web3 investors for its native $AI token in just four weeks, AiDoge is still offering a presale discount.
FAQs
How do I invest in Web3 crypto?
What is the best Web3 crypto?