The Big Eyes presale started in August 2022 and is set to end June 3rd 2023, according to the official Big Eyes website.
A cat-themed meme coin and ERC-20 token with the ticker symbol BIG, its launch is set to take place on Uniswap and an as yet unannounced tier one CEX.
Having claimed to have raised approximately $35 million and after various delays in ending the $BIG token presale, many are now speculating on a possible Big Eyes coin price prediction following its ICO.
Big Eyes Price Prediction – Summary
End of 2023: The BIG token forecast for the remainder of the year will depend first on if it does launch as promised, and what the centralized crypto exchange is – according to its official Twitter @BigEyesCoin, it will be a tier 1 CEX. Making a Big Eyes coin price prediction is difficult as some investors will have grown impatient holding for almost a year, which could increase the selling pressure.
The fully diluted market cap at launch will also be high – $120 million based on its 200 billion total supply and $0.0006 listing price. The live market cap will be $96 million, based on 80% of the tokens being in circulation.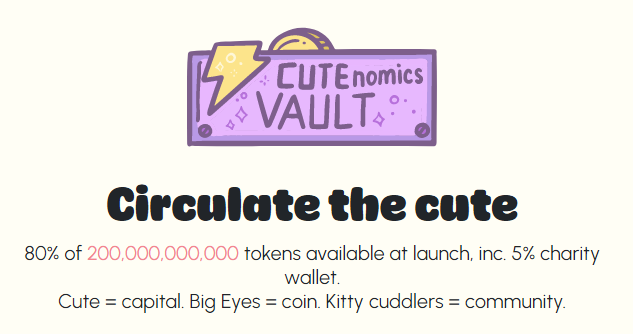 End of 2025: In the most bullish case, after the initial ICO dump which tends to take place for new crypto projects, if Big Eyes coin delivers on its roadmap it could reclaim its initial market cap and listing price, which already makes its the 7th largest meme coin after Dogecoin ($11B), Shiba Inu ($6B), Floki Inu ($345M), Baby Doge Coin ($330M), Bone ShibaSwap ($234M), and Dogelon Mars ($145M).
Prior to that however we'd expect a selloff to retest its early price stages – the BIG token price at stage one was $0.0001. On the way back up it will have to flip the likes of RichQUACK.com ($50M) and Volt Inu V2 ($58M) in market cap.
End of 2030: The only meme coins that have stood the test of time are DOGE and SHIB, with a market capitalization now of $11 billion and $6 billion, being founded in 2013 and 2020 respectively. Only DOGE has been on the market for more than three years, and had a low market cap until the 2021 bull run – making a Big Eyes coin price prediction so far into the future a challenge to estimate.
$BIG would already flip DOGE if it increased 100x in price, and SHIB if it increased 50x – those percentage gains are more realistic for new cryptocurrency projects that launch at a lower market cap to begin with. It's unlikely any meme coin overtakes the Elon Musk favorite, Dogecoin.
Big Eyes Price History
Currently on stage thirteen, the Big Eyes coin price is $0.00052. With just under $35 million raised and its June 3rd launch date, stage fifteen and the hard cap of $51.2 million may not be reached. The Big Eyes team have stated that enough has been raised to proceed with the project – its soft cap – however.
The full list of Big Eyes price stages during the presale was:
| | | |
| --- | --- | --- |
| Stage | Big Eyes Coin Price | Cumulative Raise |
| 1 | $0.0001, 1 USDT = 10,000 BIG | $1.95M |
| 2 | $0.00014, 1 USDT = 7368 BIG | $3.2M |
| 3 | $0.00017, 1 USDT = 5833 BIG | $4.7M |
| 4 | $0.00021, 1 USDT = 4827 BIG | $6.45M |
| 5 | $0.00024, 1 USDT = 4117 BIG | $8.45M |
| 6 | $0.00028, 1 USDT = 3589 BIG | $10.7M |
| 7 | $0.00031, 1 USDT = 3181 BIG | $13.2M |
| 8 | $0.00035, 1 USDT = 2857 BIG | $15.95M |
| 9 | $0.00038, 1 USDT = 2592 BIG | $19.95M |
| 10 | $0.00042, 1 USDT = 2372 BIG | $24.2M |
| 11 | $0.00045, 1 USDT = 2187 BIG | $28.7M |
| 12 | $0.00049, 1 USDT = 2028 BIG | $33.45M |
| 13 | $0.00052, 1 USDT = 1891 BIG | $38.45M |
| 14 | $0.00056, 1 USDT = 1772 BIG | $44.7M |
| 15 | $0.0006, 1 USDT = 1666 BIG | $51.2M |
The Big Eyes team had initally stated they would sell 70% of the tokens at presale, which was then increased alongside the rollout of bonuses for late stage buyers.
Big Eyes Coin Key Points
Setting a high fundraising target – rare for meme coins and even for high utility tokens – and not meeting it may impact investor confidence on launch day.
| | |
| --- | --- |
| Presale Started | August 2022 |
| Purchase Methods | USDT, ETH or BNB |
| Chain | Ethereum |
| Hard Cap | $51.2 million |
| Listing Price | $0.0006 |
Big Eyes Price Prediction 2023
Meme coins are known for high volatility in both directions, often exploding by thousands of percent before crashing – the 'pump and dump' chart pattern many financial assets go through, only to a greater degree.
A similar cat-themed meme coin, CateCoin, rose 10x in the space of a few weeks in late 2021 before retracing fully after a promised Binance listing didn't materialize. Technical analysis on new meme coins with low liquidity is unpredictable.
Towards the start of 2023, crypto analyst Jacob Bury speculated on a possible Big Eyes price prediction in the video above.
He listed some pros such as the artwork, smart contract audit from Solidity Finance, and KYC certificate from CoinSniper. Then some potential cons such as the length of time Big Eyes coin has spent in presale, and having used the same email marketing list as a past project that 'rugpulled', Firepin token.
He also mentioned having fifteen price stages combining to a 600% price difference could incentivize early stage buyers to sell their $BIG tokens on the listing date, especially as there is no vesting in place or sales tax applied to Big Eyes coin sellers.
Big Eyes Coin Price Prediction 2025
The next Bitcoin halving is estimated to take place in April 2024, which some traders predict could spark the next crypto bull run, as the 2021 bull run also took place shortly after a halving event.
If Big Eyes launches successfully and is still popular in 2025, all meme coins may rise in value alongside the total crypto markets and global financial markets if recession fears pass.
Much will depend on the Big Eyes team managing to deliver on its promised roadmap and dispel FUD (fear, uncertainty and doubt) surrounding the project.
Professional trader Carl Dawkins has addressed some potential red flags on his YouTube channel, Carl Talks Crypto, and given his Big Eyes crypto price prediction. He's also stated that from Etherscan tracking, the Big Eyes presale may not in fact have raised its stated total.
Carl is the CEO of a competing meme crypto project, Love Hate Inu – which we also wrote a price prediction article on. The rise and fall of other meme tokens could also have an impact on the Big Eyes price.
Big Eyes Coin Price Prediction 2030
As mentioned Big Eyes (BIG) will already be a top 10 meme coin by market cap at launch, given its high supply (higher than the 139 billion of Dogecoin) and its price already rising 600% throughout the presale price rounds.
Before even speculating on whether it will still be around and in the top 10 at the end of the decade, it will need to launch and hold its value by attracting new buyers and retaining its existing holders.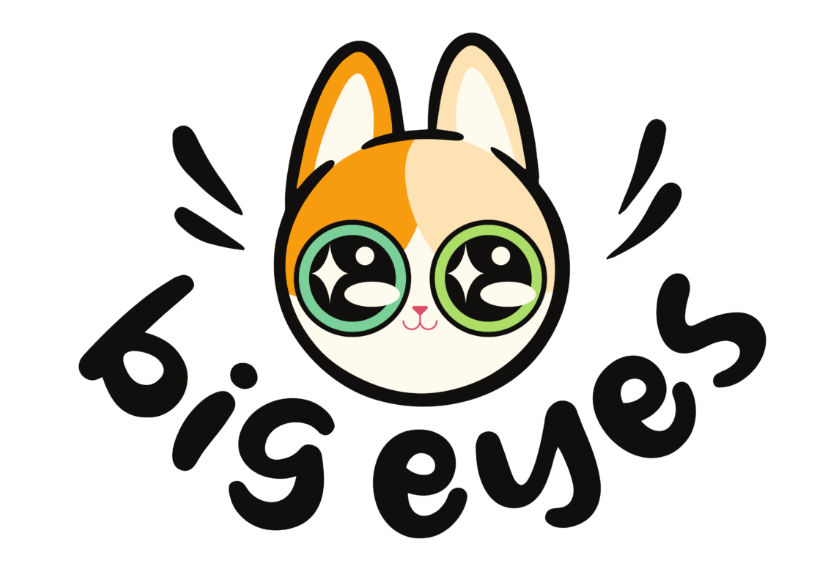 One plus point for the token price is that the Big Eyes total supply is capped at 200 billion, not being inflationary like DOGE, and that the community will hold a large majority of the supply.
Overall it seems difficult to expect Big Eyes coin to overtake Shiba Inu – which would be a 50x gain – and even a 10x gain would mean a $1 billion valuation, which only SHIB and DOGE have passed.
With backing from influencers like world champion boxer Tyson Fury, Floki Inu (FLOKI) still only has a $345 million market cap as of May 2023.
On the other hand, PEPE (PEPE) achieved a higher market cap than that in a short period of time without any crypto influencers.
Possible Highs and Lows for Big Eyes
Its not uncommon for new crypto ICOs to pump 2-3x or more on launch day, with a large wick to the upside on exchanges, before immediately retracing.
It's also not rare for altcoins to lose 99% of their value in the long term – even Ethereum has corrected 95% before, taking three years to recover.
| | | |
| --- | --- | --- |
| Year | Potential High | Potential Low |
| 2023 | $0.0015 | $0.0001 |
| 2025 | $0.002 | $0.00005 |
| 2030 | $0.004 | $0.00001 |
Only invest what you can afford to lose in any crypto coin. Some altcoins never recover, and some presales are scams – recently Tora Inu, Uniglo and Oryen for example, which began around the same time as Big Eyes also with anonymous teams.
Our most optimistic Big Eyes price prediction would be to target a 7x, at which point the Big Eyes coin price would break $0.004 and have a live market cap just under $700 million, twice that of FLOKI but still far from becoming the next Dogecoin – well under 10% of its market share.
In the bearish case our Big Eyes price prediction would be for the token to trade below its stage one price, as many new presale projects do.
What is Big Eyes Coin?
Aiming to fill the void of cat-related meme tokens, most of which adopt the Shiba Inu dog breed aesthetic, Big Eyes states its primary focus is building a community and giving to charity – reserving 5% of its tokens for charitable causes such as ocean sanctuaries to conserve marine life.

5% of the tokens are also reserved for marketing, according to the Big Eyes whitepaper.
Part of its community building plans are onboarding influencers and releasing NFTs, but as yet none have been announced. Its main public outreach to date has been a billboard in Times Square.
The Big Eyes team are not doxxed, opting to remain anonymous – which is fairly common with meme coins.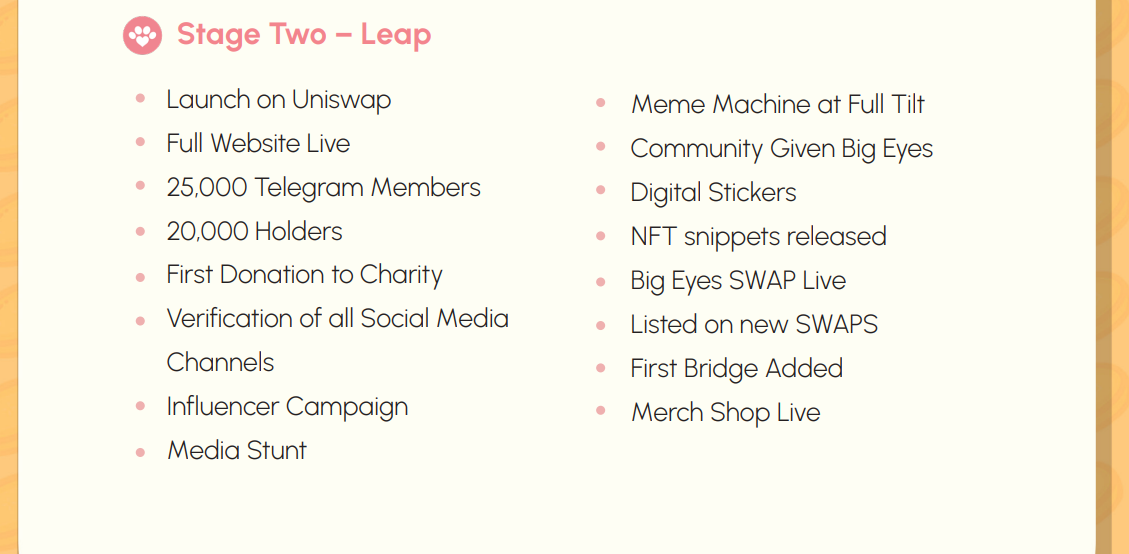 The Big Eyes project also plans to launch a decentralized exchange (DEX) platform, Big Eyes Swap, to make DeFi more approachable to the masses, and perform 'media stunts'.
Factors Affecting the Big Eyes Price
At the time of writing no centralized exchange listings have been formally announced, and a high trading volume will be required for Big Eyes coin to work its way up to being accepted as the next Binance, Bybit or Coinbase listing.
The successful rollout of its first NFT collection and signing of influencers will also be crucial for the Big Eyes coin price growth.
A Big Eyes token burn to lower the total supply could also have a positive impact on the price, as deflationary cryptocurrencies have been receiving wide news coverage in the wake of the Terra Classic (LUNC) burn. No plans for burning Big Eyes tokens have been made at press time.
Is Big Eyes the Best Presale Crypto to Buy in 2023?
Many of the top crypto experts have stated that meme coins are some of the best investments beginners to crypto can make, for their potential to explode.
Popular Twitter crypto analyst Altcoin Sherpa for example stated that despite many being scams and rugpulls with no utility, they can do something normal coins and Bitcoin can't – go 500x in a matter of days.
'We all want to get rich and to get rich fast. What better way than to do it with meme coins? I think that it's one of the easiest ways you can make money relative to other traditional routes. It's highly inefficient comparatively.'
A meme coin still at the presale stage has even higher growth potential. Whether Big Eyes is one of them however remains to be seen – it has already risen over 500% in price due to reaching price stage thirteen, and will have a higher than typical market cap at launch.
We've reviewed various other crypto presales that are set to launch with a lower market capitalization, for example AiDoge (AI) which will launch with a market cap under a quarter of that of Big Eyes.
How to Buy Big Eyes Coin – Five-Step Guide
If you do decide to invest in Big Eyes during its presale, the steps would be:
Step 1: Open a Crypto Wallet
New token presales usually support a wide range of decentralized wallets, the most commonly recommended being MetaMask on desktop and Trust Wallet on mobile devices.
Step 2: Get Crypto to Swap For $BIG
Purchase USDT, ETH or BNB, the latter two being listed on eToro for example and Tether on OKX.
Step 3: Visit the Big Eyes Site
Visit bigeyes.space – beware of fake sites – and click 'Buy Now'. If you join the Telegram community, beware of fake admins – staff will not DM you first.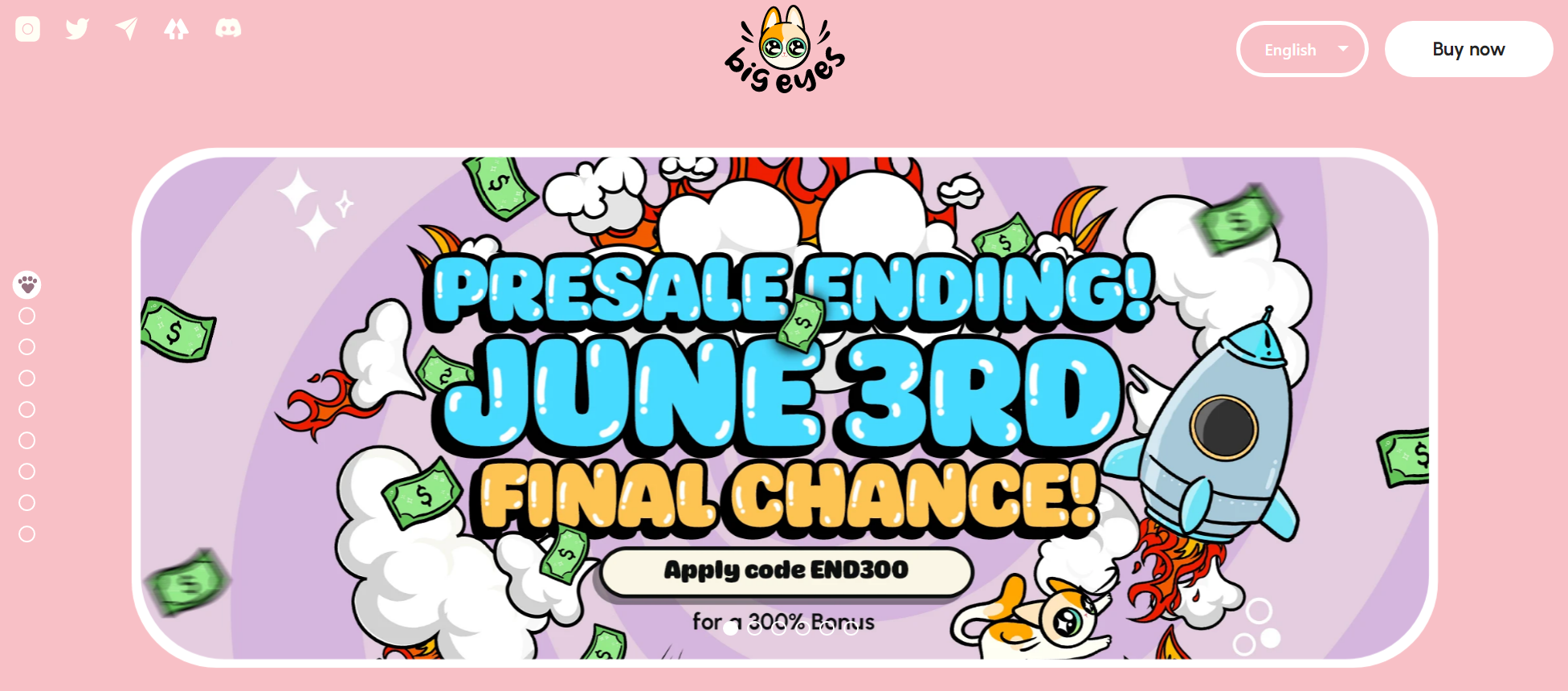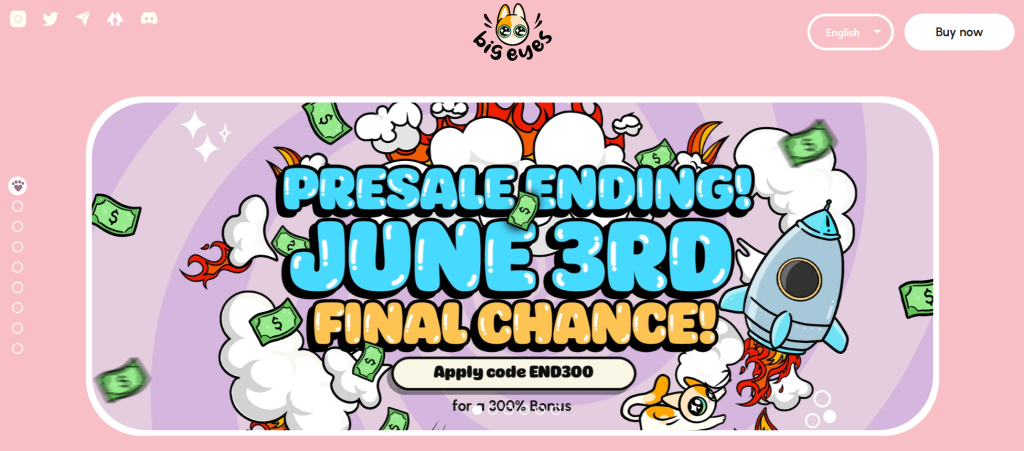 Step 4: Make a Payment
Click 'Connect Wallet' and enter the latest bonus code, which at the time of writing is END300 to receive a 300% token bonus. Click 'Apply'.
Step 5: Claim Your Tokens
As with most crypto presales, tokens can be claimed during a token generation event (TGE) after the presale concludes, in the case of the Big Eyes coin presale on June 3rd, 2023.
Then make your own Big Eyes token price prediction, setting a price target to take profit on Uniswap or its first CEX listing.
Big Eyes Coin Price Prediction – The Verdict
While it appears popular from its marketing efforts – being featured in Yahoo Finance, Bitcoinist and a range of other crypto news media publications – it remains to be seen if Big Eyes coin will launch and manage to hold its value with its approximately $100 million market cap on launch day.
Some of its marketing appears to be sponsored advertising, and its Twitter engagement has been low. Algorithmic price forecast sites like CoinCodex are yet to publish a Big Eyes coin price prediction.
When it comes to meme coins anything is possible though – as Pepe (PEPE) has shown by reaching a $500 million market cap in May – and many meme crypto assets feature on our list of the best altcoins to invest in this year. The only certainty with a Big Eyes coin price prediction is to expect high volatility.
FAQs on Big Eyes Coin
Is Big Eyes coin a good investment?
Will the Big Eyes price go up?
How many Big Eyes coins are there?
What is the promo code for the Big Eyes coin?
What is the best presale crypto in 2023?
How do I claim my Big Eyes coin?
What is a realistic Big Eyes token price prediction?
What is the Big Eyes coin price now?
How much will Big Eyes crypto be worth?