Bitcoin Minetrix (BTCMTX) is a new cryptocurrency providing investors a way to earn free Bitcoin through its revolutionary Stake-to-Mine mechanism. This provides a no-fuss, no-expertise-needed way for market participants to earn rewards while contributing to Bitcoin's hashing power from the Ethereum network.
The project is currently in its presale, having raised an impressive $4.2 million within the first few months. Its staking mechanism looks to reduce sell pressure once it launches on exchanges, pointing to the massive potential for growth. With that in mind, this Bitcoin Minetrix price prediction explores the cloud mining project's potential. We consider factors like its use cases, tokenomics, market trends, and much more.
A Brief Summary of Bitcoin Minetrix Price Forecast
End of 2023: The Bitcoin Minetrix presale presents a unique opportunity for market participants to invest from the ground up in a cutting-edge project with vast potential for growth and passive rewards. This could drive mass adoption, causing $BTCMTX to end the year on a high, reaching a price of $0.05.
End of 2025: Considering Bitcoin Minetrix's use case and the value it provides, we expect it to boom in 2025. Additionally, with Bitcoin forecasted to reach $148K in 2025, Bitcoin Minetrix could present even greater potential. As such, we predict a price of $0.12 by the end of 2025.
End of 2030: Bitcoin Minetrix's utility and robust tokenomics point to long-term potential. Adding to this is the expected growth of Bitcoin by 2030 and Bitcoin Minetrix's contribution to the Bitcoin hashing power, and it becomes apparent the token could explode. Therefore, we estimate a price of $0.18 by the end of 2030.
What is Bitcoin Minetrix?
Bitcoin Minetrix is a new ingenious Bitcoin mining solution built on the Ethereum chain; it allows users to earn passive Bitcoin rewards with practically no effort or technical expertise.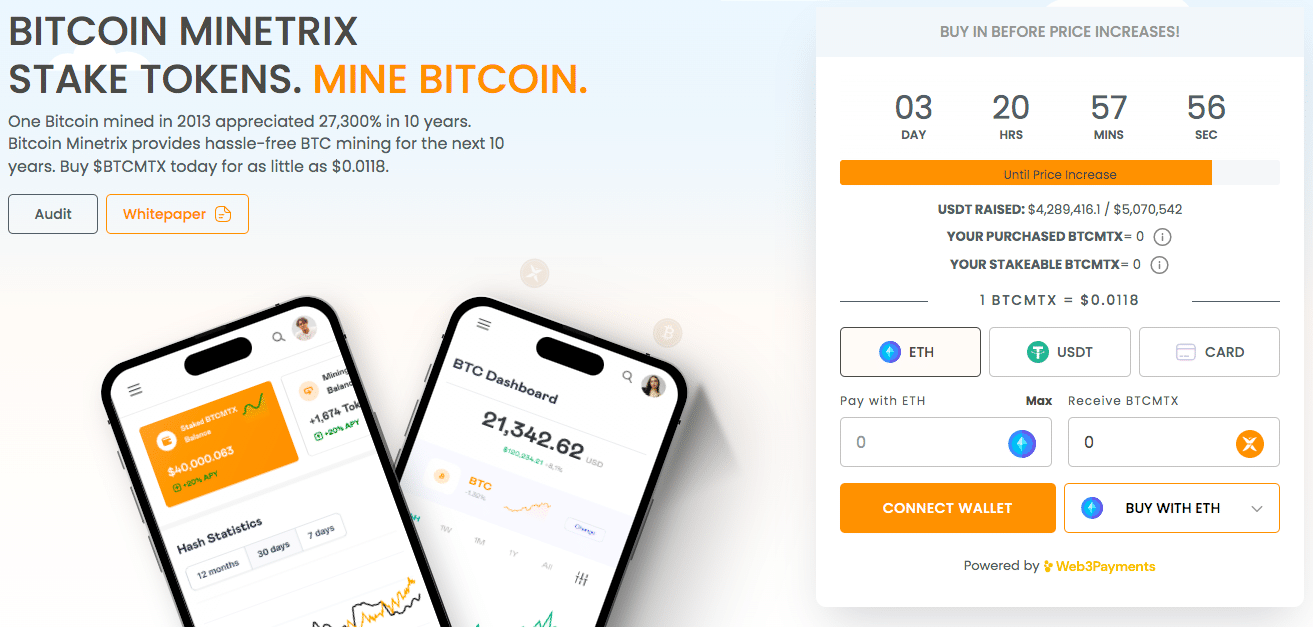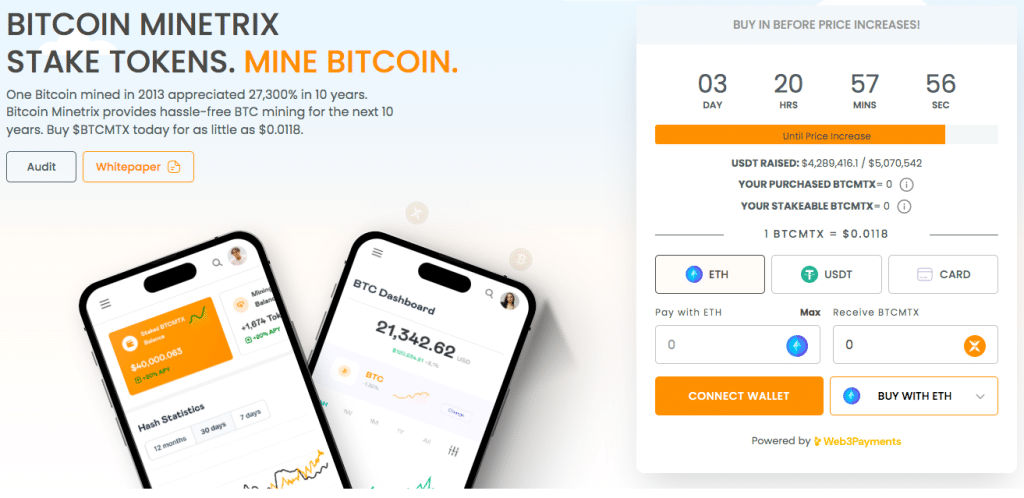 It solves several issues and deterrents commonly associated with Bitcoin mining, such as its complexity and upfront costs. Furthermore, its tokenized economy provides advantages over competitor cloud mining services, like added decentralization and security.
So, how exactly does Bitcoin Minetrix work, and why are presale investors rushing in? Is Bitcoin mining still profitable in 2023?
In its simplest form, users buy Bitcoin Minetrix tokens ($BTCMTX) and then stake them in the platform's staking contract. In return, they will earn mining credits, which they can then burn and receive Bitcoin in exchange.
This provides a fair, secure, and hands-off approach to Bitcoin mining. Furthermore, $BTCMTX is an ERC-20 token so users can get started from their MetaMask or other Ethereum-compatible wallet. As such, Bitcoin Minetrix is a viable way for beginners to get started mining Bitcoin and poses much less risk than alternate solutions.
Resultingly, Bitcoin Minetrix could foster a significant user base, adding to Bitcoin's hashing power and bolstering its security.
Another benefit to Bitcoin Minetrix mining is that it is a greener solution to Bitcoin mining. This is important due to Bitcoin's prevalent environmental concerns. Furthermore, it requires no space from users and gives off no noise since it is all done with cloud computing.
Bitcoin Minetrix Quickly Piques Investors' Interest
With over $4.2 million raised in the first few months, the Bitcoin Minetrix presale is off to a promising start. Furthermore, it is clear that market participants understand the project's potential.
By revolutionizing mining, Bitcoin Minetrix has already attracted many investors looking to get in early on a high-potential crypto. However, many will likely miss out since the presale supply is limited.
The project has a soft cap of just over $15 million, and there are 39 stages. This incentivizes investors to buy quickly and secure the best possible price.
Bitcoin Minetrix Price Prediction
With its current price at just $0.018, BTCMTX is already faring as one of the best penny cryptos. Such a low price is often associated with massive growth potential – will this fare true for Bitcoin Minetrix?
We use various fundamental analysis techniques to forecast the future BTCMTX price below.
Bitcoin Minetrix Price Prediction 2023
With the surging popularity of Bitcoin clones and derivatives, the added value that Bitcoin Minetrix provides undoubtedly presents massive potential. Bitcoin forks like Bitcoin Cash have massively outperformed Bitcoin this year. Meanwhile, Stake-to-Earn BTC20 did a 7x following its presale.
BTC20 shows the allure of staking-based projects related to Bitcoin. However, Bitcoin Minetrix takes this to a new level, enabling users to mine real Bitcoin by staking tokens on Ethereum. Therefore, our Bitcoin Minetrix price prediction forecasts the price could explode, reaching a possible high of $0.05 by the end of 2023. This equals a 354% increase from today's price.
Bitcoin Minetrix Price Prediction 2025
Research firm Pantera Capital predicts that Bitcoin could reach $148K by 2025. This is mainly due to the upcoming Bitcoin halving that will induce considerable scarcity. However, Bitcoin Minetrix has a much lower market cap, and its staking mechanism will induce even more scarcity since users must lock up tokens to earn rewards. As such, the project could enjoy a far greater upside than Bitcoin.
With this in mind, our Bitcoin Minetrix price prediction forecasts a price of $0.12. If correct, this equates to a 990% increase from its current price.
Bitcoin Minetrix Price Prediction 2030
Looking ahead to 2030, Bitcoin Minetrix's benefits of simplicity, convenience, and robust security could help it deliver a significant portion of the Bitcoin mining hashing power. If so, the BTCMTX price would massively benefit since tokens would be locked in staking, and new users wanting to mine BTC on the protocol would need to buy the limited available supply.
The team has also allocated 35% of tokens to marketing, illustrating a considerable effort to attract users and increase the token's value long-term.
With this in mind, our 2030 Bitcoin Minetrix price prediction expects highs of $0.18 – a 1,536% increase from its presale stage one price.
Potential Highs and Lows of Bitcoin Minetrix Price
Bitcoin Minetrix's novel use case makes it one of the best staking cryptos. With this in mind, here are our predicted highs and lows between 2023-2030.
| | | | |
| --- | --- | --- | --- |
| Year | Potential Low | Average Price | Potential High |
| 2023 | $0.035 | 0.0425 | $0.05 |
| 2025 | $0.09 | $0.0115 | $0.12 |
| 2030 | $0.014 | $0.016 | $0.18 |
What Could Cause the Price of Bitcoin Minetrix to Go Up?
Like all crypto assets, Bitcoin Minetrix's price is a product of supply and demand dynamics. However, its unique token economy means numerous potential price drivers exist. We have listed the most prominent ones below.
Stake-to-Mine Mecanishm
One of the promising things about Bitcoin Minetrix is that the staking mechanism will heavily subdue its supply. However, unlike other staking mechanisms, rewards are mainly derived from mining credits rather than in the protocol's token. This alleviates sell pressure that occurs when stakers sell their rewards.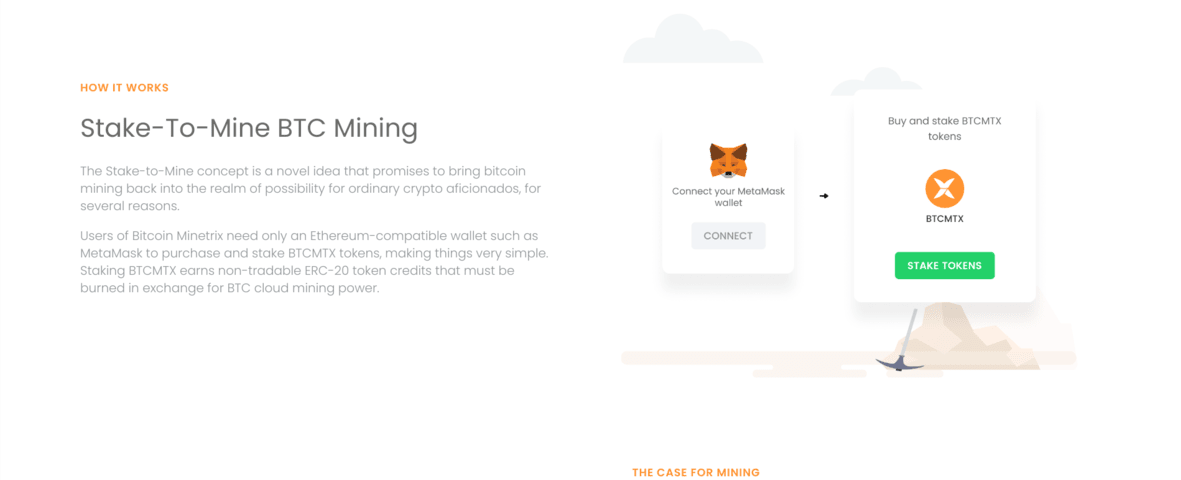 Therefore, the more $BTCMTX that is staked, the higher the price could go.
Considering the benefits of Stake-to-Mine, we expect ques of investors looking to cash in on this exciting technology. If correct, the $BTCMTX price will likely pump.
Bitcoin Price
The fact that users are earning Bitcoin through the Bitcoin Minetrix means that as the Bitcoin price goes up, so will the Bitcoin Minetrix price. We often see this with other Bitcoin-associated projects. For example, the Bitcoin Cash price generally mirrors Bitcoin's, besides in exceptional circumstances.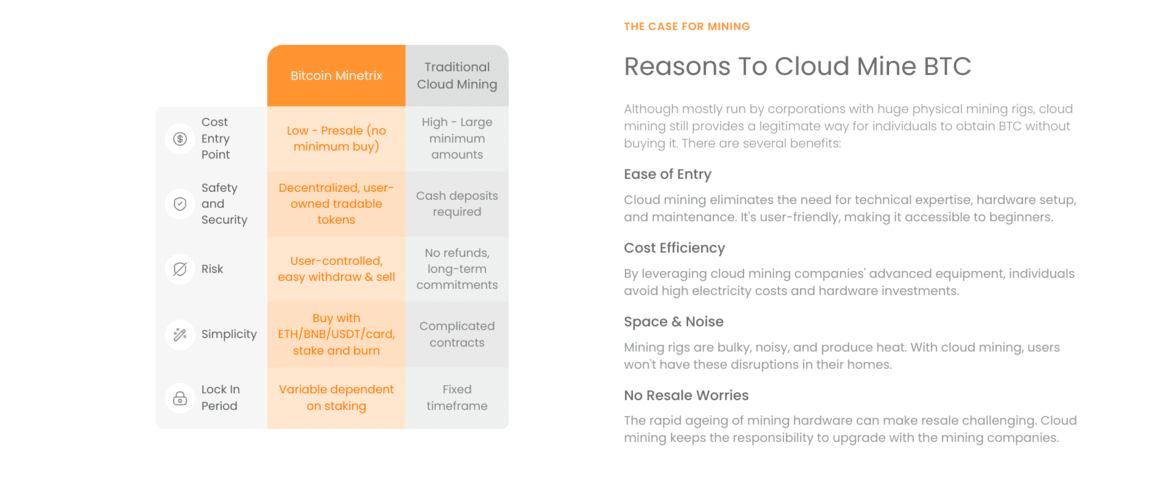 Another reason they may correlate is that as Bitcoin's price goes up, the Bitcoin Minetrix rewards will become more lucrative, likely bolstering token demand.
Simultaneously, the BTCMTX price increasing will bolster the project's treasury, enabling Bitcoin Minetrix to expand its services and grow its market share.
Speculation
As with any asset, speculation and investor sentiment will also impact its future price. Considering its novel use case and the upcoming bull market, it seems likely that lots of investors will rally behind the project in hopes of lucrative upside potential.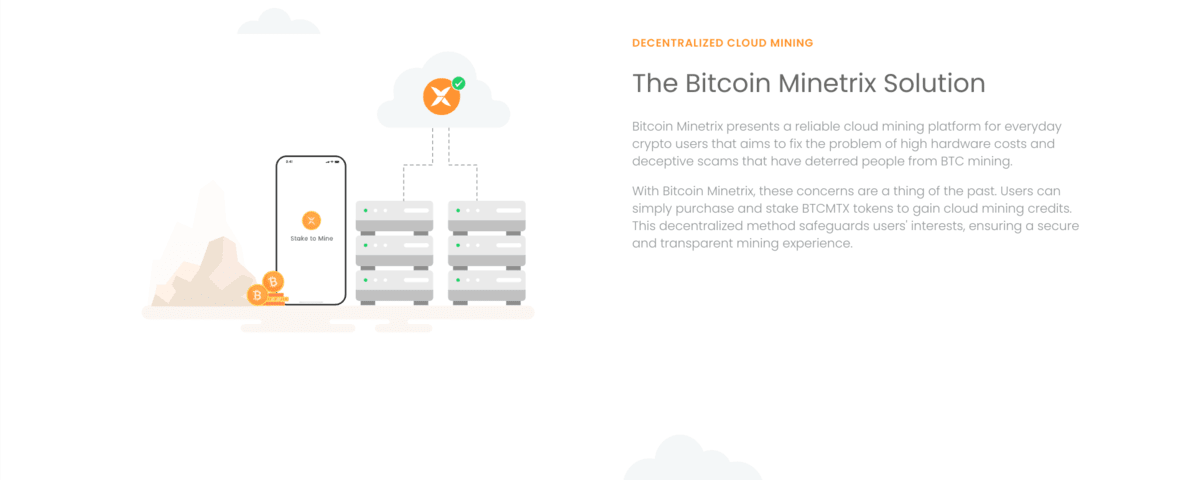 Crypto Bull Run
Finally, as we head into the widely anticipated next crypto bull run, billions (or trillions) in new liquidity will enter the crypto market, with investors looking for high-return plays. One of the best ways to find these is by identifying low-market-cap projects that solve real issues. Bitcoin Minetrix fits the bill perfectly.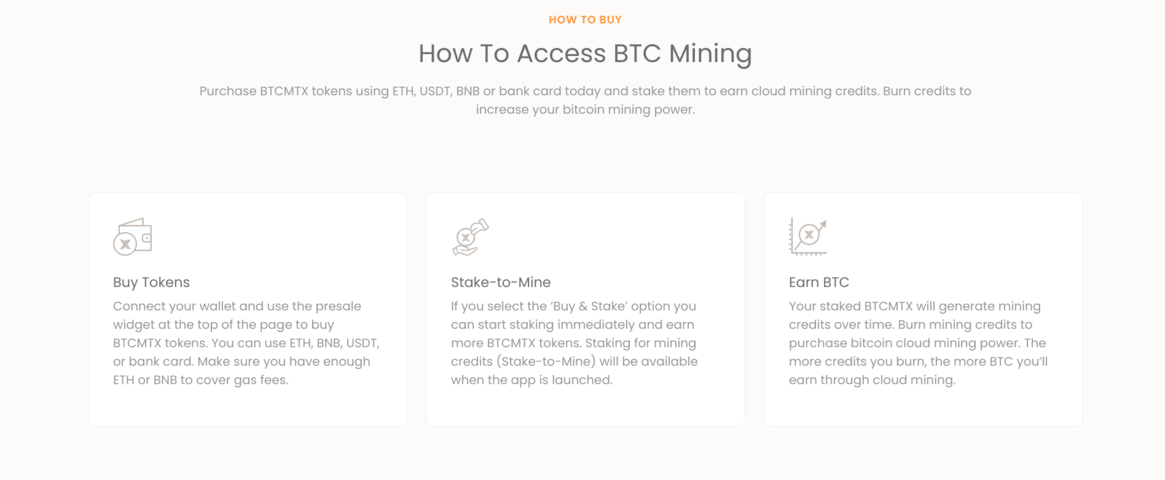 As such, the project could fare one of the best bull run cryptos, with the potential to soar in price.
How To Buy Bitcoin Minetrix Tokens on Presale – Beginner's Guide 2023
Now that we have established its price potential and the driving factors, let's explore how to buy Bitcoin Minetrix. This guide breaks it down into five easy steps you can complete in ten minutes or less.
Step One: Create a Wallet
Create an Ethereum-compatible wallet. For this example, we will use MetaMask on desktop, but you can pick the wallet of your choosing. Many users prefer MetaMask for desktop and Trust Wallet for smartphone.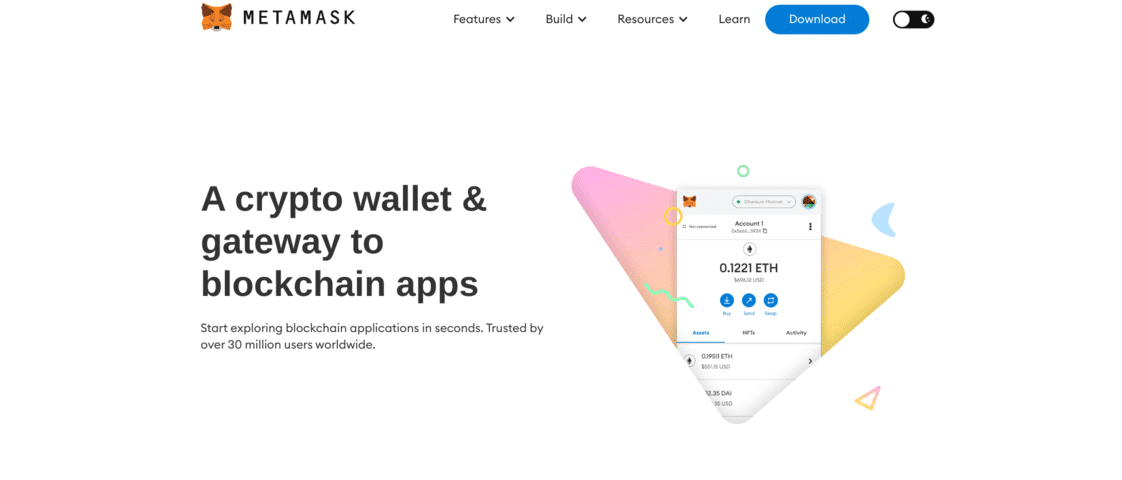 Visit the MetaMask website and download the browser extension. Then, create an account from the MetaMask dashboard, ensuring you store your wallet seed phrase privately and securely.
Step Two: Buy ETH, USDT, or BNB
Purchase either ETH, USDT, or BNB directly from the MetaMask application with a card. Alternatively, you can buy it on a centralized exchange and send it to your MetaMask wallet.
Step Three: Connect to the Presale
Visit the Bitcoin Minetrix website and click the Connect Wallet button. Then, complete the prompts provided by MetaMask.
Step Four: Buy $BTCMTX
Select the crypto you want to pay with and the amount of $BTCMTX you wish to buy. Following this, buy the crypto, authorizing the transaction when prompted by MetaMask.
It is also possible to stake your tokens during the presale and earn $BTCMTX as a reward.
Step Five: Claim Your Tokens
After the presale ends, you can visit the Bitcoin Minetrix website to claim your tokens. You can also stake them and begin earning BTC.
Conclusion
Bitcoin Minetrix is a promising new cryptocurrency providing a refreshing take on Bitcoin mining. Its innovative solution provides extra convenience and security and saves users cash, pointing to enormous price potential for the $BTCMTX token. With this in mind, our Bitcoin Minetrix forecast estimates a price of $0.18 by the end of 2030. This equates to a 1,536% increase from its current price
However, we must consider that the presale price will incrementally rise, so investors looking to buy at the best price must act fast.
References
FAQs
Is Bitcoin Minetrix a buy?
How much will Bitcoin Minetrix be worth in 2025?
How much is the Bitcoin Minetrix presale?