BNB is a popular cryptocurrency founded by the creator of Binance, Changpeng Zhao (CZ). It is the native token to the Binance Smart Chain and Binance Beacon Chain networks and has been at the centre of several controversies recently.
Currently, it is the fourth-highest coin by market cap but has been under fire for the past 18 months, with regulators citing severe concerns. This came to a head recently in June, when the SEC declared BNB and other major tokens as securities.
In this BNB price prediction, we dive deep into whether BNB has a future, considering regulatory issues, its utility, tokenomics and much more.
BNB Price Prediction Summary
BNB is priced at $237.18, up 0.78% in the last 24 hours.
The price is down 65% from its all-time high (ATH) of $690.93 in 2021.
In the last month, BNB has dropped 23% due to Binance being sued by the SEC.
Our BNB price prediction forecasts an average price of $170 by the end of 2023.
Our 2025 BNB price prediction estimates an average price of $465.
| | | | |
| --- | --- | --- | --- |
| Year | Minimum Price | Average Price | Maximum Price |
| 2023 | $120 | $170 | $220 |
| 2024 | $250 | $365 | $480 |
| 2025 | $330 | $465 | $600 |
| 2030 | $450 | $620 | $790 |
BNB Price History
The BNB coin was created in 2017, shortly after Changpeng Zhao created the Binance exchange. According to Zhao, the BNB coin sales were the only funding he received to assist with building the Binance exchange.
BNB (formerly Binance Coin) launched as an ERC-20 token on the Ethereum blockchain, later moving to the Binance Smart Chain (BSC). The BNB token was first issued as an initial coin offering (ICO) and quickly became one of the best ICOs at the time.
The ICO price was denominated in ETH or BTC, equating to around $0.11 per BNB coin. Following its ICO in June and July 2017, the first recorded BNB price on CoinMarketCap was $0.1015.
Less than six months after its launch, in December 2017, the price of BNB had already reached $9. Then in the following months, BNB stabilised between $10 and $20 before reaching $37 in July 2019 and then heading back to its $10-$20 range.
In September 2020, the BSC was created, and a BEP-20 version of BNB was released. BSC was an Ethereum fork, meaning the developers copied Ethereum's open-source code and implemented some changes to make it more suited for their goals.
BSC offered lower fees and faster transactions than Ethereum, making it an instant hit for users and developers alike. This led BNB to become one of the most explosive cryptos, surging to its ATH of $690 in May 2021.
Following its ATH, the price quickly plunged, before bouncing to $279, then making a brief recovery. However, in line with the broader crypto market, the Binance coin began to lose value heading into 2022, dropping to a low of $196.
Since touching $196, the price of BNB has consolidated. However, the SEC recently sued Binance, accusing it of selling unregistered securities and mishandling customers' funds.
This has caused a sharp decrease in BNBs price, which is down 23% in the last month and 65% from its ATH.
BNB price history key points:
Initially, BNB launched for $0.11 in its ICO.
The price reached $9 within six months of launch.
BNB soared following the BSC launch in September 2020, reaching an ATH of $690 in May 2021.
Currently, BNB is priced at $237.18, down 65% from its ATH.
BNB Price Prediction 2023
The recent lawsuit by the SEC presents a significant issue for the BNB coin. One of the main selling points of the BNB coin is that it is closely tied to the Binance exchange. If the Binance exchange can no longer operate in the US, this will remove a large chunk of liquidity from the BNB ecosystem.
With the coin already in a downtrend, combined with regulatory uncertainty, it is unlikely Binance will be able to recover any of its losses this year.
The SEC's lawsuit against Binance will likely be ongoing for months or years, meaning much of its price will be driven by speculation on how the case may unfold.
Therefore, our overall fundamental bias for the Binance coin is bearish/neutral for this year, but it is also important to consider the BNB price chart to find our price targets.
BNB is currently trading around a key support level, and breaking below it could prove catastrophic for the coin. Considering the short-term fundamentals do not look good for BNB, it is certainly possible for the price to break below soon.
However, with the crypto markets expected to pick up in 2024, we expect BNB to deviate below the support and revisit its current zone in Q1 2024.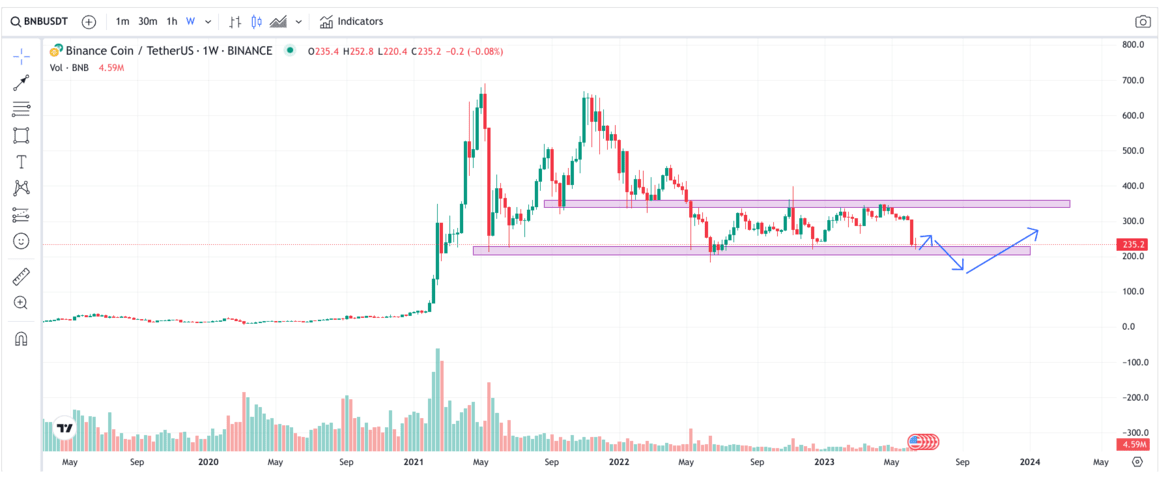 With this in mind, our BNB price prediction estimates an average price of $170, with a potential low of $120 and a possible high of $220 by the end of 2023.
| | | | |
| --- | --- | --- | --- |
| Month | Potential Low | Average Price | Potential High |
| July 2023 | $220 | $240 | $260 |
| August 2023 | $240 | $260 | $280 |
| September 2023 | $160 | $200 | $240 |
| October 2023 | $145 | $185 | $230 |
| November 2023 | $125 | $175 | $225 |
| December 2023 | $120 | $170 | $220 |
BNB Price Prediction 2024
A further development in the ongoing battle between crypto and global regulators is that Binance has halted trading in the Netherlands after being unable to register as a virtual asset provider.
While this may seem like bearish news, Binance has said it will continue to work with Dutch regulators. This illustrates that Binance is aiming to operate in line with local government regulations, potentially adding to its long-term potential.
The outcome of Binance's case against the SEC and its relationship with other global governments is unknown. However, considering Binance is the leading crypto exchange worldwide with extensive resources at its disposal, it will likely be able to reach an agreement with regulators.
That said, if Binance cannot reach an agreement with regulators, it may have to halt trading in many different countries. If this occurs, we will likely see the BNB price crash since BNB is closely tied to the exchange, as we will explain shortly.
Overall, Binance's ability to work with regulators will be the key driver of BNB's price in 2024. If Binance continues as the number one crypto exchange globally, we will see BNB make a recovery.
Providing this occurs, our BNB price prediction estimates a potential high of $480 by the end of 2024. However, there is also the possibility Binance has to halt trading is several countries. Therefore, we predict a minimum Binance price of $250 and an average price of $365 by the end of 2024.
BNB Price Prediction 2025
Interestingly, amid the global attacks on Binance and other crypto products, the world's leading global asset manager, Blackrock, has been scooping up Microstrategy's stock MSTR, which presents significant Bitcoin exposure. Also, Blackrock has just filed to create the first Bitcoin exchange-traded fund (ETF).
This tells us that "smart money" remains bullish on crypto and could indicate a future market recovery.
While there is undoubtedly potential for BNB coin to perform poorly due to regulatory pressure, the size and influence of Binance, combined with a continued institutional interest in crypto, provides us with a bullish outlook for BNB in 2025.
Firstly, BNB powers the Binance Smart Chain network. This means users need BNB for gas fees when they make transactions on BSC. Also, since BSC is a Proof-of-Stake (PoS) network, validators require BNB for staking to earn block rewards.
Secondly, BNB provides Binance exchange users with several benefits. For example, users who stake Binance tokens in the Binance Launchpad can earn free tokens for newly launched projects. Also, Binance exchange users who trade BNB coin pairings get trading fee discounts.
However, the main limitation of BNB is its centralisation. Firstly, its PoS consensus mechanism is called "delegated Proof-of-Stake", and there can only be 21 validators on the network. Although this makes the network faster and cheaper, it is also vastly more centralised than other blockchains like Ethereum, which has over 700,000 validators.
Also, according to CoinCarp, over 47% of BNB is held by the top 10 holders. In comparison, 31% of ETH is held by the top 10 holders and just 5% of BTC.
Considering this, our Binance prediction forecasts that Binance could regain highs of $600 and possible lows of $330 with an average price of $465 by the end of 2025.
BNB Price Prediction 2030
Despite the EU advancing its Market in Crypto Assets regulations, there remains a high level of regulatory uncertainty in the crypto industry. This makes long-term price predictions challenging, particularly for BNB, since it is closely tied to the Binance centralised exchange (CEX).
However, if Binance can attain agreements with regulators, BNB could be one of the best long-term coins. This is because Binance is the go-to platform for retail investors to on-ramp fiat to the blockchain.
Also, it is common for crypto investors to get started on a CEX before creating crypto wallets and moving to non-custodial transacting. Therefore, BNB is perfectly positioned for mass adoption since Binance is where most people first purchase crypto.
Moreover, with significantly lower fees than Ethereum, BSC is a much more feasible option for beginner crypto users to get started with.
Binance also offers the Binance Academy, an education platform helping onboard users to crypto. There are 1.9 million BNB holders, but Binance has over 30 million users worldwide.
Over time, as more people invest in crypto, and Binance users become more accustomed to using the blockchain, the number of BNB holders could grow significantly, causing an increase in the price of BNB.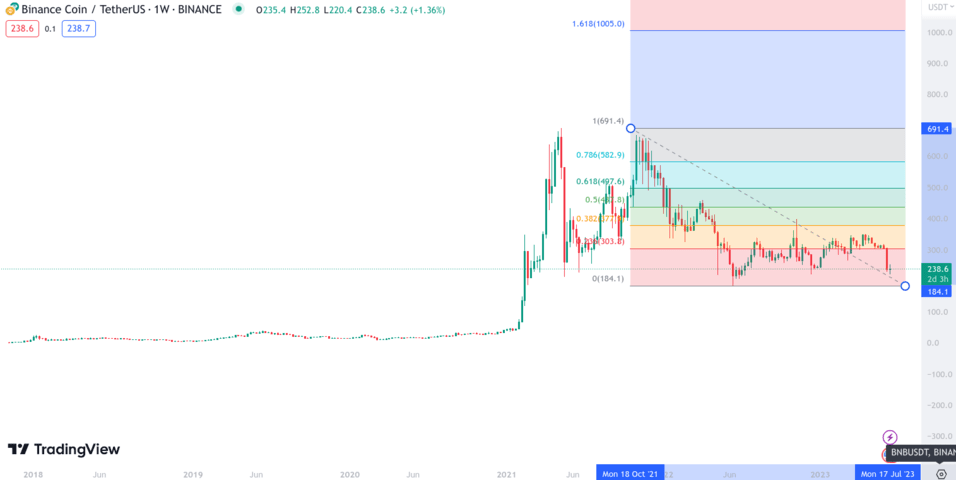 Therefore, our Binance coin price prediction estimates a maximum price of $790 by the end of 2030, with an average price of $620 and a minimum price of $450.
Although BNB could climb higher, the coin's centralised nature presents several risks, ranging from regulatory issues to censorship and negative community sentiment. Therefore, while BNB may peak higher than our maximum price, we expect it to smooth out in the zone mentioned.
Potential Lows and Highs of BNB
BNB is one of the coins with the most potential. However, centralisation and regulatory scrutiny are holding it back. Below we listed noted our expected highs and lows for BNB between 2023 and 2030.
| | | |
| --- | --- | --- |
| Year | Minimum Price | Maximum Price |
| 2023 | $120 | $220 |
| 2024 | $250 | $480 |
| 2025 | $330 | $600 |
| 2030 | $450 | $790 |
What Do Other Analysts Predict For BNB?
To get a clearer view of where BNB may be headed, we have compiled the opinions of other analysts below.
According to the AMBCrypto Binance coin forecast, BNB could reach $445.97, with a bearish scenario price of $191.64.
The CryptoNewZ BNB forecast predicts a minimum price of $287 and a maximum price of $698 by the end of 2023.
The Coinpedia prediction estimates a 2023 BNB price of $375.50 with possible lows of $285.16 and highs of $465.85.
Based on the Bitnation Binance coin price prediction, the minimum price will be $287.86, and the maximum price will be $431.79. This gives an average expected price of $359.83 by the end of 2023.
Changelly's BNB coin price prediction estimates potential lows of $304.05 and potential highs of $345.35, with an average price of $316.56.
What is BNB and What is it Used For?
BNB is the native utility token to the Binance Smart Chain. It was founded in 2017 and gives holders advantages when using the Binance CEX, such as fee discounts and the ability to stake to earn free crypto.
The coin is also used to pay transaction fees and secure the network on Binance Smart Chain. This provides inherent utility to the BNB coin, meaning if BSC is in demand, then the price of BNB should be positively impacted.
As mentioned, there are concerns about BSC's centralisation since it is a PoS network with only 21 validators. If you read our Ethereum price prediction, you will understand how PoS works. However, while BSC uses a similar design of PoS to Ethereum, the main difference is that only the 21 entities willing to stake the most BNB can become network validators.
BNB Price Overview
| | |
| --- | --- |
| Cryptocurrency | BNB |
| Ticker Symbol | BNB |
| Rank | 4 |
| Price | $238.75  |
| Price Change 24H | 0.85% |
| Market Cap | $37,241,484,026 |
| Circulating Supply | 155,853,627.37 BNB |
| Trading Volume 24H | $489M |
| All Time High | $690.93 |
| All Time Low | $0.09611 |
What Influences the Price of BNB?
BNB has been one of the best altcoins to retain its price during the bull market, even with the recent FUD.
Although it is down over 60% from its ATH, many other cryptos are down 80% or higher. For example, our Cardano price prediction highlighted that ADA is down a whopping 90% from its ATH. This begs the question, what is holding BNB's price up, and is it sustainable?
Firstly, as mentioned, staking and demand to use the BSC network is a key driver of the price of BNB. However, BSC's TVL has dropped from over $20 billion in 2021 to less than $4 billion throughout the bear market.
This is an 85% drop in TVL, and at the same time, the user base of Binance has decreased dramatically too.
According to a recent article in Yahoo Finance, the Binance exchange has architected a high BNB price by withholding significant amounts of BNB from the markets and offering perks to holders to drive up demand. In short, this means Binance may have single-handedly been reducing supply and boosting demand.
Ultimately, this adds to the centralisation risk of BNB and could play a role in the SEC's case against Binance.
Another factor affecting the BNB price is broader market conditions. If BNB can come to an agreement with regulators, then the next crypto bull market could help bolster its price.
Is BNB a Buy?
BNB offers unique advantages to users, such as scalability, low CEX transaction fees and seamless usability. However, it does so at the cost of centralisation. While the Binance coin price has benefited from this so far, regulators are closing in on crypto, and the outcome for BNB remains to be seen.
Depending on whether Binance can resolve its regulatory issues will play a key role in the coin's future.
Conclusion
Our BNB price forecast has shown that while BNB holds long-term potential, there is a significant risk of a price collapse due to regulatory pressures and centralisation. So far, Binance has maintained BNB's price relatively well, but this may not always be the case, with more FUD likely to come looking ahead.
With that in mind, we have created a list of our top picks for the best cryptos to buy now. Check it out by clicking the button below.
References
https://www.sec.gov/news/press-release/2023-101
https://www.reuters.com/technology/binance-leave-netherlands-2023-06-16/
https://www.ft.com/content/49963916-572b-4591-8bb6-7efd06ec0961
https://www.consilium.europa.eu/en/press/press-releases/2023/05/16/digital-finance-council-adopts-new-rules-on-markets-in-crypto-assets-mica/
https://finance.yahoo.com/news/regulators-circle-binance-foundation-bnb-191302872.html
FAQs
Is BNB a good coin to buy now?
What will BNB be worth in 2025?
What will BNB be worth in 2030?